How to dance the rumba for beginners
Learn Basic Rumba Steps
Rumba, or sometimes 'rhumba', is a slow and flirtatious dance. Some say it is the spirit and soul of Latin American dance. It's certainly a dance of romance and always a good choice for weddings.
Basic steps
Instructions & Diagrams
Video
Recommended Video Lessons »
Quick intro
Rumba is generally regarded as the "dance of romance", but also known as the "Latin waltz" or the "waltz with a wiggle". Due to its slow rhythm and sensual movements, some call it the most intimate and passionate dance there is.
Learning rumba is not difficult. The ease of learning is actually one of the main reasons why it's more popular today than most other Latin dances (except perhaps salsa). Once you learn the simple steps, the music does the rest.
Rumba can be danced to a variety of music, from contemporary to traditional.
Here are a few popular songs to give you an idea:
And I Love Her - The Beetles
It's Now or Never - Elvis Presley
I'm Not Giving You Up - Gloria Estefan
Besame Mucho - Xavier Cugat
Falling Into You - Celine Dion
Neon Moon - Brooks and Dunn
Under the Boardwalk - The Drifters
Kokomo - Beach Boys
Girl from Ipanema - Frank Sinatra
Basic steps
Rumba is usually danced to music written in 4/4 time, with four beats to each measure. The basic step is a very simple box step. It consist of three basic steps - two quick side steps and a slow forward or backward step.
The rhythm of the steps is slow, quick, quick. A slow step is danced over two counts of music, while a quick step is danced over one count.
Rumba is a spot dance which means the couple does not travel around the dance floor like in many other dances, but rather stays in one location.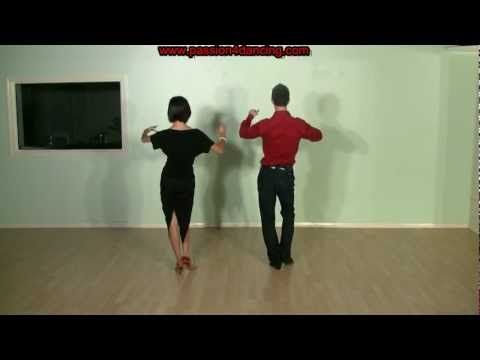 It is done to music with slow tempo and emphasizes on hip movements (what we call Cuban motion).
Instructions & Diagrams:
You start dancing in a closed dance position. The man's left hand is holding the lady's right hand with the elbows almost touching. The man's right hand is placed underneath the lady's shoulder blade. The lady's left hand is placed right behind the man's shoulder, flat on his back.
Basic Steps for Men
The gentleman starts with his left foot stepping forward. The man's steps are as follows:
Step forward with your left foot
Sidestep to the right with your right foot
Move your left foot to your right foot
Step back with your right foot
Sidestep to the left with your left foot
Move your right foot to your left foot
Basic Steps for Women
The lady starts with her right foot stepping backward.
The woman's steps are as follows:
Step back with your right foot
Sidestep to the left with your left foot
Move your right foot to your left foot
Step forward with your left foot
Sidestep to the right with your right foot
Move your left foot to your right foot
Video
OK, Leon and Kim will now show you how it all comes together. Don't forget to move your hips and when you're doing side steps first pull your leg in and then step to the side. The video will explain everything in detail:
more videos »
This was an introductory video lesson from Passion4Dancing online dance course. Here is why we recommend them.
Top 10 Basic Rumba Beginner Steps (American Style) & Routine • Dance Insanity
Dance InsanityDance
Welcome to this Beginner's Guide for American Style Rumba Beginner Steps! You will start by learning the Top 10 Basic Rumba Steps and we'll build your dance skills from there.
If you're curious as to the differences between American and International style Rumba, you can check that out here. 
In this easy to follow 20 minute latin dance tutorial, you'll be learning:
10 Basic Rumba steps (We show you the Leader parts and follower parts separately, as well as how to dance them with a partner.)
Rumba Timing
A basic Rumba dance routine that you can practice with these 10 basic steps.
How to dance to music
& MORE!
For those who want a little more challenge after this, you can check out some other videos such as:
How to do Rumba "New Yorker" Arm Styling (Beginner – Int Tutorial)
How to dance Rumba "Shoulder to Shoulder" 4 Ways (Intermediate Tutorial)
How to dance RUMBA Sliding Door 5 Variations (Advanced Tutorial)
And if this tutorial seems too fast/ too overwhelming for you, no problem! Start with this other Basic Rumba Walks – Hip Action Tutorial instead – where Tytus shows you how to do the hip action for Rumba Walks.
Have fun!
10 American Basic Rumba Beginner Steps you'll learn in this tutorial:
1. Rumba Basic (Box Step) – 1:04
2. Together Together – 2:34
3 & 4. Open Break, Under Arm Turn – 4:38
5. Fifth Position Breaks – 6:56
6. Cucaracha – 9:28
7. Box Under Arm Turn – 10:43
8. Cross Over Break – 12:28
9. Spot Turn – 15:21
10. Cross Body Lead – 17:39
American Rumba Basic Dance Routine (with counts): 20:40
American Rumba Basic Dance Routine (with music): 22:35
For each of the above steps, you'll learn:
A. What the step looks like with a partner
B. Leader's part
C. Follower's part
D. Timing of the step with a partner
At the end of the 10 steps, you'll put it together into a routine and finally dance along with us to music! OH YEAH! Try it out and if it's too fast and makes you anxious, then just slow it down and do it without music until you're comfortable with the speed.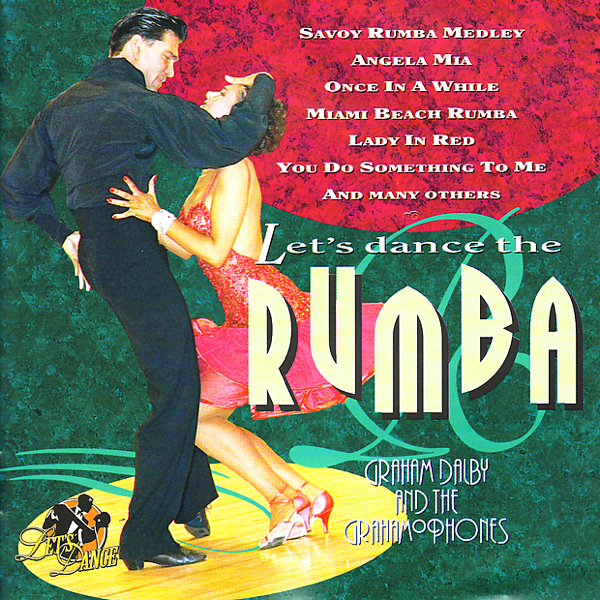 There is no hurry for you to learn it all at once. There is a lot of information, and body awareness as well as muscle memory that is required for Partner dancing. So, take your time, create some goals for what you want and start moving!
What is easy? What is challenging for you? Leave us a comment below. And if you have any questions, we're happy to answer them. 🙂
Cha Cha Technique Essentials Course
Get Fast Spins Course
Rumba dance: first steps with Denis Tagintsev
---
by
Maria Glazyrina
in
Inspiration
If love were a dance, no doubt it would be rumba. The history of the most sensual and romantic Latin American dance is mysterious and charming, just like itself. Ready to take your first steps in the world of rumba, where feelings rule? Hurry up to master the dance "language of love" together with AnySports.tv coach, Dancing with the Stars winner Denis Tagintsev!
History of Rumba
Rumba originated in Cuba under the influence of rhythms brought from Africa by black slaves.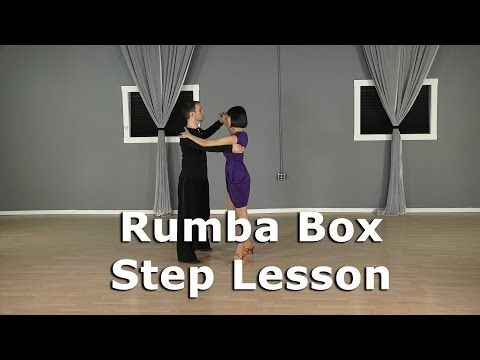 The word "rumba" in Spanish means "way". Initially, the dance was performed by newlyweds, symbolizing the beginning of a life together. In it, in addition to encrypted allusions to the first sexual contact after the wedding, completely everyday motives were played out, in particular, driving a horse and crushing cockroaches.
One of the plots of the "rural rumba" - the mating games of animals - eventually acquired a more emotional form, becoming a through motif of the modern ballroom rumba. This is the story of a man who desperately wanted to win his beloved. And the girl, full of internal contradictions, then lets him closer, then suddenly breaks down and switches to another, further irritating her partner.
Music for rumba dance
The musical style of rumba was formed from the imposition of stringy Spanish melodies on sonorous African rhythms. Melodies for rumba are the slowest among the latin. Usually these are gentle, viscous songs with emotional vocals full of love languor, like Shade or Julio Iglesias.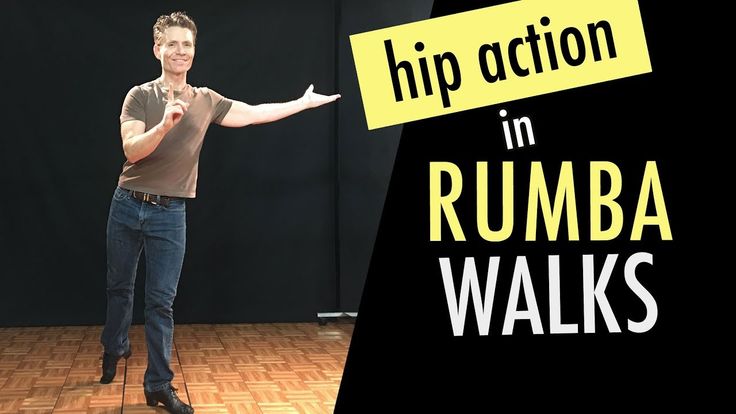 Rumba is essentially a dance of people who are strongly attracted to each other. In a couple, dancers show passion, first reaching out to a partner, and then suddenly pushing him away. Unlike jive, the dance consists mainly in the movements of the body: the main thing here is the waves, the bends of the body, the directions of the lines of the hands, as well as the sensual look. All this forms incredibly beautiful, almost sculptural compositions, especially when the dancers freeze for a moment in poses.
---
on the topic:
Passionate bachata - how to master a hot dance
Salsa - how to learn to dance a fire dance
The most fashionable street dances - choose your direction
9000 9000 9000
rumba - the transfer of body weight to the count of "times" without taking a step - makes the dance more interesting due to accentuated stops and accelerations, the dance seems to have its own breath.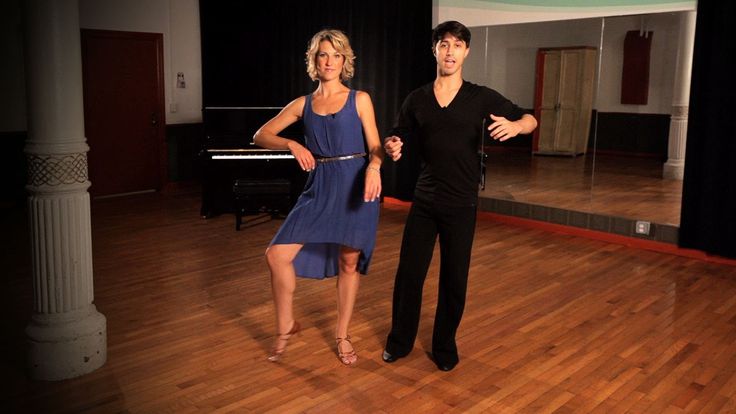 The partner most often follows the partner, trying to demonstrate himself, to conquer the partner. The girl, on the other hand, is constantly moving away somewhere, but does not cease to lure and seduce her partner. She then lets him very close, then rejects him again, thereby remaining the mistress of the situation, thanks to her charms.
---
Do you want to win the heart of any man? With an online dance course from Denis Tagintsev, the winner of the Dancing with the Stars project, it's easy! Learn more about the course here.
---
Rumba is a special event in a ballroom dancing tournament. Girls put on light, weightless dresses, turning from playful coquettes into languid and passionate femme fatales. Men, on the other hand, switch their attention from the audience to their partner - touching, chasing, feeling her every breath.
Rumba for beginners (video)
Rumba teaches not only to move beautifully, but also to express one's feelings, helps to "splash out" the accumulated love experiences on the floor in order to let them go.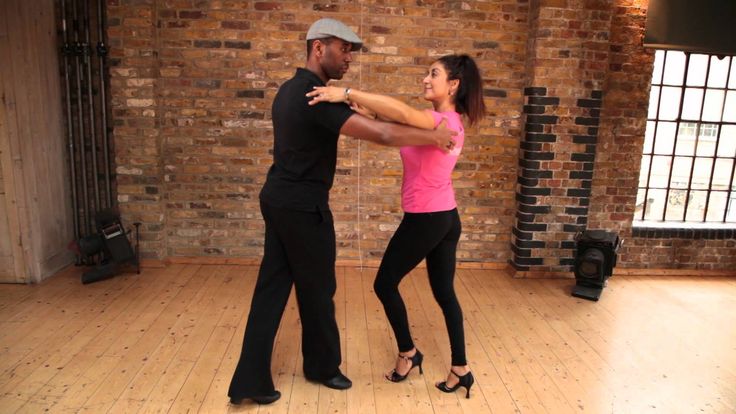 Rumba has a lot of gentle touches, looks, this dance is especially pleasant to perform with a loved one.
Rumba choreography goes well with almost any slow song and can be danced even at a friends wedding, at a party or on the dance floor in the park.
Learn the basic rumba steps - a video lesson led by Denis Tagintsev will help you with this! And most importantly - fill every movement with your own emotions.
Photo: bigstock.com
inspirationdancing
Share with your friends
Do you like our articles? Subscribe to the digest from AnySports!
See also
Load more
Rumba dance
Many people dream of learning how to dance rumba, and age will not be an obstacle to this. The main thing is your desire, so those who, for some reason, could not take up ballroom dancing in childhood, can fulfill their dream in adulthood! Our dance and sports club invites women and men to classes, lessons are provided for couples.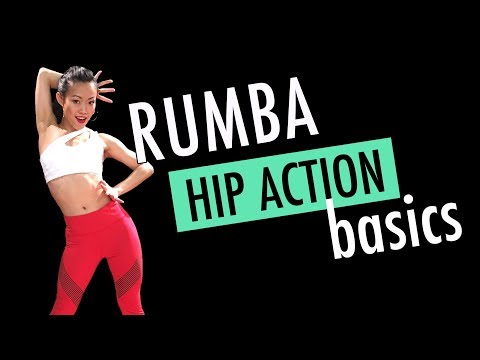 Learning rumba from our teachers is an opportunity to spend time not only pleasantly, but also with health benefits.
Ballroom and other dances provide not only aesthetic pleasure and self-esteem. This is primarily a sport, with carefully calculated loads and results. In our club you can attend a complex of dance trainings, calculated according to individual programs compiled by professionals.
Benefits of Rumba and Latin American dance classes at our club
Each of our beginner dance programs is developed by experienced trainers. The entire learning process is carried out using special programs, it is possible to choose any convenient visiting schedule. Dance classes will be held without deviations from the planned plan and at a high professional level.
You can contact us for training, whether or not you have any training. But we won't have to relax - the classes are serious and bring good results. Advantages of visiting our TSC:
Our club is designed for professional training, aimed at teaching adults who do not have dance training.
Experienced high class trainers.
You can choose an individual schedule of classes.
In our club we are always glad to see those who want to dance at a professional level.
Rumba is a true dance of freedom, spread all over the world from Cuba. Initially, it did not have any loving background: an incredibly fast rhythm is a feeling of celebration and enjoyment, the main theme is the political system and social order. Due to multicultural transformations and various metamorphoses, today we know rumba as a rather restrained rhythm, where romance reigns in every sound. That is why it was fashionable at all times and remains so to this day. The pulsating rhythm does not age and does not lose its relevance: every year thousands of people join this dance culture and make it a real outlet, completely merging into melodies and harmonies. Having plunged into them once, it is very difficult to remain indifferent!
Nowadays rumba is a story of unconditional love.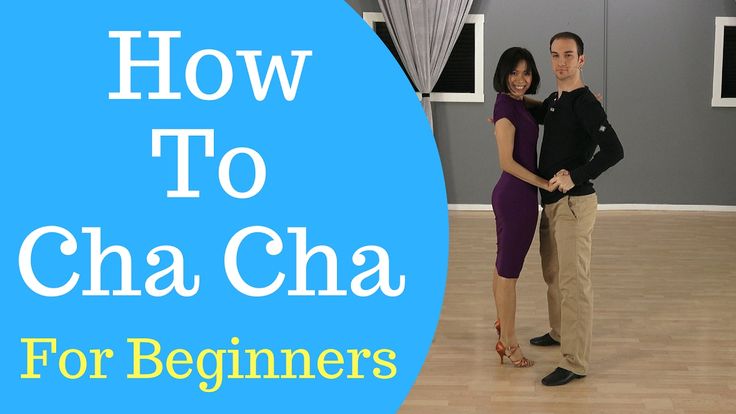 Moreover, a strong feeling is not always directed exclusively towards a member of the opposite sex. Rumba is love for the world, life and oneself; these are unspoken statements about strength, confidence, sensuality and the desire to fall in love with yourself. Dance is living a whole life: quite bright and emotional, having its own context and unique history and unique character. Often the action develops according to this scenario: the partner lures and tries to seduce the partner by all means in order to reject it at the last moment: an eternal dramatic love story unfolds, where one finds it, and the other loses it forever.
Each movement of the dance is filled with power and sensuality, which literally break out with exciting, but simple and romantic sounds.
It often seems as if during the execution of movements, ardent glances are directed not into each other's eyes, but are intended for fate itself. Rumba talks about emotions, tells about experiences and passion; these are original beautiful movements in which flirting is easily seen.
Jazz had a significant influence on its formation: unusual elements typical of typical jazz compositions were firmly established in rumba and played with new colors.
Rumba is a special atmosphere of the tropics, these are bright, perfectly honed movements of the hips, arms and body.
The historical basis of the rumba movements is the guajira, the oldest folk dance. Many of its unique ethnic elements are reflected in modern rumba.
It is wrong to think that rumba is exclusively a dance of love: the erotic character and dramatic melodies produce the strongest aesthetic effect. Initially, it was a wedding composition in which the newly-made spouses expressed feelings for each other and showed their readiness for family life.
As a rule, percussion instruments are used to create accompaniment.
Although the dance is rather slow, technically it is not easy: you can do it very well, having learned to keep the balance. Rumba will allow you to be in tune with your body, feel great about it, become more toned and slender.
Dance is a huge range of expressed emotions: from great love and passionate love, absorbing and captivating passions, to icy determination, suffering, hatred. Do not be afraid of shifting accents: it is on them that each composition is built. Dynamic changes and smooth decelerations and accelerations, coupled with long graceful steps, are the real calling card of this dance direction! Starting to comprehend the basics of rumba, you will be recharged with a good mood, plunge into the world of positive and learn to express absolutely all emotions bodily!
Rumba (dance for beginners) is a great opportunity to feel the unique atmosphere and enjoy the unsurpassed Cuban flavor. Today, this style of dance enjoys unprecedented popularity: rubma is performed by people of all ages (from teenagers to pensioners). It is fashionable to move to the beat of strong and beautiful melodies in this style. Dance allows you to learn not only to control your own body, but also to feel your partner, to feel his strategy and intentions.
Rumba for beginners is based on basic choreographic elements: a specialist teaches students the simplest movements, conducts practical exercises, telling and showing exactly how to keep the right muscle tone, be in concentration, but at the same time feel relaxed and calm (emotionality and passion " connect" at later stages, when a person has the key skills to the right extent: the need to monitor the quality and perfection of each bundle is minimized).
In addition to learning elegant and spectacular elements, rumba dance lessons are aimed at developing sensuality: the choreographer in an accessible way presents information about how, through rumba, you can "splash out" accumulated positive and negative emotions, clear your mind, at least briefly abstract yourself from problems and in general the entire surrounding world.
Each lesson is multifaceted and exciting: a moderate load is given to all muscle groups, joints are worked out, ligaments are warmed up. Do not worry that you can accidentally damage or stretch your muscles - a competent trainer will not allow this: he always focuses on the need to monitor your own well-being and, at the initial moments, perform all the exercises to the best of your ability.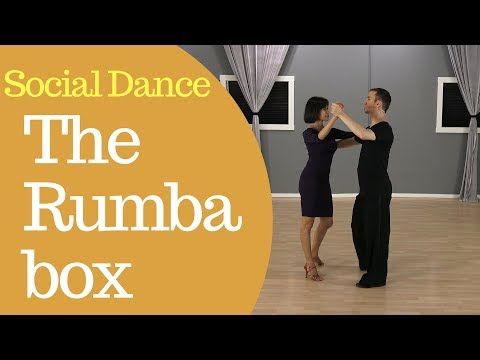 After a short time after you seriously begin to comprehend the basics of rumba, you will notice that the muscle corset has become more toned and elastic. An additional pleasant "side effect" is a slim figure and tone of the whole body. Metabolism will also improve and metabolic processes will improve - the internal organs will begin to function more efficiently and smoothly.
By the way, rumba classes affect not only the body, but also the human psyche: training gives a great mood and charges with positive for a long time, forms a positive vision of the world and thinking, saturates with positive emotions.
Rumba for beginners teaches how to build communication - this is not just a set of smooth movements, but also gentle, quivering looks, expressive gestures. Here intuition develops, the ability to anticipate the actions and intentions of a partner - now you understand the "non-verbal", and this skill is useful in relationships with a loved one, in family, communicating with friends, at work.