Group Classes
$10 per person per hour
(8 person minimum to start)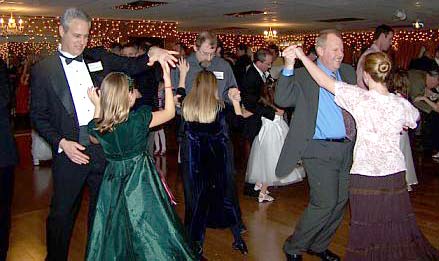 The Group Advantage
Easy on the pocketbook
Dance with a variety of people
Focus on learning patterns
Dance regularly every week
Participation in regular group classes is an excellent means of supplementing private lessons and further speeding along the learning process. They are relatively cheap in comparison to privates and can be very helpful in learning the basic flow of new dance patterns. And one of the most important parts of a group class is the opportunity to dance with different people, each of whom will have a different lead and follow. Learning to dance with a variety of people will make you a stronger dancer overall and should not be neglected.
Group classes do have their limitations though. When teaching groups, the instructor must divide his time among all the students, so he may not be able to give you the attention you need to diagnose any issues you are struggling with. And do not expect to look like a pro from attending group class alone. An instructor may make mention of some technical pointers in group class, but real mastery of technique will always come through private instruction and individual passion and practice.
Where two or more are gathered, there four or more left feet will also be.
~ Albert Foot Counter
Even so, group classes are a great cost-efficient way to expand your general knowledge of a particular dance and get new patterns into your noggin for future use. If you are intersted in starting a regular weekly group class and have a minimum of 8 people interested, please let us know, and we would be happy to help.