Event Rental
Varies depending on needs
Call 836-2548 for an estimate
Do you have a special occasion coming up but don't really have a good place to host it? We can help! I've Got Rhythm offers plenty of space for smaller business and personal events of all kinds. If you're a small business just looking for an open space to use for a luncheon, the studio is generally open during the daytime and can easily accommodate your event, even if it has nothing whatsoever to do with ballroom dancing. Or maybe you're looking for a classy yet cozy spot for a small wedding reception with a little dance instruction provided to entertain your guests. Check out our list of "What We Offer" to see if our studio might be an appropriate venue for your special event.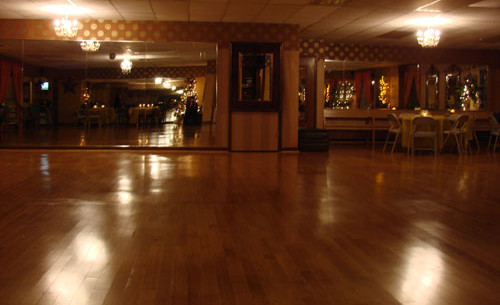 If you need something for your event but don't see it in this list, then we are likely unable to provide it, and you will need to make arrangments to bring it in yourself. There are no limits to what you can bring in, as long as there is no reasonable chance that it will cause damage to the studio, especially the dance floor and mirrors. Of course, all children's events at the studio must be properly supervised by adults for this reason.
To get an expense estimate for your event, please call us and let us know what sort of shindig you have in mind, so we can give you a quote appropriate to your needs and circumstances. We want your business and will do what we can to find a rental package that works for you.
What We Offer
Instruction

per hour for participants in addition to rental fees

Size

Approximately 2000 sqft., with a dancing capacity of around 100 and a seating capacity of around 200

Space

Open center area with no obstructions and seating areas to the sides

Kitchen

Small kitchen area with a fridge and back room for refreshments

Seating

Included seating for about 60 people with tables and room to supply your own

Sound

Computer and receiver hooked to speakers, mic/MP3 player ready

Lighting

Mood lighting for parties plus overhead lights