How to make tap dance shoes
Getting started in Tap Dance
TAP DANCE RESOURCES
Scroll down for a bunch of useful information about getting started in tap dance (including recommendations for shoes, flooring and other nifty tools). For those keen to read up about tap dance and its history, we've also included a list of books that will keep you busy for quite some time.
Happy tapping!
GET STARTED IN TAP DANCE – WHAT YOU'LL NEED
You don't need much to get started in tap dance (not even tap shoes).
Just a little space to move around.

But if you're keen to continue the journey in tap, then you'll want to start thinking about setting yourself up with a few important items, including:
Tap shoes
Practice Floor
Metronome
Music Practice Tool (For slowing down and speeding up music)
I've done a lot of research into all of these, and have tried many different options.
Here's the stuff I use and recommend:
TAP SHOES
If you're keen to continue your journey in tap dance, then a quality pair of tap shoes are a non-negotiable investment. They are the tools that bring your instrument to life, and quick become good friends. I've tried a lot of tap dance shoes in the past, and have listed some favorites below. If you can, I recommend getting to a dance store and trying some on in person.
MY PICK: STARTER SHOE / ALL ROUNDER: BLOCH 'RESPECT' LACE UP OXFORD
A fantastic shoe, worn by both men and women.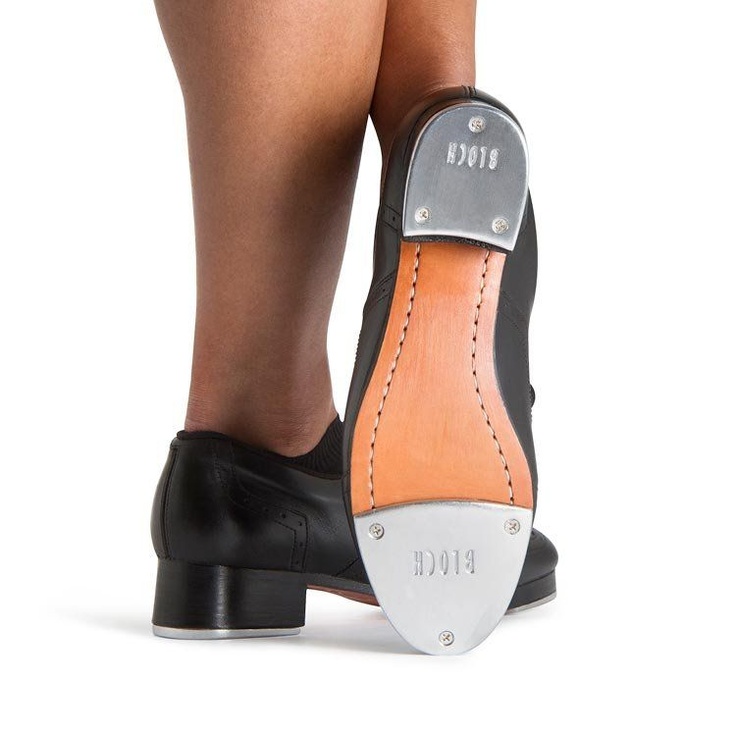 Comfortable, durable and well priced. I've loved my 'RESPECTS', and have happily recommended them a lot over the years. A perfect starter shoe, that will last.
Also check out: CAPEZIO 'Cadence'
MY PICK: HIGHER LEVEL / PROFESSIONAL SHOE: BLOCH 'JASON SAMUELS SMITH' OR CAPEZIO 'K360'
Once you get to the Intermediate / Advanced level, you find that something with a little more 'gumption' is required, and neither of these options will disappoint. I've worn and loved them both.
JSS: I wore the 'J-SAMS' for 5+ years, and love the built up sole, the comfort, the style and the deep sound these shoes can pull from the floor. They're quite heavy, which I personally like. A great, very well priced option for Intermediate, Advanced or Pro tappers.
K360: The global standard of professional tap dance shoe. Strong, durable and magical to dance in (especially once they're 'broken in'). They're a little tougher than the J-SAMS, and take a little longer to take shape around your foot, but may well last you longer as a result.
You really can't go wrong with either, I feel.
Note: All of the above are unisex options. A traditional ladies heeled tap shoe is also a solid option, and many choose these for the specific look. It's all personal preference and either way is great.


ALSO WORTH A LOOK…
Artefyl – WHAT I'M CURRENTLY WEARING. Beautiful custom-made tap shoes and tap boots. The company is based in Madrid, but have very reasonable worldwide shipping rates. Again, tell them I sent you 👍
~ SHOE FAQ ~
Do I NEED tap shoes?
Not strictly speaking. If you're a first timer, start off with shoes you already own – ones that have the hardest sole possible.
That said, there is nothing quite like your first pair of tap shoes. Once you've tested the water and are ready to commit to your tap dance journey, then a quality pair of tap shoes is the next step. Rarely a regretted investment, your tap shoes will quickly become close friends 👞
Where do I get tap shoes from?
There are lots of great online retailers, but most dance stores will stock tap shoes (Bloch & Capezio are the most common dance shoe brands, stocked in dance shops all over the world – see above for more options).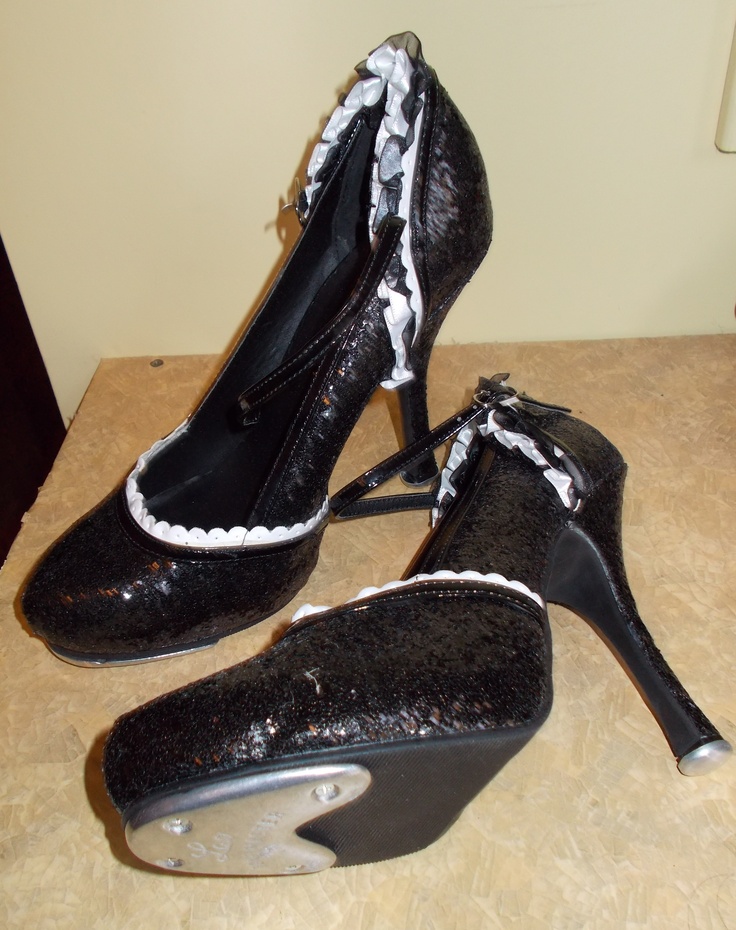 Are 'split-sole' tap shoes good for beginners?

The short answer: No. I don't think they're good for anyone.
Split sole shoes allow the foot to be pointed freely. While some styles of tap dance may call for this, I personally feel that a full-sole tap shoe is more appropriate for tap dancers of all levels; split-sole shoes can end up feeling flimsy, and unsupportive to the feet. Avoid, friends.
~
TAP FLOOR
Option 1 —> MAKE YOUR OWN!
While a professionally made tap floor is handy to have, you can easily make your own. A simple piece of plywood (minimum 1m x 1m) purchased from your local hardware store, together with some rubber, foam or even a yoga mat stuck to the underside will do the trick! Keep in mind, tap dancing on wood in a small space can be somewhat deafening, for you and your neighbours.
WHAT I USE:
I call this the 'noise cancelling' option; try laying a plastic floor protector (the kind that would go under an office chair) under some carpet, lock-together camping-style foam padding or some yoga mats.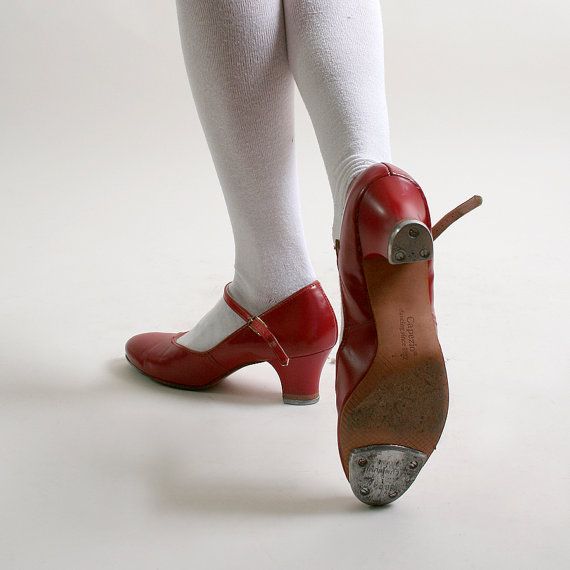 This will deaden the sound enough to keep the neighbors happy, but will still allow you to clearly hear the sound of the taps. Bliss.
Option 2 —> COMMERCIALLY AVAILABLE FLOORS
There are a few good tap floor options around; I'm fond of FasFoot. Their floors are durable, sound and feel great, are easy to store and come in a range of different colors and sizes, though I find them quite loud in a small space. They're a US based company, and so the international shipping rates get a bit hefty if you're outside the US, but aside from that, the FasFoot is a great floor that will last. Tell Eric I sent you, and kindly request that he responds to my email 😉
Also check out Showworks (Australia-Based), O'Mara and Practice Pads 🙌
THE RULE: Never tap dance directly on concrete.
Always be safe and kind to your body.
METRONOME APP
A metronome is a great practice tool, and one that I recommend to all my students when getting started.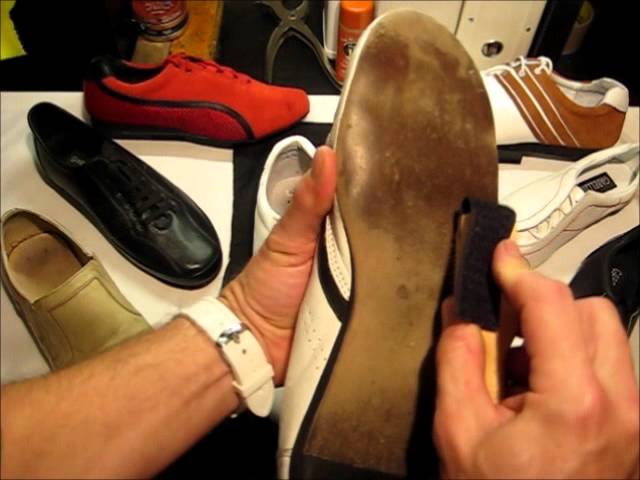 This will help you to chart your progress when practicing, and see that you're actually speeding up!
Give this one a go. It's simple and straight-forward, and will do everything you need it to.
MUSIC SLOWING DOWN / SPEEDING UP
The first app I go to: Anytune Pro (IOS only)
As tap dancers, sometimes we need to slow down or speed up our music (without changing pitch) to maximize our practice time. 'Anytune' does this and so much more. It's absolutely packed with features which you can delve into, but it's also user-friendly if you're happy to stick with the simple stuff. I personally love that you can put markers throughout your track so that you can quickly come back to these specific time-codes, and jump between them.
It's awesome. Perfect for practicing, teaching or choreographing. I use it everyday.
The downside? It's only available on IOS (apple devices). No Android version as of yet.
The free version is great to get started, but the paid version is well worth the investment, and one of the best tap dance resources I've found.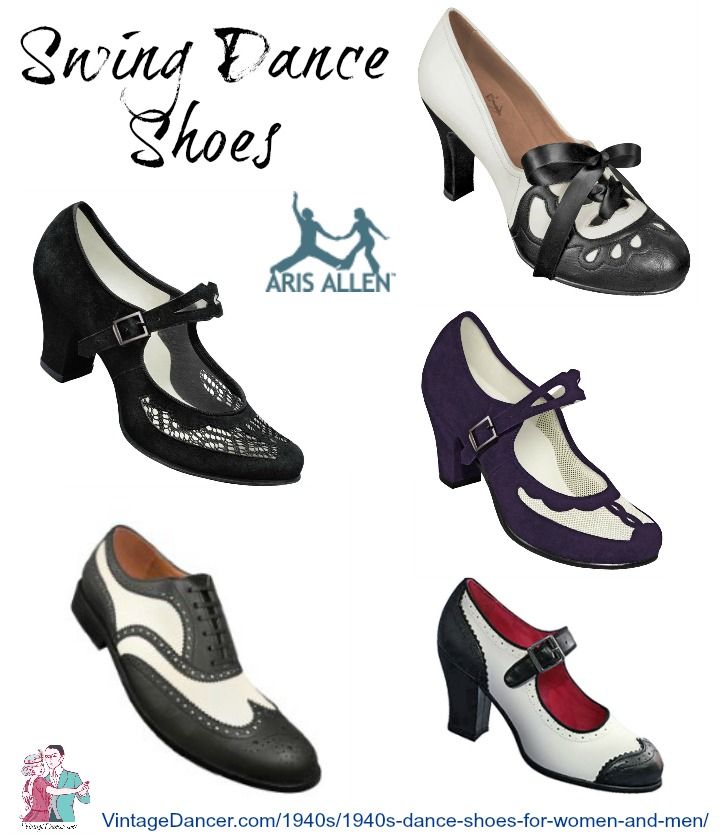 ~
The second app I go to: Amazing Slow Downer (IOS and Android)
The only thing that Anytune Pro doesn't seem to have (as of writing) is integration with streaming music services such as Spotify and Apple Music. As many of us consume music in this way, an app compatible with these services is crucial for the modern dancer.
Now, heads up…
The app works well on the whole (including with Spotify), but the interface is no-where near the sophistication of Anytune Pro, and in my experience, the app does tend to be slightly crashy. You'll need an internet connection (or phone data) in order to play and manipulate the music – I haven't been able to make it work with downloaded songs on Spotify.
But, the simple fact is I need an app that works with Spotify. This is the best I could find, and for the most part, it ticks the boxes for me. Hopefully, with time the app will continue to improve. Check it out here (IOS and Android)
OTHER THINGS TO HAVE HANDY FOR TAP DANCE
Water
Towel
Mirror (the bigger the better)
Practice Sheet (here's one I've made for you)
Video Camera
With these tools at the ready, you'll be all set for a fulfilling tap dance adventure, now and into the future.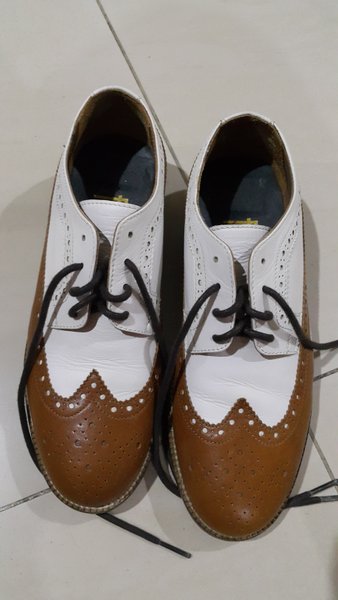 BOOKS ON TAP DANCE & TAP HISTORY
These published works will no-doubt keep the avid reader busy, with plenty of amazing tap dance stories, history and reference information to dive into. I've found each of them interesting and/or helpful on my journey.
In no particular order:
TAP! The Greatest Tap Dance Stars and Their Stories 1900-1955 by Rusty Frank

Tap Dancing America: A Cultural History by Constance Valis Hill
What the Eye Hears: A History of Tap Dancing by Brian Seibert

Tapworks: A Tap Dictionary and Reference Manual by Beverley Fletcher

Note: Commissions may be earned from the links above.
Do You Need Special Shoes To Tap Dance?
ARTS & CULTURE — Dance
Have You Ever Wondered...
Do you need special shoes to tap dance?
Who are some famous tap dancers?
Can you tap dance without music?
Tags:
See All Tags
dance,
dancing,
tap,
Dance,
Art,
Music,
Rhythm,
Sound,
Metal,
Plate,
Ball,
Heel,
Dancer,
Shoe,
Screw,
Sole,
African Juba Dancing,
English Clogging,
Irish Step Dancing,
Native American Stomp Dancing,
Spanish Flamenco Dancing,
Syncopation,
A Capella,
Broadway,
Fred Astaire,
Ginger Rogers,
Shirley Temple,
Gene Kelly,
Rita Hayworth,
Bill "Bojangles" Robinson,
Rock And Roll,
Jazz Dance,
Gregory Hines,
Savion Glover,
Happy Feet,
Dance,
Dancing,
Tap,
Art,
Music,
Rhythm,
Sound,
Metal,
Plate,
Ball,
Heel,
Dancer,
Shoe,
Screw,
Sole,
African Juba Dancing,
English Clogging,
Irish Step Dancing,
Native American Stomp Dancing,
Spanish Flamenco Dancing,
Syncopation,
A Capella,
Broadway,
Fred Astaire,
Ginger Rogers,
Shirley Temple,
Gene Kelly,
Rita Hayworth,
Bill "Bojangles" Robinson,
Rock And Roll,
Jazz Dance,
Gregory Hines,
Savion Glover,
Happy Feet,
Black History,
Black History Month
Today's Wonder of the Day was inspired by Riley.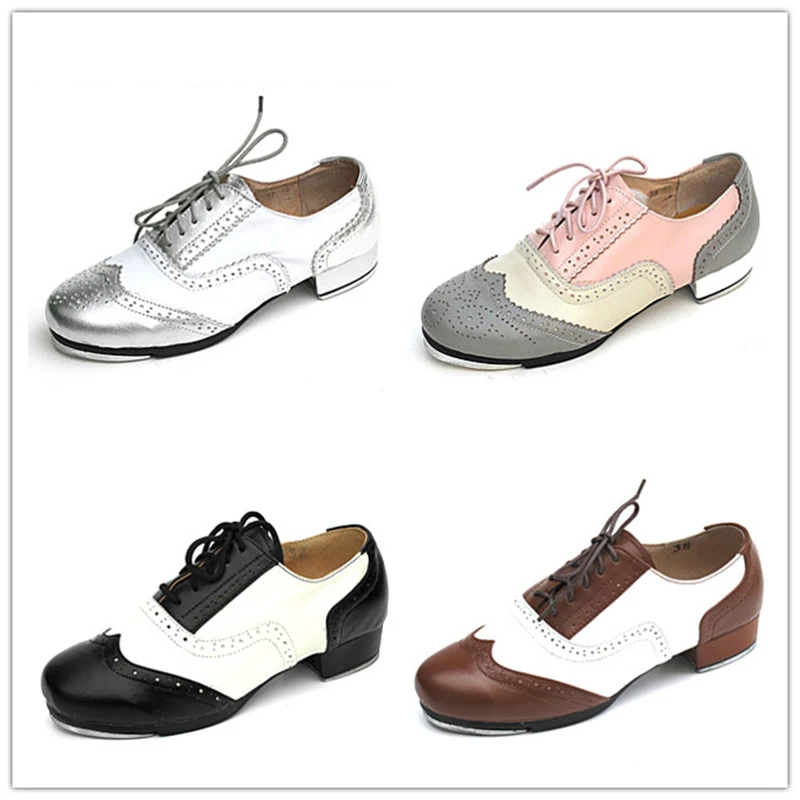 Riley Wonders, "How Did Tap Dancing Start?" Thanks for WONDERing with us, Riley!
What do you get when you combine fun music, fast feet, and a good sense of rhythm? The clickety-clack and tappity-tap of tap dancing, that's what!
Tap dancing mixes two beautiful arts—dancing and making music—into one act. How can you tell if someone is tap dancing? Just listen for the tapping sounds created by metal plates on the bottom of a dancer's shoes. 
When they're tapped against a solid surface, such as a wooden floor, the plates create a unique sound. As tap dancers move across the floor, they make music while they dance!
Many companies make special tap shoes that have tap plates attached to the bottom of the shoes with screws. Since each shoe has a tap plate near the toe and one on the heel, they are sometimes called "two shoes and four taps." The screws that attach the taps to the shoes can be tightened or loosened. This changes the sounds they make.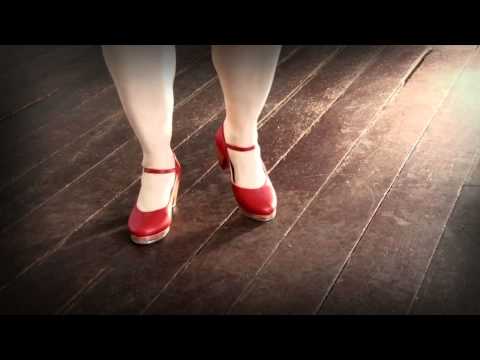 Sometimes, people make their own tap shoes. They tape quarters or (with the help of an adult) screw metal plates to the bottom of a pair of shoes. It's also possible to tap dance in shoes that have a hard, solid sole. However, the sounds such shoes make is not the same as true tap shoes.
Where did tap dancing come from? We can trace its roots to Africa and the English Isles. When people were kidnapped from Africa and brought to America to be enslaved, they brought their music and dancing traditions with them. 
When enslavers denied them drums and other percussion instruments, enslaved people got creative. They made music with their feet through percussive dancing. Over time, this practice blended with Irish clogging. The product was the tap dancing we know today. 
Tap dancers often improvise. That means they make up their moves and beats as they go along. They also rely heavily on syncopation. That means they use an irregular rhythm to place stresses or accents where they usually wouldn't occur.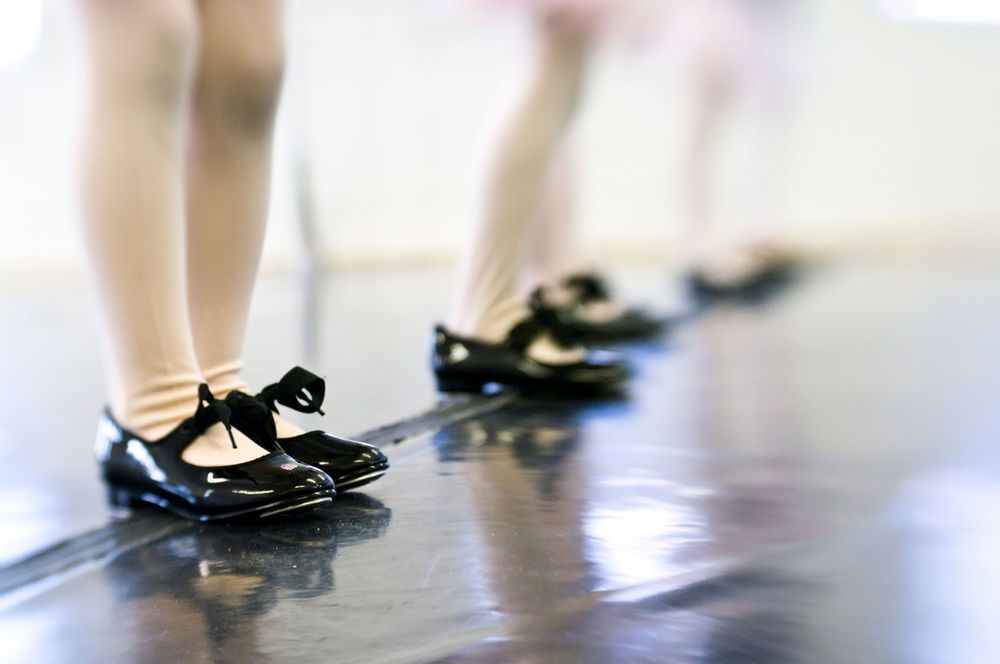 Would you believe you can even tap dance without music? Just like singing without music, tap dancing can be "a cappella." Instead of dancing to music, tap dancers instead make their own rhythms using a variety of special steps.
Tap dancing was quite popular in America in the early 1900s. It was common in Vaudeville shows and on Broadway. It was also a large part of the Harlem Renaissance.  Many tap dancers even appeared in movies and eventually television.
You may recognize the names of some famous tap dancers. Have you ever heard of Bill "Bojangles" Robinson? How about Josephine Baker or Rita Hayworth? These were all well-known tap dancers. A few more big names in tap dancing are Shirley Temple, Fred Astaire, and Ginger Rogers.
With the birth of rock-and-roll, tap dance dropped in popularity. A new form of dance—jazz dance—eventually grew out of tap dance. Although they were similar in the past, tap dance and jazz dance are considered separate forms of dance today.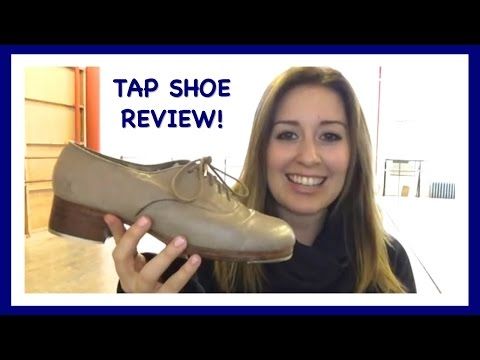 Traditional tap dance is once again starting to become popular. Modern tap dancers include Gregory Hines and Savion Glover. In fact, Savion Glover recently helped to bring tap dancing back into the mainstream. He choreographed and danced for the movie Happy Feet, which told the story of a tap dancing penguin.
Do you know how to tap dance? Or would you be interested in learning? Tap dancing is an art form that many people enjoy. They say there's nothing like making and dancing to your own music at the same time!
Common Core, Next Generation Science Standards, and National Council for the Social Studies.">Standards: CCRA.L.3, CCRA.L.6, CCRA.R.1, CCRA.R.2, CCRA.R.4, CCRA.R.10, CCRA.SL.1, NCAS.A.1, NCAS.A.2, NCAS.A.3
Wonder What's Next?
You may want to take a SEAT before reading tomorrow's Wonder of the Day!
Try It Out
Are you ready to tap dance? Find a friend or family member to help you check out the following activities:
If today's Wonder of the Day got your toes tapping, get up and get your groove on! You don't need special tap shoes to learn some basic tap dance moves. Make your own homemade tap shoes, grab a pair of dress shoes, or just slip on a pair of old sneakers. Then get ready to dance.
Whether you're a future ballerina or have two left feet, tap dancing is a fun activity that everyone can enjoy. Check out "How to Tap Dance" to learn a range of tap dance moves. You could also learn by watching tap dancing genius Sammy Davis, Jr. Get your friends and family to join you for some toe-tapping fun!
Can you make up your own tap dance routine to a modern song that's popular right now? Give it a try! Choose a popular song that's easy to dance to, and then make up a few simple dance moves to go with it. Make up a few tap dance steps to accentuate the beats in the song. Share your dance with a friend or family member!
Wonder Sources
https://ums.org/2019/06/21/from-margins-to-mainstream-tap-dance-history/ (accessed 27 Jan. 2021)
http://www.ehow.com/about_5084... (accessed 24 Jan. 2020)

http://en. wikipedia.org/wiki/Tap_dancing (accessed 24 Jan. 2020)
Did you get it?
Test your knowledge
Wonder Words
rhythm
sole
clogging
a cappella
mainstream
act
syncopation
percussive
unique
Take the Wonder Word Challenge
Rate this wonder
Share this wonder
×
GET YOUR WONDER DAILY
Subscribe to Wonderopolis and receive the Wonder of the Day® via email or SMS
Join the Buzz
Don't miss our special deals, gifts and promotions.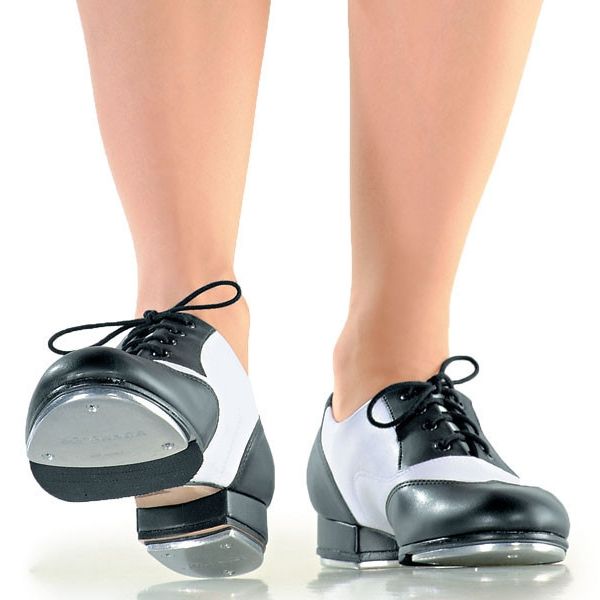 Be the first to know!
Share with the World
Tell everybody about Wonderopolis and its wonders.
Share Wonderopolis
Wonderopolis Widget
Interested in sharing Wonderopolis® every day? Want to add a little wonder to your website? Help spread the wonder of families learning together.
Add widget
You Got It!
Continue
Not Quite!
Try Again
Savvy: Step by Step
Tap dance is the only dance where shoes play the role of a musical instrument.
Sergey Apresov
ITEM 1 OF 6
1/6
Konstantin Nertdinov - Author and performer of the unique number "Step on Hands" (TAP DANCE ON HANDS).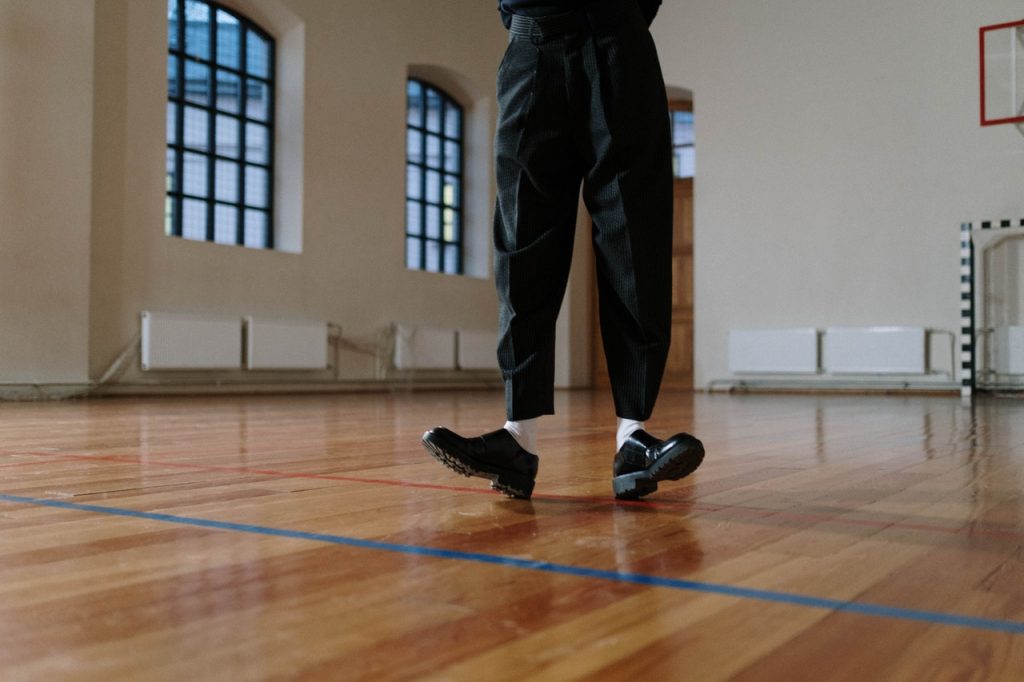 It took Konstantin eight years to create it. The only shoes in the world designed specifically for him, allow the dancer to perform the same techniques on his hands as on his feet
Konstantin Nevretdinov, head of the Russian School of American Tap Dance, told us a funny story that happened a few years ago. After an extremely successful performance and a long standing ovation, the artist, who gave everything one hundred percent, stopped backstage to catch his breath. A spectator, stunned by what he saw, approached him with the words: "Wow! How do you do it? And show me your boots!" And suddenly, seeing soles with heels, he disappointedly stretched out: "Ah, you have pieces of iron there ..." - and left with emphasized disdain.
Tap, also known as tap dance or tap dancing, is a unique art form in which an artist simultaneously plays the role of a dancer and a percussionist (it is not for nothing that the American composer Morton Gould wrote a whole concerto for a tap dancer with an orchestra).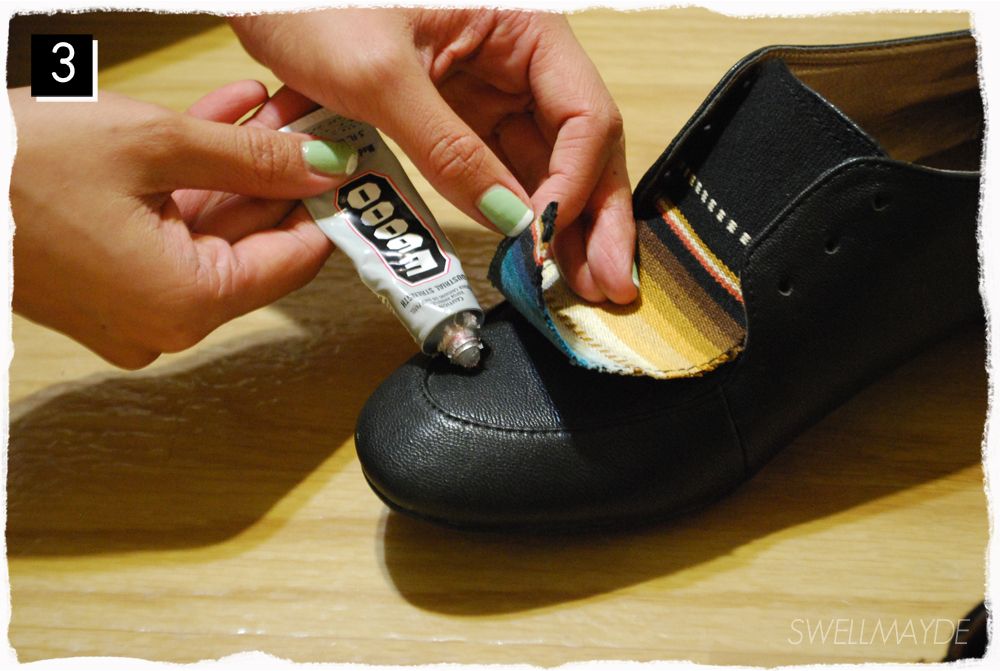 To freely express themselves in music, a performer needs a decent instrument that matches his level of skill. A sensitive musical instrument of a tap dancer is his shoes. The President of the Moscow Tap Dance Federation Konstantin Nevretdinov and his Latvian colleague Maris Puris told us about the technical secrets of foot music.
Voiced Alloy
Special heels and floors make the sound in tap dance. The nature of the sound depends on the material, shape and fastening of the heels - it can be high or low, sharp or soft. The alloy from which the heels are made is subject to increased, partly conflicting requirements - it must be strong and resonant. "In Soviet times, high-quality heels were not available," says Maris Puris. — Having accidentally obtained Capezio branded heels, we gave them to the laboratory for examination. Experts said that this is ZAM (zinc alloy with the addition of aluminum and copper). Having learned the secret, we began to make heels ourselves, which sounded very good.
At the same time, double heels, the so-called Double Tap, were common. In them, two aluminum plates worked like rattles or castanets, making a sound when they hit each other, and at the same time the floor. The sound turned out to be dirty, fuzzy, not readable in fast passages. Now, when foreign and domestic manufacturers of heels vied with each other to lure the dancer with aviation alloys and a variety of shapes, the use of Double Tap is considered bad manners, and it is completely prohibited in competitions.
In order for the heels to sound, they are made hollow. Some models have special channels and holes for air to escape upon impact. Good sound is possible only with the correct installation of the heels. They are tightly attracted to the boot with rivets or screws, while a fiber is placed between the heel and the sole - a layer of hard pressed cardboard impregnated with resins. The fiber prevents the edges of the heel from being pressed into the sole, helps to keep the air space under the heel and prevents sound from being absorbed by the soft skin.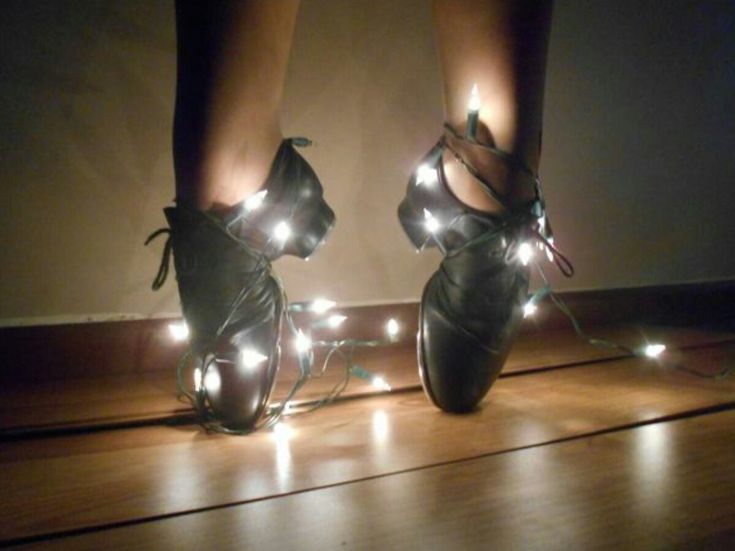 The heels also determine the stability and slip of the boot. Some slippage makes ringing glide strokes possible, but excessively slippery heels are difficult to dance on. The back heel is usually made flat so that the dancer can lean on it securely. The front one, on the contrary, is convex: it retains sound at different angles of contact with the floor.
Iron pointe shoe
When making a "delicious" sound, one should not forget about the beauty of movements, because step is, first of all, a dance. Shoes should help the dancer perform the necessary choreographic elements, so the design of shoes varies from dance to dance. For example, for jazz dances, in which elements of step are combined with complex free movements, soft shoes are suitable that do not constrain the dancer. For Hoofer-style, on the contrary, hard boots are preferred: in this traditional style, a powerful percussion sound is required from the performer (hoof in English - hoof).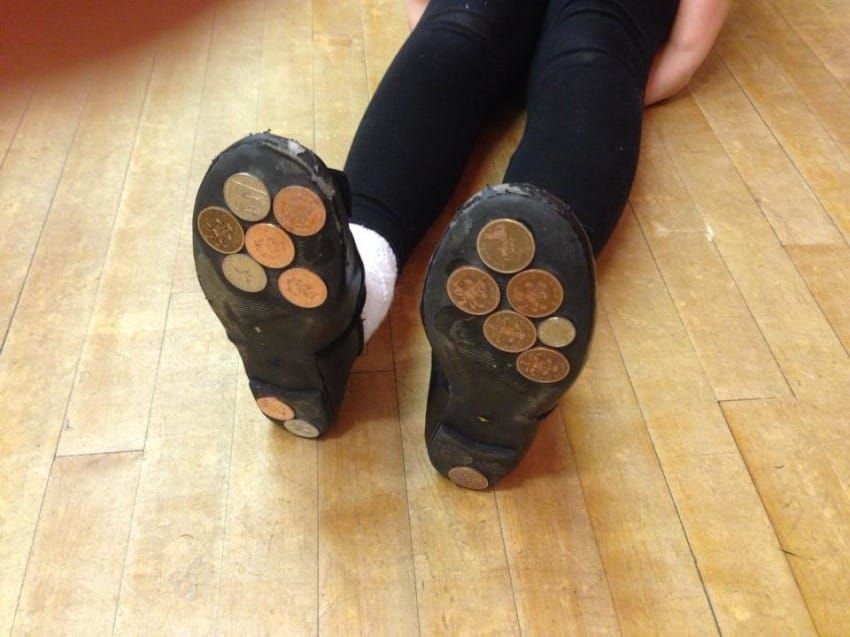 Rigid shoes allow you to produce a loud sound with less effort, so the dancer can relax the foot and perform a fast passage with a minimum range of motion. Fashionable in the last century, classic step dance numbers have given way to a synthesis of styles. Now you can see step under tango or waltz, R'n'B or hip-hop. Hence the variety of stage shoes.
Some constructive secrets make it easier to deal with individual dance elements. For example, if a dancer stands on his toes, as on pointe shoes, a leather wedge is glued between the front heel and the sole of the boot. It neutralizes the rise of the sole and makes it flat. An ordinary sole, placed vertically, breaks in half, and a straight sole holds the dancer's weight well. To take some of the load off the foot, a metal arch support is sometimes sewn under the heel. Another example of a "to a specific number" instrument is the side-socks, which are played when the dancer jumps up and strikes one foot against the other in the air.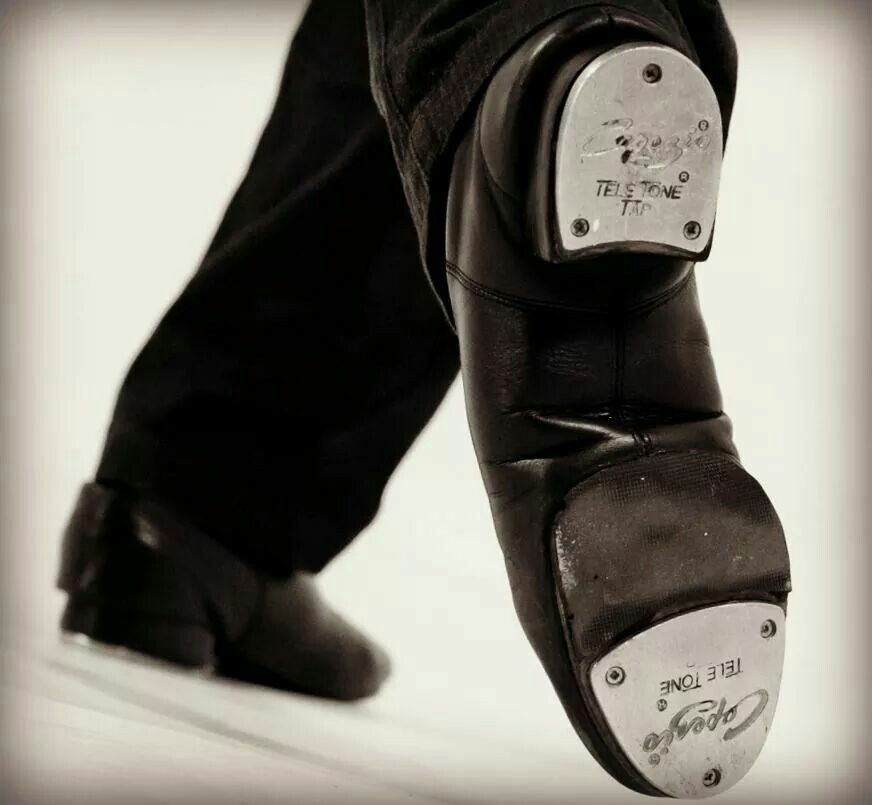 Gender issues
"The main enemy of the tap dancer is the carpet!" jokes Konstantin Nevretdinov. The carpet lies in wait for the dancer everywhere, it has a habit of sneaking unnoticed onto any stage before the performance itself, even after numerous checks. The cunning of concert organizers knows no bounds! There are also less obvious misfortunes that the tapist must beware of. For example, even the best parquet, laid on a solid concrete base without a shock-absorbing underlay, not only does not sound, but is also harmful to the dancer's legs. The other extreme is a floor that is too soft: it bends and springs. Excessive mobility interferes with dancing, negatively affects technique. The ideal floor for tap dance is smooth oak or beech parquet. It gives a noble sound. At concerts, in the absence of parquet, dense 20 mm plywood is sometimes laid on the stage.
Unlike other types of dance, backing is vital for tap dance.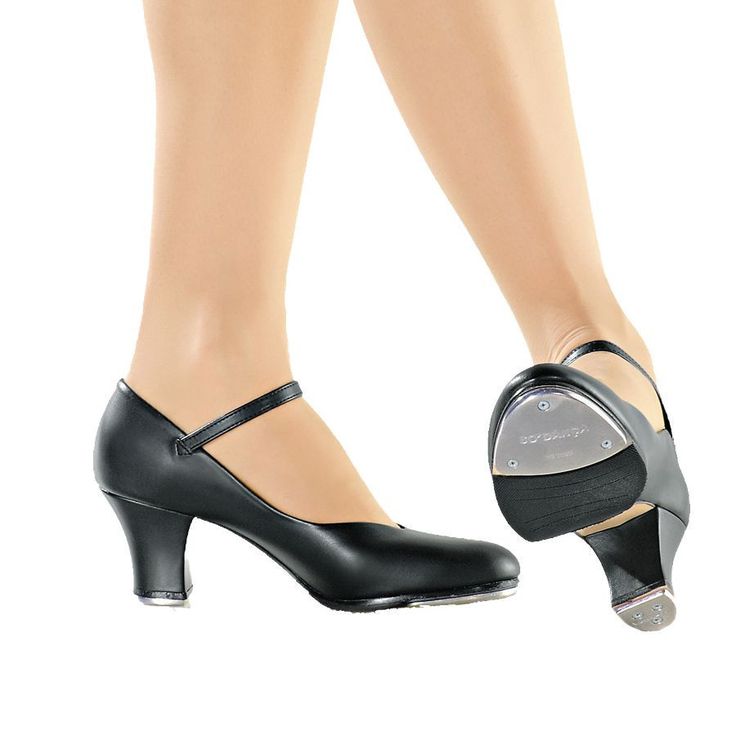 To convey to the viewer the sound of heels and floors in a large hall is a difficult specific task for a sound engineer. There are many ways to pick up sound, each of which has its pros and cons. The boundary layer microphone (in simple terms, the "frog") is attached to the floor and picks up its vibrations. It is good in that it catches only tap and nothing but tap, but the sound of the heels is indistinct. A piezoelectric pickup behaves similarly, which picks up sound from the floor, as from a guitar deck. If the floor consists of several sheets of plywood mounted on a frame, the sound pickup has to be placed on each one, and the character of the sounding of the sheets may differ. Finally, if the dancer strikes with his heels in a jump, the sound simply goes unnoticed.
Hypercardioid microphone ("gun") of the traditional design gives the most natural sound, but, despite the narrow directivity, it still picks up extraneous sounds, provokes feedback. There are special radio pickups that are attached directly to the boots.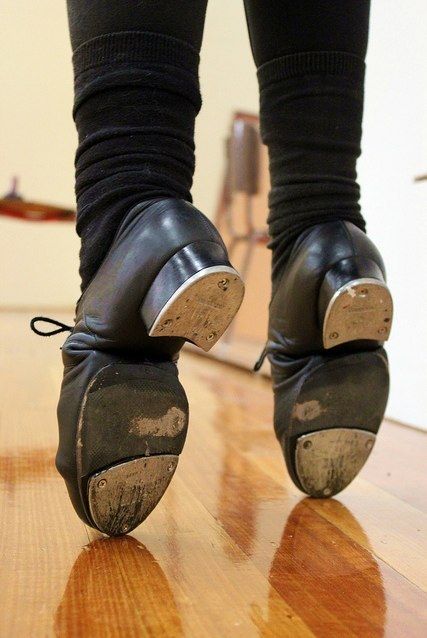 Their disadvantage is "wind in the ears", because they "fly through the air" all the time. The music of the orchestra and the sounds of the tap must be conveyed not only to the viewer, but also to the dancer himself: like any musician, he must hear himself well. Using the right combination of pickup methods, providing the artist with monitoring at an acceptable volume and avoiding the notorious feedback - only an experienced specialist can solve such a puzzle.
After reading stories about heels flying right at the audience, music turning off in the middle of a performance, and forced a capella improvisations, I wanted at all costs to extort from Konstantin and Maris a couple of heartbreaking stories about technical oddities at their own shows. However, both artists said in one voice: the true professionalism of a dancer lies not only in performing skills, but also in the ability to prepare a performance so that a technically complex step show from the auditorium looks easy and relaxed.
Tap shoes | Curious to know
Tap is a drum dance where the floor is the drum and the shoes are the sticks. Step can be ignited practically without music, because every dancer is a musician himself.
Step, or in Russian tap dance, refers to percussion dances, the rhythm of which is tapped by the dancers on the floor with the soles of their shoes. Of course, in order to learn how to tap your feet on the floor, you need to spend a lot of time. Both for learning the secrets of dance, and for making the right shoes for tap.
The first step to the step (translated from English, step means - a step), the dancer must take in a basin of plaster. The foot of any person is unique: the length of the fingers, the height of the rise on the toes, the bend of the foot. According to the left imprint, plastic blocks are cast, these are future shoes inside out. Then they have to stick around with a real boot.
The first thing that beginner tap dancers are taught is that there are no neighbors below and that one should not feel sorry for shoes either.
In order for the stepper's boot to withstand such loads, it is cut from selected leather.
The first part of the shoe is pressed out with a press in the same way as the hostess presses the figures out of the dough with cookie cutters. A cotton lining is glued to the finished parts, because step shoes must be both soft and hard at the same time.
Hard, because the dancer in hard shoes must strike the floor rhythmically and very quickly. Both socks and heels of boots. Well, soft, because the foot needs to bend, allowing a person to make a series of blows with a constantly changing speed and range of motion.
Reinforcing the sock, the master inserts there from a material glued with resins - a toe cap. The same insert in the heel of the boot is called the heel. In the insole unit, the arch support becomes the center and main detail - an elastic spring supporting the arch of the dancer's foot. The arch support gives stability to a heel. The stepper works out not only hitting the floor, he also spends energy on rotations, sliding, transferring weight from toe to heel.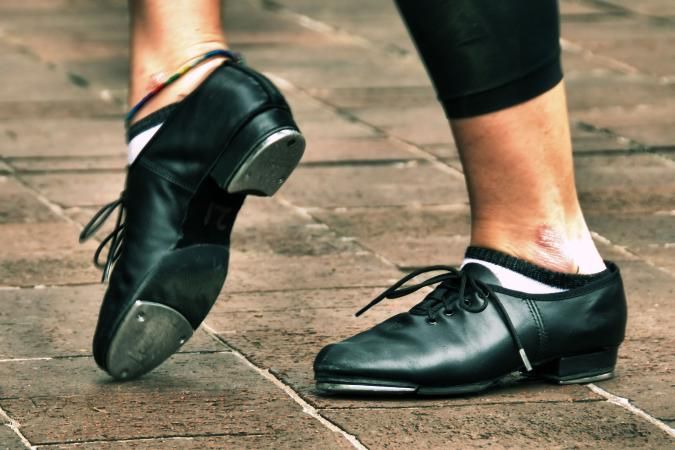 On the fingertips and even on the fingertips, like a ballerina. But dancing in complete silence is not about tap.
The main thing in the tap dance, sonorous touches of the sole to the floor. The sole is cut from thick calfskin. A heel is cut from the same leather, multi-layered like a Napoleon cake. The heel is nailed to the sole with small shoe nails.
To tap at three hundred beats per minute, the dancer must be firmly on his feet. In the past, dancers glued coins, beer caps, and iron braces to the soles to enhance the sound. Today, a microphone called a frog is installed at floor level. It does not react to extraneous noise and only amplifies the clicks of the heels. Modern tap shoes sound thanks to heels. Their main secret is emptiness. A hollow plate made of aluminum alloys itself sounds like a small drum. In addition, a plate is inserted under the heel, which is called fiber. This is a piece of tarred pressed cardboard that prevents the heel from being pressed into the sole and perfectly reflects the sound.