How to make a wedding dance floor
How to make a dance floor for an outdoor wedding
7 perfect ways to create a space for dancing at the reception without breaking the bank.
Whichever outdoor dance floor you create you must also:
Mark out an area that is for dancing
Offer guests in heels alternative footwear
Check the floor is safe, even and on a flat surface
Don't blow too much of your budget on renting a floor unless this is a vitally important aspect of your day.
Whether the reception is in a tent, outside on the lawn or on the beach you must decide whether there will be dancing.  But as everyone knows, if there's the right music, people will want to dance.  Dancing is, after all, a time-honoured way of celebrating across the world and has been for thousands of years.
So here are some great ways to make a space for dancing without spending too much.
Dancing on the beach or the grass
This is the cheapest option and a popular choice today when weddings are less formal.
There is no point cordoning off a special dancing area for a beach wedding.  People will kick off their shoes and just take to the sand once the mood is right.  People naturally get closer together when dancing so there will soon be an informal dance area marked out by the first few dancers. 
If it's a rustic wedding or a backyard wedding then many people will be happy to dance on the grass.  But it might be a good idea to mark out a space for dancing. 
How to mark out a space for dancing
Find an area of level grass and if possible have it cut short the day before.  Remember to rake away any grass cuttings.  Then hammer in some wooden, metal or strong plastic poles around three sides of this space.  Look in hardware stores but also in garden centres for these.
Solar powered lighting for pathway and dance floor by Sursun on Amazon
Hang lights or lanterns between the poles.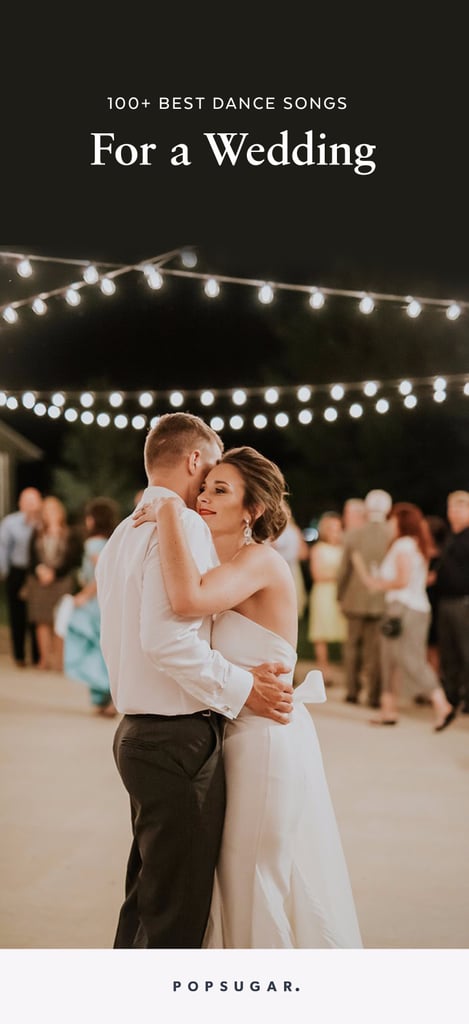 Most dancing starts at dusk so it makes sense to use inexpensive colourful lanterns that store the day's sunlight and automatically come on when it gets dark. 
If putting in secure poles is difficult then just plant sun-activated lamps in the grass around three sides of a square.  You can use these inexpensive lights to mark out a pathway to the dance area too. See some solar powered lights on Amazon.com here. And some fun flickering lights here on Amazon.co.uk.
What will dancers wear on their feet?
You will need to warn guests in advance that dancing will be on sand or grass.  You can't dance on these surfaces in heels.  You can also mention that flip flops will be available for those who don't fancy going barefoot.
Buy heaps of these in various sizes and pop them in a big basket by the dance area.  Pinterest has some lovely ideas for this including cute signage.
Once guests know that dancing will be outside on the open ground they will likely decide to wear more casual and fun attire.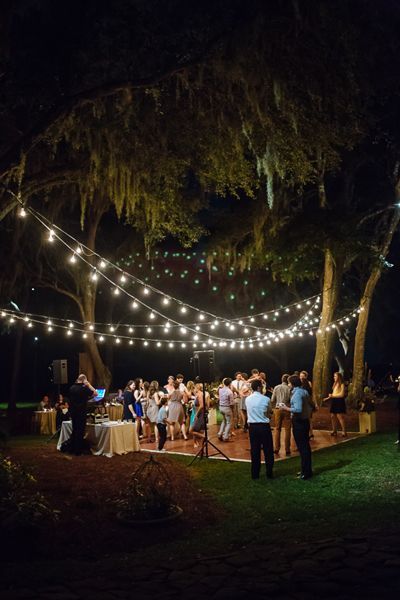 Most will decide on sandals or flat shoes too.  This will give the right vibe for the celebration and help avoid anyone twisting an ankle on or off the dance floor. 
But if barefoot or flip flop dancing is more informal than you want, you'll need to construct a dance floor.
Make a dance area with carpet
Grass can get wet as the evening draws on so you may prefer to throw a carpet over your external dance area. 
Look online for cheap floor coverings made of jute or bamboo.  Some cotton or synthetic woven rugs are very inexpensive too.  Either get a large area rug or get a length cut off a roll.  Be careful not to simply lay several rugs down across the space.  Whilst you can use tent pegs (with lights next to them) to secure the outside edges of the carpet, it's dangerous to do this for the edges where they meet up inside the dance area.  Even with flat shoes you will have accidents.  And if you don't secure the covering it will ruck into folds which is even more dangerous.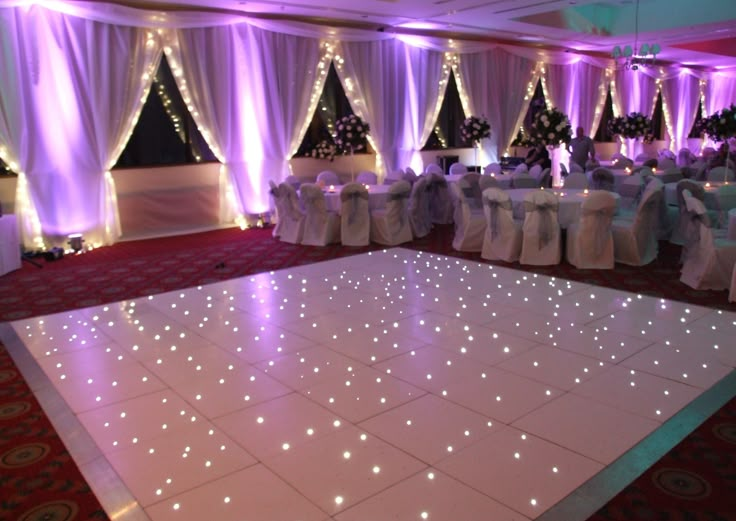 You should still offer espadrilles or flip flops for dancers wearing heels though people in flat shoes will be fine. 
If there is an area of concrete or a deck for example, this will make an excellent base.  A wooden deck can be used as it is but a carpet will improve the look of bare concrete and make it more comfortable to dance on, even in shoes.
Whilst solar string lights strung around the carpeted area will look fun, the carpet itself will mark out the dance floor so poles are not essential.
Reuse a dance floor
Lots of people buy a wooden dance floor for their wedding then never use it again.  Don't be content with just scouring the local small ads be proactive and put out a call everywhere for a second hand dance floor.  Do this months in advance because you need to attract the attention of couples before their wedding as most will simply discard their floor with all the other detritus from the reception.  So 'book in' to collect and pay for that expensive floor the couple are considering buying.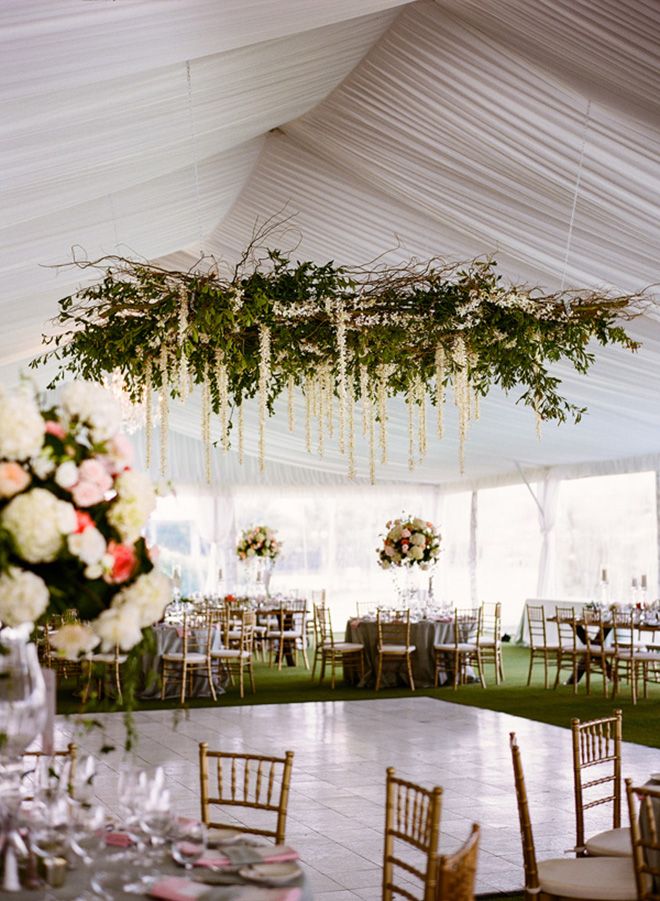 Your willingness to take it afterwards may push them to buy instead of rent.
For a rustic wedding a DIY wood floor looks perfect
Build a dance floor – full instructions
If you have someone to help you, this option need not be a lengthy task.  Just remember to start it well in advance in case you run into any minor problems.
Your floor needs a solid and flat surface fixed to a supporting structure underneath to keep it off the ground.  This structure will make the area even.  It will look best on concrete or a deck but will also sit happily on short grass.
Decide on the size of your finished floor then buy sheets of ½ inch plywood to fit this size.  The store will cut them to exact size for you so don't even consider doing that yourself!  Plywood is often sold in 4×8 foot sheets so a floor of 16 x 12 feet can be made just using 6 whole sheets.  This is the solid top surface for each of 6 'blocks' which will be put together to make the floor.
For the support underneath you need to create a box structure under each sheet of plywood.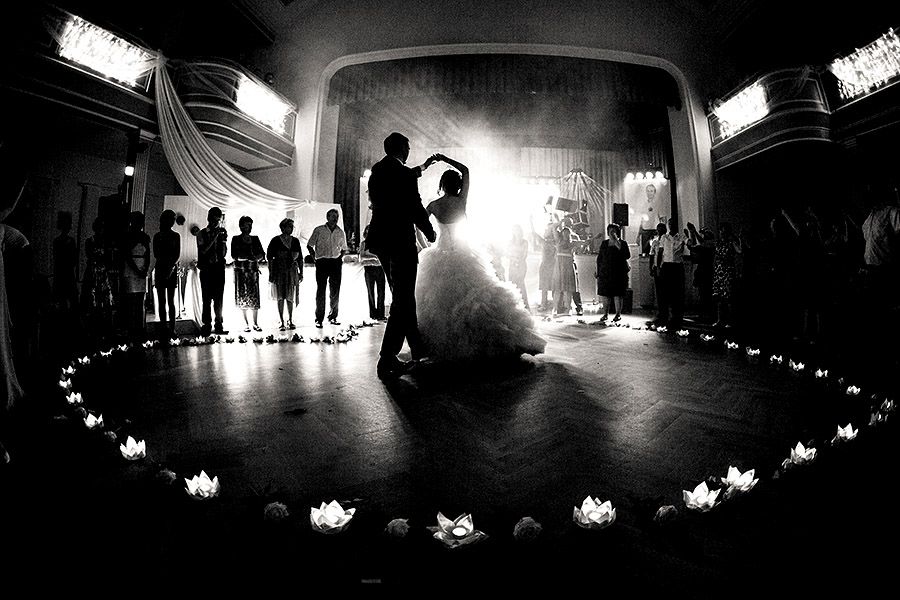 You can make these from lengths of 2×2 inch timber.  These are often sold in 8 foot lengths.  You will need a piece of timber to go around each side of each plywood 'block'. Then add two more pieces to each block to reinforce them.  For each block you will need two pieces of 4 foot timber  (2×2 inch) for the short edges plus four pieces of 92 inches each for the long edges ( they are shorter than the side because they need to be screwed or nailed to the timber along each short edge.)  Use the two extra lengths of 92 inches to fix across lengthwise inside the block to spread the load when people are dancing. 
Explain to the store how you are going to use the 2×2 inch reinforcing timber so the person cutting them knows why some are shorter.
Nail or screw the reinforcing structure together so you have a box shape with two extra struts inside.
Once you have the blocks in position on the lawn nail the plywood on top all around the edges and down the line where the reinforcing struts are.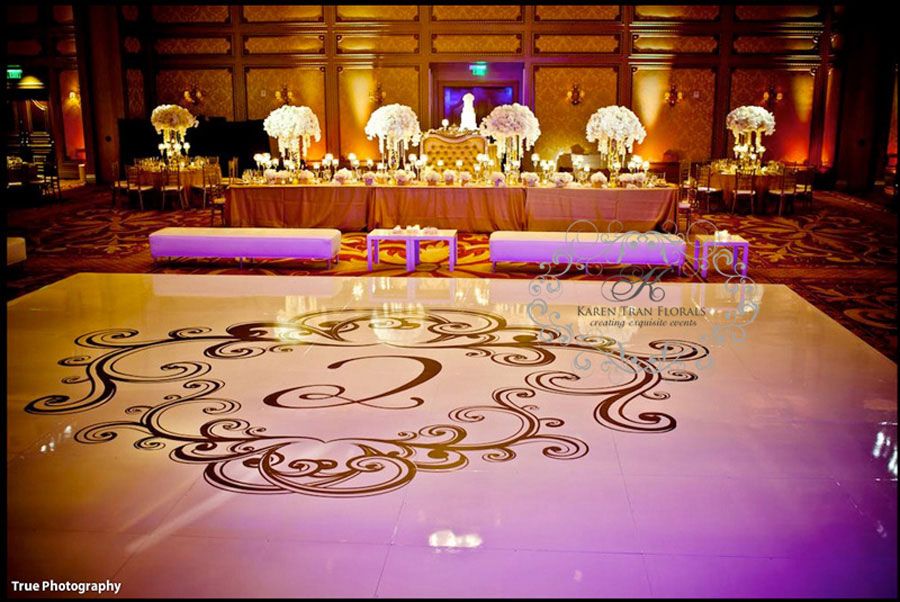 You can get small mending or fixing metal plates with gripping teeth on them which you can hammer across the joins between the blocks to hold them together.  Do this last of all as they will start to come out if you lift or move the floor much.
Ensure the nails on the top surface are very flat against the plywood so nobody catches a heel on one.
Finish the plywood with two coats of floor paint.  Then a third coat can be just for decorative effect such as circles or a name.  If you want to have a chequerboard effect then use painter's tape (masking tape) to make the crisscross design and paint alternate squares with the top coat.  Use the same tape method to make stripes or other straight-edged designs.  You can also buy fun decals then varnish over them.
DIY a simple dance floor
If building a floor looks like too much work you can simply lie a flat board across a flat area of short grass to make a quickie floor.
You will need ¾ inch thick MDF which all builders merchants and most hardware stores sell.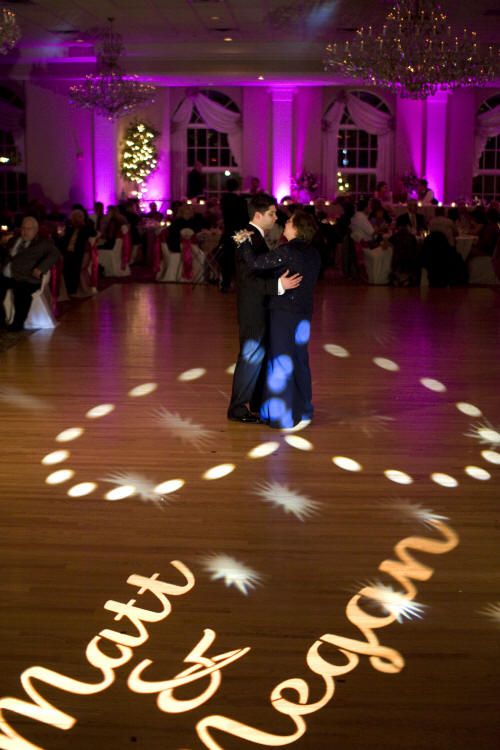 But be warned, MDF is very heavy so get it delivered. 
Never leave wood and never never leave MDF sitting where it can get wet.  Buy a tarpaulin or strong waterproof cover, not just a decorator's roll of thin plastic sheet.  Cover the MDF completely if you cannot keep it indoors until the day.
MDF can be painted or stained and finished with a transparent PVC glaze to help it stay looking good all evening.  You can apply gorgeous decals on the super flat surface too.
It won't last for very long as it will probably get a bit damp from the grass but it is an inexpensive and quick solution.  Make sure to use as flat a surface underneath it as you can.
Make a good-looking wood floor for inside a tent or marquee
Your tent may have a plastic sheet as a floor or hessian or just plain grass.  Non of these are ideal for dancing in heels.  But you can put down a sheet of plywood or MDF and cover it with wood effect laminate.  These thin sheets of wood or wood-effect plastic click together to make a solid surface.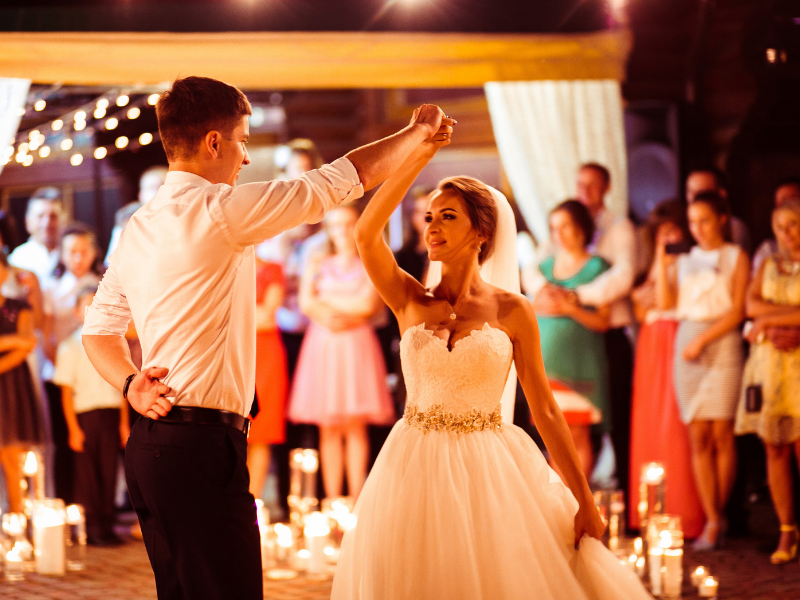 They will need to be glued or nailed down to the plywood.  If the plywood is sitting on a hard surface such as concrete you can put a layer of foam, carpet underlay or carpet under the plywood.
You may find that your tent floor is flat enough for you to lie the laminate straight on top. If you do this you must use heavy duty tape round the edges to stick the dance floor to the tent floor.
Construct a decking area for dancing
This does not need to be well finished at the edges – which is usually the most time-consuming part about creating a garden deck.  Just buy boxes of decking that click together and place them on the flattest place you can find.  They will be finished, stained and smooth so no need to paint or glaze.  You may be able to reuse the blocks for a garden or advertise them for others to use. Here are best rated decking blocks on Amazon.com. And wood decking tiles on Amazon.co.uk.
23 Wedding Dance Floor Ideas to Kick Up Your Feet
Wedding Ideas & Advice
Wedding Reception Ideas
Make this special space your own!
By
Molly Allen
Molly Allen
Molly Allen is a previous bakery owner with expertise in wedding orders, as well as a former event planner.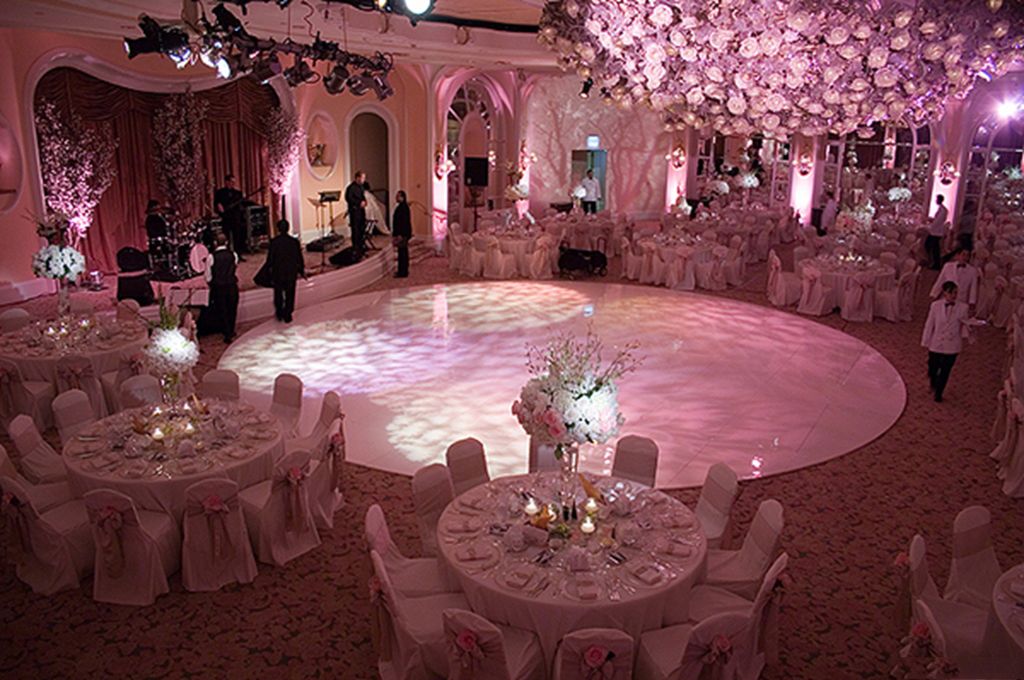 She is now a freelance writer focused on lifestyle, travel, and food and beverage.
Brides's Editorial Guidelines
Published on 11/03/21
Photo by Jenn Emerling Weddings
Once your vows have been said and dinner has been enjoyed, it's time to dance! And for many couples, especially those who love to kick up their feet, this is the highlight of their celebration.
To be sure you're putting your best foot forward, you may choose to have a dance floor at your wedding. A dance floor creates a welcoming space for guests to feel comfortable letting loose to their favorite song. Plus, you and your partner will get to share your first dance as a married couple in a lovely setting.
The beauty of choosing your dance floor set-up is that it's all up to you. Whether you utilize an existing space and dress it up with gorgeous lighting and décor, or you bring in a custom dance floor to really make your venue space your own, the options are endless. And from striped and checkered patterns to lettering on the floor, not to mention sky-high ceiling decorations to bring it all together, there's a beautiful dance floor décor idea that will perfectly fit your overall aesthetic.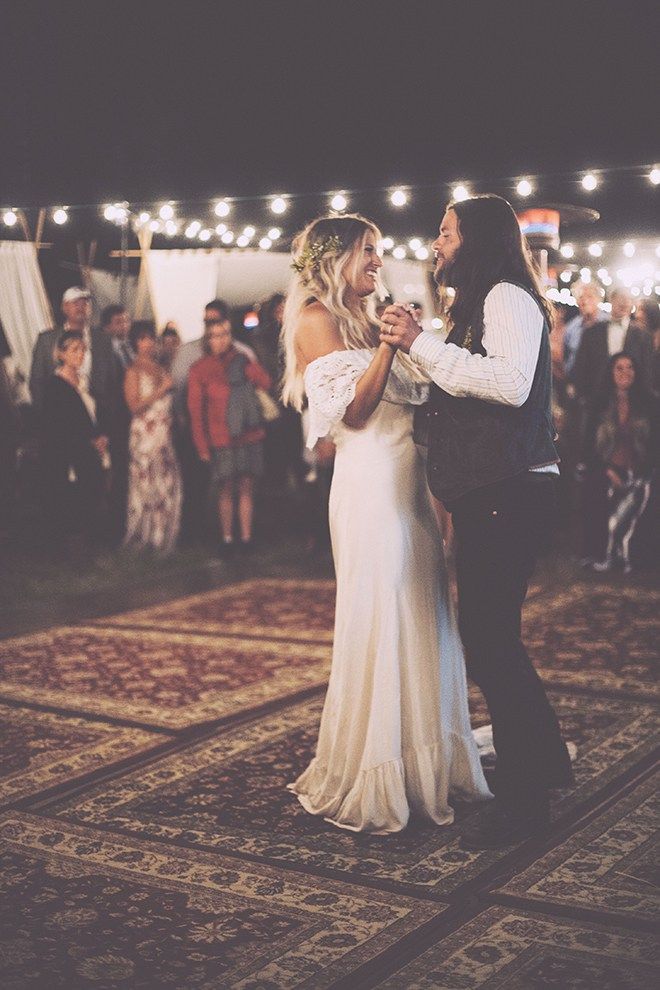 Ready to find the inspiration you need to get dancing? Read on for 23 of our favorite wedding dance floor ideas.
01 of 23
Dance Under the Stars
Photo by Mary Rosenbaum Photographs
This dance floor set-up is nothing short of a dream. The custom dance floor features a beautiful old oak tree, while the ceiling décor incorporates stunning greenery and dangling star-shaped lanterns.
02 of 23
Embrace a Locale
Photo and design by Julio Tomala
Whether you're hosting a destination wedding on the Amalfi coast or bringing elements into the mix stateside, your dance floor can be dressed up to fit the theme. This incredible dance floor made up of a variety of colored tiles looks just like the ceramic tiles you'll find in this coastal Italian destination.
03 of 23
Choose a Pattern
Photo by Theo Milo Photography
While a checkered dance floor is classic, we love the idea of switching it up just a bit.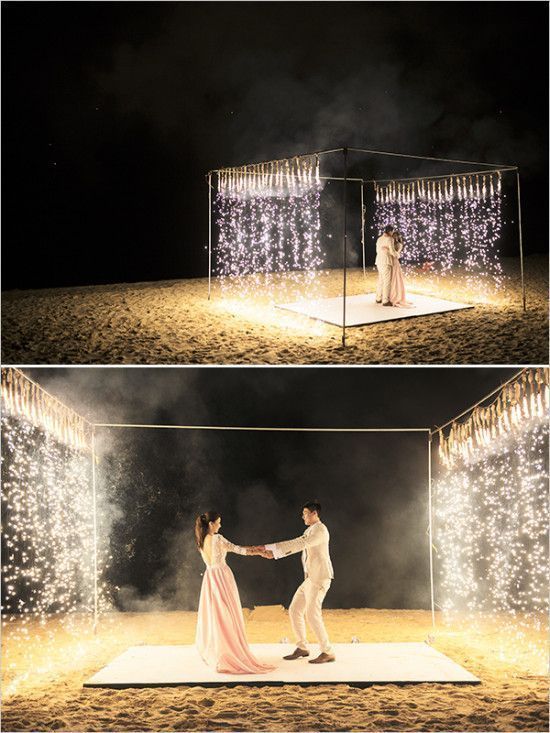 This design features black and white tiles to create a sleek display. Plus, the smaller square in the middle perfectly highlights whoever is in the middle of dance floor!
04 of 23
Feature Florals
Photo by Abbie Tyler Photography
Why not match your dance floor décor to your wedding blooms? This set-up was put together with large white tiles, with a custom monogram in the center. To make it even more special, illustrations of florals to match the table centerpieces were added to the mix.
05 of 23
Dress Up a Pool
Photo by Abby Jiu Photography; Planning by Lauryn Prattes
What if you could dance on water for your wedding? With this design, it's possible! This couple shared a dance on top of a swimming pool. Of course, it took an acrylic dance floor placed over top to pull it off.
06 of 23
Sign Your Names
Photo by Ashley Paige Photo
If you already have a beautiful floor to utilize in your venue, it may just take a clever detail to make it your own.
The contrast of gold lettering on this shiny black floor is simply stunning.
07 of 23
Channel a Rustic Vibe
Photo by Holtz Photography
Make your venue feel that much more comfortable in an instant with the addition of a few rugs. We love the idea of using different rugs to create a rustic or vintage-inspired vibe.
08 of 23
Use a Clever Phrase
Photo by Heather Kincaid
Dancing at weddings can be intimidating for some. Why not lighten the mood a bit? Add a clever phrase spelled out in black lettering to pop against an otherwise plain white floor.
09 of 23
Feature Your Monogram
Photo by Kaity Brawley
Once you're married, it may mean a new monogram. Why not show it off with a special crest that's larger than life? This is such a clever way to turn simple flooring into a spectacular dance floor.
10 of 23
Add Drapery and Lighting
Photo by Lauren Fair Photography
While you may not always be able to change the flooring for your dance floor space, you can certainly dress up the ceiling.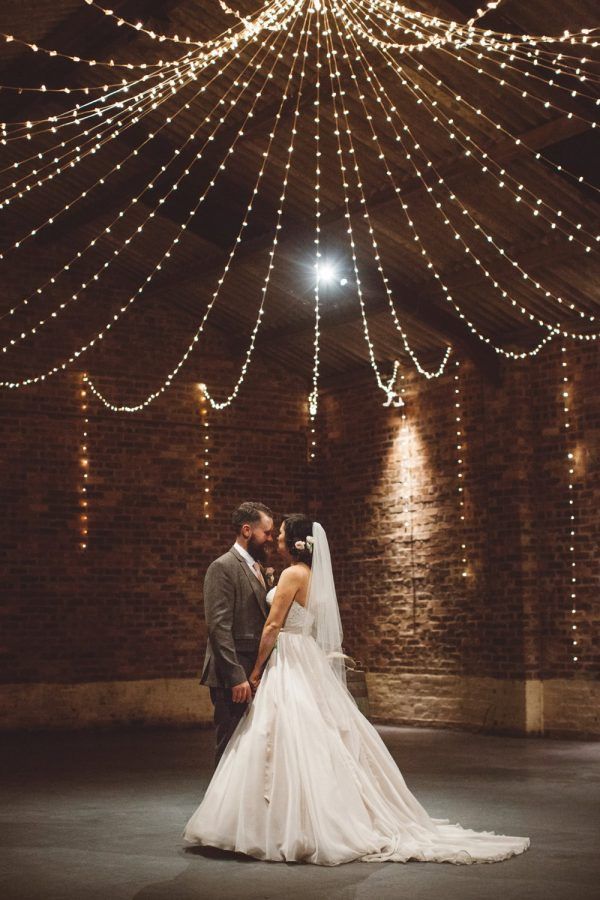 This real wedding couple incorporated beautiful draping with twinkling lights to create a magical space.
11 of 23
Create a Meaningful Design
Photo by Mike Larson
A neutral-colored dance floor could certainly stand on its own for any wedding. But one couple chose to take it to a new level by infusing meaning and personality. By using flowers to create a mandala design, this real wedding couple created the most beautiful space for their first dance.
12 of 23
Bring the Outdoors In
Photo by Julio tomala
Want to bring the outdoors inside for your wedding? Create a magical space with your dance floor. This design incorporated a grass-inspired floor with plenty of starry lights—not to mention the incredible display of greenery up above.
13 of 23
Go Bold With Color
Photo by Meg Smith Photography
Want to make a statement? Your dance floor can certainly be all white, with a hint of shine. But to really kick things up a notch, add a bold pop of color with a balloon installation overhead.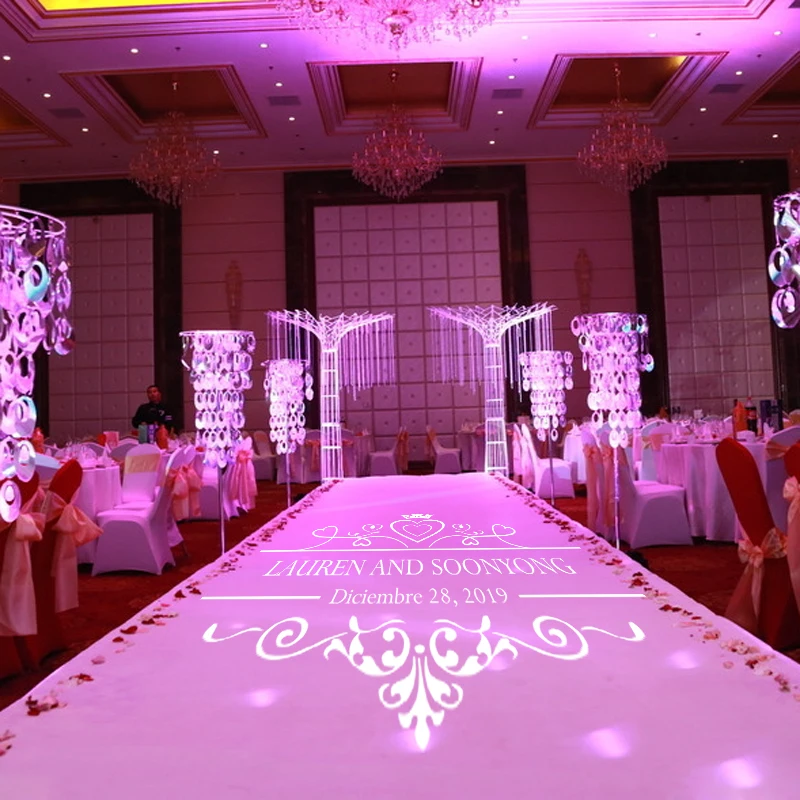 14 of 23
String Plenty of Lights
Photo by Bokeh Company 
Sometimes, great lighting is truly all you need. If you want to create a starry-sky vibe, incorporate plenty of dangling string lights for a magical effect.
15 of 23
Utilize Existing Space
Photo by Charla Storey 
Not every venue will offer space for a separate dance floor, and that's okay! Choose an area within your reception space that makes sense. Bonus points if you can utilize existing chandeliers and dress them up with greenery to make the space your own.
16 of 23
Keep It Simple
Photo by Mary Meck Weddings  
The dance floor is all about coming together and having fun. If you prefer to keep it simple, opt for a wood floor and a few string lights to light up the night.
17 of 23
Use Water as Inspiration
Photo by Kate Headley 
If you're hosting a lakeside celebration, why not embrace the theme with your dance floor.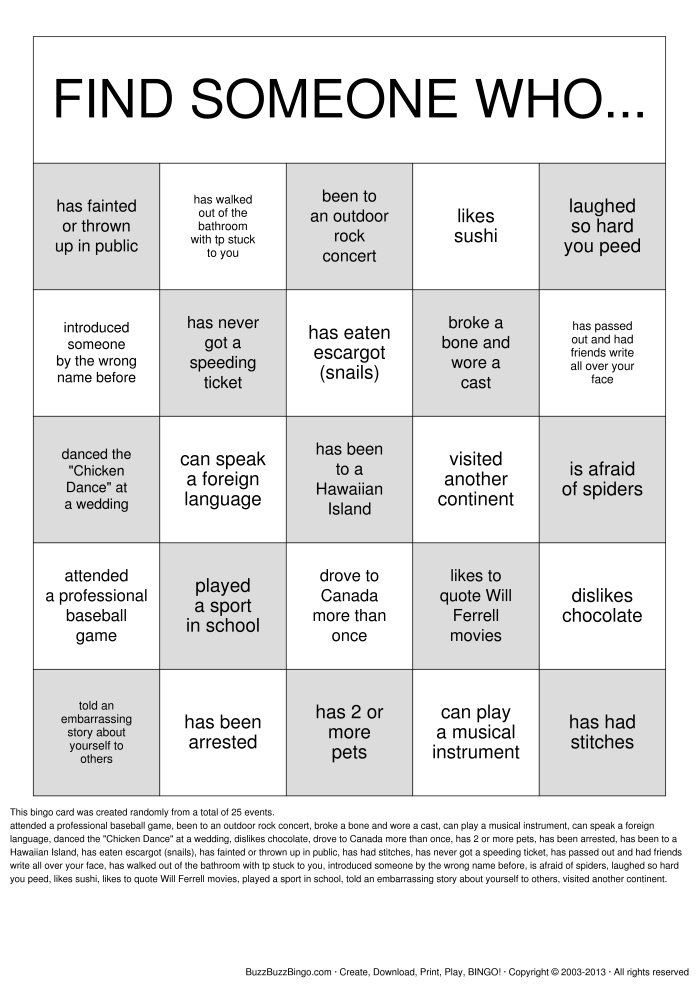 This space featured a custom blue and white striped dance floor, complete with a ceiling covered in white lanterns to add plenty of texture.
18 of 23
Bring in Balloons
Photo by Kristin Sweeting
Nothing beats a classic checkered dance floor. And while that design can certainly speak volumes on its own, why not add even more fun to the mix? The ceiling of this dance floor space was decked out with hundreds of white balloons for a dreamy décor statement.
19 of 23
Play With Texture
Photo by Steve Steinhardt Photography 
This gorgeous dance floor was made up of bespoke blue and white Spanish tiles. But what made it even more special? Plenty of textured linens with glowing orbs above to create an extraordinary space.
20 of 23
Use Unique Lighting
Photo by Tim Ryan Smith 
It was all about the lighting for this dance floor design. Individual strings were hung with various bulbs for a hint of an industrial-meets-vintage vibe.
21 of 23
Create Your Own
Photo by Yellow Bird Visuals
Planning a DIY wedding? If you don't want to hire a vendor to bring in a dance floor, you can create your own. This couple utilized a variety of rugs to allow for outdoor dancing under string lights.
22 of 23
Dance on Stars
Photo by the curries
What if you could dance on top of stars? On your wedding day, you can! This tiled dance floor may have looked simple on its own, but once the lights went low, LED lights projected onto the floor and made for a star-inspired display.
23 of 23
Make It Magical
Photo by Lauren Fair Photography 
This dance floor incorporated multiple gorgeous elements to create a truly magical set-up. Not only is the ceiling décor, which is made up of greenery and chandeliers, absolutely stunning, but it was made that much more special with a lighted monogram projected on the floor.
80 Wedding After-Party Songs To Keep the Celebration Going
9 ways to make your wedding guests dance all evening
1.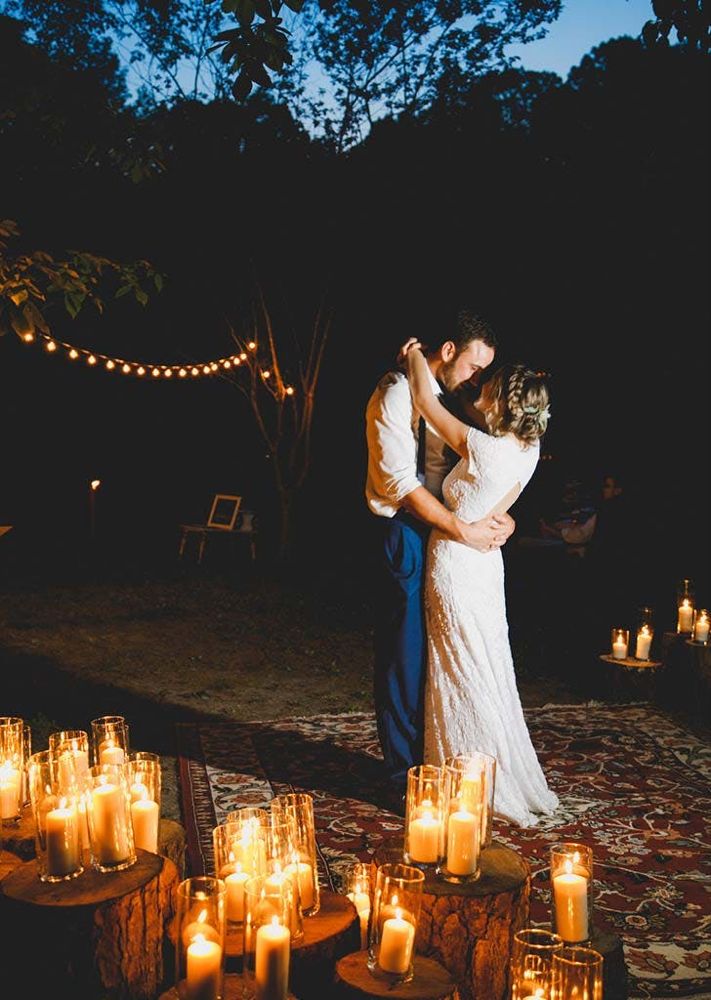 Warm up the guests
It is best to start preparing guests for the dance without stopping in advance. As soon as the first cocktail is sipped, you can start "warming up". A light lounge or jazz will do just fine for him. In general, any music can sound. The most important thing is that guests do not chew snacks in complete silence.
2. Make the perfect dance floor
On a cramped and uncomfortable dance floor, few people want to dance; a dance floor that is too spacious will also confuse guests. It is best if each couple can have three square meters of space. Let's say if you have 150 guests, then the dance floor should be 15x15 meters in size. nine0005
A dance floor in the very center of the banquet hall is a great solution. Guests will immediately understand that dancing will be an important part of the program at this celebration.
3. Seating the guests correctly
People who love to dance are best seated very close to the dance floor.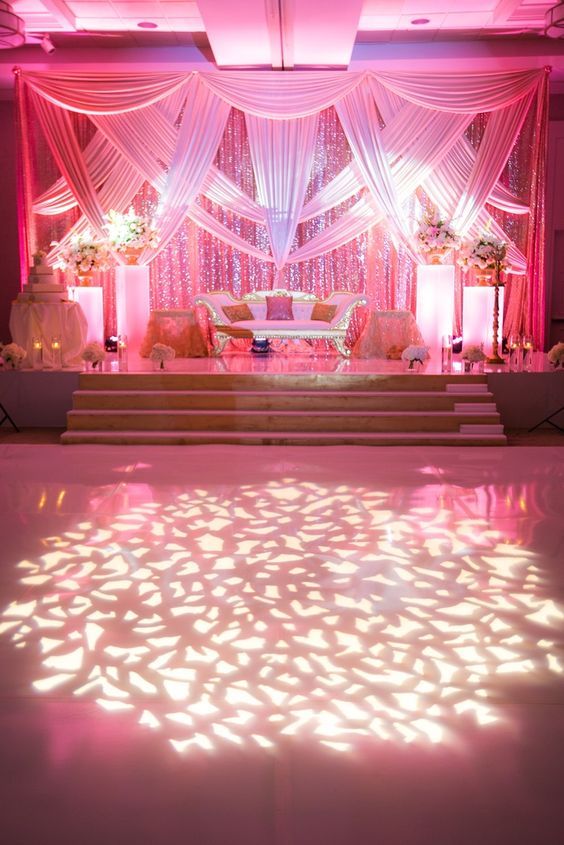 Hearing the first groovy rhythms, they will be the first to start dancing. More modest guests, seeing this, will relax and join the dancers. Elderly guests should be placed away from the dance floor. They will surely thank you for it. nine0005
Don't turn the music up too loud. Of course, the guests need to come off to the fullest, but they should also have the opportunity to talk.
4. Trust the professionals
Don't skimp on a professional DJ. This person will not only spin the discs, but also make sure that none of the guests get bored. He will be able to pick up good music that will appeal to everyone. The bride and groom have better things to do than play the role of an entertainer, don't they? nine0005
See also: What is better for a wedding - a DJ or "live music"?
5. Consider the tastes of all
Consider the musical tastes of the guests. Perhaps you yourself love rap, but do your guests share such addictions? The same applies to the hits of the 1980s, as well as hard rock or country.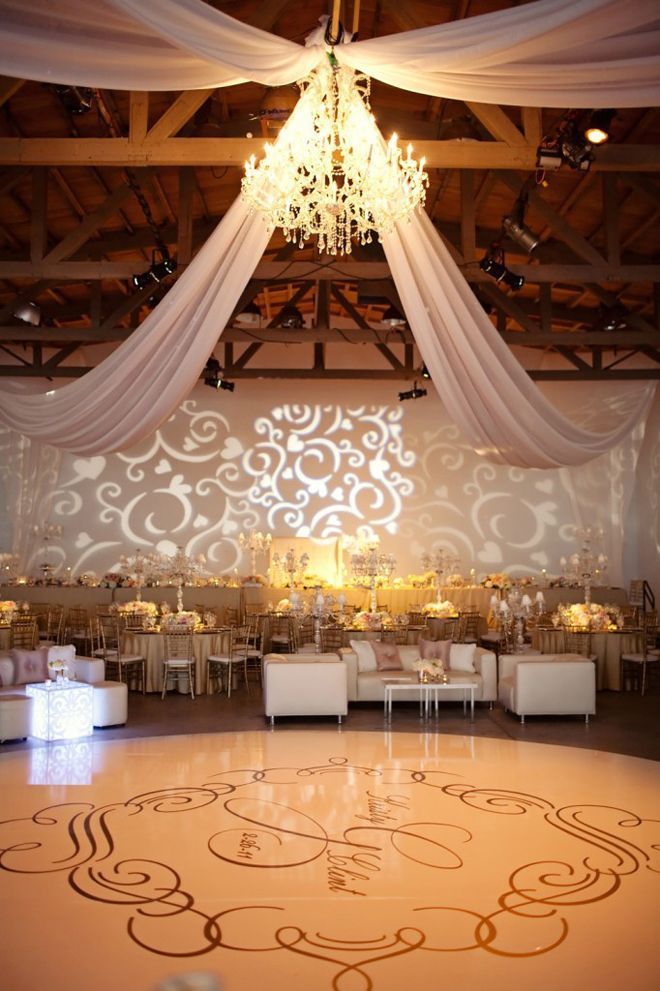 To some, such music will seem like a mournful stream of sounds, and to someone it will be completely annoying. You need to make sure that none of the guests remain offended. Assorted, consisting of popular genres, will completely solve this problem. nine0005
Ask your loved ones (don't forget the older generation) and friends about what kind of music they would like to hear. Let every guest have the opportunity to dance with pleasure.
6. Create a stop list
Do not be lazy and make a so-called stop list for musicians and DJs. It should include compositions that in no case should be played at a banquet. Even one single unloved song can beat off all the desire to dance. However, you shouldn't be too categorical either: you don't need to stand over the soul of a DJ while mixing tracks. nine0005
7. Don't delay the first dance
Traditionally, the first dance at the wedding is danced by the young. Even if it is simply delicious, it does not need to be tightened.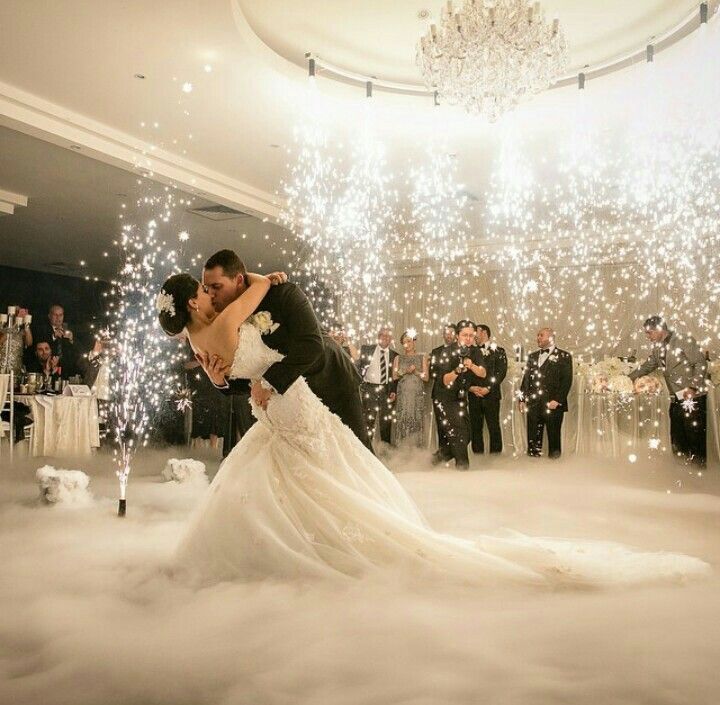 Pay attention to the duration of the soundtrack to which you will dance. It is better not to turn the invitees into indifferent spectators for a long time. If the composition lasts more than five minutes, in the middle of the dance, draw guests into the circle - so they will not get bored. Your first dance should be remembered by guests as romantic and touching, not lasting forever. nine0005
8. Surprise your guests
A surprise dance is a great way to surprise guests and get them on the dance floor. Surprise your guests with something unusual. Invite breakdancers or flamenco dancers, Indian dancers or belly dancers. Such incendiary numbers will help restore the dance mood to the guests when they sit firmly at the table.
9. Set an example
If the newlyweds themselves will be the first to go to the dance floor, then the guests will not be able to sit still. Behave naturally: the invitees should understand that no one competes in the art of dance at your wedding, everyone just relaxes and has fun.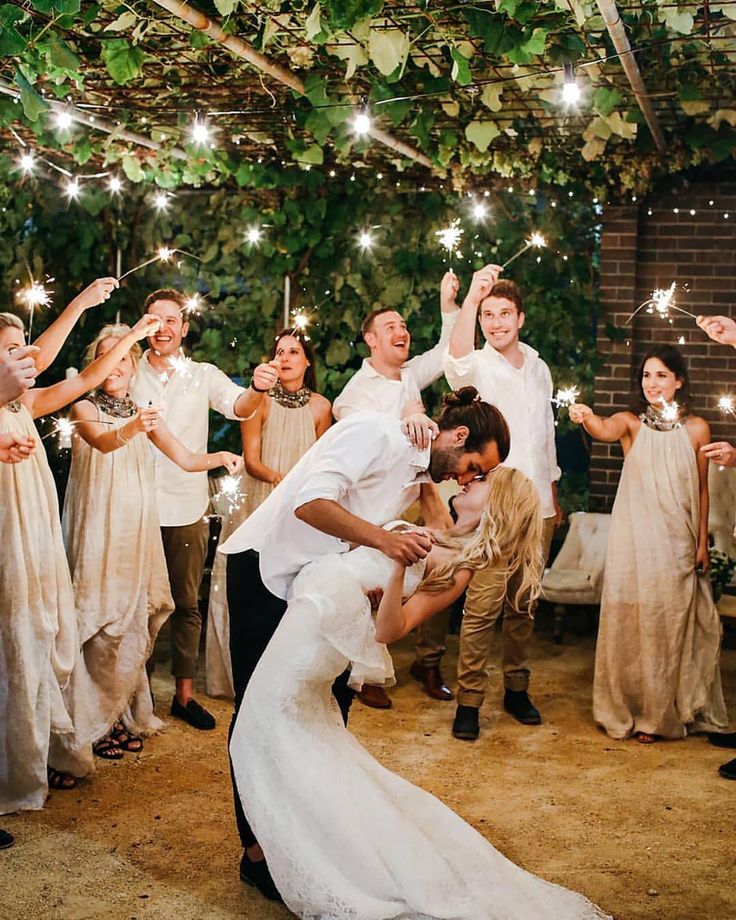 Show your guests how important it is for you to actively participate in the dance part of the party. nine0005
Wedding playlist how to make

Sections:

Registration, registry offices
Festive agencies
Leaders, artists, musicians
Wedding dresses, costumes
Wedding photo and video
Wedding Banette
Suppiting design0070




How to Create a Wedding Playlist: A Practical Guide

Whether you choose to have a string quartet, a cover band or a DJ, you want to be directly involved in putting together a playlist to fill the festive day with your favorite songs.

We will show you how to put together a playlist quickly and competently. nine0155

If you have already begun to think about the musical component of the evening, then most likely you have encountered the main problem. Hundreds of great songs are spinning in your head, but how do you choose a few dozen from them that will sound on your big day? Or maybe, on the contrary, you cannot remember a single worthy composition? In order not to spend all your energy on just compiling a playlist (you still need them), act in an organized and consistent manner.


To begin with, divide the solemn day into several stages, each of which will require its own accompaniment. This will make it easier for you to list songs. Estimate how long the music should sound at one time or another. The length of a pop song is on average 3-5 minutes, while classical pieces can be much longer. Understanding the total duration of a musical set, you can easily calculate how many songs you need. What are the stages of the celebration, and what music is suitable for them? nine0005

Arrival of guests and waiting for the bride.
While the guests arrive at the place of the ceremony and together with the groom are waiting for the bride to appear, the musical accompaniment should be unobtrusive, but creating a special wedding atmosphere. These can be romantic compositions without words, soundtracks for famous melodramas or pleasant hits of pop artists about love.

Solemn ceremony.
If your official or unofficial registration takes place on the same day, it is worth preparing a special playlist for it. Of course, in the case of on-site registration, you will have more freedom in terms of choosing music, but registry offices also have the opportunity to order your composition. Traditionally, couples choose classical solemn music for registration, which emphasizes the importance of the moment, but you can also give preference to your favorite song in acoustic processing. If you are planning an exit registration, the compositions with which the story of your love is connected, or songs that will allow you to play on the strings of the soul of the guests, causing them tears of tenderness and delight at the moment when you pronounce your vows and exchange rings, will be an excellent accompaniment. nine0005

Buffet.
For a buffet after registration, choose less solemn and formal music. This is the best moment for lounge or jazz compositions.


First dance.
Perhaps the easiest way to find a song for your first dance. It may be a song that is significant for both of you: for example, the track to which you danced or kissed for the first time. You can also choose music that has nothing to do with your story: if you are preparing a dance with a choreographer, he will help you decide on a suitable track. nine0005

Gala dinner.
Pop hits, love ballads, songs from romantic films, jazz and blues compositions will help fill in the pauses between program numbers.

Dancing.
And, of course, don't forget the dance set. Even if you don't plan to dance for a significant part of the evening, after the banquet, the guests will still want to warm up. Make a playlist of energetic dance songs and dilute them with slow couple dance songs. nine0005

And be sure to focus on the composition of the guests of the holiday. Choose music so that guests of every generation hear familiar hits.

If after reading our tips you're still stuck and you haven't made a playlist, go look for inspiration. Check out your favorite movies, look for videos from real weddings or ready-made music collections for the wedding day - maybe you will learn something from there. You can also ask for help from the musicians or DJ that you invite to the wedding, and from your wedding host (they often work in conjunction with the DJ, which greatly facilitates the situation). And, of course, you can always contact wedding planners - they will definitely have ideas for you! nine0005

How to create the perfect wedding music playlist

Music is such a magical way to express the emotion behind your wedding day, the mood you want to create for your guests, and it can convey a true sense of the bride and groom's personality. While choosing a playlist for such a momentous occasion may seem overwhelming at first, finding trusted vendors (or even a music-loving friend) can be the first step to musical bliss, from the first notes of a father-daughter dance to dance serenades. the last of the nightly revelers. nine0005

First decision? Whether you're looking to hire a band, a DJ, or put together a DIY iTunes playlist. If you're hiring a band or DJ, consider giving them or creative licenses so they can read the crowd and use their professional experience in song selection; however, it is important to convey a few important details. Discuss the genres of music and artists you want (and don't want) to hear at your wedding, and detail the order of events so they can plan how to lead guests from cocktail hour to food and a dance party with music. this will set the appropriate atmosphere for each setting. You will also want to discuss any toasts that might occur, as well as planned "dances" such as father-daughter, mother-son, and bride and groom. nine0005

Many couples today choose to play the role of DJ by creating an iTunes playlist and letting it play throughout the event. The beauty of this option is that it gives the bride and groom complete control over exactly which songs are played and which ones are not played during the evening - it can really be a collection of their favorite songs! However, this requires more preparation, so finding a music lover friend to help with song selection and take charge of managing the electronics and speakers on the day of the event is a great idea. Keep in mind that although the iPod is more compact, music playback from a laptop is good for longer events as it usually has more memory and you can easily add songs to your playlist. And don't forget to set aside a little more time for each song list. If you have an hour for the lunch portion of the reception, include an hour and a half of music in your "dinner" playlist in case it crosses over. nine0005

Whether you hire a supplier or do it yourself, be sure to find out what rental fees your venue may require (including sound equipment, speakers and microphones) and whether electrical outlets will be adequate or you will need a generator.To To help you get started on your music selection, we've put together some sample playlists suitable for three different "types" of weddings and couples. Which one are you?

This playlist contains songs that resonate with every generation and are perfect for couples. An upbeat classic that you can't help but sing along to, from Stevie Wonder, Aretha Franklin and other favorites, will call guests to the dance floor to party all night long. nine0005

1.Father/Daughter: Van Morrison - Brown Eyed Girl
2.Mother/Son: Fleetwood Mac - Landslide
3.Groom/Bride: Etta James - Finally
4. Aretha Franklin - Respect
5 . Bee Gees - Stayin' Alive
6. Earth Wind and Fire - Celebrate
7. Jackson 5 - I Want You Back
8. Michael Jackson - PYT
9. Stevie Wonder - in my life
10. The Temptations - Not Too Proud to Beg

For a couple who's always on trend and wants to have a good time, a chart-topping playlist will do. Who can resist pop culture favorites from Beyoncé and The Black Eyed Peas, especially when surrounded by your closest friends and family? Just hit the play button and let the music do the rest.

1. Father/daughter: John Mayer - Daughters
2. Mother/son: Mariah Carey - Always be my baby
3. Bride/Groom: Jason Mraz - I'm yours
4. La Rue - Bullet Proof
5. Beyoncé - The Single Ladies
6.The Time2 The Black Eyed Peas01
7. J. Cole - Work Out
8. Jay-Z - Empire State of Mind
9. Cupid - Cupid Shuffle
10. Neyo featuring Pitbull - Gimme Everything 902 Kanye West - The Good Life

If your style tends to stray off the beaten path, you might be more comfortable creating a playlist featuring up-and-coming indie artists. For a couple planning an unconventional wedding, take inspiration from any of the music festivals across the country and enjoy tracks from She and Him, Alabama Shakes and more.

1. Father / Daughter: She and He - Sweet Darling
2. Mother / Son: Fleet Foxes - Lorelai
3. Groom / Bride: Alabama Shakes - I Found You
4. Mumford & Sons - Little Lion Man
5. Edward Sharp and Magnetic Zero's - 40 Day Dream
6. Vampire Weekend - Mansard Roof
7.2 The01 - Simple Shins Song
8. My Morning Jacket - I'm Struck
9. Oberhofer - Guests FRM U
10. Youth Lagoon - Cannons

,

A playlist for the perfect wedding reception

This post may contain affiliate links. Click here to find out more.

This post is for all of you couples who are considering DJing their own wedding! Our friends at Uptown Down Entertainment share their top tips for putting together the perfect wedding reception playlist to keep your dance floor rocking all night long. They even included their EXACT playlist that you can easily copy for your big day! Let's talk amazing. I hope you enjoyed this post as much as we did! xoxo jessica

There's a quote that people in the DJ industry use all the time.

" Everyone thinks they can DJ!"

And it's true! Most people look at DJs and think it's not that hard, especially when it comes to mobile DJs who are doing corporate events and weddings.

In truth, the technical act of "disc jockeys" is NOT very difficult, especially if they don't do things like pick beats or mix songs while they mix songs. If DJs don't, then work being a DJ at this point is not much more than using a computer or some players to switch between songs. nine0005

However, this is NOT what we pay DJs for. Yes, anyone can skip songs back and forth, just like technically ANYONE can take pictures or even bake a cake. But the real value of a DJ comes from a few other areas, such as the other positions mentioned above.

The value of hiring a professional DJ

You don't pay a photographer to "press a button on the camera", but to capture small moments with the best lighting and best exposure. You pay a baker not to for him to mix the dough from Kroger and put it in the oven, and for him to prepare a delicious cake with a custom decor. It's the same with the DJ. You're not paying them to "play songs on your iPod" but to:

Host and lead the event, acting almost like a second coordinator
Set up a quality sound system, make it sound good and use it to create noise and contagious energy in the room so you and your guests will have a great time and dance all night.
Make a list of songs that will create peaks and troughs during the event and keep the dancefloor full

So while it's true that everyone can do generic DJ "actions", being able to run the party instead of just picking songs at random and hoping for the best is something that takes experience, trial and error, and experimentation. Everything your college buddy Schwartz has with "fire mixtapes" probably doesn't! nine0005

While the first two steps are beyond the scope of this report, we are going to discuss how to create a playlist that will keep your guests engaged and the dance floor filled.

After we take a quick look at the psychology/techniques for putting together a great wedding reception playlist, I'll give you a list of songs for the 4-hour reception that will grab the audience's attention, as well as a few "Secret Sauce Songs" that are guaranteed to bring back the dead withering dance floor nine0005

Putting together a DJ playlist for a wedding or special event is an art. It really is.

Think about it: As a DJ, you're tasked with compiling a list of 120-150 songs (about 60-90 seconds each) that your audience of all will love, and one that guarantees they will show interest in them. enough to dance. This is not an easy task!

You will also be dealing with people who will come all night asking, some of which will DEFINITELY kill your dance floor. nine0005

An example of a real wedding

I once performed at a wedding where this girl, probably in her 20s, kept coming up and asking if I could play this random slow hip hop song. At first, I politely told her "I'll try to squeeze her in later!", knowing full well that I wasn't going to play her because it would completely kill the vibe and I would lose the crowd. But then she came back and asked. Then again. Then again. Finally, I told her that I couldn't play this song because it wouldn't sound good and it's very hard to get the dance floor back if you lose it. nine0005

After 5 minutes, they tap me on the shoulder - this is the girl's father. Yes, a woman in her twenties conspired with me to her father that I would not play her song, so my father decided: "He will take care of it!". At this point, I said, "OK, it doesn't matter!", played the song and (as expected) there was no more dancing.

What do I want to say?

I'm using this story to explain the fact that putting together a playlist is more than just choosing your favorite songs - it almost never works, even if your taste is "great". People don't want to discover cool new music. on the dance floor and listen to her - they want to dance and sing along to songs they know. And all generations, not just young dough! Grandma wants to come down too. nine0005

So with that in mind and before we throw you a list of songs, here are 6 tips to keep in mind when putting together a playlist for your wedding reception:

1. PLAY THE HITS people just want to hear. Play hits!

That's why people hear the same songs over and over at weddings and corporate events - because they work! They perform the task of packing the dance floor and keeping it there. Songs like Billie Jean and Shout or Yes! from Usher.

People aren't interested in you playing your curated list of "The Top 30 Indie Songs of the Last 10 Years on Independent Labels". They don't want to hear your exclusive Shins acoustic recording. They want Motown, Top 40, 90s pop, etc.

playlist for wedding receptions will have high and low moments - fast and slow songs. Time for people to dance close, time for slow dancing, and even time for people to go out for a drink so they can enjoy the dance floor even more. nine0005

If I had to give you a ratio, I would suggest playing around 90% upbeat/dance songs versus 10% slow jams. Or maybe every 10-12 songs add a slower one. People want them... but not as much as the faster ones!

So structure your playlist to have a lot of upbeat and upbeat tunes, but then add some slow ones to keep the flow going.

3. PASS the top 5 pop songs on the radio this month

Find the top 5 pop songs of the month and play them, especially if they are faster. Just look at the Billboard Hot 100 or listen to a few hours of radio and you'll know exactly which ones to hit.

These songs will be fresh and new, yet familiar enough for people to sing and dance to.

4. LEAVE NO SILENCE BETWEEN SONGS

When you're a DJ, even 2-3 seconds of silence between songs can make a room SUPER weird and crush the dynamics. nine0005

When you're a DJ, you want to smoothly and seamlessly switch between songs so there's no silence or anything like that. This is the most "active" part of DJing and one of the reasons you can't "set it and forget it".

Silence is a little more acceptable for things like background music at dinner or cocktail hour, but you don't want to have ANYTHING during main dance time!

5. LOAD SONGS BEFORE YOU GET

With the decline of CDs and the advent of streaming, building a song database has become a difficult task.

On the one hand, almost all the songs in the world are available to DJs. The downside of this is that we only have access to songs if we have internet access, right?

What happens if you create a Spotify playlist and head to the venue only to find it's in the middle of a woods in Knowersville? You turn on your phone and BOOM - one service bar. Trust me, it's a big bummer when your music is cut off in the middle of a song so that your weak signal can be "buffered". If it happens every 30 seconds, that's even at is greater than .

ONE IMPORTANT TIP:

Before heading to the venue, make sure you have your wedding reception playlist "Offline" if you are using a DJ streaming service. This will keep a copy of the songs on your phone or computer, which you can delete later if you need to. This step alone will save you from heartache!

6.PLAY THE SONG ONLY 90-120 SECONDS

Usually people don't want to listen to a whole song. The variety and unpredictability of the DJ playlist is part of the fun! It's usually a good mark to keep songs within 90–120 seconds.

However (and this is where experience comes in again) some songs DO need to be played to the end. Think about songs with classic bridges or last choruses. Songs like Don't Stop Believin' or I Want It That Way.

So stick to one and a half to two minutes for each song, if there is no signature part of the song after this mark. nine0005

So we've looked at the psychology behind making great music and the psychology behind it. Now let's get together!

The following wedding reception playlist is approximately 4 hours long. The order doesn't really matter - just make sure you use mostly fast songs and then add a few slow ones here and there.

This playlist is multi-generational: toddlers, teens, college students, adults and seniors. Old people don't mind dancing to the Backstreet Boys if everyone else does too! It's about the atmosphere, the fun environment. People want to feel connected, dance and sing along; it doesn't matter who it is as long as everyone is doing it! nine0005

Below are some hourly playlists that you can use to set up a DJ playlist for the evening. Keep in mind that they are always changing (especially new ones), but many of them are old classic back-ups that are forever in use.

This is the exact playlist we use to DJ our weddings and events!

---

📌 PIN THIS! 📌

GET THIS PLAYLIST ON SPOTIFY! nine0155

GET THIS PLAYLIST ON SOUNDSGOOD!

HOUR 1

Yep! (featuring Lil Jon & Ludacris) - Usher
Can't Feel My Face - The Weeknd
Billie Jean - Michael Jackson
Don't Stop Believin' - Journey
Firework - Katy Perry
Get Lucky - Daft Punk, Pharrell Williams, Nile Rodgers
Happy - Pharrell Williams
I want to dance with someone (who loves me) - Whitney Houston
I want you back - Jackson 5
No Diggity - Blackstreet, Dr. Dre, Queen Pen
Scream, pt. 1 & 2 - Eisley Brothers
Shut Up and Dance - MOON WALK
Sugar - Burgundy 5
Think Out Loud - Ed Sheeran
Uptown Funk - Mark Ronson, Bruno Mars
I Must Feel - Black Eyed
- B-52's
Low (feat T-Pain) - Flo Rida T-Pain
Get Down Tonight - KC & The Sunshine Band
Girl Jessie - Rick Springfield
Brick House - Commodores
TiK ToK - Kesha
Stayin' Alive - Bee Gees
Sexy And I Know It - LMFAO
! - OutKast
Pour Some Sugar On Me - Def Leppard
Baby Got Back - Sir Mix-A-Lot
Thriller - Michael Jackson
Moves Like Jagger - Maroon 5, Christina Aguilera, Mac Miller
We Are Family - Sister Sledge

H2

Stronger - Kanye West
Blurred Lines - Robin Thicke T.I. Pharrell Williams
Gettin' Jiggy Wit It - Will Smith
Timber - Pitbull Kesha
Party In The USA - Miley Cyrus
Just Dance - Lady Gaga
Party Rock Anthem - LMFAO
- U Can't Toucht MC Hammer
Lips Are Movin - Meghan Trainor
Want to Want Me - Jason Derulo
Bang Bang - Jessie J Ariana Grande Nicki Minaj
Ignition (Remix) - R. Kelly
Can't Stop the Feelin' - Justin Timberlake
Wobble - V.IC.
Cupid Shuffle - Cupid
Cha Cha Slide - Mr. C
Electric Slide - Electric Slide Music Makers
All Star - Smash Mouth
24K Magic - Bruno Mars
Something Just Like This - The Chainsmokers Coldplay
Shape of You - Ed Sheeran
I don't want to live forever - ZAYN Taylor Swift
Closing time - Semisonic
Pretty Fly (for a white guy) - The Offspring
Kryptonite - 3 Doors Down
How old am I? Next once? - blink-182
Summer Girls - LFO
Thong Song - Sisqo
Tubthumping - Chumbawamba
Ice Ice Baby - Vanilla Ice

HOUR 3

Wannabe - Spice Girls
… Baby One More Time - Britney Spears
Livin' La Vida Loca - Ricky Martin
Tearin' My Heart - *NSYNC
I want you back - *NSYNC
Bye
Bye Bye - * NSYNC
It's Gonna Be Me - * NSYNC
Everybody (Backstreet's Back) - Backstreet Boys
I Want It That Way - Backstreet Boys
Single Ladies - Beyoncé
Dynamite - Taio Cruz
Footloose - Kenny Loggins
Dancing Queen - ABBA
Wild Ones (feat. Sia) - Flo Rida Sia
Gangnam Style - PSY
Club Can't Handle Me - Flo Rida ft David Guetta ft David Guetta
Boom Boom Pow - The Black Eyed Peas
Let's Get Started - Spike Mix - The Black Eyed Peas
Beat It - Single Version - Michael Jackson
Bad Romance - Lady Gaga
Forget You - CeeLo Green
ABC - The Jackson 5
Locked Out Of Heaven - Bruno Mars
Ain't No Mountain High Enough - Marvin Gaye
Livin' On A Prayer - Bon Jovi
Respect - Aretha Franklin
We Are Family - Sister Sledge
September - Earth, Wind & Fire
You Shook Me All Night Long - AC / DC
Me (Whip / Nae Nae) - Silentó

HOUR 4 Diamond Nee Caroline - Sweet Caroline - Sweet Caroline - Sweet nine0340
Cotton Eye Joe - Rednex
Umbrella - Rihanna JAY Z
Fergalicious - Fergie will.i.am
SexyBack - Justin Timberlake Timbaland
SOS - Rihanna
My Black0 Eyeback3 Humps 30 Pela39 Gwen Stefani
We're Together - Mariah Carey
Since U Been Gone - Kelly Clarkson
Oops!. .. I Did It Again - Britney Spears
Super Bass - Nicki Minaj
We R Who We R - Kesha
Only Girl (In The World) - Rihanna
DJ Got Us Fallin' In Love - Usher Pitbull
Like A G6 - Far East Movement The Cataracs DEV
I Know You Want Me ( Calle Ocho) - Pitbull
Hot N Cold - Katy Perry
California Gurls - Katy Perry and Snoop Dogg
Teach Me How Dougie - Cali Swag District
Trap Queen - Fetty Wap
Cake By The Ocean - DNCE
Love Yourself - Justin Bieber
One, Two Step - Ciara Missy Elliott
Drop It Like It's Hot - Snoop Dogg Pharrell Williams
900 32 All About That Bass - Meghan Trainor
The Hills - The Weeknd
On My Mind - Ellie Goulding
Paris - The Chainsmokers
Fancy - Iggy Azalea Charlie XCX

CPR SONGS

If all else fails and you just can't get people on the dance floor these next songs are your sustain life. Your secret songs-sauces. They'll save your party - just turn them on and let the song take care of the rest. Use them only in emergency situations - don't waste your money! nine0005

Vibration - V.I.C.
Cha-Cha Slide - Mr. C The Slide Man
I Want It That Way - Backstreet Boys
Baby's Got Back - Sir Mix-a-Lot
I Gotta Feelin' - Black Eyed Peas

---

So that's it - a bit of psychology about playlist selection for a DJ event, as well as some great playlists that you don't have to think about. These songs are all tested and work great (based on personal experience)! nine0005

If you would like to know more about DJing at your own wedding or even hiring a DJ to play for you and your guests, please contact me at [email protected] and I will be happy to help and answer any questions you may have. eat!

Thank you and happy DJing!

Editor's Note: Due to the pandemic, some of the general wedding planning tips we share may not be applicable or possible due to event restrictions. Please follow all applicable rules and stay safe and healthy! Find more resources for planning your pandemic wedding here. nine0323

.

75 epic wedding party songs for your reception

From a technical standpoint, the wedding ceremony, where you actually tie the knot, is the most important part of the day. Secretly, every guest knows that a good party that will end the night and leave memories of a lifetime is what they are really looking forward to.

There's nothing better than having all your loved ones in the same room, dancing and singing along - that's why you need a playlist for epic wedding receptions. a few golden vintage songs and a few romantic slow songs: the combination of all this keeps the party atmosphere going. nine0005

Pick a selection of these party songs and our best wedding songs of all time and you'll be struggling to get guests on the dance floor at the end of the night.

How to make a playlist for your wedding party

How to make a playlist of songs for your wedding party is up to you. We recommend that you make a list of the songs you like, listen to our playlist to find classic wedding songs, and ask your guests. This could be through DJ requests at night or the wedding invitation section where they can add a song suggestion. nine0005

If you have a DJ, they usually have playlists that you can select and add. Likewise, the engagement ring will have a repertoire and they can learn a few more songs just for you. You can make your DIY wedding music with a playlist if your location has speakers you can use. The only thing to remember is that you will need enough songs - lack of music - no no!

That right balance means you get those special moments where your little cousin teaches grandpa how to floss Katy Perry, and there are slower moments where your guests can sit down, have a drink and then get up again when they hear the song, which they love. nine0005

Top 75 Wedding Party Songs

Below is a pre-made playlist of the best wedding party songs.

Single Ladies (Put on a Ring) - Beyoncé
Summer of '69 - Bryan Adams
Sweet Child O' Mine - Guns N' Roses
Crazy Little Thing Called Love - Michael Bublé
Dancing in the Moonlight - Toploader
on the floor - Jennifer Lopez
Valerie - Amy Winehouse
Marry You - Bruno Mars
Walking On Sunshine - Katrina and the waves
Come on Eileen - Doxie's Midnight Runners
Give me all your love - ZZ Top
I want to dance with someone - Whitney Houston 9034
9 to 5 - Dolly Parton
Brightside - Killers
Wake me up before you go - Bang!
(I've Had) Time of My Life - Bill Medley and Jennifer Warnes
I'll Be There for You - Rembrandts
Macarena - Los del Rio
Mambo No. 5 (A little…) - Lou Bega
As long as you love me - Backstreet Boys
I Don't Feel Like Dancin' - Scissor Sisters
Let's go back again - Chubby Checker
The Power of Love - Huey Lewis and the News
best - Tina Turner
Friday I'm In Love - The Cure
Hello Delilah - Plain White T-shirt
Live and Let Die - Guns N' Roses
One Love - blue
We don't have to take off our clothes - Jermaine Stewart
C'est La Vie (You can never tell) - Pulp No Pulp
Club Tropicana - Bang!
This is the way to Amarillo - Tony Christie
Man! I feel like a woman! - Shania Twain
Moves Like Jagger - Maroon 5 feat Christina Aguilera
Sexy and I Know It -LMFAO
Sir Duke - Stevie Wonder
Walk Like an Egyptian - bracelets
Crocodile Rock - Elton John
Don't Stop Believin' - Journey
Everybody Have Fun Tonight - Wang Chun
Eye of the Tiger - Survivor
Footloose - Kenny Loggins
Girls Just Want to Have Fun will roll - yes, yes, yes
Living on a prayer - Bon Jovi
Reach - S Club 7
U. M.C.A - Villagers
All about that bass - Megan Trainor
Always - Bon Jovi
Greatest Love of All - Whitney Houston
Hakuna Matata - The Lion King
Hollaback Girl - Gwen Stefani
I Gotta Feeling - Black Eyed Peas
People Are Raining - Jerry Halliwell 9030 in the Air - Tom Paul Jones
Mamma Mia - ABBA
The One And Only - Chesney Hawks
Perfect Love - Phil Collins
All I Want Is You - Barry Louis Polisar
Beautiful people - Labrinth
The best song in the world - One Direction
I CAN'T STOP THE FEELING! - Justin Timberlake,
Could it be magic - Take That
Ordinary people - various artists
Everywhere - Fleetwood Mac
I was born to love you - Freddie Mercury
Put all your love on me - ABBA 0 Oh Pretty - Roy Orbison
First time I saw your face - Roberta Flack
Three Birds - Bob Marley and the Wailers
Electric Dreams Together - Giorgio Moroder and Philip Oakley
Father Daughter Dance - Wayne Jacobs
If I Fall in Your Heart - Derwent Hannon
Call Me Maybe - Carly- Ray Jepsen
All Of Me - John Legend

,

---

See also

How to present wedding guests for congratulations
How to congratulate your husband on his 10th wedding anniversary in an original way
DIY Wedding Candle Holder
How to decorate a black car for a wedding photo DIY
How to make a picture of money with your own hands for a wedding
Wedding five years what is called
How to congratulate your granddaughter on her wedding day in your own words
3rd wedding anniversary as called
How beautiful it is to congratulate your daughter at the wedding in prose
Autumn wedding how not to freeze
How to hang a padlock at a wedding

.