How to dress for homecoming dance
Homecoming Vs. Prom - Differences You Should Know
Skip to content
Posted on | by admin
Are you shopping for your biggest dances for high school? Make sure you keep in mind these differences when finding your gorgeous prom or homecoming dress! 
After a long break, we are finally back to a new school year. While you missed out on many special moments in the past year, we know you are super excited to be back in school, play sports, go to dances, and finally get back to the norm! When curating your looks for your homecoming and prom it's important to keep in mind how to dress for the two biggest high school events, prom and homecoming. We know you are ready to dress up and let loose at homecoming and prom.
What's the difference between Homecoming and Prom?
Homecoming happens towards the start of the school year. Homecoming is a way of welcoming back all the students to school, teachers, and alumni.
Typically, homecoming is a week-long event full of school spirit and gets tied with a big football game against one of your school's rivals. Every high school or college has its homecoming traditions and is the reason homecoming is so special. Although the week of homecoming is fun, the best part is the homecoming dance. Asking someone to homecoming is a little less formal than prom, but many people do cute homecoming proposals. Homecoming is considered a semi-formal event where girls typically wear short-length dresses. The homecoming dance is very inclusive and open to all grades (freshman, sophomores, juniors, and seniors). 
Unlike homecoming, prom is only for high school and happens in the spring starting in March and ending in June depending on where you live. Prom is a more formal event and considered one of the most important events in high school. There is a big promposal that happens when boys ask the girls out to prom (one of our favorite parts). Prom is only for upperclassmen (juniors and seniors) unless you are one of the lucky underclassmen to get asked.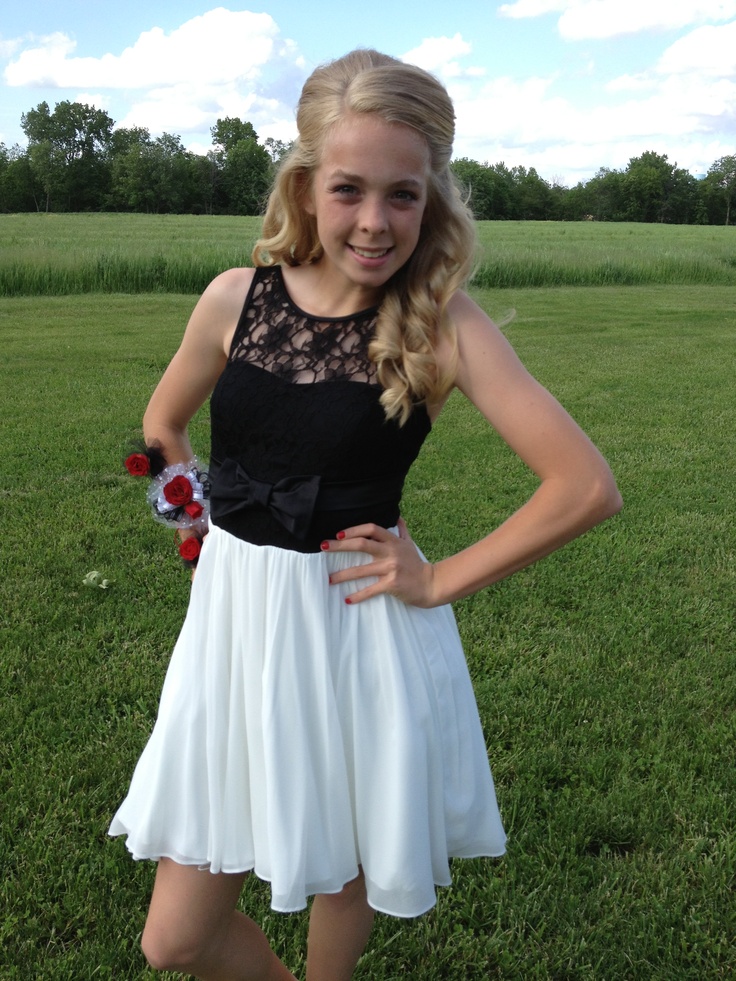 For prom, girls typically get very glammed up wearing long designer gowns, high heels, makeup, and jewelry. Guys on the other hand will wear a suit or tuxedo with a matching vest and tie. Back in the day, prom typically happened in the high school gym like the homecoming dance. However, high schools have increased their prom budgets and your prom is likely going to happen at a more sophisticated and gorgeous venue. Prom is typically the highlight of high school students, so they plan excessively for the special prom night!
Should you dress Formal or Semi-Formal for Prom and Homecoming? 
If you are struggling to figure out what to wear to homecoming, start with how formal the event will be. Since homecoming is more of a welcoming back event and more casual, the homecoming dance will be more semi-formal. You will want to wear a short dress that is cute and acceptable to the dress code at school, so save the long formal dresses for prom. Typically, girls wear tight-fitted short dresses embellished with sparkle or detail to give a more glamorous look for hoco.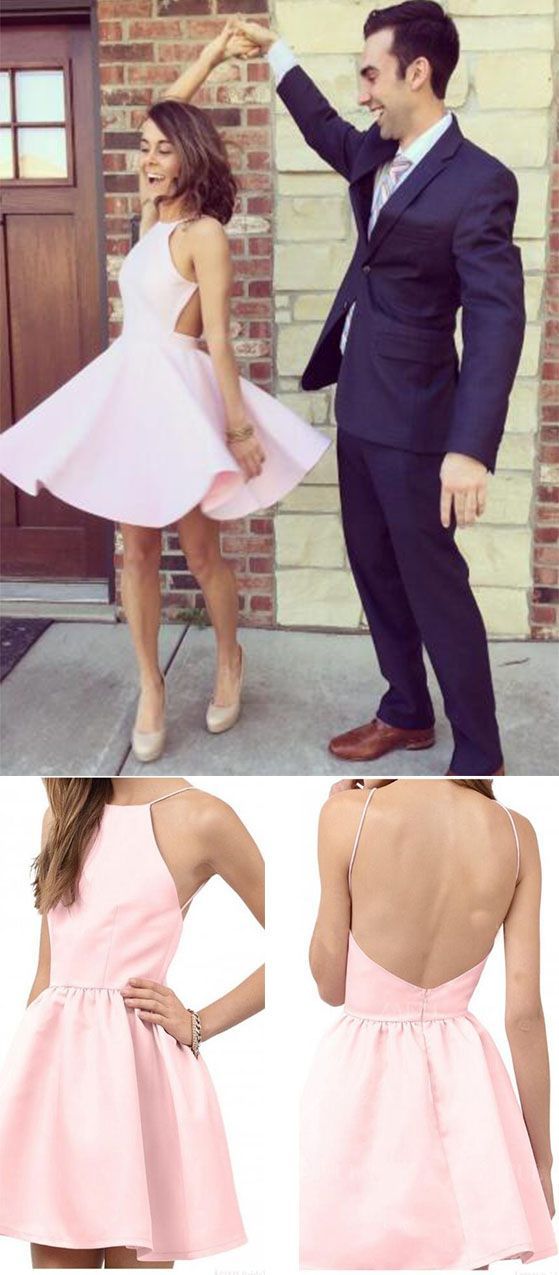 However, girls are also wearing a-line dresses with pockets or fully beaded short dresses. Although hoco is a semi event, you need to finish your look with some hair, make-up, simple jewelry, and low heels or flats!
How should you dress for prom? Well, prom is a very formal event. Girls should wear long-length dresses. For prom, girls typically wear different types of silhouettes and styles. Some silhouettes girls typically wear are ball gowns, mermaid prom dresses, trumpet dresses, sheath dresses, and a-line prom dresses. The dresses also have different cuts and styles, some of them have illusions, off-the-shoulder prom dresses, high neck prom dresses, and two-piece prom dresses. Prom dresses, especially Amarra dresses, come in any color you can imagine so you aren't likely to be wearing the same dress as someone else — that would be a nightmare. There are black dresses, red dresses, light blue dresses, pastel-colored dresses, metallic-colored dresses, neon-colored dresses, and more.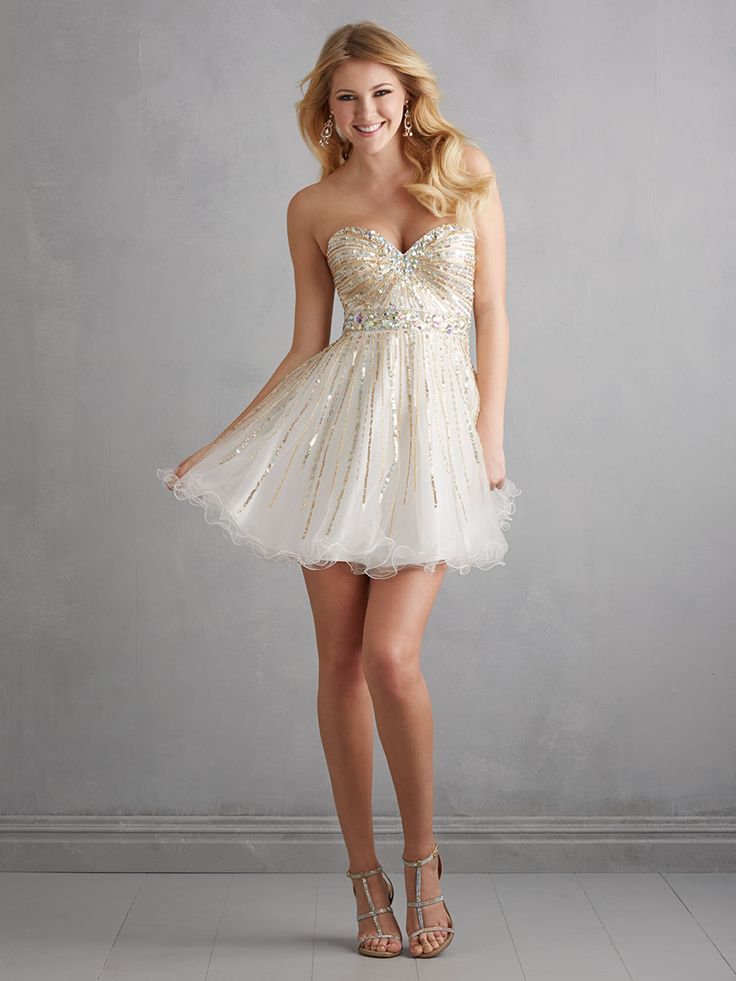 With their designer dresses, girls will get their hair, makeup, and nails done for the night. Also, they will wear high heels and accessories like an embellished handbags. 
See: Best Two Piece Dresses For Prom
Will I Spend More On My Prom Dress Or Homecoming Dress?
You'll end up spending more on prom since it is a formal event. A beautiful long designer dress will cost more than a short designer semi-formal homecoming dress. Prom dresses can also be more expensive due to different fabrics (silk, satin, jersey, organza) and styles whether you want a tight-fitted prom dress or want a beautiful ball gown with pockets like Amarra Style 20404. However, you don't have to worry about spending too much on your prom! Amarra focuses on all the details to make sure you have the best prom night and homecoming night! Amarra has every dress style, color, and size you need at a great price.
We can't wait to see your prom and homecoming dresses! Make sure to follow us on Instagram, Pinterest, and Tiktok at @amarraoffical to see our gorgeous prom, homecoming, pageant, and evening dresses!
What Not To Wear – Niles West News
By Teodora Simic , Staff Writer
October 4, 2017
It's homecoming season again! Spirit week has officially begun, and everyone is scrambling to get their homecoming plans and outfits in order.
Here are some quick tips on what NOT to wear to homecoming.
GUYS
Do not wear jeans. This is one of the only two dances during the school year, so do not show up in jeans. It's not a regular school day or a hang out with your friends. It's one of your only chances to dress up and look presentable. Do yourself a favor and trade in the jeans for a nice pair of pants.
Don't wear cut-off gym tanks or muscle tanks. I've seen people change from their nice clothes into muscle tank tops after they take their pictures. Yes, the gym gets hot, and yes, everyone gets gross and sweaty. But there is no need to change into workout clothes. You will look ridiculous.
Do not wear sneakers. I understand that gym shoes are very comfortable, but beauty is pain, not comfort. Dress shoes look much nicer in pictures, and they make a person look cleaner and more put-together. Plus, it gives you some extra height, if you want it.
So, what should you wear? Homecoming is a semi-formal event.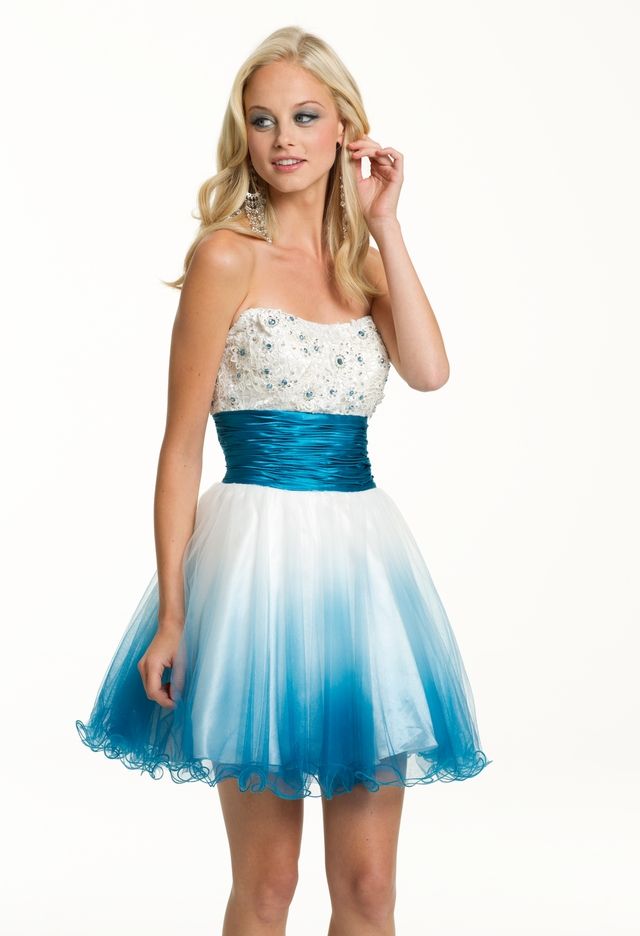 Guys do not need to wear full suits, but they also shouldn't dress up in something they could wear to school. Typical homecoming attire for guys is a button up shirt with dress pants or khakis, a tie or bow-tie, dress shoes, and maybe even a vest. This is your chance to look good and have a good time! Don't waste it on muscle tanks.
GIRLS
Don't wear long prom dresses, but don't wear dresses that are too short. Homecoming is not prom, so you'll look silly if you show up in a floor length ball gown. Be attentive to the length of your dress. A dress that is too short can be inappropriate (and this is a school dance after-all).
Be aware of the material of the dresses. If the fabric is see-through or mesh, that can cause some serious wardrobe malfunctions. Thick material like wool is not a good idea. It will cause complete overheating of your body. Light colors will result in visible marks on dresses, so pay attention to the color of your dress.
Do not keep your heels on when you're on the dance floor. Many girls take of their heels and change into socks as soon as they walk into homecoming. Don't be that girl that punctures people's feet because she feels tall in her heels. Yes, you look great, but the pain isn't worth it.
What should girls wear? Traditionally, girls wear short dresses to homecoming because the long dresses are reserved for prom. The most important thing to remember, if you're a girl, is know your body type. Not everybody looks good in the same dresses, so look for dresses that fit your body and that you are comfortable wearing. After all, the dance lasts a couple hours, so you're going to want to be comfortable in whatever you're wearing.
The most important thing about homecoming is to have fun. This dance symbolizes the return to a fresh school year. Spend it with your friends, and enjoy yourself!
dresses
fashion
Homecoming
homecoming week
Spirit Week
suits
what not to wear
How to choose clothes for dancing
You signed up for dance lessons and now you do not know what clothes to choose - too much of everything? Keep in mind that the clothes you wear to class will depend on which dance style you choose.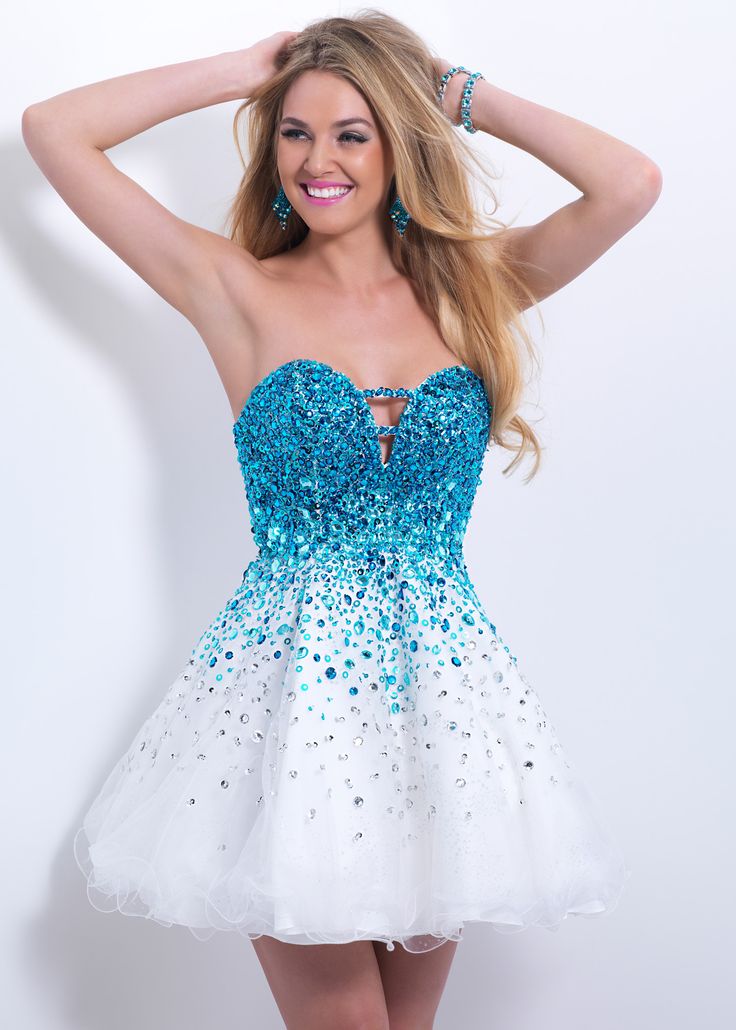 We'll help you figure it out.
Ballet is a discipline characterized by rigor, clarity of position, but also elegance. The clothing you choose should reflect these characteristics. Some dance schools may require you to wear a specific color. If there are no such conditions, then pastel colors or black are the norm.
But it's not just the color that matters. Your ballet outfit should fit your body well so that your teacher can see your movements and help you correct mistakes. This will allow you to perfect each of your positions without getting distracted.
The basic ballet costume includes: a leotard (plain or with a skirt) and tights (preferably made of microfiber so that they last longer). Depending on your level, you may also need shoes, ballet flats or pointe shoes. For the latter, you can choose between more durable leather or satin. And finally, in winter, in order not to freeze during rehearsals, get yourself a bolero and leggings that will keep your muscles warm.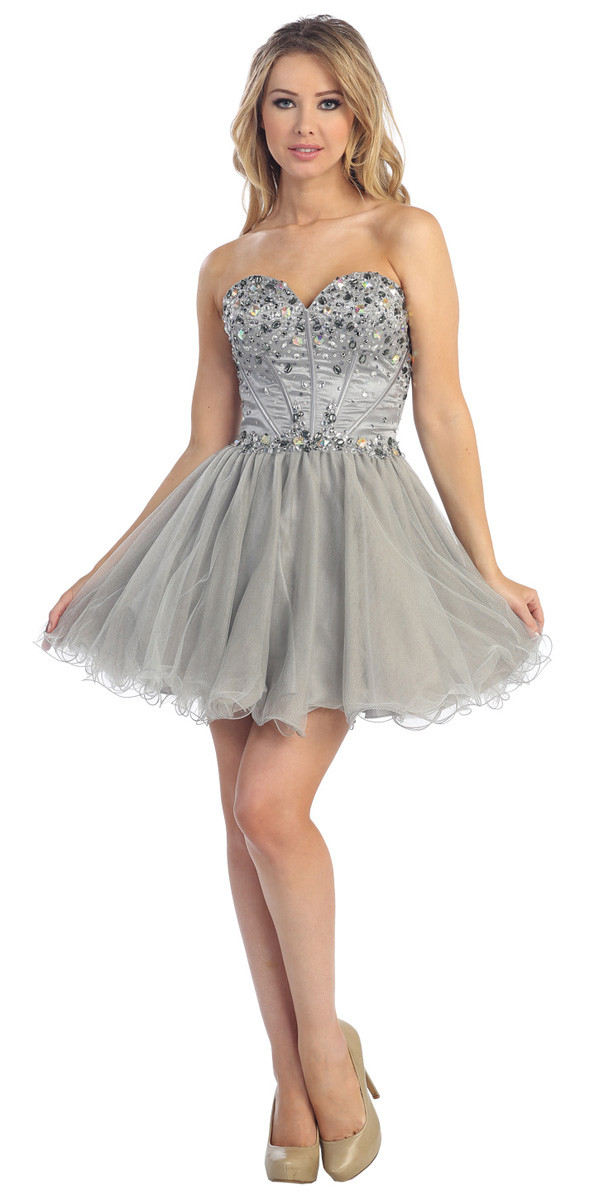 Buy a special hair kit for a practical and elegant ballerina-like bun. She will accentuate your outfit and create an elegant image of a prima ballerina!
Modern dance is influenced by a variety of influences and is a mixture of different dances, from jazz to ballet, as well as urban and even traditional dance. So there are no special rules here. However, you should choose clothes that you will feel comfortable in and that will not interfere with your various movements in the dance. For example, loose-fitting, loose-fitting clothing will give you complete freedom of movement.
The basic set of clothes for modern dance includes a bottom (pants, leggings or shorts), usually in a tight-fitting cut and black. What to wear on top, choose for yourself: what style and style suit you and allow you to move smoothly.
As for shoes, it is very important to feel the floor while dancing, but without pain. Therefore, we recommend you soft comfortable shoes for dancing.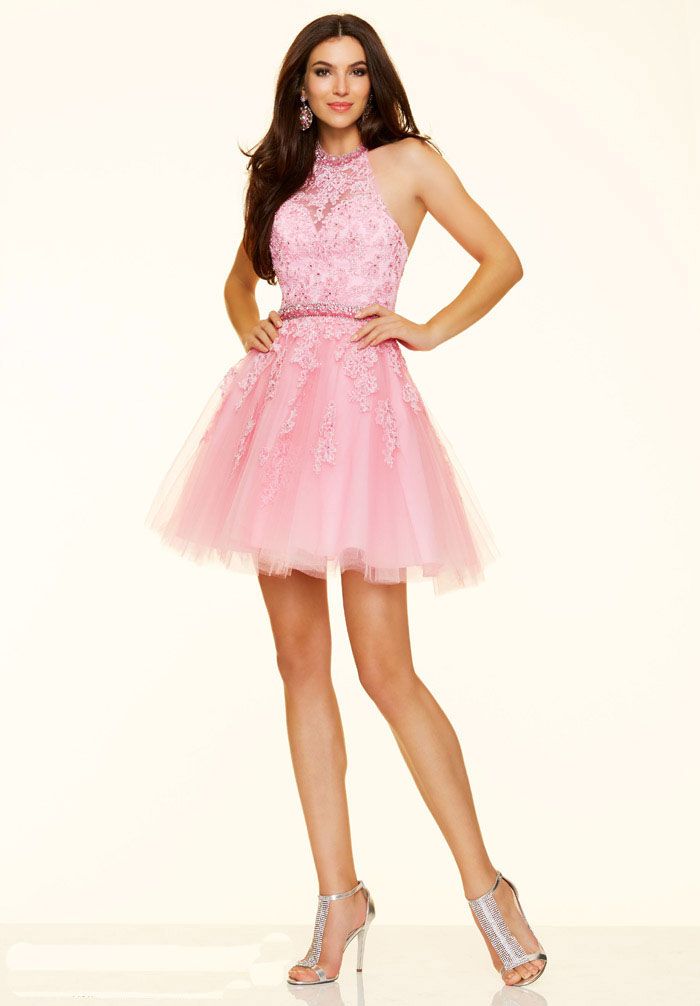 If you have weak knees, we recommend training with dance knee pads to prevent injury.
Street Dance (Street Dance) - street, or city, dance includes wide sharp movements, a series of long, quick steps and tricks on the floor. The concept of style is very important if you want to truly fit into this world. If you are part of a dance troupe or team, a dress code may be recommended. Finally, as with other types of dance, your clothes should be comfortable and flowing.
The main rule is to let your imagination run wild and come up with your own image! The most practical, in our opinion, would be this option: put on baggy trousers, wide leg pants or harem trousers. Loose clothing will allow you to perform all the moves and acrobatics, associating them with the hip-hop style.
There are no rules for the top of the image. Choose what makes you feel at ease. From shoes, as a rule, comfortable and stylish sneakers are suitable.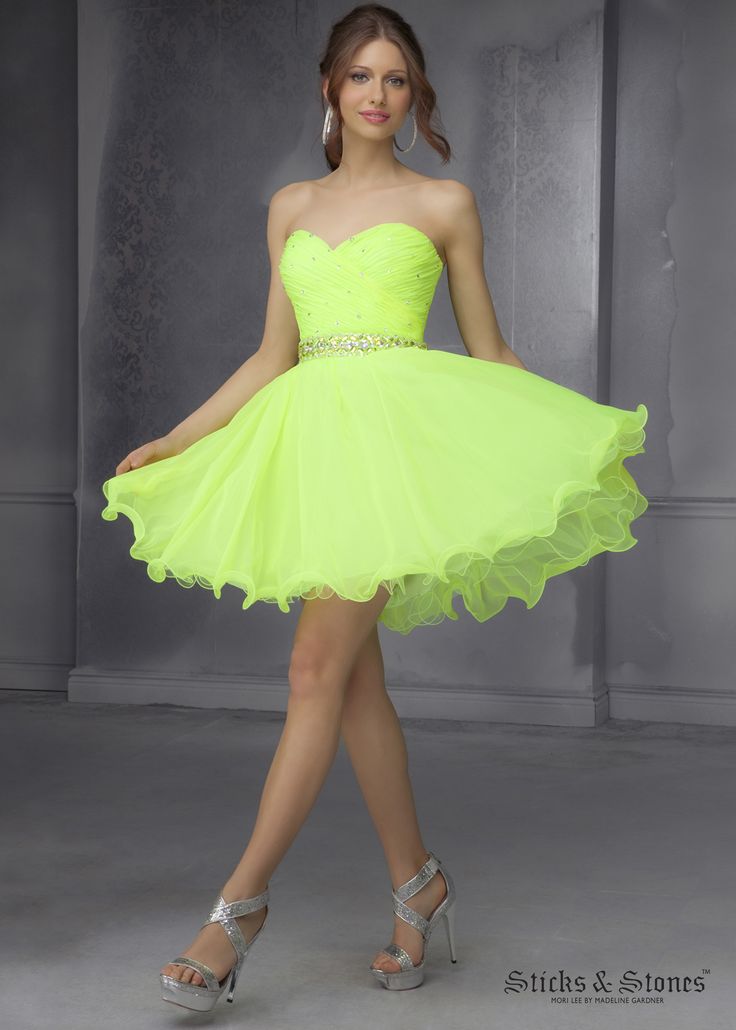 And most importantly, no matter what type of clothing you choose, it is important for street dancing that you have your knees covered - this will save you from injury.
Your outfit is also a means of expressing yourself and reflecting your dance style, so feel free to go crazy and try different variations!
Remember, the perfect dance outfit is one that makes you feel better as you move to the beat of the music. In no case should your clothes interfere with you. Bring personality and your own style!
Dancewear | Useful articles and tips from the 🕺dance studio - Under Stand (Anderstend)💃 in Voronezh.
When you come to the ballroom, it is important to dress correctly. Not just beautiful, but right. And not because they are greeted by clothes, but because each type of dance requires appropriate equipment - comfortable, suitable for a particular type of movement, and also reflecting the unique style of dance. In this article, we will tell you how to dress if you are dancing…
Clothing for this bright, dynamic dance should be comfortable and not restrict movement.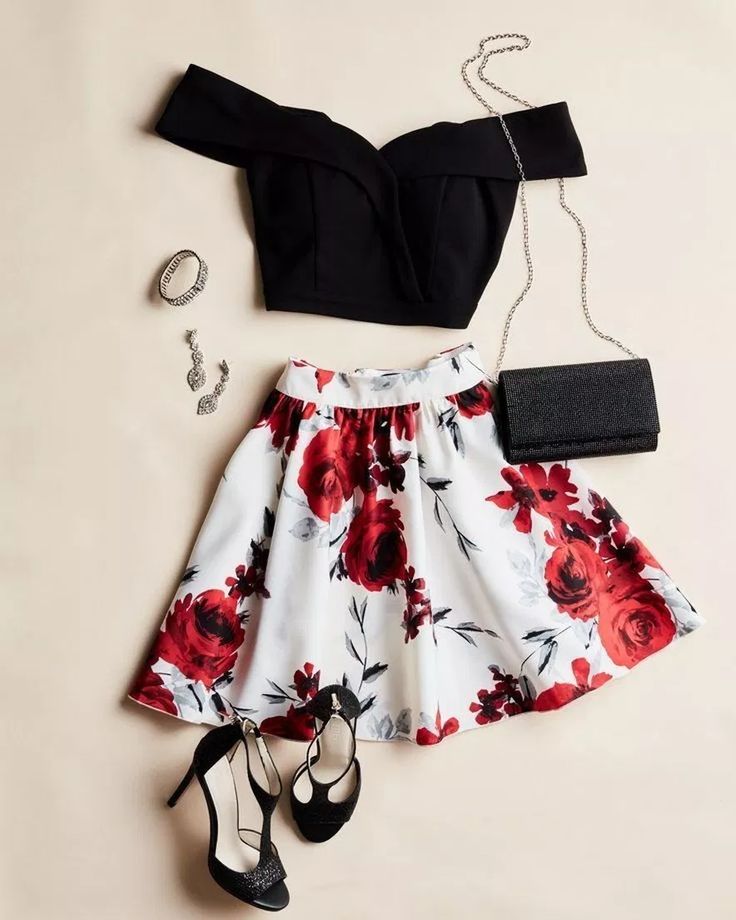 Lockers often wear wide trousers or comfortable stretchy jeans, leggings, loose T-shirts, shirts, trowels. Hats, caps - any attributes of lockers. If you are not yet ready for such a bright "suit", stop for now on comfortable sweatpants, a T-shirt or T-shirt, sneakers or sneakers.
---
Traditionally, poppers dress in a rather formal style: they wear strict (but rather loose shirts), jackets, shoes and hats. However, finding such extravagant outfits for everyday training is not so easy, because more and more often dancers can be seen in simple, wide clothes, without deliberate formality, in sneakers or sneakers.
---
House is a fashionable club dance, so clothes for it should not only be comfortable, but also reflect fashion trends. It is not surprising that the dancers wear tight pants, then wide ones. In addition, house is a dance of communication with those who are close to you. In clothes for house you should be comfortable and cozy, you should feel confident and neat.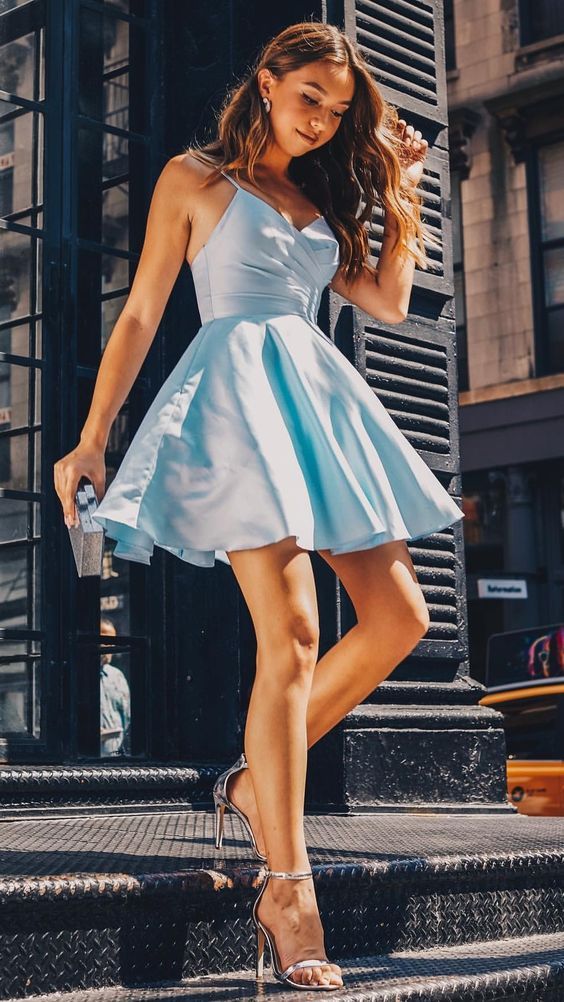 ---
Hip-hop is a very democratic dance: perhaps any loose clothing is suitable for it. Sweatpants, T-shirts, caps (optional!), soft comfortable sneakers. And, of course, do not forget about knee pads that protect against injuries - this may sometimes be required (on the recommendation of the trainer).
---
Graceful girls who dance this dance prefer shoes with high stable heels, as well as light-fitting (and slightly spicy) clothes made of elastic fabrics that do not restrict movement (these can be shorts, trousers, leggings - what you will be comfortable). To start classes, sneakers or light sneakers are suitable for you.
---
Clothing for Contemporary, this plastic and emotional dance, should be as comfortable as possible: as a rule, these are elastic suits (trousers, shorts, T-shirts, leggings). The dance is performed barefoot or in socks.
---
Latin dancewear is usually mid-length dresses or skirts with wide flowing edges, shoes with low heels.
Of course, comfortable shorts, trousers or leggings are also suitable for training!
---
All staging dance directions require maximum comfort from clothing. Lightness and freedom of movement is the main thing to look for in dancewear. In directions with staged choreography, much attention is paid to the self-awareness of the dancer - he must feel in the dance as if on stage - brightly, confidently. In jazz funk, it's even extravagant. You can experiment with outfits. Once you find yours, you will feel it!
---
Dancehall is a social Jamaican dance, so the clothes in the class should create a feeling of summer and warmth. Dancehall dancers often wear bright t-shirts, t-shirts (often both at the same time and preferably in different colors!). Multi-colored leggings and shorts of various styles - the main thing is to create an image!
---
Vogue dancers usually like to try on different outfits, experiment, surprise and even shock.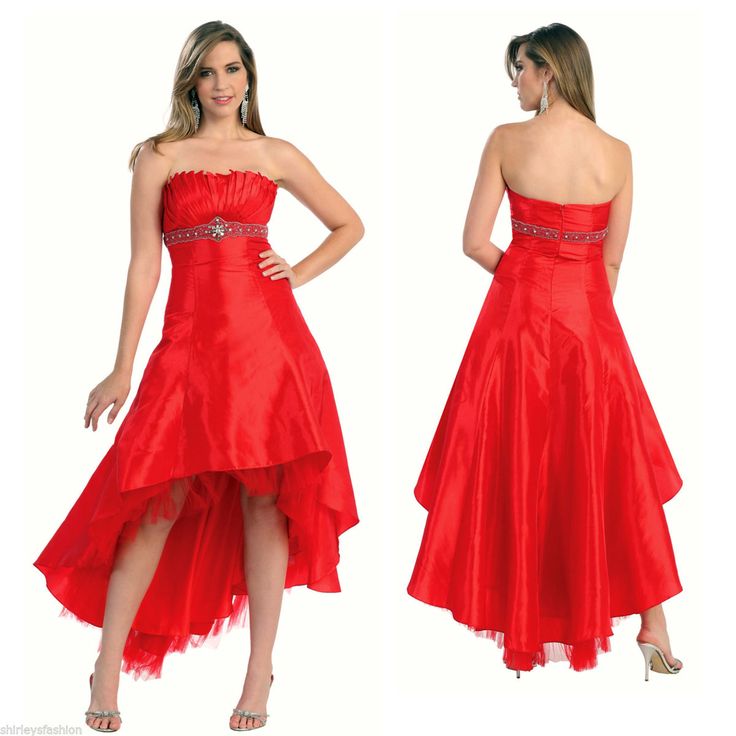 Any of your fantasies can be realized in training or at Vogue balls! Style is about vogue.
---
Waacking is a bright style, memorable for its presentation and imagery. Each workout is an opportunity for self-expression, including with the help of a suit! Dresses, jumpsuits, shorts, skirts - you can change each session. If all this is complemented by neat low-heeled shoes, you are already ready for the stage. 😉
---
Breaking is a very energy-intensive, technically complex style. It is very important for a dancer to take care of comfortable training clothes. We advise you not to wear clothes with large metal or plastic elements (locks, buttons on clothes) and remove accessories (bracelets, rings on your hands) - everything can interfere with you. Comfortable sportswear, sneakers or sneakers, knee pads - everything you need for training. Also, the trainer may advise you to purchase a hat (when you move on to learning elements using the head =).