How to nightclub dance
How to Dance at a Club or Party
You probably know people who can dance at a club without a second thought.
They just go out, have a few drinks, get down on the dance floor, and have a great night.
Meanwhile, you're seized by panic and insecurity just thinking about dancing at a club.
And whenever you do drag yourself out, you stay glued to the wall and watch everyone else let loose on the dance floor.
But guess what? Those awkward feels are completely normal. And we PROMISE you can overcome them!
Follow these 5 simple steps and never worry about feeling left out again.
‍
1. Find the beat/rhythm as you make your way towards the dance floor
Don't expect yourself to bust out a Step Up routine out of nowhere as soon as you step foot on the dance floor.
This isn't a movie! Start small – really small – by just bobbing your head to the beat.
Do this before you even get on the dance floor. Think of it this way: Music is the one thing that lubricates the whole experience of being at the club.
It sets the mood as soon as you walk in until the moment you walk out. You have to be comfortable with the music first.
‍So start interacting with the music right away. You can listen and nod your head a you're holding your drink, hanging with a friend, or even sitting down.
This is an easy way to set yourself up for success on the dance floor before you even start dancing.
Your body will already have a handle on the rhythm, so you're more likely to stay on beat by the time you do get your feet steppin'.
Watch this video to learn how to find and count beats in music:
2. Start with a small bounce / groove
Once you're on, or around, the dance floor, start bouncing with your whole body.
Think of this bounce as a bigger version of your head bob. You're still moving to that same rhythm, but now with your knees, core, and chest.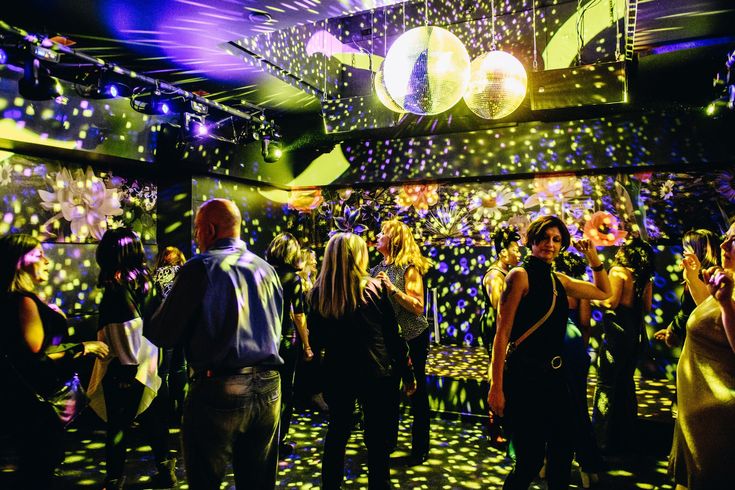 You know how a baby bounces on his knees when he hears a song he likes? Like that, but not as jolt-y.
Ease into those bounces calmly, then slowly build up your energy. This helps make your dancing look more natural.
Carlo Darang describes what a bounce / groove is in this video:
‍
3. Learn simple steps
Got a handle on the music? Great.
Started bouncing with your body? Check. Now, let's get your feet moving!
But wait – you won't know which foot to step where without any practice.
So learn a few basic dance steps before you go to dance at a club.
This video will teach you how to do 3 basic dance moves that work with any song:
Wanna learn more basic party moves like these?
Check out Bianca's "Intro to Dance" program on STEEZY Studio! It'll teach you everything you need to know to get down on the dance floor.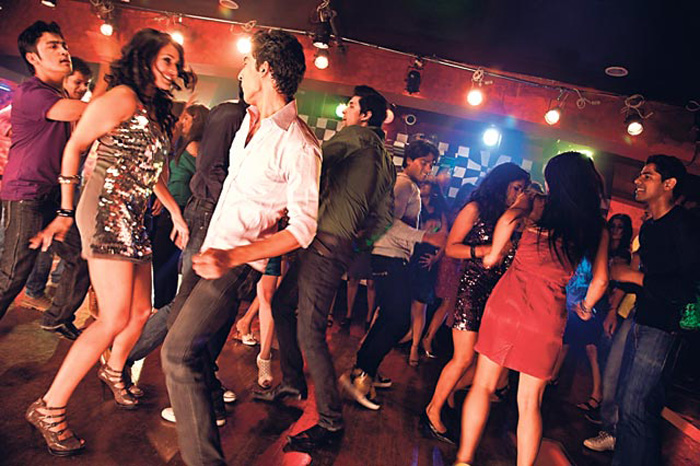 Click here to take the first 4 classes for free.
4. Let loose
Now that you've got the basics of dance down, it's time to put on a few finishing touches to make sure you look comfortable and confident with every move.
These quick tips will help you refine your dancing so you look more loose, groovy, and comfortable:
‍
‍
5. Join the party
By this point, you've got a handle on dancing 1. on beat 2. with your whole body 3. using steps.
But you didn't come to dance at a club to do all this alone!
Once you have that base, dance with the people around you.
If you're in a crowd or a group of friends, then you can play off of their movements and energy.
Mimic the moves your friends are doing, lip sync with them, rap Nicki's entire verse in Motor Sport from memory.
And if the DJ or song lyrics tell you to do something (like put your hands up or jump), then do it!
These are little things you can't predict or practice – remember that you're out to have fun, not to play DDR in your head.
Grinding (or whatever you call it) on someone is its own topic – but whether you're dancing with one person or a whole group of people, the most important thing to do is to... Stay in rhythm!
You and your partner or friends could be doing totally different things. They could be jumping while you're pumping your arms.
She could be swaying side to side as you're 2-stepping.
But as long as you're moving to the same beat, it'll still feel like you're dancing together.
(The closer you physically get, though, the more similar you want your movements to be so that you don't end up hitting each other or creating friction between your moves. Dance with them!)
---
I hope these tips help you kiss those insecurities goodbye!
Follow these 5 steps and you'll realize that it's possible, and actually quite easy, to dance at a club.
You just need the right resources, some practice, and a dash of confidence. ;)
Have fun!
Nightclub Dancing / Freestyle Dancing
Nightclub dancing, by our definition, refers to solo or freestyle dancing.
This type of dancing can be done solo, with a partner, or in a group. People do this type of dancing in a night club type setting or at a social event like a wedding or party.
History of Night Club Dancing
The history of the nightclub dates back to the early 1900s. When night club venues appeared in Europe and the USA in the early 20th century, venues sold alcohol, although sometimes done illegally, and provided entertainment in the form of live music, dancing girls, and other small stage vaudeville performances including magicians, comedy, freak shows, and variety sketches. Throughout the 20th century, the number of nightclubs grew with a rapid growth after the Second World War. The youth were particularly fond of nightclubs and enjoyed showcasing products including fashion and music associated with their lifestyle and image.
In the 1920s, the French had nightclubs called discotheques, but when the Nazis invaded, they outlawed certain types of music like jazz and closed the dance clubs.
After WWII ended, the discotheques went underground and became secretive and hard to find. Club-goers had to be "in the know" or learn about the clubs' whereabouts through word-of-mouth. After some time, the concept of the discotheque travelled to New York, and it became the realm of the elite. Very expensive entry fees and yearly dues kept everyone out except for the wealthy. This started to change during the 1960s when Richard Burton's ex-wife used her divorce settlement to open her own club, Arthur. She created it to fight against the concept of the discotheque—fashion and spirit were required to get in, not just money. The 1960s brought young people to gather to dance in venues playing rock and roll music by both live bands and disc jockeys.
By the late 1970s, many of the major cities in the U.S. had successful disco dancing club scenes. The DJs would play up to 15 hours of music in a row without a break so the dancing could be kept going all night long. During this time the term "discotheque" was abbreviated to "disco" and "disc jockeys" became known as "DJs.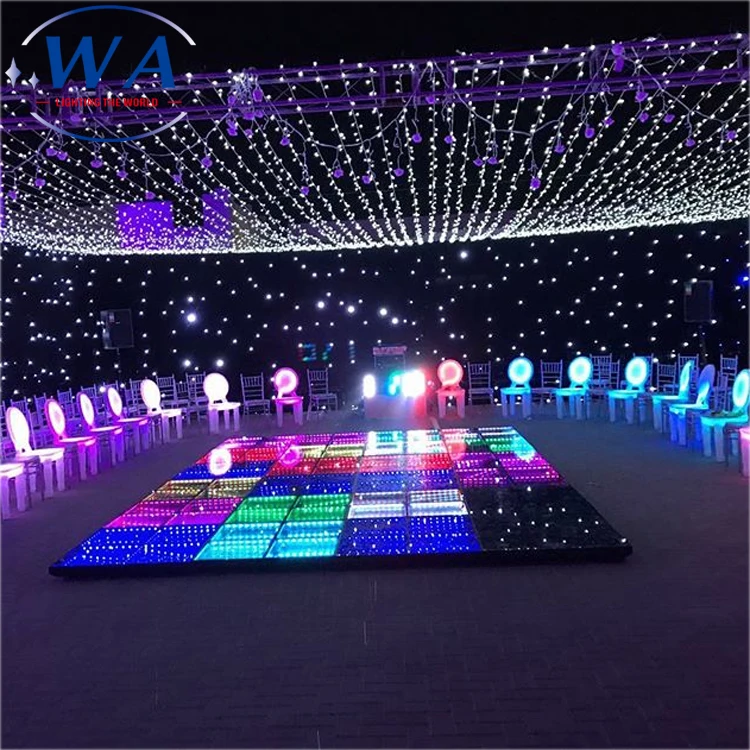 " Dance crazes and fashions trending in bright colors and sequins were born. Disco lights featuring strobe and flashing lights were used for ambience and dry ice was used for smoke effects. DJs were able to play music without interruption with the development of technology. Mixers integrated electronica, funk, soul, and reggae to create a hybrid of music. Hip-hop developed in the 1970s and made its way into the night club scene. Break dancers became a part of the night club scene with the introduction of hip-hop.
The 1980s brought a variety of new musical genres into the nightclubs. Nightclub attendees sought goth, house, hiphop, indie, raga, techno, and garage music out. House music grew to be the most celebrated subgenre in the nightclub culture, stemming from Chicago in the mid 1980s. The high-energy rhythmic dance music was first embraced by the gay community and eventually took hold in most major urban cities in both Europe and USA. Laser light effects were introduced into the nightclub scene to create a party ambience within dance venues.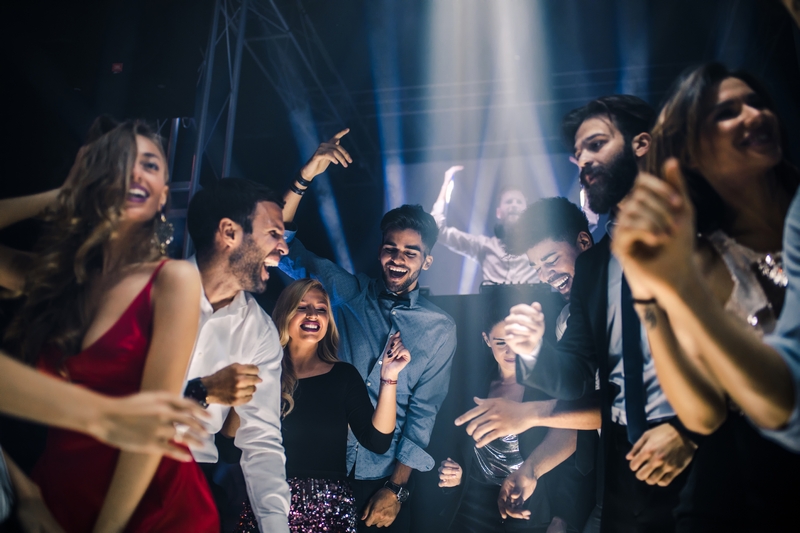 The late 1980s and early 1990s gave rise to house music hybrids. The rave scene birthed sub-genres of electronic dance music (EDM.) Clubs popularly featured mainstream pop, house, techno, rock, heavy metal, indie, and alternative music. Some nightclubs became known for specializing in a specific type of music genre.
Night Club And Freestyle Dancing Today
Today, nightclub dancing is much more varied than it was in the past. There are many types night clubs playing a large variety of different music. In our area, nightclubs in Orange County play Top 40, house music, country, oldies, techno, hip-hop, Disco and more. Some nightclubs also cater to the partner dancing scenes and so there are Salsa dancing nightclubs, Swing dancing clubs, and night clubs for Ballroom and Latin dancing.
Electronic Dance Music (EDM) has become one of the most popular and supported musical genres in the nightclub community today. The 2000s birthed new sub genres of EDM including bassline, dub-step, trap, electro.
Electronic Dance Music is featured in nightclubs across the United States and Internationally. The electronic dance scene has become so large that EDM festivals are produced around the world hosting hundreds of thousands of music and dance fans. DJs, laser light shows, fireworks, acrobatic, dancing and theatrical performers, colorful costumes, and huge venues are common culture to the EDM festival. Dancers can be seen free style dancing pulling on a variety of dance styles including hip-hop, tutting, waving, shuffling, breakdancing, and more.
Nightclubs and music festivals popular with dance seekers also feature top 40, hip-hop, funk, 80s, 90s, country, and other music genres popularly. Clubs usually have a cover fee to enter the event and often times there is a dress code. Guest lists allowing certain attendees to enter the club at a reduced rate or for free are sometime offered by nightclubs. Club goers are often able purchase a VIP table that offers bottle service. This is a popular option for special celebrations, those with a lot of money, or for those wanting a little more space to dance when the dance floor is too crowed.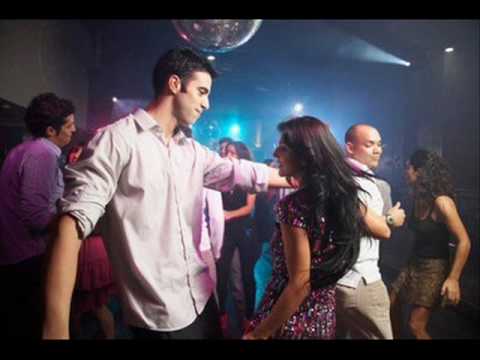 Dance crazes come and go in the night club scene where club attendees all join in on the same simple choreography, such as the Macarena or the Dougie, but most of dancing done at clubs is solo free style dancing. A group of people can form a circle, where one person will dance in the center and show off their dance skills. Occasionally a dance "battle" will break out in where two dancers go head-to-head in an improvised dance competition. Most commonly everyone in the club gets out on the dance floor and does his or her own individual dance in the company of everyone else on the floor. Partner dancing is usually in a loose free form where two (or more) people will interact and follow each other loosely with their dance moves.
Popular Nightclub and Freestyle Dancing Music
"Celebration" Kool and the Gang
"Park Rock Anthem" LMFAO
"Twist and Shout" The Beatles
"Brick House" Commodores
"Don't Stop Believing" Journey
"I Gotta Feeling" Black Eyed Peas
"Poker Face" Lady Gaga
"Forever" Chris Brown
"Don't Stop 'Til You Get Enough" Michael Jackson
"Baby Got Back" Sir Mix A Lot
"On My Way" Axwell and Ingrosso
"Single Ladies" Beyonce
"Don't Look Down" Martin Garrix featuring Usher
"Firestone" Kygo feat. Conrad
"Hey Mama" David Guetta feat. Nicki Minaj and Afrojack
"Waiting for Love" Avicii
"Five More Hours" Deorro and Chris Brown
"Where Are U Now" Diplo & Skrillex feat. Justin Bieber
"The Nights" Avicii
"Rather Be" Clean Bandit feat. Jess Glynne
"You Know You Like It" DJ Snake and Aluna George
"I Want You To Know" Zedd featuring Selena Gomez
"Turn Down For What" Lil' Jon and DJ Snake
"Outside" Calvin Harris featuring Ellie Goulding
"Real Love" Clean Bandit and Jess Glynne
"Uptown Funk" Mark Ronson featuring Bruno Mars
"Sugar" Maroon 5
"Another One Bites the Dust" Queen
"Lucy" Jason Mraz
"OMG" Usher
"Back in Time" Pitbull
"Brick House" Commodores
"Night Fever" Bee Gees
"Old Time Rock and Roll" Bob Seger
"Butterfly" Crazy Town
"Dancing Queen" Abba
"Don't Cha" The Pussycat Dolls
"Don't Stop Believing" Journey
"Every Morning" Sugar Ray
"Billie Jean" Michael Jackson
"Sauvamente" Elvis Crespo
"Teach Me How to Dougie" Cali Swag District
"Tik Tok" Kei$ha
"I Need to Know" Marc Anthony
"In Da Club" 50 cent
"Just Dance" Lady Gaga
"YMCA" Village People
"Whoomp There It Is" Tag Team
How to properly dance to club music in a discotheque
Contents
Dance is body language, and dancing in a club is the only way to draw attention to yourself with the help of this language, because in the crowd and noise it is impossible to talk differently.
Steps, turns, tilts, jumps - in the light of strobe lights look spectacular when performed with skill. And it's not at all difficult to learn them if you follow the advice of professionals and study in a dance studio. New faces are always welcome at Laboca!
A bit about clubs
In order to understand how beautiful it is to move to modern club music, it is worth remembering a little about the history of this direction. The first nightclubs began to open in the 80s of the last century. They constantly gathered young people who demonstrated the latest innovations in dance elements on the dance floor. Therefore, the fashion for movement was constantly changing, and eventually turned into a mix of several styles. So for several decades, a whole club culture has developed, which you need to familiarize yourself with before entering the dance floor. The surge in popularity of club dancing led to the opening of special groups in dance schools and made everyone understand that this direction is worth learning.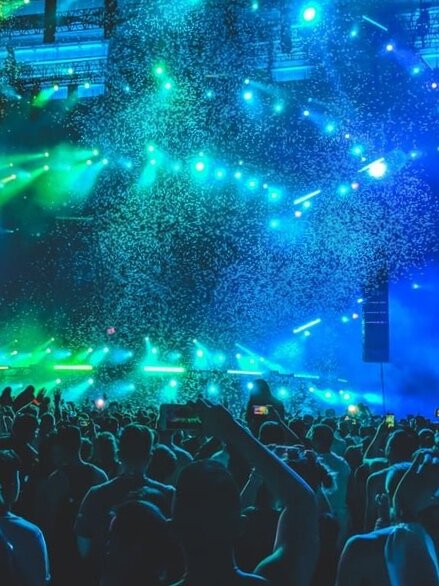 The main thing is emotions!
Club dances are distinguished by the fact that they should be comprehended with an emotional component. Only a relaxed, flexible and ready to improvise person will move effectively on the dance floor. The main means of expressiveness of club dance are plasticity, keeping pace, impromptu and stylish appearance. If you were able to discard all the complexes and are ready to relax on the dance floor, consider that you have already received the first lesson in club dancing.
Before deciding how to dance to club music in a disco, choose your key style. Strip plastic, street jazz, hip-hop, go-go, or maybe disco? True, in order to move freely on the dance floor, a beginner dancer will have to master the basic elements of all these directions, and at the same time learn how to combine them with club music, while getting real pleasure from dancing. Pure improvisation, video lessons or classes at a dance school - you choose. But it is worth noting that several master classes in a professional studio will significantly save your time and effort.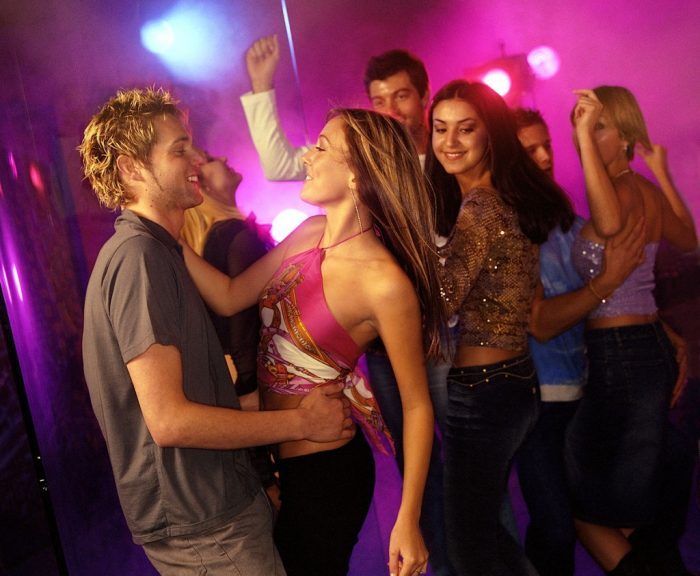 Sign up for a trial lesson
Club movements
Club dance implies no restrictions, looseness and freedom. Movements are performed gently, smoothly, with a small amplitude. There are no complex elements, high jumps, flips and splits. Low slopes are also not welcome, they look vulgar. But different types of swing always look good. To master the basic swing, you should start by shaking your head to the beat of the music. Then beat the rhythm with your hand or foot, and then move on to springy movements with the whole body. Swinging the torso is performed by tilting the body forward and backward, and swinging with the help of the knees - by bending and unbending the legs to the music and connecting the foot: at the expense of "and" move the socks, pushing the heels away, on "one" - rest on the heels and spread the socks .
Don't forget your hands. Movements should look stylish, but at the same time remain safe, after all, you have to dance on the dance floor: one awkward movement with your elbow - and your neighbor is knocked out.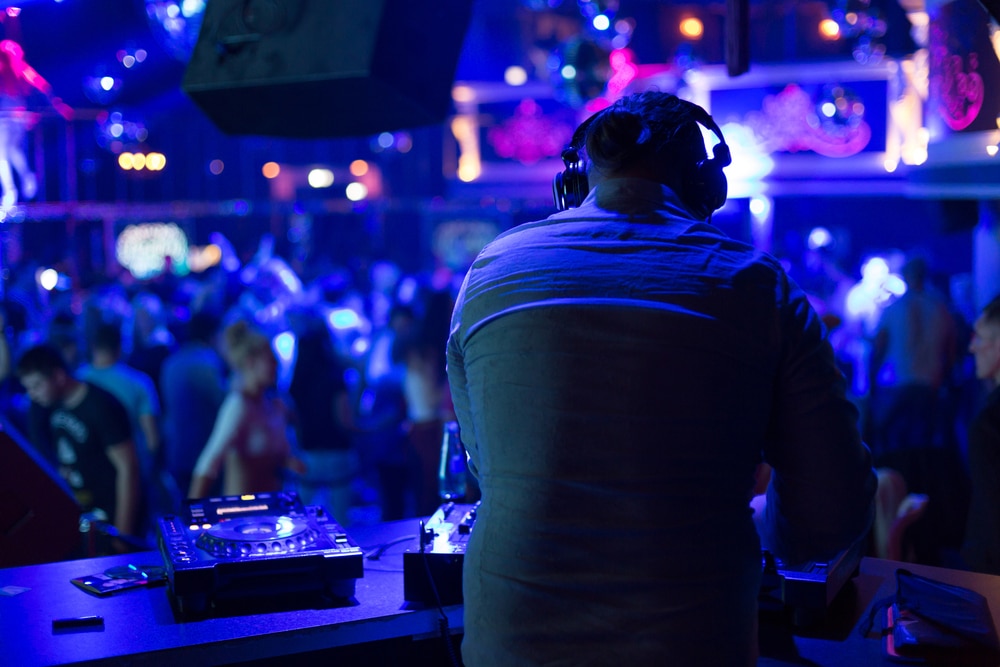 Therefore, the elbows should be kept close to the body, and the shoulders should be moved mainly. Try to sharply raise and lower your shoulders to the beat of the music, repeating the same movements with your hands. Now add the head, body and legs. Of course, you are not the king of the dance floor yet, but you are already moving in the right direction.
Another move with the hands - the movement of the pharaoh.
Place your right hand on your left shoulder and your left hand on your right. To the beat of the music - for "one-two" hands are crossed. Further, the girl can unhook her hands and smoothly lower them to her hips, and the young man can open his hands and put his thumbs on the shoulders of the corresponding hands. On "four", stretch your arms forward, leaving all fingers bent, except for the thumb and forefinger.
The most versatile movement of the arms is to move them behind the head so that the elbows are parallel to each other.
Girls can continue the element by performing a wave with the whole body, and young people can lower their head down, thereby drawing attention to their legs.
On the dance floor, do not perform amplitude movements with arms and legs, push and move ambiguously, if the desire to attract the attention of the opposite sex is not in the first place. The abundance of waves with the hips and the movements of the hands stroking themselves do not look like flirting, but rather give a very clear signal to action to other party participants.
Spectacular appearance
Time spent on the dance floor will be much more pleasant for you if you are satisfied with yourself. To feel more confident, it is important not only to master the basic movements of club dances, but also to look spectacular. Choose your best "bow", which will not hinder movement and reveal unnecessary fragments of the body, but will most favorably show you in the light of strobe lights. Comfortable shoes, stylish clothes, perfect make-up and a neat hairstyle are already half the success on the club parquet.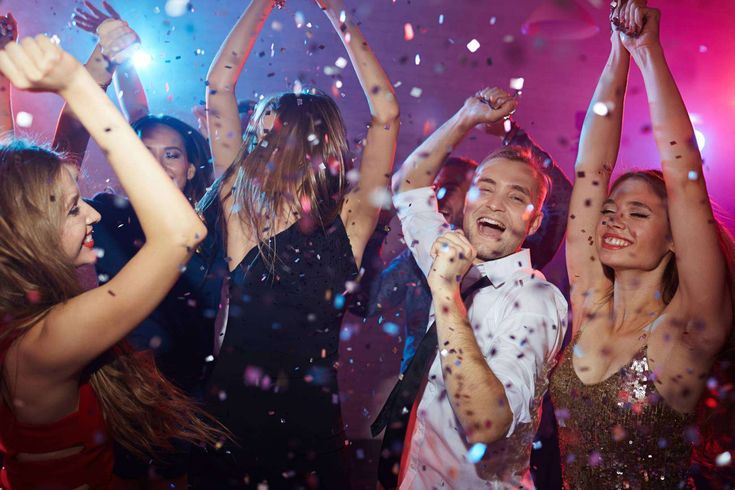 The rest will be done for you by a great mood and dance!
Video of modern dances
| | |
| --- | --- |
| Dubravina Olga, Ryzhov Dmitry. HIP HOP | Hip Hop. Olga Dubravina, Dmitry Ryzhov. |
How to learn to dance well in a nightclub?
If you like to go to discos and nightclubs, but still can't dance, then you need to fix it urgently. And how to learn to dance and feel liberated?
Contents
1 Can you learn to dance?
2 How to study?

2.1 Dance schools
2.2 Individual lessons
2.3 Learning on our own
2.4 Going to a nightclub

3 Helpful tips
Can we dance?

Some people think that the ability to dance is a talent or a gift. Yes, in fact, some do it much better than others. Looking at such people, one might think that they started dancing before they started. But what about those who do not feel the rhythm and are not flexible? Study, study and study again!

And, of course, be patient and find free time. If you strive to achieve your goal, you will certainly succeed. You probably won't become a dance floor star, but you will definitely feel much more confident and relaxed in nightclubs.

How to study?

So how do you learn to dance in a nightclub? Today, this is not as difficult as it used to be. We offer you to learn some proven and effective ways.

Dance schools

Today there are dance schools and dance clubs in every city. Sign up and start learning. If you do not know how to dance at all, then sign up for a group for beginners. If you have some skills, then you can try your hand at the "advanced" group.

In this case, you will be able to observe more experienced people and learn from the experience not only from the teacher, but also from them. But if you don't have basic skills, then among more experienced comrades you will feel awkward. Yes, and you can't keep up with them.

When choosing a dance school, pay attention to its location. Surely you do not want to go to the other end of the city. In addition, you should not look for schools that train professionals. First, you don't need it, as your goal is to learn how to dance beautifully in a nightclub. Secondly, the cost of training in this case will be higher.

As for the frequency, frequency and time of classes, it is advisable to attend classes at least twice a week, because if the break between workouts is too long, then you will forget everything and will not be able to master even the basics. The duration of one lesson is usually 1-1.5 hours. Choose the time according to your daily routine.

Private Lessons

If you are too shy to study in a group, find a dance teacher who can teach you individually. Of course, it will cost much more than attending group classes at a dance school, but individual lessons have a lot of advantages.

Firstly, all the attention of the teacher will be given only to you. He will be able to assess your level of preparation and your abilities, identify all mistakes and correct them, as well as find an approach, develop an individual program and give useful recommendations.
Secondly, there will be no other people around you, and their presence is very embarrassing for many.
Thirdly, you will not be distracted and will be able to concentrate on the dance.
And fourthly, you will be able to increase the duration of the lesson and take an accelerated course.

It's easy to find a teacher today. You can do this using the Internet. Try going to a forum dedicated to dancing, find people from your city there and ask them for advice. You can also ask your friends. By the way, one of your friends or colleagues probably dances well. Ask for help from such a person, for sure he will agree to help. Offer him a nominal fee so you don't feel obligated.

Learning on your own

In this age of high technology, there are plenty of opportunities. And you can learn how to dance fashionably even at home. What is needed for this? Just a few components:

Training video. It is important to make the right choice. Firstly, choose video tutorials with simple movements for beginners, as you may not be able to get too complicated in the early stages of training. It is desirable to find a whole course of study, which provides for a consistent transition from simple dance movements and combinations to more complex ones. Second, look for videos with comments in your native language. Some movements require clarification, and if the teacher speaks in a foreign language, then you simply will not understand anything.
Large mirror. It is necessary in order to evaluate your progress. It may seem to you that you are doing a great movement, but in fact you are not performing it at all as it should be. Take a look at yourself to see your mistakes. Try to constantly look at least briefly in the mirror in order to identify shortcomings in time and correct them immediately. If you first master the movements, and then see them from the side, then it will be quite difficult to relearn. It is much easier to hone skills by making adjustments at first.
Comfortable clothes. Yes, in a nightclub you will dance in stylish and fashionable clothes, because any girl wants to be attractive. But at the stage of learning and mastering the basics, comfortable clothing will be optimal and appropriate. Wear a top or T-shirt and sweatpants or shorts. When all the movements work out for you, put on a short dress and dance in it. This will allow you to recreate the atmosphere of a night club and understand how to move in club clothes.
As for shoes, you can start with bare feet. Then you should put on some shoes, but comfortable. When you feel like a pro, wear pumps or heeled sandals. So you can prepare one hundred percent and not just learn how to move, but learn to be dexterous and at the same time attractive in any image and in any situation.

Let's go to a night club

If you don't have free time to study, but you really want to dance in a night club, then go there and start studying right there. Some useful tips for the most daring and purposeful:

It is best to come to the club with a friend, and even better with several friends. This will allow you to stand out from the crowd and feel more confident thanks to the support of people you know.
If you are afraid to go out on the dance floor, then try a glass of wine for courage. Wine, firstly, improves blood circulation, and secondly, improves mood. But don't overdo it! Otherwise, instead of courage, you will get clumsiness and a stupid look.
Relax. If your body and muscles are constrained, then you simply will not be able to move, or you will do it in a funny and ridiculous way. So to begin with, inspect the dance floor and those who are present on it, walk a little. By the way, having examined all those present, you will be able to make sure that not everyone is a dance master, and this will calm you down.