How to look like a burlesque dancer
A guide to burlesque style: Get the look
Share on Twitter Share on Facebook Share on tumblr
By Roswell Ivory
A guide to burlesque style, and how to get a look that echoes the sleek, red-lit and velveted world of burlesque.
Dita Von Teese did not invent burlesque. She may be leading the burlesque revival, but the art of tease has been around for a very long time.
It started in the 1800s theatres and music halls of the nineteenth century, turning the art of the tease into the perfumed, scented, evocative striptease!
In the days when ankles were considered far too racy by half, the art of tease involved a flash of a jewelled stocking, gorgeous corsets, decadence, and *gasp* possibly the glimpse of a thigh. But it also involved imagination. Dance and comedy was important, and – as any modern-day burlesquer will tell you – the attitude is as important as the glamour and extravagance.
Burlesque glamour is all about being a lady, although a lady with a naughty side! Make-up and hair should always be immaculate, and one should stand with confidence, but not be afraid to stand out. Burlesque is all about elegance and what you leave on is easily as important as what you take off. This is the new glamour.
Modern day burlesque wear is all about high heels and old fashioned glamour. If you're not performing onstage, you can achieve the burlesque look fully-dressed.
Burlesque style must-haves
There are hundreds of different looks you can adopt, but the essentials stay the same.
Red lipstick (applied perfectly, of course)
Eyeliner (either big, smoky eyes or cat-like flicks at the outer corners)
A good set of underwear! Stockings, suspenders – the works. (Try Anne Summers, Agent Provocateur or La Senza. The lacier and more elaborate the better!)
Heels (Yes, I'm afraid you must learn to walk with a wiggle – and heels are sexy!)
Nails (They can be short, but they must be painted! Any all-over shade of red or pink is perfect, or you can leave the moons and tips natural – that's what the 40's pin-ups did)
Impeccable hair (see our retro pin-up girl hair tips, and view further retro hair tips below.
Burlesque hourglass curves
Curves are most definitely hot – which is why many girls who have "the look" are seen in corsets, which either give them bubbies and a waist or enhance the ones they have. If you haven't yet learned to breathe in a corset, either invest in an underbust one (which leaves the bosoms free) or raid the vintage shops for tops and dresses with no boning but lots of lace, satin and textured material.
A bit of skirt
Trousers simply aren't allowed in the world of burlesque unless you're going for the boyish rakish look. French knickers, yes… But not trousers (how on earth are you going to flash those stockings under trousers, dear creature?)
You can either go for short and fitted pencil skirts, or go all the way with crinolines and elaborate pieces.
Burlesque jewellery and accessories
It's not all about the pasties and nipple tassels. Rhinestones are recommended, as are sequins, lace, frills and ribbons. Be inspired by some of the original burlesque and movie stars' costumes – namely Betty Grable, Bettie Page (the queen of pin-up), Sally Rand, Marilyn Monroe, Mae West and Lili St Cyr.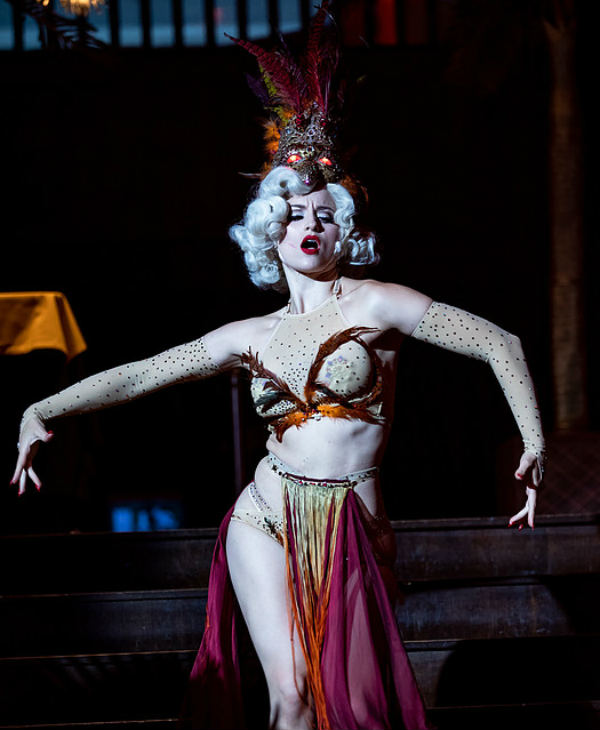 Look at Dita too, because she definitely knows her stuff.
Hot, or hotter?
If you want a daytime burlesque look or are a little shy, you can still get a burlesque feel to your outfit by either wearing just the essentials with it, or adding some rhinestone accessories and bows. You could also style your hair like a 40's movie star (Read on…)
If you want to take the look all the way, then a corset (and nipple tassels if you're really brave) is the way to do it! Find the most eyecatching, sparkling breathtaking outfit you can find and set it off with a manicure, perfect red lips, glittering false eyelashes, curled hair and a pair of the highest heels that you can walk in. (Some burlesquers add a small false beauty spot too.)
There is no magician's secret to perfecting make-up, unfortunately. Just find a picture or style you like and practice, practice, practice. The same goes for hair.
Burlesque hair
You will need the following:
Hair pins
Hairspray
Patience (lots of it)
I've left the hair part 'til almost-last because it is the most complicated, fiddly task of all (blame those old-movie stars and their hairdressers).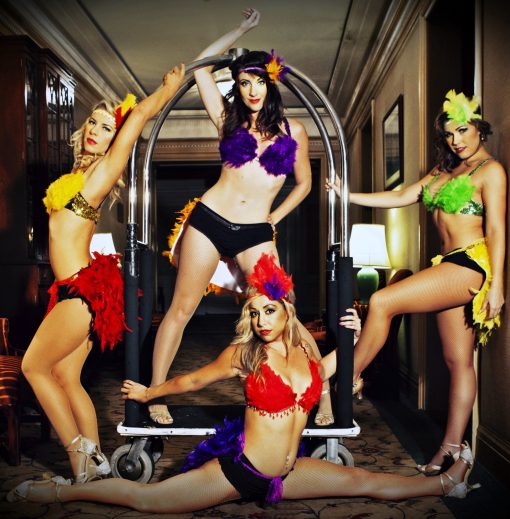 See, burlesque performers and old-movie stars used rollers to create curls and pile their hair up into elaborate styles that literally took hours to achieve. Women in the 20's and 30's wore very tight waves made using rollers and the World War II pin-ups wore ringlets at the front of their heads or created one big roll with all their hair.
If your hair is long like mine, you had better make sure you're alone before attempting to style your hair because this will have you swearing like nothing else will!
I'm going to go through one method of styling hair that is easy for everyone. Well… easy-ish ,anyway!
First, brush your hair so that it is tangle-free, then make a ponytail with the front part of your hair. (If you have curly hair, straighten this part before you secure it). Backcomb it slightly so it stands up like a quiff and secure it with LOTS of pins and hairspray.
Burlesque haircare tip: if you have shoulder-length hair, you could pin the ponytail into one curl just above your forehead and spray it into place.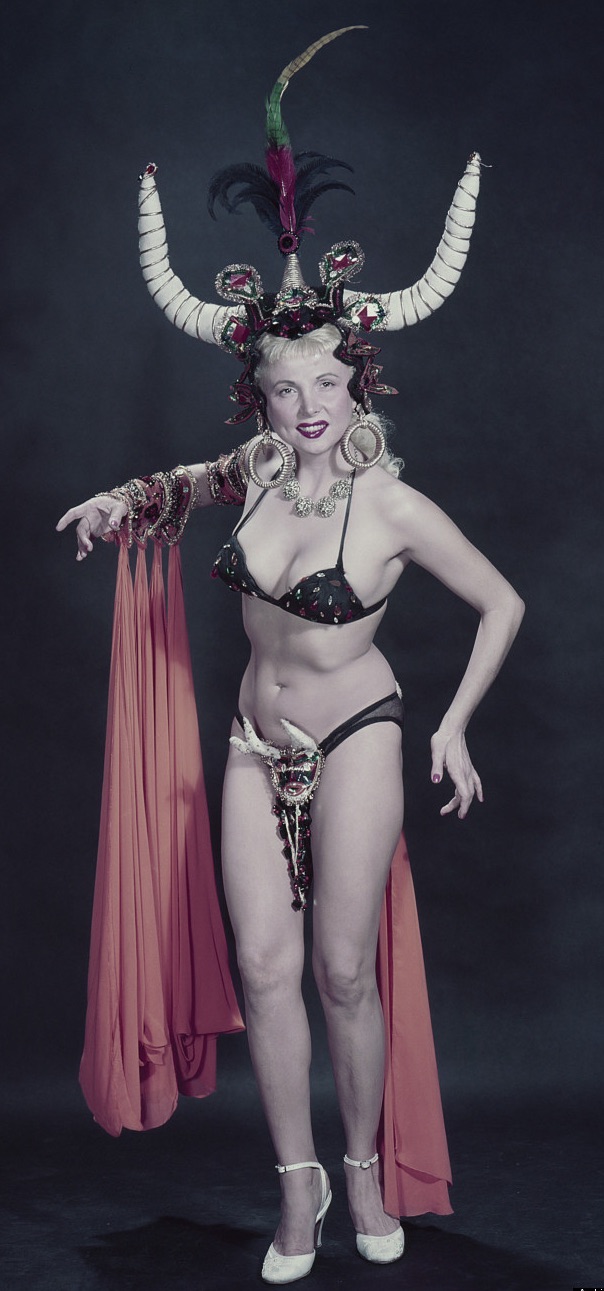 Then you can use rollers to put the rest of your hair into ringlets, or make a sleek bun at the back of your head. Secure it well so it doesn't fall out in the middle of the street!
If you want to, you can add false (or real) flowers, gemstones, any accessory you want really to make it stand out. British burlesque performer Immodesty Blaize pins jewelled birds and butterflies into hers!
Good luck with the burlesque hair styling!
A final word to all burlesque girls
Be unique. If you like blue, go for a blue theme. If you have a thing for stripes, find a stripy outfit (or make one if you're that way inclined). There are plenty of accessories around with strawberry or cherry designs- you could plan an outfit around that, or around your favourite piece of jewellery.
Adapt the look to your own style and you can't go that far wrong!
If you want to learn more about the world of Burlesque, Dita von Teese's book "Burlesque and the Art of the Teese / alternative and the Art of the Teese " is a treasure, with some truly gorgeous pictures and inspiration.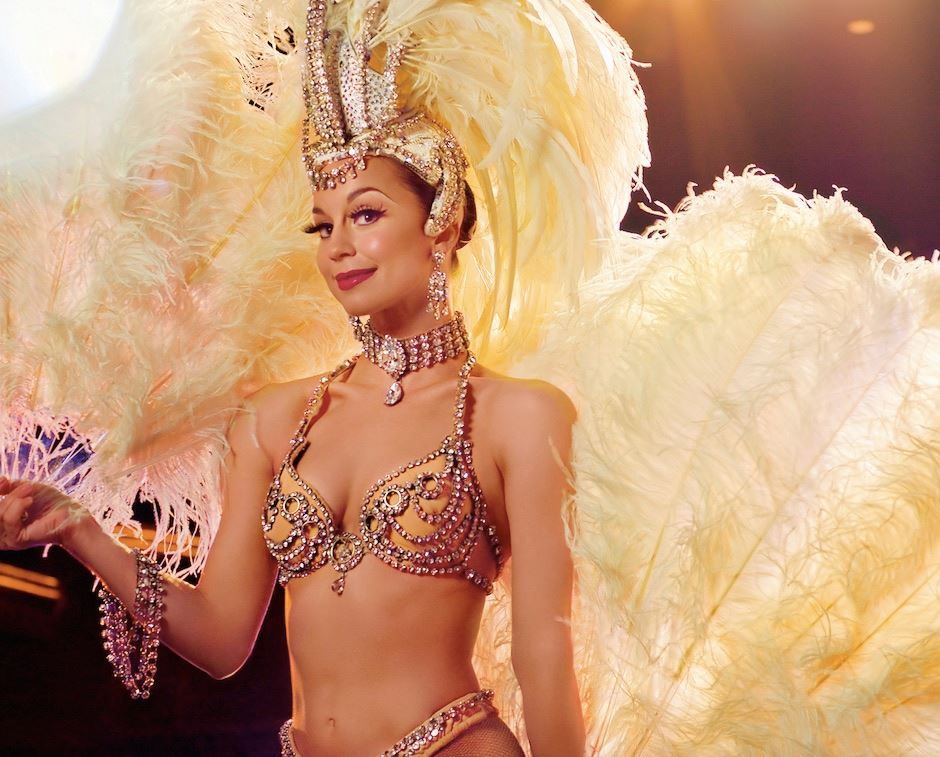 ---
How Burlesque Style Is All About the Clothes You
If you could say only one thing about Burlesque, it would probably be that it is a truly rich and excitingly varied art form. It is a genre that fuses an interesting combination of dance, comedy, variety and parody all rolled together in a delicious concoction of theatre. One of the most interesting things about burlesque is the fact that places nudity on a pedestal and has done so since its inception.
As something that was probably considered a somewhat taboo style of entertainment during the height of its popularity in the early 1900's, it is interesting that today it is a celebrated art form that empowers the female body. This is even more interesting when we consider that laws were actually passed in America in the 1920's making it illegal to wear skirts more than 7 1/2 inches off the floor, or 3 inches above the ankle (in Philadelphia and the state of Utah). It might well be that the burlesque strip-tease was born due to this type of sexual repression.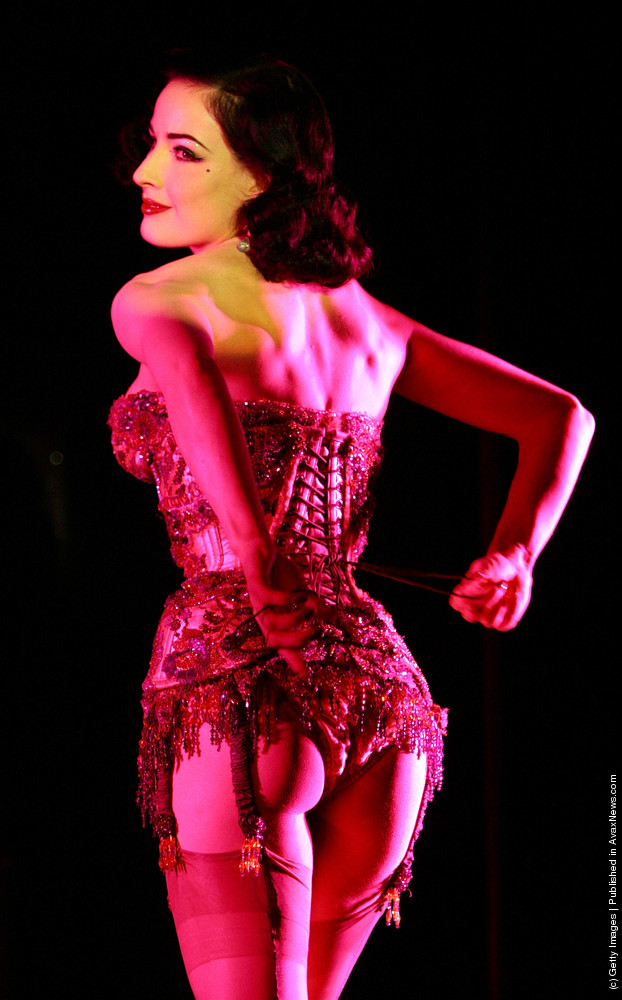 Ah, people rebel in the most wonderful ways, don't they?
But it's important also to note that burlesque isn't just a glorified form of stripping. It's not all sexy corset tops and nipple tassels. Burlesque is widely considered a credible art form that has stood the test of time. It is an interesting and varied genre, with a bold and striking style. And above all, it places the emphasis on the 'tease' rather than simply the gratification that comes with the showing of naked skin. 
Corporate Entertainment Professionals
The Origins of Burlesque
While the genre seems to be enjoying a resurgence at the moment, largely due to the popularity of Dita Von Teese (she's pretty much the face of burlesque right now), we've already mentioned that the style was at the height of its popularity during the early 1900s (although there are records of burlesque dating back as far as the 1840s).
But some argue that the styles roots go even deeper than that.
It's been suggested that the first 'strip-tease' dates back to Biblical times, beginning with The Dance of The Seven Veils. This was the scintillating dance that the temptress Salome performed for King Herod, and involved (you guessed it), seductively removing seven veils, along with all of her clothes. 
Huffington Post
This is just one example, but there are others that appear in historical fiction and art. The art of 'withholding' is a common motif. Take the historic play Lysistrata for example - an ancient comedy in which women actually use their flesh and sexuality (or the 'withholding' of it and any gratification that can be derived from it), in an attempt to end the Peloponnesian War.
The premise of the play (very basically) is this; no peace, no nookie. The women in the play withhold sexual privileges from their husbands and lovers as a way of forcing them to negotiate peace.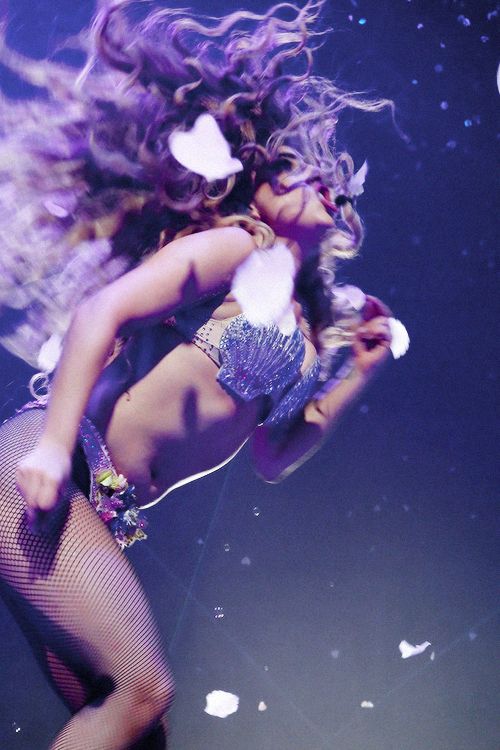 This could be regarded as an interesting example of how the art of withholding sex can be considered more powerful than gratification; just like burlesque. Remember, it's all about the clothes you leave ON.
The Evolution of Burlesque Style
As touched upon, burlesque was big in the 1920s. Clubs and establishments popped up in prohibition America to provide variety and entertainment to a somewhat repressed culture. But of course, this didn't go down well with teetotal politicians and authority figures, who found issue with the provocative nudity and also with the establishments themselves. 
But the genre hit back in the 1940s with stars like Sally Rand and Gypsy Rose Lee taking centre-stage and pushing the boundaries of the style to make it new and relevant once more. The 1950s brought an even more exaggerated evolution of the style with the popularity of Hollywood movie glamour at its height, skyrocketing the 'pinup' style into popularity with stars such as Marilyn Monroe at the forefront.
So popular was Marilyn that burlesque dancer, Dixie Evans even adapted her stage persona to become a parody of the rising star. Her act proved so popular that she was later billed as the 'Marilyn Monroe of Burlesque.' It is this fusing of two genres; the glitz and glamour of Hollywood with bawdy vaudevillian entertainment, that is rather typical of the style.
Burlesque is all about richness and variety - and this is something that still shines through even today.
New York Daily News
Burlesque Style Today
Today, the burlesque style mixes elements of the different defining periods of its own popularity, combining Victorian corsets with vaudevillian influences and even pinup and rockabilly styles. If you were to try to categorize burlesque style as one thing, you'd have difficulty. The beauty of burlesque is its diversity and the way it combines trends from different eras to create something totally unique.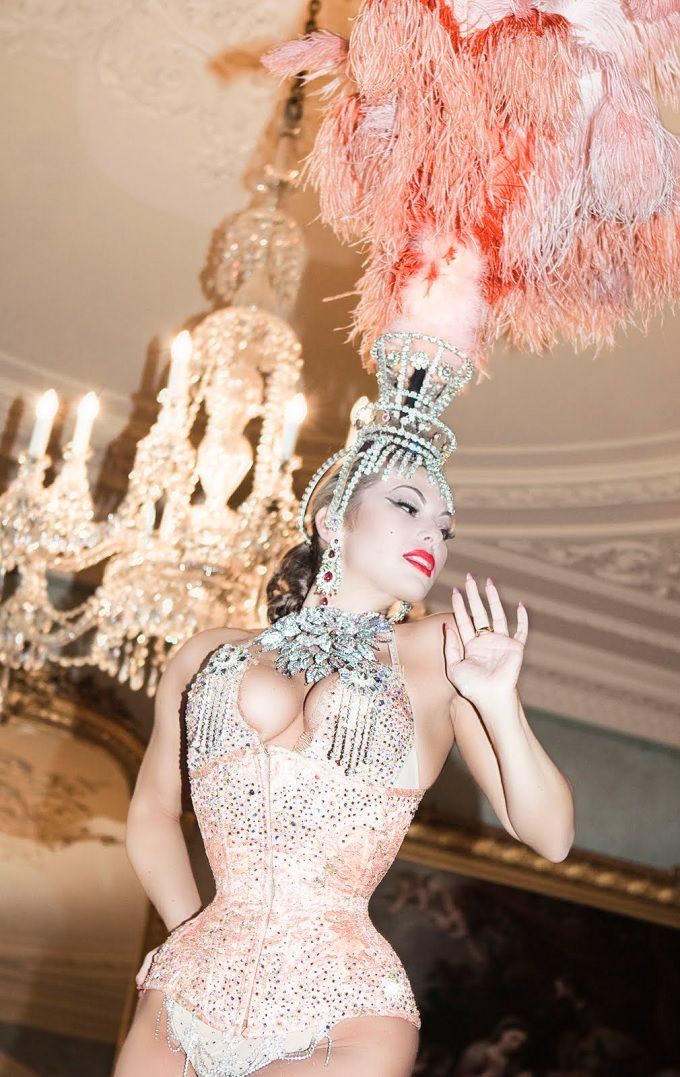 Burlesque of today is sometimes referred to as 'neo-burlesque', because it does differ slightly from the traditional style. Nowadays the form encompasses a wider variety of acts and styles, including modern dance and drama. But still it remains true to the original style, wherein an emphasis is placed on 'sexy' rather than 'sexual'.
It's safe to say that the art of the tease is still very much alive, as neo-burlesque performance is widely regarded as being about art and self-expression, rather than mere sexual gratification. 
The popularity of neo-burlesque performers such as Dita Von Teese has also contributed to burlesque inspired fashion becoming more mainstream, with a focus on vintage glamour. 
fancifulmelbourne.wordpress.com
How to Create A Burlesque Inspired Look
So how do you go about incorporating burlesque inspired clothing into your own wardrobe? There are a ton of different styles you could adopt (it's been around for a long time, after all), but certain must-haves remain the same across the different periods of burlesque fashion.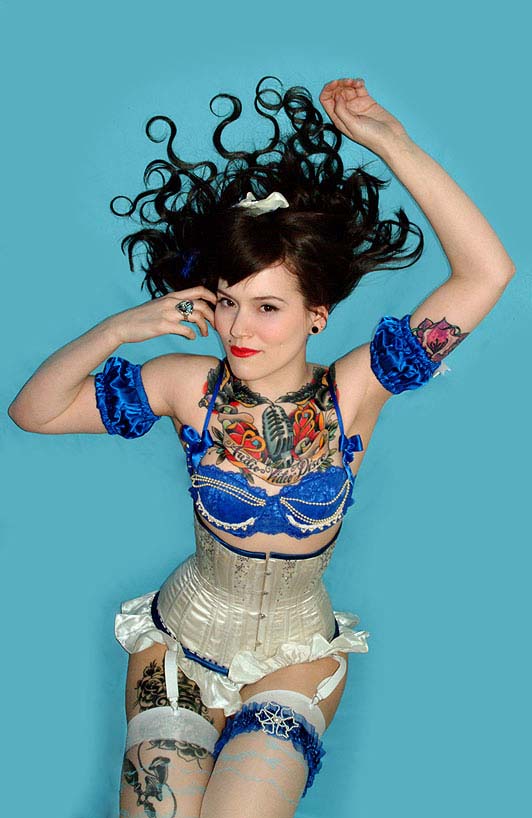 Burlesque Corset 
cinema-berlin.blogspot.com
The mainstay of the burlesque style would definitely have to be the burlesque corset. Creating hourglass curves and a full 'pinup girl' style figure with a tiny waist is a definite nod to to the burlesque genre, however you choose to style your corset. Go all out with a full corset, paired with a pencil skirt, or create an hourglass figure more subtly by wearing an underbust corset beneath your clothing. The end result is the same: a sexy hourglass figure. 
Sexy Lingerie
Qlue Magazine
If you're looking to encapsulate elements of a style that oozes sex appeal, then it makes sense that sexy lingerie should be part of your burlesque style outfit (even if you have no plans on revealing it)! Hidden suspenders or embellished over-the-knee socks are a definite nod to the genre, along with pencil-lined tights and suspender-belts.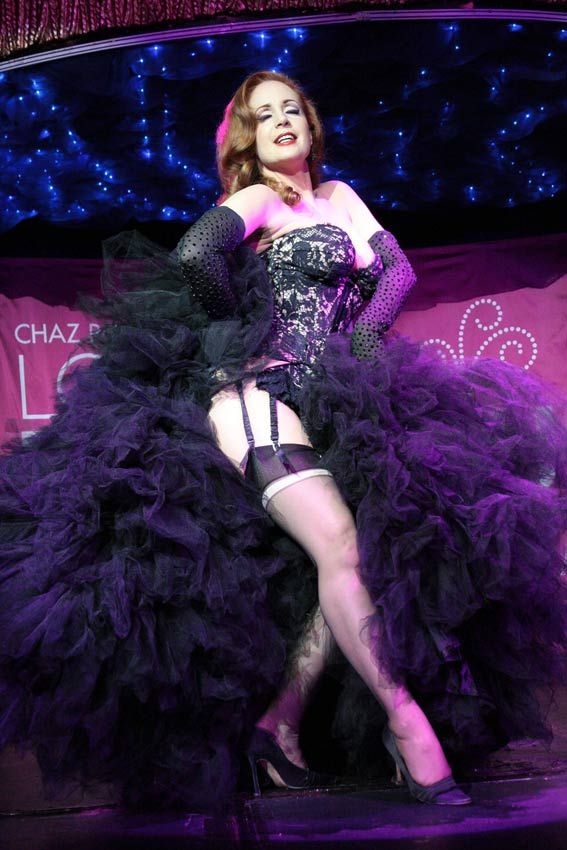 Bold Makeup
saymber.com
Bright red lipstick is a must-have if you want to create a burlesque inspired look, along with a dramatic dash of eyeliner. Create a bold wing with liquid liner, and don't be afraid to fill in those eyebrows while you're at it. The 'overplucked' eyebrows of the nineties are long gone, and burlesque inspired makeup is a perfect way to show off a thicker, more defined brow. 
Rockabilly Dresses
Burlesque Baby
Retro, rockabilly dresses are typical of burlesque style - which is all about creating a fusion of modern vintage with a 'pinup' slant. Don't be afraid to don brightly colored dresses with vibrant prints. Or, you could go with more subtle tones like navy blue, to make your red lipstick pop!
(Very) High Heels
High heels ooze sex appeal, so it's no wonder they are a staple of burlesque-inspired fashion.
Generally, the higher the heel, the better. Try pairing chunky platform court shoes with a pair of flesh-colored tights for a truly authentic 1920s burlesque style. 
Do you have any other tips for creating a burlesque inspired look? We'd love to hear about it, so please share it with us in the comments section. 
Suggested Posts:
How To Style A Burlesque Corset
Steal The Look Of Gypsy Rose Lee
Title image credit:PRWeb
Russian Burlesque Factory | My friend, yes you are a transformer
Worship
Text: Alexandra Sivtsova
Editor: Olya Osipova
Photo: Maria Ionova-Gribina
November 22, 2019
The first beginnings of burlesque in Russia appeared relatively recently, although historically it, like social dance, is almost a hundred years old.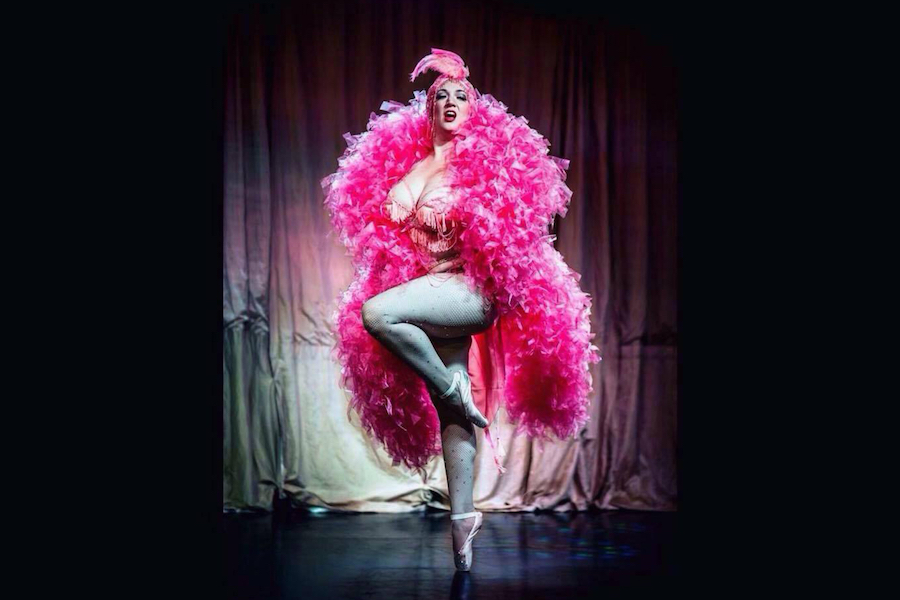 The Moscow burlesque group Ladies of the Burlesque formed spontaneously two years ago. During this time, the first artist of boylesque appeared in Russia, the first artist of drag queen burlesque, engineers, scientists and teachers took part in the show. Samizdat author Alexandra Sivtsova met the deputy director of a trading company who dresses up as a poodle in the evenings, found the "mothers" of Russian burlesque and found out how the drag queen became part of their family.
Every weekday at eight in the morning, Deputy Director Ilya wakes up in his apartment in Zhulebino. While his wife Tatyana and two cats, Kefir and Eustace, remain in bed, Ilya is getting ready for work. If Ilya does not get enough sleep, he goes to the office by metro, and then on the way he manages to take a nap for almost an hour more. Twice a week, on Tuesdays and Thursdays, Ilya takes with him a bag with sports tights, and sometimes with heels and feather suits. At eight in the evening he leaves the office of a company that sells multimedia equipment and goes to Dubrovka.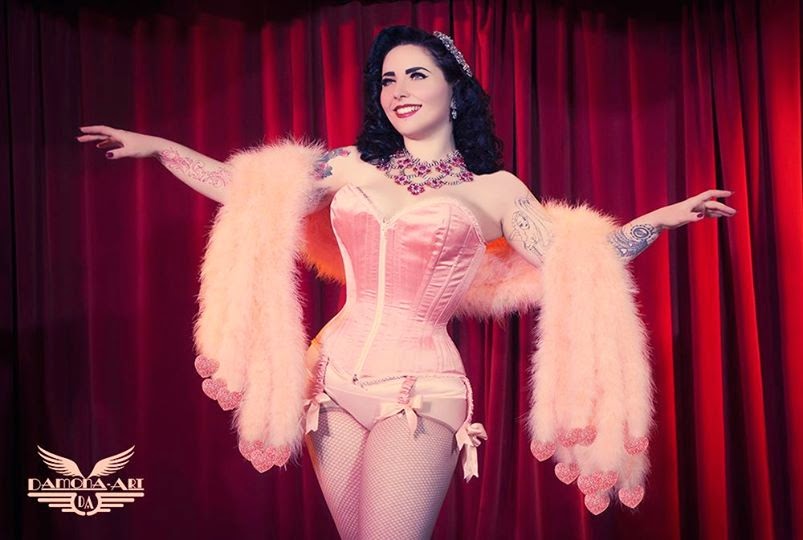 Here, in a hundred-square-meter mirrored dance hall, rehearsing with his friend and choreographer Vanya, Ilya transforms into Elisha and trains for a burlesque show. Vanya helps put numbers and stretches Elisha. Once Ilya could sit on the twine, and now he needs to return to his former form.
Back in kindergarten, Elisha wanted to play not a bunny boy, but a fox with plush ears at a matinee. Now in the apartment of a 35-year-old man in the hallway there is a huge, almost two-meter fox: if you look into his eyes for a long time, it seems that he is alive. The huge fox was made by Elisha's wife. Everyone calls her Bast, but in general she is Tatyana, a designer and costume designer of the furry subculture: this is when people define their inner animal, dress up as it and go to parties together. In furries, Elisha is a fox, for a young man it is a symbol of a conductor between worlds, and he feels like a conductor all his life. Breaking stereotypes and ideas about what a man should be, Elisha does not hesitate to dress up as poodles and phoenixes, crawl on her knees, undress and dance boylesque, even when male viewers laugh at him and leave his performances.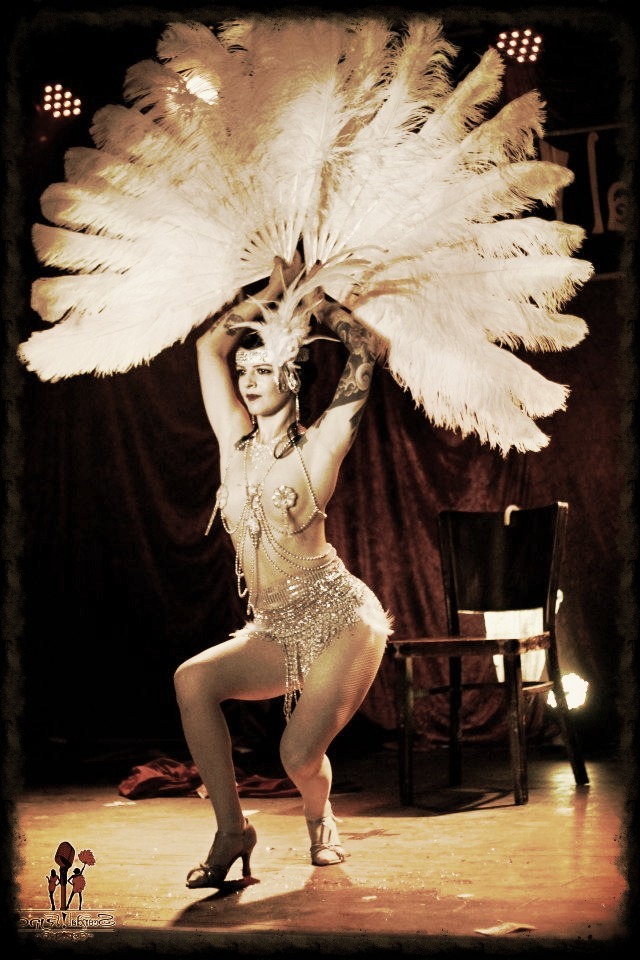 Elisha with wife
Ilya didn't expect to be the first boyesque artist in Russia. At the age of 17, he watched the film "Showgirls" and "Moulin Rouge!": "Then I had a desire to go on stage in feathers and become a beautiful doll, but I didn't even think about burlesque." Since then, the young man dreamed of dressing up like movie characters and transforming from a man into an androgynous creature in male and female images at the same time: "It fascinated me - reincarnation with the help of makeup and elements in costumes. This caused a violent reaction of adrenaline, trembling in the body, emotional arousal. Elisha liked that he could look different, it was like learning to fly in his sleep for him.
From that time on, the young man decided to put on performances. "For about ten years I have been wanting to make a production, an evening or a night, when people would come and go inspired, inspired, so that they would cry with joy, sadness during the evening, so that it would be a kind story that would hook everyone.
I like to make flashes. I want to do a show for one time, for several evenings that will never happen again, "says Elisha. He wants his work to bring him money on which he could live, but so far this has not worked out: "I haven't gotten to that yet. The idea is only in my head. Now I'm just making a name for myself so that later I can confidently stand on my feet and do projects."
"A man is a man of mission"
The young man calls his routine of life in one word - "trash". "It's difficult now. Hope it gets easier. So I can't stand it for a long time, although I have had similar periods. It's bad that I can't devote enough time to creativity, because I'm busy with work. Ilya is the thing that holds everything else. Ilya is a person who goes to work, is engaged in business, someone real in this real world. In the same Ilya, there is Elisha, and the fox, and someone else. I try to combine all this, because if you jump sharply from one to the other, then you can go crazy.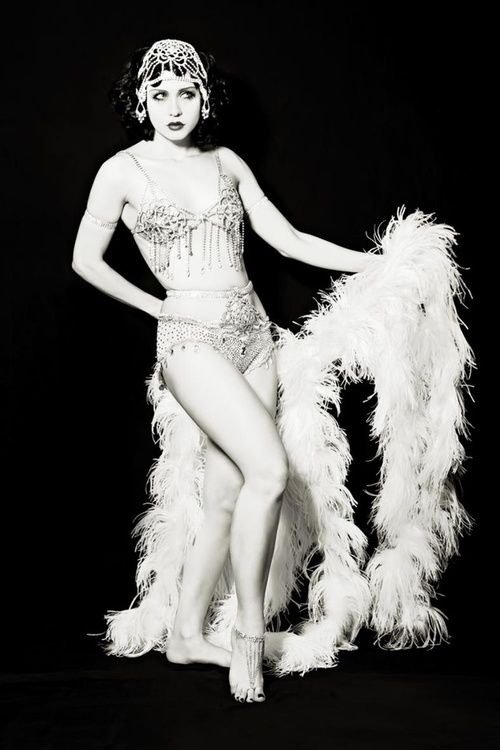 Elisha imagines his ideal life as follows: he has some kind of project, possibly online, that supports him financially, and the rest of the time he is engaged only in creativity, creating images, training, coaching and motivating others. "For example, people now turn to me with the words:" Damn, you have such a body! How do you do it?" And I tell. I also love being a photo model. I wouldn't do just boyles. It's like having a 'public figure' status on Instagram: I'd like to be a public figure in the creative aspect."
In grief, in joy, in a striptease
Anastasia Evsinekina, Nina Abrosimova
How a married couple of strippers lives, known throughout Smolensk. Jealousy, silicone breasts at the expense of the institution and a mother who still does not know
Elisha used to have a period when he could lie for days and think about the meaning of life: "I like to delve into myself, but now I try not to do it. There was depression, nothing like that happened, but I wondered: in principle, what is the meaning of life? There was a syndrome of obsessive thoughts, which constantly pressed.
I compared myself with my friends, I thought that they had achieved more." But about a year ago, after a small operation, he lost the desire to just lie around doing nothing. In the hospital, Ilya lay alone in the ward and thought that he was still quite young for operations. Something needs to be done, changed. A month later, he got to Ladies of Burlesque, where Elisha was born.
"I find it emotionally disgusting to be idle now. Even if I was with friends, I would rather not hang out and drink beer, but go to the forest for firewood. Therefore, the moments when I just lie and think are less and less. If you think, then about the meaning of life, and this is harmful. Naturally, there is no meaning to life, in fact. It is impossible to get to the bottom of it, and the only way is to live. All these thoughts are harbingers of a crisis. A crisis often happens when you start comparing yourself to others. There are guys my age in Russia who have achieved much more. But I am already calmed by the fact that I have made some contribution to the history of Russian burlesque.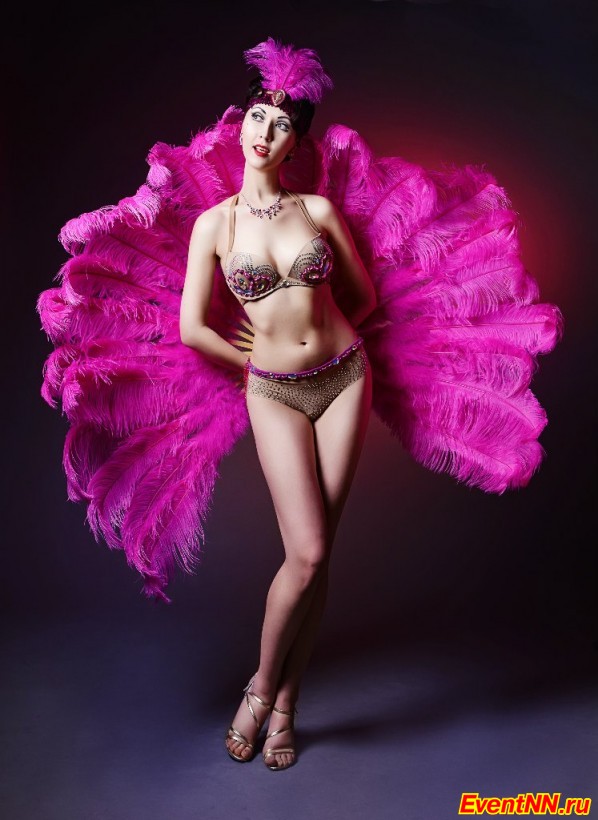 The man is a man of mission. Everything is simpler for a woman in this regard: she has a life, at home, so that everything is fine, "the first boylesk artist in Russia reflects.
"I ordered shoes that were small - but don't care, I'm a man"
New Year 2019 Seva spends at the Boy-Z club, where drag queens perform. This is his third working day in a row, and the young man is very tired. It's hard for him to perform: it's not easy to amuse people when you are depressed. Seva wants to rest. Everyone in the club is having fun under the chiming clock: drag artists perform on stage, guests drink. Seve becomes sad. Tears flow from the fact that for the first time he spends the New Year not with his family, but at work. Seva decides that the best way to drown out her longing is to get drunk. It's his turn to perform: he has one of the final numbers in the New Year's show. He goes on stage and is sure that he dances beautifully: "I played with the eyes of the audience, tried to perform the choreography, but it turned out that all this was not comme il faut, and I ruined the New Year's show.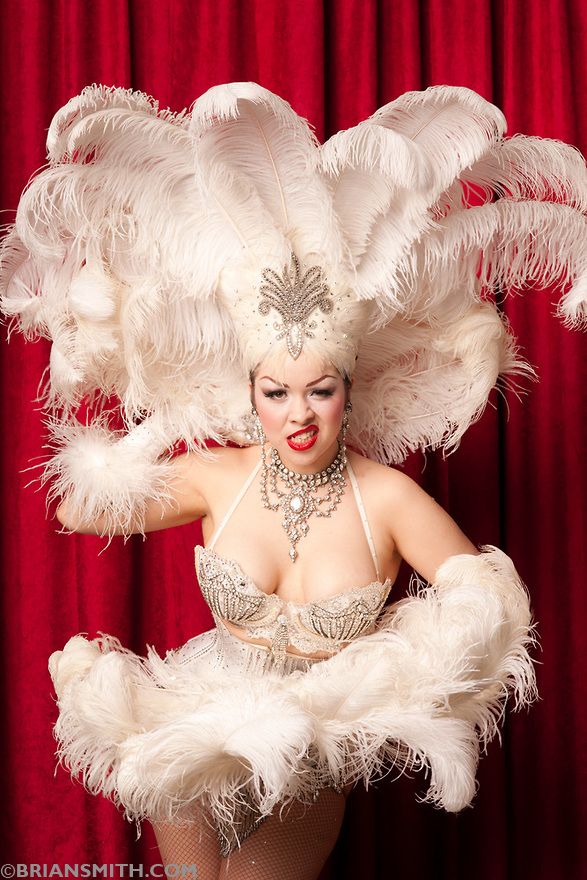 " When Seva finished the number, his friends said that they would most likely give him a fine for such a dance. The artist is shown a video from the performance, and he becomes very embarrassed for himself: he danced terribly. And after that, Seva was really fined, and besides, they were also fired: "It was like losing a real job, because Vanilla occupies two suitcases and two wardrobes. After that, I didn't have a place to perform."
Seva is 21 years old, studying to be an actor and performs as a drag artist. At the age of 19, he created the private Instagram My Vanilla Absolute, where he began posting make-up videos. A little later, having plucked up the courage, the young man and his friends went to learn how to act as a drag queen in Drag University Boy-Z. "I ordered shoes that were small, but don't care, I'm a man. Bought a wig, created a cabaret look and performed under All That Jazz. Mom knows everything, the first time I performed in her overalls and sundress.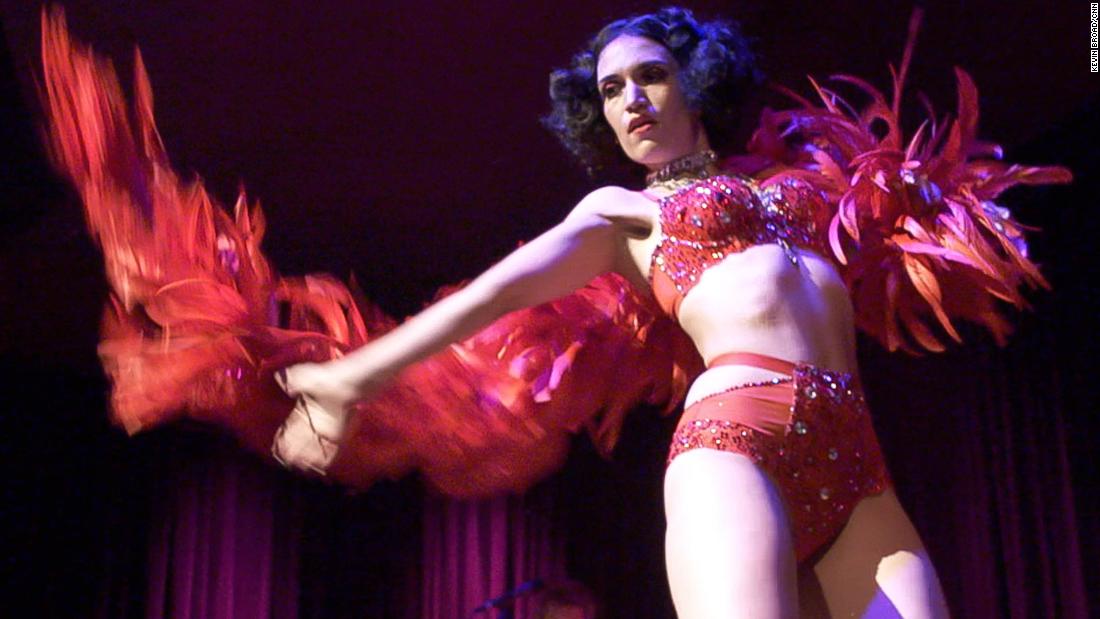 She supports me, asks me to show the video from the performances, praises the make-up if she likes it. She understands me, and we had no conflicts on this topic, "recalls Seva. Six months later, under the pseudonyms Eva Trauf and Vanilla, he was already receiving the first money for his show at the Boy-Z club. "When I am in character, I communicate with people, then I am she. This girl is interesting, she is the center of attention, hihi, haha. And then there is Seva. And he wants to get home under the covers as soon as possible. We even look at the same people differently. Mild split personality. And Seva has a lot more complexes, "says the young man. For him, Vanilla is a way to meet anyone, to be in the center of everyone's attention, to approach someone and joke. Seva can also be in the spotlight, but only in a narrow circle of friends: "These are two sides of me, so there are no contradictions between us. Vanilla is a defense, a bright joker who jokes, sometimes very vulgarly. Determining factor: it appears when I put on my eyelashes.
A woman's insidious look comes out, and I no longer see Seva. Seva got into burlesque by accident. After losing his job at Boy-Z, the young man decided to take part in a photo contest from Moscow kinky parties.
Kinky parties and burlesque
Taya, one of the founders of kinky parties and the show Ladies of Burlesque, has been interested in the topic of sex all her life, she wanted to discuss it with her friends, but they did not want to. Taya was lonely, and she felt misunderstood, not like everyone else - until she got to Berlin for kinky parties. "It felt like home, and I realized that I can not feel strange, that there are people who also study the topic of sex." Then Taya, together with her friend Tanya, decided to build an active sex community in Moscow themselves. At one of the kinky parties, the girls were invited to perform by Anya Pavlova, at that time the most famous burlesque artist in Russia. Taya really liked Anya's performance, and she went to her courses to stage her dance.
With her first number, Taya performed last at the kinky party. This was done on purpose so that already drunk guests would not notice the mistakes. But the girl liked the performance so much that she decided to continue: "I am not a dancer, but a burlesque and does not require you to be professional in this sense. Here you need charisma and artistic inclinations. There was no Ladies of Burlesque show at that time.
How I was harassed for acting in porn
Ekaterina Kozlova, Konstantin Valyakin, Vika Shibaeva
To get out of Kupchin, a samizdat reader acted in porn and went to work as a manager in an escort agency, but faced bullying
Elisha and Tanya Dmitrieva Katerina Sahara
The first show was organized when Anya Pavlova decided to move to Berlin to start a full-fledged serious career as a burlesque artist there. Together with Taya and Tanya, they organized a farewell party, which set the tone. And since that time, twenty shows, five master classes and five Ladies of the Burlesque bar parties have already taken place.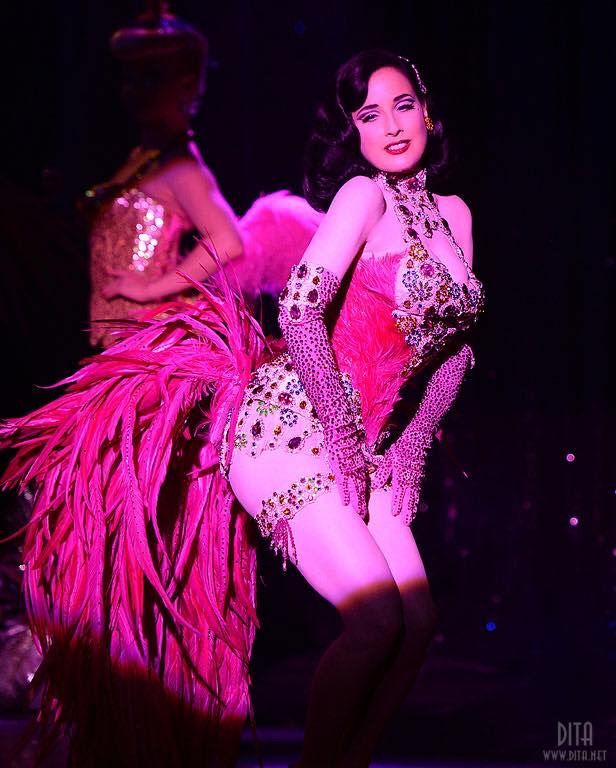 "The audience is growing with us. The viewer is an accomplice in the process, this is very important. He gets involved, applauds, and it is important that he becomes a full member of the performance, as the artists interact with him - with the whole audience. You need to be able to improvise on stage in order to get a response from the audience that is here and now, "says Taya. At the beginning, Anya Pavlova, when she hosted the show, told the audience the story of burlesque and put a lot of emphasis on it. Gradually the public became more educated. Now almost everyone knows what burlesque is and what you need to clap and yell.
Seva as Vanilla won the competition held by Tanya and Taya for a kinky party. After that, Seva began to be invited to burlesque. So he became the first male burlesque artist.
Mother of Russian Burlesque
Almost all burlesque artists, remembering their arrival in the show, mention Anya Pavlova and call her mother.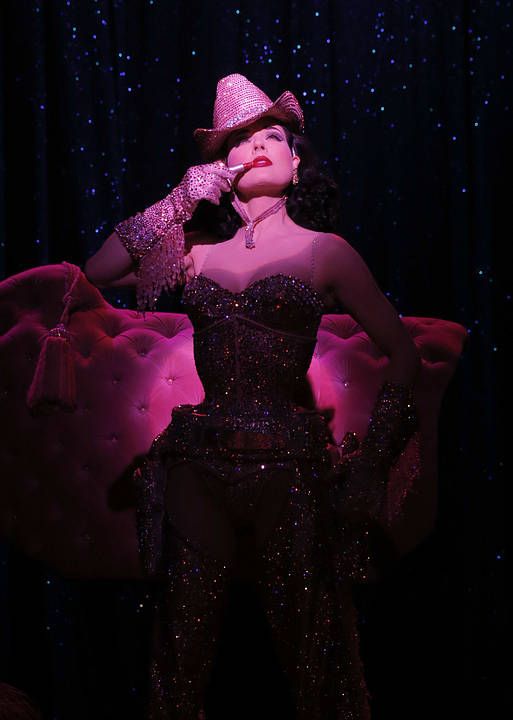 For Anya, a burlesque show is a regular job, and the number of her performances a year tends to be two hundred. But at one time it was just a hobby. Anya studied at the Faculty of Philosophy of Moscow State University and was looking for herself. She became interested in jazz music and retro culture, started swing dancing, then learned about burlesque. The girl dreamed of fabulous and beautiful shows, made burlesque her hobby, and at the same time worked as a dance teacher and translator. Five years ago, Anya came up with three burlesque numbers, went to San Francisco to her boyfriend and sent a letter to the local school, attaching a video of her performances. The girl was invited not only to meet, but to participate in the show. For several months, Anya lived in San Francisco and went on stage once a week. After that, a friend helped her organize a tour of small towns in Europe, and Anya went there with her own money. "In Europe, older couples regularly spend their free evenings coming to see half-naked girls dancing to jazz music.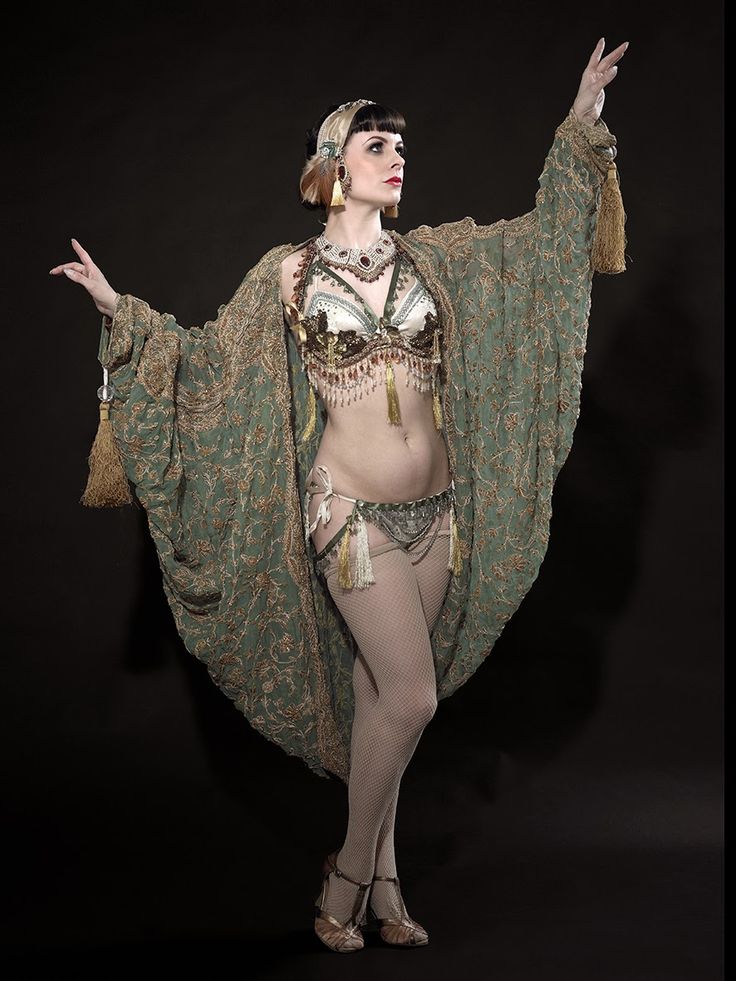 There it is the norm, culture and entertainment of an accessible level, part of the social dances that have existed for almost a hundred years. But in Russia this has not historically happened, this is not accepted, "recalls Anya. Returning to Moscow, the artist continued to engage in burlesque, teach other girls, make costumes and periodically go abroad on tour. And after that she received a job offer and moved to Germany, where she began to perform regularly.
"I had no idea that I would get into burlesque. Taya, Tanya and Anya engaged me. My wife also kicked, but then they kicked," Elisha recalls how he got into burlesque. He met Tanya and Taya at a kinky party, where he acted as an animator without sex. "Even my wife said then:" Ahhh, you go to kinky parties. I explained to her that I go as a cosplayer, show the image, walk it on stage and have absolutely no intention of having intimate contact with others, "says Elisha about the beginning of her journey into the world of burlesque.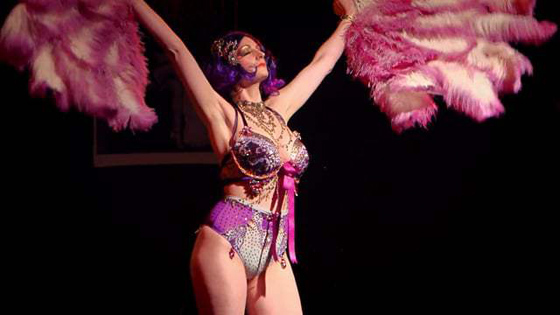 The spouses did not attend other kinky parties, except for the "Horse", since they were not interesting for Elisha's wife. "Horse Party" is a series of sex and gay friendly parties founded in St. Petersburg, which also took place in other cities of Russia and gained its peak of popularity in 2013–2014

When Elisha went to watch a burlesque show for the first time, Taya and Tanya introduced him to Anya Pavlova. At that time, she came from Berlin to support her artists and dance herself. The girls joked that Elisha also wants to go on stage. Elisha refused. But at the end of the evening, Anya announced to the audience that for the next show, in honor of her birthday, they promised to give her a gift - to introduce the first boyesque artist in Russia. "Then I realized that I had hit it and I had to prepare the number. I took a choreographer friend and we came up with a dance."

Choice of format: dinner or "deshman" burlesque?
Burlesque shows come in two formats.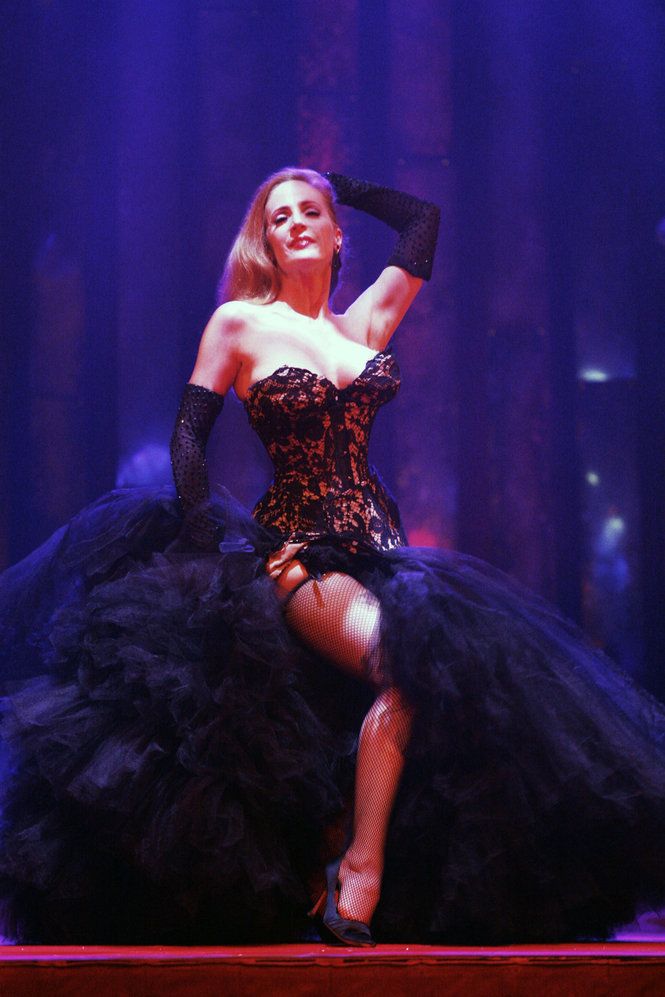 The first is a grandiose dinner show: a big two-hour performance in a restaurant without a break, where the best of the best Russian burlesque artists are invited. More than ten numbers are shown here, guests sit at tables in front of the stage, order food and drink and look at the artists. Such shows are held once a season, two days in a row, with the same content.
The second format - bar, appeared six months ago, in the image and likeness of chamber Berlin burlesque shows in small bars. "It's getting smaller and more modest here. One number per hour, waste and fun in the bar. This is a launching pad for beginners: beginner artists are allowed in here, who work out the numbers, train, and then they can already perform in the dinner show, "says Tanya. She acts as a host and intentionally jokes vulgarly. "Vulgar deshman jokes in a bar format are an absolute relax. Sometimes I'm not a very cool joke, but sometimes I come up with jokes on purpose, sit down and throw ideas. We also ask guests to clap and stomp loudly.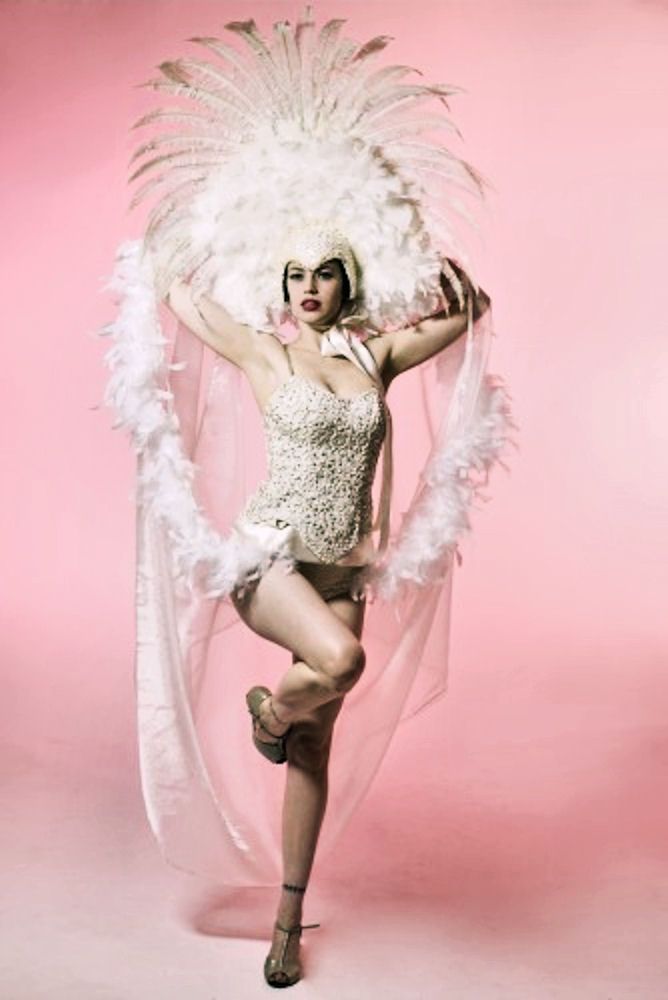 If there are a lot of newcomers, then they get a little lost and don't know how to behave. We train them." During the bar show, guests can move around, go on stage themselves and communicate a lot during breaks.
People learn about the show thanks to burlesque master classes, subscribers from social networks come, targeted advertising also works and participants of kinky parties join. Artists popularize the dance by conducting lessons and master classes, as Anya Pavlova used to do. During a break at one of the shows, a young man, a programming teacher, spoke about his wife. She attends burlesque classes and will soon be giving a demonstration show with other dancers: "I liked the aesthetics of burlesque, and I thought: I have a beautiful wife - why not? And sent her to work. Before that, he had long been signed to Tamasinushka (one of the burlesque artists. - Approx. ed.), She recruited a group; I sent an offer to my wife - she signed up and went.
I'm preparing myself to go into burlesque."
The spectator Sergei at almost all shows does not look at the stage, but at his phone. He came here to support his wife. "She loves burlesque, she does a little dancing herself. We have three children and she cannot devote herself entirely to dancing. For the wife, going to the show is a surge of energy, she recharges here and then feels positive for a long time, because life depresses her. I'm neutral about the show, they don't evoke emotions in me, "the man explains.
Artist Recruitment
Elisha and Seva are not the only ones who were "recruited" into the show and whose life began to change dramatically after that. While Anya is performing at a variety theater in Stuttgart, Tanya and Taya are looking for new artists. For example, to fill and diversify the burlesque show at the end of this winter, they called jazz singer Marie Weinberg. "Before that, I worked as a marketer in an office for several years, and it was hard for me, I dreamed of singing professionally.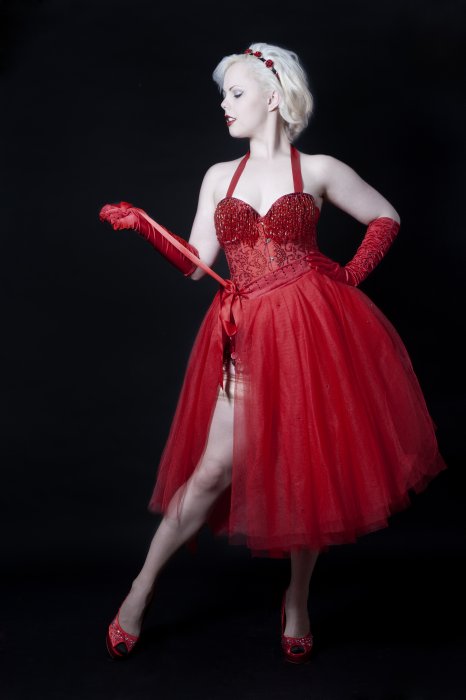 And then, after the invitation, I realized that this was a signal: I quit my job in the office, switched to remote work and began to sing.
The girl enrolled in courses for beginner musicians by Rita Dakota from the Star Factory, began taking jazz vocal lessons from Anastasia Lyutova and performing at burlesque shows. Marie is 26 years old, she lives on the outskirts of Moscow, works remotely as an SMS, spends an hour on the road to the city center, where she learns to sing and dreams of becoming famous. At the age of 17, the girl became interested in pin-up culture, became a model and got acquainted with the burlesque community. Marie comes from a religious family, which made it difficult for her to openly perceive sexuality. In addition, the mother did not support her daughter's hobby: "She said:" What is this? You have friends from the temple," recalls Marie. Then the girl moved away from the pin-up, but returned a few years later. Since the spring of this year, she has been performing in burlesque.
Previously, she was not naked, but at one of the last shows she reached a new level and took off the strap. The girl's parents know that she is participating in the show, but they don't know that their daughter will be naked: "They have their own prejudices: the mother is Catholic ... It will be easier for them not to know," Marie explains.

Singer Marie Weinberg Elisha and Vanya
"More rhinestones, new feathers, damn it!"
In the burlesque environment, as in any other artistic environment, there is a place for competition. "There is professional jealousy: he, she, they do better, the suit is better, more rhinestones, new feathers, damn it! This is normal, this is competition, "says Elisha. He does not compare himself with Russian artists: he does not believe that they can compete with him. And he singles out for himself not the artists of Russian burlesque as such, but some of their numbers.
Elisha doesn't want to be accepted normally by him and other men wearing rhinestones: "Boylesque is a complex topic in Russia and the world.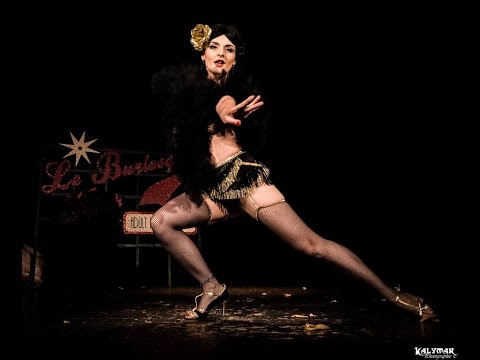 Here you need to have a different worldview. Although there are regular straight guys on the show who come up and say, "Thank you very much." It concerns the inner freedom of man." When Elisha comes out as a gorgeous poodle and crawls onto the stage on her knees, the audience looks interested. The two men at the last table look at each other, one sips from a glass and Elisha goes to the toilet for the entire performance.
In one of his numbers, Elisha plays an anthropomorphic phoenix in a corset. Phoenix wants to become a man and in the process of transformation undresses, negotiates with a shaman, tries to pluck feathers, becomes a man - and dies. "For me, these are personal stories. Each of them reflects some of my experiences. Some things no longer bring the pleasure that they used to bring. Because they are old already," says Elisha. After the performance, he will take off his corset and, finally turning from a Phoenix into a man, will go home to Zhulebino, where his wife Tatyana and the cats Kefir and Eustace are waiting for him.
On Monday, Ilya has to get up again at eight in the morning, and he needs to sleep.
Do not believe Shura's tears
Diana Sadreeva, Tashita Bell
Samizdat investigates how the singer Shura became the main star of the queer stage of the nineties, how he lives today and why he can hardly remember the past
writing letters to readers
Would you like to chat with the editors? Subscribe to our newsletters: samizdat editors share their observations about life, reveal the secrets of the working kitchen and invite readers to become co-authors of
Text
Alexandra Sivtsova
Editor
Olya Osipova
Moscow
Photos of
Maria Ionova-Gribina
Burlesque dancer with red long dress for a can, isolated on white Stock Photo ©fenixlive 49548675
Burlesque dancer with a red long dress for a can, isolated on white stock photo ©fenixlive 49548675
Sign in to view November specials
Images
VideoEditorialMusic and sounds
Tools
Business
Our prices
All images
Log in
I accept the terms of the User Agreement Receive news and special offers
Burlesque dancer with red long can-can dress, isolated on white, studio
— Photo by fenixlive
Similar royalty-free images:
show more
show more
Same model:
Burlesque dancer with red long can-can dress, isolated on white, studio , studio burlesque dancer with red long can-can dress, isolated on white, studio burlesque dancer with red long can-can dress, isolated on white, studio burlesque dancer with red long can-can dress, isolated on white, studio Burlesque dancer with red blue latin dress, studio Burlesque dancer with red long dress for can-can isolated on white, studio Burlesque dancer in rainbow dress and fruit hat isolated on white, studio Burlesque dancer in rainbow dress and fruit hat, isolated on white, studio Burlesque dancer with red long dress for can studio burlesque dancer with red plumage and short dress isolated on white, studio burlesque dancer with red plumage and short dress isolated on white, studio burlesque dancer in rainbow dress and fruit hat isolated on white, studio burlesque dancer with red blue dress for latin dances, studio
View more
Similar stock videos:
Young attractive woman holding gift bags, winking, waving and kissing.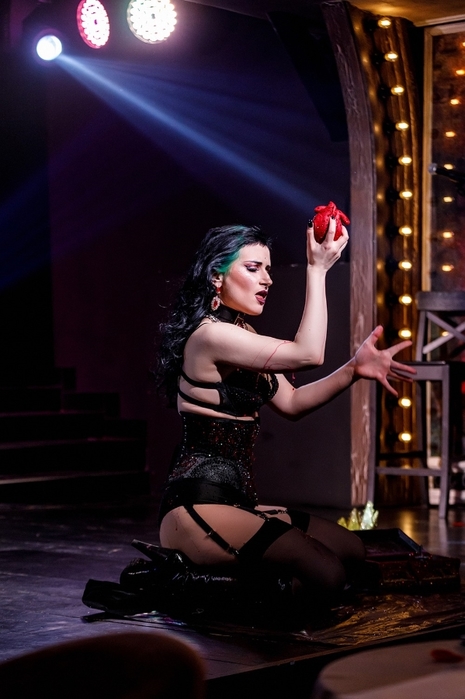 walls .Christmas Holidays. young attractive woman in a snow maiden costume with a gift dancing on a blue background. macro, slow motion, 4k .Smiling girl in a red folk costume dances with a shawl on stage .Recording of a beautiful Asian woman drinking coffee at home. Woman sunbathing on a mat on the beach. Legs look slender and full of fire On the green grass, a girl wipes her hands with a wet clothBallerina in the ballet hallLittle beautiful girl in a beautiful red and white dress is workingClose-up shot of the hands of a man who straightens his arm on the sofa, a man straightens a deadwood of silk material, a builder works in his workshopLittle girl in nature kissesDrying colorful clothes in the manor on a summer evening, 4K
Show more
Usage information
You can use this royalty free stock photo of "Burlesque dancer with red long jar dress isolated on white" for personal and commercial purposes under a Standard or Extended License. The standard license covers a variety of uses, including advertising, UI design, product packaging, and prints up to 500,000 copies.