How to dress like a hip hop dancer
What To Wear To Hip Hop Class
Hip Hop classes are fun, fast-paced, and challenging. As you learn to perform classic moves like the running man or the freeze, you'll need to wear comfortable dance clothing that lets you breathe, sweat, and move to the beat.
What is hip hop dance? Hip-hop dance originated in the mid-70s. It's a mix of street dance styles usually performed to hip-hop or rap music.
Read on to learn more about what to wear to hip hop class and why this style of dancing requires specific gear.
What To Wear to Hip Hop Dance Class
Dancing is an art form, but it's also a full-body workout. Like any sport, you need gear that allows you to move comfortably while preventing injuries.
When learning how to dance hip hop, it's essential to choose comfortable dance clothing that won't restrict your movements. Plus, your dance studio might have a dress code regarding what to wear to dance class hip hop.
Loose Clothes
You can't go wrong with loose-fitting clothes if you're wondering what to wear for hip hop class.
Baggy pants and oversized shirts are typical for this style of dance because they allow you to perform popping, locking, or breaking moves without restrictions.
Workout Clothes
If you're unsure what to wear for hip hop class, workout clothes are a good option. Sweatpants, yoga pants, and classic cotton tees are great for moving and regulating your body temperature.
Workout clothes are common for rehearsals and choreography classes. Dancers sometimes wear different stage outfits when performing for an audience.
Proper Dance Shoes
Your attire for hip hop should include some dance shoes that feel comfortable and supportive. You need a pair of sneakers with soles that provide excellent grip to prevent injuries. Proper shoes for hip hop also need a sturdy closure system, whether you opt for shoes with laces or Velcro.
As you get more comfortable, you can transition to shoes that will be part of your onstage look, including heels or work boots.
If you decide to join dance classes, don't hesitate to ask your instructor for recommendations regarding proper shoes.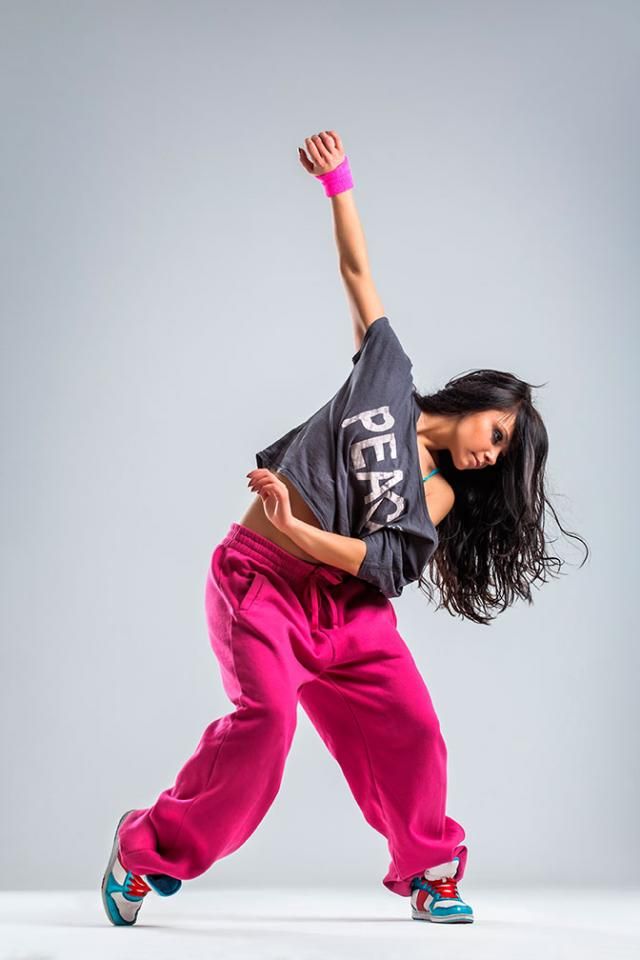 Supportive Inner Wear
Moisture-wicking inner wear will help keep you comfortable. You also need comfortable underwear, including sports bras for women and athletic underwear for men, to prevent injuries.
Light Accessories
You shouldn't hinder your dance moves with heavy accessories, but you can have fun adding a few items to showcase your sense of style.
Whatever Makes You Feel Good
If you are questioning what to wear for hip hop dance class, you should look for clothes that make you feel good.
Most studios have dress codes, but you can explore different types of clothing and footwear to see what feels right and gives you the confidence you need to progress and express yourself in this style of dance.
How Do You Choose the Right Clothes and Shoes for Hip Hop Class?
What to wear to hip hop class is often a matter of personal preferences, but there are a few tips to keep in mind.
Comfort
Attire for hip hop should feel comfortable.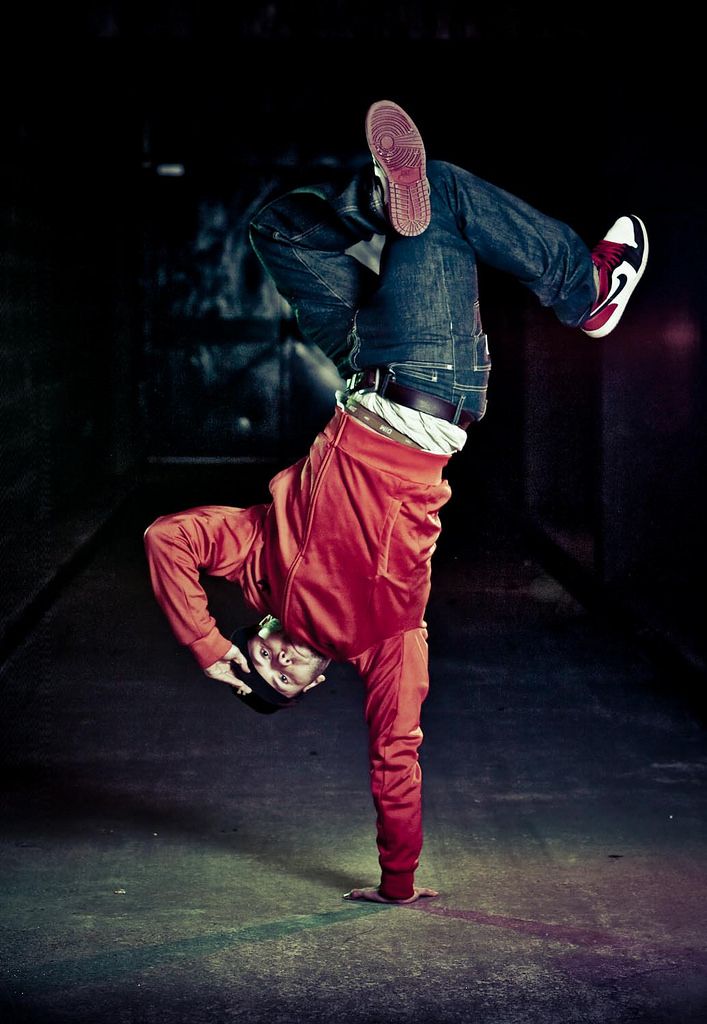 It should allow you to perform various moves while helping you regulate your body temperature.
Size
Oversized clothes are common in hip hop dance since baggy clothes don't restrict your movements.
Weight
Heavy clothes and accessories can get in the way and even increase your risks of injuries when you practice new moves.
Materials
Many hip hop dance moves will require that get down on the floor. Avoid any material that could be slippery to prevent injuries.
FAQ
Here are a few other things you need to know about what to wear to a hip hop dance class.
What types of shoes are best for hip hop dancing?
Look for lightweight shoes with laces and a flexible insole and soles with plenty of traction.
How are dance sneakers supposed to fit?
Dance sneakers shouldn't pinch or feel uncomfortable, but the fit should be snug compared to traditional sneakers.
How to wear your hair while performing hip hop?
If you have long hair, it's best to braid it or wear it in a bun or ponytail to keep it out of the way.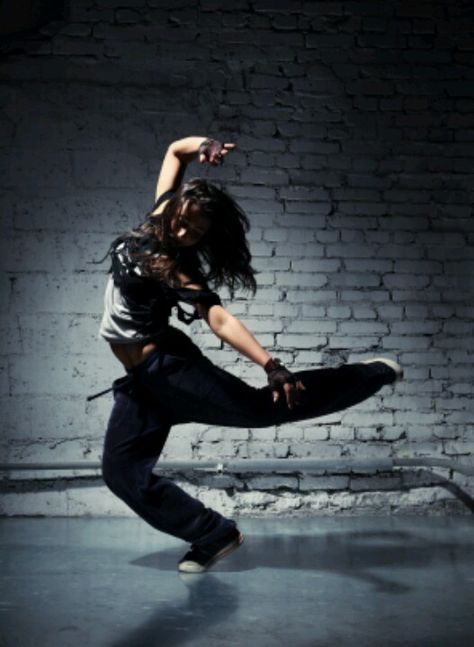 Can I dance hip hop without shoes?
Dancing barefoot isn't ideal since you might hurt your feet, and you won't get the support that a pair of sneakers can give you.
Why do hip hop dancers wear baggy clothes?
Baggy clothes are part of the fashion and culture that influenced hip hop, but loose-fitting clothes allow dancers to perform a wide range of acrobatic moves without restrictions.
Can you dance in jeans?
Jeans are a good option as long as they feel comfortable. It's best to opt for baggy jeans that let you move freely or wear a thin denim weave that enables you to breathe.
Do You Have the Right Gear for Hip Hop Class?
Dancers wear clothes that make them feel comfortable and don't restrict their movements when practicing. Any workout clothes, loose clothes, and lightweight items that let you move and meet dance studio dress codes are acceptable.
Are you ready to take the first step of your journey to becoming a hip hop dancer? Learn about how to sign up for dance classes here, or learn about dance class prices first.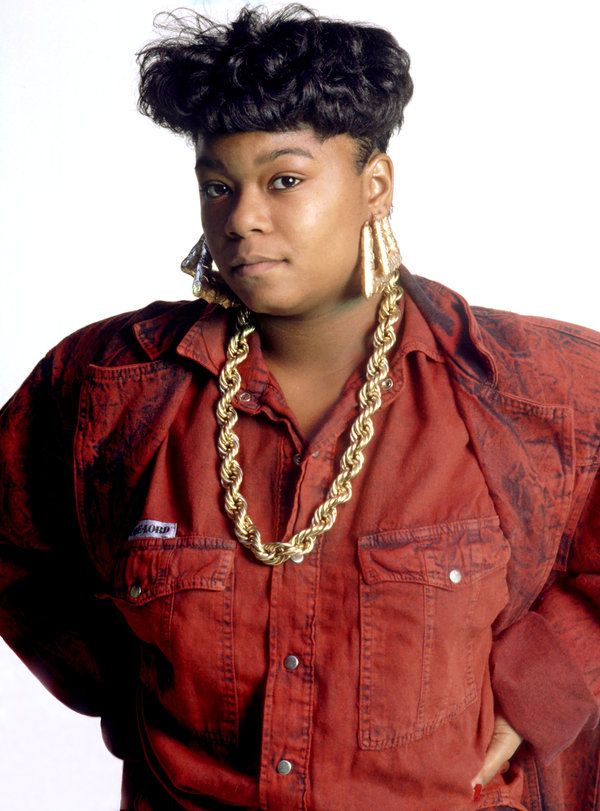 What Do Hip-Hop Dancers Wear?
So you enjoy the entire routine of popping and locking, but are unsure of what clothes you are supposed to wear. This article helps with some information on what hip-hop dance costumes should look like.
It is said that hip-hop is not just about the music or the dance, it is about the culture and the attitude. That is probably what sets it apart from other dance styles. You will hardly ever see a person going to school in leotards and tutus but people wearing hip-hop dance clothes as everyday clothing is a common sight. That in itself tells you how this dance form as a culture has penetrated every aspect. Most of us associate hip-hop clothing gear with loose baggy clothes and flashy accessories. So, how did these dance clothes come to resemble the present day fashion trends. In this article, we trace the history of hip-hop clothing and tell you what you should be wearing for this dance form.
When hip-hop dance first grew in prominence, it started out as a street dance form.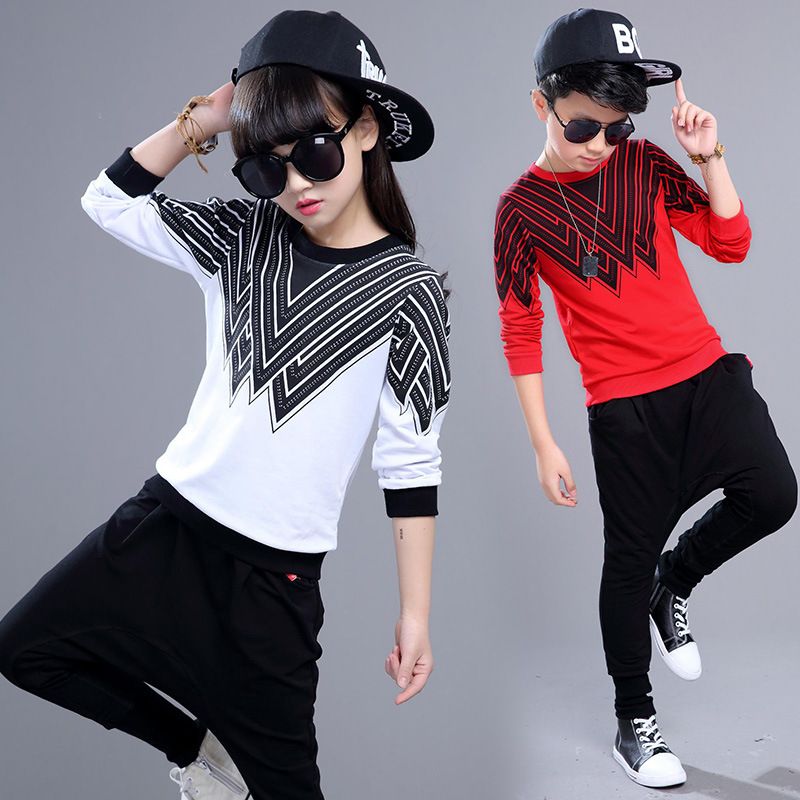 This is the reason why the clothing primarily includes the clothes that people would normally wear. So over-sized pants, jerseys, and sneakers became the costumes in which these dancers presented their moves to the world. With time, the popularity of the music and the dance form grew and many big brands started developing clothing lines marketed as hip-hop clothing. Tracksuits were also popular as clothes to wear while dancing, as were jackets. Most early hip-hop dancers were African-American and the culture reflected in the clothing styles that were embraced. Accessories were also prominent. While women wore a lot of jewelry, the men weren't left far behind, wearing as many accessories themselves. Heavy earrings, long chains, and belts made of metal chains were a huge part of the look.
Over time the clothes for these dancers, though as baggy as before became a little less accessorized, due to fear of injuries. Metallic chains and belts were replaced by bandannas, caps, and tattoos.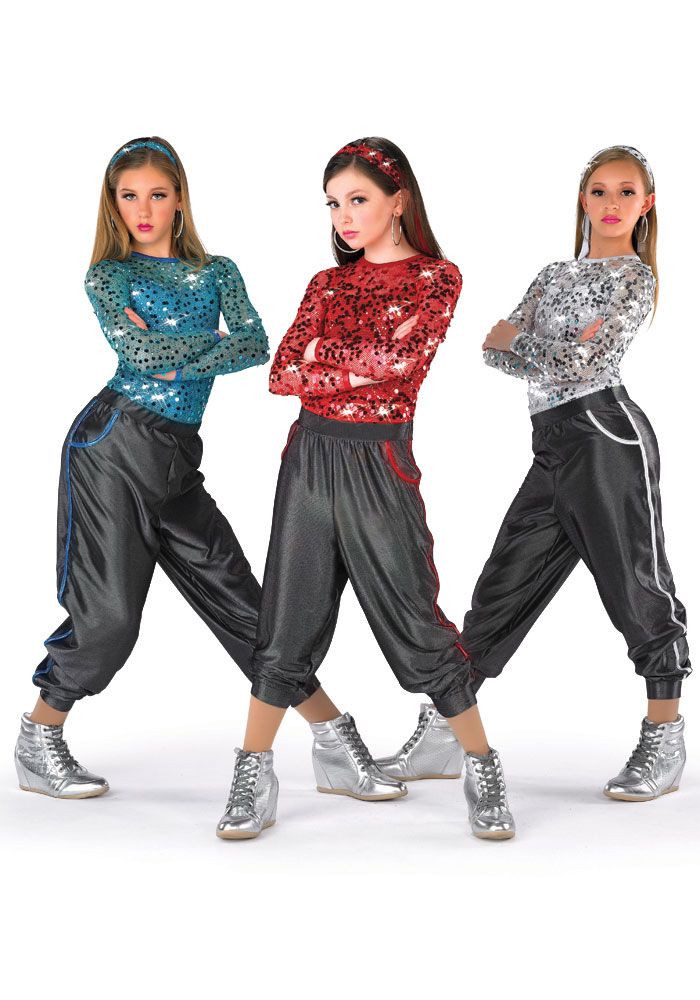 Baseball caps were worn by both men and women. These clothes were more or less of the unisex variety with minimal design differences. Costumes for the dancers of today are not much different from the costumes of the earlier era. The look is all about wearing loose, baggy clothing, and oversized shirts or t-shirts with good dance shoes that provide ample support for all the stunts that are an integral part of this dance style. The difference arises when you compare the clothes with what was worn by the fairer sex earlier.
Today the look for women is much softer than the original tomboy look. The costumes for them are much more feminine now. While most women dancers still prefer wearing pants, the design is more fitted now. A lot of women opt to wear skirts with leggings and boots. Sensual dressing has also become quite prominent in the music videos of this dance form. Women can even opt for shorts. Tank tops and tube tops are preferred by most women. One of the most important aspect of the clothing for both men and women are the shoes.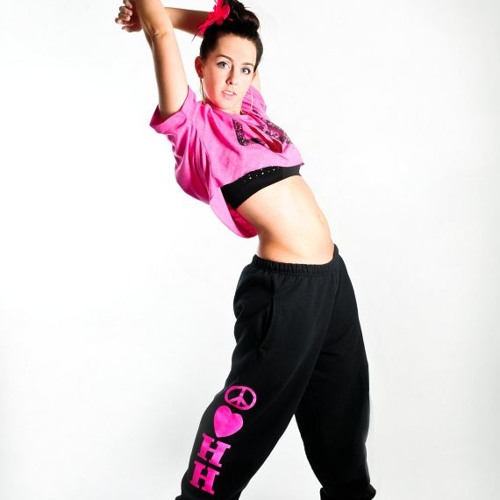 Most dancers prefer wearing sneakers with a split sole as these shoes are generally flexible and have a good grip, which is important while performing different stunts.
Whether you are buying dance clothes for kids or adults, just remember these patterns, that you can choose from, and attend your dance classes with style and panache.
Like it? Share it!
Uncategorized
Get Updates Right to Your Inbox
Sign up to receive the latest and greatest articles from our site automatically each week (give or take)...right to your inbox.
Blog Updates
Email Address *
90,000 how to choose things for a child to dance?
What is Hip Hop?
Hip-hop is a diverse genre. It includes many areas of art and sports. Skateboarding, rap, the genre of music of the same name (hip hop), and dancing. We will talk about the last category with you. In particular, about the style in which hip-hop dancers dress. And what kind of things do they use during performances.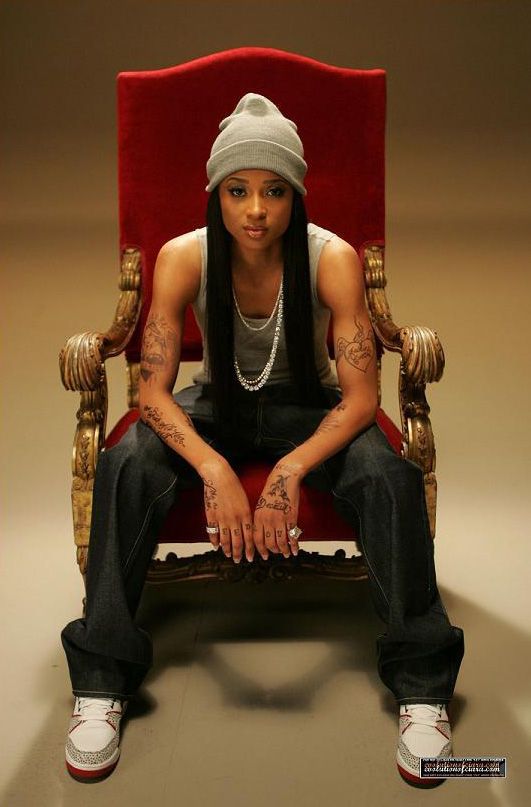 And also we will figure out what clothes you can buy a child for dancing.
Hip hop dancewear style
Hip hop dancewear is very different from other dance styles. The main feature of "hip-hop things" is that they are as large and spacious as possible. Do not constrain the movements of the child on the dance floor. And even hang down.
Pants
The most common type of hip-hop clothing is fashionable baggy pants. They are purchased for growth. Moreover, at the maximum - clothing for hip-hop can be one, two, and sometimes three sizes larger than the current dimensions of the child.
T-shirts and T-shirts

Hip-hop is dominated by wide T-shirts. Hanging T-shirts are often used.
Bright hoodies, jackets

Dancers wear beautifully designed hoodies and jackets. The rooms also use other items of clothing that have a hood.
There is a huge variety of hip-hop clothing in modern stores.
You will be able to choose clothes for the dancer by color and style for absolutely any performance.
Oversized models are available in clothing stores. Visually, they look like very large things. However, in fact, they fit the child perfectly in size. And they don't fall off it. And they only look big from the outside.
After 2010 hip-hop dance became popular. Clothing has become much more expensive.
Hip-hop clothes began to be created by famous brands. With trendy styles, colors and designs. Therefore, on the shelves of shops you can find interesting, beautiful things. At the performance in them, the child will look fashionable and youthful.
What colors are most common in hip hop?

For hip-hop dancers, there are a huge number of clothing models with different colors.
The most popular clothing colors are:
Green. Moreover, all its shades. From light green to dark green.

Blue.

Beige.

Black.

White.
Black and white pieces are considered classic in hip-hop. They are used to form a certain image within the number. For example, an office worker or a businessman.
What materials are hip hop clothes made of?
Most hip hop items are made using the following materials:
Jersey.

Fleece.

Nylon.

Velor.
Products made from these fabrics are of good quality and durability. If a child dances in such clothes, it will not tear. And will last a long time.
What accessories can I buy for hip hop dancing?
There are no restrictions on appearance in hip-hop dancing. Unlike, for example, from ballrooms. Here the dancer can put on almost anything. Accessories, clothes, pants and shoes in all sizes, colors and styles.
Let's take a look at the paraphernalia worn by hip-hop dancers.
Large gold jewelry
For some performances, hip-hop dancers wear jewelry around their necks. Most often, these are chains.
With the help of them, dancers create an image for a certain scene. For example, a gangster or a successful young man.
It is optional to use gold chains and jewelry in every issue. You only need to buy decorations if your child's coach says that it is necessary for a certain number.
Chains have a number of disadvantages. They are not very user friendly. Fall off and cause discomfort. Therefore, choreographers rarely use chains in performances. Especially if the dancers are small in age.
Hats
Athletes wear a variety of caps, headbands and even classic hats for hip-hop dancing. These items are used to form an image for a specific number. Make it brighter.
Accessories
At almost every performance, hip-hop dancers wear various accessories on their hands.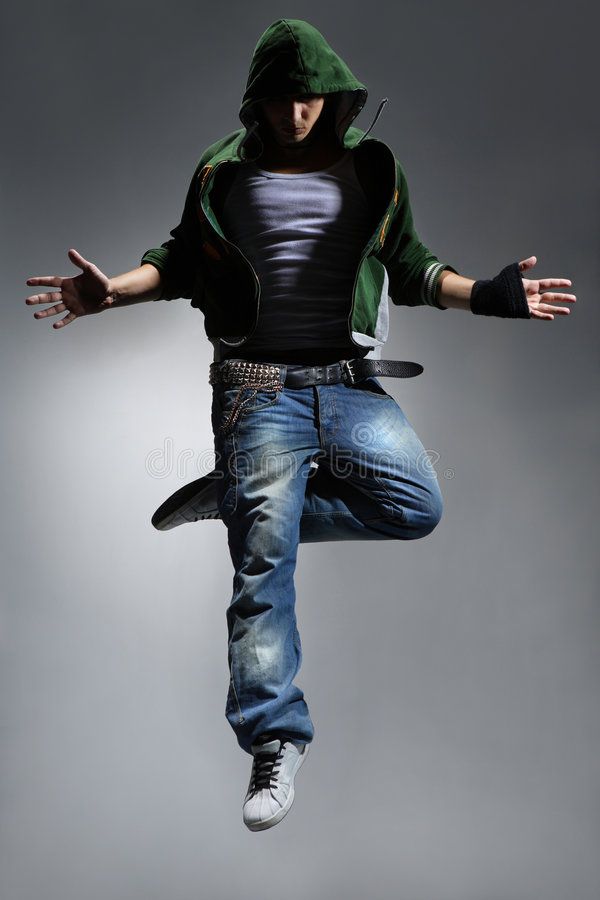 Wristbands, bandages, and other items of a similar type.
Accessories will perfectly emphasize the image of your child. And they will give him the opportunity to more clearly reveal himself during the dance.
Hip Hop Jeans Feature
Hip Hop Dance Jeans are unique in construction.
They have a rather unusual appearance. They sit on the child so freely that it seems they will fall off him now. However, this is only a visual effect. From a technical point of view, the pants are tight. They are securely fixed. Although visually it seems that they are very free, they are not. A similar effect is achieved through the use of special materials. They allow you to make the pants fit tightly, but at the same time, it seemed that the products were very large.
Hip-hop jeans are very comfortable to wear. Due to their structure, the child will be comfortable dancing. His movements will not be constrained.
Main features of this garment:
Most hip hop jeans have a low pitch. They are very long.

There are a lot of folds in the ankle area of ​​hip-hop jeans.

Most hip-hop pieces are low-cut. You can attach suspenders to them, and wear them on your side.
Skinny jeans
Recently, skinny jeans have become popular among hip-hop dancers. This is a very tight pants.
Skinny jeans are suitable for those performances in which the main character should be as thin as possible.
How to choose a T-shirt for hip-hop dancing?
T-shirts a few sizes larger than the dancer's current size are ideal for hip-hop.
Products with "cut sleeves" are popular.
For hip-hop dancing, we recommend purchasing t-shirts and clothes with beautiful prints. For example, photos of Hollywood stars, comic book characters and other heroes. It is important that the print is original and beautiful.
If your child has an athletic build, buy him a cropped t-shirt.
Or short sleeves. Thanks to this style, the child will be able to demonstrate his muscles to the audience.
How to choose a hoodie and sweater?
For hip-hop, hoodies and sweaters are perfect. They must have a hood. This is a necessary element for hip-hop dancing.
We also recommend to pay attention to T-shirts. For hip-hop, products created from cotton fabric are used.
T-shirts can have different sleeve lengths. Suitable for both short and long pieces.
Sleeveless T-shirts are also common hip-hop designs. They look very stylish.
How to choose a dance costume?
Most hip hop costumes are made using jersey fabric. Also, synthetics are added to the products.
Neoprene suits are sometimes fitted with modern materials. Among them:
Mesh.

Neoprene inserts.

Additional decorative elements. For example, shiny inserts, rhinestones, pebbles.
Important! Dresses with additional decorative elements are more suitable for girls. On boys, they will look ugly.
How to choose a hat for hip-hop?
Hats are often used in hip-hop dances. With the help of them, the dancer can decorate his number. and complete the image.
The most popular hats are knitwear. Their peculiarity is that they sit well on the head. Tightly fit her and do not fall off even during intensive dances.
Hip-hop hats have a very nice look. They don't fall off your head. And they do not cause discomfort during operation.
The most popular colors for hip hop dance caps are black and grey. However, you can wear products of other shades.
Hats suitable for both boys and girls. They are universal.
Conclusion
We recommend that you talk to your child's trainer before purchasing certain hip-hop dancewear. Ask him what things you will need for performances.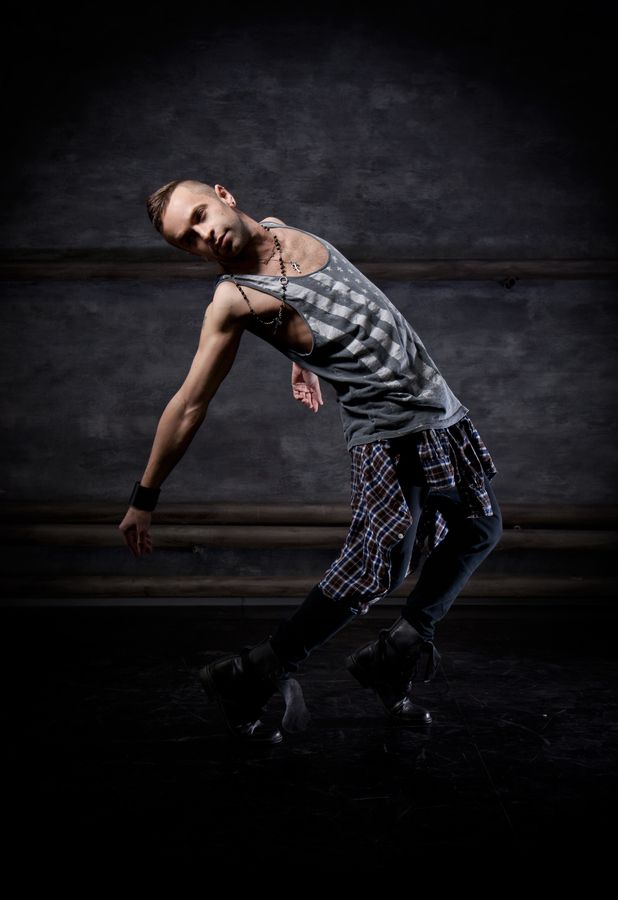 Perhaps the trainer will point you to specific models. And even help to choose their colors and style.
If you don't talk to your coach beforehand, you may choose the wrong things. They will not fit the concept of further child numbers. And also will not correspond to the idea of ​​the coach.
As a result, the purchased clothes will be useless. And you have to go to the store for a new one.
How to dress in hip hop style. How to dress in hip-hop style
The hip-hop trend originated in the early 70s of the twentieth century and owes its name to the black DJ Africa Bambaataa. The essence of the movement is to sublimate the aggressive energy of disadvantaged teenagers in the South Bronx for peaceful pursuits - creativity, sports, dancing. To turn street fights into battles, where the weapon was not a baseball bat, but the skill of movement, rhythm, words, a lot of work had to be done. She literally melted old values ​​into a new subculture, and hip-hop clothes absorbed urban street style and sports trends.
Loose, baggy fit allows for total freedom of movement for serious tricks, whether it's choreography, skateboarding or breakdancing. The modern version of hip-hop has become not only a subculture, but also a fitness direction that adults and children enjoy doing.
Even a person who has nothing to do with hip-hop culture can recognize a representative of hip-hop culture:
deliberate baggy, mixing with sports style, seasoned with catchy status accessories;
piping jeans low on the hips with a peeking elastic underwear - a kind of challenge to moral principles, the cultural framework of society. Such "underwear games" have become a kind of trick that fashion photographers often use to create an image of a troublemaker in models;
hip-hop clothes can combine something that is simply unthinkable from the point of view of classic settings: wide sweatpants, sneakers, plus an expensive fur vest with a thick gold or platinum chain.
If for guys the style dictates hooligan brutality, then for girls there is a mixture of sportswear with glamour.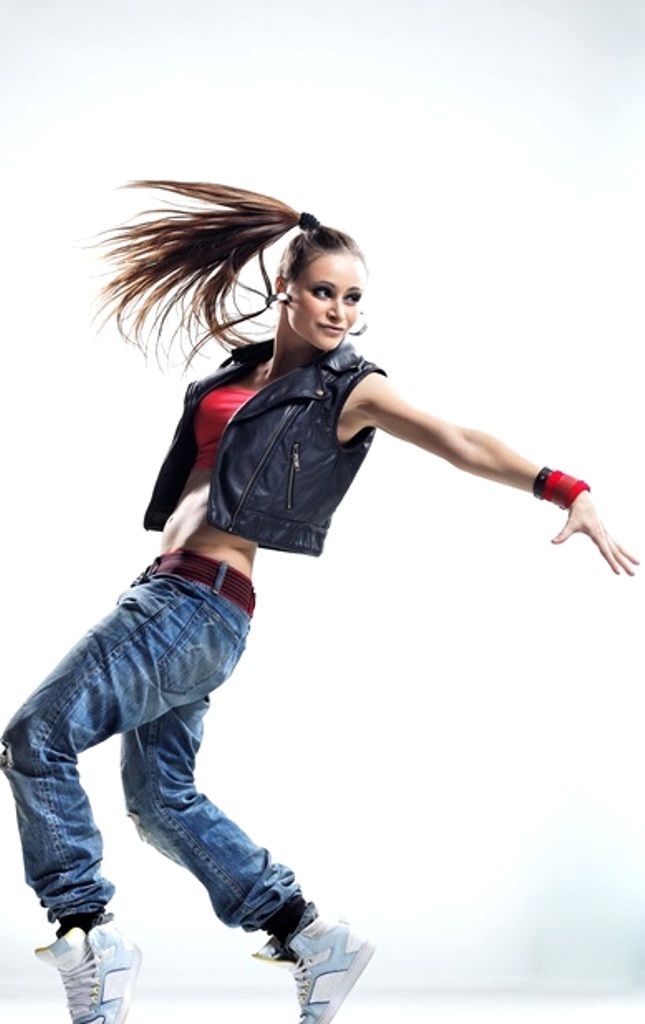 Initially, the young ladies partially borrowed things from the men's wardrobe - loose T-shirts, baggy sweatpants, jeans. The goal was to emphasize rigidity. However, later short tops, sports bras, ultra-short skirts began to be used, sneakers give way to stiletto sandals if a girl is waiting for a club party.
The modern interpretation of hip hopper clothing is gradually making it more noble, attractive in terms of fitness. The top is more fitted, and the cut is varied. Sports brands develop special clothing lines specifically for the direction of hip-hop - Puma, Nike, Adidas.
What are the types
Today things of this direction can be clearly divided into street direction and fitness option. Hip-hop streetwear is characterized by jeans, torso-covering T-shirts, oversized bomber jackets or hoodies. This wardrobe has a sports focus, but is mainly used as casual wear.
For fitness equipment, when hip-hop elements become part of the sports program, things from elastic, hygroscopic knitwear and fleece are used.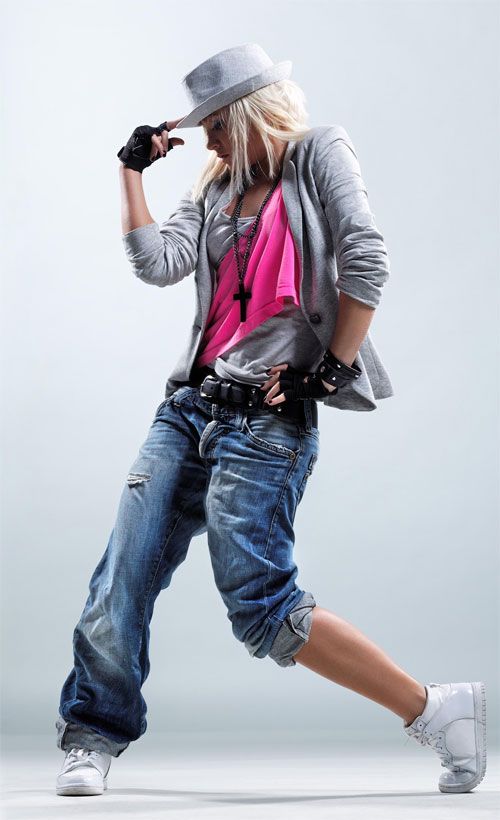 Here, preference is given to a classic cut or trousers with a low crotch. Clothing for hip-hop dances should not hinder movement - any sporting element should be performed easily, without uncomfortable tightening or rubbing. The sports version is more utilitarian - it does not wrinkle, it is easy to wash, it dries quickly.
A separate topic is clothes for battles or public performances. Here the choice depends on the intended audience, the desired effect. Suits and accessories can be selected in the same style and combined with a color scheme.
Materials and colors used
Initially, hip hopper clothing was mostly gray and black. Bright hoodies with African colors could be worn as a tribute to the "roots". To date, the predominant materials for clothing in this area are velor, nylon, cotton jersey, fleece, denim. Main requirements:
natural and breathable;
is quite elastic;
pleasant to the body;
is easy to care for.
In warm seasons, a thin hygroscopic material is used, while in cold weather, things with a fleece are in demand, which remain comfortable and do not allow you to freeze.
For little dancers and skateboarders, denim, fleece, soft jersey are used. Hip-hop clothing for children should not be chafed or have tight seams. It predominantly uses gray and blue denim colors, complemented by graffiti prints, stylized lettering and embroidery.
For girls, clothes can be made not only from traditional denim or knitted fabrics. Popular options with brilliant performance - silver, metallic, gold, bronze. Bright inserts of acid pink, green, yellow colors are also not uncommon.
Additional accessories and decorations
Despite the "gang" roots, today's design for hip-hop clothing is characterized by positive colors and details.
classic attributes are square baseball caps with a straight peak, wristlets, textile belts with a blind buckle. Women's options - bracelets and large earrings;
rings, thick chains, sunglasses with a non-trivial design, large pendants in the form of a gold Bucks - all this can still be found on status hip-hoppers;
a bandana must be tied under the baseball cap. It should be of such a size that the ends reach the shoulders. An alternative would be a hairnet;
hip-hop clothing for men often includes paraphernalia or logos of sports brands, basketball teams or popular music artists as accessories.
The modern interpretation of style is more loyal to departure from the standards. Often, clothing items become accessories when layering is used - tops on T-shirts, short denim shorts on leggings.
Video
Photo
Girls who love freedom of movement and prefer to express themselves through the images they create will be quite interested in hip-hop clothing . Such robes will suit both street style fans and ladies who are seriously studying this type of dance.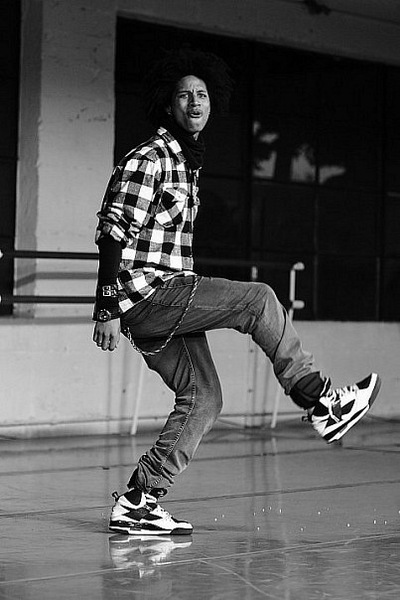 After reading this article, you may well be able to create successful hip-hop looks, because it is quite easy to do.
According to history, hip-hop originated in American prisons, and its main creators were black guys who invented rap. Since American prisons have one-size-fits-all clothes that fit both broad-shouldered and tall guys, as well as more petite individuals, the way to wear wide robes came from this. It is enough to roll up your pants and sleeves, tighten the legs tighter and a stylish look in the spirit of hip-hop is ready!
Young people began to show elements of hip-hop culture in street looks back in the 70s of the last century in order to express themselves as a person and show their own nature. The main supporters of hip-hop were not wealthy young people from poor families who could be attributed to the working class. These people, as best they could, fought for love, power and tried in every possible way to correct the fact that the harsh world was so unfair to them.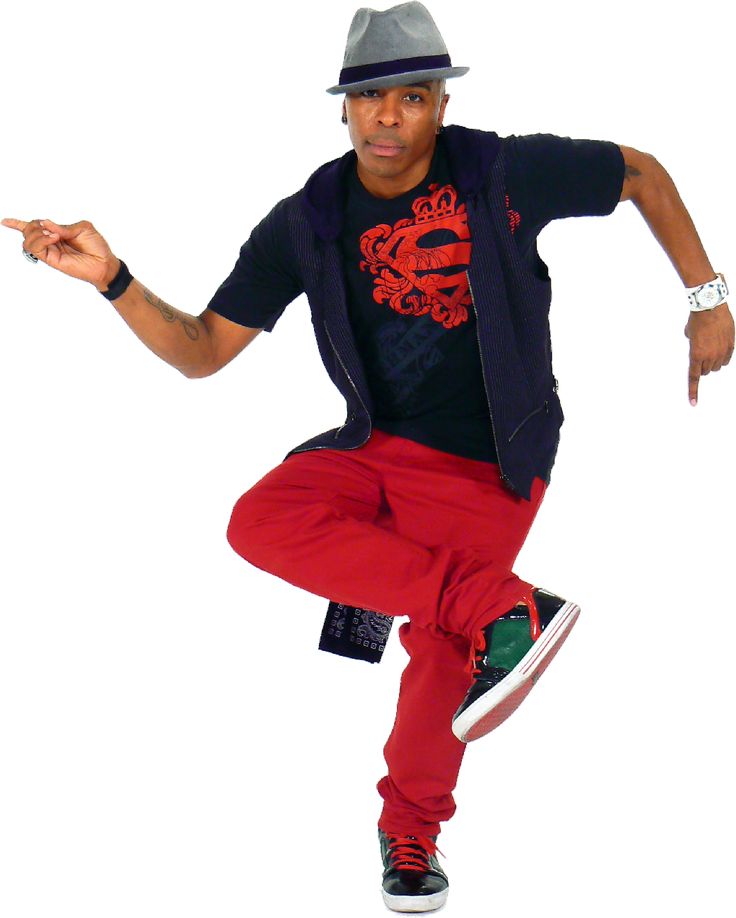 By the end of 9In the 0s of the twentieth century, hip-hop became a manifestation of the struggle for social inequality and injustice. Over time, several directions have formed in hip-hop, each of which has certain differences.
Hip-hop appeared in our country in 1984. distribution. Rap culture in the broad masses in every possible way contributed to brands such as Joker, Reebok, Wu-Wear, creating collections in this style.
When it comes to modern hip-hop clothing, it is important to note that it is characterized by baggy items that give freedom of movement during dance or street fights. Such robes make thin guys more massive and hide the feminine curves and seductive forms of girls. In most cases, hip-hop connoisseurs prefer branded expensive brands. Hip-hop fans all over the world are buying things a couple of sizes larger.
As we said earlier, bag-shaped styles originated from the first prison inmates who came up with this style. As attributes of style, high-quality expensive jewelry is used in bows - wide and long gold chains reaching the level of the belt, huge pendants decorated with rhinestones or stones.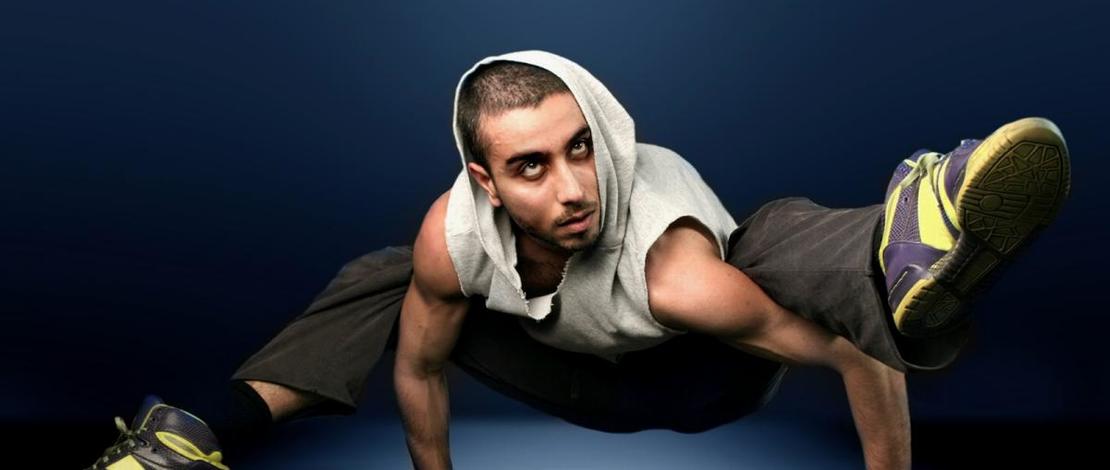 Despite the baggy clothes, hip-hop performers are distinguished by their athletic physique, free style of behavior and manner of dressing. They can wear wide pants and large sweatshirts, sneakers, boots, sneakers or boots.
Many rap artists make money not only by performing songs, releasing albums, but also by creating their own brands that produce hip-hop clothing. Also, hip-hopers wear clothing brands such as Nike, Puma, Adidas, Reebok, etc. T-shirts from R&B style.
Hip-hop clothing should be comfortable and not restrict movement at all. Most of the clothes are loose-fitting, straight-lined and sporty. Hip-hop clothing includes:
Basketball jerseys, t-shirts (monotone and with stylish inscriptions).
Shirts for men. They can be monotonous and checkered. Under them, shirts can be worn with a T-shirt or a tight-fitting top.
Hoodies.
Short jackets
Trousers-pipes, baggy trousers of their light and dense fabric and jeans with pockets. The wider and lower the pants, the more stylish the look.
Shorts.
Sneakers, sneakers, basketball shoes and stylized work boots. Hip-hopers like to wear shoes with thick soles and laces.
Hats and baseball caps with elements of hip-hop culture.
Jewelry and accessories. Ladies, as well as men, wear massive medallions, heavy chains, bandanas, backpacks, wristlets.
When tailoring clothes suitable for the hip-hop style, materials such as knitwear, nylon, fleece, velor, denim are used. The color scheme suggests blue, beige, green, gray, and khaki. In the collection of designers, you can also find unusual bright clothes, for example, with red or yellow splashes, which are very popular among women.
For women, creative short haircuts and African braids are welcome.
If for you hip-hop is not only an actual style and way of life , but also an incendiary dance , then for training it is better to choose especially comfortable things, for example, wide trousers with an elastic band and a tight-fitting crop top.
For stage wear you can put a plaid shirt on top, and a tight-fitting cap on your head. For dancing, you should choose shoes that provide cushioning to the foot so that the legs do not get tired so quickly. Sneakers should be flexible and have an arched structure, as well as a special cushion on the heel. Hip-hop sneakers are made of leather or suede and necessarily contain special mesh inserts with which the skin of the foot can "breathe".
Hip-hop style is freedom of thought, freedom of movement and a way of self-realization, demonstrated in behavior and actions. To dress in this fashionable direction, you need to have a sense of style, be able to wear wide pants and large T-shirts.
Initially, hip-hop dance culture originates from the African-American quarters of America and carries the idea of ​​challenge to society and freedom.
In poor areas (ghettos), teenagers gathered in groups and expressed their emotions on the streets through hip-hop dance and rap.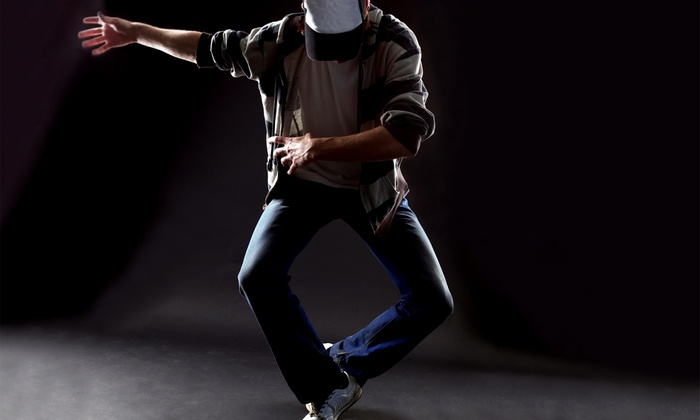 Hip-Hop, as a dance direction, today has wide popularity not only among young people. It gives the right to a person of any complexion and age for self-expression.
A child's passion for this style develops a sense of rhythm, eliminates teenage "tightness" and constraint.
Dance uniform requirements
Hip-hop dancewear for children must not restrict the dancer's movements. In appearance, she may be slightly large, careless. Only sports tops and T-shirts for girls can be tight-fitting, but they should also not interfere with free jumping.
Graffiti reflects the spirit of freedom and the fight against stereotypes in Hip-Hop culture
Practicality is one of the main trumps of clothing in this style. Since it was originally assumed that the clothes worn by teenagers would be worn by their younger brothers and sisters, special attention was paid to the durability and practicality of fabrics.
Thanks to Hip-Hop, stretched T-shirts, sweatshirts two sizes larger, wide informal pants and jeans have become fashionable.
Layered clothing is a hallmark of a true hiphoper. Tops are worn with wide T-shirts, T-shirts - sweatshirts, vests with hoods.
Quality of significant elements and materials. For example, sneakers worn by children must be professional and original models of fashion brands.
Baseball caps are also designed to be a memorable piece for both girls and boys. Clothing should be made of high-quality fabrics that are able to breathe and not cause allergies on the skin of the child. A manufacturer producing natural products has proven itself well on the market.
A bright detail will give the image of expressiveness
for performing girls. You can try on sneakers with an original flap of
Stylish baseball cap and sneakers and the fact that on pants the hole no one will notice 9000,
more about costumes for girls
in hip-hop culture is divided into constituent elements:
The top of the suit. As the upper element of clothing in hip-hop dances, girls are recommended comfortable tight-fitting sports-style tops, wide round-neck T-shirts. In the cold season, warm sweatshirts with hoods and large pockets are added to them. They should be voluminous "oversized".
Bottom of the suit. As a bottom, wide trousers of a sports cut or jeans of a straight silhouette are suitable. Moreover, they are worn in a lowered form, usually on a massive belt.
Tell us how to choose children's bedspreads for girls' beds.
For training, it is better for children to choose trousers with an elastic band as a bottom. They will not be able to injure the child when performing complex elements of the dance.
Comfort is key for training
Performance costumes do not have to be expensive, but it is better to choose the same sets. They are comfortable, practical and safe to perform various tricks.
How to choose orthopedic shoes for children with hallux valgus is described.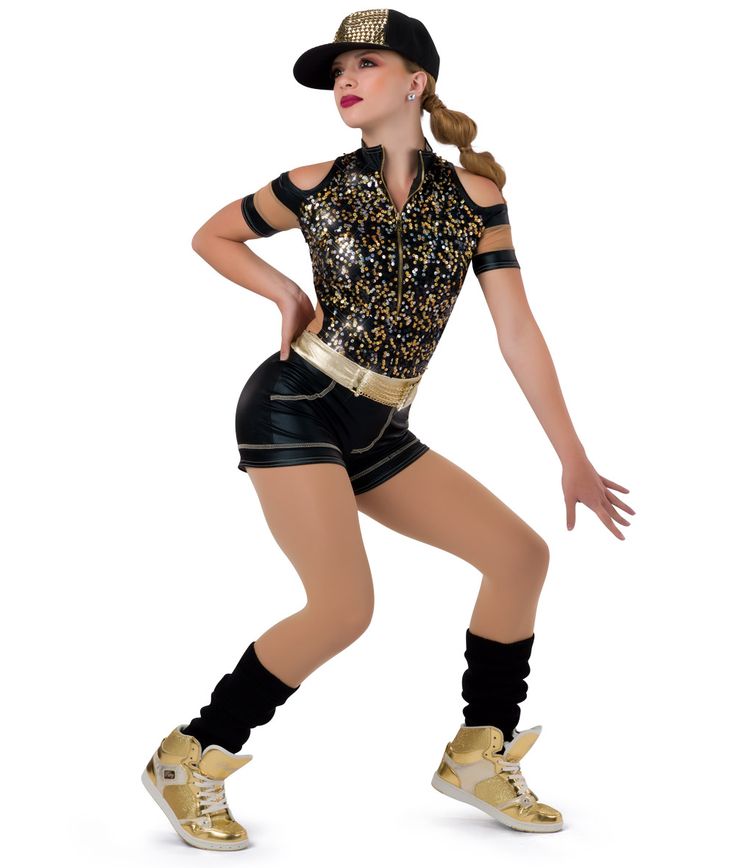 Notice the pure white shoes. She is especially appreciated in hip-hop culture.
Headwear - girls often put wide elastic bands on their heads that cover their ears, baseball caps turned back, or sports tight hats for the season, bandanas. Keep your head warm in the winter time will help.
Accessories - in a real hip-hop costume, you can hardly do without bright large accessories. Massive bracelets on the hand, chains to the middle of the navel, large earrings in the form of rings, buckles for belts from pants - this is not the whole list that will help create the image of a young hopper. Often, military-style bags and backpacks are used as an accessory.
A similar uniform is suitable for training and performances
The unity of style is the key to success in competitions
Dance uniform options
It is necessary to understand that sets of clothes for training and performing in public can vary greatly.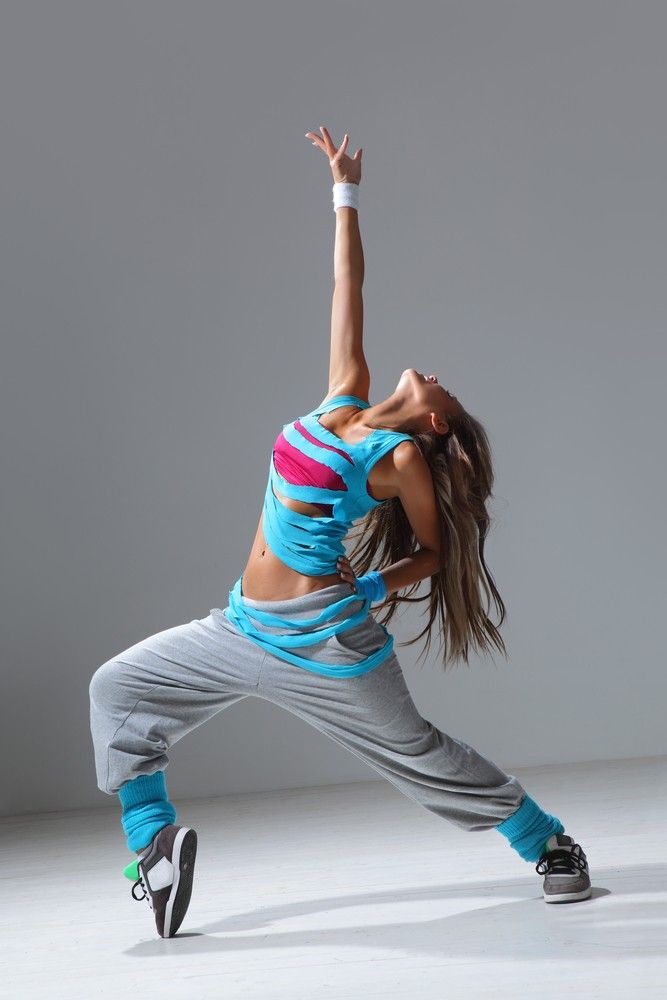 Let's dwell on this moment in more detail:
For training
The main postulate when choosing children's clothing for training is convenience and comfort. In this case, it is better to choose clothes made of breathable fabrics: cotton, linen, knitwear. This requirement is also observed when choosing.
You can combine, for example, a sports top (for girls) or a T-shirt with wide trousers. On top of the top, it is appropriate to pull on a wide T-shirt, including in the neck. As shoes, it is better to choose sneakers or sneakers with thick soles.
It is preferable to buy shoes in specialized sports stores. There is always a large selection of breathable, designed specifically for sports, which can take the load off the child's foot.
To relax after training and save space, we often opt for children's beds with storage boxes, which you will find.
Clothing should not be too bright, for training it is better to focus on practical colors that will not distract the child from classes.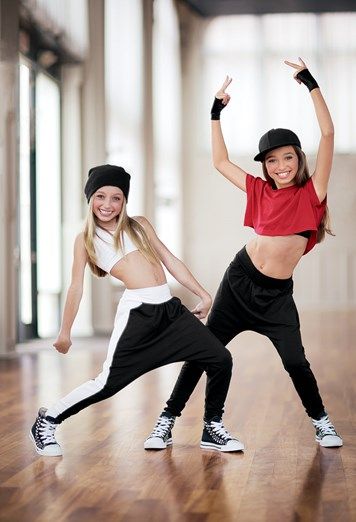 Girls should not buy clothes with rhinestones, sequins and other traumatic jewelry. Accordingly, accessories in the classroom should also be abandoned.
You will find all the information about the sizes of clothes for newborns by months.
Training pants
Performance and competition
Children's hip-hop clothing is distinctly different from training kits. It is brighter and more effective. The main thing in it is to highlight the originality of the dancer, to attract attention with her special style. Shiny things are already appearing here, caps with sequins, T-shirts with bright patterns.
When choosing T-shirts, pay attention to their prints. They should be modern, youthful, creative and catchy. Here it is worth abandoning all girlish coloring pages and plots: butterflies, flowers, characters from cartoons for girls. Boys don't get into superheroes.
Facial expressions are no less a formidable weapon in the fight for 1st place than a stylish set of clothes
"Right" shoes
Narrowing the term hip-hop fashion is almost impossible due to the very wide range of products.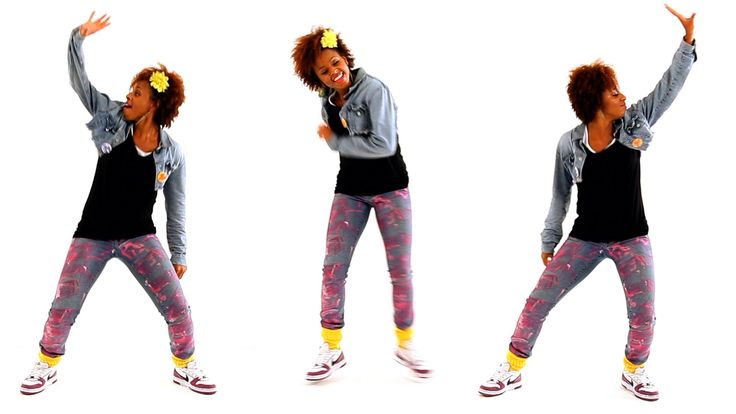 Everything that you see in videos, at concerts, in photographs, etc. is part of hip-hop fashion. It can be clothes, jewelry, accessories, shoes, hairstyles, etc. One of the most popular areas is business. For men, these are large chains and medallions. For women - large earrings with their own hands, rings on the little finger. There is one rule here: the larger and more extravagant the decoration, the better.
In addition, there is hip-hop clothing. For men, these are loose trousers and shirts. As for shoes, these are for men or heels for women.
Hip-hop fashion shows character and culture, style and creativity. Today, people embrace this fashion, draw inspiration from many sources, and then mix them up.
Baggy pants, oversized sports jerseys, expensive sneakers have become the unofficial uniform of all hip-hop fans.
So you see these tough guys and girls walking around town in their baggy pants and sweatshirts. And you think: why can't I dress like that? Now you can!
Here are some rules to help you dress hip-hop:
First, you need to forget about your old clothes (pants, cardigans and other wardrobe items).
After that, go shopping. Choose wide jeans, beautiful colorful sweatshirts or warm ones, sweaters, cardigans, T-shirts, T-shirts with large logos, oversized sports jerseys.
Choose bright, flashy colors. Feel free to express yourself by choosing bold colors. Women are encouraged to choose short skirts to show off their beautiful hips, tight t-shirts to draw attention to their breasts.
The shoes should go well with the chosen clothes. If you want to buy a hat, do it. You can choose a hat, or a baseball cap, which should match perfectly with the rest of the wardrobe, or at least not conflict with it too much.
Now that you've got the main part of the outfit, move on to accessorizing. The choice of accessories should be given sufficient attention. After all, no look is complete without the right accessories. Look for Arabic scarves, glasses, shiny gold chains and rings, and other accessories.
Tips:
If you want to wear a bandana, fold it in half, wrap it around your head and tie it in a knot at the back of your head.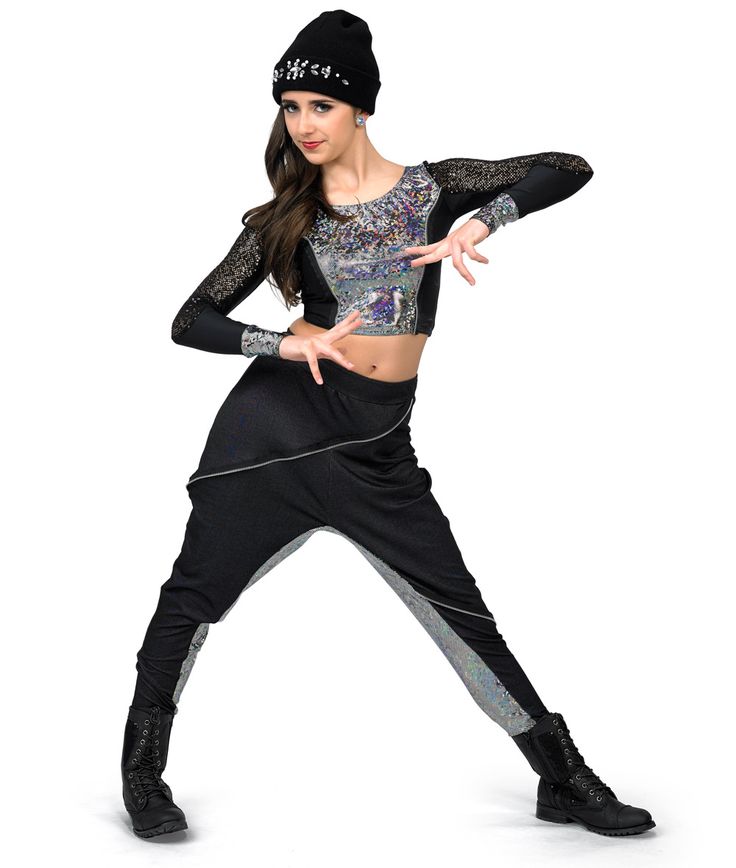 A bandana can become an additional prop if you wear it with a baseball cap.
The Arabic scarf should be folded in half diagonally to form a triangle. Wrap it around your neck, leaving a triangle in front. Tie the ends of the scarf at the back, leaving loose ends.
The hip-hop style of clothing originated in the distant 70s, and African-American areas of New York are rightfully considered its homeland, where at that time a musical trend called rap began to gain popularity. The rappers were mostly dark-skinned teenagers who dressed in baggy clothes, as if they had just been taken off the shoulder of an older brother. Many associate the hip-hop style of clothing with the traditional robes of prisoners in the US colonies, because it was they who wore oversized loose robes.
Hip-hop clothing
Hip-hop clothing allows for total freedom of action, so loose, slightly baggy clothing is the basis of this style. The most characteristic of hip-hop clothing are comfortable sweatshirts, T-shirts, t-shirts for men and, of course, indispensable sweatshirts with hoods.
Women's hip-hop style
Hip-hop clothing is not divided into women's and men's clothing. Girls calmly wear men's T-shirts, sweatshirts and caps, which makes them even more free and liberated. As mentioned above, baggy is welcomed in this style, but in addition, layering of clothes is often found. Hip-hop girls wear several T-shirts at once, while guys boldly combine sports T-shirts and T-shirts with formal shirts.
Hip-hop girls are free and bright, they are not afraid to surprise and attract attention, they are bold and seductive. Hip-hop girls demonstrate their sexuality with a "hidden" display of underwear and corny protruding straps. And damn, it's really cool.
One of the most striking details of the style is hip-hop pants, which are called "pipes". They are spacious and easy to perform intricate dance tricks, which are so many in this street style. It is customary to wear hip-hop pants slightly lowered down, and decorate them with a large and most often shiny badge with a belt.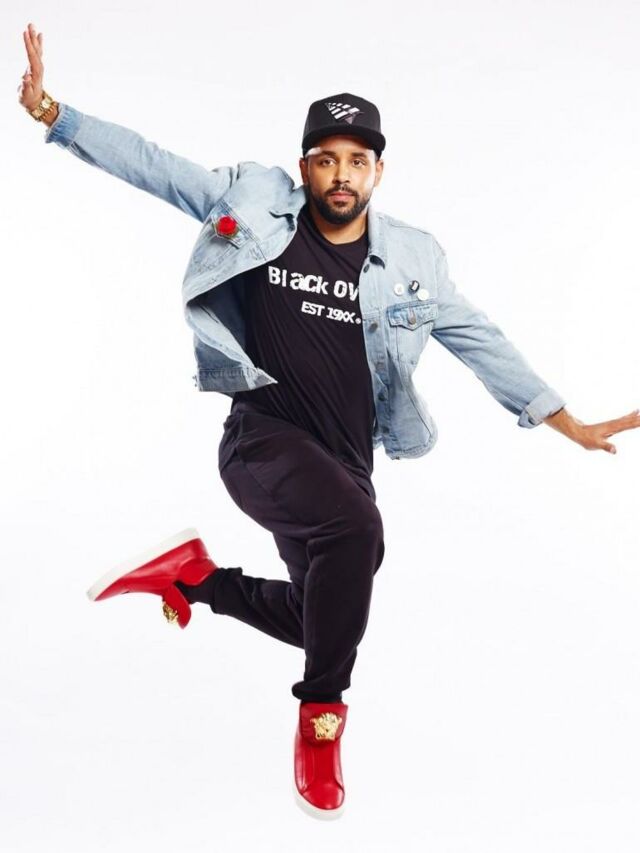 In summer, "pipes" are usually replaced by elongated shorts, which, like hip-hop pants, are usually worn lowered.
Women's style in hip-hop also requires the mandatory presence of accessories. And the main ones are undoubtedly hip-hop caps or baseball caps, most often they have a straight peak. Other, no less fashionable accessories for hip-hop girls are wristbands, bandanas, a lot of bracelets on their hands and, of course, jewelry: rings, chains, large earrings and pendants.
When it comes to hip-hop hairstyles, girls tend to choose short haircuts and often wear short African braids or dreadlocks.
Hip-hop shoes
Hip-hop shoes are, first of all, sneakers or sneakers, and the more modern and original they are, the better. The most popular are thick-soled shoes with large tongues and thick colored laces. But in the pursuit of originality, do not forget that comfort is the key here, hip-hop shoes should be comfortable, because you will definitely have to dance in them.