How to do the flash mob dance
Flash mob best seller: 4 easy-to-learn dances
Whether it is for dad's birthday, the wedding of your best friend or for the golden wedding anniversary of your neighbours.
A flash mob draws attention in a restaurant, at the registry office but also in a park. It is a unique gift, that does not just create a great atmosphere but also amazing memories.
The goal of a flash mob is not that everyone does every step in perfect fashion, but rather to give someone you care about a great surprise.
Fits for various occasions
Easy to follow steps for all guests
Includes Video tutorials* as well as practice videos* with slow and fast music, so that you are prepared for whatever song ends up being chosen for the flash mob – the final song should be communicated to all those who participate well in advance of the big party (for practice purposes).
Contains a list of example songs
Costs 59 € each, no matter how many dancers take place
*all video lessons are written and taught by professional dance teachers.
The person booking the flash mob usually selects a fitting song for the surprise dance, and is also the person that begins dancing, together with a few select people as soon as the music starts. Other guests will join in later on (those that are part of the complot have to, others will hopefully join spontaneously) and the spectacle unfolds.
Best seller "Choreos 1-4"
All fit for beginners, consisting of parts with 8 to 16 bars each, that are repeated.
All you do is have a look on our 4 previews/short videos of best seller below. They were already danced on various occations – danced by non professionals so you can imagine what they could look like on your party.
Then text us per whatsapp +49 1511 755 71 51 or email us on [email protected] and let us know which one decided for.
You pay and we send you 5-6 video links, example texts for all participants and a list of music samples.
All flash mob best sellers are choreographed to fit a song written in quadruple time (4/4).
We recommend that the song has a tempo of 28-33 bars per minute, roughly corresponding to 110-130 beats per minute. To give an example, "Just the way you are! – "Bruno Mars" or "Shut up and dance" – "Walk the moon" would fit that limit speed-wise.
Slower is always possible, but for faster dances more practice and smaller steps are generally required. Songs with a strong and clear beat are preferred, think of "one kiss" by "Dua Lipa".
Flash mob best seller 1
Flash mob best seller 2
Flash mob best seller 3
Flash mob best seller 4
You decide to give a flash mob as a present!
We recommend you to book and distribute the practice link latest a week before the party, so everyone has a chance to practice. (the earlier the better! 3 weeks are perfect)
You choose a best seller, (watch previews above), it only takes a short message via whatapp or e-mail to us –  totell us which bestseller fits best for you
You tell us if you want to receive everything by e-mail or whatspp, pay and we get startet
 You will receive further instructions and access to the dance and explanatory videos. The only thing you have to worry about then is distributing the link and password amongst the people that are to participate in the flash mob.
Anyone with the link and the password has access from any place that has internet, as often as they want.
If you decide to learn through a livestream we have to agree on a time and you invite all participants to be online at that time. We 'meet' online and you all will receive detailed instructions for the flash mob over a screen (without or in addition to videos), we recommend doing the livestream 2 – 7 days before the big performance.
During the celebration/ party, you will have to ensure that the recipient(s) are placed so that they can see the upcoming spectacle and that the music is started. You start dancing with a few, and before you know it everybody will join in!
Testimonial
Dorothee
flashmob best seller
"… Even the bride and groom joined in by the end. Then the mood could not be broken. I can wholeheartedly recommend this as a gift!"..read more..
Choreographing a Flash Mob Dance: How You Can Make It Happen
I just had the pleasure of choreographing a flash mob for Blue Cross Blue Shield of Michigan. The "mob" performed on Friday, June 24th during the Detroit River Days Festival, along the Detroit RiverFront downtown. It was a huge success with over 100 Blue Cross employees, their friends and family, and other Michiganders – all dancing together.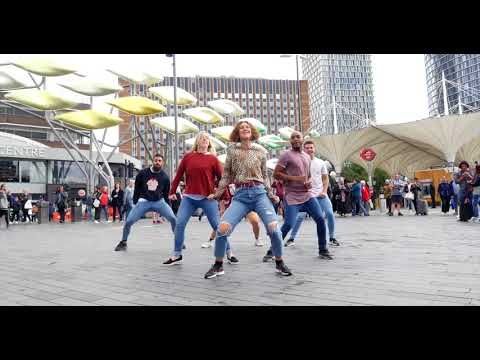 So, What is a Flash Mob?
A flash mob is when a group of people come together to perform a dance or other activity at a public place, seemingly from nowhere. Think about one of your favorite movies or musicals. All of a sudden, a bunch of people are singing and dancing together in unison – very similar to a flash mob. They are fun and random, but really involve a lot of behind the scenes planning.
Choreography 101
I have been dancing since I was 3 years old, which is partially why I was asked to be the  flash mob dance choreographer. I have experience in many different forms of dance: from tap and ballet – to jazz and hip hop – as well as contemporary, pointe, and ballroom.
I danced in college and taught classes, coached dance teams, and was involved in a singing and dancing show called Velocity that performed at Greektown Casino. Whew! Needless to say I am very passionate about dance and music. I always say dancing is my thank you to music.
Now you know, I am the dancing dietitian.
Choreography is no easy task, and choreographing for a flash mob is even trickier. Ideally, the choreographer should have some kind of dance background. But remember, participants don't have to be professional dancers. It's important to keep the steps simple and fun.
The Music
Finding a royalty free song is recommended to keep you from having to pay for the song. The song we used was BeeKoo by Lasswell. The song you choose should have a good energy, beat and tempo. The choreography should have the same feel as the music, and they should complement one another.
The Steps
Big movements are key to make an impact. Folks in the audience should be able to see level changes and ups and downs – a.k.a. arms going up or the entire body bending low, as well as jumping. Movement side to side and front to back are also key and show good dance flow.
The Tutorial Video
Since a flash mob is hush-hush, the tutorial video is a must.
When you film the video you have to make sure to explain steps clearly and in layman's terms, not with dance terminology.
I like to give fun names to different steps to make them easy to remember. Check out our flash mob tutorial below to get a feel for what I mean:

Practice Makes Perfect
The tutorial video allows your participants to practice without the choreographer and on their own time. Remind the dancers to be patient with themselves and take their time to let the steps marinate. With simple and fun choreography, the steps are not the hardest part of the dance – the tricky part will actually be memorizing the steps in the right order. In the end, repetition and practice will help anyone learn the flash mob dance. Here are some other things to keep in mind:
Have the dancers sit or lie down and close their eyes, then play the music and tell them to picture doing the dance perfectly. Research has shown that practicing in the mind can be just as beneficial as physically practicing.
During rehearsal, the teacher should always call out the moves to help participants as they practice. Also, I like to use to help people learn by having them shout out the dance moves to me rather than me calling them out to them. This helps seal their confidence in performing the dance.
Practicing the dance is a great workout. To me, dancing is so much fun and anytime exercise is fun is a bonus. Sometimes dancers get stressed out about the steps and can forget it is all about fun with flash mobs. In the end, remind them to smile and live it up. Dancing is a celebration of music and performing a flash mob is amazing fun, so enjoy every second of it.
Check out our Flash Mob
Here is the end result of the Blue Cross Blue Shield of Michigan flash mob. Check it out and let me know what you think. We all had a fantastic time dancing together!

(Visited 14,260 times, 1 visits today)
How to prepare a dance flash mob yourself
Flashmob Anton Bakin
May 24, 2019 Views: 1660
In order to attract a large number of people and arrange a bright dance flash mob, you need to spend a lot of time preparing. Use our tips to make it easier for yourself and reduce costs to a minimum. We will tell you how to prepare a dance flash mob and surprise everyone with your original idea.
Stages of preparing for a dance flash mob
Any event should start with a clear action plan. For a dance flash mob you need:
- Come up with a dance. Choose simple movements that are accessible to all participants. Especially if you plan to draw a large crowd.
- View previous flash mobs online. This will help you learn from the experience of others and learn something new for your event.
- Gather participants. Use all available means: connect friends through social networks, recruit people from an ad, run ads on a website or meeting.
Design costumes and props.
Evaluation of existing flash mobs
Your event will be a success if you take into account the strengths and weaknesses of already created flash mobs. This is useful for managing people in a group, because synchronization is extremely important in dance. For inspiration, watch YouTube videos: there you will find a huge collection of different flash mobs. And do not forget to collect information from friends and acquaintances who have already held such events.
Recruitment for dance flash mob
- Finding as many people as possible is your main task, so use any means possible:
- Ask friends and acquaintances if they would like to participate.
- Tell your idea to the members of the dance, theatrical, gaming and any other group in which you are a member.
- Try asking around on the street.
- Create a website or group to gather like-minded people on the Internet.
- Register on thematic forums and share information about your idea.
Flash mob dance rehearsal
So, first you need to find a place to rehearse. An ideal place for this can be a dance hall, where you can learn the movements in a pleasant environment. But not everyone has the opportunity to find such a comfortable free space. In this case, ask your friends for a closed warehouse or office.
For productive rehearsals, you need to motivate participants to attend training regularly. Otherwise, your group will not be ready by the date of the flash mob. If you don't know much about dancing yourself, ask a choreographer you know to support your idea and act as a leader.
Preparing clothes and props for the dance
For a dance performance, each flashmob participant must have a costume.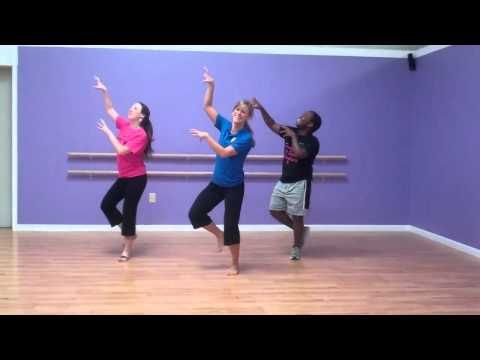 For example, for a romantic dance, ball gowns and tuxedos would be appropriate, and for a daring street break, loose shorts, pants and T-shirts would be appropriate.
Choose the color that best suits the dance in your opinion and instruct everyone to choose their clothes. You will need to make sure that no one is left without paraphernalia on the last day. Everyone should come to the final rehearsal already in costumes: you need to check that no little things prevent the participants from moving freely.
Performance of dance flash mob participants
The entrance to the stage itself can take place according to any scenario you choose:
- Suddenly, music is turned on for passers-by, and dancers appear from the crowd.
- A busker starts playing and a lonely girl dances nearby. Gradually, the music becomes more rhythmic, and the others join the dancer.
- Flash mobbers start a mock brawl, attracting attention. And as a sign of "reconciliation" arrange a show.
At the end of the flash mob, the dancers should merge with the crowd and disperse in different directions, as if nothing had happened. This is a mandatory condition that all participants should be warned about.
Who can take over the flash mob instead of you?
Are you more interested in watching or dancing in a flash mob than organizing one? In this case, contact professionals who will help you do everything right: realize your plans and create a positive mood for all participants.
If you need to order a dance flash mob, call the Emotion Workshop agency. We will stage a modern dance, taking into account your wishes and possibilities. We have 5 professional choreographers ready to think over every little thing. We will stage any dance flash mob: from tango to break dance!
Similar articles:
the grandiose flash mob of the Rossiya 1 TV channel continues
January 20, 2022 14:01
More than 82,000 videos were posted on social networks by viewers of the Rossiya 1 channel last year as part of the dance flash mob #ROSSIYATANTSUETDOMA.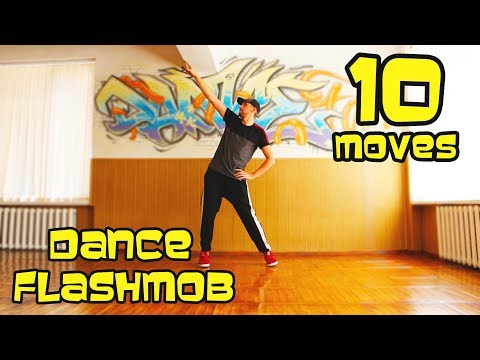 With the start of the new season of Dancing with the Stars, the country danced again to the rhythms of the popular show!
Last year, the dance marathon #ROSSIYATANCEETHOME of the Rossiya 1 TV channel became the main event on social networks. TV viewers danced at home with the participants of the show "Dancing with the Stars" and posted more than 82 thousand videos online. And the challenge itself has collected more than 210 million views! For the new season of the show, the channel resumes the flash mob so that the whole country will again dance to the incendiary rhythms of the popular show.
Every week in the groups of the TV channel "Russia 1" in social networks under the hashtag #ROSSIYATANCEETDOMA new dance tasks from the participants of "Dancing with the Stars 1" will appear.
Recall that this time on the dance floor of the project - Maria Mironova, Dmitry Kharatyan, Marina Zudina, Alexandra Rebenok, Olga Medynich, Alexandra Revenko, Anatoly Bely and Valery Nikolaev, Vladimir Markoni and Vanya Dmitrienko.