How to dance in a ball gown wedding dress
Here's How Your Wedding Dress Style Affects Your First Dance
Bride & Bridesmaids
Dance instructors from across the country have chimed in with the ins-and-outs of how the style of your wedding dress affects your first dance.
Jaimie Mackey
Barr Entertainment
Whether you and your partner are prepping for your first dance with lessons and choreography, are going to improvise a few spins and a dip, or will be sticking with the high school sway, those few moments in the spotlight are highly anticipated—or dreaded! One thing you and your S.O. may not be considering as you're choosing that perfect love song, though, is how your choice of wedding dress could impact your dance moves. But think about it: You'll be wearing a fancy dress that might cling to your curves, pouf into a cloud of tulle, or fall somewhere in between—all of which will impact the way you walk, sit, and yes, dance on your wedding day.
If your dress is sleek and fitted…
"A skirt that hugs your body will restrict your movements, especially if it's tight around the knees," says Elaine Hewlett, owner of Vow to Dance in Dallas, Texas. "If it's hard to walk in, it will be even harder to dance in!" For a bride who is dreaming of a more elaborate first dance, a trumpet or fit-and-flare silhouette will be a bit more forgiving than a mermaid, as these skirts flare out around mid-thigh instead of at the knees or lower.
"Most dances work well in a mermaid gown - you just won't be able to take big steps," says Elizabeth Marberry, owner of Wedding Dance Coach in Denver, Colorado. "You can still do a waltz or foxtrot, but will need to practice taking smaller steps (hip-width or narrower!), and should make sure your partner knows you won't be traveling quite so far." Upbeat styles, such as salsa, swing, or even a hip-hop routine are definitely still possible, as long as you're practicing with more limited movement.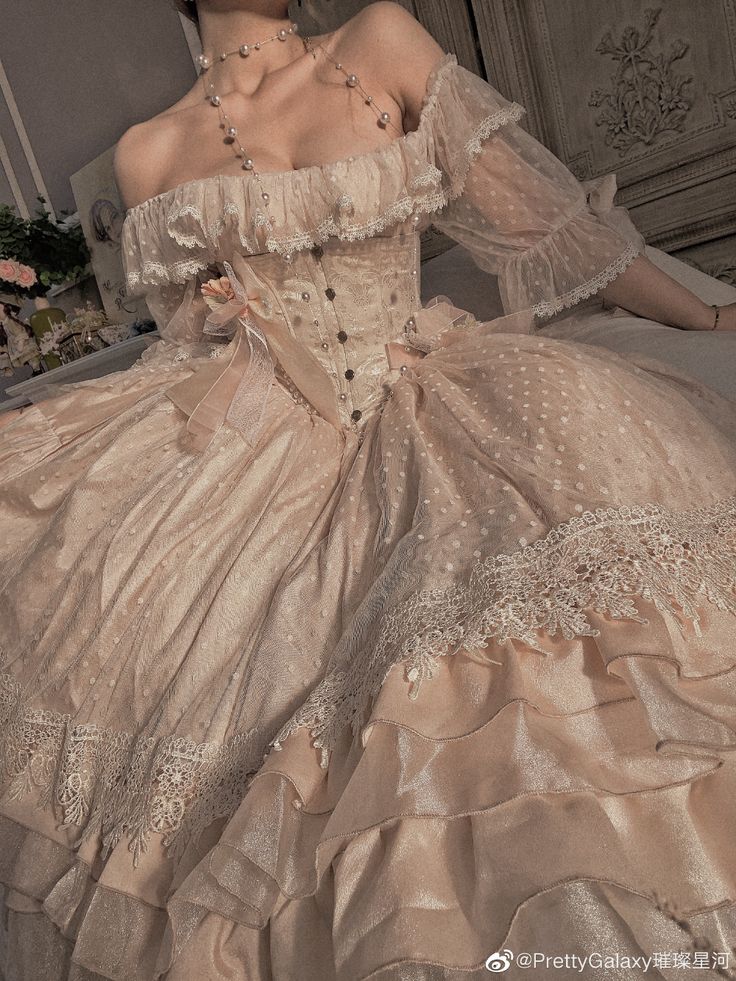 As a bonus, a fitted dress is great for simple lifts because there isn't as much material for your partner to get caught in!
If your dress is an A-line…
"I love an A-Line because you can still get nice and close to your partner while dancing, without the skirt affecting your choreography," says Hewlett. "Just be sure you have a secure bustle that will get the train out of the way. At your fittings, make sure you can take steps in all directions without tripping - including backwards!"
Adds Marberry, "An A-Line skirt is a really carefree choice to dance in, and works with just about every dance style. Your restrictions will only come in if your dress has a fitted sleeve that will prevent you from lifting your arms."
If your dress has a full, ball gown skirt…
"If you're dreaming of a real Cinderella moment, look for a ball gown that's made with layers of a softer material that gives you lots of volume but allows your partner to get close to you," Hewlett advises.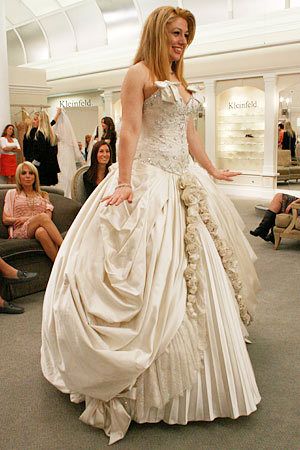 "Your partner may need to adjust to the feeling of so much fabric against their legs, but this full skirt gives you plenty of room for dancing." In fact, Hewlett loves when brides choose big ball gowns because of the amount of drama they create when you twirl across the dance floor!
"I always remind the leading partner that there is a chance they might step on a full skirt, so they should be aware of their own steps as much as you should be aware of yours," says Marberry. But one of her favorite things about a ball gown is that such a full skirt will hide your feet—making this the ideal time to change out of stilettos into wedges (or even sneakers!) so you can really dance your heart out. "A full skirt also means you may not be able to get so close to your partner, so a more traditional dance frame (think the upright posture of a traditional waltz) works better than a close and cozy high school sway."
More Tips and Tricks
Gabriela Sousa Events
Talk to your dance instructor about your dress.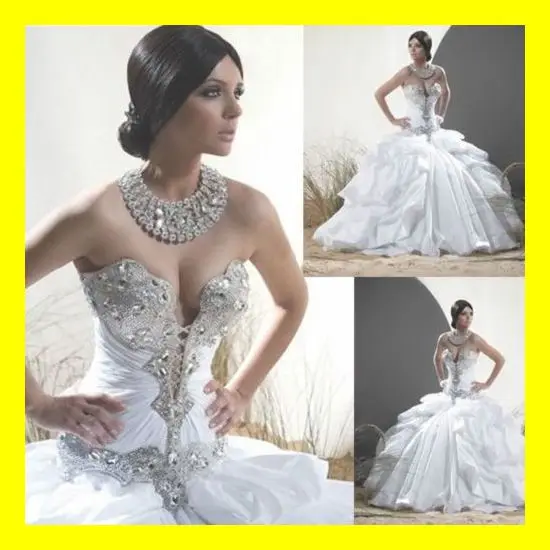 "As you're choosing a song and a style of dance, take your instructor aside and describe your dress's skirt so you can make sure the final choreography will work with what you'll be wearing," says Hewlett. "That way you can still keep your dress a secret from your partner, while still knowing it will be comfortable during your first dance."
Remember your sleeves.
"If your dress has sleeves, practice lifting your arms during your fittings to test out which arm placement will and won't work," says Hewlett. This is great advice whether you're choreographing a dance or are just ready to get down on the dance floor!
Wear a dress to your lessons.
"Even a simple sundress will feel different than dancing in jeans, and will be closer to how you'll feel on your wedding day," says Marberry. "If possible, though, wear a dress with a similar silhouette to your wedding dress."
Practice at your final fitting.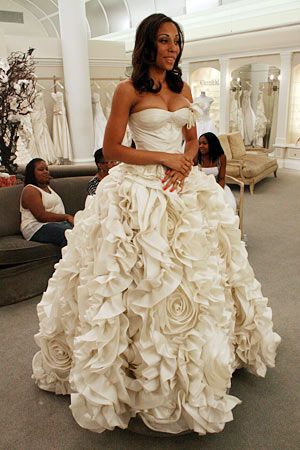 "This may be the last time you put your dress on before your wedding day, so take a few moments to practice your steps around the fitting room," Marberry recommends. 
Slide, don't step.
"For a dress with a tulle petticoat, slide your feet while dancing instead of taking steps," Hewlett recommends. "A heel can easily get caught in tulle, which could tear or cause you to trip. If you can keep your heels on the ground, you'll avoid any snags!" This is an easy one to practice during dance lessons, even if you're not in a dress, so you can get a feel for the movement.
Put on a petticoat…
Most dance schools have petticoats that you can slip on over your jeans to mimic the shape of your wedding dress's skirt, allowing you to get a feel for any restrictions without ruining the surprise of the dress you've chosen. "If you can walk in your dress, you can dance in it!" says Donatas Nacajus of Ballroom Boutique Dance Company in New York City.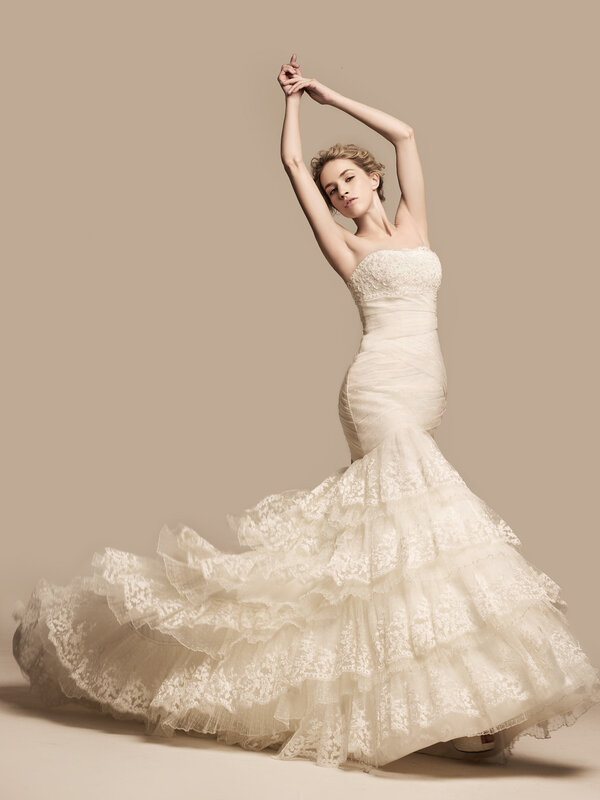 "Of course, the type of skirt will impact how it feels to dance, so we love to use petticoats during rehearsals to mimic the dress." He likes that the petticoat is helpful for the bride, but also gives the leader a feeling of the skirt around their feet, as well. 
…or book a private lesson.
 "Another thing we highly recommend is to bring the actual wedding dress to the studio and dance at least once in it, without your partner present," says Nacajus. "You'll practice with just your instructor, and will be able to work out any issues that your particular dress might present."
Grooms: Button those jackets!
"Many men think they should take off their jackets or leave them open for the dance, but it looks so much better if they have their full suit on, with the top button buttoned," says Hewlett. If you leave your jacket open you'll look like you have wings or are wearing a cape, and removing your jacket can be too casual for such a memorable moment.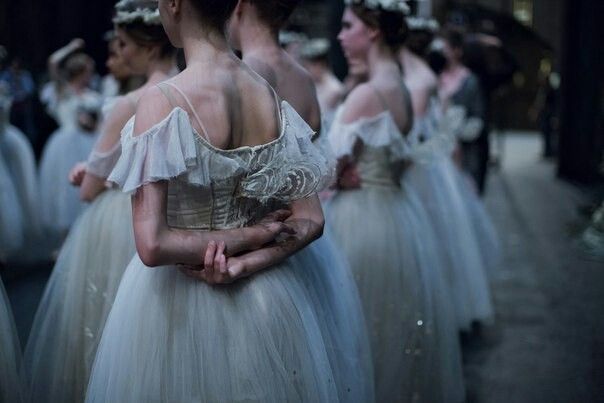 Step away from cocktail hour to rehearse.
"Once your partner has seen your dress at the ceremony or during your first look, sneak away for a few minutes to run through your routine in your full formal attire, focusing on any lifts, turns or dips that might feel different than they did at your dance lessons," says Marberry. Hewlett agrees, emphasizing how nice it is to get to test your dance out in your actual venue. "It will help you feel much more comfortable in the space, and is also a great private moment to share!"
Go for a second dress!
"If it is within your budget, change into a reception dress that's shorter or has a more forgiving skirt that's easier to dance in," Nacajus recommends. Without any superstitions surrounding a second dress, you could even wear this one to rehearsals with your partner to really get a feel for each move!
How to Dance in a Wedding Dress With a Train?
Whether you have yet to go wedding dress shopping or have already decided on your dream dress, you don't want to overlook this one thing: the train.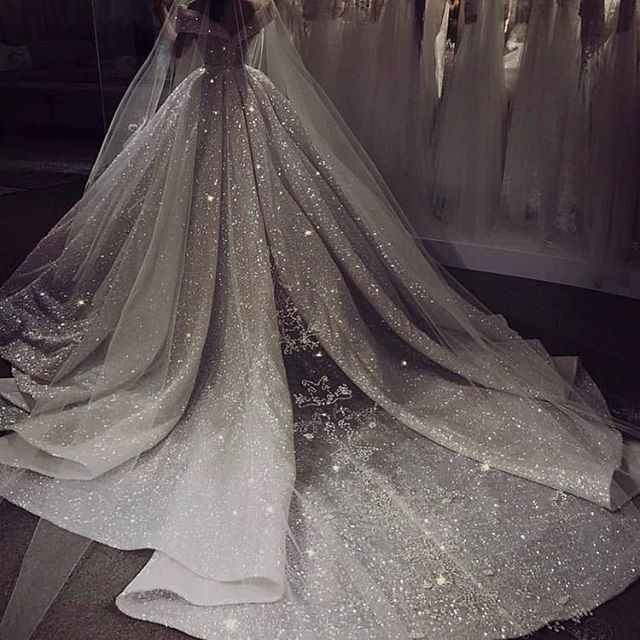 The train of your wedding dress can impact everything from how easy it is to walk down the aisle to how low you can get on the dance floor. But if your heart is set on a long train, you don't have to sacrifice your dance moves for your dream dress or vice versa—you just need to prepare a little.
If you'll be donning a heavy wedding dress train, we'll show you what steps you need to take to ensure you can dance the night away in style.
How to Dance in a Wedding Dress With a Train
Alter Your Dress
Before you click away, let us explain. We're not saying the way to dance with a train is to alter it away. However, there are a few simple alterations your seamstress can make that will make it easier to dance in your wedding dress when the time comes.
Shorten the Train
If you fell in love with a dress that has an extravagant train, you don't have to commit to its length. Your alterations expert can often easily shorten the train on your wedding gown to be more manageable (read: danceable).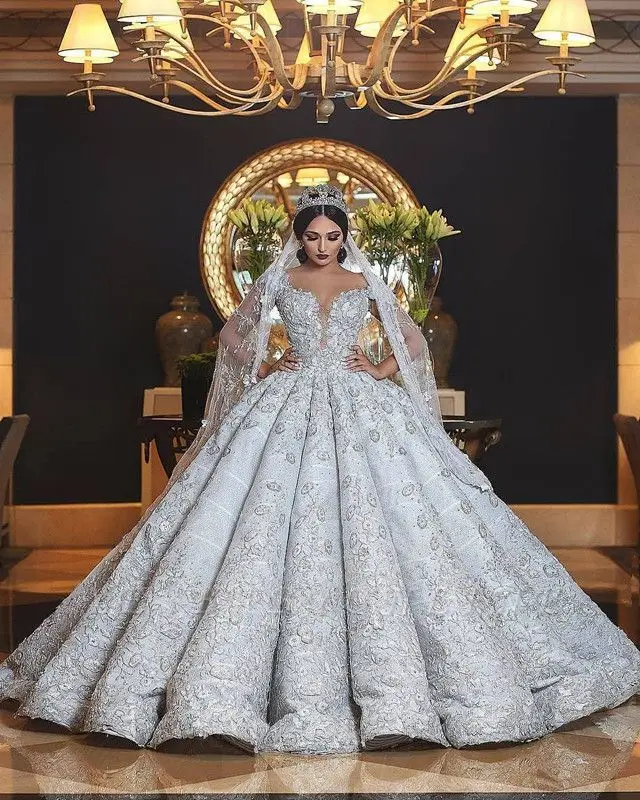 Take it to a seamstress who knows what she's doing and find a train length you're comfortable moving around in.
Add a Bustle
A bustle is the best way to alter your dress to be reception-ready without taking away from the integrity of it. Bustles come in all shapes and sizes, but are usually made up of a series of loops and buttons that connect.
Post-ceremony, your maid of honor, or another bridesmaid, will typically be the one to help you connect the dots. Once bustled, your train will cascade down the back of your dress, or be tucked neatly underneath it in a secure fashion that frees up your feet. And don't worry: A talented seamstress with experience bustling wedding dresses will disguise the buttons and loops in the seams and beading of the wedding gown, so they're hardly noticeable.
If you don't want to bustle your dress, either because you don't like the way it looks or because you don't want to pay for the alterations, you can also add a simple loop to the end of the bridal train.

You can wear the loop on your wrist to carry your train with you around the venue and on the dance floor. This style works best for dresses with short, lightweight trains, since you will, in fact, be carrying it all night.
Make the Train Detachable
Praise the wedding dress designers who first decided on detachable trains. If you opt for an attachable skirt, a Watteau, a bridal cape, or the like, you can remove the extra fabric completely post-ceremony and pre-reception. A detachable wedding train not only makes the dress easier to dance in, but also creates a whole new look. It's as if you got a super-fashionable BOGO deal on your dream dress.
Know What Your Dress Can Do
Not all wedding dresses are created equal and some are more difficult to dance in than others. Know what your dress can do before you attempt to bust a move, so you don't break more than the dancefloor.
Select the Right Silhouette
The silhouette impacts your ability to dance the most.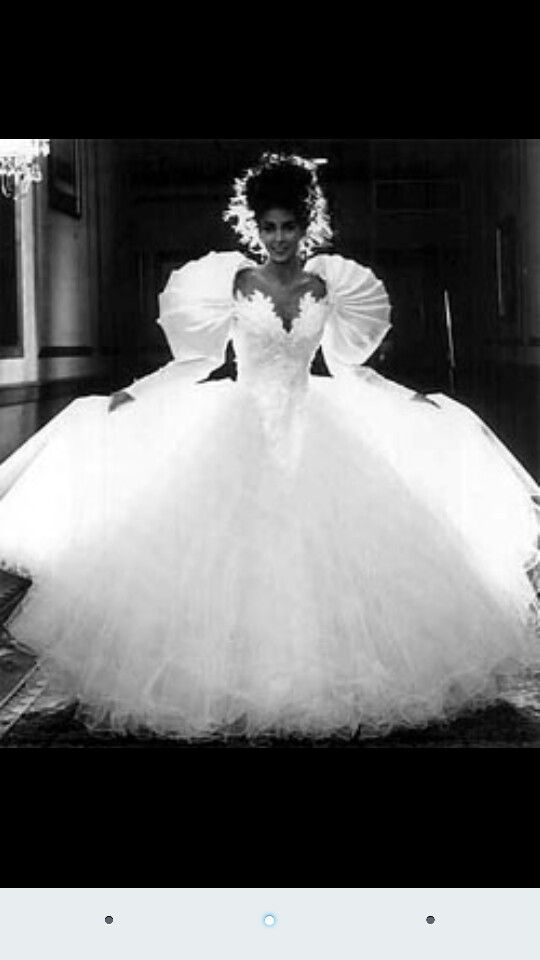 For example, a mermaid gown will restrict the size of movements you can make, specifically with your feet and legs, while an off-the-shoulder gown will restrict how much you can move your arms.
If you love to dance, pay special attention to how your bridal gown will affect your moves. The dress's silhouette, sleeves (or lack thereof), and the train length will influence your ability to dance the most. If you are planning a choreographed first dance, be sure to tell your choreographer if there are any movements you won't be able to master based on the style and fit of your dress.
Practice
While you won't be able to run a dress rehearsal of your first dance, unless you buck tradition and are willing to let your fiancé see you in your dress before the big day, you can still practice in it. When you're at your final fittings, attempt any choreography you plan on doing on the day of to the best of your ability to ensure your dress can handle it. It's better to risk popping a seam or letting a button fly when your seamstress is right there to fix it than it is on your wedding day.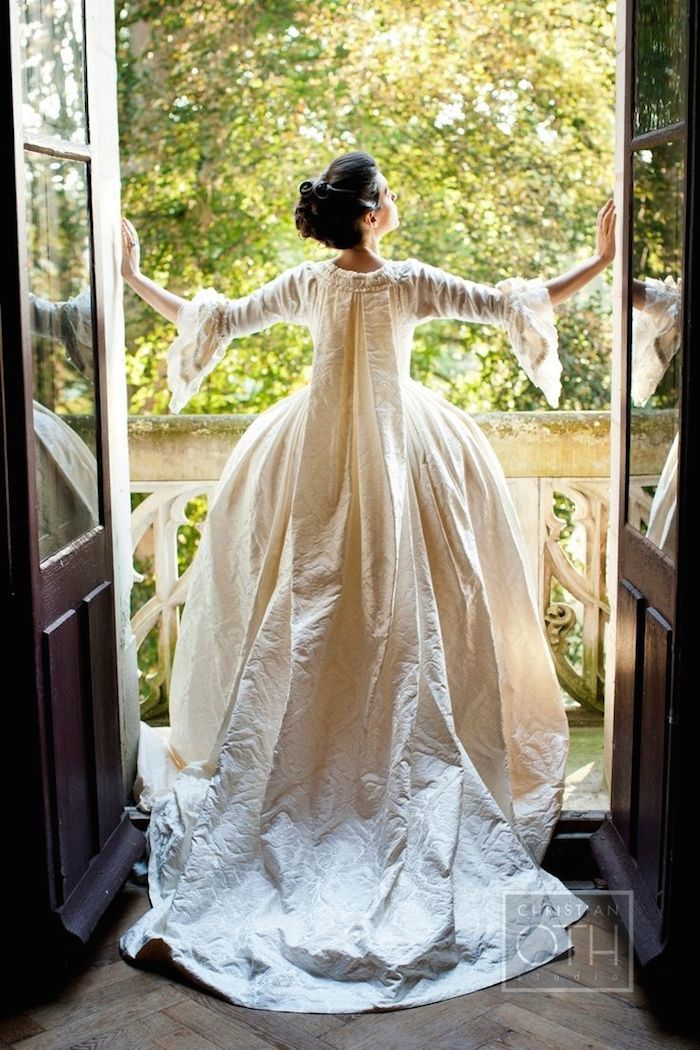 It's also important that the hemline is short enough, so you won't be tripping over your dress on the dance floor. Take steps forward, side to side, and backward while at your fitting, both with and without a bustle, to make sure you can not only dance, but also get around in your gown. If you can't walk with ease, have your seamstress raise the hemline up a bit.
Practicing the first dance isn't only important before the big day. If you can, sneak away during cocktail hour, once you and your partner have already seen each other (and are married!), to practice one last time. Ditch any moves that could potentially damage the dress and remind your spouse not to step on it.
Change Your Dress
Dancing in a wedding dress can be difficult, which is a very valid excuse for an outfit change. You wouldn't be the first bride to swap her beaded heels for Chuck Taylor's or her ball gown for a mini dress, and you definitely won't be the last.
Opt for a Second Reception Dress
If you've already fallen in love with a wedding dress that will be unforgiving when you want to walk, sit, and dance at the wedding reception, consider changing into a second dress.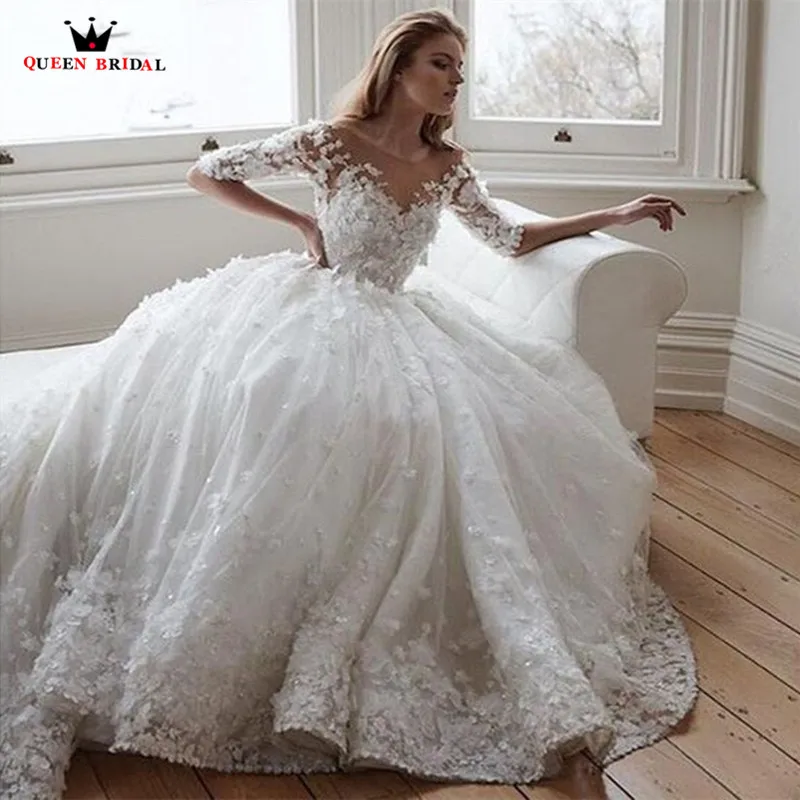 If the budget allows, a second dress can be your saving grace. It not only gives you the freedom to dance the night away, but also allows you to preserve the train on your original dress.
Plus, you can showcase your bridal style in more ways than one. Change into a slinky slip dress or show off your shoes in a fun fringed mini. Whatever you choose, it should be comfortable and easy to move in.
...And Change Your Shoes
You will be especially prone to stepping on your dress when taking quick or big steps while dancing, and depending on the style shoes you're wearing, you could damage your dress. Heels can easily get caught in a lacy bridal train or layers of tulle. Say goodbye to your precious pumps in favor of wedges, platform heels, or even sneakers. That's right, if you're wearing a long bridal gown no one will see your feet anyway.
If you're attached to your heels and don't want to slip on some flat shoes for the reception, be extra careful and consider donning a petticoat underneath your dress.
A petticoat can protect the inner layers of your gown from holes or snags that can happen when dancing.
And you thought you couldn't learn how to dance in a wedding dress with a train? With a little practice, the right alterations, and a backup dress (or shoes) you'll be swinging and swaying in style well into the night.
Choosing a wedding dance according to the style of the dress useful tips
home
Wedding dance according to the style of the dress
Posted in: Wedding dance
Date of creation: 2014-12-10
Views: 6926
Having decided on the style of the dress, each bride faces another urgent problem - how to attach this chic outfit to the first wedding dance? There is an option to change clothes - today this is also a popular solution. The bride prepares a separate costume for the performance, perhaps not even a festive one, but thematic and suitable for the plot of the issue. However, not everyone is ready for experiments with dressing up - there simply may not be a suitable situation, place, and, possibly, desire for this.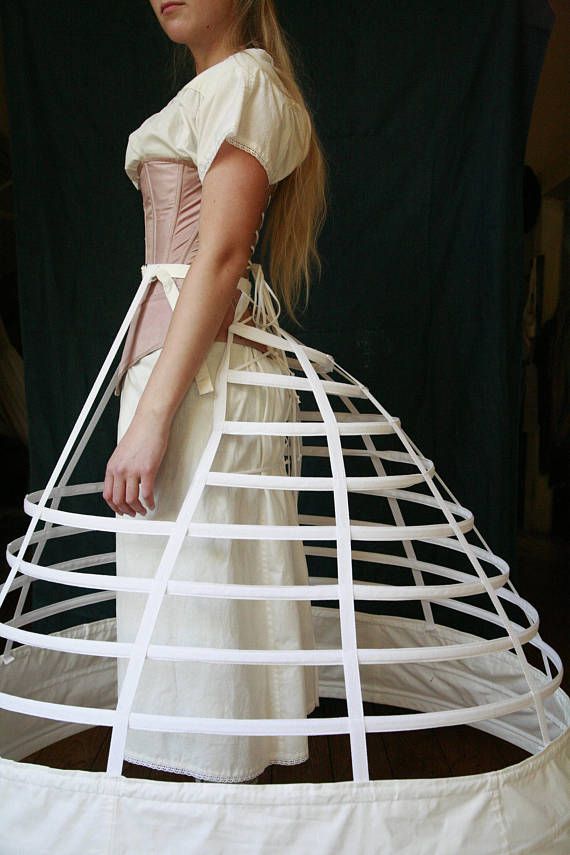 Then you will have to seriously think about how to combine the style of the dress, your favorite composition, and the wedding dance, in which you will certainly want to show off, into a harmonious picture. nine0009

A few practical tips will help you in this difficult task.

1. Lush wedding dress, or ball gown. Well suited in style and cut for a slow or figured waltz, a gentle romantic composition. You can perform a potpourri dance in it. One of the most comfortable styles for movement, a fluffy skirt and crinoline give freedom to the legs, an overly long train can be taken in hand or hung on the wrist.
Lush dress and lyrical composition. nine0009
2. A-line wedding dress . It looks good in the rhythm of tango, waltz, gentle slow composition, you can come up with a suitable potpourri for it. The loose fit of the skirt will also allow you to take big steps or high swings.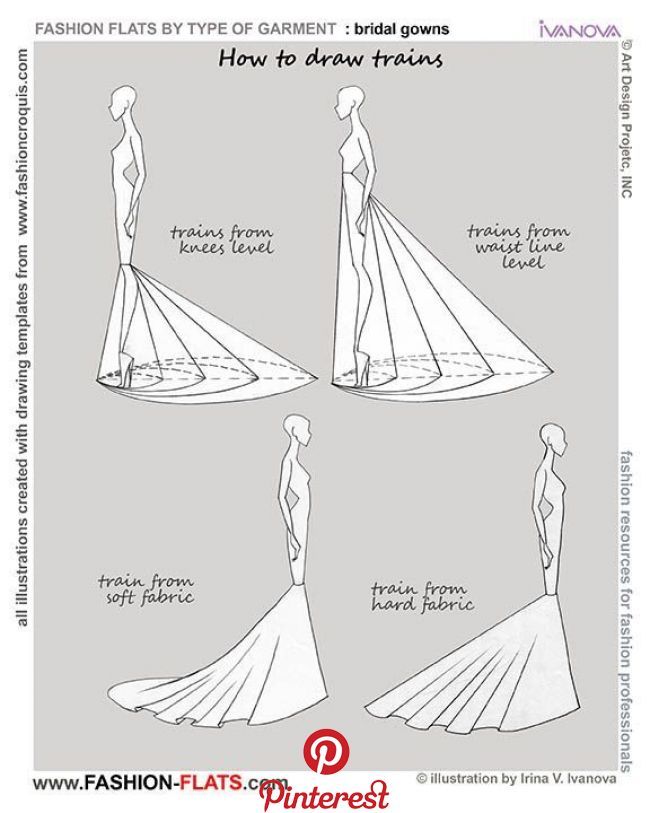 Wedding tango.
3. Mermaid style wedding dress. In terms of style, it is ideal for Latin American motives - rumba, bachata and others, looks good in jazz and blues compositions. The cut is rather narrow, so any dance, most likely, will have to be performed not in full step. nine0009
4. Greek wedding dress, or Empire style. Light and delicate, most people associate it with a marine theme. Therefore, it is good to choose instrumental music for him, a gentle lyrical melody. A traditional classic waltz would work too. If you want to absolutely match the image of the Greek goddess from Olympus, then space music in the Enigma genre will be the perfect solution.
Dance in Greek dress, Enigmatic genre.
Dance in a Greek dress to a romantic composition
5. Short wedding dresses. Dresses in the style of 50-60xx in length just below the knee are wonderfully played up with such musical styles as rock and roll, twist, swing, jive. Mixed dances and Latin American melodies are also acceptable. Short styles with a long train look good in tango.
We hope that our article will help you choose the best wedding dance option for your outfit.
Wedding swing.
Wedding rock and roll. nine0009
Tags: Wedding dance according to the style of the dress
Wedding dance in a dress with a train or magnificent? dress in [2022] – variants
The union of newlyweds in ancient times was held together by various rituals, including a dance, which symbolized the unity of souls and bodies.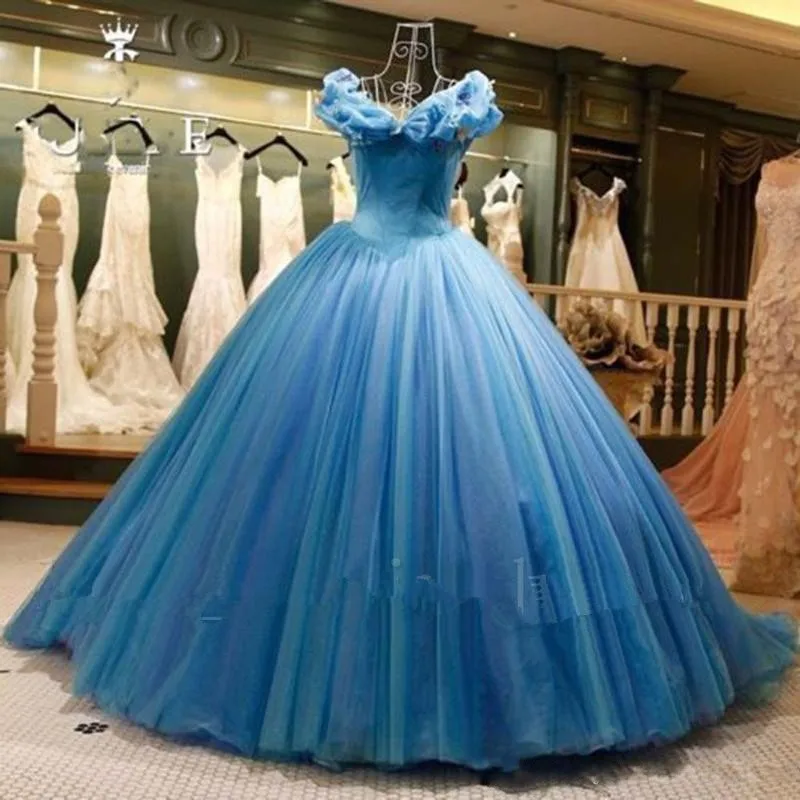 You will get a beautiful wedding dance if your dress has a train.
After the adoption of Christianity, pagan customs were suppressed, which also affected wedding celebrations. Now only guests could have fun and dance, and the bride and groom, sitting at the head of the table, were separated from everyone to protect themselves from evil spirits. nine0009
This continued until the 18th century, until Peter I ascended the throne. An opponent of the old and inveterate and a supporter of European innovations, he introduced balls at which the nobles got used to social life: they sang, played and, of course, danced. The reforms of the sovereign swept the country and affected all spheres of life. Since that time, the tradition of the wedding dance of the newlyweds, familiar to us, begins. Read more about Russian traditions and customs.
Do's and Don'ts
Choosing a magnificent dress, the bride can plunge into the atmosphere of Peter's balls. A rare girl, putting on such an outfit for the first time and seeing herself in the mirror, does not want to immediately spin around and imagine herself in the arms of her beloved gentleman.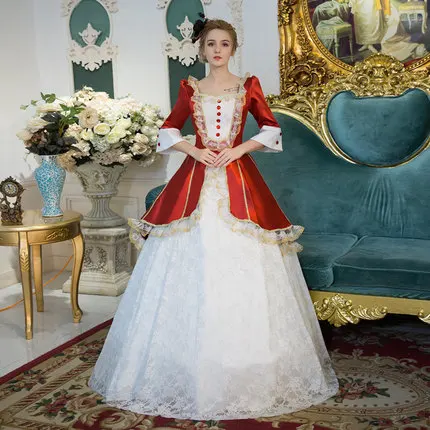 However A magnificent dress requires some conditions when choosing a wedding dance, and they should be taken into account. Do you want to be a real queen?
First, you need to be comfortable moving.
The dress should not drag: the distance from the floor to the hem is preferably at least 5 cm. Imagine how insulting it will be if you step on an expensive fabric in front of everyone, stumble and, God forbid, fall.
It is not always possible to walk beautifully in stilettos, and even more so to dance. It is better to replace it with soft dance shoes, which can be worn as usual after the wedding. nine0004
Secondly, you must avoid figures (and therefore inappropriate dances, where they are) that do not emphasize the beauty of the dress and your silhouette.
Interesting! Read also how you can decorate a wedding dance and choose the right music for it.
Hip movements
Puffy long skirts are not designed to show the lower body in them - the heavy fabric will interfere and hide the action of the belt and knees.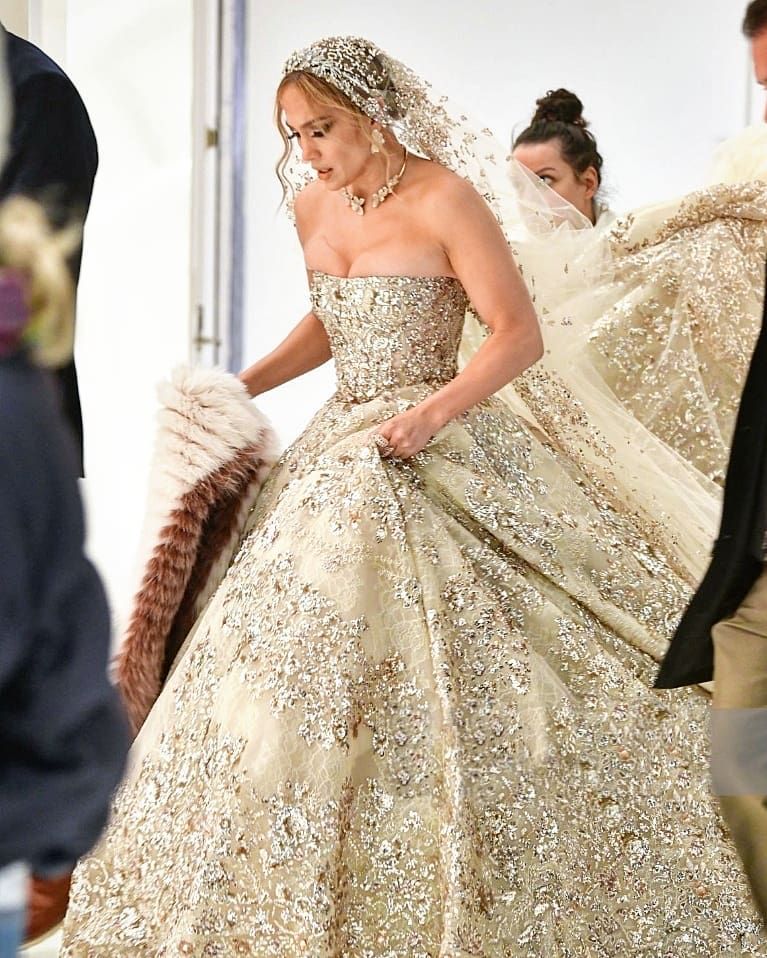 Passionate Latin American dances (rumba, bachata, samba, etc.) are not suitable in this outfit. It is better to make a seductive "eight" after the wedding for a newly appeared husband in more suitable clothes and surroundings. nine0009
Supports
Those who dreamed of dancing rock-n-roll at their wedding and famously spinning in the hands of their partner-groom, but bought a puffy dress (especially with a train!), will have to sacrifice something. Complex flips, waist jumps, etc. will be impossible to perform.
But if you really want to get off the ground, and you are confident in your (and the groom's) strength, you can insert a couple of low supports. Examples are below.
Stand sideways to the partner, clasping him with your arm and leaning on your shoulder (stretch your neck and strain your back), jump on the partner's thigh, bend the inside leg, and put the outside leg out with the toe extended. In this position, you can rotate. Very romantic if you look at each other. nine0004
Stand facing your partner, lean on his hips. He should clasp and clasp his hands in a lock on your waist, start twisting, and at this time you need to keep on outstretched arms and bend in your back. The main thing here is inertia.
Attention! We do not recommend experimenting with supports at a wedding, especially if you are not physically prepared for them.
Sharp turns
Once again, the heaviness of the fabric plays a role here, which will not allow fast movements to look beautiful. A wedding dance in a dress with a train must be rehearsed in advance. The presence of this detail (even stabbed) also complicates the situation - you can get confused in it and ruin your movements. Turns must be done either smoothly, or when they are performed, pick up interfering tissue. nine0009
Wedding steward
A wedding dance in a magnificent dress somewhat restricts the bride's movements, but at the same time emphasizes her beauty.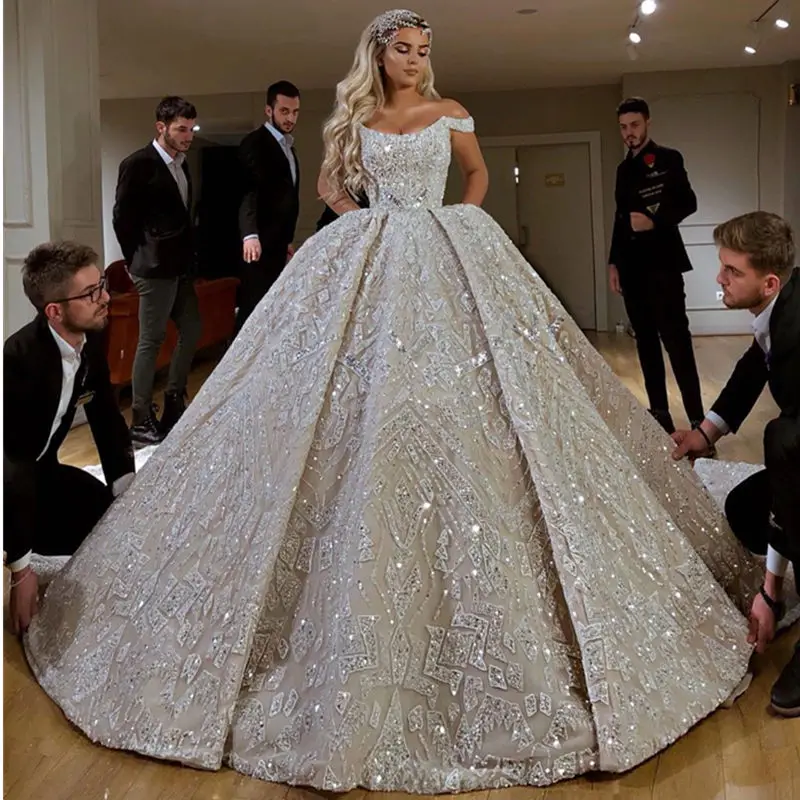 To look like a queen during your "ballroom" exit, you need to weigh the pros and cons when choosing a wedding dance.
Elena Sokolova
Choreographer
If you have a train on your dress, you need to pin it up or take it in your hand during the performance. By the way, this is how some costumes of ballroom dancers look - from the back to the wrist there is a fabric that flutters beautifully when moving. nine0009
Anastasia Volonskaya
Choice of style
After talking about what to avoid, let's talk about dances that will suit your outfit and celebration. Basically it will be ballroom dancing of the so-called European program. You can learn more about European traditions here.
Slow waltz
The best option for dancing in wedding dresses, especially for puffy models or with a train. If you want a gentle, sensual, romantic number, then this is the perfect choice.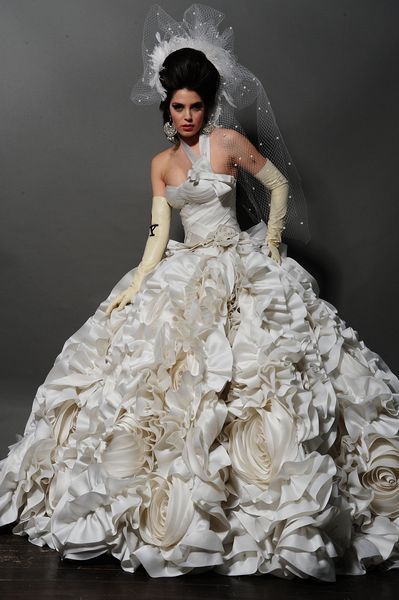 nine0028 There are no abrupt movements in the slow waltz. You can completely surrender to the music and the joy of the moment, enjoy the gaze of your loved one, delight your guests with the performance of the dance and how appropriate your ball gown looks at the same time.
Keep your back straight, your shoulders down (especially if they are open) and your head held high – you are the queen! The rhythm of the slow waltz and the basic movements are simple, but you need to remember the "pendulum principle" (transition from heel to toe, from toe to heel - swinging up and down), smoothness and contact in pairs. The latter, along with correct posture, is important for all European dances. nine0009
Viennese waltz
This is where the echoes of real balls are preserved! The Viennese waltz was danced in all palaces and at all receptions. Its rhythm is fast, impetuous, awakening a storm of feelings. Choosing music for him is not difficult - from classical compositions to soundtracks for the cartoon "Anastasia" or for "My sweet and gentle beast.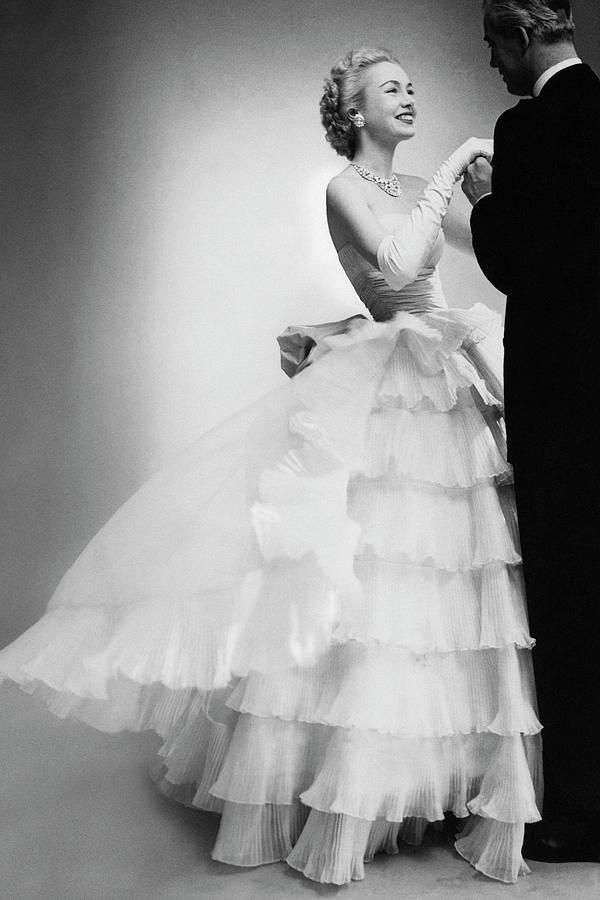 "
This is one of the most popular dances to this day. Here it is important not to stray from the pace and stay strong in pairs. There are a lot of figures for the Viennese waltz, so you can set it up pretty quickly. If you decide to dance with a train, you need to secure it more tightly. nine0009
Interesting! Find out if it is possible to stage a wedding dance at home and how long it may take.
Slow Foxtrot
A stunningly beautiful dance that will especially appeal to fans of jazz and the times of Frank Sinatra. The main difficulty in it is the rhythm. It will take a little more time to set up such a number than waltzes, just because you need to get used to the music, but it will be worth it.
If you are not afraid of small difficulties, want to surprise your guests and get real pleasure yourself, then the slow foxtrot is for you. nine0027 The movements in this dance are smooth, collected, the "pendulum principle" is also important here.