Learning how to dance bachata
How To Dance Bachata For Beginners
The Bachata is one of the most fun dances to do at clubs and parties alongside Salsa and Merengue. In this video you'll learn how to dance the Bachata dance steps.
Bachata Dance Step #1: The Side To Side Basic Steps
Summary of the Bachata steps:
Men:
Side with left foot
Close right foot to left foot
Side with left foot
Tap right foot to left foot (Partial weight)
Side with right foot
Close left foot to right foot
Side with right foot
Tap left foot to right foot (Partial weight)
Women:
Side with right foot
Close left foot to right foot
Side with right foot
Tap left foot to right foot (Partial weight)
Side with left foot
Close right foot to left foot
Side with left foot
Tap right foot to left foot (Partial weight)
Bachata Dance Step #2: The Fwd & Back Bachata Basic
Summary of the steps:
Men:
Forward with left foot
Forward with right foot (small step)
Forward with left foot
Tap right foot to left foot (Partial weight)
Back with right foot
Back with left foot (small step)
Back with right foot
Tap left foot to right foot (Partial weight)
Women:
Back with right foot
Back with left foot (small step)
Back with right foot
Tap left foot to right foot (Partial weight)
Forward with left foot
Forward with right foot (small step)
Forward with left foot
Tap right foot to left foot (Partial weight)
What Is Bachata? History & Character
Bachata is a dance from the Dominican Republic, and it is one of the hottest Latin dances today. It is a sensual dance where both partners bend their knees, and step from foot to foot, while creating body and hip movement.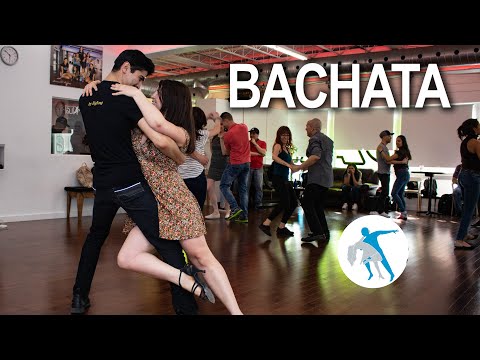 This dance has a unique movement at the end of every 4 steps – where instead of switching weight you "tap" the foot in place without weight. So there are a total of 6 weight changes and 2 "Tapping" steps within an 8 count of Bachata.
The Bachata Count & Music
The Bachata music uses a 4/4 musical structure with phrases of 8. You simply count the moves in counts of 8 – 1,2,3,4,5,6,7,8. Each count is a full beat. Alternatively you can count in 4s – 1,2,3,4 – 1,2,3,4. The Bachata music is very sensual and dramatic. Artists like Prince Royce have made a name for themselves by producing many top Bachata hits.
More Bachata dance lessons.
Other dance lessons:
How To Dance Merengue
How To Cha Cha Dance
Swing dance moves (East Coast)
How To Rumba Dance
Salsa Basic Steps
Did you get it? Leave a comment below.
How to Dance Bachata | Dancer's Guide for 2023
Have you ever wanted to know how to dance bachata? Would you like to be able to dance the bachata effortlessly? Learning how to dance bachata is a great place to start for those who'd like to improve their dancing skills, or for those who simply want to get some fun exercise.
The romantic and sensual bachata is danced to a four-count beat, and includes some simple footsteps and hip movements. If you want to know how to dance bachata, you should know that bachata is categorized as an intimate dance style usually performed with a partner. So, whether you and your dance partner are beginners or a seasoned dancers, learning to how to dance bachata is a fun gateway to exercise and connection. 
Jump to Section
Learn How to Bachata From Experts
What is Bachata?
Basic Steps of Bachata Dance
Learn How to Bachata From Experts
If you're looking to spice up your life, learn something new or simply get some good exercise, taking dancing classes near you is a wonderful, uplifting way to do just that. Attending dance classes in NYC to learn how to dance bachata can be a fun and inexpensive activity to do with friends or a great way to treat yourself.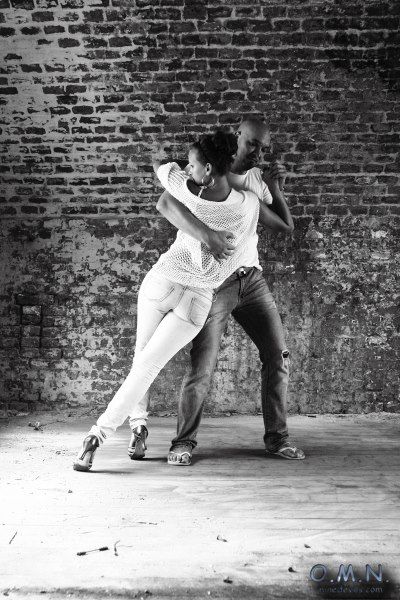 There are also invigorating dance classes in Las Vegas that can provide you with in-depth instruction to help you master bachata steps.
Is Bachata Easy to Learn?
Bachata is a great dance for beginners to learn. When learning how to dance bachata, beginners will enjoy the learning simple steps and experts will have the chance to add their own personal flair to the moves. Sometimes, if you are starting out as a beginner, attending a dance class with other people can feel intimidating. There are always online dance classes that offer the same services, but you can learn your steps from the comfort of your own home, making this fun dance even easier to learn. Participating in interactive online dance classes to learn how to dance bachata is just as effective as taking in-person classes. This way, you can learn without worrying about traveling or being too close to other people. Win-win!
via Canva
What is Bachata?
So what exactly is bachata dance and where is bachata from? The bachata dance originated in the Dominican Republic.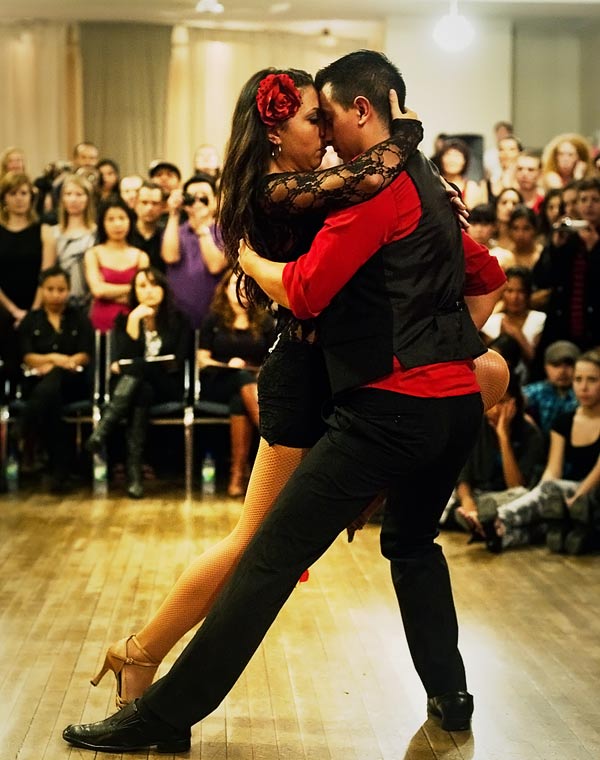 Combining influences from Latin America, including Cuba, Costa Rica and Mexico, this dance is similar to the likes of the tango and bolero dances. This, like many other dance forms and styles, was created as a way to express human emotions.
What Makes Bachata Unique?
During the time period in which this dance originated, there was much political unrest and oppression as the area was ruled by a dictator, and dancing was a way for people to let loose and to allow their hardships to escape with the movement of their bodies.
Why was Bachata Prohibited in the Past?
According to leading dance professionals at DanceUs, the bachata dance, in its early days, was considered to be derogatory, and was looked down upon by the Dominican elite classes. However, if we've learned anything in history, it's that people will find ways to express themselves and have fun regardless of the connotations that oppressors put on them. The dance, as such, has prevailed and expanded throughout the world, and generations have taught and learned how to dance bachata.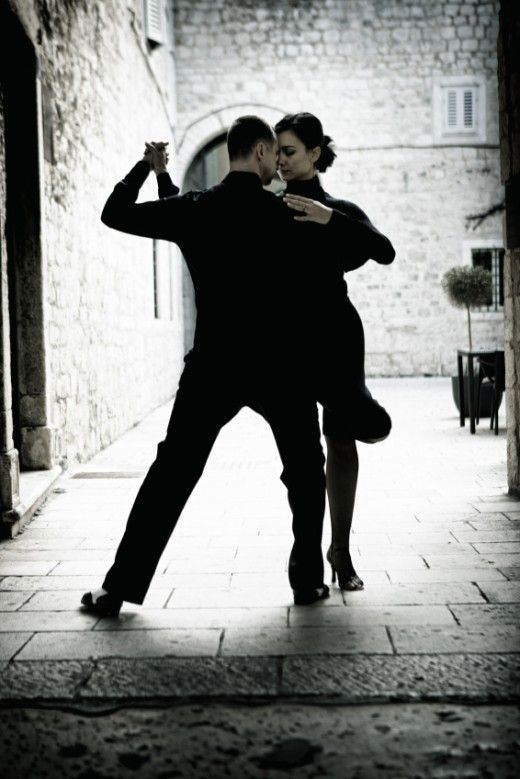 Bachata Instruments
Thus far, we have only referred to the bachata as a dance. However, it is important to note that bachata is also a form of music. Of course, the two go hand-in-hand, as the bachata dance was derived from bachata music. Think about other dance forms like the waltz, tap dancing, line dancing and tango. They are all respectively performed to a certain type of music. The bachata music genre is characterized by a sensual beat that isn't fast-paced, but isn't as slow as the kind of music used for dances like the waltz. The music itself is typically created with acoustic guitar and percussion instruments for a smooth romantic feel, as is typical of many forms of Latin American dancing music.
via Canva
Basic Steps of Bachata Dance
Learning how to dance bachata is quite simple. It's a great stepping stone for those who are looking to improve their coordination or rhythm. To learn how to dance bachata, practice the steps below.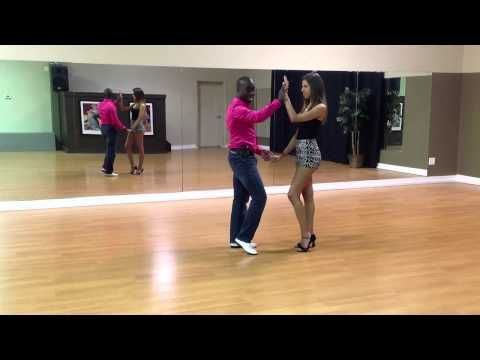 Tip: try using a mirror or recording yourself to see how you can improve!
How to Dance Bachata Without a Partner
Can you learn bachata alone? Yes! While bachata is usually danced with a partner, it can also be done solo. This dance consists of a simple three-step move to a beat. It is recommended to keep the knees slightly bent, and to remain loose throughout. The traditional move is a step that goes: side, side, side, and then the slight pop of the hip to the side follows. After, you'd do the same move in the opposite direction. The idea is to keep moving and have your hips swaying with each step.
How to Dance Bachata With a Partner
The bachata dance is known for being sensual, intimate and romantic. As such, when it comes to how to dance bachata, it is most common to dance with a partner. When dancing with a partner, you will stand close together while doing the bachata steps. You can choose to stand with some space in between you and only your hands touching each other (open style) or closer together with your bodies touching (closed style).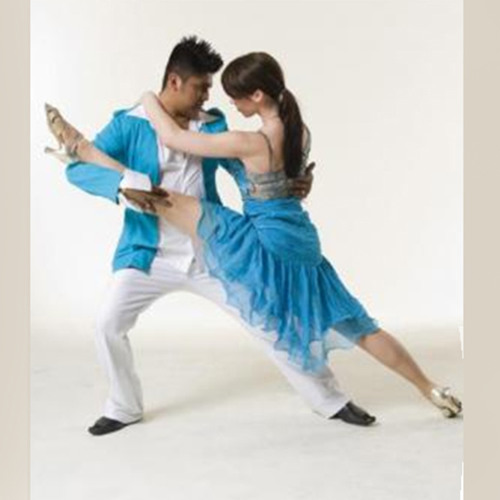 When learning how to dance bachata with a new partner, it can take some practice to learn how to step to the same beat, so be patient!
via Canva
Bachata Turns
Over time, the bachata dance has been improved upon and influenced by other movements and cultures. The salsa dance has had a major influence on the evolution of bachata, as it is now common to include a turn that is similar to the one used in salsa dancing. A turn is typically incorporated on the fourth beat, wherein one partner will raise their arm while the other partner will do a complete turn or spin and then go back to their partner and continuing the steps.
Personal Flair
Since the groundwork for how to dance bachata is fairly basic, it is easy to learn how to dance bachata. Once it is learned, it is common to spice up the moves a bit. You can incorporate a slide, wherein on the fourth beat, one partner does a side slide instead of doing side steps alongside their partner.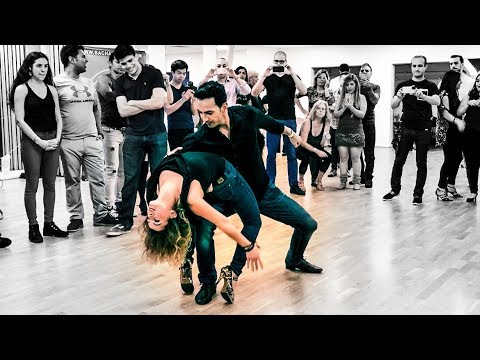 Or, you can incorporate more complex footwork, like stepping front-to-back instead of side-to-side. It is also common for couples to add twisting into their normal movements, putting an exaggeration on the slight hip movements of the bachata steps.
Now you know the basics of how to dance bachata! Did you know that the act of dancing contains numerous health benefits for humans? The act of moving your body to music releases endorphins that make us feel happy, which contributes to our overall health. Moreover, it's just plain fun! Wait no longer. If you've been thinking about learning how to dance bachata or to start dancing in general, try out a dance class or the moves listed above.
For even more creative ideas and inspiration, check out other experiences happening on Classpop!
Related Articles
A Beginner's Guide to Cumbia Dancing
How to Belly Dance (With Confidence!)
How to Line Dance Like a Pro
How to Slow Dance With Style
How to Salsa Dance Beginner's Guide
How to Swing Dance: A Beginner's Guide
Where to start studying bachata: clothes and basic movements
Contents
To answer this question in a few words, it is rhythmic, mesmerizing and sensual.
But this is already at the final stage. For beginners, such a direction as bachata does not lend itself to the first time. In this dance, it is important to learn how to move to the rhythm, master the basic steps and throw away the constraint. Learning to dance bachata is better in a team of like-minded people and with an experienced mentor. Both of these are offered to their students by the Laboca dance club.
Bachata drove the world crazy at the beginning of the 21st century, but long before that, she conquered the Dominican Republic. For the inhabitants of this republic, dance is one of the ways of communication, flirting, but no one there learns to dance bachata on purpose. This dance is in the blood of the Dominicans! Despite the fact that bachata seems light and uncomplicated, it always conveys a hidden meaning, which includes the hardships of the poor, the struggle for freedom of expression, and a sad love story. It is not for nothing that only the poor danced bachata for a long time, and only then did it begin to be performed along with salsa and tango by representatives of the middle class.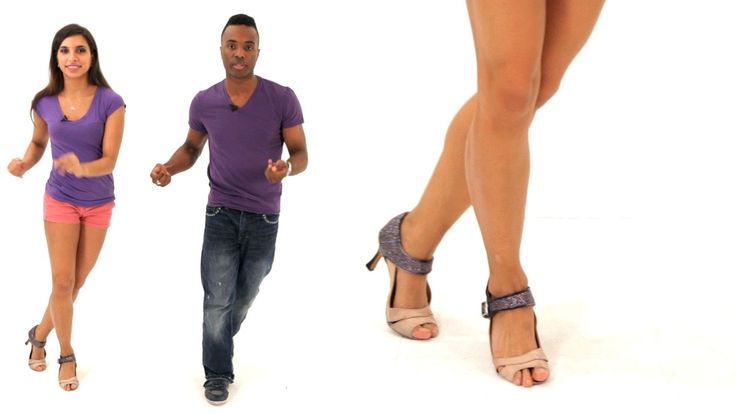 What is the main thing in bachata?
Sign up for a trial lesson
As with any Latin American dance, rhythm is the most important thing. Synchronization with the music is achieved through the basic step of the bachata, on which the rest of the dance elements are layered. The classic bachata movement is four steps with weight transfer to either side with an emphasis on the last step.
This direction is performed mainly in pairs, while the man traditionally "leads". The first thing that always catches your eye is the romantic mood of the dance. It is full of hugs and very close movements as a couple. Bachata performers are always great at improvising, which is why you should not stop at learning the basic dance movements.
Bachata clothes
To captivate the audience and your partner on the dance floor, you need to feel stunning, because nothing relaxes like confidence in your appearance! Tight but light clothing is considered ideal for performing bachata.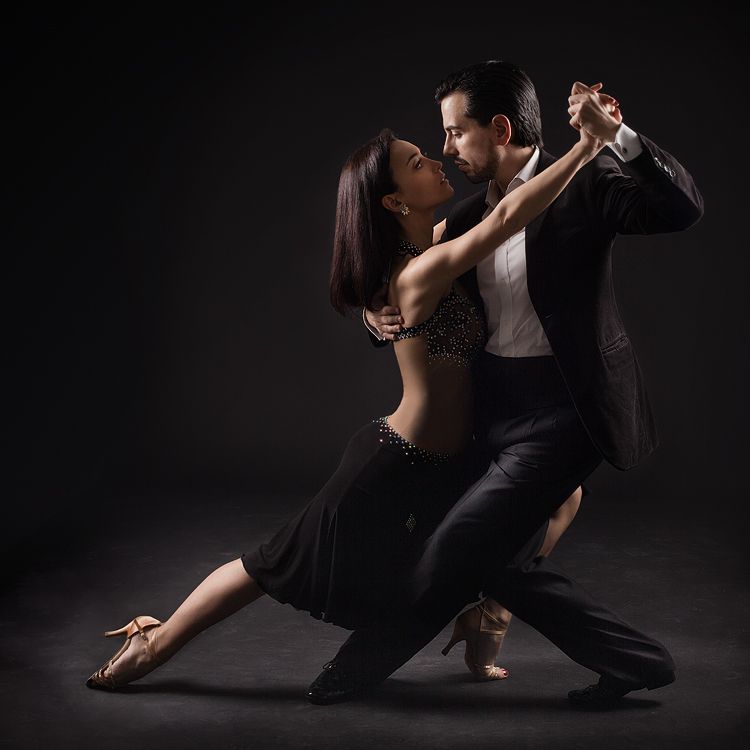 For example, a fitted dress with a loose-fitting skirt. Plus - shoes with stable heels no more than six centimeters high. Shoes should fix the foot well, otherwise there is a risk of injury.
Where to start?
Often, for those who want to master bachata, the most difficult thing is not the technique of its performance, but the emotional component of the dance. Mutual trust of partners, lack of embarrassment, established close contact - this is something that cannot be achieved by numerous rehearsals. But, fortunately, this can be achieved through communication in a circle of like-minded people. That is why it is better to look for a suitable dance partner in a special studio, and not among your friends. If you start together and work your way up from beginner to pro hand in hand, your bodies will start dancing in unison too!
Bachata movement technique
There are no complex combinations and strict positions of arms and legs in this direction. The bodies of the partners are located as close as possible to each other, their arms and legs move freely.
Throughout the dance, the performer's body should be slightly tilted forward, and the knees should remain slightly bent.
We have already talked about the basic bachata step and the emphasis on the fourth count. This highlighting of the last step by lifting the hip is called the "kick". Turns in bachata are used infrequently, but side passages and "throwing" the partner in different directions are common.
Bachata can be mastered at any age and with any physical form. But looseness on the dance floor and the ability to improvise is comprehended by years of rehearsals.
To become an experienced bachata performer, it is not enough to practice at home in front of a mirror. What is important here is the exchange of experience, communication with like-minded people, participation in theme parties and constant practice. The dance club "LaBoca" will gladly immerse you in the enchanting world of this Latin American dance!
Video: Bachata - group show number
How to dance bachata? Learning to dance bachata at home
Rehearsal bases, dance halls, recording studios
in Moscow
How to learn to dance bachata?
The ancestor of modern bachata is the dance of the inhabitants of the Dominican villages, which was their only joy after hard work. But times have changed, now bachata has turned into a passionate pair dance, built on the sensual and harmonious movements of partners. Distinctive features of bachata: the closest contact with a partner and plastic, even somewhat erotic movements. A man in a dance smoothly leads his partner, gently hugging her. The woman responds to his actions, accompanying each of her soft steps with plastic movements of her hips.
The answer to the question of how to dance bachata is quite simple. After a few lessons, everyone can master the basic movements of this dance and feel its rhythm.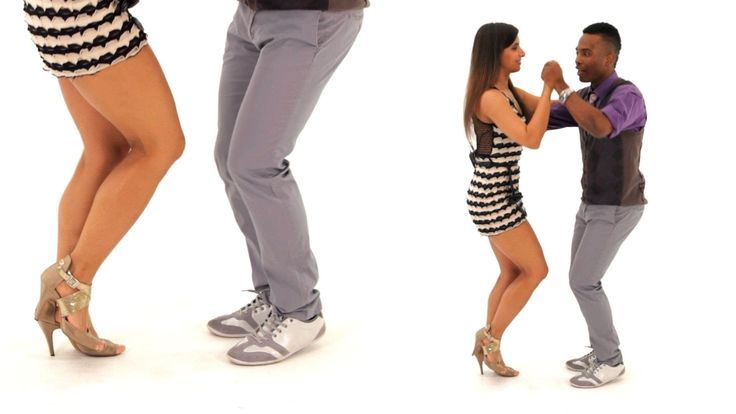 Bachata dance technique
Bachata is easily recognizable by the characteristic movement of the hips. The basic step of this dance consists of 3 small steps accompanied by undulating body movements. The main element of bachata is the smooth rotation of the hips for women and the body for men, which is called "kick". This requires good mobility of the muscles of the lower back, back and hips. It is from these muscles that the smoothness, wave-like movements and, accordingly, the beauty of the bachata dance itself depend.
The question arises: how to learn to dance the Dominican bachata, if these muscles are completely undeveloped? For many who want to dance, it is precisely the fact that they feel completely unplastic and embarrassed to dance that becomes an obstacle. To begin with, it is useful for everyone to recall simple exercises familiar to us from childhood: the usual tilts of the torso in different directions and circular rotations of the body, slowly stretching the muscles.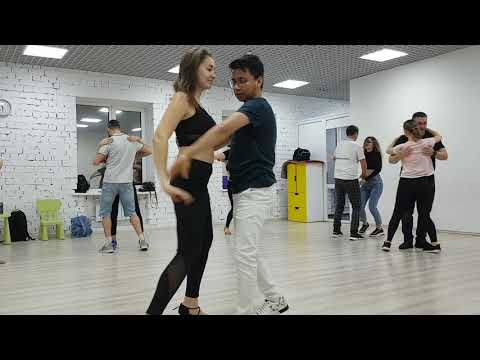 This will help your body get used to the stress. Those who regularly stretch and consider themselves flexible enough also often face the problem of stiffness during dance. This is because plasticity and flexibility are not the same thing.
Plasticity and flexibility: what's the difference?
The difference between flexibility and plasticity is that plasticity is achieved through the work of muscles and joints, and flexibility is achieved by stretching tendons and ligaments. For the plasticity of movements, it is important to have a good stretch of the ligaments, but flexibility does not guarantee plasticity, so you need to pay attention to the loading and stretching of the muscles.
To learn how to fully perform the basic elements of bachata, you need regular exercises to develop the muscles of the back and lower back, which are best done at first under the supervision of a professional, using the dance hall hourly rental service, and then at home, on your own.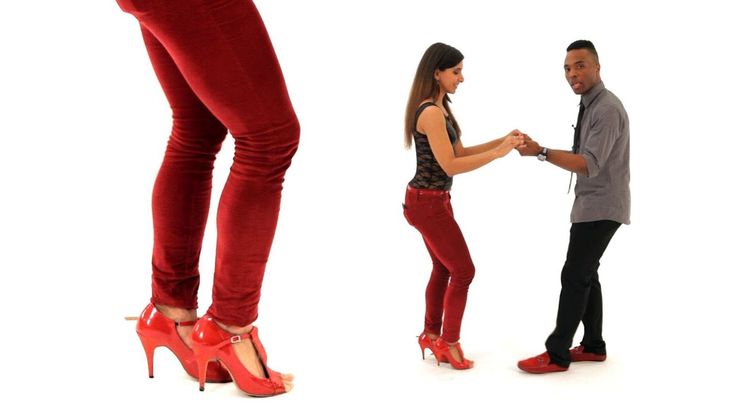 Just before class, it is important to warm up the body with appropriate exercises so that it feels the rhythm and easily responds to any of your movements - this is a very important point in how to learn to dance bachata at home.
Basics of Bachata
Bachata captivates with its sensuality and emotionality. It is based on emotions and the ability to express them during the dance. It simultaneously reflects passion and tender love, perseverance and soft humility, the ability to feel a partner and resist him. Therefore, it is so important not only to learn the basic movements and repeat them, but also to tune in with your partner on the same wavelength and talk to him without words, expressing your feelings through body movements. This bewitching wave of togetherness of partners moving passionately to hot music creates a wonderful romantic atmosphere in the dance hall.
Let's summarize a few simple rules on how to dance bachata beautifully. Remember that bachata is a set of technical movements that must be performed in a relaxed and playful way.