How to make your own belly dancing costume
3 Easy Steps to Make a Gorgeous Belly Dance Costume at Home
Belly dancing costume is the simplest thing to design, unlike the cosmopolitan notion. DancePoise gives you 3 simple steps to make a gorgeous belly dance costume.
Spangly Tip!
★ Try to match the color of the sequin belt (worn on waist) with the top.
★ The color of the beads or sequins on the top should match with the skirt.
Believe me, you may be having a belly dance costume in your own wardrobe! Whether you are learning to do belly dancing as a casual hobby, for exercising purposes, or as a secret obsession, simply dressing the way professional belly dancers do, will give you the feel of an experienced belly dancer.
These days, there are a number of design houses in the US, Egypt, and Turkey, to name a few, which design hundreds of costumes every year, of varying quality and styles, ranging from $200 – $2,000 a piece. Can you get these costumes and be satisfied? Absolutely not! Because, there are many of us who have trouble finding exactly what we want out there, and are not exactly the fitting we require.
Plus, think of all the time and effort needed for alteration of the dress. There are very limited selection options, for sizes other than 32B- or 34-inch hips.
This is where learning how to create your own costumes comes into picture. Making an authentic belly dance costume will be an expensive chance to be taken. You can make a basic belly dance dress, very much in your budget, by peeping just in your own closet.
We have explained the two most popular types of belly dancing costume: the one with Harem Pants and the other one with Long (lycra) Skirts. Notice the difference, and opt for the one you want.
Requirements
For a simple and elegant belly dance costume, you only need 3 pieces:
★ A long skirt or harem pants
★ A tight-fitting tank top (or crop top)
★ A hip scarf
STEP 1
Get a snug tank top or camisole that fit; almost any color and style will work perfectly for your belly dance costume. You can also create one by adding glittery details to your regular bra (refer to the image above).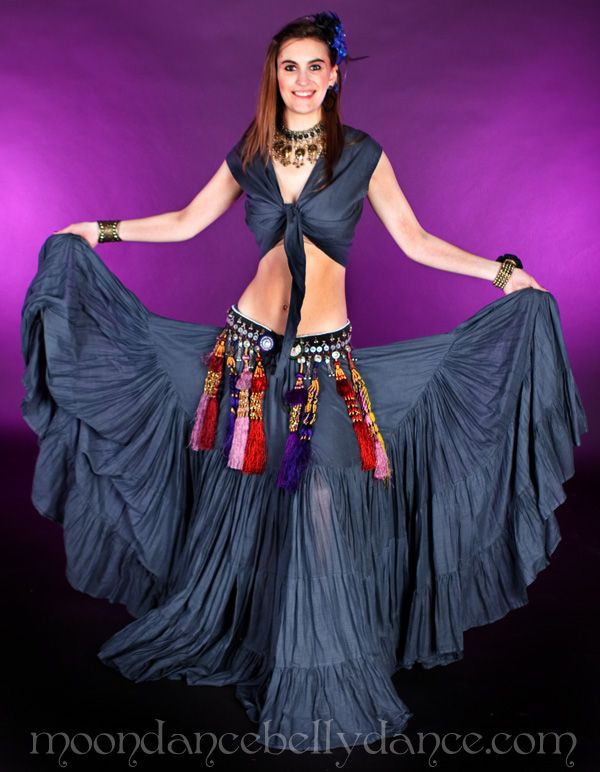 Sew on some beads at the perimeter of your bra.
STEP 2
We need to make the belly dance belt. Generally, embellished scarfs are worn on the waist. So, get a scarf that is sufficiently large, and decorate it with a shimmery lace. You can sew the lace on its edge, or simply use fabric glues to do that.
You can also go for heavy material or metal detailing for making fringes or sequins (coins) on the hip scarf, to get the traditional Egyptian look.
STEP 3
Fetch a pair of harem pants, or find a loose, wavy, ankle-length skirt. It need not be expensive, and it can be of any color you want. Sew some lace or beads on the surface of the skirt.
In Conclusion
That's your final look. Belly dancing is fun. Show all your creativity you have while readying this costume!
Some Design Fluctuations
★ We have a huge range of options for step 1―coin bra, choli top, bolero-tied tops, beaded bra, etc. You can opt for any one of these too.
★ The side of the harems or skirt can be slit to leave an opening, which can be outlined with decorative trim, and the two halves can be tied together with beaded strands, metallic ribbons, or other decorations of your choice.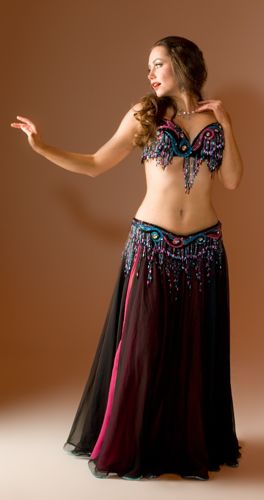 ★ Scarfs can be sewn directly on pants.
★ Skirts can be of varied materials―opaque, silk, or chiffon; heavy material with embedded metals; large-tiered or flared ones with embellished embroidery and designs.
In the end, you can flaunt your belly dance costume along with attractive navel tattoos and sexy bellybutton accessories.
Like it? Share it!
Uncategorized
Get Updates Right to Your Inbox
Sign up to receive the latest and greatest articles from our site automatically each week (give or take)...right to your inbox.
Blog Updates
Email Address *
Making Your Own Belly Dance Costumes




 

 

PHOTO CREDIT: Above photo by John Rickman Photography, San Jose, California.

 

Table of Contents

General Advice
Costume Fabrics
Online Patterns

Fitting & Alterations
How to Sew

 

General Advice on Costume-Making

Belly Dance Costume Patterns. Guide to commercially-available patterns suitable for costumes.
We Who Are About to Dye Salute You! Shira's blog about her first dyeing experience.

Tips & Tricks for Dyeing Costume Pieces. Contributed by many dancers on tribe.net.

 

About Costume Fabrics

In Search of Authentic Middle Eastern Fabrics. Fabrics that provide a traditional look. By Arabella.
Costume Fabric Choices. Picking fabrics that work well for belly dancing. By Dina Lydia, the Costume Goddess.
About Persian Lace. By Saqra. Saqra provides background information about this fabric used in many belly dance costumes in the 1970's and 1980's.

Sewing With Glitter Dot Fabric. Tips for using this difficult-to-sew fabric. By Dina Lydia, the Costume Goddess.
About Assuit. By Trish St. John. Includes historical & cultural information, and how it is made.
Are You Sure Your Costume Isn't See-Through? (You Might Be Surprised!) By Saqra.

 

Online Patterns

Easy-to-Make Baggy Pants: One Size Fits Most. Even if you are not good at sewing.
Pharaonic Collar, Headband, Wristbands, & Dress

Quick Salwar (Pantaloons). Make your own pattern - easily!
Narrow Salwar (Pantaloons). Use only 1 1/3 yard of fabric.

Hair Accessories

How to Make a Rectangular Head Scarf
How to Make a Triangular Head Scarf. For folkloric costumes.
How to Make a Cleopatra-Style Headdress
How to Make a Flower Headband for Melaya Leff. No sewing required.
How to Make a Pair of Beaded Earrings

Other Items

How to Make a Circle Skirt
How to Make a Semicircular Veil
How to Make a Rectangular Veil

| | |
| --- | --- |
| By Dina Lydia, the Costume Goddess | |

Skirts

How To Make An 8-Point Skirt. Three different designs for a flattering skirt.
Making a Handkerchief Skirt. Make a square handkerchief skirt.
Making A Multi-Point Skirt. Details on how to make a multi-point skirt.
Circle Skirt Hem Problems. Why the hem of your circle skirt is uneven.

Belts

Make Your Own Belt Pattern. Additional clarification of some of the instructions that were provided in Fitting Belts.

Dresses

Baladi Dress. Hide a scarred or large tummy. Or, pursue a more covered look.
Baladi Dress With Veil. Is it okay to wear a baladi dress with veil work?

Pants

Harem Pants. Make pantaloons, and vary the look.

Arm Decorations

Making Gauntlets. Make gauntlets to match a costume.
Making Armbands. Accessorize your costume with armbands.
Sleeve Variations. Creative ideas for accessorizing arms.

Bras

How To Cover A Bra. Choose a suitable bra, and cover it with costume fabric.
Beads Connecting Bra. Could strands of beads connect a collar to a bra?
What About Soft-Cup Bras? Can you use one to make a costume?

Blouses, Vests, & Cholis

Support With A Choli. How to get the support you need when wearing a choli.
Making A Ghawazee Vest Or Jacket Pattern. Adapt an existing vest or jacket pattern for making a Ghawazee garment?

Other Items

How To Make A Veil. Make a belly dance veil.
Hip Drape. Just what kind of hip drape was the Costume Goddess recommending in the article about the pear-shaped figure?
Headdress Ideas. Don't step on stage with hair that looks like you just came from your office. These headdress ideas will make you look like a dancer from your head to your toes.

 

By Other Contributors

No-Cut, No-Sew Assuit Costuming. By Trish St. John.
Making Your Own Turkish Costume. By Vanessa Giddings. Patterns for gömlek, shalvar, hat, chirka, and entari.

Easy Shirt & Skirt. Especially nice for busty women.

 

Fitting & Alterations

| | |
| --- | --- |
| By Dina Lydia, the Costume Goddess | |

Falling Gauntlets. What to do about gauntlets that keep falling down as you dance?
Battle Of The Hip Bulge. How to deal with "muffin top" just above the belt.
Tight Sleeves. How do you handle the sleeves on a fitted midriff top so that your top doesn't ride up when you raise your arms?

Fitting Belts. How do you make a belt fit the curves of your hipline?
Altering A Belt. What to do about those too-big, ill-fitting Egyptian-made belts?
Shopping for a Large-Sized Bra. What if you have trouble finding a bra to fit a large bustline?

 

How to Sew

For those who know a bit about sewing, but need guidance in working with the specialized fabrics and trims of belly dance costumes.

Making A Narrow Hem. Ideal for curved edges such as circle skirts.
Bead & Sequin Embellishment for Costumes. Technique used by Egyptian and Turkish costume makers.
Dangling Paillette Trim for Costumes. Decorating the edge of a garment.

Making A Hip Elastic Casing with Wide Bias Tape. Ideal for garments with curved top edges such as skirts.

| | |
| --- | --- |
| By Dina Lydia, the Costume Goddess | |

Machine-Sewing Sequins
Making A Ruffled Hem on Sheer Fabric
Attaching Coins, Beads, Bells

Making Beaded Fringe
Sewing With Glitter-Dot Fabric

 

Copyright Notice

This entire web site is copyrighted. All rights reserved.

All articles, images, forms, scripts, directories, and product reviews on this web site are the property of Shira unless a different author/artist is identified. Material from this web site may not be posted on any other web site unless permission is first obtained from Shira.

Academic papers for school purposes may use information from this site only if the paper properly identifies the original article on Shira.net using appropriate citations (footnotes, end notes, etc.) and bibliography. Consult your instructor for instructions on how to do this.

If you wish to translate articles from Shira.net into a language other than English, Shira will be happy to post your translation here on Shira.net along with a note identifying you as the translator. This could include your photo and biography if you want it to. Contact Shira for more information. You may not post translations of Shira's articles on anybody else's web site, not even your own.

If you are a teacher, performer, or student of Middle Eastern dance, you may link directly to any page on this web site from either your blog or your own web site without first obtaining Shira's permission. Click here for link buttons and other information on how to link.

 
DIY belly dance costume
Table Of Contents
Master class for making a belly dance costume with your own hands.
Patterns for a belly dance costume.
Do-it-yourself belly dance costume photo
Do-it-yourself belly dance costume video
Belly dance came to us from the Arab countries and conquered not only women, but also men with its beauty. The gracefulness of the body and the beauty of the movements are especially emphasized by the beautiful costumes that reveal the best parts of the female body and present them in an advantageous position during the movements. Such costumes are most often decorated with a large number of beads, stones, beads and others.
This is what makes them so valuable. Do not be afraid because such a costume can be easily sewn with your own hands.
Master class for making a belly dance costume with your own hands.
Before sewing any suit, you need to make the necessary measurements as clearly as possible. Then comes the selection of fabric for the suit. The fabric should be as pleasant to the body as possible, not cause allergic reactions (most often this happens when there are non-natural components in the composition) and not hinder movement (be as elastic as possible). For belly dancing, brighter fabric colors are needed, and one of the best options is silk as a material for tailoring a costume. In addition to the material for such a costume, you may need various decorations - stones, rhinestones, beads, etc. As soon as the purchase of the necessary components is over, you can proceed directly to tailoring.
The costume consists of 3 elements:
Bodice.
Skirt or bloomers.
Dressing. Over the skirt on the hips.
First you need to choose a bodice, it is best to buy a ready-made bodice, which can be transformed into a part of the costume with the help of simple manipulations. The bodice is better to choose, as shown in the figure without any patterns and decor, the usual solid color.
After you have found the most suitable bodice, many get rid of the internal filling of the cup. This should not always be done, but only if you naturally have your own large breasts and the push-up increases it even more and does not support it, as it is necessary for dancing. Many instead of push-up insert shreds of fabric, which gives rigidity and better fixes the chest.
It is very important to change the hooks to this kind of rivet, as shown in the photo below. It is they who will support the chest more favorably during belly dancing.
And the last most favorite and most interesting item in the preparation of the bodice will be decoration.
You can decorate it with absolutely any materials and according to your design.
After the bodice, we proceed directly to the skirt of the suit.
First, measure the desired material size. Then we cut off the desired piece.
No lining needed. Elastic, threads and fabric - all you need for a skirt.
The elastic must be sewn to the waistband.
The hem of the skirt should also be processed so that everything looks as beautiful as possible and there are no protruding threads or uneven cut edges.
After the work done, we will get just such a skirt. Everyone chooses the right color and material from which to sew this skirt. It is also worth remembering that it should not be as long as possible and it is better to make one or two cuts on the sides. Then you can embroider and decorate this skirt with all possible beads, rhinestones, shreds from other materials.
The bodice and skirt are ready, only the belt remains to be sewn.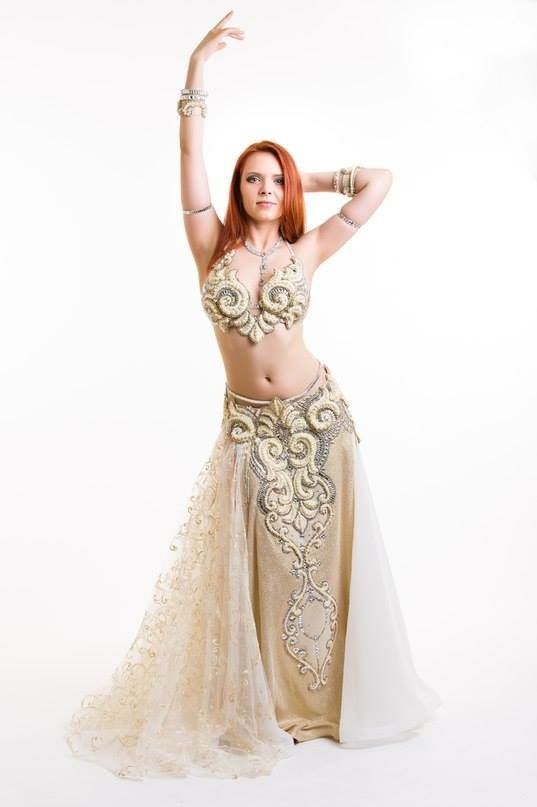 The size and width of the belt can be different and vary only from personal wishes.
Using a sewing meter, measure the hips and transfer it to a piece of material. Next, we make a cardboard sketch of the belt itself.
After we circle the edges of the sketch and cut out the desired section of the fabric. This fabric needs to be stitched along all the edges so that the belt turns out to be even and beautiful.
Belt ready. It also needs to be decorated and the image will be complemented.
Patterns for a belly dance costume.
For beginners in the world of sewing, below will be provided options for patterns, according to which it is as easy as possible to learn how to sew this kind of suits.
For those who decide to make a bodice with their own hands, and not to buy, this pattern is offered for viewing.
Skirt pattern.
Belt pattern.
DIY belly dance costume photo
These simple costumes can be made independently and relatively quickly.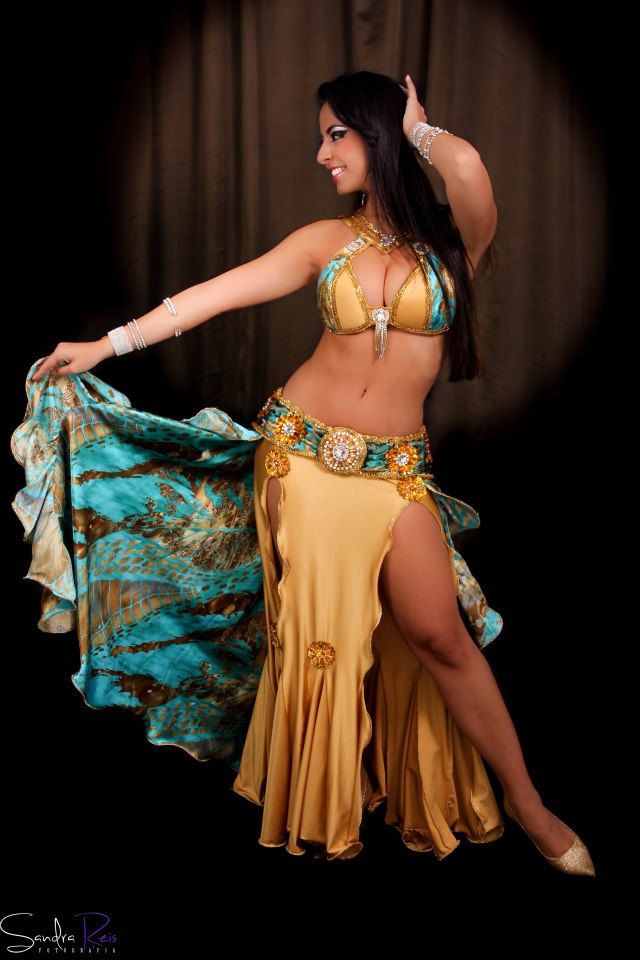 The following options will require more time and more decoration materials. But the beauty of such outfits dazzles everyone.
These two outfits are insanely beautiful and bright, which makes the dance even more beautiful and sensual.
Any fashionista can make such an outfit, it just takes more time.
Do-it-yourself belly dance costume video
Now, you can also find a lot of videos with making a do-it-yourself belly dance costume. Here are the top 3:
Post Views: 23 793
We create a costume for belly dancing with our own hands
Almost every modern woman is looking for a hobby for herself.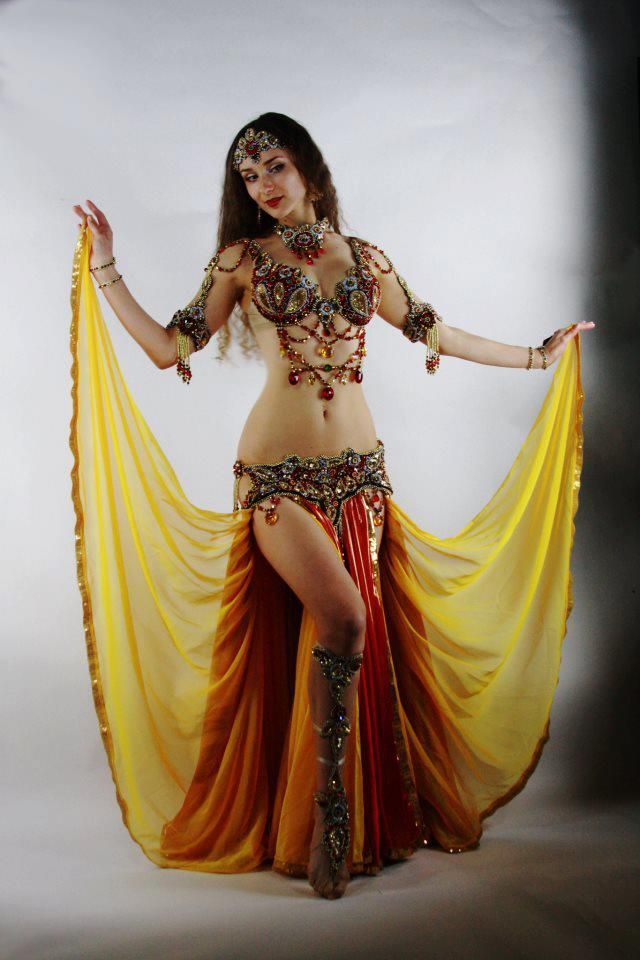 Someone embroiders with pleasure, someone bakes pies, and someone goes to dances. In this article, I would like to tell women who are mastering oriental culture how to sew a belly dance costume with their own hands.
Components
First of all, you should decide on the details of the costume. It will definitely be a long skirt and bodice. However, if it is not possible to make all the details beautiful, you can safely get by with just one belt. From accessories you can prepare a veil, you will also need a huge number of different decorations for arms, ears, legs - earrings, rings, chains, bracelets, etc.
Bodice
with the preparation of the bodice. For this, an ordinary opaque bra (preferably foam rubber) may be suitable. If it is already the right color, it will only need to be decorated. However, it is better to pre-sheathe it with the desired fabric so that it does not look ordinary. It will be impossible to create a single piece of skin, so it will consist of several parts.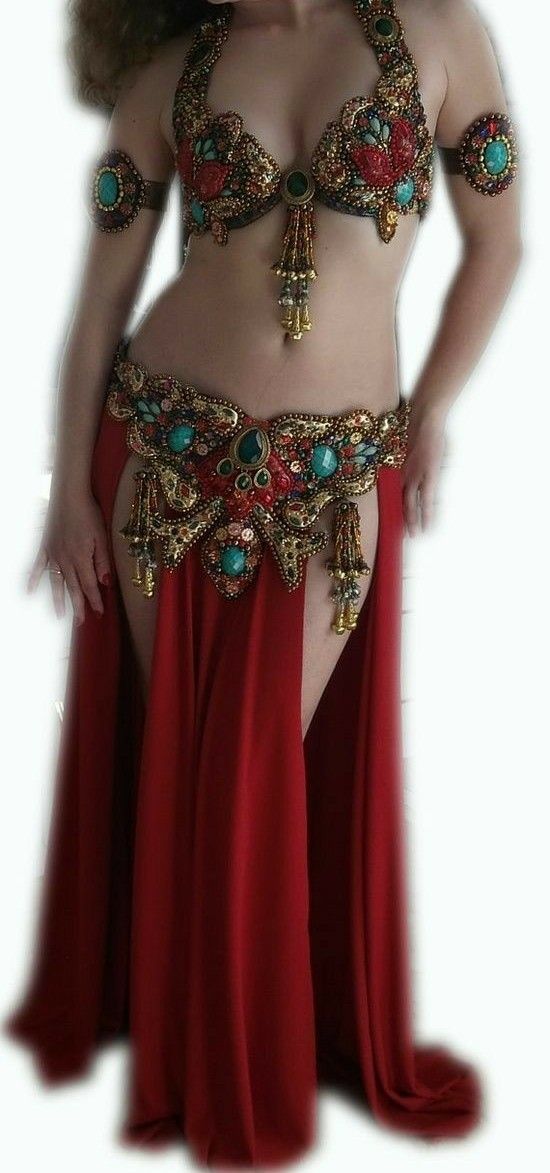 The first is a detail for cups. It is cut out in a rectangular shape and bent over the finished product. To do this, you will need to make several folds of fabric according to the principle of creating a tuck. You will also need fabric for the straps. To do this, cut out long rectangles that simply wrap these parts on all sides. The pieces are already sewn on the bra, you can even sew them on with a decorative stitch. "Ponytails" are hidden under the details for the cups of the bodice, which are sewn on last. We go further, creating individual details for a belly dance costume with our own hands. When the bra is completely wrapped in new fabric, you need to start decorating the product. Everything that the lady likes will come in handy here. It can be just beautiful embroidery with threads or beads, or it can be glued sequins in the form of fish scales, etc. Here the woman herself decides what she wants to get as a result. However, you need to remember that everything should be fairly securely attached, because in this costume you will have to dance, that is, actively move.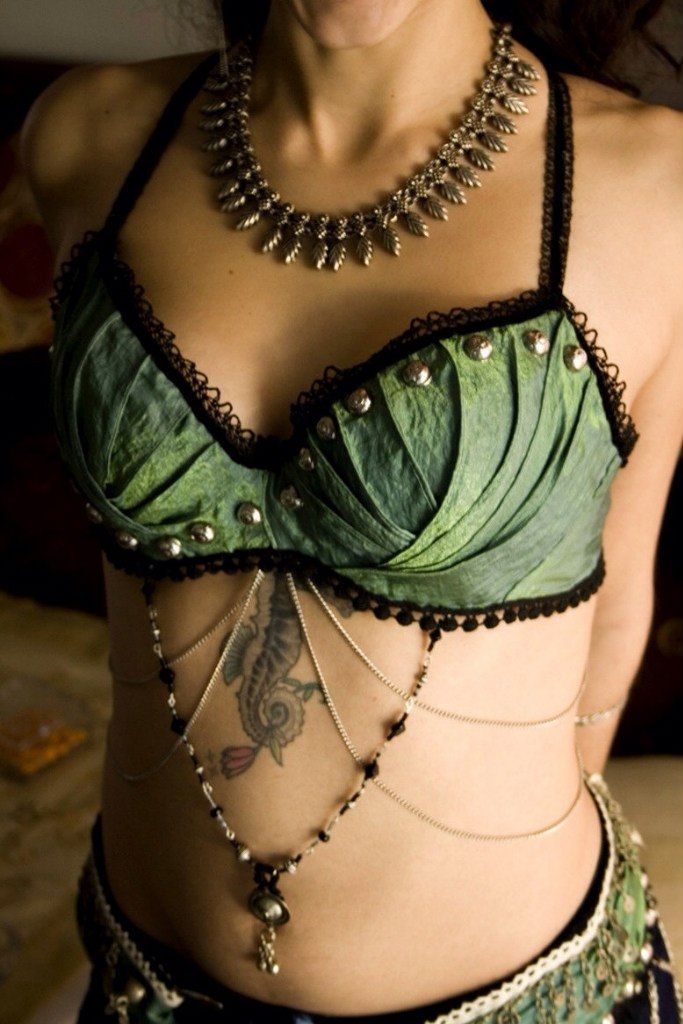 Skirt
Tailoring of the belly dance costume includes making a long skirt. To do this, you need to take a fairly thin transparent fabric that drapes well, such as chiffon or crepe chiffon. Now you need to decide what kind of skirt you want to make. Two options can be considered. The first is an ordinary straight skirt with slits on the sides, the second is a sun skirt.
In any case, you need to prepare the belly dance costume patterns beforehand. So, for a straight skirt, you will need to take two pieces of fabric that will be sewn along the sides to about the end of the thigh. Unsewn sections and the bottom are simply hemmed. From above, you can provide the usual wide belt, which must be made of elastic fabric, because it will most likely be on the hips, and not on the waist. To do this, you need a piece of fabric twice as wide as the belt itself. The fabric for the belt is bent in width with the wrong side inward. Next, the belt is sewn to the skirt. To do this, first the inner part of the belt (which is adjacent to the body) is sewn with a skirt, then the fabric allowances are tucked in, covered with the front of the belt, and everything is overcast.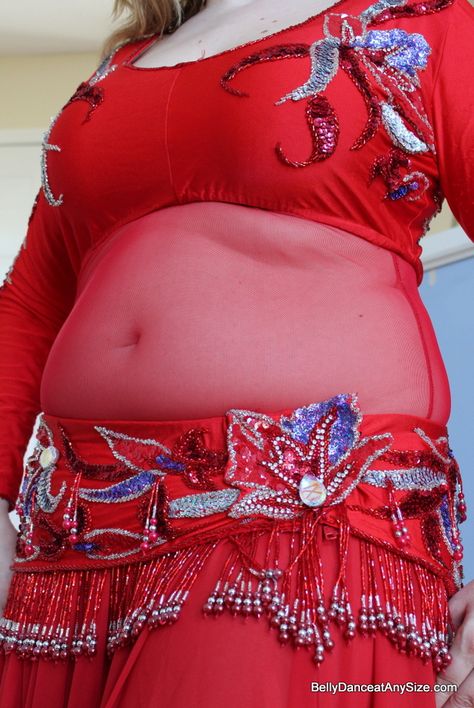 If everything went out neatly, a decorative stitch is started along the front of the belt. Oriental belly dance costumes also suggest the possibility of creating a sun skirt. You can sew it in the same way as the previous one, but the fabric will take a little more, about 2.5 times. After all, the sun skirt is a circle with a cutout for the waist in the center. The top of the skirt, along the waistline, can be gathered. The bottom is hemmed with a narrow scar, a wide belt is sewn to the top. That's all, the skirt is ready.
Belt
When preparing a belly dance costume with your own hands, it is important not to forget about such a moment as the design of the belt. It is this detail that gives the costume a special appeal. How to make it? To do this, it is better to pre-prepare a full-size pattern. The top must be straight, and the bottom of the belt can be triangular, figured, rounded - whatever you like. The length of the product is calculated: this is the waist circumference plus approximately 4 cm for the fastener.

You can make tucks so that the product sits perfectly on the figure.
The fabric is also selected: for the base of the belt - dense, cotton can be used, and for the top - something light and beautiful, for example supplex, satin, crepe-satin. You will also need a dense interlining for gluing the product, it will be attached from the inside to the front of the product. When the parts are ready, they need to be folded with the right sides inward, sewn, turned inside out, through the hole left, baste and insert the fastener (the belt can simply be tied). Now it remains to decorate it in the same way as the bodice.
Accessories
What other details can oriental belly dance costumes suggest? Of course, these are special decorations. Earrings, bracelets for hands and ankles are definitely needed - the more the better, because when a woman dances, they ring pleasantly. By the way, they can also be made independently from beads or beads. It is necessary to decorate the neck with chains or coarse beads, and fingers with rings.