How to make an outdoor wedding dance floor
How to make a dance floor for an outdoor wedding
7 perfect ways to create a space for dancing at the reception without breaking the bank.
Whichever outdoor dance floor you create you must also:
Mark out an area that is for dancing
Offer guests in heels alternative footwear
Check the floor is safe, even and on a flat surface
Don't blow too much of your budget on renting a floor unless this is a vitally important aspect of your day.
Whether the reception is in a tent, outside on the lawn or on the beach you must decide whether there will be dancing.  But as everyone knows, if there's the right music, people will want to dance.  Dancing is, after all, a time-honoured way of celebrating across the world and has been for thousands of years.
So here are some great ways to make a space for dancing without spending too much.
Dancing on the beach or the grass
This is the cheapest option and a popular choice today when weddings are less formal.
There is no point cordoning off a special dancing area for a beach wedding.  People will kick off their shoes and just take to the sand once the mood is right.  People naturally get closer together when dancing so there will soon be an informal dance area marked out by the first few dancers. 
If it's a rustic wedding or a backyard wedding then many people will be happy to dance on the grass.  But it might be a good idea to mark out a space for dancing. 
How to mark out a space for dancing
Find an area of level grass and if possible have it cut short the day before.  Remember to rake away any grass cuttings.  Then hammer in some wooden, metal or strong plastic poles around three sides of this space.  Look in hardware stores but also in garden centres for these.
Solar powered lighting for pathway and dance floor by Sursun on Amazon
Hang lights or lanterns between the poles.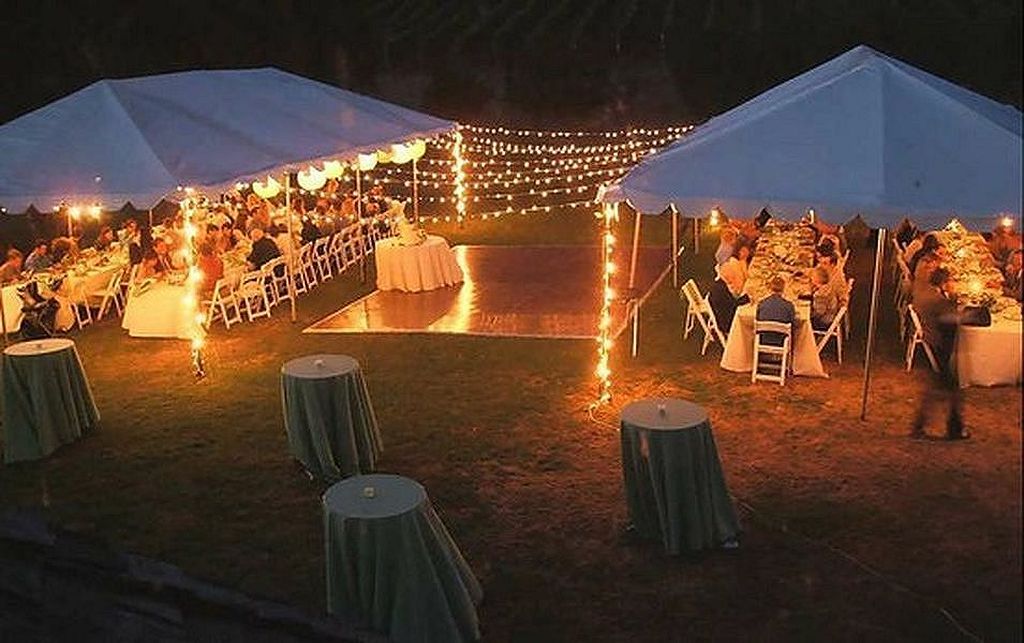 Most dancing starts at dusk so it makes sense to use inexpensive colourful lanterns that store the day's sunlight and automatically come on when it gets dark. 
If putting in secure poles is difficult then just plant sun-activated lamps in the grass around three sides of a square.  You can use these inexpensive lights to mark out a pathway to the dance area too. See some solar powered lights on Amazon.com here. And some fun flickering lights here on Amazon.co.uk.
What will dancers wear on their feet?
You will need to warn guests in advance that dancing will be on sand or grass.  You can't dance on these surfaces in heels.  You can also mention that flip flops will be available for those who don't fancy going barefoot.
Buy heaps of these in various sizes and pop them in a big basket by the dance area.  Pinterest has some lovely ideas for this including cute signage.
Once guests know that dancing will be outside on the open ground they will likely decide to wear more casual and fun attire.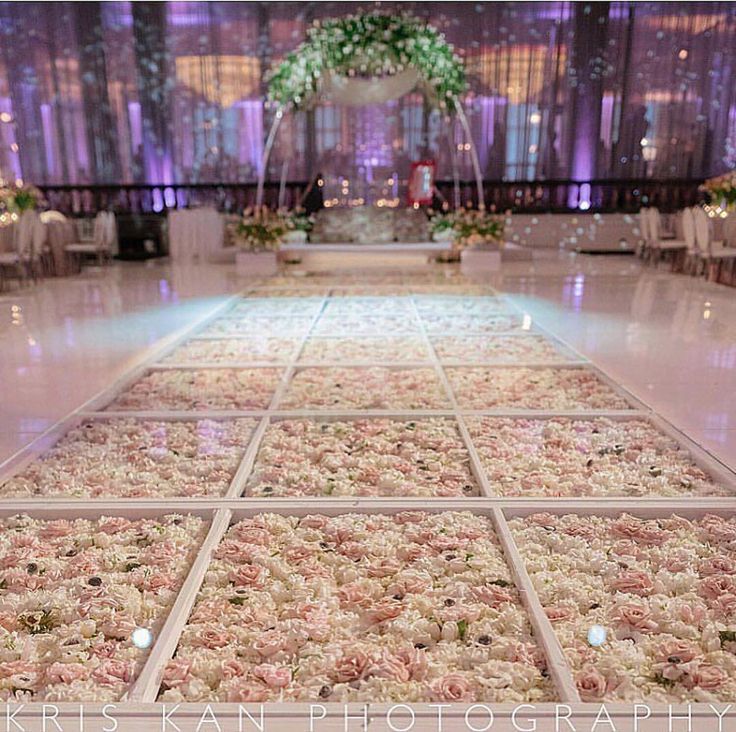 Most will decide on sandals or flat shoes too.  This will give the right vibe for the celebration and help avoid anyone twisting an ankle on or off the dance floor. 
But if barefoot or flip flop dancing is more informal than you want, you'll need to construct a dance floor.
Make a dance area with carpet
Grass can get wet as the evening draws on so you may prefer to throw a carpet over your external dance area. 
Look online for cheap floor coverings made of jute or bamboo.  Some cotton or synthetic woven rugs are very inexpensive too.  Either get a large area rug or get a length cut off a roll.  Be careful not to simply lay several rugs down across the space.  Whilst you can use tent pegs (with lights next to them) to secure the outside edges of the carpet, it's dangerous to do this for the edges where they meet up inside the dance area.  Even with flat shoes you will have accidents.  And if you don't secure the covering it will ruck into folds which is even more dangerous.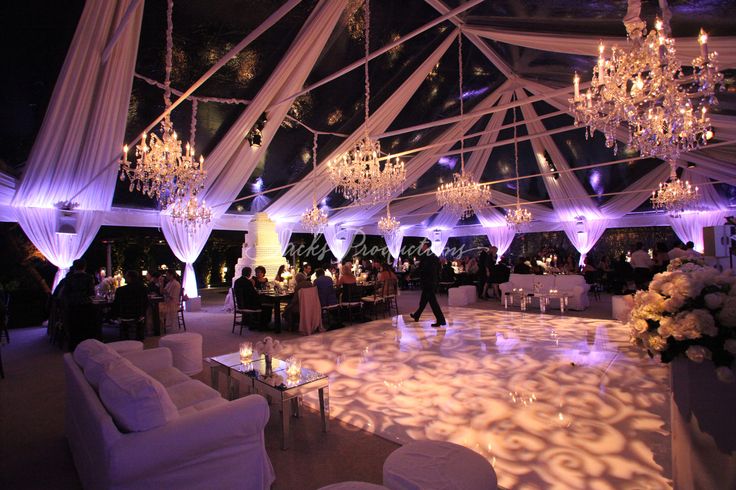 You should still offer espadrilles or flip flops for dancers wearing heels though people in flat shoes will be fine. 
If there is an area of concrete or a deck for example, this will make an excellent base.  A wooden deck can be used as it is but a carpet will improve the look of bare concrete and make it more comfortable to dance on, even in shoes.
Whilst solar string lights strung around the carpeted area will look fun, the carpet itself will mark out the dance floor so poles are not essential.
Reuse a dance floor
Lots of people buy a wooden dance floor for their wedding then never use it again.  Don't be content with just scouring the local small ads be proactive and put out a call everywhere for a second hand dance floor.  Do this months in advance because you need to attract the attention of couples before their wedding as most will simply discard their floor with all the other detritus from the reception.  So 'book in' to collect and pay for that expensive floor the couple are considering buying.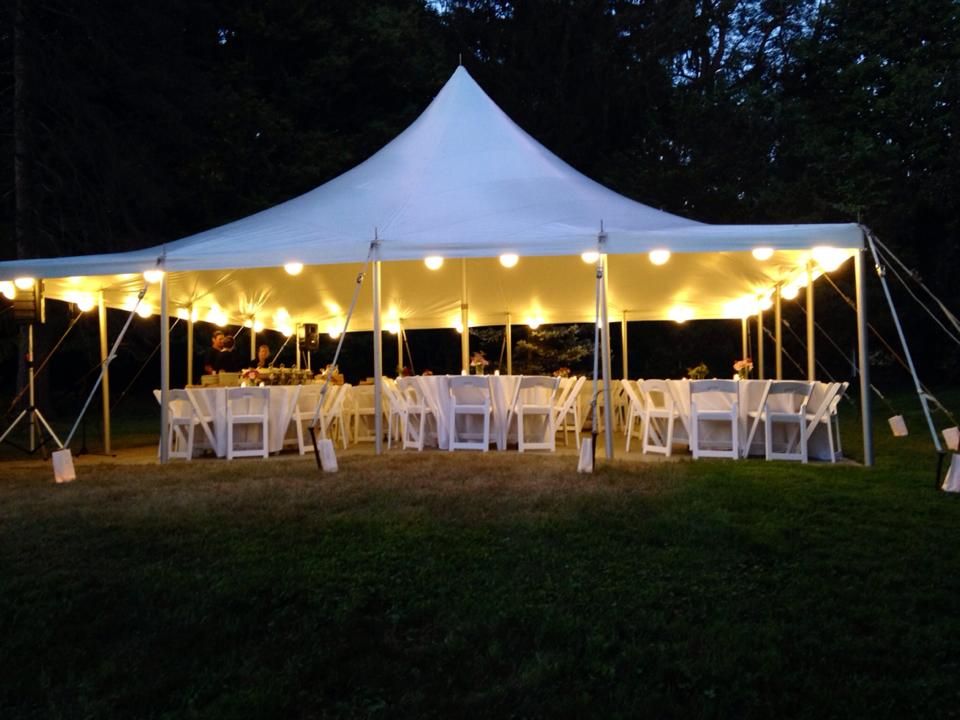 Your willingness to take it afterwards may push them to buy instead of rent.
For a rustic wedding a DIY wood floor looks perfect
Build a dance floor – full instructions
If you have someone to help you, this option need not be a lengthy task.  Just remember to start it well in advance in case you run into any minor problems.
Your floor needs a solid and flat surface fixed to a supporting structure underneath to keep it off the ground.  This structure will make the area even.  It will look best on concrete or a deck but will also sit happily on short grass.
Decide on the size of your finished floor then buy sheets of ½ inch plywood to fit this size.  The store will cut them to exact size for you so don't even consider doing that yourself!  Plywood is often sold in 4×8 foot sheets so a floor of 16 x 12 feet can be made just using 6 whole sheets.  This is the solid top surface for each of 6 'blocks' which will be put together to make the floor.
For the support underneath you need to create a box structure under each sheet of plywood.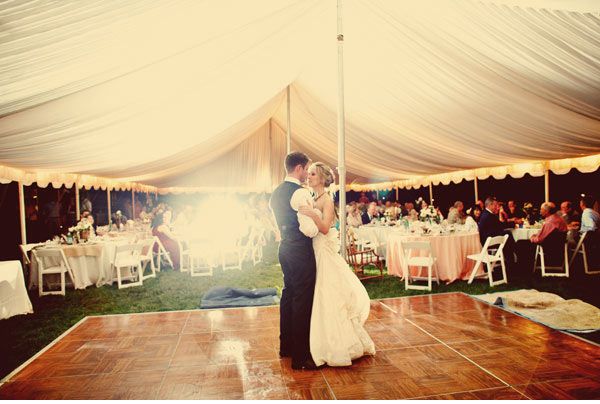 You can make these from lengths of 2×2 inch timber.  These are often sold in 8 foot lengths.  You will need a piece of timber to go around each side of each plywood 'block'. Then add two more pieces to each block to reinforce them.  For each block you will need two pieces of 4 foot timber  (2×2 inch) for the short edges plus four pieces of 92 inches each for the long edges ( they are shorter than the side because they need to be screwed or nailed to the timber along each short edge.)  Use the two extra lengths of 92 inches to fix across lengthwise inside the block to spread the load when people are dancing. 
Explain to the store how you are going to use the 2×2 inch reinforcing timber so the person cutting them knows why some are shorter.
Nail or screw the reinforcing structure together so you have a box shape with two extra struts inside.
Once you have the blocks in position on the lawn nail the plywood on top all around the edges and down the line where the reinforcing struts are.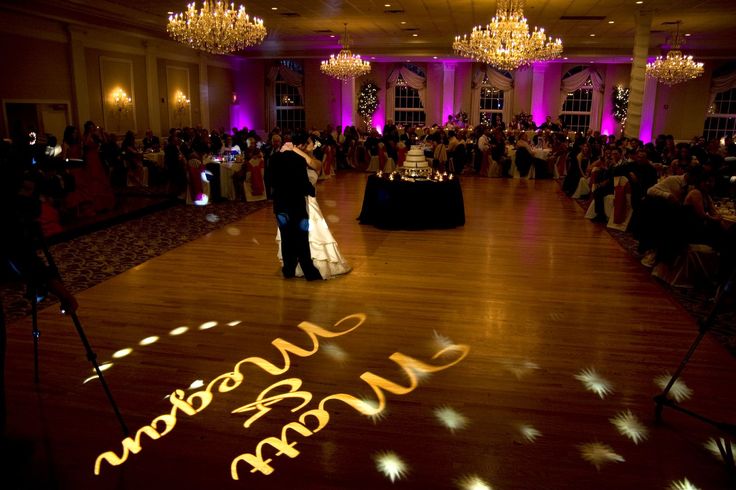 You can get small mending or fixing metal plates with gripping teeth on them which you can hammer across the joins between the blocks to hold them together.  Do this last of all as they will start to come out if you lift or move the floor much.
Ensure the nails on the top surface are very flat against the plywood so nobody catches a heel on one.
Finish the plywood with two coats of floor paint.  Then a third coat can be just for decorative effect such as circles or a name.  If you want to have a chequerboard effect then use painter's tape (masking tape) to make the crisscross design and paint alternate squares with the top coat.  Use the same tape method to make stripes or other straight-edged designs.  You can also buy fun decals then varnish over them.
DIY a simple dance floor
If building a floor looks like too much work you can simply lie a flat board across a flat area of short grass to make a quickie floor.
You will need ¾ inch thick MDF which all builders merchants and most hardware stores sell.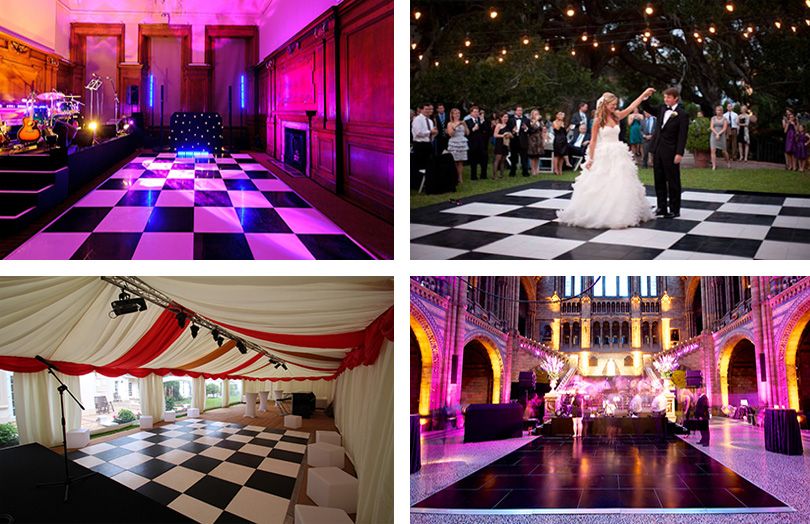 But be warned, MDF is very heavy so get it delivered. 
Never leave wood and never never leave MDF sitting where it can get wet.  Buy a tarpaulin or strong waterproof cover, not just a decorator's roll of thin plastic sheet.  Cover the MDF completely if you cannot keep it indoors until the day.
MDF can be painted or stained and finished with a transparent PVC glaze to help it stay looking good all evening.  You can apply gorgeous decals on the super flat surface too.
It won't last for very long as it will probably get a bit damp from the grass but it is an inexpensive and quick solution.  Make sure to use as flat a surface underneath it as you can.
Make a good-looking wood floor for inside a tent or marquee
Your tent may have a plastic sheet as a floor or hessian or just plain grass.  Non of these are ideal for dancing in heels.  But you can put down a sheet of plywood or MDF and cover it with wood effect laminate.  These thin sheets of wood or wood-effect plastic click together to make a solid surface.
  They will need to be glued or nailed down to the plywood.  If the plywood is sitting on a hard surface such as concrete you can put a layer of foam, carpet underlay or carpet under the plywood.
You may find that your tent floor is flat enough for you to lie the laminate straight on top. If you do this you must use heavy duty tape round the edges to stick the dance floor to the tent floor.
Construct a decking area for dancing
This does not need to be well finished at the edges – which is usually the most time-consuming part about creating a garden deck.  Just buy boxes of decking that click together and place them on the flattest place you can find.  They will be finished, stained and smooth so no need to paint or glaze.  You may be able to reuse the blocks for a garden or advertise them for others to use. Here are best rated decking blocks on Amazon.com. And wood decking tiles on Amazon.co.uk.
Creating an Outdoor Wedding Dance Floor Using Tiles
For those who love the simple and charming idea of having a wedding and reception in the backyard, in a park or on the beach, trying to figure out how to make an outdoor wedding dance floor may be the only thing that's holding the event back.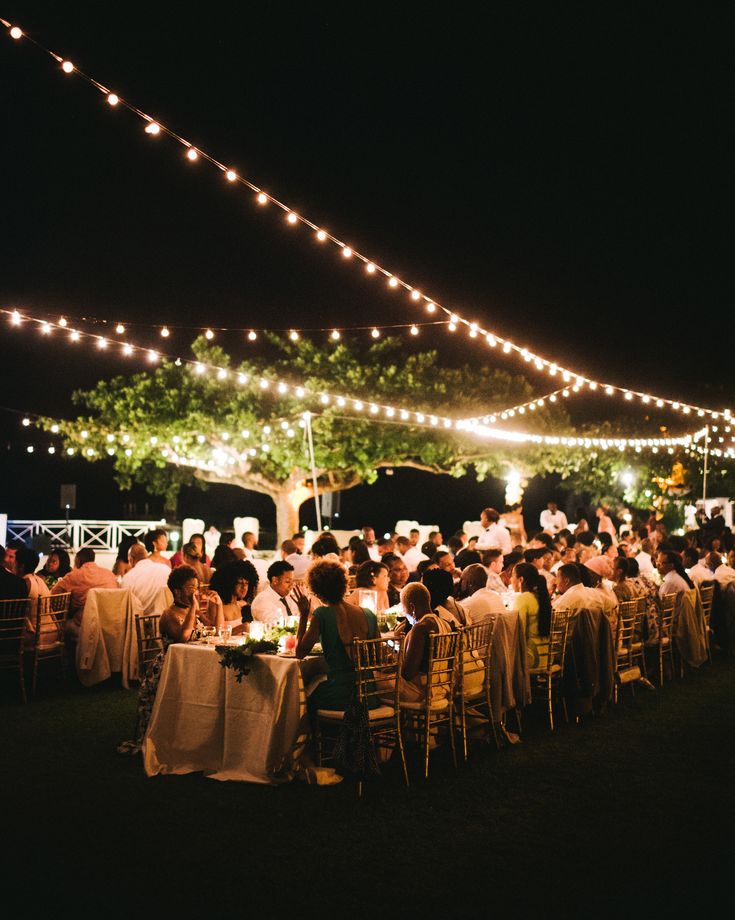 Creating a plan to set up the flooring for the dance after the wedding can involve a few different designs.
Those hosting the wedding could try to rent outdoor wedding flooring for the reception and dance, but this isn't always the best alternative. It can be hard to find the right size and quality of floors for rent on the exact date and time for the wedding. If the event will happen in the busiest wedding season in the summer, finding rentals can be nearly impossible.
Purchasing the materials required for outdoor wedding flooring may represent the better idea, as the hosts can pick the perfect size to handle all of the people being invited.
With a rental, there may be a limit of 20x40 feet or less, which can be extremely cramped and small for an event with dozens of guests. With a purchased outdoor wedding flooring option, any size is available.
The rental floor also may have more than one decal to promote the rental company stuck to it, which may detract from the overall look of the decor the designer is trying to achieve.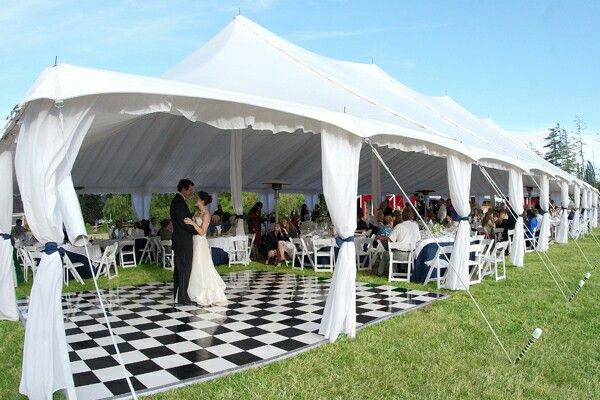 If the wedding and reception will be underneath a tent, this may affect the length and width of the flooring layout. With a rental, the precise dimensions may not be adjustable, leaving a portion of the flooring outside the tent's coverage. With a purchase, where the installer controls the precise width and length of the layout, fitting the floor under the tent is not a concern.
As an additional benefit of making a purchase, the flooring will always be available for any type of event in the future. Having temporary portable backyard flooring for events such as graduations, anniversary parties, birthdays, and neighborhood get-togethers, as well as for weddings, will be extremely beneficial over the long run.
How Do You Start With Laying Out an Outdoor Wedding Dance Floor?
Before choosing the style of dance floor you want to have available at the wedding, it's important to consider ideas for the base material. A sturdy base allows the outdoor wedding dance floor to go over almost any type of ground, including grass, dirt, sand, or gravel, creating a firm area that's safe for dancing.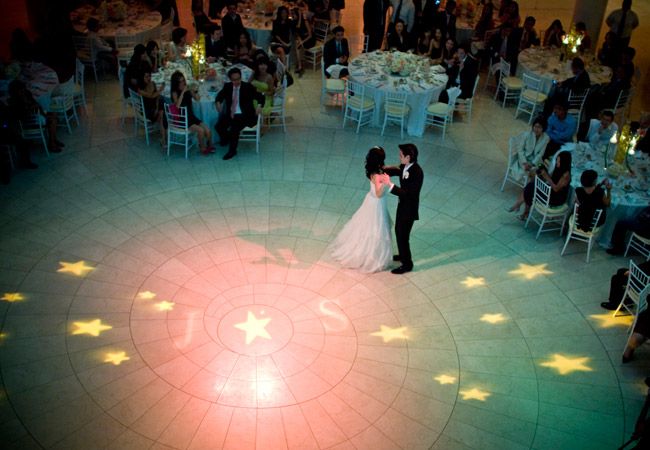 Using firm tiles as a base layer will create a floor that's appropriate for almost any kind of dancing at the reception. It will protect the wedding party and guests from coming into contact with any dirt or mud in the area as well, importantly keeping the wedding dress clean and looking like new.
Next, think about the size of the space to use for the outdoor wedding flooring for the dance. As a general guide, assume that about one-third of all of the guests at the reception will be dancing at any one time. (If the average age of the guests is younger than typical, assume closer to 40% of guests will be dancing at one time.)
Assume that each guest will need about 5 square feet of space to dance. Using these calculations should help those hosting the event to determine the ideal space to create for the dance floor.
What Are Some DIY Options for Creating a Base Layer for Outdoor Floors?
To save time and money when putting on a wedding in the backyard, having a flooring that's easy to assemble and disassemble without the need to hire a professional is important.
One popular option is the White Matrax Light Duty Pedestrian Composite Mats product. These tiles consist of an extremely firm polyethylene plastic, which allows the dance floor to provide the necessary support for people walking and dancing across it.
Each tile uses a series of connector pins to tie into the adjacent tile, which makes the layout of these pieces a DIY-possible project. Installers will not need to add any adhesive to the tiles to create a secure connection.
An individual tile covers 16 square feet, measuring 4 by 4 feet, which speeds up the layout process. This is important when setting up for an event like a large wedding, where it always seems like the setup time is never quite long enough to do everything perfectly. The less time spent doing the outdoor wedding flooring build, the more time for the hosts to focus on other aspects of the event setup.
For those events where a dance floor is not necessary, these tiles can go directly over the grass, creating a sitting area for the ceremony or for tables.

The tiles have small drainage holes that extend through the entire 1.5-inch thickness of the material, allowing any rain to drain away, rather than pooling on the surface.
Shop White Matrax Light Duty Pedestrian Composite Mats
For a different color in the tiles, the Gray Matrax Light Duty Pedestrian Composite Mats product is available. It uses the same connector pin system to create the secure fit in the flooring, and it also has drainage holes that allow it to work in all kinds of weather.
The water drainage holes do not affect the integrity of the base layer. They will not affect the ability to lay a dance floor over the top of the tiles either.
Shop Gray Matrax Light Duty Pedestrian Composite Mats
With the Matrax tiles, each unit weighs about 30 pounds, which may make it beneficial to have two or more people available to help install the large squares. For a set of tiles that are smaller and that weigh less, consider the Portable Outdoor Tile product.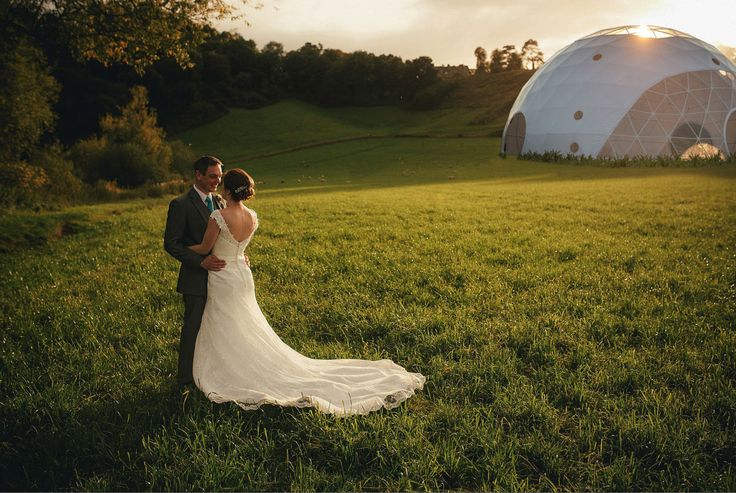 Each of these tiles measures 1 by 1 foot and weighs less than 1 pound. The Made-in-America tiles measure only 3/4 inches in thickness, which further simplifies the installation process for one person. Each tile connects to the others through an interlocking tab and slot system on the edges.
These tiles will fit over almost any kind of outdoor surface, including sand, gravel, and grass, while providing a firm base for an outdoor wedding dance floor.
The durable no-break polypropylene plastic can stand up to all kinds of foot traffic, while maintaining its integrity. Even if the surface underneath the tile installation has slight undulations. When used as a base for an outdoor dance floor, these tiles should be installed over a surface that is already pretty flat as the hinging seams will adjust some to fit the subsurface. Once the installer connects these tiles, they will give users a firm surface on which a portable dance floor can be installed.
With drainage holes that extend through the entire thickness of the tile, there are no concerns about rain water pooling on the surface of the tiles.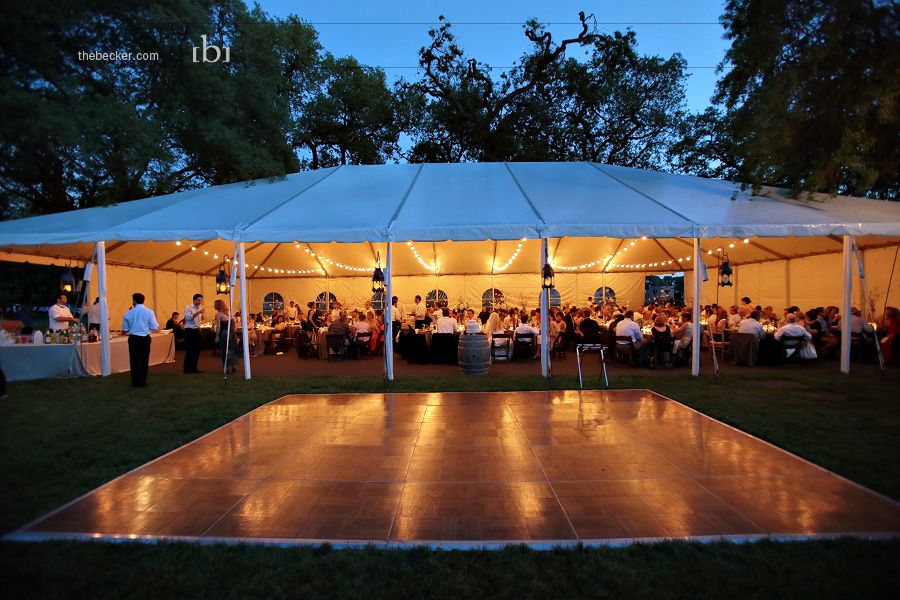 Shop Portable Outdoor Tile
What Floors Work Well for Outdoor Wedding Flooring Dance Surfaces Without a Tent?
Once the base layer is ready to go, installers can place a dance floor surface over the top. If the outdoor wedding dance floor layout will occur in an area exposed to sunlight and weather, the EZ Portable Dance Floor product is an excellent choice.
The UV resistant vinyl top layer sits on a waterproof plastic base. The vinyl layer has a faux wood grain look, which is ideal for a natural looking dance floor. Color stain options include:
Cherry

Maple

Dark oak

Light oak

Walnut
The plastic base carries the interlocking edge, which ensures the 1 by 1 foot tiles will remain tightly connected, even when placed under the stress of multiple people walking and dancing on them.
The vinyl layer can handle any kind of shoes that people attending the wedding will be wearing, including high heels.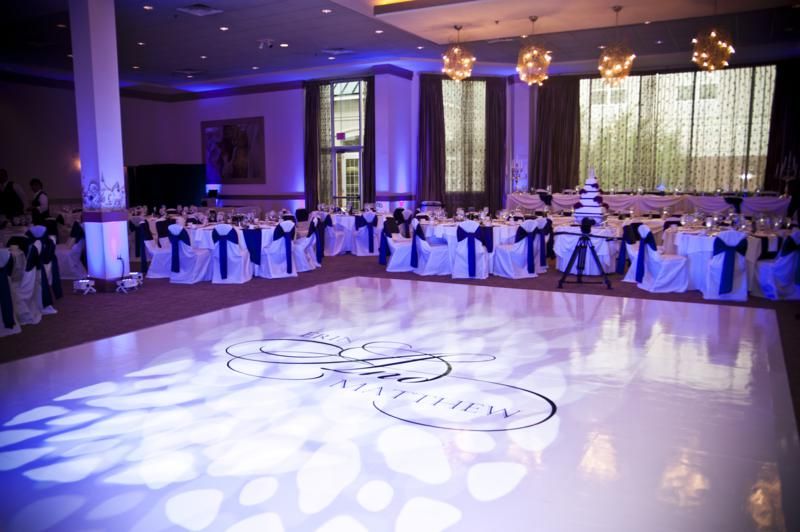 The manufacturer offers a 5-year limited warranty on these tiles.
When disassembling the tiles, we recommend leaving 3 by 3 foot sections connected, rather than disassembling each individual tile, if storage space is available for the larger sections. During the next installation, the assembly process will go far faster with the 3x3 sections already assembled.
These Made-in-America tiles contain both water and UV protection, which allows their use in areas exposed to the weather. However, do not leave these tiles in place for an extended period of time where they will receive constant weather exposure as they are not designed for long term outdoor use. Disassemble and place these tiles into storage soon after the event finishes.
Shop EZ Portable Dance Floor
What Floors Are Best for a Dance Floor Underneath a Tent?
Installers certainly could use the EZ tiles mentioned earlier in areas where a tent will provide weather protection for the dance flooring for the wedding reception, but tents also open the door to other options as well.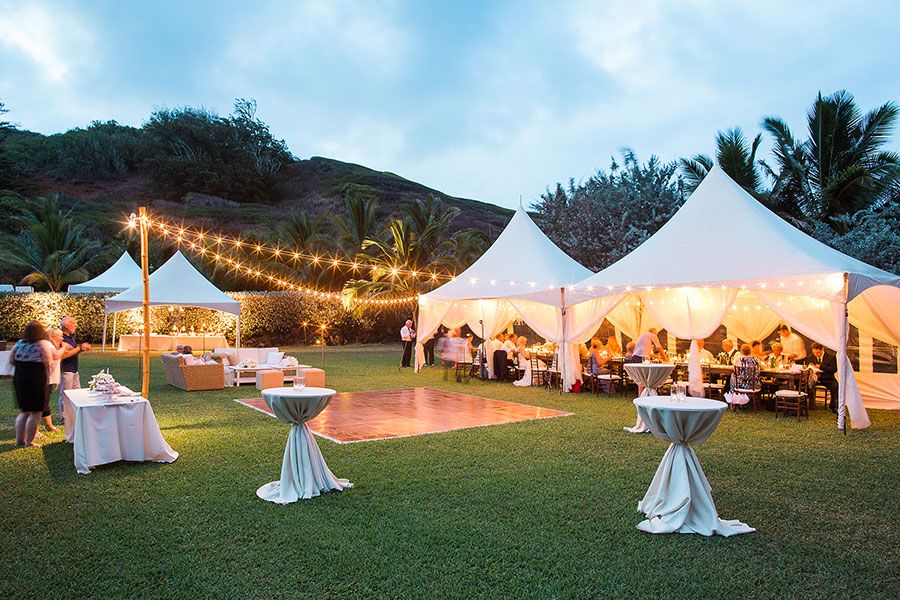 With a tent available, installers also can choose the Portable Dance Floor Wood Grain 3x3 Foot product. (For those installers who need to cover a larger space, the Portable Dance Floor Wood Grain 3x4 Foot product is also available.) Neither of these products has a waterproof or UV resistant design, which necessitates the use of a tent or another type of weather protection.
These products represent commercial quality dance floor surfaces that can stand up to almost anything. The individual panels connect to each other using a cam lock design that ensures they will stay tightly in place for the entire event. Installers only need one type of tool to assemble the tiles, meaning it can be a DIY job for the majority of people.
The vinyl layer sits atop a sturdy plywood core layer, yielding a highly durable flooring for the wedding reception. As the installer assembles the individual panels, they will go together without any noticeable seams, which is an important benefit for the look of the flooring.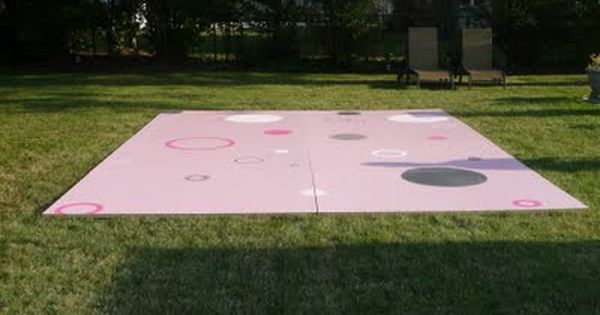 As the perfect finishing touch, the customer can select a ramped border edge to place around the perimeter of the layout. These silver trim border pieces sit at an 11-degree angle upon installation, which reduces the possibility of a tripping hazard for those entering or exiting the dance floor at the reception.
The faux wood grain color options for these panels include:
American plank

Dark oak

Dark walnut

Elegant oak

Light beech

Stone pine

Tropical beech

Warm cherry
Customers also may be able to select an all-white or all-black color in the panels for a unique look in the dance flooring at the wedding.
Shop Portable Dance Floor Wood Grain 3x3 Foot
how to behave at a wedding?
Let's not dissemble: the atmosphere at a wedding depends not only on the venue, decor, the amount of alcohol and the host.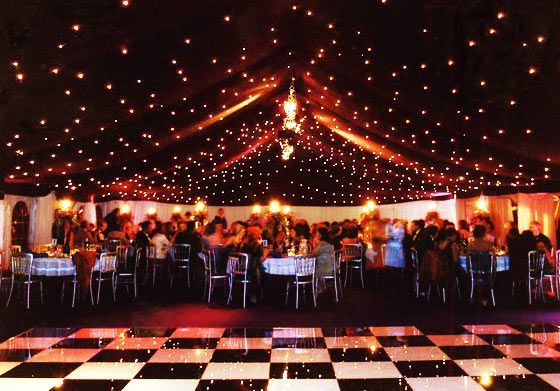 Guests - that's who plays the most important role. Have you been invited to a wedding celebration? Super! Read this article carefully and you will not get into trouble.
Got a wedding invitation? We tell you what to do with it
When you receive an invitation (usually six to eight weeks before the wedding), don't let it get lost on the coffee table. Check the date of the event and check with your calendar, and then decide whether you will attend the wedding. Whether you can be or not, answer the invitation. A couple needs to know exactly how many people they can expect for their holiday in order to organize everything in the best possible way. The restaurant orders the required number of servings no later than two weeks before the wedding. Your reflections may seem natural to you, but they will add tension to the process of preparing for the celebration. nine0003
Go with the flow
We do not always share the opinions and preferences of our friends and relatives.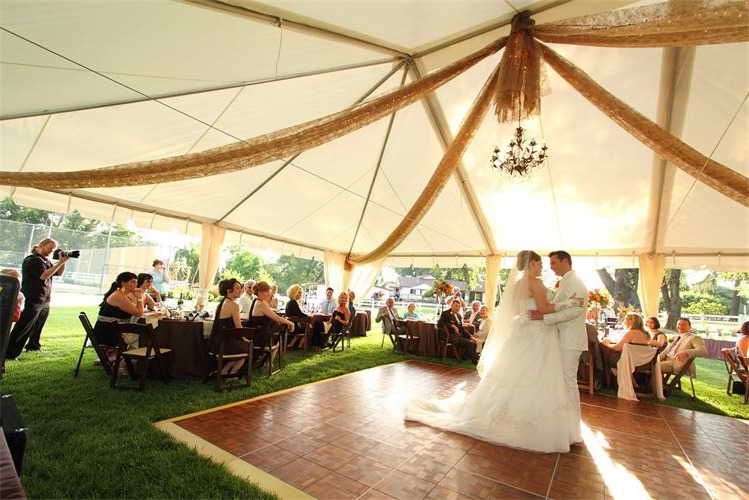 And nowhere is our difference so clearly manifested as in the observance of wedding traditions: someone follows in the footsteps of mothers and grandmothers, someone does exactly the opposite!
Don't run away when it's time for the bride to toss the bouquet or the groom to take off the garter, and don't try to whisper in someone's ear how ridiculous you think it is! Even if you are not going to catch the wedding bouquet, go out into the hall and put a smile on your face. It doesn't matter what your true attitude towards these traditions is. This advice also works in reverse - do not talk about the importance and significance of the tradition of throwing a bouquet if the bride decided to exclude this ceremony from the list of wedding entertainment. nine0003
At your wedding, you will do exactly what you think is right, right?
Phone aside
We know how difficult it can be to resist the temptation to scroll through Facebook or look into instant messengers, share your emotions and photos with friends.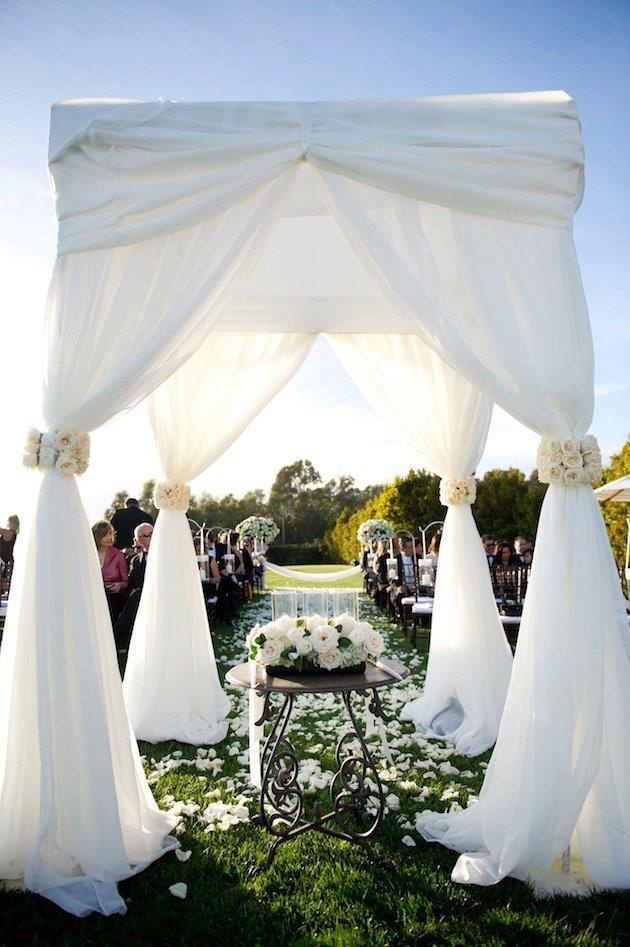 Even if the newlyweds encourage guests to share social media profiles and congratulatory posts in every possible way, do they really want to look at the hall filled with people on their phones? No! They want their guests to attend their party, socialize and have a good time! nine0003
When you pick up the phone, it's like you're saying "I have something more interesting than you have here." Of course, physically you are at the wedding, but mentally you are with someone who is on the other end of the phone. Attend the wedding, enjoy the moment and put your phone away.
If you absolutely have to send a message, do it as soon as possible.
Have fun
Try it! The bride and groom spend a lot of time thinking about their guests. From menu planning to entertainment selection, it's important to them that everyone has a good time. nine0003
And let's tell you a secret, there is nothing worse than unused ideas.
Even if it's not your element, let it take you! The newlyweds made a lot of efforts, they tried very hard to think over every little thing to make the holiday interesting.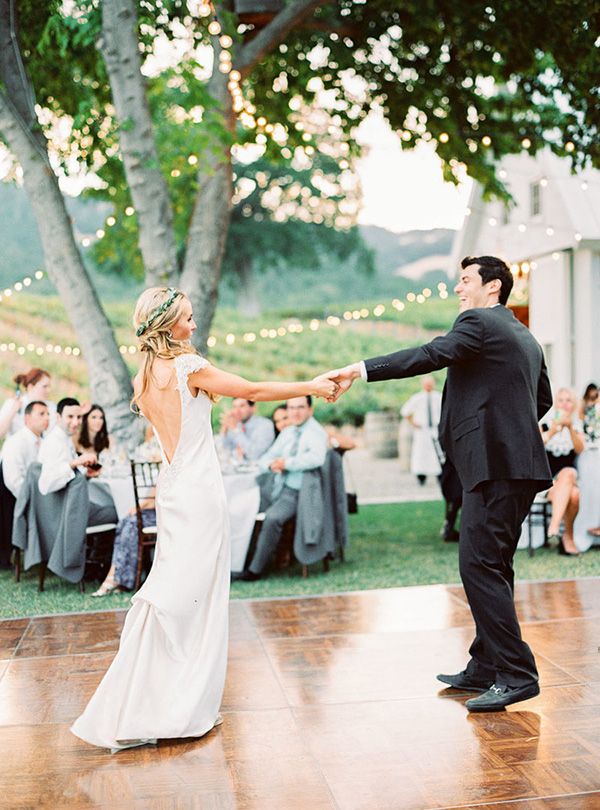 Don't give them a reason to be upset!
Read the invitation carefully...
Are you holding a wedding invitation in your hands? Read it again. Couples usually do their best to avoid confusion. Only those whose names appear in the text are invited. Newlyweds may have a small wedding budget, so they are not waiting for your new boyfriend or your children with your husband. nine0003
Of course, the thought of attending a wedding without your partner can make you nervous, but trust the heroes of the occasion. They will put you at a table with like-minded people or people of your age, which will provide a pleasant opportunity to make new friends.
If your children are not invited, don't be offended! Book a babysitter and enjoy the night.
The best gift is the right gift
What to present? Isn't this the most difficult question when it comes to any holiday! It's hard not to please modern newlyweds, because they create wish lists of gifts that they would like to receive! You don't have to break your head.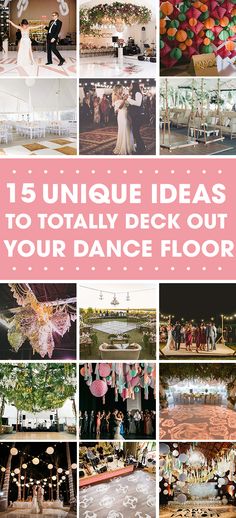 All you have to do is select something from your wishlist - so you're halfway there! nine0003
Don't be late
Not today! You can be proud of your habit of rushing everywhere at the last minute, hopping on a departing train, drinking coffee on the run, and rushing into meetings minutes after they start. But marriage is a completely different matter. Only future spouses have the right to defiantly and brightly appear at the door, attracting attention to themselves.
Arrive at the ceremony site early and calmly take your seat.
Let the white clothes wait for another occasion
You may look absolutely stunning in white, but a wedding is a special day for the bride, not for you. The invitation may include a dress code or color scheme for the occasion, and this will help you choose an outfit that will look harmonious and appropriate.
Keep the bride and groom out of the way
Save long stories about the bride or groom for a more informal setting or for the final part of the celebration.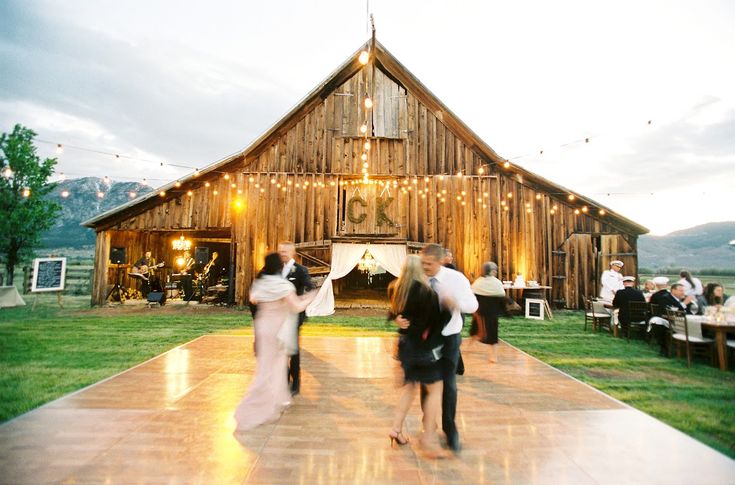 And after the ceremony, say your wishes, just a few sentences of warm, sincere words, and give other guests the same opportunity. nine0003
Control your cocktails
Yes, yes, with champagne on every corner, and even an open bar next to the dance floor, it's hard to resist the pleasure of drinking one more glass (or three). Sometimes we try to quench our thirst with alcohol! Do not refuse water and other soft drinks on the table. Let the wedding banquet be fun, but without consequences.
Communicate!
Even if you are a shy person or just picky about your company, try not to hide like a snail in a shell and run away to other guests you know for a long time. You are all at the party for the same reason, you are a close couple! nine0003
Therefore, if you wish, you will definitely find a topic for jokes and light conversations.
Take pictures, but calmly!
The couple hired a professional wedding photographer for a reason. And so that they and each of the guests receive cool photos.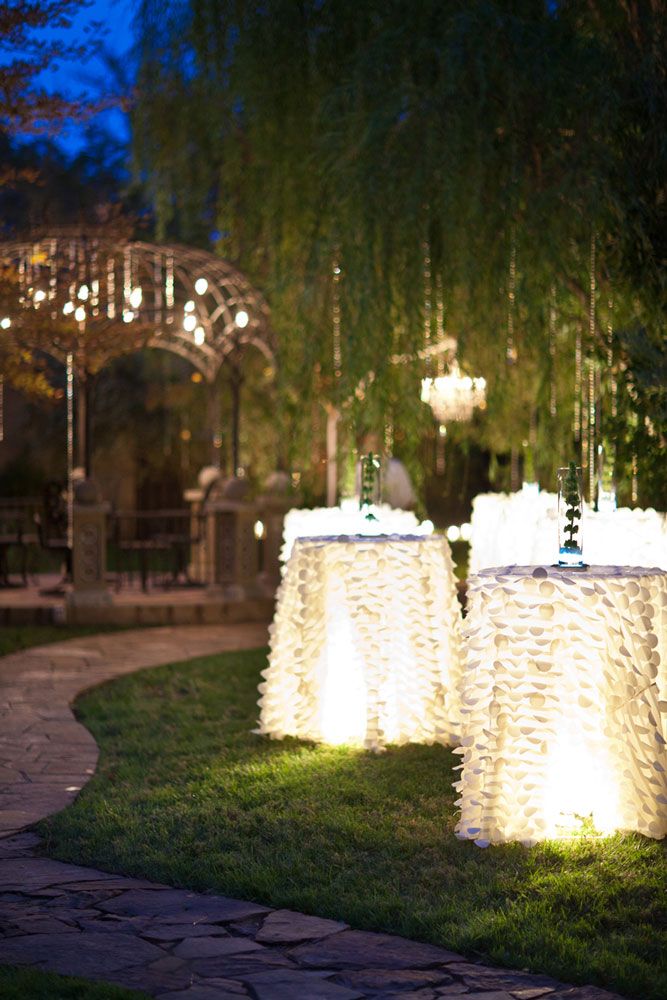 Firstly, instead of seeing smiles on the faces of your guests, their outstretched hands with mobile phones are not very pleasant. Secondly, you can simply interfere with professionals doing their job. Of course, it is not forbidden to save a few beautiful details and touching moments as a keepsake. But it is better to do it tactfully, quickly and accurately. nine0003
When can I leave?
The standard wedding banquet lasts about four hours. It's worth staying at least until the cake is ceremonially cut. Many brides and grooms are ready to have fun until the morning and it's hard to say goodbye to them. If you want or need to leave, you can find a close relative of the bride (for example, her mother) and thank him for the holiday. Ideally, before you leave, give the couple another congratulatory hug!
Getting ready for the wedding: 77 best ideas
Photo booth. The absolute wedding must-have of recent years, which will keep your guests of all ages entertained for a long time.
Dancing. Without them, the festive evening will not be so fun. The main thing is to make the right playlist.
Cigar bar. An excellent idea for a gentleman's holiday.
Special serving dishes. If your banquet menu will include specially prepared meat served on a large dish (goose, duck, turkey, ram, etc.), or dishes that need to be set on fire, it makes sense to turn the serving into a separate show. nine0081
Magician or illusionist. An ideal solution for entertaining both young and adult guests during the evening.
Cartoonist. For guests to have something to do during the welcome buffet or between performances, invite a cartoonist to the wedding.
Artist. If caricatures are not your favorite art form, you can call an artist who will paint a real picture in an evening. His work can be a wedding gift to the parents of the bride or groom, or to the couple themselves. nine0081
Butterflies from the box. Releasing pigeons is no longer so popular, a relatively new idea is a swarm of butterflies that flies out of a box opened by the bride and groom. The shots turn out amazing!
Lottery or quiz. Some of the guests will certainly not refuse to show off their knowledge and answer the tricky questions of the presenter, but some will like the lottery with prizes more.
Croquet. Even if you are not yet a fan of this game, you and your guests will surely enjoy it. Not a bad idea for an open-air wedding: a minimum of preparation, and even evening dresses will not interfere. nine0081
Giant Jenga. Recently popular game in a larger version. The kids will definitely appreciate it!
Pets at the wedding. Dogs and cats in the role of best men, witnesses or just family members will not only evoke the warmest feelings among guests, but will also allow you to take original wedding pictures.
Giant chess. Another variation of a great game that even adults will appreciate.
Labyrinth. An exciting idea for a large venue: the main thing is to find all the guests before the end of the holiday. nine0081
Birds of prey. A proud eagle or a mysterious owl - everyone will want to take a picture with these birds.

Master classes. Sand painting, brooch making, figurine painting, origami or flower arrangements are perfect for any wedding. And if you are planning a completely non-strict celebration, where guests are not afraid to get their hands dirty, you can include a modeling or baking master class in the program.
Award ceremony. Give guests prizes for the best costume, toast, punctuality, contribution to the organization of the holiday and more. nine0081
Portable casino. Great entertainment for adults! Roulette or a card table will add gambling notes to a festive evening.
Ballroom dancing. Lovers of classics and refined manners will surely enjoy the wedding ball.
Unusual wedding dress. Great entertainment is to cause a wave of enthusiastic sighs from the public and feel like a prom queen by choosing a wedding dress far from the classics. The main thing in this matter is not to overdo it with exoticism.
Comic. A great way to surprise and make your guests laugh is to invite a comedian, clowns or mimes to your wedding. nine0081
Karaoke. A great option for a late evening when everyone is already a little tired, but they are not going to disperse. And for an outdoor wedding, consider the idea of ​​campfire songs.
Fire show. The performance of the fire show masters in the open area will be one of the highlights of the evening. And indoors, you can arrange a light show.
Circus show. Why not invite circus performers to the wedding? It is always fun, colorful and unusual.
Attractions. Are you planning a large-scale wedding in the air? The mobile amusement park will give both you and your guests a lot of impressions. nine0081
Singing waiters. An ordinary exit of waiters to the table can turn into a whole performance.
Flappers or cannons with confetti. This is always true: after the ceremony, and during the first dance of the couple, and on the dance floor, and at the very end of the holiday.

Talent competition. Anyone can show their unusual talent at a wedding: the groom, the bride, their parents or friends. Author's performances and unexpected performances always become the most emotional moments of the holiday. nine0081
Flash mob. Bridesmaids who suddenly start singing instead of toasting, or groomsmen who start dancing at the same time - an idea for those who dream of wedding fun.
Professional first dance. If you don't like the monotonous waltz as your first dance, find a choreographer and choreograph your own unique and original dance that will be remembered by all guests.
Piñata. Traditional Mexican fun is slowly taking over the world. Huge colorful figures suspended from the ceiling or on a tree must be smashed with a bat or stick so that candies fall out of them. nine0081
Tyr. Another version of the competition with prizes, suitable for a holiday both in a large room and in an open area.
Balloons. It would seem that the idea of ​​balloons is as old as the world and no longer fashionable. But giant balloons as a decoration or even a balloon flight as an entertainment can really surprise you.
Path of candles. Arrange candles on the steps, around the dance floor, or mark the path to the altar with them. In the evening, candles look especially impressive both indoors and outdoors. nine0081
Face painting. Great entertainment for little guests, but who knows, maybe by the end of the holiday one of the adults will want to transform?
Guest book with fingerprints. A very original idea - instead of a traditional wish book, create a book with the fingerprints of all your guests. This is not forgotten!
Divination. Fortune cookies are just one of the options for such entertainment. Why not invite a fortune-teller to the holiday or even put up a colorful tent for divination and predictions in an open area filled with magic glass balls, mystical objects and secret signs? If you do not believe in predictions, this may just be a prop for fun and vivid photos. nine0081
Quest. Organize a treasure hunt by scattering clues around the hall or in an open area. The prize can be a memorable gift for the guest from the bride and groom or a pop star, whose appearance should be a surprise.
A film about a wedding. Give guests the opportunity to be videographers. Have fun Shoot It Yourself style by handing them a camera. Let the guests take turns filming what they think is important and show the final film at the end of the evening.
Animals. Any animals at the wedding are a lot of emotions, original pictures and entertainment for the whole evening. This idea is especially relevant if you have chosen a hotel as a location, which has a farm, a stable or a garden with birds. nine0002
Charades. A favorite game from childhood, which we remember at New Year's parties, can be quite appropriate at a wedding.
Midnight celebration. If you know the party will stretch into the morning, schedule special events for the middle of the night. This is both a romantic and mystical moment.
Dance of the bride with her father. The touching dance of the bride with her father usually gathers no less applause and enthusiastic exclamations than the first dance of the newlyweds. And this is especially pleasant for a father who gives his beloved daughter in marriage. nine0081
Slideshow. Compose a video or slideshow of baby and family photos of the bride and groom, shots of their love story, and maybe even fresh shots taken at the start of the wedding day.
Group dances. Round dance, sirtaki or cha-cha-cha are dances that will make all the guests get up from the tables. This is especially true during a change of dishes or a pause between numbers.
Party with the stars. Invite a celebrity to the celebration or organize a beauty corner where guests can try on the images of famous people. nine0081
Fireworks. The most obvious, but no less beautiful idea for a wedding. Fireworks will decorate the evening or night ceremony and will be an excellent end to the banquet. And you can distribute sparklers to guests.
Treat
Picnic. An excellent replacement for a buffet table or even a banquet if you are planning an informal outdoor celebration.
Ice cream van. The dream of many and a great idea for a summer wedding.

Sweet table. A traditional sweet table can be made even more interesting with the help of homemade cakes. Invite mothers, grandmothers and friends who love to bake sweets to bring homemade desserts. nine0081
Chocolate fountain. Delicious fun for guests of all ages.

Waffle station. An idea for a buffet or outdoor wedding is a waffle station with a variety of toppings.
Burrito bar. A Mexican-style wedding or just an informal friendly party? In this case, a burrito bar is a real must-have for you.
Burger bar. Burger is not always cheap fast food. Show your guests what real delicious burgers are like: let them refresh themselves throughout the day with fragrant buns with juicy meat, fresh vegetables and sauces. nine0081
Donut tower. The original way of serving dessert is a tower built of donuts. During the evening, guests can take donuts from it, the main thing is that the tower does not fall apart ahead of time!
Wedding cookies. Treat guests to custom-made cookies or gingerbread with your initials and the date of the celebration.
Fresh popcorn. Rent a popcorn machine and not a single guest will be able to pass by.
Drinks
Whiskey bar. This idea will surely be appreciated by your male guests. Prepare a collection of the best whiskeys, ice and soda. nine0002
Prosecco bar. The only thing better than Prosecco is a whole bar of Prosecco!
Mimosa bar. An original bar with cocktails based on sparkling wines with the addition of freshly squeezed juices, syrups and fruits. The best part is that guests can make their own cocktail to their liking.
Tea drinking. Traditional tea drinking can also become an interesting performance: Japanese, Chinese, or maybe Turkish?
Coffee house. Do you have coffee drinkers among your guests? Then they will definitely like a small stationary or mobile coffee shop (depending on the size and format of the site), where a professional barista will prepare the best coffee for them. nine0081
Gin bar. This variation of the alcohol bar is a trendy trend in the USA. And no wonder!
Champagne on wheels. A vintage van, a horse and carriage, fancy carts - if you are planning a large-scale outdoor celebration, all these methods of delivering champagne to guests will be especially effective and relevant. The main thing is to provide containers with ice so that the bottles are well cooled.

Vodka Luge. A popular format for serving vodka and other strong alcohol in the West is an ice sculpture from which a drink is poured. nine0081
Champagne Tower. It can be of different sizes: from very compact to giant, but it will look great. And how many emotions the guests will experience while the sparkling wine will spread over the glasses like a waterfall!
Wine tasting. Don't know which wines your guests will prefer? Then arrange a tasting right at the welcome buffet or festive banquet.
Music
Harper. Perhaps the harp is one of the most romantic instruments of all time, and it is ideal for ceremonies and sophisticated buffets. nine0081
String quartet. The classic version of the musical accompaniment of the ceremony, which in any case will not disappoint.
Jazz band. The best choice for lovers of informal atmosphere and weddings in retro style. Jazz will be appropriate both at the ceremony and during the gala dinner.
Opera singers. Another version of musical accompaniment for lovers of high art.
Drummers. If you want to add fun rhythms to your celebration, drummers will come in handy. nine0081
Favorite musical group. Your favorite band's performance will be the bomb of your wedding night. If it is not possible to call these particular musicians, invite a cover band that will perform the best hits of your idols.