How to make a dance skirt
This DIY Chiffon Ballet Skirt is On Pointe
Browse popular categories
Most recently posted
Reading Time: 5 minutes
Edited: May 17, 2022
28 Comments
Our newest fabric, Chiffon, is making its center stage DIY debut today with the help of longtime blog contributor and talented designer, Ceri Staziker (aka Cerigwen). This blousy and ultra-sheer fabric is a dream for projects that require a material with a light touch and beautiful drape. Today, follow along as Ceri shows how to sew this gorgeous ballet wrap skirt in our new Chiffon using her free PDF pattern. For Ceri's daughter (and maybe even you!), when it's time to hit the dance floor, she'll be twirling in style thanks to her custom Chiffon ballet wrap skirt for under $25.
Ceri : This is a free pattern and tutorial to sew an easy ballet wrap skirt — the perfect project to try out Spoonflower's new Chiffon.
I found the fabric to be beautifully sheer yet surprisingly strong and smooth — essential qualities for a skirt that will be put through its paces in the dance studio. Choose a design from Spoonflower's enormous selection in the Marketplace or create your own design, and get it printed onto a yard of chiffon to create a totally unique ballet skirt.
Our newest fabric is on pointe for a DIY ballet wrap skirt
My downloadable pattern fits waist sizes approximately 24–28 inches, but you could easily hack the pattern to fit a narrower or wider waist.
Materials
1 yard of chiffon (I'm using Ditsy Flora and Fauna by…me!)
2.5 yards of satin bias binding
Sewing machine
Rolled hem foot (optional)
Print out and tape together your PDF wrap skirt pattern
Instructions:
1. Print out the downloadable PDF pattern pieces and stick them together with tape. For a Letter size PDF click here. For an A4 size PDF click here.
2. Cut out the skirt from the chiffon fabric.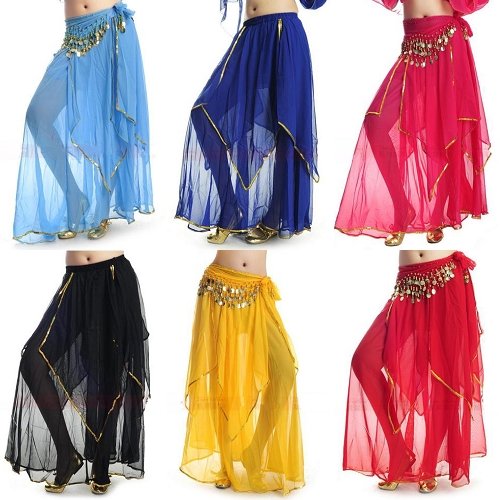 3. You are going to sew a hem along the longest edge. With fine fabrics like chiffon, one of the neatest way to do this is with a rolled hem. A rolled hem is a very narrow double-folded hem. Many sewing machines have a special foot which will sew a rolled hem for you, but if you don't have one, Youtube is a great resource for tutorials on how to sew one by hand. The hand-sewn method will be more time-consuming but you will get a beautiful result. Alternatively you could serge your hem. Again, Youtube is a great reference if you need guidance for serging with sheer fabrics.
Finger press a narrow double-fold at the start of your fabric
4. I have a rolled hem foot for my sewing machine. Its a little more fiddly to use with sheer fabrics, so its a good idea to practice first on a scrap. Make a narrow double-fold at the starting edge and finger-press it.
Using a rolled hem foot, hem your edges
5. Place the finger-pressed edge under your rolled hem foot and stitch a few stitches to get started.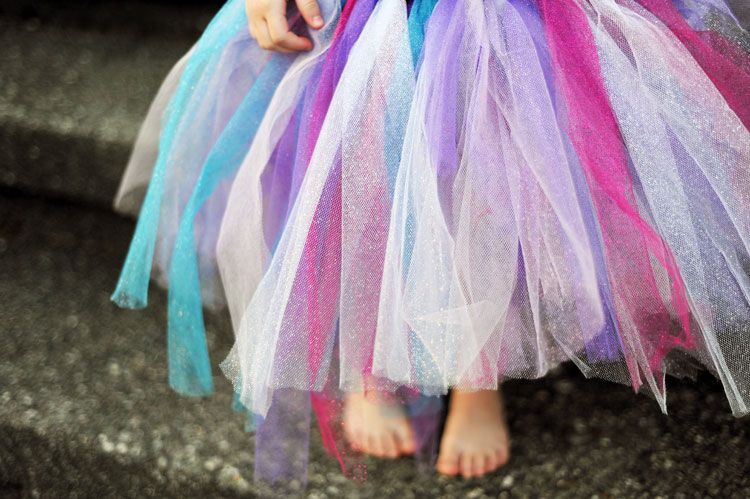 Then hook the edge of the fabric around the curve of the foot and continue stitching. Take it slowly and steadily, guiding the fabric as you go. When you're confident, go ahead and sew the rolled hem on your skirt. It should look like this the photograph below. Press the hem with a warm iron (remembering to protect the chiffon with a cloth). Do not use a hot iron!
6. Next you're going to attach the satin bias binding to the waist edge to create the waistband and ties.
Pin and sew the satin bias binding on the waistband to create a tie
7. Find the centre of the waist edge of the skirt by folding the fabric in half and marking the centre point with a pin. Do the same with the bias binding. Match the centre of the waist with the centre of the binding. With right sides together, starting at the centre point, pin the (unfolded) bias binding to the skirt, working outwards in both directions. The bias binding will extend further than the waist edge as it will eventually form the ties.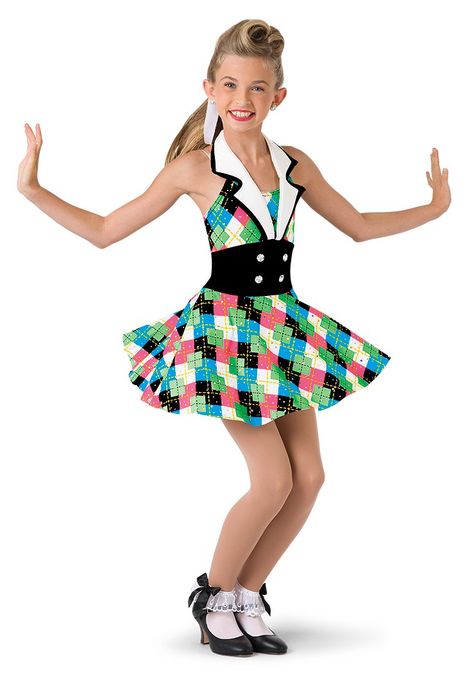 Don't worry about this yet, just pin the binding as far as the edges of the waist. Machine sew along the length of the waist edge, following the top crease in the bias binding, as shown in the photograph above.
8. Using a warm iron (with a protective cloth over the chiffon), press all the seam layers upwards towards the binding as shown above. Then fold over the bias binding to meet the stitched edge of the seam. Tuck in the raw ends of the binding at both extreme ends. Pin or baste to secure.
9. Machine stitch along the entire length of bias binding to enclose the waist seam. You will have automatically created the ties at the same time. See photograph above. Press the finished waistband.
That's it! You've created a beautiful ballet wrap skirt. I'd love to see your interpretation of this pattern, so please share your makes on Instagram with the hashtags #balletwrapskirt and #spoonflower and don't forget to tag @cerigwen and @spoonflower! 
Thanks to my daughter for modeling, and to Ballet Cymru, Newport, South Wales, for allowing me to use their dance studio for the location shots.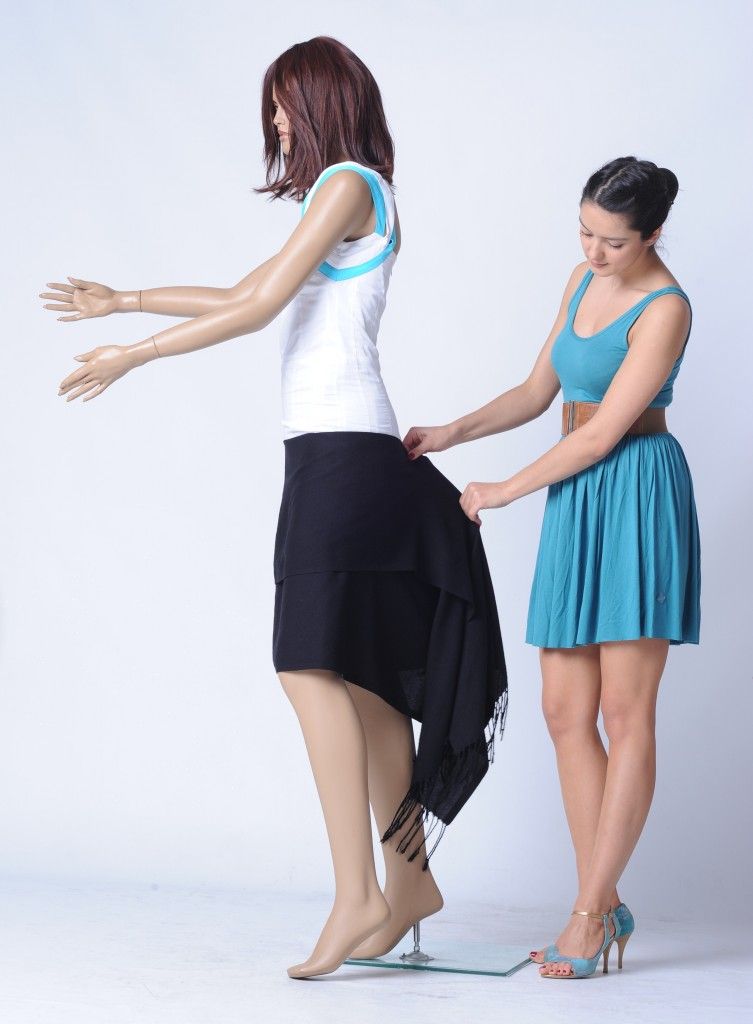 Heading to the beach this summer? Ceri's ballet wrap skirt tutorial can also double as a lightweight beach cover-up! Make your very own version and start exploring the Marketplace today.
---
Ceri Staziker is a freelance graphic designer, working from home in an old cottage in the countryside on the outskirts of Cardiff (the capital city of Wales). I love to photograph my morning walks and sewing projects which she documents on Instagram (@cerigwen). Nothing gives her more pleasure than working with fabrics she's designed herself.
Related Posts
6 Classic Belly Dance Skirts You Can Make (NO SEW & 10 minute skirt included!)
Every belly dancer would love to have a beautiful collection of classic belly dance skirts in her costume wardrobe 🙂
But costume skirts can be quite pricey, and most likely, you have to fix off-the-rack skirts to suit your size as they come in a limited range of sizes.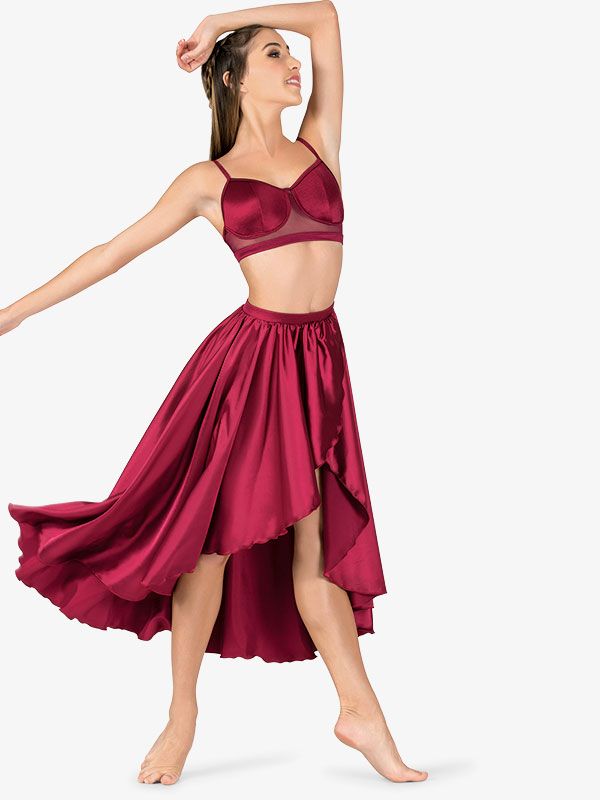 So why not make your own? 😉
If you are new to costume making, you may be wondering, "But isn't making a skirt really difficult? I don't even have a sewing machine!"
No problem! In fact, skirts are quite DIY-able, and some are really straightforward!
So today, I'll share with you 6 classic belly dance skirts (& DIY tutorials) in the order of difficulty 🙂
Build confidence by first making easy ones, then borrow a sewing machine or buy a cheap one, and gradually move up to make advanced designs! Trust me, skirt making is SO fun!
6 Classic Belly Dance Skirts You Can Make!
#1. DIY 10-minute Ruffle Skirt (Sew or no-sew!)
Can you believe the above skirt can be made without sewing!? In 10 minutes!? 🙂
Since I shared this tutorial, I've seen many people try this method, and since it's super beginner-friendly, it's perfect as a troupe costume option!
 

 

 

View this post on Instagram

 

 

Perfect fit skirts with @maomurakami 's great tutorial : 10 minutes ruffles skirt DIY. We looked stunning @sarah_bellydance_france show 🔥 Photography by K. Sonzogni • • • • #bellydanceshow #bellydancecostume #handmadecostume #bellydance_queens #bellydancelife #bellydancelove #bellydancequeens #bellydancersofinstagram #bellydancesuperstars #bellydanceworld #lovebellydance #orientaldance #rakssharki #costumemaking #costuming #handmadebellydancecostume #sparkybelly #fantasycostume #stagecostume

A post shared by Rapunzel (@rapunzelwardrobe) on
I love how the above group used shiny stretch fabric! The skirts and ruffles look amazing under the stage lights!!!
Click here to learn how to make this 10-minute Ruffle Skirt!
#2. DIY Classic Circle Skirt
Once you get your feet wet with the no-sew ruffle skirt, next try a basic circle skirt!
As a belly dancer, you can never have enough circle skirts 😉
This circle skirt has only 2 panels, and yes, it's best if you have access to a sewing machine, but it's a great project to practice your sewing techniques on.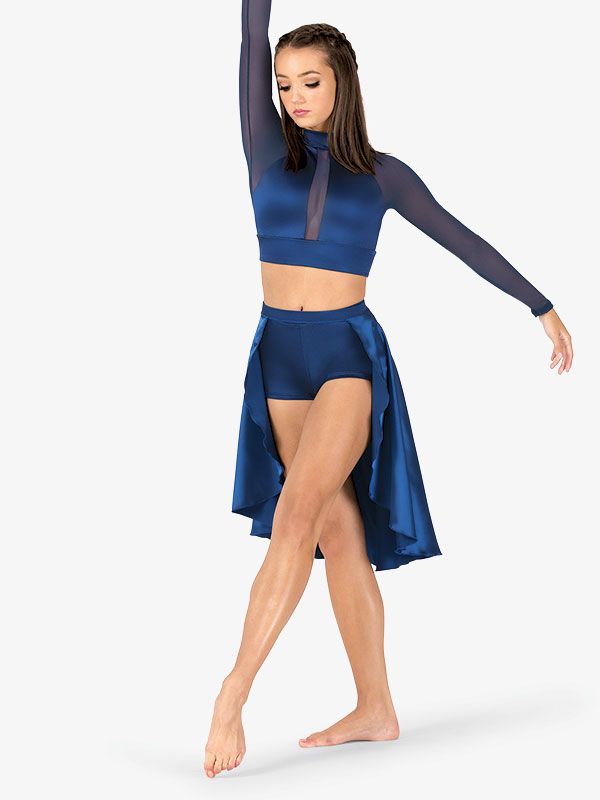 🙂
If you're a beginner, make the first one using inexpensive fabric as a practice. Then move on to using a nicer fabric.
The best part is, you make the pattern once, and you can re-use it over and over to make a circle skirt to fit you each time! 😀
Click here to check out the DIY Circle Skirt tutorial!
#3. DIY Double-Layer 3-Panel Circle Skirt
If you want a bigger, fuller circle skirt that professional dancers wear, try this 3-panel circle skirt. This skirt consists of 3 panels, AND 2 layers.
Because you get to choose 2 colors for the 2 layers, and because I designed this skirt to be REVERSIBLE (who doesn't want to get more out of 1 skirt? 😉 ), there are so many ways you can enjoy this skirt!
Have a look at this video:
Super fun, right? Which style is your favorite? 🙂
Click here to see how to make this double-layer 3 panel circle skirt!
#4.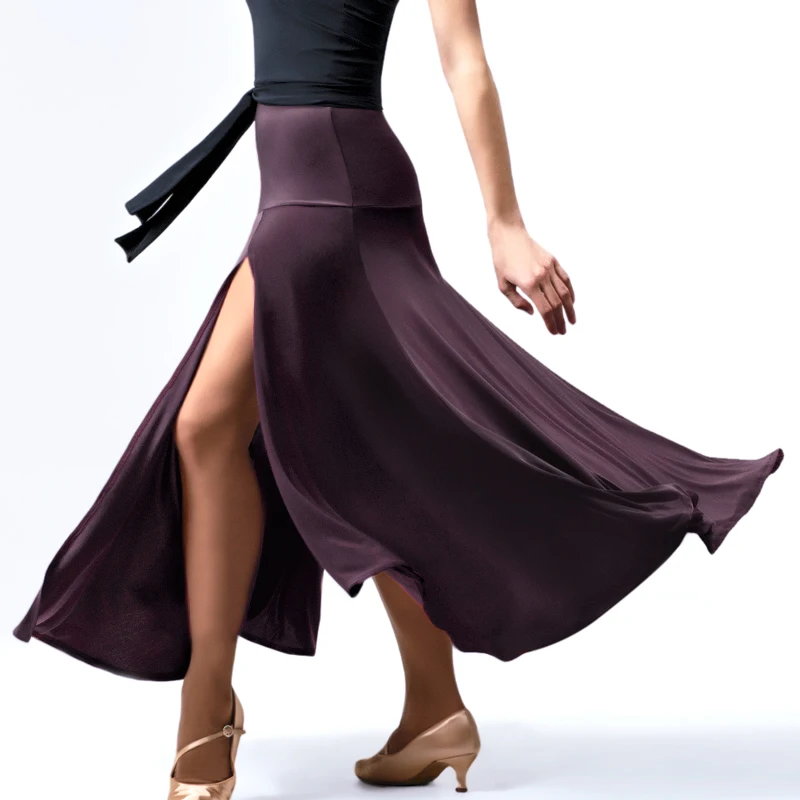 Mermaid Skirt
Once you're getting familiar with sewing, it's time to try making a mermaid skirt!
I design all my mermaid skirts with the hourglass silhouette in mind, and this 5-panel mermaid skirt is no exception! It looks really great on every dancer because it's made to their measurements!
This mermaid skirt has been so popular, and I've created a 5-day Challenge where you can make this skirt in 5 days! Here are just a few examples of the lovely dancers / costumers who participated:
 

 

 

View this post on Instagram

 

 

A huge shout out to Viktorija (from Albania) who created this gorgeous velvet mermaid skirt for her sister using the Sparkly Belly 5-Day Mermaid Skirt Challenge. She did this with no sewing skills which proves you can take on this challenge as a total beginner without fear or intimidation. Prove to yourself that you too can create your own gorgeous mermaid skirt.⠀ ⠀ Do you want to dive into the FREE Mermaid Skirt Challenge too? You can by clicking the 3rd link in my bio. ⠀ .⠀ .⠀ .⠀ .⠀ .⠀ #bellydancecostumes #bellydancecostume #bellydancedesign #dancecostume #dancecostumes #applique #bellydancedress #beadedapplique #rhinestone #customdancecostumes #bellydancelife #bellydanceworld #bellydanceshow #bellydanceclass #bellydancestars #bellydancersofinstagram #bellydancers #raqs #raqssharki #raqssharqi #dressmaker #dressmakers #seamstresslife #behindtheseams #ベリーダンス #肚皮舞 #ベリーダンス衣装 #ベリーダンサー #舞台衣装

A post shared by Mao Murakami | SPARKLY BELLY (@maomurakami) on
 

 

 

View this post on Instagram

 

 

Sparkly Belly community member, @CarolPlaquin, created this velvet mermaid skirt and we all know that velvet offers its own set of challenges 🙂 I love it and I love the color and the matching bra is perfection. Great Job Girl!!!!⠀ .⠀ .⠀ .⠀ .⠀ .⠀ #costumemaking #bellydancecostumes #bellydancecostume #bellydancedesign #dancecostume #dancecostumes #ballroomdress #latindress #promdresses #applique #bellydancedress #beadedapplique #rhinestone #customdancecostumes #customdancecostume #bellydancelife #bellydanceworld #bellydanceshow #bellydanceclass #bellydancestars #ballroomdance #figureskate #bellydancersofinstagram #bellydancers #orientaldance #orientaldancer #raqs #raqssharki #raqssharqi

A post shared by Mao Murakami | SPARKLY BELLY (@maomurakami) on
 

 

 

View this post on Instagram

 

 

@TammySpurgeon took the 5-day mermaid skirt challenge and here is what she had to say about it, "The skirt had come out beautifully!…I've always been afraid of a skirt like this since I am not the best 'shape' but it was the most comfortable and beautiful fit and a confidence builder the way it flowed. "⠀ ⠀ Join the FREE challenge yourself and create your own mermaid skirt by clicking the link in my bio.⠀ .⠀ .⠀ .⠀ .⠀ #bellydancecostumes #bellydancecostume #bellydancedesign #ballroomdress #latindress #promdresses #applique⠀ #bellydancedress #rhinestone #customdancecostumes #customdancecostume⠀ #bellydancelife #bellydanceworld #bellydanceshow #bellydanceclass #bellydancestars #ballroomdance #figureskate #bellydancersofinstagram #bellydancers #orientaldance #orientaldancer #raqs #raqssharki #raqssharqi #ベリーダンス #肚皮舞 #ベリーダンス衣装 #ベリーダンサー

A post shared by Mao Murakami | SPARKLY BELLY (@maomurakami) on
It starts every Monday, so if you're curious, go have a look & join us below!
Click here to check out the 5-Day Mermaid Skirt Challenge!
#5. Aurora Convertible Skirt
Wouldn't it be nice if you can get more than 1 look out of 1 skirt!?
This Aurora Convertible Skirt makes your wish come true! 🙂
You get 3+ looks in this Aurora Convertible Skirt with the DETACHABLE side swags and tail!!! The base skirt is a gorgeous mermaid-ish skirt with a huge godet that flares amazingly as you twirl… and with the detachable parts, you can switch up the looks as you please!
It's my paid course, so the how-to is not free.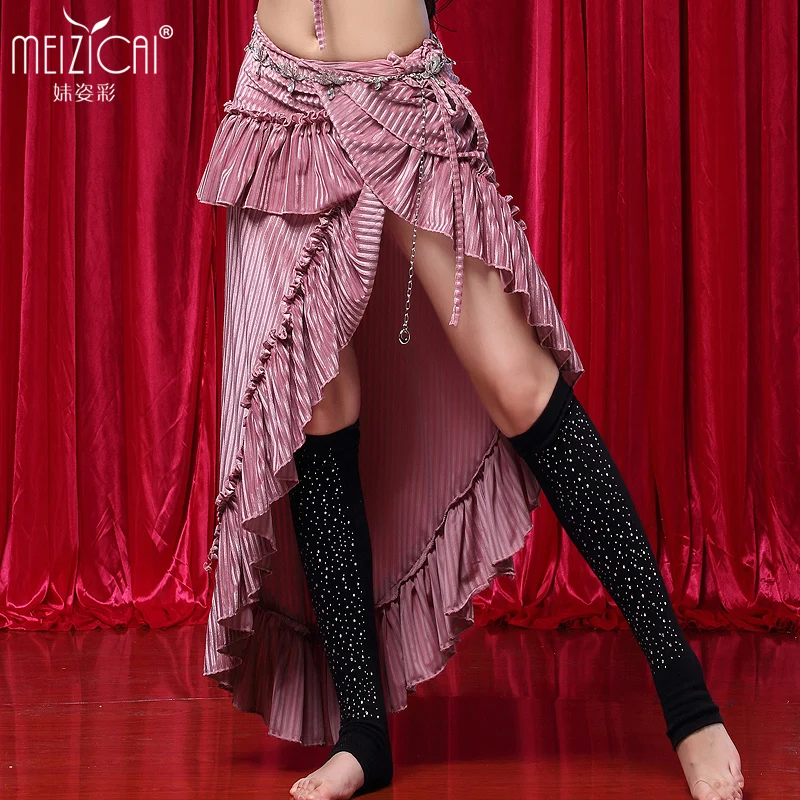 But what you get in this course is not even comparable to free tutorials!
Just to give you one example, you get 32 skirt design options – you'll never run out of skirt ideas! 🙂 The below skirt is also from this course (Check out the perfect cut-out!):
Click here to learn how to make the Aurora Convertible Skirt!
#6. DIY 25-yard Skirt
If you've been studying belly dancing for a while, sooner or later you'll want one of these, amazingly fluffy, dreamy 25-yard tiered skirts!
Even though I've placed this one at the end of the list, it's actually NOT difficult to make. If I ONLY consider the level of difficulty, I should place this right after the no-sew skirt.
But this one takes patience!
Don't get me wrong, I LOVE this 25-yard skirt. In fact, I revised my design so many times so that my version requires MUCH less time to make! But it IS a genuine 25-yard skirt. There IS a lot of fabric.
But if you're up for the challenge, and if you'd LOVE to have this skirt, go for it!!! I've seen many dancers in Sparkly Belly's Facebook group try this skirt with AMAZING results! 😀 😀
 

 

 

View this post on Instagram

 

 

I absolutely love what @violetmemories has done with her 25 yards of fabric….it has sooo much movement and grace. I can't believe this is your first time sewing anything and I can't wait to see what you do next!⠀ .⠀ .⠀ .⠀ .⠀ #costumemaking #bellydancecostumes #bellydancecostume #bellydancedesign #dancecostume #dancecostumes #ballroomdress #latindress #promdresses #applique ⠀ #bellydancedress #beadedapplique #rhinestone #customdancecostumes #customdancecostume⠀ #bellydancelife #bellydanceworld #bellydanceshow #bellydanceclass #bellydancestars #ballroomdance #figureskate #bellydancersofinstagram #bellydancers #orientaldance #orientaldancer #raqs #raqssharki #raqssharqi

A post shared by Mao Murakami | SPARKLY BELLY (@maomurakami) on
Isn't it dreamy looking!? This is a really great skirt to dance in 🙂
Click here to check out the 25-yard skirt tutorial!
So which ones are you going to make? 🙂
I think these are really classic skirt styles that can be customized in any way you like!
The best part of all these skirts is that you can make them to YOUR SIZE, which is super important to me! There's nothing more uncomfortable than performing in a skirt that's way too long, which makes you worry you may trip and fall every second….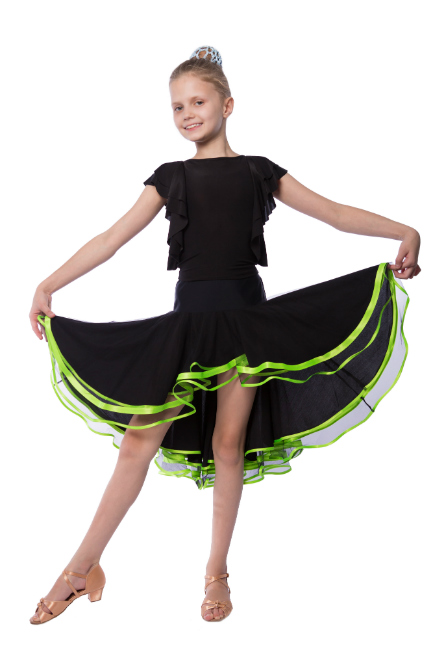 or in a skirt that's way too short, which makes you worry that you look like you're in a "borrowed" costume or your audience may be able to see a bit too much through the slit!
Hope you liked this list of 6 DIY classic belly dance skirts, and if you did, please share it with your belly dancer friends! Maybe try the no-sew ruffle skirt for your next troupe performance? 😉
And if you want to start making more costuming bits, let me introduce you to the world of belly dance costume making in my free course, Belly Dance Costume Making 101! Thousands of dancers have taken this free course, and I often hear from those who're excited to start creating!
Click here to check out the free course!
Thanks for reading, and keep sparkling! 😉
P.S. Pin this image for your next project!
Like what you read? Want to make more costuming bits yourself?
Sign up for my newsletter here and get my free email course, Belly Dance Costume Making 101!
7 versions, photo, video mk
By right, ballroom dance outfits are considered to be the most beautiful.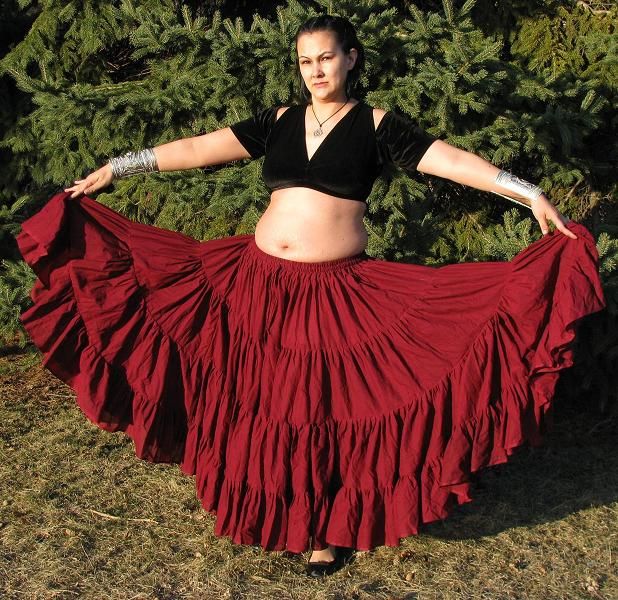 They are elegant and effective at the same time. In this article, we will look at skirts for Latin American dances. The elastic materials of which these skirts are made do not hinder movements, providing maximum comfort. For many of them, there is no strict dress code, but certain nuances should still be taken into account when choosing. The most rational solution would be to sew a Latin skirt with your own hands. Moreover, the pattern of latin dance skirts is quite simple, their tailoring does not require much seamstress experience. 9Ol000 dance latina
3 How to sew a skirt for latina: video tutorial
4 Skirt with frill with pointed corners
5 Latin ballroom dance dress: video MK
6 Asymmetric skirt
6.1 How to make a pattern
Requirements for the dance skirt model
On the contrary, its cut should provide freedom, convenience.
Latina must not be sewn too short or too long.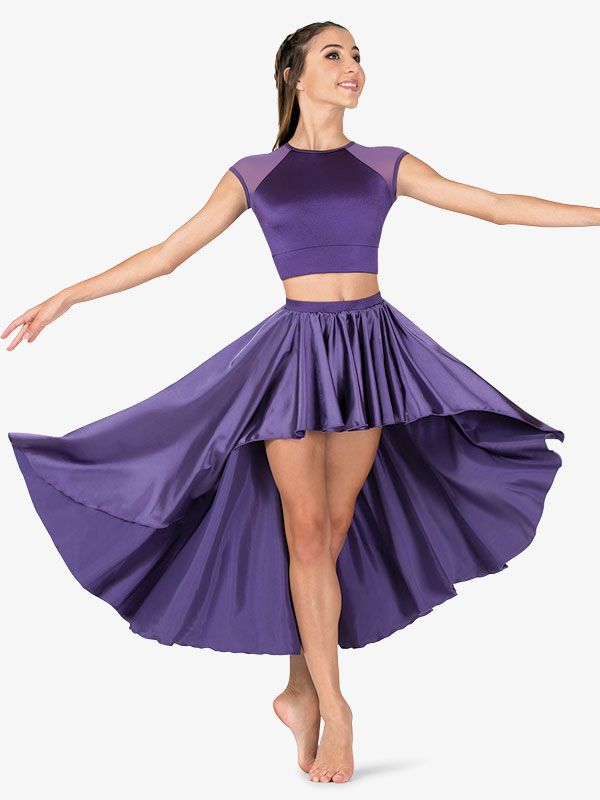 Also, do not sew too narrow a skirt.
The latina skirt features side slits, frill trim and an asymmetrical hem. Dance movements are emphasized by the lightness and softness of the fabric, the top hugs the figure.
Another point that requires obligatory attention is that the skirt should not be too frank, compromising the girl. During the dance, the outfit is obliged to expose only what is expected and nothing more. The right cut should emphasize a beautiful silhouette, movement, be the key to a comfortable feeling from the dance.
And, of course, you and your partner should like the dance outfit. You should feel confident, sexy, attractive.
Latin skirt types
Fringe
Such dresses and skirts are made short, fully embroidered with long fringes.
With any turns in the dance, the fringe moves, emphasizing your movements, making them more spectacular. The amplitude of movements increases due to the fluctuation of the fringe.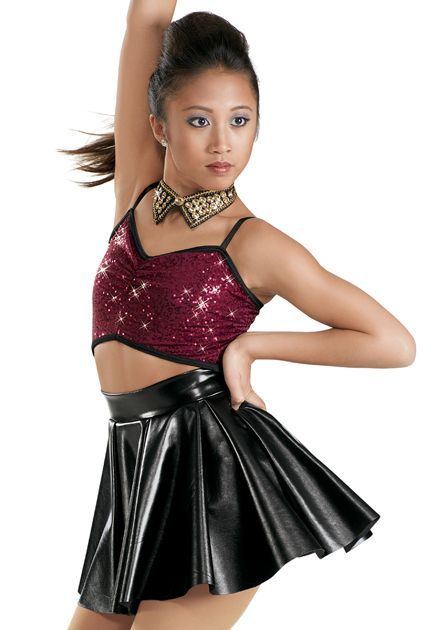 If that's what you're after, then this model is for you.
Of the minuses of this choice is a rather time-consuming sewing process.
Ruffles
Skirts with ruffles emphasize femininity and sensuality. Rows of flounces begin at the hips. Like fringes, frills increase the range of motion of the body. Such models are recommended to choose girls with slender knees. If there is excessive fullness of the legs to the middle of the thigh - it's not scary, the shuttlecocks will hide it. For very thin girls, outfits with frills should not be sewn, they will only emphasize thinness.
Skirts with frills are usually made of satin or silk, which shimmer beautifully when the lighting changes.
Island style
The skirt is made with a fit on the hips. It can be with a smell, from flaps, with flounces.
This cut requires perfect tummy condition. Skirts are sewn short, with round cut lines. Even for thin girls, such models are acceptable, they will make the figure very feminine.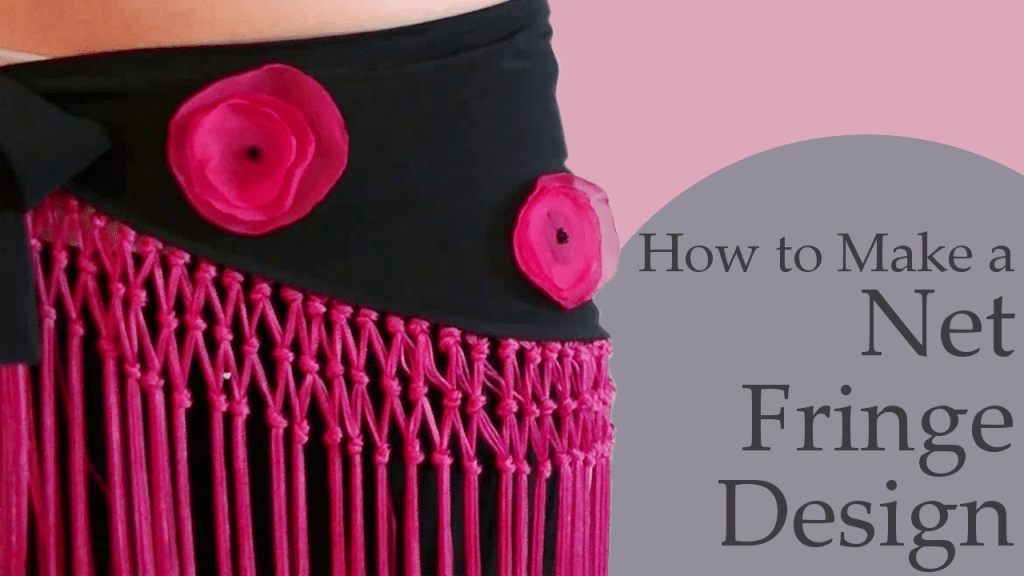 Asymmetrical hem
A win-win option if you need to hide the upper part of the legs. The execution option can be very different - according to your desire.
Retro
This skirt is made for jive. This dance to the good old rock and roll requires a retro outfit. We sew a fluffy skirt knee-length. We choose bright fabrics, the material in peas looks great in this version.
How to make latin dance skirt patterns
Having decided on the style of the skirt, you can start making a pattern with your own hands.
It can be based on a straight skirt pattern. The photo below shows an example of such a simulation.
We measure the desired length on the pattern, draw a bottom line at an angle. We decorate the panels of the skirt with a fringe. The number of tiers of fringe on the skirt is determined as you wish.
To cut an asymmetrical skirt, measure the waist circumference. This measurement will determine the diameter of the circumference of the skirt pattern.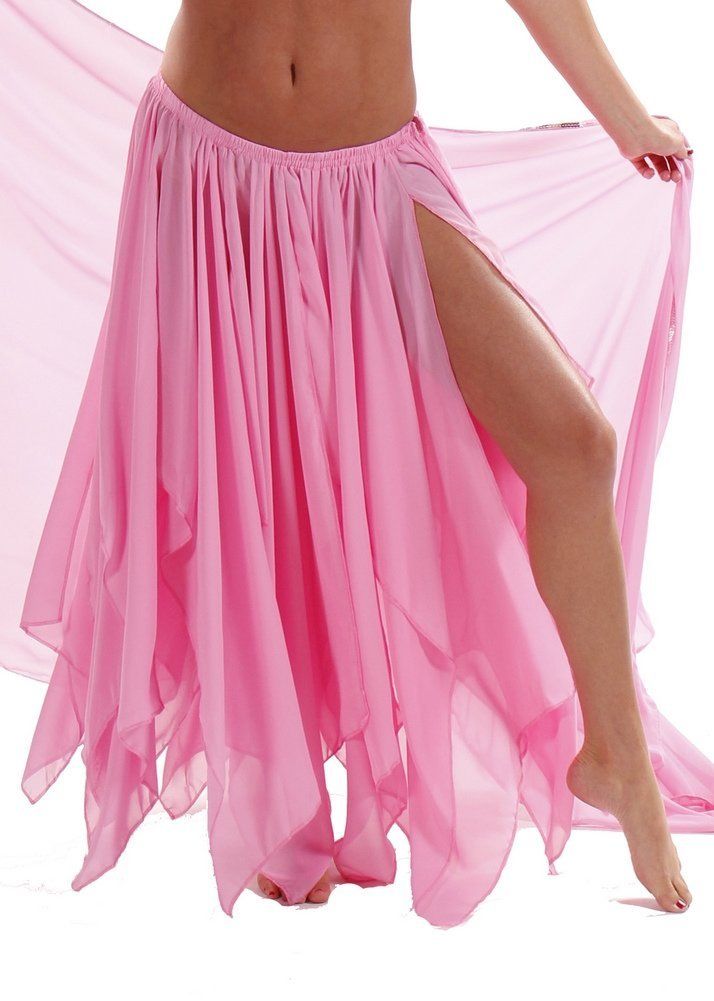 We process the upper edge with a turning, turning into ties. Overcast the bottom, tuck and sew.
To cut a spectacular shuttlecock, use the pattern in the photo below.
The length of the frill stitching line is determined by measuring the length of the lower cut of the skirt. We mark the lines of cuts on the shuttlecock, cut and push the pattern to the desired size. We make out the lower edge of the shuttlecock with a smooth line.
Another asymmetrical cut is shown in the following drawing. Such a skirt can be made both with a fit at the waist and with a fit at the hips. In the first case, to determine the smaller radius, we use the OT measurement, in the second - OB.
Latin skirts are often sewn with built-in bottoms. It is comfortable, practical and beautiful. A pattern of such swimming trunks - see below.
Distance Т1Т3 = ТТ2 = 1⁄2 OT, and BB2 = B1B3 = 1⁄2 OB.
How to sew a latin skirt: video tutorial
Skirt with frill with pointed corners
for the upper part and 0.7 m for the shuttlecock;
elastic band to match the color of the fabric - width 2 cm, length 1 m;
thread, sewing tool.
How to sew a skirt
We mark the fabric according to the proposed drawing. The constructions on it are made on a scale of one to ten, that is, one cell is equal to 5 cm.
Two equal upper rectangles are the upper details of the skirt. Their height is 30 cm, length - 1⁄2 OB + 4 cm.
The two lower large squares are patterns of the shuttlecock. The sides of the squares are 0.7 m.
Cut out the upper parts of the skirt, put them together, fold in half. This is done to ensure absolute equality and symmetry of the parts. We draw the upper and lower sections with smooth lines, draw a line of the side cut.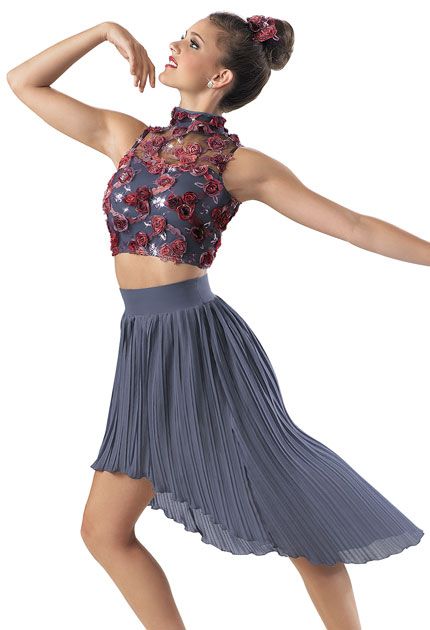 We cut along the drawn lines, unfold, getting two absolutely identical parts.
The sequentially described technology is shown in the following photo.
We sweep the upper details of the skirt along the side seams, leaving an allowance of 1 cm. We carry out the fitting, if necessary, adjust the position of the side seams. The volume at the waist should be such that the skirt can be easily removed over the head. We sew the side seams, we process the sections with an overlock.
On the pattern of the square in the center, draw a small square with a side of 12 cm. Connect the corners with a straight line, as shown in the figure.
Cut along the drawn line. Using this pattern, we cut out two parts of the shuttlecock.
We tuck inside the fold, forming the shape of a shuttlecock.
We fasten the frill to the front panel of the skirt. We start from the center and sew in the direction of the side seam, first in one direction, then in the other direction.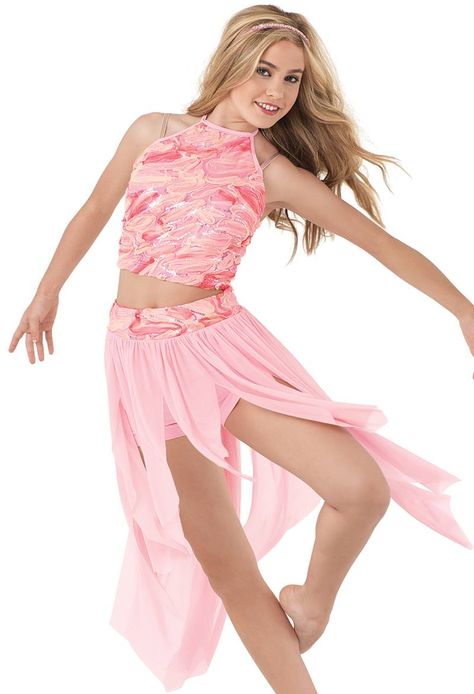 Similarly, we sew the second frill on the back panel of the skirt. If necessary, at this stage, you can adjust the length of the skirt by changing the level of the seam for attaching the frill.
We sew the shuttlecock along the side seams. On its lower edge, we carry out two folds of 5 mm each and sew.
We determine the desired length of elastic by trying on. We add 15 mm to it for grinding. Sew the elastic into a ring.
On the top edge of the skirt, make a 5 mm hem and secure with a basting stitch. On the elastic we outline the lines of the side seams, the centers of the front and back. We chop off an elastic band with a skirt at these points. We take the elastic band, stretching it between the fixation points. We carry out a machine line.
The skirt is ready.
Next, let's take a step-by-step look at how to sew an asymmetrical skirt with frills using the example of a children's skirt. All technological steps are absolutely identical to tailoring a skirt model for adults.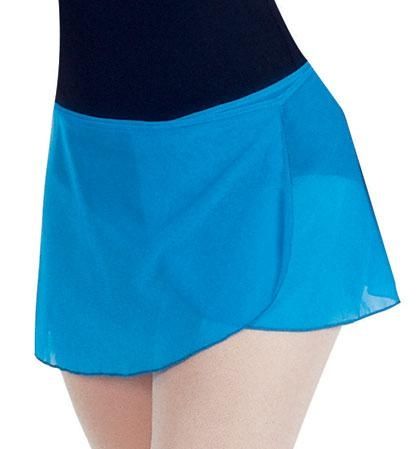 Latin ballroom dance dress: video MK
Asymmetric skirt
To sew the product, you need to prepare:
bias trim in fabric color;
narrow elastic;
threads, sewing accessories.
How to make a pattern
We need measurements:
waist circumference - OT;
length from waist to knee;
length from waist to floor.
The smaller radius R is determined by the formula R = FROM : 2.
We consider the average length as half the sum of the minimum and maximum lengths.
Two intermediate lengths D1 and D2 are defined as the average of neighboring lengths.
Accordingly, D1 = 1⁄2 (length to the knee + average length), D2 = 1⁄2 (average length + floor length).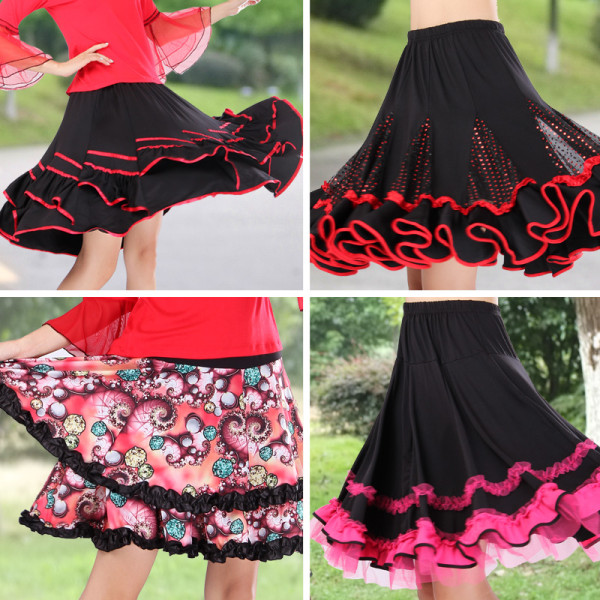 Put on paper all calculated lengths as shown in the drawing. We connect the extreme points of the curved curve, making out the bottom line.
Fold the fabric in half, place the template along the fold line. Outline with a small outline.
We fix with pins so that the layers of material do not move.
Cut out the panel, leaving an allowance of 5 mm.
Prepare bias binding.
We fill skirt sections into it.
We try to get a neat edge.
Sew along the edge of the inlay.
We process the upper cut in the same way.
We determine the desired length of the elastic by trying on. We add 15 mm to it for grinding.
Sew the elastic into a ring.
On the elastic we outline the lines of the side seams, the middle of the front and back. We chip off an elastic band with a skirt in these places. We take the elastic band, stretching it between the fixation points.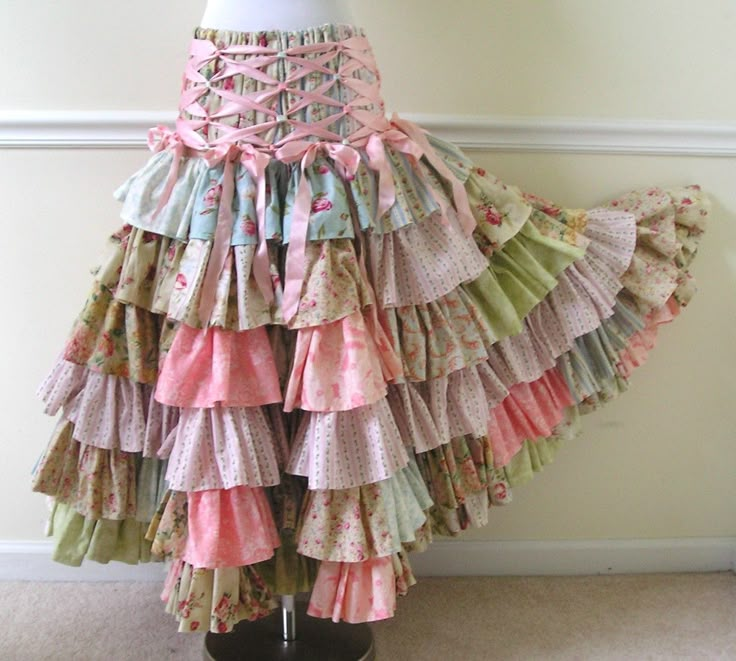 Perform machine stitching.
Cut out strips for the frill from the contrasting fabric. The width of the frills is 10 cm. In our master class, the skirt is made with two frills - blue and yellow. For each we grind a long workpiece.
Overcast one section of frills with a zigzag stitch or overlock.
Finish the second cut with bias binding.
We adjust the lower frill to the edge of the panel.
Put the top frill on the skirt inside out, turning it to the waist line. We attach. We turn and iron.
The skirt is ready!
Dance skirts and their features. Skirt for Latina How to sew a skirt for dancing
When a girl starts to dance, an important point for parents is the choice of a dance skirt. The same models cannot be applied to different types of dance art. Therefore, the requirements must be respected, and, moreover, fully match the taste of your child.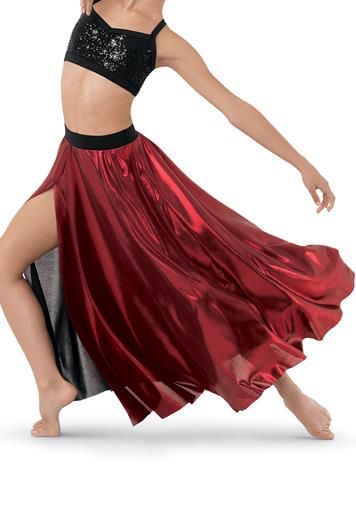 Then the young dancer will feel stylish and beautiful, and she will want to dance.
We will focus on ballroom dance skirts. By right, dresses and skirts for ballroom dancing are among the most elegant, they are elegant and spectacular at the same time. The elastic materials of which the skirts are made do not restrict movement and provide maximum comfort.
The jury of ballroom dancing competitions pays attention to the costumes of the dancers along with their level of training. Young couples look great on the floor if they follow the standards. There are two age groups: children under 9years and children 10-11 years old. For the second of them, two additional Latin American dances are introduced - rumba and tango.
Requirements for ballroom dance skirts
Maximum modesty attire. It should not give the impression of being too frank and similar to underwear.
Properly observe the style of the dance, without overdoing it with decorations in the form of decor, frills and pleats.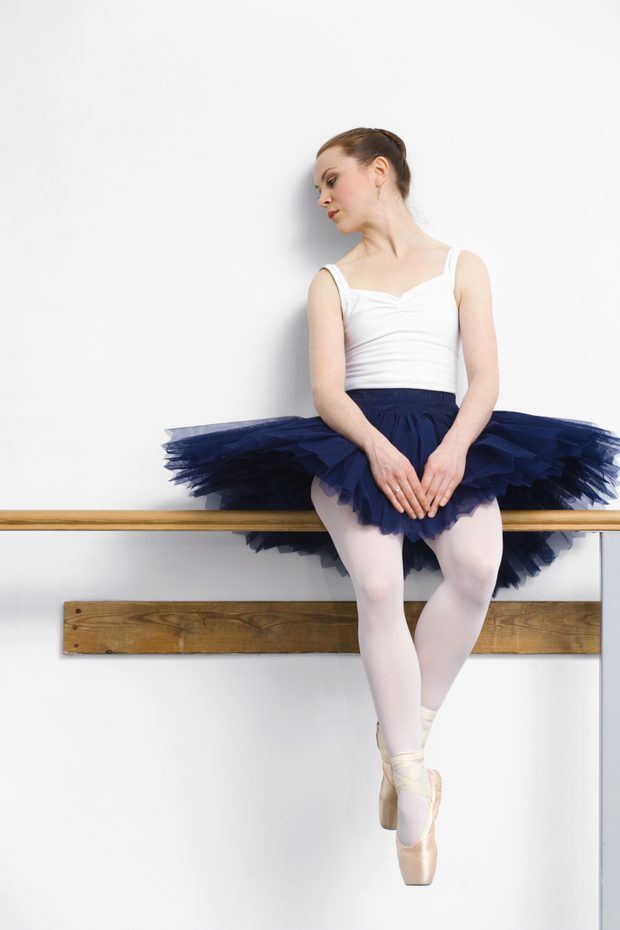 The spectacular effect is achieved by creating an image, not bright clothes.
It is allowed to combine textures of fabrics, combining silk, velvet, tulle and other thin translucent fabrics in style. The main requirement is the uniformity of the outfit.
Older group dancers may perform in costumes of adult participants, this does not apply to toddlers. This age group requires special attention in choosing a colorful and concise costume.
Varieties of ball skirts
Training
Comfortable training set - leotard and skirt made of soft and transparent fabric. The cutout at the front and roll-out at the back help your skin breathe during your workout. The skirt is usually short, "tutu" or "sun" style. Long training skirts are less common.
Choreography lessons, as part of preparation for performing on stage, are best done in such a skirt, combined with a leotard.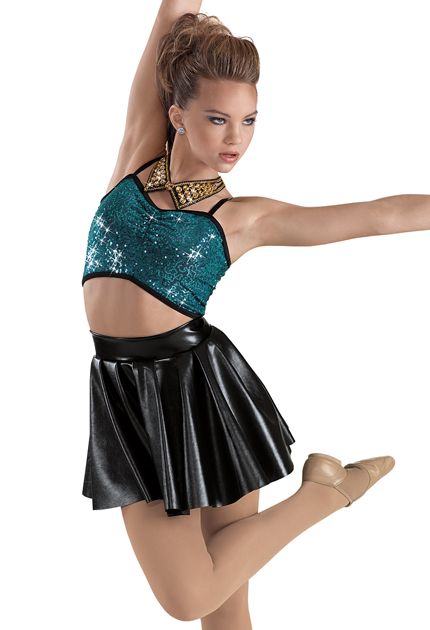 The fabric for the swimsuit is cotton, with a few percent elastane or polyester.
Latin skirt
This is part of the costume for the Latin program. Latin American dances require quick turns and graceful steps. Therefore, skirts for them are sewn of medium length, not covering the knee. Fabrics are chosen from a range of bright colors, with sequins, sequins and rhinestones. The nature of dances such as "cha-cha-cha" or samba gives a showiness along with.
The latina skirt features side slits, flounced trim and an asymmetrical hem. The movements are emphasized by the lightness and softness of the fabric, the upper hugs the figure.
Standard skirt
It is customary for the youngest participants to perform the standard program, which includes Viennese and slow waltzes, in a flowing skirt of a gentle silhouette.
Long ones are made in such styles as year and sun. Plain puffy skirts with light trim look beautiful.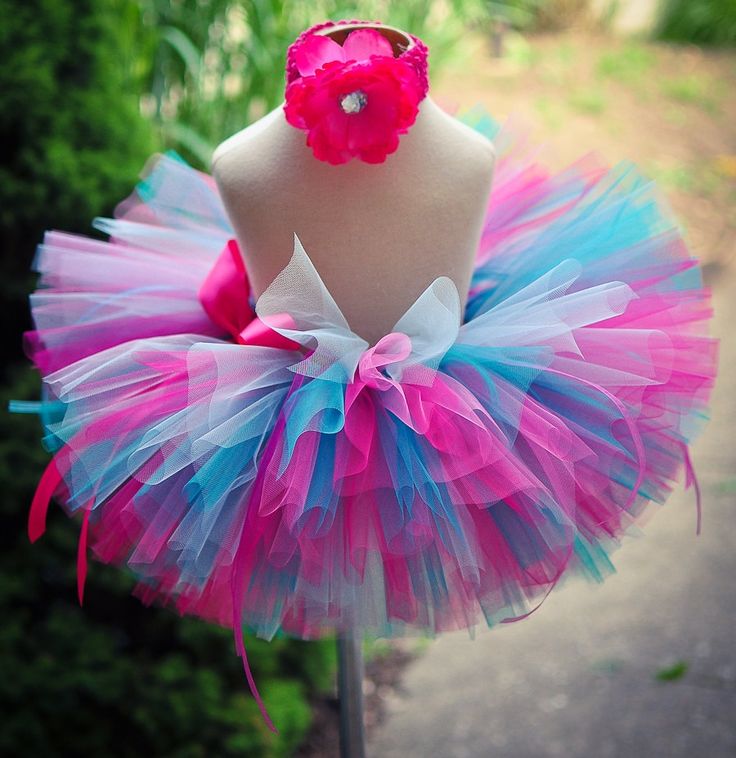 For comfort in turns, side wedges are sewn into narrower styles.
For ballroom dancing
There are two of them among six or eight obligatory ones: quickstep and jive. Dances are characterized by fast movements and complex rhythms.
A sports skirt should not only decorate a girl during a performance, but also not interfere with dancing. Therefore, single-layer and puffy models with a half-sun cut and wider styles are assembled on an elastic band at the waist.
In this article we will briefly look at how to sew a skirt for oriental, ballroom and flamenco dances. Let's take a closer look at the last option. First, some general recommendations. For flamenco dancing, the basis of the obka pattern is a wide cut that emphasizes the hips, and, of course, the skirt should be long. However, for beginner dancers, the length can be made up to mid-calf. Anything longer and more complex will be needed later.
Flamenco skirts can be sewn in several ways.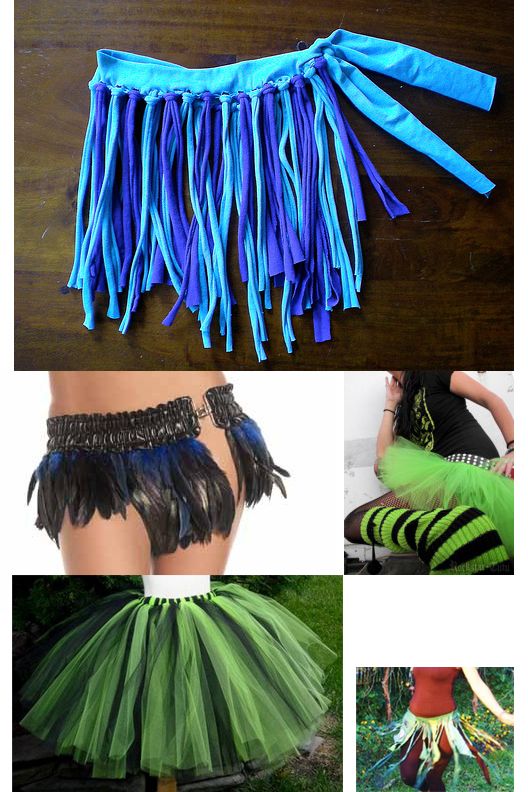 For example, typed with frills. Perhaps this is the simplest and most uncomplicated cut. This skirt is assembled from various strips of fabric, the width of which is approximately 18-20 cm. For the belt, you can take the main material of the product or knitwear. How will it be more convenient for you. The basic principle of this skirt is that the length after the belt or yoke will be 1.5 times the waist circumference. Each subsequent pattern is sewn according to the principle of the previous one. Approximately this product takes 2-3 meters of fabric (with a width of 1.5 meters) without any additional details.
Next, let's look at how to sew a skirt for. It is necessary to cut out from a dense, preferably the basis for a belt, approximately 15-17 cm wide. Cut a satin belt of the same size. Embroider it with multi-colored beads in any pattern of your choice. Remember that the belt cannot be too narrow, it should tightly but evenly cover the hips. It also cannot be too wide so as not to cover the stomach.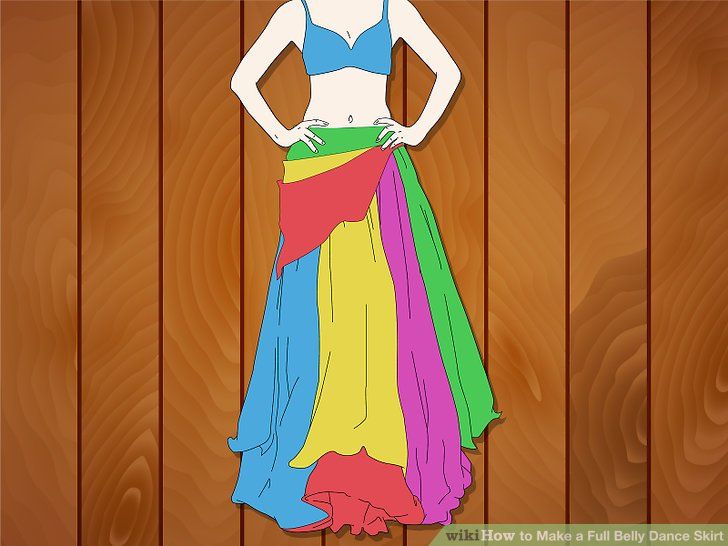 To do this, take a measuring tape, measure the waist circumference. We add plus 1 cm to the belt. From chiffon and satin fabric, cut out 2 parts for our sun skirt, the length of which should be 16 cm below the knee. Then we connect the chiffon and satin details, sew them together (chiffon inside out and satin with the front side). The seams will be inward. We sew a fringe to the edges of our product and in the right places we make 2 cuts to the middle of the thigh. This skirt has a certain style. The fabric, as you already understood, is selected in two types, and the belt is necessarily hemmed onto a dense base.
Finally, let's look at how to sew a ballroom dance skirt. To do this, you will need a pattern, a sewing machine and accessories. In terms of cut, this skirt is somewhat similar to a flamenco skirt. Only here it consists of several layers. For the bottom layer, it is better to choose opaque fabrics, and for the top, on the contrary, lighter and airier ones.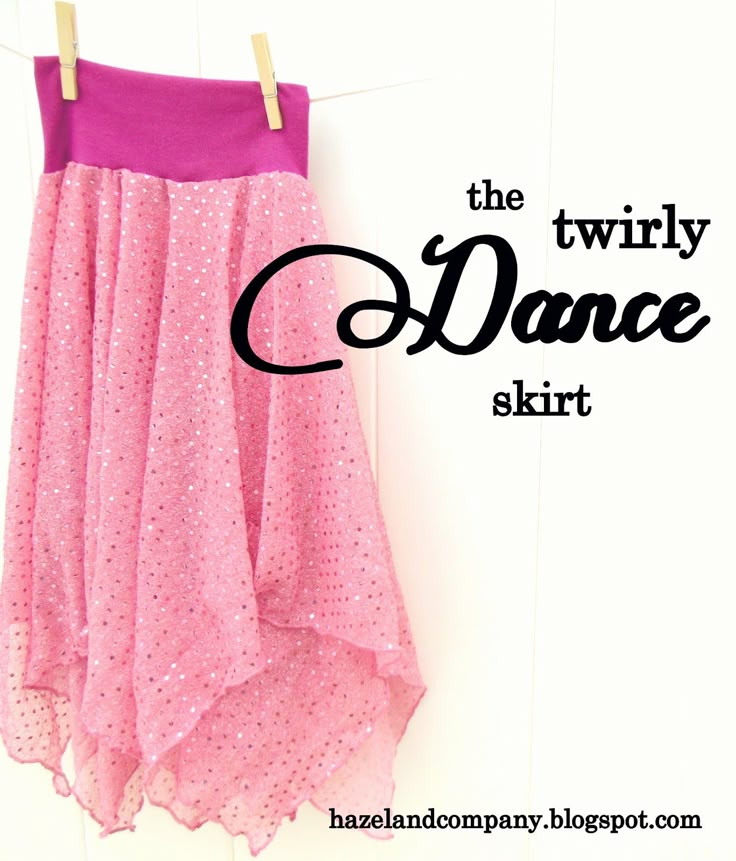 You will need to take two measurements: the circumference of the hips and the length of the skirt itself. We cut the lower satin part very simply. Cut out a circle with a hole in the middle. The formulas for calculating the radius of a skirt look like this:

R=S*thigh circumference (lower)
R=S2*thigh circumference (upper)
Where: S is a constant factor which is S=0.1593 and S2=0.0797.
Cut two suns together. In this case, the fabric should be folded in 4 layers. The cut parts should not be moved, just carefully fasten them with pins. You will get a skirt in two layers.
We have seen only some of the ways to sew a skirt for certain types of dance. Further - you decide. The lower part of the costume is ready, it's time to go to the floor!
Every girl needs special clothes to dance. The main part of such clothes is usually a skirt, which for each type of dance will be different and have some characteristic features.
Such skirts are often sewn by hand or to order, getting an original product, ideally suited to the figure of its owner.
For ballroom dancing
Such dances are liked by many women for their special rhythm, romance and sensuality. Skirts for such dances, which are called the Standard, are usually represented by plain floor-length models.
The most common styles of such skirts are flared or year. A frill is sewn along the hem of many models, which can be in tone with the product or in a contrasting color.
Skirts for sports dances are unusually beautiful and effective. Often they have a short length or a long cut, which opens up a great opportunity to show slender legs.
Oriental - for belly dance
Those who are interested in oriental dances are attracted by their ability to improve the plasticity and correct the figure.
The peculiarities of skirts for such dances are their lightness, the use of light fabrics for their tailoring, as well as rich decor.
The most popular style is the "sun". Such a skirt is sewn long from translucent and flowing fabrics, among which organza, chiffon, silk and satin are especially popular. If the material is selected as transparent, the model is made multi-layered. In the decoration of such a skirt, frills, decorative fabric inserts and an embroidered belt are used.
Skirt "sun" for oriental dances is more in demand by slender girls, and with fullness they prefer the "year" style. The skirt of this cut fits the figure in the hips, and then expands. For its sewing, elastic fabrics are used, for example, supplex, knitwear or natural materials with the addition of lycra and other stretch fibers. Skirt expansion is provided by sewing in 4 or 6 wedges.
For belly dancing also use straight skirts with a high slit located in front on one leg or side. This style has a slim silhouette and a sleek look.
For ballet
Ballet classes attract girls who want to become plastic and flexible. Since the main elements of such dances are jumps and stretches, skirts for choreography should not restrict movement.
Ballerinas spend their training in short and light skirts of a simple cut, which are sewn using elastic fabric. Usually these are "sun" models that do not interfere with the development of movements. For performances, other skirts are used, the style of which is represented by a "tutu" or "shopenka". Their tailoring is made from materials that can keep their shape. It can be mesh, tulle, tulle and similar fabrics.
The main difference between these styles is their softness and rigidity. Often, a tutu skirt is sewn rigid according to the "sun" or "semi-sun" pattern. It is characterized by a small length and the presence of several layers of material. The chopin skirt is softer and is sewn longer.
For Latin dances
Passionate girls are interested in such dances, who like their incendiary rhythm.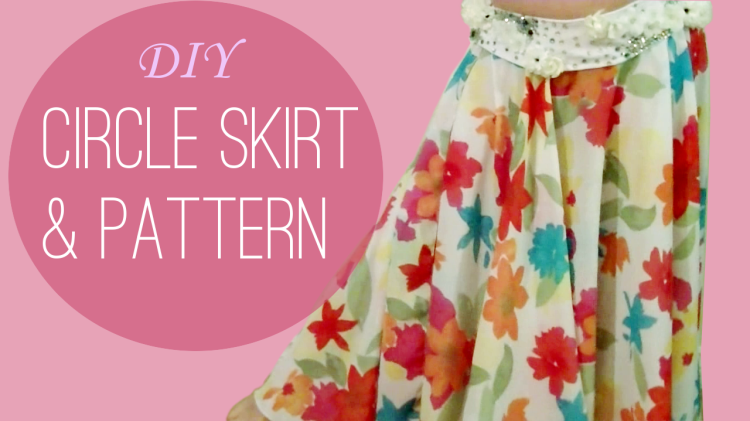 When choosing a skirt for this type of dance, it is important to ensure freedom of movement and comfort, and at the same time choose a bright, attractive model.
An excellent choice would be a hip-hugging short skirt that flares out a little. No less popular are knee-length skirts that have high slits.
Products with an asymmetric cut, as well as skirts of the "sun" style, are in high demand. For their manufacture, elastic and lightweight fabrics are used, which are distinguished by bright colors. Tango lovers are attracted to long skirts that flow seductively and are trimmed with ruffles.
Curvy Models
To move freely in the dance, most women choose voluminous skirts. These are skirts of "sun" and "semi-sun" styles, puffy options from several fabrics, as well as skirts with a large or small pleat.
Latin American dances have been rightfully popular throughout their existence. In order to feel as comfortable and attractive as possible on the floor, you need to think over your image in advance, purchase suitable clothes.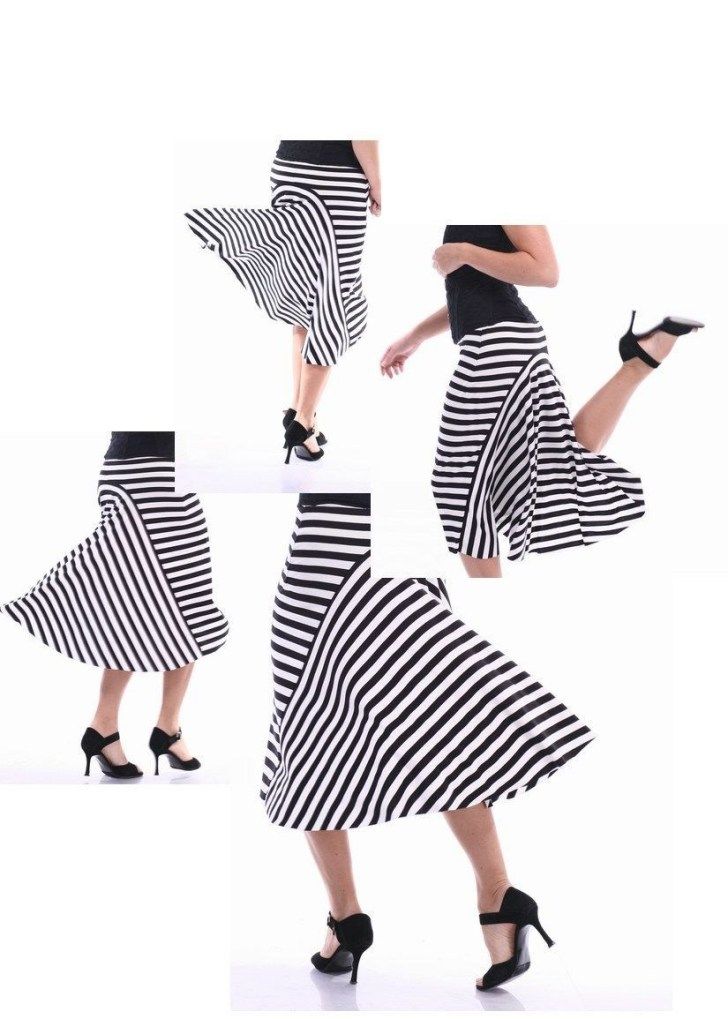 The Latin skirt features slits at the hips, ruffle trim and an asymmetrical hemline. For training types of clothing, there are no restrictions to which they are subjected, for example.
A little about the design
Most popular design trends:
Art Nouveau is characterized by straight, clear lines and cubic details. A characteristic feature of the minimalist style is the presence of neutral shades that give the design a somewhat cold, futuristic charm. Also, minimalism in design is achieved by using a large number of elastic flowing materials that give the clothes shine and smoothness typical of the dance style.
Specialty store offers
The catalogs of dance shops have the widest range of skirts made from such modern materials as velvet, suede, corduroy and even velor. Such a widely used material at present, as artificial leather, has a variety of color options. It should be noted that this material is a much more environmentally friendly, safer, practical and economical, as well as a much more humanistic alternative to natural leather.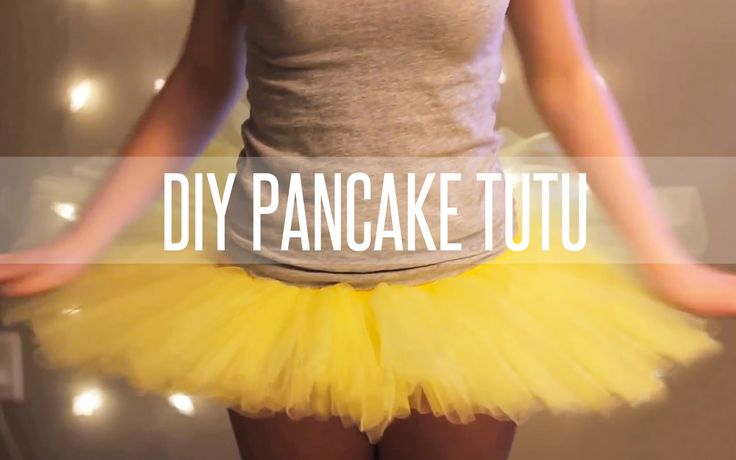 And let the animal rights activists rejoice, and simply those who are not indifferent to the fate of our smaller brothers - artificial leather is rightfully becoming popular.
Lycra, satin skirt for Latina pattern with pockets and girly ruffles, with embroidery, appliqué and sequins - all on the same type of skirts. Maximum inspiration for creativity and!
Expert opinion
MHdance Dance Store offers a collection of daring and romantic premium skirts, bodysuits and tops inspired by modern Latin American traditions. Affordability and own production are the hallmarks of MHdance products.
CEO of MHdance Dance Store Zlata Samorodova clarifies:

- Our latin training clothes meet safety and comfort requirements. It allows you to move easily and gracefully in the practice room, repeatedly practicing the elements of a dance variation. All models of Latin skirts are equipped with sewn-in swimming trunks, which is incredibly comfortable and aesthetically pleasing. Products are made of high-quality smooth jersey "Oil" and decorated with velvet and satin inserts. Various types of cut are used: skirt-shorts, skirt with a smell. Asymmetric models are in wide demand.
The store is located in the northern part of St. Petersburg and has a wide selection of men's, women's, children's clothing and shoes for dancing and choreography.
DIY latin skirt
First you need to decide on the design. Variants of models are diverse in design and decorative design. It all depends on personal preference.
Latin Skirt Pattern and Sewing
1. Take measurements from the figure (waist - OT, hips, length of the product).
2. Construct a skirt pattern, transfer to fabric, cut out.
3. Construction of a pattern of sewn-in swimming trunks. The distance TT2 and T1T3 is the half circumference of the waist, BB2 and B1B3 is the half circumference of the hips.
4.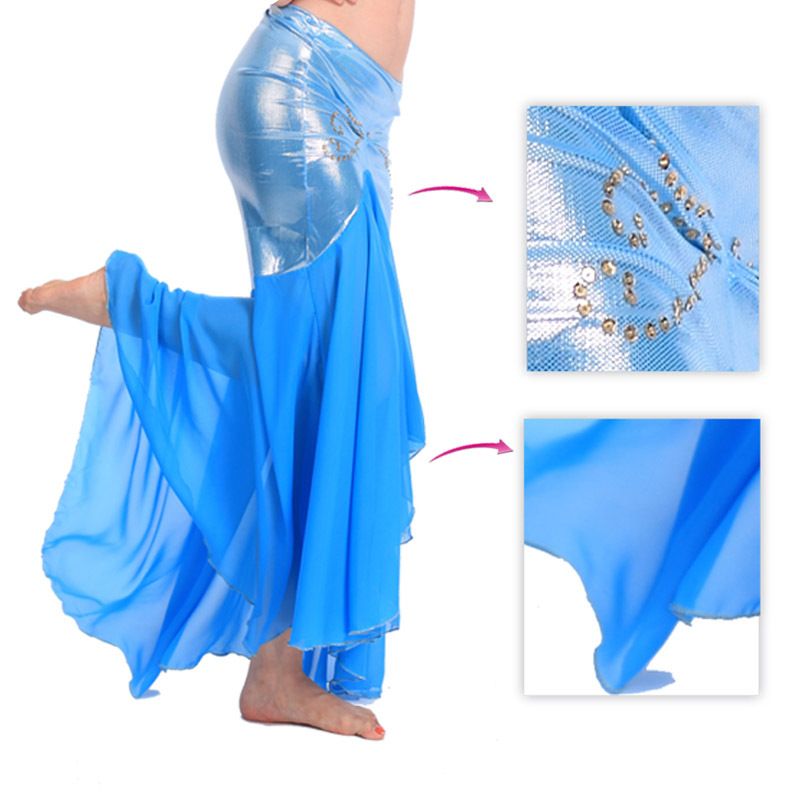 Stitching cut details and sewing in swimming trunks.
Important! The sewing machine settings for the knitted type of fabric depend on the model of the equipment. The same condition for all machines is the installation of a knitting needle, which differs from the usual rounded tip. Such a needle, when sewing, pushes apart the fibers of the material, and does not pierce. As a result, the seam does not deform and does not tighten the fabric.
6. Processing of the bottom of the product with regilin or oblique satin trim. You can trim the bottom with a fringe.
7. Installation of a stitched belt on a wide (2-3 cm) elastic band.
This model looks great on the figure, easy to care for. It will be easy and free to work in it, hone your skills for future victories in competitions.

How to sew a skirt for choreography and dancing will be considered in this article. If you prefer a chiffon skirt with ties, then it's quite simple: cut out a strip of chiffon of the desired width (this will be the length of the skirt) and let it hang freely for a day .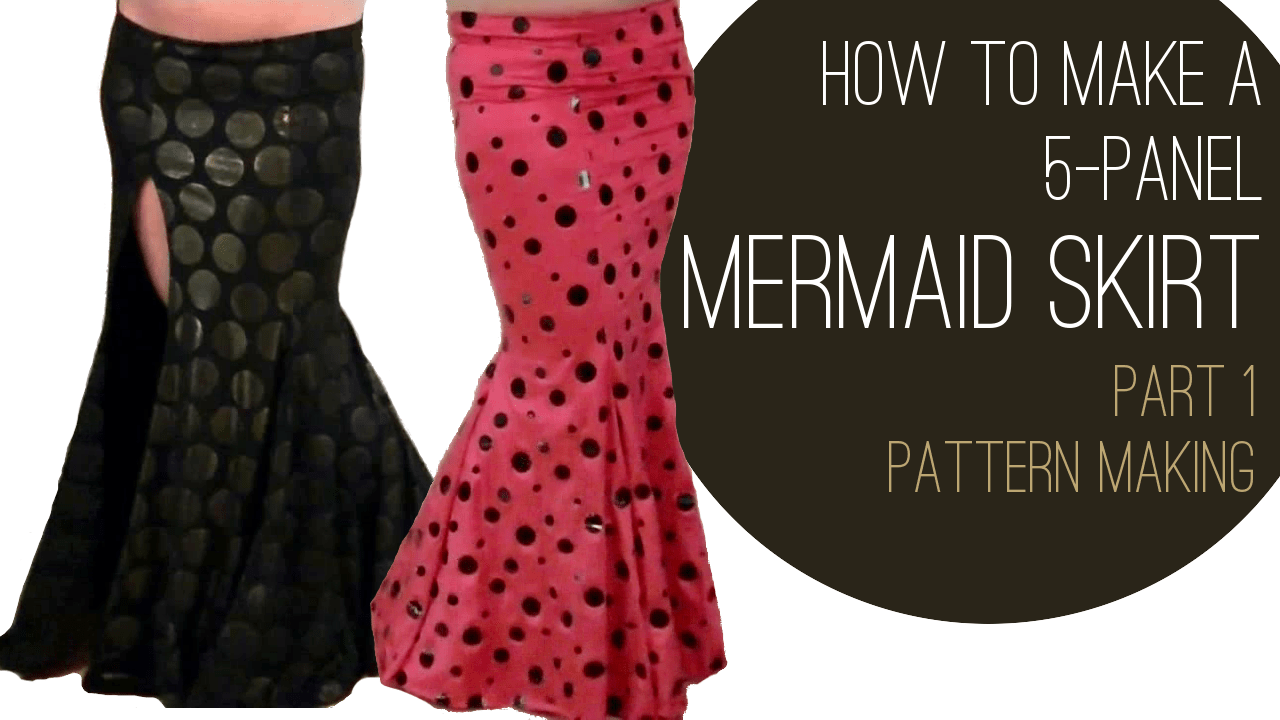 This is due to the peculiarities of the texture of chiffon, which sags and the edges become uneven. After that, we make a fitting (we align the edges of the skirt), on the upper side we process it with an oblique trim in the color of chiffon, while leaving about 30-50 cm for the ties. We process the bottom with a rolled seam.
How to sew a supplex skirt
How to sew a training skirt for latin and standard
Training skirts for latin and standard are already much more difficult to sew. The cut depends on the complexity of the model. For Latina, they mainly cut a yoke from oil (cut along the share), the skirt itself from guipure or chiffon (or another shade of oil) and panties (front and back and gusset). One-piece belt with a yoke. A tie (drawstring) is inserted into the yoke to adjust the length of the skirt and as an element of decor. Then the yoke is sewn together with the skirt itself, the bottom is processed with regilin, oblique trim or on a flat-seam machine.