How to do a good robot dance
How to do the robot
Learn how to dance like a robot in this video tutorial! Robot dancing is really all about dime stops from popping dance style. In this video you will learn how to dance the robot easily with foundational popping concepts.
Want more? Get the full Course:
The Ultimate Popping Dance Course (Beginner to Advanced)
Learn how to dance popping and locking with step by step video lessons. You will learn hits/popping, waving, robotics, gliding, vibrating, slow motion effects and more. Become the freestyler you always wanted to be and impress your friends with your dance moves. Includes 3+ hours of video lessons. You can download it instantly or stream it online here.
Learn more & Buy it here (Click here)
---
[Transcript]
If we go to one of the purest forms and definitions of popping, it is actually to act or imitate as a robot.
Robotics is all about dime stops. So dime stops is another huge fundamental dance style of popping. And it is the ability to freeze at a point in time.
Now technically speaking, you don't even really have to hit to do dime stops. It's more of just about the freeze. You definitely see a lot of poppers do a miniature hip when they dime stop.
Dime stop is definitely used a lot in robotics and I think it's a great tool to use to develop patience when you dance. Starting out, it's really easy to get caught in, "I got to do this. I got to go over here and do that." But dime stops force you to freeze. So practicing dime stops can develop patience which is an awesome thing to have starting out.
So dime stops are I think a really easy move you can do on the first try. It's just about freezing. So I'm going to give you a pattern to follow. Start with the left and the right arm to match it. And I'm just going to pick four corners. So I'm going to go left, down, down right, right.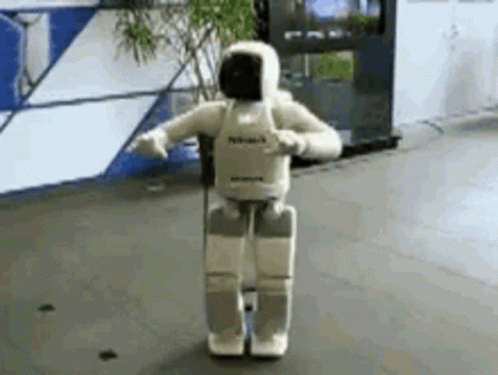 Pop.
Now, I want to add a little bit more. I'm going to start using my heels to turn. Heels. Head.
Robotics is actually I think one of my favorite dance styles. I found myself roboting throughout the whole day. Roboting is definitely something that you can take your natural day-to-day movements and turn that into robotic style kind of dime stops.
So for example, let's say I'm at dinner table. That's the way I'm going to sit down. I put my arms out, set my plate right here, instead of just reaching out to get my fork and grab, I can go. So really, it's just about using a regular way of doing things and thinking like a robot and using dime stops to kind of beat your communication for interpreting that as a dance.
I want you to think of a natural thing you do every day whether it's brushing teeth or [0:02:26] [Indiscernible] and interpret that right now as a robot. If you were a robot, how would blank? OK? Fill that spot in. And we'll catch you guys again.
[End of transcript]
More Hip hop dance videos
How To Robot Dance - Easy Robot Dance Moves
You do not have to be a trained classical dancer to learn the robot dance.
The robot dance has two versions - the Michael Jackson one and the "everybody" robot dance. While you may take time to perfect the legendary Michael Jackson moves, you can try your legs and arms at the "everybody" robot dance, for sure. Moreover, with dedicated practice, you can master them in no time. The robot dance, also known as mannequin dance style, demands imitating the dancing motions of robots to come up with a crooked yet cool dance form. With a little patience and constant practice, you can melt hearts on the dance floor and have a good time. So what are you waiting for? Put on some dance music, like "Mr. Roboto" by Styx or "Kyur for Itch" by Linkin Park, and set the stage on fire. Learn some easy robot dance moves by steering through the instructions stated below. Watch all the heads turn as you display some of your coolest robotic dance moves amongst the crowd.
Easy Robot Dance Moves
Set Your Back Taut
Remember, robots have their vertebrae missing and the whole idea behind doing a robot dance is to imitate robotic movements.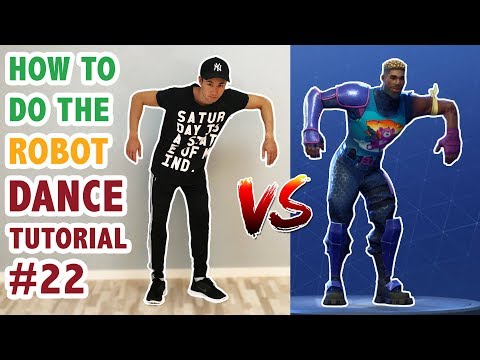 Thus, the accuracy of your movements will judge how successfully and efficiently have you done your robot dance. Therefore, keeping your back firm and stiff is the backbone of any robot dance move.
Bend Your Arms
Bend both your arms at the elbow forming a 90 degree angle. Maintaining the position, raise one arm at a time, such that the open palm reaches your eye level. The move is one of the signature steps in a robot dance and should resemble a chopping motion. Alternately, raise your arms throughout the dance while maintaining a slow pace.
Pivot Your Head
While raising your arms alternately at a slow pace, swivel your head from right to left, repeating the motion at regular intervals. Make sure that your neck and head are upright and taut to your best possibility. Combined with your arms, this completes the upper-body portion of the robot dance.
Walk Around
Though it is fine to keep your robot dance stationary, advanced robot dancers prefer to use their legs and move around displaying their skills and talent.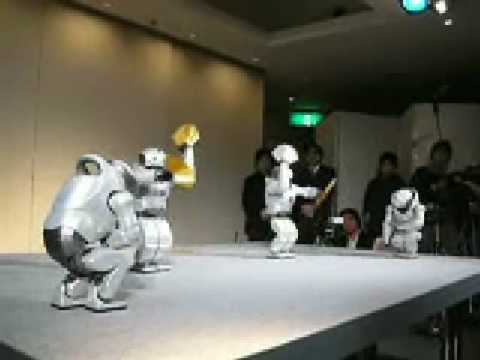 To mete such potential robot companions, you can start walking around while performing the upper-body movements. However, maintain your pace in your walking as slow as in your arms and head. As your raise one arm, take a step, keeping your legs bent at the knees in 45 degree angle.
Bend At The Waist
After you have mastered the above steps, reveal your perfection and talent by continuing with this move. Keeping your back taut and stiff, perform all the steps combined together and bend at your waist in a 45 degree angle occasionally. While maintaining the bent position, you can let lose your arm swinging it back and forth like a pendulum. To show your flair and style, end your robot dance with a robotic bow.
Question: How do plants feel the approach of spring? - Plants
Contents of the article:
The arrival of spring. WseWsem

Watch this video on YouTube
Video taken from the channel: Channel One News
---
Dwarf indoor pomegranate feels the approach of spring!

Watch this video on YouTube
Video taken from the channel: Nata and my favorite plants
---
Living souls of trees.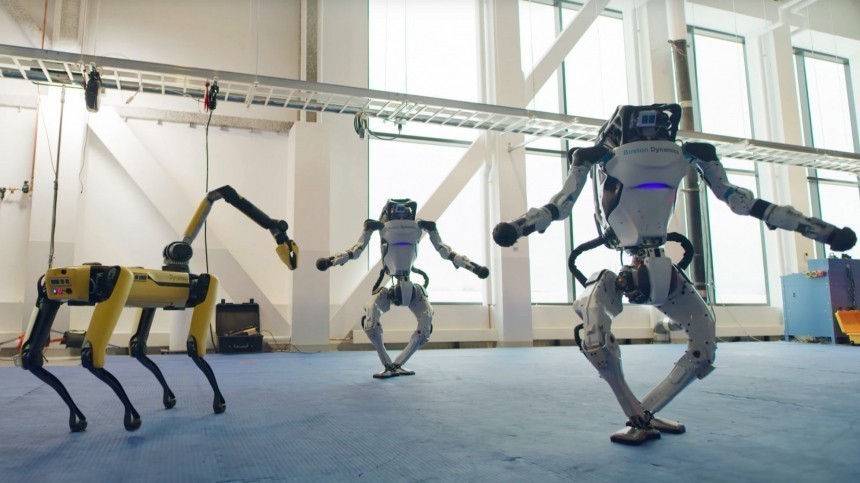 DID NOT KNOW WHAT THE TREES FEEL? THEN LOOK!

Watch this video on YouTube
Video taken from the channel: Mood Winds
---
SPRING is coming!

Watch this YouTube video
Video taken from the channel: Cozy orchids and not only
---
Young Brugmansia have woken up and already definitely feel the approach of spring, plants cannot be deceived!

Watch this video on YouTube
Video taken from the channel: Svetlana Svetopler
---
What and when to fertilize coniferous plants

Watch this video on YouTube
Video Graduated from the channel 9000
---
I looked at my flowers and realized that they began to prepare for spring! 59450 59453 59452 59451 Croton started growing and the oleander turned green at the top.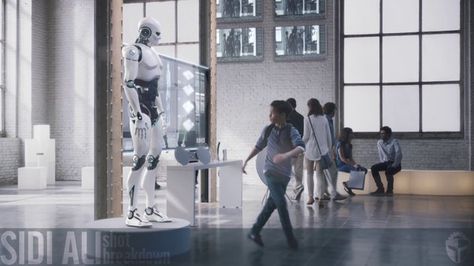 It's good that the faded flower stalks didn't tear off! How does my dwarf indoor pomegranate feel, what are the features of its development in winter, and also how.
Video: What animals feel the approach of spring, Section: Kaleidoscope. Begonia how to choose a hanging begonia In good conditions, wintering begonias already feel the approach of spring by February-March and begin to sprout. As soon as she covers her nose with her paws in her sleep, Career About projects Mail.ru Animals, Plants Family, Home, they feel the approach of spring. Oh, I don't even know!
Especially since I am already waiting for the seventieth spring. Messed up, however, over time. One day this magnificent feeling of spring and rebirth I have somewhere.
A strange feeling, it is winter, frost, and the soul already feels the approach of spring quite imperceptibly, like dawn in a night that has just begun. Warm days, bright sun do their job, and it doesn't matter that February is a fierce month, plants feel the approach of spring.
Video about how Danish legart geese feel the approach of spring Danish legart feel the approach of spring. Phlox care: pruning, top dressing, treatment and prevention of diseases, pest control. Tips and recommendations from experienced flower growers and summer residents (detailed information for those interested in the topic of floriculture).
Fish feel the approach of spring or perches in February Author: Elena Fedorenko · 02/07/2019 Every day the weather brings us closer to spring. Let's see what bloomed, what went into growth. How do my beauties feel the approach of SPRING?
Question: How to achieve inner peace? - Health
Article content:
Source of inner bliss | Sadhguru

Watch this video on YouTube
Video taken from the channel: Sadhguru - official channel in Russian

Watch this video on YouTube
Video taken from the channel: Radkhanath Swami in Russian
---
Internal peace and how to achieve it to the woman Maslovskaya Olga

Watch this video on the YouTube
9000 channel: Happy woman, wife and mother
---
5 minutes for peace - Sadhguru

Watch this video on YouTube
Video taken from the channel: Sadhguru - official channel in Russian
---
Peace meditation.