How to do a first dance at your wedding
5 Simple Tips for a Fun and Flawless First Dance
Ah, the first dance! You're either having romantic visions of floating around the room in the arms of your love…or dreading the possibility of an awkward shuffle in the spotlight. Regardless of whether you're a dance floor regular, there are a few simple things you can do to guarantee a fun and flawless first dance on your wedding day. These tips from The Next Step Co. director and choreographer, Roshin Taylor, will help you ensure your first steps as a married couple are coordinated ones! 
1. Pick a song that really suits you both.
Don't choose one because it's popular at the time or conforms to older traditions. If you both really love a song or an artist in particular but think it may not be 'wedding appropriate', you may find a cover or acoustic version that is just perfect. Also, don't get trapped into thinking it has to be slow and soppy – your first dance should reflect your personalities and be about you both having fun and enjoying the moment.
2. Keep it short and sweet.
Your wedding is a celebration and you want to keep those party vibes in full swing. Don't let the song play out for four and a half, five minutes – it just dulls the mood. Even with the most impressive choreography, two to three minutes is the perfect length to leave everyone engaged and wanting more. Entertained guests are more inclined to jump straight onto the dance floor and continue the party with you after!
3. Think about your outfit and shoes.
If you have a few moves planned, make sure your dress allows for them. Long trains, many fishtail or mermaid style gowns or off-the-shoulder designs can be quite restrictive for certain dance moves. Also plan ahead by wearing your shoes a couple of times to see how confidently you can move around the dance floor in them. It's no good practicing some great moves barefoot in your lounge room and then realising you can't actually do them on the night! Remember you can always change your outfit if you have your heart set on certain choreography (as if you needed an excuse for a second dress!).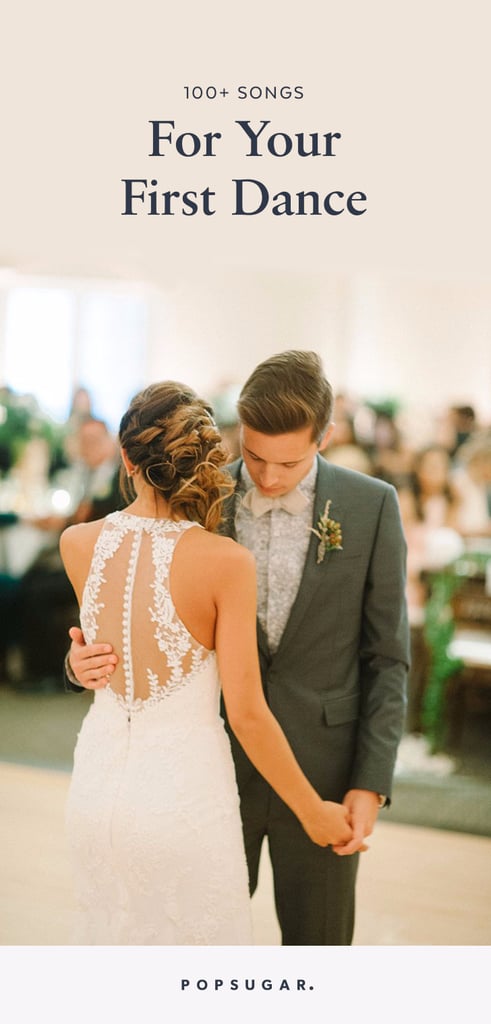 4. Learn a few basics. 
Having a lesson or two at the very least will get you both on the same page and eliminate the awkwardness factor. It really does make all the difference! Lessons can be scary but you'd be surprised how fun it is – on countless occasions, couples have commented just how much fun they had learning and practicing together in the lead up to the big day that they hadn't anticipated.
If you really don't have time or can't convince your partner to do a private lesson, try some moves together at home. Get comfortable with swaying together (on the spot and moving around), a few simple turns and a dip. Remember even with lessons, the more practice, the more natural and at ease you'll be!
5. Be present in the moment and just enjoy.
There will be some nerves, champagne consumed, different flooring and the dress always brings another element of complication. So let it be, smile and relax. Whatever happens at the end of the day, you've just married the love of your life and get to dance the night away with them!
Location: Victoria | Photography: Roam & Wander Photography | Film: Directors Edge | Coordination & Choreography: The Next Step Co. | Venue: Chateau Yering, Yarra Valley | Dresses: Raffaele Ciuca | Hair: K Image | Makeup: Anna Elizabeth Makeup | Suits: Briggins | Models: Shannon Turner, Nathan Smith, Nicole Ellis & Morgan Waterhouse
Your Wedding First Dance: Everything You Need to Know - hitched.co.uk
Twigs Branch Photography
With all eyes on you as you literally take the spotlight, performing your wedding first dance can be a daunting prospect – but it doesn't need to be. 
We must admit, the thought of taking to the floor to dance in front of all of our loved ones certainly had us feeling the stage fright. But as we delved further into the topic - with the help of some Hitched suppliers - we found out that the first dance doesn't need to be feared.
In fact, it can be enjoyed. 
Don't believe us? Scroll through our guide below where two dance experts answer all of your first dance related questions. From who's involved to when it takes place and how to banish pre-dance nerves, we've got the full lowdown on this romantic wedding tradition. We've also found some of the best first dance tutorials on YouTube so you can start getting to grips with some basic moves. 
All you need to do next is select your perfect first dance song. Happy dancing! 
Everything You Need to Know About Wedding First Dances
We put your burning questions to two London-based first dance wedding choreographers: Emma Weir, instructor and founder of Forever Wedding Dance, and Lukas Alexander, Founder and Creative Director of Save the First Dance Ltd. They filled us in on everything from when the dance takes place to how to nip pre-dance jitters in the bud. 
Damien Vickers Photography
What Is The First Dance at a Wedding?   
"The first time a newlywed couple dances together at the wedding reception is known as the first dance," says Lukus.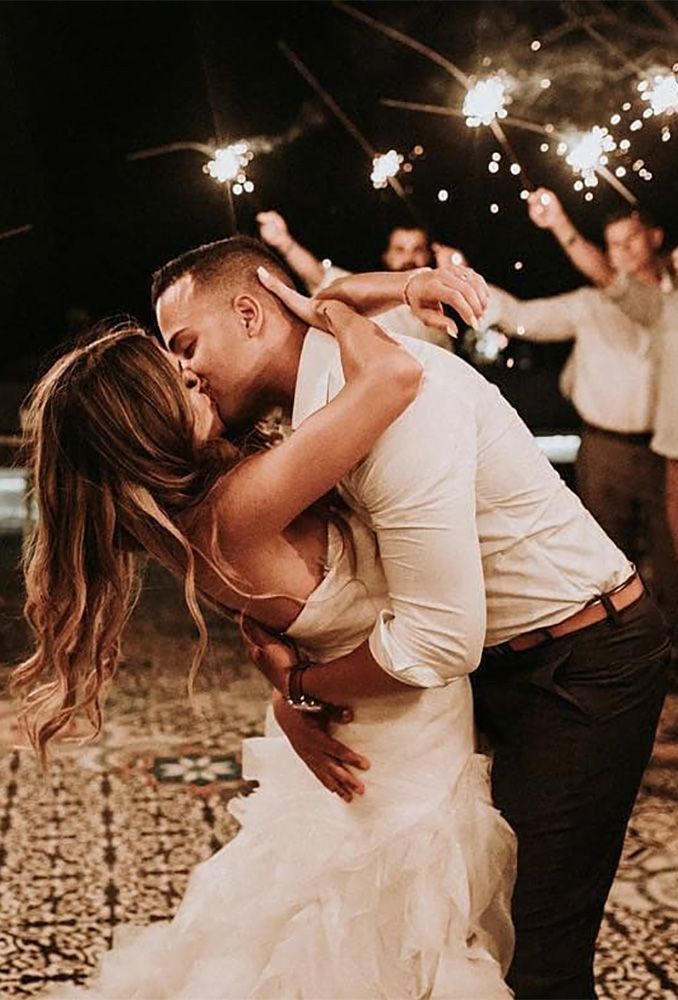 "This is a much-anticipated event and a special pre-selected song is typically played while wedding guests look on. The dance floor is 'officially' open to guests following the first dance."
Who Has the First Dance at a Wedding?
"The first dance usually just features the couple although they may invite guests and other members of the wedding party to join them on the floor after a suitable time," explains Emma.
If you're not keen to be in the spotlight for an entire song, or you simply want your nearest and dearest to join you on the dance floor asap, speak with your DJ, musician or whoever is in charge of the music ahead of time. Decide on a point within the song where an announcement can be made asking your guests to join you on the floor. Alternative first dances are an emerging wedding trend - you can think outside the box if you're not keen on the idea of dancing in front of everyone. 
READ MORE: 17 Songs to Avoid for Your First Dance
When is the First Dance at a Wedding?
Typically it happens at the start of your evening reception but, as with everything else about your.
day, we advise following the 'your day, your way' mantra and simply perform your first dance at the time that's best for you. Emma agrees: "Usually the first dance kicks off the evening reception, getting the party started when the band or DJ begin. However, sometimes people prefer to perform the dance earlier in the reception, such as before the meal." 
Lovell Photography
How Do I Slow Dance at My Wedding?
"The most important thing is to feel comfortable. A traditional 'ballroom' style hold is a classic and allows you to lift your arm easily to add in some twirls or do a dip. Having a dance lesson to learn the basics of hold and leading/following a few simple moves can often help with things like hand placement and finding the beat in the music which can help boost confidence on the dance floor," says Emma.
READ MORE: The 50 Best LGBTQ+ First Dance Songs
How Should I Announce the First Dance at My Wedding?
"Depending on your arrangements, this could be announced by the Master of Ceremonies, your DJ or the band.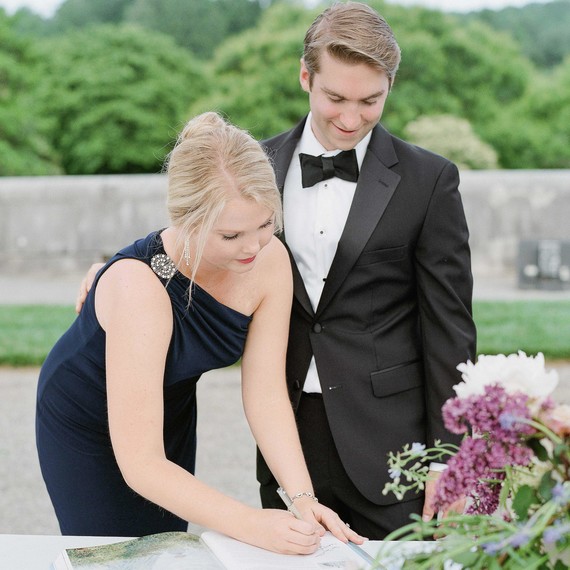 You can discuss with them whether you want to walk onto the floor over the music or for them to wait until you are in place before the music starts," Emma explains. 
How Do I Do a First Dance at a Wedding?
The short answer? However you like! While slow dances were once the first dance du jour, these days anything goes and couples are encouraged to move in a way that best fits with their chosen music. Our experts agree: "These days a wedding dance can be anything you want it to be from a classic, romantic slow dance to something quirky and upbeat," says Emma, "Often couples want their song choice to reflect them and their relationship and, as a wedding choreographer, I have been asked to put together routines to all kinds of music.
"Some people know straightaway that they would like to learn a routine to their chosen song and others say they'd just like a few moves to avoid the 'dreaded shuffle' – i.e. awkward swaying without shape or style. It really doesn't have to be complex, you just need to look and feel comfortable.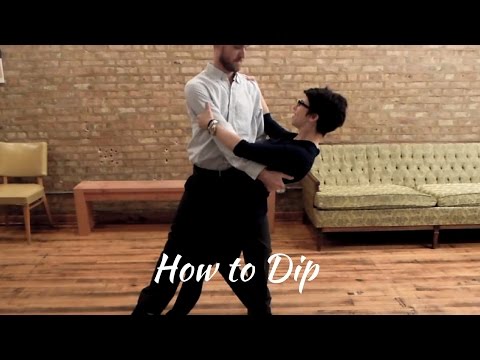 " 
Lukas echoes Emma's sentiment: "Couples can choose to do an improvised two step or waltz on the day," he reveals. "However, in recent years, we have seen couples deciding that they would prefer to be more prepared for their first dance for their special day and contact us to choreograph their routine. This is whether it will be a traditional routine or a fun surprising dance."
READ MORE: The Best First Dance Songs for a Vintage Wedding
Should I Practice My Wedding First Dance?
"Yes! Get to know your music so you can feel the beat and find the highlights in the lyrics so you can add in some twirls or dips at key moments. Even if you have lessons, definitely rehearse between sessions so that you can get the moves into your muscle memory and dance it intuitively. I recommend little and often, even if you don't have much space at home. Do it regularly and it will feel more natural," advises Emma. 
We think if you're going to the effort of hiring a choreographer, practising between sessions is the best way to get the most out of your tuition.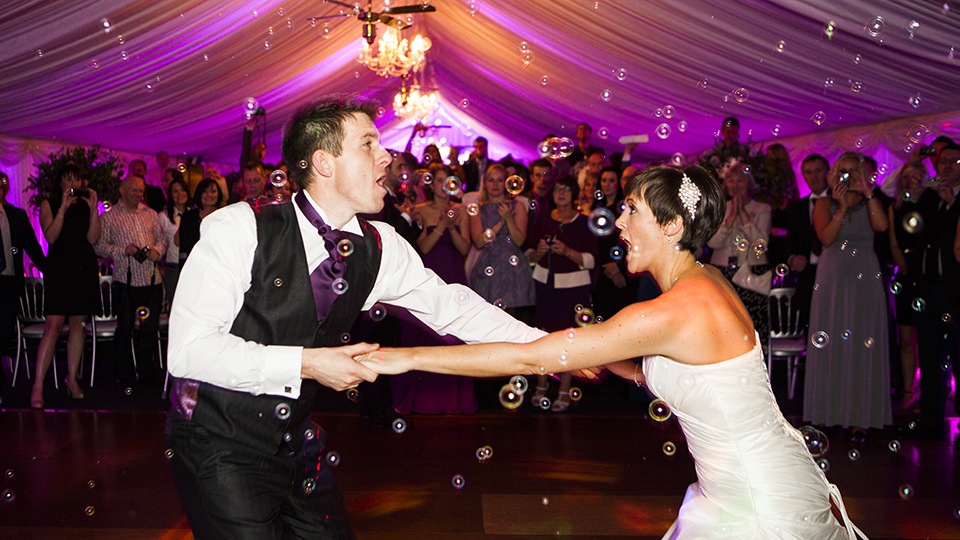 Why not make it a regular date night with a takeaway afterwards as a reward for all of your hard work? It can be a great way to spend time together ahead of the big day. 
Unsplash/ Luwadlin Bosman
What is the Traditional Dance for a Wedding First Dance?
First dances have traditionally involved slow styles rooted in ballroom. However, increasing numbers of couples are breaking away from tradition and choosing a style that suits them and their song choice. 
Emma always allows the style of movement to stem from the music itself: "Unless the couple have asked to do a particular dance (and their song works for that rhythm) I tend to borrow movements from a range of dance styles and blend them to suit the music that they have asked for."
How do I  Beat First Dance Nerves?
Getting in plenty of rehearsal ahead of the big day should help to allay any pre-dance stage fright along with selecting a dance that feels natural to you: "Think ahead about what makes you feel nervous and take some time to prepare.
If you think you'll feel more assured with the structure of a routine then work with your teacher to build something that suits you and rehearse it until it feels natural," says Emma.
"If you think that learning a lot of choreography will just add stress then simply get to know your music and have a few moves that you are comfortable with to give your dance a bit of shape. A teacher can help you with things like how to lead and follow with little tricks like how to place your hands to make turns smoother and improve your balance and musicality – these little details can make all the difference.
"However, the most important thing is to smile at your partner, make eye contact and have fun, even if you make a mistake. No one else will know if you go wrong unless you show it on your face so just keep smiling and relax, enjoy your day. If you look tense, your guests will feel tense on your behalf but if you're having a great time, they will too." 
READ MORE: The 220 Best Wedding Songs for Every Wedding Day Moment
Wedding First Dance Tutorials 
Increase your confidence and give shape to your first dance by learning some basic moves.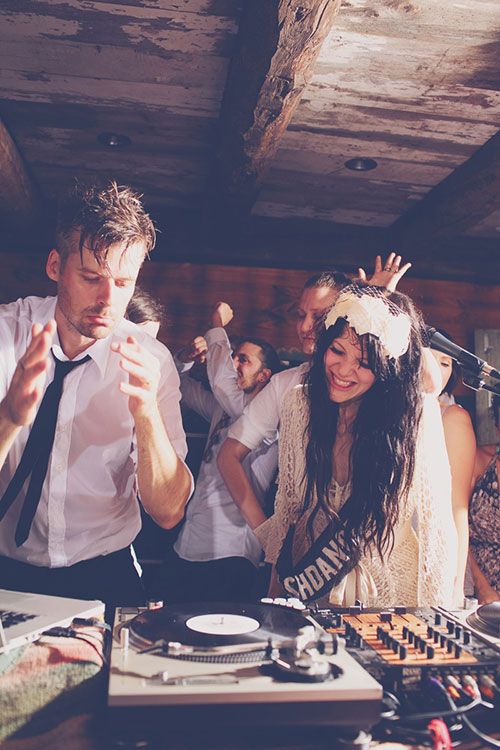 Clear the living room, put on your favourite track and get moving! 
Qualified ballroom instructor and 2018 Same-Sex Vice Ballroom World Champion, Michael Litke, talks you through some simple steps and handy hints:
This tutorial from dance pros Lindsey and Chris teaches you five simple steps that you can use to build a routine: 
Put your best foot forward in a pair of super-comfy flat wedding shoes - your feet will thank you later! 
How to prepare the first dance: everything you need to know about it
The newlyweds' first dance is a very touching and at the same time crucial moment. How to properly prepare for it, choose a song, rehearse, and what if you don't dance at all?
Is the first dance really necessary at a wedding?
The first dance is a pleasant tradition.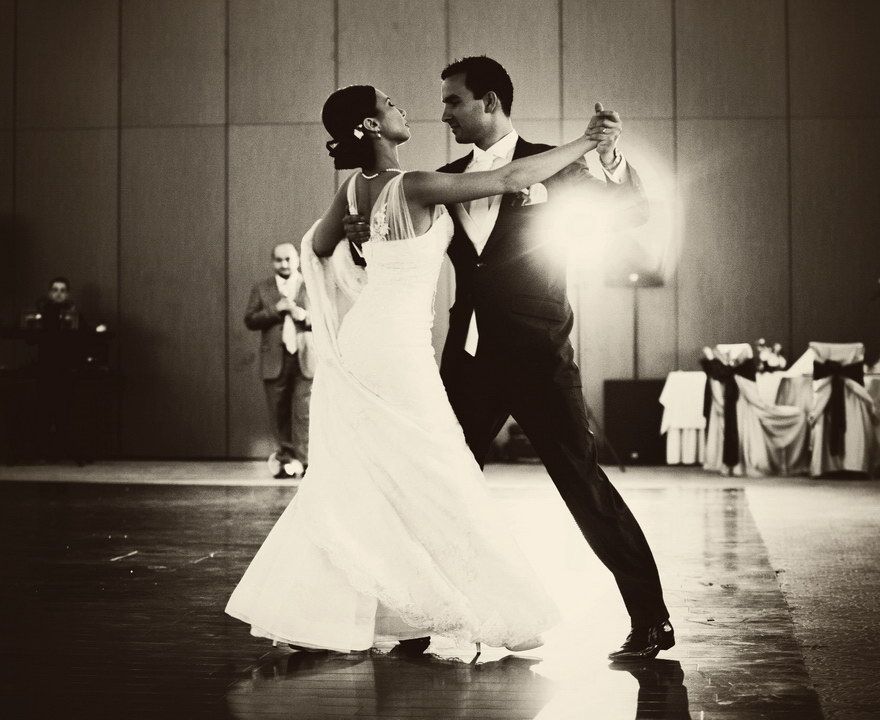 This is a special moment of the evening when the lovers dance for the first time in a new status - as husband and wife. Why keep the tradition? We know at least 5 pros.
This is a wonderful element of the celebration scenario, which will color the evening and become one of the highlights along with the ceremony, colorful rituals and numbers performed by the artists.
This is a very touching and emotional moment for the guests and, in particular, for the parents of the newlyweds. Often it is the first dance that causes tears of happiness in mothers and grandmothers.
It's also worth dancing for amazing photos and videos.
The first dance can also be made a semantic part of the wedding: choose a special composition that will fit into the general outline, or put on a whole dance number that will continue the series of performances of the artists.
Finally, the few minutes during which you dance will probably be the only moment of the day when you will have time to think about each other and about your relationship, forget about all the hassle and worries and abstract from what is happening, as if you were left alone.
How to choose a song
Most often, couples prefer slow songs - this is a win-win option even for those who do not dance at all in life.
If you want to perform an unusual dance, it is better to choose rhythmic music and rely on movements.
The song for the first dance can be absolutely anything:
your favorite composition,
the song you first met, danced to, or kissed to;
a song related to something in your story;
music written especially for your couple.
No idea what song to pick? Refer to the classics: Elvis Presley, Frank Sinatra or, for example, Queen will always be relevant. And if the selected composition is too fast for your dance, you can ask the guest musicians to cover it at a slower pace.

How to choreograph a dance
If you have chosen a slow song and are not eager to choreograph a special dance, you can limit yourself to a kind of waltz.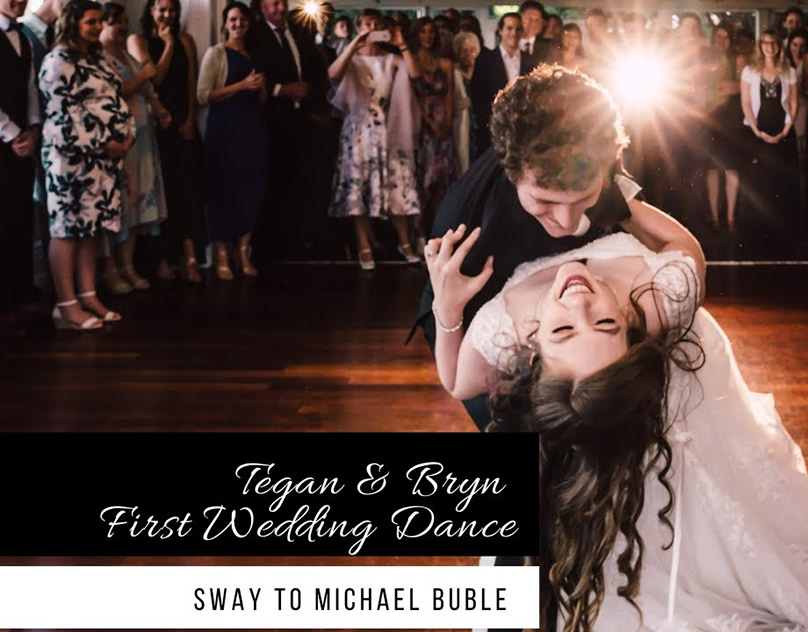 According to statistics, this is what most couples prefer.
If you want to surprise your guests with an unusual performance, but you are not professional dancers, it is better to contact a choreographer. By the way, it would be more correct not to try to come up with a dance on your own, but to let the master listen to your song or even several to choose from and find out what dance options he can offer.
Do not forget that the preparation of a wedding dance can take from several weeks to several months, depending on the complexity of the performance and your workload.
How to deal with shyness
If you are shy about dancing in public and are terrified about how you will perform your first dance, training will help you. Try going to a dance studio or just going to clubs before your wedding - this will give you confidence.
Still don't want the two of you to be the center of attention? Change the tradition and arrange a massive first dance - let all your guests circle around the hall in pairs.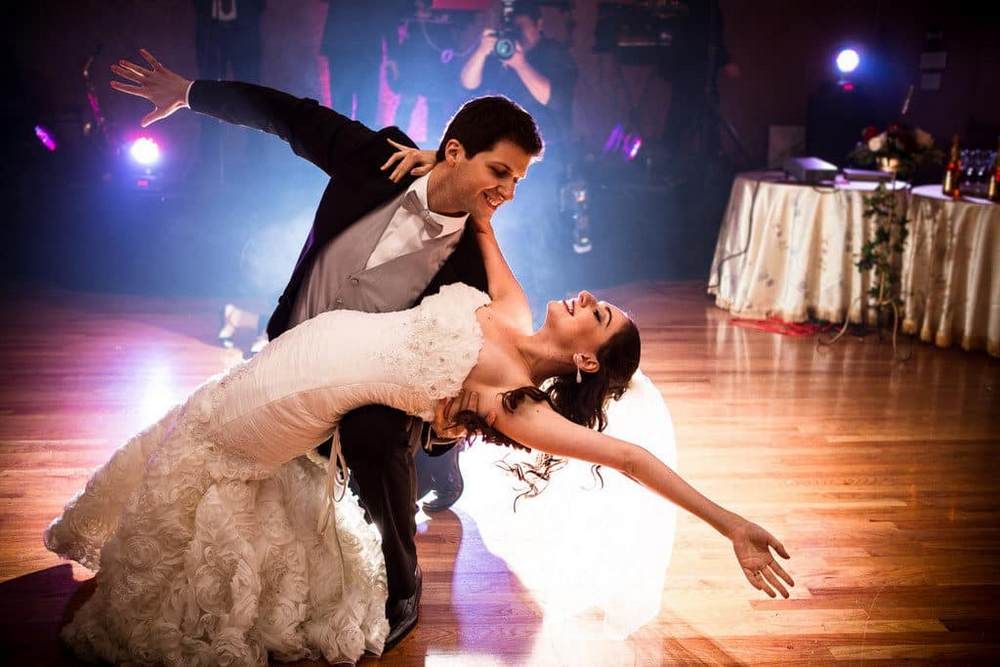 If you absolutely do not want to dance
A wedding is yours and yours alone. And, of course, it should go the way you want. If you do not intend to include the first dance in the script of the evening, do not think about how guests, parents, friends will react to this. You will surely have enough other highlights, numbers and entertainment, so that everything will be fine without dancing.
Newlyweds First Dance - YesYes knows how to make it perfect!
Don't worry if your couple isn't a champion on the dance floor! YesYes will tell you how to choose and conduct the first dance of the newlyweds so that it becomes an unforgettable part of the evening not only for your spectators - relatives and friends, but also for you two!
In our article we will answer popular questions from brides:
- why do we need the first dance and can we do without it at the wedding?
– how to choose your perfect wedding dance?
- what if the bride and groom are shy or don't know how to dance?
– how to prepare the first wedding dance – on your own or with a choreographer?
- what dance trends are currently in trend?
Who needs a wedding dance and why?
I wonder if we surprise you by saying that many couples forgo their first wedding dance.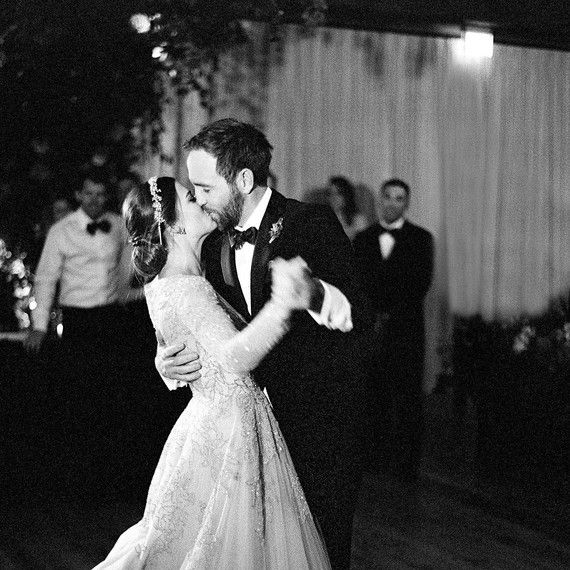 Perhaps you yourself thought about whether you and your future husband could dance beautifully under the gaze of the public. You may worry that the groom will step on the dress, or your wedding shoes will not allow you to move well enough. Take a breath, we understand your excitement.
Now let's think about the beautiful side of such a step as the decision to dance the first dance of the newlyweds.
Dance is, first of all, a manifestation of feelings. It is a story without words and the art of interaction. Dancing couples always attract attention, touch the strings of sentimentality in the depths of the soul. Your wedding dance is not a prerequisite for painting, not a necessity and not a duty. This is a few minutes when you, so beautiful, happy and loving each other, will circle to "your" song, drowning in music and tenderness for each other, causing tears of tenderness in the eyes of your parents. It is not perfect movements that make a wedding dance truly beautiful, but sincere feelings in a couple and the courage of partners to show them in every movement, in every look.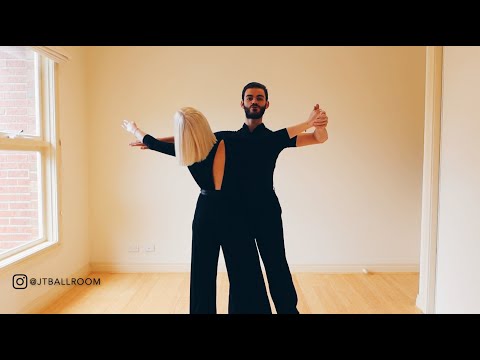 So, the first dance of the bride and groom is:
your main dance at your own holiday to your favorite song;
an unusually touching highlight of the evening for guests;
an opportunity for a photographer to take amazing pictures in your wedding book;
an important and beautiful part of your wedding video;
the perfect start to a musical break at a banquet.
Do not deny yourself the pleasure of enjoying the holiday and each other. Do not be embarrassed by the audience, because these are your relatives and friends - the kindest and most grateful audience. Don't be afraid of choreographers and wasted time. Do not deprive yourself of vivid memories and your "wedding song"!
What is important for newlyweds to remember when choosing a dance for a wedding
Wedding style
When choosing a dance direction for your first appearance "on the floor" in the status of husband and wife, do not forget about the general style of the wedding.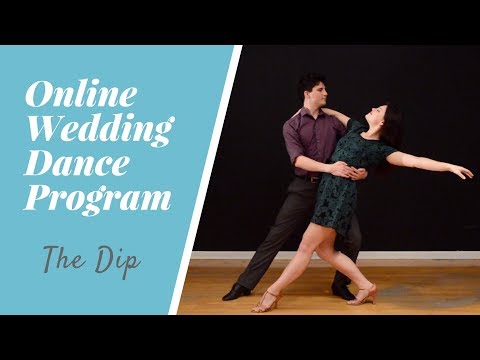 Think with your loved one how you are ready to surprise your guests. Will it be a classic slow dance, a moving improvisation or a parody dance from your favorite movie? Compare your images (hairstyle, outfit) with the desired dance - everything should be harmonious and holistic. Agree, performing boogie-woogie in a long satin dress embroidered with beads will look at least ridiculous.
Musical tastes
Music in dance is the soul. It conveys your emotions and shows the meaning of what is happening. That's why YesYes recommends that you choose your song, with which you have certain romantic memories. And, even if now nothing comes to mind and it seems that such a song does not exist, do not rush to get upset. Believe me, you definitely have or will have such a song! Let go of the situation and continue to engage in pre-wedding preparations. Very soon, the words will sound in my head: "Eureka! Here she is!" Let it even be the soundtrack from your favorite movie or the song that he has on your mobile contact.
Remember that you will need to decide whether to invite musicians to the wedding or use the services of a DJ. Our Catalog contains specialists with extensive experience and worthy of your attention. And our article "Musicians or DJ - who to choose for a wedding?" will help you make the final choice.
YesYes does not offer you a list of template music so that you can choose your song to represent your love!
Skills, talents and help of a choreographer
According to our observations, every second groom and every third bride sadly declares that they absolutely cannot dance beautifully and are afraid not to cope with the excitement on their wedding day. And we have only one answer to this: down with excuses, you will succeed! Even if your future husband trampled your feet on a date in a club, this did not prevent you from loving him with all your heart. And it didn't stop him from loving you, despite the fact that you may not know how to bend like the main character of Dirty Dancing! You don't have to be perfect, much less a dancer.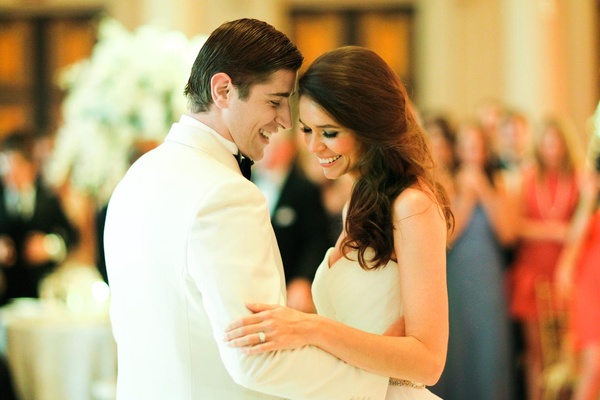 Inventing or choosing a dance, start from your skills. Watch YouTube videos of the first wedding dance of other couples and choose elements that you can repeat yourself. Try, shoot each other on your phone, laugh if it doesn't work!
There are three main options for preparing the first wedding dance:
Staging with a choreographer
If you want to impress everyone with the performance of complex choreographic figures, or if you want to bring your simple dance to perfection, you need the help of a specialist. Staging a wedding dance with a choreographer has its advantages and disadvantages. It is difficult to underestimate the personal advice of a professional, his assistance in creating the dance itself, taking into account your personal skills and abilities, control over the result of rehearsals. Many are inspired by the very idea that they are engaged with a choreographer - this inspires a couple with self-confidence and liberates.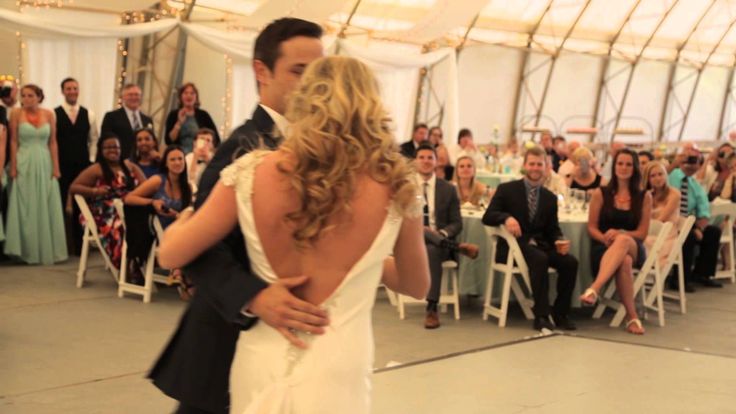 On average, a couple needs about five sessions with a specialist. But you should not leave these 5 classes for the last month of pre-wedding preparation, which, therefore, will be intense and difficult. Start 2 months in advance, give yourself time for home rehearsals.
If you have already purchased your wedding dress and shoes, show them to your choreographer so that he can choose the movements based on your ability to move in the dress.
The disadvantages of working on a wedding dance with a choreographer include financial costs, which you always want to minimize. You need to devote time to classes in the studio, although this disadvantage easily turns into a virtue, because this is another opportunity for you to forget about work, mobile, affairs, and focus on your common cause. The choreographer can create a dance that is not so easy for you. There is nothing worse than on your wedding day, instead of pleasant excitement, to experience stress from the fear of forgetting everything that you have been rehearsing and learning for more than one week.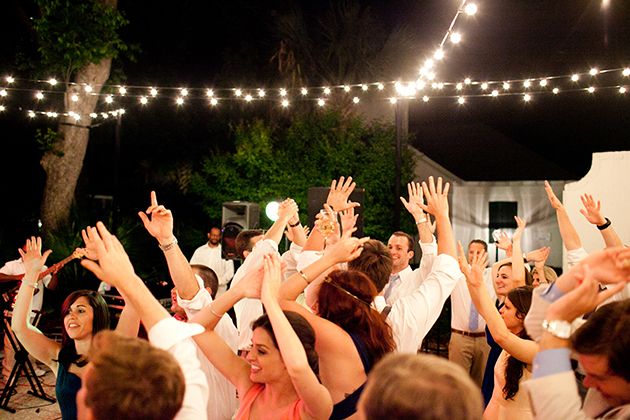 Remember that in the first place, dance should give joy!
Independent dance staging
Thinking over a wedding dance on your own, choosing successful movements and figures, and objectively evaluating your creation from the outside is not an easy task, but fascinating, large-scale, capable of both bringing you closer and becoming a ground for disputes and insults. Let's face it: men attach no more importance to dance than they do to a cake and a wedding arch. If you manage to captivate your fiancé with the idea of ​​making a cool number - great, but if not - don't push, give it time, show the wedding dances of the couples you like!
Set a time for rehearsals, but be flexible with each other. Record your workouts on video, or better yet, invite your bridesmaid or mother and ask their opinion about your dance. Remember that on the holiday itself everything will look brighter and more exciting.
Improvisation
The classic slow dance of the bride and groom has a special charm.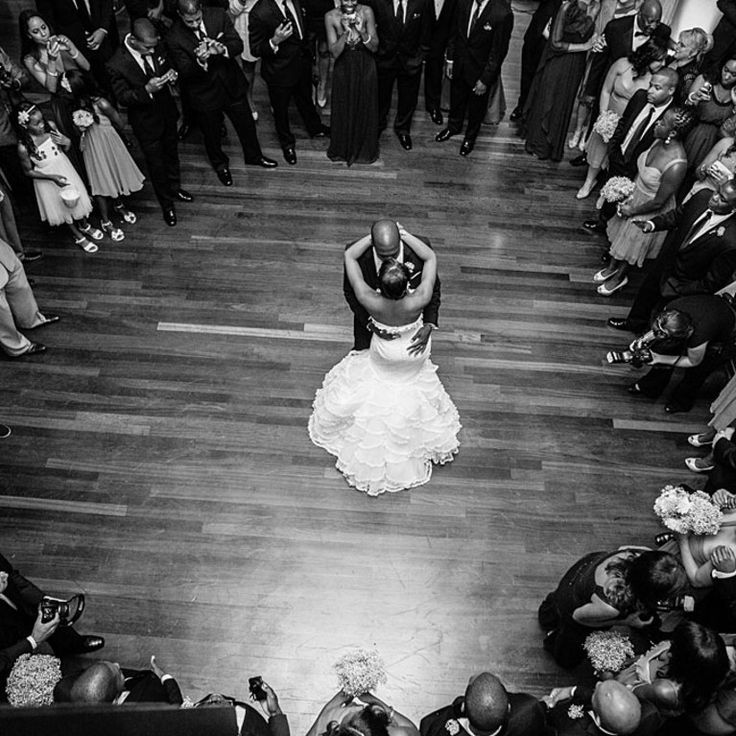 Without rehearsing or complicating anything, they just hugged each other and imagined that they were on their first romantic date. Simple movements compensate for the sincerity and naturalness that such a performance is filled with. Trust us, guests will be touched, and you will get pure pleasure.
But who said that improvisation is necessarily a slow dance? Do you like to rock at parties and discos? Have you chosen rock and roll or disco style for your wedding celebration? Then welcome to have fun! The mobile dance of the newlyweds will liberate the guests and will be the perfect start to the wedding disco! And tears of tenderness in the eyes of relatives will be replaced by a spark of admiration for your youth and excitement.
Don't forget to think over the visual accompaniment of the dance. It can be the light of a lonely spotlight, puffs of smoke or the final confetti. Such effects always excite the audience, causing special excitement and awe.
What will be your first wedding dance?
Waltz (French, Viennese)
This is a wedding dance classic.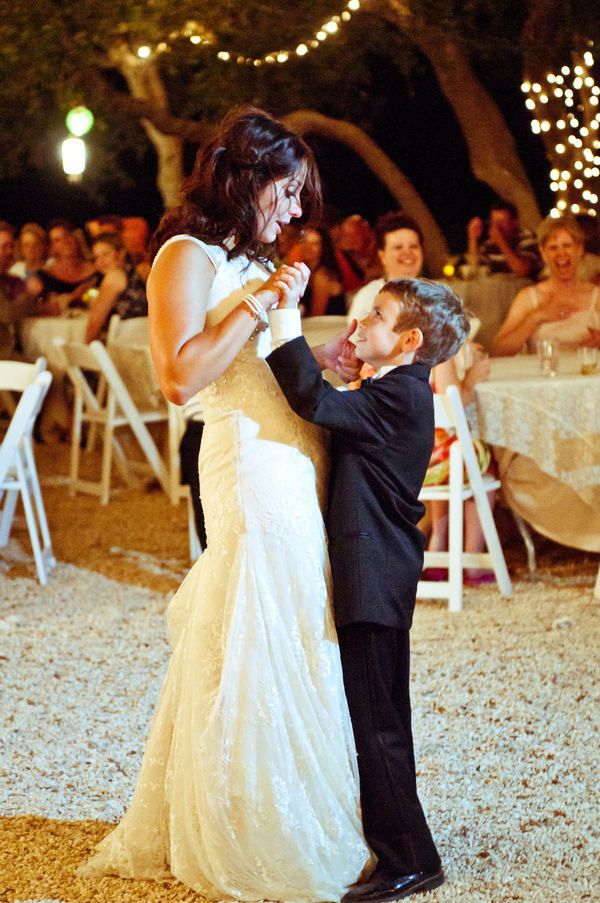 The embodiment of love and romance. Spinning in a waltz means feeling like a real princess. But don't think it will be easy. To understand the nature of light, sliding movements, you have to learn a little. The ideal outfit for a waltz bride is a dress with a fluffy skirt and a corset.
Rumba
A classic ballroom masterpiece that will take you and your loved one into a world of passion and hot emotions. It requires good physical preparation. If you decide to dance Rumba, contact the choreographer 2-3 months in advance. Keep in mind that he will need a revealing outfit in which you can show beautiful legs.
Tango
Is extravagance about you? Then choose tango! Show guests a stormy temperament and passion. Prepare beautiful moves and hone them to perfection. Remember that tango is, first of all, a dance of the soul!
Foxtrot
Simple movements that create interesting choreography. Preparation will not take much time and will be a lot of fun.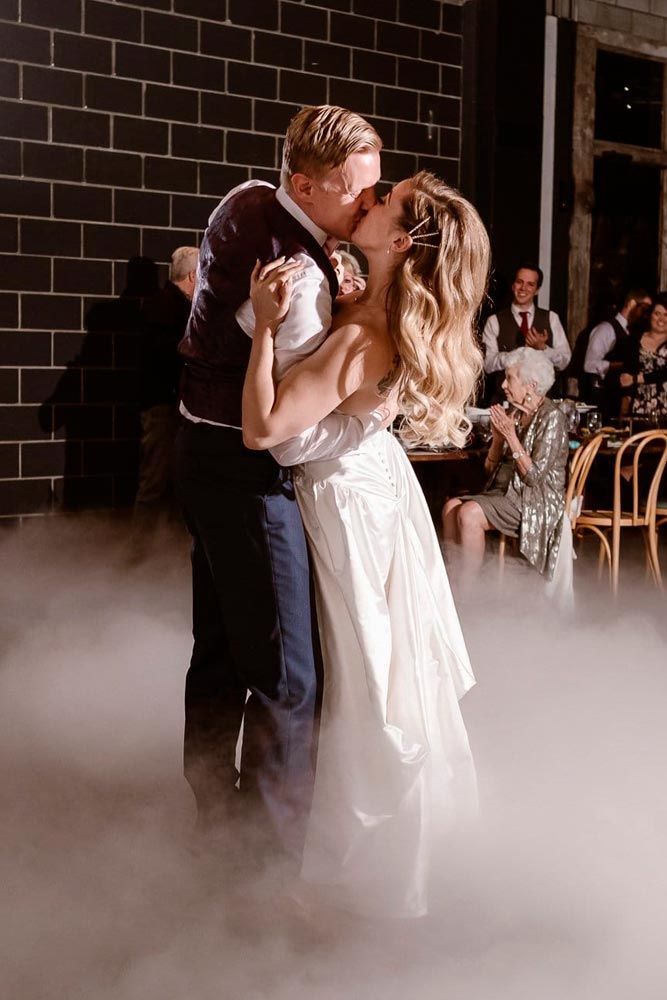 You can dance to any music, choosing a comfortable and pleasant rhythm. Foxtrot will require a lot of space. The wedding venue must match this.
Salsa
An exciting Latin American dance that will surely delight your guests. You have to learn difficult, fast movements, but believe me, it's worth it! The more you know, the more interesting and brighter you can speak. Salsa is suitable for those who are not afraid of experiments and love crazy. Here you can not do without comfortable clothes and shoes.
Twist
Remember Uma Thurman and John Travolta in Pulp Fiction. This couple pleased with the twist so cool that millions of fans still repeat these bizarre movements. Do you also want to impress your guests? Find the right music and rock it!
A few tips from choreographers
1 Rehearse, but don't overdo it. Dance is important, but health, peace and happiness in the eyes are more important.
2 Rate the comfort of the shoes you will wear to your wedding.