How to dance panama
Dance – Panamanian Culture
Tamborito means "little drum". El tamborito is a genre of Panamanian folkloric music and dance and comes from a mix of Hispanic and African traditional dances. The Tamborito is the national song and dance of Panama.  The rhythm is based on "Congos", a folkloric dance from the Province of Colon that was introduced by the African slaves in the 16th century.
The dance is a romantic, couple's dance, often involving a small percusssion ensemble and a female chorus. There is usually one female lead singer followed by the rest of the women singing and clapping.  The Tamborito is performed in formal costumes (the pollera) in front of large, interactive crowds that form a large circle around the performers. The members of such crowds often participate in the percussion of the song as well as the actual dance itself. The Tamborito is most commonly performed during Panamanian festivals, and in particular, the Panama Carnival.
---
---
The Cumbia is a mix of Hispanic and African music and dances.
It may be fully African (played mostly with drums) or fully European (incorporating other instruments). Each region offers a different interpretation of the Cumbia, some including more Indian movements or rhythms.
The Cumbia is played with more instruments than the Tamborito. The basic instrument is the drum and different kinds of drums are used to keep the rhythm, as well as other percussion instruments such as maracas, and a Spanish guitar to keep the harmony. The other instruments usually played are the rebec, the violin, the accordion, the harmonica, the flute or the Western concert flute.
There are two kinds of Cumbia dances: Cumbia suelta and Cumbia amanojá.
Cumbia Suelta
The Cumbia Suelta is for group dances in a circle. Men dance in the center and women on the outside. Sometimes, women carry a candle in one of their hands. It is danced with tiny steps that produce a subtle movement of your hips.
—
Cumbia Amanojá
The Cumbia Amanojá is danced holding your partner.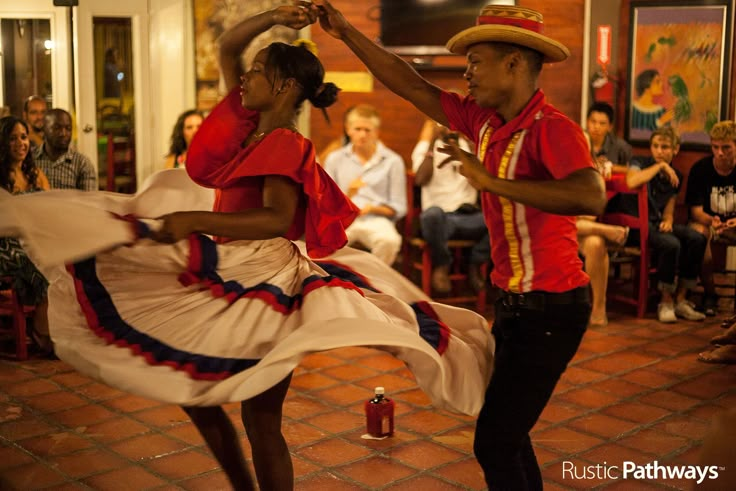 It is said to have evolved from a version of the Cumbia created for the upper classes in the 19th century. It was adapted from the original Cumbia.
---
---
Punto Panameño is considered to be the most elegant and beautiful dance of the whole Isthmus. Its origins are completely Hispanic and it is danced by a couple formed by a man and a woman. Dancers can show off their skills and encourage everyone to enjoy the moment.
The instruments used for playing the Punto are a rebec or a violin, a mejorana (an instrument similar to a guitar), a Spanish guitar, an accordion and three different kinds of drums, used for the rhythm and the melody.
Punto has a more detailed choreography than the other two dances and is less likely to be improvised. It starts with the man putting one of his knees down to the floor and making the woman turn around him. Afterwards, she will stand in front of him, he stands up and they separate from each other keeping the step while slowly turning around in circles facing each other.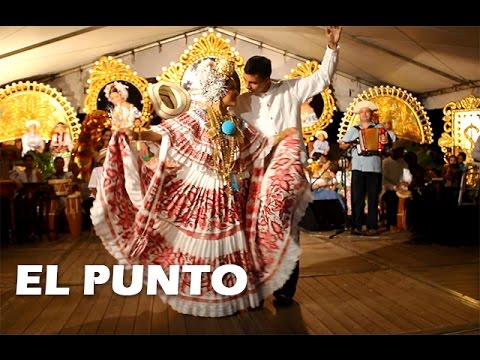 The step at this point is quiet and elegant, with delicate moves of their arms and feet.
Like this:
Like Loading...
Salsa Dancing in Panama | Something to get excited about
6/18/2014

0 Comments

 

I had two goals when I moved to Panama... learn Spanish and learn how to Salsa dance. I've been taking private Spanish classes for almost a year, and although learning Spanish is useful, I don't get excited about the prospect of conjugating verbs.

Dancing, though, is something to get excited about, and I was thrilled when my community director put salsa lessons on our activity calendar. 

We had salsa lessons poolside, in a covered social area with plenty of open space. The dance company brought in a team of 4 instructors, turned up the music, and taught us how to salsa. 

If you haven't danced the salsa before, it's fast. Very fast. As you can see from our funny photo, most people didn't wear the correct shoes, which made us look like we should be taking the short bus to school than sexy dancers. My neighbor Denise shucked her Birkenstocks and tried step-ball-changing in bare feet. It didn't go so well. She said next class she'll wear tennis shoes. My fiance Kleriston wore flip flops and spent most of the class just doing his own thing in typical class-clown fashion. Since he's my dance partner of choice, I'll make sure he's properly out-footed for next class.

After an hour, we'd learned a dozen different salsa steps and had burned more calories than we would have on the treadmill. The photo was taken after our class, when we were all dripping with sweat. We looked more like Survivor contestants than the ultra-glamorous dancers you see on Dancing with the Stars. (Next time I'm making sure the class photo is taken before class begins.) But it was fun. Crazy fun. Yes, definitely more fun than conjugating verbs.

Stay tuned. I might even have a video to post in a few weeks... although it may not be of me!

---

0 Comments

Author

Melissa Darnay is a marketer, a serial entrepreneur, and a relocation concierge in Panama. Learn more... 

Archives

July 2021
July 2020
May 2019
April 2019
January 2018
December 2017
November 2017
August 2017
May 2016
April 2016
March 2016
June 2015
May 2015
April 2015
March 2015
January 2015
November 2014
October 2014
September 2014
August 2014
July 2014
June 2014
May 2014
April 2014
December 2013
November 2013
October 2013
September 2013
August 2013
July 2013
June 2013
May 2013
April 2013
March 2013
February 2013
January 2013
December 2012


Categories

All


RSS Feed
▷ Typical Dances of Panama 🥇 en.versiontravel.com
The folklore of Panama includes a significant number of dances, which vary depending on the region in which we are located.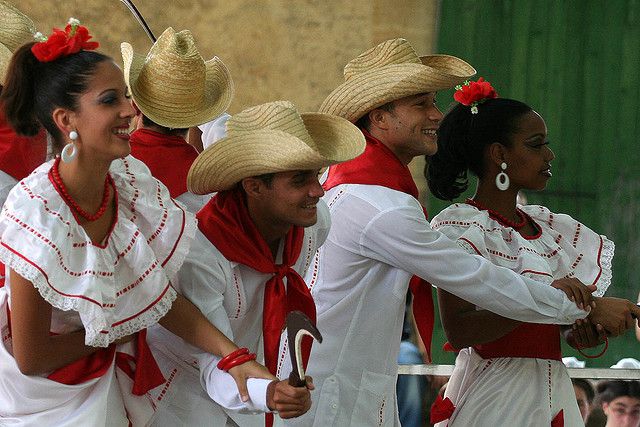 In this article, we will highlight the most outstanding Panamanian dances and show you photos and videos of them all.
Below you have an index with all the items we are going to cover in this article.
Contents
1 dot
2 Bullerengue
3 Little drum
4 Donosa
5 Kumbia
6 Congo
7 Gamm Burui
8 Maywood
9 Dance Kukua
10 Dirty Devils 11 Great Devil

of the most famous dances in Panama. This one is played by a couple. Start with the man with his left knee on the floor and shaking hands with the woman.

Yes Two types of are different: sante point and percuno point. In addition, each step has its own name because the dance is divided into walk, zapateo, escobillao and seguidilla.

Bullerengue

Bullerengue or bullarengue Traditional for the Caribbean coast of Colombia and the province of Darien in Panama. Descendants of burgundy are former African slaves who led a free life.

This Panamanian dance was performed in the past when the woman had a party because the man had returned from hunting in the jungle. Although only women dance in Colombia, in Panama it is done in pairs. During the dance, the man tries to kiss the woman, but she avoids it.

Small drum

Small drum It has been introduced to Panama since the 17th century and its origin is a combination of Spanish culture and the culture of former African slaves. In it, musicians play drums and clap their hands.

Depending on the region in which we are located, we can observe a different style. These are the most prominent:

Los Santos (santeño)
Chiruqui (Chiricano)
two rows : one for men and one for women.

Cumbia

In Cambia we find a combination of Spanish, local and African tradition. It is practiced mainly on the Azuero Peninsula and in Veraguas. Steps have these names:

Walk
Segidilya
Matte
Labor
Simple shoes
shoes
Sneakers

There is a type of rapidly developing Cumbia, which is known as traverse , It is typical of the Azuero Peninsula and belongs to the genus Cumbia Santena.

Cumbia is free when enough pairs go at the same time and change companion. On the contrary, it is called Cumbia Amanoha when a woman holds a man and leads a ballroom dance. This video interprets Cumbia Long Live Panama :

Congo

Congo he dances on the coast of Columbus and represents the brutality suffered by the black population during the colonial era when slavery was allowed. This is dance expressive in which interpreters walk barefoot.

The dancers wear rather colorful costumes and some of them wear masks. The dance features several characters such as a slave, a filibuster (foreigner or tourist), or a devil. This is a very important improvisation.

Gamma Burui

He Gamma Burui This is a native dance kuna Indigenous people of Panama. These are dances in groups, and only adults play the instruments, as this dance is part of the rite of passage of puberty. Start slow, but finish fast.

Maywood

Palo de Mayo or May Pole This dance takes place around a stick about 3 m high, from which colored ribbons come out. Its origin is European and is interpreted mainly in the island of Colón, Bastimentos and Bocas del Toro.

Its origin is European and presented on May 1st to celebrate the coming of spring. It involves from eight to twelve couples. Each person grabs a ribbon and everyone dances around the stick until the ribbons are tied and worn off.

Kukua dance

This Aboriginal dance takes place in the community of San Miguel Center in cocla. He was going to disappear, but now he has recovered thanks to several dance groups.

The costumes worn during the dance are made from the wood of the tree, which is also called cucuá . Its interpretation is simple, but the number of dancers must be strange. With this video, you can learn more about this curious dance:

Dirty Devils

This Panamanian dance is presented during Corpus Christi in Villa de Los Santos, in the province of Los Santos. Other traditional dances such as the Spanish Montezuma are also performed here.

Dirty Diablicos Dance is so named because before the costumes were designed with a dirty blanket that was painted and that, with sweat, it was with mixed colors.

The masked dance from house to house. During interpretation they do zapateo with career which are typical sandals from Panama.

Great Devil

This dance represents the fight between good and evil. During its interpretation, different characters appear, namely:

San Miguel Angel
Soul
Devil Major
Captain Devil
Devils
Devils

This is a fan of the Corps in many parts of the country such as Portobelo, Garancine and San Miguel. It is influenced by both Spaniards and indigenous peoples.

This article has been shared 62 times.

Finally, we have selected the previous and next article of the block " Prepare your trip " so you can continue reading:

Panama is the best place to dance salsa , what is salsa and claim that they know how to dance it perfectly. Indeed, this dance is an integral part of their rich culture. In addition, even in the most ordinary high school, there is at least one hour of dance class in the schedule, where the younger generation is taught how to move correctly to the rhythms of salsa music. As a result, it can be heard literally everywhere in Panama - on the bus, in the market, in shops, and of course, in nightclubs, even a small child can tell you about the most popular musicians working in this genre.

And therefore, Panama is the most suitable place to dance salsa, or learn how to dance it.

At the same time, it is very interesting that initially the salsa dance had practically nothing in common with Panama. The history of salsa says that this social dance appeared in New York in the mid-seventies of the last century. However, no one argues that salsa has absorbed many of the traditions of Latin American dances, and the dance traditions of Cuba and Puerto Rico had a particularly strong influence on it. Salsa movements find their origins in the Cuban son, cha-cha-cha and mambo. Today, there are many styles of dance performance, the most famous are the Cuban style, which is also called "Casino", the New York style, the Los Angeles style, the Rueda de Casino and the Miami style. As you can see, there is no Panamanian style among them.

Despite this, salsa is perhaps the most popular dance in Panama. That is why at the moment several salsa schools are open in the capital of the country at once, of course, first of all they work for tourists who come to Panama. So, courses of this popular Latin American dance are held at the Taboo Tavern, an old wine bar in the San Francisco area. Classes are taught by professional instructors who can teach the basics of salsa in just a couple of lessons. As a rule, group courses are held here on Fridays, beginners study from seven to eight in the evening, and people with an average level of training from eight to nine. The cost of a monthly subscription is $45 per person and $80 per couple. However, for tourists who came to Panama for just a couple of weeks, this option is unlikely to suit, but at Taboo Tavern you can create an individual lesson plan, four lessons will cost one hundred and twenty dollars, eight lessons - two hundred dollars, and twelve hours - two hundred forty dollars. Another advantage of this institution is that it regularly hosts salsa nights, which are attended not only by tourists, but also by the Panamanians themselves.

Salsa dance can be learned at another Panamanian dance school, which is located at the back of the house near the Ganexa University of the Arts, opposite the Atlantis tower on Calle Eric del Valle in El Cangrejo. Here, as in the previous school, classes are held in groups of ten people, but there is an opportunity to work out separately. The prices are exactly the same. Another service that this salsa school provides is the departure of an instructor to your home or hotel. This is an ideal option for those couples who decide to have a wedding in Panama and want to perform the first dance of the newlyweds in the traditional style for this country.

Another salsa school I would like to talk about is Panama hot salsa. Its motto is "Un sueño hecho realidad", which means "Let's make a dream come true" in Spanish. Indeed, this salsa school is a great opportunity for all those who have long dreamed of learning how to perform a hot Latin American dance. Panama hot salsa opened its doors to its first students on April 15, 2006, but at that time the school didn't even have a decent building. Nevertheless, thanks to the enthusiasm of the teachers, Panama hot salsa quickly earned a good reputation among salsa fans, and after representatives of this school performed at the international salsa congress in Puerto Rico, the whole world learned about it. Today, the school has its own building in Panama City, which is located in Edificio Royal Park (Edificio Royal Park). The school also operates in a group and private format. Regular courses are open throughout the year, classes are held on all days of the week except Monday and Sunday. They cost only fifty dollars per person, each additional lesson is paid in the amount of fifteen dollars. For only forty dollars per person per hour, you can also learn salsa in a private format.

Among other things, salsa is so popular in Panama that since recently the country has hosted an annual congress of fans of this dance. It is attended by teachers and dancers from Costa Rica, Venezuela, Honduras and the USA. However, one should not think that everything there is devoted only to salsa, the congress hosts seminars on tango, as well as other Latin American dances. It also hosts various competitions, so during one of them the audience chooses a couple that will represent Panama at the Salsa World Championship. The Salsa Congress in Panama City also includes live music concerts and, of course, hot dances in which absolutely everyone can take part, even those who can barely take a couple of dance steps.

If you don't want to learn salsa, but just want to have a fun evening and move to the rhythm of this hot music, go to one of the many nightclubs in Panama. Salsa is usually played everywhere, but only in some places it is done well. One of them is "Cocos", which is located in the lobby of the Panama Hotel. Every evening there is live music, and finding a partner for salsa will not be a problem. This place is also distinguished by democratic prices and at the same time remains quite respectable. "Next" is another nightclub where you can dance salsa. It is one of the ten largest and best clubs in the capital of Panama. Panamanian golden youth loves to come here, but there are quite a lot of tourists in "Next". All types of international pop music are played here, as well as salsa, but only on certain days of the week. Therefore, before going inside, it is better to ask about the music in advance.

There is also a newer place called "La Mansion" which is located in the Paitilla area, which may seem overpriced to some, but is considered one of the trendiest nightclubs. A great place for young salsa dance fans is La Cantina in Marbella. This establishment is characterized by three things - a simple bar, good people and good music. Also on Calle Uruguay, you can dance salsa in one of the tiny Cuban bars, of which there are a lot. Such places are more suitable for those tourists who like the good old salsa. There are quite a few places for dancing here and this makes you have to cuddle up to your partner as close as possible, but isn't that the beauty of hot Latin American dances!?

If you're in the mood for something more extreme, you can visit one of the more seedy spots, like Capo's Bar on the way to Cincuentenario. A dark and smoky place, where, however, it is easy to find a partner not only for dancing, but also for the rest of the night.