How to dance merengue solo
How to Dance Merengue: A Beginner Dance Guide
Do you want to learn how to dance Merengue?
Merengue by Javier
The Merengue is a sensual Latin dance with a history dating back to the African slaves of the nineteenth century.
It is fair to say that Merengue doesn't have as much as a following of other Latin dances for a very outdated reason.
Even though it is now considered a popular social dance in the Caribbean, for a long time it had a stigma attached to it.
The African-inspired drumbeat of the Merengue music meant it was viewed as improper.
Table of Contents
1
How to Dance Merengue
With risqué lyrics, Merengue only became popular due to the west becoming more secular with its ideals.
It became the official dance of the Dominican Republic, but why did it beat Bachata to become the official dance?
History of Merengue
Of the two popular stories as to how Merengue began, the most popular is rooted in the history of slavery.
Allegedly, the dance originated with the leg dragging due to slaves being in chains as they cut sugar to the beat of drums.
Merengue exhibit by timsackton (CC BY-SA)
Another story about the origins of the dance is that a great hero of a Dominican Republic revolution had been wounded in the leg.
During celebrations, his dancing involved a dragging leg, which other citizens decided to imitate out of sympathy.
Merengue is in fact named after the sweet dessert food due to the light and frothy character of the dance and its short and precise rhythms.
In Haiti, it's also known as Mereng, where it's also considered a staple in its culture and history.
Many Dominicans never cite the aforementioned stories as the origin of Merengue but from a program shown on TV known as "SANTO DOMINGO INVITA".
It's most likely true that many Dominicans were exposed to the dance through this well-known TV show, but the origins date back further than many Dominicans realize.
Merengue is basically a combination of two dances; an African tribal dance and the French Minuet, from the late 1700's – early 1800's.
The African slaves were influenced by the aristocratic dances they were exposed to whilst working on plantations and imitated some of the moves performed by their masters.
They provided their own knowledge of dancing and performed what could be viewed as a more enjoyable and fun translation of high society dancing. Learn from this book to get the full story!
How to Dance The Merengue
The original Merengue was not danced by individual couples but was a circle dance, each man and woman faced each other and holding hands – at arm's length.
Africans in Dominican Republic
They did not hold each other closely and the original movements of this dance were only the shaking of the shoulders and swift movement of the feet.
How to Dance The Merengue: Solo
March in place on every beat. If you're following, start marching with your right foot.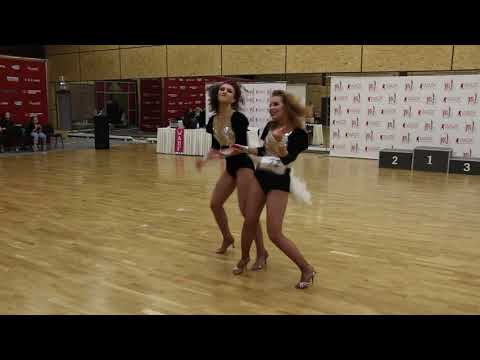 If you're leading, start marching with your left. For every count of the beat, march 1 step.
You don't need to pick your feet up very high—about 2 to 3 inches (5.1 to 7.6 cm) is all you need to march in place.
Bend both knees slightly as you pick your feet up. To give yourself a little bounce, keep your knees bent as you make each movement.
Try not to lock your knees up, or you might look stiff. The merengue is all about fluid, even motion. Keeping your knees bent will also help you keep your steps going in one fluid motion.
Shift your weight to the foot you're stepping down on. For each step that you take, naturally, let your hip fall down in time with your feet as you shift your weight.
Merengue danceroom by COD Newsroom (CC BY)
You don't need an excessive hip shaking or gyrating—just that natural hip movement that takes place when you shift weight. Your hips may move slightly up and down as you sway back and forth.
This motion will come naturally to you as you practice the movements more.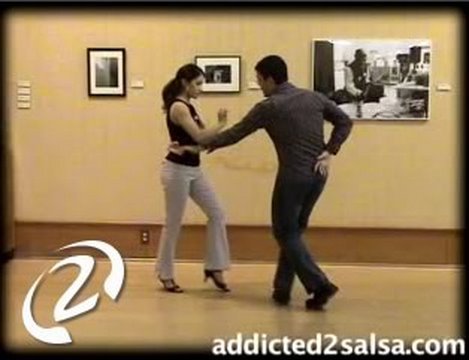 Listen to merengue music to feel the rhythm. Merengue music is all in 4/4 time, so it's easy to apply to almost any song.
Fernando Villalona, Juan Luis Guerra, Eddy Herrera, and Toño Rosario are all artists with great merengue music you can listen to and practice with.
You can also find merengue mixes on YouTube with hours and hours of songs playing continuously.
How to Dance The Merengue: With Partner
Face your partner and stand about 3 inches (7.6 cm) apart. The merengue is a pretty intimate dance, so you'll want to start out with someone you know pretty well.
Start by facing each other and then move in closer so there isn't much distance between the two of you.
Put your hand on your partner's shoulder blade. Lift both of your arms up to about shoulder-height.
If you're the leader, put your right hand on your partner's left shoulder blade, and if you're the follower, put your left hand on your partner's right shoulder blade.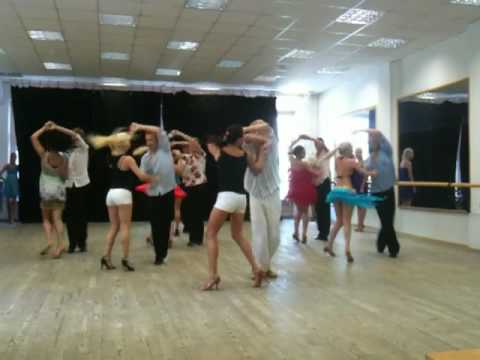 Grab your partner's freehand with your other hand. Now, put your free arm up in an L shape at about shoulder-height.
Grasp your partner's free hand in yours for a secure hold.
Merengue College Dance by COD Newsroom (CC BY)
If you're the leading partner, you'll raise your left hand. If you're the follower, you'll raise your right hand.
Travel across the floor in a circle. With this basic marching step, start moving back and forth, left and right.
If you're the leading partner, rotate slowly in a 360-degree turn.
Take a full 8 beats to do the turn, and try not to rush your movements.
If you're feeling groovy, take 16 counts to do the turn instead of 8.
Famous Merengue Songs
After you've mastered your Merengue steps, familiarize yourself with the world-famous Merengue songs?
See these world-famous Merengue songs below
Abusadora – Oro Solido
Esa Muchacha – Los Hermanos Rosario
Bailar – Deorro ft. Elvis Crespo
La Bilirrubina – Juan Luis Guerra
You Burned Me – Chino and Nacho
Es Mentiroso – Elga Tañón
You shouldn't have any trouble impressing your friends and family with these Merengue rhythms.
How to Dance Merengue
The Merengue is one of the most popular Latin dances that most westerners aren't aware of. It has links with the Bolero, as many Latin dances do, but this dance has a more African beat.
In actual fact, Merengue is probably the most fun dance to try out if you're willing to give it a go.
It may be difficult to find lessons or tutors where you live, but if you have access to one, or thinking of traveling to the Dominican Republic you should definitely give it your all!
📌 Like this article? Pin it…
Missing something? Got tips, tricks & advice we can learn from?
💬 Leave a nice comment or let's start a conversation below!
---
"Dear friend! Some links in this post contain affiliate links.
Meaning, if you click through and make a purchase, book a hostel or sign up for a tour, I may earn a small commission at no additional cost to you. Your support means a lot and helps me to keep traveling and maintaining the quality of this site for you."
Merengue | University of Dance
Learn to Dance Merengue Online
Merengue is an easy Latin American party dance that originated in the Dominican Republic and is popularly danced around the world today.
In this comprehensive online course, you will learn the basics of Merengue, as well as over 50 different turns and combinations you can use to spice it up. Given that the footwork of Merengue is relatively simple compared to other dances, this course will allow you to learn more complex shapes with ease.
Once you've learned these shapes using this simple footwork, you can easily adapt them into other dances you might know, whether that's Swing, Salsa, or even Waltz.
What You Will Learn
Welcome to Merengue!

FREE PREVIEW

Lead and Follow

FREE PREVIEW

Dance Positions

FREE PREVIEW

Music

FREE PREVIEW

Basics

FREE PREVIEW

Hip Styling

FREE PREVIEW

Follow's Outside Turns

Follow's Inside Turns

Turns in Closed and Between Closed and Open

Lead's Turns

Multiple Turns

Dishrag

Double Dishrag

Dishrag Sunburst

Dishrag Phoenix

Dishrag Body Drape

Barrel Roll

Matador

Matador Wheel

Cradle

Cradle Wheel

Cradle Yo Yo

Cradle Duck

Cradle Switch

Double Turn from Cradle (High, High)

Double Turn from Cradle (High, Low)

Double Turn from Cradle (Low, Low)

Cradle Tornado

Cradle to Matador

Matador to Cradle

Lead's Cradle Wheel

Wrong-Way Cradle

Waist Slide and Behind the Back Hand Change to R-in-R

Mixmaster

Pretzel

Have Fun!
About this course
$29. 99
36 lessons
3.5 hours of video content
The Music
Here's a preview of some of the exciting Merengue music this course will teach you to dance to:
Your Instructors
Nick & Melissa Enge
Nick & Melissa Enge are social dance instructors at the University of Texas, where they teach hundreds of students how to dance every semester. They are known for their relaxed, fun-loving approach to dancing, which puts even the most terrified students at ease. Given that their in-person classes are always full, with a waitlist, they created this site so that anyone, anywhere can learn from them at any time, and experience the joy of dancing!
FAQ
What will I learn in this course?

In this course, you'll learn the basics and over 50 popular variations of Merengue. After taking this course, you'll have a good understanding of how to dance Merengue, as well as how to lead and follow many of the common shapes that appear in other social dances as well.

Why should I learn Merengue online?

In our online classes, everyone gets the best view, instead of having to crane their neck to see what the teacher is doing. In addition, when learning online, you can watch the lessons over and over again (now, and any time in the future), as well as rewinding or slowing down the video if you need more help with a particular step.

Why should I learn Merengue from you?

Unlike many other sites that offer online classes, where you might only get a quick demonstration of the steps, in the 3+ hours of detailed instruction you will receive in this course, you'll actually get a step-by-step breakdown of each variation as well as many specific tips about the finer points of leading and following them. In addition, in developing this course, we thought carefully about how to arrange the variations so that each lesson builds on what you've learned in the previous lessons, so you'll always know exactly what's going on.

Do I need a partner?

No! In addition to teaching the variations in a partnered context for students who are learning with a partner, in each lesson, we virtually dance the steps with you so that even if you're learning solo, you'll have us to dance with.
If you're ready to party...
Get started now
Latina Solo - Latin lessons for beginners in St. Petersburg at the Show Time dance school
Home \ Directions \ Solo Latina (solo Latina)
You can get acquainted with the prices here Prices
See all current promotions here 95, +7 (911) 762-51-70;
SCHEDULE
| | | | |
| --- | --- | --- | --- |
| Days of the week | Class times | Teacher | Group status |
| Fri | 19:00 (2 hours) | Alexandra Zueva | Open group |
| sat | 14:00 | Xenia Kolosova | Recording in progress, start 12. 11 |
| sun | 13:30 | Anastasia Vaida | Open group PRO |
| sun | 14:30 | Anastasia Vaida | Open group |
Latin American dances are famous for their passion, impulsiveness and positivity. Latin dances are mamba, salsa, bachata, samba, cha-cha-cha, rumba, jive, merengue, solo latina and other dances.
Dance school Show Time opens a group of solo latin for beginners in St. Petersburg. Classes are suitable for all fitness levels and all ages. Solo latin will help develop dance skills, sense of rhythm and femininity. Already after the first lesson you will gain self-confidence, feel more attractive and notice the attention of men. No matter what goals you set for yourself when you go to study Latin American dance at our Show Time school, the results will still exceed your expectations.
Solo latina video
Even more videos in our official group or on our Youtube channel
Latin dance in St. Petersburg
Thanks to complex eights, the main movement of Latin American dances, your hips and legs will become slimmer 9008 "Buttocks" and the lower press will be pumped up. At the same time, the intensity of training in our Show Time dance school will make you burn about 400-500 calories per hour for each lesson.
In addition, during the class you will receive prevention of female diseases, as you will get rid of blood stasis in the pelvic organs! Well, you will completely forget about depression or stress, charging your nervous system with positive! Latin dance solo will help to release all the accumulated emotions.
How is the latin solo training going?
Latin dance solo training at Show Time studio is divided into the following stages:
warm-up; warming up muscles before training;
the main part of the workout with the maximum load. The very middle where we study dance movements and links to them.
gradual cooling and final stretching.
Tips for choosing clothes and shoes for the lesson
The most important thing is to choose clothes that will not restrict your movements, that you like and that you feel comfortable in! Shoes should have a soft sole, slide, but not very much (not a rubber sole, for example, sneakers will be uncomfortable for you), not hang on your leg, you should be comfortable in it (that is, while dancing, you should at least not think about shoes, and ideally do not remember at all whether it is or not). Czech shoes or shoes from the Latin American ballroom dance program are ideal. And remember, how you move has a huge impact on how you look.
Sign up for Latin lessons for beginners!
Many women would like to try their hand at bright and passionate latin style. Due to the high intensity of the Latin solo dance classes at Show Time, you can find not only a good mood, but also a beautiful figure, health and perfect posture.

We provide training from scratch. Sign up for solo latin lessons for beginners at the Show Time dance school in St. Petersburg at the link or by phone +7 (812) 961-70-95, +7 (911) 762-51-70.
Shares
Discount 10% for any subscription when buying on the first day of visit to the studio
Dance with us))
All details by tel.:
8 (812) 961-70-70 95
8 (911) 762-51-70
Encyclopedia: Merengue - training description, who suits, what you need
>
Merengue
Level: For all
What to wear: Leggings/shorts with a top for a girl, for guys – light trousers or shorts with a tank top + sneakers or dance shoes
Who: Suitable for both experienced dancers and beginners, but it is better to have at least a little training
Purpose: Teach dance Latin American dances, pull up the figure
Merengue is a paired Latin American dance, which is distinguished by the emotionality and closeness of partners.
There are many rotations and turns in the merengue, the pace in the dance gradually increases and the movements become more active. Despite this, merengue is quite easy to learn, and there are no complex movements that require special training.
Bikram in Moscow
Aldo Rein Aldo Rein Aldo Rein Aldo Rein
All Bikram Yoga classes
Try FITMOST for free
Try it
New users only
View my bookings
To book classes, you need a FITMOST subscription
Buy
You don't have enough points to book this activity
Buy
Confirm phone number
The phone is needed to send you a booking confirmation code and an emergency contact in case of changes in the booked activities.