How to dance haka
The Haka Dance of War From New Zealand
LAMBADA DANCE – BRAZIL
The Lambada dance is a renowned dance form from...
Read more
BACHATA DANCE FROM DOMINICAN REPUBLIC
Bachata is a Latin American music genre that originated...
Read more
SAMBA DE GAFERIA DANCE FROM BRAZIL
Samba De Gaferia is a dance style created using...
Read more
MERENGUE DANCE – DOMINICAN REPUBLIC
Merengue dance originated in the Dominican Republic and is...
Read more
YINGGE DANCE – CHINA
Yingge is also referred to as "Egnor" and is...
Read more
How to Dance Merengue for Beginners: 4 Merengue videos
Merengue is a popular Cuban dance that originated in...
Read more
Most Popular Spanish Dances
Get to know the different types of traditional Spanish...
Read more
TINIKLING DANCE, NATIONAL DANCE OF PHILIPPINES
The Tinikling dance from Philippines is a very intriguing.
..
Read more
SAMBA DANCE FROM BRAZIL
Brazilian Samba dance is considered to be 'Afro-Brazilian' in...
Read more
LION DANCE – CHINA
Performed mainly during auspicious events such as wedding ceremonies,...
Read more
TANGO DANCE – ARGENTINA/URUGUAY
Included by UNESCO in the Intangible 'Cultural Heritage list'...
Read more
5 MOST FAMOUS ITALIAN FOLK DANCES
Italian folk dances are an innate part of Italy's...
Read more
Gumboot Dance From South Africa: Secret Communication Channel Of Native Miners
Gumboot dance is an African dance form performed using...
Read more
Top Dance Studios in Dallas, Texas, USA
Looking for the top dance studios in Dallas, Texas?...
Read more
KABUKI DANCE – JAPAN
Comprising elements of "theatre" as well, is dance form...
Read more
Things You Need To Know About Portuguese Traditional Dances
Culturally speaking, Portugal is known for a number of.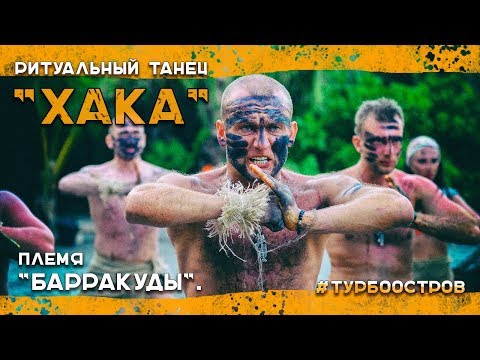 ..
Read more
LAKHON CHATRI DANCE – THAILAND
Considered to be extremely "old" is a Southeast Asian...
Read more
PARASOL DANCE – Japan: 'The Umbrella dance'
Parasol, an asian dance form is performed on a...
Read more
Bollywood Dance of India – A Baffling Dance Fusion..
The word "Bollywood" originated when the Indian film industry...
Read more
Why is Ballet Dance so popular?
When I was a kid, I was fascinated by...
Read more
Top 10 Most Romantic Dance in the World
Looking for the most romantic dances across the globe?...
Read more
Most Popular Types of Dance for Adults in the USA
Dance classes are one of the best ways to...
Read more
Top 15 USA Dance Competitions: The Ultimate List
If you think you've got the love and passion...
Read more
Zumba Dance – Everything you need to know!
If you're looking for a source of physical exercise,.
..
Read more
Top USA (American) Origin Dance Forms
If you are looking for the top dance styles...
Read more
THINGS YOU NEED TO KNOW ABOUT RHUMBA DANCE
'Ballroom rumba' is now a popular American dance style...
Read more
All you need to know about Indian Classical Dance forms
India is a country known for its rich cultural...
Read more
Why Must Contemporary Dance Be Appreciated?
Contemporary dance is a genre of dance that involves...
Read more
Indian Classical Dance, Explaining its Role in Education
The rich Indian culture comprises of mainly two dance...
Read more
Brazilian Samba: What is it and why is popular in the culture?
"Energetic" is the ideal word used to describe a...
Read more
7 most popular forms of Salsa dance
Boys and girls, It's time to learn salsa dance...
Read more
5 POPULAR NORWEGIAN FOLK DANCE FORMS
The Scandinavian region with its vast and unique history.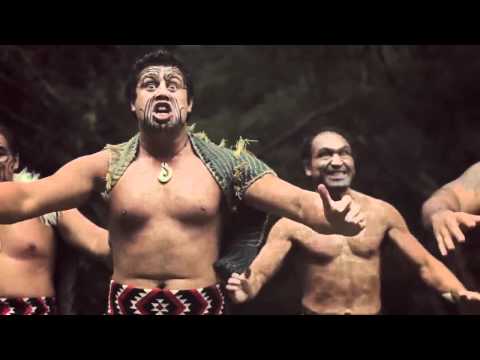 ..
Read more
MACULELE DANCE – BRAZIL
Performed in a group by forming a circle called...
Read more
NOH MAI DANCE – JAPAN
Noh Mai Dance is a folk dance from Japan...
Read more
LANYTANC DANCE – HUNGARY
Similar to "Karikazo" is a Central European dance known...
Read more
SAMAIA DANCE – GEORGIA
Performed mainly by "women" is a Eurasian dance form...
Read more
KHORUMI DANCE – GEORGIA
Performed mainly by "males" is a Eurasian dance style...
Read more
KALAMATIANOS DANCE – GREECE
Kalamatianos is extremely "joyful and festive" a Southeast European...
Read more
JOROPO DANCE: National Dance of Venezuela
Joropo is a dance style created using elements belonging...
Read more
MAK YONG DANCE – MALAYSIA
Declared in 2005 by UNESCO as a "Masterpiece Of...
Read more
ITIK ITIK DANCE – PHILIPPINES: A dance inspired by 'Movements of a duck'
Itik-Itik is a Philippines folk dance form created by.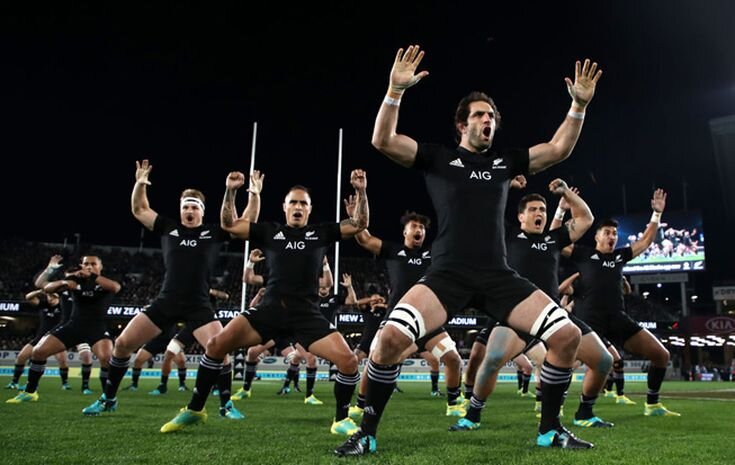 ..
Read more
SCHUHPLATTLER DANCE – AUSTRIA AND GERMANY
Schuhplattler dance is a traditional folk dance from the...
Read more
WALTZ DANCE OR VIENNESE WALTZ FROM AUSTRIA/GERMANY
The Viennese Waltz, or more popularly, the Waltz is...
Read more
APACHE DANCE – FRANCE
Closely linked to the "Parisian" street culture is a...
Read more
OBEREK DANCE – POLAND
"To spin" is what an exuberant East European dance...
Read more
TALCHUM DANCE – East Asia: 'Korean Mask Dance'
Talchum is an intriguing Mask dance of East Asia...
Read more
SEUNGMU DANCE – KOREA
Seungmu dance is created and performed mainly by "Buddhist...
Read more
DRAGON DANCE- CHINA
Dragon Dance is a traditional Chinese folk dance mainly...
Read more
TROIKA DANCE FROM RUSSIA
Troika or "Trojka" means "THE TRIO". One man dancing...
Read more
5 MOST POPULAR PORTUGUESE TRADITIONAL DANCES
Portuguese folk dance, also called Ranchos Folclóricos are an.
..
Read more
New Zealand
6 minutes read
The All Blacks do the Haka during the England versus New Zealand autumn international rugby union match at Twickenham Stadium on November 16th 2013 in London (Photo by Tom Jenkins)
Haka dance is a Maori war dance from New Zealand. Haka is a ceremonial dance said to be performed as a part of battle preparations. The Maoris are an indigenous community of New Zealand and this 'war dance' is said to have been essentially developed to be performed before a battle. There are different types of Haka, and they include ka mate, kapa o pango, whakatu waewae, tutu ngarahu and peruperu. This Maori dance style is renowned for energetic dance movements as well as for loud and aggressive chanting by the performers. The Haka is performed by a group and displays the 'pride' and 'solidarity' of the tribe.
What is the Haka dance?
The Haka dance is very peculiar in the way the group members chant loudly with aggressive body stances like foot stomping, chest beating, swaying and thigh slapping.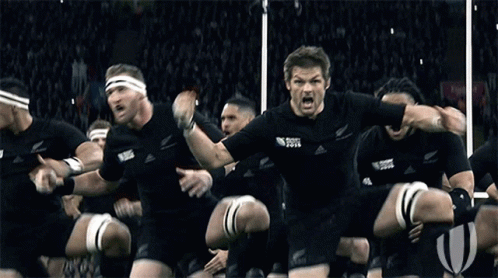 The dancers literally stick out the tongues and make rhythmic shouts with wide bulging eyes. To the uninitiated, it may seem a bit daunting and intimidating.
The Haka of New Zealand is now performed in social events, felicitation ceremonies, sports, weddings and even funerals.
The Haka is an ancient type of Mori war dance which is traditionally used on the battlefield and when groups come together in peace.
The basic actions include foot-stamping, tongue protrusions, and rhythmic body movements to accompany a chant. The History of Haka poetically describes the ancestors in the tribe's history. Performance requires strict discipline. It is a character-building exercise for the performers to connect themselves with their past and their present.
Video: Welcome to New Zealand | TIP 005: HAKA by YouTube channel 'How To Dad'
History/origin of the Haka Dance:
According to the cultural history of New Zealand and the Maori community, this dance was originally conceived to be performed before battle by warriors so as to essentially intimidate the enemy.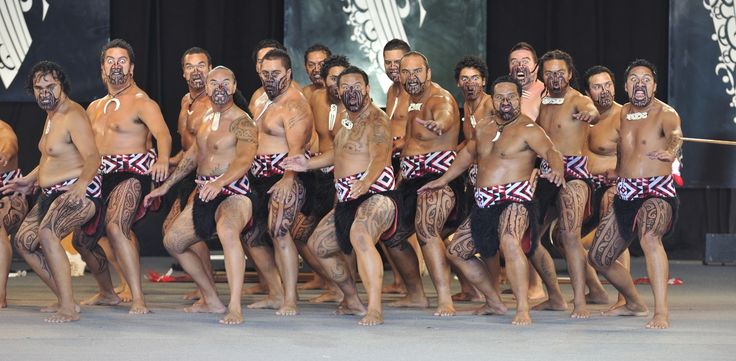 However, over the years this dance has been performed mainly as a social dance in functions such as welcome ceremonies rather than before a war.
Today, Haka dance captures the power of the language, music, and wairua of te ao Māori. It's an important component of the Māori world. Haka is more than a cultural performance; it is inked to the rituals that evolved out of the rituals that we have on marae, including pōwhiri, whaikorero, and waiata."
Furthermore, this dance has also been popularized over the years by the New Zealand Rugby Union team known as the "All Blacks" who perform it prior to every international match they play. Apparently, the origin of this dance is closely linked to a Maori myth related to a sun god named Tama-nui-te-ra worshipped by the community. It is said that this sun god had a wife and son named Hine-raumati and Tane-rore respectively. Now, according to the Maori community, one day the son supposedly danced for his mother.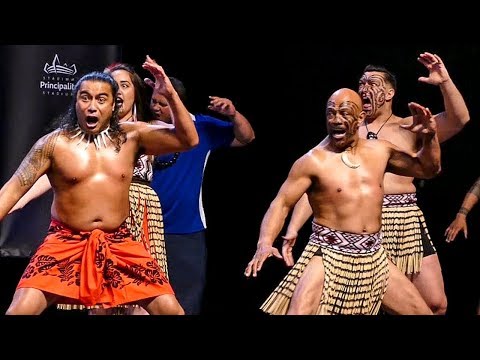 It was this dance performed by Tan-rore that was then used by the community as a foundation to develop this dance now known as "Haka".
Different forms of Haka dance
Some of the forms of Haka dance where the style is performed well with or without weapons are:
a. The Tutungaruhu (performed with long weapons by a war party who jumps from side to side)
b. Ngeri ( no moves performed without weapons to face the enemy)
c. Peruperu (performed with weapons, men leap off the ground up and down, face to-face with the enemy).
d. Haka Taparahi (performed without weapons)
These are a few examples of the different forms of Haka dance.
The Benefits Of Haka Dance
What should be pursued is the uniformity of movement and message. The message should be paramount, Haka dance was always connected with war, but in today's world, physical war has become politically oriented.
This style has become a means to convey messages, whether they be social, political, or environmental issues, to have an audible voice which can be heard throughout the globe.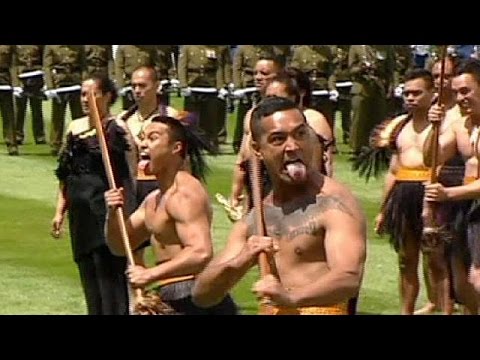 This alerts people that there is an issue, which is also followed by a solution or thought of encouragement.
Nowadays, Haka is used for Mori ceremonies and celebrations as a way to honour guests and to show the importance of the occasion. This is almost seen in gatherings and occasions.
The head is alert like a tekoteko, the arms are stretched out like a maihi, and the chest is erect like a whare. 
The importance of Haka dance
The Maori use Haka to help their people find themselves, particularly those Maori who have grown up in cities and have lost touch with their traditional upbringing. Through Haka, they found a source to find the connection.
"I have had many youths come through my doors over the last 25 years." Many of these kids are affiliated with gangs and kicked out of schools," says the founder of The Haka Tapeta Wehi Experience. The change in these kids is quite unbelievable. "Haka is a tool. Kids get to learn about Whakapapa (genealogy), Tikanga (Maori lore), Tipuna (ancestors), Atua Maori (Maori gods) and most importantly, it reconnects them to themselves.
Identity is the essence of any kid. It helps our youth throughout the right direction to face challenges that may lie ahead.
Video on Haka Dance History:
"HAKA HISTORY"
Costumes used in the Haka Dance
While the Haka dance is perceived as a ceremonial battle dance performed by men, it is actually performed by both men and women across a variety of ceremonies in the Maori culture. The traditional "Kapa Haka" costume is mainly used in this dance style. However, this costume varies according to the gender as follows:
For men:
The Kapa Haka costume may include a tāniko tātua (belt), Piupiu skirt (flax skirt) and a headband. Tāniko is a Maori weaving technique with coloured yarn involving 'twinings'.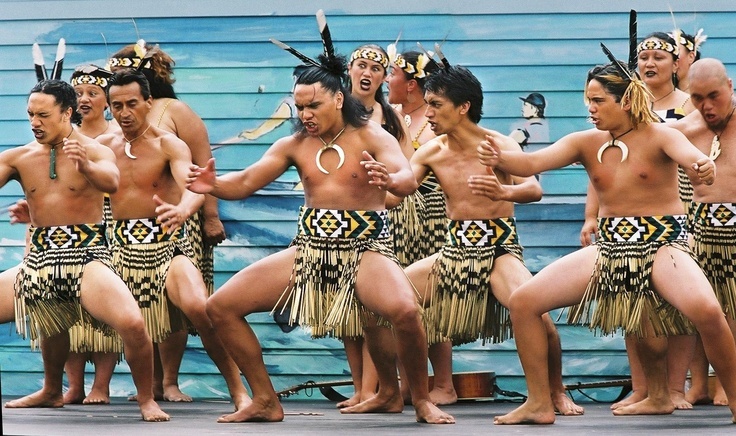 The material used in the tāniko is muka fiber prepared using the New Zealand flax.
For women:
The Kapa Haka costume can include elastic shoulder straps, a Piupiu skirt (flax skirt), tāniko bodice (a top made of coloured yarn weaving) and a headband. Some women members may also wear the korowai (cloak).
Music involved in the Haka
No musical instrument or ensemble is actually used in this unique "war" dance. Usually, the performers make use of strong chanting while performing.
Training, availability and the technique involved in the Haka:
In terms of technique, this war dance basically involves the use of extremely vigorous body movements. Furthermore, the performers also stamp their feet in rhythm with the accompanying chanting. As for training centers/schools, there are practically none around the world since this "war" dance was mainly performed by the Maori community in New Zealand. In the past few decades, the dance has gained popularity due to the performance by the 'All Blacks' Rugby team of New Zealand.
This has led to many well performed Haka dances recorded and put up on YouTube. If someone or a group wants to learn and perform the Haka, there are a few online videos available as tutorials.
Best Haka Dance Videos
The Greatest Haka everOriginal Maori Haka DanceKapa Haka | NPRMāori All Blacks perform their haka against IrelandThe Best Haka of all time?! #RWC2021
image credit
Views: 1,227
HAKA- NEW ZEALAND
Top
The Maori Haka: Its Meaning & History
© Tourism NZ
What is the Meaning of the Haka?
If you have heard anything about the New Zealand culture, no doubt you will have heard about the Haka. This captivating chant seen at many important New Zealand events, most famously before a rugby match against the All Blacks, has made the world more intrigued by the Maori culture.
Of course, a great way to learn more is to come and experience the Maori culture for yourself in New Zealand. But to give you more context about the importance of the Haka and what the Haka means to the Maori people, we have put together this quick guide to the Maori Haka.
The Maori culture goes way beyond the Haka though, so we recommend you immerse yourself either by attending a cultural show, experiencing a hangi meal, learn about greenstone carving and more!
Where Did the Haka Come From?
Because Maori history has been passed down through songs and the spoken word, there's not a clear story on where the haka first came from. However, there are a couple of common stories associated with the haka.
The Haka in Maori Legend
There are many Maori legends to suggest where the Haka came from, but one common legend is that of the sun god, Tama-te-nui-ra. His summer maid, Hine-raumati, made the air seem to dance and quiver on hot days. This is reflected in the quivering motion that haka performers do with their hands.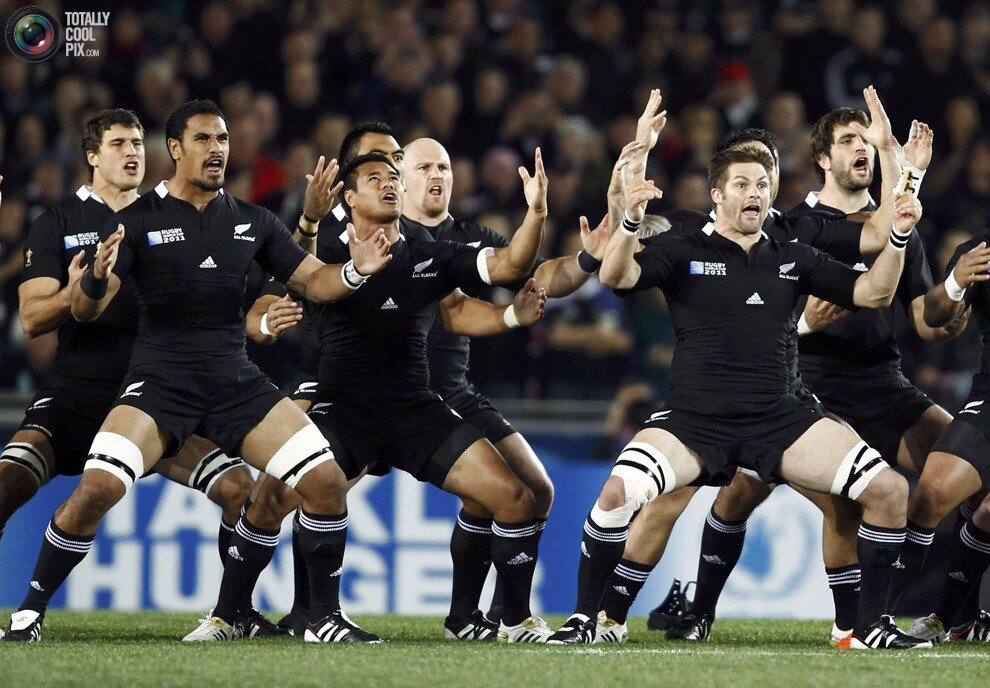 The Haka Meaning – Haka Translation
There is not really a haka translation per se but the word itself cand be found in other Polynesian culture meaning "dance". So when it comes to what does the haka mean, it all comes down to the haka dance meaning itself and we will elaborate on this below.
The Haka is Maori History
One early rendition of the haka being used was by chief Tinirau and the women in his tribe. He wanted revenge on a tohunga (priest) called Kae who was responsible for killing Tinirau's pet whale. He sent his tribes' women to hunt Kae down but all they knew about him was that he had crooked teeth. Upon arriving at their opposing tribe, they performed the haka to make the men smile and reveal Kae's teeth, thus his identity.
Learn more about the Maori history in this quick guide.
© NZPocketGuide.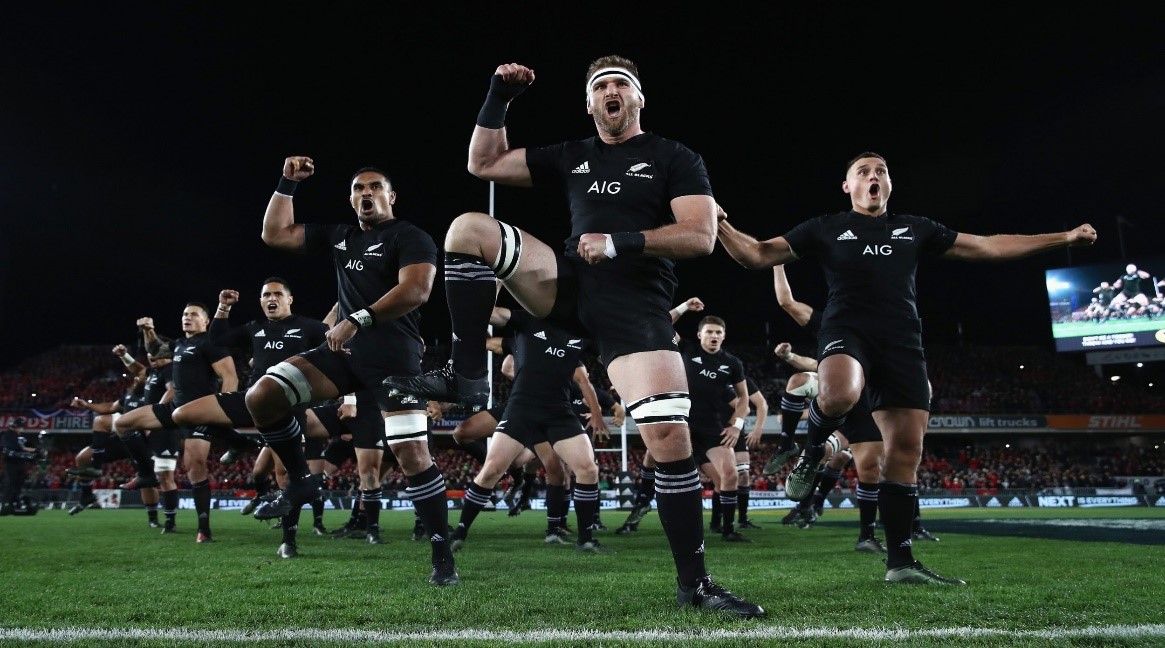 com
The Different Types of Haka
While there are far more haka than the one listed below, here are a few of the main types of Maori haka.
Peruperu Haka
The Peruperu is a type of haka performed as a "war dance", as it was traditionally performed before a battle. It is characterised by leaps where the legs are pressed under the body and weapons are usually used. The sticking out of the tongue and bulging eyes are meant to intimidate the opponents, as well as invoke the God of War.
Ngeri Haka
The Ngeri haka has a different purpose to motivate both performers and warriors. It's usually performed without weapons and movements are freer as a sign of the performers expressing themselves.
Manawa wera haka
This haka is usually performed at funerals or after somebody's death. Again, no weapons are used and the movement is freer.
To learn more about how to pronounce Maori words, take a look at our te reo Maori guide.
© NZPocketGuide.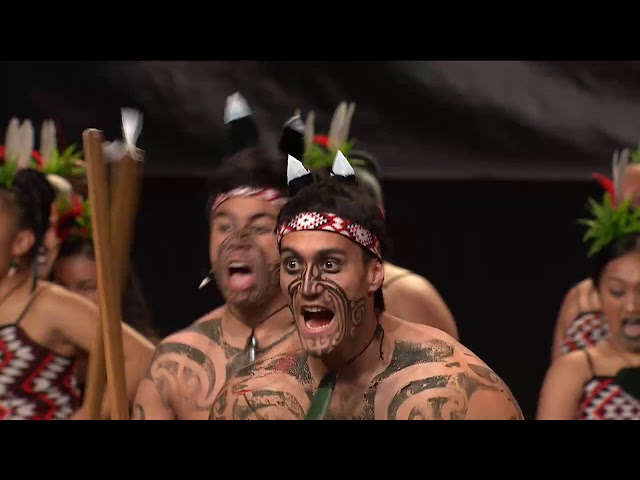 com
Who Can Perform the Haka?
Long answer short; anyone can perform the haka as long as it is done with seriousness and respect. Traditionally, both males and females perform the haka, but there are certain haka involving only women and the same goes for the men.
Of course, traditionally, only the Maori performed the Haka but since New Zealand had a mixed population of Maori and Pakeha (non-Maori New Zealanders) are involved in performing haka. In fact, they even teach the haka in New Zealand schools.
© Alasdair Massie on Wikipedia
The All Blacks Haka
The most famous haka heard internationally is the Ka Mate Haka. This is the haka performed by the national New Zealand rugby team, the All Blacks. The main body of the chant goes like this:
Ka Mate Haka
Ka mate, ka mate! ka ora! ka ora!
Ka mate! ka mate! ka ora! ka ora!
Tēnei te tangata pūhuruhuru
Nāna nei i tiki mai whakawhiti te rā
Ā, upane! ka upane!
Ā, upane, ka upane, whiti te ra!
English translation of the Ka Mate Haka
'Tis death! 'Tis death! (or: I may die) Tis life! Tis life! (or: I may live)
Tis death! Tis death! Tis life! Tis life!
This is the man
Who brought the sun and caused it to shine
A step upward, another step upward!
A step upward, another… the sun shines!
© NZPocketGuide.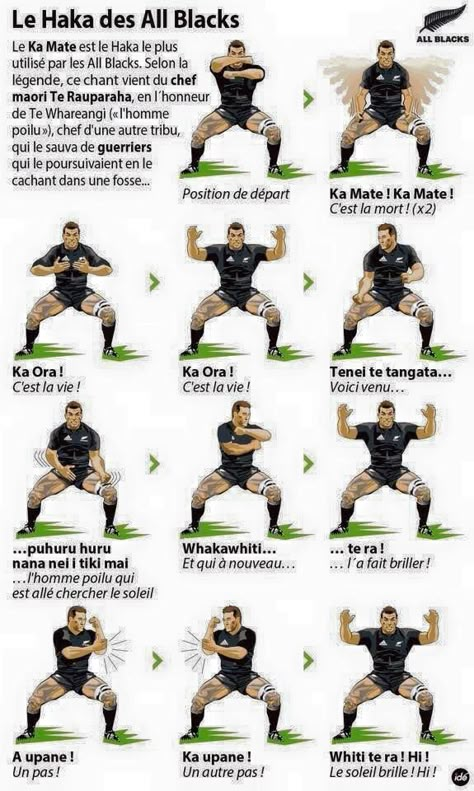 com
The History of the Ka Mate Haka
The Ka Mate Haka was composed in 1820 by a war leader of the Ngati Toa iwi (tribe) called Te Rauparaha. He was fleeing his enemies from the Ngati Maniapoto iwi and the Waikato. He was given refuge on the shores of Lake Rotoaira at a site called Opotaka. He hid in a kumara pit. It was here that he was said to utter the words "Ka mate, ka mate, ka ora, ka ora", continuing to compose the lyrics to the Ka Mate haka until his pursuers never found him and when Te Rauparaha emerged from the pit and was befriended by the tribe at Opotaka.
Te Rauparaha's haka was a celebration of life over death, rather than a war dance.
Opotaka
You can visit the very site and even the kumara pits where the Ka Mate Haka was born at Opotaka on the road between Turangi and the Tongariro National Park on the North Island. The site is well sing-posted off State Highway 47 about 13km (8 miles) from Turangi.
Author
Robin C.
This article was reviewed and published by Robin, the co-founder of NZ Pocket Guide.
He has lived, worked and travelled across 16 different countries before calling New Zealand home. He has now spent over a decade in the New Zealand tourism industry, clocking in more than 600 activities across the country. He is passionate about sharing those experiences and advice on NZ Pocket Guide and its YouTube channel. Robin is also the co-founder of several other South Pacific travel guides.
Contact Robin via our contact page
Was this article useful?
Share on facebook
Facebook
Share on pinterest
Pinterest
Share on twitter
Twitter
Related Posts
Recommended For You
Let's dance the Haka according to the rules )) «7x7» Horizontal Russia
The world-famous war dance Haka has been officially assigned to the Maori tribe to avoid copyright infringement.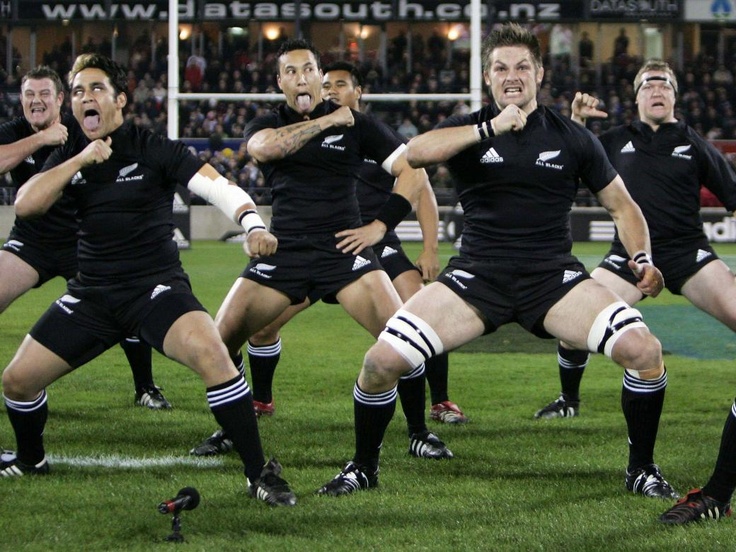 - So the Maori tribe officially secured the copyright for the haka dance, which became the face and symbol of the whole camp.
In particular, the New Zealand government has assigned tribal members ownership of the battle cry "Ka mate!"
(Source: http://www.destinations.ru/news)
It is now officially recognized that the Haka dance was invented by a Maori leader named Te Rauparaha to celebrate the salvation of a warrior from death in a battle that took place in 1820.
The welcome version of the Maori dance is also performed at the official (and diplomatic) level, for example, see:
Haka welcome for China's president in New Zealand - no comment
While the tribe's acquisition of copyright is largely symbolic, it is very significant for Maori leaders. Members of the tribe will not be able to claim any royalties if their copyrights are infringed, however, improper use of the dance for commercial purposes is now prohibited.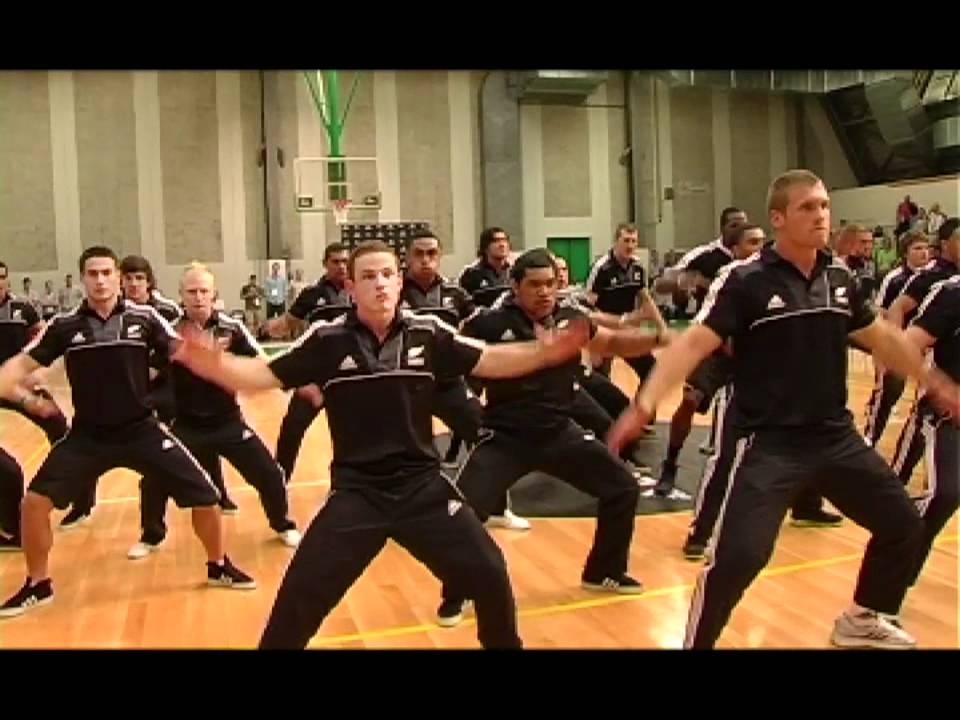 The main purpose of owning dance copyright is to prevent theft and "wrong" performance of the haka dance, as happened, in particular, in 2006. Then the automobile concern Fiat released a series of commercials in which the dance of the Maori tribe was performed by Italian women. nine0009 While, according to the members of the tribe, the dance is performed only by men.
And here is a quite European or even rather Anglo-Saxon version of Hack in college, see:
http://www.youtube.com/watch?v=OdXv3mggP08
Hamilton Boys' High School Haka 2014
. nine0009 Of course, there is something to be offended with… not everyone likes the taste of ginger! ))
At the same time, hack, it must be admitted, is really in the national character,
both street culture and flash mob are reflected through hack, see:
http://www.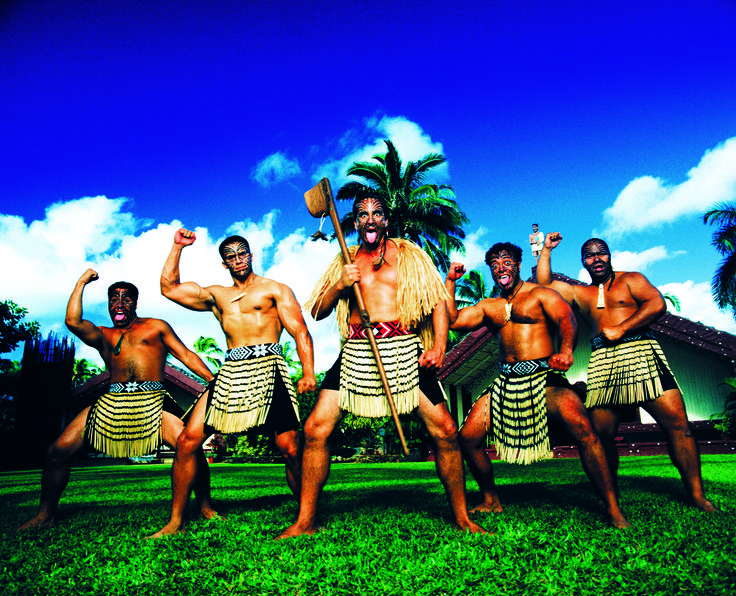 youtube .com/watch?v=bmSNN7vZt_o
Flash Mob Haka Surfers Paradise 11.09.11.MP4
This is where the full awareness of their own national identity is, when even law enforcement officers dance Haka!..)))
And here is another technology, the so-called. "cultural cooperation" is a manifestation of the soft power of the Maori tribe through the penetration of the culture of haka dance into other countries:
Flash Mob Haka Trafalgar Square London 2012 , see:
http://www.youtube.com /watch?v=IYpKHySqIpQ
It must be said that haka is a traditional New Zealand Maori dance accompanied by choral support and/or shouted words. nine0009
In the old days, the Maori danced the haka, calling on the help of the spirits of their native nature, entering into battle with the enemy.
During the dance, with gestures and facial expressions, the warriors demonstrated terrible torments to the enemy, waiting for the latter in a few moments (reception of consciousness encoding).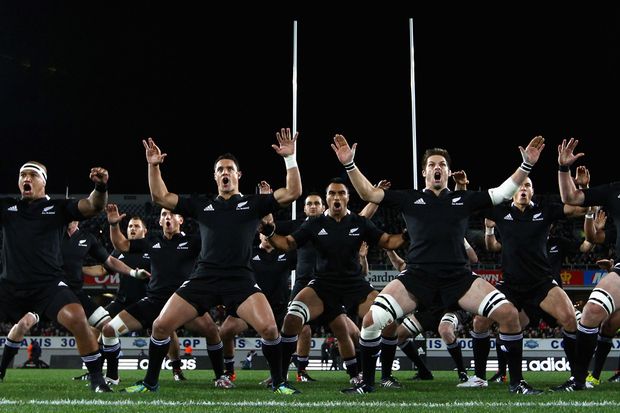 This is why the Haka is used in modern Marine training. At the same time, the official national anthem (do you catch familiar words in it?) is performed by soldiers in the ranks only after the haka dance! .., see:
http://www.youtube.com/watch?v=7Ynl8_slWrs
Deadliest Warriors In The World: Royal Tongan Marines Battle Cry - Sipi Tau (Kailao)
in business practice, and in offices, see:
http://www.youtube.com/watch?v=2Vxy_-e_hZ8
All Blacks meet Maori King with massive Haka
And here Haka performed by Prince Harry)) see:
http://www.youtube.com/watch?v=hzud2shV_UU
Prince Harry performs the NZ Army Haka
in facial expression and voice modulations. The most famous outside of New Zealand is the haka, traditionally performed by the country's national rugby team before matches.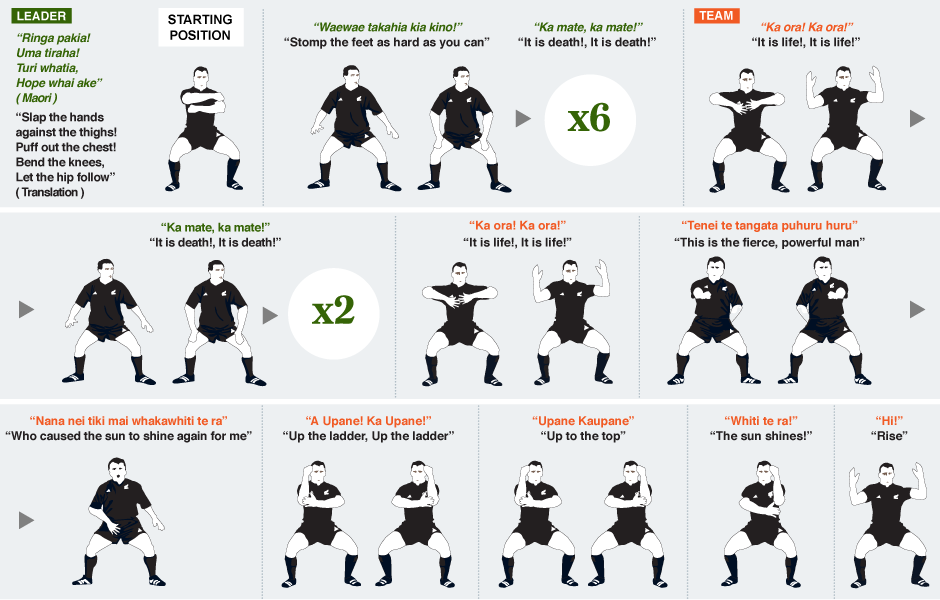 Perhaps it was the performance of the All Blacks rugby haka dance that made him world famous. Although at one time "had a hand" (or rather, a leg) and the company "Adidas", which made it its advertising symbol on TV. nine0009
Haka in football GzI8c
It seems that the white T-shirts trembled and nervously sorted out-minced with bent legs ))
Finally rate the hack as... Wedding gift ! - it seems that the groom's jaw trembled and fell off, and the Maori bride was moved to tears ...
See: http://www.youtube.com/watch?v=rX4Q4AaVELw
Advice - IMHO)): If you want natural positive emotions and a charge of vivacity, just open Yu-tube and enter Haka maori .
You can also shout " Ka mate!" ", but better inherited from the Ancestors" Hooray! ..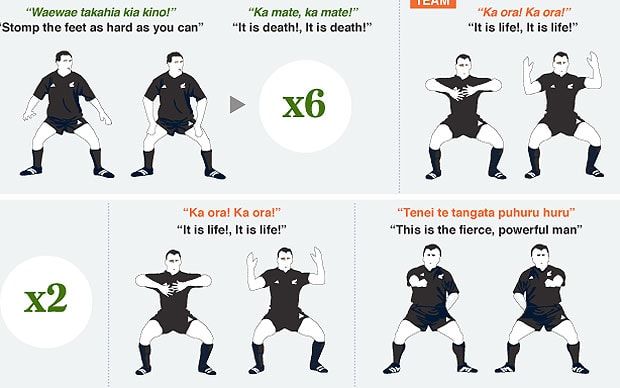 "
And enjoy!
_________________
Question to lovers of Komi Ethnography from among "human rights activists":
Maybe it's also time for us "copyright" to something initially folk and original cultural legislative legislative? ..
RS: in order to avoid blocking the account due to the so-called. "copyright" video from YouTube decided not to expose, sorry miles)), only link ...
ritual dance / Interesting / Articles / More / About everything
Not all ritual dances of different peoples are lucky enough to find application in our time. The exception was the national dance of the New Zealand Maori tribe, which they themselves call "haka".
Haka (Maori haka) is a New Zealand Maori ritual dance during which performers stomp their feet, beat their thighs and chest, and shout out an accompaniment.
Haka was performed mainly in the evening for entertainment; there were purely male haka, women's, children's, as well as suitable for adults of both sexes.
nine0005
Guests were also greeted with this dance. Welcoming dances usually began militantly, since the greeters did not know the intentions of the arrivals.
It was with this militant dance that the armed Maori greeted James Cook in 1769.
The Maori word "haka" means "dance in general" and also "song accompanying the dance". Haka cannot be attributed exclusively to "dances" or "songs": in the words of Alan Armstrong, haka is a composition in which each instrument - arms, legs, body, tongue, eyes - performs its own part. nine0005
There are several different legends about the origin of hack. According to one of them, this dance was first performed by women who were looking for a certain Kae, who killed a whale that belonged to the leader of the tribe. The women didn't know what he looked like, but they knew he had crooked teeth. Kae was among other people, and in order to identify him in the crowd, the women performed a funny dance with comical movements.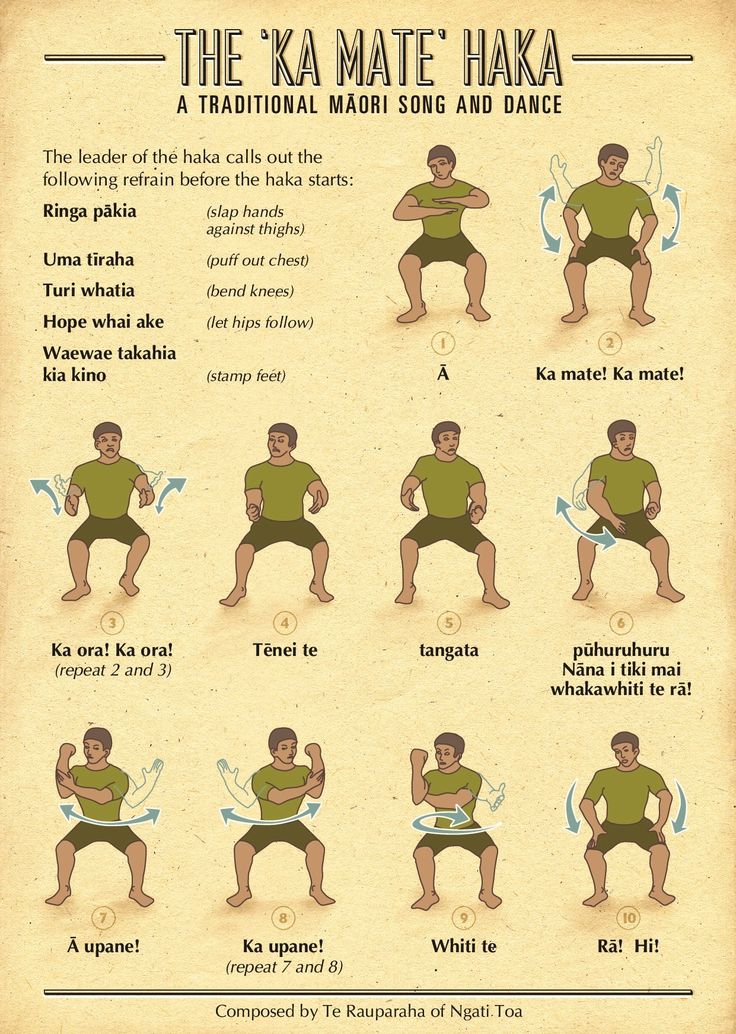 Seeing the haku, Kae laughed and was recognized.
Christian missionary Henry Williams wrote:

"It is necessary to ban all old customs, dances, singing and tattoos, the main local orgy. In Auckland, people like to gather in large groups to demonstrate their terrifying dances.

Over time, the attitude towards dances on the part of Europeans improved, haku began to be regularly performed during the visits of the royal family.
Characteristic details of khaki - the dance is performed simultaneously by all participants and is accompanied by grimaces. nine0005
Related...
PolynesiaPolynesia is a gigantic region with a meager amount of land and a small population, the last inhabited on the planet and minimally affecting the judge eyeballs. The grimaces (movements of the eyes and tongue) are very important, and they determine how well the dance is performed.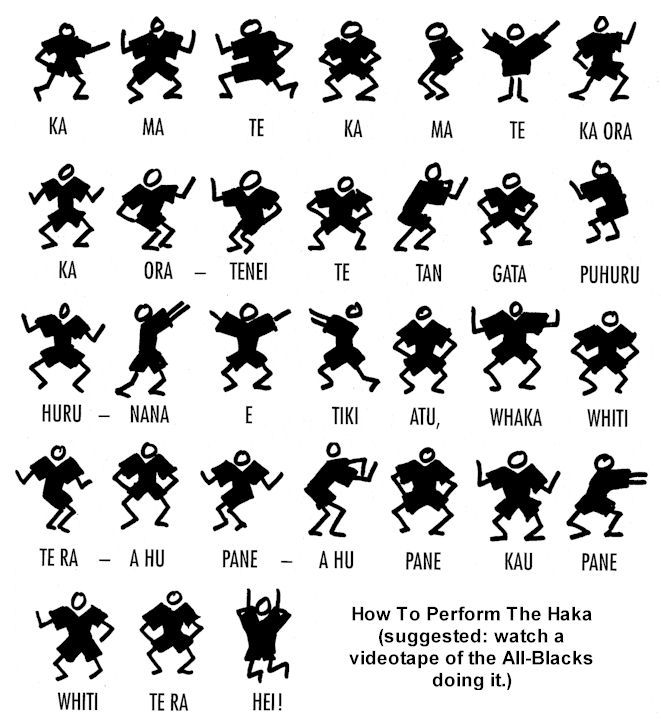 The women who performed the haka did not stick out their tongues. nine0005
Non-military hacks may contain undulating finger or hand movements. The leader of the dance (male or female) calls out one or two lines of text, after which the rest respond in unison with a chorus.
The Maori, the original inhabitants of New Zealand, have always had a rich repertoire of cultural traditions, from myths, legends, songs and dances, to rituals and beliefs. The Haka dance is one of the most famous Maori traditions.
Over 1,500 students perform haka at teacher's funeral
There are several types of dance in the Maori culture:
Peruperu is a military dance that warriors performed before the battle. Sometimes he was shown to his enemies completely naked;
Toia Mai - community dance, which was always performed before the general meeting of the Maori;
Tumoto - dance of rage, which was shown by the war after the defeat in battle;
Poi - female variety of khaki, more calm and smooth; Horuhoru - dance for men and women; nine0288
Ka-mate is a modern version of khaki for athletes.
The origins of hack lie in the mists of time. The history of dance is rich in folklore and legends. In fact, it can be argued that New Zealand grew up with the haka tradition, going back to the first meeting between Maori and early European explorers, missionaries and settlers.
Although the latest traditions of the dance suggest that the Haka was exclusively male, the legends and stories reflect other facts. nine0005
The story of the most famous hack - Ka mate - is a story about the power of female sexuality. According to legend, Haka was received from the sun of the god Ra, who had two wives: Hein-Raumati, who was the essence of summer, and Hein-Takurua, the essence of winter.
For most people, haka is a military dance. This is quite understandable because many have seen how the haka is performed before a fight or competition.
Although there are many differences between the types of war dance, the common feature is that they are all performed with weapons.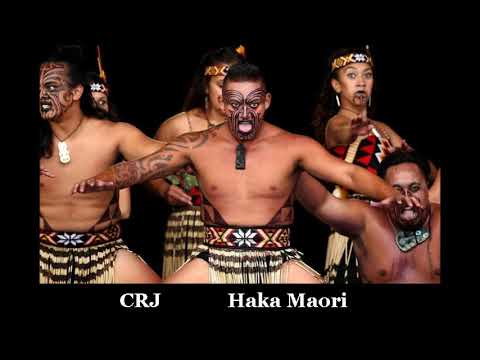 At a time when Europeans had not yet discovered New Zealand, the haka was used as part of the formal process of meeting tribes. nine0005
At present, the Maori dance the haka without traditional weapons, but various aggressive and intimidating actions remain in the dance: such as slapping hands on the thighs, active grimaces, sticking out the tongue, stamping the feet, rolling the eyes. These activities are performed along with choral chants and war cries.
In the 21st century, haka is regularly performed in the New Zealand Armed Forces.
Haka at the funeral of a New Zealand Army soldier

nine0245

Twice a year, since 1972, Te Matatini (Maori Te Matatini) haka competition has been held. Since the end of the 19th century, rugby teams have performed this dance before the competition, in the 2000s this tradition caused much controversy and accusations of the "All Blacks" in the "devaluation" of the haka.

The

Haka has become a symbol of the All Blacks' strength and status in the rugby world. The team leaves the impression of invincibility and cruelty.

Until the early 20th century, New Zealand rugby players almost always beat their opponents on the field. It was believed that this haka gave them such strength. nine0005

Since 1892, the New Zealand national team wore only black uniforms, and all team members had to be able to perform Maori ritual dances. Such behavior has been characteristic of the first New Zealanders since those distant times, when their canoes moored to the island shores.

New Zealand trade delegations and other official representations abroad are increasingly requesting groups of Haka performers to accompany them. It can be undeniably stated that haka has become a unique form of national expression. nine0005

Similar publications

---

Man and bacteria

About 100 trillion unicellular organisms live in the adult human body. Almost 500 species of bacteria and their bipedal host are in a state of organic symbiosis, helping each other survive.