How to crochet leg warmers for dancers
Ballet Leg Warmers - Mode Bespoke
It's getting cold out here in Spokane, and it's about time for some leg warmers. I never really used them when I lived in New Mexico, but it seems here, we may need to a pair or two for winter.
These are a pair I made my 3 y/o for her ballet class, but the pattern is quite easily adjustable to any age and size, since it's all based on measurements.
For these leg warmers, I used maybe a quarter or less of a skein of Bernat Baby Sport yarn, a size F hook (3.75 mm), and a tapestry needle (or yarn needle if you prefer).
Here is both the written and video pattern 🙂
Abbreviations:
HDC         Half Double Crochet
DC            Double Crochet
FPDC        Front Post Double Crochet
Ribbed bands:
You'll be making a total of four of these: two for the ankles (one for each leg warmer), and two for your leg. Decide how high you want your leg warmers to go, and measure that part of your leg.
I made these so they fit comfortably just under the knee.
Make a chain as wide as you want the ribbed band to be. I make a chain of 10 as I wanted them to be a little wide for a 3 y/o.
Row 1: Chain 1, HDC in the second chain from your hook, and in every stitch of the chain.
Row 2: Chain 1, turn your work. When you hold your work in front of you, you'll see the top set of "v" stitches that we normally use to crochet in. Under your thumb, you'll see a second set of "v" stitches. Crochet a HDC in the bottom loop of the "v" stitches under your thumb, you'll crochet this type of HDC in every stitch of this row.
Row 3: Chain 1, turn your work around. HDC one in the back loop of the top "v" of each stitch of this row. 
Row 4: repeat row 2
Row 5: repeat row 3
Keep alternating between rows 2 and 3 until you reach the desired length. Your ribbed band should fit comfortably around your ankle or leg, depending on which edge you're starting with.
Once you reach your desired length, take your band and fold it in half so you have your two short edges together.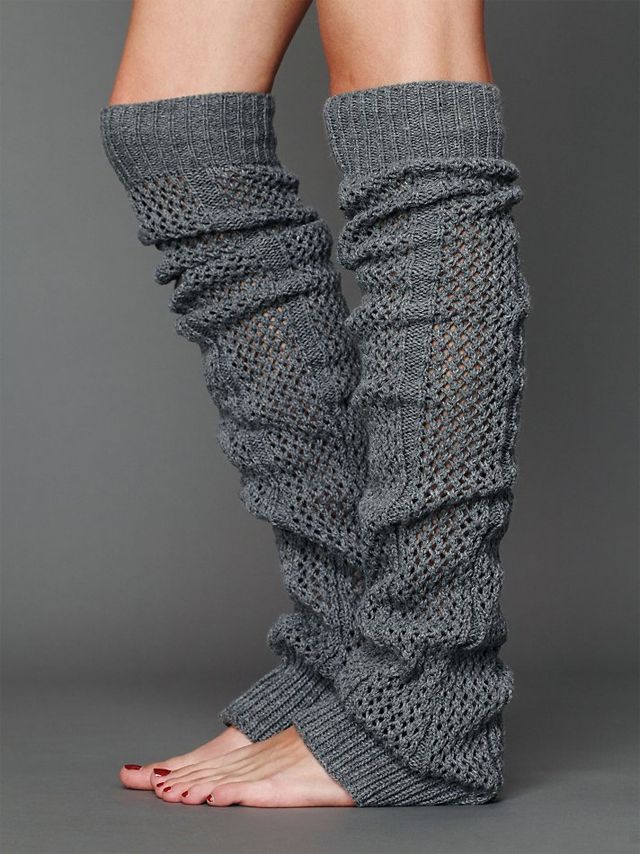 Line up the edges and make sure your work isn't twisted and crochet them together. Insert your crochet hook through both sides of the band, so you'll have the four loops of the edges, plus your working loop (so 5 loops) on your hook. Slip stitch through all the loops. Move onto the next stitch and do the same. the goal is to "sew" the edges together. Alternatively, you can sew them together using your needle instead of your crochet hook if you wish.
Make your remaining ribbed bands, sew them together and now let's make the body of the leg warmer.
Leg Warmer, Body
Make a chain as long as you want your leg warmer to be. So I measured from my kid's ankle to just below her knee and made a chain that long.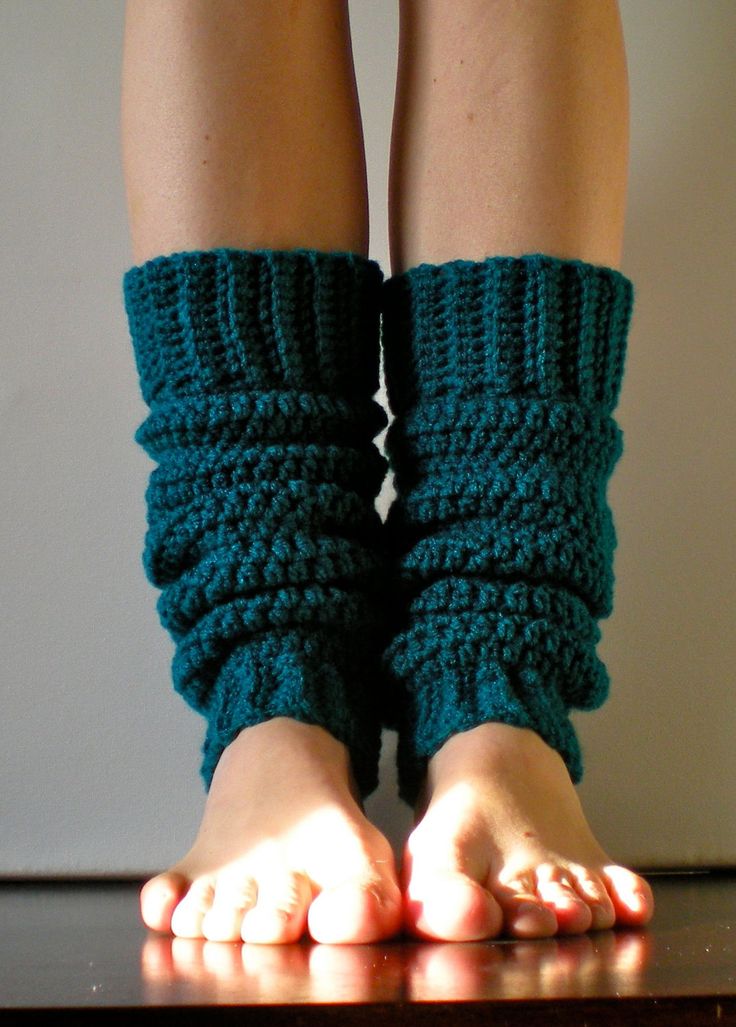 Row 1: Chain 2, DC in the third stitch from your hook and in every stitch of your chain.
Row 2: Chain 2, turn your work around. Make a FPDC in the first post of the row. DC one in each of the next two stitches. FPDC in the next post. DC in the next two stitches.
Continue working a FPDC after your two DC for the remainder of the row.
Row 3: Chain 2, turn the work around. DC in the first stitch (it was the FPDC of our previous row). FPDC in each of the next two stitches (these were our DC from the previous row). DC in the next stitch, then FPDC in the next two. Continue this pattern for the entire row.
Continue alternating rows 2 and 3 until you reach your desired length. You should crochet enough of the body of this pattern so that you can comfortably wrap your leg in it. Make two of these (one for each leg warmer).
Assembling the leg warmers
Sew the body of a leg warmer by folding it in half the long way, so that you can wrap it around your leg.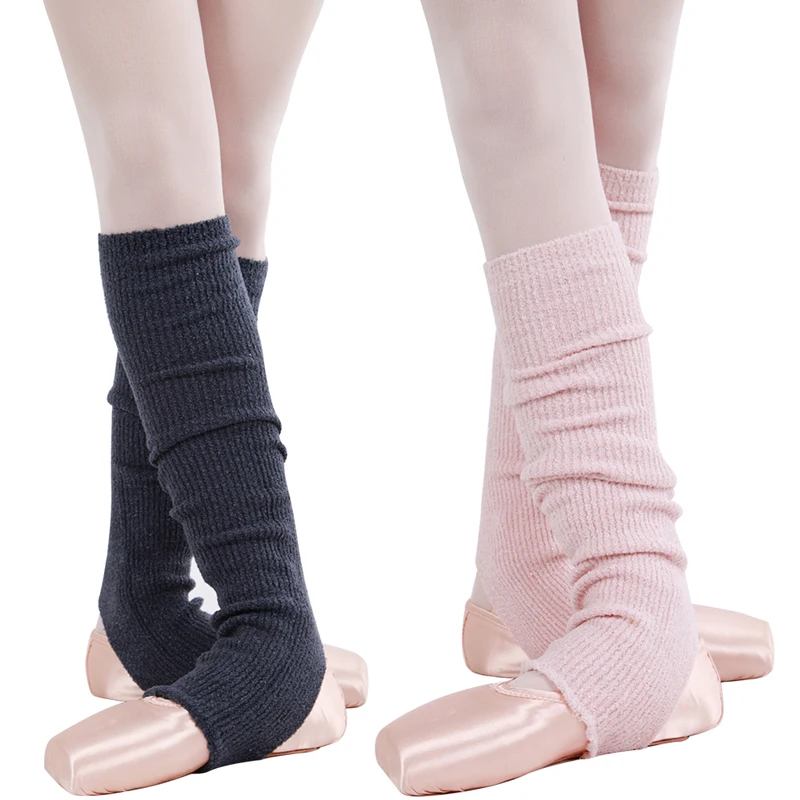 I folded mine so that it was inside-out to hide the stitching. Now, you can either sew it together with your needle, or you can crochet it together by joining the edges with a SC. To crochet them together, just line up your edges, insert the hook through both stitches (one of each side) so that you have 5 loops on your hook, then SC through all 5 stitches.
Once you've stitched both of your leg warmers together, it's time to attach the ribbed bands to them. Make sure you grab one ankle band, and one leg band for each leg warmer.
To attach them, make sure the waffle stitch part of the leg warmer is inside out. Then, take the leg band (right-side out), and slip it inside the waffle stitch part. Line up your edges and sew/SC together. Do the same for the ankle band. Now you can flip your leg-warmer right side out, and check your work.
Once you finish sewing up your second leg warmer, weave in your yarn ends and you're done!
If I made a mess of the written pattern, and/or you prefer the video version, please see the video below:
Like this:
Like Loading...
19 Crochet Leg Warmers Perfect This Winter
Leg warmers became popular back in the 80's thanks to the movie Flashdance and Fame but was a staple (and still is) among dancers to keep their legs from cramping during stretching. This winter, it's a useful little accessory anybody can wear to keep your legs warm and toasty!
These 19 crochet leg warmers are just some of the comfiest ones we can find that you can do in a jiff! You can easily size these down or up to fit just about anybody.

Sweetheart Leg Warmers
These leg warmers are perfect for any day you want to keep little legs warm. They have ribbed cuffs so they stay up and comfortable on little legs, and ties at the ankle for a snug fit and a little style.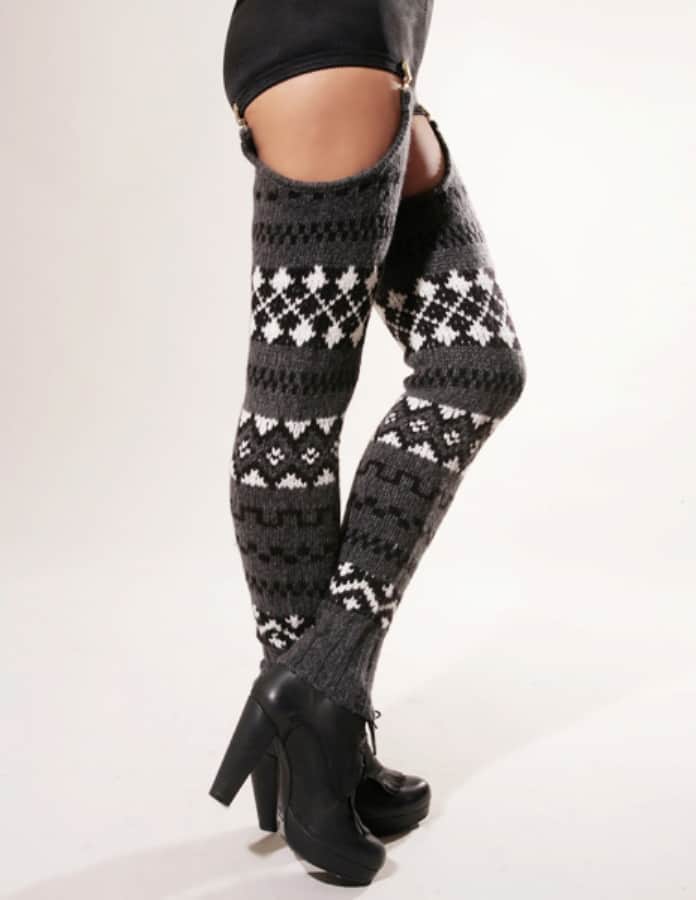 The stitching is a simple twist on a double crochet and creates a pretty fabric with interest. The pattern includes all sizes from newborn to 3 years.
Via Pattern Paradise
Slouchy Crochet Leg Warmers
Winter's coming! If you find yourself doubling up your leggings in the winter, you're going to love this free beginner-friendly pattern. By using a few basic stitches, we'll create a pair of ribbed, slouchy crochet leg warmers using one skein! These leggings are made using single and double crochet stitches and are worked in the round. There are a few techniques you will need to know how to do, but they're easy peasy and I have tutorials that will help you right along.
Via Sigoni Macaroni
Sugar Rush Leg Warmers
Have you watched Wreck it Ralph 2: Ralph Breaks the Internet yet? These leg warmers were inspired by Vanellope Von Schweetz's leggings! I was so excited for this movie to be released that I made these to wear for my dance class.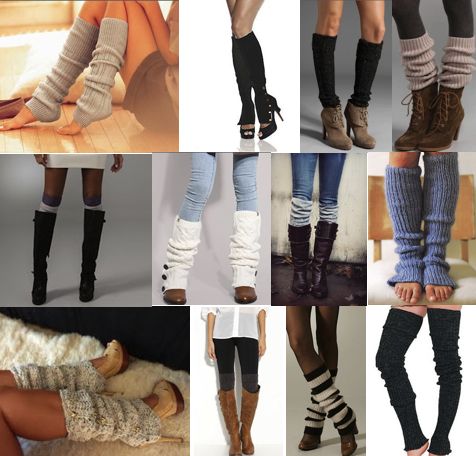 Via Once Upon a Cheerio
Ribby Leg Warmers
These stretchy leg warmers are a great accessory to be worn over leggings or tights. Made with sport weight wool yarn, they are really warm without being bulky on your legs. The legwarmers can be adjusted to be as wide as desired. Add less/more rows as in the pattern indicated until the legwarmers fit well around your legs. 
Via My Hobby is Crochet
Textured Leg Warmers
This is the perfect project to keep the legs warm in the winter. This pattern uses chunky wool yarn and 10mm/N hook and can be done in less than 2 hours. 
Via The Magic of Crafting
Snow Flurry Leg Warmers
Keep your legs warm when you're dashing though the snow with these Snow Flurry Leg Warmers. If you're a beginner crocheter and have already made your fair share of scarves, this crochet pattern is a great alternative to practice your craft on.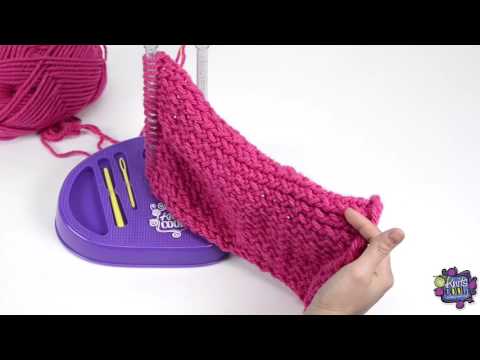 You can make them in any size depending on if they're for you, your kids, or your grandchildren. 
Via Mama In A Stitch
Purple Butterfly Crochet Leg Warmers
These leg warmers are made out of Mango Moon yarn, which gives them even more interest with the different hues within the strands. If you can imagine your little girl or even yourself dancing around in these leg warmers, you will definitely want to check out this crochet pattern.
Via All Free Crochet
Scandinavian Crochet Leg Warmers
These trendy and stylish Scandanavian Crochet Leg Warmers are a must-have for winter, especially if you live in an area that sees a lot of snow. The multicolored striped design of this beginner crochet pattern resembles the bright colors of the traditional folk-inspired Scandanavian fashion.
Via Bhooked
Stash-Busting Leg Warmers
Just in time for winter, these Stash-Busting Leg Warmers will help keep you warm while also busting through your yarn stash.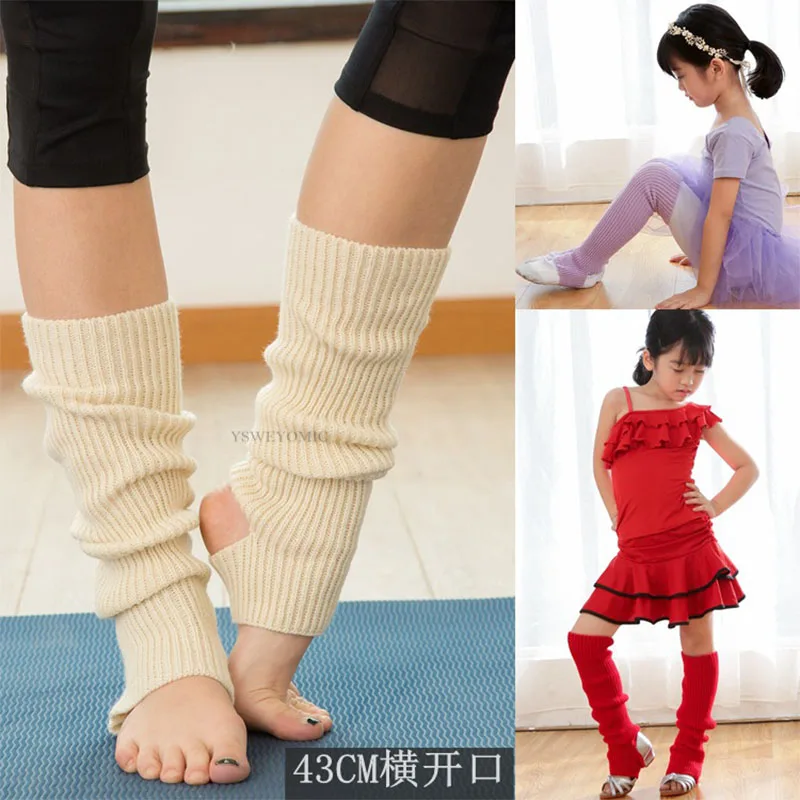 Made with any color yarn scraps that you have lying around, these crochet leg warmers are easy to crochet using worsted weight yarn. Make a pair for yourself, or make a pair for a friend! You can never have too many leg warmers during the fall and winter months.
Via Posh Pooch Designs
Thigh High Leg Warmers
Wear these colorful leg warmers for their practical cozy warmth or just for the fun of it. This is an easy project that won't take long to crochet.
Via Yarnspirations
Bubblegum Baby Leg Warmers
While she's jumping rope or playing hop scotch, she's going to look adorable wearing these Bubblegum Baby Leg Warmers this winter. Crochet leg warmers like this are easy to work up and will keep her legs warm and stylish. These are easy to customize for any size imaginable from babies to adults, so you can make a pair for yourself, too.
Via Danyel Pink Designs
Brown Buttoned Leg Warmers
Step out in style wearing Brown Buttoned Leg Warmers.
Don't feel like you can't wear a skirt during winter. Keep your legs warm with this easy crochet pattern. These would also make a great holiday gifts for everyone on your list. Add this winter wearable pattern to your list of projects to make this season.
Via Design Adventures
Luminous Leg Warmers
These cozy and oh-so-warm leg warmers can be easily customized to fit any leg. A nice, tight cuff keeps them upright just below the knee, and the textured main section will keep you warm on the coldest mornings or evenings. Pair them with leggings for a morning yoga session, or wear them on your bike commute to work and home. They are versatile and can be worn all year!
Via Hook Yarn Carabiner
Vertical Striped Leg Warmers
These leg warmers are 14 inches long and about 12 inches around. You can add more stitches to make these longer, and add more rows to make them wider.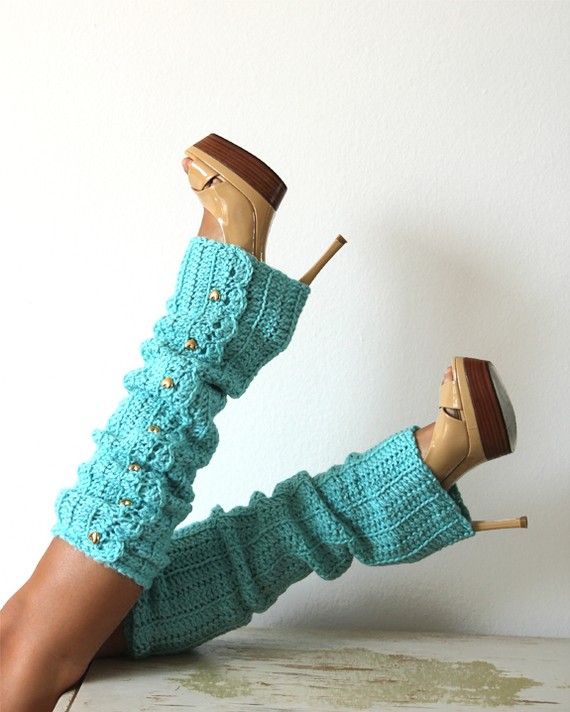 Via Yarnutopia
Cabled Leg Warmers
I've had requests for boot cuffs in the past, and I absolutely adore the look of crochet cables. I love wearing legwarmers both under and over my boots, so I thought this would be a great project to tackle next!
Via All About Ami
Funky Stripes Leg Warmers
Kick it up a notch in hot fashion looks with fun, funky leg warmers that are perfect to wear with jeans and boots, or a miniskirt and heels.
Via Crochet Magazine
Stirrup Leg Warmers
These are chunky stirrup leg warmers for adults. A friend wanted to gift a custom pair to her athletic employee, and the result is stylish but still perfect for yoga class. It made me sad to think this custom pattern wouldn't see the light of day again, so here it is for you to enjoy!
Via Lorna Watt
Fluff Cuff – Child Size Leg Warmers
The child size Fluff Cuff Leg Warmers were designed to look like fox legs.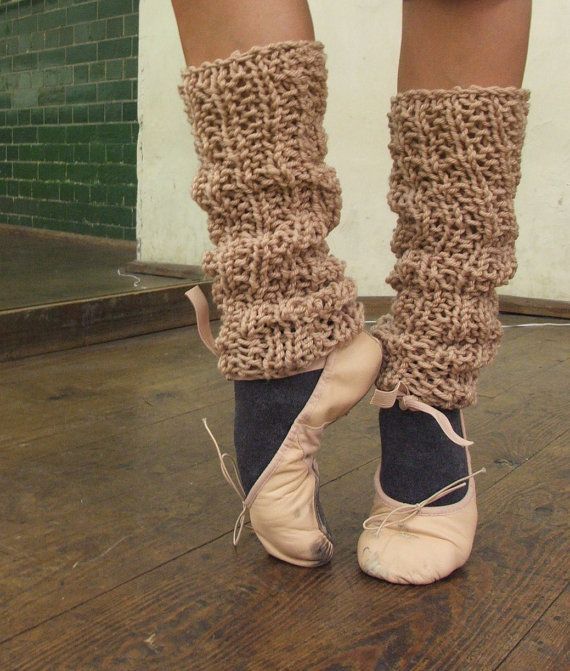 Via Stitch21
Bobble Leg Warmers
I didn't want to make these like my usual HDC leg warmers. I wanted to use a fun stitch! The Bobble Stitch is so much fun to work with… especially when crocheting for a young child. Although this pattern was designed for my daughter, I went ahead and wrote out this free crochet pattern in three sizes- toddler, child, and adult.
Via Stitch21
How many of these do you think you can churn out before the holidays sets in? These would be lovely gifts too for those who don't really like the cold much.

Knitted leggings with knitting needles and crochet (68 photos)
Gaiters are a popular accessory in women's wardrobe. Warm long leggings in stocking knit will warm the legs of young ballerinas, and bright striped ones will add style to the image of young girls. Today we will learn several ways to knit this new piece of clothing.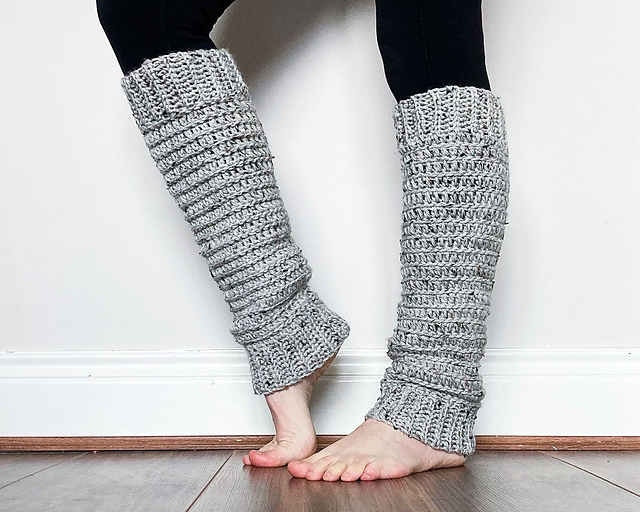 Contents
Easy Rules to Get Started
Step by Step Instructions for Beginner Needlewomen
Homemade Knitted Gaiter Idea Photo
Simple rules for getting started
If you have never knitted this product, you should familiarize yourself with the simplest rules of work.
What measurements should be taken
Armed with a tape measure, pencil and notepad, start measuring the main indicators:
Calf circumference.
Leg circumference at the level of the calf muscles.
Leg circumference at the level where you plan to finish knitting the product. nine0008
The height of the future product.
Further, if you decide to knit on two knitting needles, we make a pattern according to the results obtained. In the event that we use the knitting method on five knitting needles, patterns are not needed.
How and where to wear gaiters
Knitted stockings are a unique item in the wardrobe, giving the image of any woman a unique sense of style.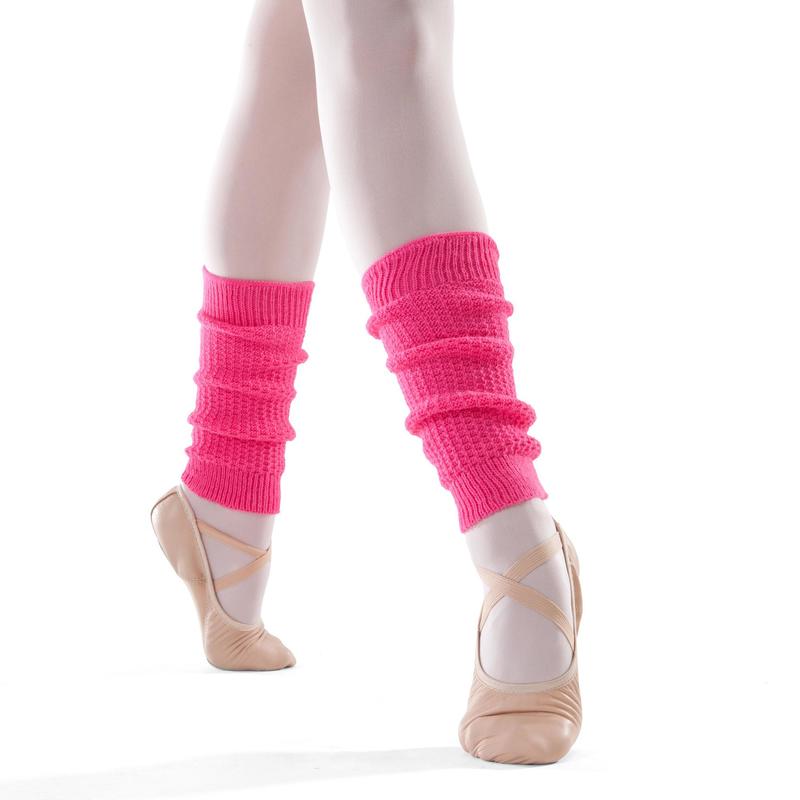 We have collected the most popular applications for this accessory. So, why do we need to knit leggings:
Not only does this accessory go well with any type of low-heeled shoe, but it also perfectly hides thin legs.
Strict black maxi leggings will perfectly complement the school uniform, successfully combined with a skirt and jacket. The outfit of your schoolgirl daughter will be appreciated by teachers and friends.
In combination with a wide belt on a tunic dress, this is a great autumn outfit for a walk in the park.
Gaiters for dancing and sports. Few people know, but it was sport that gave the fashion world this unique accessory. And in sports, it continues to be actively used. nine0008
Step by step instructions for beginner needlewomen
Two-needle single-colour gaiters
Required materials for work:
Any color yarn;
Needles #7;
Patterns for individual model.
Master step-by-step diagram:
Cast on 90-100 stitches on a working needle.
Next, we knit the fabric with an elastic band with alternating 2 purl and 2 facial elements. nine0008
Visually divide the whole product into three parts: the initial and last sections (approximately 10-12 cm each) are left unchanged. We knit the middle part (25-30 cm) with the addition of loops on the knitting needle. Such a scheme is needed to make the initial and final elastic bands narrower than the middle knit. These leggings will not slip off your feet when you move.
We knit maxi-gaiters on five needles
On the streets of our country (and not only) you can find the so-called maxi-gaiters, elegantly fitting the slender legs of young fashionistas. Knitting such accessories is associated with certain difficulties, for example, with the formation of an elastic transition of the fabric through the knee. nine0003
Factory standards call for the addition of elastic to the yarn, and this product can be purchased at any boutique. But today we will look at how to knit maxi-gaiters with our own hands, without resorting to extra costs.
We need:
double needles plus one additional needle;
Yarn.
Detailed diagram-instruction:
Cast on 140 sts, close the circle. nine0008
We knit a pattern on the continuation of 20 cm. Sequential scheme: 2 sheets. n., 2 i. p., remove two elements on an auxiliary knitting needle, 2 l. n., we return two l. n. back.
Next, we knit another 20 cm of fabric with an elastic band.
Again we return to the pattern according to the scheme, orienting it to the back wall of the gaiter.
At a height of 56 cm, you need to knit 1 row with the front surface, adding 16-20 loops (we form the transition along the knee).
Next, we knit, repeating the above points.
nine0121

Due to the resulting length of the product, it can even be worn with high boots.

Melange padded gaiters

These leg warmers will keep girls stylish and protected from the cold even in winter. Due to the inclusion of melange yarn, the products look colorful and without forming a pattern. Therefore, knitting leggings in this way will be mastered by any novice craftswoman.

For work we need:
Melange yarn. nine0008
Spokes.
Scheme-instruction (can be downloaded from the Internet).
Detailed description of our work:
Knit on 5 needles.
We use a thread folded twice.
We collect 52 loops on the working needle, distribute them on 4 knitting needles.
5-8 cm we knit with an elastic band with alternating 2 facial and 2 purl elements.
Next 25 cm knit the following scheme: garter stitch (20 loops), braid pattern (12 facial loops), again garter stitch (20 loops). nine0008
You can download and print the "braid" pattern for yourself - you may need it more than once.
We finish knitting the product with a standard elastic band.
Our gaiters are ready to use. A cozy terry accessory will firmly take its place in your wardrobe.
Leggings for dancers
In connection with the development of new directions in dance, spats have gained popularity in another quality. A shortened version of the accessory with a "window" on the heel and toe is used by lovers of sports dances, strip plastics and step aerobics. Today we will tell you how you can make your own socks for sports. nine0003
For work we need:
Yarn;
Spokes;
Braid pattern.
Hook.
Step-by-step diagram:
Cast on 66 sts on a working needle and distribute them equally among 4 needles.
12-14 cm knit with a braid pattern.
Next 5-6 cm knit with an elastic band with alternating 2 facial loops and 2 purl elements.
The next 34 rows are knitted again with a pattern. nine0008
We came to the first "window" - the heel. We close 32 loops by knitting a thread. On the remaining loops, knit 2 rows.
We collect 32 elements again, and on all loops we knit a canvas with a pattern. We knit, without interruption, for 6-7 cm.
We close all the loops by knitting a row of elements with a thread.
The crochet hook will help us to be more creative in framing the border: knit all the loops in any chosen pattern using the crochet hook and yarn of a different color.
We turn the elastic at the beginning of knitting and proceed to use our product for its intended purpose. nine0008
Crochet gaiters with elastic pattern
And of course, we couldn't ignore crocheted leggings.
Step-by-step diagram-instruction for craftswomen:
Recruiting 36 in. p. and knit two rows with single crochets.
Start the next row with a rise and knit 1 single crochet.
Next, in every second row we knit 2 single crochets, we knit 1 loop with the capture of the underlying loop diagonally. Repeat the pattern to the end of the row. nine0008
Knitting continues until the end of the product. The peculiarity of this method is that the fabric is not knitted in a circle. At the end of knitting, the leggings are folded into a tube and sewn together.
Gaiters is a relatively new accessory item on the fashion market, but has already earned the trust and love of many fashionistas. You can buy the product in many stores and boutiques, the nomes have shown you enough ways to knit leggings yourself. So why not give it a try?
Photo idea of ​​homemade knitted gaiters
Author of the article:
We knit with knitting needles of the leggings for dancing
Content of Article
1 For dancing
2 Technology for the holes knitting, for the heel or heel
3 Materials:
4 Model No. 1. Striped Chesions
5 Model No. 2 Ribbed

5.1 Main pattern used to create this piece
5.2 Gauge
5.3 Description of work
Knitted leggings have become an integral part of the wardrobe of modern fashionistas. This thing draws attention to cute female legs, and leggings are relevant not only in the cold season. Modern young girls wear them with great success even in summer.
So what is the difference between winter and summer models? Of course, in the yarn from which this thing is made. The main purpose of winter leggings is to create comfort and warmth. Therefore, for these warm models, it is best to choose yarn that contains natural sheep or any other wool. nine0271 As for summer leggings, these light and weightless models are intended for decoration. Most often, they are loved by young ladies who strive to stand out from the general gray mass and demonstrate to everyone around them their peculiarity and sense of taste.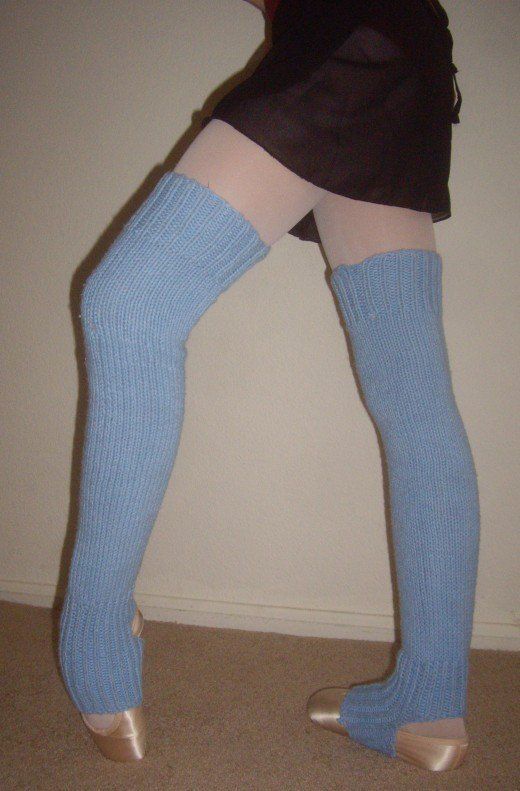 For dancing
But there is another kind of gaiters that some girls need every day. We are talking about special knitted leggings that are intended for dancing.
It is known that sports dancing is one of the favorite activities for a large number of young girls. Every person would like even clothes designed for training to have a special personality and make it possible to demonstrate their charm. nine0003
Leggings without heels for dancing
Probably, therefore, recently the popularity of knitted leggings for dancing has increased especially strongly. But besides this, dancers attribute the increased demand for knitted leggings to the fact that they help to avoid stretch marks and many other troubles that can happen in any workout.
Therefore, hardly anyone will dare to doubt the importance and indispensability of this accessory. And finally, it remains to figure out how to knit leggings with knitting needles. nine0003
Technology of knitting a hole, for a heel or a heel
How to knit leggings without a heel
So what is the difference between ordinary leggings and those that are intended specifically for dancing? The creation process is the same and differs only in one thing: all dance leggings must have an open heel.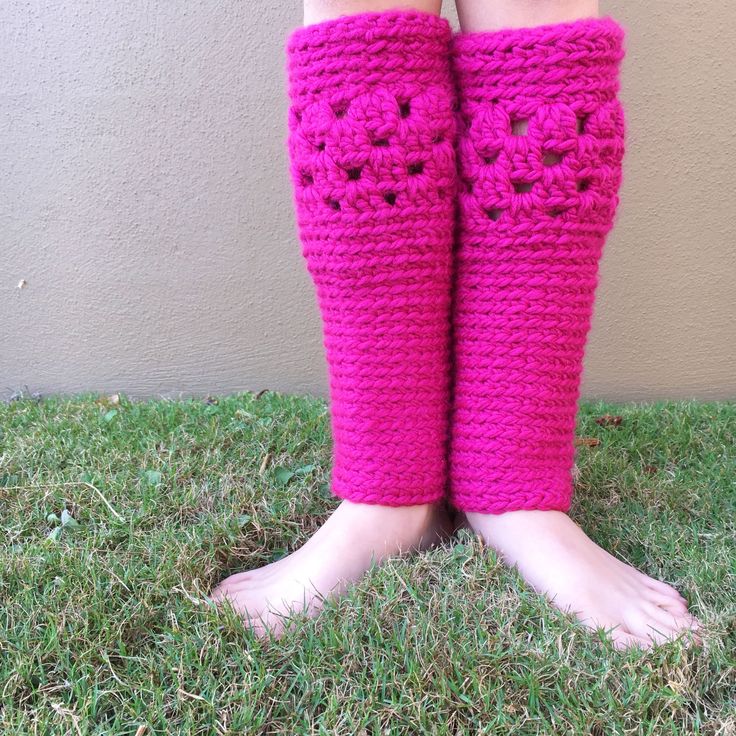 This is necessary in order to be able to put them on directly on special shoes, as well as to keep them on the leg better.
Making a hole is easy.
After you knit five to seven centimeters of any model, pick up a hook. Cast on as many air loops on your hook as needed to cover the length you need for the hole. That is, you will need to connect the received air loops in the next row in a circle with those loops of the previous row that will make up the circle of the intended hole.
That's the whole trick.
Materials:
Leggings style variant
For knitting any leggings you will need only one hundred and fifty grams of yarn if you plan to knit a one-color model. For a striped model, the remnants of yarn are perfect, which are sure to be found in the arsenal of every needlewoman. You also need knitting needles that match the selected threads. nine0003
Model No. 1. Striped leggings
Knitting striped leggings
These striped leggings are ideal for bright girls who always strive to be the first in everything.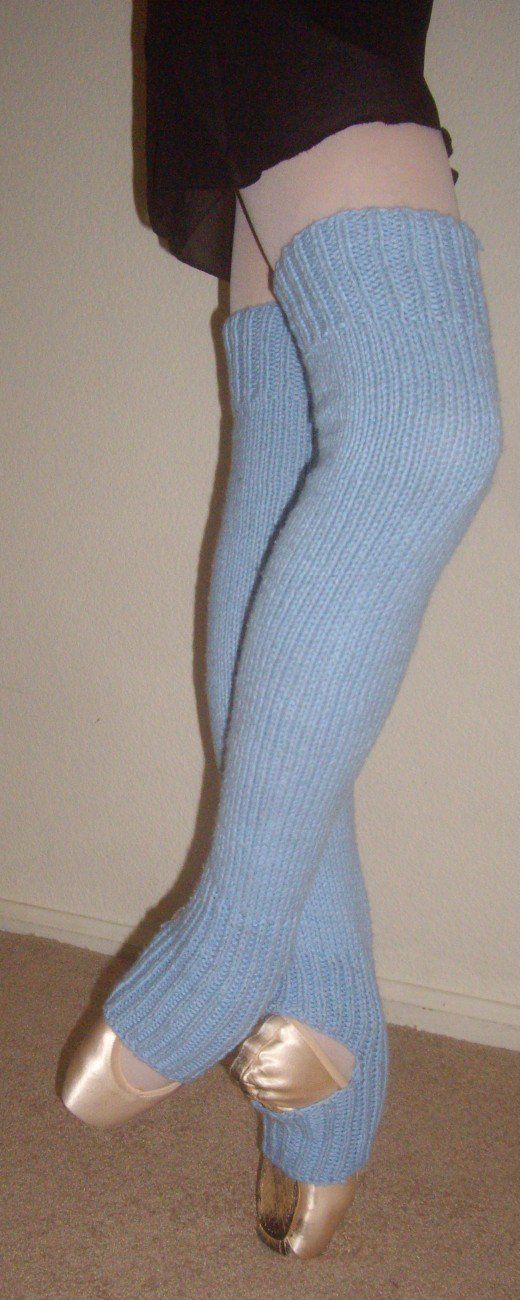 In order to complete this model, you only need an initial level of skill in owning knitting needles. Type forty-eight loops with stocking or circular knitting needles and knit with an elastic band 2 x 2 (alternate two loops of faces and two loops of purl) ten centimeters. After that, go to work with a pattern of the front surface. That is, absolutely all subsequent rows will be knitted with facial loops. nine0003
The alternation of stripes can be very diverse. In the variant proposed above, the stripes alternate every four rows. In order to determine the final length of the future product, it is necessary to periodically apply work to the leg in the process of knitting.
Because only in this way you will be able to correctly calculate the number of rows needed to complete the work. You will definitely not be able to miss the knitting needles when making this product. Because these wonderful and funny stripes will replace each other with incredible speed and you will not notice for yourself how the work has come to its logical conclusion.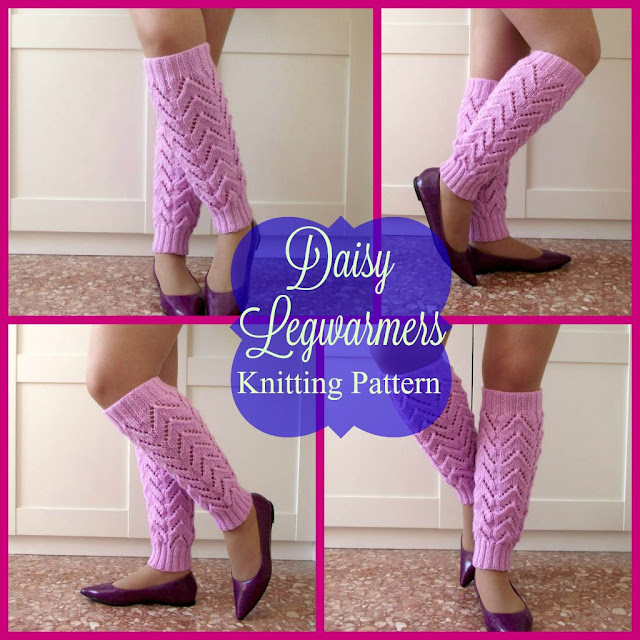 nine0003
Model No. 2. Ribbed
We knit such gaiters in rib
The length of this model is forty centimeters.
Main pattern for this piece
Rib 3 x 2 (i.e. alternate three knit stitches and two purl stitches).
Gauge
Twenty-two stitches and thirty rounds will create a 10 x 10 cm square.
Description of work
Leggings for dances
Cast on sixty loops loosely and without tightening and tie a straight fabric forty centimeters long with an elastic band pattern. When you reach this length, close all the loops as they look. nine0003
Working on spats is easy to understand. And any craftswoman will be able to create this light and airy work of art in just two evenings. If you want to go even further, you can show your imagination and decorate your new clothes with some decor items. Anything you can sew or glue will do. Such leggings will become a real designer thing that exists in a single copy. So get creative and don't be afraid to experiment.