How to tap dance like fred astaire
Fred Astaire – Tap Dance UK
By tapdanceukTap Dance Masters
Frederick Austerlitz was born in 1899 in Omaha, Nebraska, and moved to New York in 1905 with his family to receive dance training and perform on vaudeville stages.
He and his sister Adele studied with Alviene Master School of the Theatre and Academy of Cultural Arts, but could not perform in New York due to child labour laws.They toured the famous Orpheum Circuit, but it wasn't until a few years later that they began to incorporate tap dancing into the act, with Fred taking inspiration from Bill "Bojangles" Robinson and John "Bubbles" Sublett. The pair learned the tango, waltz, and other ballroom dances, and returned to New York in 1916 to perform in Over the Top on Broadway. They worked together on both Broadway and the West End in numerous musicals for over a decade, in productions such as The Passing Show of 1918, For Goodness Sake (1922), the Gershwins' Lady, Be Good (1925) Funny Face (1927), Smiles (1930), The Band Wagon (1931) and many others.
Adele retired following the close of The Band Wagon and married into British aristocracy, effectively ending their working partnership.
In 1933 Fred made in Hollywood debut in the MGM movie Dancing Lady. The same year he filmed Flying Down to Riofor RKO with Ginger Rogers, beginning their historical partnership. Astaire and Rogers made a further nine films together at RKO: The Gay Divorcee (1934), Roberta (1935), Top Hat (1935), Follow The Fleet (1936), Swing Time (1936), Shall We Dance (1937), Carefree (1938), The Story of Vernon and Irene Castle (1939) and finally The Barkleys of Broadway (1949). A number of the Astaire-Rogers musicals sat in the highest-grossing movies for RKO, and Astaire's savvy agent Myron Selznick negotiated for Fred a percentage of the films' profits rather than a one-off payment (or "buy-out" fee), which was extremely rare in actors' contracts at that time.
Astaire had a great deal of directorial input over the dance scenes in his movies.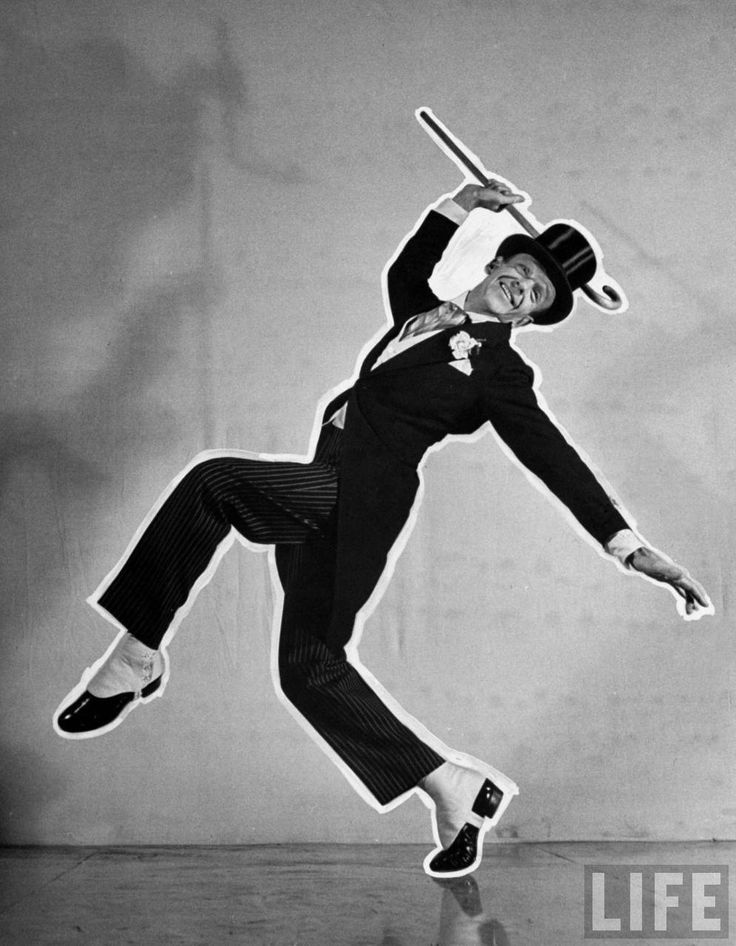 He famously insisted that routines were filmed in as few shots as possible, and that performers were always entirely in frame with no close-ups of either face or feet.
Typically, an Astaire picture would include a solo performance which he termed his "sock solo," which frequently included props. Astaire performed with traditional props, such as a top hat or cane, but was known for his imaginative use of objects including a golf club in Carefree, a hat stand and gymnasium in Royal Wedding, and the scenes with drum kits in both Easter Parade and A Damsel in Distress. He also made full use of his set and surroundings, notably his famous "ceiling dance", also from Royal Wedding.
His pictures would also include duets of various natures. For romantic scenes he would use his ballroom technique, perhaps the most notable example of this would be "Cheek to Cheek" in Top Hat, in which Rogers performs in the iconic white feather dress.
Astaire used tap dance for upbeat numbers, sometimes celebratory (like "Begin the Beguine" with Eleanor Powell), sometimes comedic ("The Babbit and the Bromide" with Gene Kelly), and sometimes to portray competition or a challenge (the "Rehearsal Duet" with Rita Hayworth in You'll Never Get Rich).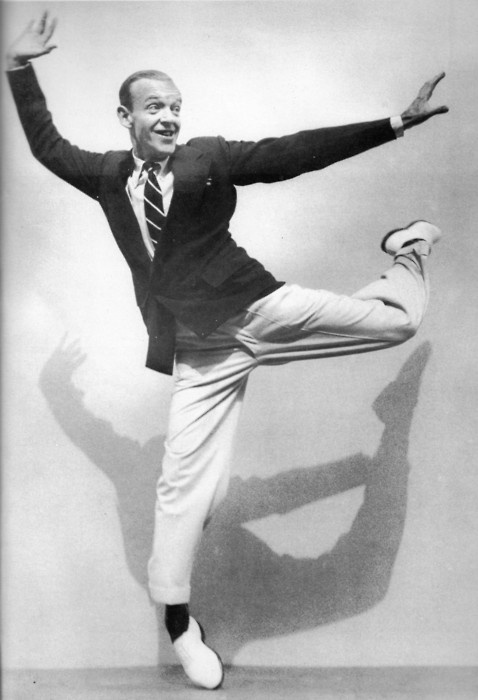 While he did perform tap duets with Rogers, she was not an experienced tap dancer, and her taps were often dubbed by choreographer, Hermes Pan. Astair once said of her: "She couldn't tap and she couldn't do this and that … but Ginger had style and talent and improved as she went along".
After finishing his RKO contract to go freelance, his first partner, Eleanor Powell in Broadway Melody Of 1940was considered by many one of the greatest tap-dancers of the generation. In his autobiography Steps in Time, Astaire remarked, "She really knocked out a tap dance in a class by herself."
He made two pictures with Rita Hayworth, You'll Never Get Rich (1941), which catapulted Hayworth to stardom, followed closely by the equally successful You Were Never Lovelier (1942). The all-star cast of Ziegfeld Follies in 1946 featured Astaire, Gene Kelly, Cyd Charisse, Lena Horne, Judy Garland and Fanny Brice. Later in '46 Astaire announced his retirement, but was convinced to return to the screen by Gene Kelly, who had to pull out of filming Easter Parade due to injury, in which Astaire starred again opposite Judy Garland, as well as the formidable tap dancer Ann Miller.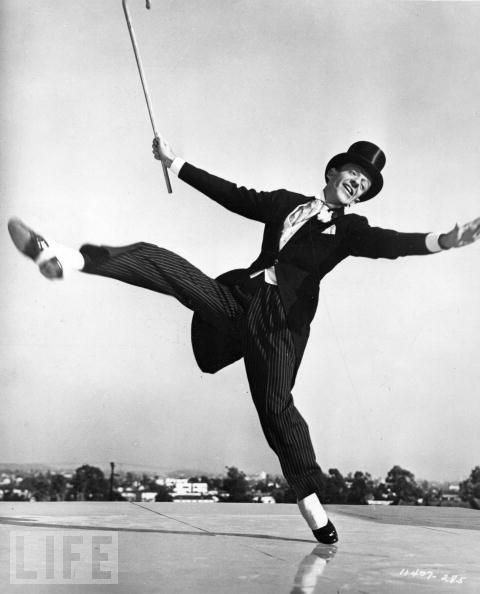 Some more notable films from Astaire's lengthy career include Royal Wedding (1951) Funny Face (1957) in which he appeared opposite Audrey Hepburn, and his last major musical film Finian's Rainbow (1968).
Fred's performance career spanned a total of 76 years, during which he starred in more than 10 Broadway and London musicals, 31 movie-musicals, 4 television specials, and numerous records. As a dancer, he is best remembered for his grace and style, his sense of rhythm, and his attention to detail, as well as his massive contribution to American culture in terms of film and theatre. His friend and long-time collaborator, Hermes Pan said of him: "Astaire was a one-hundred-percent perfectionist."
Amongst his many awards and accolades, including two Grammys, two Emmys, and an honorary Academy Award "for his unique artistry and his contributions to the technique of musical pictures", Astaire was named by the American Film Institute as the fifth greatest male star of Classic Hollywood cinema in 100 Years… 100 Stars.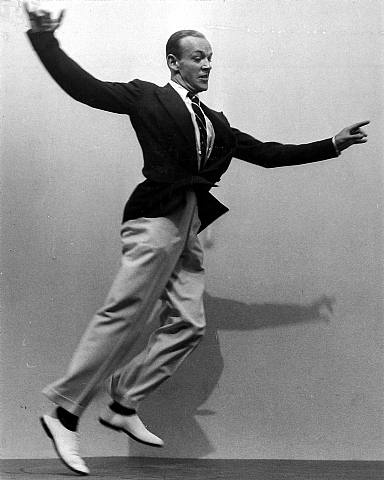 Astaire has been inducted into the Halls of fame for Tap dance, Ballroom dance, Television, National Museum of Dance, Grammy Hall of Fame, and the International Best Dressed list. In 1978 Astaire was the first recipient of the Kennedy Center Honors, and in the same year received the National Artist Award from the American National Theatre Association for "contributing immeasurably to the American Theatre" In 1981 he was honoured with The Lifetime Achievement Award from the American Film Institute. Gene Kelly credited Astaire as being the father of the American Movie-Musical, saying: "the history of dance on film begins with Astaire."
BallroomBroadwayceiling danceChoreographyDancedrum crazyFilmfilm musicalsGene KellyGershwinHall of fameHollywoodHollywood Golden EraIconLegacyLegendMGMMovie Musicalmovie musicalsMusicalsTapTap DanceTap Dance Hall of Fametap dancertap dancingTap MasterTap MastersTop HatWalk of fame
Videos of Fred Astaire Tap Dancing
---

A Note From Kathie:
If you would like to add to, correct, or update any of the information on this Web site, you are invited to send a message or a letter to the email address or postal address on our Contact Us page.



Kathie Walling, Editor
Tap Dancing Resources
| Contact Kathie |

---




---




---






Free, online video clips of Fred Astaire tap dancing. See also About Fred Astaire

1935

"Too Hot to Handle" With Ginger Rogers
Fred Astaire tap dancing with Ginger Rogers to the song "I'll Be Hard to Handle" from the 1935 film "Roberta".

"I Won't Dance" Tap Solo
Fred Astaire tap dancing number "I Won't Dance" from the 1935 film "Roberta".

1936

"Pick Yourself Up" With Ginger Rogers
Fred Astaire tap dancing with Ginger Rogers in the 1936 film "Swing Time".

1937

"Fred and Ginger Tap Dancing on Roller Skates
Fred Astaire and Ginger Rogers tap dancing in a park on roller skates to the song "Let's Call the Whole Thing Off" in the 1937 film "Shall We Dance".

1940

"Begin the Beguine" With Eleanor Powell
The second, tap dancing, half of of Fred Astaire and Eleanor Powell's "Begin the Beguine" dance in the film "Broadway Melody of 1940".

"Jukebox Dance" With Eleanor Powell
Fred Astaire andh Eleanor Powell jukebox dance the film "Broadway Melody of 1940".

1946

"Babbit and the Bromide" With Gene Kelly
Fred Astaire tap dancing with Gene Kelly to the song "The Babbit and the Bromide" in the 1946 film "Ziegfield Follies".

1948

"Steppin Out With My Baby" Tap Solo
Fred Astaire solo tap dancint to the Irving Berlin song "Steppin Out With My Baby" in the 1948 film "Easter Parade".

1949

"Bouncing the Blues" With Ginger Rogers
Fred Astaire and Ginger Rogers tap dancing to the song "Bouncing the Blues" in the 1949 film "The Barkleys of Broadway".

1970

Fred Astaire Dancing at the Oscars

---

Tap Dancer Fred Astaire Profile

More Videos of Tap Dancing

Tap Dancer Bios and Photos

---

See also
Facebook "Tap Dancing Resources" Page
Facebook "Tap Dancing Friends Discussions" Group
Facebook "Tap Dancing Events and Classes Worldwide" Group
Blog With Tap Dancing Articles and News






---




Tap Events:

Tap Festivals
By Date

Tap Worlds
November 2020

Tap Dance Day
May 25th

---




Practice Tool

Online Metronome
(20-330 BPM)

---




Follow Us On Social Media

     

---




Tap Shop

Tap Shoes
Tap E-Classes
Accessories
Tap Books
Tap Shop Menu

---




---



| Argentina | Armenia | Australia | Austria | Belgium | Brazil | Bulgaria | Canada | Cayman | Chile | China | Colombia | Costa Rica | Croatia | Cuba | Czech Republic | Denmark | Dominican Republic | Egypt | Estonia | Finland | France | Germany | Greece | Guatemala | Honduras | Hong Kong | Hungary | India | Indonesia | Ireland | Israel | Italy | Japan | Korea | Latvia | Lithuania | Malaysia | Mexico | Mozambique | Namibia | Netherlands | New Zealand | Norway | Peru | Philippines | Poland | Portugal | Russia | Serbia | Singapore | Slovakia | Slovenia | South Africa | Spain | Sweden | Switzerland | Thailand | Turkey | Turks Caicos | Uganda | Ukraine | United Kingdom | United States | Vietnam |


Topics
Awards
Classes
Dancers
Ensembles
Events
Regions


Products
Tap Shoes
E-Classes
Accessories
Books
Suppliers
Products Menu


Follow Us
Tap Dance Blog
Facebook Group
Facebook Page
Twitter Feed
Tap dance like Fred Astaire - A little about repair and construction
Fred Astaire is perhaps the most recognizable tap dancer.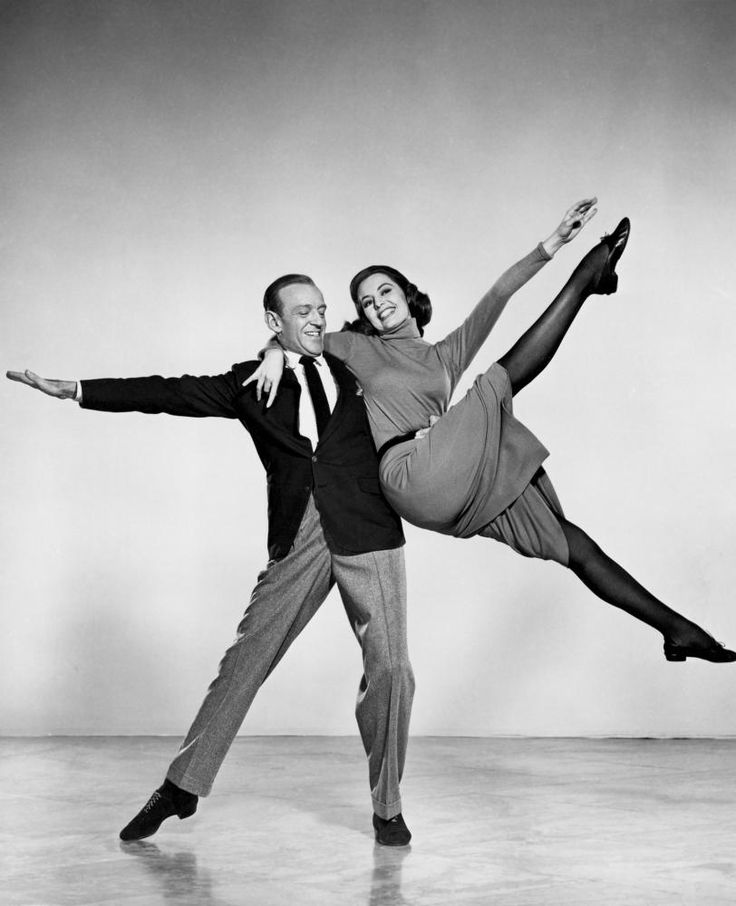 His date of birth is May 10, 1899, the artist died in the second half of the 80s of the XX century. In order to dance step like the legendary Fred Astaire, you will have to work hard and work on yourself.
Question "Exercise" - 1 answer
People like to watch a dance, spectacular, beautiful, clear - such as tap or tap dance. In order to keep the attention of the audience, it is not enough to completely repeat the technique of Fred Astaire.
The king of tap dance, the pioneer of tap dancing, who created a good dance, had plastic and slow movements. But then the perception of the audience was different. Now give the audience a show.
Based on this, borrowing only a couple of movements from the idol of tap dancers is a good thing, but you also need to have your own zest, add personal charm, expand the pace and captivate with passion. Properly selected music will be a plus, and national motives will be much better.
Many novice step dancers beat out mechanically - they show the technique of their own legs without plastique at all, without any feelings, without show elements.
But you need to dance the step with your soul - so that the audience's legs themselves start dancing. It is possible to teach anyone to dance the step.
Dance, like grammar, is easy to learn and quickly remembered. But honing your own level of professionalism is a personal matter for everyone. For example, modern tap schools offer education for everyone, opening doors to the most mediocre students as well.
But both they and their tap dance teachers know that such tap dancers will not go on stage under any circumstances. If a person put on step shoes, he must be a musician, and use his own feet as a musical instrument, as drummers, guitarists, pianists do ...
Make up music during the tap dance, listen to your own feet, draw a new piece with them. To dance a step is comparable to the flight of a bird. The secret of a very capable tap dancer is that both the music and the tap dancer are on an equal footing.
A tap dancer has a major advantage over dancers and other musicians - by dancing tap, he can accentuate the music, highlight its finest moments, extracting sounds from his own heels, and not just beating the music to the rhythm.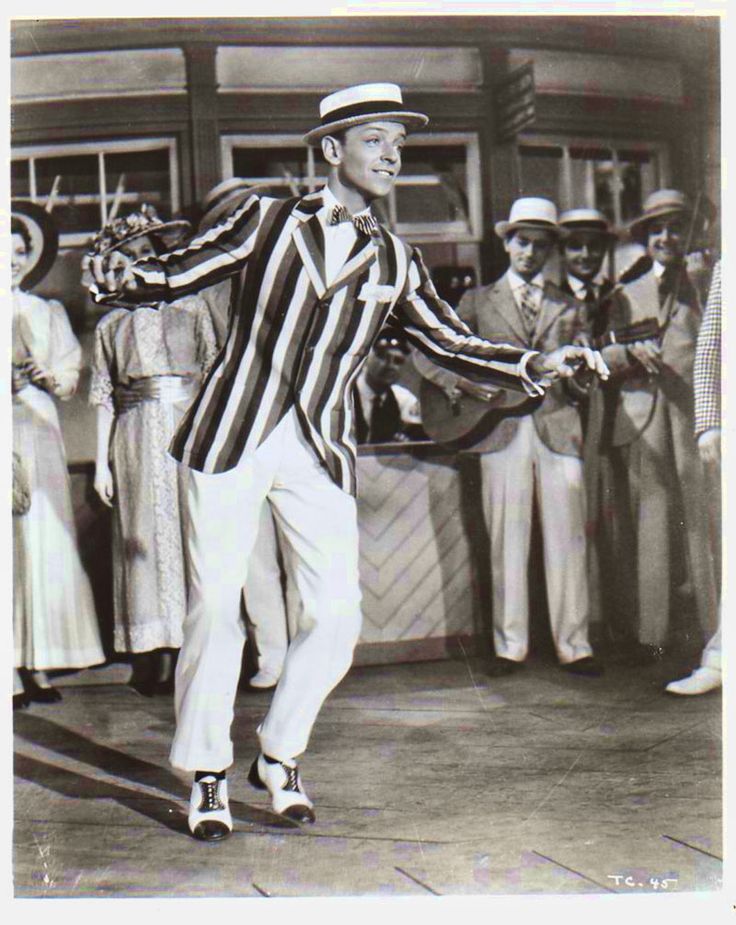 It is also possible to experiment - to create your own variations in the step melody.
When dancing the step, the artist does not start with a specific foot - with the right or left, but makes a jump to his feet immediately. This is how a double hit on the floor turns out, and it sets the rhythm for the entire upcoming tap dance.
It is also possible to dance step in complete silence - without music, and the viewer will hear what kind of melody you are performing. In order to talentedly dance the step, to be sent to realize that in this kind of creativity the main thing is the dancer himself.
Fred Astaire made tap dancing his main income, his image of fate, presented it to the world as a standard of style and elegance. And his phrase has become the motto of all modern tap dancers: "I constantly strive to give my dance the effect of a free-floating bird…".
His father, Frederick Austerlitz, is from America, from where he moved in 1895. The Fred Astaire family loved to sing and dance.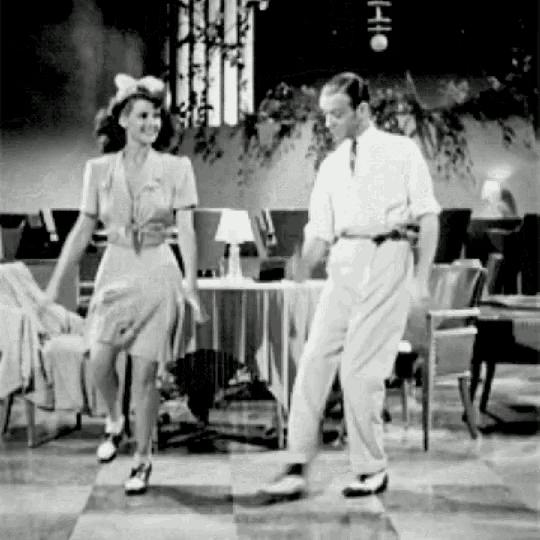 "Prohibition" brought the offspring to the stage already for income.
Fred's dad lost his own beer business in 1904 due to restrictions on alcohol. The family returned to New York.
At the age of seven, Fred conquered America with his impeccable tap dance. Fred Astaire was loved by the public until the end of his life.
Swing Time - Rogers and Astaire
You have read the article but not the magazine…
Tip 1: how to dance in clubs

How to learn to dance

How to dance in discos

How to dance hip-hop in 2017
Dancer Aster
Kirill Kobrin: Forty years ago the American magazine Liberty named the legendary actor and dancer Fred Astor the "Musical Comedy Star" of the twentieth century.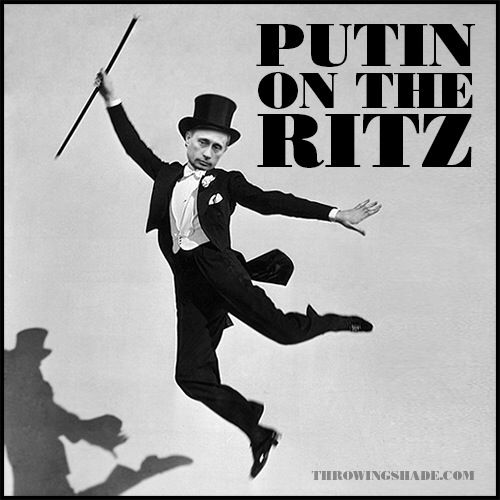 I think there were no critics and viewers who would challenge this decision. Astaire (real name Frederick Austerlitz), born in 1899 years old, who lived 86 years (of which 76 - not on stage) - one of the most famous artists of the last century, a participant - together with his partner Ginger Roberts - of the great dance duet "Ginger and Fred". Marina Efimova, our New York correspondent, tells:
Marina Efimova: Not everyone in Russia knows Fred Astaire. Perhaps the reason is that this great American dancer has fallen into the gap between highly respected ballet and luscious folk dance. Aster is a variety dancer, he came from vaudeville, from operetta, from the ballroom, and in Russia this kind of art was not very much appreciated either from above or below. Aster, however, found connoisseurs. Choreographer Georges Balanchine called him the greatest dancer of the 20th century and very interestingly compared him with Bach. He wrote: "In Bach there is an incredible concentration of musicality, and in Aster there is such a great concentration of dance that it can be distinguished in its purest form.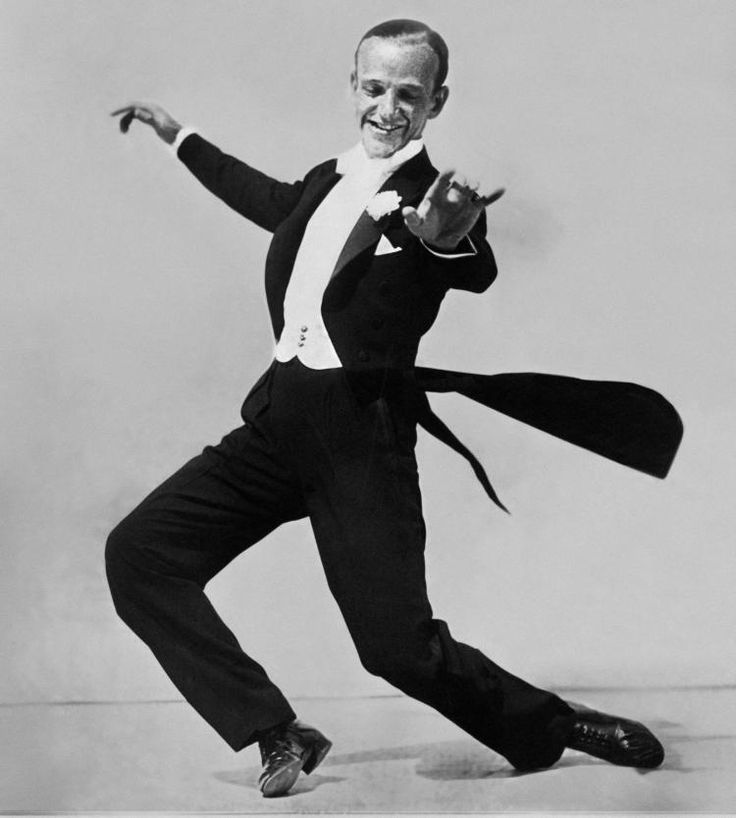 Margot Fontaine wrote that Astaire had restored the male dancers to their proper place on the stage. The famous director and choreographer Bob Foss called him his idol. And Baryshnikov said at his celebration: "Sometimes it seems to you that you have achieved something, you are even pleased with yourself, and when you come home, turn on the TV, you see Fred Astaire and you understand that you still have to climb and climb."
Fred Astaire and his sister Adele began dancing on stage in 1906, when he was five and she was 7. If Astaire's career had not been so long, the phenomenon of his dancing would have disappeared for us, remaining in legends and fragments - like Pavlova and Nijinsky, as Fred's sister Adele, whose fame thundered for 2 decades in America and England. But, fortunately for us, Fred Astaire danced to the 40s and beyond, and Hollywood captured his dance numbers in 30 musical comedy films: Swing Time, Top Hat, Flying to Rio, Let's let's dance", "You've never been prettier".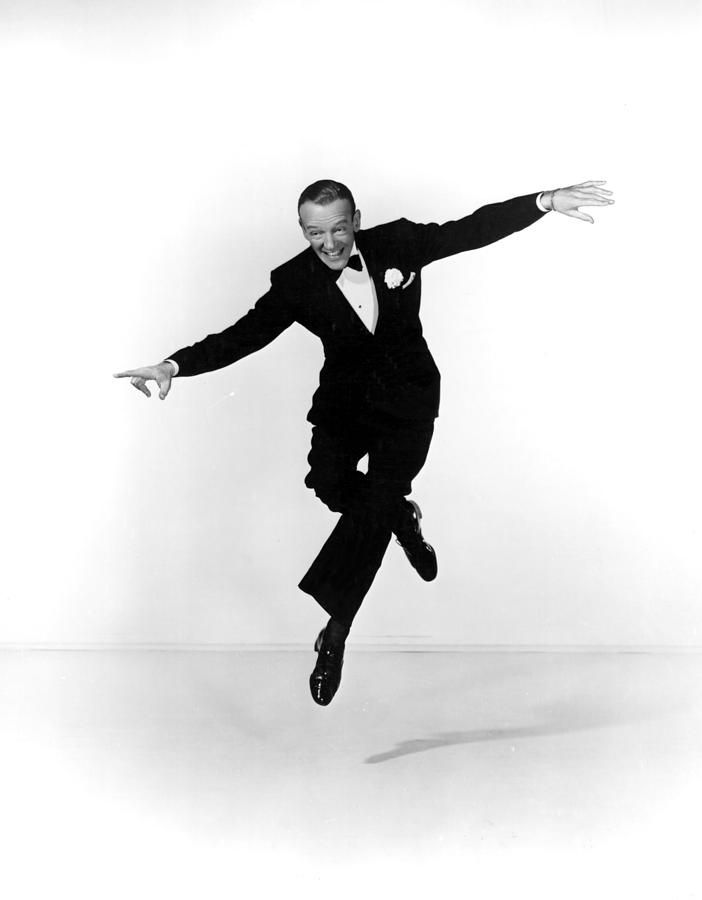 .. He danced with actresses Rita Hayworth and Joan Crawford, with tap dancers Sid Charisse and Ellen Powell, with Judy Garland and Audrey Hepburn. In 10 films, his partner was the actress Ginger Rogers, who became part of his legend. Fellini even made an adorable film, Ginger and Fred, about an aging pair of Italian impersonators Astaire and Rogers. Many critics have described Fred Astaire's original dance style, which included elements of both ballroom dancing and exotic dancing, southern Negro relaxed tap dancing, and ballet steps. But how to describe the magic of Astaire for those who have not seen him in the movies? .. Balanchine's student, ballerina and choreographer Tony Bentley, tried to put it in words: "He has a special grace, somehow connected with less than others, dependent on the force of gravity. Balanchine jokingly called such a dancer "a cloud in his pants." Look at another great American dancer - Gene Kelly - and you'll see his heroic struggle with the force of gravity - to soar above the floor.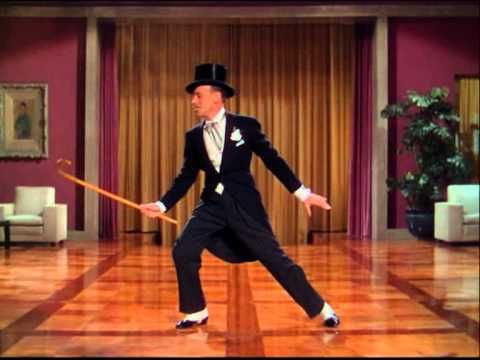 And Fred Astaire, on the contrary, looks like he came down from above and dances on the floor only on a whim. Usually, peering into the dance, you can understand, as the dancer did. But not Aster. Here is the magic!
Most comedies with Fred Astaire can only be loved nostalgically, as in Russia they love the films "Hearts of Four" and "Volga-Volga". Their plots are mostly empty, comic and love conflicts are sucked from the finger. Feelings and excitement begin only when Fred and his partners dance, especially Ginger Rogers. The point is not only in the virtuosity of the dances (of which Aster himself was often the choreographer), but also in their emotionality. In the New York Times article "Two Step", Tony Bentley writes: "In the dance number 'Night and Day' by composer Kol Porter, Fred seduces Ginger. She starts off reluctantly, but he provokes her with an unexpected change of rhythm. He pursues her, he copies and imitates her, he throws her up and throws her, he spins her like a top, and unexpectedly, at one of the turns, meets her on the fly and embraces her again.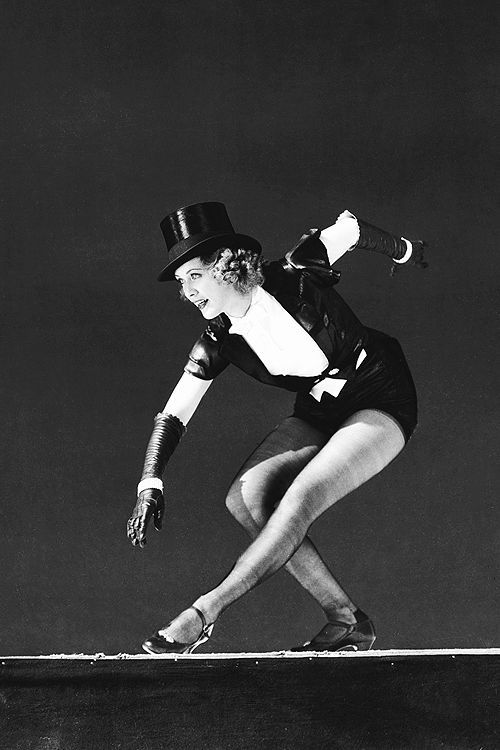 She turns away, doubts, she agrees to a small compromise, then another, another ... and, finally, she completely succumbs to the rhythm, the moment and the man. And after all these flights, after the crescendo... the usual ending: he escorts her to her seat, like after a ballroom dance, as if to say: "Ah, that was nothing." In this instant transformation from a brilliant virtuoso to a modest one, there is a disarming acting charm.
In the movie Swing Time, Fred Astaire has a very long number: first with the corps de ballet. The girls stand in several columns, and he, rushing in a dance from end to end of the stage, each time takes one column, gradually turning the entire corps de ballet into a huge pendulum that swings to the beat of the music and arouses the complete admiration of the audience. Then the formation breaks, and Asta dances with three huge shadows on the wall - his own. He clearly wants to dance them and picks up the pace to a frenzy. The shadows begin to get confused, and the satisfied dancer waddles backstage, waving his hand to the audience.

In Astaire's films, there is always a piano accidentally in the bushes, in any room the floor turns out to be mirrored, a poor young man has a tuxedo, and an aspiring actress has a dress made of ostrich feathers. And this, mind you, in the 30s. Film critic David Thomson, who disliked Astaire for his bodiless and out-of-place elegance during the Great Depression, nevertheless wrote: have nothing to do with life. That's the reason why a cult film like Citizen Kane is so short-lived: it plods heavily and straightforwardly across 1940s America. Astaire's films fly through Arcadia."
The love of contemporaries for the films of Fred Astaire is often explained by their desire to forget their hard life for two hours and enjoy the abstract beauty of the dances of Fred and his partners. But the Depression passed, the world war thundered, the 20th century ended, and Astaire's films live on. Dance historian and professor at the University of Michigan, Beth Zhenne, partly explains this by the peculiarity of the filming.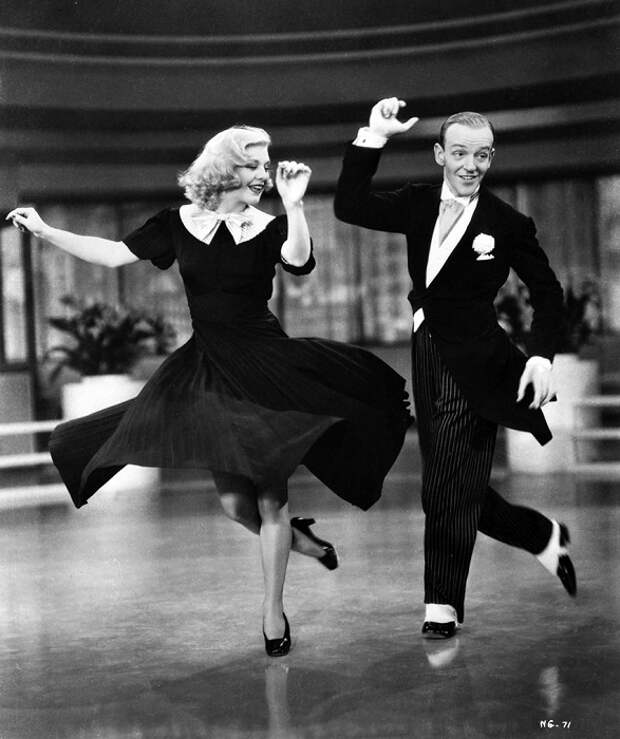 In his films, Astaire demanded full control of the camera: "Astaire's idea is a still camera. He told cameramen and directors: "Either I dance, or the camera." And he ensured that the camera filmed his dance continuously from beginning to end and, as it were, from the position of a spectator sitting in the best place in the theater - in the middle of the 6th row of the stalls. Therefore, now every moviegoer sees Fred Astaire dancing from the middle of the 6th row of the stalls. He did not allow cameramen to make close-ups and show either the legs or the faces of the dancers - so as not to lose the integrity of the performance. Therefore, we see his dances exactly as they were intended.
But the reasons, of course, are not only technical. About 10 years ago, New York Times editor Maureen Dod described the effect of Astaire's films on today's audience: "If you're feeling blue, if you're scared of the future, watch the old Fred and Ginger tape. It's not about how beautifully they fly and gracefully beat off their light tap dance.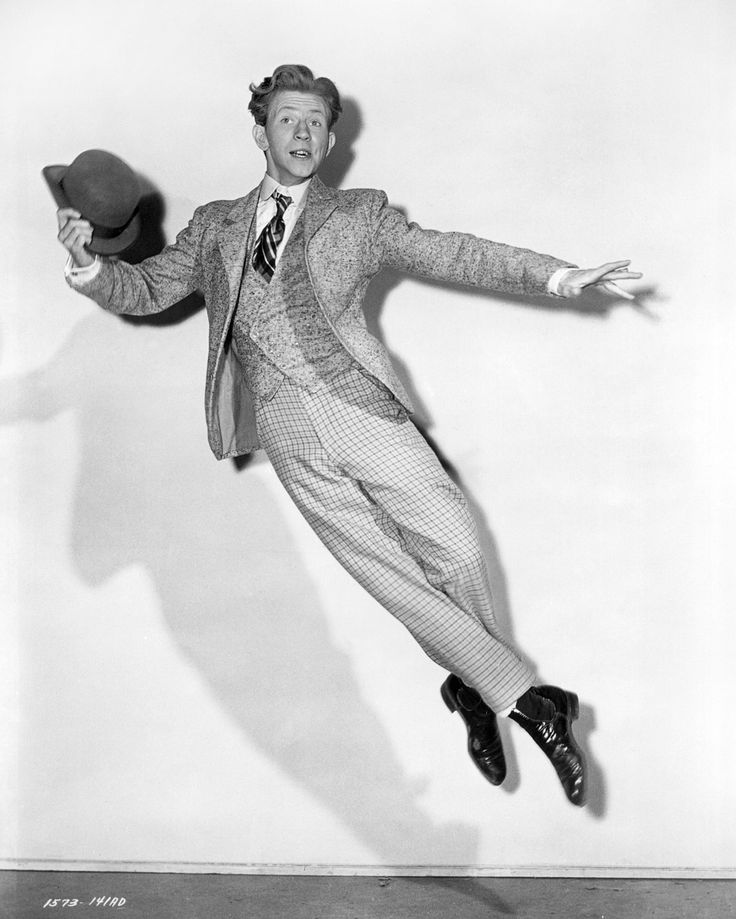 It's about the mysterious, but clear feeling that while they are dancing, nothing bad can happen.
Ballet dancer Tony Bentley notes another feature of these films: "In dancing, Astaire was a hidden, quiet seducer - with all his absolutely gentlemanly behavior (in his films there is only one kiss in the frame - in the film with Rita Hayworth, and even then it is a kiss of silhouettes). But he danced for the sake of the woman, demonstrating and highlighting her beauty, admiring her. Any woman will tell you that this is one of the most effective types of seduction. No wonder Aster said: "I make love by dancing". Perhaps he and Ginger were the public's favorite couple because Ginger responds to this discreet, gentlemanly display of love. After dancing with him, Ginger often looks like it was an act of love. But even in the very unearthly, joyful nature of Fred Astaire's dance, there is, in addition to beauty, another exciting spiritual component. This is what makes Astaire a great artist.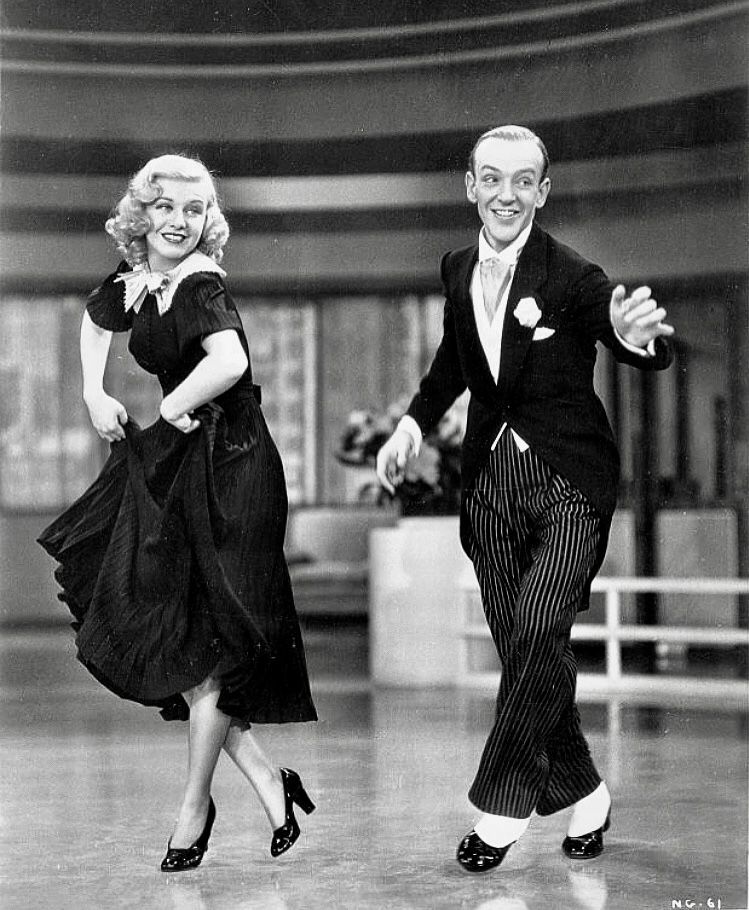 It is clear why Balanchine appreciated him so much.
One of the critics wrote about Astaire: "Why does every woman look like a goddess next to him? Because in the beginning there was Adele." Fred and his beautiful sister Adele began to earn money dancing in pairs from preschool age. Dance, show were both in their blood. They grew up on the stages of musical theaters - first provincial, then Broadway. And the star in this pair was Adele. Critics admired her in the most intricate terms, and they wrote about Fred: "Brother is also not bad" or something like that. But their real fame began with a tour in England at 1923 year. Fred was 22 and Adele was 24 "Why in England? This is not an easy question. I think there was what we call "class" in their way of performing. The British are extremely sensitive to this, but the Americans are not. Fred and Adele had a European taste (perhaps because their mother was Austrian and their father was born in Prussia, in a family of Jewish converts). In their masterful performance there was not diligence, but an elegant casualness that admired the British, unusually corresponding to the jazz era.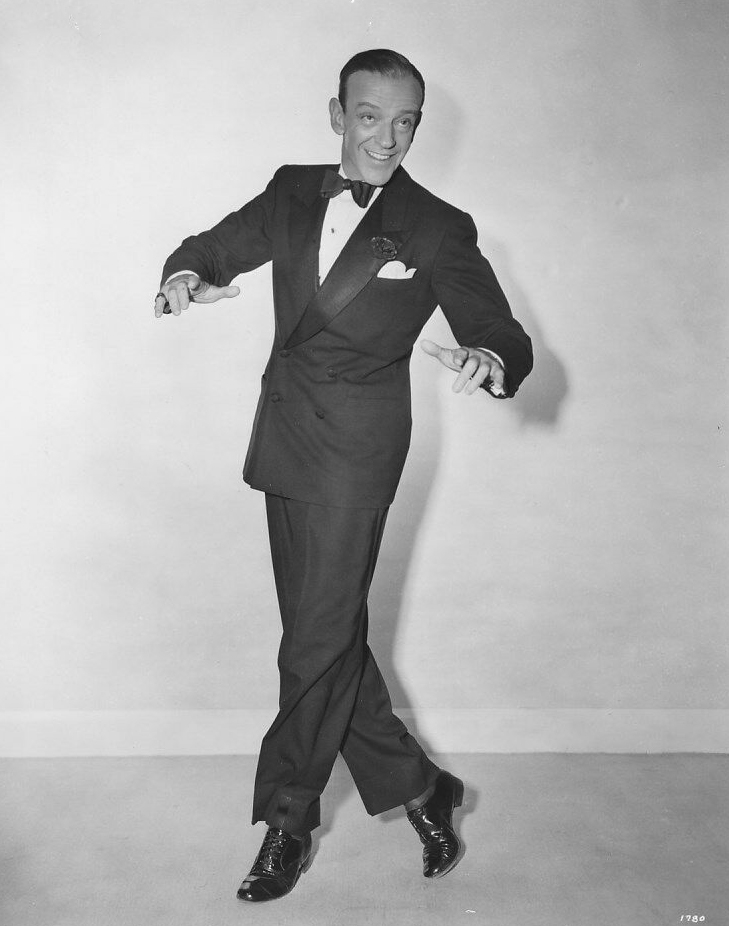 For England, Adele and Fred were a delightful surprise - the American uniform of the highest class.
The British appreciated the details. And it was in England that Fred and Adele tried the famous ending of their performances - "run around" - a circular jog. Adele gracefully marched in a circle to the song "Upside Down", Fred followed her foot to foot, and they walked, complicating the details and speeding up the pace ... then minced, ran, and finally flew, so much so that their legs were not visible , like the spokes of a wheel ... and on a swift somersault they disappeared from the stage. The audience roared with delight. When there was no ending, the audience chanted: "Run around! Run around!"
In England, Adele was followed by a crowd of aristocratic admirers, and in the end she left the stage and married Lord Cavendish. Fred, who performed with his sister for 27 years, has been professionally independent for a long time - starting from the age of 14, it was he who was the choreographer and music editor of their dance numbers with Adele.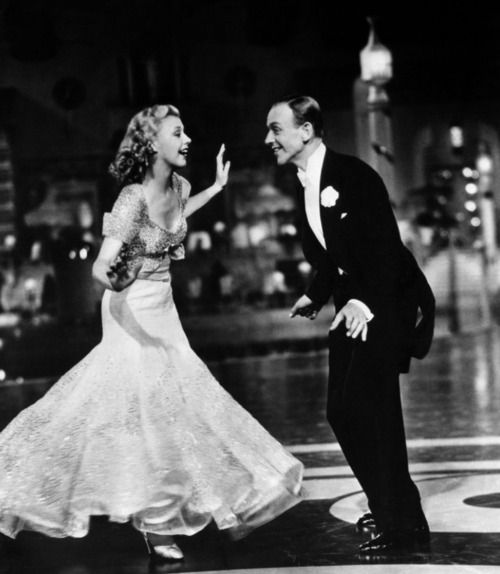 But he was not confident in himself and was very upset by the end of the partnership and separation from his sister. Fred was saved by love: his future wife, Phyllis Potter, persuaded the actor to try his hand at cinema. Hollywood's first reaction to Astaire is legendary. An auditioner wrote about him: "He can't play, he's going bald, he can dance." Meanwhile, Fred Astaire was an absolute renaissance artist. He could do everything and, above all, he could sing.
"He not only performed songs by the best composers of his time (Call Porter, Jerome Kern, Irving Berlin, George Gershwin), he also inspired them. They wrote songs specifically for his voice and manner of performance. Irving Berlin generally considered him the best performer of his songs. He said, "Fred is a singer like Bing Crosby and Frank Sinatra. It's not about the voice, but about the charming and soulful interpretation of the song." Astaire wrote several songs himself, was a good musician, played the piano, and in his old age became a serious dramatic actor.
He unforgettably played the old cynic in On the Shore with Gregory Peck and Ava Gardner, and for his role in the famous film Hell in the Sky, which played, among other things, Paul Newman and Steve McQuinn, he was nominated for an Oscar. In a word, I do not know if there was anything that he did not know how to do.
"All my professional life," said writer John O'Hara of Astaire, "Fred took to work; fought over her until she was ready; exposed the audience to the court and then went home. It is a magic formula for anyone who has the physique of a decathlon champion, the imagination of an artist, the perseverance of a horse-breaker, the bulldog grip of a reenlisted sergeant, the confidence of a lion-tamer, the self-criticism of a neophyte in an ancient church order, and the pride of a tradition-maker... And above all, and at the bottom of it all is an instinctive sense of style, class, taste."
In 1980, at Gregory Peck's Christmas party, among the guests were both Fred Astaire and Adele (long widowed and moved to live in California, closer to her brother's family).