How to make your own dance costume
How to Start Making Dance Costumes - Beginner's Guide to Dance Costume Making Part 1
by Mao on  in DIY Belly Dance Costume Blog, Uncategorized • 1 Comment
Many years ago, I came up with this brilliant idea to make my own dance costume.
I already loved dance costumes and I was excited. 😀
The only problem was, I knew nothing about costume making.
I didn't know what a dance bra top was made of, I didn't know types of fabric, and of course, I didn't know how to operate a sewing machine. I didn't have one.
So naturally, I was very overwhelmed and frustrated.
Sound familiar?
When you're just starting to make your own dance costumes, it can be very confusing and overwhelming. 🙁
So in this video and next one, I want to help very beginners get started. In this post, you'll see what tools you need and easy projects to try. Let's get started!
Sign up for Sparkly Belly newsletter so you won't miss Part 2!
My site is specialized in belly dance costume making, but you can apply basics to other style of dancing as well.
Now, if you're new to sewing, you'd want to avoid it as much as possible. So the common question a beginner costume maker asks is…
Can I make a dance costume with hot glue gun?
Unfortunately, the answer is no. I don't recommend hot glue gun for a few reasons.
First, the glue can melt or get weak with your body heat as you dance in the costume. What happens if the glue melts? Your costume will fall apart. Not a good idea. 🙁
Second, the heat of the glue can ruin your fabric.
And third, we use a lot of stretch fabric for costume making, and your hot glue may not stretch. The seams may come apart as you put it on.
Of course, hot glue can be great for making halloween costumes. But a dance costume needs more strength and durability, so in general, I don't recommend hot glue.
Do I have to sew then?
So for most part, sewing is better than gluing. But there are exceptions.
For example, for decorating your costume with small rhinestones, gluing works just fine.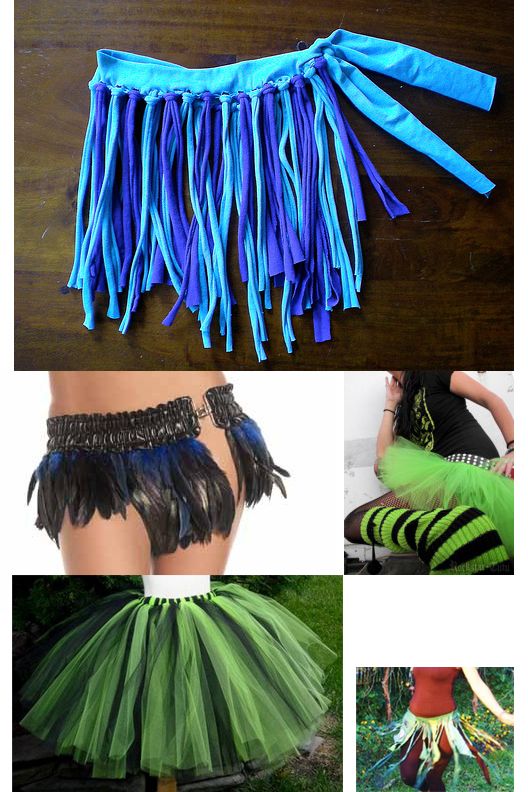 Be sure to use appropriate glue like gem tac. (There's a great tool for gluing rhinestones!)
There's also fabric glue available. If you really don't want to sew, you can try fabric glue. But based on my experience, fabric glue is never as strong as hand stitching, and again, it doesn't hold stretch fabric well, even stretchable fabric glues I've used.
So instead of wasting your money on fabric glue, I recommend you learn how to use a hand sewing needle and thread 🙂
What do I need to start making costumes?
For beginners, all you need to start making costumes is:
Hand sewing needle
Scissors
Measuring Tape / Ruler
You probably have these things at home. And just pick up inexpensive fabric and thread to get started.
You can upgrade tools as you go of course 🙂 But for now, I'll share with you projects you can work on with the above tools in a minute.
Do I need a sewing machine?
Not for beginners.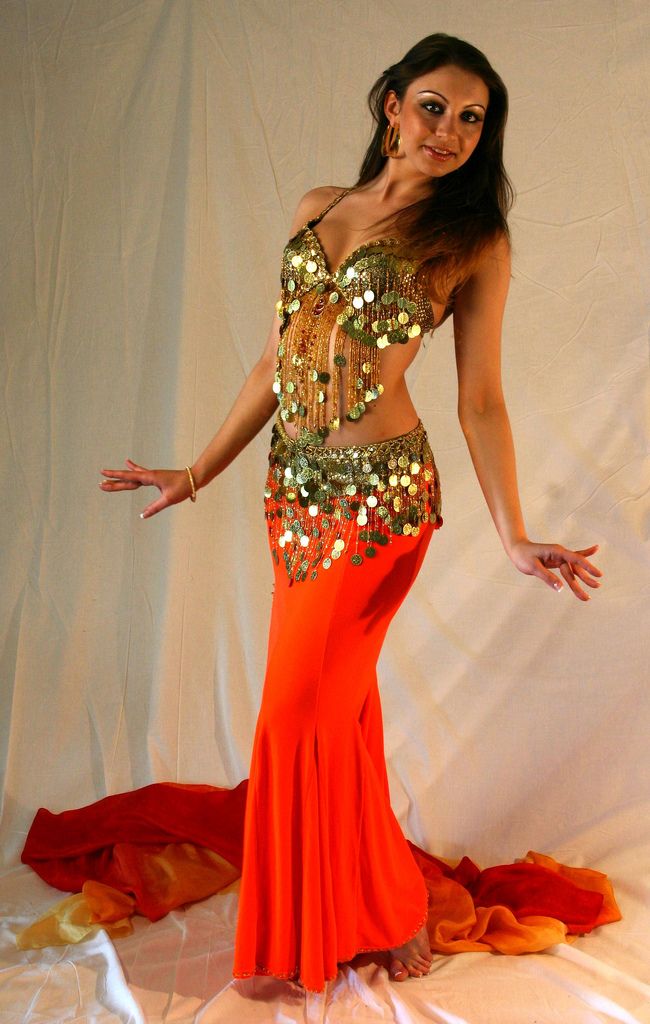 It's definitely nice to have a sewing machine if you want to make a skirt.
But if you're just starting out, build your skills and confidence by first tackling easy projects like ones I'll share with you next.
Where can I learn how to start making dance costumes?
I have over 100 dance costume tutorials on my blog, which you can find summarized here 🙂
But if you're new – first try no-sew projects like this overskirt or crop top.
These projects don't require much sewing, and even where sewing is required, it's just a few stitches. You can even use safety pins for the time being. The important thing is, you get used to measuring and cutting fabric.
Then you can move onto making fun accessories like this armband and foot accessory.
And try decorating costumes by using this ruching or pleating technique, or beading.
Without sewing machine, you can make beautiful things like this Swirly Belt.
You can find the catalogue of all my tutorials like these here 🙂
Now the next big confusion is, how do I pick the right fabric for making dance costumes? In my post, I'll show you common types of fabric used for dance costumes and how to pick them.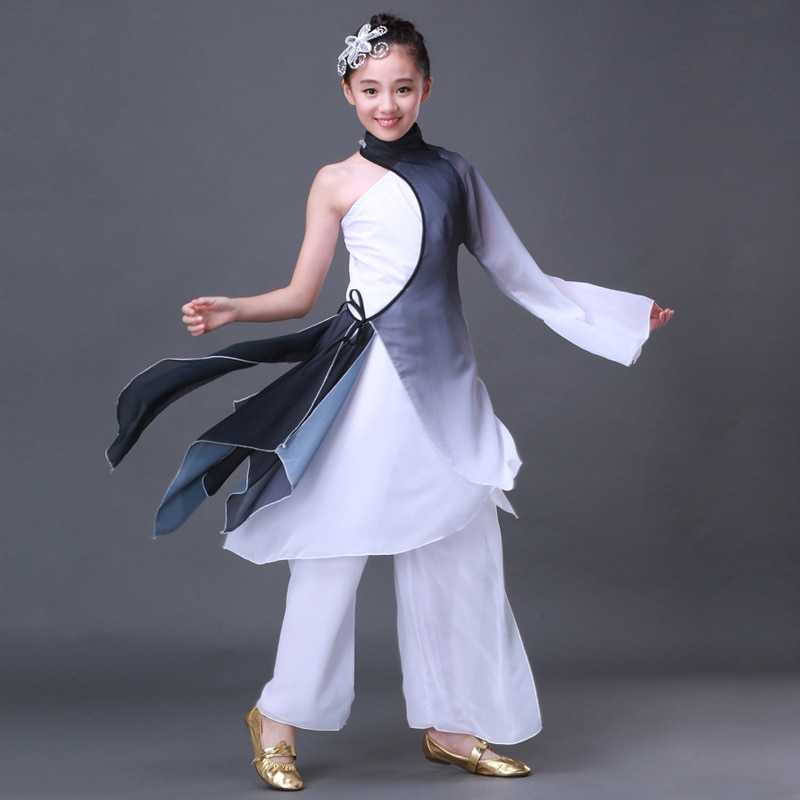 So make sure to sign up for my newsletter from the below link, so you won't miss the next video!
Sign up for Sparkly Belly newsletter so you won't miss Part 2!
And if you know a dancer who is struggling with costuming, help them out by sharing this post with them. They will appreciate that your love 🙂
Thanks for reading, and keep sparkling! 🙂
P.S. Pin this image for future reference! 🙂
Like what you read? Want to make more costuming bits yourself?
Sign up for my newsletter here and get my free email course, Belly Dance Costume Making 101!
How to Design a Custom Dance Costume in 8 Steps
You've got your choreography, your team is practicing hard, and now it's time to design your dance costume! This may seem like a daunting task, but designing a custom dance costume can really be broken down into 8 simple steps.
If you've been following along our How to Design a Custom Dance Costume series, we've covered everything from prototypes to  fabrics.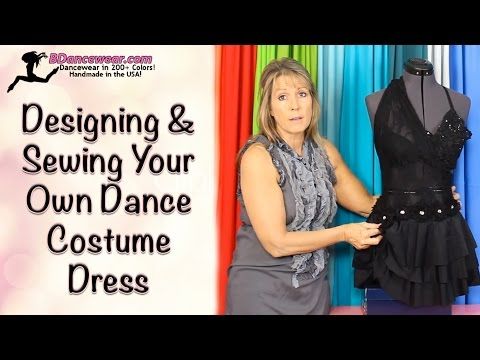 We've compiled all the posts in this series to give you a brief overview of the custom dance costume design process. Check it out below!
Step 1: Determine Budget, Timeframe, and Quantity
When working with a custom dance costume company, these are the first things they will ask you about. It's important to know these before getting started with your custom design!  
More details here: 4 Things You Need to Know Before Designing a Dance Costume >>>
Wondering about timeframe?  We recommend you plan 12-18 weeks in advance for a custom costume.  Find out more here:
How Long Does it Take to Design a Custom Dance Costume?>>>
Step 2: Finding Inspiration
Gather your inspiration in order to provide the most clear direction in your design consultation with your costume company.  That way, your designers can fully bring your vision to life. Inspiration can come from anywhere, so keep your eyes open!
Read more on Finding Inspiration here! >>>
Step 3: Design Consultation, Illustration and Feedback
Collaborate with your account manager and designer to get started on planning your new dance costumes! You'll chat with your costume company about your vision, they'll get to work on sketches, and you'll give your feedback before moving on to the next steps: payment and prototype.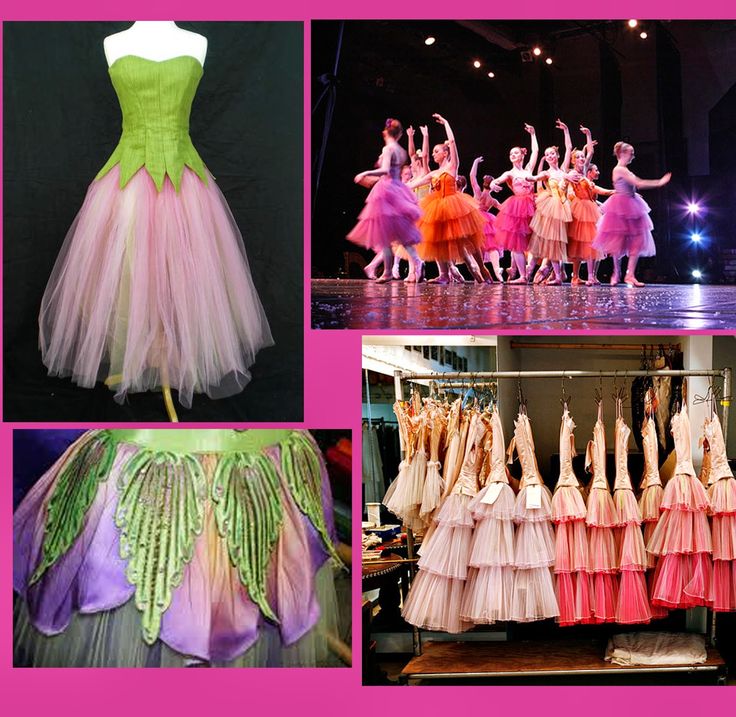 Read more on How to prepare for your Design Consultation here! >>>
This is also when you'll be deciding on the fabrics that will be used in your costume. Feeling overwhelmed with all of the fabric options? No worries! Check out our explanation of the most common fabrics that custom dance costume companies will have in stock!
Read more on Dance Costume Fabrics Explained here! >>>
Looking for some design tips for costumes that'll look great on the entire team?   Check out this post:
Learn about 5 Tips for Designing Flattering Costumes here! >>>
Step 4: Payment
Making your down payment on your dance costumes will lock you into your company's production schedule! Make sure you make your payment on time so that you'll get your costumes on time.
Step 5: Prototype Creation
A prototype helps ensure that you love everything about your new look, including the design and fit! It also helps your costume company create the rest of your order - they use it as a sew sample to make sure the entire order is consistent.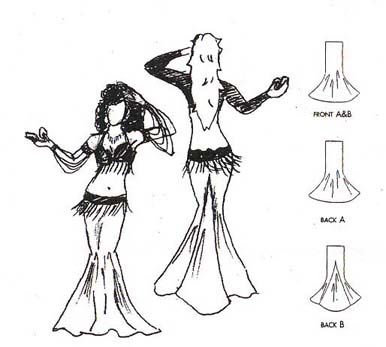 The proto phase is your chance to give any final feedback before your order goes into production.
Read more about the Prototypes here! >>>
Step 6: Sizing and Measuring
The last step before your order goes into production is sizing and measuring! Measure your team and compare to your costume company's sizing chart in order to determine their size. We also recommend trying your prototype or sample garment on as many performers as possible to help determine sizing and check the fit.
Read more about the Sizing and Measuring here! >>>
Step 7: Production
Once your prototype has been approved and your sizes are confirmed, your garments will go into production! Since your design is unique to you, it will be made-to-order from scratch.
Step 8: Final Payment, Order Ships!
Final payment is due with most companies before your group's order ships. Once that is received, your order will be on it's way! Get ready to shine in your new custom dance costumes! 
---
Topics: Behind the Design, Costume Design Resources, How to Design a Custom Dance Costume
DIY neon dance costume
New neon night lights
New neon night lights
We have worked hard and made a new line of handmade neon night lights.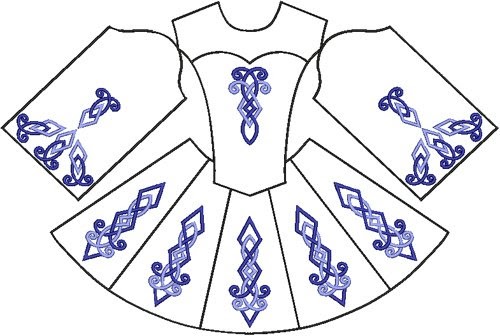 If you don't know what to give as a present - give such a night light. It will be unusual and in the truest sense of the word - bright!
Our neon lights up in the video!
Our neon lights up in the video!
It's always nice to see the results of your work in life. At such moments, you realize that this is all "not just trade." You help, advise, find new ways to use products, and thanks to them, store guests can realize their fantasies.
Drawing in a black notebook!
Drawing in a black notebook!
Drawing in a notebook with black pages looks completely different, and sometimes even the simplest sketch is perceived as a small masterpiece.
Notebooks made of felt, wood, with black pages and other novelties
Notebooks made of felt, wood, with black pages and other novelties
We have received a new shipment of notebooks. Models made of felt (to the touch, like felt boots), notebooks with black pages, in a wooden cover and other interesting things.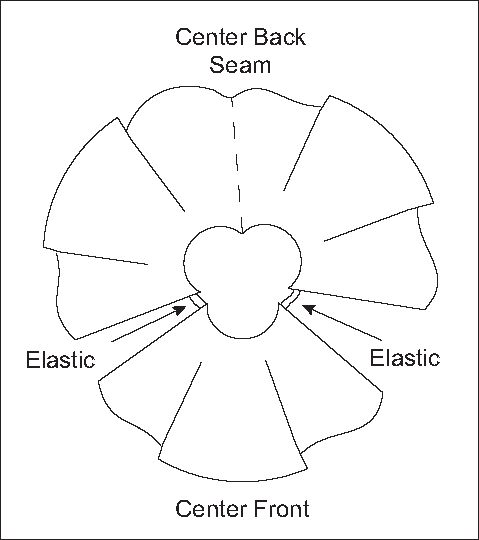 We meet!
Candle lanterns Part 2
Candle lanterns Part 2
The second part of the video presentation of the new delivery of candle lanterns. Models made of wood, metal, glass and stained glass.
Candle lanterns Part 1
Candle lanterns Part 1
Candle lanterns have arrived! The variety of designs is dizzying, so we've split the video presentation into two parts. We present to you the first part.
Another composition in the florarium
Another composition in the Florarium
The Internet does not yet allow you to feel the product, but we try to shoot so that every detail is visible. Here are several models of florariums for flowers and a small example of use.
Rechargeable candle from our workshop
Rechargeable candle from our workshop
A candle that does not need to be changed batteries, that does not spoil the interior with its Chinese look, was developed in our workshop. More in this video.
The history of one backpack
The history of one backpack
Once upon a time there was a backpack.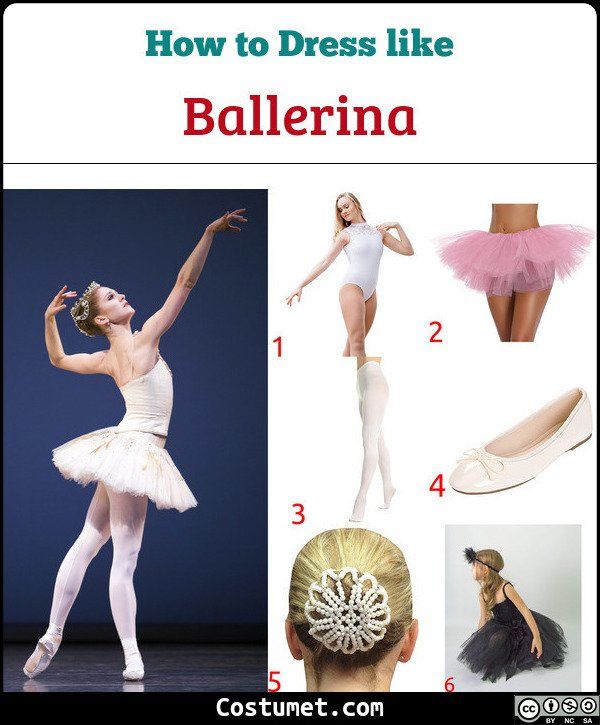 He loved his master very much. And one day they decided together to enjoy the beautiful view and drink a cup of tea in pleasant solitude.
Master class on florariums from Tanya Verba
Master class on florariums from Tanya Verba
As promised, we are posting a full master class on florariums from Tanya Verba. In it, we will tell you how to make a beautiful composition of plants, as well as how to use the florarium as a box for rings.
Florariums for rings and plants
Florariums for rings and plants
Charming florariums for rings and plants have arrived. We immediately tried to make something interesting out of them. We present to you what we have achieved! p.s. Very soon a full-fledged video lesson on florariums will be released on our channel.
Genuine leather notebooks
Genuine leather notebooks
Collection of cool notebooks made of genuine leather, wood, craft paper.
Do-it-yourself glowing letter from a garland
Do-it-yourself glowing letter from a garland
Today we will tell you how to make a beautiful glowing letter based on a garland with your own hands.
This method is ideal when you want to make a luminous three-dimensional structure at minimal cost.
Wine coaster collection
Wine coaster collection
Several handmade wine coasters. In the near future we promise to expand the range :)
Polygonal paper models
Polygonal paper models
A new issue of lights-market.TV is dedicated to polygonal cardboard models that you can assemble yourself. An important feature of these sets is that the result is not a craft, but a real masterpiece - stylish and modern.
Glowing stones! We welcome the new product)
Luminous stones! Welcome new)
Beautiful luminous stones that can be used for landscaping, aquariums, flower pots, etc.
Handmade neon signs
Handmade neon signs
Cool handmade neon signs made by our friends. Hello)
New signs from our workshop
New signs from our workshop
Several new projects have been picked up in a month. We are glad to present them) It is made using ordinary neon, which can be purchased on our website.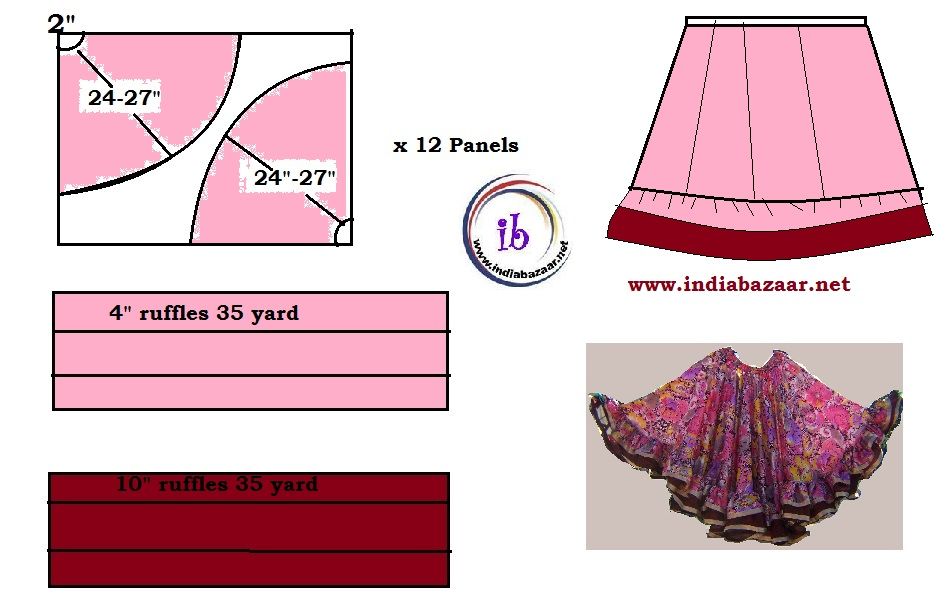 Our workshop produced new boxes
Our workshop produced new boxes
Urrra) We present to your attention a new collection of craft wooden boxes for flowers, bottles, nuts - anything! Made in Russia!
Cafe marker boards
Cafe marker boards
A new type of cafe boards - marker pavement boards - has arrived at the warehouse. For drawing on them, special markers are used, the same as for LED boards. The image is very bright and saturated.
DIY Indian dance costume: pattern with photo
Recently, the passion for oriental and Indian culture, including dances, is gaining particular popularity. Unfortunately, it is not so easy to find dance costumes on store shelves, and finished products are not cheap. Let's try to make a female and male Indian costume, which is great for dancing, quickly and easily with our own hands using our step-by-step master class for beginner needlewomen.
How to sew an Indian dance costume with your own hands: for a woman (girl)
The classic Indian dance costume for women consists of three items:
harem pants or special cut trousers;
kameez or tunic;
cape or wide scarf.
For sewing all components, you must use silk or cotton fabrics in bright colors with embroidery, appliqué, sequins and traditional oriental patterns. If a suitable material is not available, you can use any bright plain fabric and decorate the finished product yourself. We first take measurements and draw a sketch of the desired model on paper.
For classic trousers, use the pattern below. This model is the size for an adult woman. To sew a costume for a girl, you should adjust the size of the blanks.
We cut out the blanks, laying allowances of about 1.5-2 cm. Sweep the details or chop them off with tailor's pins in the places of future seams. We carry out a side and step seam, insert an elastic band at the waist and on the cuffs, overcast the seams.
For kameez or long tunic, use the basic pattern below. If necessary, you can add sleeves or other elements. When sewing a children's kameez, darts are not necessary. If not very loose fabric is used, additional overcasting is not required.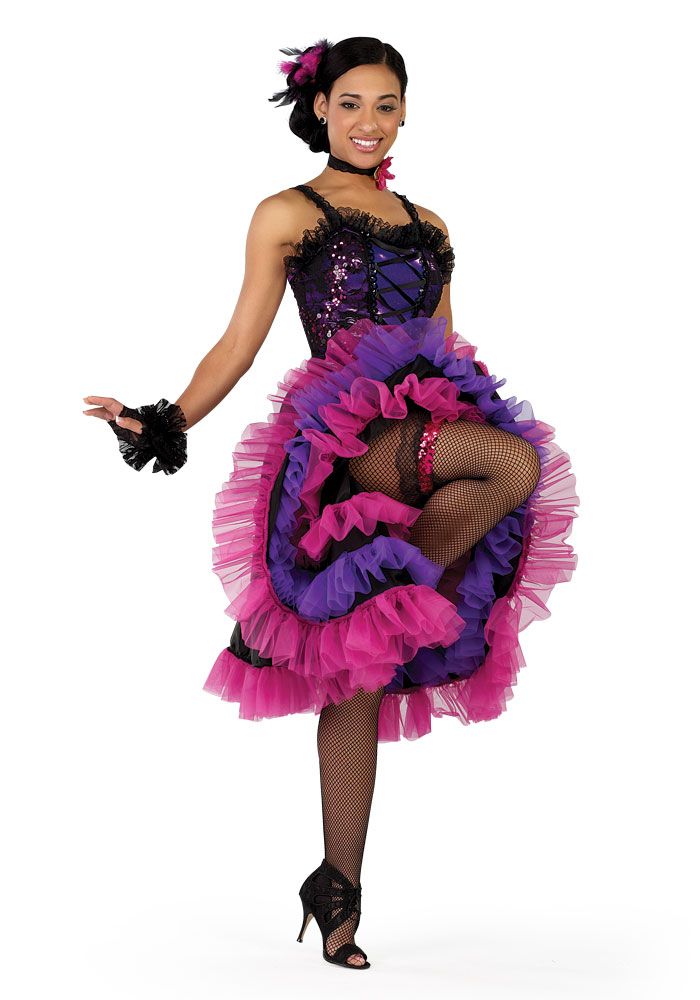 As a cape, you can use any long and wide translucent scarf that matches the color of the tunic and bloomers. For an adult dancer, the width of the cape should be about 2 meters, depending on her height and dimensions. To put on a cape, you need to fold it into an accordion and throw it over one shoulder, straightening the folds on the chest. The other end of the fabric should be folded into a tight bundle, wrapped around the waist and fastened on the left side. A dance costume with a cape on is shown in the photo below.
Sometimes bloomers need to be replaced with a wide skirt. In some costumes, the skirt is worn over the trousers. For its sewing, you can use a smooth or corrugated translucent fabric. As a rule, the traditional "sun" style is used on an elastic band or a rigid belt. The lower part of the hem should end approximately at the level of the ankles.
How to make another elegant version of the costume for a man (boy)
Men's Indian dance costume is in many ways similar to women's, as it includes a tunic and bloomers.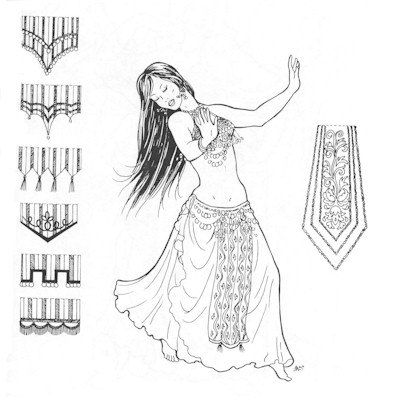 For men, you should choose denser fabrics in modest colors. So, harem pants can be made of white or black cotton, and a tunic can be made of dense patterned material of burgundy, dark blue or yellow.
To sew a tunic, you can use the female kameez pattern, after removing all the darts. The upper part of the men's suit always has long, straight-cut sleeves. The neckline is finished with a stand-up collar with a front closure.
Harem pants can be replaced with existing straight-cut trousers or can be sewn according to the pattern of the women's suit, slightly reducing the width. To sew dance trousers for a boy, you can use the simplified pattern below.
We cut out two rectangles from a dense plain fabric, the length of which corresponds to the length of the future product plus 8-10 cm, and the width is equal to the half-circumference of the hips plus 8-10 cm, excluding allowance. We fold each blank with the right side inward and chop off with tailor's pins.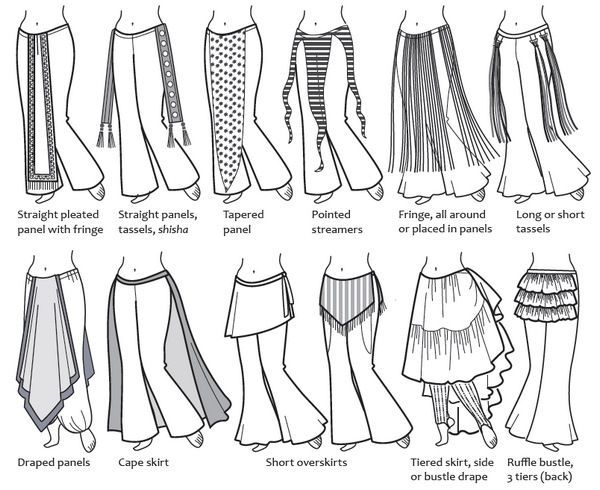 We carry out the inner seam, not reaching the waist about 30-40 cm. Similarly, we sew the second blank and connect the legs together. We steam the product and overcast the seams if necessary. We insert a linen elastic into the waist and cuffs. Do-it-yourself bloomers are ready!
Usually a turban is required for a male dance costume - a special headdress. It can be replaced by a long scarf or stole rolled into a tube, but most often its length is not enough. In this case, you can sew a long ribbon of thin plain draped knitwear. To do this, you can use unnecessary T-shirts or scarves. The width of the tape should be approximately 10-15 cm, and the length - up to 2 meters. To put on a turban, it is necessary to place the central part of the tape on the back of the head, and overlap the ends several times tightly around the head so that their tails are in front after winding. The ends of the ribbon can be tucked between the turns of the turban or pinned with a beautiful bright brooch.