How to dress like a burlesque dancer
How Burlesque Style Is All About the Clothes You
If you could say only one thing about Burlesque, it would probably be that it is a truly rich and excitingly varied art form. It is a genre that fuses an interesting combination of dance, comedy, variety and parody all rolled together in a delicious concoction of theatre. One of the most interesting things about burlesque is the fact that places nudity on a pedestal and has done so since its inception.
As something that was probably considered a somewhat taboo style of entertainment during the height of its popularity in the early 1900's, it is interesting that today it is a celebrated art form that empowers the female body. This is even more interesting when we consider that laws were actually passed in America in the 1920's making it illegal to wear skirts more than 7 1/2 inches off the floor, or 3 inches above the ankle (in Philadelphia and the state of Utah). It might well be that the burlesque strip-tease was born due to this type of sexual repression.
Ah, people rebel in the most wonderful ways, don't they?
But it's important also to note that burlesque isn't just a glorified form of stripping. It's not all sexy corset tops and nipple tassels. Burlesque is widely considered a credible art form that has stood the test of time. It is an interesting and varied genre, with a bold and striking style. And above all, it places the emphasis on the 'tease' rather than simply the gratification that comes with the showing of naked skin. 
Corporate Entertainment Professionals
The Origins of Burlesque
While the genre seems to be enjoying a resurgence at the moment, largely due to the popularity of Dita Von Teese (she's pretty much the face of burlesque right now), we've already mentioned that the style was at the height of its popularity during the early 1900s (although there are records of burlesque dating back as far as the 1840s).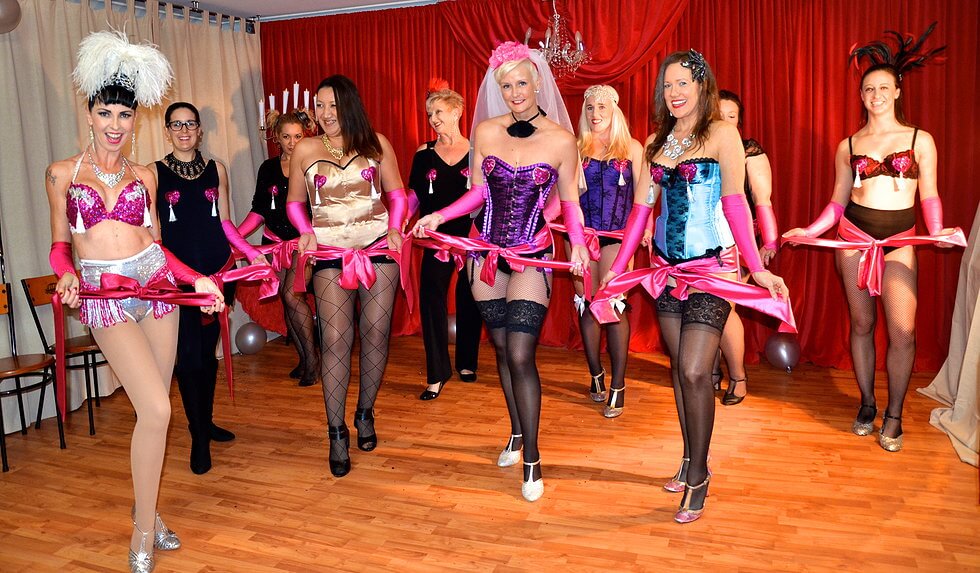 But some argue that the styles roots go even deeper than that.
It's been suggested that the first 'strip-tease' dates back to Biblical times, beginning with The Dance of The Seven Veils. This was the scintillating dance that the temptress Salome performed for King Herod, and involved (you guessed it), seductively removing seven veils, along with all of her clothes. 
Huffington Post
This is just one example, but there are others that appear in historical fiction and art. The art of 'withholding' is a common motif. Take the historic play Lysistrata for example - an ancient comedy in which women actually use their flesh and sexuality (or the 'withholding' of it and any gratification that can be derived from it), in an attempt to end the Peloponnesian War.
The premise of the play (very basically) is this; no peace, no nookie. The women in the play withhold sexual privileges from their husbands and lovers as a way of forcing them to negotiate peace.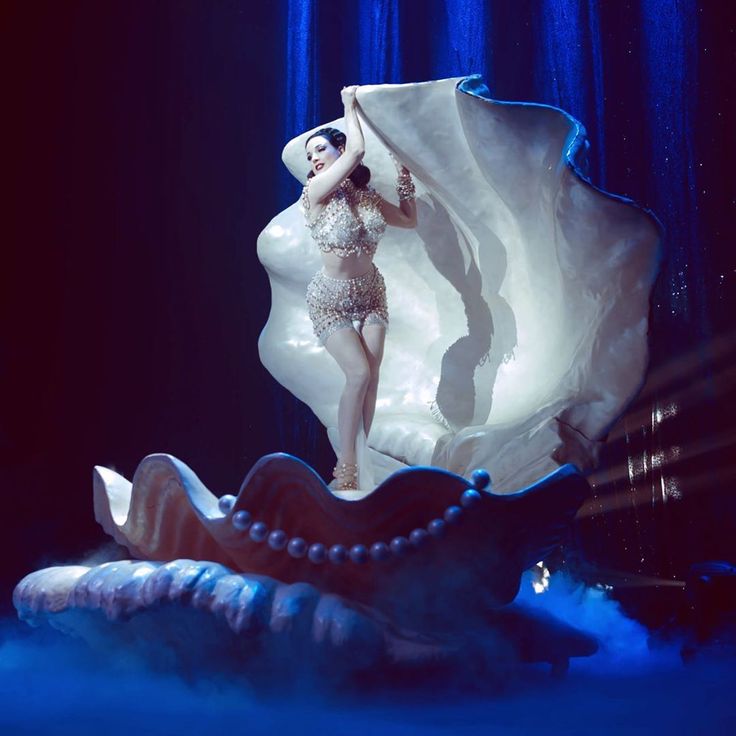 This could be regarded as an interesting example of how the art of withholding sex can be considered more powerful than gratification; just like burlesque. Remember, it's all about the clothes you leave ON.
The Evolution of Burlesque Style
As touched upon, burlesque was big in the 1920s. Clubs and establishments popped up in prohibition America to provide variety and entertainment to a somewhat repressed culture. But of course, this didn't go down well with teetotal politicians and authority figures, who found issue with the provocative nudity and also with the establishments themselves. 
But the genre hit back in the 1940s with stars like Sally Rand and Gypsy Rose Lee taking centre-stage and pushing the boundaries of the style to make it new and relevant once more. The 1950s brought an even more exaggerated evolution of the style with the popularity of Hollywood movie glamour at its height, skyrocketing the 'pinup' style into popularity with stars such as Marilyn Monroe at the forefront.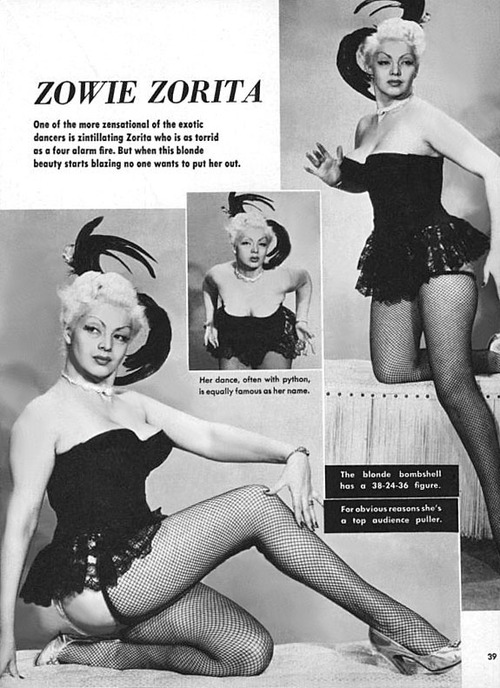 So popular was Marilyn that burlesque dancer, Dixie Evans even adapted her stage persona to become a parody of the rising star. Her act proved so popular that she was later billed as the 'Marilyn Monroe of Burlesque.' It is this fusing of two genres; the glitz and glamour of Hollywood with bawdy vaudevillian entertainment, that is rather typical of the style.
Burlesque is all about richness and variety - and this is something that still shines through even today.
New York Daily News
Burlesque Style Today
Today, the burlesque style mixes elements of the different defining periods of its own popularity, combining Victorian corsets with vaudevillian influences and even pinup and rockabilly styles. If you were to try to categorize burlesque style as one thing, you'd have difficulty. The beauty of burlesque is its diversity and the way it combines trends from different eras to create something totally unique.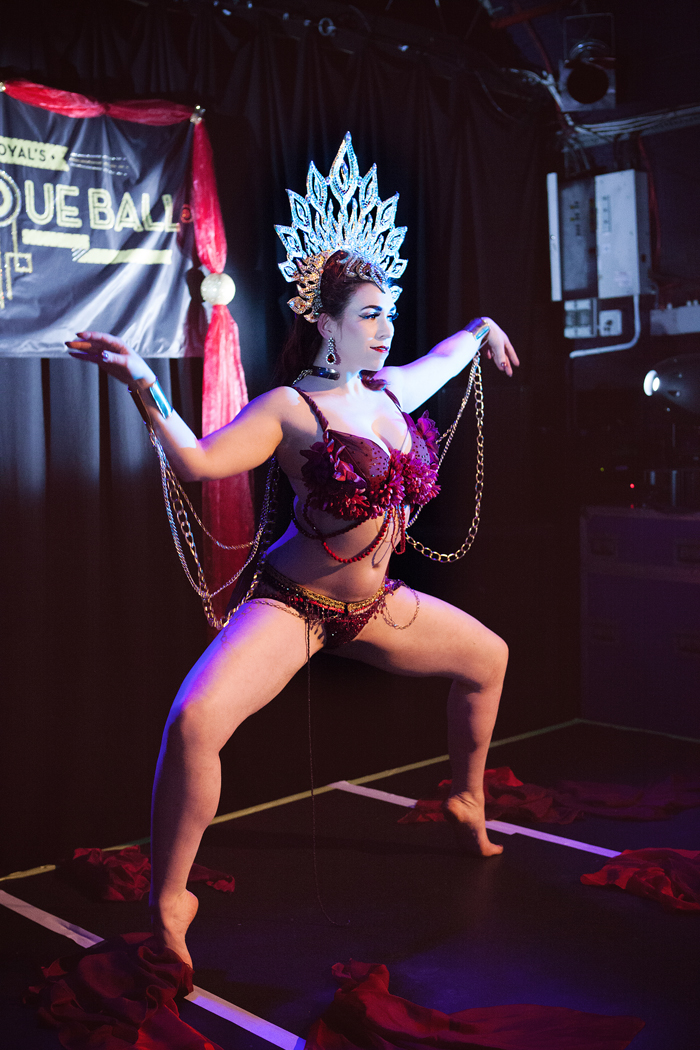 Burlesque of today is sometimes referred to as 'neo-burlesque', because it does differ slightly from the traditional style. Nowadays the form encompasses a wider variety of acts and styles, including modern dance and drama. But still it remains true to the original style, wherein an emphasis is placed on 'sexy' rather than 'sexual'.
It's safe to say that the art of the tease is still very much alive, as neo-burlesque performance is widely regarded as being about art and self-expression, rather than mere sexual gratification. 
The popularity of neo-burlesque performers such as Dita Von Teese has also contributed to burlesque inspired fashion becoming more mainstream, with a focus on vintage glamour. 
fancifulmelbourne.wordpress.com
How to Create A Burlesque Inspired Look
So how do you go about incorporating burlesque inspired clothing into your own wardrobe? There are a ton of different styles you could adopt (it's been around for a long time, after all), but certain must-haves remain the same across the different periods of burlesque fashion.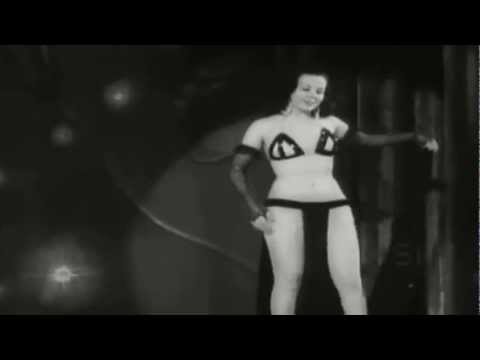 Burlesque Corset 
cinema-berlin.blogspot.com
The mainstay of the burlesque style would definitely have to be the burlesque corset. Creating hourglass curves and a full 'pinup girl' style figure with a tiny waist is a definite nod to to the burlesque genre, however you choose to style your corset. Go all out with a full corset, paired with a pencil skirt, or create an hourglass figure more subtly by wearing an underbust corset beneath your clothing. The end result is the same: a sexy hourglass figure. 
Sexy Lingerie
Qlue Magazine
If you're looking to encapsulate elements of a style that oozes sex appeal, then it makes sense that sexy lingerie should be part of your burlesque style outfit (even if you have no plans on revealing it)! Hidden suspenders or embellished over-the-knee socks are a definite nod to the genre, along with pencil-lined tights and suspender-belts.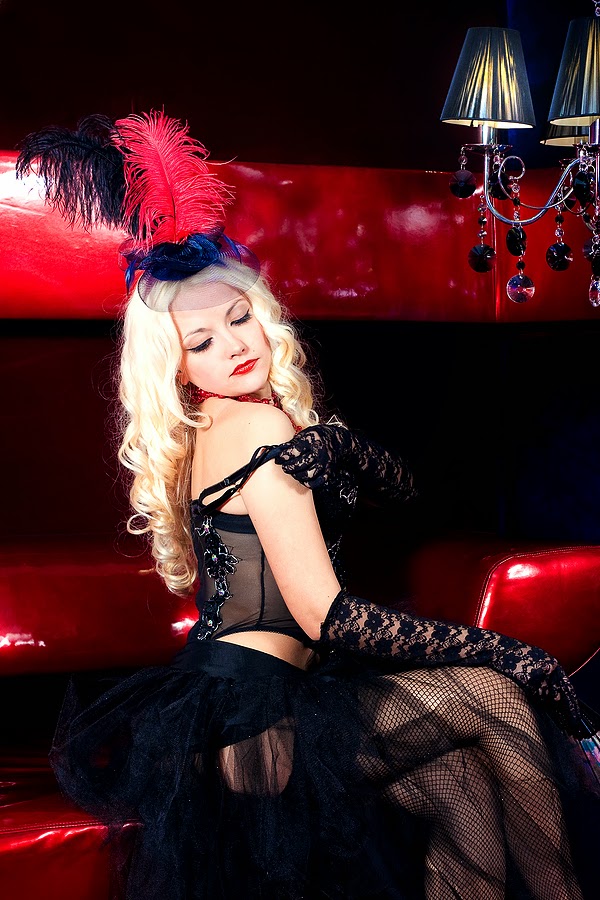 Bold Makeup
saymber.com
Bright red lipstick is a must-have if you want to create a burlesque inspired look, along with a dramatic dash of eyeliner. Create a bold wing with liquid liner, and don't be afraid to fill in those eyebrows while you're at it. The 'overplucked' eyebrows of the nineties are long gone, and burlesque inspired makeup is a perfect way to show off a thicker, more defined brow. 
Rockabilly Dresses
Burlesque Baby
Retro, rockabilly dresses are typical of burlesque style - which is all about creating a fusion of modern vintage with a 'pinup' slant. Don't be afraid to don brightly colored dresses with vibrant prints. Or, you could go with more subtle tones like navy blue, to make your red lipstick pop!
(Very) High Heels
High heels ooze sex appeal, so it's no wonder they are a staple of burlesque-inspired fashion.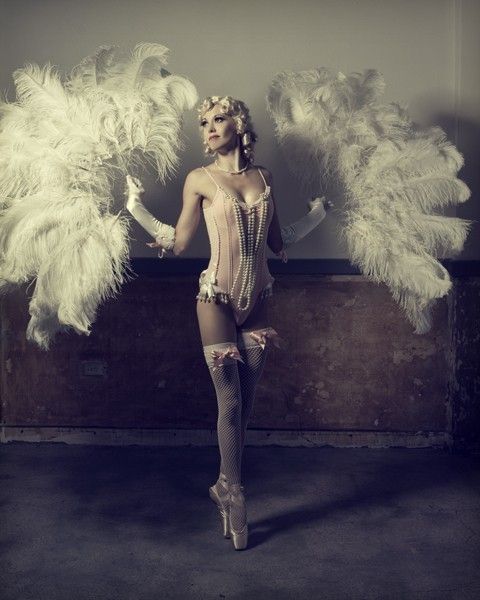 Generally, the higher the heel, the better. Try pairing chunky platform court shoes with a pair of flesh-colored tights for a truly authentic 1920s burlesque style. 
Do you have any other tips for creating a burlesque inspired look? We'd love to hear about it, so please share it with us in the comments section. 
Suggested Posts:
How To Style A Burlesque Corset
Steal The Look Of Gypsy Rose Lee
Title image credit:PRWeb
A guide to burlesque style: Get the look
Share on Twitter Share on Facebook Share on tumblr
By Roswell Ivory
A guide to burlesque style, and how to get a look that echoes the sleek, red-lit and velveted world of burlesque.
Dita Von Teese did not invent burlesque. She may be leading the burlesque revival, but the art of tease has been around for a very long time.
It started in the 1800s theatres and music halls of the nineteenth century, turning the art of the tease into the perfumed, scented, evocative striptease!
In the days when ankles were considered far too racy by half, the art of tease involved a flash of a jewelled stocking, gorgeous corsets, decadence, and *gasp* possibly the glimpse of a thigh. But it also involved imagination. Dance and comedy was important, and – as any modern-day burlesquer will tell you – the attitude is as important as the glamour and extravagance.
Burlesque glamour is all about being a lady, although a lady with a naughty side! Make-up and hair should always be immaculate, and one should stand with confidence, but not be afraid to stand out. Burlesque is all about elegance and what you leave on is easily as important as what you take off.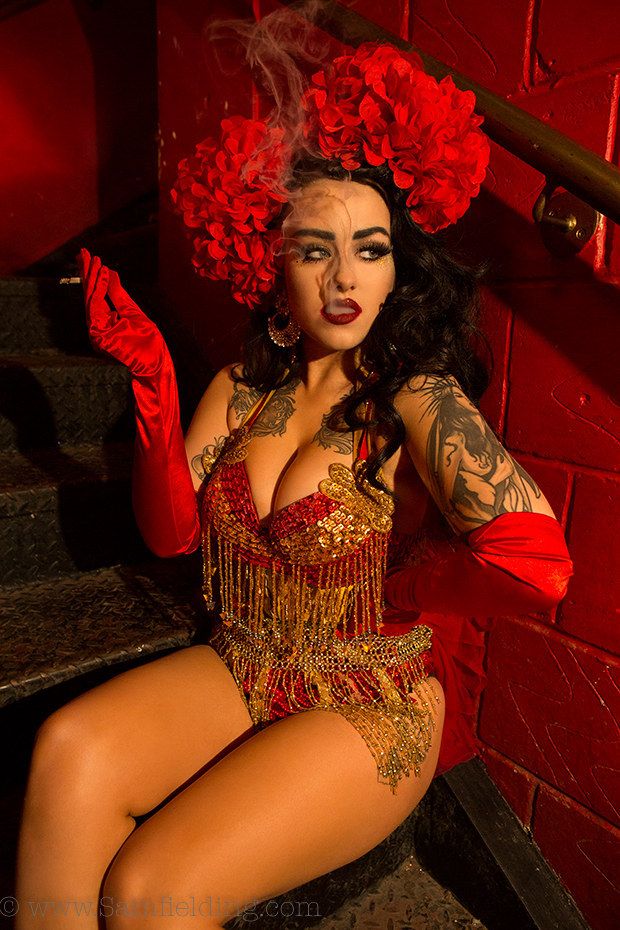 This is the new glamour.
Modern day burlesque wear is all about high heels and old fashioned glamour. If you're not performing onstage, you can achieve the burlesque look fully-dressed.
Burlesque style must-haves
There are hundreds of different looks you can adopt, but the essentials stay the same.
Red lipstick (applied perfectly, of course)
Eyeliner (either big, smoky eyes or cat-like flicks at the outer corners)
A good set of underwear! Stockings, suspenders – the works. (Try Anne Summers, Agent Provocateur or La Senza. The lacier and more elaborate the better!)
Heels (Yes, I'm afraid you must learn to walk with a wiggle – and heels are sexy!)
Nails (They can be short, but they must be painted! Any all-over shade of red or pink is perfect, or you can leave the moons and tips natural – that's what the 40's pin-ups did)
Impeccable hair (see our retro pin-up girl hair tips, and view further retro hair tips below.
Burlesque hourglass curves
Curves are most definitely hot – which is why many girls who have "the look" are seen in corsets, which either give them bubbies and a waist or enhance the ones they have. If you haven't yet learned to breathe in a corset, either invest in an underbust one (which leaves the bosoms free) or raid the vintage shops for tops and dresses with no boning but lots of lace, satin and textured material.
A bit of skirt
Trousers simply aren't allowed in the world of burlesque unless you're going for the boyish rakish look. French knickers, yes… But not trousers (how on earth are you going to flash those stockings under trousers, dear creature?)
You can either go for short and fitted pencil skirts, or go all the way with crinolines and elaborate pieces.
Burlesque jewellery and accessories
It's not all about the pasties and nipple tassels. Rhinestones are recommended, as are sequins, lace, frills and ribbons. Be inspired by some of the original burlesque and movie stars' costumes – namely Betty Grable, Bettie Page (the queen of pin-up), Sally Rand, Marilyn Monroe, Mae West and Lili St Cyr.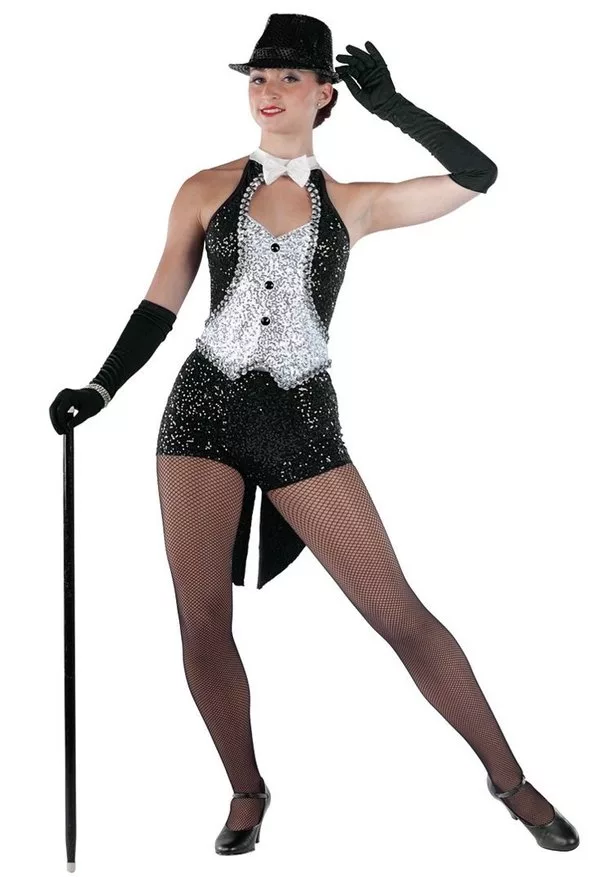 Look at Dita too, because she definitely knows her stuff.
Hot, or hotter?
If you want a daytime burlesque look or are a little shy, you can still get a burlesque feel to your outfit by either wearing just the essentials with it, or adding some rhinestone accessories and bows. You could also style your hair like a 40's movie star (Read on…)
If you want to take the look all the way, then a corset (and nipple tassels if you're really brave) is the way to do it! Find the most eyecatching, sparkling breathtaking outfit you can find and set it off with a manicure, perfect red lips, glittering false eyelashes, curled hair and a pair of the highest heels that you can walk in. (Some burlesquers add a small false beauty spot too.)
There is no magician's secret to perfecting make-up, unfortunately. Just find a picture or style you like and practice, practice, practice. The same goes for hair.
Burlesque hair
You will need the following:
Hair pins
Hairspray
Patience (lots of it)
I've left the hair part 'til almost-last because it is the most complicated, fiddly task of all (blame those old-movie stars and their hairdressers).
See, burlesque performers and old-movie stars used rollers to create curls and pile their hair up into elaborate styles that literally took hours to achieve. Women in the 20's and 30's wore very tight waves made using rollers and the World War II pin-ups wore ringlets at the front of their heads or created one big roll with all their hair.
If your hair is long like mine, you had better make sure you're alone before attempting to style your hair because this will have you swearing like nothing else will!
I'm going to go through one method of styling hair that is easy for everyone. Well… easy-ish ,anyway!
First, brush your hair so that it is tangle-free, then make a ponytail with the front part of your hair. (If you have curly hair, straighten this part before you secure it). Backcomb it slightly so it stands up like a quiff and secure it with LOTS of pins and hairspray.
Burlesque haircare tip: if you have shoulder-length hair, you could pin the ponytail into one curl just above your forehead and spray it into place.
Then you can use rollers to put the rest of your hair into ringlets, or make a sleek bun at the back of your head. Secure it well so it doesn't fall out in the middle of the street!
If you want to, you can add false (or real) flowers, gemstones, any accessory you want really to make it stand out. British burlesque performer Immodesty Blaize pins jewelled birds and butterflies into hers!
Good luck with the burlesque hair styling!
A final word to all burlesque girls
Be unique. If you like blue, go for a blue theme. If you have a thing for stripes, find a stripy outfit (or make one if you're that way inclined). There are plenty of accessories around with strawberry or cherry designs- you could plan an outfit around that, or around your favourite piece of jewellery.
Adapt the look to your own style and you can't go that far wrong!
If you want to learn more about the world of Burlesque, Dita von Teese's book "Burlesque and the Art of the Teese / alternative and the Art of the Teese " is a treasure, with some truly gorgeous pictures and inspiration.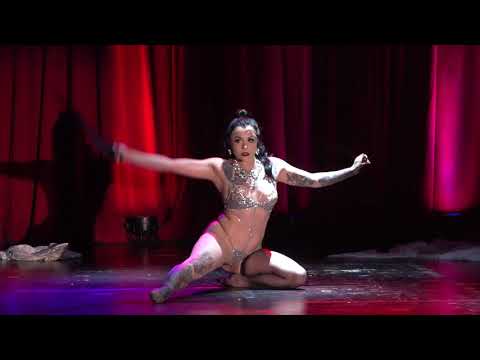 ---
how the 7 most beautiful and famous dancers of the last century looked like
We offer you to get acquainted with real divas who delighted and shocked the audience with bold dances and magnificent outfits.
Grazia
Tags:
clothing
Travels
Sex
Show Business
Cosmo compilation
Past affairs
Burlesque first appeared in Europe in the middle of the 19th century. You will be surprised, but in those days the girls did not yet dance on stage, instead they read poetry and made the audience laugh! The word itself comes from the French "burla" - a joke, a mockery.
It was often a humorous parody of some serious dramatic work or classic work.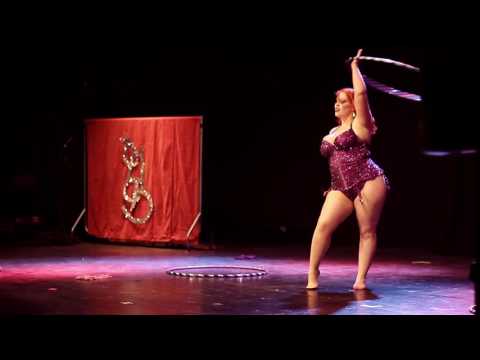 Burlesque in the form we are familiar with was popular in London from the middle to the end of the 19th century. American burlesque involved small stage sketches that were witty, provocative, and sometimes obscene.
And the first elements of striptease appeared by the 1930s in the USA. It was then that the stars of the genre began to rise one after another: Sally Rand, Gypsy Rose Lee, Dixie Evans and others.
The performances became more and more revealing, the clothes on the actresses became less and less. The artistes successfully compensated for the inability to dance with scenery and unimaginable costumes.
Burlesque theaters offered the audience performances for every taste: trained birds, underwater numbers or trapeze performances were used.
Sally Rand
The blonde beauty rose to fame in 1933. Having run away with a traveling theater as a teenager, she sold cigarettes in line, and also worked as a dancer and model.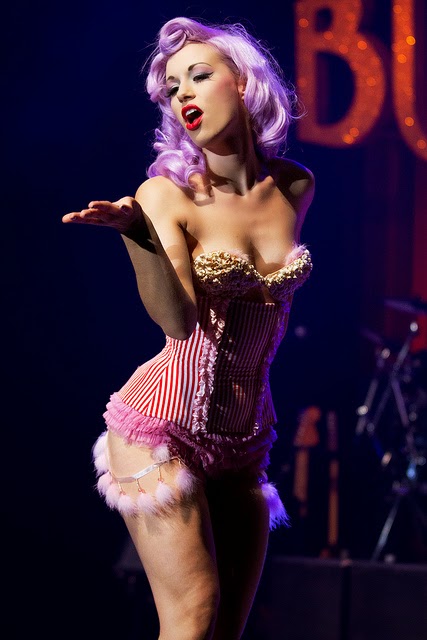 Once she was even arrested for allegedly indecent appearance, however, this arrest only attracted spectators who wanted to admire the performance of Lady Godiva, as she called herself.
Sally became famous for dancing with huge fans and "bubble dance" - a technique in erotic dance, when a bubble is placed between the audience and the performer, which does not allow to see the artist's nudity.
However, Sally never performed naked - she always wore a skin-colored suit.
youtube
Click and watch
Gypsy Rose Lee
Considered one of the greatest striptease dancers in the history of burlesque. If you find her videos, you will never guess from the very beginning that this charming girl is going to undress. Her career started by accident. Once, during a performance, the strap of her dress broke and it fell to the floor. The audience went berserk, and Rose Lee liked it.
Then she thought that combining the performance with a striptease was a great idea.
Rose Lee is often referred to as an "intellectual dancer" because her sketches on stage are full of witty jokes and subtle allusions.
youtube
Click and watch
Blaise Starr
Blaze herself remembers how she got into show business: "I was 15, I worked as a waitress in a donut shop in Washington. One day a man named Red Snyder approached me. He told me that I was beautiful and that I simply had to get into show business. I was sure that dancing was a sin, but I knew how to play the guitar. He said he would make me a star. He asked me to dress up as a cowboy, play the guitar, and then undress. I had never heard of striptease before.
Red spoke to me very kindly, he assured me that only the most beautiful girls undress. When you have never even shown your navel to anyone, the thought of being naked is scary.
So the first time I just covered myself with the cowboy hat I was wearing. But at the end of the show, she threw it away. I was overwhelmed with emotions, I realized that there is nothing wrong with undressing."
Although she is not the most graceful burlesque dancer, she is certainly one of the most beautiful performers of the "golden era" of burlesque.
youtube
Click and watch
Rosita Royce
Dance came into her life suddenly. When Rosita (then Marjorie) was still a little girl, doctors discovered she had heart problems. Then the girl's father suggested that she take up dancing as an exercise. She traveled and performed all over America, until one producer told her: "Rosita, it's just a shame to cover a body like yours." She took this into account and decided to do something unusual. This is how her dance with pigeons appeared. Calling each bird by name, she trained them in such a way that they take turns removing elements of her clothing.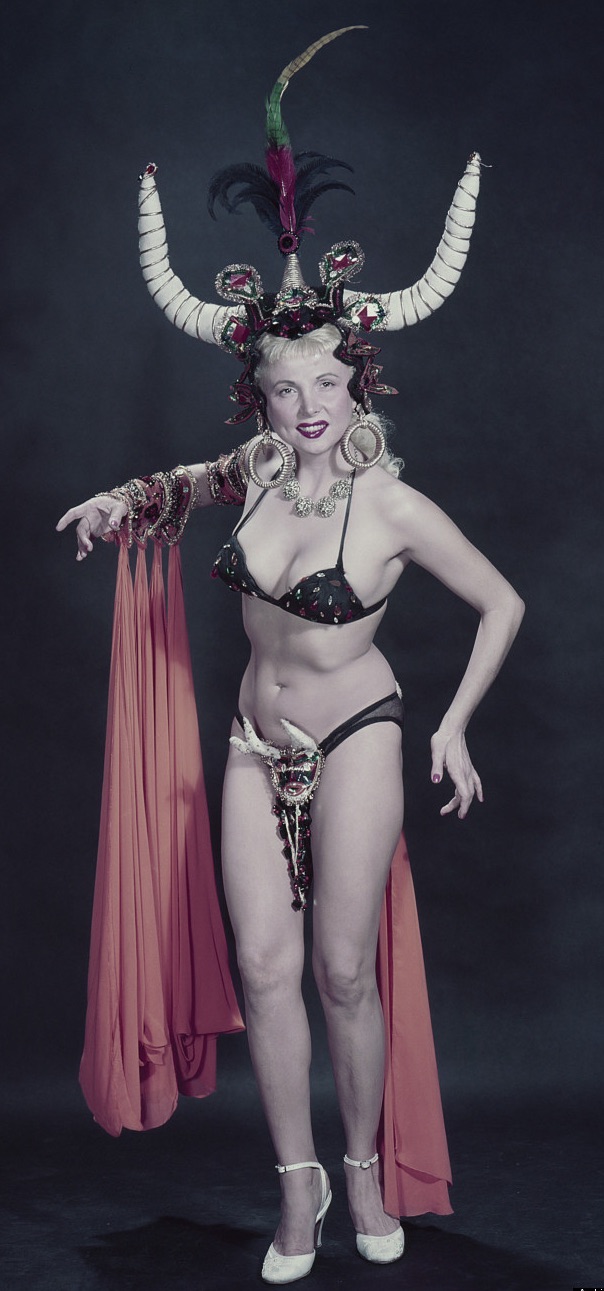 youtube
Click and watch
Betty Roland "Fireball"
So called Betty for her fiery red hair, which captivated the audience from the first minute. Betty had a hard life. She and her sisters wanted to go to college, but because of the Depression they were thrown out. Their father could no longer pay for dance classes for Betty, and she was forced to go dancing burlesque in order to somehow help the family with money. There were times when, due to the arbitrariness of the police, who fought against the immoral behavior of dancers, she worked for dinner, and not for money.
Betty retired from burlesque in the early 60s after she got married, but she still gets fan mail.
Dixie Evans
She is called "Marilyn Monroe from burlesque" - the artist skillfully used the image of a sex diva for her performances until the death of the actress herself.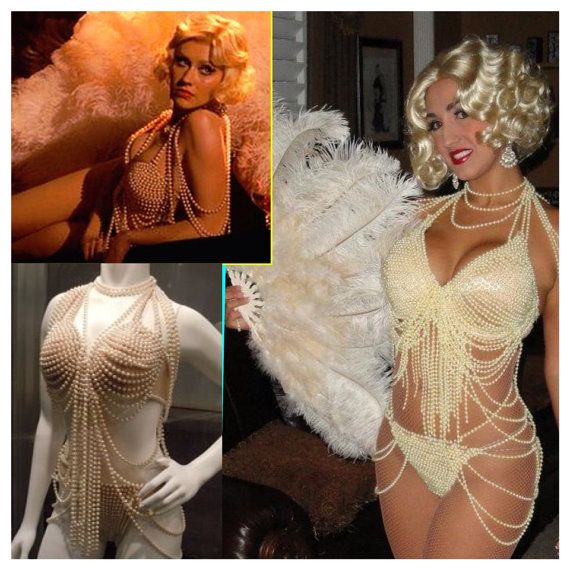 Although Dixie's youth was far from being so frivolous: having fallen during the Great Depression, she had to earn a living by dancing, including in nightclubs.
Dita Von Teese
The modern burlesque icon has been performing in her show since 1992. According to Dita herself, she wants to return playfulness to striptease. One of its signature numbers is the famous "Martini Glass".
youtube
Click and watch
Source: Cosmo.ru
Burlesque show is femininity and subtle erotica.
Many years ago, the word "burlesque" was used to refer to a theatrical production. Girls dressed in light, erotic outfits participated in such an action. They showed various dance scenes in a playful and ironic way. Burlesque was a show for true connoisseurs of female beauty. Burlesque is a cocktail of femininity and acting.
Burlesque is becoming more and more popular these days.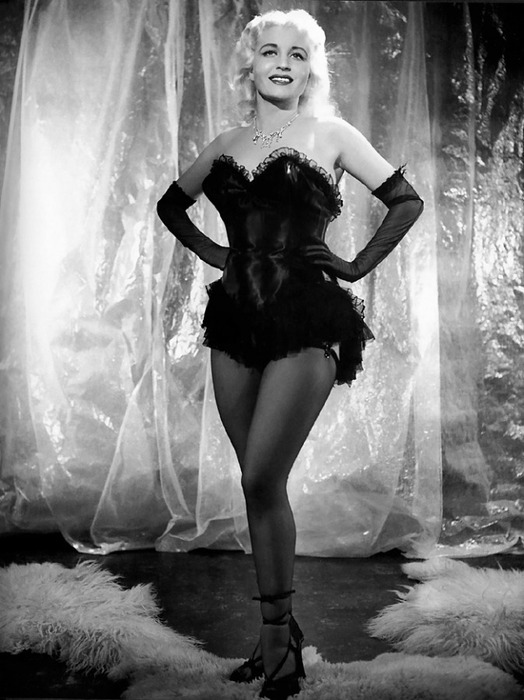 And this does not apply to theatrical productions. It can also be used in everyday life. But in order to understand how to dress in burlesque style, you need to know simple, but mandatory rules. As in any other style, they relate to hair, makeup, clothes and shoes. The state of mind of a woman is also important. She should be cheerful, playful, flirtatious, seductive and, at the same time, inaccessible. We create the right image. The main rule of a burlesque hairstyle is a perfect and flawless styling. At the same time, the length of the hair and their color are not at all important. You can twist your hair into curls, collect them in a lush bun or French shell. And don't forget styling products. Creating such hairstyles, varnish and hair gel is better not to regret. Only with their help your hair will be smooth, and the strands obedient.
Burlesque make-up is a perfectly even pale complexion, flirty arrows, big black eyelashes and bright scarlet lips. A light blush on the cheeks will look playful.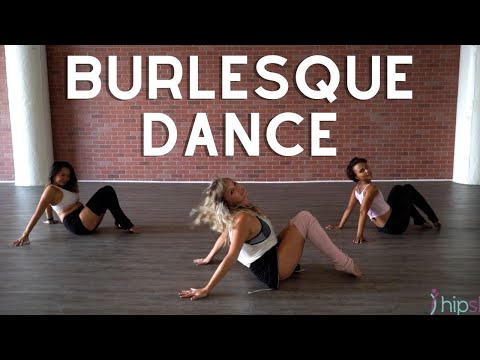 The most important accents are made on the eyes and lips. You should get the image of a seductress, an inaccessible doll. It is not difficult to do the right make-up, the main thing is to follow the style recommendations.
Burlesque nuances
Burlesque clothing should emphasize all the curves and lines of the body. Heavy and rough parts are excluded. Pants, breeches, shorts should not be worn. Oversized blouses and T-shirts will also not give you femininity. Pay attention to dresses and skirts. Yes, it is burlesque dresses that look simply amazing. The right dress should lift the chest high, narrow the waist and follow the shape of the hips. The color of the dress does not matter, the main thing is to emphasize female forms.
To maintain the image of a seductive girl, one should not limit oneself only to dresses. You can also use a variety of burlesque costumes. An alternative to dresses can be a corset and a pencil skirt.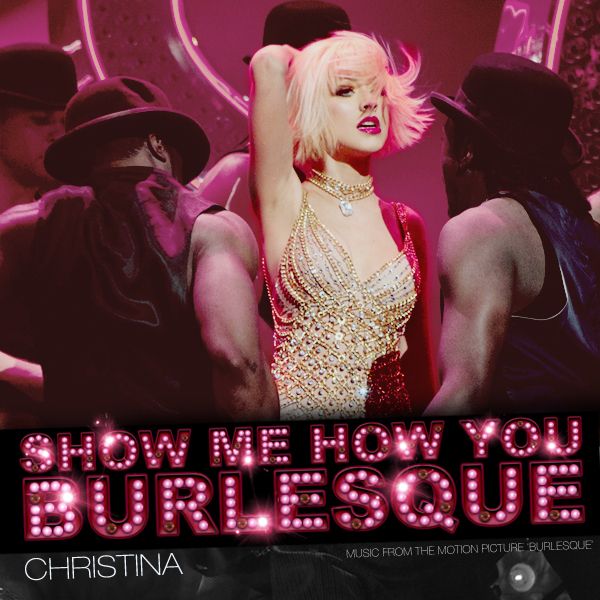 You can also use a fluffy skirt but at the same time its length should not be below the knee. Do not forget about lace stockings with a belt. They go great with a skirt. You can also add a burlesque outfit with a hat, puffed sleeves, fur or feathers. But using a lot of accessories is not recommended. The right shoes, namely high-heeled shoes, will help to complete the image.
Burlesque (Italian burla - a joke) is a special kind of show that combines elements of theatrical performance, clowning, erotic performance and dance... Crazy cocktail! Taunting champagne bubbles!
What is Burlesque associated with? This is an entertaining show with a sketch, small scenes, a dance program and an impressive entertainer. Languid twilight, cigar smoke and some kind of mystery. And certainly - bright, daring and a little cutesy dancers, eye-catching. These beauties brought playfulness, cheerfulness, frank and very seductive femininity and bright artistry into fashion. Actually, just what makes our hearts beat faster.
Style history
Paris in the mid-19th century, the Moulin Rouge cabaret, the Red Mill, brilliant beauties and the picturesque masterpieces of Toulouse-Lautrec
are the roots of this unique style.
But nevertheless, Lydia Thompson and her shows - British blondes, are considered the ancestor of the Burlesque style,
which was staged in the USA in 1868. Initially, in the burlesque theatrical productions of
, girls dressed in stockings, corsets and lace knickers appeared on the stage.
Such performances combined a storyline, complemented by a light striptease with elements of glamour.
The dialogues and monologues of the actors contained erotic and humorous overtones,
thus, burlesque was in some way an erotic comedy.
At the same time, much more attention has always been paid to the visual component of the show than to the semantic .
It was important to show as much beauty as possible, the actors worked on their movements, gestures and facial expressions in order to
to create an atmosphere of seduction on the stage.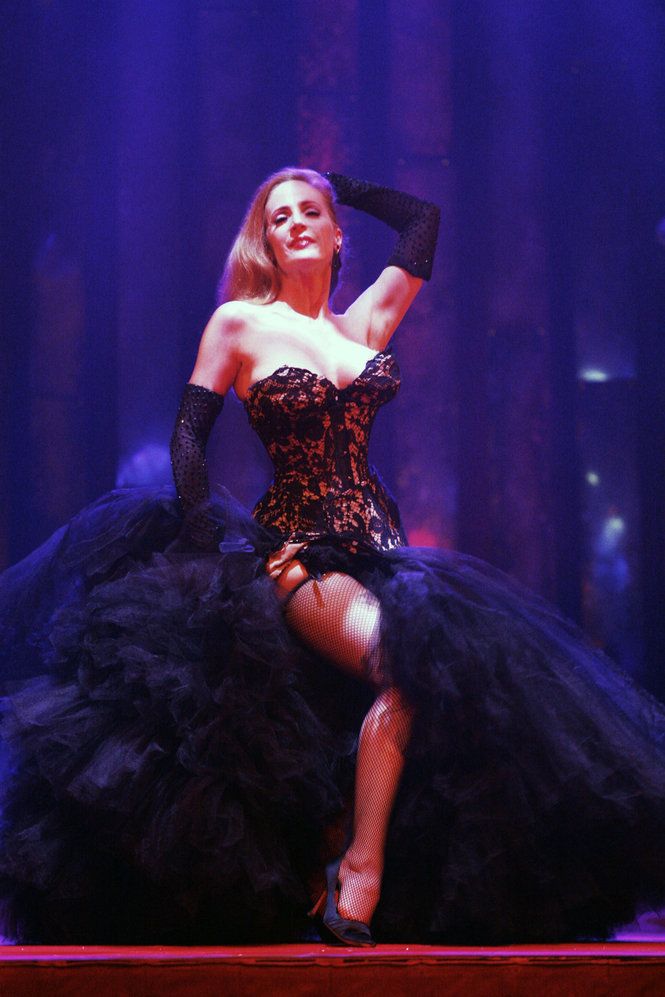 With the greatest development, burlesque shows have become increasingly closer to striptease.
The girls taking part in them took off more and more of their clothes during the performance, and as a result, it became permissible
to remain on stage only in small panties. On the chest of the actress put on pads that cover only the nipples.
Often these overlays were decorated with tassels that rotated during the dance.
Thus, burlesque turned into a form of striptease, but more flirtatious, sophisticated and piquant.
In the 1960s - during the era of the sexual revolution - true burlesque began to lose its former popularity.
First the slogan "less show, more body" came to the genre, and then it was replaced by much more explicit
shows with elements of pornography. The coquetry of the productions began to gradually fade away, less and less attention was paid to the refined temptation. And, although many clubs still adorned the signs with the word "Burlesque", he himself, in fact, was already dead.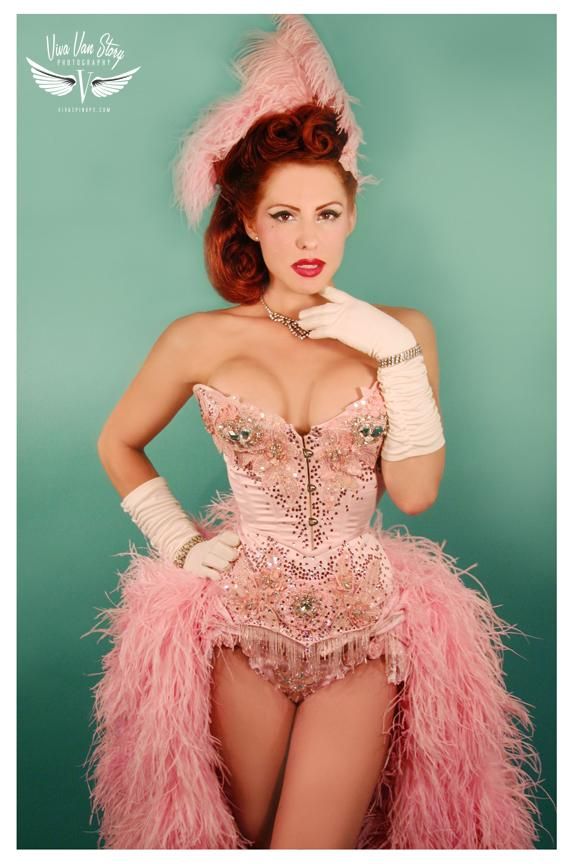 Burlesque Revival
In the 1990s, burlesque, which seemed to have disappeared from art, began to gain popularity again.
Much of the credit for resurrecting this genre belongs to an American dancer and model named Dita Von Teese
(Dita von Teese) Dita built her shows on a huge number of details, which necessarily included corsets,
huge feather fans, seductive lace underwear and so on.
In 2001, the musical "Moulin Rouge" with Nicole Kidman was released on movie screens,
telling about the eponymous Parisian cabaret and burlesque of the 19th century.
And in 2010, on the ever-increasing wave of popularity of this style, the American musical
"Burlesque" appeared - directed by Steve Antin with Cher and Christina Aguilera in the lead roles.
Burlesque could not be ignored by the first persons of the fashion industry. So, Jean Paul Gaultier showed the collection in autumn 2010,
inspired by this style.
The recognized "queen" of burlesque Dita Von Teese Dita Von Teese became the star of the show.
Karl Lagerfeld in January of the same year did a photo shoot with burlesque performer Miss Dirty Martini for Vogue magazine.
Burlesque clothing style
In parallel with the development and popularization of the genre, a characteristic style of clothing was formed, characteristic of it.
Let's look at the main elements of this style:
Corset
The key task of this style is seduction, and this is facilitated by the emphasis on the exciting curves of the body: chest, waist, hips
Bold Top or Bustier
Rhinestones
The more glitter, the more Burlesque, everything sparkles like champagne bubbles!
beads
Layered jewelry, pearls, flowing necklaces, possibly borrowed
directors of the show with oriental dancers.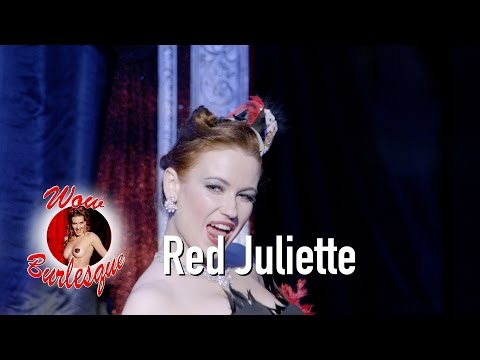 Lace
Creates an alluring haze of understatement and frivolity.
Stockings and mesh
Add sensuality and coquetry to your look.
Feathers and various boas
Designed to emphasize the impression of playfulness.
Make-up and hair
Sequins, flirty arrows, rich scarlet lipstick and carefully styled curls,
only emphasize the provocative image of a seductress and an inaccessible doll.
Burlesque pieces can be found in a variety of styles, most notably evening gowns, short cocktail dresses,
wedding gowns, party gowns, and of course artistic gowns.

Burlesque in everyday life!
It can be assumed that Burlesque and everyday reality have no common ground.
However, fortunately, this is not the case, but you need to resort to burlesque very delicately so that a slight haze of playfulness does not turn into vulgarity.

You can completely transform into Burlesque - a diva, only in the intimate atmosphere of a bedroom or at a
themed party. Otherwise, in order to avoid "brute force", separate
elements of this style will most likely be used.
Let's look at how to do this by combining beauty and relevance in your image :
Let's start with corset as the most common element of this style.
There is an unwritten etiquette for wearing corsets:
1. A corset used during the day and in public should not be overly bright in color or full of fittings and ribbons.
Simply put: NOT an erotic corset - it is a smooth, solid color, slightly shiny, without frank cutouts, tight enough,
but not much.
2. A corset will always look provocative, sexy, somewhat stage-like. It opens the shoulders - and this is a clear sign of
evening look. Therefore, such a bright part of your image should always be "muffled" with something - it can be muffled with a jacket,
jeans, a skirt below the knee (not higher), a light shirt on top.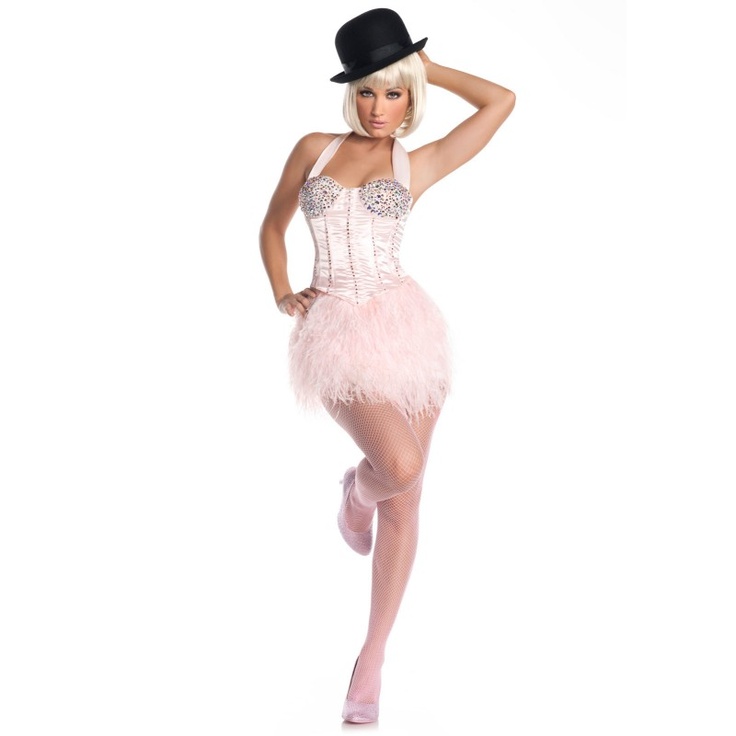 3. Corset - an exclusively night or evening part of the wardrobe. Now, in principle, many different models of the
daily plan have already been created - they are not very hard, they do not shine, and they are very uniform.

One cannot say anything about the mesh and fishnet stockings and claws so popular today :
Such stockings or tights should not be taken as things that will be acceptable in absolutely any situation,
allowing you to look perfect at the same time, be sure to choose appropriate clothes for such tights;
The right choice would be a skirt below the knee, a slightly higher length is also acceptable.
In this case, try to maintain the rest of your appearance in a calm style. Do not use prints and ornaments,
which will create competition for the grid (openwork).
Accessories and makeup, as well as jewelry, should also be selected in a calm style.
Let the mesh (openwork) become the only attention-grabbing detail in your entire look.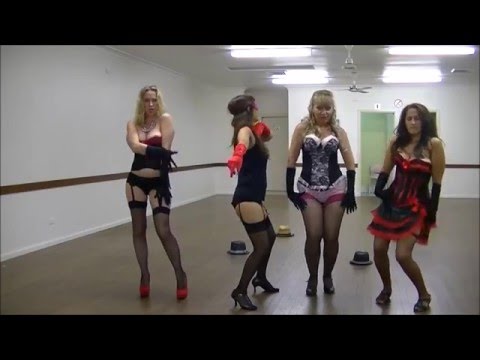 The exception is when the lace in your outfit completely matches the lace on the tights.
Fishnet tights will make everyday and simple clothes more elegant, and they performed very well in this case
fine mesh tights. They look much less defiant than fishnet tights.
And the finer the mesh you choose, the more sophisticated your look will look.
Girls with impeccably slender legs can afford tights or stockings with vertical stitching at the back.
The main rule is that the line should always lie perfectly on the leg and not stray to the sides.
Do not use open-toed shoes with such tights,
because because of this, the appearance will not look quite neat.

In the finale, let's talk about the brightest details of the style in question - Glitter (rhinestones) and feathers ,
but it is they, with all their attractiveness, that can make your image not only vulgar, but also funny,
of course, if you do not follow the rule "place, time, circumstances"
So, rhinestones .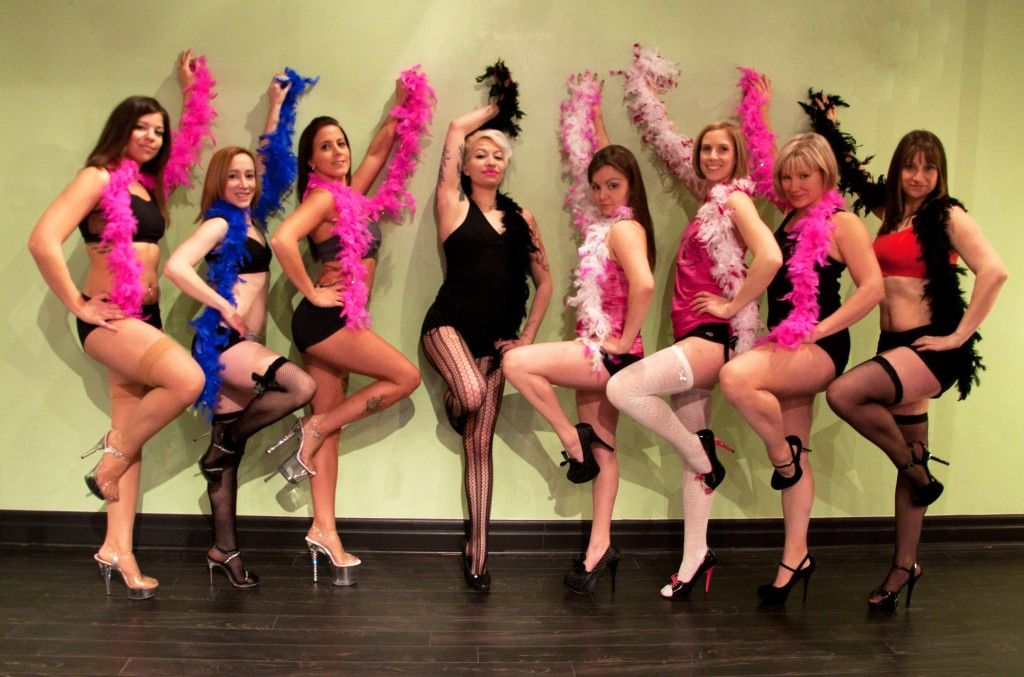 To avoid fatal errors, we will take into account several rules:
1. Day and evening
You need to understand the difference between day and night shine. Of course, today it is no longer customary to consider
inlay with rhinestones as a purely evening option. But what will be acceptable in the dark, is unlikely to look good
in the daytime. A party dress embellished with rhinestones will be appropriate, but a pencil skirt for a business meeting will not.
2.Color
To always look elegant, you need to remember that the more neutral the color of the clothes on which the rhinestone pattern is applied,
the better. The best choice would be draped fabrics and calm shades of rhinestones and sequins.
3. Don't overdo it.
As with most trends, it's important not to overdo it with rhinestones, otherwise you can look silly.
Outfit needs to be balanced.
If rhinestones are present on clothes, then accessories with them will not be appropriate.
Glitter always draws attention to itself, but a lot of glitter diffuses it and creates the impression of a "Christmas tree",
so it's best to choose one bright accessory, creating a "highlight" for the look.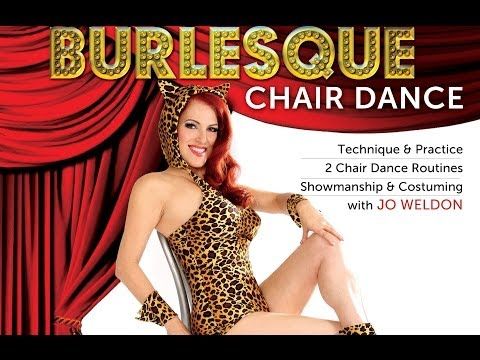 And finally, feathers , everything is pretty simple here.
If you do not perform on the cabaret stage, do not participate in the carnival and do not walk on the red carpet of the film festival,
then boa and fan is not your choice.
Other accessories with feathers are exclusively part of the evening wardrobe
If you want to feel something soft and flowing around your neck,
will come to the rescue of appropriately selected scarves made of fur and other materials.
Beautiful images for you!
Burlesque interior
Will be the final touch of my analysis.
Just as a painting can't always show itself without a frame, so
the style of burlesque is truly revealed only in an interior suitable for it.
So. Subdued light, velvet curtains, secluded alcoves and shhh...
The show is about to start!
Photo from Pinterest.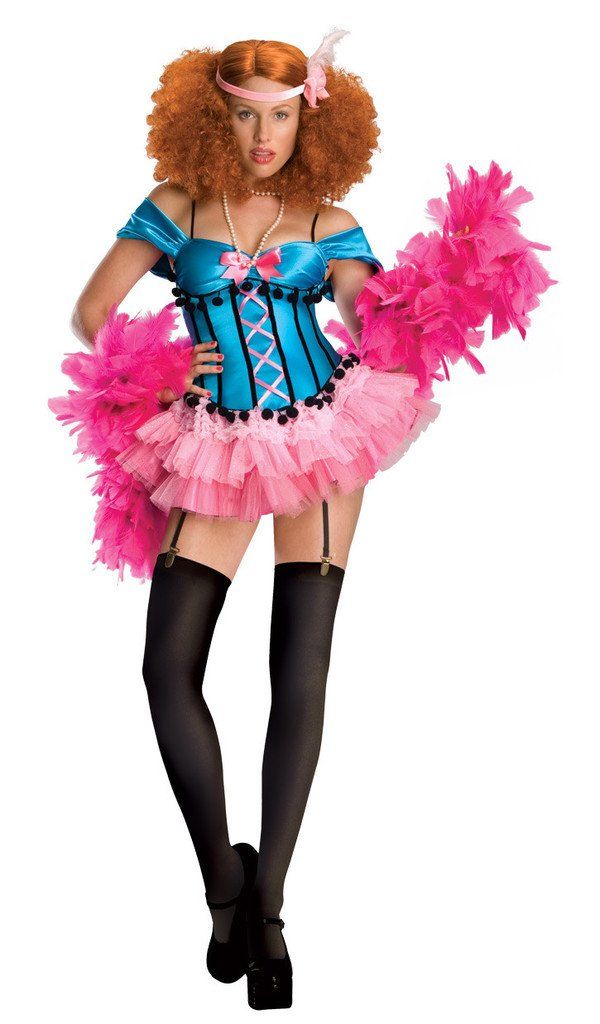 Christina Aguilera made her debut as an actress in the musical film Burlesque, where she played a provincial woman who dreams of conquering Los Angeles. The movie was released in Russian distribution in February 2011.
It was Easter. I just arrived in Los Angeles and, not wanting to waste a minute, went in search of sin. The concierge recommended the nearest Aqua Lounge to me, which was nestled among the shops in the immediate vicinity of Rodeo Drive. I immediately felt that there would be something worthwhile here. At the entrance there was a crowd, every now and then huge pimp cars drove up. Lavishly made-up ladies in tight dresses, barely restraining their solid dignity, fell out of them. Smiling broadly, they breastfed their way inside.
For Moscow clubbers, such a place would hardly have made them want to stay even for five minutes. Basement, low ceilings, shabby sofas and the ubiquitous American carpet. In the middle of the hall there is a podium with a stage where the main action of this Easter night has just begun.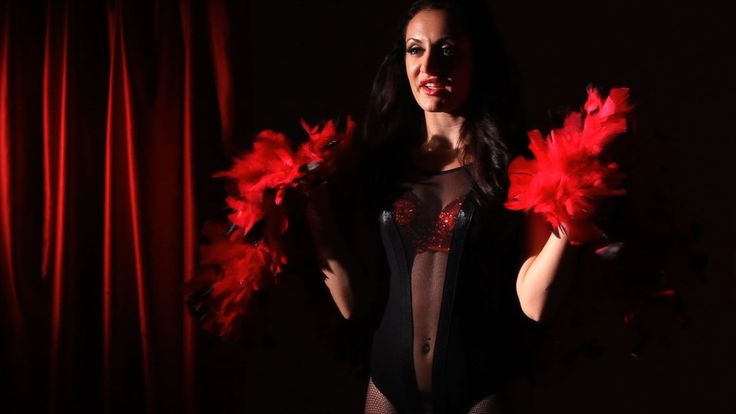 The porn site FreeOnes held its party here, on the occasion of which adult movie stars performed with numbers. But this is not a striptease - this is burlesque, a completely independent American genre. One after another, quite adult aunts in corsets with feathers and sequins came out. They walked back and forth for a long time to the music, each in her own image: Marie Antoinette, Marilyn Monroe, a pirate princess. Taking alluring poses, the girls slowly and effectively undressed. Gargoyles gathered around the podium, hiding here from the ringing of Easter bells. The dwarf photographer now and then jumped out onto the stage, and, trying to keep the dancers company, rested his nose on their navels. The Mexican in the wheelchair kept whistling. Muscular companions of the artists periodically escorted the girls to the VIP-hall, loudly slapping them on their thick priests along the way. It was dark and scary. And it smelled of sulfur - I swear I didn't imagine it. The show ended late at night with collective undressing to the frenzied roar of excited spectators.
It was a completely crazy performance - stupid, but incredibly funny. I stood among real porn stars (I even saw old Ron Jeremy) and eccentric trolls, an idiotic smile on my face.
Burlesque shows originated in America in the 19th century. True, at that time this word from Dostoevsky (remember, a burlesque man is mentioned in Possessed) meant representations of a slightly different kind. There were more satirical monologues in them (from which the stand-up comedy genre later grew, in which our Comedy Club operates), in the intervals between which half-naked ladies in feathers appeared on the stage. Gradually, such numbers turned into independent shows and, in the wake of the sexual revolution in the 1950s, grew into a fashionable genre. Now burlesque is experiencing a tumultuous renaissance - mainly thanks to Dita Von Teese. Dita Von Teese is so beautiful that burlesque has appeared in the UK, Germany, France, Italy and, of course, Japan. Russia has a self-proclaimed queen of burlesque, Lyalya Bezhetskaya.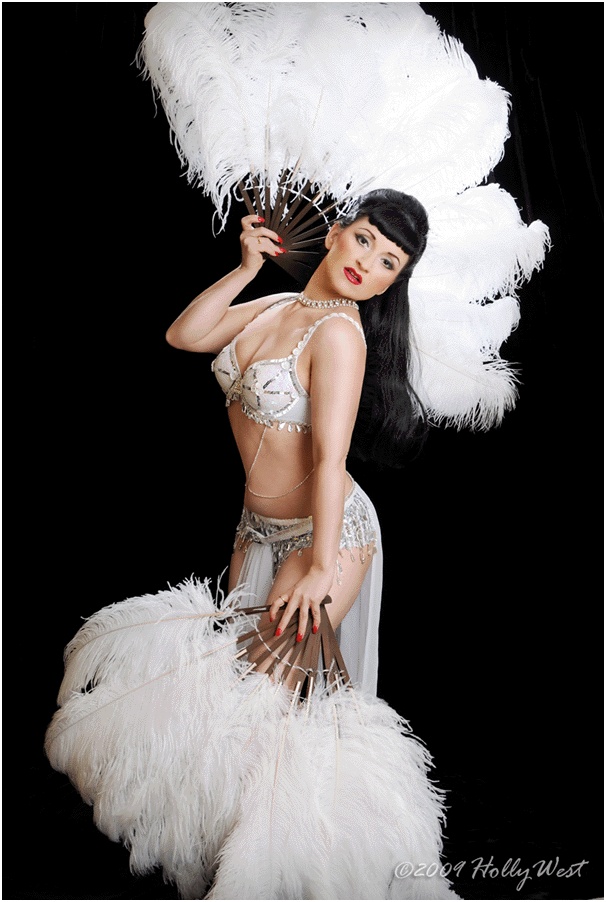 The new burlesque is an explosive mixture of variety, cabaret, striptease and even sometimes circus acrobatics. Definitely with a touching touch of American retro - like in roadside diners with red vinyl sofas, jukeboxes and Coca-Cola ads with pin-up girls on the walls. The two main components are sex and humor (as opposed to striptease, where no one laughs). The number is not just a long undressing to the music, it is necessarily riddled with some simple story that exposes sexuality in a comic way.
Post-war America gave the world a huge number of images that are firmly embedded in modern pop culture. The longing for the good old days, when giant cars drove along the roads, the women's wardrobe included a huge amount of erotic excesses like belts and garters, and Elvis sang from a stylish radiola, transformed into a powerful charming fetish. We enjoy watching films stylized for that time and listening to cover versions of the Fever song. Somehow I came across a collector's issue of Rolling Stone magazine, which contained one hundred of the best songs of all time.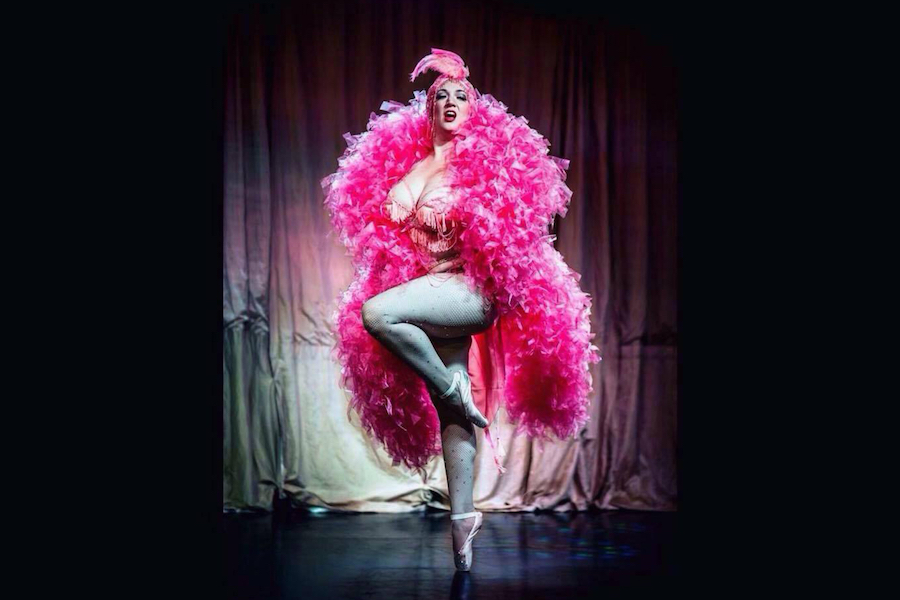 Over 70 percent of hits came from 1950-60s. The new burlesque also cites the era of the consumer boom and is charged with its inexhaustible energy.
But if you call a spade a spade, then burlesque is still an erotic show during which girls undress. How does it differ from striptease then? "This is the million dollar question," praises American dancer Ophelia Flame. "We don't want to be seen as sex workers. We are performers of original numbers, you can consider it our hobby. Many of us in life remain ordinary housewives. We spend a lot of time raising children. Performing in the show is a breath of fresh air for us. We help women not to be afraid of their body, to liberate their sexuality. Therefore, there are more women among our viewers, and men go to strip clubs."
Burlesque artists - exhibitionists. In a good way. The desire to undress beautifully is their sexual need, which can be realized for the benefit of themselves and to the delight of others. These completely innocent performances cause enormous erotic tension in the audience.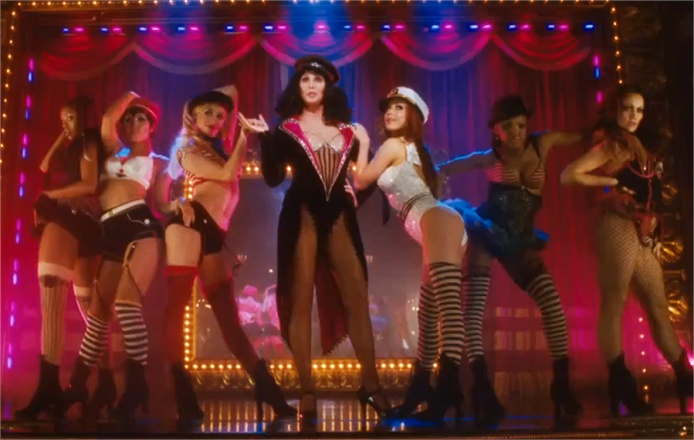 The audience reacts violently to every movement of the girls, whistles, hoots and shouts: "Come on, come on!" And women scream louder than their husbands and lovers!
You can't take off your underpants in burlesque. By the end of the performance, the performer must be wearing thongs and stickers on the nipples. Tassels are often attached to these stickers, these things are the main attribute of burlesque, its unspoken symbol. The best performers are able to rotate two breasts at the same time so that these brushes are spinning like propellers (if you want, try to repeat at your leisure).
At one of the Cannes Film Festivals, Mathieu Amalric won the Best Director award for his film Tour, about the French tour of American burlesque stars. The main roles were played by famous dancers Kitten on the Keys, Mimi Le Meaux, Harvest Moon, Julie Atlas Muz, Dirty Martini and Evie Lovelle. Photo archive of press services
This is hypnotic, especially if you have imposing forms in front of you.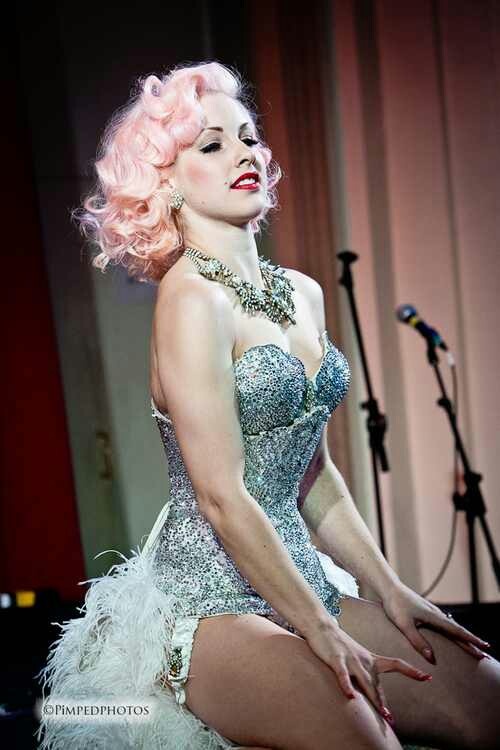 But in burlesque there are no restrictions regarding the figure of the performers. It is available to both full and thin. "It doesn't matter who you are," says petite dancer Amber Topaz. – Tall and thin or small and plump – burlesque suits everyone. I knew right away that this was right for me. In the mainstream, you are required to conform to far-fetched standards, which is so boring. Burlesque is a celebration of femininity. Where else can a woman be sexy and at the same time funny, and feel that she is loved precisely for this!
The brightest representatives of the genre are very big witty women. Not necessarily young. Sometimes with cellulite. And this is quite consistent with the changes taking place in show business. Thin and muscular stars are being replaced by women of seductive rounded shapes, the main of which are Monica Bellucci and, of course, the most famous burlesque star Dita Von Teese. Dita is an icon of the new fashion, but she does not stop dancing burlesque, does not consider it a provincial American entertainment.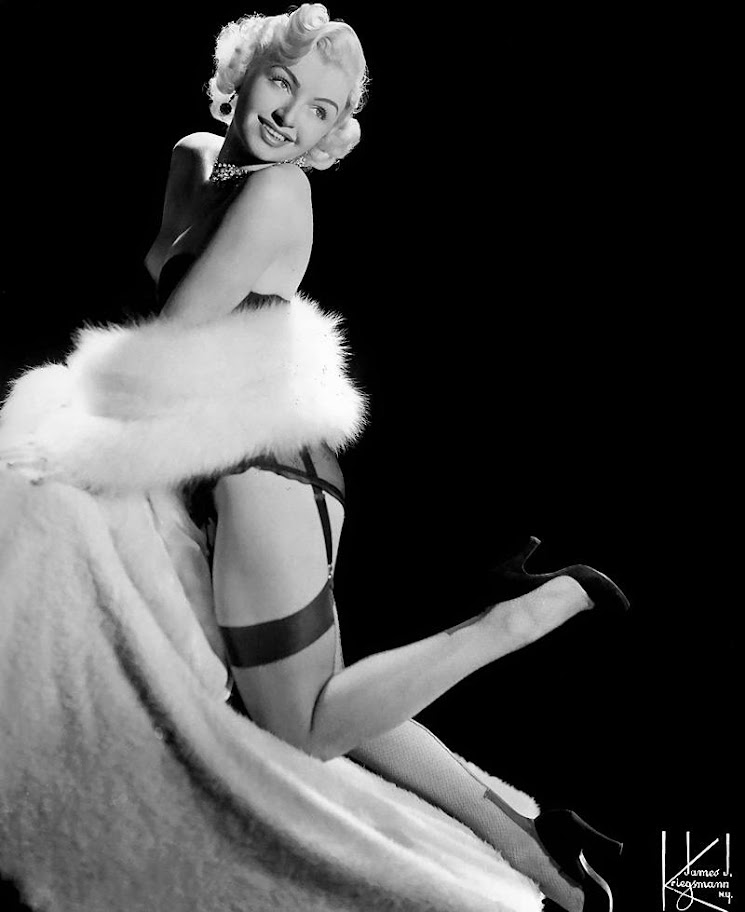 "I started performing as soon as I learned how to twist my booty and breasts," says Immodesty Blaize, the second most famous British burlesque artist after Dita. - At a time when my youth was just blossoming, there were completely different standards. Everyone looked only at the skinny ones. I didn't have a chance to break into any other genre of showbiz. Then I chose for myself the image of a sex bomb from the 60s. In 2007, Immodesty Blaize won the Miss Exotic World Pageant, the premier burlesque show held annually in Las Vegas. Today she has her own Burlesque Undressed show, which features the most popular artists (Kolani Kokonuts, Catherine D'Lish, Indigo Blue, Perl Noir), and in its scale and brilliance it is quite capable of competing with the Parisian cabaret Moulin Rouge.
The next morning (not early) after my "Easter service" in Los Angeles, suffering from a headache, I deliberately walked along the same street where I had fun at night. The cherished door has disappeared, like the entrance to the underworld from Andersen's fairy tale.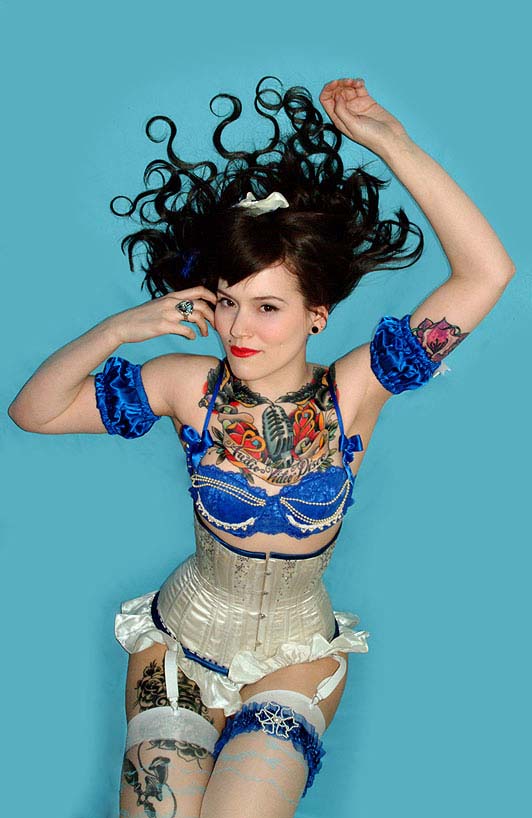 All the neighboring shops remained in place, but instead of the door of the burlesque club there was a blank wall.
The burlesque style has literally disappeared from the stage, so there is an abundance of everything in it: too revealing styles of things, too bright makeup and too carefully fixed hairstyle. But it is these nuances that make the images recognizable and so attractive.
Initially, burlesque was a performance genre where girls sang and danced in playful outfits. Nowadays, it has become a separate style direction with a distinct admixture of retro. You can conditionally divide burlesque sets depending on where you plan to wear them.
Burlesque style for an evening look
Burlesque style expresses women's sexuality in the most light, flirtatious and playful way. It is quite appropriate for an evening out, but it will be necessary, knowing all the tricks, to carefully create an image so that it does not turn out to be defiant.
If you're looking for a burlesque evening look, forget about trousers.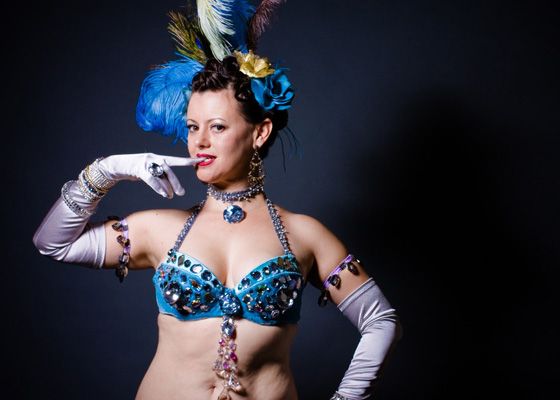 This direction uses exclusively dresses and sets with skirts. The style becomes the defining attribute of a thing: burlesque is embodied in very tight-fitting silhouettes, emphasizing every curve of the body. You need to have good and absolute self-confidence to wear such outfits.
Traditionally, burlesque dresses have a slightly theatrical décor: puffed sleeves, plenty of lace trim, open neckline. The length can be absolutely any, the main thing is the tight-fitting style. Look at Dita Von Teese's outfit in the photo. Perhaps she is the brightest and most famous bearer of style today. Your dress may not be made of mesh fabric, then it will be more appropriate for the evening, but will retain the characteristic features of the style.
The next burlesque set is a corset and a pencil skirt. They also actively demonstrate feminine forms. Such an image usually requires more jewelry: a few strings of beads, a small hat, a necklace or an original hair clip. In general, burlesque looks are often complemented by pearl-like jewelry, feathers, sequins or beads, and other catchy and shiny elements.
The color scheme of the style is very limited: it uses red, black, gold, silver colors, much less often white, fuchsia or beige. In makeup, the burlesque style violates the main rule of the masters, which says that the emphasis should be either on the eyes or on the lips. A burlesque style of make-up involves an accentuated white skin tone, and brightly painted eyes, often with false eyelashes. It is not necessary to withstand all these nuances in an evening bow, however, in an intimate home environment, where only your beloved man will see you, it is quite possible to create a truly stage image.
Burlesque style at home
When your burlesque look is created only to please your beloved man, you can also use an evening dress in combination with bright makeup. But much more often, women wear flirty corsets, stockings, sexy lace or short satin slips. The most important thing is to match the color scheme of the style: give preference to black or red. Do not forget about accessories: you can decorate the look with a small retro hat or gloves.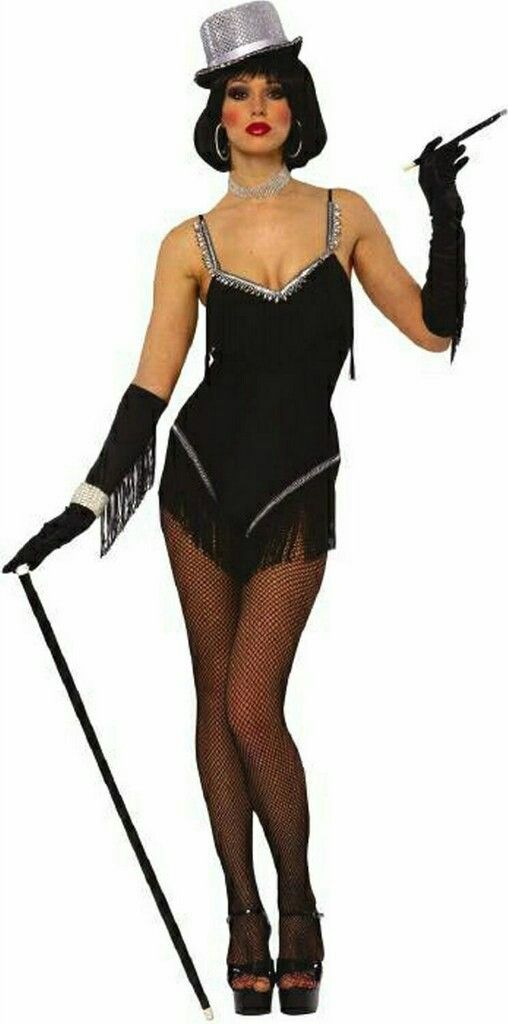 And most importantly - mood! Get ready for the role of a seductress and a little bit of an actress!
Burlesque style does not require creative solutions from you, original combinations of things, it will not cause difficulties when choosing colors. But confidence in their irresistibility and a truly festive mood are simply necessary. How else can you create an enchanting image in the style of burlesque?
1. Modified version of the original Voodoo De Luxe - Royal Burlesque Revue / By Elena Gatti / Source https://www.flickr.com/photos/madely87/11418099964 Photo courtesy of CC BY 2.0: https://creativecommons. org/licenses/by/2.0/deed.ru
2. "Dita" Gown by Michael Schmidt and Francis Bitonti 3D Printed by Shapeways / Shapeways Author: / Retrieved
Dita von Teese (real name Heather Rene Sweet) was born September 28, 1972 in a small town in Michigan in a family of a manicurist and the driver.
The girl studied ballet from an early age and dreamed of becoming a ballerina, but at the same time she was dissatisfied with her appearance and style.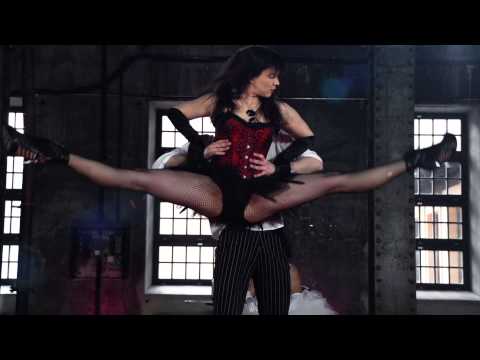 Little Dita Von Teese considered herself an unsympathetic and even clumsy girl
. Later, she began to admire the actresses and dancers of the first half of the 20th century and imitate them in everything, which was quickly reflected in the style of clothing and makeup.

At the age of 15, Dita worked in a lingerie store, which became more important to her later in life. And after graduation, she went to continue her education in college, where she decided to study the history of fashion and costume. At this time, Dita fell in love with the corset.

Upon reaching the age of 18, she gets a job in a small strip club, and eventually begins to perform in stockings with garters, corsets and long gloves, sometimes dancing on pointe shoes.

Soon Dita Von Teese came up with her own number with a glass of champagne, with which she went on a solo tour. Dita was noticed by Carmen Electra and invited her to participate in a joint show. Thanks to this collaboration, Dita met the founder of a well-known magazine - Hugh Hefner.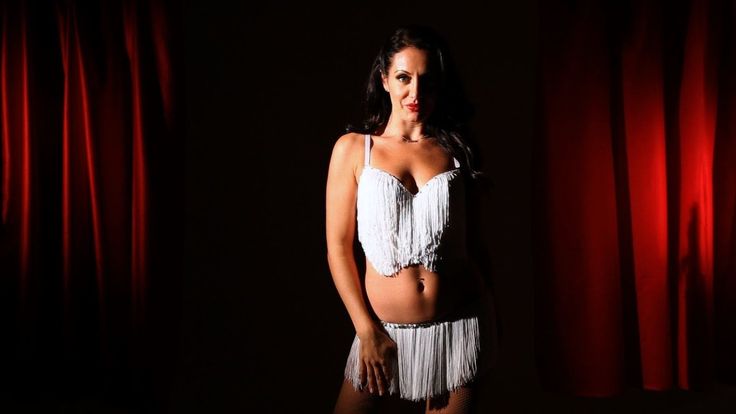 He invited Dita to become the heroine of one of the future issues of the magazine. As a result of their collaboration, one of the best shoots in the history of the magazine turned out.

Over time, Dita Von Teese changed and began to call herself a burlesque dancer.

Now Dita Von Teese is one of the most well-dressed celebrities. She always looks flawless, no matter where she is - at a gala event, at the airport or in the grocery store. At the same time, the burlesque queen refuses the services of a stylist, and respects the style of only those celebrities who are able to dress themselves, without outside help.

Her college studies, where Dita studied the history of fashion and the costume was not in vain, this knowledge has always helped Dita von Teese, both when she was a dancer in the club, and when she began to invent outfits for her own shows.

In everyday life, Dita Von Teese is a stylist and make-up artist for herself, even going to an important event, she does her own make-up, hair, and selects clothes and accessories.