How to make horses dance
Dressage: How to make a horse dance
Image source, Lewis Carrier
Image caption,
Lewis Carrier says dressage isn't something "you can just do"
By Sam Gruet
Newsbeat reporter
For some, Olympic dressage is that sport where an athlete sits on a horse and makes it dance. For others, it's a lifetime of training and dedication.
That's the case for Charlotte Dujardin - this week she became Great Britain's most decorated female Olympian, winning bronze in the individual dressage event at Tokyo 2020.
But what does it take to win an Olympic dressage medal? And more importantly... how do you train a horse to dance?
According to international dressage rider Lewis Carrier, "it's not something you can just do".
The 24-year-old has been riding horses since he was six and is hoping to compete for Team GB at the 2024 games in Paris.
"Training a horse to do that takes years of experience," he tells Radio 1 Newsbeat.
"It's like learning to dance. It's technique. It's teaching a horse how to move a certain way and how to use their body in a certain way."
Dujardin bronze sets British record
Adam Peaty: How to think like an Olympic champion
I beat an Olympian... when I was younger
It's one of the reasons the athletes competing in dressage can be older than those competing in other non-equestrian sports.
Like Great Britain's oldest Olympian at the games Carl Hester, who, aged 52, is part of the medal-winning dressage team.
His first Olympics was way back in 1992 in Barcelona.
Image source, Getty Images
Image caption,
Experience pays - Carl Hester's the oldest Olympian at Tokyo 2020 and won a bronze this week
As well as needing years of experience, dressage athletes can also benefit from a bit of Star Wars force, Lewis says.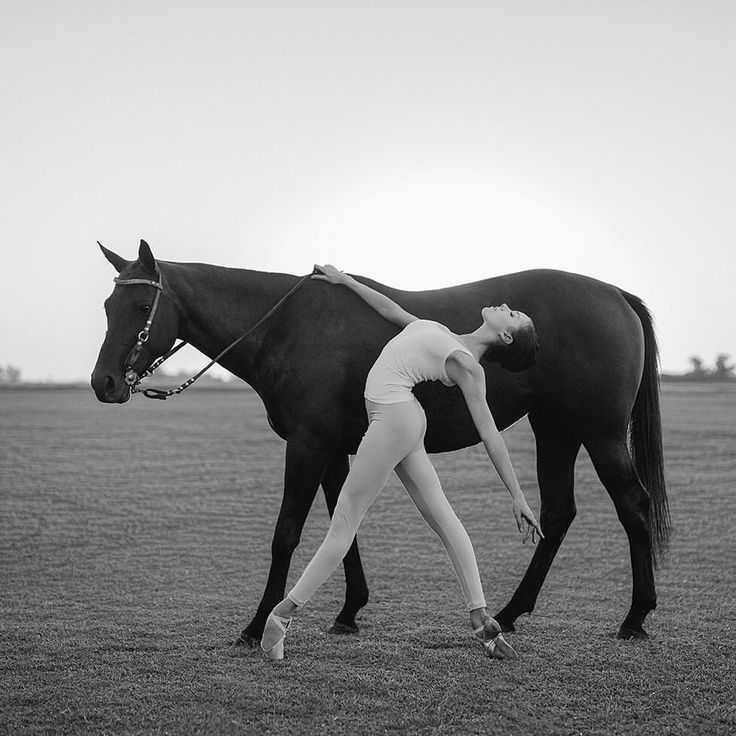 He likes to imagine dressage like a Jedi power - an invisible force that lets those trained in it control things with their mind.
"It's so much about feel. It's so hard as a trainer to teach someone, it's just something you feel one day and you have it. You have the feel," he says.
Every movement in dressage is triggered by an aide from the rider, Lewis adds.
"These horses have trained with these riders for such a long time. They know exactly what the rider is asking for when they do it. They have to be moving like Olympians. Nothing can look forced, it has to look harmonious between horse and rider."
The rules
Dressage at the Olympics is made up of three tests: qualifying, team and individual
At an Olympic Games, each nation can put forward three teams of three horse and rider combinations
Each rider and horse combination takes it in turn to perform a range of movements, scored by seven judges
Everyone competes in the qualifying round. The top eight teams (each including three riders) make it to the team final
The team final is decided by adding all three scores - giving the top three teams gold, silver and bronze
The top 18 riders from the team final then compete in the individual final
Top athletes like Charlotte Dujardin train with several horses, so animals are ready to take over if needed.
Horses can start competing aged eight and normally carry on until they're 19 or 20, Lewis says.
So do these hard-working horses get their own medals?
Not exactly - but Lewis says if they win they celebrate with lots of sugar cubes and carrots.
Image source, Łukasz Kowalski
Image caption,
Lewis says training a horse to dance is a technique
"It's hard to explain to an animal how good they have done," he says.
"[But] these horses know the riders so well and they know when they've done a good job."
A rule states that horses have to be part-owned by someone from the nation they're representing, but according to Lewis the blood lines are mostly Dutch and German-bred - as that's where dressage is so big.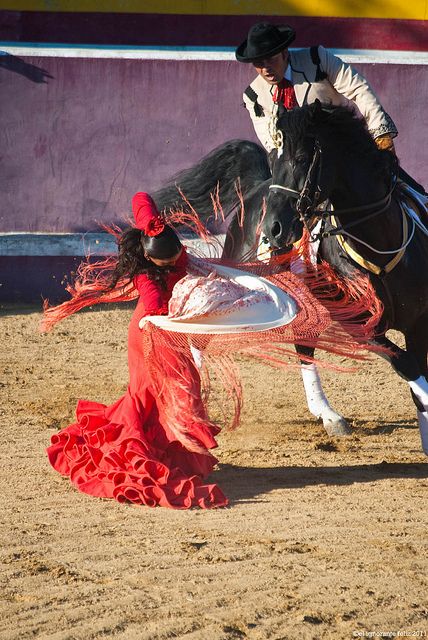 Image source, Getty Images
Image caption,
Lottie Fry (right) won a bronze medal with Charlotte Dujardin and Carl Hester
One of the stand out Team GB stars in dressage at this games has been 25-year-old Lottie Fry, who is technically still a junior.
She was the youngest medal-winning rider in the team final - taking home bronze alongside Carl Hester and Charlotte Dujardin - which Lewis says is "massive."
"For her to be at an Olympic Games at 25 years old, halfway around the world, and to pull off three incredible tests is absolutely huge. You have to have so much calm about you to ride a test like that. It's really impressive."
Follow Newsbeat on Instagram, Facebook, Twitter and YouTube.
Listen to Newsbeat live at 12:45 and 17:45 weekdays - or listen back here.
How to Train a Horse to Dance
By Danee Rudy | Updated August 11, 2017
Things You'll Need
Snaffle bridle (reins not needed)

Lead rope

Saddle or surcingle

Side reins

Dressage whip

Treats

Area with good footing and a wall or fence

Electrical tape or rubber band
When asking your horse to dance, stand tall and be focused. When giving your horse a break, relax and take your direct focus off your horse. This helps her know if she is supposed to be working or not.

You can try tapping anywhere on the lower leg. Some horses respond to low taps, others are best tapped near the hocks.

The Spanish walk--in which the horse moves forward with a flourish from the front legs--is an effective trick to teach prior to piaffe. It also involves tapping the legs for a response but is a little easier for the horse to learn.
Warnings
Working near horses can always be dangerous, especially when asking the horse to be exuberant. If he gets afraid or upset, have a professional help you before engaging in any further piaffe training.
The piaffe is a trot-like movement that a horse performs on the spot, and looks like a dance. A competition-quality piaffe takes years of training and strengthening for the horse to lower his haunches, shift his weight over his hindquarters, and raise his forehand, but any horse can learn the footfalls of a piaffe through trick training.
Even some Grand Prix dressage horses have begun piaffe this way.
Warm up your horse with basic groundwork. Lead your horse at a trot and back her up. Move her shoulders and hips and ask her to put her head up and down.Your horse needs to respect you as her leader and understand that when you apply pressure she must figure out your request for the pressure to be released. If your horse does not move off feel easily-- or worse, moves into pressure--start with easier challenges and come back to the piaffe once your horse has learned to be a puzzle solver.
Put a halter on your horse and attach a lead rope. A simple halter and lead are sufficient for beginning piaffe training, but as you progress you will want to use a bridle and saddle or surcingle to connect one side rein on the horse's right side. You can use both side reins if you find it to be easier. The side reins connect from the ring of the snaffle to the girth or surcingle on the same side about 9 inches below the horse's back.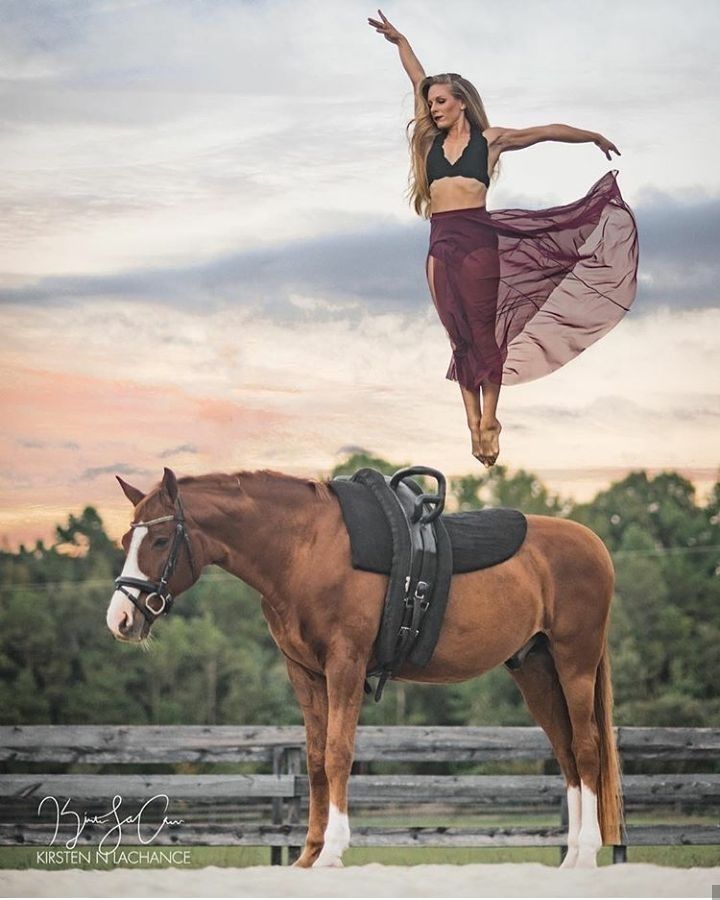 Put a lead rope on the left snaffle ring. Tie her tail up and secure it with a rubber band or electrical tape so the tail is not in your way.
Stand your horse so the wall or fence is on his right. Stand on his left side near his shoulder or barrel. You need to be able to reach his hind legs with the dressage whip. Tap his hind left leg until he lifts it, then quit tapping and offer praise. Repeat this until your horse understands your request. If he lifts the leg nicely, or holds it up a little longer, give him a treat. You want the horse to immediately lift his leg as high as his fetlock and hold it for about two seconds. Repeat with the right leg; it is best to tap the back of the leg, but you can tap the front if you cannot reach the back of his right hind leg.
Work in sessions lasting no more than 10 minutes. It may take weeks until your horse gives consistent responses. If your horse gets frustrated and kicks out, ignore the bad behavior and reward only the desired behavior.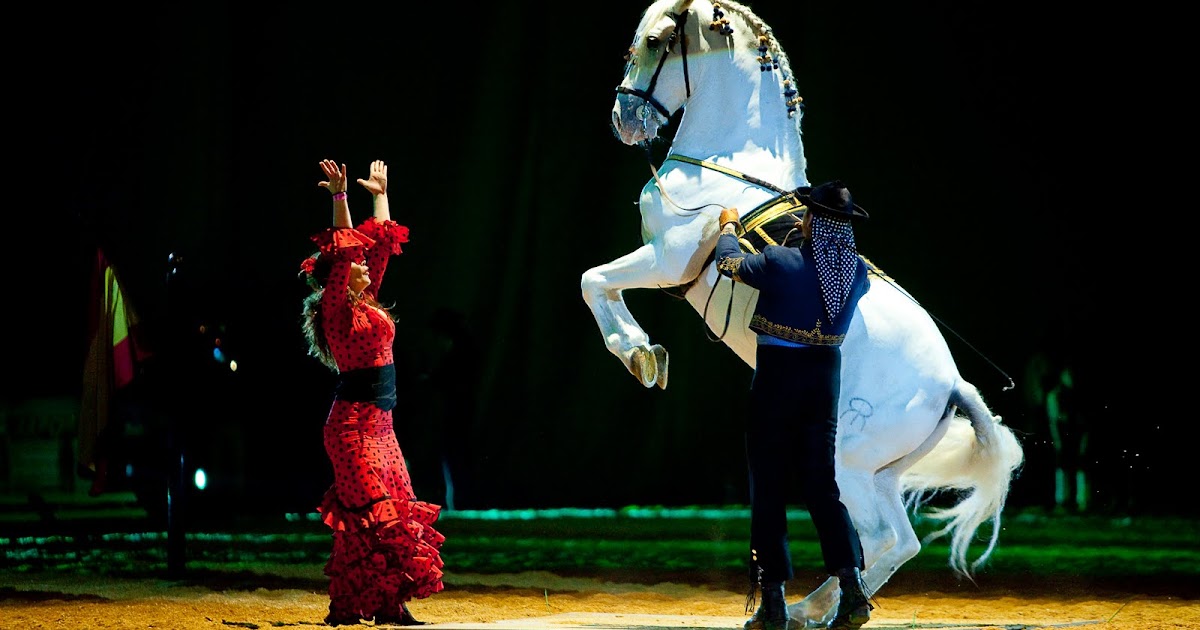 Put the bridle, surcingle or saddle, and side reins on your horse. Ask your horse to lift left, right, left and then praise. You want his response to be quick. If you ask the horse to keep going, he will quit trying, so be happy with left, right, left until he does it very well.
Trot him forward in-hand (leading the horse) a few steps after each repetition to energize him and make him think of the trot sequence of foot falls.
Tap your horse's haunches. Tap gently with the dressage whip to encourage her to creep forward just enough to get her front feet moving. You can also tap her front legs to give her the idea; her legs move in diagonal pairs, so tap the front left as the hind right leg is lifting. Lift her head if you need to get her lighter on her front feet, or lower her head if she gets tight and nervous. If she does one step that looks like a dance, reward her immediately and give her a break. Once she understands your request she will dance for longer periods of time to earn that carrot.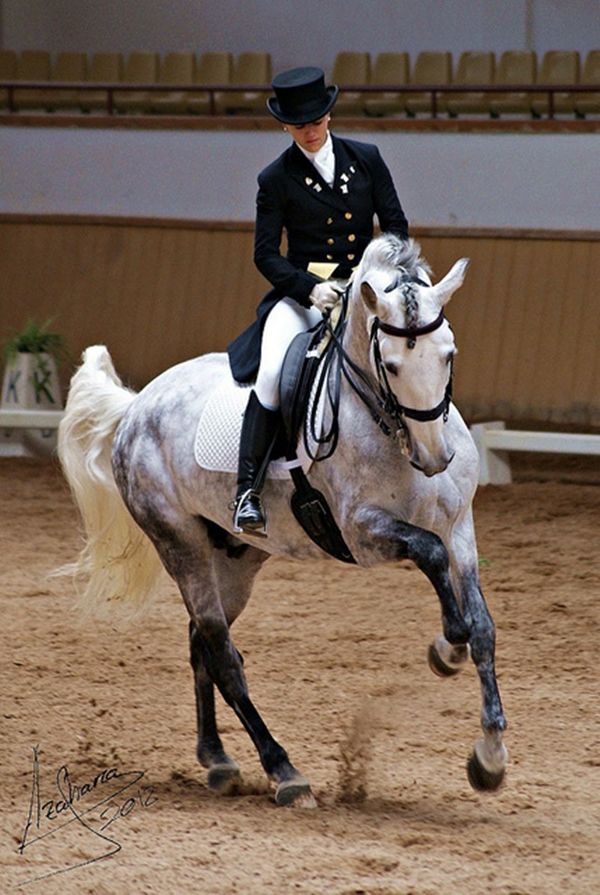 Tips
When asking your horse to dance, stand tall and be focused. When giving your horse a break, relax and take your direct focus off your horse. This helps her know if she is supposed to be working or not.
You can try tapping anywhere on the lower leg. Some horses respond to low taps, others are best tapped near the hocks.
The Spanish walk--in which the horse moves forward with a flourish from the front legs--is an effective trick to teach prior to piaffe. It also involves tapping the legs for a response but is a little easier for the horse to learn.
Warnings
Working near horses can always be dangerous, especially when asking the horse to be exuberant. If he gets afraid or upset, have a professional help you before engaging in any further piaffe training.
How are dancing horses trained? | Noti Horses
During festivities and equestrian events, you can't help but stop to watch the dancing horses.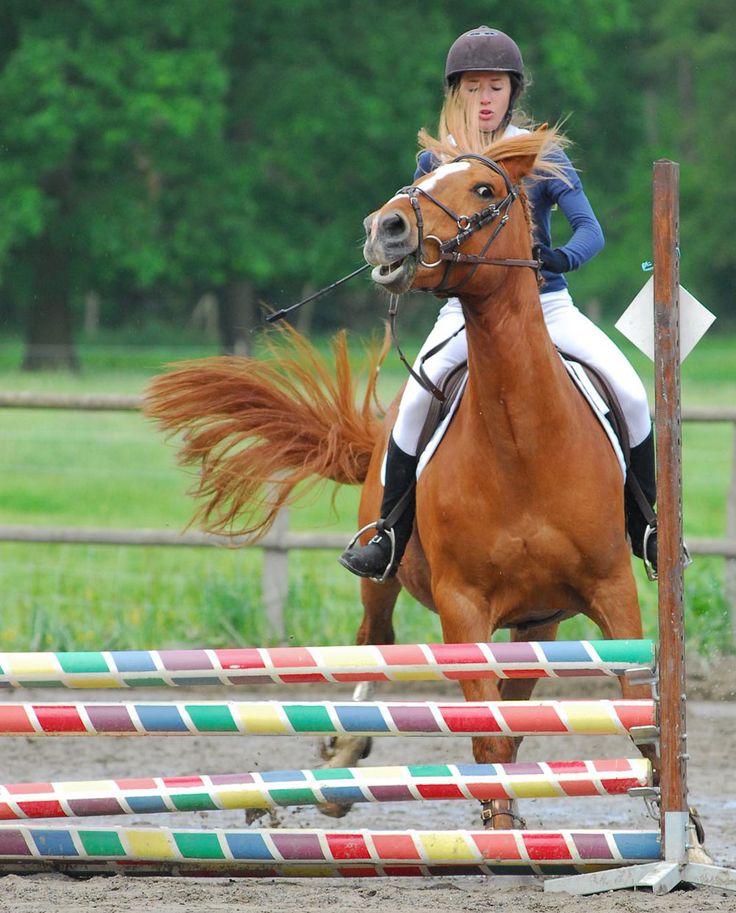 The trust that animals have in their trainers, the respect that both often show each other. This is a real spectacle that everyone should see at least once in a lifetime.
But how do you teach a horse to dance? What does it take to make her dance? If you want to teach a friend how to move to the rhythm of the music, don't stop reading.
Index
1 What is piaffe?
2 How are dancing horses formed?
3 Dancing horses of Spain
What is piaffe?
To teach a horse to dance, the first thing to do is to find out what a piaffe is. Also. This movement is similar to the trot of a horse moving over a point. . Based on years of training, the horse naturally lowers the hips, transfers weight to the hindquarters, and raises the right side to follow the music. This way they can compete in the best piaffe competitions in the world.
But this does not mean that only some horses can dance. In fact, anyone can learn the piaffe by learning a trick that must always end with the animal prize . Similarly, respect and patience are key to making the horse feel eager to learn and not afraid of possible reprisals. We must never forget that they are animals, that they have feelings and therefore deserve our respect.
How are dancing horses formed?
As soon as this is known, it's time to get to work, or rather, sit on our horse 🙂. So we will follow this step by step:
The first thing we do is take him for a walk . Short walk. The point is not to tire him, but to relax him a little. It is known that it is much easier to work with a calm animal than with a nervous one. The first will pay attention to us; the other chooses not to.
Then, We will fit it and pull out . We will move his shoulders and hips and ask him to raise and lower his head. We will do this several times, giving you a few seconds of rest between exercise and exercise.
In the event that he does not do this, or if it is difficult for him to do so, instead of asking him so much, we can ask him to stand up and just shake his head; then we put him down and then ask him again to stand up and move his hips. Thus, if you ask him one thing at a time, he will probably have a much easier time learning what we are teaching him.
Now put a halter on the horse and tie a rope . In the beginning, a simple halter and leash will do; later we can use the bridle and saddle to connect one side of the rein to the right side of the horse. To make it easier for us, we can use both side reins, which we will connect from the loin ring to the circumference of the same side about 23 cm below the back of the animal. We will tie his tail with an elastic band so that he does not interfere with us.
After that, stop the horse so that the wall or fence is on the right. We will put it on the left side . With the help of a dressage whip, we must reach his hind legs. We touch the left hind leg until it stands up, and then we offer it a prize. Repeat the same with the right hind leg.
Next, we put on a bridle or saddle, as well as side reins. We will ask you to move left, right, left and reward you with . The answer should be fast, but the same, if we see that it costs you, we will come back and slow down. It's not about making the horse perfect: perfection doesn't exist. It's about teaching him something while trying to have fun, and he won't do it if we ask him for more than he is capable of doing at the moment.
Finally, what we will do is touch his front legs . If you are nervous, we will let you lower your head or lower yourself; so calm down. On the contrary, if we see him animated, we will lift him up to make him feel proud. If he behaves well and, above all, takes a step like a dance, we will give him the prize he deserves and let him rest.
Lessons should last about ten minutes. , no longer needed. Don't let your horse feel frustrated as it will lose interest in learning to dance. In addition, I insist, we must be very patient. It may be weeks before we see an animal learning this.
Spain's Dancing Horses
In Spain we are very fortunate to be able to enjoy a show of dancing horses. These animals are the real stars of many festivals and events, especially in Andalusia. , for example, the Festival of Horses, which is celebrated in Jerez, or in my city of Ses Salines (Mallorca) during the festival of San Bartomeu (end of August).
With Spanish music and costumes typical of the eighteenth century, dancing horses and their riders dance their wonderful equestrian ballet using dressage and cowgirl techniques, hooks, handwork and carousels.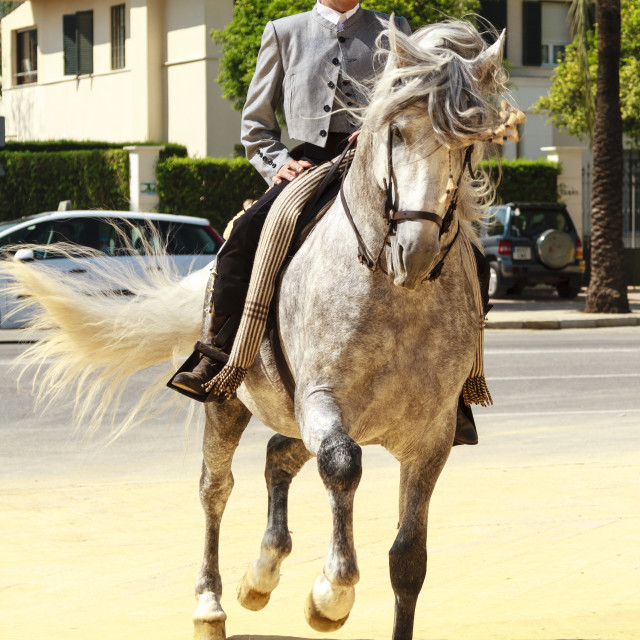 Did you know how dancing horses were trained? Do you dare to teach a friend to move to the rhythm of the music? 🙂
The content of the article complies with our principles of editorial ethics. To report a bug, click here.
You may be interested
Each horse has its own dance - Kuban Today
Not so long ago in the village of Oktyabrsky, Krasnoarmeisky district, regional dressage competitions were held. The tournament was organized by the regional equestrian federation together with the regional equestrian sports school of the Olympic reserve. The sports base in Oktyabrsky not only hosts significant sports events in the disciplines of equestrian sports, but also seriously trains athletes and sports horses of the national team of the Krasnodar Territory - participants in the championships and championships of Russia, Spartakiads of students and youth of Russia.
This year, 52 sports couples from four municipalities of the Krasnodar Territory took part in the regional competitions.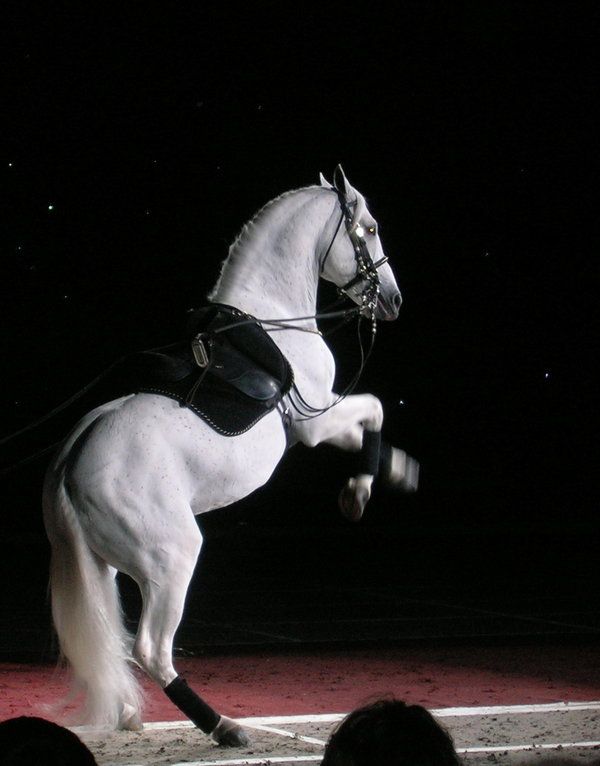 The best were revealed in several age categories: "Boys and girls", "Boys and girls" and also "Men and women". Arkady Osovsky, Ekaterina Khairutdinova, Valeria Kosheleva, Yana Kremenskaya, Tatyana Kulikova, Natalia Yakimenko, Diana Letunovskaya and Daria Lelyuk won awards of the highest standard based on the results of the competition.
Dressage is considered the most elegant form of equestrian sport. The rider must demonstrate: the ability of the horse to move correctly and productively at all gaits at various tempos, from shortened to extended, smooth and rhythmic transitions from one gait to another, correct stance, reining back (moving backwards), movements with lateral bending developed by special training complex movements (pirouettes, leg change at a canter at a pace of 4-1, passage, piaffe). When performing these exercises, the horse must move, maintaining one or another position of his body, corresponding to the number of the program. In dressage, the presence of momentum is important - the desire to move forward, complete obedience to the controls, the actions of which should be almost imperceptible.
The general appearance of the horse, its harmony and natural ability for elastic beautiful movements are also evaluated.
We talked to the trainers of young riders and found out who is best suited for equestrian sport, why dressage is one of the most beautiful disciplines and who is more important in a pair of rider and horse.
- Liya Naifovna ( senior coach of the Krasnodar Territory dressage team, coach at the branch of the State Budgetary Institution KK "ShOR in equestrian sports" in the village of Oktyabrsky. - Avt. many people call the basis of everything and the most beautiful kind of equestrian sport?
- Dressage is called the foundation, because in this discipline the control of the horse, its obedience to the rider, is in the first place. The horse must obey and be well controlled in any kind of equestrian sport, whether it be show jumping or eventing, and in dressage this is manifested in the first place.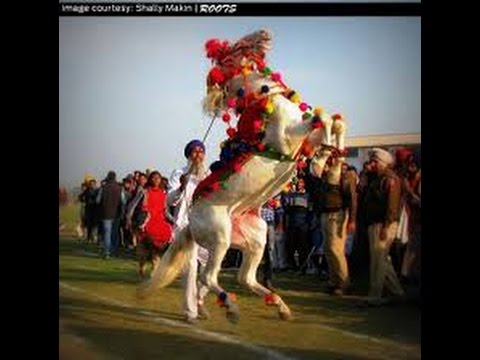 — And how do horses ride out? At what age do they start performing, how does the training process go? Are all horses eligible?
- First, the horse is chosen according to the movements, according to the exterior. Then, when she is three years old, they call in, and at the age of four, the horse begins to perform slowly. There are special competitions for young foals, and after six years the horse is considered an adult, it performs at serious tournaments and the requirements there are already different.
- Does it happen that a horse moves from one discipline to another? From jumping to dressage and vice versa, for example, or do they even combine?
— Sometimes it happens that we take jumping or, conversely, they leave us for them, but here we need a process of retraining. Each horse, after all, is basically still engaged in its specialization. At a high level, as a rule, this is not practiced.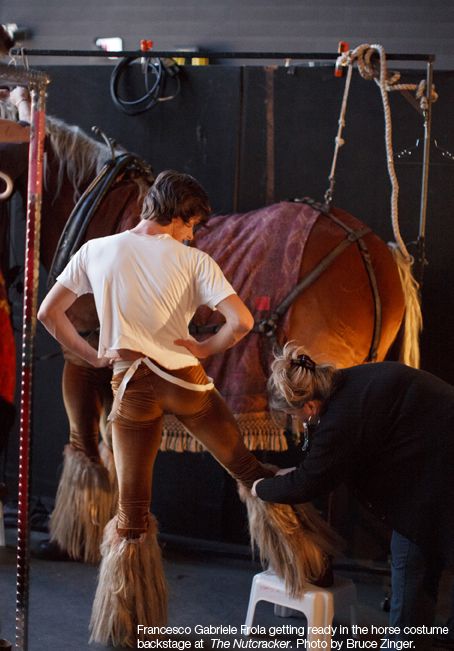 Here, completely different methods are involved. Occasionally, it happens that riders move on and develop further in a new discipline.
— In general, does dressage technique change over the years? Are there new elements?
— Requirements change over the years. Previously, there were more artificial movements in horses. Now it is natural movements, elasticity, ease that are valued. To give the impression from the side that the horse does everything itself, without much participation of the rider.
- Who is the boss in this pair in this case? Horse or rider?
- This is a partnership. So it's equivalent. A horse without a rider will do nothing, just like a rider without a horse. They are equal and complement each other.
— How are the riders themselves prepared? At what age can I study, what are the requirements for candidates? And why does someone choose dressage, and someone, for example, show jumping?
- We take children from the age of ten.
It is clear that a person must be physically sufficiently developed. You need to have physical strength to manage a large heavy horse. It also takes patience and hard work. You need a good vestibular apparatus, coordination of movements. At first, we prepare children in primary groups, they look closely, try. Then we select talented guys, those who understand that horses are his. Even then we select our horse for the young rider. They act together, fix one after another, get used to each other. Then the most stubborn ones remain. Horses are like a drug: if you get attached, then you can't get anywhere.
As for the choice between dressage and other disciplines, it probably depends on the character. Dressage is a more aristocratic type of equestrian sport, it is calm. It takes a lot of patience, a lot of hard work. This is done by people with a calmer character, and those who need speed and drive go to show jumping, for example.
In addition to the compulsory programs with established patterns in high-ranking competitions, including the Olympic Games, there may be free programs, the so-called free program (FRC) is an artistic dressage competition performed to music.
Includes all school gaits and basic movements - in accordance with the basic riding test of the same level. At the same time, the rider is given absolute freedom to choose the form and manner of performing the program within the set time.
We learned why dressage is not a mass sport for all its beauty, we learned from the Krasnodar coach of the State Budgetary Institution KK "ShOR in equestrian sports" Dina Stupak.
- Dina Viktorovna, tell us why it is often said that dressage is not a mass sport, not for everyone, not for spectators, but to some extent even elite?
— Dressage is really a sport of aristocrats. It can be difficult for a simple layman to understand what is happening in the arena. You need to understand this, be a connoisseur. Here, an important factor is also the high cost of this sport: the price of the horse itself, the cost of its maintenance, travel to competitions, transportation, special ground is needed.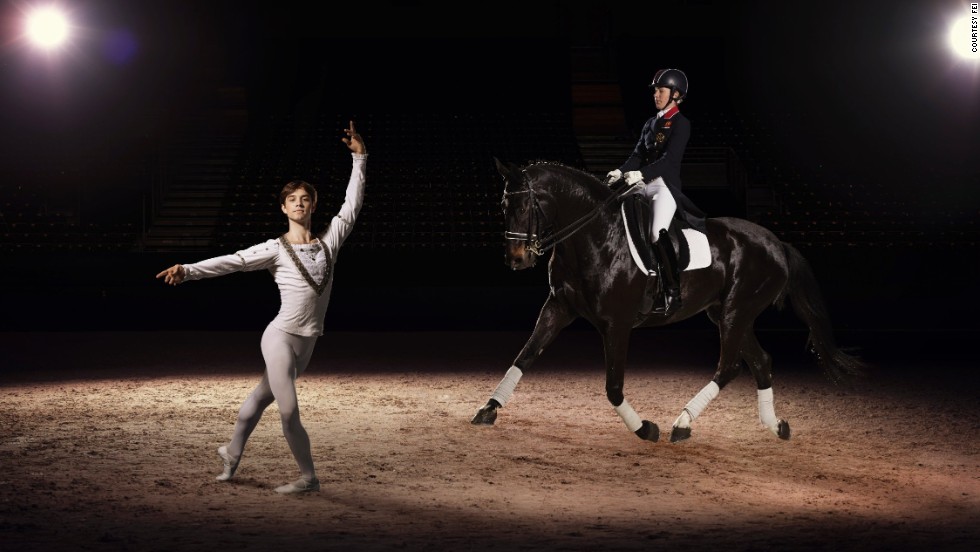 Now, for example, everywhere they are switching to the so-called euro-ground in order to reduce the risk of injury to the horse. And this soil is very expensive, but it is needed. If the horse is lame, does not recover, it can no longer be an athlete, it drops out of the process. Just like ordinary athletes.
— What qualities do you think make a good horse and a good rider?
— For ourselves, for dressage, we choose a horse according to its movements, according to its exterior, we look at how proportionally it is built. Competitors, for example, look at the jumping technique, and we look at the movements, the quality of the walk, trot and canter, the horse's desire to learn. Not all horses have the right temperament. There are irritable, and it spoils everything. They will look to see who, for example, made some kind of sharp sound, and they will start to be distracted, and the whole exercise will be overwhelmed from this. Horses, like people, also need patience.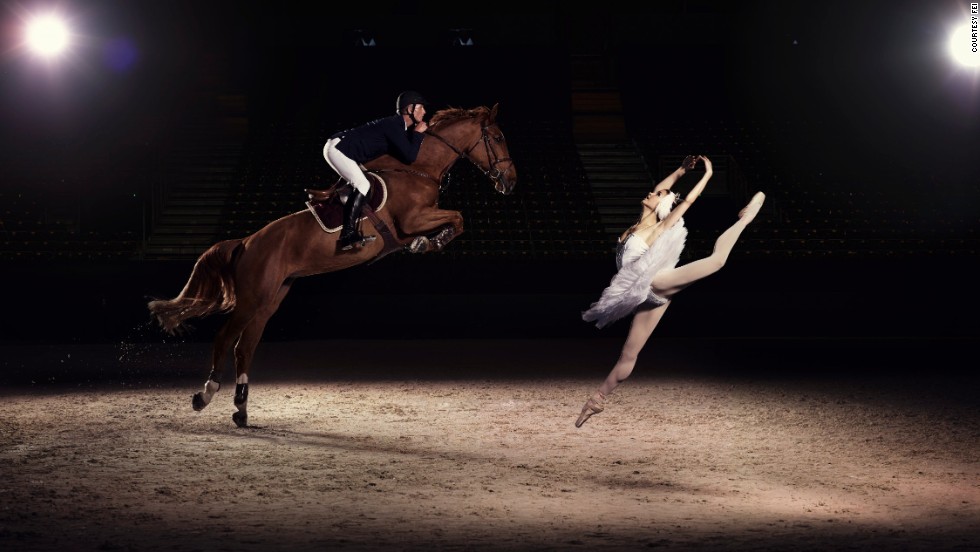 Especially, for example, when a horse is training a young rider. Young riders often make mistakes. The horse, for example, repeated it twice and understood everything, but the rider couldn't stand it somewhere in terms of balance, somewhere he grabbed more with his hand - and nothing happens anymore.
In practice, it turns out that no matter what talents you have, the main thing is the desire and love for the horse, they win everything, even if you are not very physically developed. The hard-nosed remain, they succeed, although it rarely happens that a person has both talent and desire at the same time. There is no such drive in dressage as in jumping, there is a lot of routine. To, for example, dance in the KUR, you have to go through a long process of training, you need patience, because the horse requires patience.
- Speaking of which, how can you make a horse dance? How do they prepare for this and how much is everything tied to music?
- The program must be symmetrical, must keep the horse busy.
All this is done with music, there should be smooth transitions: somewhere the expansion of gaits, acceleration, gallop, while it is necessary that it all look like a dance. At our regional level, riders often make the program themselves, choose what kind of music suits the horse's movements. Children themselves are more advanced. Previously, there was no such technology as now. Then the ride was timed with a stopwatch, then with the help of a cassette recorder the music was recorded somewhere. Now it's easier to do it, they immediately write music for the riders. It is worth noting here that each horse has its own style, everything is chosen individually for it. Let's say one big one, it has smooth movements - you can't really pick up some kind of dance music. And the other horse, on the contrary, is a little smaller in general, energetic, she just needs rhythmic music. Everything is evaluated here: choreography, selection of music and many other elements.
— And how traumatic is your sport for people? And what is opposed to this, what development does dressage and equestrianism in general give?
- Dressage is considered the least traumatic of all equestrian sports.