How to do your makeup for a dance
How to Do Stage Makeup for Dancers
June 23, 2020 Uncategorized
If your child is performing in a dance recital, she will need to wear stage makeup, which enhances a dancer's features so that her expressions are visible from the audience.
Below we have provided makeup information to help you with home application tips on how to practise your stage makeup.
Preschool aged children
The key to doing children's makeup for ballet is to use natural colours. The child shouldn't look "made up" with loud colours; rather, the makeup should make her features stand out from far away. Makeup for children is meant to emphasize features, not exaggerate them.
Children, Teenagers & Ladies
As children mature their make up should reflect their age and become stronger and heavier dependant on age. Following the basic model below the make up application follows the same principals however should be darker and include false eye lashes and darker eyeliner for teenage aged students & Ladies.
Things you will need.
Foundation – Skin Colour
Lip liner – Red
Lipstick – Red
Blush – Pink
Powder – Skin Colour
Eye shadow – 3 x shades of browns. Light, Medium & Dark
Eye liner – Black
Mascara – Black
Highlighter – Ivory or Cream
Brushes for lips, eyes, brows, blush, powder
False Eye Lashes for Teenage ages and Ladies
Bronzer can also be lightly used – optional
Foundation/Base
Using a makeup sponge, apply foundation in a color that matches the child's skin tone. Use more foundation than you would for "street" makeup. Blend the foundation at the jawline. Dust on lightweight, slightly shimmery powder so the makeup will stay put onstage.
Liquid or a loose compact foundation
Use a cream/ivory shadow on the lids – Brown eye shadows in different grades are ideas.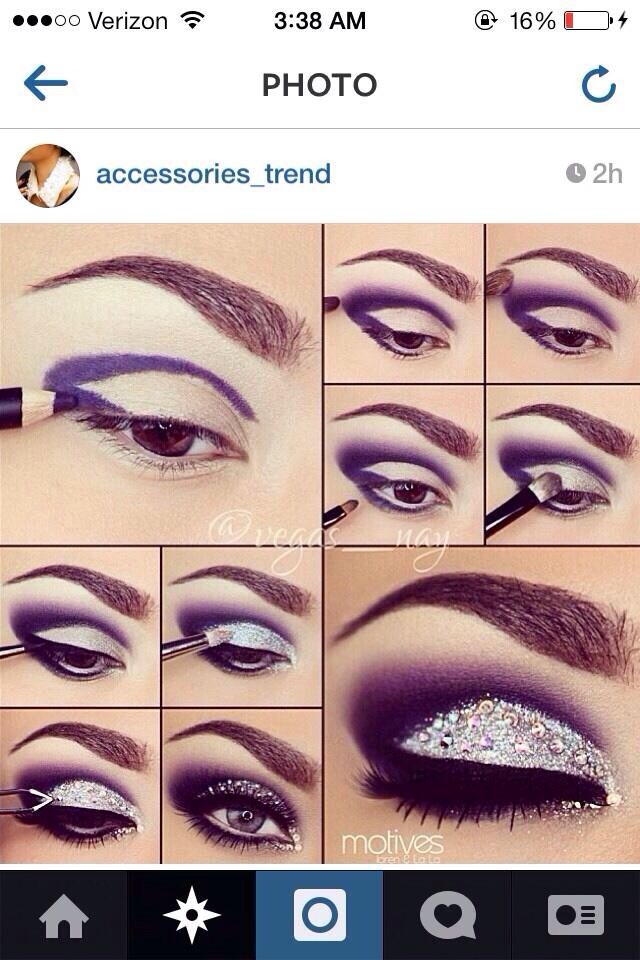 A light, medium and dark brown. Choose a relatively muted colours — too bright and the child will look garish. Finish the eyeshadow with a dusting of powder to hold the colour.
Use a cream blush in a peach or pale pink with shimmery tones to highlight the cheekbones. Blend into the foundation.
Eyeliner
Line the eyes using a liquid eyeliner in black or very dark brown. Extend the line on the top lash slightly past the eye, but don't turn it up. Finish the eyes with two coats of mascara a shade or two darker than the liner.
Applying Lipstick
Begin by lining the lips with a red lipliner pencil, then fill them in with red lipstick. Avoid bright reds, as these can be too bright for children. A deep but strong blood red suits most skin tones
Below we have provided 3 video tutorials that are helpful in demonstrating how to apply stage make up.
This first tutorial is ideal for mums with very young children. It is a longer tutorial but has helpful tips for how to apply make up to young children and keep them settled and still ????
This next tutorial is a fast example of how to apply stage make up for all ages
This tutorial is a little more advanced. If you are looking for a more professional look with tips and tools on how to apply your stage, make up that looks extra sharp
A sketch has been drawn below to help you with your stage makeup.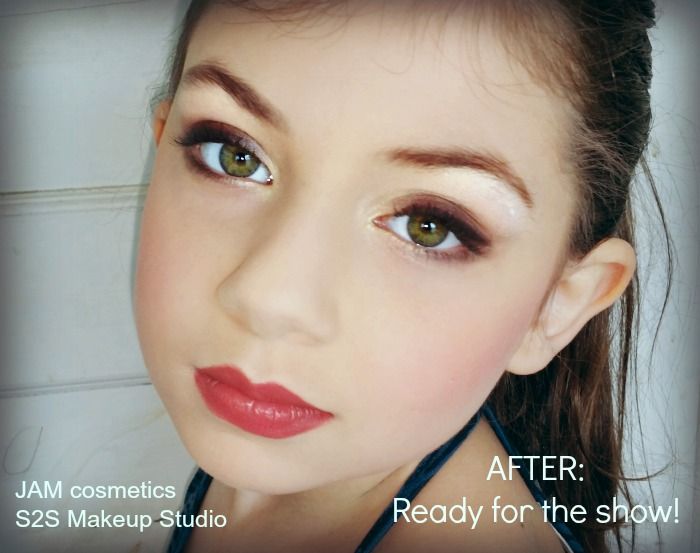 Along with images as examples for Junior and Senior students. Stage Makeup needs to be a lot heavier than normal makeup because the bright lights wash out people's facial features unless they are emphasized with dark make up. Senior students are asked to wear false eyelashes.
Easy Dance Recital Makeup in Minutes – JAM Cosmetics
The two all-too-common comments from dance parents regarding recital makeup are:
"Why does she need to wear so much makeup for the recital? She's too young."
"How do I do dance recital makeup? I don't even wear makeup myself!"
If you have ever asked yourself these questions... read on! Or, if you already know the why and how of recital makeup, don't go anywhere, as you may find a few ways to improve or simplify what you are already doing well!
Firstly, here's WHY you need to properly apply recital makeup to your young performer (yes, even toddlers):
a) Those super cute, shiny costumes look stunning on stage! But, they will completely overshadow your dancer's beautiful smile and facial expression if we don't apply enough makeup.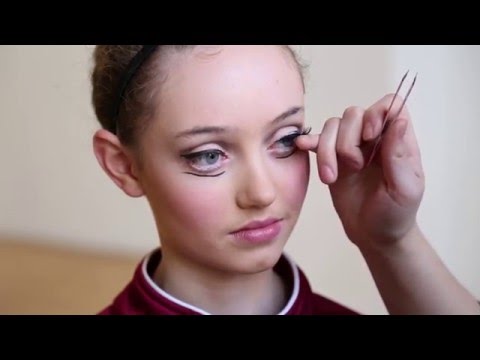 b) The stage lights are very intense and make a dancer's face look washed out. Properly applied stage makeup will illuminate and accentuate your dancer's features under bright, colorful stage lights.
c) The dancers are elevated on a stage and are very far away from the audience. This makes the facial features disappear and your dancer look less animated on stage. Properly applied stage makeup will not only give the face a more three-dimensional look but it will also make the eyes and facial features look bigger, brighter and more pronounced on stage.
d) Your little ones will likely be dropped off backstage an hour or so before the show starts... so, they need stage makeup that will STAY ON without looking blotchy or sloppy by the time they take the stage for the show.
Now that we understand the importance of stage makeup, even for young dancers, let's go over how to achieve the look! Our "Young Dancer" look will be demonstrated, using our "JAMGlam" palette!
BEFORE 
Clean and moisturize her face to ensure her makeup stays fresh.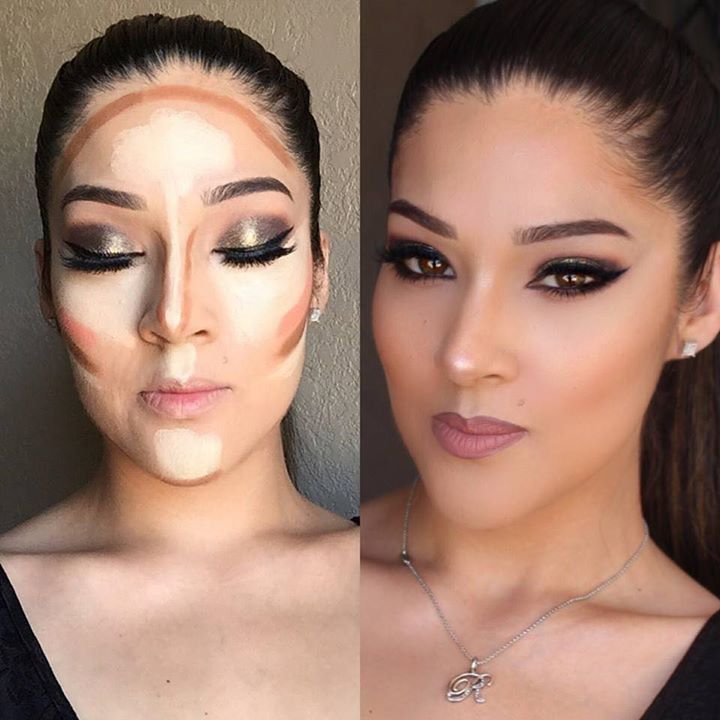 Step 1: FOUNDATION
Apply a thin application of a water-resistant foundation (See our Perfection Stix Foundation) with a foundation brush or a makeup sponge to even out skin tone and keep makeup looking fresh longer. It will creates a clean, matte surface to apply your colors to.
Step 2: EYEBROWS
Open up your JAMGlam palette. Apply a thin line of "Fear Me" eyeshadow through center of brow and brush out with a brow brush (or disposable mascara wand you can get at Sally's Beauty Supply). This step is very important for blonds and those without brows.  Use a color that is a shade darker than her actual brows.
Step 3: LOOSE POWDER
Dab a makeup sponge in translucent loose powder then dab the loose powder under her eyes to create little loose powder "puddles".  The loose powder will catch any dark eyeshadow speckles that fall onto her cheeks (Try this will your own makeup... it works so well!).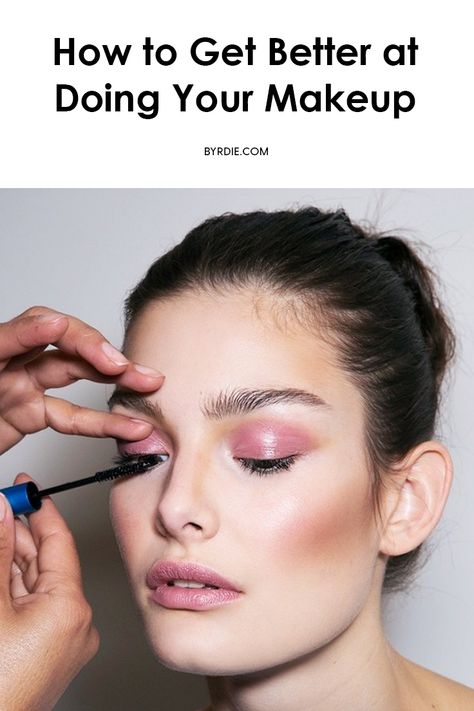 After eyeshadow is complete, sweep the loose powder away. You will be left with a lovely, soft highlight under the eyes.
Step 4a: EYESHADOW ON EYELID
Apply "Fear Me" eyeshadow, darkest at the lash line and fade it out as you reach the crease.  Apply "Fool Me" gold eyeshadow to inner corners of the eyes. Apply "Innocent Me" white shimmer shadow to her brow bone to highlight. Optional: Use an angular liner brush to apply "Double-Dar Me" black shadow/eyeliner along the top lash line ONLY.
Step 4b: EYESHADOW/LOWER LASH LINE
Using a thin eyeliner brush, sweep a line of "Fear Me" eyeshadow from outside corner of her eye and in towards the middle. This will make the eyes look bigger on stage. Blend so as not to have a harsh line. Stay away from dark colors under the eyes, to ensure you have a softer, more youthful look to younger eyes.
 Step 4c: MASCARA (optional)
This step is optional and dependent on how cooperative your dancer is while having a pointy object half and inch from their eyeball.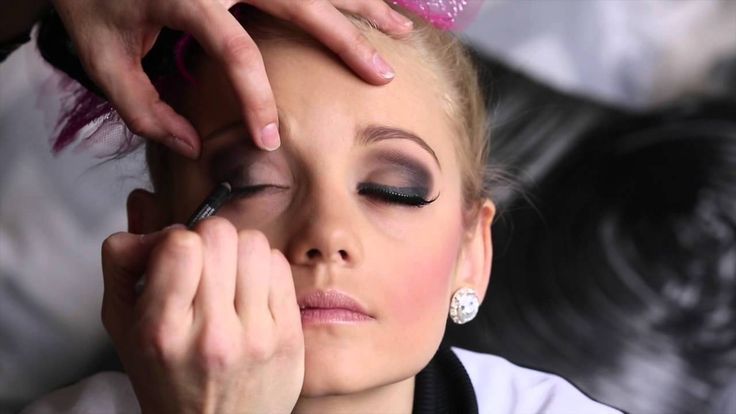 Have your dancer sit up very straight and look down with their eyes (head stays lifted). Gently lift their eyelid with one finger. Have them blink a few times to practice before mascara wand is used. Keep wand parallel to lash line and sweep color though lashes starting at the base. Remind dancer to blink so that eyes don't water. Only apply mascara to top lashes. Make sure you use a water-resistant, sensitive eyes formula black mascara. Avoid waterproof mascaras as they are very harsh to remove from young, sensitive eyes.
Step 5: BLUSH
Find cheekbone with fingers. Place blush brush at hairline just below cheekbone and sweep pink/peach blush color UNDER cheekbone and the sweep UP over apples of the cheeks. Make sure to use a small enough blush brush on her tiny cheeks so that blush line does not go lower than the lip line. Otherwise, your little dancer will look like they've got a sunburn! Blend. Blend. Blend. Oh yes, and please, no "apples of the cheeks" clown blush.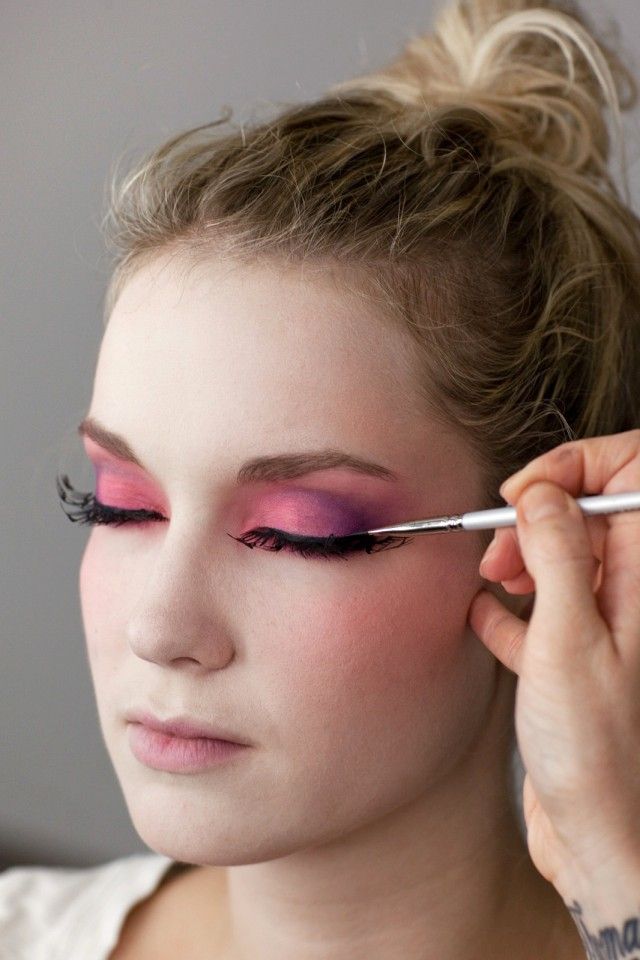 Step 6a: LIP LINER
Imagine that the lips actually have four parts to them – upper right lip line, upper left lip liner, lower right lip line, lower left lip line.  Take your pink/rose colored lip liner pencil and line the upper right side of lip ridge from outside corner into center cupid's bow.  Next, line the upper left side of lip ridge from outside corner into center cupid's bow.  Then, line the lower right lip ridge from outside corner to center of bottom lip. Lastly, line the lower left lip ridge from outside corner to center of bottom lip. Now, fill entire lip in with pink/rose colored lip liner pencil. This is the easiest way to make the lips look even!
Step 6b: LIPSTICK
Fill lips in with lipstick color. On young dancers, using a rose-toned lipstick (See our Wild Child Mineral Lipstick!) rather than a red creates a softer, more age-appropriate look. That being said, many studio owners/directors prefer a red lipstick on stage.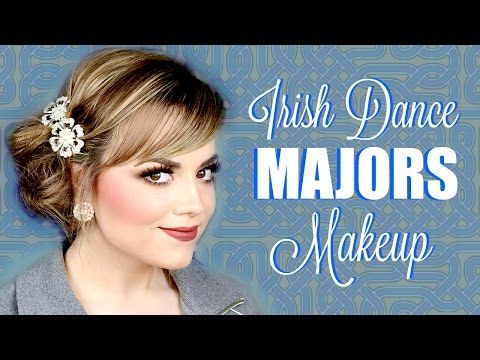 Be sure to check with your studio's dance recital makeup guidelines to confirm!
AFTER: Ready for the show!
stage image step by step with photo
It must be bright and durable. Such makeup is simply obliged to survive the performance and at the same time please the eye. What means, techniques and shades should be preferred?
Contents
General Rules for Dance Makeup
Oriental dance make-up: step by step photo tutorial
Belly dance makeup
Blonde stage make-up
Interesting dance makeup for a brunette
Before you start creating stage make-up for oriental dances, it is important to decide on the means. Here are a couple of tips that will help emphasize the natural beauty and make a spectacular make-up in an oriental style.
General rules for dance make-up
Dance make-up must be bright, otherwise the audience will simply not notice it.
At the same time, it is important to choose durable products that will not let you down at a crucial moment: they will withstand the heat of spotlights, physical activity and prevent treacherous brilliance where it is important.
© Makeup.ru
The basic stage of such a make-up is competent preparation of the skin. It needs to be moisturized so that the foundation and other products lie evenly, do not emphasize peeling or enlarged pores and do not distract attention from the traditionally bright eye makeup.
© Makeup.ru
Foundation is better to choose with a matte finish. And for areas that need to be highlighted, use a highlighter. Before applying the tone, use a primer that is selected taking into account the tasks that it should solve: narrow pores, mask redness or eliminate dryness.
© Makeup.ru
To make your eye makeup durable and bright, it is better to fix creamy textures dry. This combination will enhance their color and prevent them from rolling.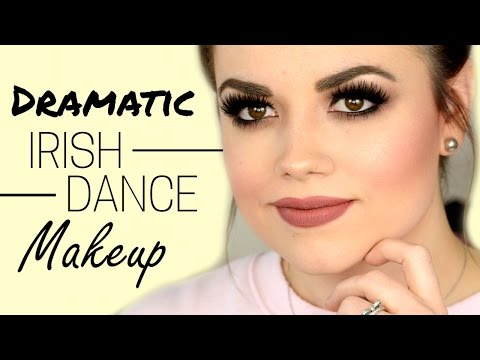 © Makeup.ru
As for the techniques, the most spectacular ones will come in handy: cutcrease, smoky eyes and cat eyes. And how to do makeup for oriental dances on your own, we showed step by step in the photo instructions below.
Back to index
Oriental dance makeup: step by step photo tutorial
In order to make a good belly dance make-up, you need to prepare everything you need.
For tone:
Moisture Genius Aqua Fluid by L'Oréal Paris ,

HD Foundation by NYX Professional Makeup ,

Infaillible Concealer by L'Oréal Paris ,

Wonder Pencil by NYX Professional Makeup ,

Maybelline New York City Bronzer ,

Maybelline New York Face Studio Chrome Extreme Highlighter .
Eye:
Urban Decay Naked Cherry Eyeshadow Palette ,

shadows Giorgio Armani Eyes To Kill Stellar ,

Shimmer Down Pigment by NYX Professional Makeup ,

L'Oréal Paris Gel Intenza Eyeliner ,

Jumbo Eye Pencil by NYX Professional Makeup ,

Brow Drama mascara by Maybelline New York .
1

Cleanse your skin with micellar water, wash your face, pat your face dry with a tissue.

© Makeup.ru

2

Prep your skin for makeup application with Moisture Genius Aqua Fluid. Let the product soak in.

3

For a naturally radiant complexion, apply Glow Creator Pure Glow by Shu Uemura.

© Makeup.ru

4

Apply NYX Professional Makeup High Definition Foundation.

© Makeup.ru

5

Treat the under-eye area with L'Oréal Paris Infaillible Concealer. where to find?

© Makeup.ru

6

Contour with the NYX Professional Makeup Wonder Pencil.

© Makeup. ru

7

Set creamy coverage with Maybelline New York City Bronzer.

© Makeup.ru

8

Treat brows with Maybelline New York Brow Drama Gel. where to find?

9

Apply a cream base to the mobile eyelid and lower eyelid. The Jumbo Eyes Pencil from NYX Professional Makeup will do.

© Makeup.ru

10

Set the creamy base on the upper lid with dry eyeshadow from the Urban Decay Naked Cherry palette.

11

Fine-tune the crease and lower lid with dry brown eyeshadow from the Giorgio Armani Eye Quattro palette.

12

Center highlight on your lid with Giorgio Armani Eyes To Kill Stellar. where to find?

© Makeup.ru

13

Line between the lashes and line with the L'Oréal Paris Gel Intenza black gel eyeliner.

© Makeup.ru

14
14

The same eyeliner is useful in order to emphasize the mucous membrane of the lower eyelid and the inner corner of the eye.

© Makeup.ru

15

Illuminate the inner corner of the eye with NYX Professional Makeup's Shimmer Down Pigment.

16

Work on the outer corner of the eye on the lower lid. You can just darken it or play with the shape a little. To make the makeup more contrast, use a blue shade of shadows.

© Makeup.ru

17

Color eyelashes with black mascara. Apply false eyelashes. Thanks to bright, expressive eyes, you will look perfect on stage, in a photo or video.

© Makeup.ru

18

Apply Maybelline New York Face Studio Chrome Extreme Highlighter on the cheekbones, on the checkmark above the upper lip and on the back of the nose.

© Makeup.ru
Complete your make-up with a matching hairstyle, such as waves or big curls. The image is ready!
Back to the Table of Contents
belly dance make-up
Stage make-up, as we have already said, is distinguished by its intensity. Do not be afraid to combine techniques and use bright shades. Outline the eyes in a circle, and on the lips apply a plum-colored lipstick like Siren from the Matte Lipstick line from NYX Professional Makeup.
© Makeup.ru
Or do a traditional oriental make-up with heavy eyeliner. To do this, draw arrows along the line of the upper and lower eyelids and bring them into a single ponytail. To make the look even more expressive, makeup can be supplemented with bunches of false eyelashes at the outer corners.
© Makeup.ru
For those who want to make a slight accent on the eyes, a bronze haze will do.
Easy to create with Urban Decay's Naked Petite Heat Palette.
© Makeup.ru
Another option is classic Arabic hands.
© Makeup.ru
Back to index
STAGE make-up for blondes
Delicate shades suit blondes. But in order for the makeup to be visible to the audience, dramatic accents are indispensable. Emphasize the crease of the eyelid with purple or pink shadows. Apply a gray shade to the moving eyelid. And do not forget to paint over the space between the eyelashes with a black eyeliner.
© Makeup.ru
The final touch is shining shadows in the inner corner of the eye.
© Makeup.ru
You can focus on unusual textures. Metallic eye makeup will look great on stage.
© Makeup.ru
How to use products with this texture, we told in this video tutorial.
Don't be afraid to experiment with shimmery textures.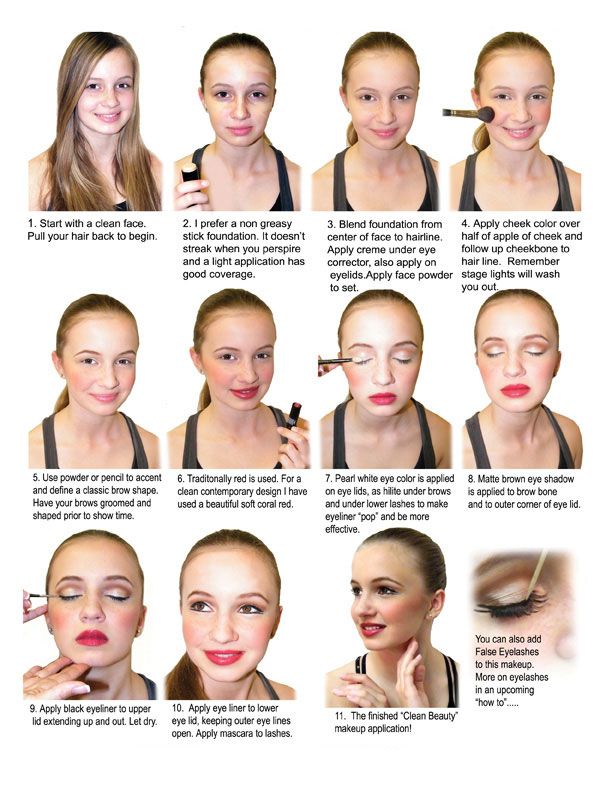 An arrow made of loose glitter will effectively sparkle in the rays of spotlights and under camera flashes. Use for example Face & Body Glitter or eyeliner Glitter Goals by NYX Professional Makeup.
© Makeup.ru
To prevent the glitter from staining the skin of the lower eyelids during application, cover the "danger zone" with a cotton pad folded in half. The finished image can be supplemented with large rhinestones at the temples.
© Makeup.ru
Return to the Table of Contents
An interesting dance make-up for a brunette
A dark shade of hair is a noticeable accent in itself. Therefore, it is important that the face does not look faded against its background. Gypsy makeup will help. Darken the crease of the eyelid with a dark brown shade. Apply beige shadows with a shimmer on the moving eyelid and thickly paint over the mucous eyelids with a gel pencil. Then draw a wide arrow and blend it starting from the middle of the eyelid.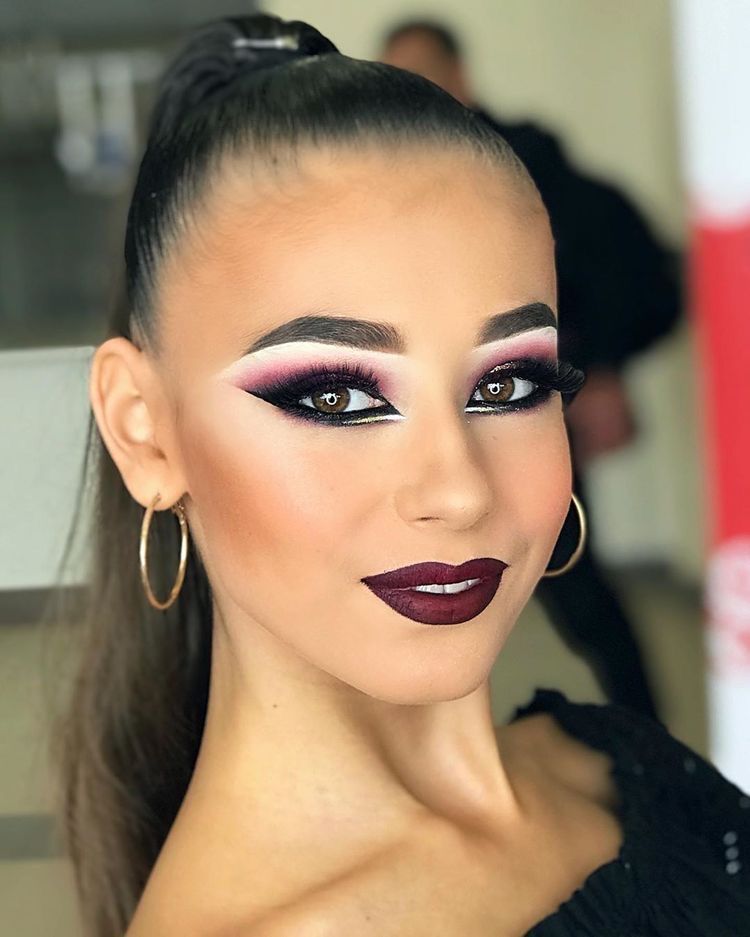 Makeup can be complemented with a berry-colored lipstick or leave the lips neutral using a nude pencil.
© Makeup.ru
Brown-eyed brunettes who want to add color to their makeup are not forbidden to make a bright contrasting accent in their eye makeup.
© Makeup.ru
Urban Decay Glide-on 24/7 in Sabbath will make makeup brighter and provide a beautiful contrast with eye color.
© Makeup.ru
Back to Table of Contents
0001
Brightness and durability are the two main characteristics of stage make-up. We will talk about the nuances of creating such a make-up
Contents
Bright stage make-up for dancers
Oriental dance
For fitness bikini
How to do stage make-up: step by step instructions
Overview of suitable cosmetics
Everyday make-up is not suitable for the stage: for the audience, the artist in this case will be faceless in the truest sense of the word.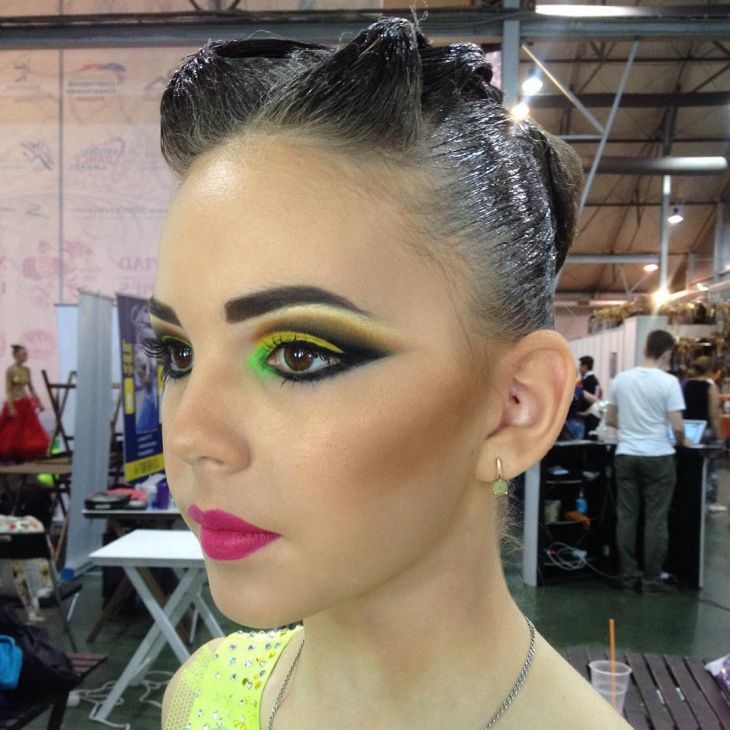 That's why actors wear makeup. They do this with the help of very bright and persistent cosmetics according to special rules. After all, the result should not fail, no matter what the stage actions. We will talk about the tricks of such makeup in this material.
© GettyImages
Bright stage makeup for dancers
Different artists have different stage makeup. Dancers, for example, need to consider the intensity of movement. They should not interfere with any elements of makeup or hairstyles. Therefore, the hair is most often removed from the face and fixed as securely as possible.
As for make-up, it should take into account not only the heat of the spotlights, which "melts" cosmetics, but also the activity of perspiration, which also destroys make-up. In general, make-up requires accents that will be visible from afar.
© GettyImages
Professional cosmetics are most often used in dressing rooms. Choose reliable products in catchy shades. If you're looking for long-lasting stage makeup, look for water-resistant labels on product packages.
Don't forget to prepare your skin for makeup. You will need not only the usual base, which should be distributed over the entire face, but also primers for local application - for example, for the eyelids. If you neglect this stage, after a few minutes the arrows will turn into dark smudges on the stage, and the shadows will roll into the creases of the eyelids.
Give preference to graphic make-up. The arrows, the underlined shape of the eyebrows, the matte lipstick applied clearly along the contour of the lips, the bright sculpting - the more clarity, the better. From the audience, smoky eyes will seem more like a dirty spot than make-up that gives expression to the eyes.
Back to index
for oriental dances
© GettyImages
There are some nuances of the image here.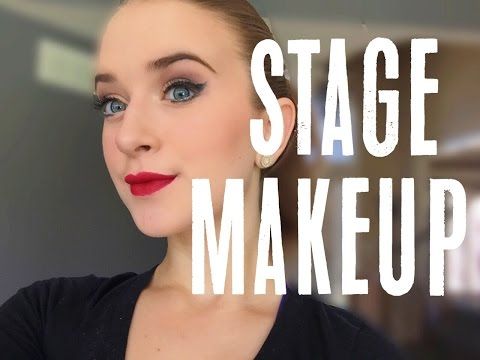 The neckline, hips, stomach in such dances are in the spotlight, so cosmetics will also have to be applied to the body. The approach may vary.
Some people use oils with a slight shimmer some time before the performance, so that the skin acquires not only a golden glow, but also a "wet" sheen.
Others use a fluffy brush to apply loose glitter to desired areas of the body.
Another option: guided by the principles of strobing, highlight the collarbones, shoulders, hips in those places where the bone "protrudes". A spectacular result can be achieved using a regular highlighter - both powder and liquid.
© GettyImages
Focus on the make-up of the face, as it is customary to do in Eastern countries: with an emphasis not only on the eyes (black eyeliner and black mascara for extreme volume will help you), but also on the lips. Remember, this is stage makeup, and the one-accent rule doesn't work here. For the same reason, glitter and rhinestones are welcome.
Back to the Table of Contents
for a fitness bikini
The main point of stage make-up for those who go in for a fitness bikini is the tanning effect. Therefore, before the competition, when you need to go on stage in front of the judges, the athletes visit the solarium. And they also have a special make-up in their arsenal, which helps to give the skin a caramel tint. Body butter allows you to create an attractive glow. Knowing that "dark-skinned" contestants look more advantageous, the girls add darker foundation and powder to their makeup bag.
© GettyImages
Even though the fitness bikini is all about the figure and muscle relief, stage make-up is still customary. Most often, this is contouring, sharp and quite aggressive, with an emphasis on the sculptural outlines of the cheekbones, plus smoky eyes in dark shades and scarlet lipstick on the lips. However, there are no strict rules regarding how to do stage make-up for a fitness bikini. Therefore, the standard version is changed to your taste.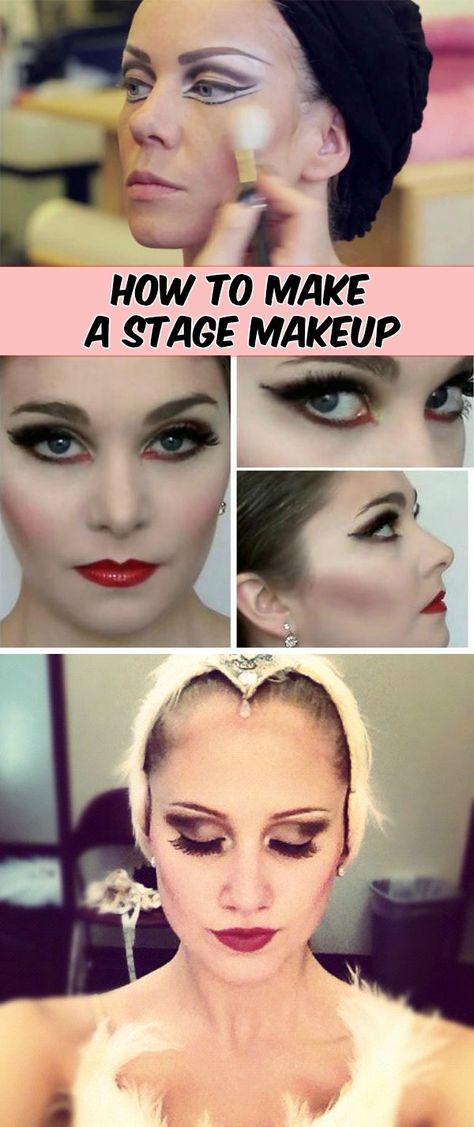 Back to index
How to do stage make-up step by step
© GettyImages
1
Start with preparation. Apply moisturizer and then primer. Separately distribute a special base (for example, Eyeshadow Primer Potion from Urban Decay) over the eyelids.
2
Choose a heavy foundation. It can be either a special greasy-based make-up, or just a cream with increased durability. Use the technique of stipling ("driving in") when applying - this way the tone will last longer.
3
Correct using the sculpting kit. Create an emphasis on the cheekbones with a gray-brown color - in stage make-up, the diagonal of the sculptor powder under the cheekbone does not require thorough shading, as in an everyday make-up. Then the result will be visible from the stage. Do not forget about highlighting - highlights on the cheekbones in festive and stage make-up are only welcome.
4
Highlight the eyebrows. In stage make-up, the contour should be outlined as clearly as possible.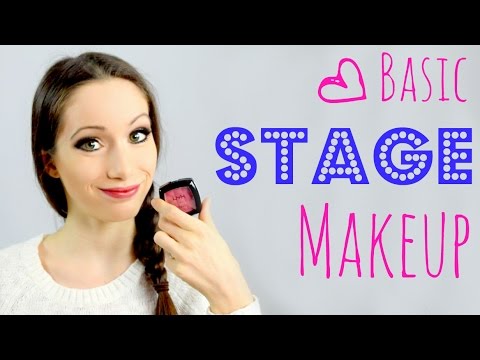 When correcting the shape of the eyebrows with color, work with a lot of pressure on a beveled brush or pencil.
© Makeup.ru
© Makeup.ru
© Makeup.ru
© Makeup.ru
© Makeup.ru
© Makeup.ru
5
Blend the darker one at the outer corners of the eyes, darken the crease with it - this is necessary so that the makeup does not seem "flat". Then draw a black arrow - wider and longer, so that the "tail" stretches to the temple. It would also be nice to paint over the inner contour with a kayal.
6
Eyelashes - a separate item. Glue a strip of overlays (or at least bunches at the outer edges). If you decide to do without artificial ones, apply a lengthening primer to your eyelashes (by the way, it can be replaced with eyebrow gel) and mascara - in two layers.
7
Outline the lips with a pencil, then use it to fill them all over. Then apply a long-lasting matte lipstick. It is better to choose a product not in a stick, but with a liquid texture.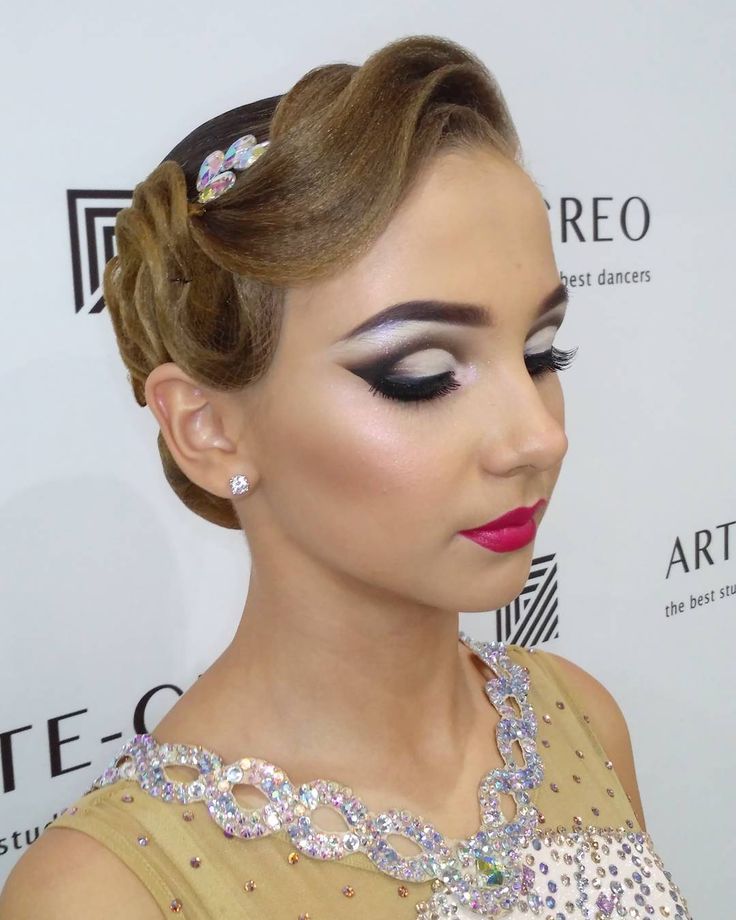 8
Set makeup with translucent powder and setting spray.
Back to index
review of suitable cosmetics
Primer. NYX Professional Makeup's Total Control Drop Primer is perfect for prepping your face for stage makeup. It is lightweight, lays down in a thin layer, but at the same time mattes well, giving the skin a velvety texture;
Total Control Drop Primer, NYX Professional Makeup Maybelline New York's Superstay 24 is the right choice. The tool makes the skin smooth and is characterized by increased durability. An even coating is guaranteed by Micro-Flex technology;
Superstay 24 Foundation, Maybelline New York
Sculpting Powder. Infaillible Sculptor by L'Oréal Paris, with a dark taupe powder to highlight the cheekbones and a lighter one to create a contrast with the shadow;
Infaillible Sculptor, L'Oréal Paris © loreal-paris.