How to do the fortnite dance in real life
9 Fortnite Dances Everyone Should Know
Home
Entertainment And Showbiz
A history of the Fortnite dance trend, and the top 9 Fortnite dances you should check out. - by Rhys McKay
Unless you've been living under a rock for the past 5 years, you've probably heard of Fortnite.
It's made appearances all over the news, millions of children play it day in and day out, and it's even gotten cameos in massive blockbusters like Avengers: Endgame. There's no denying that Fortnite is one of the biggest cultural phenomena of our generation. In this article, we're going to take a look at one of its most noticeable cultural artifacts: The Fortnite dances.
RELATED: What to do if your child is addicted to Fortnite
What Is Fortnite?
Fortnite is a multiplayer third-person shooter video game by publisher and developer Epic Games. The game was released in 2017, and consists of three separate game modes: Fortnite: Save the World, Fortnite Battle Royale, and Fortnite Creative.
Fortnite Battle Royale is by far the most popular of the three modes. It's a free-to-play battle royale game in which 100 players battle for survival in a large open-world map.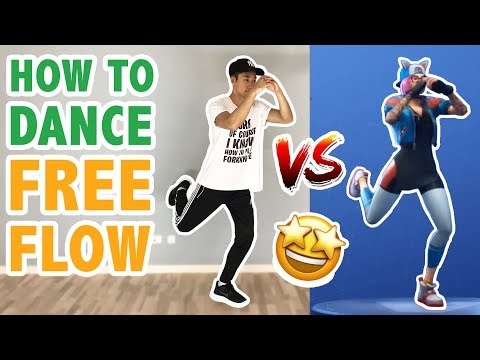 Players start in a 'Battle Bus' that transports them high above the battlefield. They can drop at any one of a variety of locations on the map. Once they hit the ground, they have to scavenge for supplies, build fortifications for defence, and fend off other enemies, all while being pushed ever inward by a storm that spells certain death for players caught in it.
Getty
Fortnite has achieved mass popularity, with an estimated 250 million registered players. The game is available on virtually all current-generation gaming platforms, including Windows, Mac, Switch, PS4, Xbox One, and even iOS and Android.
What Are Fortnite Dance Moves?
Like many multiplayer video games today, Fortnite features 'emotes', which allow players to pose their characters for other players. These emotes range from simple gestures like waving your hand, to complex animations that mimic dance moves.
Some Fortnite dances came with the game when it was new, and more have been added over the past few years.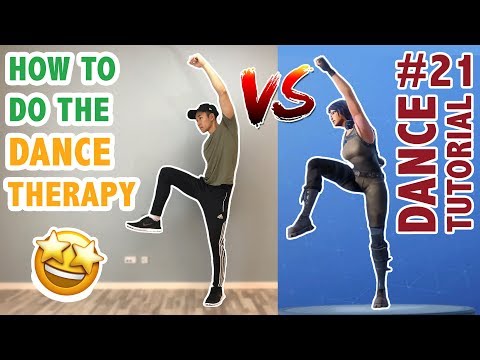 Each Fortnite dance can be purchased with V-bucks, an in-game currency that can be purchased for real money. They don't give competitive advantages in the game, but they're fun to pull off, especially when taunting your enemies.
Even without any real gameplay use, the dances have become an incredibly popular part of the game, and in last year's 'Fortnitemares' Halloween event, players were invited to visit gargoyles throughout the map, where they'd strut their stuff with the game's dance moves in order to complete extra Challenges. 
How Did The Trend Start? 
While Fortnite dances have been around since the game was launched in mid-2017, the trend of actually dancing these moves in real life only really came around in 2018. 
It began on March 30, 2018, when Epic Games launched a contest called the 'Boogiedown Challenge', in which players would upload videos of themselves on social media with the hashtag #BoogieDown. The winner of the contest would get their dance recreated in the game as a dance emote, while other winners got V-bucks and cosmetic customisation items for their game characters.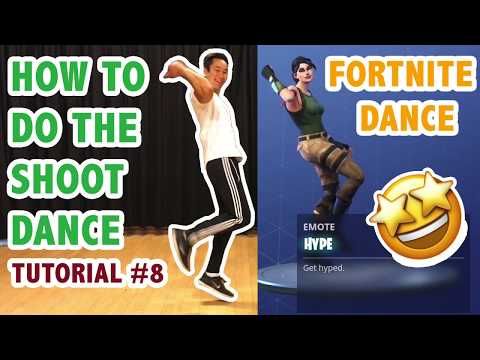 Because of the contest, social media was flooded with videos of children and teenagers showing off their dance moves. Video game media outlets were first on the scene in covering the phenomenon, and then it exploded into the mainstream news.
Today, Fortnite dance videos are incredibly popular, with many dance challenge videos and GIFs of people trying to mimic new dances whenever they come out.
The Fortnite Dances You Need To Know About
Boogie Down
How To Do The Boogie Down Dance In Real Life (Fortnite Dance Tutorial #15) | Learn How To Dance
The Boogie Down emote is the winning submission to the Boogiedown Challenge by Twitter user populutus. This move is acquired by simply securing your Fortnite account with two-factor authentication.
Best Mates
When You Go Out With Your Best Mates
With its wide, high-kneed steps and weird stance, Best Mates might look more like an exercise routine than an actual dance.
Best Mates is based on a dance invented in 2016 by Viner Marlon Webb.
Flossing
How to Do The Backpack Kid Dance (THE FLOSS) | Deepak Tulsyan Dance Tutorial
The floss dance, also known as flossing, is exactly as its name suggests. Its swinging arm motions from back to front and side to side resemble the act of flossing a giant tooth. The dance was invented in May 2010 by YouTuber Ryan Mayall, and was popularised by 'Backpack Kid' Russell Horning, who performed it on an episode of Saturday Night Live alongside Katy Perry.
Turk's Dance
Scrubs - Turk Dance HD
Fortnite's default dance is known as 'Dance Moves,' and is lifted from the dance moves of the character Turk from the series Scrubs, who performs the funky dance in one episode.
Electro Shuffle
BTS and Jimmy Fallon Do the Fortnite Dance Challenge
A classic street dance that made the rounds in Parisian nightclubs, the Electro Shuffle is one of Fortnite's most iconic dances.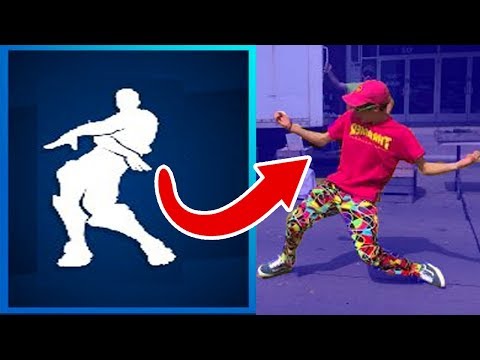 It's popular enough that Jimmy Fallon and K-pop group BTS actually performed it on air!
Robot
The Robot Dance In Fortnite
The jerky, mechanical, and highly flexible moves of the Fortnite Robot dance are a tribute to a dance of the same name that originated in the 1960s. The original Robot became popular when Michael Jackson performed it in 1973 as part of the Jackson 5.
Fresh Dance
Fresh - Fortnite Battle Royale (Dance Emote)
Fans of the classic sitcom The Fresh Prince of Bel-Air would instantly recognise Carlton's wacky moves in Fortnite's Fresh Dance. The Fresh Dance pays tribute to actor Alfonso Ribeiro's original dance, which was inspired by Bruce Springsteen and Eddie Murphy's moves. 
Flapper
*NEW* FLAPPER DANCE IN FORTNITE: BATTLE ROYALE!
The Flapper dance is named after the flapper, a generation of women in the 1920s who disregarded the conservative norms of the era, rebelling with makeup, cigarettes, an extravagant lifestyle, and sexual liberation.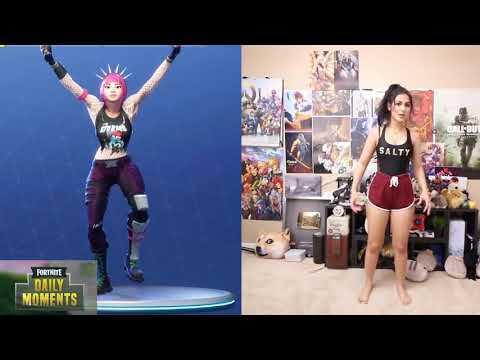 Flappers were associated with a dance known as the Charleston dance, which involves wide arm movements in sync with dainty, carefree steps, just like the Fortnite Flapper dance.
Orange Justice
The REAL Fortnite Boogie Down Winner: Orange Shirt Kid (Original)
The Orange Justice dance was invented by 'Orange Shirt Kid', who submitted the dance as his entry to the Boogiedown Challenge. He didn't win the actual contest, but his dance was vastly more popular on social media. After much clamouring by fans, Epic finally included the Orange Justice dance in a later patch.
Dance Off!
All these Fortnite dances are fun to pull off, and some require a surprising amount of coordination. You can never go wrong with a bit of exercise in your life, so if you've taken a liking to any of these dances, don't be afraid to strut your stuff!
RELATED: Prince Harry weighs in on Fortnite controversy
Rhys McKay
Subscribe to New Idea & save!-+ save!
Subscribe to New Idea today
Subscribe Now
Subscribe to New Idea & save!-+ save!
Subscribe to New Idea today
Subscribe Now
Where do the Fortnite dances come from
Are you wondering why kids are swinging their arms and hips from side to side in a asymmetric rhythm, sports players are celebrating their goals or victories with some weird dance moves? Do your children talk about the floss and who is the better at it? Don't worry, they are only reproducting some Fortnite dances.
What is Fortnite?
The fifth season will end in 64 days (end-of September).
| | |
| --- | --- |
| Release date | Fortnite was released in 2017 by Epic Game. But it's popular mode only became available in September 2017 and was launched with a different title than the original one Fortnite: Battle Royale.  This was in reaction to the the success of the Battle Royale video game PlayerUnknown's Battlegrounds (PUBG). |
| Age restriction | PEGI 12 rating in the UK for frequent scenes of mild violence. |
| Platforms | Fortnite is played on PlayStation 4, Xbox One, Windows, and Mac. Recently, it also became available on mobile but for a restricted number of players and on Nintendo Switch. |
| Purpose | The game pits 100 players against each other in a last-man-standing battle. They can collect resources, build hideouts, and shoot enemies. In its duo or squad versions, you play against other duos or squad teams – but are still 100 in the Island. Overtime, the area where you can play get smaller and smaller, ensuring that the games don't last forever. You can also choose to leave the game once you die and start a new one, or stay in the game until the end and watch other players still competing. |
| Price | Battle Royale is a free to play but players can choose to buy a Battle pass. The battle pass is a reward system that unlocks emotes, skins, gliders and other cosmetic rewards for the player who completes challenges during a particular season. There is also a Free Pass where you can unlock a limited set of rewards. |
| Season | It is currently the fifth season of the game and each season has been marked by a different theme and different challenges and rewards. |
| Average length of a Battle Royale game | A game lasts approximately 20 minutes provided you are still alive. |
| Teams | You can play solo, duo or in a 4-men squad. |
Why is it so popular?
Fortnite is one of the most famous game this year for the following reasons:
It is free while PUBG costs £26.99.
Its graphic style is bright, with cartoon-like characters.
Resource collection and construction concepts attract Minecraft players.
The outfits, skins and graphic rewards are diverse and funny. The dances are ridiculous yet very popular in the school playgrounds.
Once you are dead, you can start a new game and don't have to wait until the previous one is over.
It also leaves space to different playstyles: do you prefer hiding and sniping people, over close range fights? No problem, you can collect resources and build yourself a sneaky hideout.
Furthermore, on a weekly basis, new play modes are available making the game always attractive. Recently it had a 50v50 mode that I particularly enjoyed playing.
Its success is also obvious on social media: Ali-A has reached more than 14 millions subscribers on Youtube and Ninja had a peak of 600 000 viewers while streaming with Drake.
Epic also recently released some  official real life costumes and fans can know dress up with their favorite outfits from Fortnite. Check up this article to see which costumes are now available for sale.
Related: Fortnite gifts for kids
Fortnite Dances – how to unlock them?
The Fortnite dances are often reference to past moves. You can either buy them in the shop with V-bucks or earn them by completing the challenges through the Battle Pass.
And they have had a massive influence all across the world. Ali-A video has released a real life challenge (where we tries to perform some of the famous dance moves) that has more than 12 millions views. The 2018 Football world cup, the major league Baseball were also tainted with references to this famous game.
My son and his friends have practice session during the break at school and he has been teaching his sister (with limited success) the floss.
Where do these Fortnite dances come from?
The floss
The most famous Fortnite dance is the floss, it was not created by Fortnite itself but is the one you are most likely to see!
The Backpack Kid, an instagram famous dancer, made it famous when he did the dance during a live performance of Katy Perry's song Swish Swish in a Saturday Night Live episode 2017.
Millie Bobbie Brown (Eleven in Stranger things) posted a video of her dancing the floss on her instagram.
Tothenham player Dele Alli celebrated a goal against Manchester with a floss.
Love Islanders Josh, Wes and Alex were practicing it.
---
Take the L
In September 2017, the movie IT was released in cinemas. In this movie, the Clown can be seen dancing with exactly the same music as you can hear in Fortnite.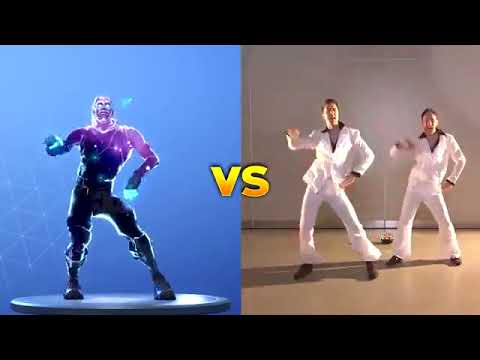 Antoine Griezman (french football player) performed this dance move on several occasions, including during the word cup final where he scored against Croatia, or with his club, Atletico de Madrid.
---
Ride the pony
This dance resembles the one PSY dances in his famous Gangnam Style. The English player Dele Alli, performed this dance in the word cup during the game against Sweden.
---
Boneless
Conor McGregor's strut might have inspired this dance.
---
Fresh
You should recognize this dance, performed originally by Carlton in the Fresh Prince of Bel-Air.
---
Orange Justice
This emote was inspired by Orange Shirt kid, who became a popular meme in the Fortnite Reddit community thanks to his dance.
---
Electro Shuffle
Initially called the "rave shuffle" in the 80s, this dance move was performed by Gabby J David, a professional dancer and choreographer on a YouTube video she released in 2017.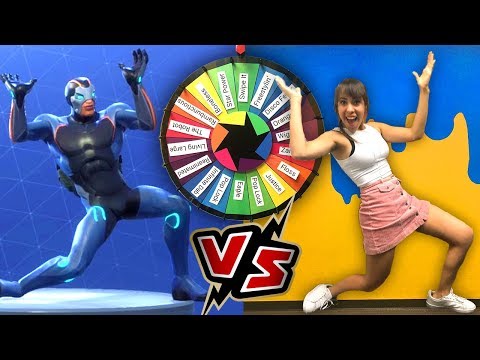 This video may have inspired the Electro Shuffle in Fortnite.
---
Hype
Hype has been inspired by Shoot, a video of BlocBoy JB, an american rapper.
---
Best mates
The Best Mates dance was created by Marlon Webb on his Vine channel.
---
Basic Dance
This Fortnite dance has been inspired by Scrubs, the famous tv-show. In season 5, Christopher Turk was performing this dance. 
---
The wiggle
This dance was created by a former Call of Duty french player, named Broken.
---
Groove Jam
Groove Jam was inspired by Napoleon Dynamite, a 2004 American comedy film. The music to witch Napoleon is dancing is called canned heat. 
---
Shake it up
If you are a fan of Jim Carrey or the mask, you probably already recognized this Fortnite dance. Shake it up is the dance the Mask performed in front of all the police officers ready to arrest him.
---
Intensity
This is one of the recent Fortnite dances.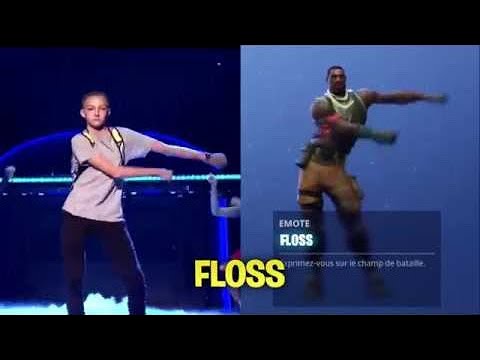 It has been inspired by a topless raver nicknamed the Techno Viking, who was seen performing this dance in 2000 in Berlin.
---
Llama bell
This Fortnite dance was first seen in April 2000 in the More Cowbell sketch.Will Ferrell was performing his cowbell dancing during a Saturday Night Live.
---
I like the orange justice dance but I'm for sure unable to perform it. Which one is your favorite?
 Fortnite dances – PIN ME FOR LATER
how to dance on pc, tutorial, music, iconic, real life, epic with sound, all emotes in english, hinged
content
Fortnite dance expenses and emotes
general dances and emotes
unusual emotes and dances
Sizzlin'
Call Me
Feelin' Jaunty
Rock Paper Scissors
Ikonik dance
Air Horn
T-Pose
Happy Pump06 Fist050002 Launched by Epic Games in July 2017, Fortnite, a free-to-play cross-platform battle royale game, has gained worldwide popularity in a short period of time thanks to its vivid storyline, high-tech graphics, and the introduction of new game modes. Also in the gameplay of the "Royal Battle" there is an opportunity to express yourself through dance emotions. Many Fortnite dances are an item required to complete quests.

Fortnite 9 dance and emotes spending0113

Part of the gameplay of Fortnite belongs entirely to music. These are special promotions that precede the launch of a separate season, and collaborations with leading musicians invited to special events in the gaming space, and emotions, with the help of which each gamer can celebrate a victory over an opponent or greet a friendly team.

Emotes can be created by Fortnite players, game fans or anyone else.

Also, the developers use the names, songs and dance moves of the star performers from show business. The table shows all types of dances that can be used by gamers.

Dancing & emotions grading and pricing in Fortnite

| Specification | Price | Where to buy |
| --- | --- | --- |
| Standard | Free | Fortnite game |
| Unusual | 200 V-Bucks | Fortnite game store |
| Rare | 500 V-Bucks | Fortnite game store |
| Epic | 800 V-Bucks | Fortnite game store |

General dances and emotes

The start of the game in Fortnite is marked by a free emote "Dancing!". Each new user gets the opportunity to mark their presence in the Royal Battles with simple dance moves.

Unusual emotions and dances

Unusual dancing & emotions are available to players for the in-game currency - V-Bucks. Musical compositions have their own unique style and are designed to characterize a particular action of a gamer.

Sizzlin'

You can try roasting burger meat with Sizzlin'. And then perform this dance with a team of friends, intimidating rivals. The Burger Lord first appeared in the 9th season of Fortnite.

Call Me

Stay connected even when you're not online. The Call Me emote will tell your teammates that it's time to take a timeout and reload the guns.

Feelin' Jaunty

Season 11 of Fortnite introduces the Winner's Walk. Step along with Feelin' Jaunty towards your dream, overcoming obstacles.

Rock Paper Scissors

Play Rock-Paper-Scissors with your friends to determine the winner in a fair competition. This emote first appeared in the 3rd season of Fortnite.

Ikonik dance

Gamers' favorite character Ikonik performs the best dances of Fortnite season 8.

Air Horn

The trumpet call of the Air Horn, announcing your location, will help your teammates find you. But this furious sound can also attract game rivals.

T-Pose

Freeze in a T-pose with your arms wide apart and your opponent may not be able to distinguish you from part of the game landscape.

Fist Pump

Fortnite season 5 has a Winner emote. Energetic waving of the arms during the dance will tell you that this skating rink is behind you.

Slap Happy

Happy dance claps can tell about your good mood and good spirits before the upcoming match.

Raining Doubloons

A rain of real doubloons (gold coins) that a lucky player scatters with both hands is an emote added to the game during the celebration of St. Patrick's Day.

Jubilation

The Jubilation dance is one of the brightest emote in the game. Its unusual rarity will allow you to express a good mood in full force.

Floss

The Floss Dance could be obtained in Fortnite Season 2 by completing the 49 Battle Pass. It was first performed by the teenager Backpack Kid, who became a member of the show Katy Perry.

Rare emotes and dances

Rare dancing & emotions are available to players for the in-game currency V-Bucks in the Fortnite in-game store. Each of them has a unique style and is designed to characterize one or another action of the gamer.

Knee Slapper

Cowboy dances in the Wild West appeared in the game in the 6th season. Clap to the beat of your own rhythmic dance moves.

Fancy Feet

Move, move, move, and your feet will lead you to victory with the Fancy Feet emote.

On the Hook

The rare "On the Hook" emote will show who pulled the ice rink. If your opponent is On the Hook, victory is in your pocket. Dance and drag the caught fish.

Orange Justice

The Orange Judgment Dance was introduced in Season 4. There are several versions of his appearance in Fortnite.

One of them tells about a boy in an orange shirt who became the first performer of a dance he invented.

In his version of Orange Justice and appeared on the Internet.

Baller

The Baller sports emote appeared in the 4th game season and immediately fell in love with all Fortnite gamers.

Boneless

The "Boneless" dance was presented by the famous UFC fighter Conor McGregor, after which Boneless appeared in the in-game store and became the favorite emote of the players.

Rambunctious

"Perpetual Motion", "Fidget" - as soon as they do not call this emote. Enough time has passed since its appearance in the game, but the popularity of Rambunctious among Fortnite players is only growing.

Keep it Mello

Marshmallow Dance was added to the game after the DJ Marshmallow event. To get it, you had to pass the tests of the Concert. Marshmallow energy is charged with positive emotions and drive. Raise your hand and you will feel a surge of vivacity along with DJ Mello.

Zany

Fans of "Aerobics" developers have introduced emote Zany. This dance can be found in the Fortnite in-game store.

Wiggle

Emote Wiggle's undulating motions will help you secure your victory in the best possible way. The Hinged Dance can be purchased from the Fortnite in-game store.

Electro Swing

Swing and get electro powered. Old school fans will find dance Electro Swing in the Fortnite in-game store.

Epic Dancing & Emotions

Epic dancing & emotions are available to players for the in-game currency V-Bucks in the Fortnite in-game store. Each musical composition has a unique style and is designed to characterize one or another action of the hero.

Crackdown

"Dance of the Nutcracker" appeared in the 7th game season under the motto: "For someone to dance like cracking nuts." Suitable for Nutcracker or Shell skin.

True Heart

Disco emote "True Heart" is dynamic and spectacular. Creates a light moody flair. Will decorate the locker of any hero or heroine of Fortnite.

Phone It In

Phone It In is an epic emote for jazz lovers. It's called "Saxophonist". High-quality emote for the heroes of Fortnite.

Vivacious

The energy of dance and vitality for lovers of movement and vivid emotions is presented by the developers in the form of Vivacious.

Reanimated

Zombie emote from girl band Necrophilia found its way into Fortnite. The incarnation of Reanimated in the gaming space went with a bang. The high-quality emote appealed to both experienced Battle Royale players and new gamers.

Smooth Moves

A quality emote for the Smooth Moves launch pad will allow you to arrange a real dance battle. Everyone who finds themselves in the rhythm of this dance will feel like stylish and fashionable characters.

Boogie Down

Dance with everyone using the free emote Boogie Down. To get it, you need to enable two-step authorization in the game.

Fresh

The American series The Fresh Prince of Bel-Air has become another emote supplier for Battle Royale. Stylish and incendiary music has made Fresh the favorite dance of Fortnite gamers.

Star Power

The energetic star power of emote Star Power is enhanced by the glow of a rainbow. Whoever uses it is a real superstar. No autographs please.

Llama Bell

Emote Llama Bell is dedicated to the most important symbol of the Fortnite game - Lama. The game legend says that the one who uses this emote finds Lam more often, and Lama is a mysterious and random creature.

Disco Fever

Passionate disco came to Fortnite from the distant 70s. 20th century

However, Disco Fever is still able to make anyone who wants to be the star of the dance floor.

Electro Shuffle

Electro Shuffle has an original artist, a teenage girl. Thanks to her, the incendiary emote has become a great addition to the Fortnite dance collection. Express yourself on the battlefield!

Promotional dances and emotions

In addition to paid store dancing & emotions, there are also promotional compositions in the game. Among them are:

Boogie Down. In 2018, the developer Epic Games presented a free emoji dance, which could be received by every user of the Royal Battle by enabling 2-factor authentication to protect the game account. The news was launched on the official Twitter of the developer.
Freestylin'. This free emote was given out to Fortnite gamers for linking their game account to Twitch Prime in 2018.
Hot Marat. The new Hot Marat emote was created as a result of a collaboration between Epic Games and Disney in 2018. Each player could get it for free as part of an ongoing promotion in the in-game store.
Take the Elf. The free "Christmas Mood" emote was timed to coincide with the New Year's Fortnite 14 Days Challenge, and every player could get it for free for completed tasks in 2019.

List of all dances and emotes

Battle Royale Fortnite has multiple seasons, each with its own distinct dancing & emotions.

Season 7

Season 7 Emotion Dance:

Golf Clap;
Shimmer;
Mic Drop;
Get Funky;
Free Flow;
Cat Flip;
Point It Out;
Backstroke;
Ground Pound;
Accolades;
WayPoint;
Wing Tip;
Clean Groove;
Crackdown;
Fandangle;
Jam Boree;
Knee Slapper;
Mime Time;
Overdrive;
Showstopper;
Unwrapped;
Marsh Walk;
Take the Elf;
Keep It Mello;
Air Horn;
Bobbin';
Cheer Up;
Daydream;
Flux;
Lazy Shuffle;
Mind Blown;
Shaolin Sit-Up;
Glowsticks;
IDK;
Slick;
Whirlwind.

season 6

Emotion-dance of the 6th season:

Regal Wave;
Running Man;
Slitherin';
Flamenko;
Glitter Up;
Bombastic;
Behold;
Busy;
Crazy Feet;
Criss Cross;
Drop the Bass;
Denied;
Electro Swing;
Headbanger;
Hot Marat;
Howl;
Llamacadabra;
Phone It In;
Scorecard;
Smooth Moves;
Somethings Stinks;
Spike it;
Sprinkler;
Tai Chi;
T-Pose;
Treat Yourself.

Season 5

Season 5 Emotes:

Gentleman's Dab;
You're Awesome;
Swipe It;
Calculated;
Breakdown;
Boogie Down;
Capoeira;
Fancy Feet;
Flipping' Incredible
Go! Go! Go!
Hand Signals;
On the Hook;
Hula;
Intensity;
Job well done;
Living large;
Llama Bell;
Pumpernickel;
Shake it Up;
Hot Stuff;
Dance Therapy;
Praise the Tomato;
Twist;
Work it out;
Battle Call;
Fist Pump;
Hitchhiker;
My Idol;
Vivacious.

Season 4

Season 4 Emotion Dance:

Orange Justice;
Popcorn;
Respect;
Hype;
Groove Jam;
Baller;
Boneless;
Bring it;
Chicken;
Click!;
Infinite Dab;
dip;
Eagle;
Freestylin;
Kick Ups;
Laugh it Up;
Pop Lock;
Rambunctious;
Rawr;
Red Card;
Rock Paper Scissors;
Rocket Spinner;
Snap;
Sparkler;
Squat Kick;
Star Power;
Take 14;
Thumbs Up/Down;
Tidy;
True Heart;
Waterworks;
Zany.

Season 3

Season 3 Emotes:

Salute;
Take the L;
Best Mates;
The Robot;
Flippin' Sexsy;
Jubilation;
Disco Fever;
Hootenanny;
Wiggle;
Confused;
Rock Out;
Reanimated;
Face Palm;
Breaking Point;
Breakin';
Brush Your Shoulders;
Make it Rain;
Rocket Rodeo;
Step it Up.

Season 2

Emotion-dance of the 2nd season:

Wave;
Ride the Pony;
The Worm;
Floss;
Electro Shuffle;
Slow Clap;
Pure Salt;
True Love;
Kiss Kiss;
Flapper;
Fresh;
Gun Show;
Inger Guns;
Dab.

How to dance in Fortnite

In Battle Royale Fortnite, players are given tasks during challenges, including the need to dance after or during the quest. To fulfill this condition, you need:

Press English B on PC keyboard; d-pad on controller or "!" on Android.
Select the desired emote in the game locker.
Activate emote by fulfilling the conditions of the task.

Fortnite dancing in real life

In real life, many gamers reenact their favorite Fortnite dancing/emotes and also provide training for other fans.

What are your favorite Battle Royale emotes? What dances do you already know and which ones would you like to learn? Which season is the busiest in terms of dancing/emotes? Most boosted and default emotions?

How to enable FPS display in Fortnite
Why Fortnite crashes during the game
All weapons in Fortnite
How to get Harley Quinn in Fortnite
How to delete Fortnite account
How to register in Fortnite on phone
Where is the secret data on the Fortnite Oil Rig
Fortnite Fortnite Skin
Where are Deadpool's pistols in Fortnite
System requirements for Fortnite

Latest tourism news for today 2022

Recreation and Tourism - Tourism News 2022

February 12, 2022 8 comments

What does any tourist associate Croatia with? First of all - excellent ecology, the purest azure Adriatic Sea and incredibly picturesque coasts. ..

February 1, 2022

February 1, 2022

February 1, 2022

February 2, 2022

Proper nutrition

November 19, 2021 5 comments

While the general idea is that frozen fruit has no health benefits, ample evidence contradicts...

November 19, 2021 17 comments

November 19, 2021 10 comments

November 19, 2021 20 comments

Society

November 19, 2021 7 comments

Finding the perfect Christmas present for loved ones and friends is not an easy task. If there is no confidence in the correctness of your decision, then maybe ...

November 19, 2021 20 comments

November 19, 2021 4 comments

November 19, 2021 5 comments

Sport recreation tourism

November 20, 2021 16 comments

Keeping the whole family busy is not easy.