How to do the dollar dance at a wedding
Wedding Traditions – Dollar Dance - Atlanta and Destination


Often couples toy with many wedding traditions. Should we or should we not do the dollar dance, bouquet and garter toss, the list goes on and on. I found this great article that provides background information on the tradition as well as provide other alternatives for the dance:
What is a dollar dance?
A wedding dollar dance is a dance that is preformed by the bride and groom at the reception. Traditionally, it's purpose is to give the couple extra money to spend on their honeymoon. It is more prevalent in some families than others. For this reason, the dollar dance has adapted slightly varying purposes over the years.
Should you have a wedding dollar dance?
That is strictly personal preference. Talk to your friends and family members to get their feelings about it. However, if it is something you want – then by all means have it!
One bit of advice: If dollar dances are not frequently done in your area, don't assume that your guests will know what to do.
Have your bridal party, or close friends, initiate the dance. You may also want your DJ or band to announce what is taking place.
How does a wedding dollar dance work?
Here are two different ways:
1. The bride and groom dance together to the song of their choice. A friend, or family member, stands close to the dance floor holding straight pins. Guests go, one by one, to the bride and groom to pin money to their clothes. The dance stops when the song ends or when the last guest gives money.
2. Same as the first except the bride and groom stand apart. The male guest line up to dance with the bride and the females with the groom. Each guests gets a short (few seconds) dance with either the bride or groom after pinning money to their clothes. This one is our favorite! It allows for interaction between the couple and their guests!
Wedding dollar dance alternatives
You may want to employ one of these alternatives if you like the idea of a dollar dance, but feel uncomfortable about your guests giving you money.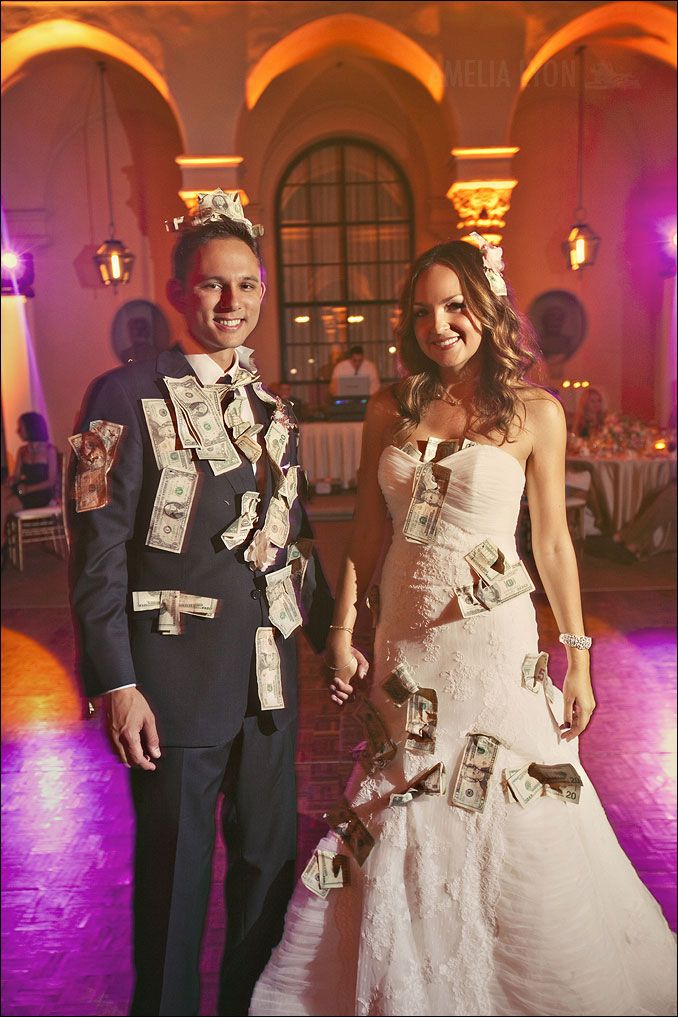 1. Well Wishing Dance. Place small pieces of paper on tables with instructions for your guests to write down their thoughts and wishes for the bride and groom. Have your guests pin these wishes to you and your groom instead of money.
2. Have a money or well wishing tree. Place a box or fabric covered board near your guest book. Have your guests stick well wishes or money there and eliminate a dance altogether.
3. Guess Who Has The Gift Dance. This is a really cute idea that we came up with for a couple not too long ago. It was a hit. Do not give your bride and groom gifts to each other before the wedding. Instead, give them to your maid of honor and best man. Have them secretly pick out two guests to hold onto them.
Continue with the #2 wedding dollar dance example. Have the DJ or band announce that a special dance is about to take place and that all guests should line up to dance and give well wishes to the bride and groom. Have him/her also mention that somewhere in the line is the bride and groom's gifts to each other.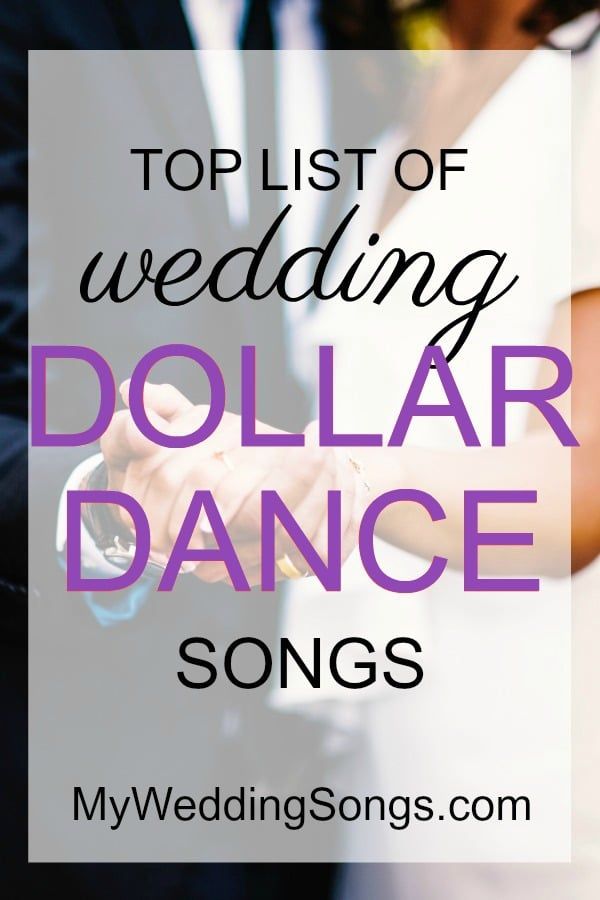 You and the groom are then required to ask each guest "Do you have my gift?" during your dance until you are left dancing with the person who is holding your gifts from each other.
You can then open them and share that moment with all of your guests
What Is the Money Dance Tradition?
Have you attended a wedding reception that included the money dance? Did you wonder why guests were showering money or pinning bills on the couple and lining up to dance with them?
What Is the Money Dance?
The money dance is a cultural tradition at many wedding receptions where guests offer the newlyweds money to dance with them, or they shower the couple with money. The custom is to help establish the couple in their new life together, or to show how much they are loved and appreciated.
For a couple whose heritage includes the money dance, it still may be a difficult decision to include it or not. They worry that guests may see it as an overt ask for money.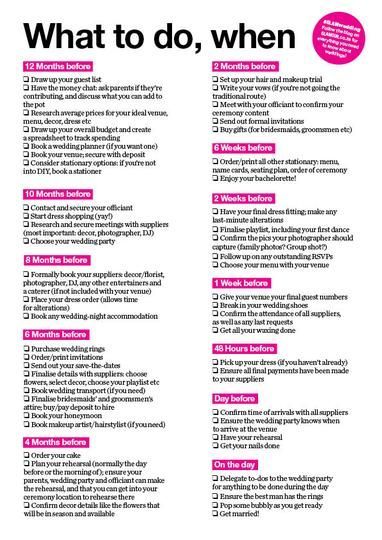 But if you can communicate that it's a cultural celebration, and an excellent way for guests to interact with the bride and groom, you may want to include the dance. Even if both of you don't share the same traditions, it can be a memorable way to unite the two families.
"Couples put a lot of consideration into incorporating cultural traditions like the money dance into their special day," says luxury wedding planner Kate Murtaugh. "Because their guests may be unfamiliar with it, their guests should be informed ahead of time as to their traditions." Learn the history and meaning behind this tradition, as well as an overview of the dance in different cultures. 
The History and Meaning of the Money Dance
The money dance is also called the dollar dance, money spray, or apron dance. Performing the money dance varies across the cultures which practice it. There is no definitive source to reference as to when it started or which country or culture was first to initiate it as part of a wedding celebration.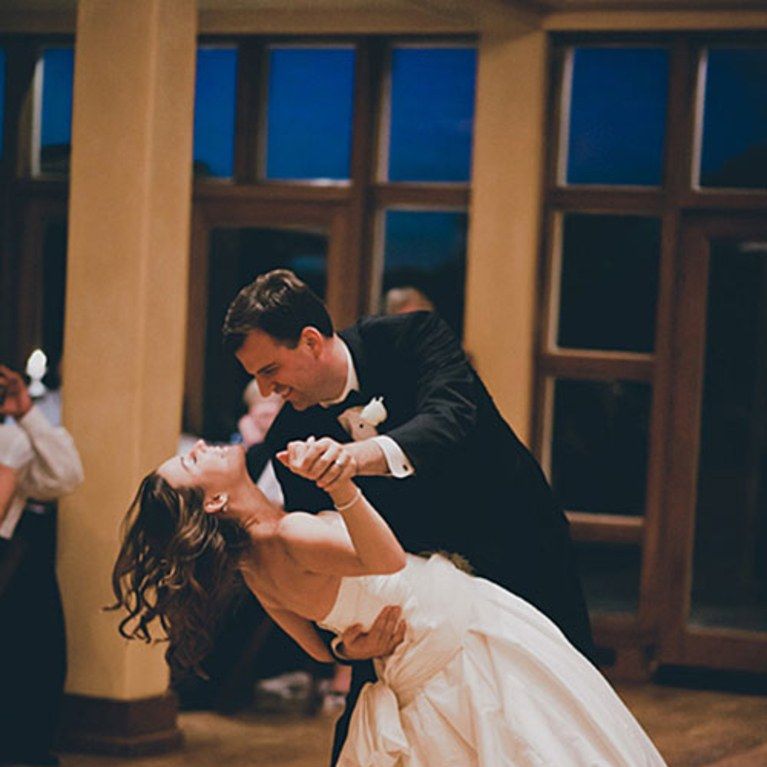 Variations of it are popular in Poland, Greece, Nigeria, Philippines, Samoa, Fiji, Tonga, Portugal, Cuba, Latin America, Mexico, Eastern Europe, and other cultures. Naturally, immigrants brought their customs with them to America, so the dance is part of many wedding celebrations in the U.S.
"We've planned the money dances for our Nigerian, Filipino, and Polish clients' weddings," says ILE Events founder Alicia Mae. "It's always the fun part of the night where everyone is cheering, dancing, and celebrating. The difference between the money dances is the way each culture offers the money and why."
The money is usually the local currency of the country in which the couple resides.
The Money Dance in Different Cultures
Polish Apron Dance
All of the guests line up to dance with the bride and offer money to the newlywed couple, which is collected into a special apron held by the bride's father. The Pani Mloda Polka song is played. After dancing with the bride, you receive a drink, usually a shot of spirits.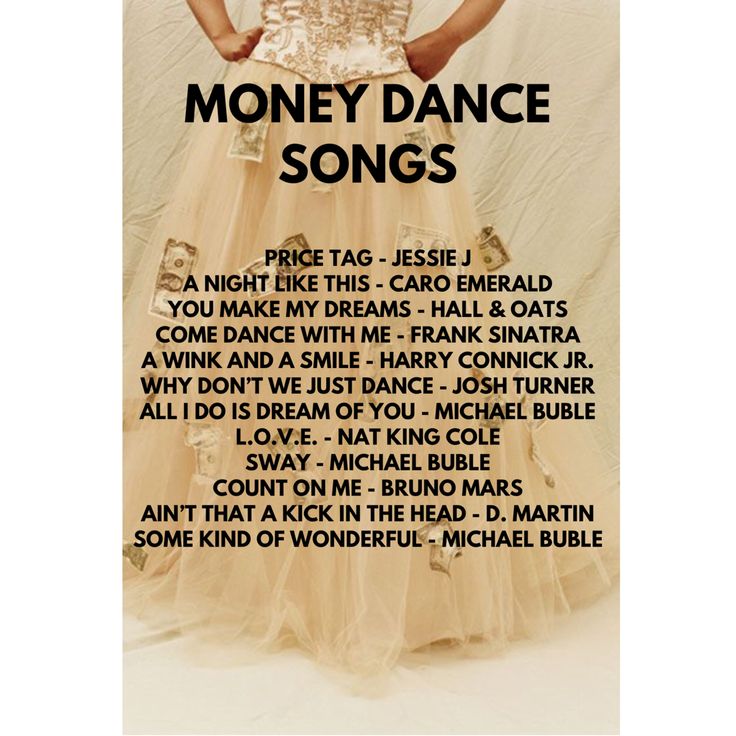 Nigerian Money Spray
Originated by the Yoruba people in Nigeria's Southwest, it's is a tradition loved by many Nigerians. Money Spraying symbolizes a showering of happiness, good fortune, and a display of the guest's affection for the couple. The bride and groom are ushered in and dance behind the wedding party. Guests encircle the couple on the dance floor and come forward, placing bills on the couple's forehead, allowing them to "rain down." 
"At a Nigerian wedding reception, the bride and groom are dressed in traditional attire," says Swank Soiree Weddings and Events founder Christy Record. "For the Yoruba tribe, the bride wears Iro and Buba and the groom wears an Agbada. As the money is sprayed, 'collectors' take the cash from the floor and place in bags for the couple."
Filipino Money Dance
Male guests line up in front of the bride to pin money on her dress while the women pin money on the groom. The pinning can get creative with bills pinned together as garlands, made into crowns, or streaming down their clothing.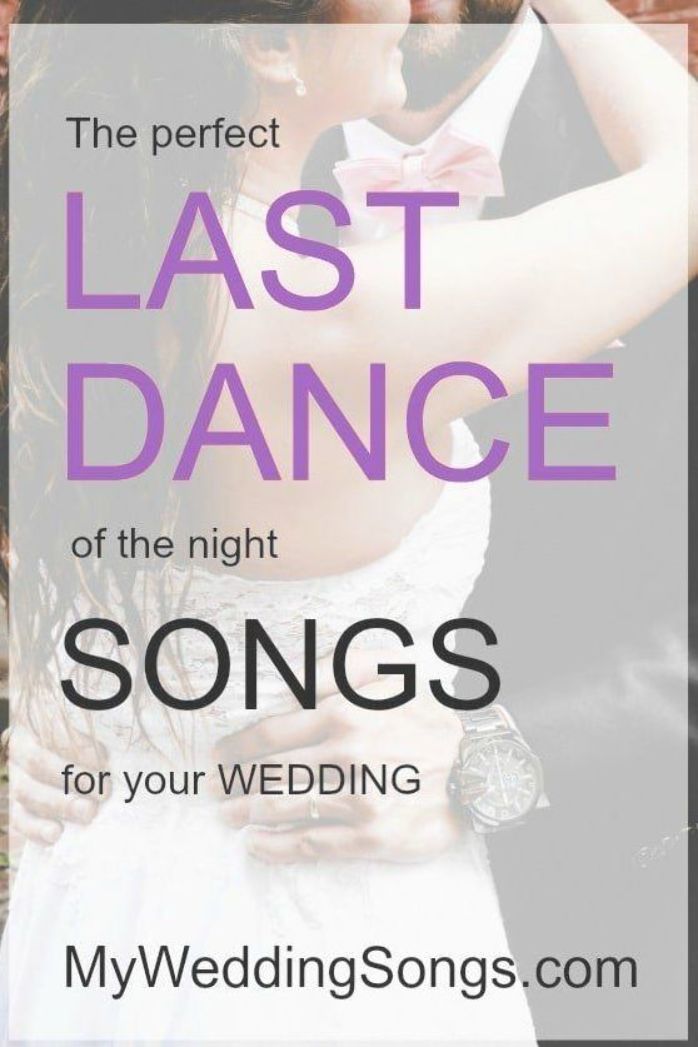 This "decorating" can take a while if there are a lot of dancers, and guests take turns dancing with the bride and groom. 
Portuguese Money Dance
Historically, the dance was for male guests to line up and dance with the bride. Today bridesmaids and female guests also dance with the groom. The father of the bride usually begins by dancing with his daughter while the mother of the groom dances with her son. The bride takes off her shoes and puts them in the middle of the dance floor, where guests take them to pass around collecting money the dance.
Greek Money Shower
In the smaller villages in Greece, there is an old tradition of pinning money to the bride's dress at the reception during a special dance. In America, this tradition is more of a money shower. When the couple dances near, the guests will toss a whole wad of bills to help them get established in their new life.
"The traditional money dance with the pinning of bills is not as widespread in Greek-American communities as it once was, especially here on the West Coast," says Peter Corvallis Productions President and Creative Director Maria Corvallis.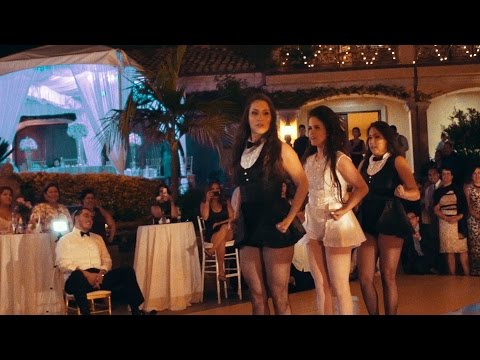 "I have only seen it as a showering of bills as the couple dances near or comes to each table." 
14 Greek Wedding Traditions You Need to Know
Cajun Money Dance
In Louisiana in the Southern U.S., Cajuns trace their ancestry to the French Acadian exiles who were expelled by the British from what is now called Nova Scotia, Canada. Most settled in rural Southern Louisiana. Their descendants, called Cajuns, still live in Louisiana and a Cajun wedding usually includes the money dance. Traditionally guests pinned money on the bride's veil to dance with her. Today the groom is also pinned for a dance to lively Cajun music. 
Modern Money Dance Ideas
As revered as the tradition of the money dance is, you may want to freshen it up. Our experts have some ideas for you:
Borrow from the Polish tradition; after the guest dances with you, the waiter can offer a small shot of premium alcohol like Crown Royal.
If pinning the money onto clothing is your custom, consider changing into a second outfit to avoid ruining your gown or tux.
After playing the traditional song, be creative. One DJ created a song mix with the word "money" in the hook. But keep it tasteful.
While the Portuguese tradition is to pass the bride's shoes around the room for contributions, consider a second pair of less expensive shoes for the money collection.
Couples may prefer to celebrate this tradition by merely dancing together while their loved ones throw money at them in celebration of their new life together.
If you don't want money as part of your dance, substitute little love notes written by each guest to toss at you when you dance by their table. Have them collected and take home for when you need inspiration and a little love.
The 65 Best Dollar Dance Songs to Make It Rain at Your Reception
"Dancing Boys" of Afghanistan - BBC News
Image caption,
Boy dancers often end up in sexual slavery, but Afghan authorities turn a blind eye to this
At a nighttime wedding feast in a small Afghan village near the Turkmen border, many surprises awaited me.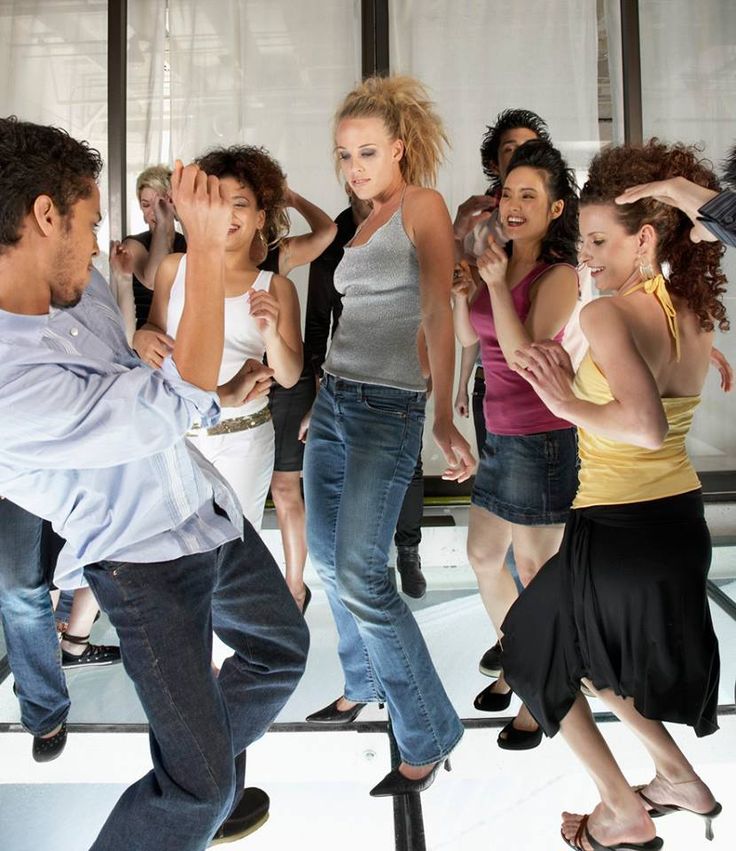 Neither the groom nor the bride were seen. Around - only men, drunk on smuggled Uzbek vodka, stupefied from local opium, they entertained themselves as best they could.
Suddenly, a boy of about 15 stepped into the middle. Dressed in a sparkling women's dress, with fake breasts, he began to dance a traditional women's dance. With every movement he made, the bells on his ankles tinkled. Someone showed a dollar, and the dancer took it in his teeth.
This is a dancer boy, or, as they call him here, bacha. Sometimes, after feasts, field commanders, influential and wealthy people take children to secluded places. For what? No one has any doubts about this.
The tradition of "bachabaze", or the use of boy dancers to entertain men in a society where women are not allowed to dance in public, has centuries-old roots.
Dancers are usually orphans or children from very poor families. Dancing at weddings and other holidays, they earn a living.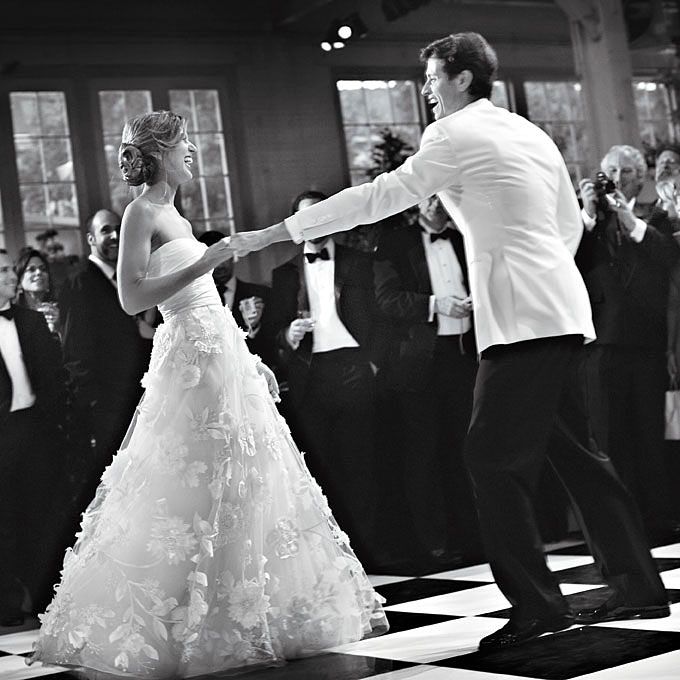 Many influential people in Afghanistan are proud to have child sex slaves. In the north of Afghanistan, it is even considered a sign of wealth and strength.
The Bachabaze tradition also existed in Central Asia before the establishment of Soviet power. It was so widespread that it laid the foundation for a special musical genre.
Long forgotten in the post-Soviet space, this tradition is still alive in Afghanistan. Moreover, there they acquire more and more ugly forms.
The story of Umid
In a barley field in one of the Uzbek-populated areas of northern Afghanistan, I met such a dancer boy. He is 15 years old. In order not to reveal his real name, let's call him Umid.
Five years ago, his father was hit by a mine while working in the fields.
Image caption,
Umid became a dancing boy to support his family
Skip the Podcast and continue reading.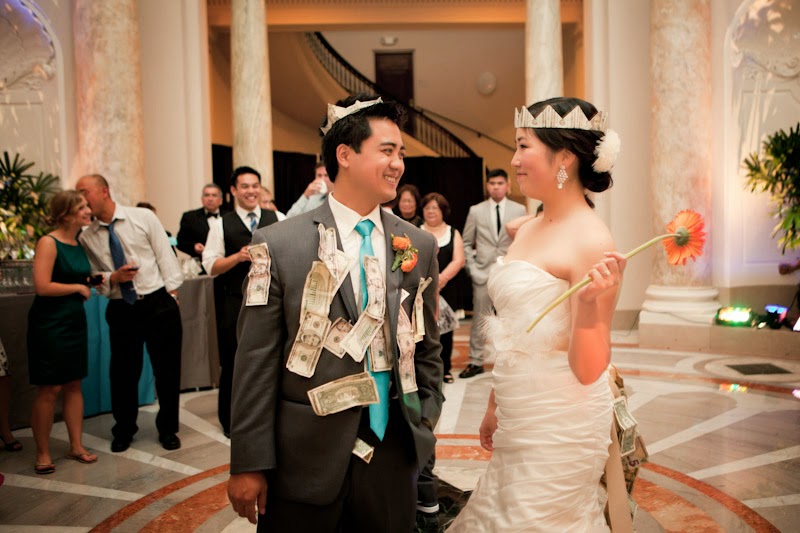 Podcast
What was that?
We quickly, simply and clearly explain what happened, why it's important and what's next.
episodes
The End of the Story Podcast
"I was 10 years old when my father died. My mother was begging, but it didn't help, we were hungry all the time," he recalls. or 2-3 dollars for dancing."
Sometimes it's not just about dancing. When I asked him what was really going on, Umid did not dare to tell me the truth for a long time.
"They sleep with me, sometimes there are several of them," he finally admitted in a whisper. Umid never complained about his offenders.
"They are very rich and strong people. They have many friends and the police cannot punish them," the boy explains.
Together with his mother and two little brothers, he lives in a one-room adobe house in a remote village.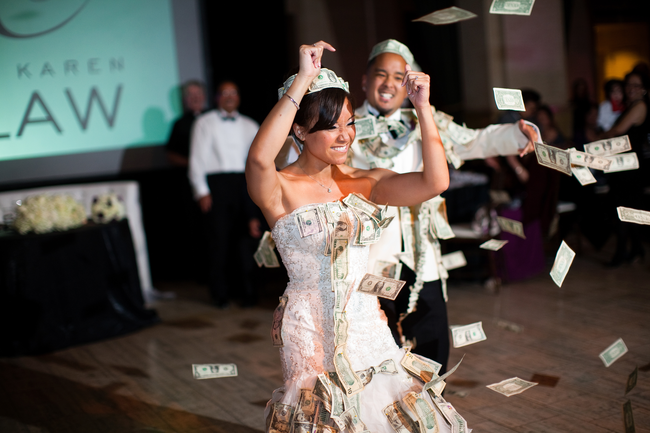 All they have is an old rug and some tattered mattresses. For dinner - a little rice and onions, even vegetable oil was not left in the house.
Umid's mother knows that her son goes to weddings to dance, but says they have no other choice. She is more frightened that the whole family can remain hungry.
Shameful tradition
Local authorities deny that the Bachabaze tradition flourishes in Afghanistan, but you can't hide an awl in a sack.
"Our officials are embarrassed to talk about it, although this practice is common throughout the country," says Afghan MP Abdulhabir Uchkun.
In his opinion, influential religious figures could stop this practice.
However, the mullah of Ali's mausoleum in Mazar-i-Sharif shifts the blame to the authorities and blames lawlessness for everything.
"All this is happening because responsible organizations cannot protect children," says Mullah Muhammad Qasim.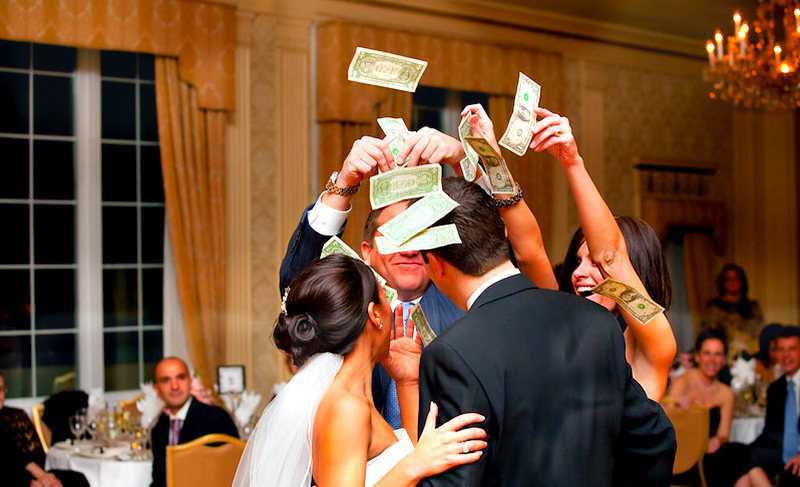 Potential boy dancers are selected right on the streets. Many children are ready to take on any job for a piece of bread.
According to Musa Mahmoudi, head of the independent human rights commission in Kabul, no one has studied how many children are now being used as sex slaves.
"Street children with no one to look after them are very vulnerable in this regard," he explains.
Everyone I met during my investigation in Afghanistan knew about the old bachabaze tradition. This is not a secret for anyone in the country.
Nothing shameful?
The last night before my departure, we went to a wedding in old Kabul. It was no different from the feasts in the remote villages of Afghanistan: around were several dozen drunken men from opium, who were entertained by a young dancer.
40-year-old Zabi (not his real name, of course) boasted to me that he had three dancer boys who were ready to dance for him and his friends at any time.
Zabi sees nothing wrong with this tradition. When I directly asked him if it comes to sex, Zabi thought for a long time and said: "I sometimes hug or kiss them - that's all."
When we left the party it was already 2 am and the young man was still dancing for the men and giving them opium.
Zabi is not the richest or most influential person, but even if he has three dancing boys, then what can we say about wealthier and more powerful people, and there are many of them in Afghanistan.
The Afghan government is unable to stop them, the West does not put enough pressure on the authorities. And without this, on the basis of the current lawlessness, war and poverty, the tradition of "bachabaze" can only spread more and more throughout Afghanistan.
How to independently put a wedding dance
+7 812 565-45-32
St. Petersburg
Lakes
Civil Prospect
Vladimir
Parolovo
Yes, you can! For those who want to take the risk and try to stage their first dance on their own, I want to give some useful tips.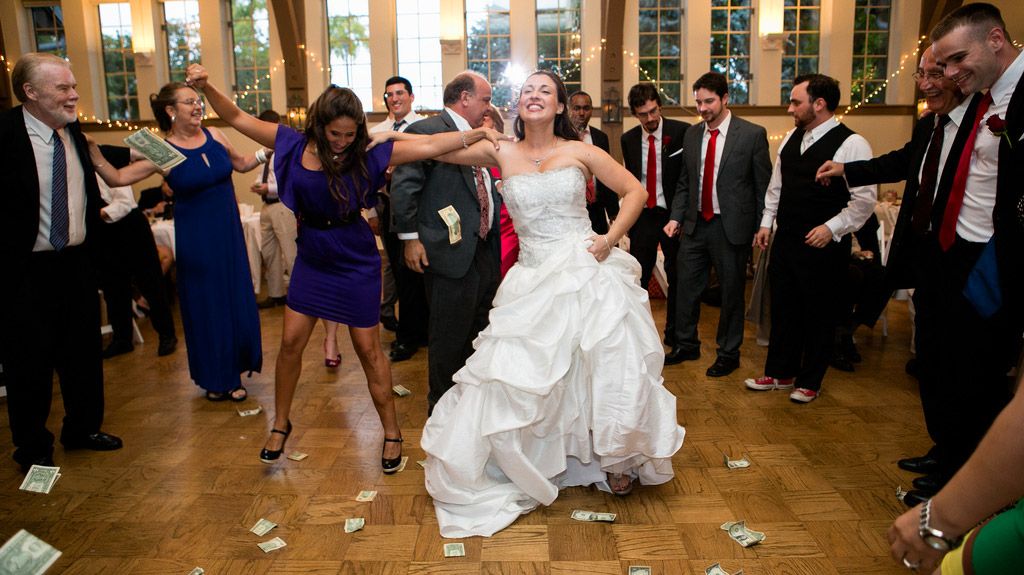 I hope that they will help you competently plan and stage a harmonious wedding dance!
This article will be useful both for those who already know how to dance a little, and for those who are very enthusiastic and want to try their hand and come up with the dance of their dreams on their own.
Your first wedding dance is in your hands!
So, what should be assessed and considered before proceeding with the production?
Dance floor size and ceiling height
If your dance floor is small, then when staging a dance, you should avoid movement with advancement around the ballroom, choosing more compact dance figures for your composition.
At the same time, if your venue is large, it is advisable to include several figures in your dance, in which you will actively move around the hall, thus visually filling the space.
Let's take a simple example: a wedding dance set to the tempo of a fast (Viennese) waltz. For the case if you have a small dance floor, you should stop at the "figured waltz" option, performing the figures without advancing, and performing the waltz itself "in a square".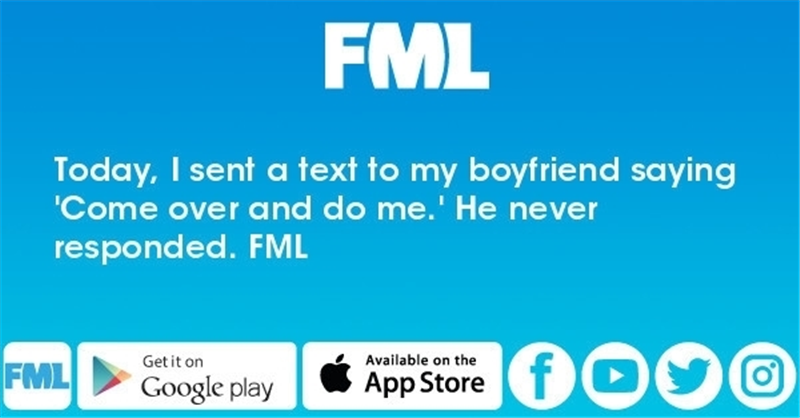 If you have a large area, I suggest including a big circle waltz.
Ceiling height is important for high supports, the simplest of which is lifting the bride in her arms. Before performing such support, you need to make sure that the height of the ceilings allows it. For example, in some restaurants and on steamboats, it is problematic to perform high lifts.
Viewer's side
All your movements, and especially postures, should be laid out in directions and oriented to the "spectator's" side. To begin with, determine the configuration of your dance hall, the place where you will go to dance, the place where the main part of the audience will be concentrated, where the photographer and videographer will stand.
All your poses must be performed facing the audience. To do this, you need to decompose your dance into directions, so that for the performance of certain figures you find yourself facing your audience.
If you have 2 or more spectator sides, then you need to decompose your dance so that you alternately dance to one or the other spectator side.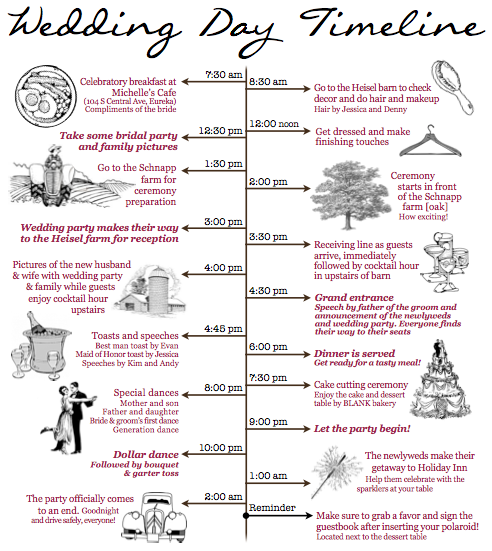 Preference should be given to the side where the photographer and videographer will stand.
Music
You can dance to any music you like. It should be borne in mind that it consists of musical phrases, which in turn are divided into measures. The main rules that I recommend to follow in order to achieve the musicality of your performance:
a) As soon as a new musical phrase begins, you must change the movement type. The simplest example: while the singer is singing one phrase, you make one movement, when he starts singing another phrase, you start making another movement. Most often in musical compositions there are verses, choruses and losses. They usually consist of several musical phrases.
b) Play with musical accents and puffs. Accents (beats in music) are perfectly played with rapid hand movements, a sudden stop in movement, or a sharp change in direction. Puffs are best suited for "smeared" smooth poses.
c) Within each musical phrase there are several measures (most often the time signature for modern compositions is 4/4, for a waltz 3/4).
Try to hear them, isolate and decompose your movements into strokes, achieving clarity of execution.
Before decomposing your movements into music, I recommend doing a musical dictation: decomposing your music into phrases, measures, highlighting accents and puffs. And then to impose on them movements.
Duration
Suggested duration of the dance: about 3 minutes including entering the platform and bowing. If your musical composition is longer, then it is worth trimming it using software tools. A longer dance rarely looks good: the audience gets tired and the effect of the first impression is lost.
If you fundamentally do not want to shorten your melody, then I recommend inserting some pantomime scenes into it for contrast (scenes of a meeting, farewell, quarrel, reconciliation). This will advantageously set off the dance part and help make your performance more intense and interesting for the audience.
Physiology of the bride and groom
The appearance of the couple is very important for creating a harmonious dance.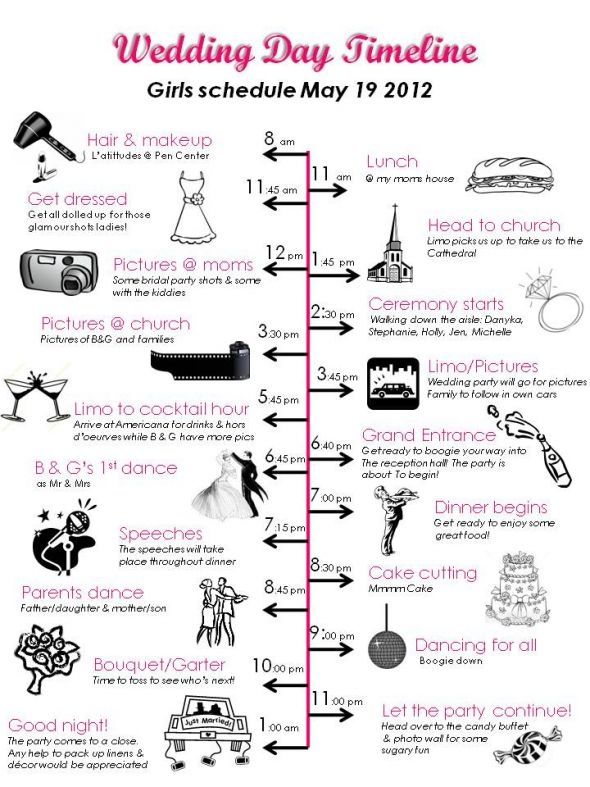 Couples in which both the bride and groom have an ideal athletic physique and an ideal difference in height (10-15 cm) are few. All dance figures will suit these lucky ones.
But if your pair has features, then they must be taken into account and beaten, using 100%!
For example, for couples in which the groom is much taller than the bride (a difference in height of 20 cm or more), elements in which the groom goes down (visually becomes lower) and the bride remains standing will look very good. Also, for such a couple, support with rotation on the hands will look great, in which the bride is taken in her arms facing the groom (see photo above).
If there is a small difference in height between partners in a couple or the bride is taller than the groom, then supports are perfect for you, in which the bride deviates, and the groom remains standing straight. Elements in which the girl sits down on bent knees facing the groom will also look good. Rotation on the hands for such a pair is best done in a position when the girl is picked up sideways.
In couples where the bride has a more dense physique than the groom, we recommend avoiding elements with the bride lifting up on her hands, in this case it is better to focus on the plasticity of the partner's movements and courageous lines in the partner's positions.
Video production
If you are staging your own wedding dance, you will most likely be using video material. It would be a big mistake to simply copy the movements from someone else's dance.
When watching a video, be sure to select those movements that you understand how beautiful and correct to perform and avoid complex and incomprehensible elements.
You should also be aware that what looks easy and beautiful in a professional performance, for beginners, it may not look advantageous at all.
Think about whether the movements you like are right for your couple, whether you perform them well. Take a video of yourself and compare the resulting picture with the original. Leave only those movements that you are good at.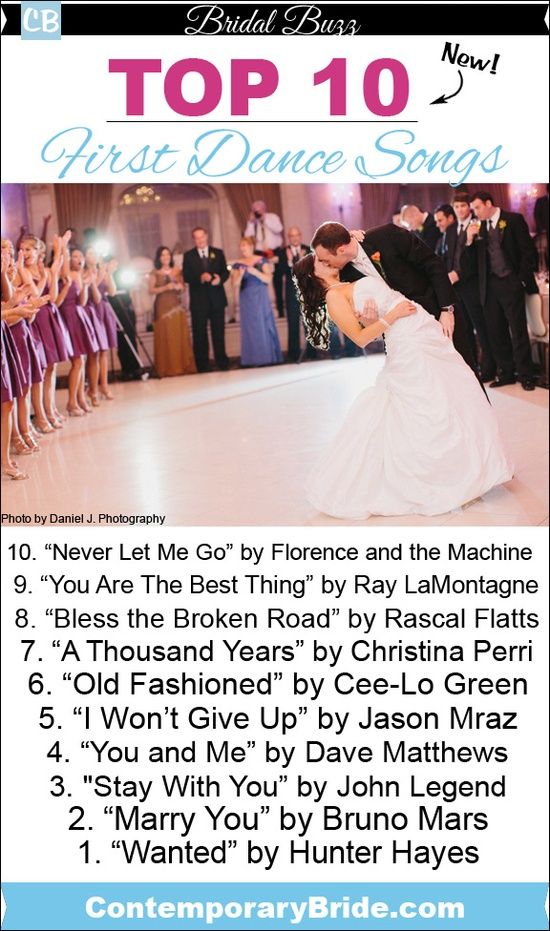 Advice for girls
Girls, think about the features of your wedding dress when staging a dance. If the dress is tight, then you should wear a tight skirt at the rehearsal in order to immediately avoid movements that you basically cannot do in this dress.
If you have a crinoline dress, then wear a crinoline at rehearsal so that you and your fiancé get used to its size. Remember that the crinoline creates some distance between you in the dance, as well as inertia in the rotations.
If you have a train - then you need to either stab it or support it with your hand. Accordingly, during rehearsals, always keep something in the hand that will be occupied by the train. Often the choice of movements for a wedding dance is largely dictated by the bride's wedding dress!
Time
When working on the wedding dance on your own, you need to start staging about 2 months before the wedding. Chances are you won't have much time right before the wedding, and a good staging is time-consuming (especially if you don't have any dance experience), so it's best to start working on the dance early.