How to do dance hairstyles
4 Adorable Quick Up-Dos to Stay Ready for a Great Dance Practice
Dance Class Hairstyles | 4 Adorable Quick Up-Dos to Stay Ready for a Great Dance Practice
The beauty of the art of dance is the ability to express yourself! Whether you're finishing a move on stage during a competition or practicing in class… your main focus should be on performing to the very best of your ability and not what that one stray hair in your eye is doing. 
At Dansations, we want our dancers to excel in every way possible, part of that is making sure we prevent all of the mishaps we can. As a dancer, your hair should be pulled back, out of your face, and most importantly represent you! Don't worry, just because your hair has to be up doesn't mean it can't still look pretty, there are endless choices.  Here are 4 quick adorable hairstyles that will have your hair looking cute, and allowing you to have a great practice!
1.
The Classic Ballet Bun
This style is very common because it's simple, classy, and always looks good in any dance number, but it's simplicity does not mean it is easy to do.
There are a couple of different ways to make a dance bun, with a sock or donut, but we think the original way is best. 
Here's How!
-Start by bringing the hair into a high ponytail. Brush the hair back completely flat, with no flyaways (a teasing comb helps with this), and then use gel or hairspray to make sure it all stays in place. 
-Twist the ponytail into a coil and wrap it in a circle flat to the head. Then tuck the end of the coil into the dance bun. 
– Use a few bobby pins around the bun to hold it in place, but make sure it stays flat. 
-Wrap a thin hair net around the bun a couple of times and then load the dance bun with bobby pins. You don't want a strand to move during a performance or dance class. 
-Finish with hairspray, and more hairspray. 
Check Out This Pinterest Board for More Inspiration
2.
An Elevated Ballet Bun 
-This time start by french braiding a section of hair from the top of the head and bring it back to the middle of the head, where a high ponytail would start. 
-Smooth down the rest of the hair and again make a high pony with the braid pulled into it. 
-Make your dance bun the same way as before. 
-This dance hair style is very simple, so it can be manipulated slightly and look completely different for another class or dance number. Try changing where you put the braid, add accessories to the bun, or wrap a braid around it instead of ending it in the ponytail. 
3.
In Dance, a Ponytail is Not Just a Ponytail.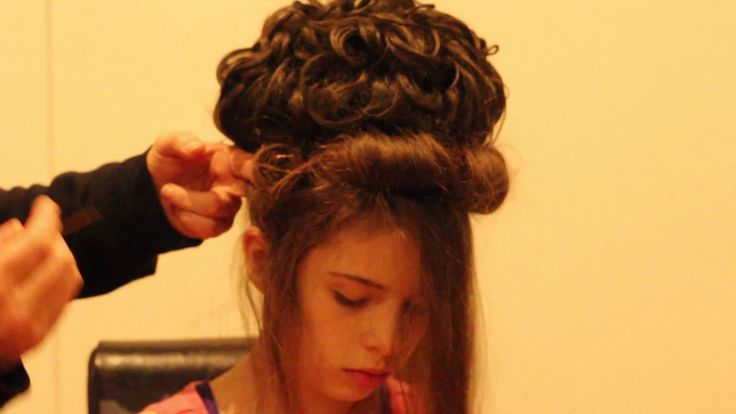 – Decide where your pony is going. It could be up high, down low, or to either side. 
-Always brush it back and lay down fly aways. Use hairspray and hair gel to keep them down. If it's for dance class use a little, if it's for a dance recital use a lot. 
-Again your ponytail can be completely different with one simple change. 
-Add two french braids to the top of the head or two on the bottom. Add two regular braids, one on each side. Curl the pony tail. Use a dutch braid wrapping around the head to make a crown. Put gems into the braids, but nothing that will fall off in a dance recital. Wrap a piece of hair, or braid, around the ponytail. Braid the ponytail or just a piece of it. 
4.
A Braided Dance Bun with a Twist
– Start by sectioning off a piece of hair near the part, on the side of the head. Dutch braid the piece all the way around, to the other side, keeping it flush to the back of the neck. Tie that braid off. 
-Section another piece in the back of the head close to the middle. Take the hair from right above the last braid and make sure some of it will show outside of the dance bun. Braid that piece all the way down and tie it off if it helps you. 
– Twist the two braids together and wrap them flat like you did with the ballet bun. 
– Take the elastics off, if you used them, and tuck in the ends. 
-Bobby pin all the way around and hairspray, hairspray, hairspray. This dance bun is looser because of the braids and has a higher chance of falling out or becoming unsecured. Use more bobby pins than you think or get some that are specifically designed to hold hair for dance. 
Look Good = Feel Good, Feel Good = Dance Good
We want our dancers to wear their hair up for safety of themselves as well as others, but we want them to style it to brush away the competition. At Dansations we love all of our dancers and want to see what you can do with your dance hair. We offer dance classes for kids of WNY ages 18 months up to 18 year! We are truly a family here at Dansations and we love adding new members to the family. If you or someone you know wants to join our dance family you can sign up for Summer enrollment starting March 15!
How to Style Your Hair for a Dance Competition
The dance floor is very demanding. Including women's hairstyles. This demand applies both to the rules of dance competitions, and the ability to show your image in detail.
Moreover, agree, a suitable and comfortable hairstyle is very important for the quality of your dance and performance.
Certainly, there are different requirements for costumes and hairstyles for different styles of dance. For example, ballroom dancing competition rules require the strictest possible hair in the form of slicked-back hair. Dance competition hairstyles can be formal or casual and can be styled in many different ways. For a formal dance competition hairstyle, a dancer should make sure her hair is neat and tidy. The top section of the head should be pulled back from the face with either a clip or elastic band. For an informal dance competition hairstyle, any style that doesn't damage the hair will do such as braids.
Nevertheless, in this article, you will find a variety of ideas and examples of many different hairstyles. Here are some suggestions on hairstyles that will work well with your hair and costumes. Many of these can be done in a hurry, so don't worry about spending a lot of time on them.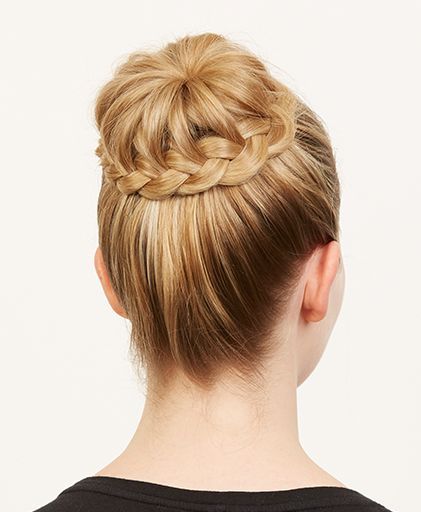 Twisted Bun
The bun is a classic dance hairstyle, which is suitable for ballet classes and for other styles of dance. Let's see how you can diversify this hairstyle for dance competitions and classes.
This is a pretty and easy updo that looks great for many different dance styles. But when it comes to ballroom dance competitions this hairstyle is the most popular there. No wonder - it's easy to do, and it looks more beautiful and original than a usual bun.
Pull the hair into a ponytail. Choose your own height of ponytail. Separate the hair into three parts. Lightly gel each strand to make it easier to twist. Then slowly twist it around itself. The more you twist the strand, the less voluminous the bun will be. Then you can twist the strand around the ponytail and secure it with a bobby pin. Do the same with the rest of the strands. The more pins the better! It is hard to be very specific here since everyone's hair is different.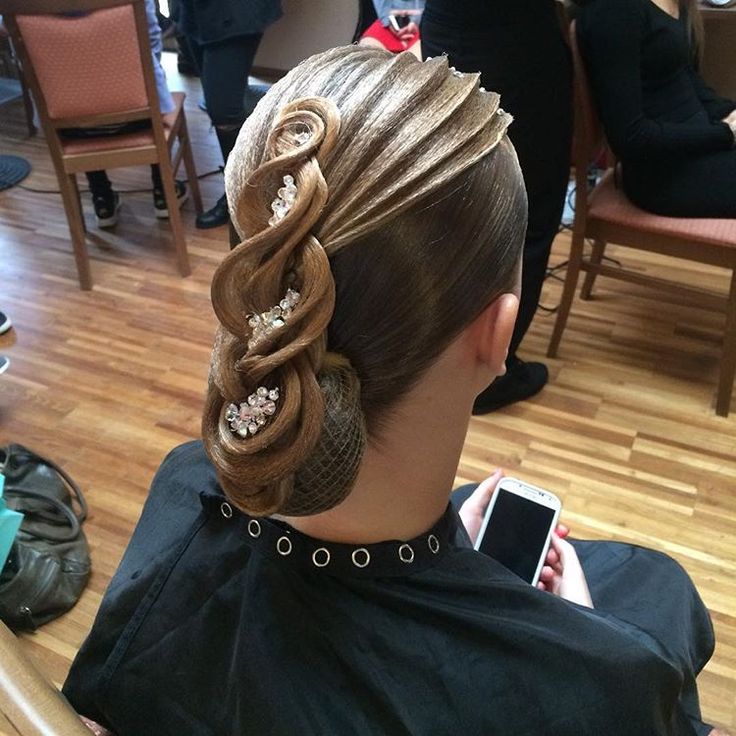 But it's important that the bun holds very firmly during the dance!
Pass the Ponytail
You'll need hairspray, a comb, an elastic band, and a couple of minutes for this procedure. This style works well with most kinds of costumes and performances, including jazz, ballroom (if your hair is not too long and thick), contemporary, disco, and so on.
Separate all of your hair into a high ponytail and a lock of hair at the base of the ponytail. Pull the hair back to make a single ponytail in the middle of your head. Secure with an elastic. Separate one of the locks and wrap it around the elastic securing the ponytail. Secure it with a bobby pin. This will cover up your hairband and give a more finished look to your hairstyle.
Bouffant
This hairstyle is cute and easy to do! You'll need hairspray, a comb, an elastic band, and one minute for this style. Pull all of your hair back into a ponytail. Brush it very well till it is completely smooth and free of knots and tangles. Then put the hair up in a high ponytail and secure it with an elastic band. Slightly tease the hair Spritz the teased part with hairspray to set it.
Naturally, hardly such a comb is suitable for the ballet stage or ballroom competition. However, for less conservative dance routines, a comb and voluminous ponytail will look just fine!
Important! Older dancers are allowed more freedom in terms of hairstyles. Styles for young ballroom dancers should be as simple and elegant as possible.
French Twist
The French twist is a classic hairstyle that is perfect for any dance competition.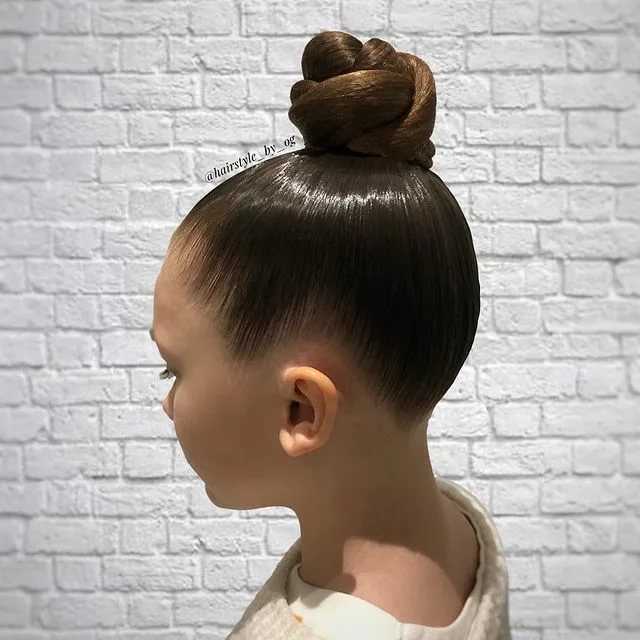 It is a very simple style to do, and it will make you look very elegant.
To do the French twist, start by gathering all of your hair into a high ponytail. Then, take the ponytail and twist it around itself until it forms a tight coil. Secure the coil with a hairpin. Then, take the remaining hair and wrap it around the coil until it is completely covered. Secure with additional hairpins.
Bantu Knots
Bantu knots are small, twisted, decorative hairstyles that can be created on natural hair. They are named after the Bantu people of Africa, who are known for their elaborate and creative hairstyles. Bantu knots can be created on any type of natural hair, including curly and kinky hair.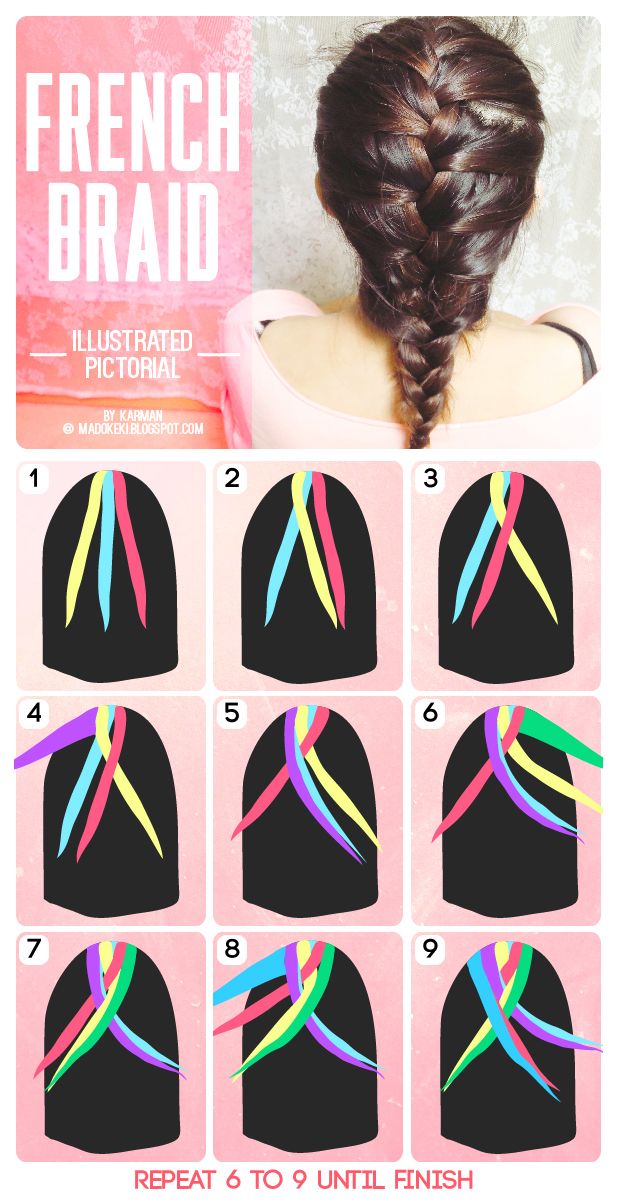 They are a great way to add texture and volume to your hair, and they can be worn in a variety of styles.
Separate all of your hair into two symmetrical parts. Then separate your hair into more parts depending on how many Bantu knots you want to twist. Take a strand from the first section and twist it into a rod shape by rolling the hair around your finger. Secure the tip of the Bantu knot with a bobby pin. Do this to all of your hair in each section. This is a cool hairstyle idea for hip-hop, breakdance, or other street dance styles. You can also braid Bantu knots if you are a disco dancer. Well, why not!
Low Chignon
A low chignon hairstyle is a bun style where the hair is gathered low on the back of the head. This style is often used for formal occasions because it is both elegant and formal. This hairstyle is also often used for dance competitions because it stays in place and does not move around a lot.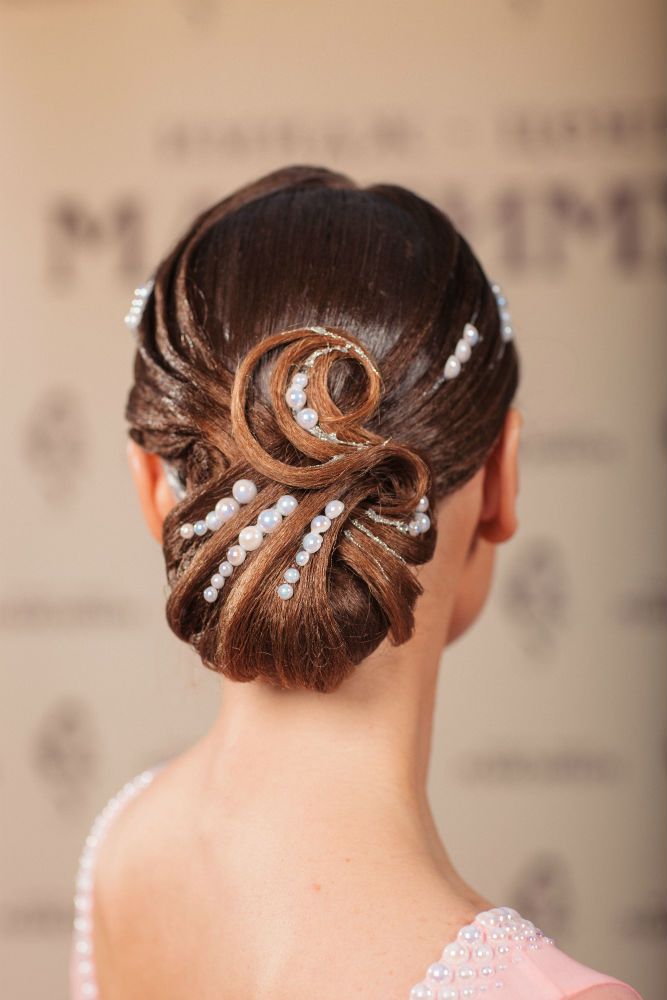 This is important because when you are dancing, you do not want your hair to be in your face or flying around.
To do a low chignon hairstyle, start by gathering your hair into a low ponytail. Next, twist the hair around the ponytail holder to form a bun. Tuck any loose hair underneath the bun and secure it with pins. Finally, spray the hairstyle with hairspray to hold it in place.
Dutch Braid
A dutch braid is a type of braid that is formed by crossing the middle section of hair over the top section and then crossing the left section of hair over the newly-formed middle section. The right section of hair is then brought over the new left section. This process is repeated until the braid is completed.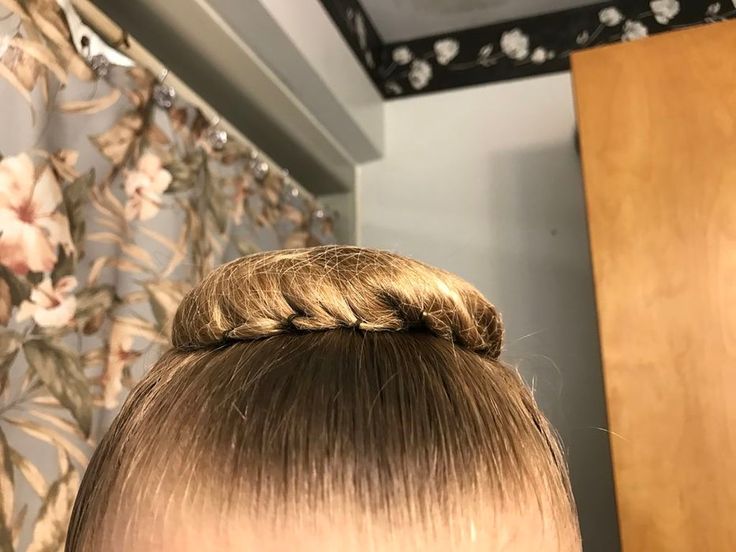 As the dutch braid is elegant and stylish, it stays in place well, it is a popular hairstyle for dance competitions.
Fishtail Braid
A fishtail braid hairstyle is a type of braid that is created by crossing two sections of hair over each other and then weaving them together. The braid starts as a normal french braid and once you reach the end, you flip it upside down and weave the two sections together.
A fishtail braid hairstyle is often used for a casual look, but can also be styled into a more formal hairdo. You can make your fishtail braid as long or short as you want, but it's usually worn halfway down your back. This hairstyle is fairly easy to do on yourself, but it can be difficult to get the hang of at first.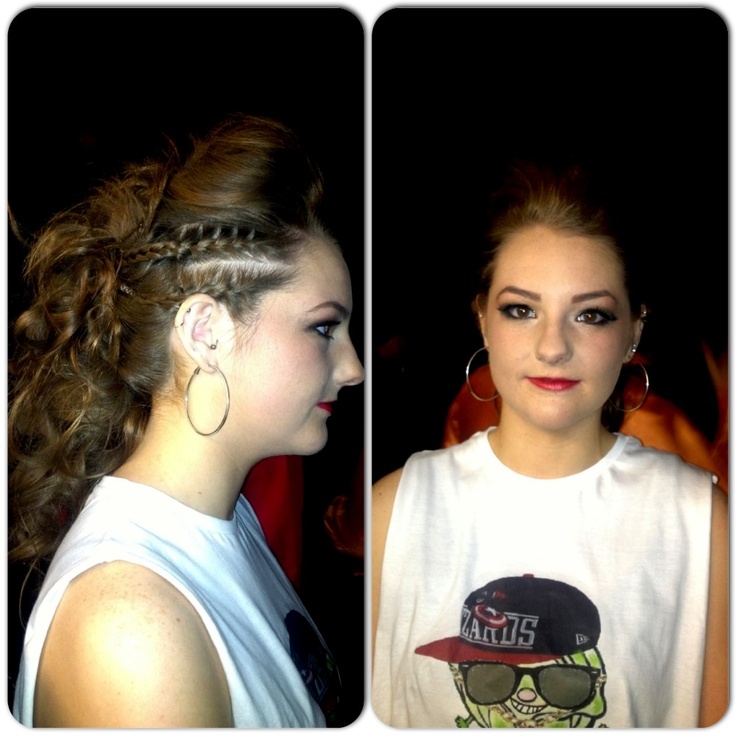 The fishtail braid is a versatile style that can be worn for many occasions, including dance competitions. It's a good option because it's not too formal or too casual, and it can be styled in many different ways. You can make your fishtail braid as tight or loose as you want, and you can add accessories to make it look more special. If you're looking for a dance competition hairstyle that is easy to do and looks good on everyone, the fishtail braid is a great choice.
Small Curls
A striking choice for the competition is the hairstyle with goffer curls. It creates the illusion of a beautiful wave in the style. The size of the curls and their density depends on the choice of tool attachment. Hairstyles with crimped curls look chic and make the dancers stand out from the crowd.
Mixed Hairstyles
Final Words
There are many different types of dance hairstyles that can be worn during competitions or classes.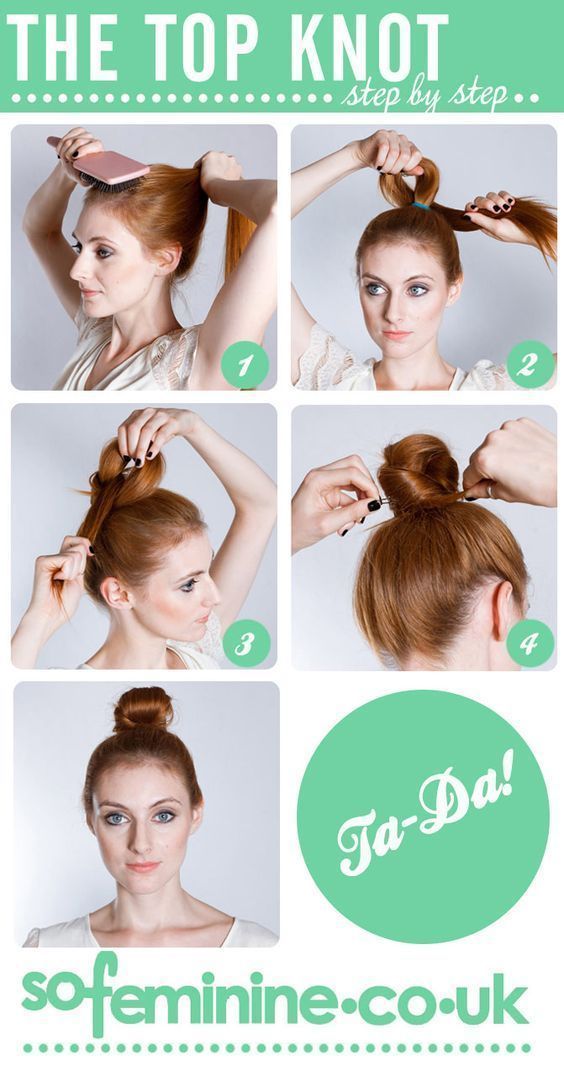 Some of the most popular hairstyles include the twisted bun and the pass the ponytail. These hairstyles are easy to do and they stay in place, but you can style them differently if you want your dance hairstyle to be more unique. Another great option is the Bantu knot. For a formal look, try a low chignon or fishtail braid; both styles look elegant and will stay in place. You can also style your hair into an updo if you want to keep it away from your face and neck, but you still want to look stylish. If you're looking for a new dance hairstyle that is special and easy to do, try one of the hairstyles above!
One of the biggest benefits of taking aerial fitness is that it's fun for all involved. While adults may take pole dance as a form of serious exercise or performance art, kids are generally just interested in having fun. Aerial classes allow them to play with gravity and their own strength in a fun and exciting way that they can feel great about.
Aerial arts is a relatively new art form, and many studios are still learning what works best for children.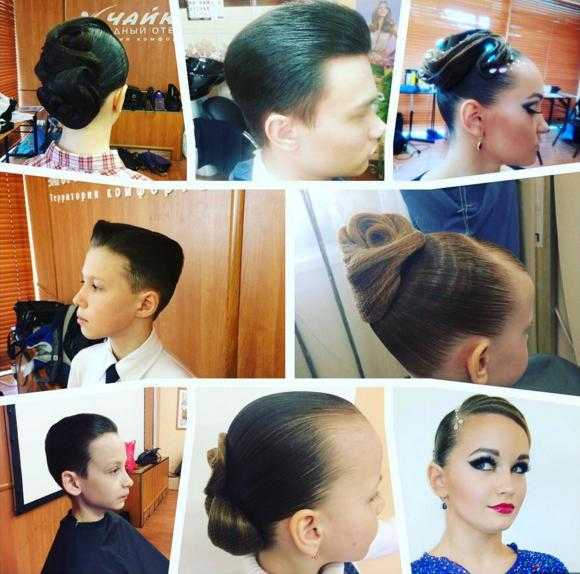 It's important to speak with the instructor before enrolling your child in any classes to make sure that their level of fitness will be appropriate, you will both understand the goals for the class and how to accomplish them, and that you can communicate any issues or problems. If your child is already incredibly physically fit, the instructor may be able to provide more challenging options for them so they don't get bored and lose interest.
You will also be interested in:
Types of ballets.
Dance Etiquette
2021 Ballroom dance hairstyles for boys
Contents
How to make a boy's ballroom dance hairstyle?
What should be a ball hairstyle: basic requirements
Which haircuts are suitable?
Styling is the hardest part
Blow-dry
Beautiful parting
Hair styling
Shine is an important element
Base for creating hair
Boys' ballroom dance hair: program
European program
Latin program
How to make a boy's hairstyle - step by step
Examples of ballroom dance hairstyles for a boy
How to make a boy's hairstyle for ballroom dancing?
Boys' ballroom hairstyles can be easily done at home with some preparation: combs of different calibers, flat tools, wider and more teeth, and a brushing comb.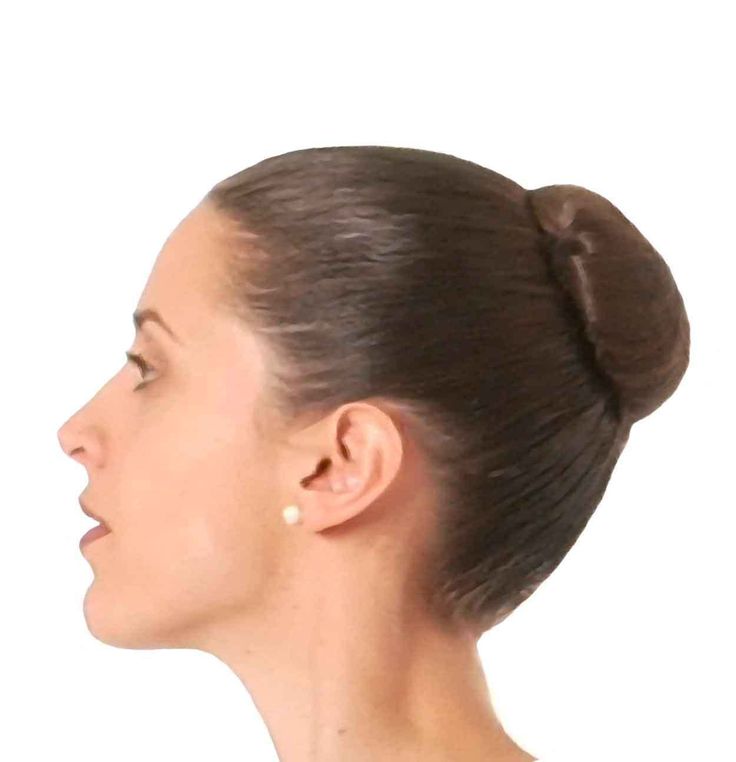 When clipping correctly, you only need to lay the strands to the right or left, lightly applying a fixing agent.
Styling products should be used carefully, little by little, because the baby's skin is still very delicate, sensitive to chemical components. If the curls are more than 2-3 cm long, varnish or mousse will fix the hair well, allowing them to look neat, no matter how fast and moving the dance numbers are.
Hair can be styled by combing it from the forehead to the top of the head, dividing it with a parting line (in the middle or with a shift to the side), combing the bangs, and if it is missing, combing the front curls.
If the hair is unevenly elongated, for example, short on the side, longer on the crown, the best effect is to comb it up, fixing it in this position.
The hairdos of ball boys are styled differently, depending on which number the child performs.
Latin American rhythms of samba, jive, paso doble, rumba, cha-cha-cha are popular now.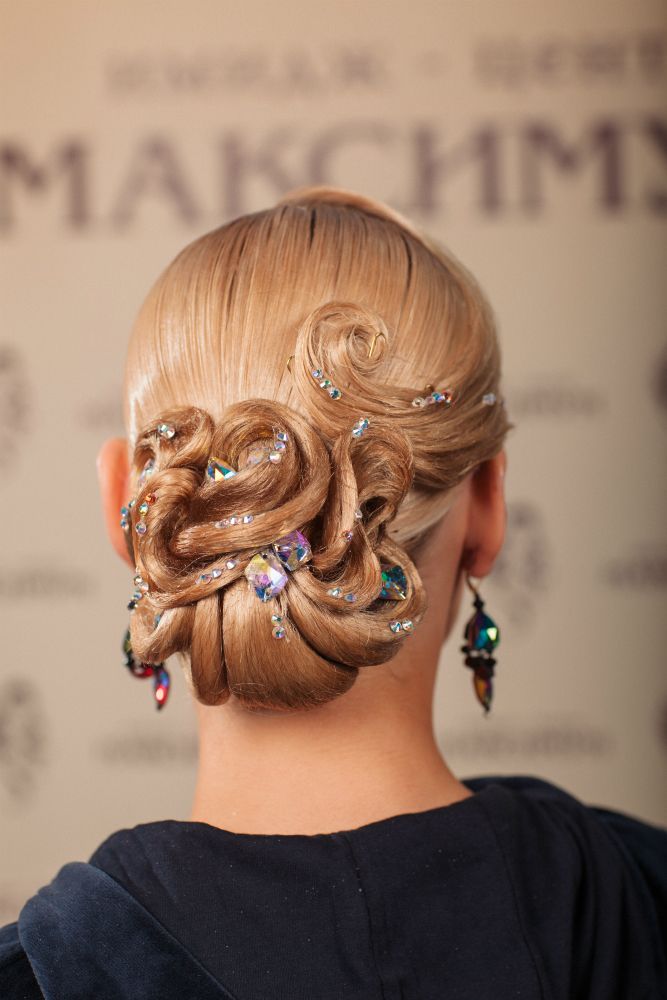 Haircuts for these numbers are made in soft lush proportions. There is no clear occipital line in them, some waviness is allowed.
A similar oblong nape is placed with a small curl upwards. Graceful hair adds height to the owners of a long neck. Other teenagers should refrain from long curls and a collar, avoiding a visual shortening of the neck.
The best option is to create your own unique personal image.
For reference! In the European program (waltz, foxtrot, tango), the Italians create a short haircut and a clear straight silhouette on the head. The areas of the temples and the back of the head are shaved almost to zero. Further, the elongation increases, a high straight line is formed up the head to the occipital region. It turns out an organic, expressive silhouette.
Appropriately designed hair is also an opportunity to level the difference in height between a boy and a girl. When he is about the same level with his partner or a little lower, styling his hair, they are slightly lifted, combed, and the girl's are laid low.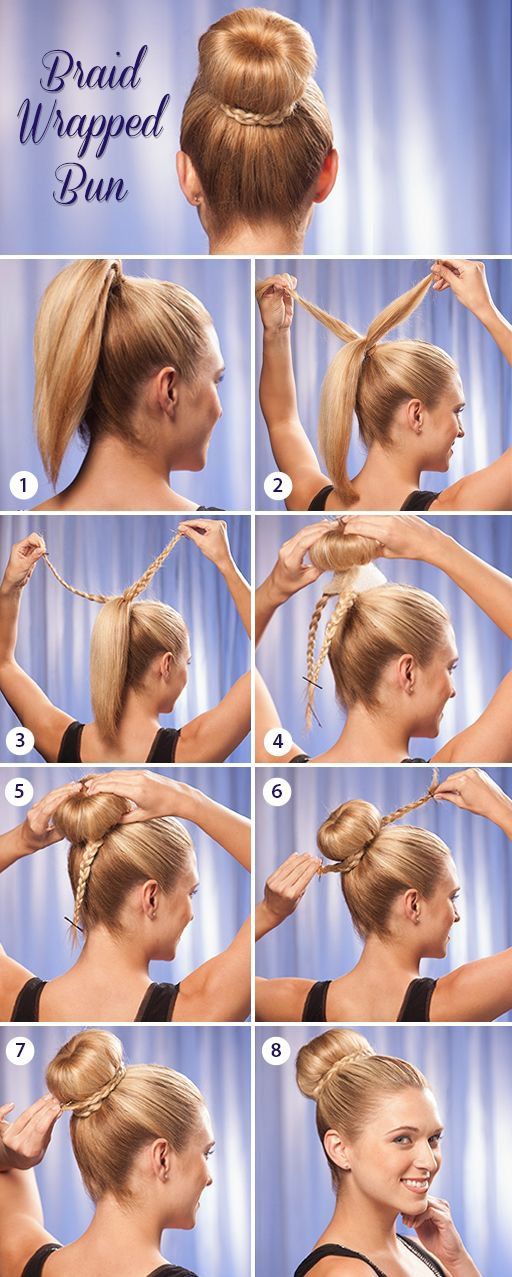 But when a girl is very small, her strands are laid high, licking the guy's curls.
What are the secrets of covering hair so that it keeps its strength before entering the floor and during the performance?
Choose your fixing varnish carefully. This is the main way to stay strong. Apply sparingly, spraying from a distance of about 30 cm from the hair. Also apply the gel in moderation. It makes the strands heavier, but if sprayed in advance, the hair may lose its shape by the time it comes out.
Guys in dance performances, as a rule, are forbidden to create overly creative dance haircuts (mohawk, gavroche, bob). The rationale is correct, since such an appearance is inappropriate for the nature of the performed number.
Be sure to use mousse. The tool lifts the roots, settling them in the right direction, stiffens the structure of the curl, keeping the desired shape longer. But how to style them with a hair dryer?
Get a high power hair dryer with a fine nozzle.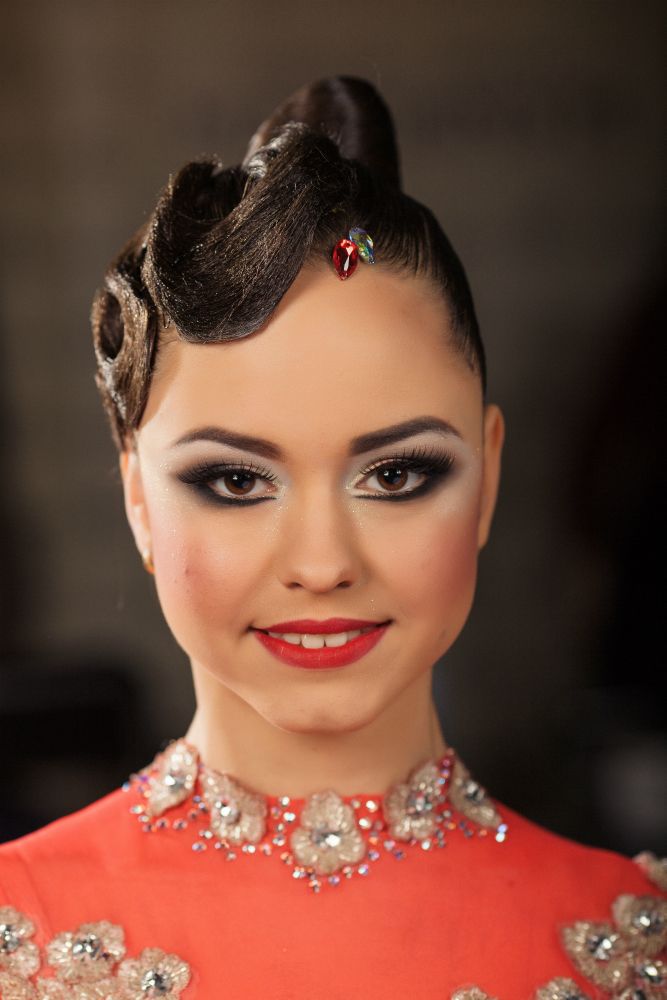 By choosing a nozzle wider, it is more difficult to arrange a point settlement, you can only dry the curls. Wash your hair first. Then apply mousse to the roots of the entire elongation. Settle the strands from the back of the head, starting to lift, direct the roots.
Then work on the ends of the hair as the finishing touches. The curls are lifted, pointwise directing the hair dryer to the roots, passing along the curls with the comb up.
What should be the ball hairstyle: the basic requirements
Speaking professionally, in the sports genre, comfort is first of all important. The hair should not interfere with sharp turns, long active movements during different numbers.
They must look nice with the rest of the image, brightly decorating, complementing it. Emphasize the advantages of appearance, make "sins" as unsightly and hidden as possible.
For information! The requirements of the IDSF (International Dance Sport Federation) state that children and young men of different ages are recommended to cut their hair short for ballroom dancing. Long hair is allowed to be worn provided that it is gathered in a ponytail.
The stability of the laid strands is important. No matter how long the performances last, for any period of time the hair is obliged to maintain an ideal look.
The distinctive sheen of the finish adds a touch of luxury. This is done with the help of bryolin, which, in addition to radiance, perfectly fixes the haircut. Strictness, clarity of lines must be observed.
How to make a ballroom dance boy's hair more voluminous with medium length curls, read below: Wash your hair with shampoo only, no conditioner.
Blow dry with a high power hair dryer with a narrow nozzle. Now you can play with the volume of the hair, choosing the side of the styling.
Create a parting. It can be performed from the middle of the right or left eyebrow up to the top of the head. A double brush will help you recreate the variation, making the parting even, while maintaining the splendor of the hair.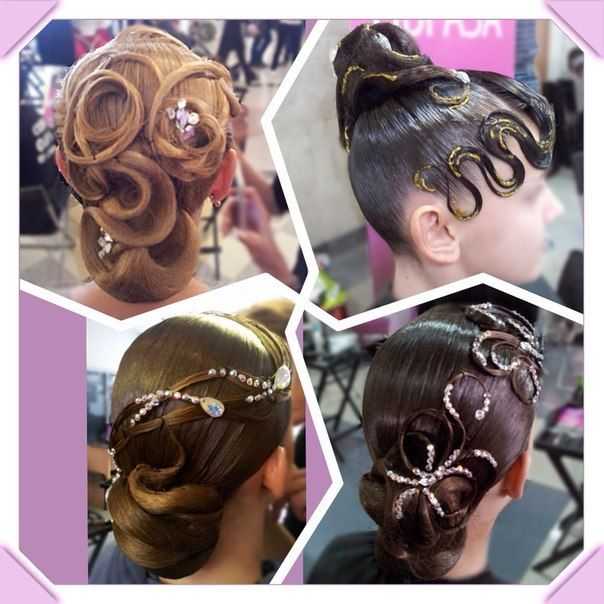 If you have bangs, decorate it with a cornice, combing it from bottom to top. Comb slightly to the side.
Model the strands with the wet gel. Spread it over your head with your hands. It will not affect volume.
Fix your masterpiece with lacquer to keep it beautifully long and secure.

When creating hair suitable for performances, take care of a properly styled haircut. Overgrown, unevenly cut strands will complicate the creation of an elegant look.
Start designing only on clean curls.
Which haircuts are suitable?
Stylists who style the hair of a famous dancer do not give specific names for ballroom dance haircuts. Explaining this by the fact that an individual approach is extremely important here. Therefore, it is advised to explain to your hairdresser in detail what kind of haircut you want for ballroom dancing.
Be sure to tell us how the hairstyle will be styled and what effect you are trying to achieve after styling, so that you get exactly what your dancer needs and likes.
The most difficult thing is styling
Making a beautiful hairstyle for going out on the parquet is not an easy task, which includes several important steps. But first, it is worth getting acquainted with some secrets.

A dancer's arsenal should include mousses, varnishes, super-strong fixation gels.
Lacquer has the highest fixing value. Therefore, his choice must be approached carefully. When using varnish, remember: do not regret, but do not overdo it.
Do not overdo it with gel , as it weighs down the hair and by the beginning of the performance your hair may simply fall off.
Mousse is a must, it will allow you to lift the roots and lay them in the right direction. Its use will make the hair stiffer, and they will hold the desired shape longer.
Blow-Dry
For styling, you need a powerful hair dryer with a fine nozzle.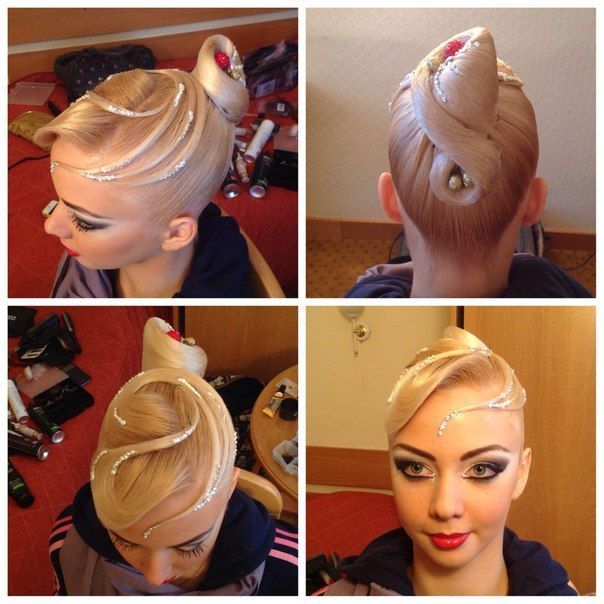 If you choose a wide nozzle, then it will be very difficult to do spot styling, with such a nozzle you usually just dry your hair.
Before styling, be sure to wash your hair, apply to the roots and along the entire length of the hair mousse.
Start styling your hair from the back of your head. The roots of the hair in styling are of paramount importance, so they are first laid - lifted and directed. But the ends of the hair play the role of additional strokes that complete the overall picture.
To lift the hair, point the hair dryer towards the roots, using the comb to lift the hair up.
Beautiful parting
Parting is the second step. Traditionally, it runs a little to the side, it is considered a classic to part from the middle of the eyebrow (left or right as desired) to the top of the head. To make a parting, you can use a double brush, it allows you to put the hair in the right direction.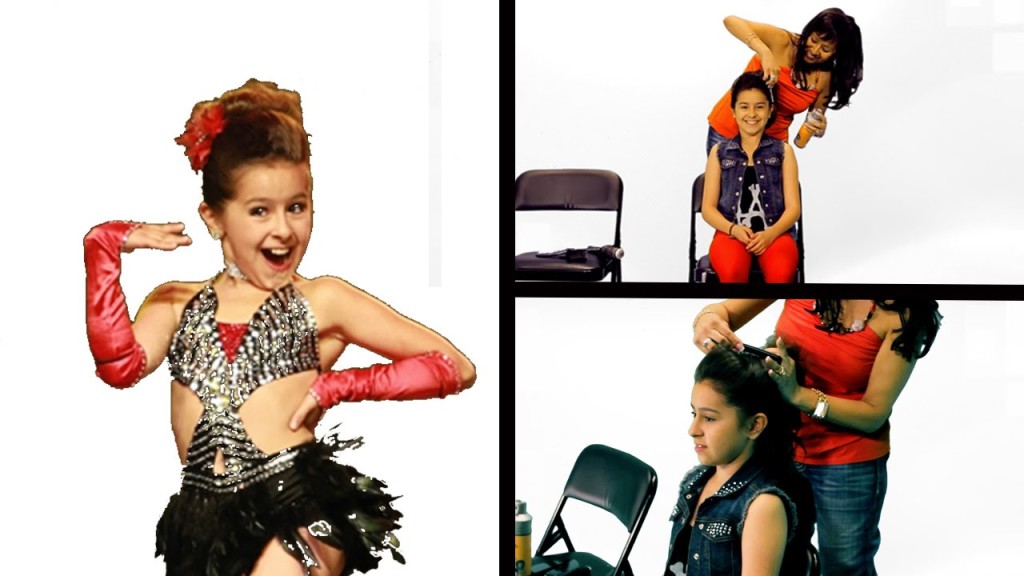 You can fix the result with a hair dryer, directing it to the roots.
When parting, pull the hair at the bottom of the temples back, and style it from top to bottom at the top. In the parietal zone, the hair is laid back, with the exception of the bangs. Her stylists recommend laying from the bottom to the top and directing it slightly to the side, so that a cornice is obtained.
Although you can always experiment and find what suits your boy best.
Hair styling
The first stage is over, it's time to give the desired shape. For these purposes, we use a gel (quite a bit), which we distribute along the entire length of the curls - from the bangs to the back of the head.
The final stage of modeling is fixing with varnish. At this stage, in addition to varnish, a comb with rare teeth and a hair dryer will be required.
First, spray the roots on the back of the head with varnish and leave.
We model parting and whiskey. We sprinkle the latter with varnish and lightly smooth it with a comb, directing the hair back. After we fix them with varnish, and dry them with a hairdryer (at minimum power) in the direction of laying.
Parting and bangs are also sprayed with varnish, laid with a comb and finally fixed with varnish.
The back of the head is modeled last - sprayed with varnish, combed, fixed. The final stage is fixing the entire hairstyle and blow-drying. It should be such a crispy crust.
Shine is an important element
A dancer's hairstyle must shine! Fortunately, styling products manufacturers today offer a variety of products for hair shine. But they must be used wisely so that the hair shines, and does not seem greasy.

Here are some professional tricks:
Glitter is sprinkled from above.
It must be sprayed from a long distance - from 30-40 centimeters.
Make sure that the hair does not get directly under the shine.
You can keep the shine of your hair for the entire duration of the performance only on one condition - after using it, in no case should you touch your hair.
Base for creating hairstyles
Based on the above, it is clear that the basis for styling is precisely the initial haircut of the boy, which must be beaten in one way or another.
If girls can endlessly fantasize and create various hairstyles on long hair, then guys, as a rule, are more limited in their choice, but the requirements for them will be somewhat different.
For a boy, before doing a haircut for sports dances, you must first take care of the quality of the haircut.
Overgrown curls and fuzzy lines will be enemies in creating a beautiful masculine image, giving the effect of untidiness. Therefore, the young man must definitely cut his hair before an important event.
Before styling, make sure your hair is clean and well-groomed - this is a good start to work on the image.
If the hairstyle is done at home, then you need to prepare in advance and purchase all the tools to create it.
And ideally, you should also do trial hairstyles in advance in order to fill your hand, decide on the styling method and not fuss, wasting time on the day of an important event.

Combs of different calibers can be useful in creating styling for ballroom dancing - these can be flat, of different frequency, and brushing combs, with which you can add volume and give curls the necessary direction and a slight curl, and others.
By experimenting in advance, you can more specifically determine the necessary accessories.
Styling products are a very important detail for creating looks.
Moreover, if in ballroom hairstyles for girls and girls, the presence of hair-fixing agents should be made as invisible as possible (because otherwise the image of a girl may become overweight and age-related because of this), then boys do not have such a requirement.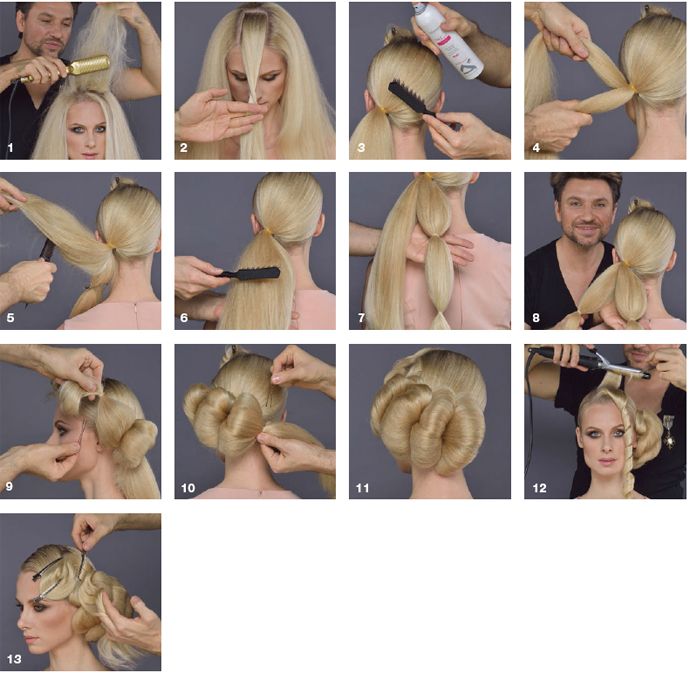 Of course, the hairstyle of a young man must be fresh and neat, but often a special glamor is given to boyish ballroom hairstyles with the help of special products that give shine and a special brioline effect or the effect of wet strands.
So, in order to be able to experiment with this, you need to purchase special gels, varnishes or mousses in advance.
The boy's hairstyle, unlike women's hairstyles, in which something can be masked or hidden in a mass of voluminous curls, is all in sight and the slightest elements and shortcomings are clearly visible in it.
Therefore, it is very important to do everything as carefully as possible, and the fixing means must be reliable and strong. Just for such cases, gels and varnishes with super strong fixation are suitable.
Boys' Ballroom Dance Program
European Program
Depending on the dancer's program, different hair styles for boys can be recommended.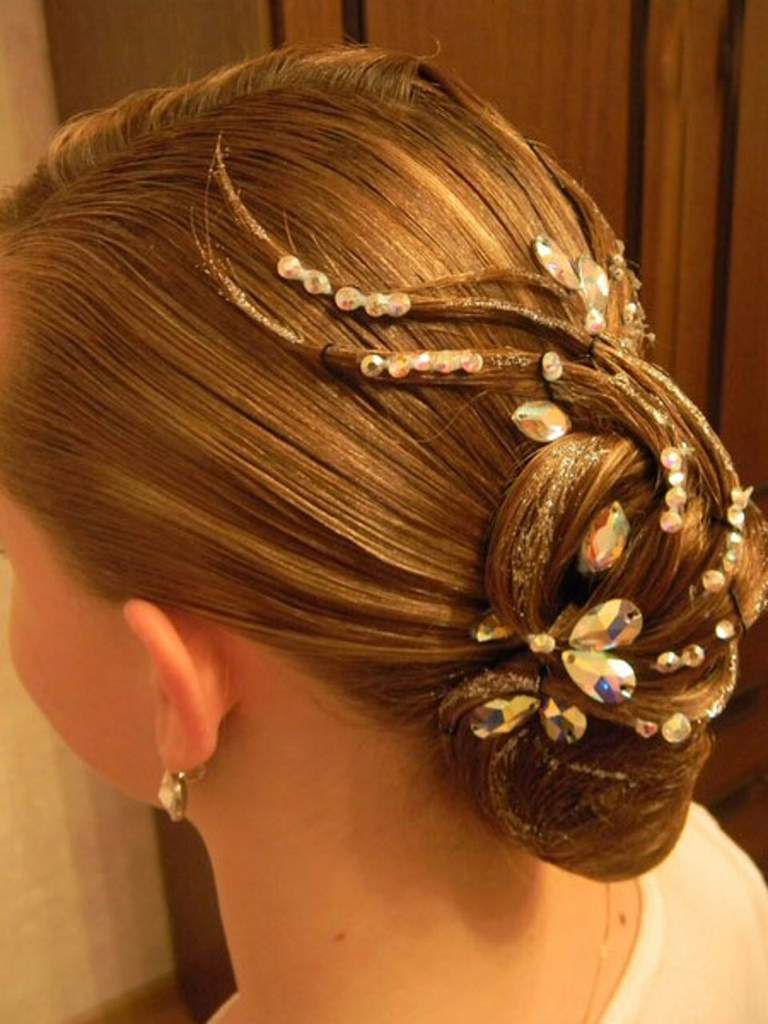 So, the European ballroom dancing program assumes that the partner will wear an Italian haircut, in which the back of the head and temples are cut very short, and not very, but lush hair remains on top.
Why do dancers choose this Italian minimalism?
This haircut gives a masculine and serious look to the boy. But, more importantly, this way of cutting will emphasize the line of the back of the head, and this, in turn, will allow you to achieve a beautiful, even dance line - from the feet to the crown.
Latin program
But for the Latin ballroom dance program, a high back of the head is not so important, there are much less requirements for dance lines. Therefore, when creating hairstyles for such dances for boys, you can cut off a low and even elongated nape.
The main thing is that the hairstyle does not visually shorten the neck. You can lay a long back of the head with a kind of curl up.
How to make a boy's hairstyle - step by step
Making a hairstyle for a guy seems to be simple, but at the same time difficult.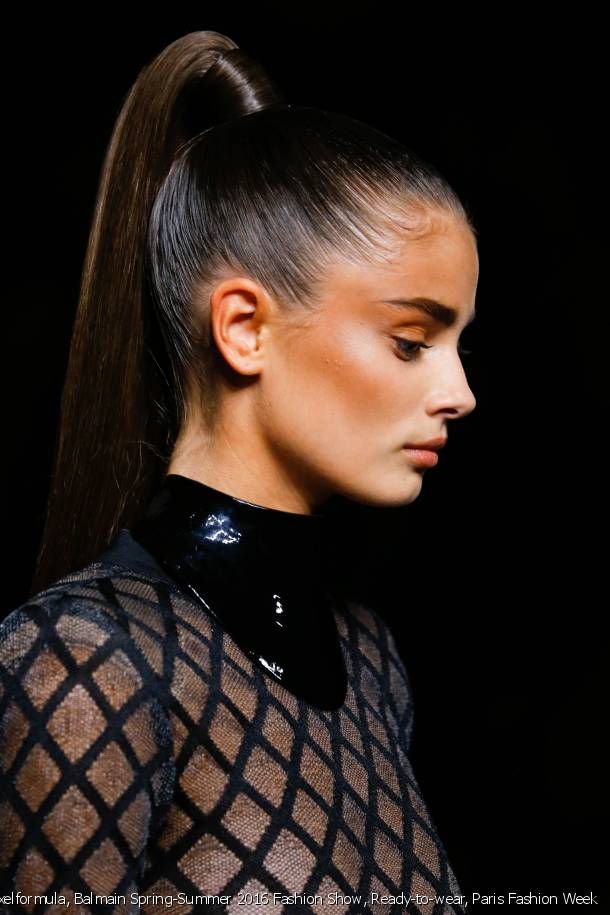 If the haircut is done correctly, then you just need to lay the hair in the direction in which it is necessary, fix it and the hairstyle is ready.
But if the length of the hair is slightly longer, then it will be difficult to style the hair, here you need to think about how to do it right.
Perhaps the easiest styling option is to comb all the hair back and fix it very well with varnish. The hairstyle can be made smooth, with a uniform wave over the entire surface. The effect of wet hair is also quite popular.

Here are some tips to help you create more volume.
Apply a strong hold foam to clean hair. In this case, the hair needs to be washed only with shampoo, the conditioner does not need to be used.
Dry the hair with a powerful hair dryer with a narrow nozzle. As a result, the hair can be given volume and styled in the direction you want.
The next step is to create the parting. Parting should be done from the middle of the eyebrow, going to the crown. For this parting option, you must use a double brush. Such a brush will easily make an even parting and will not remove the resulting volume.
If the boy has a bang, then it must be made in the form of a cornice. The bangs need to be combed from the bottom and up. But at the same time, the whole comb should go a little to one side.
The final stage is hair modeling. In this case, wet gel will help. It must be distributed over the surface of the hair with the help of hands, while the created volume will not disappear.
Lacquer is the finishing touch. With it, the hair is fixed, so it can retain its beauty for a long time.
Hairstyle for ballroom dancing can be done by yourself and at home. Hairstyle for a girl is also not difficult to do on your own. The tips above will help you get the perfect look.
Examples of ballroom dance hairstyles for boys
Theme keys

1.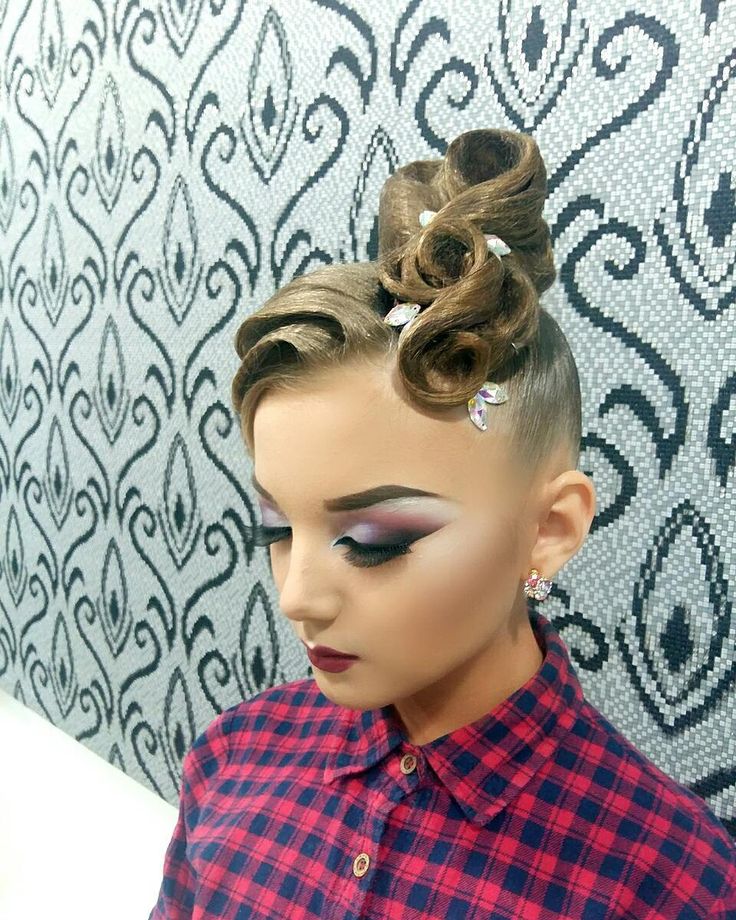 ballroom dance hairstyle for boys
2. boy hairstyle ballroom dance
3. ballroom dance hairstyles for boys
4. ballroom hairstyle for boy dancing
5. hairstyles for boys for ballroom dancing
6. hairstyles for boys for ballroom dancing
7. hairstyle for a boy for ballroom dancing
8. men's hairstyle for ballroom dancing
9. how to make a hairstyle for a boy for ballroom dancing
10. Men's ballroom hairstyles
11. Men's hairstyles for ballroom dancing
12. Hairstyles for ballroom dancing category children 1 boy
13. Men's styling for ballroom dancing
14. Hairstyles for boys for ballroom dancing Photo
15. Boy's hairstyle for ballroom dancing dances
16. men's haircuts for ballroom dancing
17. haircuts for boys ballroom dancing photo
18. haircuts for ballroom dancing for boys photo
19. haircuts for ballroom dancing for boys
20. hairstyles for boys for ballroom dancing
How to make a hairstyle for ballroom dancing?
Rehearsal bases, dance halls, recording studios
in Moscow
How to make a hairstyle for ballroom dancing?
A beautiful outfit is an additional means to impress and impress the audience.
But do not forget about your hairstyle, because it deserves special attention, being an important addition to the bright image as a whole. It helps to create the most effective style of the speaker. The hairstyle is part of the costume, a characteristic feature that makes it possible to distinguish the dancer from others, making his performance memorable not only for the audience, but also for the judges. It is worth remembering that such a hairstyle is part of the finished image.

It takes a lot of time to get your hair done for ballroom dancing. At the same time, it requires special treatment, as it should be as smooth and shiny as possible. Rhinestones, combs, diadems, hairpins are used as decorations. Various hair fixatives are also required.

Dancers on the floor are almost always overactive. Their movements are always plastic and energetic. And when they perform various turns, throws and other complex elements, they must be as sure as possible that their hairstyles are securely fixed.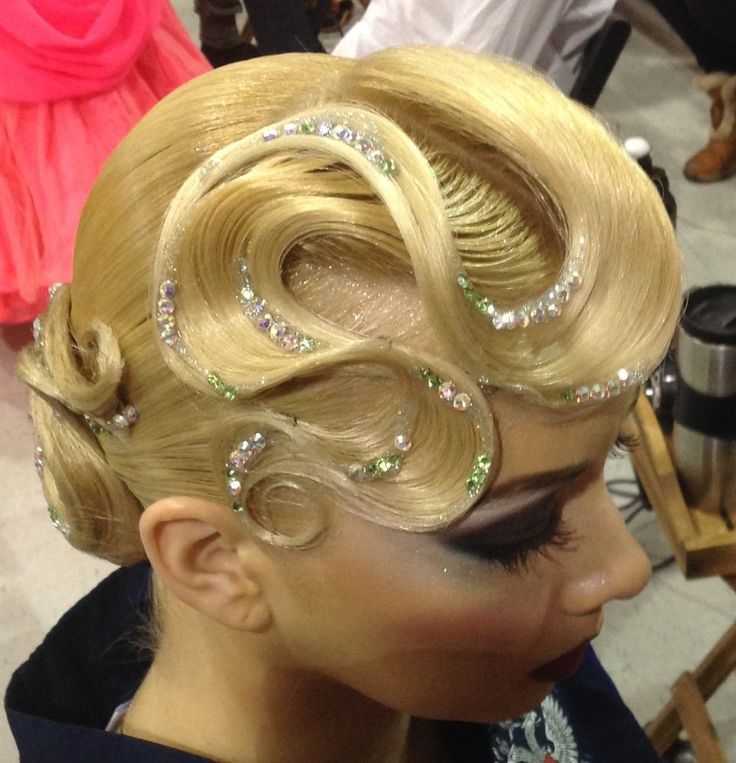 This is necessary not only in competitions, but also in training, when renting a dance hall is cheap, because when honing their skills, dancers should not be distracted by anything. They are obliged to concentrate as much as possible on the movements and the transfer of feelings with their help.
Hairstyles for ballroom dancing are of the following types:
The simplest is the "bun" and smoothly combed hair. This hairstyle will look perfect on any dancer. To make it, you need to apply a little gel or varnish on wet hair. Then carefully comb the hair and collect in one tail. Wrap it around the base, which - in turn - secure with an elastic band. Then you need to stab your hair with special hairpins.
"Bunch with curls" is performed in a similar way. Only initially it is necessary to leave a few strands of hair that will be needed for the final decoration of the hairstyle. They can be beautifully curled and laid around the bundle itself, or decorated with rhinestones or sequins.