How to build a dance floor outside
How to Build a Dance Floor
Home / Latest Posts / Life / Party Ideas / How to Build a Dance Floor
By: Leigh Anne Wilkes
This tutorial will show you how to build a dance floor using 2 x 2's and sheets of plywood. So easy and less expensive than renting one.
I shared with you in a previous Wedding Carnival post the story of our dance floor.  When we decided to book a live band for the Wedding Carnival I thought we needed a dance floor. My husband did not.  We have a large backyard and plenty of grass and he thought dancing on the grass would be just fine.
I am not easily dissuaded or discouraged.
I got on line and immediately started pricing dance floors from rental companies.  They are not cheap, between $700-800 for the size we needed.  It wasn't in the budget so I decided I needed to get creative.
To make a somewhat long, 5 month long story short, I had a dance floor and then I didn't have a dance floor, I had a dance floor and then I didn't.
  In fact I thought I had a dance floor until the Sunday before the Wedding Carnival.  It fell through – five days before the event.
Remember I am not easily discouraged so I decided we were going to build a dance floor.  Or rather my daughter Cali and her friend Hannah were going to build me a dance floor (with some help from dad of course.)
By this time I had totally broken Jim down and he agreed so we headed to Home Depot on Monday night (the Wedding Carnival was Friday).
Dance Floor Supplies
6 sheets of 1/2″ plywood
30 eight foot long 2 x 3's – cut 18 of them into two 45″ pieces (you will have pieces leftover)  This will leave 12 of the boards 8 ' long.  They cut them for free for you at Home Depot.
Nails and hammer
Floor Paint and supplies for painting
Painters Tape
6 Mending plates to join the pieces together
How Big is the Dance Floor?
The dance floor measured 12 x 16 and was created out of 6 sections that were 4 x 8 which is the size of a sheet of plywood.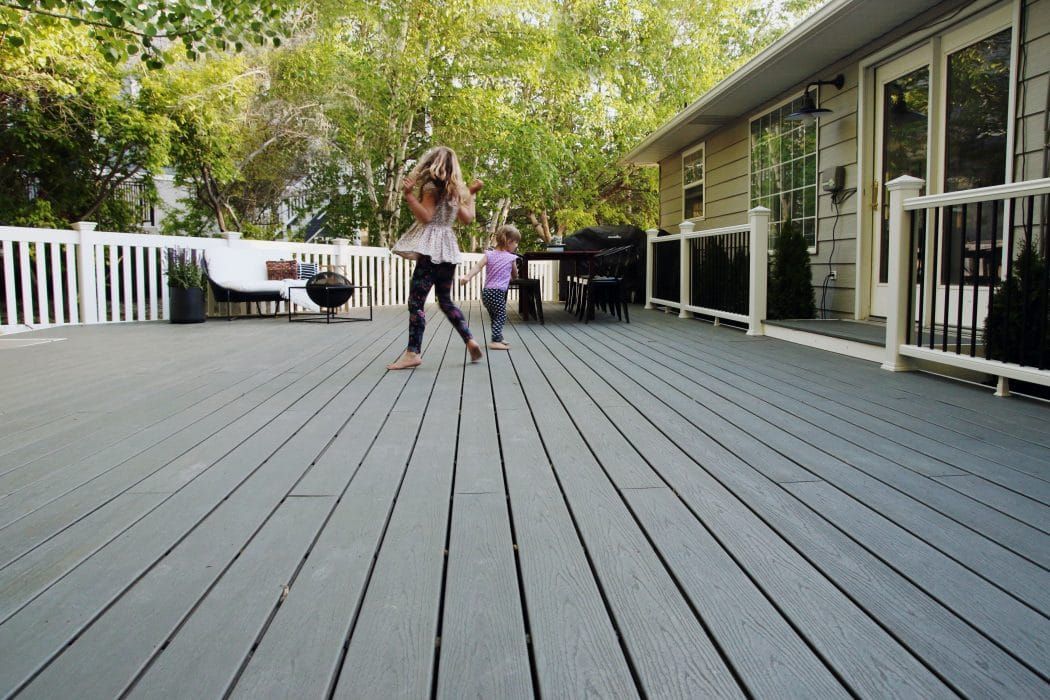 How to Build A Dance Floor
The whole neighborhood got involved or enjoyed watching the process taking place out in front of our house.
The above photo is about how involved Tessa got – she held a hammer for a photo but she was working full time so we need to cut her some slack.
Create 6 frames from the 2 x 3's that measure 4′ x 8′.
Add four support pieces to each frame
Nail a sheet of plywood to the top of each frame. Nail it down along the edges and across the support pieces.
The moms got involved in this step of the process. Had to bring in the big muscles!
How to Paint a Dance Floor
The next step was the painting process. I decided that I wanted the floor to be checker board to go along with the carnival theme so I purchased black and white floor paint. We primed the boards first and then added a coat of white paint to each section.

Yes, I sat in a chair and watched it dry! I like watching paint dry.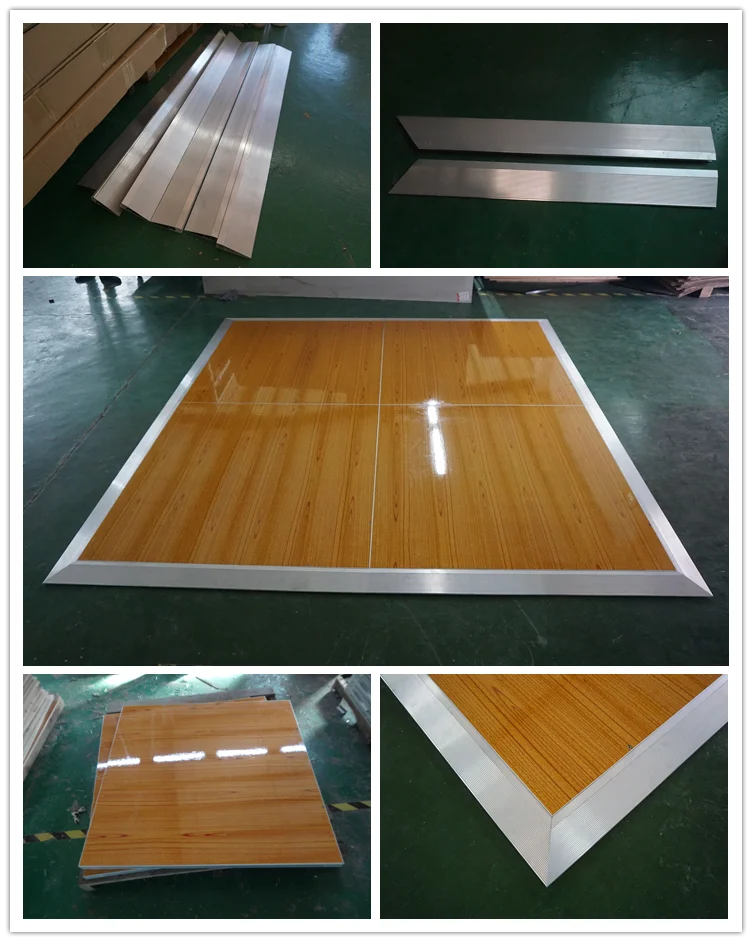 After it was dry, the girls used blue painters tape to tape off the squares. The squares measured 24″ x 24″ so each 4 x 8 section had 2 x 4 squares.

Using small foam rollers the girls rolled the black paint into the taped off squares.
We waited for the paint to dry, removed the tape and we had a dance floor!
Finally, we numbered the pieces so that we knew how to put it back together once we moved it into the backyard. 
The mending pieces were hammered into to hold the pieces together.
How Much Does It Cost to Build a Dance Floor
Total Cost of Dance Floor (including paint but not including labor)  Approx. $300.00.
It was perfect and it was a wonderful addition to our carnival and YES, we needed a dance floor.  Even my husband admits that now.  It added such a fun element to the carnival and really got people dancing.
Who wouldn't want to dance on a black and white checkerboard dance floor!!!
Reader Interactions
Build Outdoor Dance Floor on Ground
If you're wondering how to build a dance floor on uneven ground, then consider this DIY dance floor option, the quick answer is you should check into portable dance floors from Greatmats.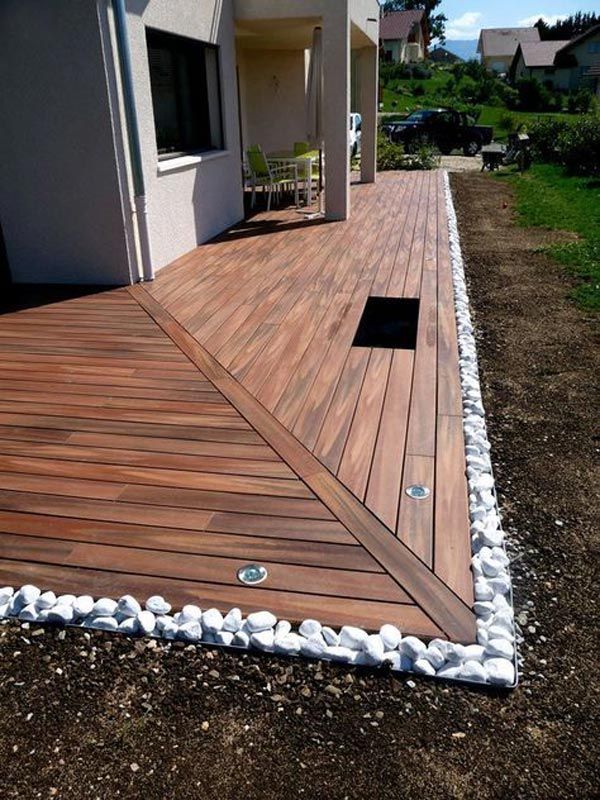 One of the great advantages of portable DIY dance floors is that they can be used in many different locations, so you can literally take the dance floor with you. Whether you're setting up a dance floor for a special performance or need a dance floor for a wedding or other event, you may find yourself in search of flooring for dance that can be used outdoors.
DIY Dance floors are versatile, but they aren't all versatile enough to be used on grass. Grass poses a number of different challenges. First of all, you'll need an outdoor dance floor on uneven ground that can withstand moisture without being damaged. Secondly, outdoor use means that you'll need a floor that can withstand UV rays. This article can inform how to build a outdoor dance floor on uneven ground.
Don't worry, though - at Greatmats, we understand the importance of being able to install a DIY dance floor over grass. That's why we stock a number of suitable temporary dance floor products that can give you the versatility that you're looking for.
This article can inform how to build a portable outdoor dance floor on uneven ground.
Necessary Features for A DIY Dance Floor on Uneven Ground or Grass
Waterproof Flooring: Make sure that any dance floor you consider for use on top of grass is fully waterproof. Even if you plan on covering the floor with a tent, there will still be moisture in the grass which a non-waterproof floor could absorb. We offer plenty of waterproof flooring options that are suitable for outdoor use.
As an added benefit, if you're working with waterproof flooring, it's no big deal if a guest spills a drink. Cleanup is easy.
If the ground is uneven, you'll need to provide a surface to help level it out before installing a dance floor, such as a waterproof composite mat system with strong interlocks. If you are confident that the ground won't get wet, simple plywood may do the trick to create a stable subsurface.
Shop Waterproof Flooring
UV Resistant Dance Flooring on Grass
Even a temporary outdoor dance floor on grass will be exposed to UV rays, which can cause your average flooring to fade, and possibly degrade the quality of the flooring over time.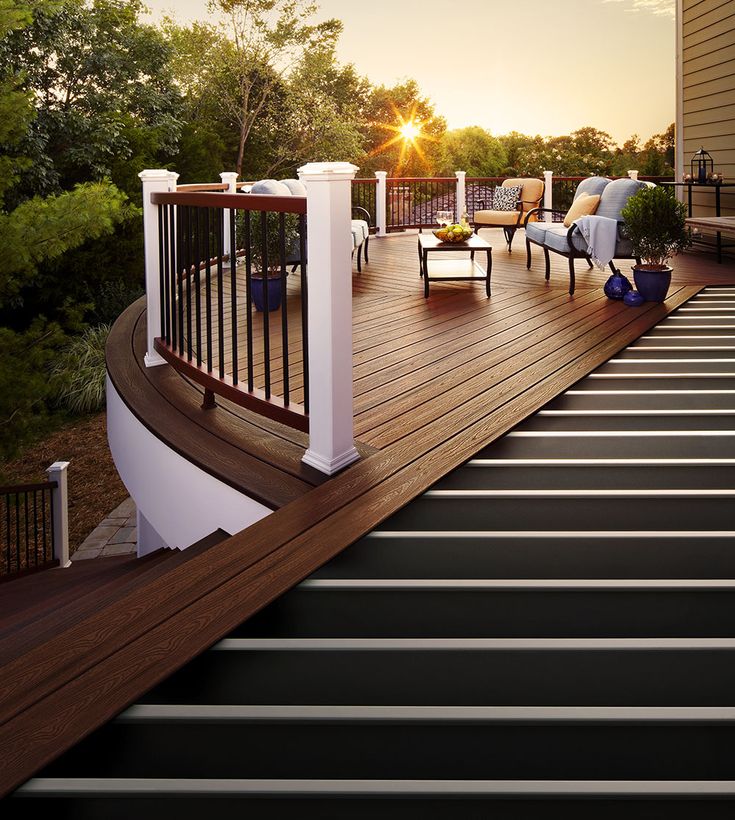 Look for a dance floor that has been treated for UV protection so that it can safely be exposed to the sun.
Portable DIY Dance Flooring
When you're working with a grass area, chances are you won't have a flat floor to wheel a flooring cart over. This means you'll need to carry the dance floor, so the portability of the floor is a major factor.
Modular dance flooring tiles are an ideal solution. These tiles are conveniently sized and easy to lift and carry, so even if you're installing the floor in a large field, getting the flooring into location won't be an issue. This will make installing the portable outdoor dance flooring on uneven ground or grass, and depending on the size of your floor, it's a task that a single individual can perform; no need for a professional installation. If you're attempting to install an outdoor dance floor over uneven ground, you may want to consider first laying down a layer of plywood, ground protection mats, or composite mats to level out the surface and prevent tiles from separating.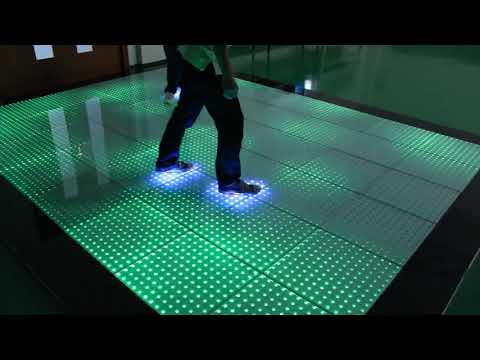 Easy DIY Dance Floor Installation
When you're working with tiles, you'll want a flooring product that connects together easily. Most of our tiles have a snap together or tab and loop closure design. Either of these systems is easy to use, and lets you quickly connect and disconnect tiles. This means you can quickly assemble the dance floor on grass, giving you plenty of time to finish with the rest of your event preparations.
Additional Tips for Choosing the Right Portable Dance Floor on Grass
We outlined a few specifications above about what to look for in a dance floor that will be installed on grass, but there are a few other tips you should know about choosing a dance floor for any event or venue.
Consider the type of shoes dancers will be wearing - Footwear, particularly high heels, can damage some types of dance flooring. Make sure you select a product that-s appropriate for what people will be wearing.
Think about the aesthetic that you want - Are you looking for a classic floor with a wood grain finish? Or is a more generic tile suitable for your needs?
How large of a dance floor on grass will you need - How many dancers will you have, and how large does your finished floor need to be? Remember, you can always add or remove tiles to customize the size and dimensions of your floor during different events.
Think about additional accessories you'll need, like ramped edges. Many of our products are available with ramped edges for safety, and for an overall clean finish.
Dance Floor on Grass - DIY Tile Options
Portable Dance Floor Tiles: Our Portable Dance Floor Tiles are versatile enough to be used both indoors and outdoors. These tiles are UV treated, so they'll resist fading when used outdoors. The tiles fit together tightly so you don't have to worry about them pulling apart while in use, and the commercial grade vinyl top surface is durable enough to hold up to serious dancing.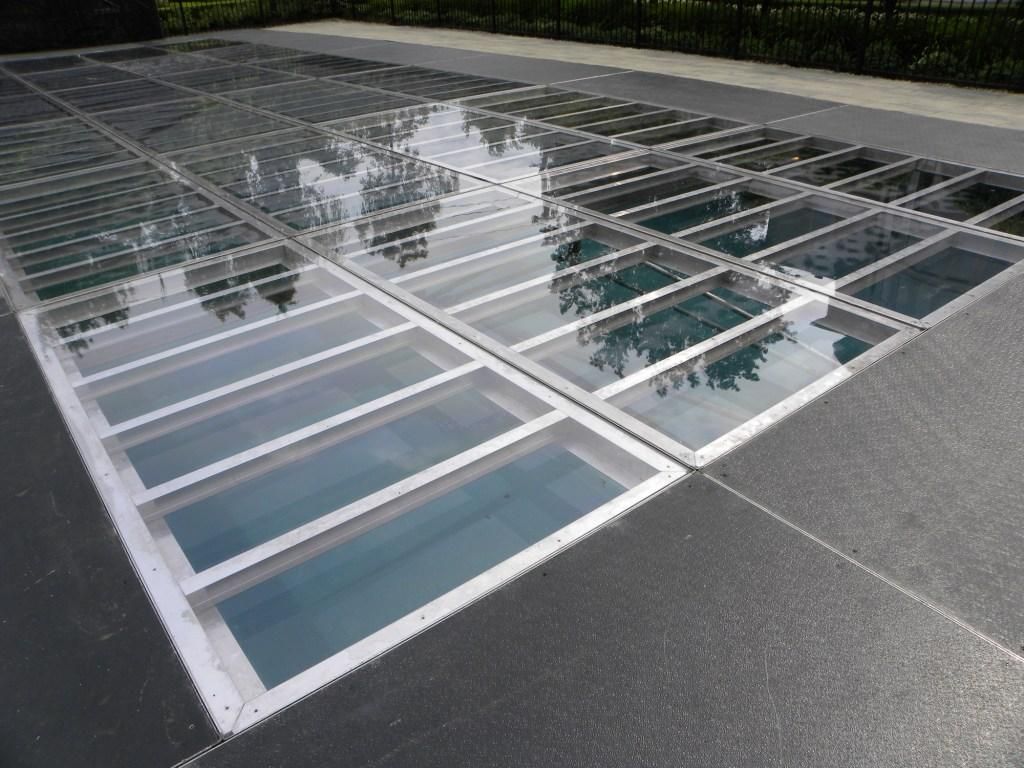 Ramped border edging is available to create a clean, finished edge that is both safe and attractive.
One major benefit of these tiles is in their construction. The tiles themselves are built on a raised base, so air and moisture can circulate freely beneath the tile's surface. This helps to prevent water from working its way up to the actual dancing surface, even when the tiles are used outdoors.
Sized at 12x12 inches, these portable dance floor tiles are easy to handle and transport. You can vary the size of the floor by setting up just some or all of the tiles, and can also customize the floor's dimensions according to your needs. The tiles fit together quickly and easily, and you can assemble a 10x20-foot dance floor on grass in just minutes. They can be installed over grass, but note that they're only intended for temporary outdoor installations and do still require a hard, flat surface. Significant bumps, spongy ground and/or mud in you grassy surface can cause the installation to become difficult and/or uneven.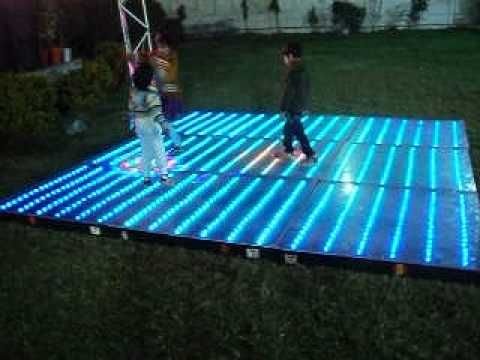 With a choice of eight different finishes, including six eye-catching wood grain options, you can have a beautiful floor suitable for any event.
Shop Portable Dance Floor Tiles
Portable Outdoor Floor Tiles
For a highly durable option, consider our Portable Outdoor Floor Tiles. These tiles are extremely strong, and can even support the weight of vehicles. While they don't offer the traditional wood grain finish of a dance floor, they are highly versatile, making them a great investment for event facilities.
These tiles are both waterproof and UV resistant, so they can be safely used outdoors. Their unique hinge system makes installation a breeze, as it quickly locks into place for a secure fit that won't separate during use. Measuring 3/4 inch thick, these tiles are made of a polypropylene plastic that is strong enough to easily support large crowds.
Perhaps the greatest benefit of these tiles is the fact that they can be used over many different existing surfaces, including uneven terrain.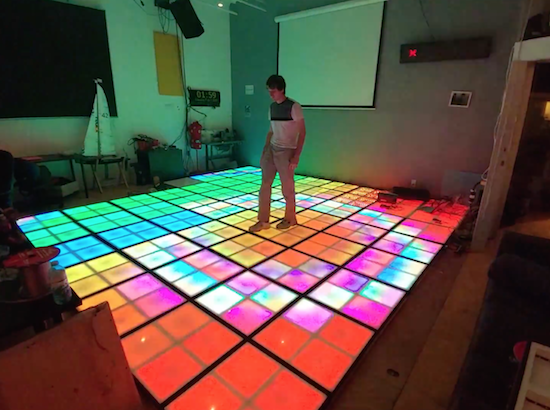 There's no worrying about finding a perfectly flat space, which will save you both time and stress. You can place these tiles directly on top of grass, and the tiles can even be rolled up for easy storage and a faster installation the next time. Just keep in mind that the tiles will, to a certain degree, conform to the ground it is sitting on, so you will not have a completely level dance floor on grass if the subsurface is uneven.
Shop Portable Outdoor Floor Tiles
Durable Dance Flooring Tile
Want a durable dance floor on grass with the look of real wood? Our ProCourt Gym Flooring Tiles offer you both. These tiles feature a generous 20-mil wear layer that is both scuff and stain resistant, ensuring the tiles continue to look great. Please note that these tiles aren't UV treated, and should only be used outdoors temporarily.
These tiles offer a raised flooring surface which will grip and accommodate grassy surfaces. They snap together easily for a fast installation, and are designed to withstand repeated installations.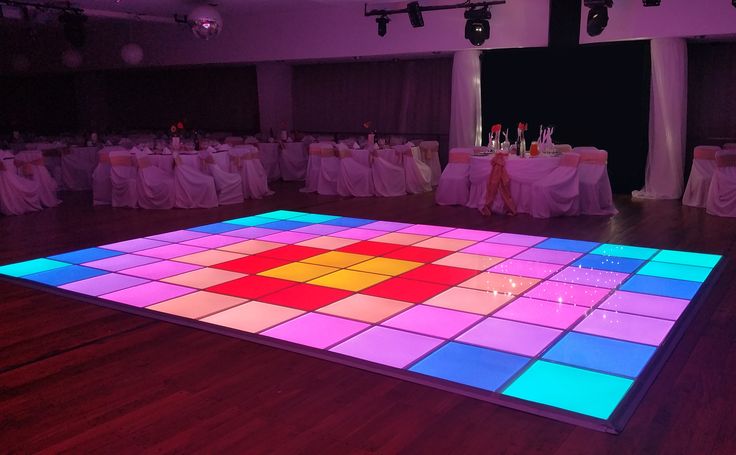 Shop Portable Outdoor Floor Tiles
What You Need to Know About Installing a Dance Floor On Grass
While the above products are suitable for use as a portable outdoor dance flooring on uneven ground, it's important to realize that these products are only intended for temporary use. Don't leave them in place longer than necessary, and if possible, install a tent or find another way to protect the flooring from the weather, which will prolong its life.
When deciding where to install the dance floor, look for an area that is as flat and as level as possible. Installing the flooring on an uneven surface may make it difficult to get the tiles to connect correctly, and can place unnecessary stress on the tiles. It may also make the flooring itself uneven, and an uneven dance floor on grass can be dangerous for dancers.
You'll have the best results if you install the flooring over grass that has been mowed, since it will create a firmer, flatter surface than you'll have if you're working with grass that is longer.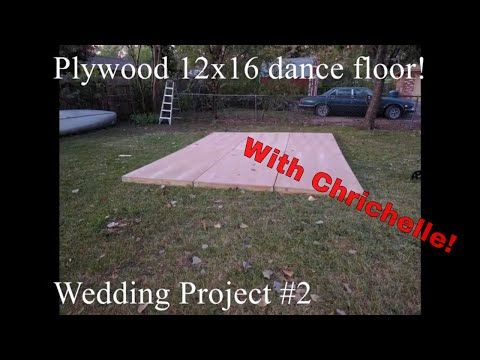 Placing a layer of plywood under any of these tiles will definitely help create a flatter, more stable and safer dance surface as well.
When it comes time to uninstall the flooring, try to do so when the flooring is thoroughly dry. If the weather isn't cooperating, then dismantle the flooring and allow it to dry indoors before stacking it and storing it away in a closed space, like a closet.
Most of our dance flooring tiles are designed to be easy to clean, but be sure to review the specifications for the particular product that you purchase. In most cases, you can damp mop the floor with a household cleanser.
Please don't hesitate to contact our great customer service team if you have any questions as you explore our many outdoor dance floor options.
Sculpture Grove – Weekend – Kommersant
In 2005, Mercury built the "Luxury Village" in Barvikha, and this was one of the main events in the field of our private architecture. Let me remind you that these are two dozen stores located along Rublyovka.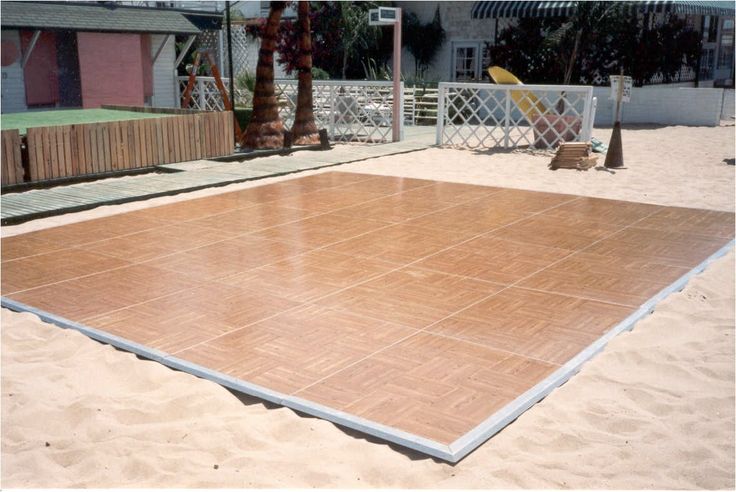 Together they form a kind of village - one winding street, two squares, two dozen minimalist wooden cube houses, glass bridges thrown between them. But the street was open at both ends, or rather, construction was going on at both ends. Now everything is set up. On the one hand, the prospect of the street is closed by the first in Russia (and now I'm afraid - the last) private theater, on the other - by a hotel.
The hotel was built by the famous Italian designer Antonio Citterio. There, behind an unremarkable façade, lies the world of Russia's first designer boutique hotel. From the point of view of an ordinary person, it is somewhat offensive that all the wealth of design fantasy is hidden from him and only a hotel guest can appreciate it. But, probably, from a marketing point of view, this is correct - it increases the temptation to turn into this guest.
But the theater is another matter. It was built by the architect Yuri Grigoryan. This thing is visible from everywhere, and it is the center of the whole village.
I would even say - the center of the entire Rublyovka.
In principle, everything is done simply. In the center is a rectangular auditorium, it looks like a film studio, the main advantage of which is that it can transform into anything. The floor there can rise and fall so that it can be a disco dance floor, maybe a casino, or maybe an amphitheater of reclining chairs. The stage, in turn, can also rise and fall. Previously, in the typology of theater buildings there was such a thing as a universal cinema and concert hall. The concept existed, but the hall itself never existed. Now he has appeared. This is a wonderful machine that is difficult for an architectural critic to describe, because there is not what we usually describe - the view. The hall does not look like anything, because it can look like anything.
But there is something amazing around the hall. This is an open free space bounded by wooden pylons. In principle, it is also very simple. But each pylon has its own shape, each one breaks and bends at its own angle, and it more resembles not mechanical building forms, but a grove of trees that surrounded the auditorium.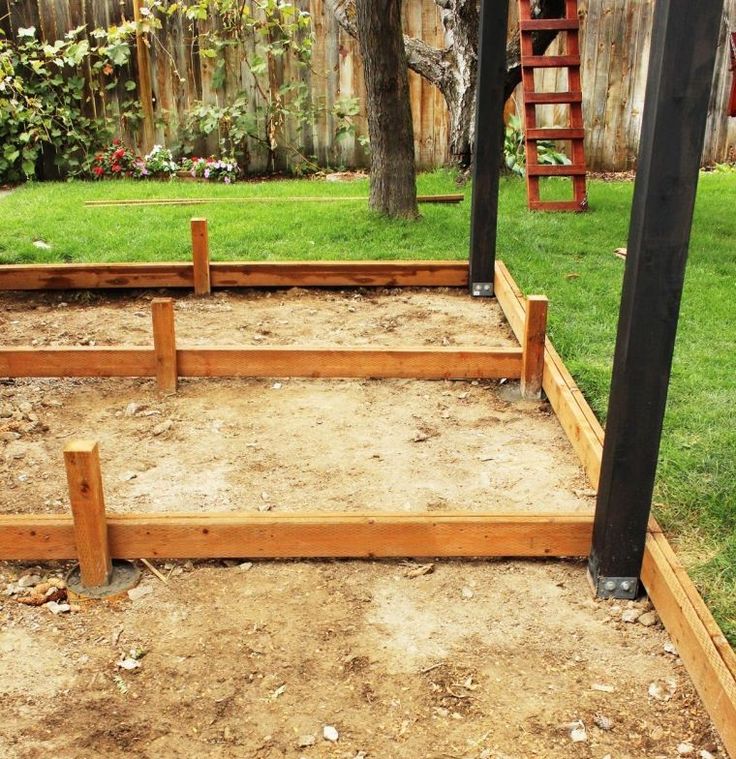 Or rather, not even trees, but modern sculptures on the theme of trees. Moreover, it is worth starting to move, and there is a feeling that these trees are moving their crowns, either obscuring the view from you outside the foyer, or, on the contrary, slightly opening the views around.
These tree sculptures work fantastic outside as well. It seems that the facade is constantly moving, trembling with its skin, like some kind of giant animal. Waves seem to run through it, it seems to sway in the air. Here it was possible to do something that in modern architecture usually never succeeds - to get away from the image of a machine, mechanical form. This facade works like a colonnade of an ancient Greek temple - it creates a sense of architecture as a sculptural form. It is very difficult to design and very difficult to build - there is not a single repeating element in the building, it is as if everything was hewn out of wood by hand. But it's worth it. It lasts and bends according to some of its own laws, like a Venetian gondola.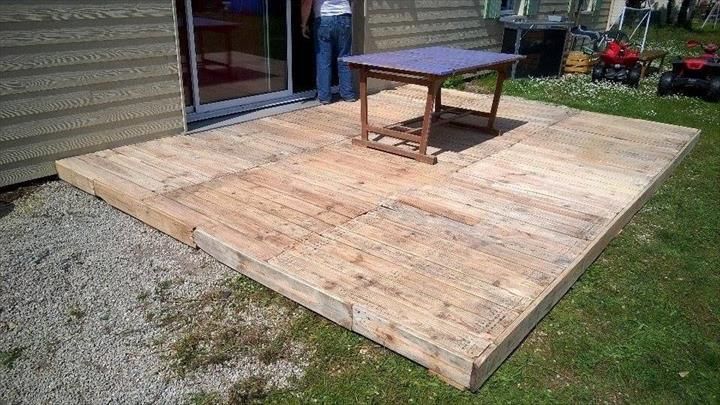 When a building is turned into a sculpture, it seems that life in and around it also becomes part of the art.
Actually, this is a strange place - Rublyovka. Perhaps the most expensive place in the world, but at the same time some unkempt. Directly across from this theater is the Dream House, a work by the Irish architectural firm Murray O'Lear. It seems to be an expensive thing, but it still looks like a cheap shopping center outside the Moscow Ring Road - rectangular, warehouse-like volumes, some sort of rubbish discord around and a large red transformer box on the main square in front of the complex. And everything there is so - infinitely expensive and miserable at the same time. Either copies of Loire castles behind prefabricated concrete fences, or pine trees behind corrugated fences with barbed wire on top. Somehow you go and think, well, guys, you would somehow get together, or something, come up with something. You somehow decide whether you have a vanity fair here or a fair in Biryulyovo - with warehouses, fences, filthy ravines and a vegetable warehouse, not completely privatized for a cottage village.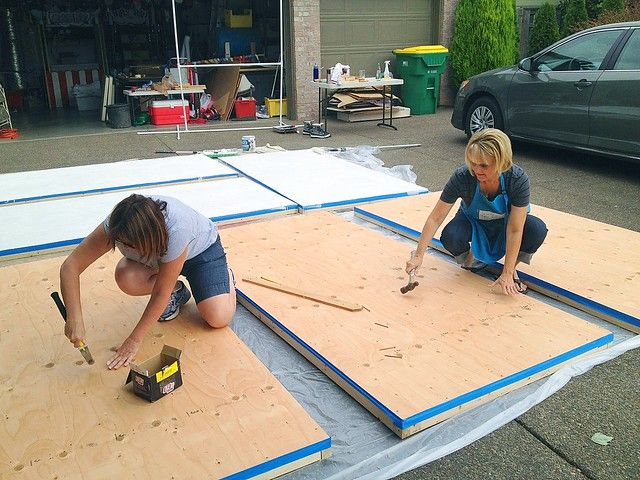 And so I think - theater. In general, there are cases in history when the theater plays an absolutely fantastic role. For example, the whole aesthetics of Russian constructivism was first invented in the theater and only then went out into the streets and squares. And it was the same with the aesthetics of the French Revolution. Theater is a place where people see themselves and understand something about themselves. This theater in Barvikha is designed for 800 people. It is the center of this village of luxury, oddly enough, the only place on Rublyovka that looks exactly like a proper settlement of self-respecting people, not a dacha cooperative, where each house has grown into a castle, but at the same time, the smell of "Fruit and Vegetable Association N 13" has amazingly remained but something worthy. But 800 families living on Rublyovka are, in principle, such a financial and organizational force that can change a lot. Well, how will they feel differently in this theater? And life will change.

Signal Electronic Music Festival in Nikola-Lenivets
The second Signal Electronic Music and Architecture Festival took place in the imposing Ugra Park in the village of Nikola-Lenivets, Kaluga Region. Gazeta.Ru visited all four days of the festival and talks about probably the most important and large-scale event in Russian rave over the past few years.
On Thursday evening, the first (and, by the way, quite numerous) guests of the festival were greeted by a small starfall, which successfully diverted attention from testing lighting equipment, and one working dance floor. It was decided to entrust the launch of Signal to the Mobius site, named after the famous sound sculpture Mobius Trail.
The stage is located in a forest thicket in a natural amphitheater at the junction of soil layers with a height difference of up to 40 meters.
The natural phenomenon affected the acoustic characteristics of the space - the music here sounded and was perceived in a completely special way.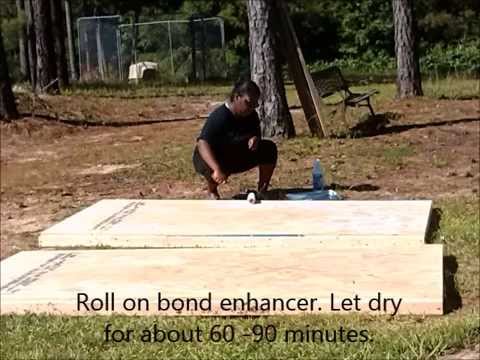 Looking ahead, we can say with confidence that in 2018 Mobius repeated the fate of its predecessor last year and became the most popular Signal point - in fact, a certain part of the people hung out on it for all four days and felt quite great about it.
A kind of ideological heir to the famous "Army" Woods, Mobius took a powerful blow in the performance of five big names of the festival: Onur Ozer, Dan Andrey and Kozo in the joint project AK41, as well as Andrew James Gustav and The Mole.
In general, the line-up of this dance floor was filled with a warm house bass sound, which, combined with a cozy arranged ravine, created the atmosphere of some kind of enchanted forest.
The largest was the Signal stage (popularly called "Main"), on which the Sila Sveta team worked in collaboration with Set Up, True Light Crew and the DOM archbureau. The main dance floor heard performances by Tommy Four Seven, Abdullah Rashim and the incredible Radio Slave, and during daylight hours became the venue for an educational session dedicated to the music and creative industries.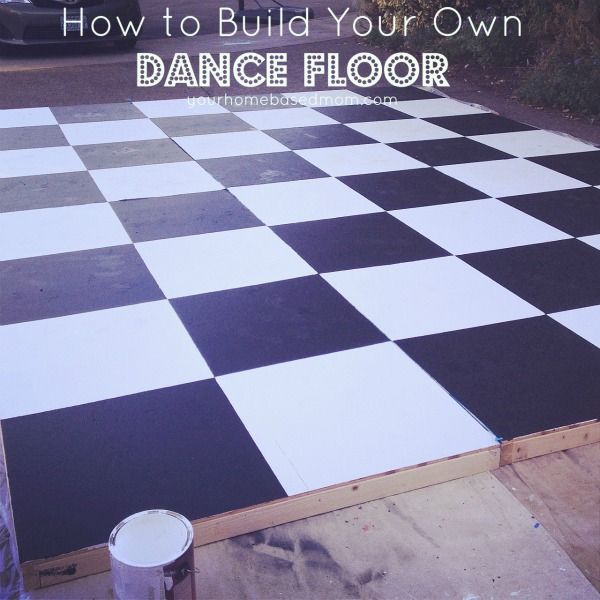 Every day, Signal increased its momentum - and on Friday, simultaneously with Main, another Prizma timber dance floor was opened, hidden at the very end of the musical gorge, in which all four venues are located.
Prizma hosted a real marathon, which included a series of showcases from foreign and domestic labels friendly to the festival — artists from the London Digital Tsunami formation, the Volks Moscow community, Gost Zvuk and Nervmusic, as well as Roots United from St. Petersburg performed here.
On Saturday, the art village of Nikola-Lenivets and its environs started working to the fullest, and the concert venue of the festival, the Meadow stage, joined the general action. This year, she moved to the local sound oasis - an acoustic glade - literally returning this location to its natural function.
A minimalist concert venue without any special decoration intrusions was located directly in the acoustic bowl of the forest - and only live performances sounded on it.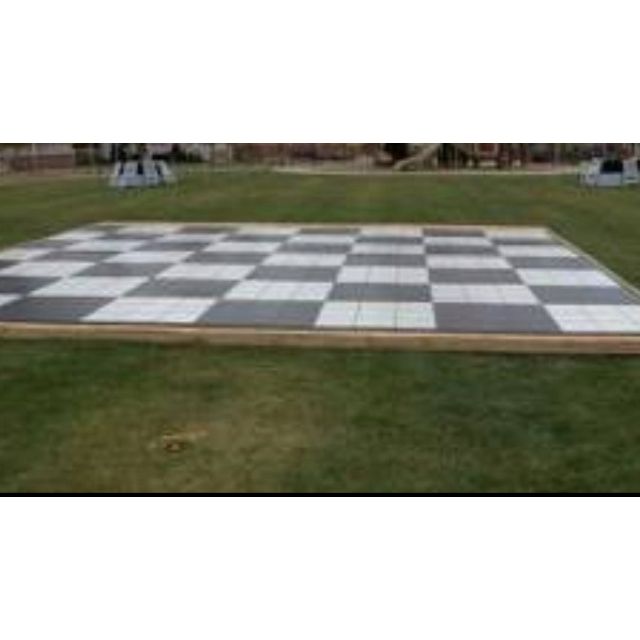 Unfortunately, in this case, there was little good: for each day of Meadow's functioning, there was one block of two or three artists, and the rest of the time the site was idle. It was most offensive in the pre-dawn hours, when the milky foam of fog enveloped the entire clearing - just such natural scenery would come in very handy for the lengthy live of Nikita Zabelin and Pyotr Termen (great-grandson of Lev Sergeevich).
In addition to the picturesque landscapes of the village of Nikola-Lenivets, large-scale land-art objects that have been built in the park for over 25 years, and Signal's own media installations served as decorations for the festival.
One of them, Loop by Dissonance and Roman Pechorin, was located on an acoustic clearing near Meadow and served as a kind of beacon for travelers lost in the fog.
It was a six-meter ring of light that shimmered with a certain set of patterns and, according to the authors' idea, created the effect of the density of the medium outside or inside itself.