How to be a male gogo dancer
six rules for the gay gogo boy
?
Previous Entry | Next Entry
You've seen him, that one at the club wearing nothing but a pair of tight-fitting briefs. He's the one high above the crowd, "whinin' and grindin" workin' his body for all its worth. Love him or hate him, he is the icing on the cake of any gay club event. Among the pumping music, flashing lights and bad pick up lines, go-go boys can be seen rollin', poppin' and twerkin' it for your viewing pleasure while collecting tips from generous onlookers. Most fantasize about taking one of these hot boys home but just as many fantasize about being the hot boy. So what does it take to be perched above the club wearing next to nothing? For those of you wondering, YOCISCO.com has put together some tips and advice on becoming a go-go dancer:
1. The Body: The physical appearance of your body is probably the most important aspect to becoming a go-go boy, since you are displaying yourself in underwear.
It's important to remember that everyone has different tastes. There is no particular body type for go-go dancing. Most clubs employ a variety of body types to cater to everyone's preferences. From muscular to slim, from hairy to smooth, go-go dancers cater to everyone's desires and fantasies.
2. Your Groove: Body is the first major component of go-go dancing. How you move it is the second most important. Remember, you must be able to dance to anything the DJ throws at you no matter how bad the mix. Luckily, most go-go boxes (usually a small platform or "box") don't allow for much foot movement. That, combined with a slippery surface from spilt cocktails can make for a hazardous performance. Most dancers plant their feet and move their torso and hips seductively. Too much movement can result in an embarrassing fall from the box onto a crowded, soaked dance floor.
3. Employment: Now that your body is on point and you can move it accordingly, searching for employment is the next step to go-go greatness.
Start off by asking around at your local clubs that feature go-go dancers. The bar tender or the door man should be able to point you to the person who hires the dancers. You may also want to try emailing the club and sending them a few snap shots of yourself- in minimal clothing. A phone call to the club during off hours is also a good way to get in touch with the right people. Eventually, you will have to audition and show the club/promoter you have what it takes to be a go-go. A formal resume is never usually required.
4. The Gear: Go-go dancers spend a significant amount of money on underwear and swimwear. When searching for the perfect pair of go-go shorts, choose a pair that flatters your shape and features. Bright colors that attract attention are also a good choice. Boxer briefs, classic briefs, bikini briefs or just plain "booty shorts" are the styles of choice. Thongs can be worn depending on what you have to show off in the back. Beware that many gay clubs do not allow dancers to rock the ever popular "thong.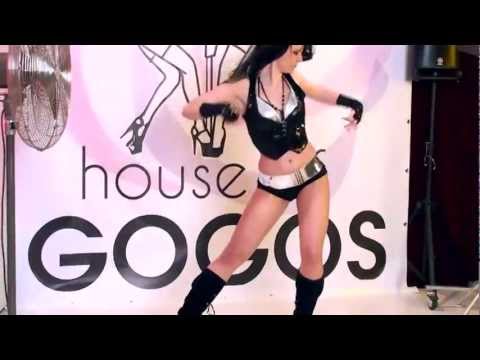 " Lastly, choose the right footwear. Most clubs require go-go dancers to wear shoes for safety reasons. Certain footwear can look ridiculous with underwear. Boots such as Timberlands look hot as well as certain types of sneakers. Avoid dress shoes and flip flops. Don't forget extra long socks to stuff your tip money in.
5. The Rules: Most clubs have similar rules for go-go dancers but they can vary, depending on the city. Some cities are more liberal than others. Generally, customers are not allowed to fondle you for an extensive period of time. Your dick and ass are generally off limits to probing hands of intoxicated customers. Tipping should be done on the side of your underwear on your hip. It is up to you to control what happens between you and the customer. Crossing the line could result in being fired or worse yet, a ticket or jail time for indecent exposure or prostitution. Clubs are usually monitored by undercover police officers so it's important to always be aware of the rules and follow them.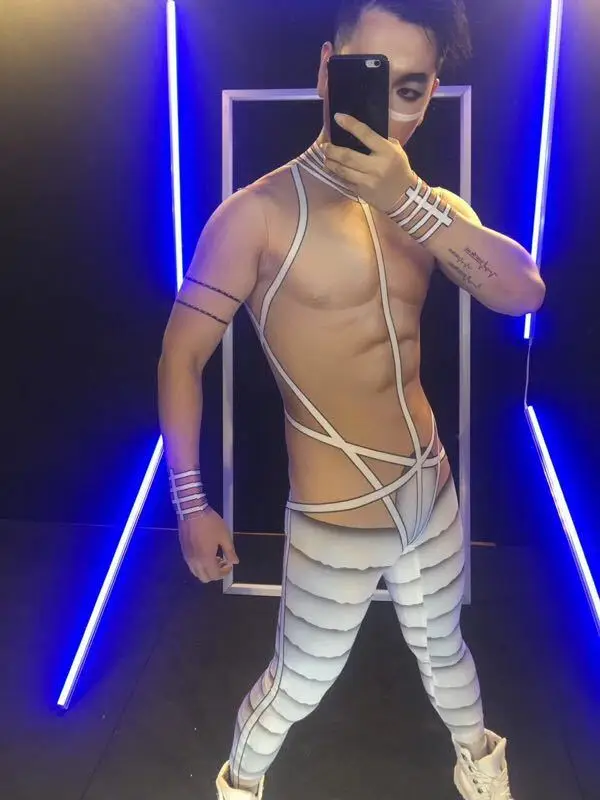 6. Have Fun: Lastly, have fun. Be friendly with customers. Smile. Make a connection with your audience. Pose for pictures. Customers are more likely to tip you and enjoy your performance if you look friendly and approachable. Go-go dancing can be profitable as the tips begin to accumulate but it's never suggested to rely on it as your primary source of income. Think of it as extra money, gravy. This keeps it fun and exciting.
Go-go dancers ultimately are the hype men for the club. They stimulate the crowd by providing customers with something beautiful to look at. They showcase the male form and are a symbol of celebration of the gay lifestyle. Any top notch club has them and their popularity has grown as gay culture has grown. So, if shakin your money maker is something you are seriously considering, these six steps will have you on your way. YOCISCO advises to always use your head and never take go-go dancing too seriously. If it's not for you, at least you can say you spent a night towering above the club in your best Calvin Kleins.

(YC)
October 2012
S
M
T
W
T
F
S
 
1
2
3
4
5
6
7
8
9
10
11
12
13
14
15
16
17
18
19
20
21
22
23
24
25
26
27
28
29
30
31
 
 
 
My_Web_Site
Quizzes_for_bored_people
Powered by LiveJournal.com
Sponsored by Cisco
Use this theme
8 things to know when considering becoming a go-go dancer
Go-go dancing might seem like an easy job. You just get in front of people at a club or party and dance, right? Wrong.
There is so much more to it than just moving around. As a former go-go dancer I learned the hard way that it takes more than just looks and moves to succeed. But after figuring it out. I made good money and enjoyed the experience. Here's what you need to know before becoming a go-go dancer.
1.Train for the Job
Dancers can dance up to 4 hours at a time. Cardio workouts help build endurance. Photo credit: Jeraldine Ramos
Practice dancing and do lots of cardio. Endurance is needed because go-go dancing involves dancing with high energy for long periods of time. If you're not used to this type of physical workout you'll tire out easily. You also might also have difficulty breathing and wake-up sore the next day.
2. Take dance classes
Youtube videos are very helpful when learning how to dance or new dance moves. Photo credit: Jeraldine Ramos
In go-go dancing you don't get to choose what music you are dancing to. The DJs play whatever music they want depending on how the crowed reacts to the mix.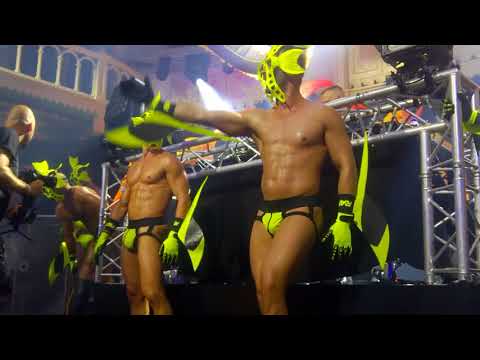 The music may change tempo and even style. A go-go dancer must be able to improvise moves depending on the music that is being played. Dance classes or even watching Youtube videos can help you learn different ways to move your body and how to dance to different tempos without looking silly.
3. Connect with go-go groups
Diable Chaton (El Paso/ Las Cruces go-go group) and I, go-go danced when Kaskade a well known music producer and DJ came to The Plum City Lounge in El Paso, Tx. Photo by Mario Arizpe
Go-go groups help dancers find gigs. Check out the go-go groups in your local area, through Facebook, Twitter, and Instagram. What they post online can give you a glimpse on what type of venues they perform in, if they get a lot of gigs and if they perform for well-known DJs. Pictures can also show you what types of work they do so you can know what to expect. You don't have to connect with a group. You can work as an independent go-go dancer and track down jobs on your own.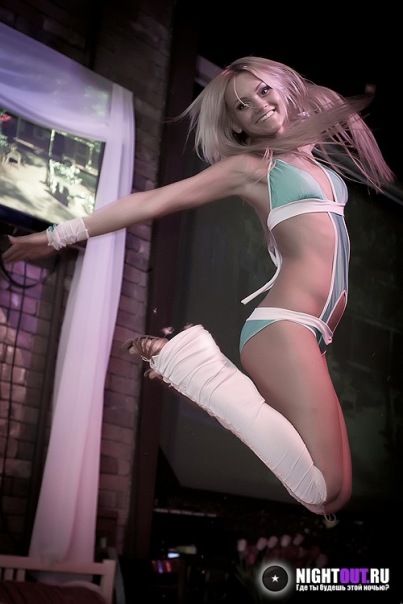 4. Think like a businessperson
Knowing how to negotiate can get you high paying gigs. I was once paid $100 for thirty minutes of dancing through negotiating. Photo credit: Jeraldine Ramos
When considering a job you need to know how to negotiate your pay according to how much you will be working and how much you will need to be investing in costumes, hair and make-up. Get everything in writing. Having a written contract helps make sure you get paid for services provided. Go-go dancers can earn between $10 to $100 an hour depending on what they negotiate. I have been able to get high paying gigs through negotiating.
5. Promote yourself and the venue
Promoting can not only get people to go to the venue but also get you more jobs while establishing yourself as a go-go dancer. Photo credit: Jeraldine Ramos
You can promote yourself and the venue using social media sites like Facebook and Twitter. Letting people know what days you are available for bookings and when and where you will be dancing is one way of promoting yourself.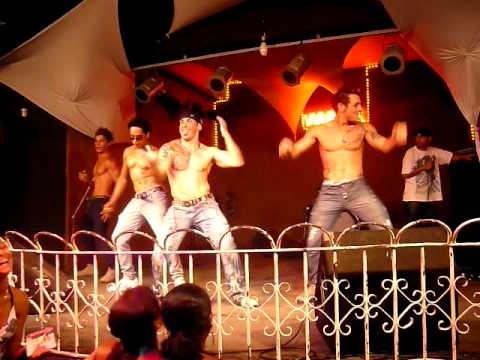 Promoting yourself and the venue can help you establish your name in the industry and possibly get you more jobs because it shows you can help bring in a crowd.
6. Be Creative
Venues like creativity. I have created many looks from adding gems to my face to doing my make-up like a doll. Photo by Mario Arizpe
With go-go dancing you must be creative. Go-go dancers are often asked to create themes and dress accordingly for an event the venue is promoting. You can get creative through costumes, make-up, and hair styles. Use the Internet to look up pictures for inspiration or watch a video tutorial on how to do your make-up or costume.
7. Be aware of your surroundings
It is important to be aware of your surroundings when people are drinking. People can become violent and if you are drinking it can be easy for one to slip in a drug into your drink. Photo credit: Jeraldine Ramos
In most venues alcohol will be sold. This means that there might be some drunks that will be disrespectful.
And, if you are drinking along with the patrons it can be very easy for someone to drug you. Make sure you know where the nearest bouncers are in order to signal them when someone gets out of hand or if you feel uncomfortable. Be sure to never let your beverage or water bottle out of your sight. Don't take a drink from anyone you don't know. Instead insist on being served only by the bartender or event organizers.
8. Have fun and smile
Smiling and having a good-time sets the mood of venue which can make it look like people are enjoying themselves. Photo by Mario Arizpe
Go-go dancers put the energy in the party. Not smiling puts out the vibe that you are not having fun and can make people leave. People come out to enjoy themselves so be sure to keep their spirits up. Besides, why not have fun when you are dancing!
How to become a dancer who does not interfere with anything?
Who is a dancer? A person who moves his arms and legs to the beat of music or his own internal rhythm is the simplest definition.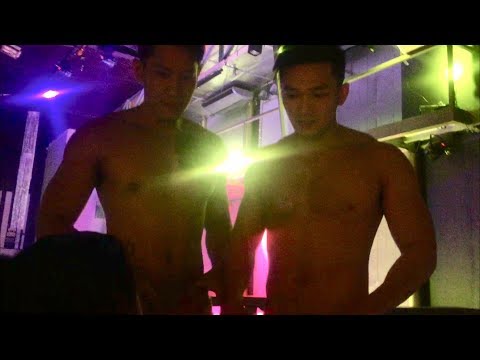 From the point of view of art, the body is the same instrument as the cello or violin. This instrument expresses emotions, feelings and moods. Dancing is no less an art than wielding a brush. The harmonious unity of the mind, soul and body is important here.
Someone thinks that the ability to dance is an innate talent sent from above. This is not always the case, everyone can become a dancer. Anyone who loves music, who enjoys moving to it, is in fact already a dancer, in the broadest sense of the word. However, to become a truly professional dancer, you need aspiration, desire and perseverance.
As a rule, the title of a professional is given to someone who has studied several years in a dance class. Behind him are more than a dozen performances on stage, knowledge of the names of all dance movements and a pack of costumes on hangers.
When it comes to street dancing style, the academic school will not help here. A professional on the street is the one who dances the best in the area.
Many people ask: how to become a street dancer? Only one way: watch and repeat. Watch how they do, what they do, what kind of music. Repeat at home in front of the mirror, over and over, until the result is satisfactory. The style of street dancing has long been on the stage, and you can learn it in studios with teachers. Of course, even when working in the studio, you cannot do without repetitions at home. You need to constantly hone your movements.
Success in the art of dancing directly depends on the goals set. Some want to dance professionally in the styles of Hip-Hop or Go-Go, others strive for a professional career in ballroom dancing, and others have long dreamed of participating in dance theater productions. People who from the very beginning wonder how to become a professional dancer often become the leading choreographers and art directors of their own dance studios.
Where to get knowledge to achieve your goals? We have already talked about the method of observation and self-study, as well as classes in dance circles.
Another way to learn is to participate in master classes by visiting specialists and dance competitions. Any professional activity, including dancing, requires the intervention of experienced teachers. Dance competitions will help you get the necessary criticisms and tips to improve your technique. Naturally, one must be prepared for disappointments. But not a single remark should stop a true dancer on the way to his goal.
When a person thinks about how to become a good dancer, he thinks about how to acquire technique and finesse of movement, while forgetting about personal qualities. But they are no less important than the baggage of knowledge and experience gained. A lot is decided by the energy and charisma of the author of the issue. Does he have a talent, or does he mechanically repeat the learned movements? Is he lethargic or does his temperament make him get up from his chair and give a standing ovation? It is personal qualities that sound the very final chord that affects success.
Along the way, in the world of dance, physical abilities are improved, as well as spiritual traits of a person's character. Success in this field can boost self-confidence.
When deciding what events to go to and how to become a dancer, the main thing to remember is that you should like the dance style. The body should literally "tear to dance" with the sounds of salsa or flamenco. Dance revives energy and mood. After all, it is not without reason that there is an opinion that dance is life.
Sign up for free class
Just fill in these fields
and we will contact you
Hip-Hop DancingDanceHallTwerk | Booty DanceTwerk | TwerkGo-Go | Go-GoBreakdancePoppingJazz FunkStretchingHouse DanceBody WorkHigh HeelsBody MadeContemporaryContemporary DanceStreet DanceRhythmDanceHall KidsStreet DancingBooty Dance | Booty DanceContemporary ChoreographyKrump | KrumpLady's StyleWaacking & VogueRagga | RaggaClub DancingBaby DancingWedding DanceExperimentalIndividualVIP GroupsHip Hop ChoreoBallet / ChoreographyBooty Dance | Booty Dance Jazz Modern Street Dance Kids Street Dance Kids Pro0003
Dance Directions
Hip Hop Dancing
Hip Hop Dancing
DanceHall
DanceHall
Twerk | Booty Dance
All directions
The whole truth about go-go dancing
Many people have heard about such a direction of dance as go-go.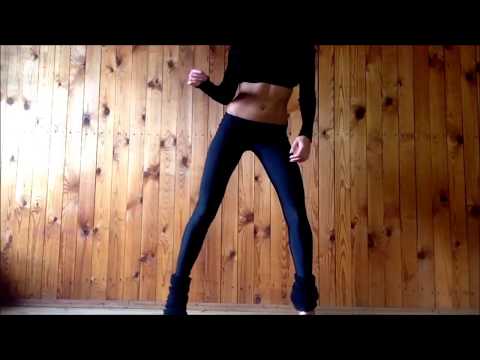 Yes, heard. We have all seen these wildly energetic girls and boys more than once in a variety of nightclubs and even at the opening act for ordinary corporate parties. Despite the apparent ease of such work, the dancers of this genre experience great stress, associated primarily with great physical labor and a bunch of stereotypes that, like a rain of abundance, fall on their beautiful bodies.
Our editors found out what go-go genre representatives face in their work, what their training consists of and how they fight against the stereotypical thinking of employers-customers. But first things first. To begin with, we go to the dance teacher in one of the dance studios. Elena Kostritskaya, a beautiful and fit girl, agreed to tell us all the "secrets" of her craft.
Elena, I'll start traditionally: what is go-go? What is the style, how is it danced?
Go-go is a club dance, - Len turns on the teacher's tone. - It is divided into two types: dances performed by girls in clubs, and the direction itself, which is taught in studios.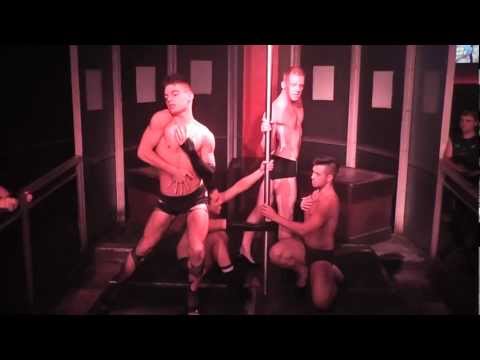 These are two different things. In clubs, it's more relaxed, sexy, there is usually much less space involved. The go-go that is being taught is more of a choreography. In the classroom, we learn to feel the music, learn to coordinate movements.
Why do go-go girls usually order? For what events?
Now it is fashionable to order a live performance: someone sings, musicians play, we dance. These are birthdays, corporate parties of companies, presentations. They don't invite you to weddings, the girl laughs. - They order to look at beautiful girls, to create the right atmosphere, to captivate guests.
When they place an order for go-go girls, do they usually understand what awaits them?
Whenever an order comes in, I ask again: "Are you sure you want this?" Lena laughs and emphasizes the word "this". "Sometimes they don't understand. Although now basically everyone knows what go-go is.
There are many stereotypes about your profession ( Lena nods ).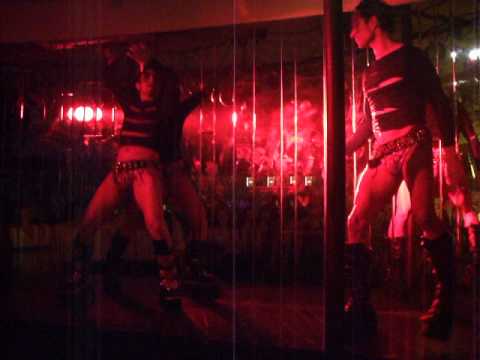 Many people think that this is a rather frivolous activity. So the question arises: how difficult and serious is your work?
Yes, there are stereotypes. But I don't think there is any easy job. Dancing is very difficult. This is a big physical load, especially on the lower back. You have to dance in high heels. It can be very uncomfortable, and at the same time you have to smile, pretend that everything is fine.
Speaking of stereotypes: do people often confuse go-go with striptease?
Before yes. Three or four years ago, they were constantly confused. Now this happens too, but very rarely. People are already more enlightened.
In general, why are these two genres confused?
Simply because they are not aware. Go-go girls have revealing outfits, just like the representatives of the strip industry. And we also have a hint of sexuality, but without it, it's still nowhere. But this is just a hint.
Is it difficult to work emotionally?
It all depends on the event.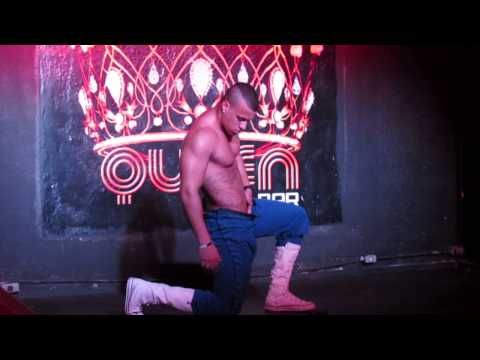 When people look at you and perceive you correctly, there is an exchange of energy between us. And in general, with experience, you understand when they look at you and discuss, even if negatively, it's still good.
What does it take to become a go-go dancer? Probably not every girl can dance? I'm talking about external data and professionalism.
Moscow clubs have certain criteria, but even there they make exceptions. Height is not the most important thing, there are heels! In other cities, the requirements are slightly lower. Optionally, this is a girl with long hair, seventy meters, etc. The main thing is the figure and the ability to move.
Go-go is improvisation after all or…
Yes, this is exclusively improvisation, - without listening to the question, the girl answers. - There are some universal links that we learn, but the real go-go dance in the classical version is improvisation.
The rehearsal room began to gradually fill up with young girls, everyone is getting ready for the next training session.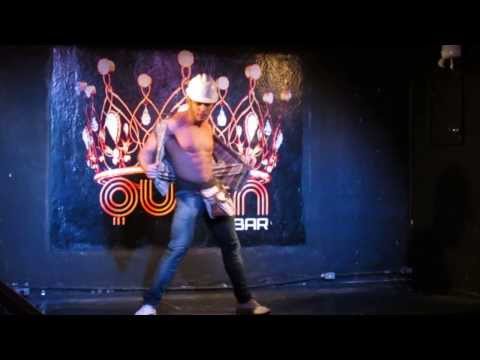 Someone came with a schoolchild who disappeared somewhere during the rehearsal. Mommy go-go. Interesting. Watching the newcomers, I suddenly became interested:
Do you think there is competition between dancers?
- Competition? ... - Lena thought a little, - probably ... no. I've only encountered this once. Moreover, the motive of the girl who competed with me is still not clear to me. Usually there are more friends than competitors.
Literally in the next 15 minutes, I realized what kind of colossal physical labor Elena was talking about. These girls have strength training, like soldiers in the army. Push-ups, press, stretching - a small part of what I had to see.
"Oddly enough, I started my dancing career with fitness. It was there that I realized that just fitness is boring. Therefore, a year ago I came to the dance studio, - Nastya Gorokhova, one of Elena's students, says during a break. - At first I went to strip plastic surgery, then I started doing go-go.
Literally six months later, I started performing."
How does your boyfriend feel about your activities? What about your loved ones?
He likes. He had prejudices, but we found a compromise with him. And friends are delighted, they are interested and come to performances, - Nastya happily reports.
Expert opinion
Victoria Tsitovich (Art Dance team) has been in the entertainment industry for over 10 years. She started working when go-go girls were also called "animators". Vika knows everything about this genre and even more.
Victoria, how is the go-go genre represented in the entertainment industry today?
Go-go, first of all, is a dance, a dance of emotions, inner state and understanding of music. To become a go-go, it is not necessary to be a professional dancer, I would even say that not every pro can be a cool go-go and vice versa.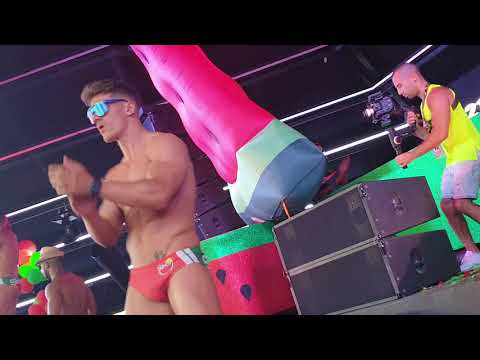 Now it is not so difficult to get into this industry. Sometimes it is enough to have a beautiful figure and attractive appearance, and the ability to work as an animator is the second point. Predominantly girls work in this market. There is a shortage of young men, but they are there, and it's great!
What is a customer today who chooses dancers of this genre?
For me, customers are divided into two types - those who want exactly go-go, and those who want to see animators at their event. The first ones just want the dance decoration of the party. The second is to work with guests. And this includes dancing, and assistance in holding competitions, organizing master classes, holding flash mobs. Here I always try to clarify what exactly is expected of us.
When and where is it appropriate for such artists to perform?
Events where artists of this genre can be in demand are very diverse.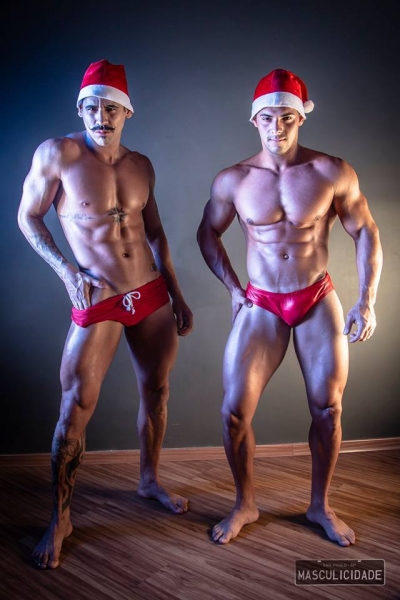 On the issue of relevance. We had a curious case: we were invited as a go-go to a teenager's birthday. As a result, we had to entertain the youth with competitions and jokes, since dancing was not very appropriate. I will say this, if you invite experienced artists, they will find a way out and will always be "to court"!
Have you ever experienced public misunderstanding and prejudice against your occupation?
Rarely, but it happens that the dancer feels out of place. Again, in such a situation, he must find contact with the viewer. Many viewers are simply embarrassed to show their interest or complex for certain reasons. For example, when working at a banquet, you literally have to pay attention to everyone personally. Previously, we were confused with strippers, but this was when this direction was not so developed. The very phrase that I work in a nightclub caused a lot of distrust. Now everything is much easier. Almost every second girl in our country is go-go, so there are no more suspicions about this.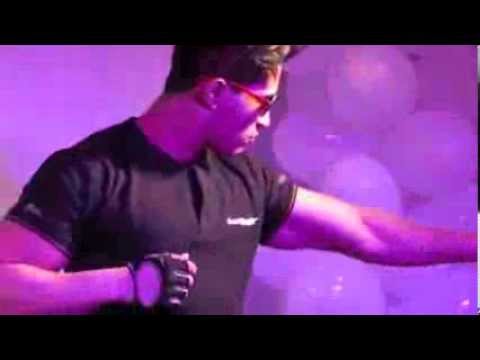 .