How much do pole dance instructors make
How Much Do Pole Fitness Instructors Make?
Pole fitness is becoming a new alternative to conventional forms of dance, yoga, and Pilates. And with the popularity of pole fitness comes an increase in the number of people looking to become pole fitness instructors. 
So, how much do pole fitness instructors get make? Pole fitness instructors get paid between $40-50/hour. Beginner instructors might only be paid $15-20/hour for the first few years, and experienced instructors in top locations can command up to $50-70/hour.
Here are a few additional factors that can affect pole instructor pay:
Instructors get bonuses for students ranging between $1-3/student.
For private lessons, pole fitness instructors earn an average of $50/hour.
The more certified and experienced the instructor is, the higher their pay.
Top locations like Los Angeles and Las Vegas might command 2-3x prices as compared to smaller towns.
The pole fitness industry is thriving, but there's still less competition than other forms of fitness, which means there's room for growth for new pole fitness teachers.
In this article, I will explore everything you need to know to become and thrive as a successful pole fitness instructor. 
What Is The Job Of A Pole Fitness Instructor
Pole fitness instructors primarily conduct and teach pole fitness classes to groups of students or privately. However, the role of a pole fitness instructor involves other activities such as:
Organize the pole studio facilities, cleaning, arranging the equipment, and creating the ambiance for classes.
Preparing class curriculums and designing individual programs for students at all levels.
Ensuring student safety and motivating them to do better.
Holding classes at the pole studio, 1-2 hours each, multiple times a week
Marketing the pole studio outside the premises, such as with live performances or on social media
Invoicing clients, signing up new students, and socializing outside of class
Top 6 Benefits Of Becoming A Pole Fitness Instructor
There are numerous benefits to becoming a pole fitness instructor.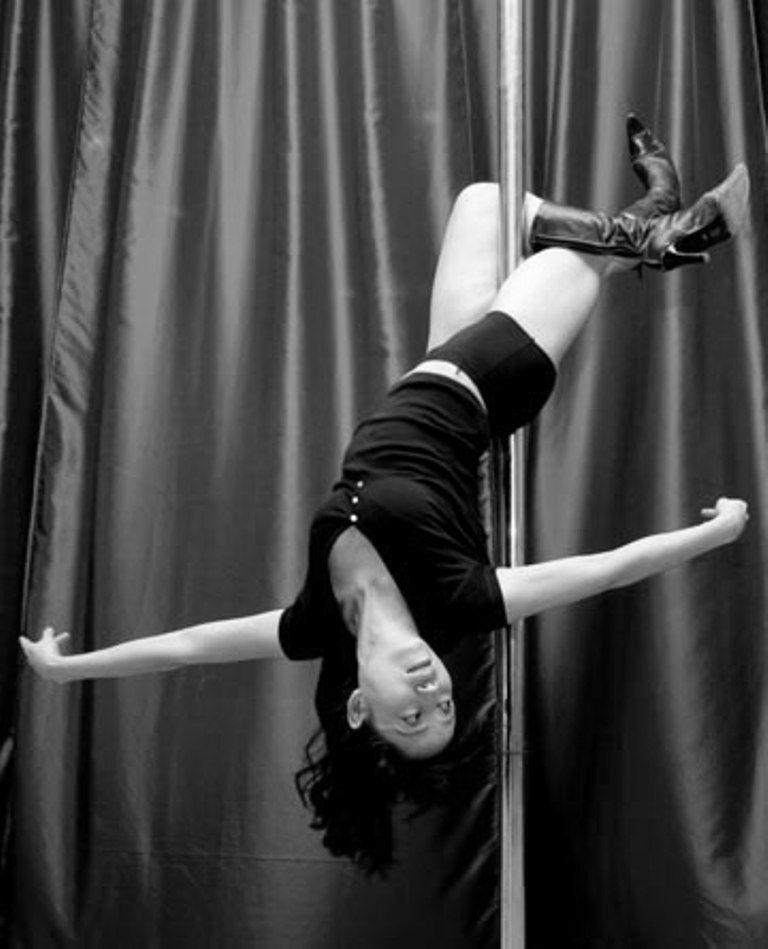 Pole fitness instructors enjoy high earning potential, ease of getting into the industry, and little/no competition. Pole fitness is a niche fitness space that is growing in popularity.
The following are the top 6 benefits of becoming a pole fitness instructor:
1. Earning Potential
Pole fitness teachers can make anywhere between $15-70/hour.
There's money to be made in pole fitness. Beginner instructors with basic experience can get paid $10-20/h starting, plus bonuses for student attendance. Advanced instructors with certifications can earn $50-70/h and get paid more for additional students. Instructors can teach at multiple schools, increasing their earning potential.
Moreover, instructors can open a pole studio if they believe in their ability to market and attract students. They also collect significant income from private classes, which cost as much as classes at the studio. 
The average pole fitness instructor will receive calls by clients every day, asking for a class that might cost $50-100 per hour.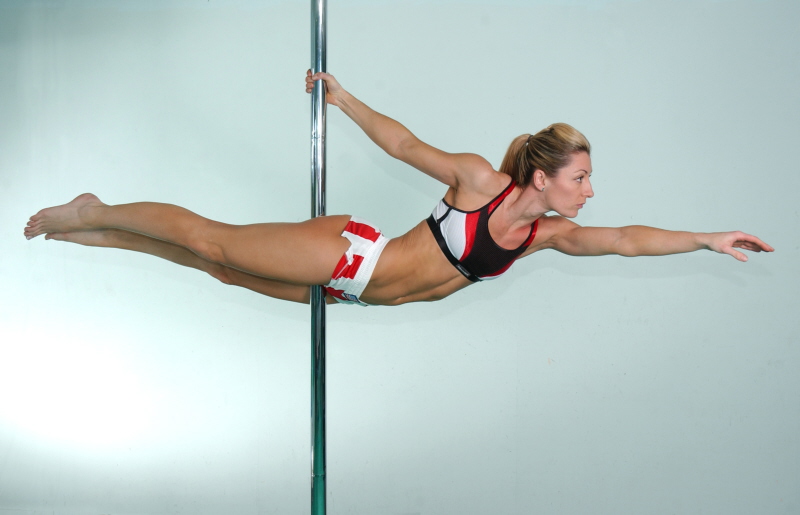 The best teachers calendars are full all day.
NOTE: Use StudioGrowth to create your class schedule and share it publicly on social media. Customers can see the schedule and book and pay for classes in a few simple clicks.
Pole Fitness Instructor Pay Is Dependent On Location
The geographic location of the pole fitness studio will determine how much instructors get paid. The rates vary significantly by city, as this is a relatively 'niche' industry, and large cities have the most demand.
Cities with a lot of pole studios such as New York City, Las Vegas, San Francisco, and Los Angeles are the top locations to work as a pole fitness instructor. The average hourly rate is $40-50, and beginner instructors can earn $30-40/h.
Instructors make half as much in smaller towns with lesser demand.
You need to pick a city with a lot of demand because if you're going to make a living teaching pole fitness, you have to go to where the market for pole fitness classes is massive.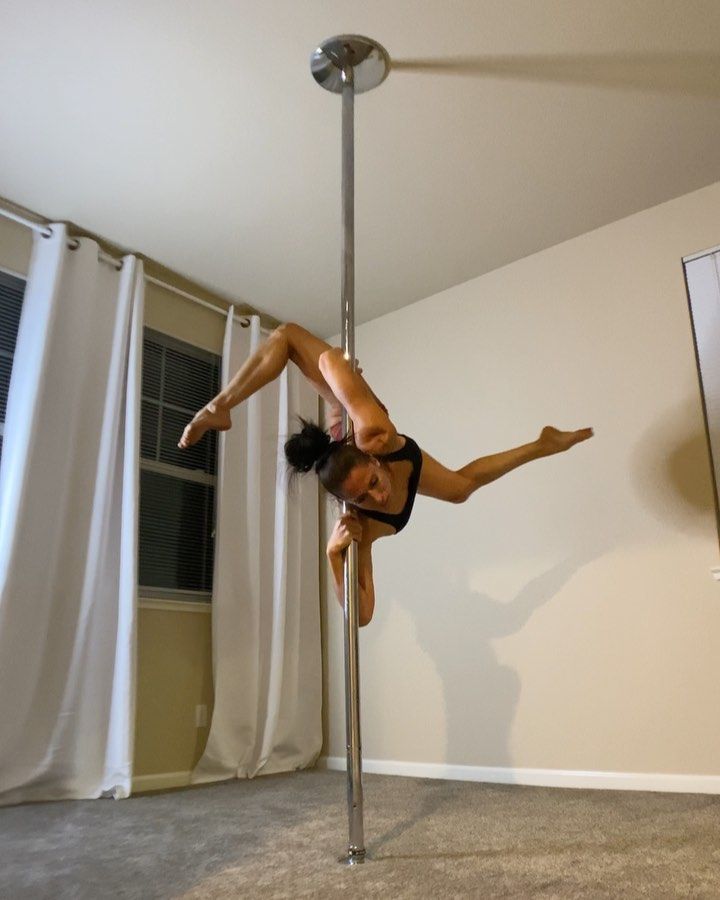 The hourly rates vary between studios. Some studios might have less attendance and pay their instructors less. Packed studios will pay instructors more, but they require more experience and certifications.
2. Passion & Experience Needed, Not Formal Qualifications
It's possible to get qualified as a pole fitness instructor for less than $1000. You can be self-taught and only have the minimum experience to start working at a studio. 
There is already a wealth of information available online, and future instructors can download courses that will give them insights about teaching pole students. You will also find all the information you need to open your own pole fitness studio.
The simplest way to become a pole fitness instructor is to try out for a job at the pole fitness studio that you already attend.
Top studios will demand a teacher certificate + 2-3 years experience working as a pole instructor if you want to have a packed class with guaranteed income.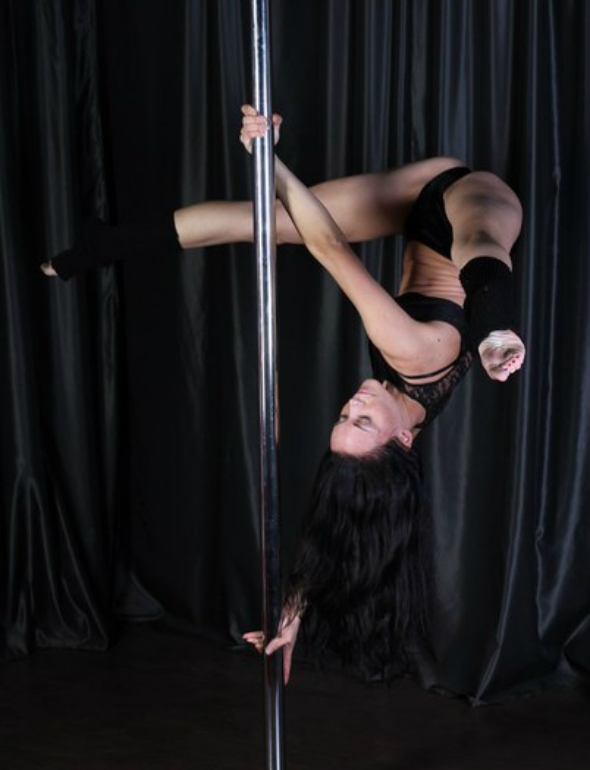 Pro Tip: If you do choose to be qualified, sign up for pole teacher training. You will need to spend at least six months taking pole classes on your own before you're allowed to attend an instructor course. You also might be a registered Group Exercise/ Gym Instructor to attain ACE or AFAA CECs.
3. You Can Teach Pole Classes In Any Dance Studio
Dance studios might cost as little as $30/h to rent. If you run a dance studio, you can convert it to a pole studio when required. The studio environment remains the same. You can improvise with a free-standing fitness pole.
If you're a dance studio owner, you can offer pole classes as an additional option to students. Pole fitness can also be taught in several different environments: offices, bars, hotels, even private residences.
The location for the studio could be a regular dance studio with mirrors. You will also need a sound system and suitable floors. You don't even have to rent your own space and spend money on equipment, as the average dance studio costs $30/hour to rent.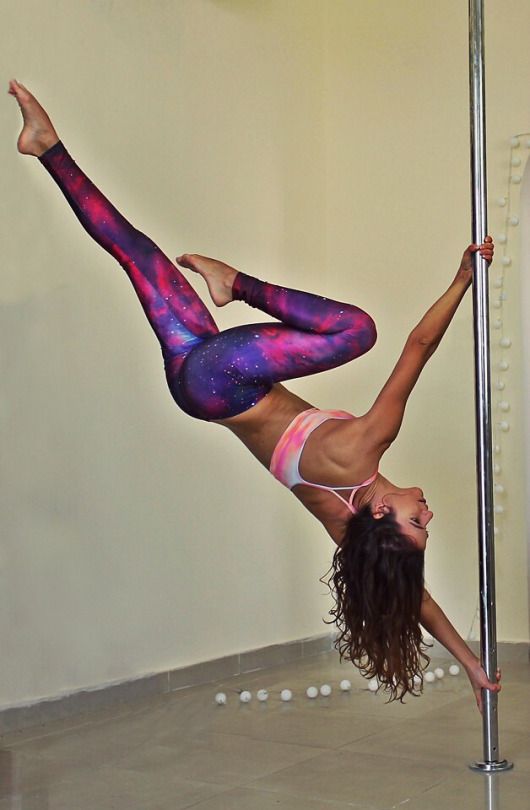 If you make more than the rental cost, you can pay the rental fee using the money you gather from students.
4. You Can Become Healthier
Pole fitness instructors tend to be in top shape from the frequent workouts. You'll get more in shape as you spend days exercising and teaching pole fitness. 
Daily exercise will have positive effects on your body, and students will admire the figure you've obtained. Not only will there be health benefits and aesthetic improvements, but your self-confidence will increase as well. 
Check out the Instagram accounts of pole fitness instructors. You can see the real opportunities that pole fitness and being fit has afforded them.
Safety First
The downside to all of this exercising is that you're more prone to getting injured. 
Think about it; if you're a pole fitness student, you risk injury. As an instructor, a single injury could mean you lose your livelihood and have to stop teaching. Small injuries could mean you won't be able to teach temporarily while large ones could keep you off the pole for all eternity.
You have to be alert at all times and watch yourself not to repeat identical motions hundreds of times as this might put a strain on certain muscle groups and cause them to snap. Injuries happen on the dance floor, and the instructor is the most prone to injury. Be careful with each lesson and put safety first.
5. You Can Become A Social Influencer
https://www.instagram.com/p/B8HYm3EBizp/
Fitness instructors have to deal with people inside the studio and outside. Your hustle doesn't stop when your classes end. You'll have to perform public demos, respond to DMs on social media, talk to students before/after classes, and get in your local dance scene. 
Fortunately, pole students are some of the most open-minded students you will ever meet, which means many of them will spread the word about you.
6. You Can Get A Head-Start In The Industry
Pole fitness is a relatively new industry, which means there's plenty of opportunity for work and little competition.
You'll be at the helm of this industry and one of the first studios in your area. You'll help build the community and attract students who might not even be aware that pole fitness exists.
5 Steps To Become The Best Pole Fitness Instructor
The following steps show you the process of becoming a successful pole fitness instructor:
Step 1) Master Technical Skills
Start by gathering technical skills. This step could mean taking pole classes for three years. It could also mean taking regular dance classes with some pole classes mixed. A third option is enrolling in a professional certification course that costs thousands of dollars.
Regardless of how long it takes you to obtain the skills necessary, you must take your time. You want to feel at home when you're in the studio, know how to achieve the different performances, and move carefully and dynamically. Not only that, but you'll have to learn how to convey the techniques you know in words.
You need the skill to become a teacher in the conventional sense. You'll need to know how to progressively increase the difficulty for students and gradually teach them the skill-set. This process means taking on beginner students and rehearsing advanced moves with experienced students.
Step 2) Care For Safety
If you get injured, you might have to cease working as an instructor forever. It's even worse when your students get injured because you have to bear the responsibility. 
Safety is your #1 concern when you're teaching students. Aside from skill, a great teacher knows how to asses a student's performance and put an end to their exercise if they're over-extending themselves.
If a student wishes to learn a new move, but you feel they're not ready for it, you must have the confidence to assign them to more exercises beforehand. This way, the student can gain the flexibility they need and attempt the exercise again. If you let them rush, they might get injured.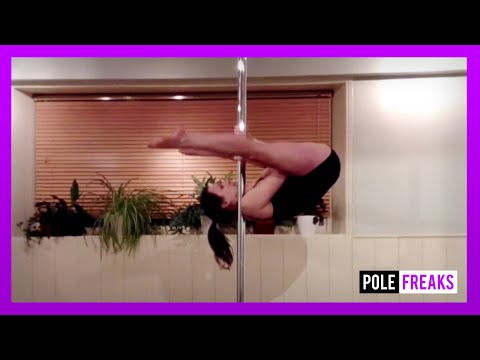 This process is critical for moves that the students have never performed in the past. You need to know where to place the crash mats for each move. Always optimize the environment for safety.
Step 3) Build Social Media Presence
You're not selling your classes; you're selling yourself. Students want to get to know you personally, and many will want to keep in touch outside the studio. If you're not big on social media, start by creating an Instagram account for your studio or yourself where you can upload videos of yourself and with students.
You should also put your contact information there, such as your email address and website, so that people can reach you. Students will email and DM you questions on your Instagram. You should respond fast to their inquiries; otherwise, they might go to your competitors.
Social media will bring more people to your class than posting print ads in the neighborhood. The dance scene is connected, and everyone knows each other.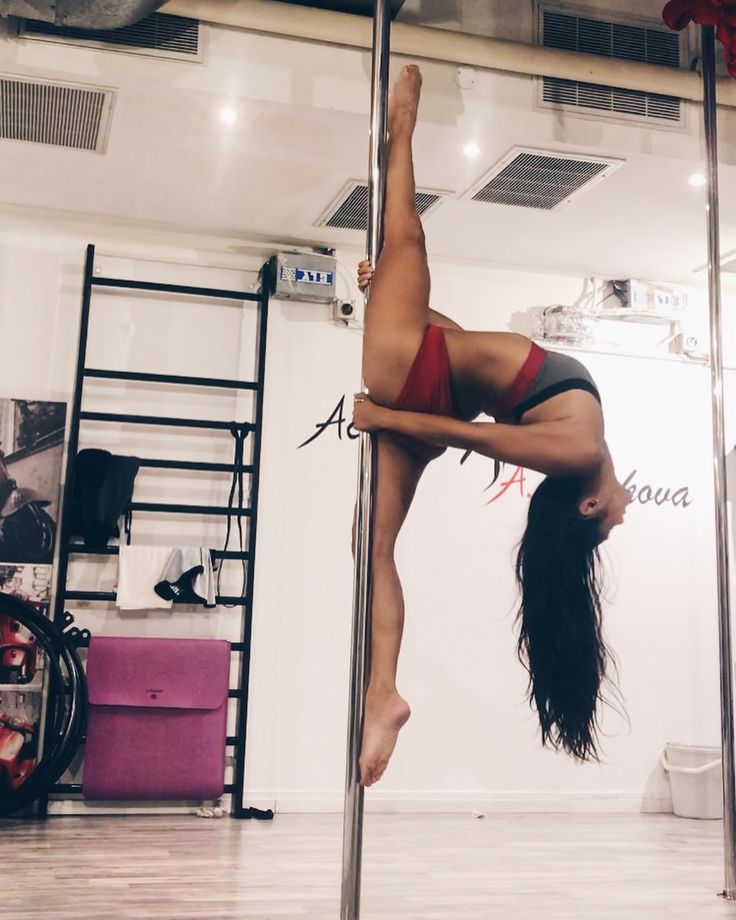 Once your classes feature on people's stories, the word will get out, and you'll get noticed by hundreds of people who never knew you existed. This process allows you to sell your classes and receive more coverage.
Step 4) Have A Passion For Teaching
You're a teacher, a master, an instructor. Your job is to convey your knowledge to the student. Think of your job as no different than that of a history teacher. You both have to deal with challenging students and help them if they're struggling. You must have a passion for helping your students because you've likely overcome the same challenges as they are facing.
Observe your current teacher and emulate their teaching style. If you don't feel passionate about teaching, you're better off changing career paths. You must bring enthusiasm to classes and show empathy to students struggling to make progression.
Step 5) Build Your Local Community
Your local scene might be smaller than those of large cities.
You might even be the only pole fitness studio in the entire county. You need to take charge as the community leader and engage with other studios in your area.
Example: You might want to get to know the owners of dance studios in the area and promote each other's businesses that attract students to both studios. You could also visit gyms and introduce yourself to the members [after obtaining permission from the gym owner] there and tell them what you do. It's going to take time for the community to grow, and there are mutual benefits in engaging with other similar studios.
Frequently Asked Questions: Pole Fitness Training
Q: Do I Need To Lose Weight Before Training?
A: No, you don't have to be a gym expert with a 6-pack to become a pole fitness instructor. However, you will naturally become fit with all the exercise you're getting. Start by taking classes at a pole studio for a couple of months. Doing so will inspire you to get fit naturally, and you'll become healthier.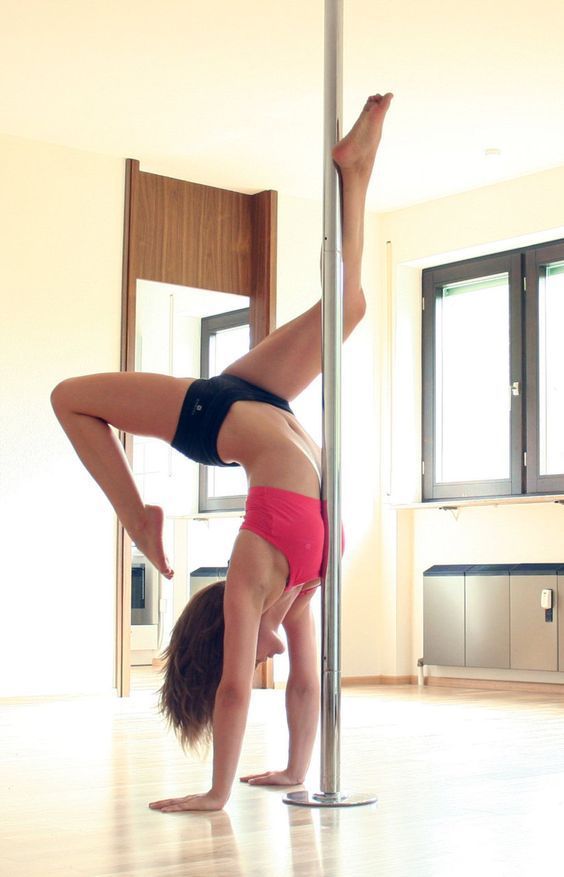 To join a pole studio, you don't have to be in top shape, although it helps because it's hard to perform certain moves if you're overweight. Aim to at least have a medium level of fitness before you join classes. As an instructor, it's better to be fit as this makes an impression on students that they can achieve the same body as you.
To join certification courses, you don't have to be fit. You only have to be ready to learn. However, most of the certification courses recommend taking a few months of classes before they let you hop on an instructor program. There are no minimum BMI requirements before you enroll. 
Q: Can I Enroll In An Instructor Program Without Experience?
A: Yes, you can start training for an instructor program without teaching students beforehand. Many courses are available for future instructors without teaching experience. They teach you the basics in terms of what you need to teach students, or you can immediately sign-up for an intermediate course if you have experience.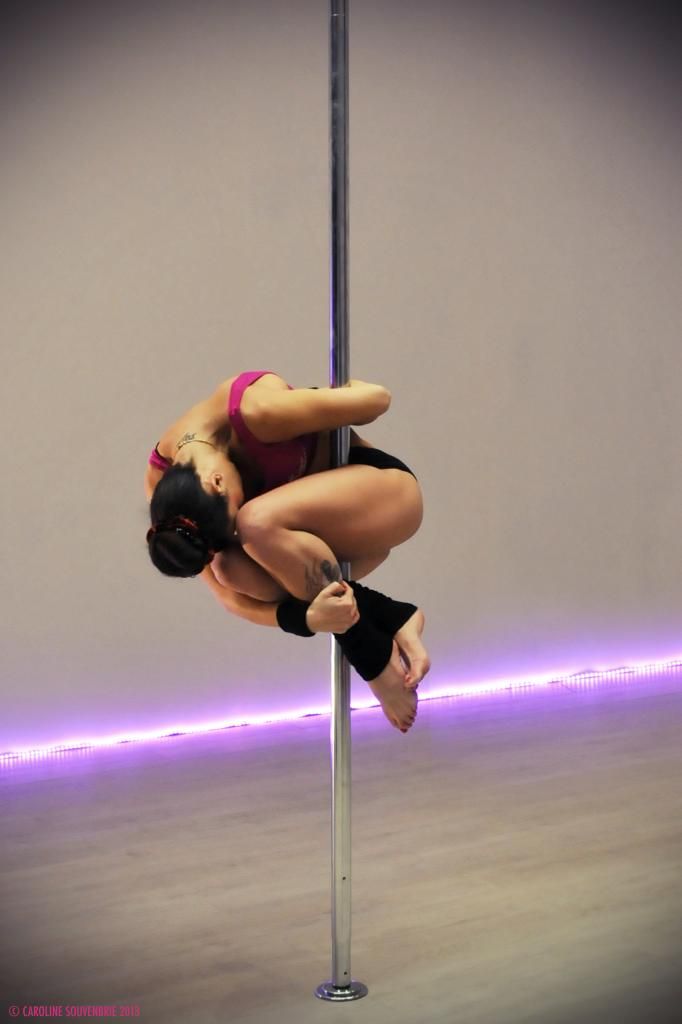 Some courses are only 1-2 days worth of material, and this means you can follow them easily, even without prior experience. The general recommendation is six months' experience taking pole classes before starting instructor courses.
Q: What Is The Ideal Age To Become A Pole Fitness Instructor?
A: You're never too old to become an instructor. However, you might be too young. The minimal requirement will be 18 years old to sign up for instructor courses. In certain exceptions, the parents might agree to sign a parental consent form for a 16-year-old, although it's better not to teach until you're at least 18 years old. Every legal adult who is keen on teaching can enroll in a teacher program.
Q: Is Pole Fitness Only For Females?
A: No, men can also attend pole studios and become pole instructors. However, pole fitness is a female-dominated industry.
Q: Can People With Physical Conditions Become Teachers?
A: If you have a medical condition, the answer depends on whether it increases your risk of injury.
If an injury could worsen the medical condition, you should generally keep off the pole. Some courses might ask for a doctor's consent when you enroll.
Q: Are Qualifications Mandatory To Get A Pole Fitness Job?
A: No. Many studios will hire pole instructors without qualifications if they have experience or take classes at the same studio. An instructor with years of experience who is well-known on social media will get preference over a new instructor with a certification.
However, the academic barriers are minimal, and there may be more dance requirements. Generally, you want to start out taking dance classes or pole studio classes for a year until you get in pole fitness teaching professionally and obtain the necessary certifications.
I write abouT establishing and Growing your boutique Fitness/Wellness Business. I promise no spam, i hate spam.
Enter Your Email To Receive Growth Tips For Your Boutique Studio. I Also Send Out Occasional Discounts And Freebies
---
About the author
Naz Ahm is the founder of StudioGrowth and has spent a decade growing start-ups and venture-backed companies.
He writes about sales, marketing, and growth, especially in the yoga, fitness and wellness industry.
Naz has an MBA from IESE Business School and started his journey in the wellness industry when he set-up an on-demand wellness business. Naz currently resides in London, U.K.
How to Become a Pole Dance Instructor: Complete Step-By-Step Guide (2022)
If you're aspiring to become a pole dance instructor, by the end of this article, you'll have the know-how. This article explores how to become a pole dance instructor, what it entails, including salaries, qualifications, and responsibilities. Without further ado, let's jump right into it.
Table Of Contents
Becoming a Pole Dance Instructor
Prepare for certification & Course Costs
Enrol For Instructor Training
Do's and Don'ts of a Pole Dance Instructor
Benefits of Being a Pole Dance Instructor
Final verdict
Becoming a Pole Dance Instructor
If you're a pole dance enthusiast hoping to become a full-time professional pole dance instructor, prioritize getting a certification in the field.
You must also audition as a pole dance instructor in various studios after getting a certificate. Getting a job as a certified pole dance instructor will result in better-paying jobs than you would have access to as an uncertified one.
Trending
Where To Buy A Dance Pole In 2022? Best Dance Pole For Home Use (Buyers Guide)
The following section will point you toward becoming a professional pole dance instructor.
Prepare for certification & Course Costs
It's essential to evaluate your financial position to see if you can fund the course. Most of these pole dance instructor courses are offered in three levels, i.e., beginner, advanced and intermediate.
Take an online course that requires you to record yourself and share your skill progress with your teachers. Alternatively, consider taking an in-person course at a training center.
Typically, a course can cost about $750 on average.
However, this price can vary significantly depending on several factors. Set aside at least $3,000 for a complete pole fitness instructor certification.
Some courses combine all three levels in one course. Such a combination tends to be more costly and takes several weeks or months to complete. Plus, they are usually conducted in a retreat-style in an exotic environment.
Enrol For Instructor Training
Ensure you've done thorough research on the best available instructor schools before enrolling. Remember, there aren't organizations that certify pole instructor schools. So, you'll have to pick one that suits your preferences, including the payable learning fee. Do your research on some of the master trainers in your area such as XPole Xpert fitness certified instructors.
Nowadays, most of these schools can certify you without ever leaving your home. All they require is demonstrations as tests. Alternatively, you can fly out of the country to take the course for a few weeks or months.
Some of your destinations may include;
● PoleandAerial Pole Instructor School
● PolePeople Pole Instructor School
● XPERT Pole Instructor School
● ElevatED Pole Instructor School
Audition for pole instructor jobs at fitness studios
After certification, the next step is auditioning for jobs at various pole dance studios. Pole dance is a niche-driven industry.
In applying for a job, be prepared to move to a different city unless you open your studio. That's because even though pole dance instructors are high on demand, there are few studios in each city. ways of increasing your chances of getting hired include;
Visiting pole dance studios
Start by visiting local studios in your area and ask for available job openings. Since most studio owners are teachers, consider being upfront when hunting for a job. The studio owner might require you to audition by showing off your skills in front of students.
Note, you have to personally reach out to the studio owner because they're the ones who know if they need instructors.
Another trick to getting in touch with the studio owner is signing up for a private class. That will give you a chance to introduce yourself.
Drop your CV in many studios
As you construct your CV, ensure incorporating your dance and fitness history. Choose the template that represents you professionally while pointing out your strengths.
Trending
Best Dance Pole For Plus Size Dancers: Complete Buyer's Guide
Importantly, you should have videos showcasing your skills as proof that you can teach pole dancing. Begin by sending your CV to as many studios as possible countrywide.
You can visit pole dance studio websites or other platforms with jobs openings. However, email them your CV if a studio doesn't have a web page. With your CV circulating out there, you should get interview offers within a week or two.
Passing the auditions
After sending your CV in circulation, you must prepare adequately for the auditions.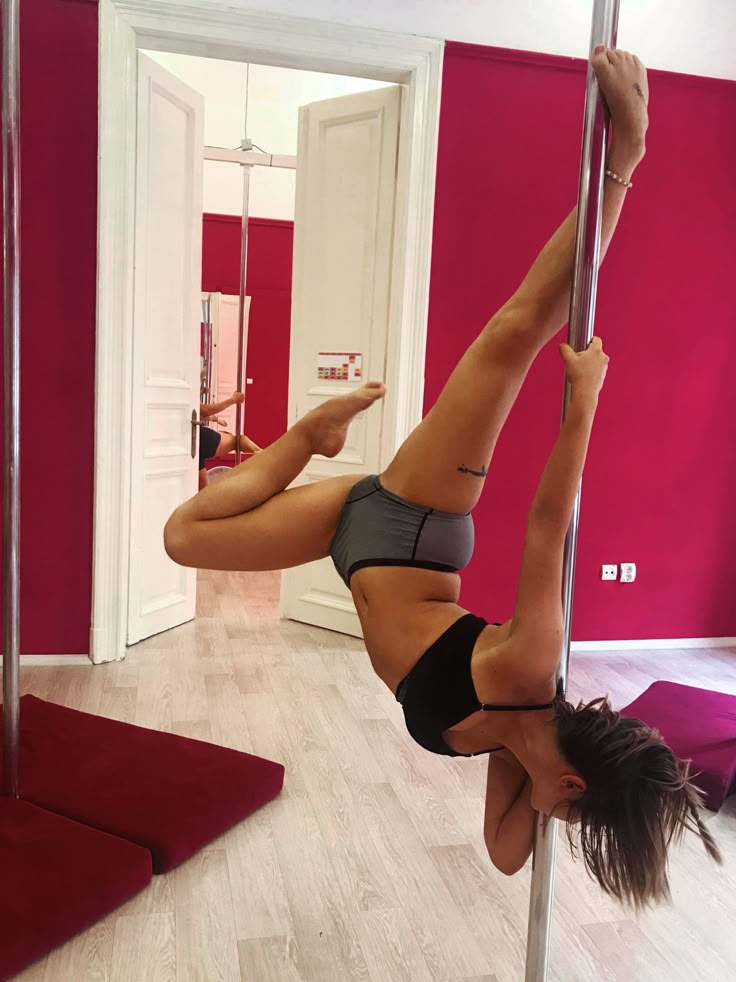 Remember, you might not be the only applicant, plus pole dance studios don't do outright hiring. You may be asked to audition in front of students or a group of teachers.
Alternatively, you may be required to teach students. These are meant to evaluate your teaching skills. If you impress the studio owner with your skills, they might hire you full-time on the spot.
Typically, auditions take about 2 hours, depending on class length. Note that as you audition, you'll be assigned, beginner classes. It's not a guarantee you'll get the job after auditions. Teach your friends or practice in front of the mirror to boost your confidence. This is fundamental in increasing your chances of getting hired.
From Teacher Training To Teaching professionally
After getting hired, you'll have the opportunity of teaching more than two groups of students, including private classes.
Pole dance classes typically consist of a less and manageable number of students than yoga. For example, while a yoga class will have about 30 students, pole dance classes consist of ⅓ or less that of yoga.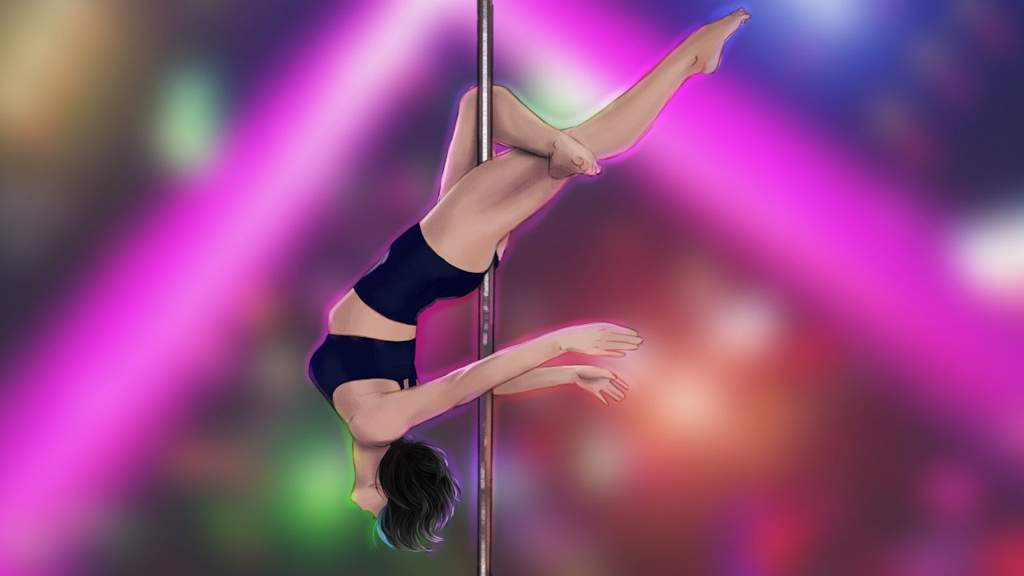 Few students give you an opportunity of providing individual attention.
Do's and Don'ts of a Pole Dance Instructor
Helping someone discover their skill set is fantastic, and if you aspire to explore it through becoming a pole dancer instructor, you should know a few dos and don'ts:
The dynamics of body movement
Since pole dancing involves muscles endurance and coordination, your student's safety is practically on your hands. So, you must properly show them ideal body movements and muscle engagement that won't harm them. Bear in mind also that not everyone is tuned to their body. So it's your job to ensure they are adopting the proper techniques.
Ensure your students are familiar with terms related to pole dancing, such as 'trapezius'. Additionally, ensure they understand what you're saying. For example, "tighten your core as draw in your navel," they have to know what comes after what. To ensure the students are following every instruction, consider moving around and see what each is doing.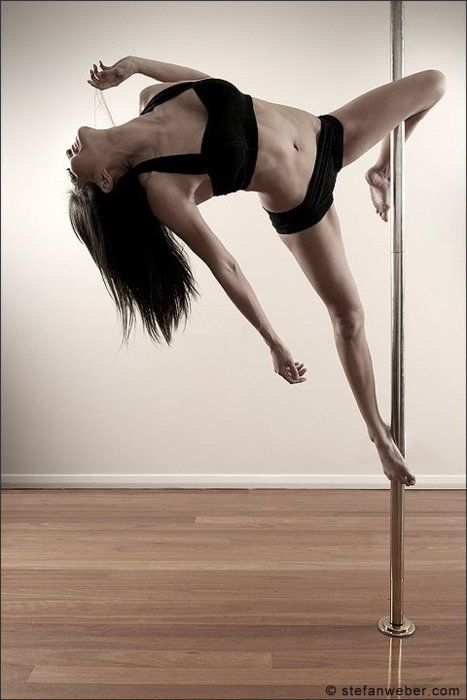 If some of the students have trouble with some tricks, consider breaking the tricks into manageable parts. And if that's not possible, show them a less advanced version of the trick.
Trending
Can You Do Pole Dancing if You're Overweight?
Your class will consist of fast and slow learners. As you help slow learners improve, also help the other group advance their skills. Studying anatomy, science, sports, and other relevant fields for proficiency is advisable.
Be welcoming
Having a welcoming face is essential for welcoming new and shy students to dance in front of others in a pair of shorts, especially if it's their first time. Make them feel that the studio is stress and judgment-free zone.
They might not like how they look when they see themselves in the mirror, so it's also your job to make them feel good about their body.
Ensure to wear an inviting smile while greeting your students. In addition, learn your students' names so that they know you care about them.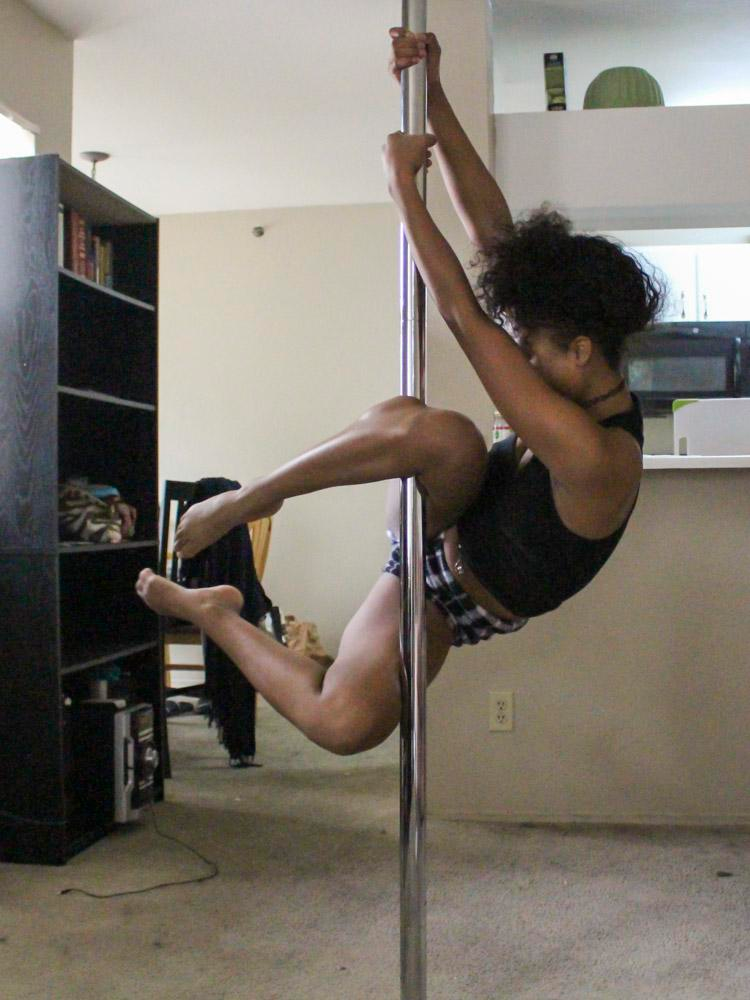 Even if you're stressed when coming to class, smile because most students come to distress after a long day's work.
Deliver Safe & Effective Classes
As with any type of fitness class, it is important to ensure that your students are safe and effective in their pole dancing. Before launching into a lesson plan, be sure to do the following:
Review the basic steps and safety guidelines for pole dancing. Make sure your students are familiar with the moves before you begin teaching more advanced steps.
Demonstrate each move before having your students perform it. This will help ensure that they are doing it correctly and safely.
Utilize a spotter whenever possible. This will help keep your students safe while they are learning new moves.
Encourage your students to take breaks as needed and drink plenty of water throughout the class period.
Lighten the mood with jokes
Most students will focus on what you're saying not to miss anything, which can make the mood in the room too serious.
Lightening up the room with some jokes can go a long way in engaging your students. Plus, it will make the learning process fun and enjoyable.
Throwing in a few jokes in your explanations is also advantageous as it makes it easy for the students to understand your instructions. \Also, it's a trick to ensure your students leave your class while smiling. Your students will be eager to attend your class in the next session, especially after associating it with your sense of humor.
Warming up
Since pole dancing is practical, you must warm up effectively to get your muscles ready for the upcoming lesson with your students. Remember, warm-up exercises significantly energize the muscles and target specific body muscles. The warm-up exercises usually take 10 – 15 minutes.
Note, active stretching and dynamic body movements are ideal for warming up than passive stretching. It's because passive stretching can significantly decrease your energy.
Ensure to make warmup plans beforehand.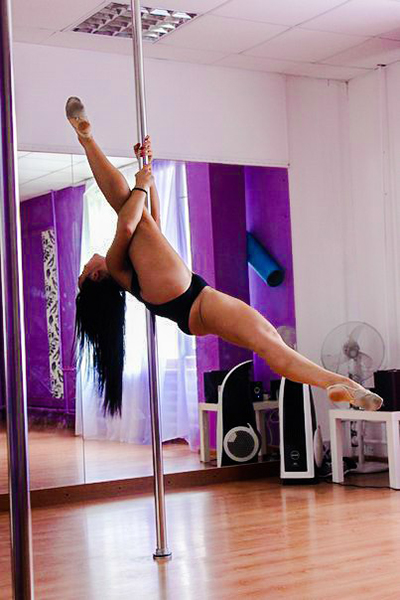 To keep the warm-up exercises variable, try them out yourself.
Trending
Top 3 Best Knee Pads For Pole Dancing (Anti-Slip & Protective)
Don't come to class unprepared
Showing up unprepared can significantly affect your career negatively. If it becomes a regular habit, you might start losing students; plus, it dampens your student spirit to learn. Always show up prepared, so your students are eager to learn something new.
Don't exclude the music
Giving plain instructions can sometimes be boring to students. Remember to include music in your pole dance sessions. Music will lift your students' spirit, and it's also an essential motivator. Music also makes the pole dance routines enjoyable.
You must be cautious about the music to play. Playing music your students have heard a thousand times is bound to bore them. Choose music that most of your students are familiar with while maintaining relevance regarding the dance routines.
Don't cut anyone out
Bear in mind that all your students want your attention. Try helping everyone but don't let one student use up all your time. You should know that no matter how many students you have, don't shy away from helping them at the individual level regardless of their; sex, age, etc.
Don't show off
Don't show your students how good you are at pole dancing. After all, they've come to learn and not to watch you. As their instructor, you have to focus on giving them proper guidance. As you show them cool tricks, explain how to execute them in simple, understandable ways.
Benefits of Being a Pole Dance Instructor
As you grow your career as a pole dance instructor, the advantages will be countless if you play your cards right. Remember, to succeed in this industry, you have to put in more effort. Below are some of the major importance of being a pole dance instructor.
You get to enjoy what you love
If pole dancing is your passion, you're in the right place.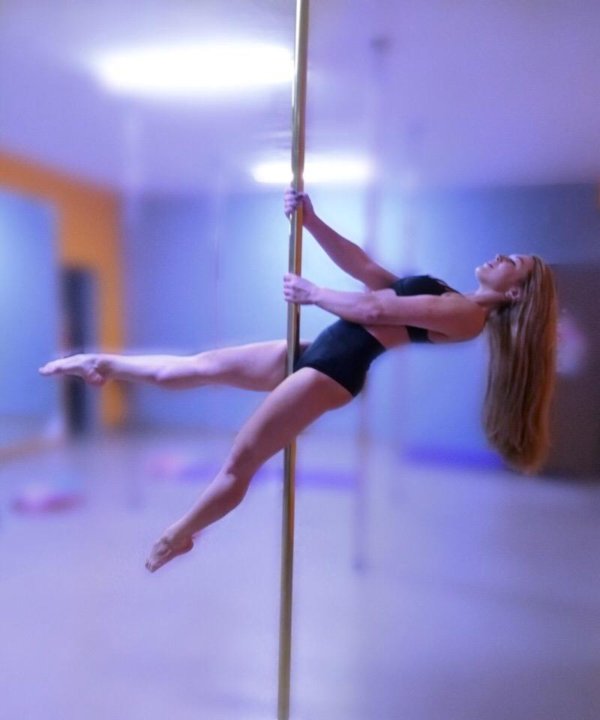 However, if you're doing it for others, you should revise your career choices.
Plus, if you don't love pole dancing, then you'll be a lousy instructor. But If it's your passion, you'll benefit by keeping your body fit through physical exercises, among others.
Numerous job opportunities
Pole dancing is a fusion of physical fitness and dancing. 2015 is when pole fitness took off. However, there aren't many pole fitness instructors since most stick to the music niche. And they can easily get jobs in schools or studios than pole fitness instructors.
Pole dancing is more popular because of its fusion. As your train tour students new dance skills, you're also helping them keep fit. The good thing is that there are numerous job openings daily you can apply for with different wage offers.
Building a following
Once you become a reputable and reliable pole dance instructor, fame follows whether in your community or the internet.
There are many pole dance instructors with many followers on YouTube, Instagram, Facebook, etc.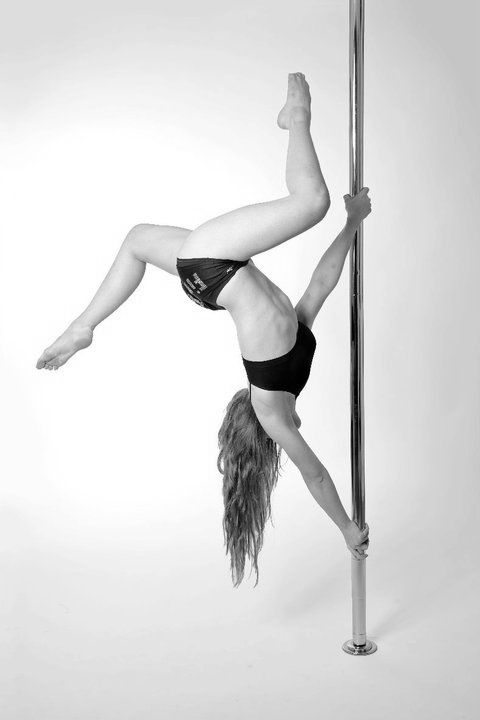 , who entertain their followers with their dance routines. A significant advantage of having a huge following is getting high-paying clients who seek your training services.
Pole dance instructor salary
Pole dance instructor career is lucrative, and those in the industry are earning big. According to salary.com, the average salary of a pole dance instructor ranges between $50,000 and $54,000 per year. The salary weight also depends on the studio location and the number of classes you're assigned.
Top earners' salaries can go up to $56,000 annually. In addition, the wages of pole dance instructors in major towns can double that of those in small towns.
If you're a beginner instructor, you'll earn about 45% of a major instructor with two years of establishment. If you're new to a studio paying experienced instructors $37 per hour, expect to be paid half.
The good thing is once you have a solid reputation and establishment based on your experience, you can earn up to $140 per hour for private pole dance classes.
However, instructors with about 3 to 4 years of experience can also earn high wages ranging from $60-$100 per hour.
Final verdict
The Pole dance instructor industry is lucrative since it is fast rising. As already mentioned earlier, you don't need certification to be a fitness instructor.
However, certification is necessary if you want to become a professional. Before making any major decisions about your career choices, you must ensure it's what you want to pursue. Once you've established its ideal for you, feel free to proceed with it career-wise.
Search for a full-time pole dance instructor resume in Moscow. Find a full-time pole dance instructor in the resume database hh.ru
To see all resumes, register
After registration, we will show 279 more and open a photo
Job
4 years 10 months
Last job
Energy Dance Studio, September
2019
-
to the present
Updated March 23, 2021
Experience
6 years 5 months
Latest place of work
Probro Dance Studio, March
9000
2021 9000
-
to present
Updated on 11 October at 18:11
Work experience
10 years 4 months
Last job
5life school of dance, fitness and yoga, August
2016
-
to the present
Updated June 13, 2019
Experience
8 years 7 months
Last place
present
Updated October 25, 2021
Experience
18 years
Last job
Passion dance Pole Dance, June
2014
-
to the present
updated September 15, 2014
Experience
2 years 9 months
Latest place of work
Sparta, April
2017
-
July July July July
2017
Updated on January 4, 2018
Work experience
11 years 11 months
Last job
Dance school, January
2022
-
to the present
updated on October 7 at 23:15
Experience
10 years 8 months
Last place of work
Vita- Sporta, Show Gerls (Show-Business/ Entertainment/gambling business)
, January
2002
-
August
20120003
Last place of work
Studio Pole Dance, May
2018
-
to the present
Updated 3 April 2021
Experience
3 years 3 months 9000 Premium pole, Sep
2021
-
to present
Updated Oct 13, 2021
Experience
100020002 Last place of work
Studio Pole Champion, November
9000 June
2013
—
present
Updated
28 January 2017
Experience
003
Latest place of work
kinesioteperation, September
2021
-
to the present
Updated on October 21 at 11:56
Experience
years old
Latest place , October
2016
-
May
2017
updated on September 26, 2019
experience
7 years 7 months 9 months 9 months 9 months0003
Last place of work
sky, January
2019
-
July
2022
Updated October 26 at 09:51
Experience
years 10 months
Last place
SELF CLUB, May
2016
-
to the present
updated November 10, 2017
Experience
1 year 8 months
Last place of work
Individual classes, March
2021
-
to the present
Updated October 25 at 18:32
Experience
9 months 10 months
Last place of work
Studio Studio Ultramarine Dance Jan
2013
—
to present
Updated Oct 20, 2016
Work Experience
9 years
Latest place of work
IP Savina Inna Vyacheslavovna, October
2014
-
December
2017
updated August 21, 2018
Experience
years 7 months 9000 9000
Latest place
SV fitness, LLC, September
2014
—
June
2020
September 1302
Updated0002 12345next
Interview with exotic pole dance instructor Anna: there must be discipline in my classes!
Anna at the largest Exotic pole-dance championship in Russia
Our publication today is dedicated to an interview with a popular coach and choreographer of exotic pole dance, participant and winner of numerous pole dance championships, and simply beautiful Anna K.
— Anna, tell us, please tell us about yourself and how you got into dancing?
- I came to dance a very long time ago. If we talk about exotic pole dance, then for more than seven years I have been doing this direction. Naturally, it all started with strip plastic, for Belarus this direction was relatively new. Later, I gradually mastered new elements, and gradually moved into the direction of exotic pole dance. At that time, this type of dance was not as popular as it is now, there were only a few schools in Minsk where one could attend such classes. At first I studied in the studio as a student, but for a short time, and later I was offered to be an instructor. So I began to gradually teach pole dancing. In general, the fact that I started teaching in a dance studio is not accidental. As a child, I was engaged in folk dances, and also studied at a music school. That is, I already developed both musical and dancing skills as a child. Later, after school, I entered the Belarusian State Institute at the Faculty of Biology, but I realized that this was not my thing.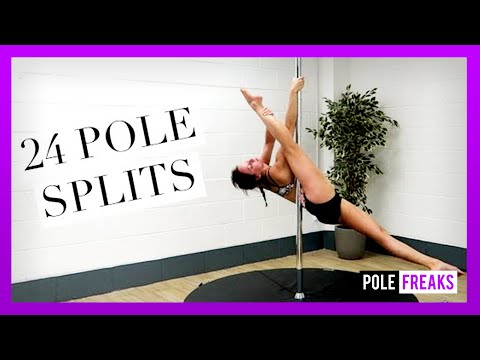 Choreography and dance teaching are much closer to me.
Anna with students in the Queens dance studio
— Do you only teach pole dancing or do you also perform?
— No, I only teach. I have never danced in clubs or corporate parties, although I was often invited to very good places. I was already in a relationship and my husband was categorically against it. So from the very beginning I only taught dances. She performed only at championships and festivals.
I often see Anna at competitions. She has very original numbers for performances. Her stretch is amazing. I hope to get at least a little closer to her result. In the classroom, she also has quite interesting choreography. Not as difficult as for performances, of course, designed for the abilities and abilities of the students, but there is also something to learn, and then show on occasion.

Ekaterina, studio student
— You started teaching exotic pole dance when there were far fewer schools.
Now, when this direction is very popular, more and more new schools are opening. What can you advise to those who are just planning to make the transition from a student to a coach?
— First of all, of course, you need to be able to dance very well yourself, know how many elements are performed, perform them confidently, be able to explain the material and be in good physical shape. You need to watch a lot of different videos with pole dancing, attend master classes. Then gradually move on to classes. First, observe how other instructors teach, try to conduct a lesson under the supervision of an already experienced trainer, analyze what went well, what needs to be worked on, observe how students learn the material, and you can begin to independently lead a group of students.
Anna in the Queens dance studio
Student Sofia: "To be honest, I was afraid of Anna at first"
To be honest, I was afraid of Anna at first. They said about her that she is very strict, a real demon on the twine, and they will put you on it. It was scary when she came up to check how well you do stretching exercises. But, in the group, she had a very friendly atmosphere: the girls joked, talked. I realized that my fear was exaggerated.

Anna, student of the studio
— You taught at several dance schools. Tell us why you moved to Queens and how Is teaching different in different schools?
— When I was invited to teach at Queens, I had been a coach for a long time. I was interested in an invitation from this dance studio - I liked the conditions: comfortable rooms, good organization, you can train for yourself in your free time, and so on. That's why I came to Queens. What about teaching? In every school, and even every coach conducts classes in his own way. It really depends on how well you explain the material. It happens that trainers in some schools conduct classes, mostly sitting on a chair, pronouncing the material.
I do all the exercises with the students. It often happens that a person needs to be shown how to perform this or that exercise, if you just explain in words, then the student may not understand what and how to do it right. In Queens, I like that there is a division into groups: continuing and beginners. This is very convenient from the point of view of building a lesson. In mixed groups, it is difficult to find a suitable load that is sufficiently continuous, and at the same time not difficult for beginners. For each group I have my own program, and for those who continue, I gradually increase the load. I have groups in which students have been involved for several years. I worked with some of them not only in a group where everyone attends classes for themselves, but also prepared them for performances at championships.
Anna in the Queens dance studio, Minsk
Student Tatiana: "It's impossible not to do the splits with Anna"
Anna is a very experienced coach, everyone praises her. I like the way she conducts stretching classes, it seems that it is impossible not to sit on the twine with her. She is always friendly and comes to class in a good mood. From it you are directly charged with positive in the classroom, despite the fact that the load is very serious. She has an amazing figure, you look at her and you also want to look and dance just like her. Her classes are always interesting, although a serious workload is given. But it's worth it, each dance is not like the previous one, there is always something new. Many of us in the group have already been going to Anna for classes for more than one year, and still there is something to learn. Although, I have already learned a lot, but before it seemed that everything was very difficult, and I would never succeed. Now I have almost sat on the twine, although I was far from it, at the beginning of classes, my gait has changed, I have become much more plastic, stronger, my figure has improved. And for all this, I do not need to monotonously do the same exercises. Training is always fun. Even when I'm not in the mood, or I'm tired, and I want to relax, I still force myself to come to the gym and practice. And during training, all fatigue and laziness disappear, and the desire and strength to train immediately appear. I go to festivals and competitions, and if Anna performs at them, then I always cheer for her. Maybe someday I will also compete, but for now, I think I'm not ready.

Tatyana, student of the studio
— What is the difference group classes from those where you prepare your students for performances at competitions?
— In regular classes, we start training with a warm-up, stretching, of course, muscle pumping, so that we can physically perform elements on the pole. In beginner groups, of course, the exercises are simpler, then, gradually, I complicate the task. Next, we learn the dance in parts, or learn new tricks on the pole. And in the competition preparation classes, we work in detail on the dance that the student will present at the performance, we work out each element.
To do this, Queens provides a hall, at a time when there are no group classes. And for coaches who are preparing for performances, the premises are also always available in their free time.
I came to Anna in the continuation group from another coach. It so happened that my work schedule changed, and I could no longer attend my exotic pole dance group. And, at that moment, of those continuing in the evening, there was only a group with Anna. I was warned that girls have been studying there for a long time, and perhaps it will be too heavy for me. They offered to try, if I don't pull it, then switch to pole dance or strip plastic. I did so. Yes, of course, I was the most lagging behind in that group, but Anna paid me attention no less than the others, and I quickly began to catch up with the rest of the girls.

Sophia, studio student
Anna, together with her students, performs at the reporting concert of the Queens dance studio
— You said that you have students who have been attending your classes for several years.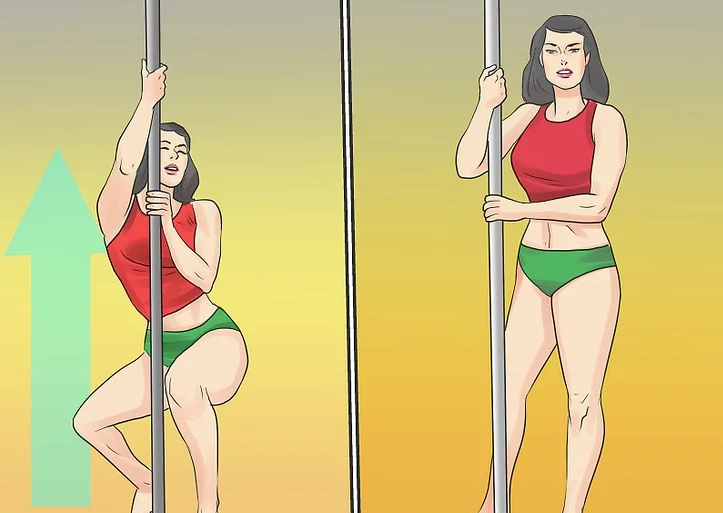 Maybe there were favorite students? How do you pay attention to them in class?
— Of course, you try to pay attention to everyone involved. But some do not understand as quickly as others, they have to explain more, or show again, correct. I am strict in my classes, otherwise it is reflected in the discipline. If they don't want to do something, then some are too lazy to do some exercises. It starts: "Oh, what are you, we are friends" ... No! There must be discipline in the classroom!
Anna in the Queens dance studio
- You have a creative alias?
— No, why? It never happened. Maybe if I performed in clubs, I would come up with something, but so... I like my name.
I was in different sports classes, but Exotic Pole Dance with our irresistible instructor Anna is just a bomb! The classes are very interesting and intense. Our classes have their own structure: first there is a warm-up with strength exercises, then stretching, then practicing tricks on the pole: various twists, racks, working on a dynamic pole, hanging on the legs, and then we learn dance sequences - where we develop plasticity, charisma and femininity.

Olga, student of the studio
Photo session of exotic pole dance instructor Anna in Minsk
— You can compare load in pole dancing classes with other physical types of training, with the same gym? And why, in your opinion, is it worth going to the exotic pole dance?
— At the exotic pole dance classes, students receive a complex versatile load. In training, the students do not only dance. Naturally, this is stretching, and muscle pumping, and, of course, plastic. Such exercises tighten the figure, make movements much smoother. And the gym is more about working out each type of muscle, creating a beautiful body relief. But unfortunately it's boring. You just do the exercises in sequence. In dance classes it is much more interesting and physical activity is also quite significant.
Absolutely everyone likes our instructor Anna! I like the way she leads the classes, their structure, exercises, efficiency and variety. The load on the body is very diverse - this is stretching and strength exercises on the press, legs, back, arms. Moreover, the load on the muscles occurs due to the exercises on the pylon, you don't even notice how you pump up, because you are focused on doing the exercise, and at the same time, the muscles strengthen themselves and this is much more interesting than the gym. And besides all this, we learn dance sequences, again - their diversity is amazing, each rose has new elements, twists, exits, stands. Sometimes learning a bunch occurs at the pace of a good cardio workout, which also has a positive effect on the body - we combine the useful with the pleasant. Despite such a busy pace of training, Anya also manages to approach everyone, help, insure with the exercise, explains as many times as everyone needs to understand or remember the link. She treats everyone with understanding, knowing that learning on the pylon is a long and painstaking process, she always tells us that everyone can learn and achieve results, the main thing is to work! And it's easier to work when there is an example, when you see what can be achieved — that's why Anya is just an ideal example and our inspirer! She inspires not only with her external form, but with the level of body control - this will never cease to delight! I think all girls want to be like Anya, or at least get a little closer to such a form and such super-abilities.

Marina, student of the studio
Anna at the final concert with her students
— And as usual answer the main question of beginners: "How quickly can you learn to dance?"
— Yes, this question is asked very often. In fact, everything very individual: someone gets it faster, someone slower. But instantly, in a couple of sessions, this, of course, will not happen. Have to try. You need to attend classes regularly, not raids. It happens that come to the first lesson, light up, buy a subscription for a month, and then disappear because it turns out to be harder than they thought. And some, not despite the fact that it doesn't work out very well for a long time, they still don't scare difficulties. But, you just need to practice, and gradually, it will start to work out.
With all her talents, Anya is also a wonderful person, there is always something to talk about with her during stretching, when the pace of class is not so fast. She treats everyone with respect and understanding.

Anna, student of the studio
Anna dances exotic pole dance at Queens' reporting concert, Minsk
With all her professionalism, talent and appearance, Anya is also a wonderful person! For me personally, human qualities play an important role in choosing not only an instructor, but also in other areas of life. I consider myself a girl with complexes and an imperfect figure, and I thought that only slender and strong people practice on the pole, and they will look at me askance. And I never once felt uncomfortable during the whole session. For our instructor, we are all equal, she accepts everyone as they are, does not single out anyone, pays equal attention to everyone, always answers our questions and shows us a hundred times if something is not clear to us. And we can always talk on any topic during the stretch.

Anastasia, studio student
Anna at the Queens strip dance school
— Anything advise those who are embarrassed to come to class because they never danced, or thinks that his weight or age is not suitable for dancing on a pylon?
— Completely different students study with me. From eighteen years old to ... My oldest student is about fifty. Girls come in with different builds. This is not a hindrance to exotic pole dance classes. You just need to come and start working hard. And everything will start working!
I have been training with Anya for almost a year, during this time I have discovered the ability to stretch, the longitudinal splits have already succumbed to me, I am still working on the transverse splits, but this acquired flexibility of the body helps a lot in life. My strength capabilities have grown like never before - arms, abs, back - I like what happens to them. I love cycling, but I've never been able to jump curbs and after about 2 hours of Exotic Pole Dance classes, I accidentally noticed that I can jump a curb on my bike - it was all about arm strength. I also started using the exercises that we use to warm up when I do exercises in the morning, this complex helps the body to wake up perfectly. In addition to physical capabilities, the internal state has changed - classes help to become more feminine and self-confident, and this undoubtedly leads to inner harmony, which everyone needs so much.

Alexandra, student of the studio
Anna during a performance at the exotic pole dance championship
Valentina: When Anya shows a new trick, all you hear is: "Wow!", "Wow!"

Needless to say, the instructor should first and foremost be a great role model. And I can't imagine a more motivating example than Anya - her figure, stretching, strength and agility cause pure delight in every lesson.