How can street and hip hop dance improve fitness
Top 10 Benefits of Dance
Ever thought about taking up dance as a way to keep fit? Dancing is not only a fantastic way for people get and stay in shape, but has been proven to boost your memory, improve flexibility and reduce stress. One major advantage of hip hop dance is that it's a full body workout which provides a tremendous impact on your overall flexibility, strength, endurance level, and emotional well-being. Many Excel Dance goers have looked to dancing as a way to exercise and improve fitness levels and improve sociability. Take a look at our top ten super benefits of Dance.
Calorie Burner. Dance increases our bodies' circulation, helping melt those calories whilst also improving physical confidence and speeding up your metabolism. It is estimated that dance burns anywhere from 5 to 10 calories per minute depending on speed and intensity. Hip hop in particular involves large movements of the entire body, which places it high on the expenditure scale. One main aspect of hip hop is freestyling – this area of dance pushes people to learn more complex routines which train muscles beyond the typical routine they're used to, keeping muscles guessing and therefore are less likely to stop responding to the exercise or hit a plateau.  In 60 minutes, hip hop will use between 370 (for people of lighter body weights) to 610 (for those weighing 180 and up) calories.
Mental Stimulation. Dance does wonders in boosting our memory by making us recall steps, routines and dance patterns making it a great mental exercise for our brains. The big benefit is that increasing mental exercise keeps your mind young, quick, alert and open which helps you age gracefully (yes, really!).  Studies have found that dancing could boost your memory and prevent you from developing dementia as you age. Further evidence also reveals that aerobic exercise can reverse volume loss in the hippocampus, the part of the brain that controls memory. This part of the brain naturally shrinks during late adulthood, which often leads to weakened memory.
Improved Balance. Balance is one of the most important things for athletes and such is the same for dancers. Having a firm centre of gravity to work off helps improve our performance, become stronger and excel in our dancing ability. New to dance? Don't worry! A new study published in the Journal of Neurophysiology found that years of dance training actually changed how the nervous system coordinated muscles for walking and balancing motions. Balance and coordination can be learned over time through our weekly dance classes, so it's never too late to take up dance! Dancing also helps improve coordination and helps strengthen our reflexes and is a great way to keep our Central Nervous System and Peripheral Nervous System in great shape by improving connections between our bodies and mind.
Improved Flexibility. Those plies and arabesques that ballet dancers practice aren't just for show — they also increase flexibility and reduce stiffness. One major benefit of increasing your flexibility is the reduction in joint pain and post-exercise aching. Additional benefits include increased coordination, agility and overall flexibility. You may not begin one of our classes as a flexible ballet dancer but the more that you dance, the greater your level of flexibility is going to get. After all dancing is just as much about flexibility as it is about the dance moves themselves. Flexibility also reduces the risk of injury through undergoing any physical activity (not just dance), whether it be a 10k marathon or a spinning class. This flexibility allows you to manoeuvre your body in multiple positions which can help avoid injury.    
Socially Satisfying. When discussing the benefits of dance, we usually focus on the physical side of things. However, there are additional social and psychological benefits that are often overlooked.  Dancing creates a social life for us, while allowing us the opportunity to make new friends. Being socially engaged leads to increased happiness, reduced stress, and a stronger immune system.
Increased Energy. Ever found it difficult to get up in a morning? Taking a dance class might help increase your energy levels in the short and long term. Research published in The Scholarly Publishing and Academic Resources Coalition found that a weekly dance program could improve physical performance and increase energy levels among adults. Many dancers have found they had long term increases in energy as fat began to melt, their body adjusted to the dancing.
Reduced Stress.  If you're feeling tense or stressed out at home, work or anywhere else for that matter, you might want to throw on your dancing clobber, turn up the music, and hip hop! Several studies have shown that many people have resorted to dance to reduce stress. The scientific reason for why dance has the ability to act as a stress reliever stems from the idea that when the body feels good, the mind does, too and this physical activity releases neurotransmitters and endorphins which serve to alleviate stress.
Healthy Heart & Lungs. The great thing about dance is that you don't need to be super fit – anyone can learn to dance, and can learn at their own pace (just look at Strictly Come Dancing for example!). It has also been proven as a great activity for those at risk for cardiovascular disease and a real winner in improving the condition of your heart and lungs from a very early stage. Evidence supporting this includes a world-first study from two Sydney universities found that people over the age of 40 who take part in dancing almost halve their risk of dying from cardiovascular disease.
Stamina. Hip hop improves your cardiovascular, or aerobic, stamina because it moves quickly, requiring oxygen and increasing your heart rate. If you're struggling to stay the pace in your running exercise, dancing could offer an unexpected form of cross-training, to build up your stamina and muscular resistance. So what are you waiting for?
A Happy Self. Finally(and most importantly) dance makes us feel happier - it elevates our mood by raising our endorphin levels which allows us to heal stress and depression. It also helps us establish our self-confidence and self-discipline and improves the harmony between our mind and body, giving us a sense of well-being and increased physical confidence. You experience a much bigger release of endorphins when you dance than during other forms of exercise as this connects with the emotional centres in the brain. For many people, dancing prompts an emotional release which is a healthy way to relieve the stresses of daily life.
Sharnie Richards
I'm passionate about everything dance and always encourage people to be the best that they can be.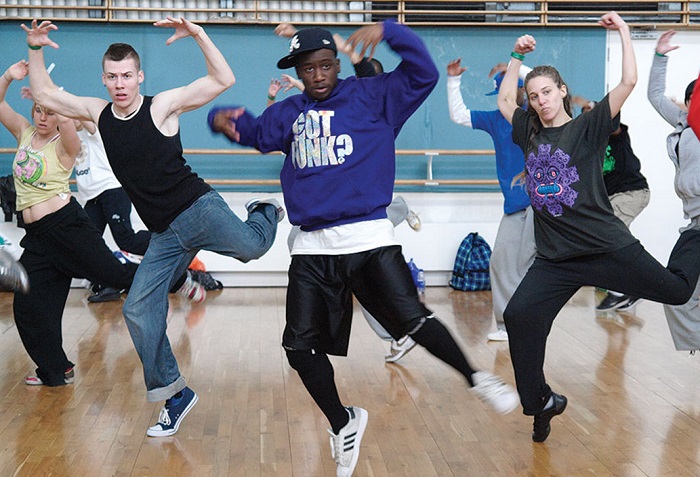 I hope you've enjoyed reading our blog, why not contribute yourself? We are happy for people to submit great quality guest posts so if you fancy getting involved please send us an email to: [email protected]
10 Surprising Benefits of Hip Hop Dancing You Might Not Know
Hip hop is a fun and fast-paced dance style. However, there is more to it than learning new moves in choreography classes.
Did you know that hip-hop can lower your blood pressure? It's one of the many benefits of learning to pop and lock. Read on to learn more about the benefits of hip hop dance.
What Are the Benefits of Hip Hop Dancing?
Dancing can boost your mood, improve your self-esteem, and help with anxiety. It's also a great full-body cardio workout that can help you develop strength, improve heart health, and achieve a healthy weight.
What is hip-hop dance? Hip hop is a style of dancing inspired by different street dance movements. Because it's fast-paced and uses a wide range of movements, there are several health benefits of hip hop dance.
What are the benefits of hip hop dance? Read on to learn more.
Better Cardiovascular Health
Hip-hop dancing is a great aerobic exercise. This form of exercise increases your heart rate, helps you release endorphins, and eliminates waste from your system.
Improved Flexibility
Due to the wide range of moves used in hip hop dancing, a weekly dance class can help you build muscles and improve joint and tendon health.
Reduces Stress and Anxiety
The anaerobic benefits of vigorous exercise include boosting neurotransmitter activity. Studies suggest that 20 minutes of aerobic exercise is enough to help with depression and anxiety.
Increases Confidence
What are the health benefits of hip hop dancing? An often overlooked benefit is that dancing can increase your confidence through learning a new skill.
Improves Cognitive Abilities
Researchers believe that exposure to dance and music can support cognitive development in children.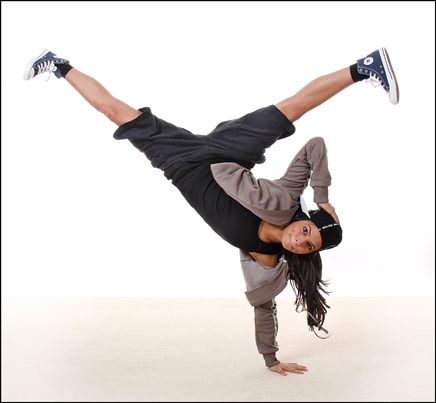 Hip hop is also an excellent form of exercise for improving motor skills.
Enhances Social Skills
Learning to follow directions in class and interacting with other dancers is a fun way to develop your social skills.
Strengthens Your Bones
Dancing is a high-impact weight-bearing exercise that promotes stronger bones. It can help those at risk of developing osteoporosis.
Helps Promote Teamwork
Physical activities like team sports have positive repercussions at work and school since they help you become a team player. Working on group choreographies and progressing with other dancers is a great way to learn about teamwork.
Weight Management
What are the benefits of dancing hip hop? Hip hop will tone your body like never before. A typical hip-hop class is a fast-paced, sweaty, and challenging workout. Moving to the beat is a great way to sweat off that excess weight.
Depending on the intensity of a dance workout, you can burn five to ten calories per minute.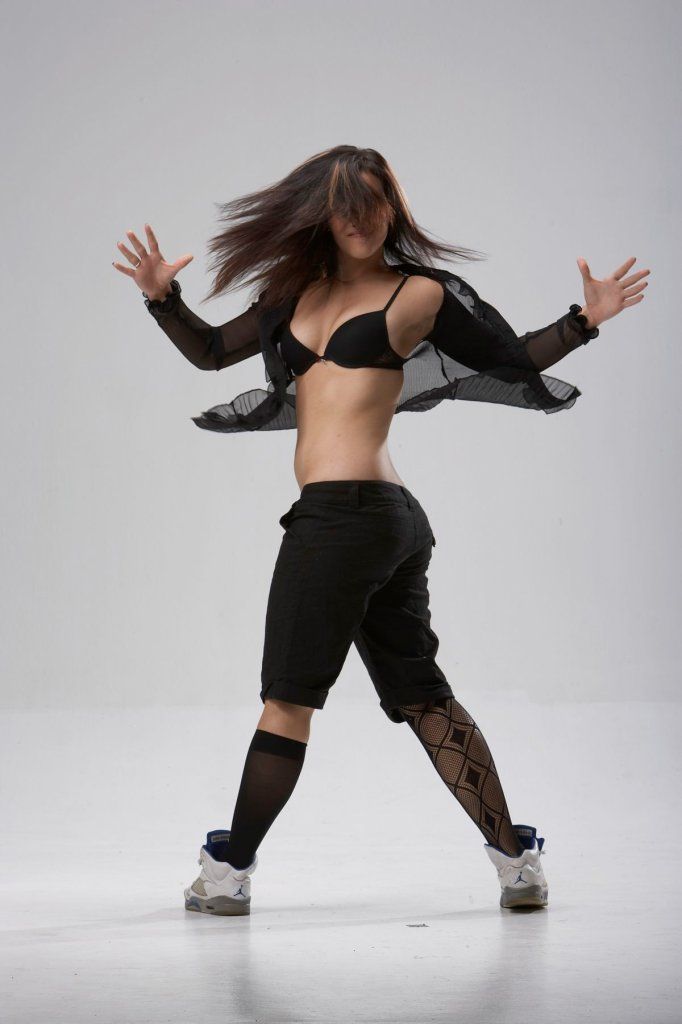 Overall Physical Fitness
What are the other health benefits of hip hop dancing? Hip hop can improve your overall physical fitness by improving your flexibility, muscle tone, cardiovascular health, and mental health.
Frequently Asked Questions
What are the benefits of hip hop dancing? Read on to learn more about the many health benefits of this cultural movement.
How Does Hip Hop Dance Heal and Help the Mind?
Hip hop is a fun way to express yourself. It's an art form that allows you to share your feelings and negative emotions. You'll also find that hip-hop crews are a very supportive and positive environment. Once you learn how to dance hip hop, you'll find that you look forward to this weekly workout.
What Are the Social Benefits of Hip Hop?
There is a strong social element to hip hop. Dancers often learn from each other and challenge each other.
How Can Dance Benefit Us Emotionally?
Dance can help release endorphins and stimulate neurotransmitter activity.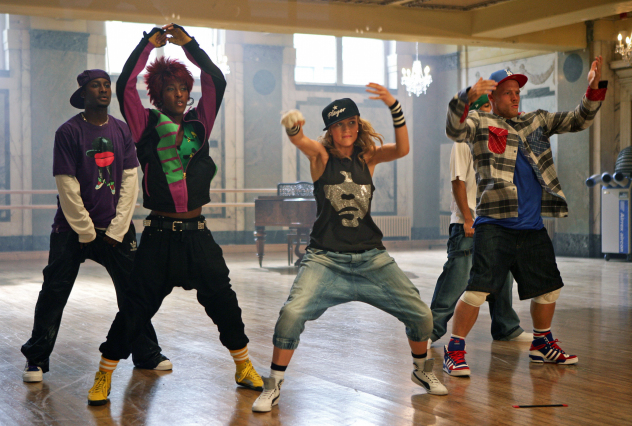 Plus, it's a fun and accessible way to express yourself.
How Does Hip Hop Affect Society?
Hip hop appeared in the mid-70s. It quickly became a popular art form for teens and young adults. Hip-hop dancing has brought street dance styles into mainstream culture and motivated generations of dancers to challenge themselves with new moves.
Why Should You Take Private Hip Hop Dance Classes?
Hip-hop dance classes are a great way to make new friends, stay active, and develop new skills while doing something you enjoy. You'll get the most out of learning to dance hip hop if you work with an experienced instructor who can guide you on this journey.
Are You Excited To Reap the Benefits of Hip Hop Dancing?
Now that you know the answer to "What are the benefits of hip hop dancing?" Hip hop can be a fun and exciting way to get in shape, boost your mood, and develop a wide range of skills. You can look into how to join hip hop classes to explore everything hip hop has to offer or find out more about dance class prices near me to get started.
Hip hop at home for beginners. How to learn to dance hip-hop at home
Each of us can become an excellent dancer, because the human body is just created for dancing. Many people have a sense of rhythm, emotions corresponding to music help to create a mood, and as for movements, they can always be diversified. Those simple steps that we give out in clubs are usually not enough to express yourself through dance, impress someone who is nearby and just get a huge positive charge. So let's start learning hip-hop! Why hip hop? Because it's easy, nice, interesting, and it's also cool to be able to dance as well as Beyoncé or Justin Timberlake.
Hard to learn, tough to fight
Normally dancers working in , demonstrate their skills in open combat. The so-called battle is an opportunity here and now to prove that your style is better. Also, battles contribute to the improvement of technique, the search for new movements and sequences, and the general steady growth of the dancer's skill.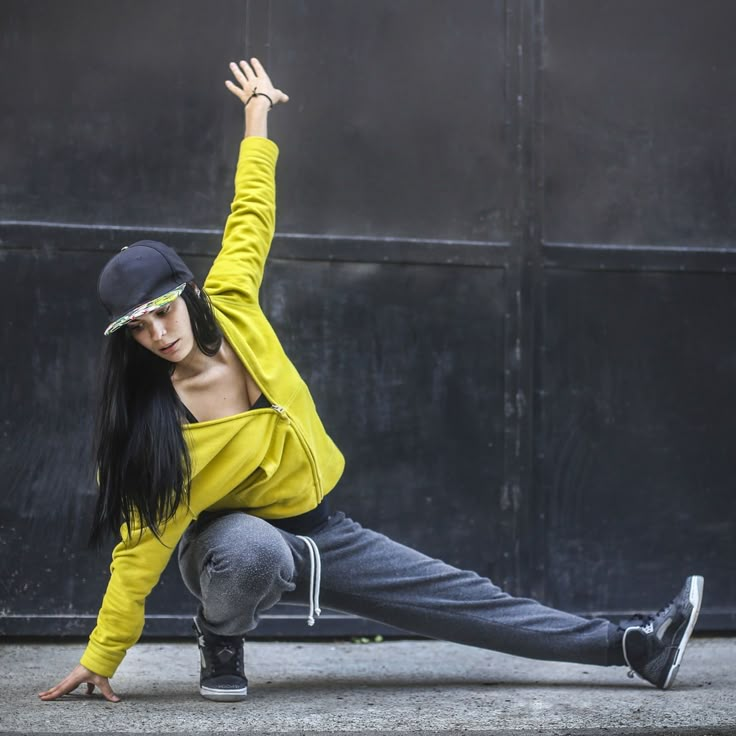 This technique works great in . All students, overcoming timidity at first, go to the center of the hall one on one with the "enemy" and show him, the teacher and themselves (first of all) that the lesson has been learned and progress is evident. Such "paired" performances help to painlessly record your mistakes and shortcomings, and at the same time borrow something new from colleagues.
That is why learning to dance hip-hop at home is more difficult. Results alone are not achieved so quickly. But home self-study allows you to get acquainted with its basics well.
A screen instead of a mirror
So, let's learn to dance hip-hop at home. To begin with, we free up space, dress more comfortably, put on sneakers. What for? Leg muscles that have become unaccustomed to regular loads can fail at the most unexpected moment, and sneakers will help to avoid sprains, the legs will warm up faster in them, therefore, there will be fewer injuries. Of course, hip-hop is no more traumatic than any other modern dance! Problems can only arise with the corners of the furniture in the room or with uneven floors.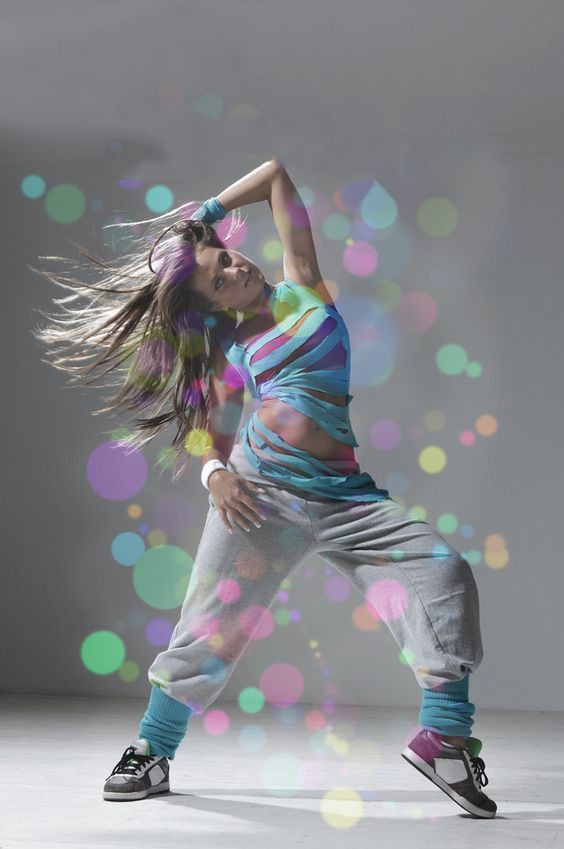 This is another reason why it is preferable to study in a special room.
But once we start, we don't stop. There are a lot of video tutorials on the Internet, it is quite difficult to choose the best one. Therefore, take my word for it and stop at the lessons from Alexander Dragon. This is not just a set of movements, but complexes developed within the framework of the author's "Quick Start" methodology. For starters, let's stretch. Let the monitor be like a mirror, repeat the movements in a mirror. Remember that a good workout is the key to the result. Let's get started!
First - to rock
Hip-hop is dominated by the concept of "groove" (in Russia it is also called "kach"). This is a drive from music, rhythm and body movement to the beat. It does not matter what the mirror shows at first, the main thing is that you enjoy it and do not intend to stop. The easiest way to catch a groove is by bending your knees to the beat. Try it! And now you can get acquainted with the simple basic movements of hip-hop dance.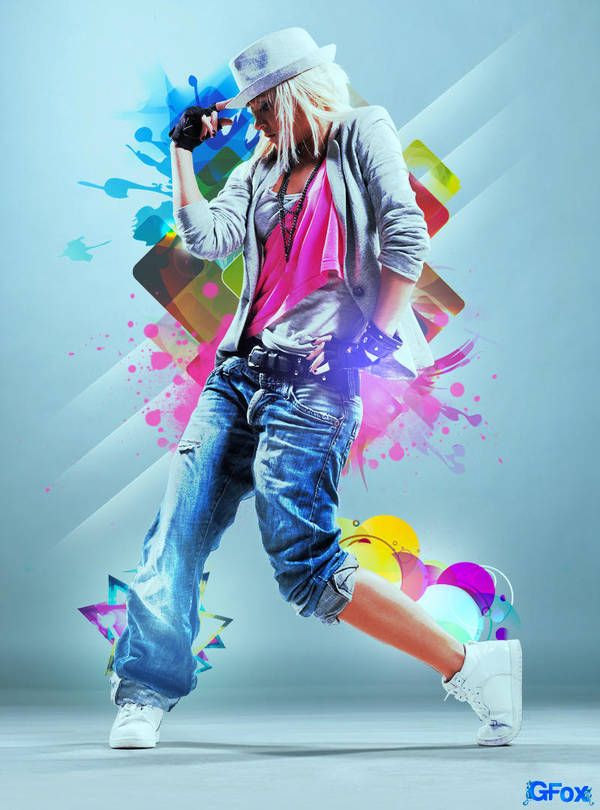 How to study at home? Just. Watch from the Dragon!
Unity of styles
When we learn hop-hop at home, a lot of questions arise. Do I need popping or is it complicated and irrelevant? Is moving like a robot cool or not? And in what sequence to comprehend all this? Yes, it is very difficult to comprehend the depth of the cultural layer of hip-hop on your own, without a mentor. After all, you need to learn the basics, penetrate the history of movements, understand what happened from what, what has already left the dance floor, and what is just coming.
The whole palette of styles within the framework of hip-hop training can be comprehended at the school "Dragons". In the hall under the guidance of experienced dancers-teachers, you can resolve all your questions and immediately get on the wave. And if after reading this text you have a desire to rock with us, we are waiting, come! We don't care about your age, height, weight or fitness level! Everyone can enjoy dancing!
It's quite easy to learn how to dance hip hop in some big city.
You can just go to a dance school or hire a personal trainer. In provincial hills, everything is more complicated. Yes, and shyness prevents the majority from taking the first steps in this direction.
Therefore, UchiIt decided to write a useful article on how to learn to dance hip hop at home, that is, without anyone's help. When there is no one at home, no one will give advice or laugh - only you, then you will need appropriate music and a large mirror. If you understand that this is really yours, you can hire a personal teacher. If not, then at least you tried and now you can go to the article on how to learn how to dance break dance.
Now we will tell you about this subculture and the musical direction. It all started in New York in 1974, at that time eight main components of this subculture were clearly formed: graffiti, DJing, beatboxing, fashion, slang, philosophy, breaking, MCing. Habits that will make you happy Of course, the more the better. To quickly learn how to dance hip-hop, you need to acquire at least some knowledge in the relevant music.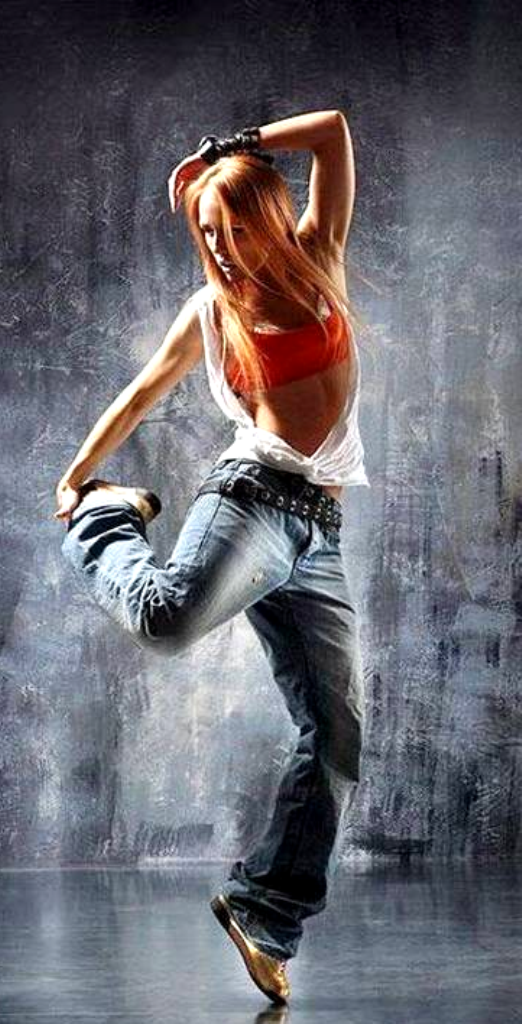 After all, there is no dancing without music.
Hip hop, as a musical genre, separated from the subculture around the 90s and is now considered a very successful genre in the modern world. During this period of time, many watched videos on how to learn to dance hip hop and began to enroll themselves in this subculture. Music consists of 2 main components - the rhythm that the DJ sets, and the rhyming, rhythmic recitative.
To learn how to dance hip hop at home, you need to put on comfortable shoes, wear loose clothes and turn on hip hop music with an expressive rhythm. It all starts with swings. That is, you just need to spread your legs in different directions, put your hands down and listen to the music. You can close your eyes and say the words of rap to yourself.
Is a man in love with you?
Your goal in the first step is to hear the beat and try to "catch" it. It is without this component that you will not succeed. This rocking will not only help you catch the rhythm, but it is also a hip hop movement called "rocking".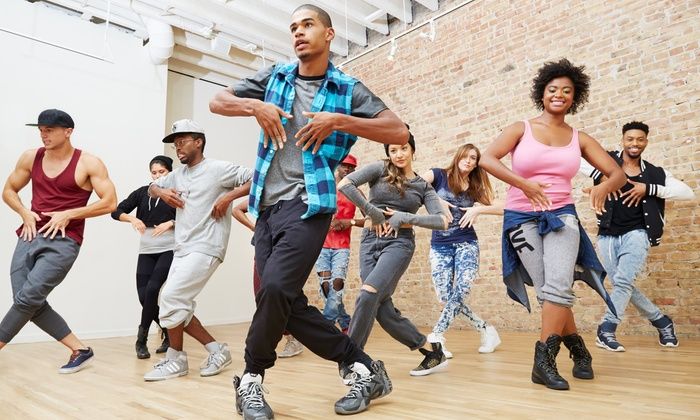 When you feel that you have tuned in, caught the wave and are ready from swinging to more difficult movements, you can move on.
And then you realize that looking at photos of hip hop dancers on the net, you will not be able to learn anything, because there are no clear movements that you need to know. There are many different directions and each has its own movements. Between them there is no scheme and logic, they are set by your mood and heart. To give you at least a little bit of guidance in the directions, Teach It will list the main ones. Well, below we will provide you with free video lessons that you can also learn from.
waving - if you do not master this direction, you definitely cannot say that you have learned to dance hip hop. These are plastic and smooth movements of all parts of the body.
Power move is exactly what fascinates people who watch dances. These are transitions, twists, racks, acrobatic elements that require endurance, strength, physical fitness and, most importantly, coordination of movements.
Poping - these are movements when certain muscle groups contract to the beat of the music. They alternate with local movements and rhythmic relaxation in the joints. There are many subtypes of this direction, which, depending on the smoothness of execution, differ from each other. It's hard to explain in words, here's the video:
Crump - many do not distinguish it at all as a separate direction, but in fact, this is a free "shaking" and swaying of the legs, arms, chest, and the entire body to the music.
Locking - when an intense beat starts in the music, rotational movements occur in the joints of the hands, and when it slows down or pauses, the body completely freezes. And when there is a change of rhythm, the movements continue.
Afro Jazz - these directions often insert video lessons in hip hop, only for girls. You need to learn a rather complex shaking of the lower body. Here is the video:
Ragga Jazz is a direction in which the arsenal of movement should be large, and the movements themselves are thought out in advance by the dancer.
It is necessary to "impose" the same movements on the same music. For example, during recitative without music, they rotate their arms at the elbows, during drums, only the legs dance, and so on.
Video lessons
You can show your freedom of choice and talent with the help of dances, hip-hop has been popular among young people for a long time. This direction is different in that it requires not only technical knowledge and skills, but also acting skills so that the hiphoper can attract the attention of street viewers. And if in big cities this style of dance is taught in numerous circles and groups, then for residents of small villages and towns, the issue of training becomes a problem. You can master the technique of such street dance on your own at home.
The main rules of hip-hop
Before starting self-study or lessons with a hip-hop choreographer, you should familiarize yourself with the specifics of the dance and its basic rules in more detail.
Despite the fact that a person may have other dance techniques, hip-hop should be practiced several times a week. Training can take place both in the gym with the master, and at home with video tutorials and a mirror.
In order to move rhythmically to the beat of music, it is important to constantly develop your ear for music.
To begin with, you should study the most elementary ligaments and movement techniques. After a while, improvisation will be appropriate.
During the dance, a professional always conveys his emotions and demonstrates his liveliness to the audience.
Since hip-hop is considered one of the most fluid art techniques, it needs to be in good physical shape to practice.
Basic techniques in hip-hop - swing and step. Only after the student has mastered these simple movements, he will be able to continue learning further.
After the basic movements and techniques have entered the understanding of the dancer, you can safely experiment and develop your own corporate identity.
Hip-hop is a street dance style that emphasizes freedom of choice and individuality.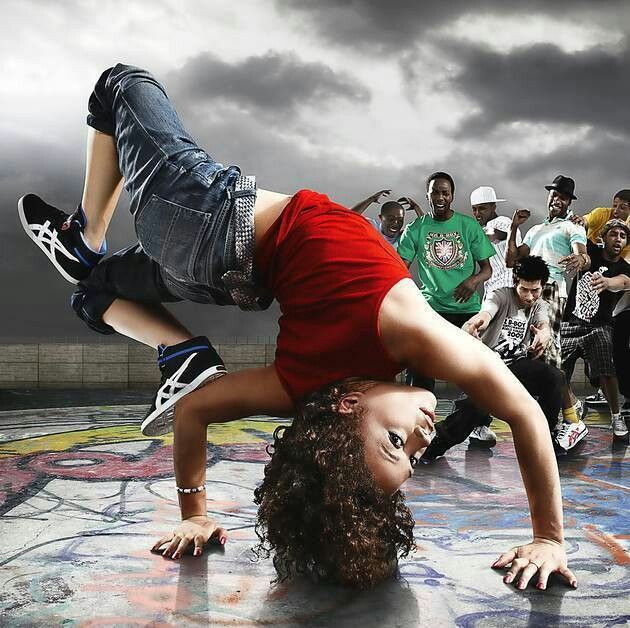 Beginning Hip-Hop Movements
Having mastered the basic techniques of this direction in dance, the student will be able to safely practice independently at home with the help of simple video lessons.
Starting position - feet together. The right leg should be smoothly taken to the side with the toe, and the right arm rises up. After that, the right leg to the side bends at the knee, transferring all the weight to it. At this time, the right hand, which was raised up, falls to the line of the shoulders. In this case, the feet are firmly pressed into the floor surface. The body turns sharply to the left, while the left knee is bent and the right foot is placed on the toe. The right leg returns to a straight position and the entire body weight shifts to the left. Trying to bend the body back so that the wave looms with the body. After that, the arms are pulled down so that the fingertips can touch the floor.
Starting position - the legs stand firmly on the floor, are shoulder-width apart, while at the knees they need to be slightly bent. The palms of the right hand are fixed on the chest with fingers spread out so that the elbow is parallel to the floor. Throwing forward the pelvis, you need to bend the body of the body. Next, a turn is performed, first to the left, then to the right. Making such movements, the hands slide along the torso, from the chest to the waist line. After the pelvis is thrown forward.
Leaning on the left leg, the other is thrown to the side from the body parallel to the floor line. Hands are folded in the form of a "student at the desk." Slightly bending forward, the right leg straightens as much as possible. Next, jump, wave with the body, and return the arms to the crossing position on the chest.
The list of basic exercises in hip-hop is much longer, modern techniques are constantly supplemented with new ideas, but having learned the above, you can already consider yourself a novice hiphoper.
You won't believe it, but learning to dance hip-hop is not that difficult! Just a few workouts, and your movements will acquire a certain style, keep practicing - and every day it will get better and better.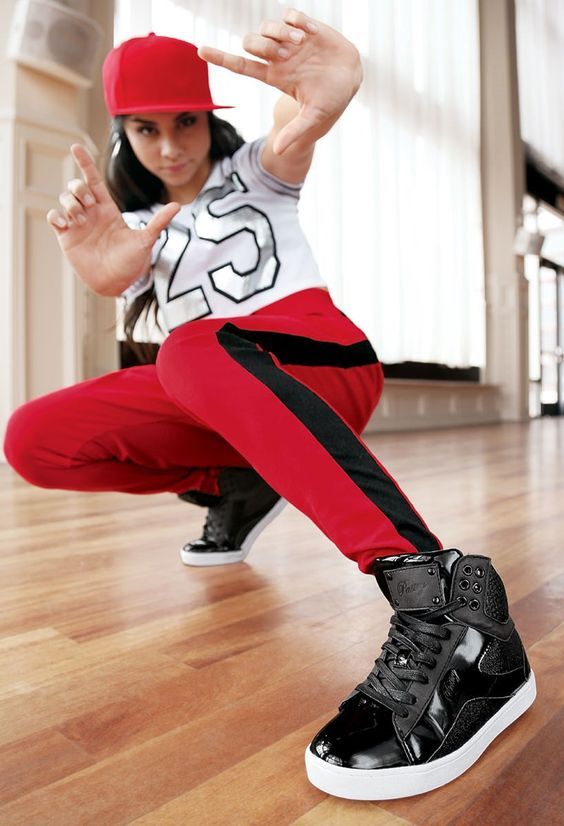 Our instructors find an approach to everyone: don't worry, you can master this style too!
Each hip-hop dance class at our school is special. Hip-hop (Hip-Hop) is perceived by many solely as a musical style, like rave, punk, ethnic or any other musical style. In fact, this is far from being an exclusively musical direction, this is a whole culture, for true fans this is a whole life.
over 10 dance halls
throughout Moscow
more than 15 years
existence
high scores
on the dance floor
Favorable conditions,
nice bonuses and discounts
Class schedule and prices
Hip-hop dance lessons - even more than movement plus music
Beginners will be interested to know that African Americans were the first to dance hip-hop. If you look closely at the technique of performing "classic" hip-hop, you can immediately notice an interesting point: the key emphasis in hip-hop dance is on the movements of the body and legs.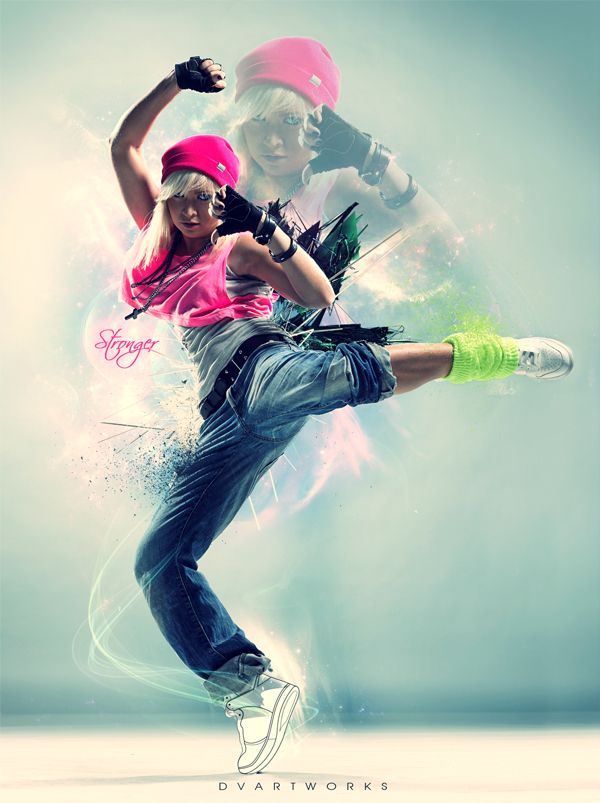 Movements on bent knees, they are directed downwards - the dancers seem to want to be closer to the ground. And this is not an accidental fact. It turns out that in the traditional culture of Africans there is a belief that deities are in the earth, and not in the sky. That is why the authentic dances of Africans seem to be oriented towards the earth. In these dances there is no craving for jumping, for active hand movements, as in European dance culture. Modern hip-hop is of course distinctly different from what the famous Boogaloo Sam once danced in California, however, in general, hip-hop has retained this unique characteristic.
In addition, it explains why hip-hop dances look the way they look, and the second point: it lies in the musical accompaniment to which hip-hop is performed. All kinds of percussion instruments served as "classical" African instruments: tom-toms, various drums, etc. That is why even modern hip-hop dances in Moscow are focused on rhythmic music. Today, hip-hop is based on established music: if earlier it was mostly funk, now hip-hop is danced to house, rap, and r'n'b.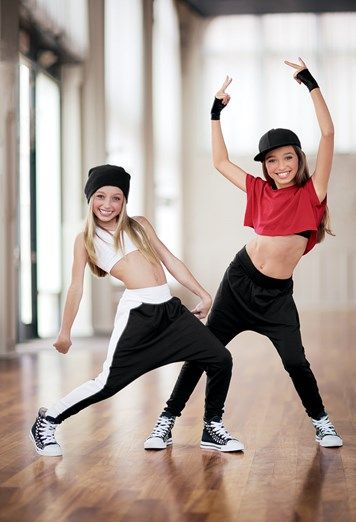 Hip-hop lessons are held to different accompaniments, because you should not remember that there are many directions within the hip-hop direction itself.
Aspiring dancers should also be aware that hip-hop is usually divided into two main streams: Old School and New Style.
Old School finally took shape in the 80s, it was then that some of the currents that developed in parallel with hip-hop became part of it. Locking and Popping today is unthinkable without hip-hop. It was at that time that the "Robot" style (think of Michael Jackson) became especially popular, in which only the lazy did not try to dance, and besides, the Waving styles (remember such wave-like movements of the body?), Ticking (broken, intermittent movements) and a lot others. All this is included in the concept of Old School.
Dance hip-hop in the 90s has already experienced a real evolution. The music of this style has become tougher, therefore, the hip-hop dance itself has changed. The Old School was gradually replaced by New Style, which also includes many directions: harlem shake, krump, c-walk, booty popping - and this is not a complete list of what you can learn today by attending Hip-hop classes at our school.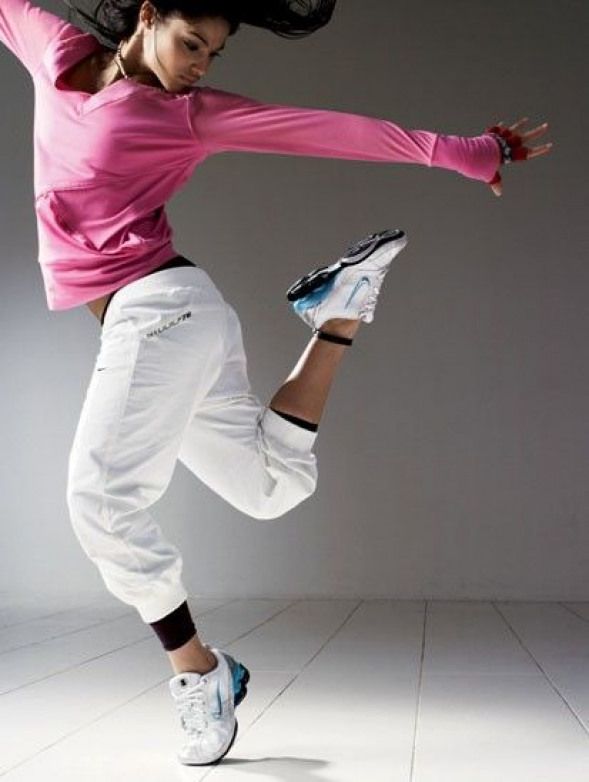 On the dance floor in all its glory, for others - a love for such dances and a desire to develop in this area, for example, create your own team or become a coach. In the first case, it will be enough for you to watch video lessons and repeat after the teacher. In the second case, it is better to choose a school where professional performance is taught, and also do not forget to learn as much as possible about such directions.
Why are they called street?
Ironically, ballet and salsa can also be adapted to this style. Street dances - assorted from a variety of directions. They are not danced in choreographic halls, but are performed in the yards of schools and institutes, in nightclubs and on the streets. The main thing in them is to reveal the individuality, express the character, feelings of the dancer and show his uniqueness. Therefore, be sure to try street dancing at home, perhaps it will become your life's work.
Street dance styles
Hip-Hop - less aggression and more freedom of expression.
The fine jumping technique is what sets him apart from others.
Free Style - as you can see from the name, there are no hard and fast rules. Relaxed improvisation and combination of movements to your taste are the basis of the style.
New Jack - acrobatics included.
Pop Locking is a synchronized dance that requires a lot of stamina.
Dab Step - dance to the music of the same name. Combines a mix of all areas of street dancing.
Locking - movements in full force and maximum dedication. Reversals, swings, rotations are presented.
House - in this style, the body is subordinate to the melody, while in hip-hop you are subordinate to the musical beat.
R&B - "Rhythm and Blues" is more complex and complex than hip-hop.
Trance is a dance not only of the body, but also of the soul.
How to street dance at home
1. Choose loose clothing and comfortable shoes. Nothing should interfere and annoy.
2.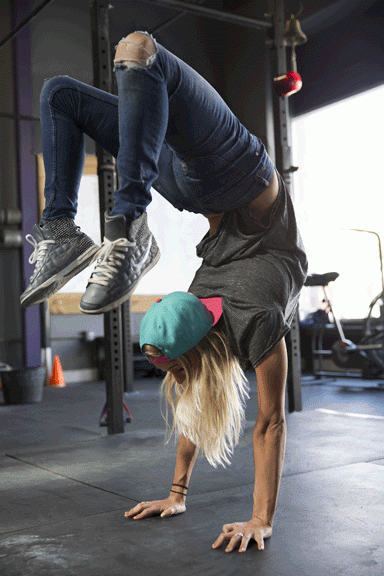 To understand faster, listen to more music of the desired direction, listen to the rhythm.
3. The most important thing in achieving success is desire, diligence and diligence. Don't stop there, even if you don't see results (yet). If you study with a teacher, do not compare yourself with him. Naturally, he will dance better than you. The main thing is to compare yourself with your previous results.
4. How to learn to dance street dancing and where to start? Learn the basic steps first. This will be the base. But before that, determine the style that you like. If you want to develop sexuality - stop at R&B, if you want to relax and have fun - Hip-Hop can become your style, if you want striptease, but more chaste - choose Go-Go, Locking will help increase stamina and improve physical fitness.
5. Before learning how to dance street dance at home, decide on videos. Nothing can replace a professional trainer, even if that trainer shows the exercises on You Tube. So learn from famous dancers.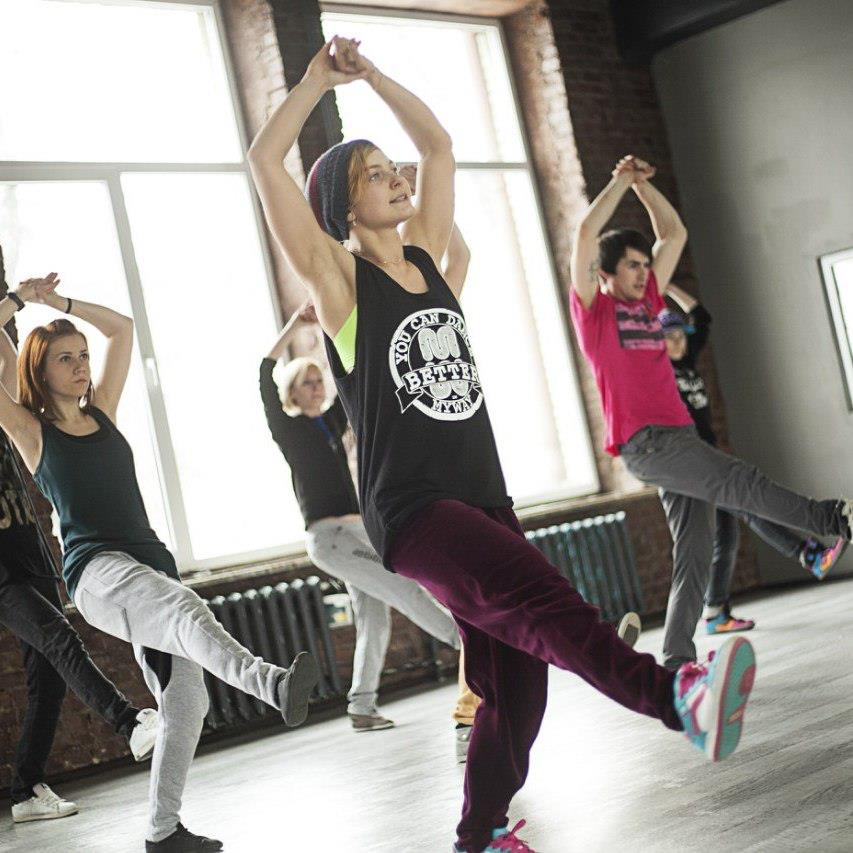 6. Remember the basic rule: constant practice is the key to an amazing result! At first, it may not work at all. Do not get depressed, you will see that one day everything became simple and clear, and your movement looks polished and natural.
7. Having learned the basic elements, mix them to your taste - improvisation is an indispensable street dance technique.
Dance and lose weight: zumba, step and 5 more dances that will help you to be in shape
---
There are not so many people in the world who do not like to dance. And this is understandable. Moving to the music, we relieve the accumulated tension, we feel relaxed and happy. But dancing is not only pleasant, but also good for health. A study published in the New England Journal of Medicine, for example, showed that choreography classes are the prevention of many diseases, including Alzheimer's disease and, of course, help keep fit at any age. We talk about dances that can replace a full-fledged workout.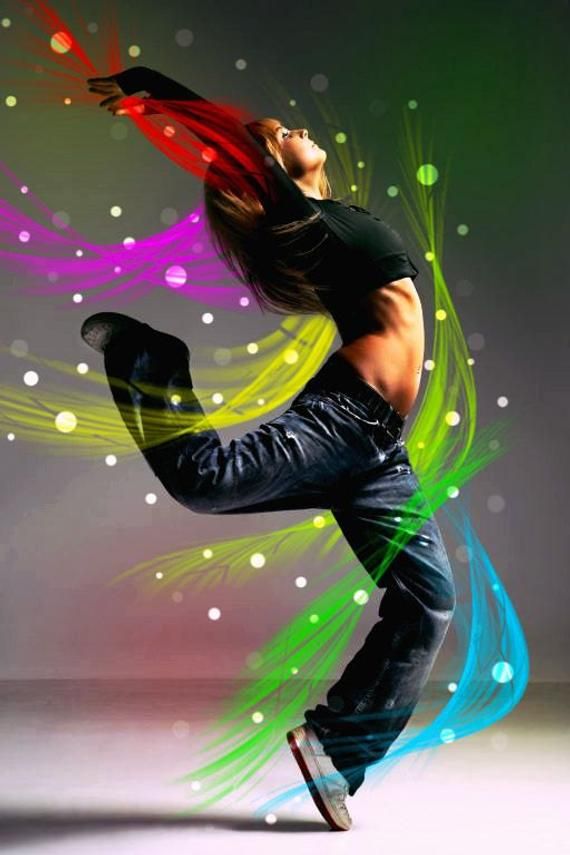 Ballet
Gone are the days when ballet was associated exclusively with small fragile girls performing plié at the barre and dreaming of a career in the theater. Now the concept of ballet has become broader, dance has been "merged" with fitness, yoga and Pilates to help everyone fight excess weight, strengthen muscles and increase flexibility and endurance. No one promises you that you will be able to dance the part of Odette from Swan Lake, but you will definitely feel every muscle after the first lesson, and you will notice changes in your body after a month of training. Ballet will help develop proper posture, pump up the muscles of the legs and hips, and make you a little more disciplined person than you were before. In addition, it will help strengthen joints, tighten the buttocks, get rid of extra centimeters in the hips and waist, and improve metabolism.
Tap
This dance originated in America at the turn of the 19th and 20th centuries and was a mix of African-American, Irish and Latin dances.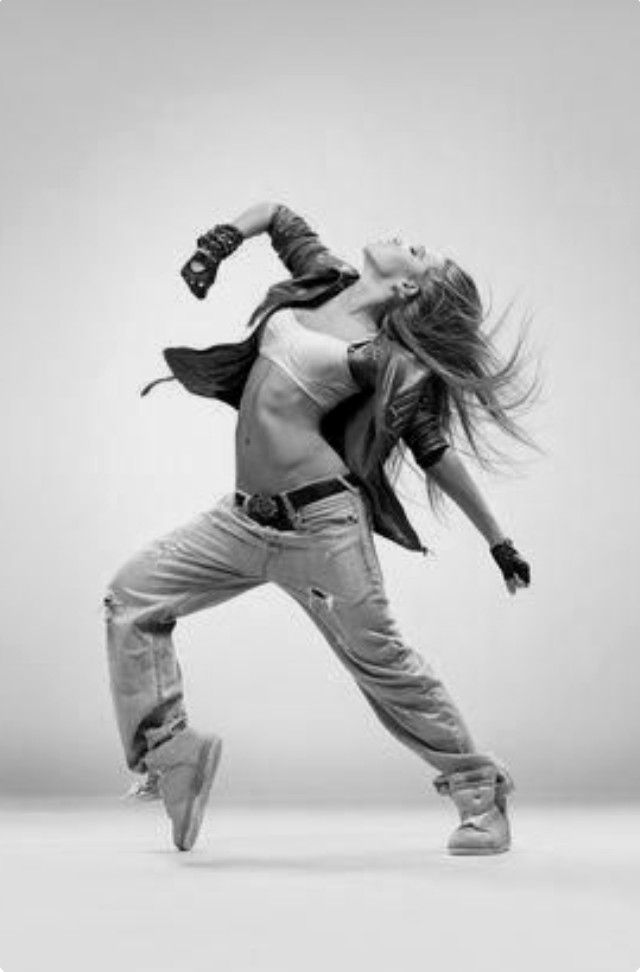 Now there are studios where classical step is taught, and workouts where step is combined with fitness. But even classical step involves serious loads. One of the main tasks here is to learn how to keep balance, balance - and this will make your whole whole body work. After a couple of sessions, you will see how your posture has improved. Tapping will work your core muscles, and if you dance regularly, you'll get a lot closer to realizing the dream of a flat stomach and a strong back.
Hip-hop and other street dances
If ballet and tap seem boring and you want something more energetic, you can try the so-called street dances. These primarily include hip-hop, but also street jazz, breakdance and others. Street dances often include such elements as flips, somersaults, falls, jumps. Their execution involves a serious load on the body. It is not physically easy to engage in such dances, and they are more often chosen by younger people. However, if you want to learn how to dance hip-hop, anyone can.
It will take effort, but it will more than pay off. You will definitely become stronger and even pump up the press.
Salsa
A dance that originated in the United States in the late 70s of the last century under the influence of Latin American culture, is gaining more and more popularity around the world. If you want to learn salsa, you need to be ready to dance with others - groups sometimes gather a lot of people. But it's worth it - doing salsa, you can burn up to 600 kcal per hour. This dance is suitable for all ages, and the movements that you will perform are not only beautiful, but also useful - they will help you strengthen your muscles and even reduce the risk of developing joint diseases.
---
Do you want to capture the eyes and win the hearts of others on the dance floor? Start with simple shapes and build up the elements step by step. Learn to dance in just 4 weeks with video lessons with Denis Tagintsev.
---
Zumba
Zumba is increasingly being called the coolest workout that man has ever invented.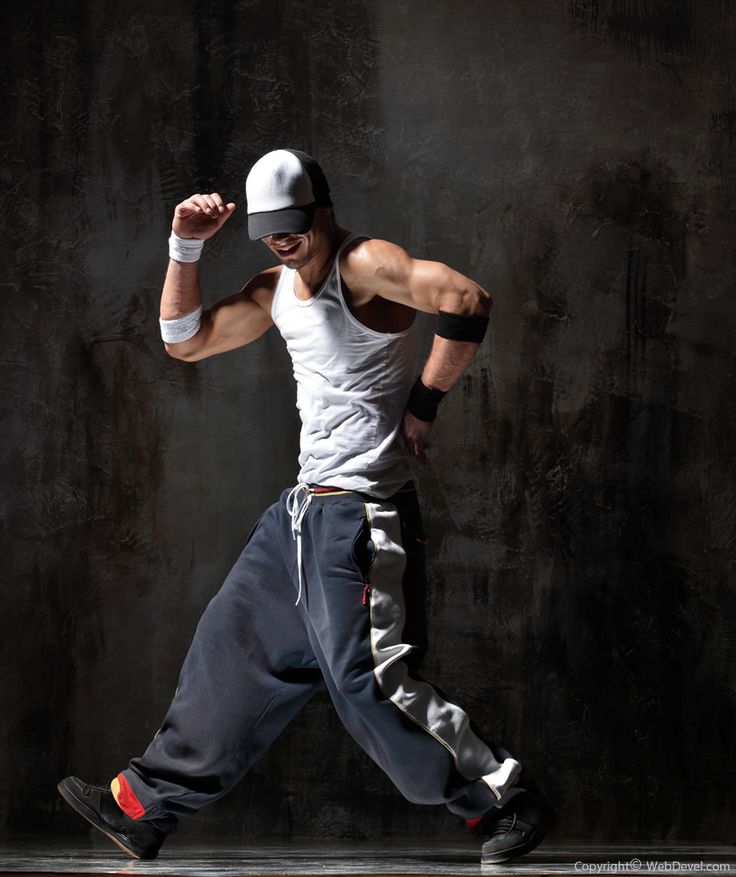 It is not clear what it is: fitness or dancing - there is enough of both in Zumba. This is a mix of dance moves borrowed from Cuban mambo, Dominican merengue, flamenco and salsa with aerobic elements. And all this - to the incendiary Latin American rhythms. To start exercising, it is not necessary to be well prepared physically - you will get in shape as you go. There are no strict requirements for clothing - you can dress as you would for a regular workout. Zumba classes increase energy, help you lose extra pounds, improve flexibility and teach you to control your body.
Belly dance
Belly dance is fun and beautiful. And, contrary to popular stereotypes, you don't even have to wear a crop top and beaded belt to practice. You can also practice in a tracksuit - as long as you feel comfortable. By dancing, you will use all the muscles of the core and tighten each one, even the smallest. Start exercising now - you will definitely be ready for the beach season. By dancing, you stimulate the production of endorphins - the so-called hormones of happiness - in your body.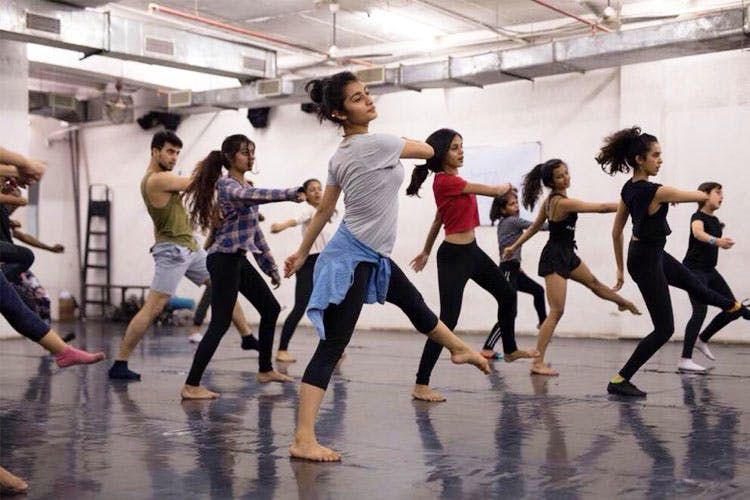 And it helps you feel great. You also perform a light massage of the abdominal organs, which has a positive effect on digestion. In addition, belly dancing is a great help for those who suffer from chronic back and shoulder pain and even arthritis.
Swing
To be honest, swing is a real fitness workout. Not in terms of how it feels - dancing is more fun, and fatigue is not so noticeable - but in terms of the effect that swing has on your body. In one hour, you will use up about 300 kcal and at the same time have fun like you have never had fun in your life. Lesson after lesson, you will make everything strong: arms, legs, shoulders, back and even heart. You will train the cardiovascular system and significantly increase the endurance of the body. Swinging can replace cardio workouts.
Dancing is a great way to stay active, exercise your body and not get bored. It is not necessary only to dance: classes can be perfectly combined with strength training, Pilates, yoga.