How can i become a famous dancer
This is How to Be a Famous Dancer and a Successful Performer
Joining the greats 
So you want to be a famous dancer. The first thing you should know is that there are many thousands of others out there right now who have the same dream. 
That's not necessarily bad news, but if you want to join the greats as a skilled dancer, then it's going to take years and years of hard work. 
You'll need to dedicate yourself to the art form, learning its history as well as learning how to execute different dance forms. You'll need to play well with others while also doing your best to stand out from the crowd. You'll even need to build your personal brand from the ground up with the help of stellar performances and social media. 
This article will provide you with some very valuable tips for how to be a famous dancer and a successful performer in one of the most competitive industries in the world. 
We'll even have some words of wisdom from expert performers and dancers who have been doing this work for years and years.
Let's jump into the heart of the matter and talk about what it takes to make a truly great dancer. 
Contents
Joining the greats 
Commit yourself to study 
Joanne Liebenberg: balancing preparation and adaptation 
Be willing to collaborate
Pablo Landeta: control your nerves   
Build your brand 
Commit yourself to study 
Studying and practicing dance isn't all you need to do to become a famous dancer, but it's definitely a foundation that you can't skip past out of convenience. 
Every dancer is capable of moving on their own, and we'll be talking a bit about improvised dance later on, but understanding at least the basics of different dance forms that have been taught throughout history is essential to creating your own routines now and in the future. 
Of course, studying dance at an accredited institution or with an acclaimed dance company is one of the best ways to absorb this information and find your footing, so to speak.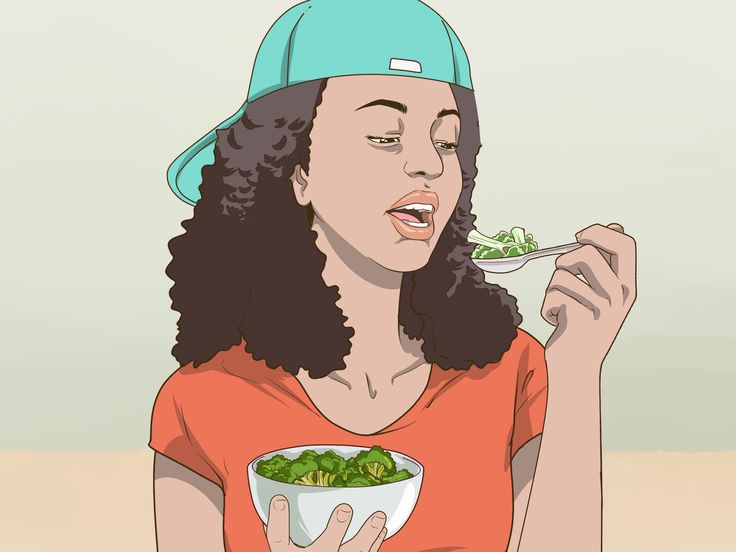 But when it comes to practicing dance, it never really ends. Even if you work through multiple dance training programs and impress your instructors at every turn, you will need to keep practicing throughout your career to maintain that level of skill. 
That said, this is the perfect time to ask yourself whether you're ready and willing to commit to dance as a profession. Do you have the patience to practice and improve over time? 
Joanne Liebenberg: balancing preparation and adaptation 
We received a crucial bit of advice on this topic from award-winning professional dancer and choreographer Joanne Liebenberg, who has performed with Royal Caribbean International, Broadway Dance Center, and Followspot Productions at Kalk Bay Theatre, and who has signed contracts with multiple dance companies here in the United States. 
Having performed pre-determined routines as well as her own routines (including improvised pieces), Liebenberg recognizes the value of versatility and adaptation while also recognizing that skill and discipline make those traits possible: 
"If I am performing my own choreography, I will rehearse and practice until I feel my pieces are ready to be showcased.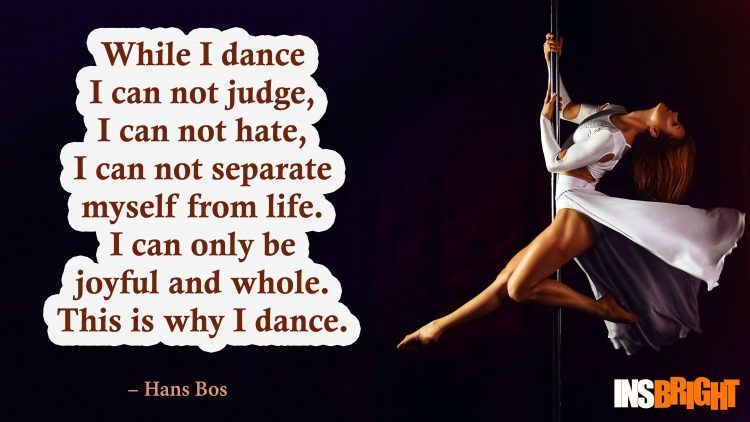 In some cases I improvise pieces, responding to and interpreting the music in my own way on the spot, which needs no rehearsal, just many years of dance experience."
Professional dancer and choreographer Joanne Liebenberg.
That kind of versatility and ability to respond to something in the moment– these are skills that the most talented and well-known dancers have all shared. 
The dancers we all know and love were never just one thing. They didn't limit themselves when they were making art. 
No matter what style of dance you'd like to be famous for, remember that there's always a give and take between the routine itself and the truth of the moment.  
Be willing to collaborate
Dancers who want to make a name for themselves should definitely be willing to collaborate, and we don't just mean performing with other dancers on stage and not always taking the spotlight. 
Yes, learning to be a functioning member of a larger group or a consistent dance company is certainly important, but for professional dancers, collaboration can go well beyond what happens on stage.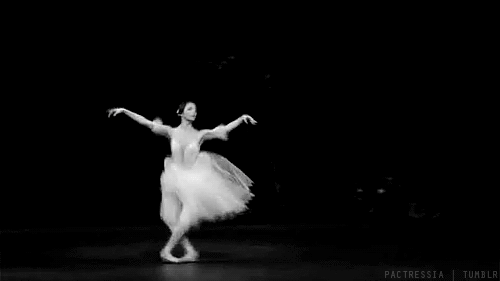 We could even say that collaboration is a mindset. It's a willingness to listen to others and consider their unique perspectives. 
Not only does this give you the opportunity to accept feedback and improve your own skills, but in certain situations, it can also be a form of networking. 
When different dance industry professionals (choreographers, dance company heads, talent scouts, etc.) know just how cooperative and collaborative you are, then they'll be much more likely to hire you to work on different projects. 
You might even catch the eye of a veteran dancer who's willing to show you the ropes and help you navigate the challenges of this very demanding industry. 
Pablo Landeta: control your nerves   
Our next piece of advice comes from a consummate performer who has extensive professional experience in both dance and circus arts: Pablo Landeta. 
Originally from Mexico City, Landeta has dedicated his life to performance, immersing himself in many different styles of dance and iterations of the circus arts.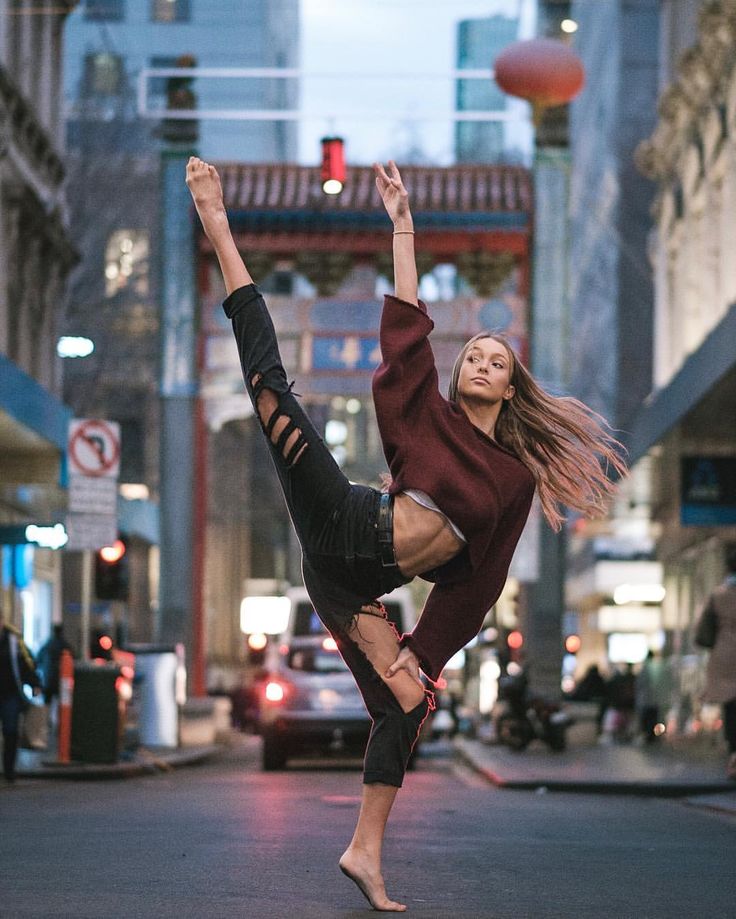 Given his professional pedigree, Landeta knows a thing or two about preparing for a show and taking care of feelings of stage fright. 
Circus artist and dancer Pablo Landeta.
Knowing how to manage stage fright is arguably even more crucial for circus performers such as Landeta than it is for professional dancers because it's not just the performance itself or the audience's enjoyment that's on the line. Safety is a primary concern, and making mistakes due to nerves could be catastrophic, as Landeta explained. 
"As a circus artist, it is one of the most important parts of our job to be able to control our nerves at all times. Eventually, you get to a place in your training where you know yourself and your limits. At the moment of being in front of an audience, all of that practice, training, and patience is what will give you peace of mind. Ultimately, even if things don't work out as planned, when you have control over your nerves the outcome is always a lot more favorable.
"
Though most dancers won't be risking quite as much when they're on stage, that idea of being intimately acquainted with your body and its limitations is key for professional dancers. 
If you know yourself that well and you're able to quell pre-show jitters to a large degree, then your performance will be what you want it to be, and audiences will take notice. 
Build your brand 
Whether we like it or not, becoming famous in any field or any art form is very much about marketing and branding. 
We've saved this point for last because we wanted to make it clear that legitimate skill and performance are the most important elements here. 
But building your brand as you become a more skilled dancer can help attract attention to your work and keep people invested in that work and in your persona over a long period of time. 
Posting to social media on a consistent basis can go a long way toward generating that attention and even a sense of loyalty and investment between you and your fans.
Give small updates about what you're working on right now, as long as it doesn't reveal too much about an upcoming performance. Show parts of your practice routine. You could even answer questions and give advice to other young hopeful dancers who follow you. 
Be creative. Your brand can be whatever you want it to be. As long as dance is at the forefront, you'll be on your way to becoming a famous dancer.
10 tips you have to follow
The following advice is the distilled essence from a 1.5-hour talk at the BC One Cypher Austria in Vienna, where the speakers were B-Boy Junior and Majid.
The champs
Junior in Busan
© Little Shao/Red Bull Content Pool
The first one of our speakers doesn't really need an introduction. He's our own Red Bull BC One All Star, Junior. A veteran of countless battle, he's inspired B-Boys and B-Girls for over two decades and has one of the most recognisable styles in breaking history.
Junior loves the possibilities of hip-hop as a culture and appreciates that it enables people to become who they want to be.
"You can start with nothing and become somebody, only depending on your skills," he says.
Majid performs a showcase at the BC One Cypher Austria 2019
© Little Shao/Red Bull Content Pool
Majid, on the other hand, is a two-time Juste Debout champion and winner of many other battles around the globe. He's from Germany and has been dancing for over 16 years. His father was a dancer before him, and he feels like he was born into the lifestyle. He learned a lot in hip-hop culture and now runs his own dance studio to give back to the scene that helped him grow.
You can see Junior and Majid dance together in the video at the top of this article and then read-on for their advice to help you become a better dancer.
1. Do it for the love of the dance, not to win battles
When you want to make your dance as good as it can possibly be, it's imperative that you're there for the right reasons. Your mind should be occupied with the dance, the connection with the music and with being free in what you do.
If your thoughts are always with winning, instead of dancing the best you can, your dance will suffer.
Majid thinks too many people start for the wrong reasons, nowadays. Many of the younger dancers begin because they want to win the big battles and become famous, not because they love to dance. "I started in a time before the big competitions. That helped me to develop the right mindset towards dance. If you don't love to dance, stop right now," he' says.
If you don't love to dance, stop right now
2. Get a mentor
Throughout the ages, people have learned their craft from teachers. Today, it's easy to get information and knowledge, but the need for a mentor is still there – not because they're the only way to get quality input, but as a source of quality feedback. Sometimes you need someone to tell you where you can improve. That's what a mentor does for you. If there's no one in your reach, people from your crew can jump-in for this role.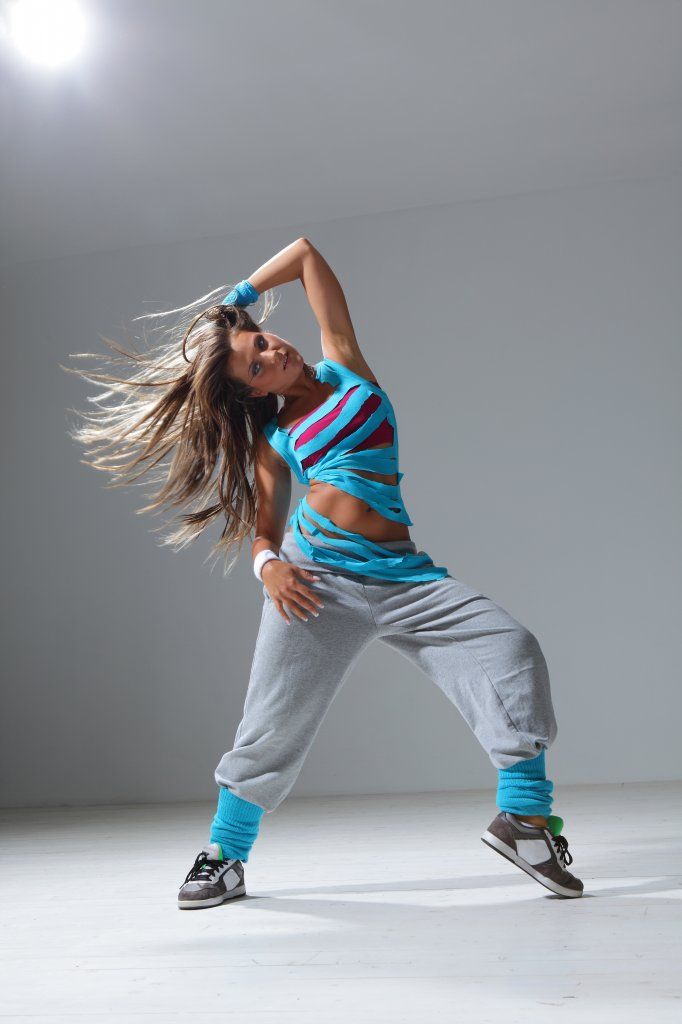 3. Take your time
There are two things you need as a dancer that take time to develop: experience and confidence. Experience gives you the possibility to stay calm in every situation, because you lived through something similar before. Confidence is knowing that you can handle whatever comes your way.
Both are best developed by always bringing yourself into a situation where you need to step outside your comfort zone a little. Rock the local jam and then go to a bigger one and make your way up to the biggest competitions in the world. You can't skip steps along the way – take the time to appreciate every small challenge along the way. Trying to jump ahead is more likely to put you in situations you can't yet handle and set you back in total.
4. You have to be smart
Your brain is your biggest asset. Be honest with yourself and approach your development smartly. Think about your weaknesses and set goals on how to overcome them. Be aware of your strengths and reinforce them even more.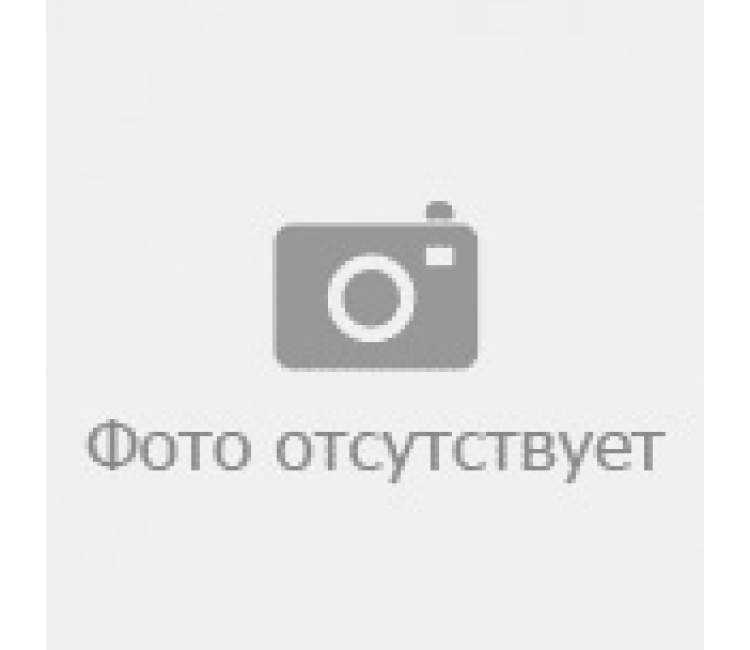 If you don't set goals, you don't know where you're going. Think first, execute after.
5. You have to practice
Dance, dance, dance!
© [unknown]
Of course, you need to practice. As long as you build your dance, you need to keep a structured way of training. You need to automate your moves, become fluent in all the concepts you use and you need to understand the music. To achieve this, you'll really need to put in the hours.
6. Do your research
You can see the whole world from the top
© Little Shao
Knowing where the dance and culture come from helps to develop an understanding of how things work. It gives you the context to understand why moves are done in a certain way and it gives you the ability to understand other people and the development of the culture.
Doing research is easy today: you have the internet for the quick searches, and if you want to go in-depth, most of the pioneers who created our dance styles are still around.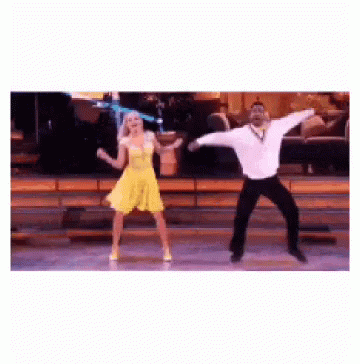 That means you can talk to them at workshops, events, or hit them up online. Make use of that possibility.
7. Be open when it comes to inspiration
Every artist needs inspiration and it can come from anywhere. In other arts, people commonly look outside of their own discipline for inspiration. You should do that as well. Too many dancers only consume dance, which leads to the copying of moves from other dancers. We call that biting and it's not cool.
Try to see inspiration everywhere. There's an abundance of it in the world if you're ready to see it. This also brings us to our next point.
8. Travel to dance and learn about other cultures
The best education I have is from travelling," explains Majid. "Talking to people from abroad reveals other ways to think that might work well for you."
Jams and competitions are spread out all over the globe, so visit some. This shouldn't be only because you want to go to the jam, but also because you want to meet people from other cultures.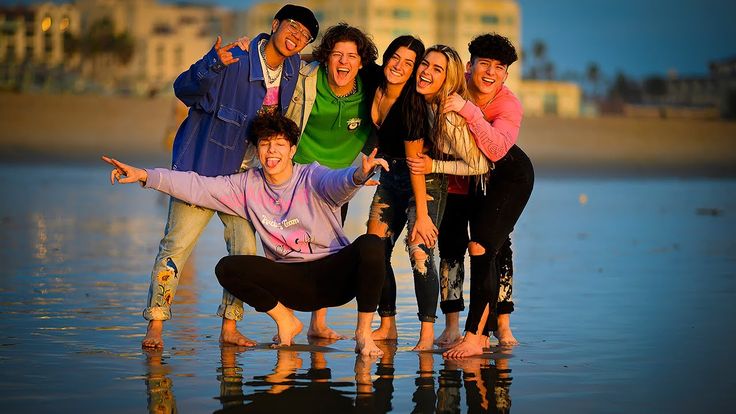 Different cultures have different ways of thinking and other approaches to life in general. Experience this differences yourself and use what helps you.
9. Have discipline
Stick to what you want to achieve. Changing plans too fast won't give you the time to see results from your work. A lot of people need to see results immediately, but that's not going to happen. Mastery comes with repetition. This isn't only about your practice, it's also about committing to finding inspiration, travelling to jams, setting goals and pursuing them. Work for what you want.
10. Be yourself and give it all you have
There are so many dancers out there, trying to make it to the top, so you have to stand out. The best way you can do that is by being you. You're unique and everyone wants to see people who know how to dance, but bring their own flavour. As soon as you master the basics, don't be afraid to do things differently. Show the world who you are. If you're feeling the moment, let loose and take risks.
That's the place where magic happens.
Part of this story
where to study, salary, pros and cons
Author: Professional Guide
Updated by
Dancer is a person of art who performs rhythmic movements to music, taking part in theatrical performances, shows. The profession belongs to the type "a person is an artistic image", it requires excellent self-discipline and, of course, talent. Children who distinguish literature, physical education, music and singing from all school subjects can become dancers. By the way, the ProfGid career guidance center has recently developed an accurate career guidance test that will tell you which professions suit you, give an opinion about your personality type and intelligence. 9Ol000
Best Colleges and Academies for Dancers
Best Universities
Place of Work
Salary
Dancer Salary as of October 2022
Professional knowledge
Famous dancers
Examples of companies with vacancies as a dancer
Brief description
This profession has a rich history and is closely associated with the arts.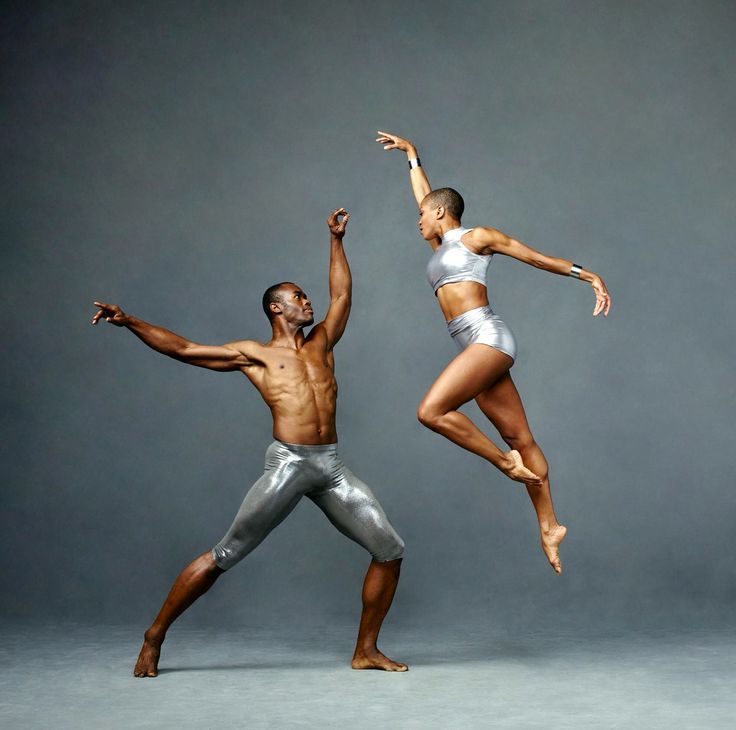 However, the success of dancers by more than 50% depends on dedication, endurance, self-discipline. A specialist can work independently, performing solo choreographic numbers, it is also worth highlighting pair and collective dances. There are a lot of types and techniques of this art direction:
ballet;
pop and folk dance;
historical dance and others.
See also:
Also distinguish styles such as street jazz, hip-hop, R'n'B, contemporary dance, street dance, etc. Dancers choose the style and type of performing arts based on their physical abilities, temperament, personal preferences. On stage, they create artistic images, convey emotions, making the hearts of the audience tremble.
Features of the profession
Anyone can become a professional dancer, but it is worth starting training in childhood. Choreographers recommend giving children to dance studios at the age of 3-7 years, which will allow them to develop good posture, plasticity, stretching, a sense of rhythm and other skills necessary for professional performance.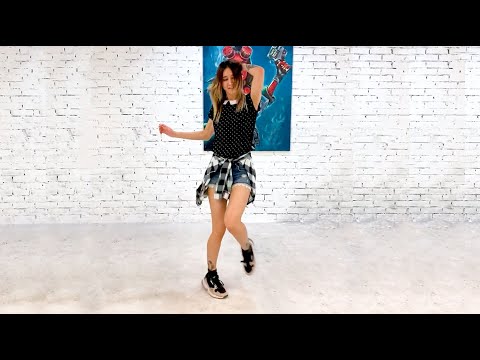 Dancers most often work in 1-2 overlapping styles, they pay special attention to training and rehearsals, maintaining excellent physical shape. A career is short, because its peak is at the age of 15-25 years, and after 30 years, most specialists change their field of activity. They can realize their talent and knowledge in other areas, working as directors, choreographers, school teachers.
Dancers independently or under the guidance of a choreographer create performances: choice of music, sequence and rhythm of movements, costumes and image, facial expressions, plasticity. Before performing the dance, they rehearse for a long time, honing their skills. Many members of this profession often travel around their home country and travel abroad, where they give concerts. The activity is associated with certain difficulties, which leaves an imprint on the lifestyle and character of the dancer.
Pros and cons of the profession
Pros
Excellent physical development, because dancing strengthens the body and willpower.
Opportunity to work on the best stages.
Talented dancers achieve success quickly.
The profession is interesting, active and ambitious people will like it.
Opportunity to earn income from various sources, because dancers work alone or in pairs, can take part in private productions, star in music videos.
Useful business connections in the world of art.
The opportunity to change the field of activity, because dancers often open schools, give private lessons, work as choreographers - the choice of directions is huge.
Cons
High injury rate.
Serious injuries can put an end to a professional career.
Short career period.
Very high competition.
See also:
Important personal qualities
Dancers have excellent plasticity, but in this profession not only technical performance is important, but also emotionality. The dancers convey the idea of ​​the performance with the help of movements, facial expressions, so they must be distinguished by well-developed artistry.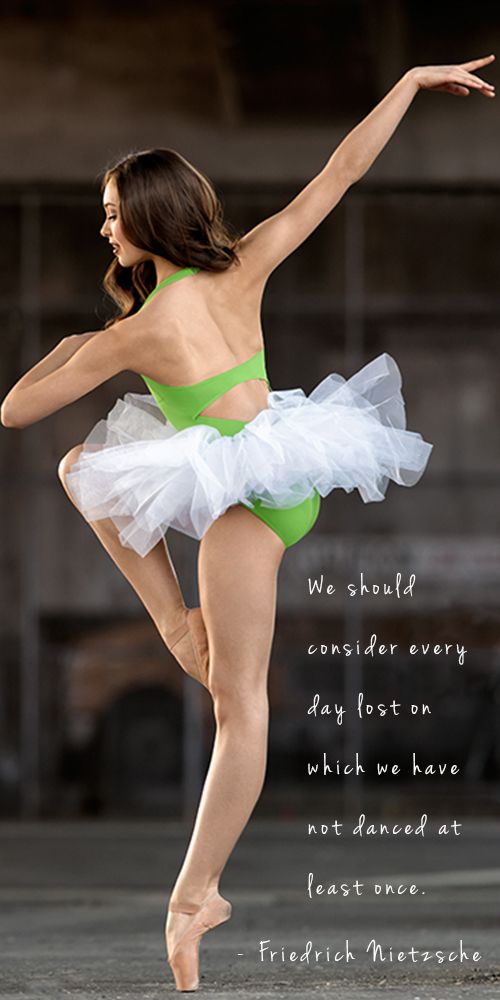 Increased efficiency, resistance to physical stress and low pain threshold are very important, because rehearsals and performances often end with sprains, dislocations and other minor injuries. Only those people who do not suffer from laziness, negligence, and excessive self-confidence ascend to the pinnacle of success.
Dance training
Professional education can be obtained in different institutions:
schools and academies of choreography;
dance studios;
colleges;
universities.
There are no special requirements for the education of a dancer, the level of his skill is determined during choreographic tests. It is worth starting training at a young age in order to reach a professional level. Let's consider the most interesting directions:
"The art of dance (by type)", implemented in choreographic colleges and schools. You can start training after grades 7-9, which depends on the requirements of the college;
The Art of Ballet. The direction of training is open in many creative colleges, studio schools, academies. Children who have completed the 4th grade of the school are invited to study.
You can also go to study at a university, choosing a specialty related to choreography, folk dance and other areas. Primary training can be obtained in public and private schools of choreographic art, during individual lessons.
Universities
4 years

90,000 ₽/year

12 budget places

4 years

158,100 ₽/year

23 budget places

4 years

65,000 ₽/year

8 budget places

4 years

200,000 ₽/year

16 budget places
Best Primary Schools
Dance Quarter School.
School for children "Dancevaliya".
State 27 Dance Studio.
Best colleges and academies for dancers
ARB im. A. Ya. Vaganova.
MGAH.
MCU at the Moscow State Academy of Theater Arts "Gzhel".
School-studio (school) at GAANT them. I. Moiseeva.
KMTI them. G. P. Vishnevskaya.
Best universities
IPCC.
GITIS-RATI.
MGAH.
ARB them. A. Ya. Vaganova.
Russian State University A. N. Kosygin.
ISI.
UGAI.
SPbGUP.
AGIIK.
KemGIK.
See also:
Place of work
Dancers are in demand in theaters, film industry and organization of holidays and events. They can work as teachers, find vacancies in nightclubs, private groups - there are many options for employment.
Salary
There is no exact tariff rate in this segment, because everything depends on the style in which the dancer works, personal qualities, education, reputation and experience.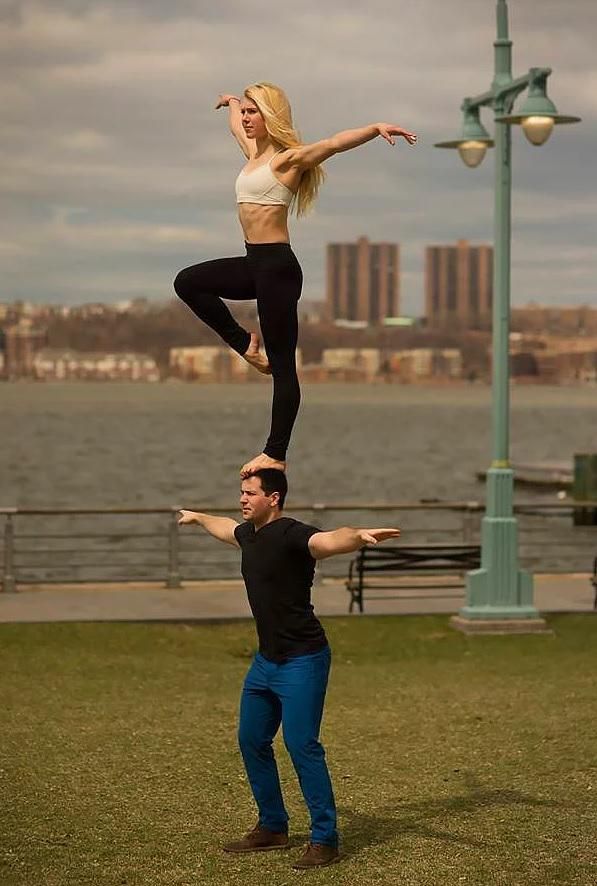 Dancers can receive a fixed salary or fees for each performance, lesson.
Dancer's salary for October 2022
Salary information provided by hh.ru portal.
Russia 25000–160000 RUB
Moscow 30000–25000 RUB
Professional knowledge
Classical choreography.
Acting.
Fundamentals of physical training.
Art History.
Foreign languages ​​(for professionals who work abroad).
Famous dancers
Karen Hardy.
Ekaterina Krysanova.
Yankovsky Vyacheslav Vyacheslavovich.
See also:
Examples of companies with vacancies as a dancer
10 misconceptions about dancing
The desire to learn to dance is natural and natural in the modern world. You can list the reasons, starting with obvious and popular pragmatic desires, for example, to start moving or losing weight, ending with unconscious and even existential ones.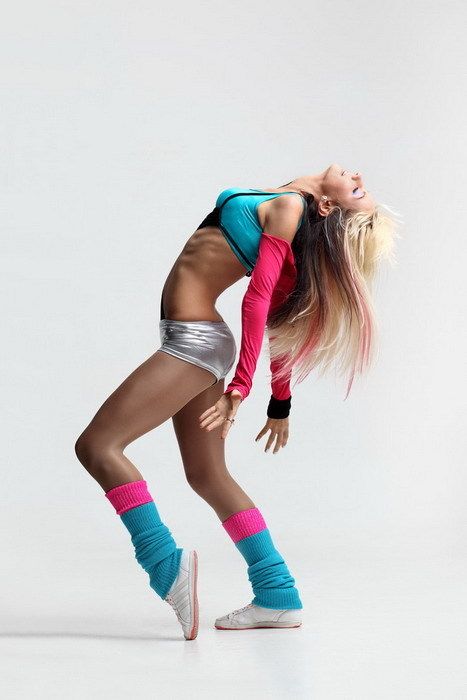 This is due to the fact that dancing is at the subtle intersection of the inner and outer worlds, physical and spiritual. Above this, music becomes a driver that cannot leave anyone indifferent.
In dancing there is magic inside a person, which is not always noticeable when viewed from the side. At the initial stage, it is the external picture that attracts to dances, and sometimes repels, as it seems too frivolous and superficial.
But there are even stronger obstacles that stop many people from starting dancing. These illusions and delusions roam the minds of the majority, and are often afraid to ask about them directly, or they ask the question about it so often that they are no longer ready to hear an honest direct answer. I will try to do it in this article.
There are many examples of contemporary dance instructors sharing their thoughts about not expecting to be in the dance industry. Once upon a time there was a man and was engaged in adult, serious business.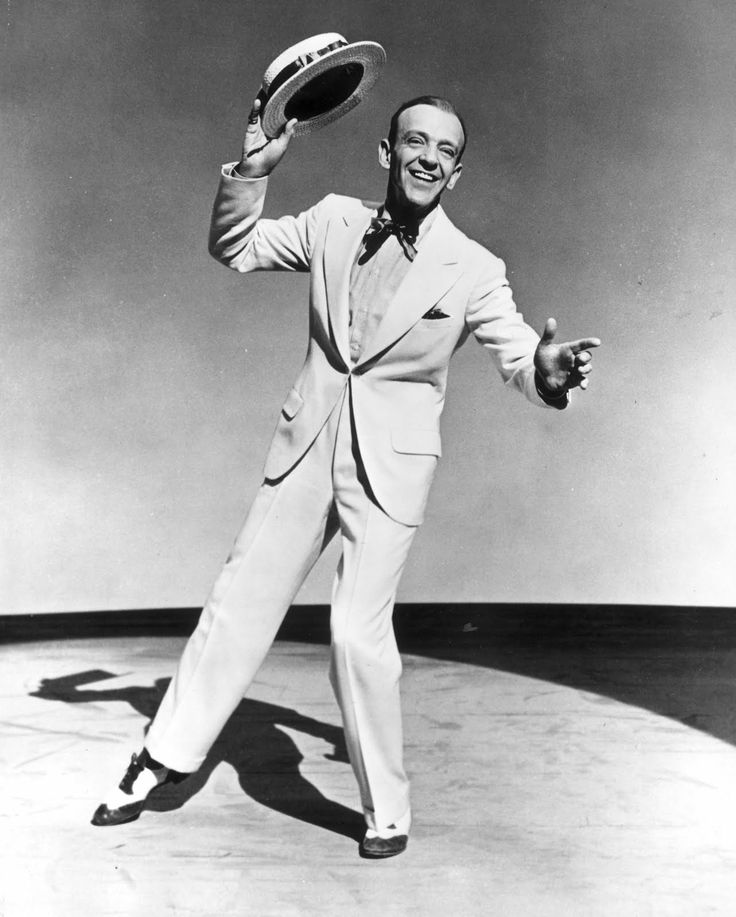 Sometimes even very serious. A person could have children and even grandchildren. I saw dances only on stage or on TV. For reasons unknown to himself, he ended up in dances. At first, everything seemed like entertainment and a useful pastime. But time has passed, and a person catches himself thinking that he thinks about dancing not just every day, but really all the time. A couple of years pass, and he already becomes a teacher or organizer of some event.
A similar path can start at 15 or 55 years old. The only difference will be in the self-perception of the starting stage, that it's too late to dance. In fact, for each age there is its own dance direction, which can reveal it to the greatest extent at this stage. Hip-hop or breaking is closer to children and teenagers, and Argentine tango is closer to adults. It's never too late to start dancing. You need to make the right choice of dance style based on several parameters: age, gender, music, goal. There is a dance direction for any arrangement.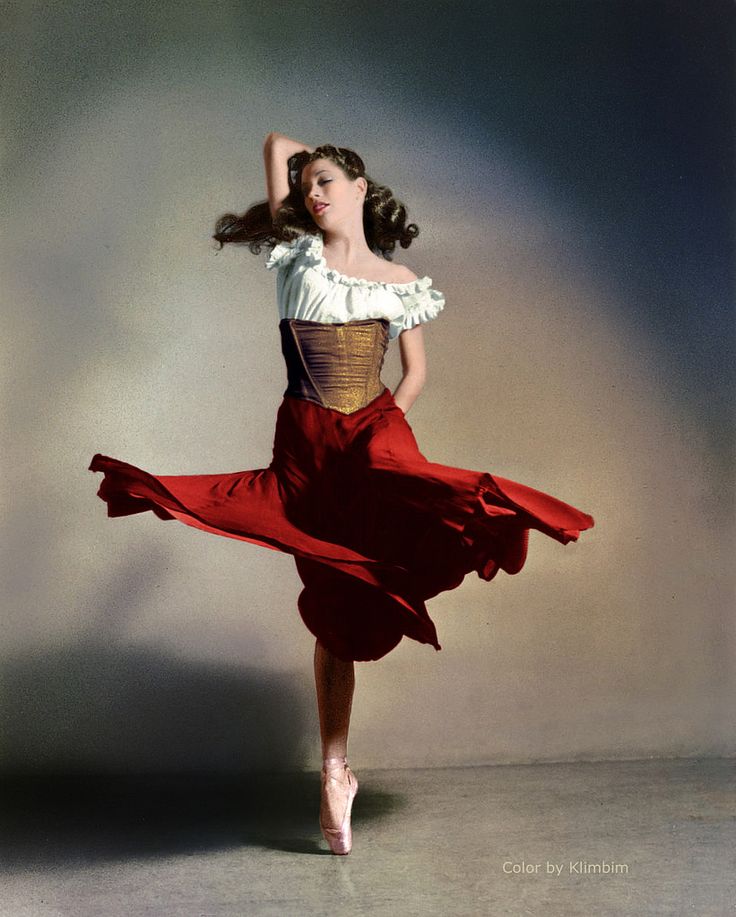 Misconception 2: men don't dance
Our culture has a number of restrictions related to dancing. Most of these causes are psychological and lie outside the realm of rational reasoning.
First, in our culture, in principle, dancing for pleasure or self-expression appeared relatively recently. 20-30 years ago dance clubs were only for children. To start dancing even in adolescence was considered exotic.
Secondly, the aesthetics of the body in our country for men is not in the focus of attention. In general, this can be attributed to the fact that Russian men try hard not to draw attention to their appearance and clothing. Men in our country use other tools for this.
Third, dancing is associated with entertainment and alcohol. If a man feels serious and respectable, then he either does not have time or desire for this.
Nowadays the general cultural background has changed and the result is that men are learning to dance.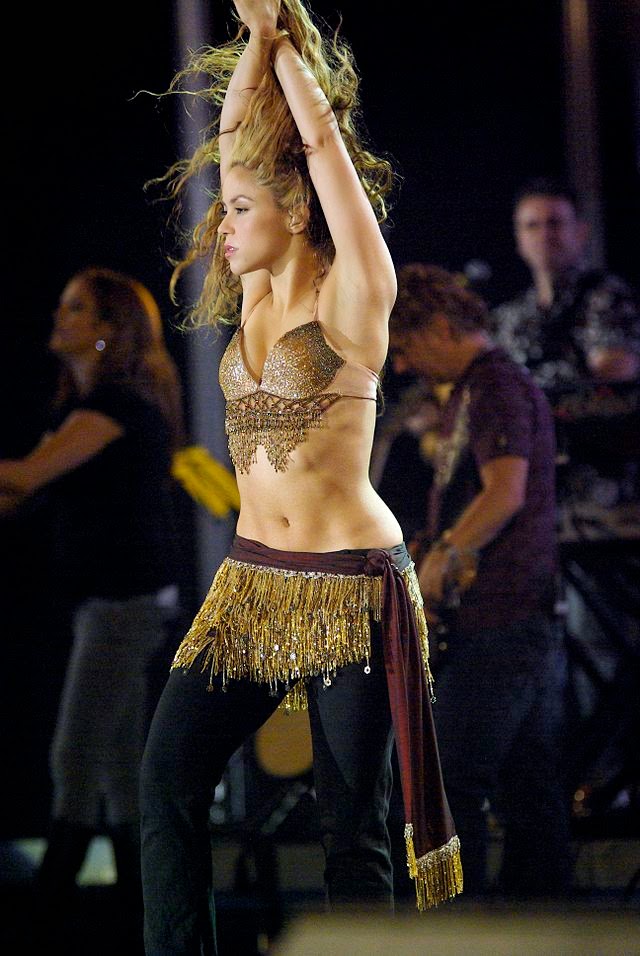 It becomes as much a sign of masculinity as clothing, hair or beard.
Unfortunately, many misconceptions remain even among those who have already started dancing. Dance teachers do not always pay attention to this, as it seems to them that this is a matter of course.
Fallacy 3: special training is needed
For the outside observer, there is always a cognitive dissonance about what dance is. What he sees on the big stage in the form of a show with sweeping movements and splits is obviously dancing. Breakers doing unimaginable elements in the air and on their hands, competing with each other, also seem to be dancing. Pensioners in the park waltz. Dancing again, but for some reason everyone is so different. How to understand that this is a dance, and what physical criteria should be in the body.
In fact, any self-expression through the body to music can be attributed to dance. There are a number of reservations, but they are not essential.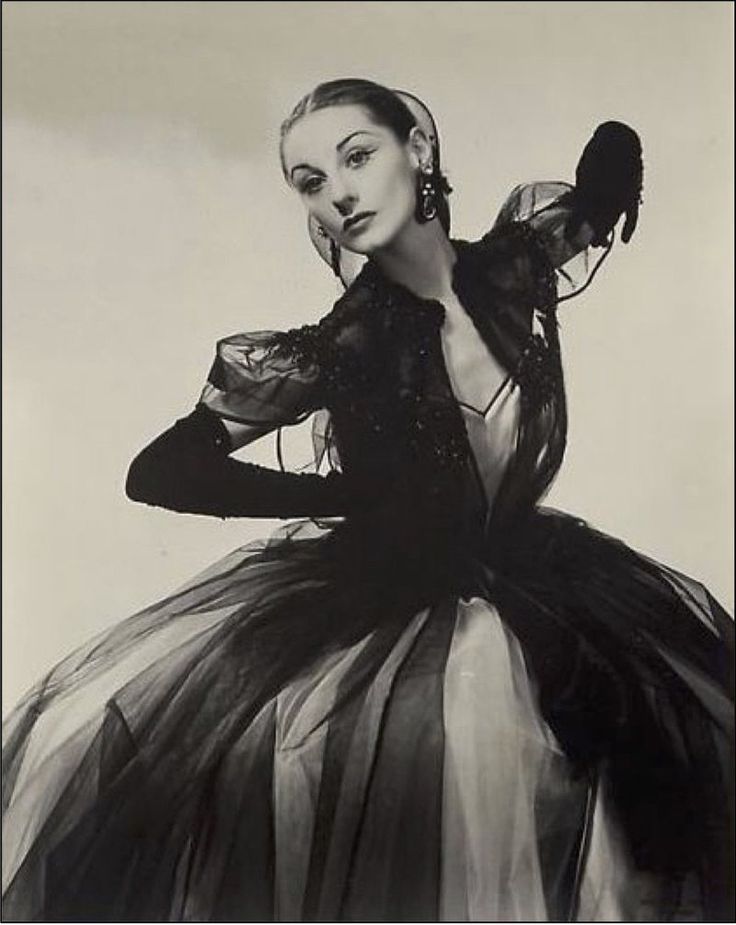 For self-expression, a person uses the set of plastics that he has. Subtlety and technique do not depend on extreme ways of self-expression, and it often happens that splits and somersaults interfere with a meaningful dance. The development of plasticity and the expansion of the body's capabilities are part of the preparation of the dancer, but not an end in itself.
Misconception 4: You must learn to dance in pairs
In couple dancing, the final learning outcome is that the couple dances at a party. It would seem that you should always train together to get the desired result. This is not true. Let's take an example from boxing. An indicator of a boxer's skill is a fight with an opponent, but this does not mean that he constantly has to fight. Also, the ability to dance is built on the possession of one's own body and the ability to interact.
The skill of the teacher is the correct selection of methods so that the student masters the skill.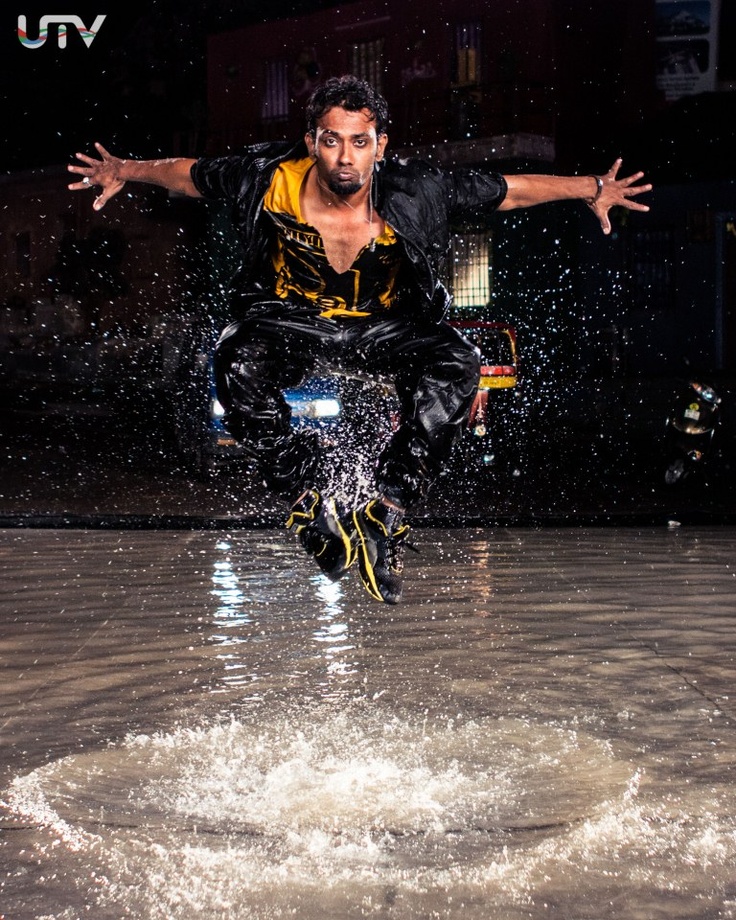 Based on the skill, you can engage in creativity and self-expression in dance. Not everyone knows, but it is no coincidence that almost all social dance dancers have a serious dance background, which is based on the development of individual techniques.
The same can be attributed to the interaction in a pair. The ability to separate in oneself the one who leads and the one who follows the lead is impossible within the framework of studying the sequence of movements in pairs. For this, there are special exercises that make the skill more versatile. For this, the presence of a permanent couple is not necessary, as well as the regular presence of a partner in general.
IMPORTANT! You can't experiment at a party, and everything should be in its place there: men dance with women.
Getting rid of illusions is a complex internal process. If you leave them to yourself, you can even get the opposite result.
Misconception 5: plastique and stretching are mandatory attributes of dance
Much depends on the genre of dance that you want to master.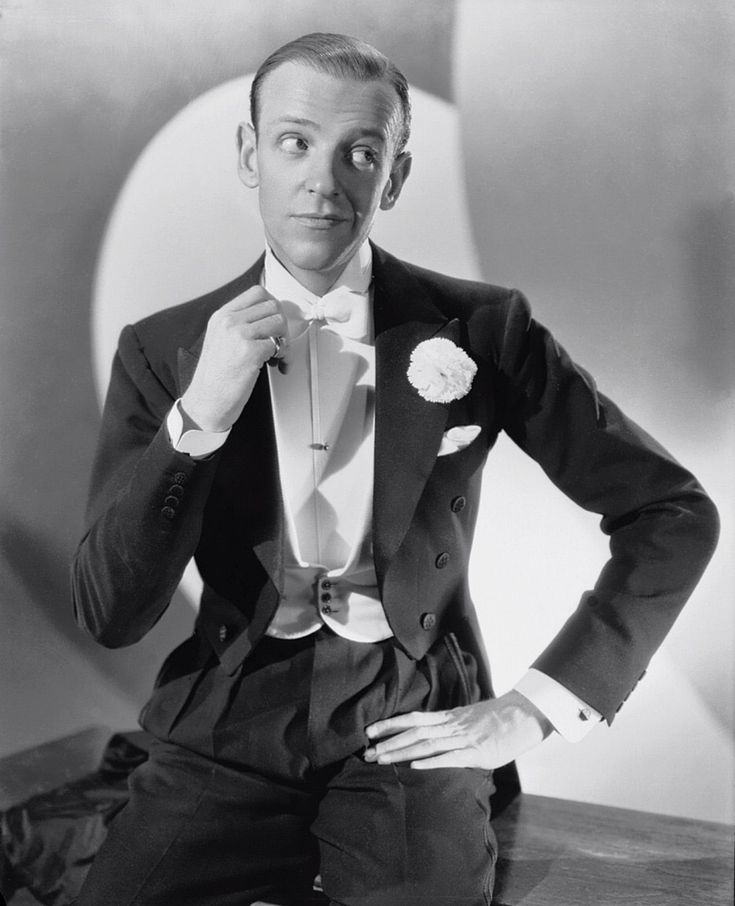 In previous articles, I have already mentioned that different dance styles are suitable for different ages. It is appropriate to dance hip-hop in adolescence or youth, Argentine tango is a more adult dance, it is important to enter classical choreography at a young age.
The degree of necessary plasticity and sensitivity to the dance direction also correlates. For example, breaking requires great physical effort and dexterity. Elements are built on acrobatics and high speed of execution. Who are they more suitable for? Obviously young people.
There is a lot of interaction in salsa. It is necessary to feel the partner subtly, to be able to show a variety of figures and elements. Twine or acrobatics are completely inappropriate here. However, a variety of ways to show oneself are required. Accordingly, the dance is youthful, but not at all childish.
The older the dance, the less stretching or acrobatics is required. The main emphasis is on the quality of technology, the variety of ideas and the ability to show plasticity.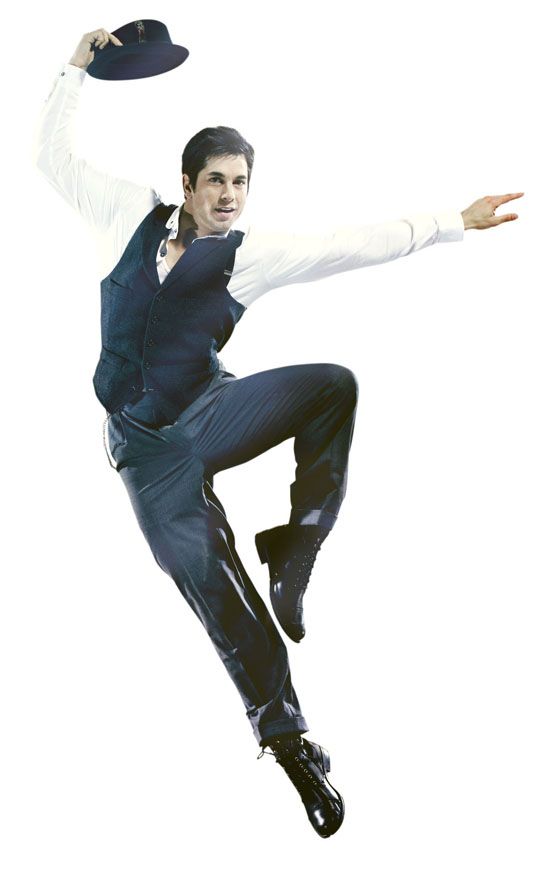 Misconception 6: Mirrors are necessary for learning
There is a set of instruments that dancers use to learn how to dance. The fact is that the dancer needs to receive feedback on how his movements look from the side. It is impossible to dance and see yourself from the side at the same time. The most common tool is a mirror. But not the only one.
Like any auxiliary tool, mirrors have positive and negative effects. The positive is that they can receive feedback in real time and technically it is not very difficult. The downside can be dependence on mirrors. A situation where a dancer cannot capture the feeling of dancing, such as on stage or at a party. For these purposes, you can use, among other things, video filming or proper preparation.
In many countries in Latin America, dance classrooms are not equipped with mirrors. Classes are held in bars or large halls. The dancers initially form the skill of focusing on the inner sensation, and not the habit of looking for their reflection in the mirror with their eyes.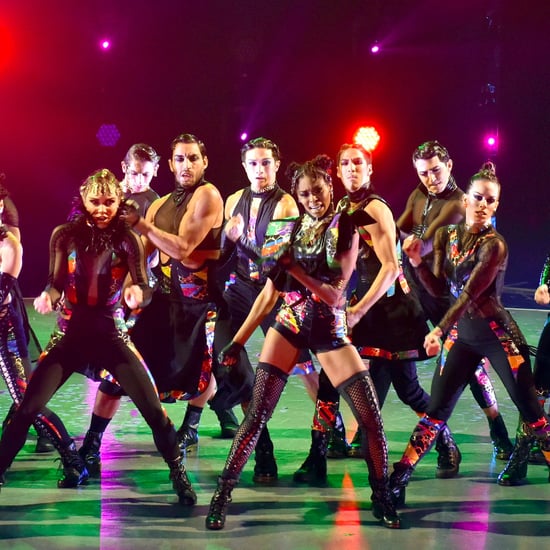 Misconception 7: there is a lot of obsceneness in dancing
A common question from novice dancers who are taking their first steps in more contact couple dances is "in order to dance cool, there must be passion within a couple?". I immediately answer that no, not necessarily. Kizomba, bachata and Argentine tango attract many with their close contact. Like any other contact in our everyday life, in dances, contact can be different. We hug friends, parents, children. These hugs can wear many different shades. Sexual overtones are one of many.
The culture of dance also includes the boundaries of what is acceptable. A compliment from a well-mannered person is different from a statement about female sexuality by a gopnik. Usually, those who study at a dance school already have an idea of ​​what boundaries should not be crossed. A good dance from a technical point of view will never look vulgar or vulgar.
Dancers always have a choice about the boundaries of contact.
Most prefer to leave a good impression of themselves, as word spreads just as fast in the dance world.
Misconception 8: the best dancers are the bearers of culture
Even the very question of the origin of this or that dance can be paradoxical and ambiguous, especially when it comes to its development and performance.
For example, the Viennese waltz did not originate in Vienna, but in Germany. Salsa has its main roots in the USA, not in Cuba. The famous Greek folk dance sirtaki was invented for the film Zorba the Greek and appeared only in 1964.
The same can be attributed to the development of modern dance styles. Korea is known for its world-leading break dancers. People go to Turkey for Argentine tango, Spain is strong with excellent salsa and bachata dancers, in Egypt, Russians are considered the best belly-dance performers.
A good dance is based on quality training and diligence. Skin color, place of birth and age are secondary.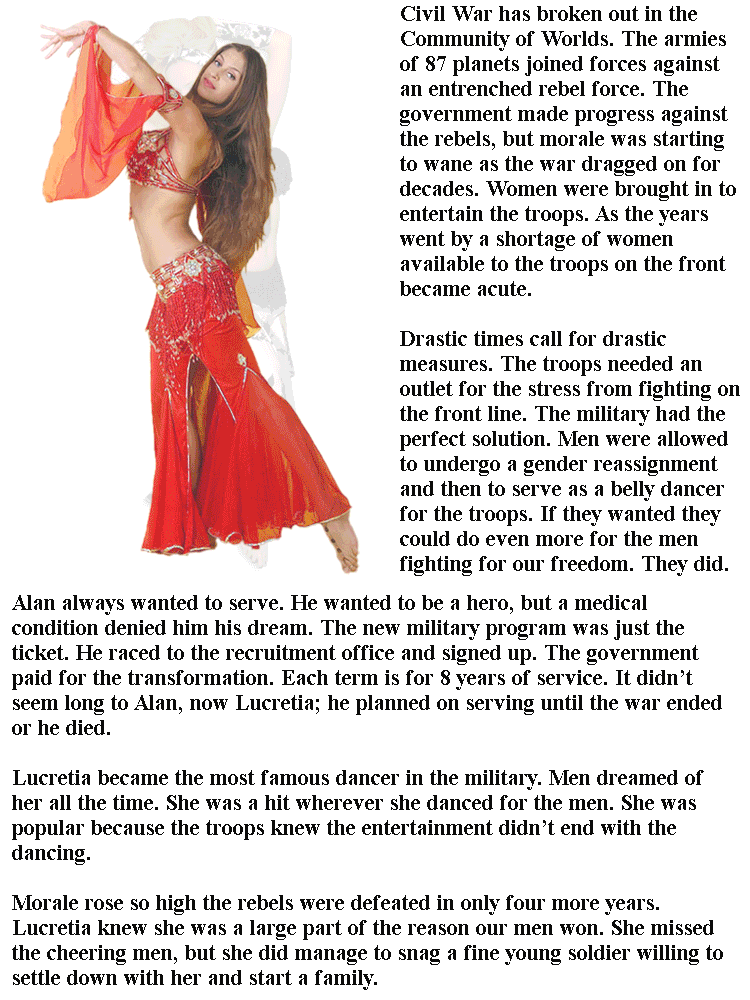 Exotic appearance, unfortunately, is often a reason to be more superficial about one's own professional development. This becomes the reason for the low level of teaching among the bearers of culture. I am sure that few readers of this post will be ready to conduct a master class in Russian folk dance outside of Russia.
The mastery and teaching of a particular style does not depend on the dancer's homeland. And "they absorbed the dance with their mother's milk" is nothing more than a common misconception.
Misconception 9: You have to know a lot of moves to learn how to dance
Focusing on learning a lot of moves often detracts from the essence of dance. Of course, the sequence of figures is important. Especially at the start. Over time, the dancer should have an understanding of how movements can be generated independently. Accordingly, instead of memorizing millions of figures, you can understand how to create them.
From every system of improvisation that a dancer can use as an instrument, dozens, hundreds or thousands of variations are derived.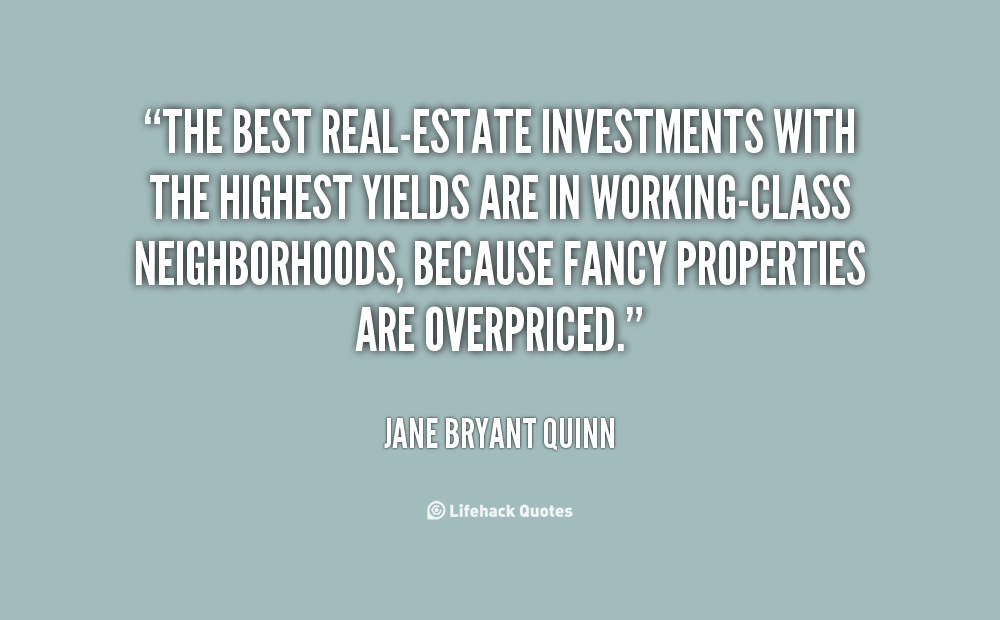 This frees the head from trying to reproduce the exact sequence and definitely adds freedom in the performance of the dance.
The huge theme of musicality can be attributed to the same question. Not every pre-conceived or learned sequence will fit specific music. The dance should give freedom, and not drive the dancer into the shell of the ropes.
Misconception 10: dancing is homosexual
The unusually high attention to the body and the flair from stories about professional ballet led to the spread of this myth, among other things. Unfortunately, such an idea still exists in the minds of our fellow citizens.
The dance industry is now very broad and is represented by many dance styles. Some of them can even be called homophobic. Dances reflect the general attitude to the world and it is different depending on the life position and worldview of a person.
In many dances there is contact between the dancers. In Russia, dance contact between men has always been perceived very intensely.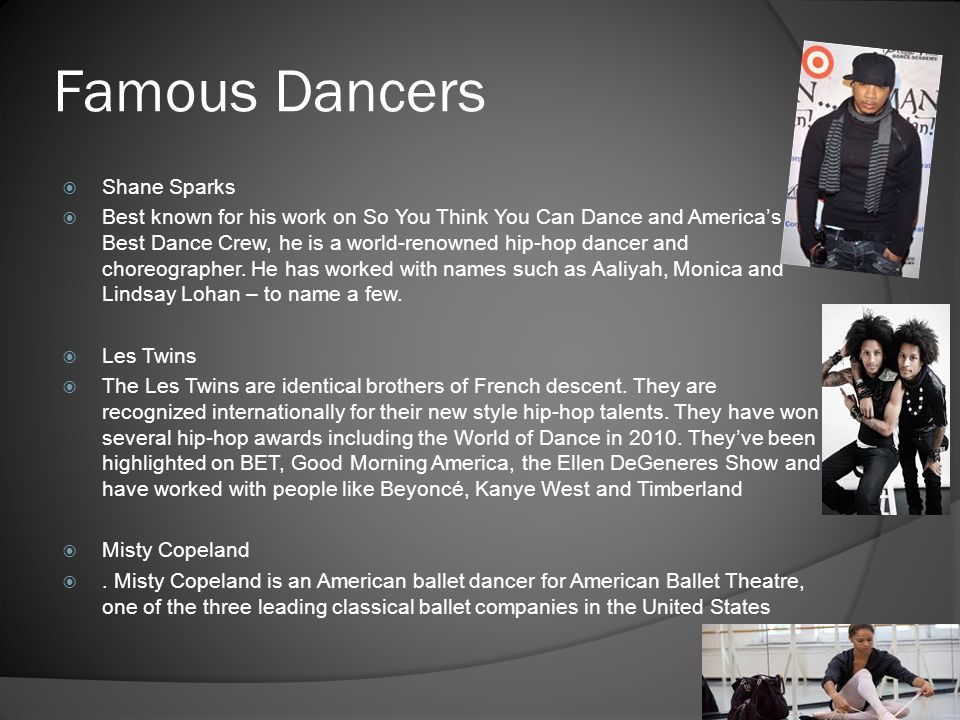 In most other countries it is different. An example of the fact that this tension is associated only with the dance theme and does not apply to other areas is, for example, wrestling. When practicing techniques, men are in much closer contact with each other. Sometimes lying on the floor and holding each other tightly. The historical roots of Greco-Roman wrestling are also ambiguous from a sexual point of view. But in our country, unlike dance, they are perceived as acceptable and brutal.
Dance, like the culture of speech, makes a modern person more successful and self-confident. The ability to control one's body, tune in to another person and the ability to be aesthetic in the plasticity of movement is valuable in the modern world. If we add here the pleasure of the process and the availability of dance as such, then the possibilities of this activity can hardly be overestimated.
It's sad when interested people are stopped by prejudices and myths that have nothing to do with dancing.