How to put on makeup for a dance recital
Easy Dance Recital Makeup in Minutes – JAM Cosmetics
The two all-too-common comments from dance parents regarding recital makeup are:
"Why does she need to wear so much makeup for the recital? She's too young."
"How do I do dance recital makeup? I don't even wear makeup myself!"
If you have ever asked yourself these questions... read on! Or, if you already know the why and how of recital makeup, don't go anywhere, as you may find a few ways to improve or simplify what you are already doing well!
Firstly, here's WHY you need to properly apply recital makeup to your young performer (yes, even toddlers):
a) Those super cute, shiny costumes look stunning on stage! But, they will completely overshadow your dancer's beautiful smile and facial expression if we don't apply enough makeup.
b) The stage lights are very intense and make a dancer's face look washed out. Properly applied stage makeup will illuminate and accentuate your dancer's features under bright, colorful stage lights.
c) The dancers are elevated on a stage and are very far away from the audience. This makes the facial features disappear and your dancer look less animated on stage. Properly applied stage makeup will not only give the face a more three-dimensional look but it will also make the eyes and facial features look bigger, brighter and more pronounced on stage.
d) Your little ones will likely be dropped off backstage an hour or so before the show starts... so, they need stage makeup that will STAY ON without looking blotchy or sloppy by the time they take the stage for the show.
Now that we understand the importance of stage makeup, even for young dancers, let's go over how to achieve the look! Our "Young Dancer" look will be demonstrated, using our "JAMGlam" palette!
BEFORE 
Clean and moisturize her face to ensure her makeup stays fresh.
Step 1: FOUNDATION
Apply a thin application of a water-resistant foundation (See our Perfection Stix Foundation) with a foundation brush or a makeup sponge to even out skin tone and keep makeup looking fresh longer.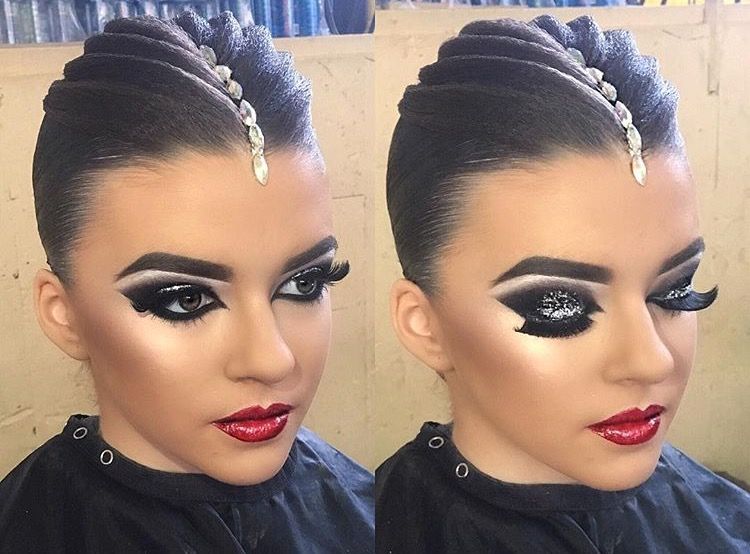 It will creates a clean, matte surface to apply your colors to.
Step 2: EYEBROWS
Open up your JAMGlam palette. Apply a thin line of "Fear Me" eyeshadow through center of brow and brush out with a brow brush (or disposable mascara wand you can get at Sally's Beauty Supply). This step is very important for blonds and those without brows.  Use a color that is a shade darker than her actual brows.
Step 3: LOOSE POWDER
Dab a makeup sponge in translucent loose powder then dab the loose powder under her eyes to create little loose powder "puddles".  The loose powder will catch any dark eyeshadow speckles that fall onto her cheeks (Try this will your own makeup... it works so well!). After eyeshadow is complete, sweep the loose powder away. You will be left with a lovely, soft highlight under the eyes.
Step 4a: EYESHADOW ON EYELID
Apply "Fear Me" eyeshadow, darkest at the lash line and fade it out as you reach the crease.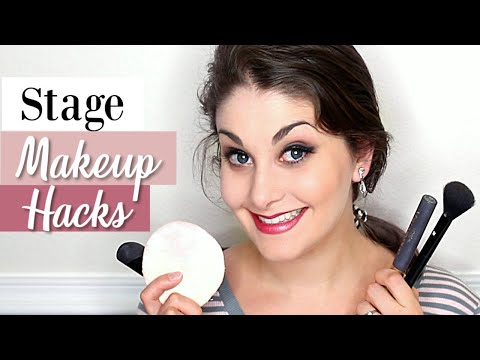 Apply "Fool Me" gold eyeshadow to inner corners of the eyes. Apply "Innocent Me" white shimmer shadow to her brow bone to highlight. Optional: Use an angular liner brush to apply "Double-Dar Me" black shadow/eyeliner along the top lash line ONLY.
Step 4b: EYESHADOW/LOWER LASH LINE
Using a thin eyeliner brush, sweep a line of "Fear Me" eyeshadow from outside corner of her eye and in towards the middle. This will make the eyes look bigger on stage. Blend so as not to have a harsh line. Stay away from dark colors under the eyes, to ensure you have a softer, more youthful look to younger eyes.
 Step 4c: MASCARA (optional)
This step is optional and dependent on how cooperative your dancer is while having a pointy object half and inch from their eyeball. Have your dancer sit up very straight and look down with their eyes (head stays lifted). Gently lift their eyelid with one finger. Have them blink a few times to practice before mascara wand is used.
Keep wand parallel to lash line and sweep color though lashes starting at the base. Remind dancer to blink so that eyes don't water. Only apply mascara to top lashes. Make sure you use a water-resistant, sensitive eyes formula black mascara. Avoid waterproof mascaras as they are very harsh to remove from young, sensitive eyes.
Step 5: BLUSH
Find cheekbone with fingers. Place blush brush at hairline just below cheekbone and sweep pink/peach blush color UNDER cheekbone and the sweep UP over apples of the cheeks. Make sure to use a small enough blush brush on her tiny cheeks so that blush line does not go lower than the lip line. Otherwise, your little dancer will look like they've got a sunburn! Blend. Blend. Blend. Oh yes, and please, no "apples of the cheeks" clown blush.
Step 6a: LIP LINER
Imagine that the lips actually have four parts to them – upper right lip line, upper left lip liner, lower right lip line, lower left lip line.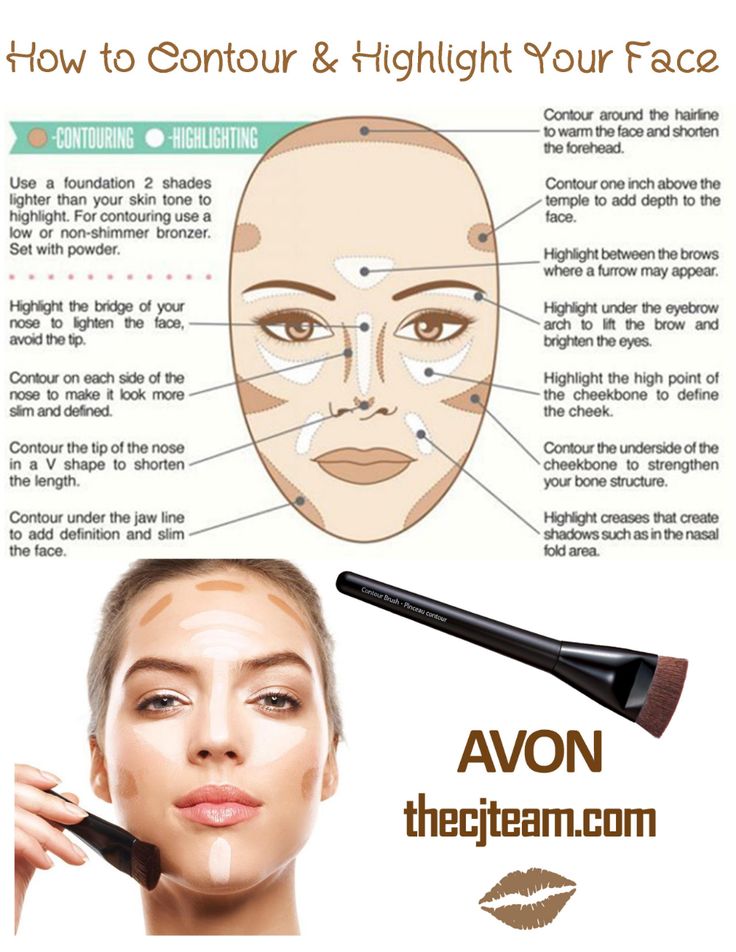 Take your pink/rose colored lip liner pencil and line the upper right side of lip ridge from outside corner into center cupid's bow.  Next, line the upper left side of lip ridge from outside corner into center cupid's bow.  Then, line the lower right lip ridge from outside corner to center of bottom lip. Lastly, line the lower left lip ridge from outside corner to center of bottom lip. Now, fill entire lip in with pink/rose colored lip liner pencil. This is the easiest way to make the lips look even!
Step 6b: LIPSTICK
Fill lips in with lipstick color. On young dancers, using a rose-toned lipstick (See our Wild Child Mineral Lipstick!) rather than a red creates a softer, more age-appropriate look. That being said, many studio owners/directors prefer a red lipstick on stage. Be sure to check with your studio's dance recital makeup guidelines to confirm!
AFTER: Ready for the show!
How to Do Stage Makeup for Dancers
June 23, 2020 Uncategorized
If your child is performing in a dance recital, she will need to wear stage makeup, which enhances a dancer's features so that her expressions are visible from the audience.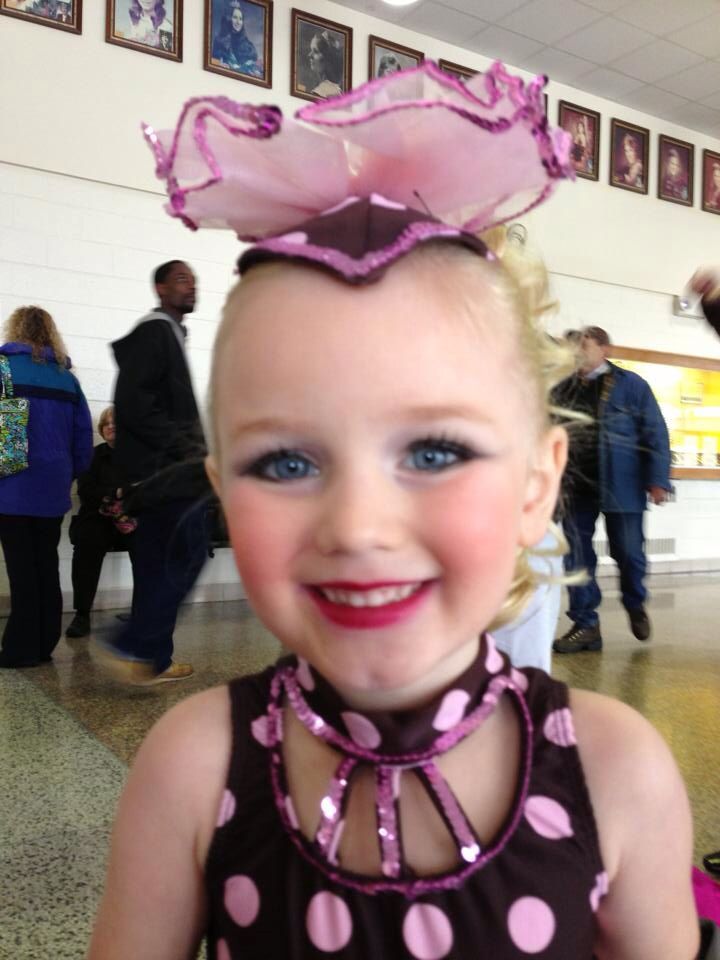 Below we have provided makeup information to help you with home application tips on how to practise your stage makeup.
Preschool aged children
The key to doing children's makeup for ballet is to use natural colours. The child shouldn't look "made up" with loud colours; rather, the makeup should make her features stand out from far away. Makeup for children is meant to emphasize features, not exaggerate them.
Children, Teenagers & Ladies
As children mature their make up should reflect their age and become stronger and heavier dependant on age. Following the basic model below the make up application follows the same principals however should be darker and include false eye lashes and darker eyeliner for teenage aged students & Ladies.
Things you will need.
Foundation – Skin Colour
Lip liner – Red
Lipstick – Red
Blush – Pink
Powder – Skin Colour
Eye shadow – 3 x shades of browns. Light, Medium & Dark
Eye liner – Black
Mascara – Black
Highlighter – Ivory or Cream
Brushes for lips, eyes, brows, blush, powder
False Eye Lashes for Teenage ages and Ladies
Bronzer can also be lightly used – optional
Foundation/Base
Using a makeup sponge, apply foundation in a color that matches the child's skin tone. Use more foundation than you would for "street" makeup. Blend the foundation at the jawline. Dust on lightweight, slightly shimmery powder so the makeup will stay put onstage.
Liquid or a loose compact foundation
Use a cream/ivory shadow on the lids – Brown eye shadows in different grades are ideas. A light, medium and dark brown. Choose a relatively muted colours — too bright and the child will look garish. Finish the eyeshadow with a dusting of powder to hold the colour.
Use a cream blush in a peach or pale pink with shimmery tones to highlight the cheekbones.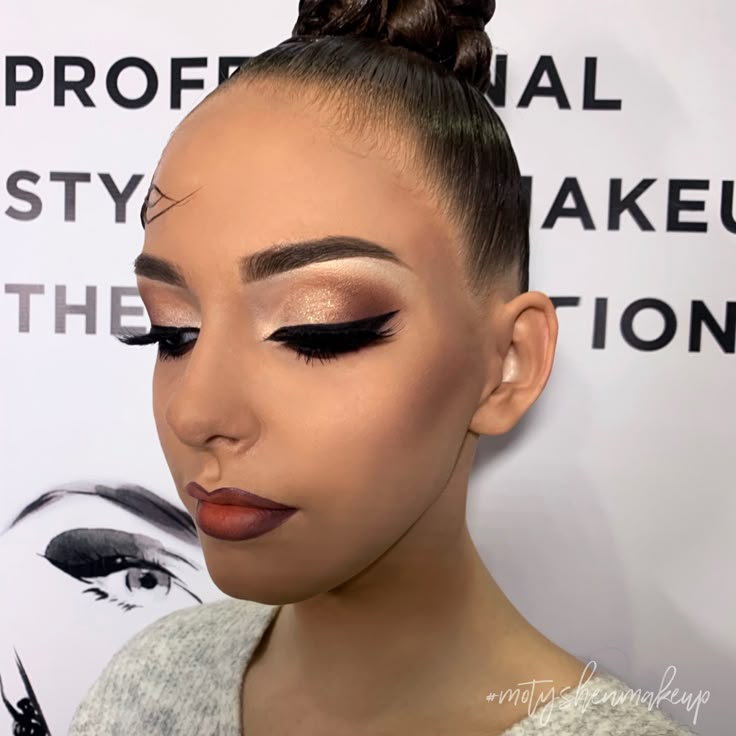 Blend into the foundation.
Eyeliner
Line the eyes using a liquid eyeliner in black or very dark brown. Extend the line on the top lash slightly past the eye, but don't turn it up. Finish the eyes with two coats of mascara a shade or two darker than the liner.
Applying Lipstick
Begin by lining the lips with a red lipliner pencil, then fill them in with red lipstick. Avoid bright reds, as these can be too bright for children. A deep but strong blood red suits most skin tones
Below we have provided 3 video tutorials that are helpful in demonstrating how to apply stage make up.
This first tutorial is ideal for mums with very young children. It is a longer tutorial but has helpful tips for how to apply make up to young children and keep them settled and still ????
This next tutorial is a fast example of how to apply stage make up for all ages
This tutorial is a little more advanced. If you are looking for a more professional look with tips and tools on how to apply your stage, make up that looks extra sharp
A sketch has been drawn below to help you with your stage makeup. Along with images as examples for Junior and Senior students. Stage Makeup needs to be a lot heavier than normal makeup because the bright lights wash out people's facial features unless they are emphasized with dark make up. Senior students are asked to wear false eyelashes.
Makeup for dancing girl. Makeup for oriental dances.
Contents
Dance make-up for girls. Makeup for oriental dances.
Ballroom dance makeup for girls. Stage make-up for different categories of performers
Make-up for sports ballroom dancing for girls. Step-by-step design of the face on the dance floor
Rules for choosing a dancer's makeup and means for its implementation
Ballroom dancing makeup for girls. Make-up in the category "Junior-2"
Features of make-up for ballroom dancing. Bright stage make-up for dancers
Video Make-up for ballroom dancing | Make Up For Ballroom Dance
Professional Ballroom Dance Makeup
Essentials in Brief:
Basic Rule
Preparing the Face
Step by Step How to Apply Foundation
Eyes in Ballroom Dance Makeup
Lip Makeup
Blush
Ballroom dance hairstyles 2019.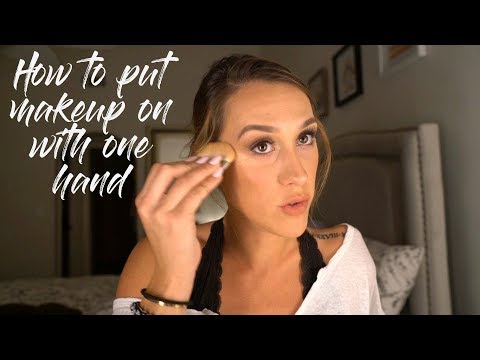 Ballroom dance hairstyles for girls
Girls dance makeup. Makeup for oriental dances.
One of the brightest and most spectacular types of make-up is oriental. Best of all, this makeup is suitable for girls who are fond of oriental dances, and we are talking not only about belly dancing, but also about Indian and other types of oriental dances. But even if you are far from dancing, oriental makeup can be done for a romantic evening together, an evening reception somewhere in the Arab countries, or a party in this style in our homeland. nine0003
So, what makes oriental makeup stand out from others? The main distinguishing feature of oriental makeup is the main focus on the eyes. It is the eyes that should express all the passion and hidden sexuality, which is not customary to show in public to Eastern women. Surprisingly, such a bright and even bold makeup will suit any eye color, from brown to light blue. Let's try to make such a makeup step by step
Stage makeup should be distinguished not only by bright colors that highlight facial features.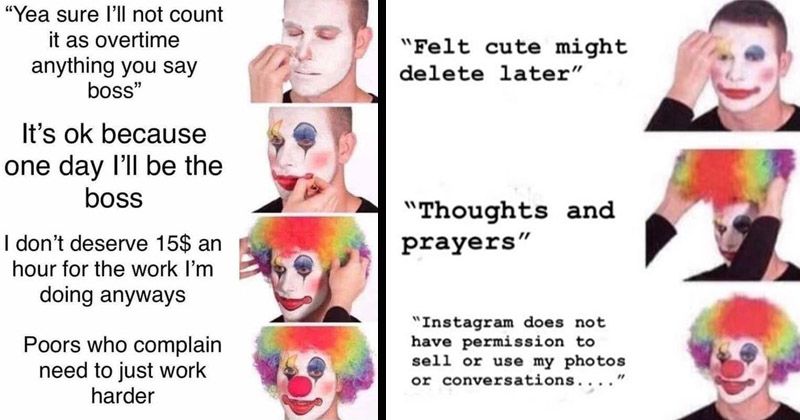 It must also be resistant so as not to spread during the performance. https://makiyazhglaz.com/vidy-makiyazha-glaz/makiyazh-dlya-vostochnogo-tanca
To begin with, it is necessary to even out the complexion with the help of foundation, as well as to complete the blush with a shade of light tan, because this is so characteristic of oriental beauties.
Eyebrows are an equally important part of oriental make-up. They should be clear and expressive, mostly not subtle. In the event that your eyebrows are far from ideal - use a pencil to match the color of the eyebrows, with which you can slightly lengthen the line to the temples and bridge of the nose, while not forgetting a sense of proportion so as not to look comical. nine0003
And finally, we got to the main detail of makeup, namely the shadows. As a rule, experts prefer shiny or pearlescent shades of blue, bright blue, brown, gray, yellow, green, lilac, pink and even red. However, a prerequisite is the combination of the selected shade with black.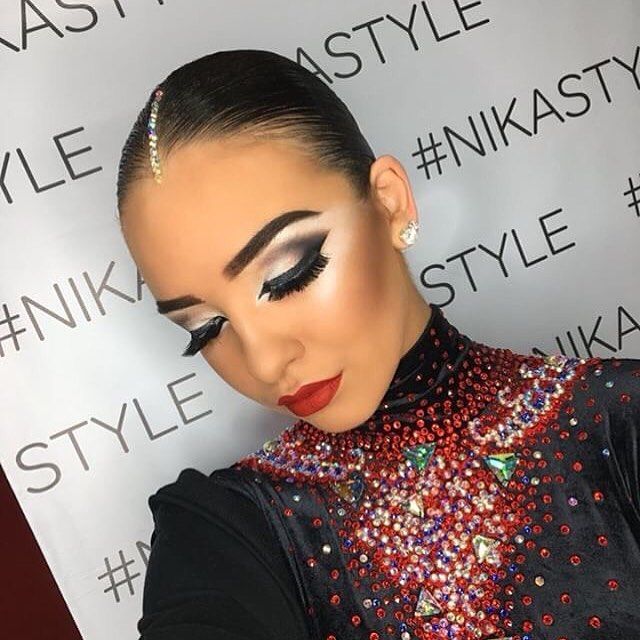 It is necessary to apply shadows with a wide brush on the entire moving eyelid and under the line of the lower eyelashes. In addition, oriental eye makeup cannot be considered complete without the use of liquid eyeliner, always black. The upper and lower eyelids must be thickly outlined with eyeliner, thereby giving an almond-shaped shape to the eyes, and then experiment with arrows that can not only emphasize the eyes favorably, but also create a mysterious and even mysterious image. Finish your eye makeup with mascara, applying several layers to the upper lashes and be sure to emphasize the lower lashes, even if you do not do this in everyday life. nine0003
As for the lips, you should use gentle, soft tones, similar to your natural lip shade. Lipstick can be both matte and glossy or light mother-of-pearl.
In conclusion, it should be noted that oriental makeup, like the oriental image in general, involves an abundance of jewelry, ranging from massive necklaces and bracelets to sequins and rhinestones, which are appropriate both in makeup and hair, and in clothes.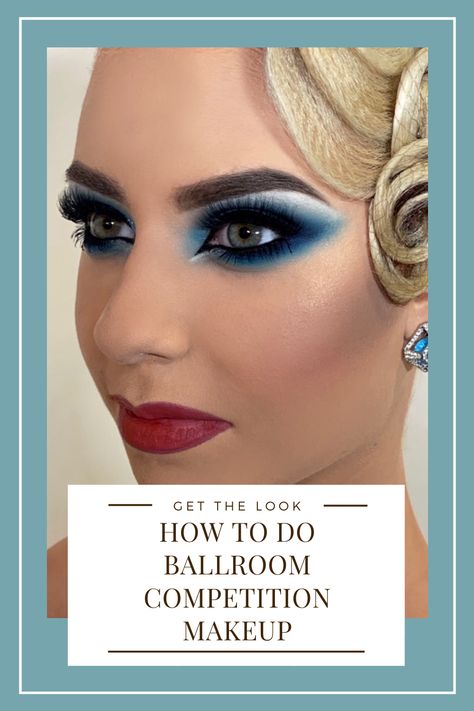 Ballroom dance makeup for girls. Stage make-up for different categories of performers
Ballroom dance makeup is not always used. Girls performing in the categories "Children" and "Junior-1", according to the rules of the tracksuit of the Dance Sports Union of Russia, should not use cosmetics.
Category "Junior-2" can do makeup, following certain rules.
The use of cosmetics will depend on the type of dance. For hot latin, first apply bronzer or self-tanner, then foundation and powder to match skin tone. Shadows can be applied even with incongruous shades. False eyelashes are covered with mascara twice. The long black arrow is required. A bright lipstick is applied to the lips, combined with the suit. Pencil stroke in progress. nine0003
For the mothers of young dancers, there is a regular make-up and hairdo master class. If you follow all the rules, you can succeed on your own.
Hair is styled differently. For classical ballroom dancing, hairstyles made on the basis of simple weaving are suitable.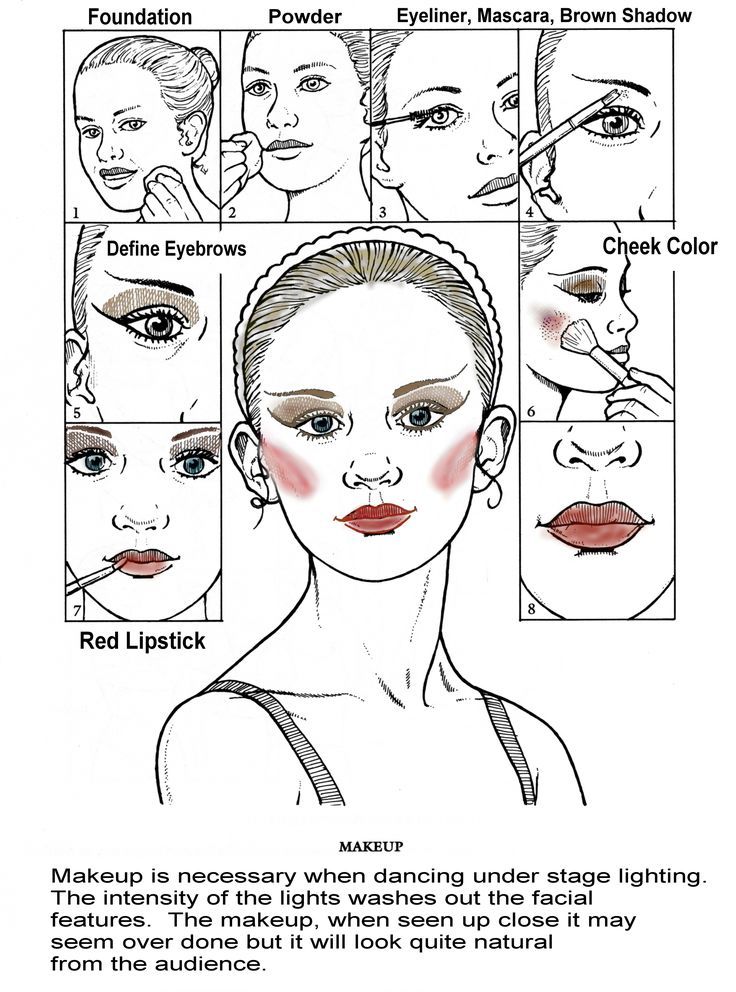 You can add ribbons or decorative hairpins to the strands. Often a high or low beam is used. Hairpins with beautiful tips will look great in the hair.
Professional stylists do makeup for 30-50 minutes. nine0003
Sports ballroom dance makeup for girls. Step-by-step face shaping for the dance floor
Make-up for ballroom dancing should be performed in good lighting, and preferably artificial, since the event itself will most likely be held not in the open air. You need to start by preparing the skin, for which it can be cleansed and toned with lotion at the same time, and then moisturized with a cream suitable for makeup, which is best done after the hairstyle. The second step is to apply a base on the face - the tone is applied as evenly as possible, after which you need to wait a while for the product to be absorbed. The dancer's makeup base should be thick and persistent, and then you can easily mask problem areas. Next, we take loose powder of a light tone and treat the area around the nose and eyes, the center of the forehead and chin with it, and with the help of a dark tone, the cheekbones, wings of the nose are darkened and the oval of the face is corrected.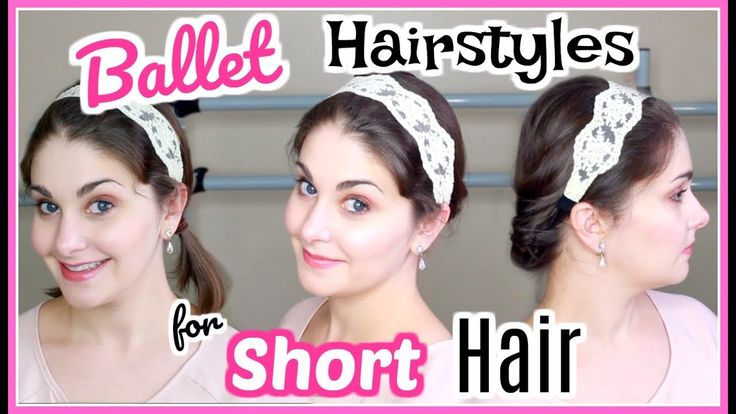 nine0003
Ballroom dance make-up loves dramatic eyes, eyebrows and lips, and to achieve this goal, all means are good. False eyelashes to the soul - go ahead! The eyebrow line is well highlighted with a contour pencil or brown shadows. Next, it's up to the eye makeup - first, light ones are applied to the inner corners and the brow part, then a dark tone is applied to the moving eyelid, and finally, the darkest shade is applied to the outer corners. All this splendor needs to be shaded so that color transitions do not catch the eye. nine0003
In ballroom dancing, you can't do without black eyeliner on the lower and upper eyelids, with strengthening of the upper part, and without several layers of mascara. Clear lines are also needed in lip makeup, so it begins with the creation of a contour, which may not coincide with natural lines. Inside the contour, the lips are stained with lipstick, a tone or two lighter than the pencil, with blotting movements, and the corners are darkened with the same pencil to give juiciness.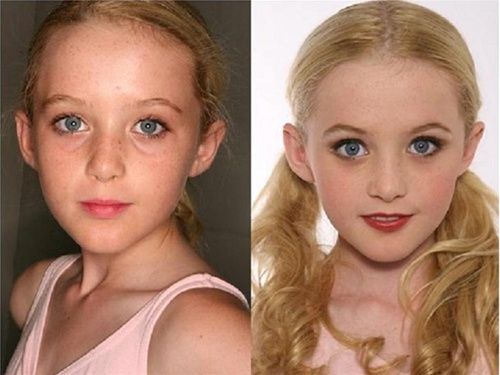 Gloss is applied to the center of the lower lip for extra volume. Completes the make-up of the dancer blush, which must be applied to the protruding parts of the cheekbones. nine0003
Rules for choosing a dancer's make-up and means for its implementation
In order to create a make-up for ballroom dancing, you need to choose cosmetics suitable for this occasion, since this part has a number of additional important requirements:
The girl's face should be as bright and radiant as possible confidence and strength, and therefore lipstick, mascara, blush and shadows are chosen in the most saturated tones;
Make-up must be applied with a base to match the skin color - foundation and powder; nine0006
Make-up colors should be in harmony and complement not so much the eyes as the style of the dancer's costume. This rule works because it is the color of the outfit that is visible to the audience, and few people can see the natural data from the audience. Another nuance is the style in which the costume is chosen, because, whatever one may say, gentle pink make-up does not suit the Argentine tango at all, but the contrast of red lips and bright eyes will be the best here;
For the integrity of the image, in addition to the outfit, one more detail should be taken into account - the color of the hair, which is much more noticeable to the viewer than the shade of the iris. In this regard, it is better for brunettes to choose rich colors of cosmetics, for example, steel and blue, for brown-haired women - green, brown, bright pink, and for girls with light curls to face softer shades - blue, pink, yellow. nine0006
Ballroom dance makeup for girls. Make-up in the category "Junior-2"
When choosing a dance look, make-up should be taken into account, which is allowed in categories starting from the age group Junior-2. According to the classification table, the Yu-2 category assumes that the eldest of the partners turns 14-15 years old this year.
At this age, it is advisable to use only natural, mineral cosmetics from well-known manufacturers for applying make-up. Lightness, freshness of youth and masking of problem areas are the tasks that must be performed first of all when creating a dance style for a partner. Aggressive juniors 2 can be used if a bright multi-color suit matches this. nine0003
Important! Chasing fashion trends, choosing images that shock the public for yourself, is not a very justified occupation.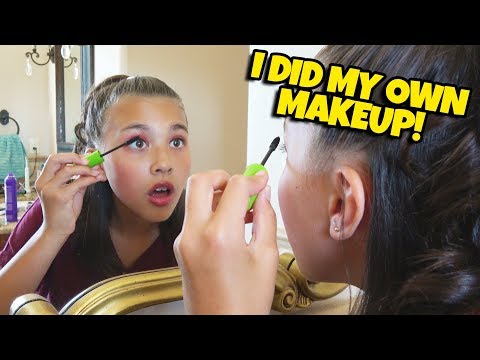 It is better to proceed from individual facial features, hair color and hairstyle shape.
What do professional make-up artists offer (instructions for applying makeup):
Cleanse the skin of the face with a tonic lotion. This contributes to the narrowing of the pores and prevents unwanted reactions from appearing. All defects mask with concealer.
Moderate use of foundation (natural), mineral powder is possible to even out the skin relief. nine0006
Draw a visually even contour of the eyebrows with a pencil and fix their shape with a gel. To choose the shape of the eyebrows, you should determine the location of the high point of the eyebrow. To do this, a pencil is applied to the tip of the nose and an impromptu line is drawn diagonally through the center of the eye. This point is a reference point in eye makeup.
Cover eyelids with matching eye shadow up to the eyebrows. Highlight the moving eyelid with a darker shade, lighter - the lower eyelids. nine0006
Elongated arrows on the outer and lower eyelids. Noticeable options are obtained by using arrows of several shades at the same time. To give a shimmering effect in the eye area, you can stick special rhinestones.
Apply 2-3 coats of mascara to eyelashes. Alternatively, you can use false eyelashes.
Apply lipstick and set with gloss.
Blush with shimmer on the bulge of the cheekbones and glitter to complete the look.
If the skin is too pale, a small amount of luminizer or bronzer can be used. nine0003
Important! The ability to stand out on the floor and not look ridiculous at the same time is the main rule so that juniors 2 ballroom dance makeup can complement the dance image competently.
Special aids
Spectators and judges must look at the partner's eyes and lips. They need to be emphasized. Suitable super-resistant matte lipstick, glitter eyeshadow, shimmer mica.
Make-up takes 30 minutes to an hour.
The duration depends on a number of conditions:
Dance make-up ideas (Yu-2 category)
Men's make-up
Men's make-up for ballroom dancing is extremely reserved. Usually flesh tones are used. To add elegance, it is possible to use transparent gels for eyelashes and eyebrows. Eyeliner will be relevant for the performance of Latin dances. In this case, it is recommended to use a pencil or two-phase shadows.
Make-up features for ballroom dancing. Bright stage make-up for dancers
Different artists have different stage make-up. Dancers, for example, need to consider the intensity of movement. They should not interfere with any elements of makeup or hairstyles. Therefore, the hair is most often removed from the face and fixed as securely as possible.
When it comes to makeup, it must take into account not only the heat of the spotlights, which "melts" cosmetics, but also the activity of perspiration, which also destroys makeup. In general, make-up requires accents that will be visible from afar.
© GettyImages
Professional cosmetics are most often used in dressing rooms. Choose reliable products in catchy shades. If you're looking for long-lasting stage makeup, look for water-resistant labels on product packages.
Don't forget to prepare your skin for makeup. You will need not only the usual base, which should be distributed over the entire face, but also primers for local application - for example, for the eyelids. If you neglect this stage, after a few minutes the arrows will turn into dark smudges on the stage, and the shadows will roll into the creases of the eyelids. nine0006
Video Makeup for ballroom dancing| Make Up For Ballroom Dance
Professional makeup for ballroom dancing
Dancing is an art, and art requires not only talent, but also beauty.
If you are engaged in ballroom dancing, then the first thing to consider in your own image is make-up, which on stage should be as bright as possible, but at the same time harmonious (this is a ballet, not a dance floor).
In this article, we will consider in detail what kind of makeup should be applied to girls dancing ballet. nine0003
Briefly about the main points:
Basic rule
Emphasizing the attention of the audience on the eyes and lips of the dancer
Beautiful makeup for ballroom dancing
The main task of makeup for ballroom dancing is to focus the attention of the audience on the eyes and lips of the dancer. A face with such a noticeable make-up is more expressive and conveys more emotions due to the presence of bright colors on the face.
Such cosmetics, firstly, have a denser structure than "homemade" ones, so they last longer, and secondly, they are distinguished by the saturation of shades. Everyday makeup should be postponed - it is unacceptable here.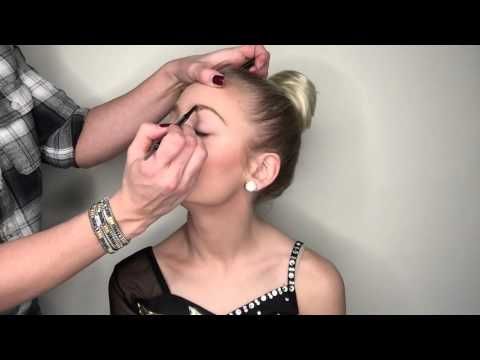 Consider the main points of bright stage makeup. nine0003
Preparing the face
Face in ballroom dance make-up
The foundation is chosen not for the natural skin tone of the dancer, but for the color that the skin will acquire during the performance when using a bronzer.
Foundation and powder must have a dense structure, so only professional cosmetics should be preferred.
Do not apply makeup in daylight, as the light in the hall is very different from it - you should find a room with the brightest lighting, and then evaluate the work by looking at yourself in the mirror in the performance hall. Before applying makeup, it is advisable to wipe the face with a tonic lotion. nine0003
Step-by-step instructions - apply foundation on the face
Mask the face with a resistant foundation, wait for it to be absorbed.
Now apply light loose powder on those areas of the face that need to be brightened to give it more expressiveness - the area around the eyes, nose, chin, center of the forehead.
Use a darker shade of powder to correct the oval of the face.
Eyes in ballroom dance make-up
Make-up should be as bright as possible
Eyes in makeup for ball eyes
Make-up should be as bright as possible, and this requires some skill in application, because bright colors must be applied very carefully - any mistake will be clearly visible.
Bright colors need to be chosen as correctly as possible so that they match your image. Of course, it is desirable to choose shadows, taking into account the color of the hair and eyes (especially hair).
So, brunettes need to choose blue, purple, steel, chocolate, burgundy tones, blondes are recommended to give preference to pink (and there are so many tones of pink that it is not difficult to choose a rich and bright pink), yellow, blue, and brown-haired women - green, bright pink, brown. nine0003
Be sure to use black, preferably liquid eyeliner, which makes the eyes even more expressive.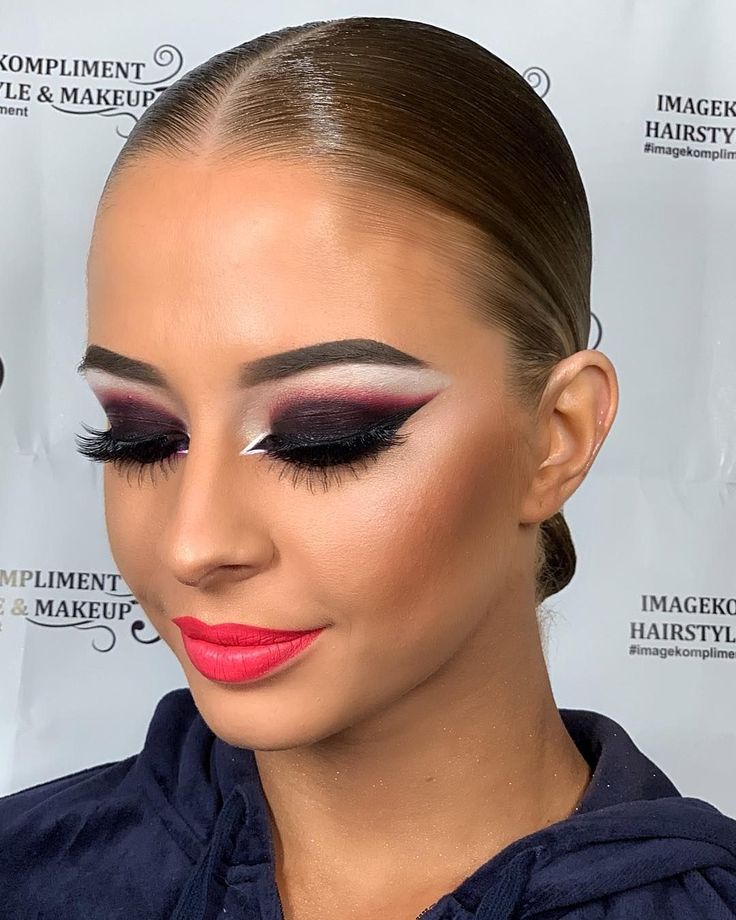 If the eyes are convex, then you need to completely circle them with eyeliner, but girls with a small slit in the eyes are not recommended to do this.
In addition, the eyeliner helps to reshape the eyes - to lift drooping corners, make them rounder or give the shape of an almond. To draw arrows, you can purchase a special thin brush, which is used by makeup artists when creating makeup. Be careful with your lower eyeliner - too much eyeliner can make your eyes look a bit heavy. nine0003
Eyelashes . Girls dancing ballet, without fail, stick eyelashes, which gives expressiveness to the face.
To begin with, your own eyelashes are stained, then false ones are glued with a thin line of glue, and then covered with several more layers of mascara. Be careful with glue, as an excess of it is visible on the eyelids. Use glue with a thin toothpick.
Rhinestones in ballroom dance makeup
The role of rhinestones in eye makeup. Rhinestones are bright and creative, which is why many dancers use them in eye makeup.
It is important not to overdo it here, as an excess of rhinestones will turn you into a peacock instead of a mysterious beauty with sparkling eyes. Rhinestones are applied to the corners of the eyes, along the eyelash line, on the area under the eyebrow, etc. nine0003
If you use rhinestones in a more abundant amount, do not overdo it with shadows and eyeliner - everything should be in harmony.
Eyebrows. The eyebrow line is highlighted either with a pencil or with shadows - if it is undesirable to use a black eyebrow pencil in everyday makeup, then this is not important in stage makeup. Although, of course, too black eyebrows on a blonde, even on stage, will look somewhat sharp.
Lip makeup
Ballroom dance lips
Lip makeup should be bright, but it is not necessary to use red lipstick - you can choose from numerous rich shades of fuchsia pink.
Also in this case, you can not do without a pencil, which you need to trace the contour of the lips.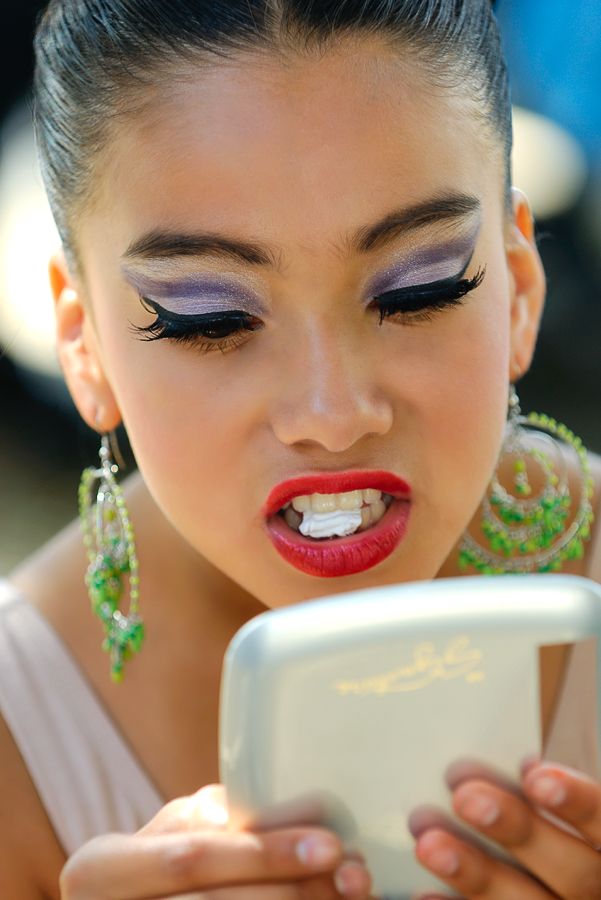 It is better to choose a pencil a tone darker than the shade of lipstick. It is allowed to go a little beyond the contour of the lips, if the lips are thin, which becomes noticeable when using rich lipstick.
Shading the corners of the lips with a pencil will help to make them juicy. In order for the lip makeup to be brighter, make-up artists are recommended to apply gloss over lipstick. nine0003
Blush
Of course, you can't do without blush - they add expressiveness and liveliness to the face, because often when using foundation or powder, the face seems too pale.
Blush pick up very carefully and try not to abuse them. Brown blush is best suited for a stage look, as reddish shades will look somewhat tasteless.
Of course, in order to make up for ballroom dancing, you will need high-quality and durable professional cosmetics. Below we will look at which brands of cosmetics are the most popular. nine0003
Ballroom Dance Hairstyles 2019.
Ballroom Dance Hairstyles for Girls
Ballroom dancing has been extremely popular lately. The main attention of the audience is directed to the dance, but the appearance of the partners is not left without attention.
Ballroom dance hairstyles for girls should be chosen very carefully, considering not only the harmonious combination with the dress, but also the individual characteristics of the child. Thanks to the huge variety of styling, choosing the right one is not difficult. nine0003
Girls involved in ballroom dancing delight others not only with their impeccable appearance, but also with their original styling. It is not necessary to constantly visit the stylist, you can study the schemes for performing the most simple and spectacular hairstyles, and before the solemn event, do the child's hair on their own.
It is recommended to take into account some requirements for the hairstyle when doing it yourself:
All strands in the hairstyle should be collected, there should not be loose curls; nine0006
It is also better to refuse complex elements of weaving;
Massive accessories prohibited;
Refrain from doing high hairstyles, which will not only interfere with dancing, but also require a lot of time to create them;
Hairstyle for ballroom dancing should be very concise, which will make its owner even more beautiful and graceful;
Decor can be used to decorate the hair in an original way;
Particularly popular among dancing girls is the shell hairstyle and low-set buns; nine0006
Often there are hairstyles with bangs, it will need to be fixed with varnish. "Experimenting with styling bangs, you can achieve amazing results and surprise others with your original and unusual hairstyle";
Styling will look original, when creating it, the hair is curled in a wave or zigzag and neatly fixed at the back. It will take a lot of time to create it, but the effect will be amazing;
The hairstyle should harmonize well with the girl's dress, emphasizing all her advantages; nine0006
Hair should also match the dance;
The hair style of both partners must have something in common;
Be sure to think about the highlight of the hairstyle, and add something extra to the image, emphasizing the individuality of the dancers.
How to make up beautifully at home: a step-by-step tutorial
Beauty tricks for makeup artists, step-by-step photo instructions and video tutorials for those who want to create beautiful makeup at home
Contents:
How to create the perfect tone? 5 rules
How to make up your eyes beautifully?
How to paint lips correctly?
How to make up beautifully? This question is asked by both beginners and professionals.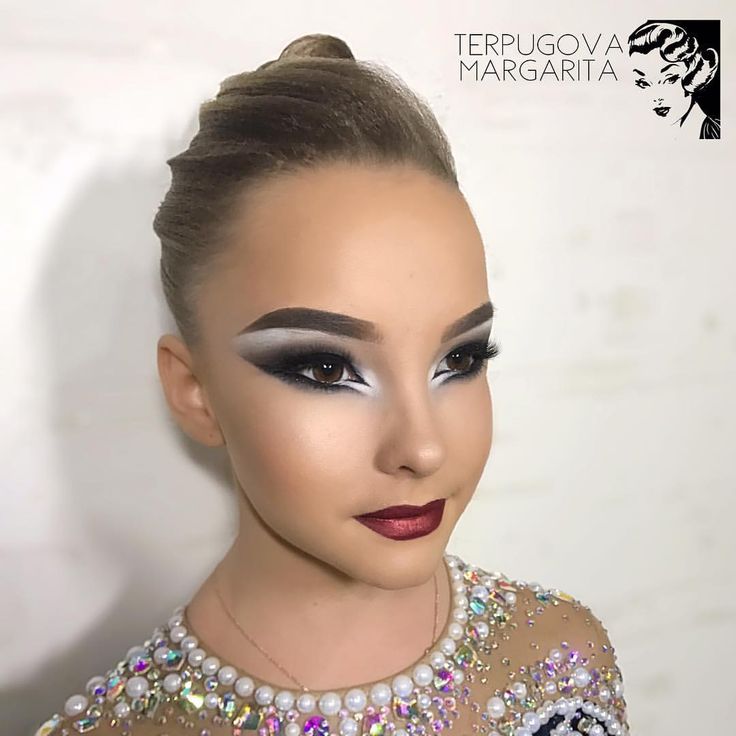 But if for the latter this question is more of a philosophical nature, then the former need specific recommendations. To get started, study our material on the sequence in which to apply different makeup products. And follow the basic photo instructions for creating a beautiful make-up, compiled by makeup artist Yulia Sizykh. nine0003
© Makeup.ru
1
Be sure to apply makeup on a well-cleansed face. Wipe the skin with micellar water to make sure that you have removed the remnants of all foreign products - old make-up, face mask.
2
Moisturize your face with cream and primer to make makeup last longer.
3
Apply foundation and spread it well, focusing on blending along the hairline and on the lower part of the face. Otherwise, the tone boundaries will be too noticeable. nine0003
© Makeup.ru
4
Apply concealer and blend under the eyes in an inverted triangle shape.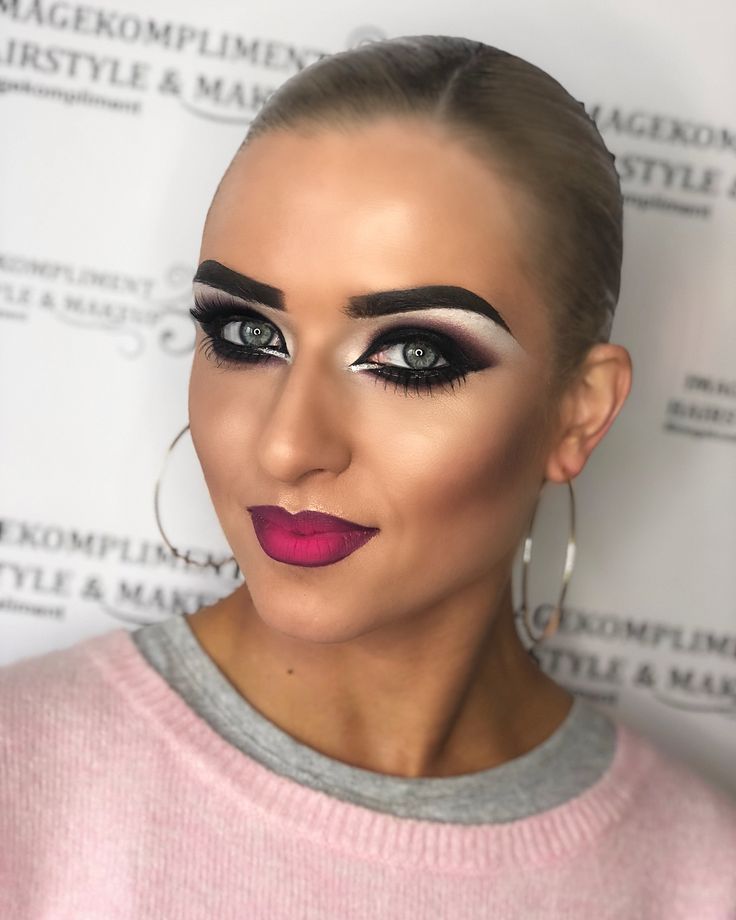 © Makeup.ru
5
The sub-zygomatic region can be outlined by the sculptor, if necessary, they can also correct the nose and face oval. Blend the edges of the transitions properly with a brush or sponge so that there are no obvious streaks on the face. At the same time, first blend the sculptor of a light shade, and then a dark one. Otherwise, dirty stains will appear on the skin. nine0003
© Makeup.ru
6
Apply a natural shade with a slight shimmer on the mobile eyelid, draw a crease with shadows of the color of your own shadow (matte gray-beige). Tint your eyelashes with black mascara, shape your eyebrows with shadows.
© Makeup.ru
7
Spread lipstick. If it is bright, first draw a contour with a pencil so that the lipstick does not spread.
© Makeup.ru
8
Set makeup with light powder. Apply blush to the apples of your cheeks and blend towards the temples.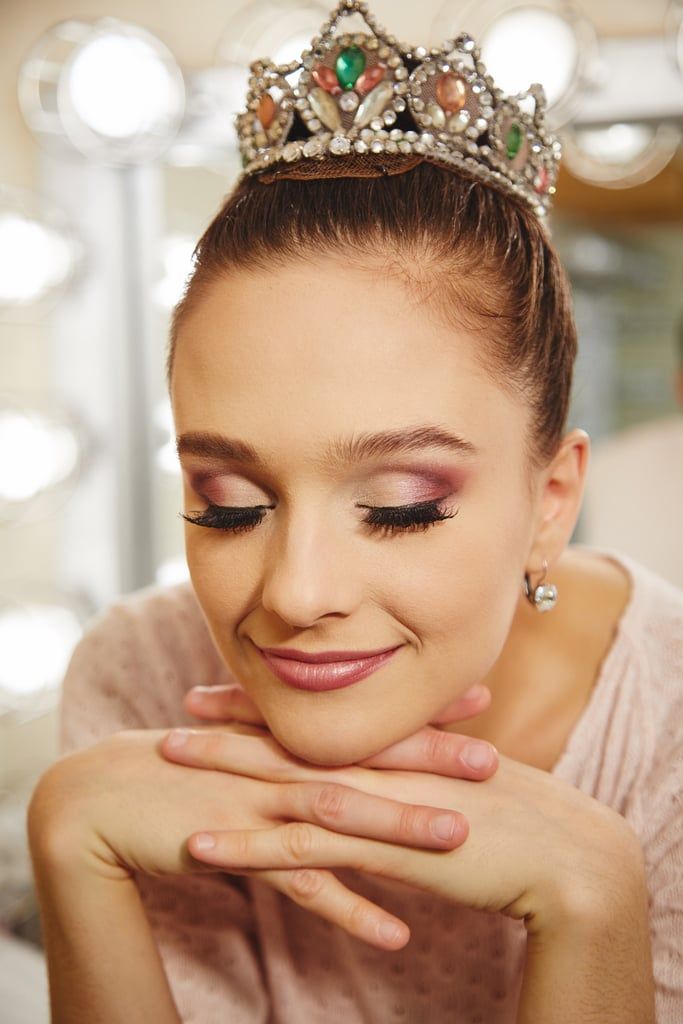 Highlighter apply a translucent layer on the top of the cheekbones, on the back of the nose, the center of the forehead and chin. nine0003
© Makeup.ru
See below for a video tutorial that will help you create beautiful and simple makeup on your own.
How to create the perfect tone? 5 rules
1
Choose the right beauty tools
Apply foundation with a synthetic bristle brush, sponge or fingers. It is up to you which method to choose: the brush provides a denser coverage, and the sponge provides translucent coverage.
2
Moisten sponge with water
When using the sponge, be sure to moisten it with water and wring it out well. This will make the foundation much easier to apply. In this case, do not rub it into the skin, act with patting movements.
3
Follow the application scheme
Spread foundation from the center to the periphery so that there is almost no foundation left in the area at the edge of the hair.
In addition, blend the product well on the chin and near the ears so that no borders are visible. nine0003
4
Apply concealer after foundation
Use concealer and, if necessary, corrector not before, but after applying foundation. Read more about these tools here.
© Makeup.ru
5
Respect the boundaries of application
If you use a sculpting product, make sure that it does not go beyond the hairline (especially when correcting cheekbones and darkening areas on the forehead). Otherwise, the result will not be too natural. nine0003
Learn more about how to create the perfect face tone in our video tutorial.
How to make up your eyes beautifully?
To learn how to do the right eye makeup, follow the step-by-step photo instructions. This makeup scheme is suitable for creating both daytime and evening makeup (depending on the selected shades).
1
Apply an eyeshadow base to the entire moving eyelid, spread light shadows on top with a natural bristle brush.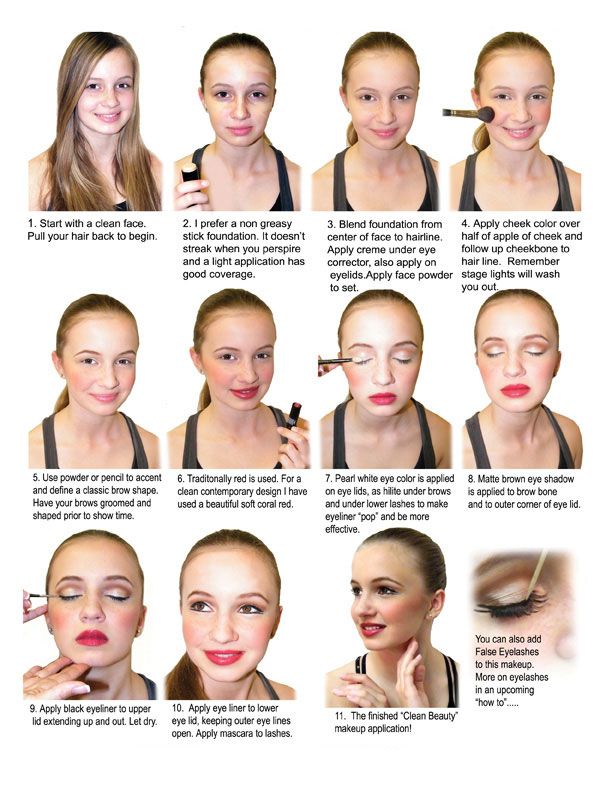 They can be both matte and with a delicate shine. nine0003
© Makeup.ru
2
Apply dark shadow to the outer corner of the eye. Add them to the lower eyelid, emphasizing it about 1/3 from the outer corner.
© Makeup.ru
3
Between the light and dark shade of the shadows on the moving eyelid, apply the shadow of the so-called intermediate shade. This technique will help to hide clear boundaries. Blend as needed.
© Makeup.ru
4
Work out the orbital line with a light shade of shadows to visually emphasize the deepening of the crease of the upper eyelid. This shade should be even lighter than the eyeshadow you used in step one, but darker than your skin tone. nine0003
© Makeup.ru
5
In the inner corner of the eye and under the eyebrow, add a little highlighter or light shadows with a shimmer. Cover your eyelashes with mascara.
© Makeup.ru
For those who are more comfortable learning how to do makeup from videos, we advise you to watch our lesson on applying shadows.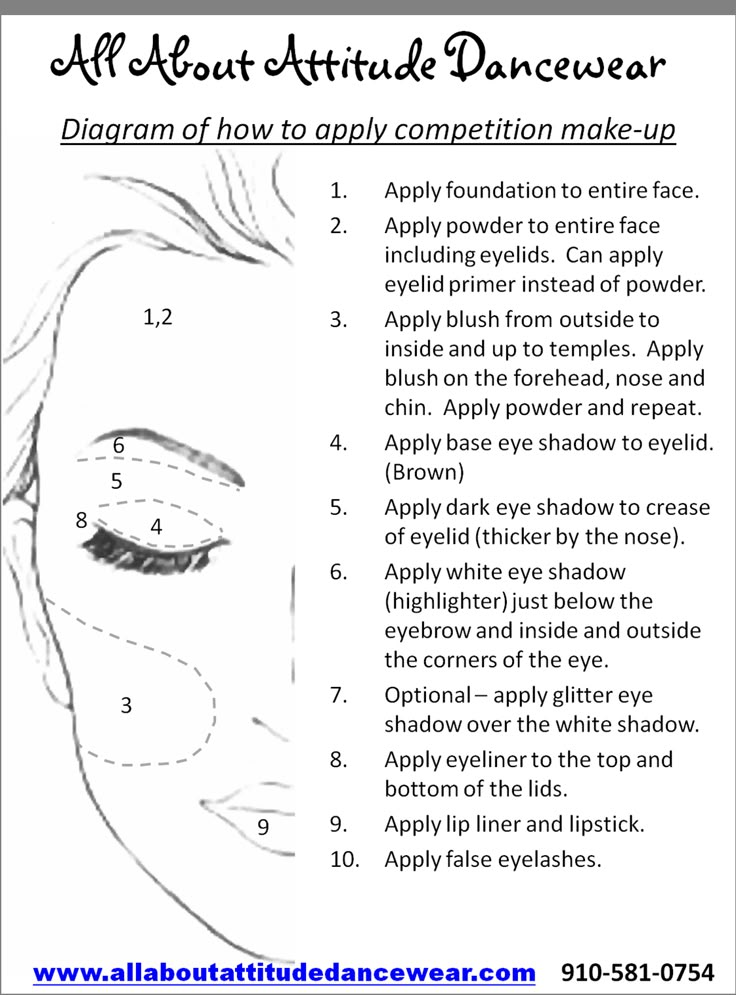 How to paint lips correctly?
When it comes to the right and beautiful do-it-yourself makeup, you can not ignore the topic of lip makeup. How to apply bright lipstick in such a way as to guarantee a wow effect? nine0003
1
Apply lip balm to the lips, let it absorb well, blot the excess with a tissue. With a lipstick-colored pencil, outline the central part of the upper lip, starting from one of the upper corners.
© Makeup.ru
2
Repeat the same technique on the second part of the lip, the result should be the letter X.
© Makeup.ru
4
Place two dots on the lower and upper lips, as shown in the photo.
© Makeup.ru
5
Connect all parts of the contour.
© Makeup.ru
6
Fill the entire surface of the lips with a pencil, and apply lipstick on top. This will make your makeup last much longer.
© Makeup.