How to make ballroom dance dresses
How to Design a Dress for Competitive Ballroom Dancing
How to Design a Dress
Have ever tried to design a dress for competitive Country, Line dance or ballroom dancing?   Then you know how difficult it can be because there are an infinite number of costume options.
Every competition ballroom dance costume needs design elements to make it interesting, but there are two main things you want to consider when you create a dress design.
1. How to choose elements for your dress design.
2. How to design a dress that looks good on your body shape.
How to choose elements for your dress design
This flesh color Latin dance dress was designed by Tammy Arriola, one of the original Sew Like a Pro™ members.  She made this dress for her daughter who looks amazing in this skin tone dress accented with red fabric flowers.
Find your inspiration dresses. 
You can search magazines, billboards, clothing stores, and a plethora of other places online or in person.
  For really fresh ideas, look outside your normal comfort zone.
Floral arrangements, haute couture, Western horse show jackets, and Irish dance dresses are just a few non-traditional places you can look for Country or Dancesport dress inspiration.
Pinterest is fantastic for storing all your ideas in one tidy, easy to access location.  Before you begin a new dress design search, visit our  Sew Like a Pro™ Pinterest boards, where we saved thousands of dance and skate costume photos for design inspiration.
As you know, it is easy to get lost down the online-rabbit-hole of dance and skate costumes ideas.  The sheer number of dress options can be overwhelming.  If you get frustrated in your search for a design elements, read my blog on how to avoid overwhelm when designing a dress.
Choose a design element you want to focus on, then do a dress search with that key element in mind.
Prior to searching for inspiration dresses online, Tammy decided she wanted her daughter's new ballroom dance costume design to include gathers and a drape; two design elements she had not done before.
Choosing those two design elements before beginning an online search helped Tammy narrow down the inspiration dresses so she could stay focused during her online search.
Once Tammy saw a few gathers and the drapes on other Dancesport dresses, she was able to design a dress with ease and clarity.
My favorite design element on this dress is the pattern of red flowers. 
Tammy hand-sewed and rhinestoned all of them, beginning with the large flowers, and filling in with the smaller flowers. It adds an eye-catching touch of color to an otherwise flesh color dress.
In addition to the drape, gathers, and flowers, the skirt also adds to the overall design. It is very lightweight and fluid stretch crepe from Chrisanne Clover.
The rhinestones are also a beautiful touch.  Tammy used cabochons, red beads, and Siam navettes to decorate this dress.
SEW LIKE A PRO™ DRESSMAKER TIP #1:
Ideally, when designing a dress using beige fabrics, you do one of these two options:
You can make the beige much darker than your skin so it looks intentional.  

This is what happened with me because I am so pale.  The brown lycra looks like brown, not "flesh color" as Tammy made it for her daughter

You can make the lycra match your skin tone so the dress appears to be flesh color. 

This is usually the intended, and better, look
Try not to make the dress almost, but not quite matching your skin. It will look like you meant to make the dress flesh color and didn't quite get the right tone.  If you need to have a better match between the dress and your skin, you can custom dye many fabrics before making the dress.  Or for an easier solution when the dress is too dark to match your skin tone, apply fake tanner or visit a facility that does spray-on tan to achieve a temporary darker skin tone.
Never Miss a Dress or Design Tip! Get the SLP™ newsletter.
We value your privacy and would never spam you
How to design a dress that looks good on your body shape
This part of designing a Country or ballroom dance costume can be difficult because everyone has a unique body shape.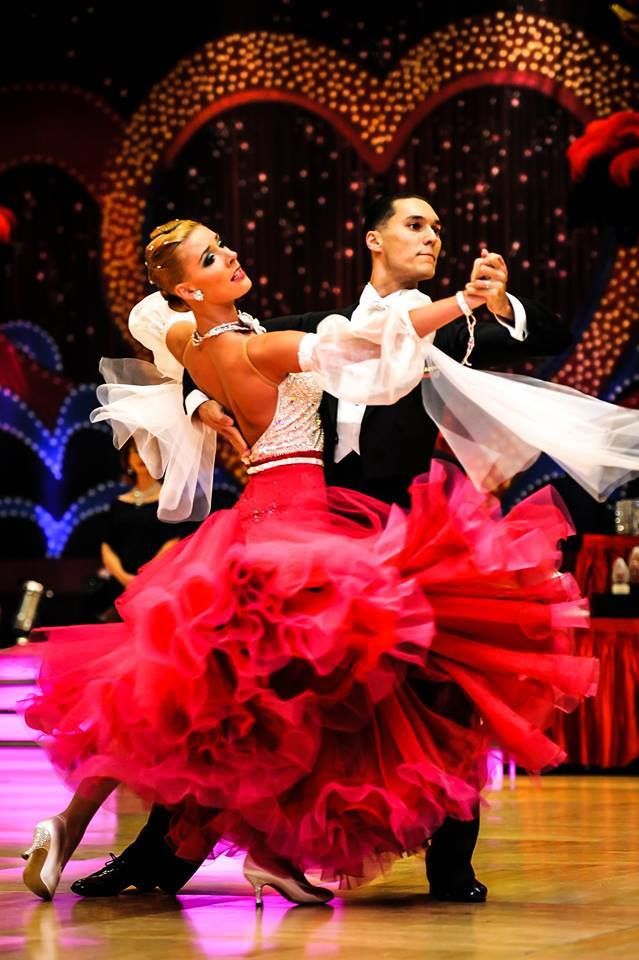 Look at the photo below of me wearing the beige and red dress featured in this post, plus two additional dresses also made  by Tammy.  Notice how each dress looks very different on me?
When you design a dress, it is necessary to know your body well so you can choose design lines that accentuate what you want to show and draw attention away from body areas you which to camouflage.
Click here to read the blog post featuring Tammy's purple velvet Latin dance dress.
Click here for the Latin dance dress with white chainette fringe and blue fabric flowers.
In the near future, I will do another post talking in detail about how and why these three dress designs look so different on me.
SEW LIKE A PRO™ DRESSMAKER TIP #2:
Since our bodies are not perfectly symmetrical, asymmetrical design lines or big focal points can draw the viewers' eye to specific areas of the dress.  Why is this useful?  Because when a dress can intentionally make the viewers look at a particular part of the dress, it can be used to draw attention away from areas we do not want them to look at.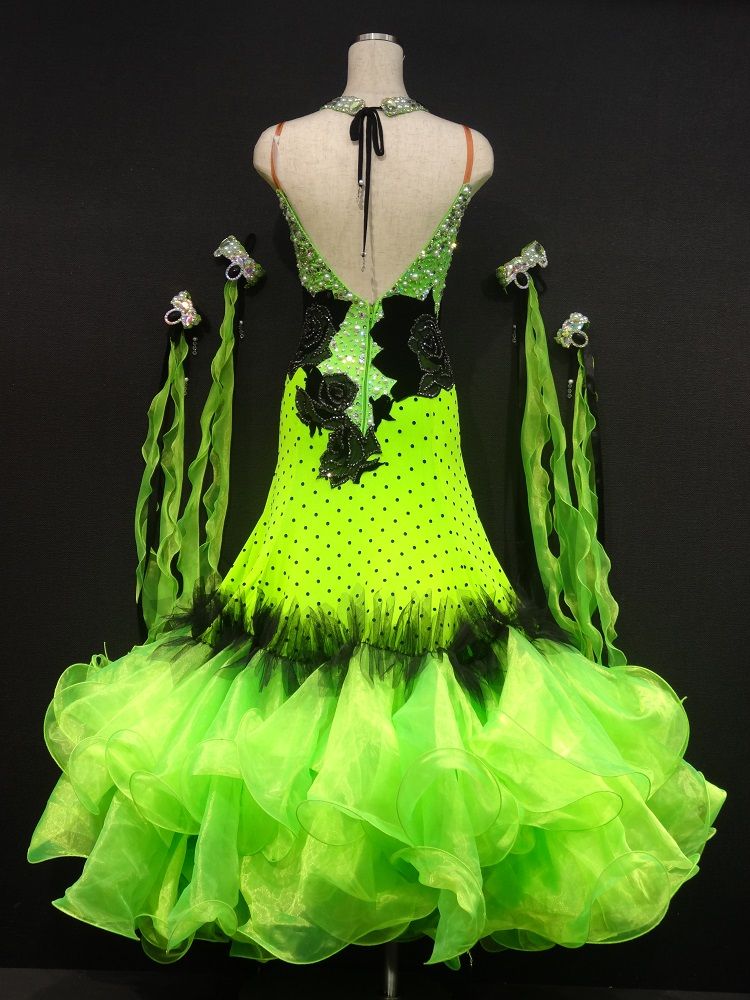 Click here to learn how to use asymmetrical lines to create focal points on your ballroom dance costume.
Lastly, if you want to know more about how to design a dress specifically for your body shape and size, I recommend you follow us on Facebook to get extra design tips and to be notified about our upcoming design challenges or masterclasses.
Please leave a comment below telling me your favorite part of Tammy's skin tone and red fabric flower Latin dress dress.As always, I appreciate you sharing this post with all your dancing, skating, sewing friends!
Never Miss a Dress or Design Tip! Get the SLP™ newsletter.
We value your privacy and would never spam you
ballroom dancing | Susan Young Sewing
~ Susan Young Sewing ~ 4 Comments
It's funny how sometimes, when life dishes up lemons, it can take quite a while to get that lemonade made.
What on earth am I talking about…? well, when I left my job in a secondary school five years ago in a manner not of my choosing I had no idea what could happen next. If you've been reading my blogs for a while now you'll know that I've carved out a life that involves sewing for my own pleasure, sewing for others, visiting interesting galleries, museums and exhibitions and, best of all, forming new friendships through those sewing activities. This post is really a result of the last one…
Two years ago Mr Y and I went on a cruise to the Baltic at a time no longer during school holidays, which turned out to be a Strictly Come Dancing-themed cruise. It was during this that I met Theresa Hewlett and without whom no costumes for the TV show would get made. She is the pattern cutter and alterations manager for the show, and designer Vicky Gill's right hand woman. I didn't know any of this when we first met on the ship, many of the costumes from the most recent series were on display around the ship and T was there giving us all very insightful guided tours of the dresses with tales of how each garment was constructed.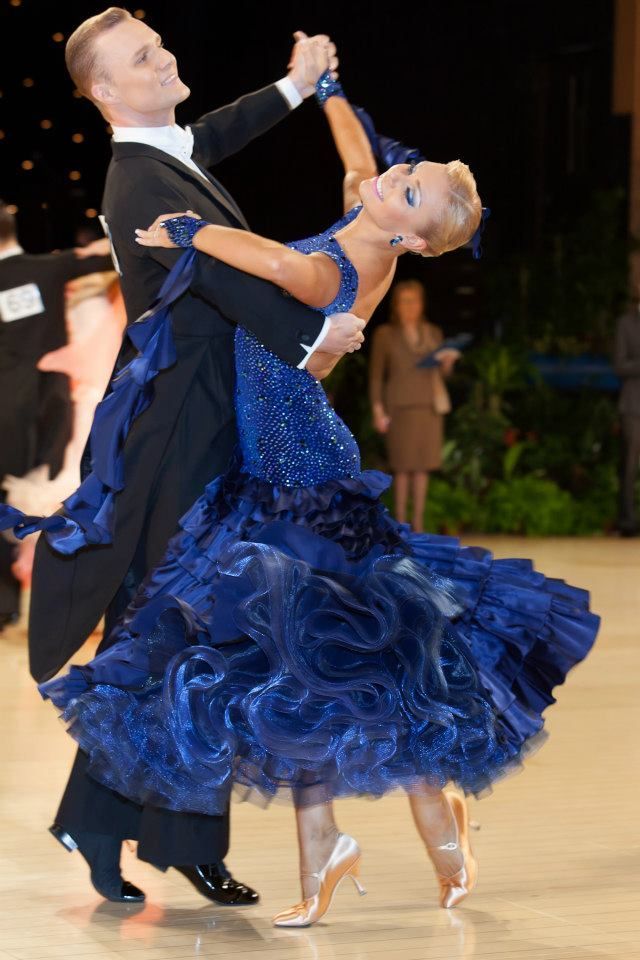 As you can imagine I absolutely lapped it up [you can read my two blog posts from that trip here and here] and I was even more pleased to discover we'd both attended London College of Fashion within a year of each other.
That was that until several months later when I decided to give Twitter a try and somehow came across Theresa, on there, During the duration of the show she regularly tweets updates on progress of the costumes and little behind-the-scenes nuggets (she certainly never gives away big secrets though!)
Joanne Clifton's show dance dress from the SCD Final 2016
DSI-London are based in Croydon, south of London so I travelled there by train and tram and found them based in a very unassuming building in a quiet residential road. I'd be lying if I told you that inside all was super-glamorous sparkles, feathers and sequins because that wouldn't be true. Up the stairs you enter the showroom where customers can shop from the RTW items of essential ballroom and Latin dance-wear such as practice clothes, shoes of all styles, spray tan and eyelashes.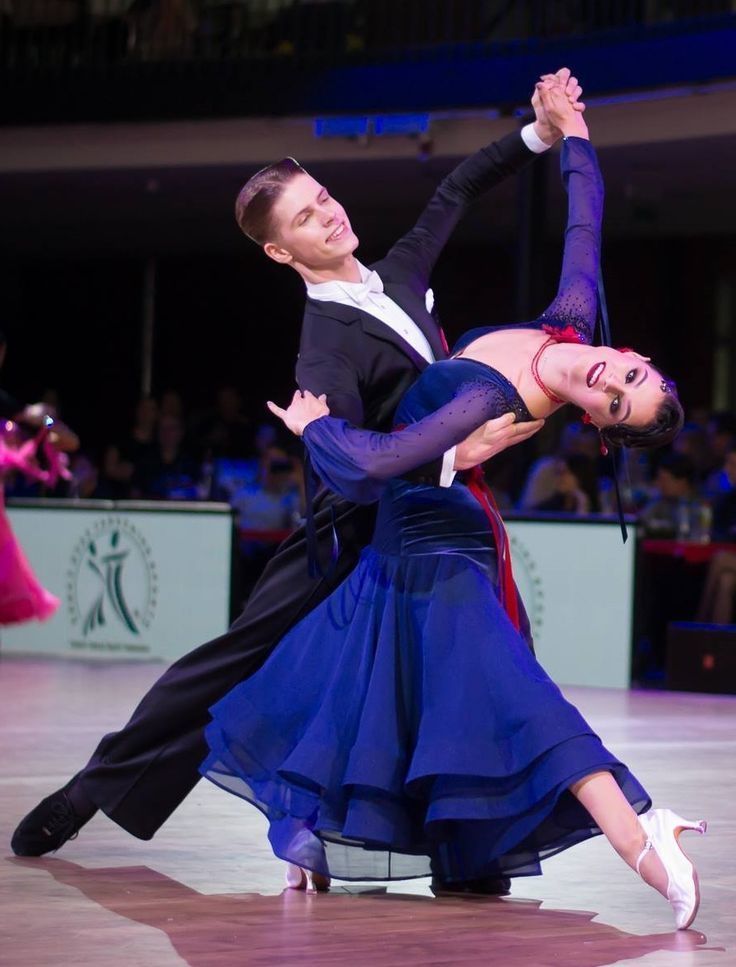 It is also in this area that fittings on bespoke outfits take place. Later on in my visit I was privileged to sit in on fittings for two custom-made dresses for a young dancer who had flown over especially from Ireland and was flying back again that evening. It was fascinating to watch T tweak and measure and pin (always safety pins, regular pins would fall out straight away-I'm going to remember that one when I'm pinning wedding dress skirts in future!) T's colleague Nina sits in as well to make notes of the customers requirements and record measurements, photos are often taken too, especially as the client is unlikely to be able to come for many fittings.
just a few of the made-to-measure couture dresses a selection of styles availableall the fringing…a man's ballroom outfita 'body' so that the shirt doesn't come untuckedall the colours in all the fabrics (actually this isn't anywhere near all the fabrics but it's a start!)custom-beaded ballroom shoeschoose your stones hereperfect for a wedding too?
T gave me a tour through all the different departments within the company, they don't only produce the Strictly costumes but also Dancing On Ice, as well as costumes for cruise ships and many other shows around the world.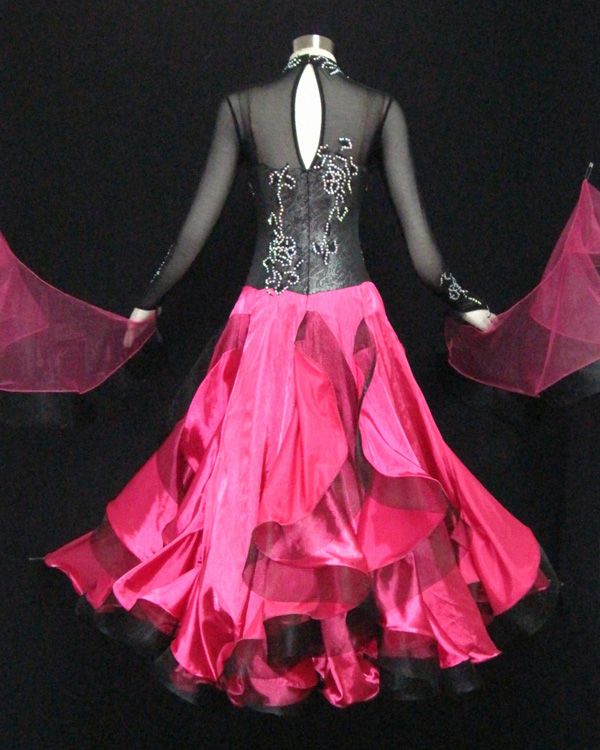 The ready to wear garments for these orders are cut and made in a separate workroom on the same floor. The cutting room for men's wear is downstairs, as are the bulk of the fabric, haberdashery and trim supplies, and the laundry room.
The designs are created by Vicky Gill (who sadly I didn't get to meet during my visit) and then T makes the made-to-measure patterns which are in turn are passed to a highly-skilled cutter who cuts all the fabrics and they go on to the machinists who sew the garments together, each person generally makes the whole garment and any alterations go back to that machinist too.
Once the dress is put together a fitting like the one I witnessed takes place to check fit and skirt length. The dress goes back to the machinist for any changes to be carried out and then it goes on to the stoning department for embellishment, which might include feather trim too.
Ash, the king of stoning, was on holiday when I visited so I didn't meet him either.there were lots of mannequins with beading in progress-bodies all over the place!Boas might be trimmed and the feathers glued into very small bunches by hand, ready to be stitched onto bodices and skirts, or the boa is left whole if it's going on hems, or sleeves and necklines for example.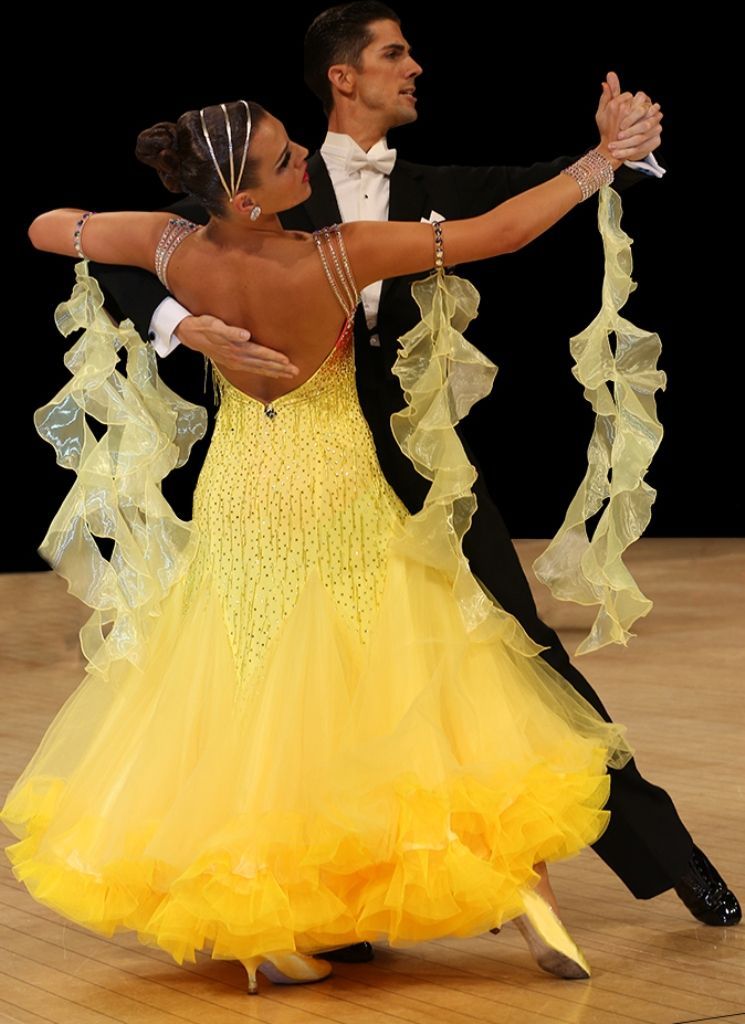 a design in progress, before its embellishments are addedthe colours of stoning on this bodice were simply beautiful
Scattered all around the studio are mannequins in various states of undress and with different quantities of padding. The machinists use these all the time to be able to assess the dress as they progress, for the placement fringing or embellishment for example. [Incidentally, every dress is built on a leotard base so whenever there's a 'no knickers under her dress!' scandal after the TV show it's nonsense]
This client wants a longer skirt than usual, although this will be shortened a bit at the fitting. The fabric is gorgeous with huge 'pailettes'
DSI often has dresses come back to them for alterations, fashions change, children grow, bodies alter. New skirts can be added, sleeves removed or added, stoning added to. It's worth mentioning that the dresses (apart from ones with feathers on) can go in the washing machine, a fact I found amazing! In another part of the building there is a laundry with dresses drip-drying on a rail.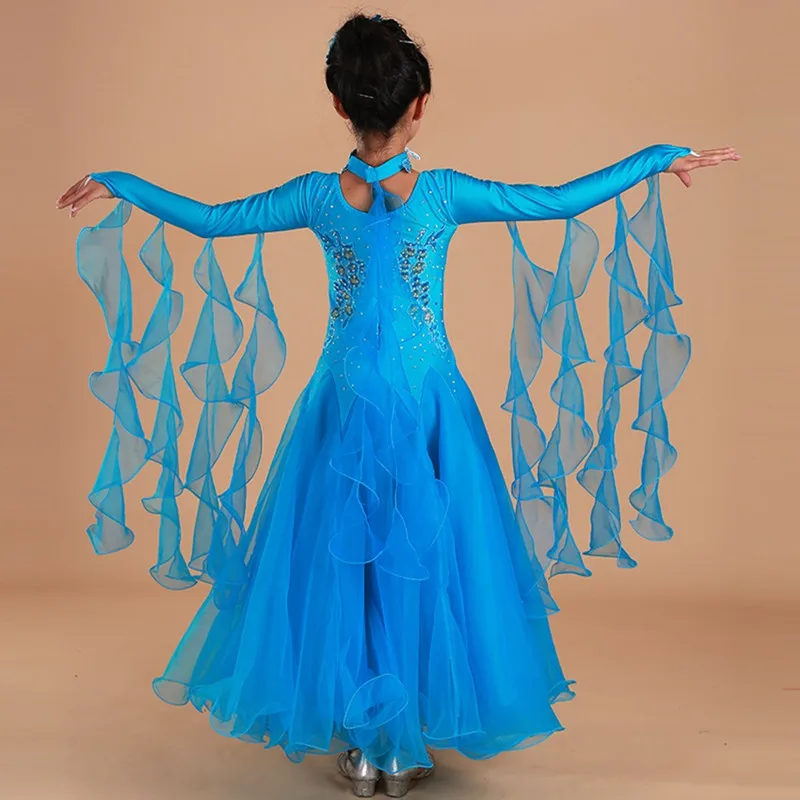 Everything is sewn together on industrial zigzag machines along with rolled hem machines and overlockers. Theresa told me it's very challenging at times to keep the machines working happily because they have to sew through so many layers of difficult fabrics at once, frequently including feathers and crin, and sometimes stoning if an alteration has to be carried out after completion. (they use heavy duty domestic machines to carry out repairs or alterations at the TV studios whilst the program is going out)
Many of the dresses from the TV show are hired by other productions of SCD around the world, they are all for sale on the company website so you could buy yourself a little piece of Strictly. DSI-London sell a wide range of specialist fabrics and trims too so if you ever need/want to have a go at making costumes or dancewear then have a look at their website.
T at work! would you look at all those zips too!
I so enjoyed my visit to DSI-London and thank you so much to Theresa and all the staff who were so friendly and made me very welcome.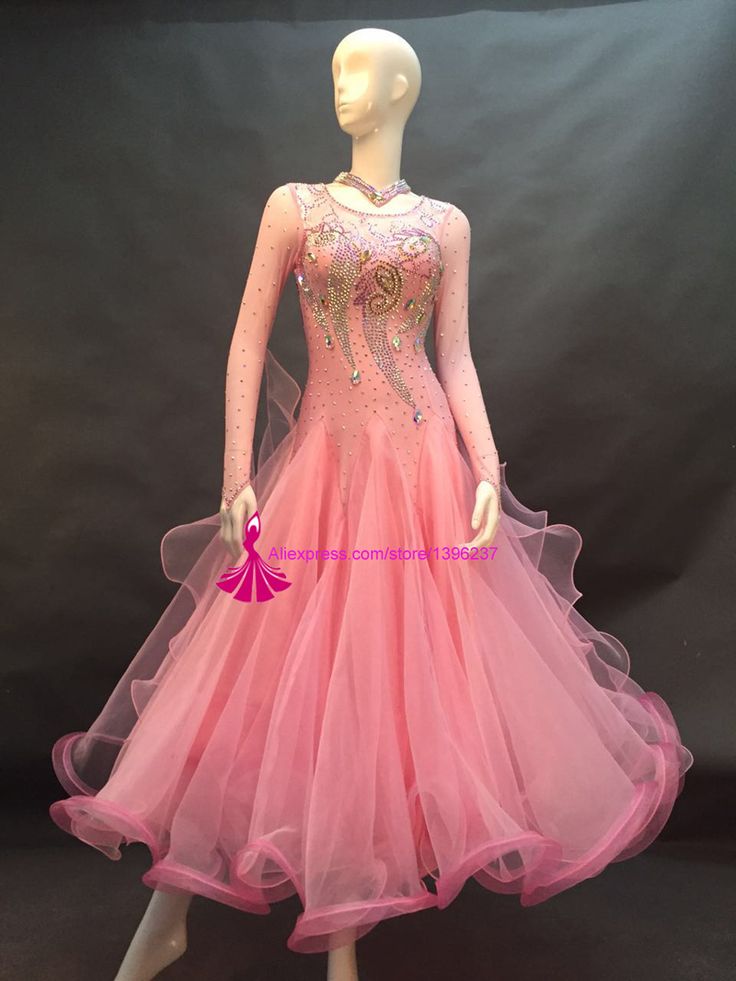 I absolutely loved being back in a workroom environment again, it's been a very long time since I was part of a creative team like this and it made me realise how much I miss it-everyone has a part to play in the making of these garments whether it's wedding dresses in my case, or dance dresses. Obviously it isn't glamorous in the slightest, it's hard work in a hot room, and the pressure is immense when there's a live TV programme at the end of every week for three months…and then Dancing on Ice after that.
It's possible to for you to visit DSI-London too as they offer tours around the premises at different times of the year, have a look at their website to see when they are next taking place. I know they have proved popular though so there may be a bit of a wait.
It won't too long now until the new series of Strictly starts again and the relatively peaceful atmosphere of the workrooms will be replaced with frenetic activity, I'll be thinking of the people I met during my visit as they produce dozens of beautiful garments every week to dazzle us on our TVs on Saturday evenings during the autumn.
And if you want regular updates on costume progress during the week, follow Theresa on Twitter.
Until next time,
Sue
Like this:
Like Loading...
~ Susan Young Sewing ~ 3 Comments
So here I am with another collection of photos and, I hope, interesting info about how the dresses come together on Strictly Come Dancing (Dancing with the Stars elsewhere but I guess you know that)
With the start of every new series Vicky Gill is given a set budget and from this she has to create every single costume. At the beginning that's a LOT of outfits because initially there are 16 celebrities and their professional partners, there will be group dances every week on the main show and Sunday night, as well as other dances accompanying any guest acts. Theme weeks like Halloween, Movies or Musicals mean there might be other accessories too which wouldn't usually be needed. The budget restrictions also means that each week some dancers will get more elaborate or expensive outfits whilst others are less costly.
This usually results in a 'swap' over the following weeks so that everyone gets something very special at some time or another…unless they are voted out early doors. As I said in my previous blog, some of the dresses can cost as much as £2000 so they will almost certainly be reused in subsequent series whenever possible or sold on the DSI website, or on the SCD cruises for that matter.
I mentioned how Vicky might have particular fabrics cropping up throughout a series and Claudia's two piece featured here is another example of the lace or embroidered fabrics that she used in the last series. It's also the sort of style that wouldn't be seen in real Ballroom dancing competitions, they have their own trends going on and SCD doesn't particularly reflect them, it's often more fashion-led than competition clothes.
Claudia's skirt is an example of the use of 'crin' around the hem to make it stand out. It's used in different widths, usually 1″, 3″ or 6″
Theresa told us how this skirt changed shortly before the actual show from being a peach underskirt with navy organza and satin overlay to having a navy tulle overskirt.
This was because Vicky decided it was too shiny under the lights in the studio.
The dress run takes place on Saturday afternoons and in the 2 hours between the end of that and the live show starting the team will often have to make changes to costumes for lots of different reasons-too long, too tight, too shiny, too daring etc etc. Vicky and Theresa are at the studio in Elstree from Friday evening and take a supply of fabrics so that skirts can be recut, repaired, whatever is needed. The dresses are made at DSI's base in Croydon but they are then taken by car by a member of staff direct to Elstree on Thursday evening, this is because they can't risk putting everything in a taxi or a van and then it 'disappears' en route-no costumes=no show!. Bearing in mind that the costume designs aren't usually finalised and started until Tuesday morning that is an incredibly tight turnaround. The machinists are extremely skilled and adept at working with stretch and other tricky fabrics, it isn't for the faint-hearted that's for sure.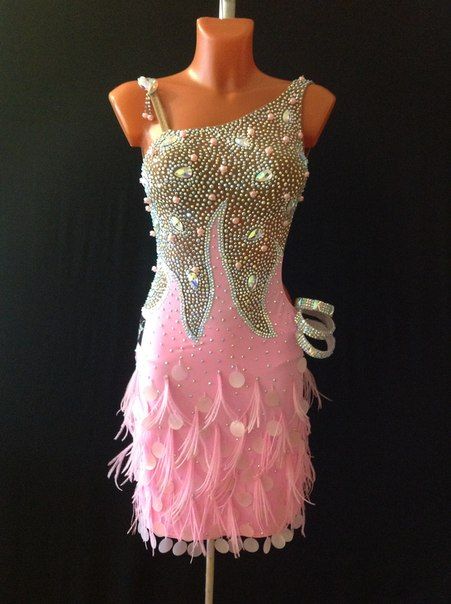 Vicky often watches training footage too to ensure that her designs will work in conjunction with any tricky lifts for example-too much skirt or fancy details at the waist might make it really difficult.
Before the live show begins everyone is sewn into their outfits so that no disaaaasters like straps or hooks coming undone, ties flapping about in the male dancers faces and so on can happen. This is fine unless they need the loo, in which case it has to be redone after they've been!
Ed the knight in shining armour swept new dancer Katya off her feet in this dress.
This was an unusually sober dress although it did have some stoning on the polkadots
Ed Balls was a good example of a male celebrity who didn't want any sparkle to start with but quickly embraced the whole 'Strictly-fication' of his outfits!
I loved this dress that Daisy Lowe wore to dance to the old music hall song "Daisy, Daisy, give me your answer do" with Aljaz. It was so understated with a simple daisy lace trim added to the neckline and crystals on the front.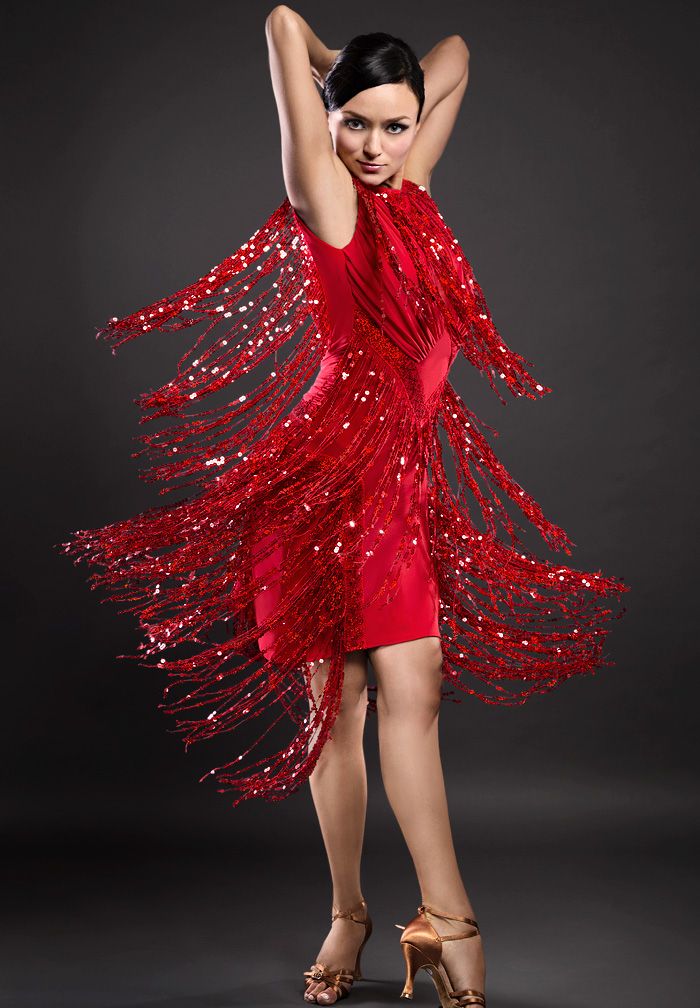 It's a good example of a less costly dress too.
It had an unusual cowl back too.
Tameka Empson's Charleston costume was probably one of the least expensive outfits to create in plain navy fabric and very few sparkles. Theresa told us the red trim was an example of a costume getting altered after the dress run because the front was too low and revealing, especially for an active Charleston!
I loved this dance, it's a shame Tameka didn't get further in the competition.
Green, blue and pink was an unusual combination but it works beautifully. There are a lot of stones on this dress so it will reappear in a future show in a different guise. 
These are 2 of the most unusual costumes to feature on SCD. They were worn by Judge Rinder and Oksana when they danced the Paso Doble and the skirt and 'moth wings' were both hand-painted by an artist-friend of Vicky Gill. Theresa was telling us that the jacket didn't have enough colour on it so they were daubing it with Dylon only hours before the show and drying it with a hairdryer!
Just a few more pictures now and they are some of my favourite costumes, all worn by Joanne Clifton, who won the competition dancing with Ore Oduba.
This lovely canary yellow 'raincoat' wasn't out on display to see close up but it did feature in the fashion show and was modelled by two members of the crew!
The dress featuring in the fashion show on board.
A very different sort of dress, it featured shorts under a long georgette skirt (which wasn't always georgette, it got changed late on) and a roll-neck top which was stoned. The striped fabric is more usually used for the men's shirts.
WARNING: Embargoed for publication until 20:10:01 on 10/12/2016 – Programme Name: Strictly Come Dancing 2016 – TX: 10/12/2016 – Episode: n/a (No. n/a) – Picture Shows: **DRESS REHEARSAL – STRICTLY EMBARGOED UNTIL 20:10 HRS ON SATURDAY 10TH DECEMBER 2016** Joanne Clifton, Ore Oduba – (C) BBC – Photographer: Guy Levy
This dress worn by Joanne for the Quickstep was one of the hardest to create because of the centre front seam between 3 different fabrics. It also featured heavyweight metal zips from the side and across the back as well as crystals, sequinned fabric and gemstones! The finished result looked amazing but took a long time to achieve.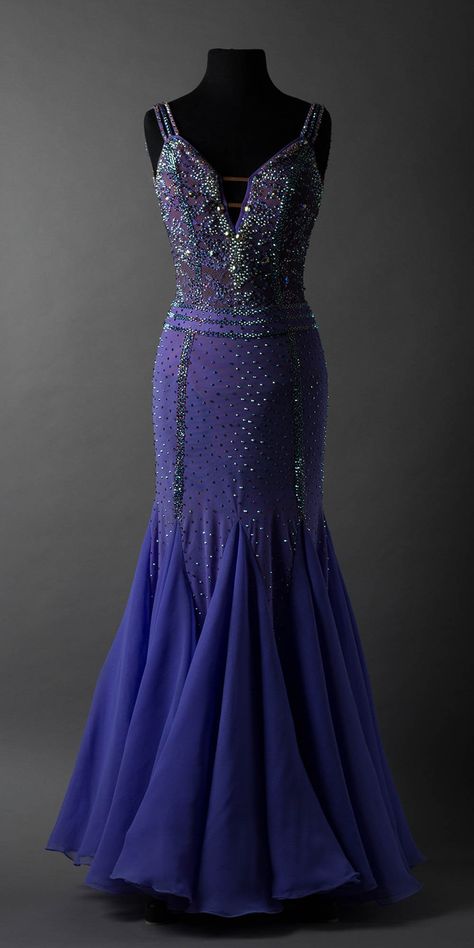 Old school Hollywood glamour for the Final
So simple yet so lovely, sheer navy over a nude base.
Feathers, multiple godets and crystals-gorgeous!
Lesley Joseph was the oldest person so far to compete in the main series of SCD and she looked stunning in this beautiful raspberry pink heavily beaded dress. Unusually it has a centre-front zip because of the beading details on the back.
I'll finish up with two more hot pink outfits [because it's my favourite colour] as worn by Breakfast television presenter Naga Munchetty and  professional dancer Karen Clifton.
WARNING: Embargoed for publication until 00:00:01 on 01/09/2016 – Programme Name: Strictly Come Dancing 2016 – TX: 01/09/2016 – Episode: n/a (No. n/a) – Picture Shows: ** UNDER STRICT EMBARGO UNTIL THURSDAY 1 SEPTEMBER @ 00.01 ** Naga Munchetty – (C) BBC – Photographer: Jay Brooks
Karen's outfit for her dance with singer Will Young to Jai Ho! was made using sari fabric and embellished with Indian necklaces bought in a sari shop.
 The gold belt was made using plaited elastic and, like the bodice, it was stoned to make it sparkle.
So that's about it, I took masses of other photos of the Showcases which the professionals danced as well as the fashion shows but sadly many of them aren't good enough quality to publish here.
I hope you've found it interesting because I certainly enjoyed finding out all about the creation of the outfits and all the back-stage stuff, there's probably still masses more I could have learnt and I would have loved to chat more with Theresa [it turns out we both went to London College of Fashion at virtually the same time although she went on to work for the Emanuels…. and I didn't]
As before, the information I've shared is as I remember it from the cruise so I hope none of it is incorrect or misleading, and I've received no payment either. If you think it is then do let me know so that I can rectify that. Most photos are my own but others were sourced from Google images.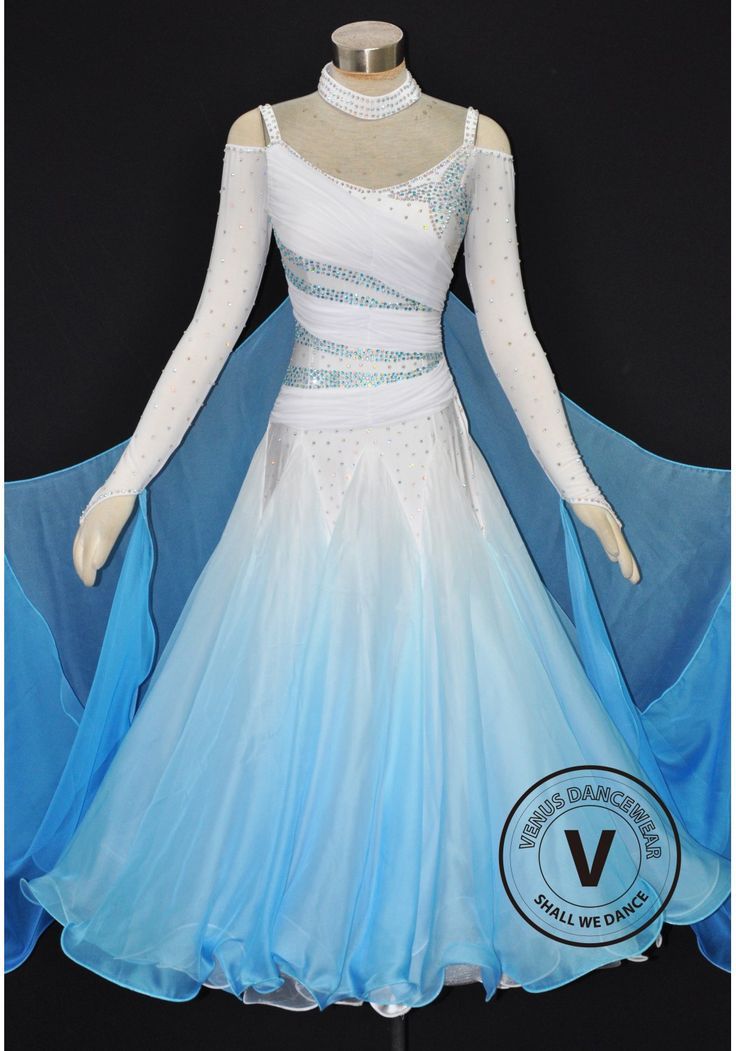 It's only a couple of months before the whole cycle starts again with lots of new celebrities and we can marvel at what Vicky Gill and her brilliant team create in almost no time at all.
I, for one, cannot wait!
Keeeeeep Dancing!
Sue
Like this:
Like Loading...
~ Susan Young Sewing ~ 9 Comments
I haven't written a blog for absolutely ages because I've either been super-busy with sewing, teaching and alteration commitments, or I was away from home, and now two blogs come along in quick succession…
In early May I went with my good friend (and sewing student) Sue to south west France to walk a section of the Camino de Santiango between Cahors and Moissac. After taking Eurostar and the TGV all the way to Cahors we walked from one destination to the next every day, carrying all our belongings with us in our rucksacks.
It was challenging at times but a positive one. We had little contact with home, no TV or news (lovely!), no make up, simple accommodation and delicious home-cooked meals. It also meant I couldn't worry about anything back home so it was very liberating in that respect. One of the things I didn't have to think about was sewing and, much as I love it, I didn't particularly miss it!
all of my belongings for a week were in this bag…it was quite heavy
spotted in the window of a French dry-cleaners….seems all the world needs things fixing!
best foot forward….
After my French sojourn I had a couple of weeks in which to start/continue/finish as many projects as possible before heading off on a cruise around the Baltic. What we didn't realise when we booked it months ago was that it would be a Strictly Come Dancing themed one and not only would judge Craig Revel Horwood be on board (with his Mum Bev and his sister Di!) along with dancers Aljaz, Janette, Giovanni, Oti, Oksana and her husband Jonathan, but LOTS of the costumes would be on display too!
We were sailing on the P&O Cruises ship Britannia from Southampton and once we were on board we set about exploring straight away…actually that's not quite true because we had some lunch first!
3 of the dresses on display in the atrium of the ship.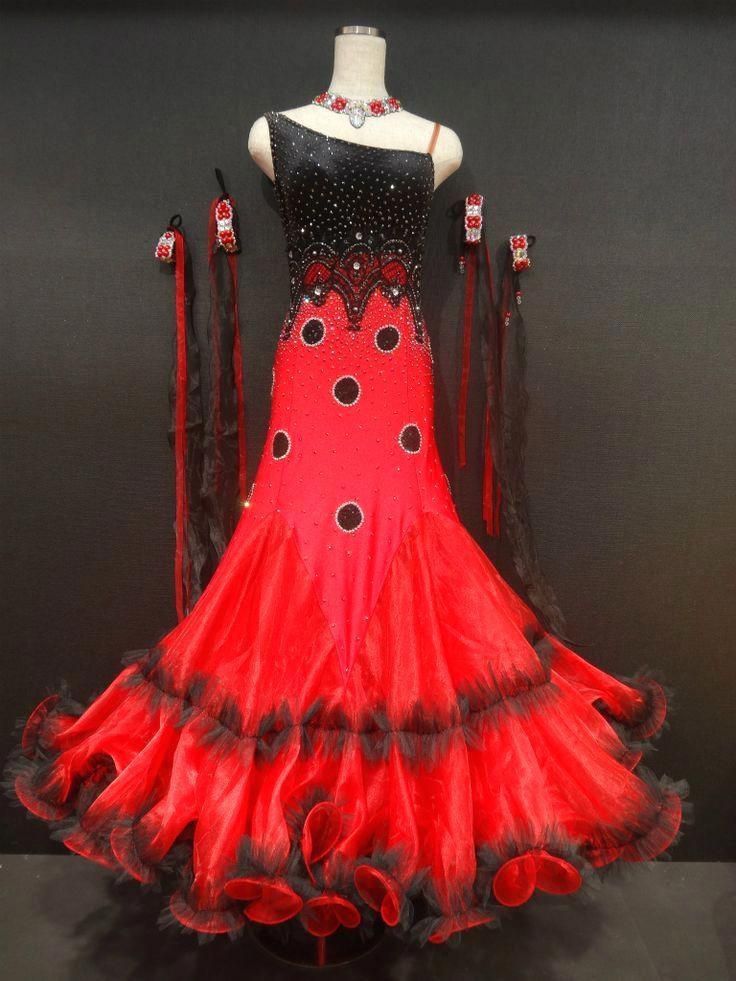 I discovered that the costumes were on show in the central atrium area of the ship so we generally had to go past them most of the time if we were walking elsewhere, which wasn't a problem as far as I was concerned. They were all displayed on mannequins and you could get right up close and have a good look at them. This was thrilling enough, and I would have been happy with that, but then I discovered that there was going to be a guided tour of the dresses so we could find out more about each of them in detail. Fab-u-lous.
So my husband (bless 'im) put my name down on the list [we were first and second hehe] so on the second sea day we rocked up nice and early for the 'tour'.
So the first thing I learned is that all the costumes (men as well as women) are made for the BBC by a company called DSI London based in Croydon. If you ever watch It Takes Two in the week during the run of Strictly you'll see designer Vicky Gill talking about the dresses for Saturday night's show.
Although she wasn't on the cruise her production manager and indispensable right-hand woman, Theresa Hewlett, was. What might seem like a dream job she described as hectic, stressful, fun, very long hours, pressurised, sparkly, rewarding and exciting.
Theresa…oops, eyes shut 😉
Theresa walked us through the various dresses on display, many of which were from the most recent series of Strictly [I bet you didn't know that you can buy the actual dresses as worn on the show? They go onto the DSI website on the Monday morning so you too could own a piece of telly memorabilia…although it doesn't come cheap]
Over the course of the series they will have to design and create in the region of 350-400 dresses and outfits! That's a lot of crystals, ruffles and godets! Incidentally DSI are also responsible for the male judges outfits but not Tess, Claudia or Darcey-they have to sort themselves out-although they quite often have to shorten Claudia's frocks as she's so diddy.
This is a selection of the dresses I saw and wherever possible I've accompanied them with a picture of the celebrity wearing it in the series.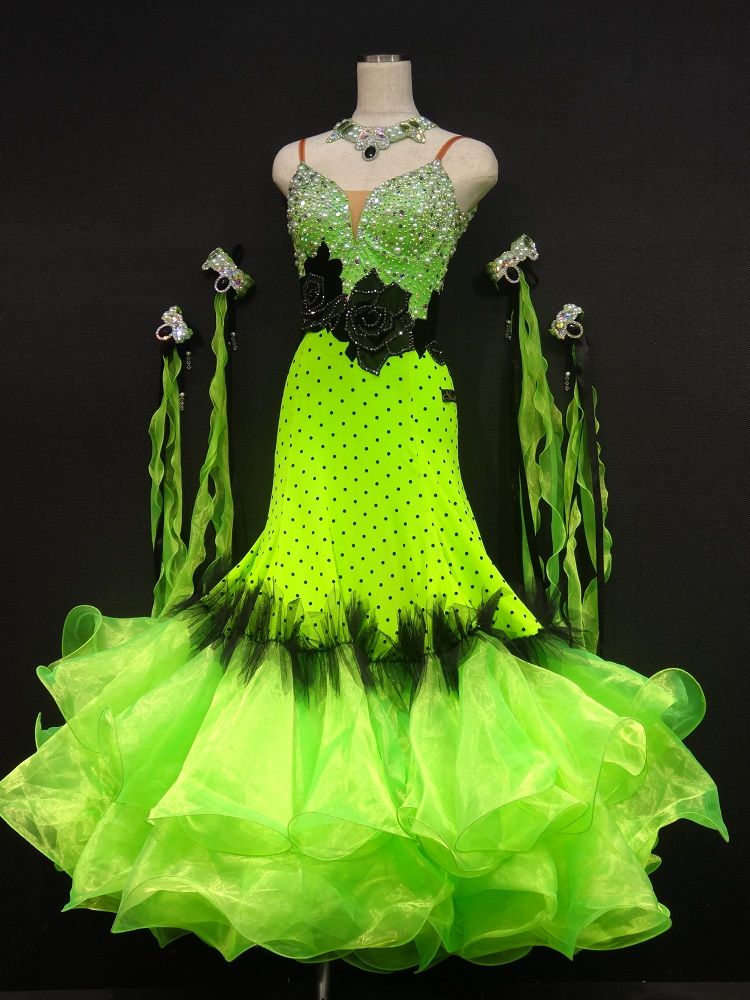 Anastasia wasn't in the series for that long but several of her dresses featured and they are interesting because they were made from ready made basques which were bought on the high street and then customised. She liked a slinkier silhouette so they had lots of fringing and were heavily embellished with crystals by Ash who does most of the stoning and you'll hear Vicky singing his praises on SCD ITT on a Thursday night regularly.
This black Guipure lace with baby pink lining was worn by Laura Whitmore, it was such a pretty combination. Theresa told us that Vicky gets sent samples of all sorts of fabrics and last season there was a lot of heavy laces which aren't traditionally used in ballroom dresses. The dress worn by Oksana dancing with Judge Rinder was also lace although it was a more 'fun' dress. Because lace doesn't stretch like the other fabrics used it would often have to be cut in small segments for the fitted bodices and pieced back together over body curves.
I loved this pretty dress Oksana wore in a peachy shade with heavily-crystalled bodice and neckline.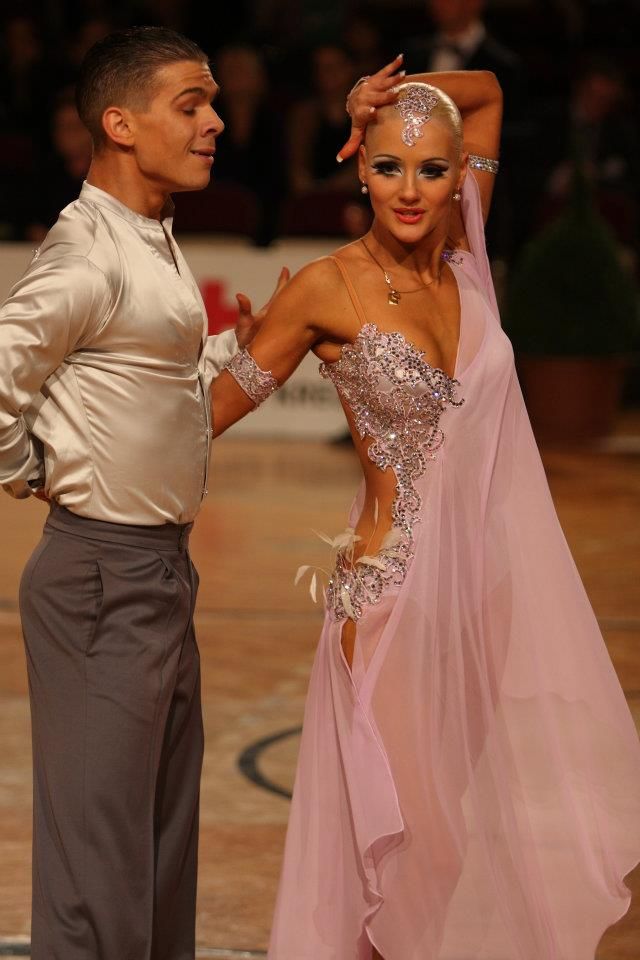 We were lucky enough to see her wearing this dress for real in the second week because she and her husband came on board. It's an example of a bodice and skirt which Vicky uses quite often because of the flexibility it offers by being adaptable and getting a good fit in double-quick time.
Oksana in her 'Prom' dress in the on-board fashion. show
The white Flintstones dress was interesting close up, it was lots of feather-shaped pieces sewn on singly to strips of elastic which, in turn, were stitched to a white leotard.
The 'feathers' look really effective but were, apparently, a real pain in the neck to sew on.
Theresa told us how all the dresses start out on the base of a leotard, everything is made from scratch so they have a huge range of colours and fabrics at their disposal, almost all of them stretchy to allow full movement. They have bra-cups in them when needed, or made in such a way that the dancer or celebrity can wear their own bra under it,  invisible straps or flesh-coloured mesh.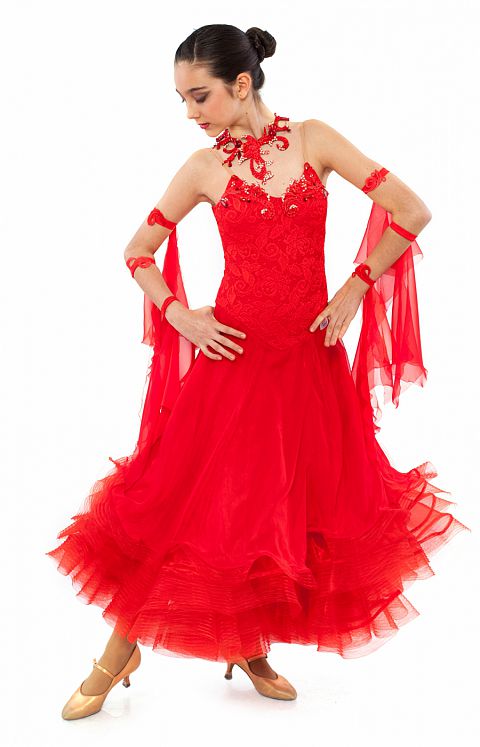 The celebrities usually start out quite shy and want to be covered up but as they progress, and often slim down a little, they become happier to expose more flesh.
Louise Rednapp was a good example of this. She didn't want anything figure-hugging at the beginning (even though she has an enviable figure!) but by the Final she was much more confident about herself and her abilities and her outfits got more revealing.
Louise's Argentine Tango dress
This is Louise's show dance dress from the final in a lovely grey and pink combination. You can also see that it's been the victim of a mishap at some point because the front decoration has been damaged. The dresses frequently go overseas on loan to other versions of SCD and, although they shouldn't, they often fiddle with or alter the dresses.  This particular dress got sold to a passenger on the cruise so the front will be rectified before she takes delivery. 
Because the dresses are so stretchy they will fit anyone from a size 6/8 up to about a 14 which can be useful during the run of the show.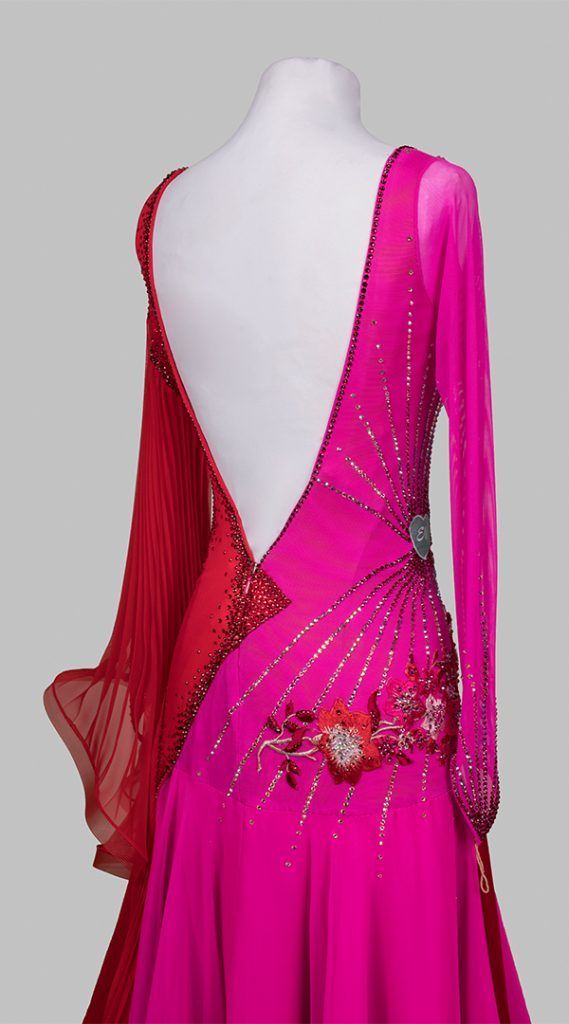 Dresses which are heavily embellished are extremely costly both in terms of crystals used and the man hours making them so one garment could cost as much as £2000! These dresses (if they don't get sold) are frequently recycled in later series by using the bodice and/or skirt on a new outfit. Unless you're very eagle-eyed though I doubt we'd recognise it. I was fascinated to learn that the dresses will all go into the washing machine! on a gentle cycle mind you, and not the ones with feathers on, they get carefully hand washed.
Natalie Lowes and Greg Rutherford dancing a Samba
Close up of the stoning on one of Natalie's outfits
these are strings of bugle beads which are glued in position. It's used to give a lovely feathery or swishy effect but is pretty time-consuming.
The outfit in action, it was memorable because Natalie managed to finish up with the skirt up around her waist by the end of the dance!!
Natalie's dress from Movies week when she and Greg danced to the theme from Robin Hood, Prince of Thieves.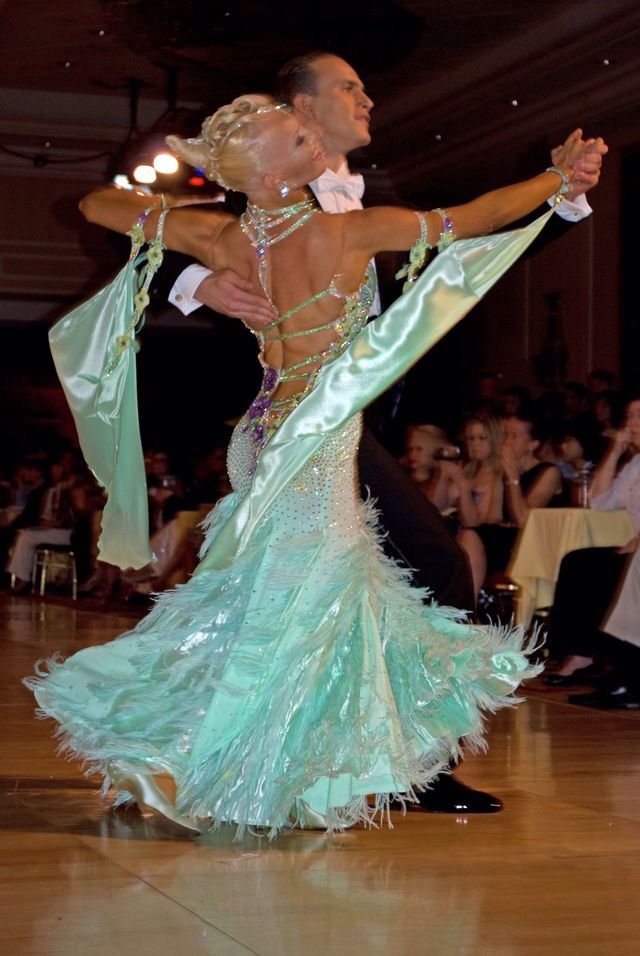 Theresa told us that Natalie always likes a belt or sash to emphasise her waist.
This dress is one which featured in the group dance at Blackpool so it's one of about 12 the same or very similar! It's a lovely example of stoning too, as is the dress below .
More fringe beading on Oti's show dance dress, it was amazingly heavy!
Oti Mabuse and Danny dancing in the Final.
This is an example of a dress which will be reused sometime in the future because of the the amount of work in it, even though it is essentially a tube of stretch fabric. When Oti came on board during the second week she brought with her another of her dresses from the Final.
This one was also extremely heavily stoned, probably one or two days work alone!
The crystals are applied by picking each one up individually on a small stick which has a blob of bees wax on the end and then glued on. Ash has several people who help him but it still takes HOURS.
WARNING: Embargoed for publication until 20:17:01 on 05/11/2016 – Programme Name: Strictly Come Dancing 2016 – TX: 05/11/2016 – Episode: n/a (No.
n/a) – Picture Shows: ++DRESS REHEARSAL++ *STRICTLY NOT FOR PUBLICATION UNTIL 20:17HRS, SATURDAY 5th NOVEMBER, 2016* Danny Mac, Oti Mabuse – (C) BBC – Photographer: Guy Levy
When Oti and Danny danced their jive (I think…) she wore this heavily-stoned two piece in green, a colour that she wasn't very keen on. It was green because the dance had a snooker hall theme so it was the colour of the baize. Another factor that Vicky Gill must take into account every week is that each couple has a different colour from one another so that there shouldn't be two shades the same or too similar, to give a balanced look to the show. It's one of those things that the audience wouldn't even think about probably.
I've got loads more pictures and interesting info to share so I'll finish this blog here and write up a second one, that way you don't get Strictly overload! I've got lots more insider facts to come yet…
All the information I've shared here is as I understood it from the guided walks and fashion shows that I was fortunate to take part in.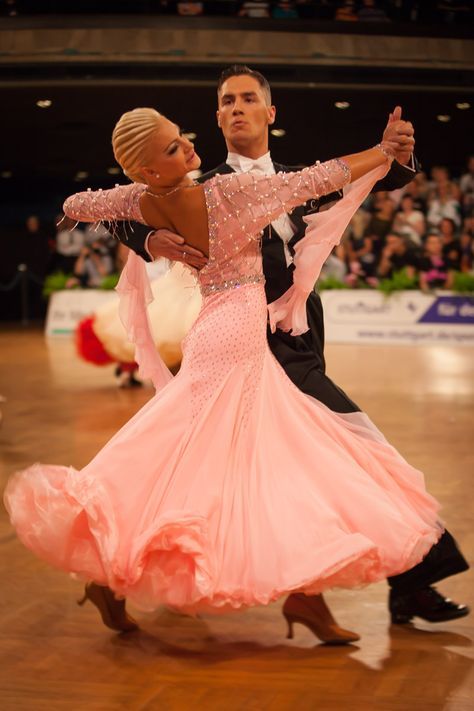 If you know any of it is incorrect or misleading in any way please let me know so that I can rectify that.
Most photos are my own, others were sourced from Google images,
Until next time,
Sue
Like this:
Like Loading...
How to sew a ball gown for dancing, recommendations and rules.
How to sew a ballroom dress for dancing? The question is rather difficult. Dance is flight. If the dancer feels and listens to himself, his body and thoughts, then his performance will enchant and delight even the most strict judges. Nothing should distract the performer from the dance, so a comfortable outfit that does not restrict movement is half the battle.
The dance costume has very important tailoring features. Creating a perfect ball gown in every detail is much more difficult than sewing an outfit for every day. About how to sew a dress for dancing, "SportKot" will tell you - your guide in the world of sports beauty.
So, let's start with the main rules for ballroom dance dresses.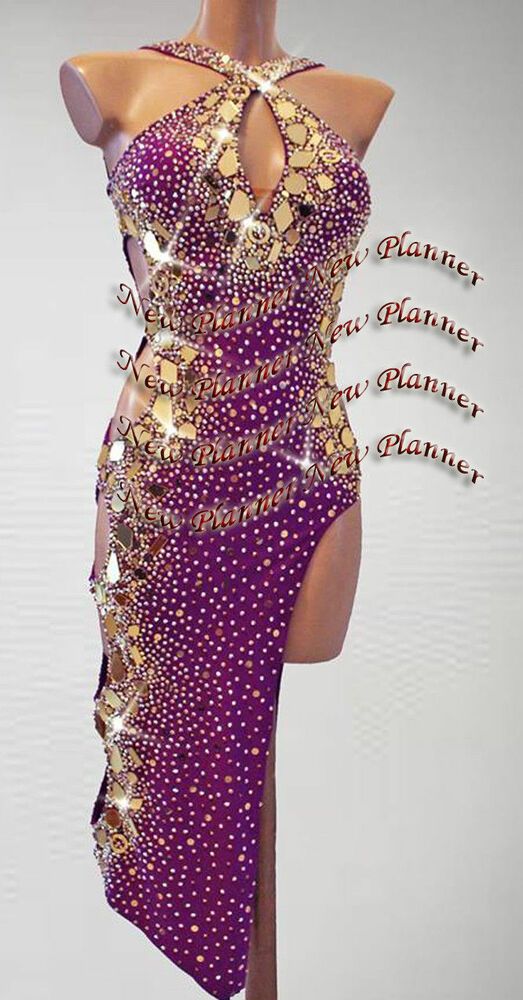 The movements of the dancer require high elasticity from the costume, so the choice of fabric is extremely important. For sewing the base of a ball gown, fabrics such as lycra, stretch guipure, and supplex are often used. What is a base? This is a special swimsuit that covers the chest and back and also serves as underwear. The swimsuit should fit as close as possible to the body, emphasizing the feminine shape of the partner and not allowing the dress to peel off to the waist level. As for the color of the swimsuit, the rules allow the use of any other than nude. Also, it is forbidden to use guipure and other transparent fabrics for sewing the base.
Dresses for Latina are short, moderately open outfits with various trims on the chest and skirt: feathers, flounces, glass beads, rhinestones, fringe. Here you can show your imagination and express your bright, extraordinary style. But do not get too carried away with decorative elements, so as not to weigh down the image. Latina is, first of all, emotions, and a beautiful outfit should only visually enhance movements, and not distract the attention of spectators and judges.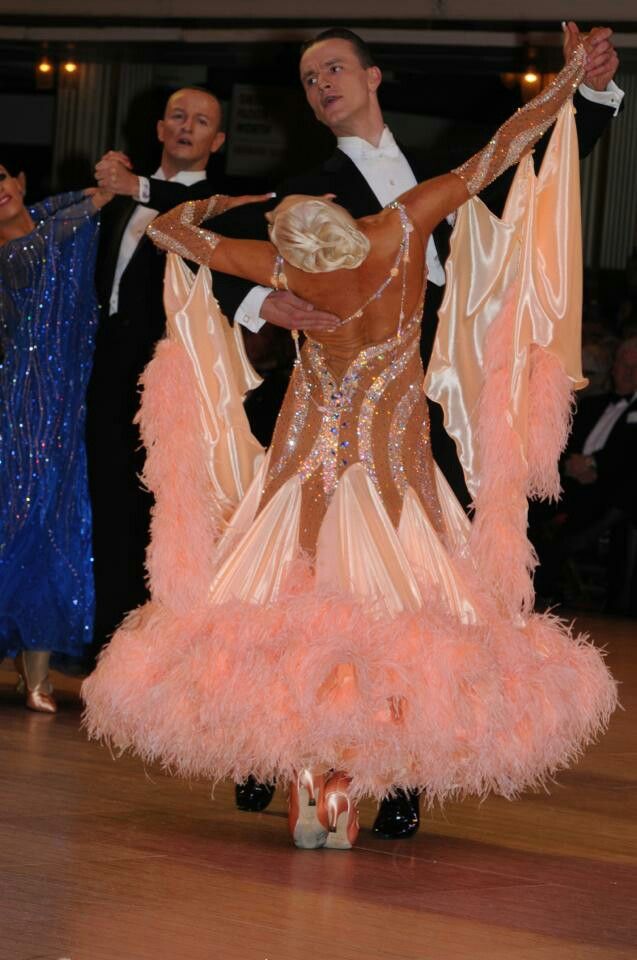 Standard dresses are "full length" dresses. They have a fitted style, and thanks to the multi-layered skirts made of light fabric, it creates the feeling that the dancer is floating through the air, and not stepping on the parquet. When sewing dresses for the standard, it is possible to use fabrics of any color, with the exception of shiny materials and shiny finishes.
To sew a truly luxurious ball gown, it is important to think through all the nuances, from style to the smallest decorations. But most importantly, it's still convenience. Consider the main rules for sewing dresses for ballroom dancing:
⦁ Despite the fact that a pattern is used when creating a dance dress, you need to adjust the outfit on the body. This is the only way to achieve the best result. If there are cutouts on the skirt, it is also better to do them when trying on, in order to immediately understand how they will look.
⦁ All sections of the suit are processed with an elastic band, as on a swimsuit. This is done so that the dress does not fly off and does not ride up. The seams are ground on a knitting machine, and the skirt and other elements are sewn in a zigzag.
⦁ During the performance, the dancer does not have to worry about her outfit falling off. Therefore, all parts must be securely fastened. If the dress has deep cutouts, they are fixed with jumpers. Shoulder straps, straps and sleeves are sheathed with rubber bands.
Having decided on the style and choosing the fabric for the dance dress, you need to choose a pattern. Of course, it is better if the pattern is made by an experienced craftsman especially for you. After all, this is the only way you can get an exclusive thing that will allow you to really shine during the performance. When the pattern is ready, the suit begins to be sewn from the bodice and skirt. Decorative trim and decorations are sewn only after the ballroom dance dress is completely ready.
Pattern for a dance dress.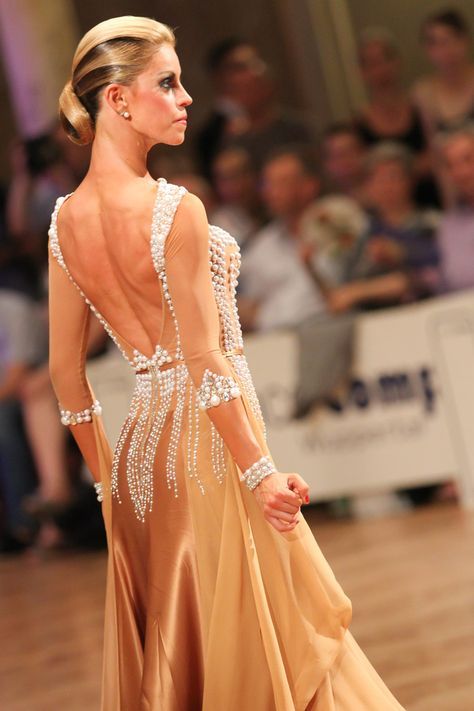 Sewing dresses for dancing
January 4, 2021
Needlework
Victoria Kozhukhova
If you want to sew a dress for a child for sports or ballroom competitions, you should understand all the subtleties of the pattern, as well as the requirements for such outfits. The fact is that the pattern of a dance dress is difficult, and for children's costumes there are a number of rules and age restrictions that become softer as the dancers mature. When it comes to very young participants, here the ballroom fashion dictates the most serious requirements to them.
Ball gowns
Girls are offered several options for dresses:
Leotard to which a skirt is sewn.
Combination of black skirt and white blouse (swimsuit or T-shirt).
Plain dress with panties.
The first two proposed options are suitable for those who are just starting to dance and have not competed yet. However, the combined suit is also suitable for girls who already perform in open groups and compete for prizes.
Sports dresses
Dress for Latin American dances should be short, moderately open. Trimming on the chest and skirt in the form of various flounces, rhinestones, fringes, feathers is encouraged. With due imagination, you can create a unique and extraordinary outfit that will emphasize the grace and movements of a little dancer. But there should not be too many such decorations, otherwise they will distract from the dance and make the image heavier.
Basic requirements for children's ballroom dancing outfits
It will be possible to sew a dress for ballroom dancing with your own hands if a person is attentive and careful in work. There are also important tips to keep in mind. So:
The ball gown must be plain. It is allowed to use any color of fabric for sewing, except for flesh. Also, the outfit should not be transparent. You can't use a coquette.
Sleeves can be short, 3/4, long or lantern.
Neckline available in various shapes (triangle, square or semicircle).
The length of the skirt must be the same, no more than 10 centimeters from the knee and no longer than 10 centimeters from the bottom of the kneecap. The skirt should not be tight.
Other decorations for similar outfits (cords, frills, flounces, belts, belts, frills, trains, curly collars) are prohibited.
Skirt embellishments and sewing of ribbon (soft or hard) are also prohibited.
It is important to choose a fabric that will be comfortable for your child to dance in. In order to sew a ball gown, lycra, supplex, stretch guipure are usually used.
Basic requirements for children's sports dance outfits
The choice and color of the fabric from which the sports dance dress will be sewn is also important: skin color is prohibited, in addition, you cannot use transparent, iridescent, shiny, guipure, mesh or lace fabric.
The style of the skirt should be simple, a pleat is allowed (from 1 to 3 layers of fabric in a circle).
An underskirt with a large number of layers is not allowed in the outfit.
Panties can only be of one style. They should be cut so that the buttocks and underwear are completely hidden under the fabric. The material should be the same as the suit was made from.
Rules for sewing dresses
Making a pattern for a dance dress will be easy if the seamstress takes into account all the smallest details of tailoring. Also, it will need to be adjusted in size after trying on. You need to do your job carefully, taking into account the following nuances:
For girls it is necessary to make a pattern for a dance dress, but the dress must be customized on the body. If the lower part of the suit provides for cutouts, then they should also be cut out when trying on. Thus, it will be easy to understand from the outside whether they look good or not.
The edges of the outfit are finished with an elastic band, otherwise the dress may rise up or fall off.
The seams are processed on a knitting machine, and the lower part of the suit (skirt) and its other elements are sewn in a zigzag pattern.
Also, for reliable fixation of the cutouts and to prevent the suit from riding up, all parts are fixed with jumpers.
After the style and color of the future dance outfit is chosen, it is necessary to make a pattern. In this case, it is best to trust a professional, thanks to whose work the child will enjoy wearing this suit. After the pattern for the dance dress is ready, the outfit is sewn off, starting with the bodice and skirt. And other decorative items are added after the outfit is fully created.
Tailoring procedure
Sewing a dance dress requires fabric, sewing supplies and following instructions:
The simplest option is to create a regular one-piece leotard, bodysuit or top. The resulting base is easy to decorate with a skirt, which can be advantageously complemented and emphasized with lace, fringe or flounces. They are easy to sew separately on a sewing machine, and then sew by hand. Multi-tiered shuttlecocks will also look spectacular. They will give visual volume and dynamism to the movements of the dancer.
Sewing calculations will not be superfluous. If the length of the edge of the skirt is 7 centimeters, then the radius of the flounce should be the same, because it is equal to this edge. It is necessary to outline the initial circle of this radius. From the center of the skirt, outline a vector (taking into account the addition to the width of the frill). Then cut out the contours of all circles, cut off all the details and cut out the flounces, sew them, attach them to the skirt, and then baste.
The only way to adjust the size of the frill is to increase or decrease the radius of the inner circle. When narrowing the frill from one edge, a spectacular spiral decor of the bottom of the skirt will come out. It is necessary to take into account the length of the increase in the seam (it should be no more than 1 centimeter). The fabric in this case is located in the share direction.
For the pattern of frills in the form of a snail, it is better to use a bright fabric. As soon as they are ready, lay them on the bottom of the dress with the right side and stitch. Then carefully notch the allowances and overcast the inner sections of the frills. The final touch will be ironing.
An outfit with fringes in the same tone as the dress is also easy to create. To do this, you need a ready-made closed swimsuit, which is trimmed with fringe. Fastening starts from the waist, attaching the decoration in tiers in a spiral. Work for one hour, and the result will exceed expectations.
Pattern for dance dresses will help you create a unique outfit and make it easier to sew. It will also make the whole procedure for creating a bright costume pleasant, simple and interesting.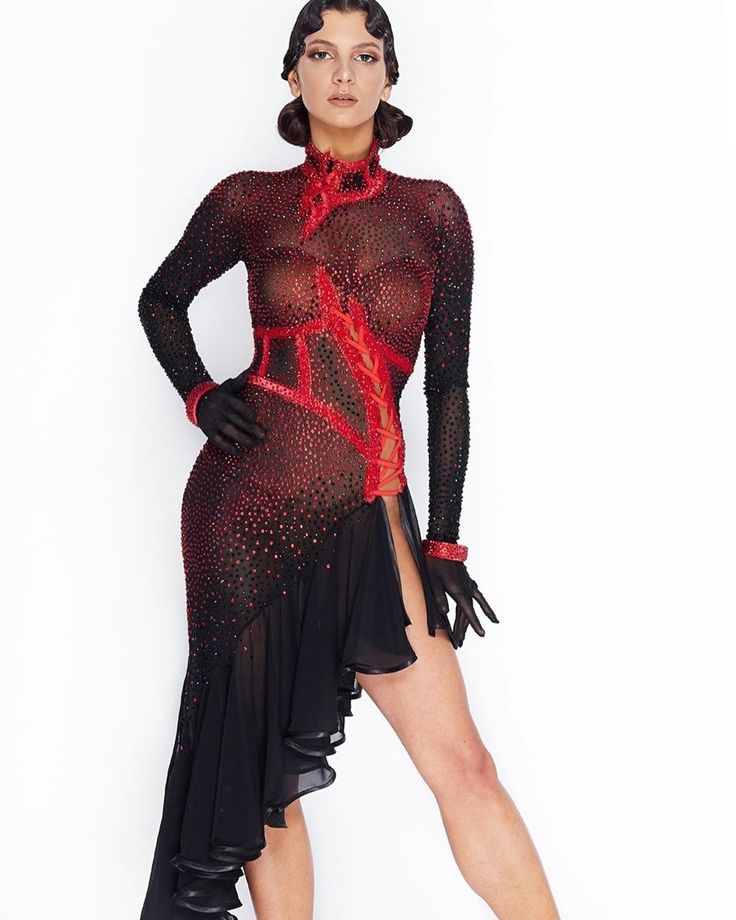 Sewing accessories
Dance dresses for children cannot be created without threads, needles and other sewing tools. A person who decides to sew a costume for his child will need:
Pattern for a one-piece leotard (or dance dress).
In the first case, you will need a skirt yoke.
Fabric (preferably stretchy) to go with the dress.
Dark crepe satin.
Guipure.
Cups for the bodice.
Rubber band.
Bias binding.
Sewing machine.
Meter.
Pencil.
Manual.
Instructions for creating a dress: from pattern to fitting
To make everything go smoothly, you need to follow certain steps:
First, put the finished sample on the fabric. Cut out, making a supply of fabric on all sides so that the swimsuit eventually fits in size and covers all the right places.
Then sweep the main part, then try it on for the first time. At this stage, you can correct minor oversights.
Then cut out the front part of the guipure. If it does not stretch well, unlike the fabric of a swimsuit, make it with a margin.
The last step is laying the guipure on the chest, which it should fit. Gathering should be done under the bust. Thus, the finished outfit can be worn without a lock.
From fitting to finishing a swimsuit
Sequence:
After trying on the outfit, create a tuck (this is done if the fabric does not stretch).
Carefully transfer it and sew in the direction in which it lies.
Then iron the resulting piece and stitch the decorated part to the base (leotard).
Then mark the location of its finish.
Adding embellishments and cutting the skirt
Workflow:
Jewelry should be chosen in advance to accentuate the outfit. In the upper part there can be an imitation of a corset. To do this, you need to pin and sweep the corset tapes, and then stitch them.
After that, it is worth adjusting the fit of the main part in the crotch area, and then transfer the changes there so that it is symmetrical.
Jewelry is also distributed along the back and waist. An elastic band is drawn along the back of the swimsuit so that it fits snugly to the body. It is also necessary to sew an elastic band into the panties.
The next step is to cut the double sun skirt. Crepe satin should be used on the bottom of the skirt. Sew both finished pieces to the yoke using an overlock stitch.
Lace up if necessary.
Additional decorations
If the dress is sewn for an older child who is not subject to the prohibitions indicated above, then you can resort to the following tricks:
its front and back dimensions. It all depends on the imagination of the cutter and seamstress.
In addition, cutouts can be made on the skirt.
Flesh-coloured mesh and straps are also permitted for older dancers.
Forming the bodice area, you can use just cups or the full part of the bodice. But a double elastic band should be sewn to the back zone, which will not be visible. Thanks to her, the bodice will stay in the dance and will not fly off.
After that, it is necessary to sew on all additional decorations that will emphasize the beauty and elegance of the outfit, as well as the dancer dressed in it. It is also necessary to attach an edging that will hide the joints of the skirt and the ends of the jewelry. The edging is best done with an oblique inlay.
Common mistakes
Dress patterns for latin or other dances can sometimes be made incorrectly. In addition, the elements of the outfit can be sewn incorrectly, which causes various defects in the fit of the sleeves and back. And this will already provoke the fact that the little dancer will be uncomfortable wearing a dress. Here are the main problems:
Cross creases of the sleeve.
Horizontal wrinkles at the top of the sleeves.