How to make a backyard dance floor
How to Make a Dance Floor Out of Plywood (+ Other Methods!) in 2022
Ever dream of taking your "Dancing with the Stars" skills to dancing under the stars? Perhaps you want to complete the uniquely sentimental backyard wedding. Learning how to make a dance floor out of plywood will do just that!
People have been dancing before there was even a written language. It's no wonder that dancing has infused itself into our society. Whether it's for a backyard wedding or a party with friends, a dance floor is sure to get your guests tapping their toes!
There are many options when deciding on a dance floor that's right for your party. We'll explore four options with a budget, preparation time, and purpose in mind:
DIY dance floor out of wood with an option of using recycled pallets
Use what you have: Dirt, cement, or deck
Buy
Rent
Any of these options will have you spinning for your first dance as Mr. and Mrs. or doing the wobble in no time! Read on to learn how to make a dance floor out of plywood (and other methods!).
Table of Contents
Option 1: DIY Dance Floor
Making a dance floor can be simpler than you thought with these easy steps. One trip to the hardware store will get you all you need. Enlist the help of friends and neighbors and you can have this floor finished in one Saturday!
There is also an option to create the base using recycled pallets and plywood floor. With this option, you'll be dancing the cha-cha slide with money to spare in your pocket!
Step 1: Determine the Size of the Floor You Need
A general rule of thumb is to plan that 30%-40% of your guests will be dancing at any given time. Each couple will need about 9 square ft. to dance (or 4.5 square ft. per dancer).
For a party with 100 guests, about 40 will be dancing at once. This means you should plan for 40 (# of dancers) x 4.5 sq ft. (area per dancer) to get about 180 square feet.
Since this method will be how to make a dance floor out of plywood, we will be using plywood that is 4' x 8', suggested floor sizes are: 8' x 8', 12' x 8', 12' x 16', or 16' x 16'.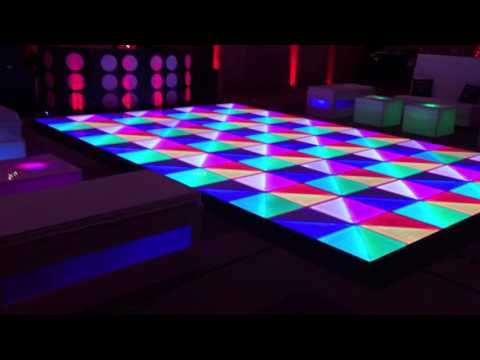 Calculate the area needed for your party and use the best matching suggested size above. In our instructions for how to make a dance floor out of plywood, we will be constructing a dance floor that is  12' x 16' which is about 200 square feet and a decent size for a party of 100 guests. Make sure to adjust the numbers if you determined to use a different size.
Step 2:  Pick the Location
Now that you have determined the size of your dance floor, it's important to pick a location. Pick an area that is level and large enough for the dimensions of the dance floor. Remember that not all guests will be dancing at once, so consider spacing for tables and chairs in view of the dance floor.
Step 3: Gather Materials
Your local hardware store should carry all of the supplies you need, making it a one-stop-shop! Stores like home depot will often cut your wood for free.
Materials:
6 sheets of ½ inch plywood
30 eight-foot long 2'x3'   (Another option is to use recycled pallets instead of 2 x 3s for the base)
Box of screws
Nails
Drill or screwdriver
Floor top finish (Tiles, dance mat, or paint)
6 Mending plates
Cut 18 of the eight-foot planks into 2 x 3s into two 45" pieces.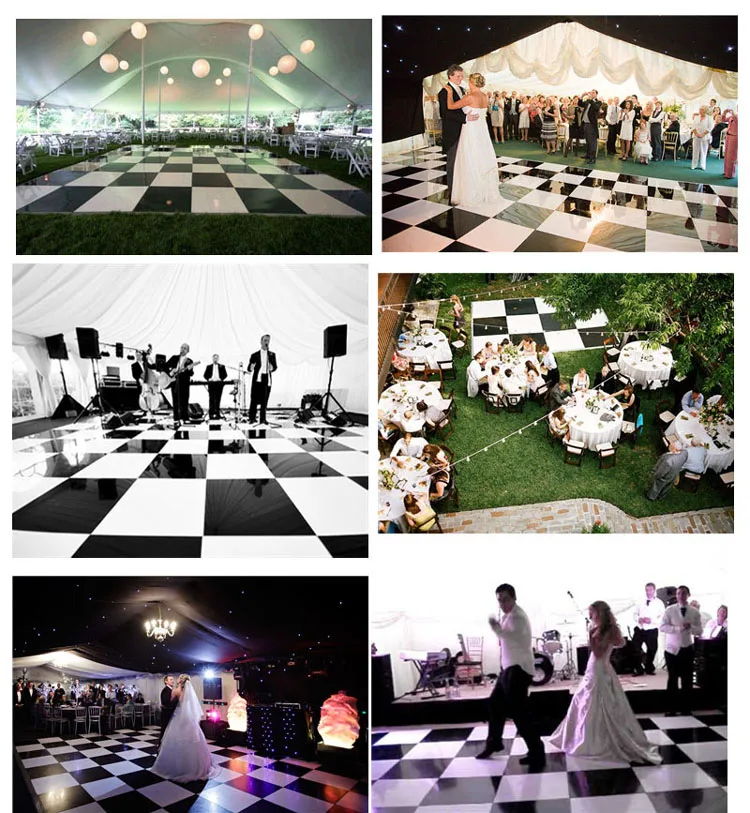 Keep 12 of these 8 feet long.
Step 4: Create the Base
Create the base using two eight-foot 2 x 3s laid horizontally. Screw six 45" pieces as supports in between these boards to create a "ladder" look.
Step 5: Repeat Until You Have Six Bases
Each base will be supporting one ½" piece of plywood that will be the top of the floor.
Step 6: Screw or Nail the ½" Plywood Sheets to the Tops of Each Base.
Carefully screw or nail the plywood on top of the base. There should be two nails or screws in each support. Four along each side length will hold your floor sturdily.
You should now have 6 completed dance floor pieces ready for your own configuration. In this video, you will see how the bases were completed.
Step 7:  Lay Out the Dance Floor Sections and Complete a Finish.
Now that your dance floor is almost complete, lay it out in a 12' x 16' rectangle. Draw the layout on a piece of paper before you start moving the bases. Make sure it is a complete rectangle.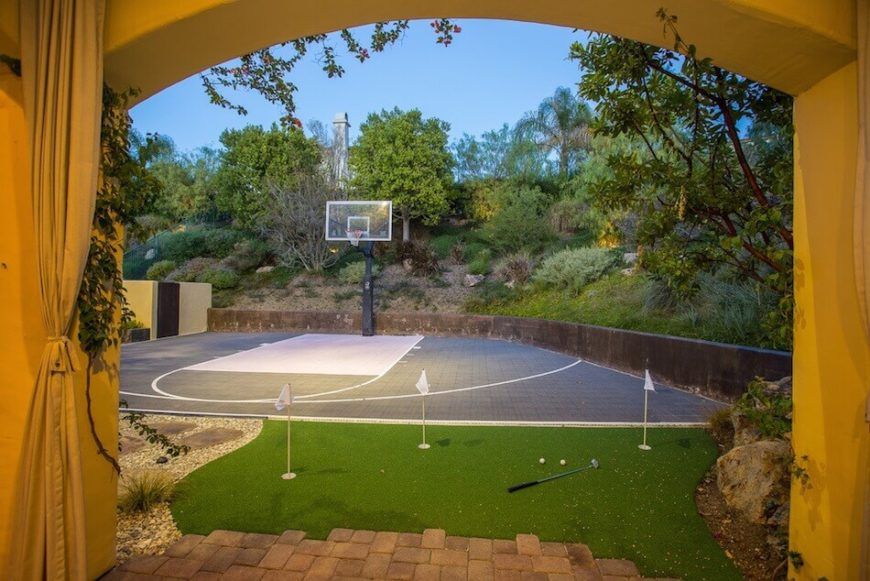 There are several ways to finish the dance floor. If you like the wood look, you may just choose to seal and weatherproof it.
While weatherproofing is optional, it is a great insurance policy if you are keeping your floor outside.
Keep in mind the purpose of your floor is dancing. Always opt for a nonslip finish, or your guest may do more slides than Cha-Cha. Finish the top of the dance floor with one of the options below:
Paint: Paint is probably the cheapest option to get the most customized look. You can write your initials, use glow in the dark paint, or even create a work of art. Check out how this floor was painted to look like a checkerboard.
Vinyl Sheet: Make your dance floor look like a professional dance studio by using vinyl floor sheets. Just roll it out on top of your floor. See the look here. You will need to secure the floor by binding to the plywood or nailing down the ends.
Peel and stick tiles: If you want to make sure all the pieces come apart easily when you have finished, consider using peel and stick tiles as seen here.
Vinyl dance mat: While the most expensive option, it is great choice if you are planning to use it regularly. The mat can be rolled over the wood floor when in use.
IncStores Rosco 1.2mm Thick Reversible Dance Floor Roll | Low-Reflection Vinyl Marley Dance Flooring for Practice and Performance of Countless Dance Styles | Black/Grey, 10 Ft
PERFORM LIKE A PRO: Take your passion to the next level with a matte vinyl marley floor that's engineered for greatness. With low-reflection, effortless portability, and balanced glide, it's the perfect partner for almost every style of dance.
FEEL THE DIFFERENCE: Used by pros the world over, marley flooring is right at home on set, on stage, or in the studio. Made to modernize the show-biz classic, our dance rolls are dialed in to hone your ballet, broadway, and hip-hop performances.
MADE FOR THE MOMENT: Our 63" wide dance mats are made with resilient vinyl with matte black/white reversible sides to match your space, minimize the reflection of stage lights, provide carefully controlled floor speed, and last for years to come.
TAKE THE SHOW ON THE ROAD: With a lightweight 1.2mm profile, our portable performance flooring is a shockingly capable touring companion, rolling up in seconds for easy transportation with the rest of your dance supplies and/or ballet equipment.
A FOUNDATION OF QUALITY: For more than a decade, IncStores has been outfitting professional stages and personal studios with high-quality dance accessories in countless styles, because a stronger, safer, smarter performance starts from the floor up.
Last update on 2022-09-28 / Affiliate links / Images from Amazon Product Advertising API
Step 8:  Secure the dance floor
You are almost ready to shake a leg! Ensure that your dance floor is positioned where you want it.  Use mending plates to secure each dance floor piece together.  Place the mending plates on the outside of the dance floor where each piece joins.
For the 12'x16' floor, you will need 6 mending plates.
No matter how many people decide to get up and do the Nae, Nae  or watch you whip your floor will hold it together!
Step 9:  Get out and dance!
Your hard work has all paid off and now you can enjoy the next big dance party or wedding in your own backyard!
An Alternative to Option 1: Use Recycled Wood Pallets
Like the sound and look of option 1, but want to be even kinder on the wallet? Build a dance floor using recycled wood pallets.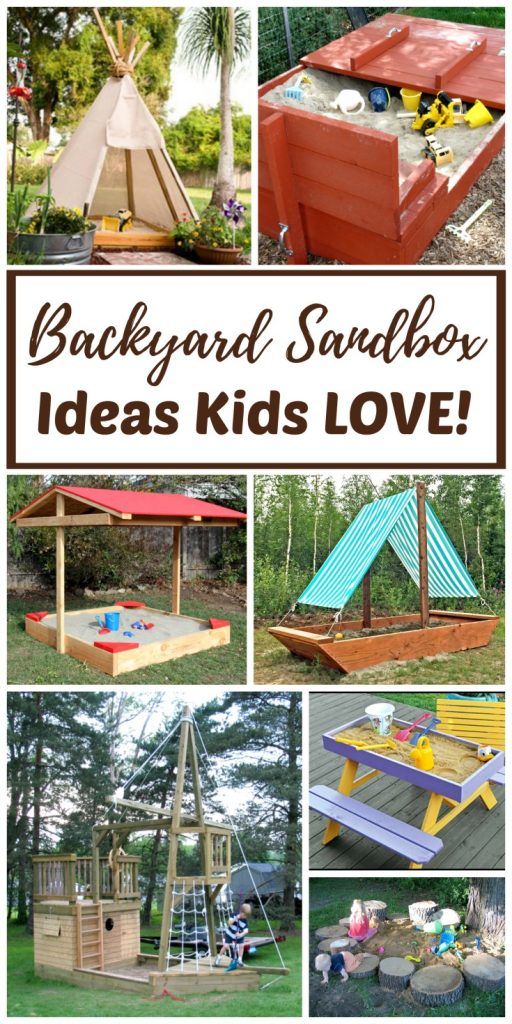 By checking local listings, you can often find pallets for free! Wood pallets can be used to create the base, eliminating the need for any 2' x 3's!  Depending on the size and quantity of pallets you can get, you may end up needing to trim some of your plywood. But, for the cost, it's worth a try!
Follow all the other steps in option 1 after replacing your bases with pallets. Check out the finished product here.
Using recycled pallets can save you about $60 on materials.
Option 2: Use What You Have
If the instructions for constructing your own dance floor made your head spin, don't give up on your dance floor yet! You may have everything you already need for the perfect dance party in your own backyard.
If you are considering a country theme to your party with line or swing dancing, kick up your boots and enjoy the cheapest way to make your dance floor: dirt!
A deck and cement area (such as a patio or basketball court) can also be easily converted into the perfect dance floor.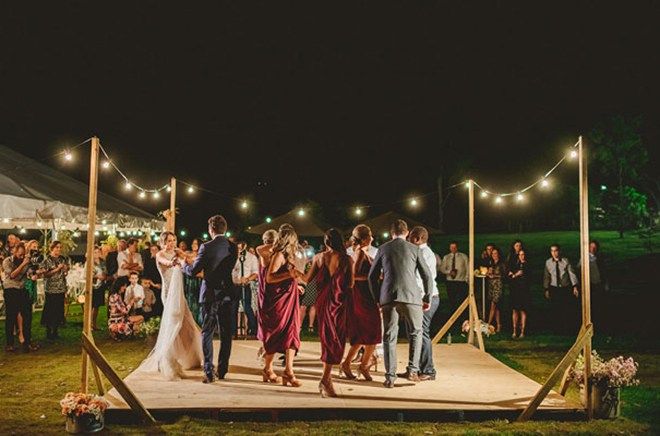 Dirt or Gravel
Step 1: Pick a Level Area of the Yard
Make sure the area you choose is free of any divots or holes. The slope of the yard should be relatively flat. If you find the yard is not smooth, make sure to level it before proceeding.
Step 2: Define the Boundary
Don't confuse your guest by not having a clear boundary for the dance floor. There are many simple tricks for defining the boundary that will fit your theme.
Hay bales, pumpkins, flower planters, or recycled pallets placed in the four corners will do the job. Lighting can also serve a dual purpose of defining the boundary and illuminating the dance floor.
Step 3: Dust Control
Nobody will be dancing for long if they are having to breathe in the dust while dancing. Keep the dust down with these simple tricks:
Spray the dirt lightly before the party. Don't water heavily or you may end up mud wrestling instead of dancing!
Use a dust control agent such as Dust Down Pro. It is non-toxic and a safe option if you plan ahead!
Consider laying down small-sized gravel such as pea gravel or even a thin layer of sand. Just a thin layer is needed, as too much will have your dancers sinking in their steps.
Continue the country feel with a thin layer of straw. You can lightly spray this a day before the party to enhance the dust fighting capabilities.
FDC 96% Pure Calcium Chloride DUST Down PRO Pellets (Controls dust on unpaved Dirt & Gravel Roads) 5 Gallon Pail
KEEP DUST UNDER CONTROL. Dust Down POLY PRO keeps dirt and dusty particulates from becoming airborne. Dust Down will Improve worksite visibility, prevent accidents, and protect your vehicles from dust and dirt damage.
REDUCES FORMATION OF DUSTY RESIDUES. Dust Down is made from a specialty emulsion mixture designed to modify and break down insoluble mineral-based materials. Dust Down remains non-toxic, non-leaching, and completely safe to use around pets and animals.
GREAT FOR RESIDENTIAL AND COMMERCIAL USE. Homeowners, contractors and city workers use Dust Down Poly Pro to treat driveways, construction sites, and gravel roads, creating a safer and cleaner environment for everyone.
DON'T LET DUST SLOW YOU DOWN. Depending on foot traffic, Dust Down will keep dirt and dust out of the air for 3-12 month. Five gallons of Dust Down covers 5,000 sq. ft.
30-DAY MONEY BACK GUARANTEE. Unsatisfied with your purchase? Return the product, no questions asked! Do you have a question or concern? Call (888) 854-3914 (8-5 M-F).
Last update on 2022-09-28 / Affiliate links / Images from Amazon Product Advertising API
Deck or Cement
If you already have a good-sized deck or cement patio, consider using them as the main dance area. With a few simple tricks, your guest will never know its previous use:
Add the perfect mood lighting. Adding just the right lighting can enhance any area and breathe new life into it!
Level an uneven deck. Use 4 x 8 plywood to make and level area before laying down the flooring.
Use flooring. Layout a dance floor on top of your existing patio or deck. Vinyl sheets or laminate flooring on top of the cement or deck will make it look like you installed a professional ballroom floor. We suggest using a non-slip grade!
Option 3: Buy One
If none of the options above click your heels, consider buying a dance floor! While you are sure to spend more money, you will have a professional dance floor that can be used again and again! Perhaps, with enough practice, you will even be on the next "So You Think You Can Dance!".
Many of the products available come in one square foot tiles. This makes storage a breeze! The tiles can be taken apart and easily stored in a garage or closet.
Most of the manufactured dance floors are made to be placed on a hard and sturdy surface. This would work best on a concrete slab or sturdy deck.
No deck or concrete? No problem.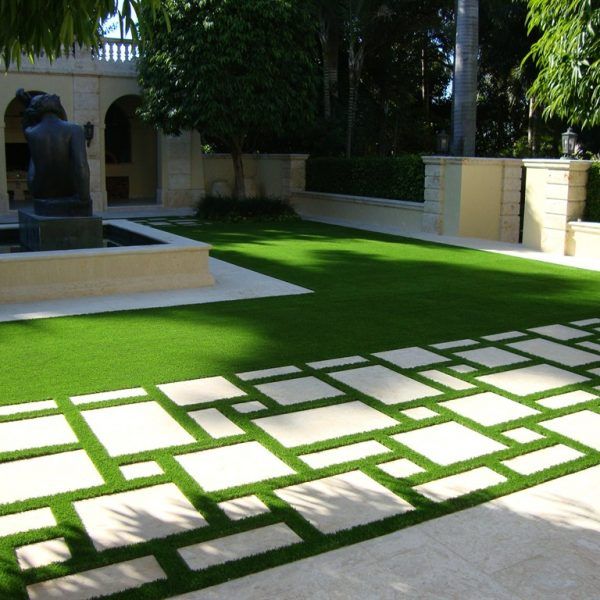 Some dance floors are made to work on uneven ground. However, consider laying down a tarp and possibly plywood before assembling the dance floor on dirt or grass.
Step 1: Research Options and Pick What You Like Best
Many available sets require no tools and snap together. The sets come with options for how many tiles in each set. Make sure to purchase enough sets to cover the area you need for a dance floor.
For example, you would need to purchase about 3.5 sets of the IncStores 12″ x 12″ Practice Dance Tiles (52) to cover the area (182 sq. ft.) needed for a party of 100.
Buy three of the sets of 52 tiles and one set of 32 tiles.
If you want a border ramp, remember that it will need to be purchased separately!
Sale
IncStores 3/8 Inch Thick Practice Dance Floor Tiles | Printed Plastic Dance Flooring for Practice and Performance of Countless Dance Styles | Oak, 52 Tiles
INSPIRE YOUR IMPROVEMENT: Envision the ultimate dance studio with a printed tap floor that's engineered for greatness. With effortless installation and balanced glide, our ballet floor tiles are the perfect partner for almost every style of dance.
ALWAYS ON POINTE: Bring the right tools for the job with our acclaimed dance floor tiles, featuring rigid materials, six dazzling finishes, and limitless coverage potential to create the perfect indoor or outdoor dance floor for events and more.
MADE FOR THE MOMENT: Our dance board kits are made with ultra-resilient polypropylene and topped with printed vinyl to match your style, provide consistent speed, make all the right sounds, and last for years and years of passionate performances.
TAKE THE SHOW ON THE ROAD: With a lightweight 3/8" profile, our tiles are the ultimate tap board for touring the world, assembling and disassembling in minutes for easy transportation with the rest of your dance supplies and/or ballet equipment.
A FOUNDATION OF QUALITY: For more than a decade, IncStores has been outfitting professional stages and personal studios with high-quality dance accessories in countless styles, because a stronger, safer, smarter performance starts from the floor up.
Last update on 2022-09-28 / Affiliate links / Images from Amazon Product Advertising API
Step 2: Buy and Ship to Your House
Make sure to buy your dance floor with plenty of time before the big event. You will need to plan for shipping time and installation once it arrives.
Step 3: Install the Dance Floor in Your Backyard
It is best to install your dance floor the day of or the day before your party so it is not damaged by the elements. Don't forget that it will also be easier to connect tiles on a hard surface.
Step 4: Disassemble and Store
Plan for storage when you purchase your own dance floor. That way you can be ready to pull it out for your next dancing extravaganza!
Option 4: Rent a Dance Floor
If you are wanting a high-quality dance floor to perform all of your "Dancing with the Stars" moves, you may want to opt for making a dance floor by hiring a rental company. They will often handle the setup and take down, leaving you time to practice your two-step!
The cost of renting a dance floor large enough for 100 guests may range quite widely depending on the area and what you want.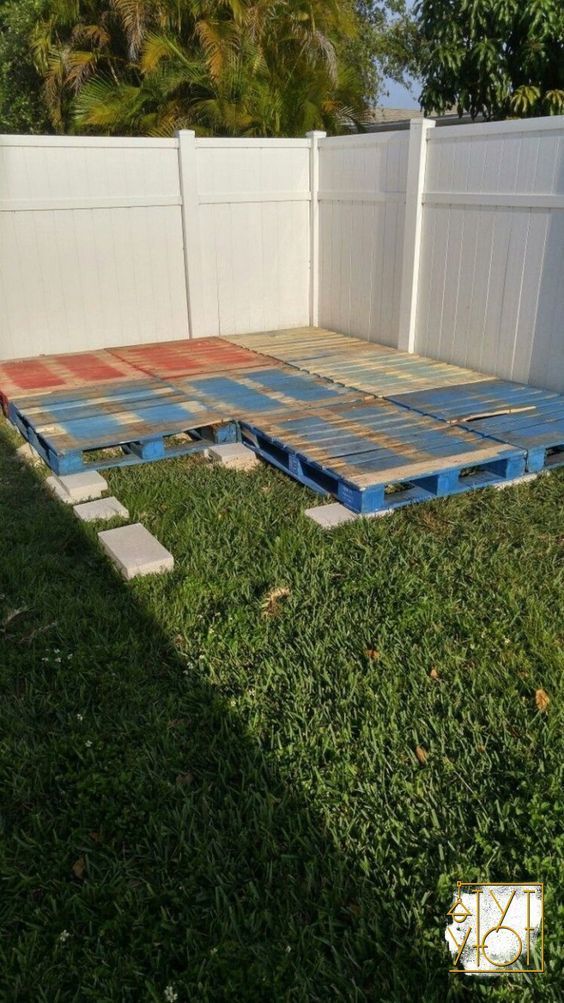 Step 1: Check Out Local Rental Companies
When renting a dance floor, always get quotes from a few different companies. Ask the right questions to ensure you are comparing apples to apples.
Do they provide the floor underlayment for the grass or tent floors?
What is their cancellation policy?
Do they install and deconstruct?
Do they deliver or are you expected to pick up?
When do they expect payment?
Do they cancel in the event of inclement weather?
Step 2: Choose the Floor
Certain floors are better for outdoor use. Composite laminate floors are often the most scratch-resistant and do not require a tent. Vinyl floors are a good outdoor option, but some companies may require a tent to be over the floor.
Make sure to discuss with the salesperson where you plan to place your backyard dance floor. Many looks are often available from parquet flooring to sleek black vinyl.
Step 3: Enjoy the Dance Floor with Less Headache!
No tools needed and you will have a professional floor to dance on in no time! The cost to rent may be well worth your time and energy saved!
Final Touches to Your Backyard Dance Floor
Don't forget the final touches to your dance floor that will set the mood and make your party the envy of the neighborhood.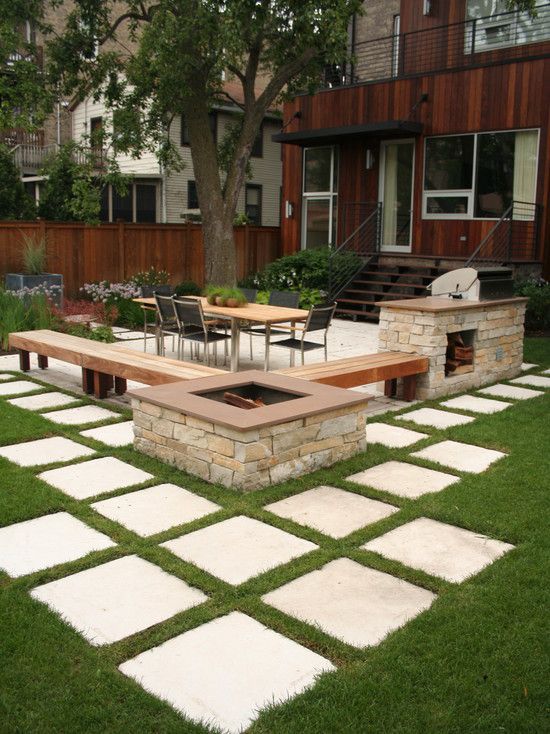 If your party will be after dark, consider how you will light the dance floor. The only thing your guests should worry about tripping over is their two left feet!
Lighting Options
Check out this post which has pictures of many landscape lighting options that will work for an elegant party.
String lights bring a great ambient light.
After-holiday sales are great times to purchase projector lights of various colors and functions that serve well for party lights.
Disco and party lights are a great addition. You will feel like the club came to your backyard!
RGB flood lights have many color options and can be mounted on the ground, ceiling, or wall.
No products found.
---
Party Lights, Disco Lights, GOOLIGHT DJ Light Sound Activated Strobe Light Projector Party Light Effects with Remote Control for Home Room Dance Birthday Bar Karaoke Holiday Christmas Wedding Parties
Multiple beams: The light can shows many patterns effect, light rotating effect can be selected as fast, slow or pause. Effect color can be selected as red, green or red & green.
Multiple Work Modes: 1) Auto Mode: Random colors create a romantic and relaxed atmosphere. 2) Strobe mode: Colors appear and disappear quickly. 3) Sound control mode: Light color and speed changes with the rhythm of the music.
Multiple operating modes: You can manually switch light on the light body, or use remote control to select the function that you want. It can make your party attractive.
Light and easy to install: Silver aluminum alloy shell, tiny mounting accessories, that can be easily installed on the wall or ceiling, and can also be placed on the table or floor.
Widely used for parties, disco, ballrooms, hotels, skating rink, public square, family gatherings, bar, KTV, party, concert and festival like Christmas, parks, Halloween, etc.
Last update on 2022-09-28 / Affiliate links / Images from Amazon Product Advertising API
---
LED Flood Light, WAKYME 30W RGB Color Changing Floodlight with Remote Control, IP66 Waterproof, 64 Modes 16 RGB Colors Dimmable Wall Washer Light, Stage Lighting with US ETL 3-Plug, 2 Sets
【16 Colors & 64 Modes】Comes with a remote controller, the flood light has 8 basic modes in total, each mode has 8 speed choices, you can make total 64 different modes in your needs. Total 16 different colors provide colorful and bright illumination. One remote control can control several lights at the same time. You can set the right ambiance for any moment with a range of beautiful. Simply click the control button to enjoy different colors/brightness/modes of lighting.
【Upgraded Super Bright】This led floodlight uses the most advanced 60pcs high quality LED integrated lamp beads, producing a soft and uniform 3000lm bright lights, more stable, brighter and Longer service life(up to 50,000 hours). Extremely long life reduces re-lamp frequency. Simple and generous appearance, more in line with aesthetic requirements. 120° beam angle, It can be better integrated with the architectural landscape.
【Memory Function】Lighting color remains as previous setting when turned on again. RGB led floodlights is easy to install and mounted/hang in anywhere as you like with the 1.5m/5ft power cord with ETL certification US 3-Plug. Perfectly as a lighting for the safety of your home, it's greatly suitable for both indoor and outdoor usage, including birthday party, night time barbeque, garden lighting, stage lighting, landscape lighting, etc.
【Waterproof & Durable】IP66 level for better wind and dust protection, ensures that the flood light work properly no matter in rain, snow, heat or cold environment. This outdoor floodlight is made of die-cast aluminum and tempered glass, more durable than iron, which effectively prolongs its lifespan. It has a thicker wire, thicker tempered glass, thicker housing, and passed stricter testing, always protect our users from unsafe situations.
【What You Get】: 2*30W LED Flood Lights with 1.5m US 3-Plug Cords, 2*Remote Controller, 1*Using Manual. All WAKYME flood lights have FCC, CE, RoHS and ETL certifications. We offer 2 years warranty and 30 days money back guarantee. If you have any problems, please feel free to contact us.
Last update on 2022-09-28 / Affiliate links / Images from Amazon Product Advertising API
Get a DJ
Whether it's your Uncle Dan or a professional DJ, make sure to plan for one! This will ensure that you can get out and enjoy the dance floor instead of keeping the music on.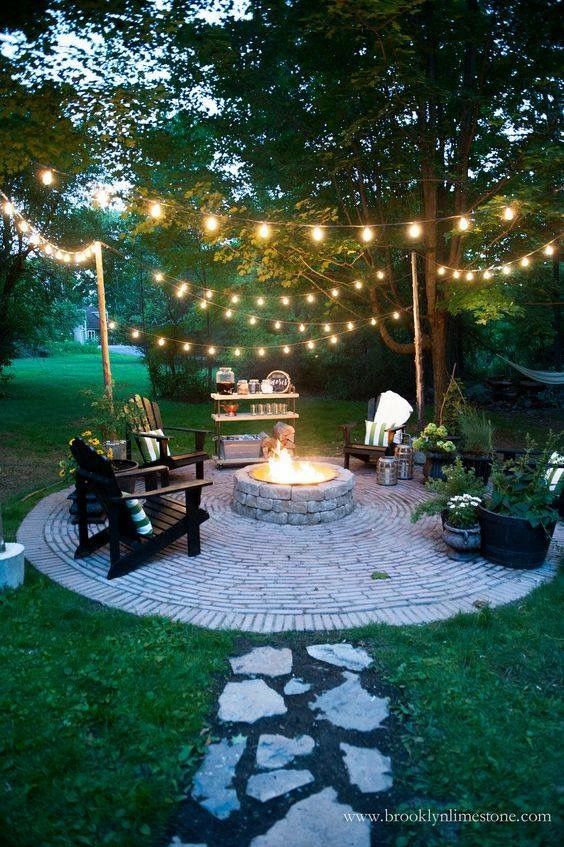 Conclusion
We instructed you on how to make a dance floor in your backyard by building one from plywood, using existing areas, purchasing, or renting.
What persuaded you the most? Did you go for low cost and decide using your backyard assets or handyman skills were all you needed? Or did you opt for the convenience of renting or buying your dance floor?
With so many options to choose from, you are sure to know the perfect way how to make a dance floor in your backyard and how to make a dance floor out of plywood! Now put on your blue suede shoes and enjoy the dancing!
Build Outdoor Dance Floor on Ground
If you're wondering how to build a dance floor on uneven ground, then consider this DIY dance floor option, the quick answer is you should check into portable dance floors from Greatmats.
One of the great advantages of portable DIY dance floors is that they can be used in many different locations, so you can literally take the dance floor with you.
Whether you're setting up a dance floor for a special performance or need a dance floor for a wedding or other event, you may find yourself in search of flooring for dance that can be used outdoors.
DIY Dance floors are versatile, but they aren't all versatile enough to be used on grass. Grass poses a number of different challenges. First of all, you'll need an outdoor dance floor on uneven ground that can withstand moisture without being damaged. Secondly, outdoor use means that you'll need a floor that can withstand UV rays. This article can inform how to build a outdoor dance floor on uneven ground.
Don't worry, though - at Greatmats, we understand the importance of being able to install a DIY dance floor over grass. That's why we stock a number of suitable temporary dance floor products that can give you the versatility that you're looking for. This article can inform how to build a portable outdoor dance floor on uneven ground.
Necessary Features for A DIY Dance Floor on Uneven Ground or Grass
Waterproof Flooring: Make sure that any dance floor you consider for use on top of grass is fully waterproof.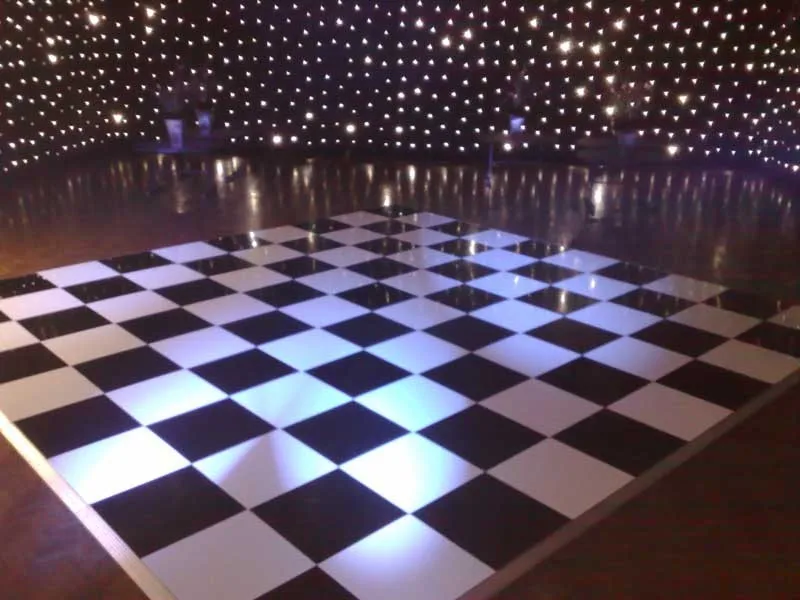 Even if you plan on covering the floor with a tent, there will still be moisture in the grass which a non-waterproof floor could absorb. We offer plenty of waterproof flooring options that are suitable for outdoor use.
As an added benefit, if you're working with waterproof flooring, it's no big deal if a guest spills a drink. Cleanup is easy.
If the ground is uneven, you'll need to provide a surface to help level it out before installing a dance floor, such as a waterproof composite mat system with strong interlocks. If you are confident that the ground won't get wet, simple plywood may do the trick to create a stable subsurface.
Shop Waterproof Flooring
UV Resistant Dance Flooring on Grass
Even a temporary outdoor dance floor on grass will be exposed to UV rays, which can cause your average flooring to fade, and possibly degrade the quality of the flooring over time. Look for a dance floor that has been treated for UV protection so that it can safely be exposed to the sun.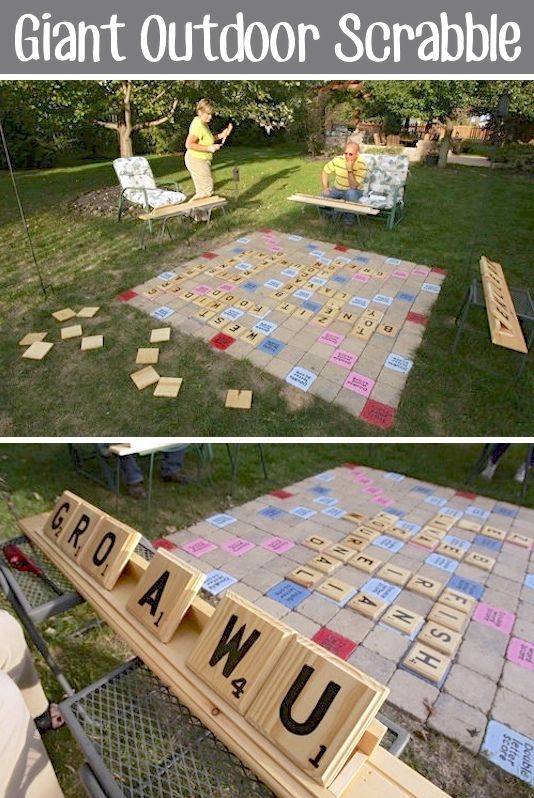 Portable DIY Dance Flooring
When you're working with a grass area, chances are you won't have a flat floor to wheel a flooring cart over. This means you'll need to carry the dance floor, so the portability of the floor is a major factor.
Modular dance flooring tiles are an ideal solution. These tiles are conveniently sized and easy to lift and carry, so even if you're installing the floor in a large field, getting the flooring into location won't be an issue. This will make installing the portable outdoor dance flooring on uneven ground or grass, and depending on the size of your floor, it's a task that a single individual can perform; no need for a professional installation. If you're attempting to install an outdoor dance floor over uneven ground, you may want to consider first laying down a layer of plywood, ground protection mats, or composite mats to level out the surface and prevent tiles from separating.
Easy DIY Dance Floor Installation
When you're working with tiles, you'll want a flooring product that connects together easily.

Most of our tiles have a snap together or tab and loop closure design. Either of these systems is easy to use, and lets you quickly connect and disconnect tiles. This means you can quickly assemble the dance floor on grass, giving you plenty of time to finish with the rest of your event preparations.
Additional Tips for Choosing the Right Portable Dance Floor on Grass
We outlined a few specifications above about what to look for in a dance floor that will be installed on grass, but there are a few other tips you should know about choosing a dance floor for any event or venue.
Consider the type of shoes dancers will be wearing - Footwear, particularly high heels, can damage some types of dance flooring. Make sure you select a product that-s appropriate for what people will be wearing.
Think about the aesthetic that you want - Are you looking for a classic floor with a wood grain finish? Or is a more generic tile suitable for your needs?
How large of a dance floor on grass will you need - How many dancers will you have, and how large does your finished floor need to be? Remember, you can always add or remove tiles to customize the size and dimensions of your floor during different events.
Think about additional accessories you'll need, like ramped edges. Many of our products are available with ramped edges for safety, and for an overall clean finish.
Dance Floor on Grass - DIY Tile Options
Portable Dance Floor Tiles: Our Portable Dance Floor Tiles are versatile enough to be used both indoors and outdoors. These tiles are UV treated, so they'll resist fading when used outdoors. The tiles fit together tightly so you don't have to worry about them pulling apart while in use, and the commercial grade vinyl top surface is durable enough to hold up to serious dancing. Ramped border edging is available to create a clean, finished edge that is both safe and attractive.
One major benefit of these tiles is in their construction. The tiles themselves are built on a raised base, so air and moisture can circulate freely beneath the tile's surface. This helps to prevent water from working its way up to the actual dancing surface, even when the tiles are used outdoors.
Sized at 12x12 inches, these portable dance floor tiles are easy to handle and transport. You can vary the size of the floor by setting up just some or all of the tiles, and can also customize the floor's dimensions according to your needs. The tiles fit together quickly and easily, and you can assemble a 10x20-foot dance floor on grass in just minutes. They can be installed over grass, but note that they're only intended for temporary outdoor installations and do still require a hard, flat surface. Significant bumps, spongy ground and/or mud in you grassy surface can cause the installation to become difficult and/or uneven.
With a choice of eight different finishes, including six eye-catching wood grain options, you can have a beautiful floor suitable for any event.
Shop Portable Dance Floor Tiles
Portable Outdoor Floor Tiles
For a highly durable option, consider our Portable Outdoor Floor Tiles. These tiles are extremely strong, and can even support the weight of vehicles.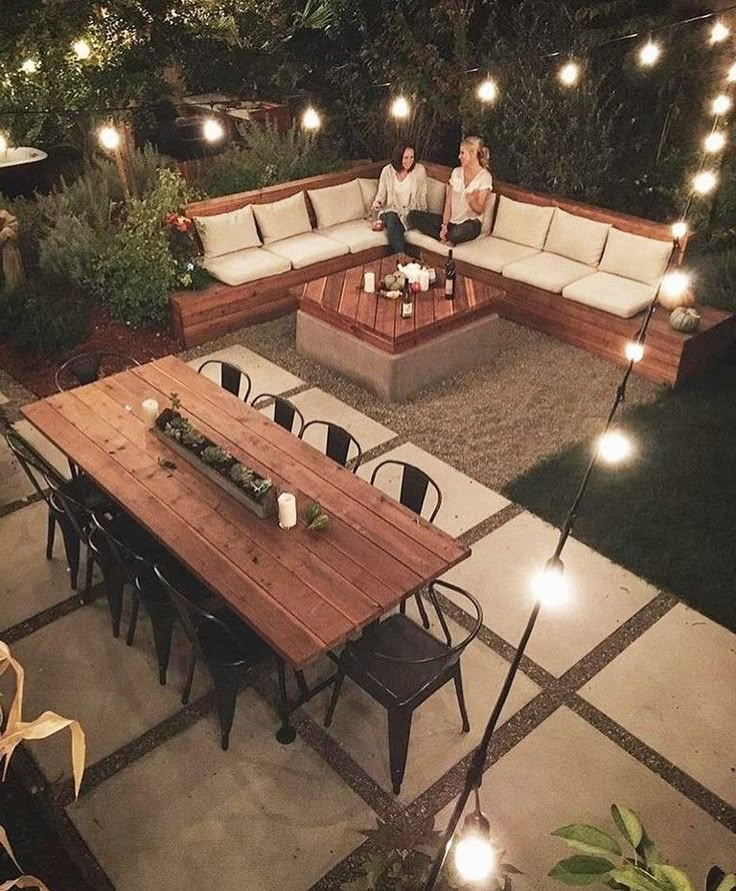 While they don't offer the traditional wood grain finish of a dance floor, they are highly versatile, making them a great investment for event facilities.
These tiles are both waterproof and UV resistant, so they can be safely used outdoors. Their unique hinge system makes installation a breeze, as it quickly locks into place for a secure fit that won't separate during use. Measuring 3/4 inch thick, these tiles are made of a polypropylene plastic that is strong enough to easily support large crowds.
Perhaps the greatest benefit of these tiles is the fact that they can be used over many different existing surfaces, including uneven terrain. There's no worrying about finding a perfectly flat space, which will save you both time and stress. You can place these tiles directly on top of grass, and the tiles can even be rolled up for easy storage and a faster installation the next time. Just keep in mind that the tiles will, to a certain degree, conform to the ground it is sitting on, so you will not have a completely level dance floor on grass if the subsurface is uneven.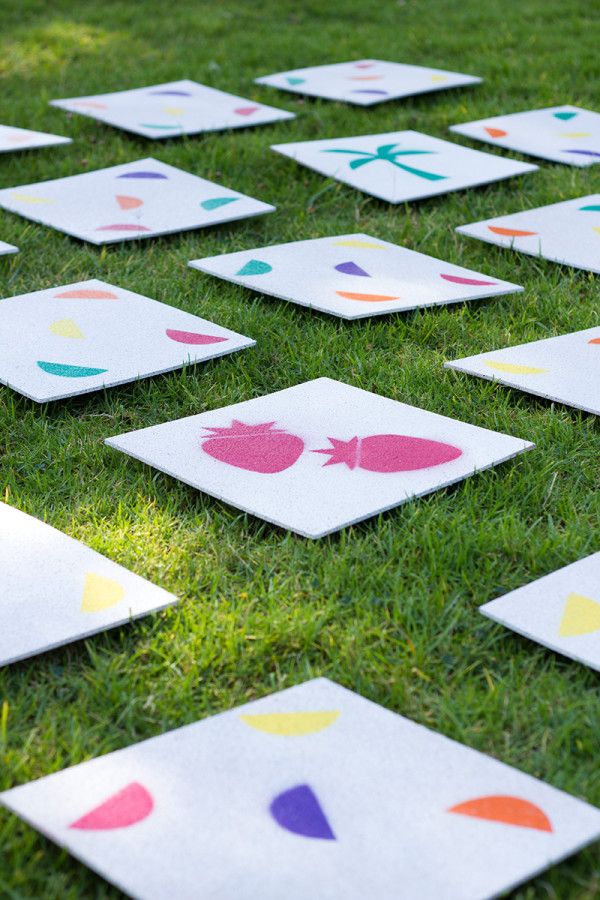 Shop Portable Outdoor Floor Tiles
Durable Dance Flooring Tile
Want a durable dance floor on grass with the look of real wood? Our ProCourt Gym Flooring Tiles offer you both. These tiles feature a generous 20-mil wear layer that is both scuff and stain resistant, ensuring the tiles continue to look great. Please note that these tiles aren't UV treated, and should only be used outdoors temporarily.
These tiles offer a raised flooring surface which will grip and accommodate grassy surfaces. They snap together easily for a fast installation, and are designed to withstand repeated installations.
Shop Portable Outdoor Floor Tiles
What You Need to Know About Installing a Dance Floor On Grass
While the above products are suitable for use as a portable outdoor dance flooring on uneven ground, it's important to realize that these products are only intended for temporary use.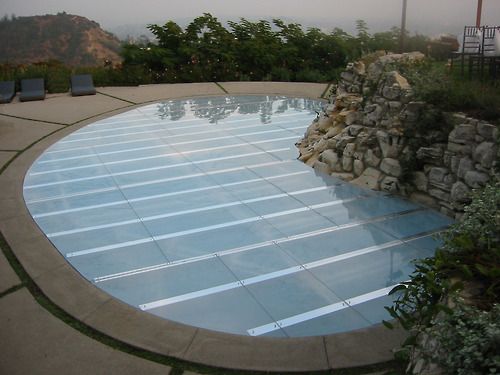 Don't leave them in place longer than necessary, and if possible, install a tent or find another way to protect the flooring from the weather, which will prolong its life.
When deciding where to install the dance floor, look for an area that is as flat and as level as possible. Installing the flooring on an uneven surface may make it difficult to get the tiles to connect correctly, and can place unnecessary stress on the tiles. It may also make the flooring itself uneven, and an uneven dance floor on grass can be dangerous for dancers.
You'll have the best results if you install the flooring over grass that has been mowed, since it will create a firmer, flatter surface than you'll have if you're working with grass that is longer. Placing a layer of plywood under any of these tiles will definitely help create a flatter, more stable and safer dance surface as well.
When it comes time to uninstall the flooring, try to do so when the flooring is thoroughly dry.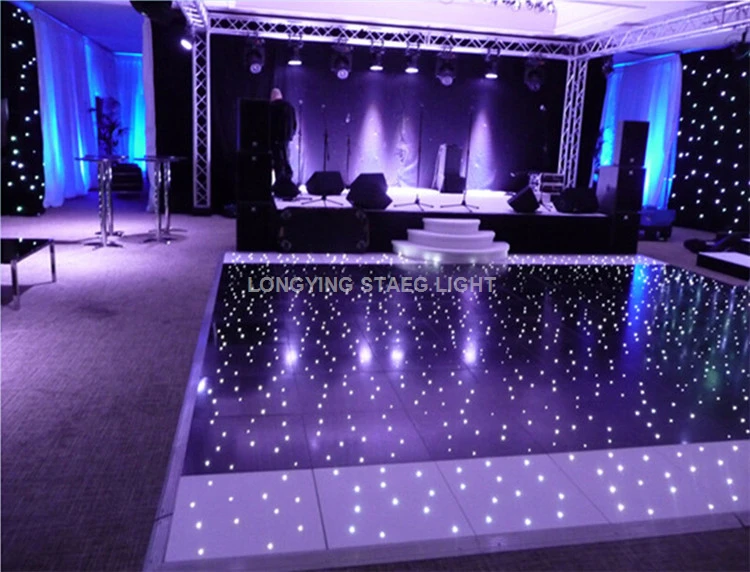 If the weather isn't cooperating, then dismantle the flooring and allow it to dry indoors before stacking it and storing it away in a closed space, like a closet.
Most of our dance flooring tiles are designed to be easy to clean, but be sure to review the specifications for the particular product that you purchase. In most cases, you can damp mop the floor with a household cleanser.
Please don't hesitate to contact our great customer service team if you have any questions as you explore our many outdoor dance floor options.
Club | Dance floor | Konyushennaya Square, 2 | St. Petersburg
All places in the city
Konyushennaya Square, 2
m. Gostiny Dvor
To show on the map
The owners of the Society of Clean Plates cafe and the Mishka bar, musician Kirill Ivanov and chef Alexander Berkovsky, opened a restaurant and a club in the same establishment.
Publication date: November 7, 2016
Content
The Mishka bar team opens the dance floor
A restaurant with an open kitchen, a bar, a dance floor and a private courtyard on Konyushennaya Square, 2
Project team "Dance floor"
Alexander Berkovsky, Kirill Ivanov, Valentin Kasimov, Maya Konstantinova, Vitaly Petrov
Bar-hopping: poetess Marina Katsuba hit all the hard
Over cocktails in 3 bars - nominees for the "What's Where to Eat in St. Petersburg" award - Marina spoke about the presentation of her debut album "Today", her favorite places and her fans.
Rules of life for the best restaurant teams in St. Petersburg
The nominees of the restaurant award "What's Where to Eat in St. Petersburg" give a master class in class - they teach you to feed, drink, make friends and, as they themselves call it, live in beauty.
Prokofiev's grandson about his attitude to the classics and his DJ sets in London
Gabriel Prokofiev will come to the Cultural Forum to arrange a live set for a DJ with a cellist.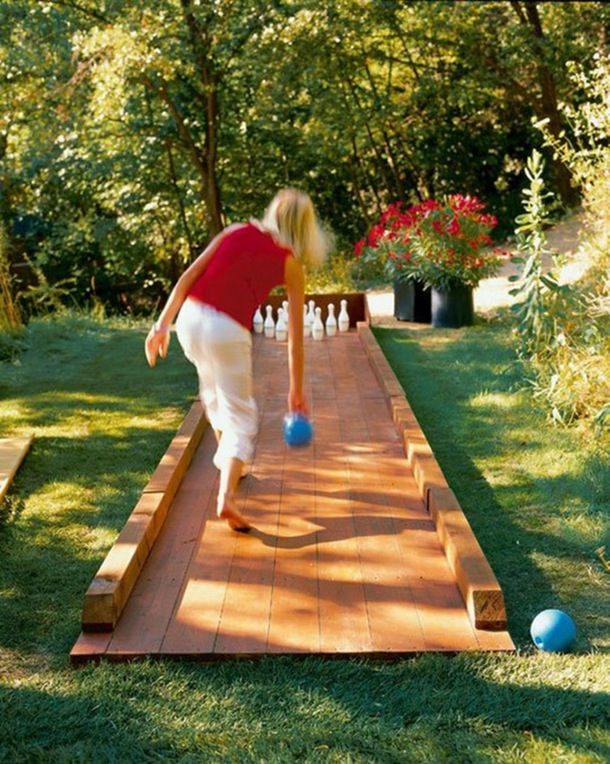 Party with Manfredas
Grisha Nelyubin, the thunderstorm of Moscow alcoholics, will be the second guest of the "Dance Floor".
Showcase Electronica Records
DJ sets will be performed by singer Luna, Muscovites Sasha Khizhnyakov and Cream Soda, as well as Pasha KSKY.
7 bars of St. Petersburg where guests of the city should be taken
We have collected calling cards of the drinking sights of the city.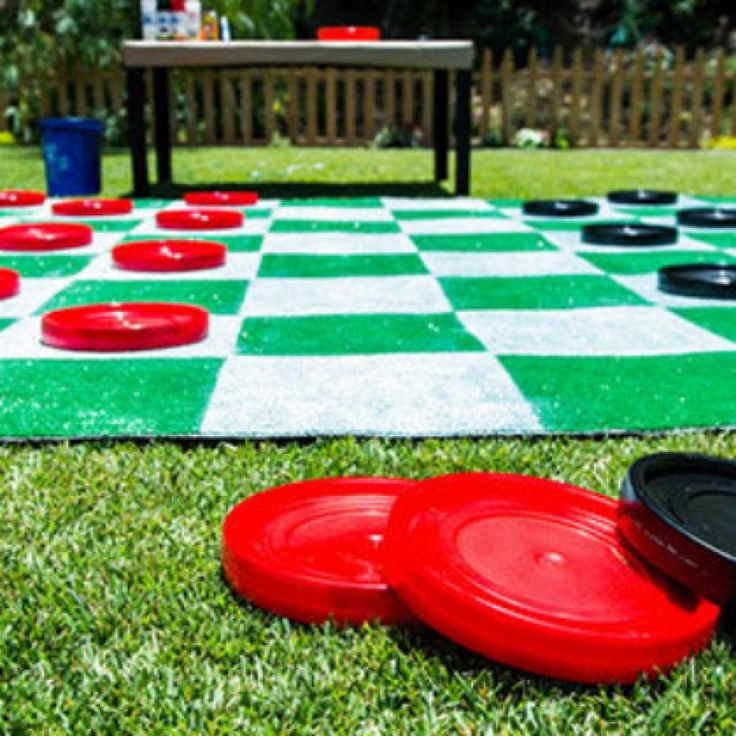 Who makes the Festival of Electronic Music and Urbanism Present Perfect?
PPF ideologists give a master class on how to make the main festival of urban culture in St. Petersburg, broadcast from which is hosted by the Boiler Room.
Beat Film Festival Documentary Film Festival Party
Showing one of the main hits "Give me a future" about the performance of Major Lazer in Cuba.
Dance floor in Podolsk — 33 places 📍 (addresses, reviews, prices, photos, rating)
– 33 seats
We've ranked 33 dance floor locations in Podolsk;
Best dance floor: real prices, reviews, photos;
Dance floor on the map: addresses, phone numbers, opening hours;
Best dance floor — rating, addresses and phones
25 reviews • Sverdlov, 36v • 8 (496) 754-41-39 • Sun-Thu from 10:00 to 00:00; Fri–Sat from 10:00 to 02:00

Borscht is great! 👍

18 reviews • Leningradskaya, 7 • 8 (496) 764-30-91 • Mon-Thu from 12:00 to 02:00; Fri–Sat from 12:00 to 06:00; Sun from 12:00 to 03:00

Seriously - an entertainment center? It's according to the documents. ))))))))))))) This is a market from the 90s, not an entertainment center. In other words, who has what ...

20 reviews • ₽₽₽ • Gottwald, 1 • 8 (496) 755-50-55 • Sun-Thu from 11:00 to 00:00; Fri–Sat from 11:00 to 06:00

Meridian tour - we are here for a decade, fun, in pajamas

14 reviews • ₽₽₽ • Moscow region, Simferopol highway 41 km, 1k4 • 8 (495) 598-57-17 • Sun-Thu from 14:00 to 02:00; Fri–Sat from 14:00 to 04:00

It used to be the most visited club in Podolsk and its surroundings. Many well-known good Moscow DJs come. The hookah is not very...

27 reviews • ₽ • Moscow, Znamya Oktyabrya pos, 32a • 8 (499) 553-83-33 • Sun-Thu from 11:00 to 00:00; Fri–Sat from 11:00 to 02:00

Yes . .. The service is getting worse ... We were with children, the children ate later than everyone else, since they cooked for a long time. I had to ask for a complaint book ....

24 reviews • ₽₽ • Klimovsk, School, 3 • 8 (499) 409-94-81 • daily from 12:00 to 04:00

I love this place for delicious food and reasonable prices. I've been to this place many times and it's always delicious. I especially like the hot appetizers from the chef…

5 reviews • ₽ • Marble, 2d • 8 (496) 769-46-46 • daily from 17:00 to 04:00

Closed until September.

6 reviews • ₽₽ • Kirova, 84 • 8 (496) 764-10-57 • Sun-Thu from 12:00 to 00:00; Fri–Sat from 12:00 to 02:00

Veal medallion and shrimp Caesar salad

6 reviews • ₽ • Klimovsk, Pobedy, 4a • 8 (915) 124-02-31 • Sun-Thu from 12:00 to 00:00; Fri–Sat from 12:00 to 02:00

Damn closed!!

5 reviews • ₽₽ • Chekhov, 6 • 8 (496) 754-37-37 • daily from 12:00 to 04:00

Too bad they changed the menu! Now there is no khinkali, and many dishes for which "Friday" was famous for.

7 reviews • ₽₽ • Moscow region, Krasnogvardeisky boulevard, 48v • 8 (496) 764-15-85 • Mon-Thu from 12:00 to 00:00; Fri from 11:00 to 05:00; Sat from 11:00 to 01:00; Sun from 12:00 to 01:00

Have not been here for two years, everything has changed for the better, I was especially pleased with the delicious barbecue and excellent service. I was also pleased with the summer veranda ...

6 reviews • ₽₽ • Gottwald, 6v • 8 (919) 101-10-10 • Sun-Thu from 12:00 to 00:00; Fri–Sat from 12:00 to 06:00

Soon the opening of a new institution in the very center of the city of Podolsk, here you can relax and light up in the interiors of exquisite luxury, in the style of…

5 reviews • ₽₽ • Mashinostroiteley, 3 • 8 (968) 759-01-50 • Sun-Thu from 12:00 to 02:00; Fri–Sat from 12:00 to 04:00

hat full

1 review • Moscow region, microdistrict Klimovsk, Pobedy street, 4A • 8 (985) 552-10-00 • Sun-Thu from 14:00 to 23:00; Fri–Sat from 14:00 to 02:00

Before visiting, please check with the organizers what "your people" are . .. if you do not live "according to concepts", then it is better to choose another place for ...

4 reviews • ₽₽ • Gottwald, 1 • 8 (926) 902-82-80 • daily from 06:00 to 03:00

This is Podolsk, baby!

₽₽ • Kirova, 39B • 8 (496) 763-75-02 • daily from 12:00 to 00:00

Fedorova, 19• 8 (496) 755-91-08 • Sun-Thu from 12:00 to 00:00; Fri–Sat from 12:00 to 02:00

Beautiful, mirrored banquet hall. Wonderful waterfront. Good outputs of dishes. When ordering a banquet from 60 people, a hotel room as a gift. 1900...

2 reviews • ₽ • Ulyanov, 1 • 8 (916) 514-40-04 • Sun-Thu from 11:00 to 23:00; Fri–Sat from 11:00 to 05:00

Good Russian cuisine, there is beer, prices are nowhere lower, you can even go to dinner every day!

142133, region Moscow, md. Grasshoppers, Boulevard of the 65th Anniversary of Victory, 7, building 1 • 8 (926) 826-61-68 • Mon-Thu from 10:00 to 19:00; Fri–Sun from 10:00 to 20:00

1. Multiroom is the best place for playing, relaxing, where to go with family and with a child of any age!!! The most unforgettable and unusual birthdays!!!…

4 reviews • Moscow region, Leningradsky proezd, 2 • 8 (929) 681-98-13

Reading the reviews that this is an eatery and not a cafe, let's be clear, there are TWO CAFE on the territory of the food plant, one of them is for children . ..

1 review • ₽₽ • Klimovsk, Youth, 8 • 8 (915) 099-11-09 • Sun-Thu from 12:00 to 00:00; Fri–Sat from 12:00 to 02:00

Cozy disco bar with music from the 80s. One of the two cafes where you can eat in the city.

1 review • ₽ • Mira, 4 • 8 (496) 754-07-66 • weekdays from 11:00 to 02:00; weekend from 16:00 to 04:00

Business lunch for 200 rubles.

₽₽ • Working, 5v • 8 (496) 763-83-37 • weekdays from 12:00 to 23:00; weekend from 12:00 to 01:00

₽₽ • Krasnogvardeisky Boulevard, 19• 8 (496) 764-08-52 • daily from 12:00 to 00:00

₽ • Marble, 2g • 8 (496) 763-91-57 • Mon-Thu from 11:00 to 02:00; Fri–Sun from 11:00 to 05:00

₽ • Marble, 2g • 8 (496) 763-91-57 • Mon-Thu from 11:00 to 02:00; Fri–Sat from 12:00 to 05:00; Sun from 12:00 to 02:00

Moscow region, Lobacheva street, 13 • 8 (925) 504-77-88 • weekdays from 08:00 to 22:00; Sat from 12:00 to 22:00; Sun from 12:00 to 20:00

Here you can have a hearty meal both alone and in the company of friends or family. If the aroma of freshly baked bread strives to arouse a strong appetite in you, ...

Moscow region, Klement Gottvalda street, 6B • 8 (926) 898-02-28 • daily from 09:00 to 23:00

New quest from Quest Runners, which opened in September 2021 Continuation of the famous quests "Yucatan" and "Apocalypse 2012". Quest plot...

1 review • Klimovsk, Lenina, 1 • 8 (903) 666-64-63 • Sun-Thu from 12:00 to 00:00; Fri–Sat from 12:00 to 04:00

A good establishment is a self-service cafe with a very interesting interior. The food is very tasty. The prices are very cheap. Perfect place…

₽ • Oktyabrsky prospect, 3k2 • 8 (926) 588-92-43 • daily from 12:00 to 00:00

₽₽ • Bolshaya Serpukhovskaya, 25as1 • 8 (496) 758-32-38 • Mon-Thu from 12:00 to 02:00; Fri from 12:00 to 03:00; Sat from 15:00 to 03:00; Sun from 15:00 to 02:00

1 review • Moscow region, Lenina avenue, 107/49• 8 (496) 750-59-59 • daily from 18:00 to 06:00

Good day. I want to notify you about the disgusting service, or rather its absence, in karaoke at the address: Podolsk, Lenina. I visited this...

142100, Revolutionary Avenue 27 • 8 (926) 219-34-15

If you want to learn how to dance, control your body and enjoy movement and music, improve your posture and mood, we are waiting for you and…
Inquiry to institutions - order a service, check the price
Send a request - receive all offers by mail:
Don't want to call a bunch of establishments?
Dance floor in Podolsk - prices
06. 03.2021 Olga: What is the price? Minimum order?

Cafe Bar Own People: 1000 rubles per person, pre-book tables by phone <...>

Multiroom: Good afternoon. The price of a game visit is 450 rubles per hour, 600 rubles. in 90 minutes. Birthdays - from 7000 rub. Graduation - from 20000r.

Restaurant Avenue: Hello, 2300 rubles / person for a banquet.

Entertainment complex PODMOSKOVIE: Hello! Entrance costs 300 rubles, table deposit 1000 rubles / person)

Restaurant Bylina: Good evening!!! See what event. .. You can just come, place an order, no amount limit

05/19/2019 Tatiana: Where can you dance in Podolsk now on Sunday?

Treasure Island Entertainment Center: Good afternoon! In Podolsk, there is the Treasure Island Entertainment Complex, which has a nightclub with a dance floor, a bar, karaoke, bowling, and billiards. On weekdays, the Republic of Kazakhstan is open until 02.00, on Fri, Sat until 06.00, on Sun until 03.00. Address: Podolsk, Leningradskaya st., 7
Dance floor
You can relax from the heart after working days and have fun to the fullest in one of the Podolsk nightclubs with a dance floor.

A variety of music, celebrity concerts and a rich cocktail list attract party and dance lovers. Connoisseurs of incendiary sets of famous DJs or live music will easily choose the right place with a dance floor for themselves.
Vacationers can dance to the music of various styles:
techno
house
pop
retro
latina and more.
Some clubs and bars/restaurants with a dance floor are free to enter but have face control. Before you go to a party, you should find out if there is a dress code in the chosen club. To visit the dance floor, you will need to choose the right outfit: a cocktail dress or evening casual clothes.
Drive, great mood, fun dancing to stylish music - a great pastime for outdoor enthusiasts in a great company of friends. In many clubs, night parties start after midnight, but sometimes bars open their doors to visitors after 22:00. It is recommended to familiarize yourself with the poster in advance in order to clarify which musical program or theme party awaits you, as well as to find out in advance about the performance of famous DJs in Podolsk.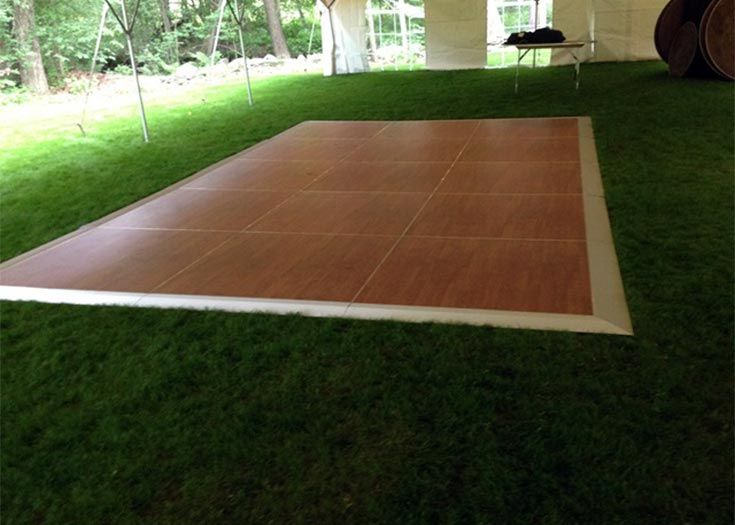 Interesting facts
Most often, people are looking for "dance floor", but there are other formulations, for example:
where to dance
where to dance
The most popular features of the places found are: catering, breakfast, quests for children, meat, pancakes, European cuisine, Lenten food, Japanese cuisine, homemade food, Italian cuisine.
Dance floor (abbreviated as dance floor) - this was the name of the place where discos and evenings of rest were held in Soviet times.
As a rule, the dance floor was a small piece of land, enclosed by a fence, inside there could be a small stage on which the equipment was placed. Depending on the popularity of the dance floor, VIA or instrumental ensembles could perform on the stage, but in most cases, phonograms sounded on the dance floors.