How to dress up for bharatanatyam dance
Bharatanatyam Costumes for Men and Women
The costumes of Bharatanatyam dance are one of the most elegant forms of dresses which adds to the beauty of the dance and represents the culture and tradition of India. Before we jump into various types of Bharatanatyam dance costumes, let's take a quick look at Bharatanatyam dance form.
Bharatanatyam is an age-old dance form that speaks stories of the mythologies. It was initially performed in the temples and the courts of the king and later became popular in South India.
Jump to Section
Bharatanatyam Costumes History
Common Forms of Bharatanatyam Costumes
Bharatanatyam Ankle Bells
Jewellery in Bharatanatyam Costume
Bharatanatyam Makeup
Summary
The costumes of Bharatanatyam are the various clothing and accessories which are worn by a dancer. Any costume for dance is often specially made with proper customization. The right costumes help make the movements of the dance easier and more comfortable to wear during dance performances.
It also helps to bring out the aesthetic beauty of the dancer which the choreographer wants to show through the dancer's moves.
Bharatanatyam Costumes
History
The costumes of Bharatanatyam are one of the most elegant forms of dresses. Not only does it add to the beauty of the dance, it also represents the culture and tradition of India. The Bharatanatyam dress worn in the king's courts did not cover most of the parts of the women's body. The transformation in the dancer's costumes happened in the nineteenth and twentieth centuries under the influence of Marie Camargo.
The costume or dress of the Bharatanatyam dance form usually represents the costume a bride wears in Tamil Nadu. Bharatanatyam was said to even have been performed as a part of the Devadasi dance form whereby women as servants used to perform the dance to please their masters. During their occasional performances in the King's courts, they used to wear the costumes of Bharatanatyam.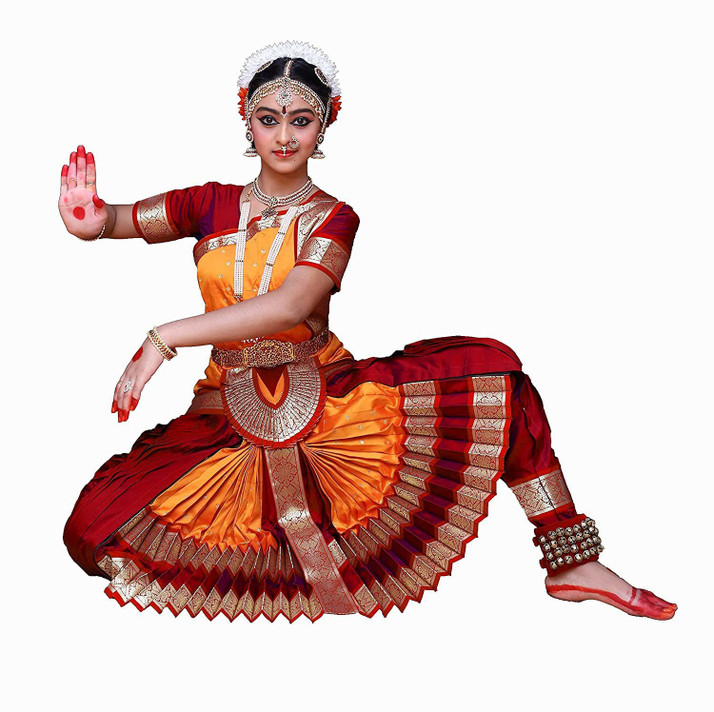 Common Forms of Bharatanatyam Costumes
BHARATANATYAM DRESS OF WOMEN
Bharatanatyam costume for women
The two most popular Bharatanatyam costumes are in the skirt style and in the style of pyjama style. The material of the Bharatanatyam sarees is made of silk and is emphasised with the golden "zari" works. The pleats which are present in these costumes give a marvellous look. Furthermore, embroideries depict the various mythological happenings in the Indian historical past.
These clothes are both beautiful and comfortable to wear as the dancer otherwise would face hardships to perform the dancing steps. The dancing dress is beautiful so as to enhance the beauty of the dance during a performance. The small piece of cloth which tends to cover the blouse and upper portion of the women's body known as the 'choli' tends to be of the same colour as that of the dress worn by the women during the performance.
How to wear a Bharatanatyam costume
BHARATANATYAM DRESS WORN BY MEN
Bharatanatyam costume for men
The men's dress is quite simplistic for the Bharatanatyam dance whereby a pleated dhoti covers the lower portion of the body. These pleats enrich the dance moves and their beauty. On the other hand, only a few pieces of jewellery cover the upper portion of the body. There is an absence of clothing material for the upper portion of the men's body.
Bharatanatyam Ankle Bells
The ankles bells are integral part of Bharatanatyam costume. The Bharatanatyam dance requires essentially the bells which are worn both by the men and the women in their dance. This helps the dancers keep a proper rhythm of their leg movements with the 'Tala' sounds. These dancers are judged by the sounds of their ankle bells, which must move according to the music and keep track of the footwork of the dancer in Bharatanatyam dance.
They begin by wearing a two-row bell and then a three-row bell. However, the number of rows increase as the dancer keeps getting better.
Dancers consider these ankle bells sacred and the teacher instructs him or her to always respect their ankle bells and keep them with care. These ankle bells also add to the beauty and music of the dance. Furthermore, the sound of these bells adds to the sense of rhythm, thus, making the audience feel good.
Jewellery in Bharatanatyam Costume
There is an extravagance of jewellery which enhances the beauty to this costume and specific names are given to the various pieces of jewellery which are worn by the Bharatanatyam dancers.
"Temple Jewllery' refers to all these pieces of jewellery collectively. This constitutes the bangles, the necklaces as well as the wristlets.
The Bharatanatyam dance costume also requires the wearing of the buns and the making of plaits. The bun on the upper portion of the plaits is decorated with flowers and the forehead is decorated with that of the 'tika' and the 'dot'.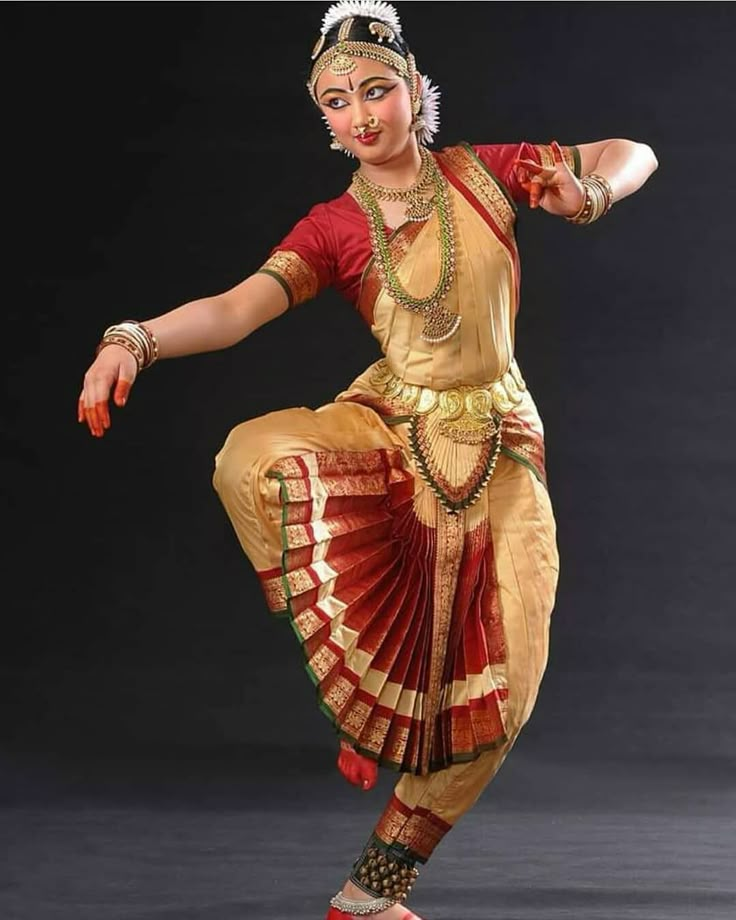 There is also an important headpiece called the 'Thalaisaman' and dancers also wear the 'Chandrasuryam'.
Bharatanatyam jewellery includes the earrings and the neckpiece which adds to the attractiveness of the dance form. Peacock and the floral motifs, as well as red and green pearls, cover the neckpiece. On the upper portion of both the arms, they tie 'Venkies' and a long snake-like ornament decorates the plaits.
Bharatanatyam Makeup
Make-up is one of the most distinct aspect of Bharatanatyam costume. Dancers use make-up to make the eyes prominent so that the dancer's eye movements are noticeable. In addition, they also wear red dies on the tips of their fingers and toes to add beauty while dancing. These dances help connect the dancer to the viewer and attract them to the dance form.
Bharatanatyam makeup step by step
Summary
The dance forms remain incomplete without a proper costume which represents the specific form of dance.
The dance costume of Bharatanatyam is important to represent the culture and tradition of the dance form and to enhance the beauty of the movements of the hands, legs, expressions and also the body positions in this dance form.
This beautiful dance form is enriched with the extravagant and gorgeous costumes, the makeups, the jewellery and the ankle bells which form a part and parcel in this form of dance.
To learn more about Bharatanatyam, visit learn Bharatanatyam online
How To Wear A Bharatanatyam Dress
//
By
Kendra
//
Bharatanatyam is a popular Indian classical dance form that is often performed at temple festivals and other religious occasions. The dance is characterized by its graceful and fluid movements, as well as the colorful and ornate costumes worn by the dancers. If you're interested in learning how to wear a Bharatanatyam dress, here is a step-by-step guide.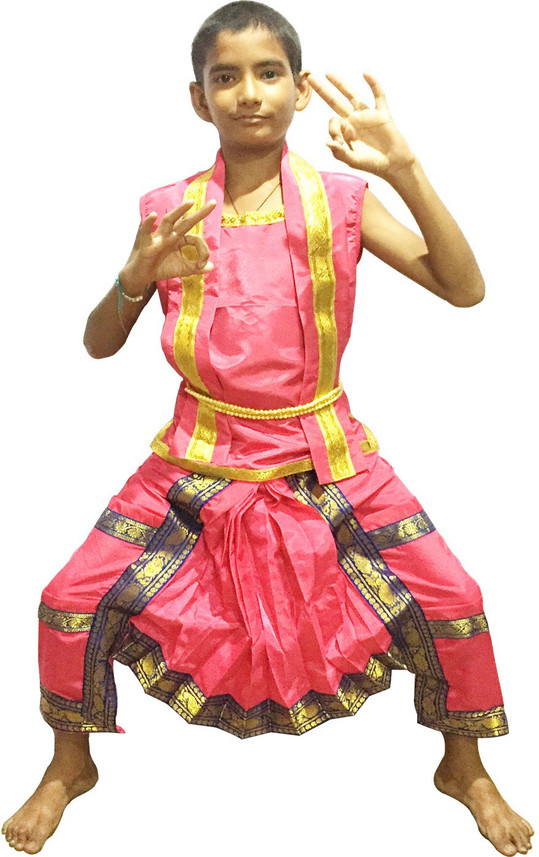 The first step is to choose the right type of Bharatanatyam dress. There are two main types of dresses worn in this dance form: the ghagra choli and the half saree. The ghagra choli is a two-piece outfit that consists of a long, flowing skirt and a cropped top. The half saree is a single piece of cloth that is draped around the body in a specific way. Once you've chosen the right type of dress, the next step is to put it on. If you're wearing a ghagra choli, put on the skirt first and then the top. If you're wearing a half saree, drape the cloth around your body and then tuck it in at the waist. Once you have your dress on, the next step is to add the finishing touches. These include the bindi, which is worn on the forehead, and the kohl, which is worn around the eyes. You may also want to wear bangles and other jewelry to complete the look. Now that you know how to wear a Bharatanatyam dress, you're ready to hit the dance floor!
The classical dance form Bharatanatyam originated in Tamil Nadu, India.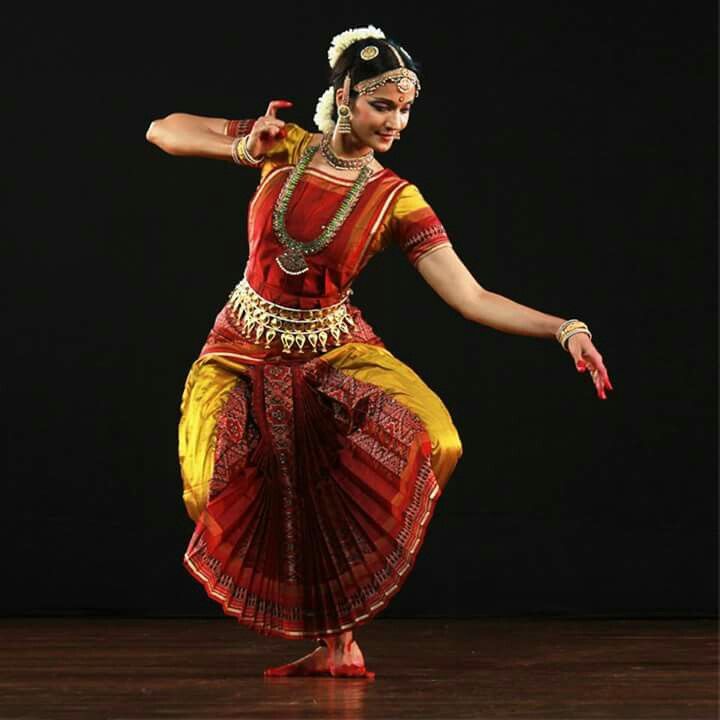 The Natya Shastra is a 2,500-year-old Indian arts and culture book that outlines the rules of performing arts. The dancers' costumes are made from silk and have zari embroidery on them. Step 2: Put your hair into a curling iron and further cut it to the top of your head (see picture). The third step is the hair. Makeup for eyes Her eye makeup is the most important aspect of her overall look. Because of their expressive nature, the eyes must be properly highlighted during the dance.
Bindi's come in a variety of shapes and sizes so choose one that's just right for your face. Paint a circle in the center of your palm with an earbud and fill in the colors at the tip of your fingers. To ensure that the Mala remains in place during the dance, the safety pins are attached to the Pallu from the reverse side. To tighten the hair, use hairpins.
What Should I Wear For Bharatanatyam?
Source: pinimg.com
Bharatanatyam is a classical Indian dance that is usually performed by females.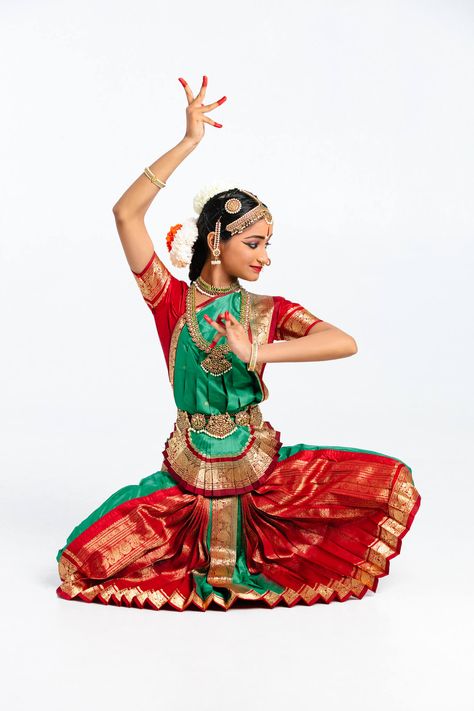 The costume for this dance form is very colorful and traditionally includes a lot of gold jewelry. The most important part of the Bharatanatyam costume is the saree, which is a long piece of cloth that is wrapped around the body. The saree is usually made of silk and is decorated with a lot of intricate designs.
Bharatanatyam costumes are constructed with stitched embroidery featuring various religious motifs and designs. The zari work is embroidered with beautiful designs and motifs on the sari, resulting in a stunning look for the dance. The fan was enthralled by the dancer's movements, even as he performed a variety of moves. Ankle bells are essential in Bharatanatyam dance. Dancers wear them with caution, as they are considered sacred objects and are often worshipped on special occasions. Dancers' faces should be painted to highlight the theme of the dance. Darkening and extending the eyebrows can be done with heavy lines drawn around the eyes.
Why Bharatanatyam Is The Best Workout For Your Mind And Body
Dance is an excellent way to keep your heart healthy while also improving your overall fitness.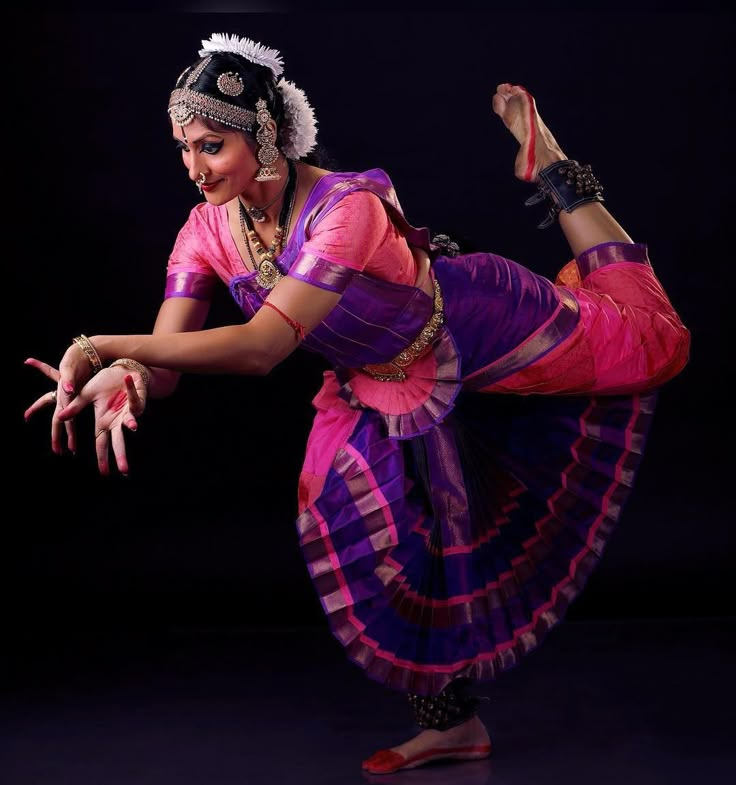 Bharatanatyam requires a lot of energy to complete complex movements and jumps, which can help you lose weight and keep it off. Bharatanatyam also benefits your mental health in addition to having a number of mind-beneficial benefits.
What Do Bharatanatyam Dancers Wear On Their Feet?
To enhance the rhythmical sound of dancers' feet, it is a type of anklet that is tied across their calves in India. A Ghungroo is a traditional and essential component of many distinct Indian classical dances, and it is recognized by the Sangeet Natak Akademi Bharatanatyam of Tamil Nadu. Kaatk is an Indian who lives in Uttar Pradesh. This is K.athakali, a native of Kerala. Kuchipudi comes from Andhra Pradesh, India. The origins of the Indian classical dance known as 'Kathak' are thought to be through traveling bards, also known as 'Kathakars' or 'Kathavadis.' A Sanskrit term for story, which derives from Vedic terms Katha and Kandhal, which mean "one who tells stories or does so with stories.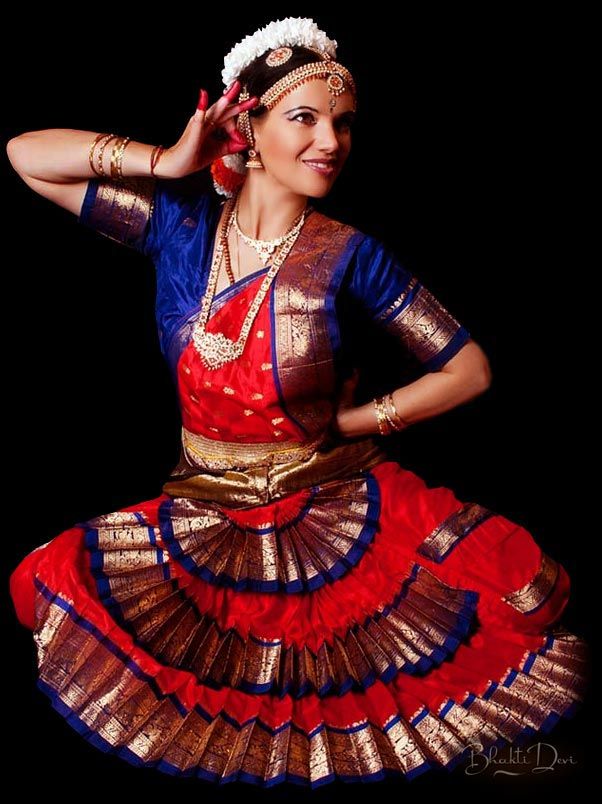 " https://en.wikipedia.org/w/… Kuchipudi was a religious art associated with traveling bards, temples, and religious beliefs, just as all major classical Indian dances are.https://en.wikipedia.org/w/?p=KukchiudiKuchipudi
GhungRoos are an Indian women's favorite accessory. They are worn above the ankle, resting on the lateral malleolus and the medial malleolus. Ghungroo strings can be made up of as many as 50 to 200 bells strung together. Anklets are worn by people who are married in order to show their status in the world. Most Indian women do not wear gold anklets because they prefer silver. Because gold is the metal of the gods, it is not permitted to be touched. Wearing gold anklets is disrespectful to those who work hard for it. A rhythmic element in the dance is achieved by using anklets to add a new layer of complexity to complex footwork. Women who are married or in a romantic relationship wear them as part of traditional Indian dance. The anklets represent devotion and respect for their loved ones.
Ghungroo: The Musical Anklet Of India
Ghungroo, which are anklets worn by dancers in India to improve the volume of the foot's rhythmical sound, are frequently used to reinforce the foot's rhythm. Ghungroos are a major component of many different types of Indian classical dance, including Bharatanatyam, Odissi, and Kuchipudi. My research has revealed that the Himalaya dancers have pronated feet. When the foot flips outward,pronation occurs. In traditional Indian dance, the dancer's feet are usually tapped as the music plays, which explains this. As a result of this repetitive motion, the foot may pronate or inward turn. A ghungro is also known as a ghunghroo or ghunghru in Bengali and other languages, or ghungur or ghungura in Assamese and many other languages, or Chilanka or salangai or Gejje in Hindi, Tamil, and Ghungroos are traditional Indian folk clothing worn by dancers in a variety of styles, including the popular Kanyakumari, Bharatanatyam, Odissi, and Kuchipudi.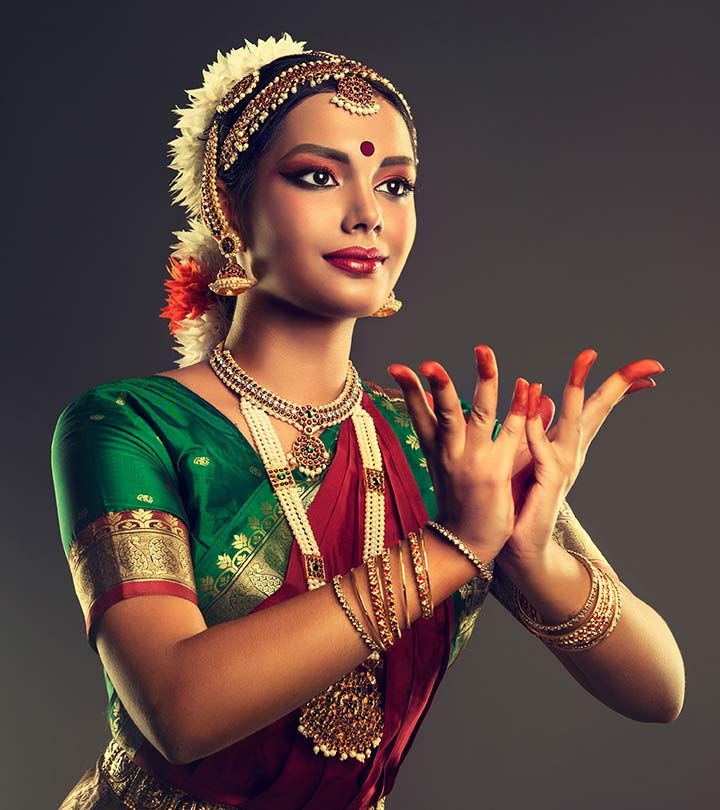 It is unclear whether bharatanatyam dancers have flat feet, but it is widely assumed that they do because they have to tap their feet on an almost daily basis. This action can cause an arch change in the medial longitudinal region, which can result in flat feet. Many foot and ankle problems can occur when performing Bharatanatyam because the dance is extremely hard on the feet.
Bharatanatyam Dress Online
Bharatanatyam is a popular Indian classical dance form that is typically performed in a traditional South Indian costume called a "dhoti." The dhoti is a long piece of cloth that is wrapped around the waist and legs. Bharatanatyam dancers also wear a blouse and a scarf-like piece of cloth called a "pattu" that is draped over the shoulder.
Bharatanatyam Dance Dress Introduction
Bharatanatyam is a popular Indian classical dance form that originated in the state of Tamil Nadu. The dance is characterized by its graceful and elegant movements, and its rich and vibrant costumes.
The bharatanatyam dance dress is typically a brightly-colored, embroidered sari worn by the dancer. The sari is draped around the body in a specific way, and the dancer often wears traditional jewelry to complete the look.
In addition to costumes, make-up, and accessories, traditional classical dance costumes must be accompanied by proper clothing. It's a good idea to wear costumes and get up if you want to broaden your understanding of not only the dance style, but also the region where it takes place. We'll take a closer look at some of the most famous classical Indian dance forms and their distinct attires and physical appearance. The Hindu Kathak dancer wears either a sari or a long full skirt, one of which reaches the ankles, depending on the color of the outfit. The Muslim costume includes a long skirt as well as a close fitting churidar on the legs. The make-up code is used to indicate the type of character the dancers are portraying. Historically, Kuchipudi has been performed by male dancers from Andhra Pradesh.
In contrast to the male dancers, who wore a pleated dhoti in front, the female dancers wore a sari with light make-up. This dance form, which originated in Assam, has evolved over time in terms of costume. A mask, also known as a mukha, is worn by the dancers in ankiya naats. A dhoti and a chadar are the male costumes, whereas a ghuri, chadr, and waist cloth known as kanchi are the female costumes. The Kumil costume, which is worn by Manipuri dancers in their traditional Manipuri dance form, is worn by the dancer as a Manipuri bride.
Bharatanatyam: A Celebration Of Indian Culture And Tradition
Classical Indian dance is frequently performed to music and is regarded as one of the most graceful and beautiful forms of dance. Dancers wear elaborate gold zari embroidery designs on their traditional dance costumes made of silk. The sarees are typically worn with a skirt or a pyjama-style top, and the dancers frequently bare their upper bodies during performances.
The costumes worn in Bharatanatyam are important because they represent the culture and tradition of the dance form while also enhancing the beauty of the movements of the hands, legs, expressions, and body positions.
About author
Kendra
My name is Kendra and I'm a fashion obsessed, city lovin' girl. I am a freelance writer and contributing writer for typeF, MTV FORA, Huffington Post Style, Golden Girl Finance, and frockOn. I love pancakes, New York City, thrifting, and bulldogs.
Dancewear | Useful articles and tips from the 🕺dance studio - Under Stand (Anderstend)💃 in Voronezh.
When you come to the ballroom, it is important to dress correctly. Not just beautiful, but right. And not because they are greeted by clothes, but because each type of dance requires appropriate equipment - comfortable, suitable for a particular type of movement, and also reflecting the unique style of dance. In this article we will tell you how to dress if you are dancing.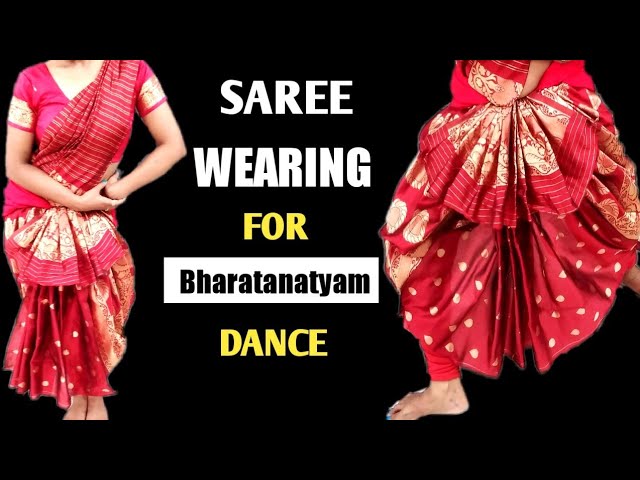 ..
Clothing for this bright dynamic dance should be comfortable and not restrict movement. Lockers often wear wide trousers or comfortable stretchy jeans, leggings, loose T-shirts, shirts, trowels. Hats, caps - any attributes of lockers. If you are not yet ready for such a bright "suit", stop for now on comfortable sweatpants, a T-shirt or T-shirt, sneakers or sneakers. nine0003
---
Traditionally, poppers dress in a rather formal style: they wear strict (but rather loose shirts), jackets, shoes and hats. However, finding such extravagant outfits for everyday training is not so easy, because more and more often dancers can be seen in simple, wide clothes, without deliberate formality, in sneakers or sneakers.
---
House is a trendy club dance, so clothes for it should not only be comfortable, but also reflect fashion trends. It is not surprising that the dancers wear tight pants, then wide ones. In addition, house is a dance of communication with those who are close to you.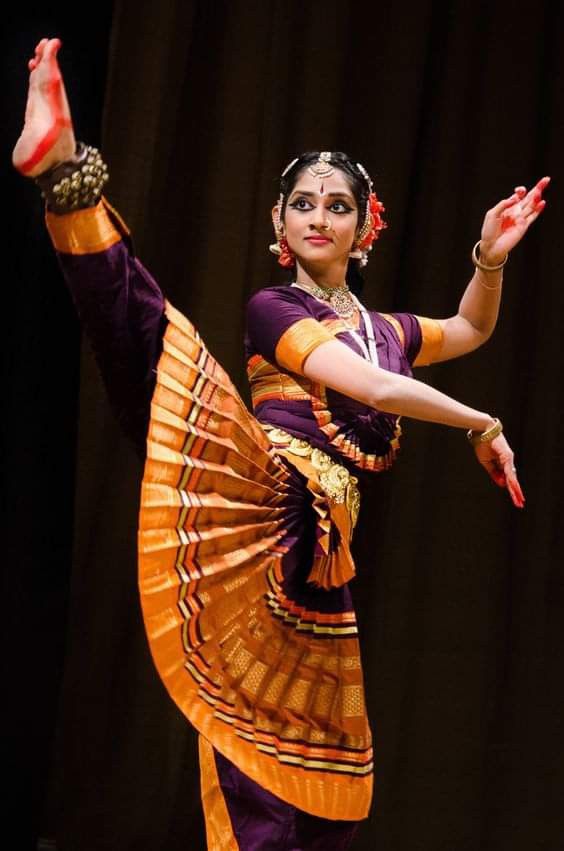 In clothes for house you should be comfortable and cozy, you should feel confident and neat. nine0003
---
Hip-hop is a very democratic dance: perhaps any loose clothing is suitable for it. Sweatpants, T-shirts, caps (optional!), soft comfortable sneakers. And, of course, do not forget about knee pads that protect against injuries - this may sometimes be required (on the recommendation of the trainer).
---
Graceful girls dancing this dance prefer shoes with high stable heels, as well as light-fitting (and a little spicy) clothes made of elastic fabrics that do not restrict movement (these can be shorts, trousers, leggings - what you will be comfortable). To start classes, sneakers or light sneakers are suitable for you. nine0003
---
Clothing for Contemporary, this plastic and emotional dance, should be as comfortable as possible: as a rule, these are elastic suits (trousers, shorts, T-shirts, leggings). The dance is performed barefoot or in socks.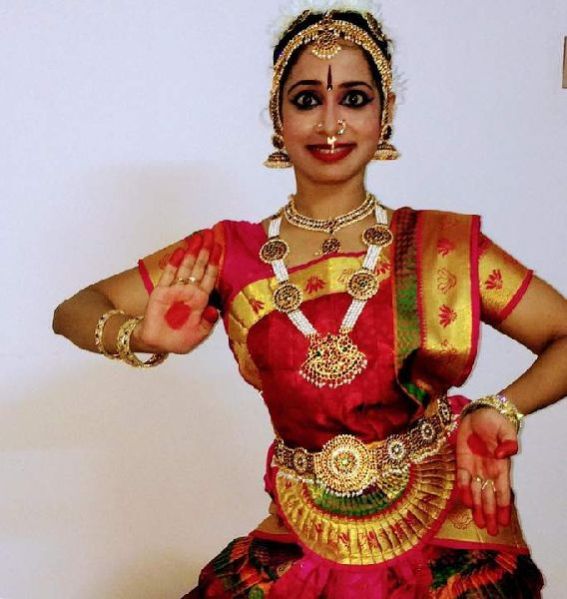 ---
Attire for Latin dances is usually a mid-length dress or skirt with wide, flowing edges, shoes with low heels. Of course, comfortable shorts, trousers or leggings are also suitable for training! nine0003
---
All staged dance directions require maximum comfort from clothing. Lightness and freedom of movement is the main thing to look for in dancewear. In directions with staged choreography, much attention is paid to the self-awareness of the dancer - he must feel in the dance as if on stage - brightly, confidently. In jazz funk, it's even extravagant. You can experiment with outfits. Once you find yours, you will feel it!
---
Dancehall is a social Jamaican dance, so the clothes in the class should create a feeling of summer and warmth. Dancehall dancers often wear bright t-shirts, t-shirts (often both at the same time and preferably in different colors!). Multi-colored leggings and shorts of various styles - the main thing is to create an image!
---
Vogue dancers usually like to try on different outfits, experiment, surprise and even shock.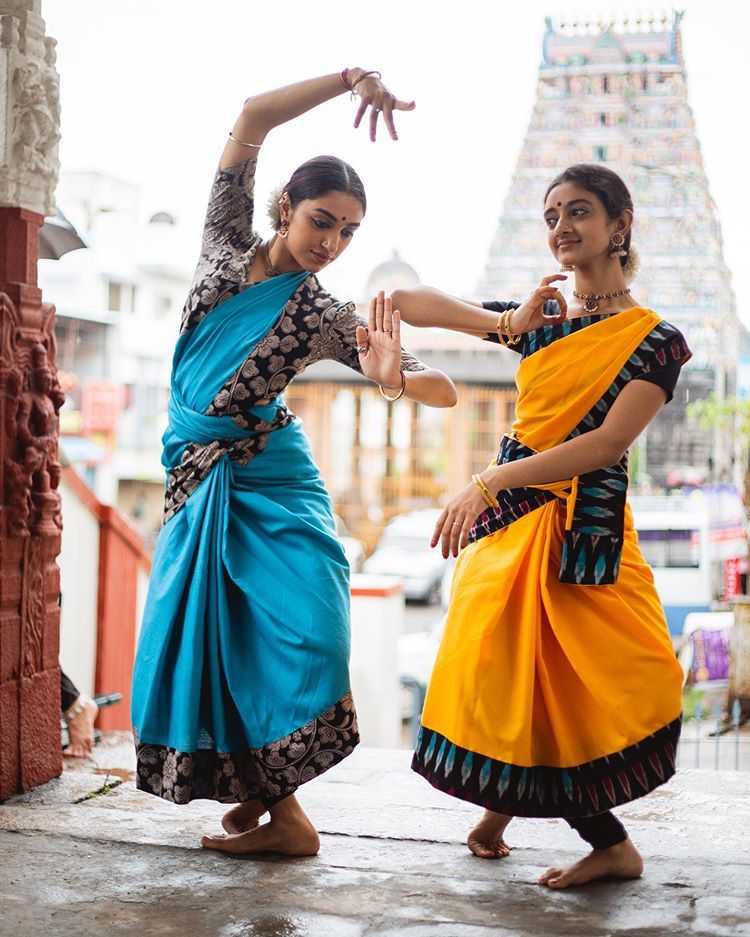 Any of your fantasies can be realized in training or at Vogue balls! Style is about vogue. nine0003
---
Waacking is a bright style, memorable for its presentation and imagery. Each workout is an opportunity for self-expression, including with the help of a suit! Dresses, jumpsuits, shorts, skirts - you can change each session. If all this is complemented by neat low-heeled shoes, you are already ready for the stage. 😉
---
Breaking is a very energy-intensive, technically complex style. It is very important for a dancer to take care of comfortable training clothes. We advise you not to wear clothes with large metal or plastic elements (locks, buttons on clothes) and remove accessories (bracelets, rings on your hands) - everything can interfere with you. Comfortable sportswear, sneakers or sneakers, knee pads - everything you need for training. Also, the trainer may advise you to purchase a hat (when you move on to learning elements using the head =).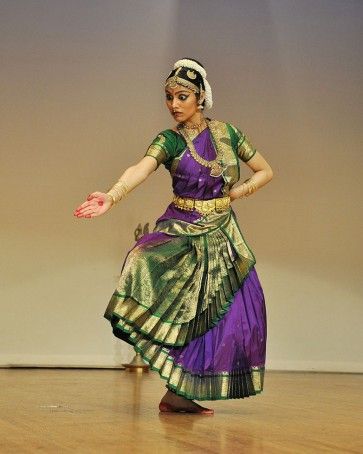 nine0003
---
The style that originated in hot Africa requires powerful energy inputs from the dancer: you will dance to rhythmic and very energizing music. We advise you to wear comfortable sportswear and shoes. You can even take a spare training t-shirt!
---
A dance that should help the dancer find his individual style and express himself in movement. Whatever helps you in this, you should use. Your image is included. Comfortable and suitable clothes for you - plus a fad to your confidence in training. nine0003
---
Non-dance directions involve active physical activity during the class. You will need comfortable leggings or sweatpants, a T-shirt or a trowel, comfortable shoes (for functional), socks for stretching, yoga stretching and classics. If you want to use your own yoga and stretching mat, you can bring it with you, but be aware that the studio has mats, blocks, straps - the necessary equipment for training.
Author: Karina Morkotenko
More articles:
How to choose dance clothes
You signed up for dance lessons and now you do not know what clothes to choose - too much of everything? Keep in mind that the clothes you wear to class will depend on which dance style you choose.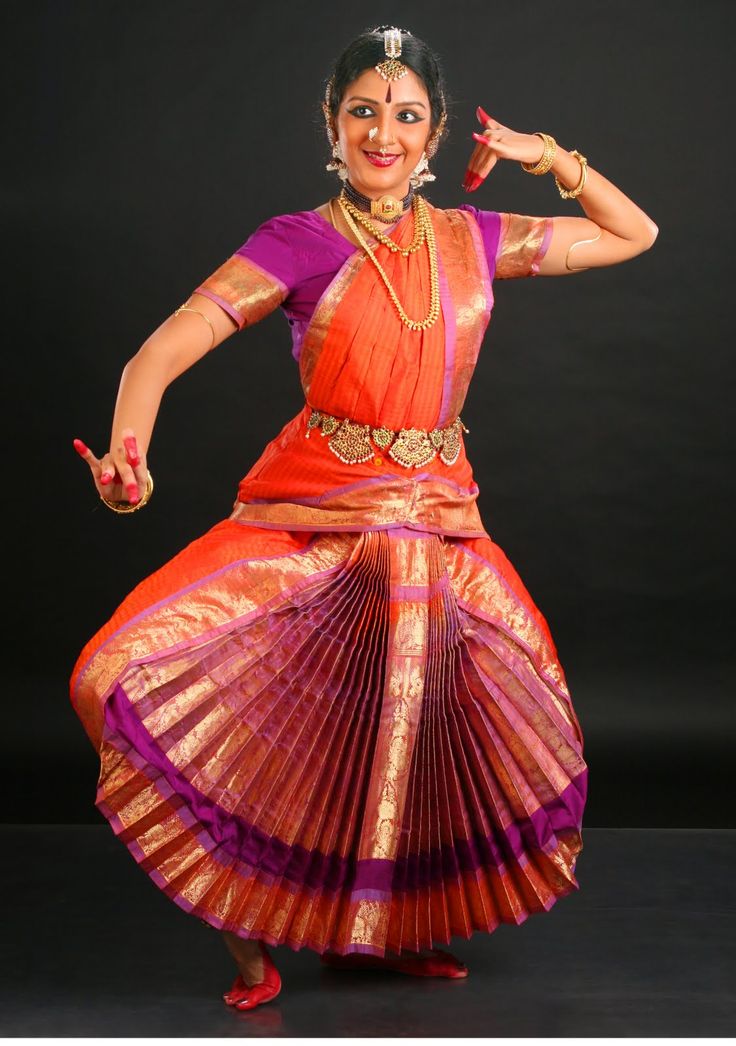 We'll help you figure it out.
Ballet is a discipline characterized by rigor, clarity of position, but also elegance. The clothing you choose should reflect these characteristics. Some dance schools may require you to wear a specific color. If there are no such conditions, then pastel colors or black are the norm. nine0003
But it's not just the color that matters. Your ballet outfit should fit your body well so that your teacher can see your movements and help you correct mistakes. This will allow you to perfect each of your positions without getting distracted.
The basic ballet costume includes: a leotard (plain or with a skirt) and tights (preferably made of microfiber so that they last longer). Depending on your level, you may also need shoes, ballet flats or pointe shoes. For the latter, you can choose between more durable leather or satin. And finally, in winter, in order not to freeze during rehearsals, get yourself a bolero and leggings that will keep your muscles warm.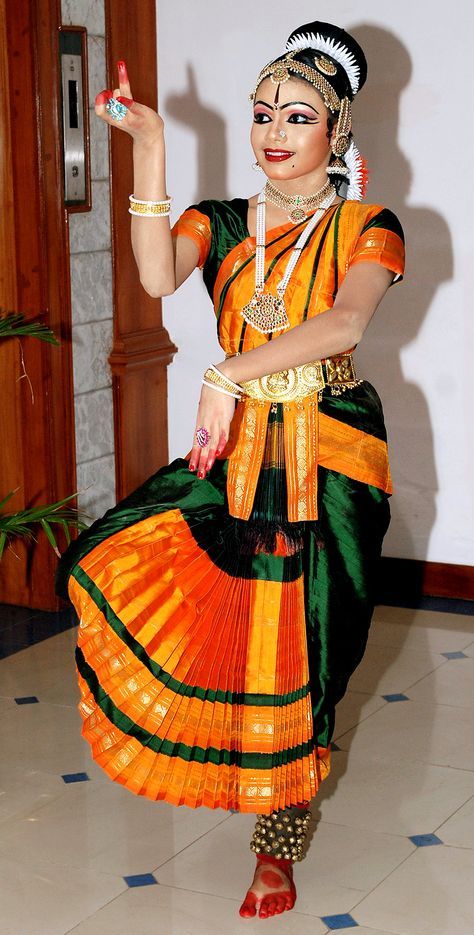 nine0003
Buy a special hair kit for a practical and elegant ballerina-like bun. She will accentuate your outfit and create an elegant image of a prima ballerina!
Modern dance is influenced by a variety of influences and is a mixture of different dances, from jazz to ballet, as well as urban and even traditional dance. So there are no special rules here. However, you should choose clothes that you will feel comfortable in and that will not interfere with your various movements in the dance. For example, loose-fitting, loose-fitting clothing will give you complete freedom of movement. nine0003
The basic set of clothes for modern dance includes a bottom (pants, leggings or shorts), usually in a tight-fitting cut and black. What to wear on top, choose for yourself: what style and style suit you and allow you to move smoothly.
As for shoes, it is very important to feel the floor while dancing, but without pain. Therefore, we recommend you soft comfortable shoes for dancing.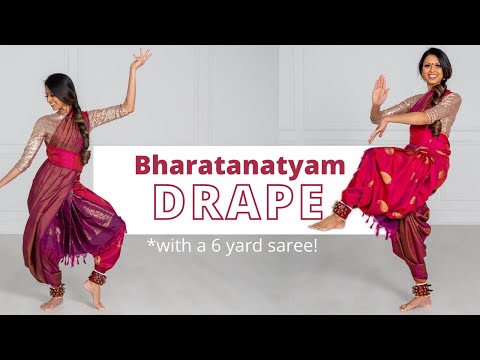 If you have weak knees, we recommend training with dance knee pads to prevent injury. nine0003
Street Dance (Street Dance) - street, or city, dance includes wide sharp movements, a series of long, quick steps and tricks on the floor. The concept of style is very important if you want to truly fit into this world. If you are part of a dance troupe or team, a dress code may be recommended. Finally, as with other types of dance, your clothes should be comfortable and flowing.
The main rule is to let your imagination run wild and come up with your own image! The most practical, in our opinion, would be this option: put on baggy trousers, wide leg pants or harem trousers. Loose clothing will allow you to perform all the moves and acrobatics, associating them with the hip-hop style. nine0003
There are no rules for the top of the image. Choose what makes you feel at ease. From shoes, as a rule, comfortable and stylish sneakers are suitable.