How to dress for swing dancing
What to Wear to Swing Dance: An Introduction for Beginners
People tend to picture men wearing bright suits and women wearing poodle skirts when they think of swing dancing. 
However, swing dance does not typically have a firm dress code.
The primary consideration is your comfort. 
Swing dancing involves a lot of flips, kicks, and spins. 
Wearing certain types of shoes or clothing may restrict your movement or increase the risk of an accident.
Here are a few tips to help you select the proper attire for swing dancing.
Table Of Contents
Avoid Wearing High Heels
Wear Leather Soles 
Dress Casual for Dance Lessons
Dress up for Evening Dances
Ladies Black and White Oxford Swing Dance Shoes
Conclusion
Note: We hope you love our articles! Just so you know, as an Amazon Associate, we earn from qualifying purchases.
Thank you if you use our links; we really appreciate it!
Avoid Wearing High Heels
High heels force your weight forward on the toes, which can lead to increased foot pain and discomfort, especially after a long dance session. 
Choosing a higher heel also minimizes control over the placement of your feet when twirling or spinning.
Wear flat soles to avoid falling during swift movements. However, you should avoid wearing sandals or slippers. 
You do not want your partner to crush your feet accidentally. 
If you must wear heels, choose a medium heel with a thick base.
Wear Leather Soles 
862 Reviews
Capezio Jr. Footlight T-Strap Black Dance Shoe - 9 M US
Nappa PU leather upper and Scored leather sole
Moisture absorbent microfiber lining, Foam padded footbed, Achilles notch for comfort, Folded edges, and Slightly...
Closed toe and sides with a Leather buckle
Last update on 2022-11-03 /Affiliate Links / Source: Amazon
Men and women should look for shoes with leather soles.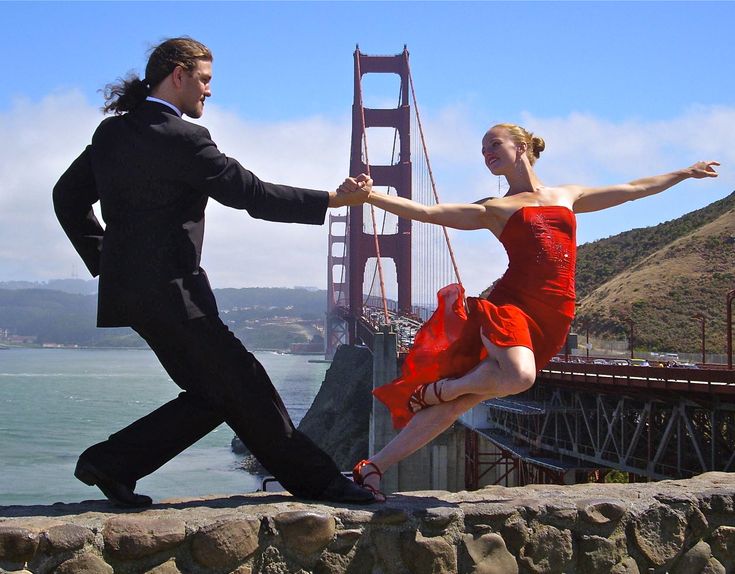 Leather soles provide the right balance of grip and slip. 
You can gracefully glide across the floor with leather soles. 
Suede and imitation leather are suitable but more likely to wear quickly when swing dancing. 
Rubber soles do not slide on the dance floor as smoothly, limiting your ability to spin and turn easily. 
You may also scuff up the flooring. 
Another option is to glue suede to the bottom of your rubber-soled shoes as a temporary fix until you can buy a suitable pair.
Dress Casual for Dance Lessons
Keep your attire casual when attending dance lessons or outdoor dances, especially during warmer weather. 
For the most part, you should wear whatever you feel comfortable wearing. 
You can wear jeans (this is a popular choice), shorts, T-shirts, and other items that may not be suitable for a dance hall.
The main things to avoid include clothes that are too loose, tight, or distracting.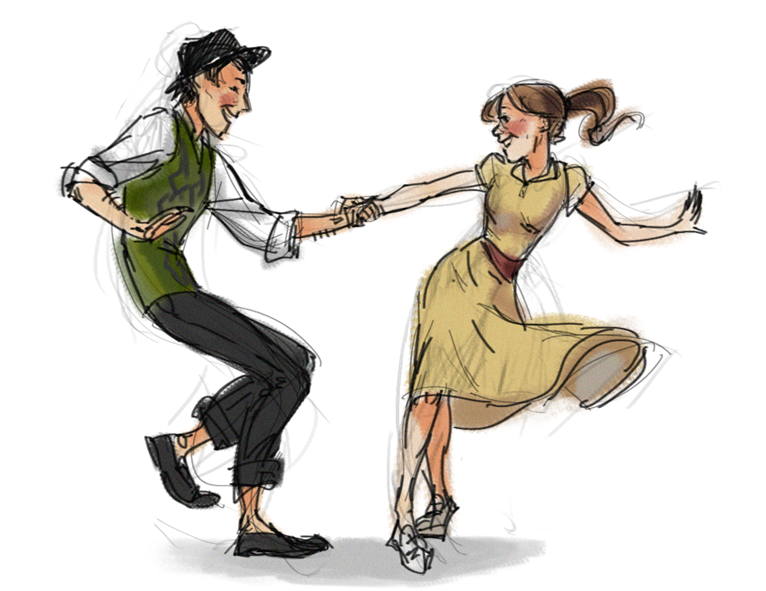 For example, brightly colored athletic wear may keep you cool on a warm day, but it can also distract the other dancers. 
Dress up for Evening Dances
Sale
29,100 Reviews
GRACE KARIN Crew Neck Tea Dresses Fit and Flare Style Size M F-1
Features: Sleeveless, Boatneck, A-Line silhouette, Concealed zipper at back, All kinds of patterns
Occasions: The sleeveless a-line dress is perfect for daily casual, ball, party, church, wedding guest, homecoming,...
Hand Wash COLD, Low Iron if Necessary
Last update on 2022-11-04 /Affiliate Links / Source: Amazon
When you head out for an evening dance or a dance competition, you should dress up. 
Some dance halls may even have a few requirements, such as not wearing jeans and requiring men to wear shirts with collars. 
While people associate swing dance with twirly skirts and zoot suits, you do not need to wear vintage clothing.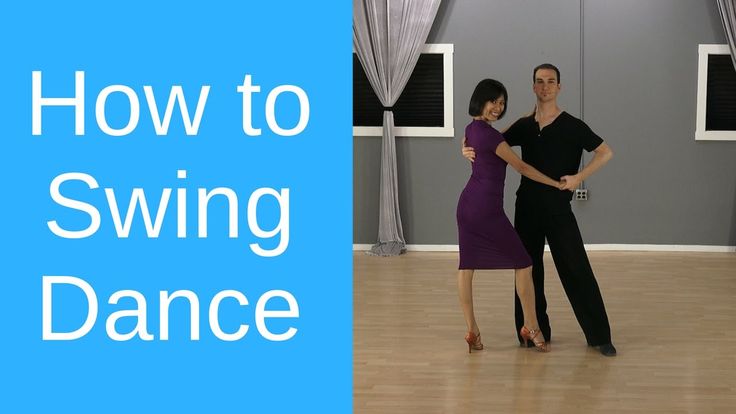 Many of the styles of clothes worn during the height of the swing are not ideal choices. 
The fabrics were often less breathable. 
Wear comfortable, breathable clothing. 
Avoid anything restricting your movements, such as a form-fitting shirt or tight pants. 
A popular look for women is a short-sleeved blouse with a cotton skirt. 
Men often wear dress slacks with white shirts or collared dress shirts.
In the end, you should not fret too much about what to wear for swing dancing. 
The goal is to have fun and cut loose.
However, your attire should match the scene. 
Dress casually for lessons and dress up for formal occasions. 
Ladies Black and White Oxford Swing Dance Shoes
1,825 Reviews
Ollio Women's Flat Shoe Wingtip Lace Up Two Tone Oxford M2913(9 B(M) US, Black)
Manmade Material
Lace Up Oxfords
Low Heel Shoes
Last update on 2022-11-04 /Affiliate Links / Source: Amazon
If you're looking for a shoe that will last, oxfords are the best way to go.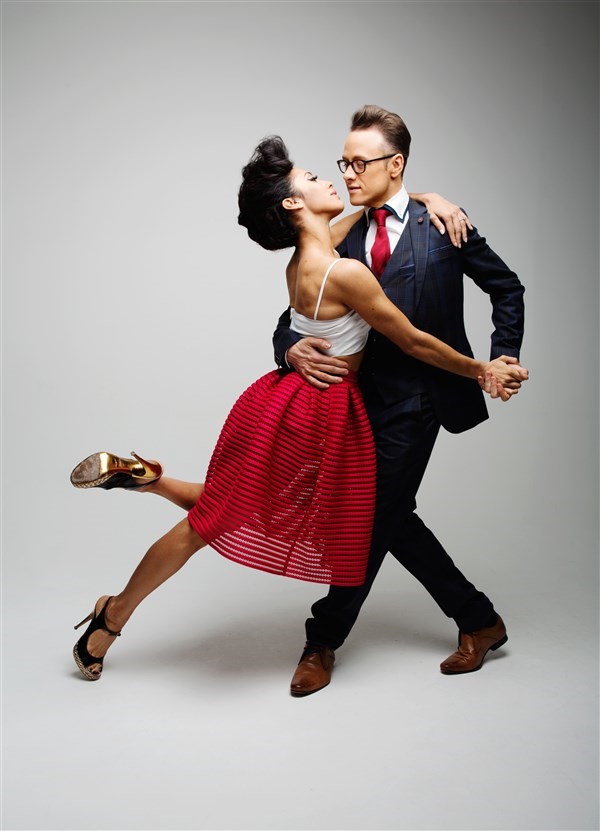 These are regular street shoes, but they can be used for swing dancing.
These shoes offer more flexibility than any other type of formal footwear and come in all sorts of shapes, colors, and styles.
Different types include low-cut lace-up silhouettes rendered from crisp fox suede with classic wingtip Oxfords.
These shoes are perfect for pairing with elegant but casual looks like head-to-toe black or white outfits.
In the past, oxfords were plain and formal shoes.
Made of leather but it evolved into a range of styles for both casual or formal wear.
The materials used to make these shoes varied based on function and fashion dictates as well!
Conclusion
As you can see, Swing dancing is a lot of fun and can be done by people of all ages and abilities.
To ensure you have the best dance experience, it's important to dress comfortably for this type of dancing so that you're not restricted in your movements.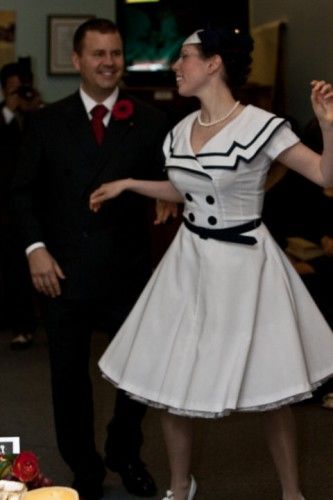 Share the Love!
Read More…
Flat Heel oxford Swing Dance Shoes
What to Wear for Swing Dancing
"What should I wear for swing dancing?" It's one of most common questions I've seen from new dancers. After all, when learning ballet, tap, or other dances there's usually some sort of dress code. For swing dancing, a lot of people picture poodle skirts or rockabilly outfits. That might be true in the Boogie Woogie or other dances that originated in the 1950s. However, swing dancing isn't a single monolithic dance. It can include Lindy hop, Charleston, Balboa, the many shag dances, and more! Just like swing dancing isn't only one thing, there isn't just one way to dress for dancing. Swing dancing is also about self-expression and the lack of a firm dress code really lets you include what you wear in that self expression.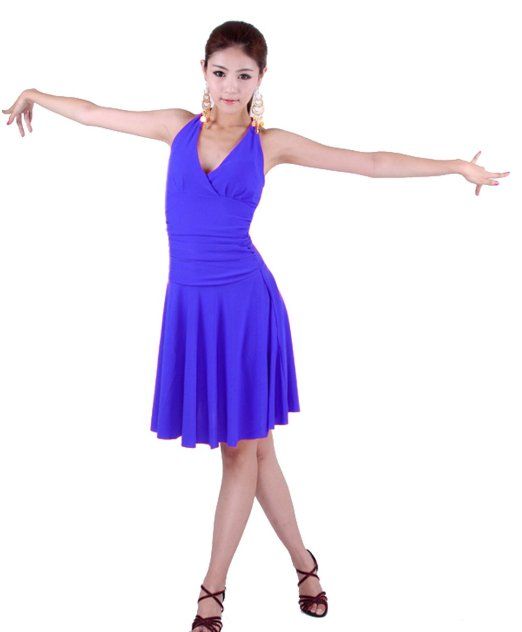 You probably won't see many poodle skirts outside of Halloween dances in the Lindy and Balboa scenes.
In this post, I'm going to do my best to give you some general advice for what to wear for swing dancing. You also won't see much gendered language in this article because a lot of clothing advice applies to any swing dancer regardless of gender or gender expression.
Advertisement
A special shout out to all my swing dancing Facebook friends who contributed their advice to their article!
Clothing: General Tips
When dressing for swing dancing I have two main goals:
Clothes that will keep me cool enough to keep dancing through the night or during lessons
Clothes that will make me feel comfortable and confident on the dance floor
For goal #1, aim for clothes made from breathable, natural fabrics like cotton or linen blends. If you prefer sleeve-less shirts or dresses like I do, you might be able to get away with synthetic fabrics without overheating.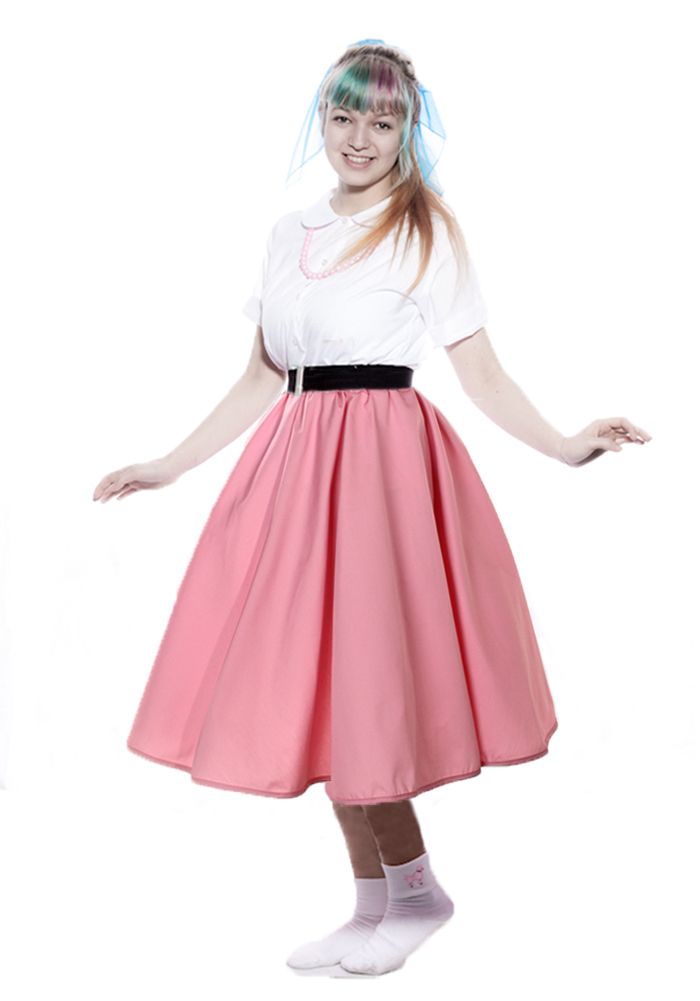 If you're going to an even where you're going to be dancing for hours and hours, it's also a good idea to bring a spare shirt or dress so you can change if you get too sweaty.
Advertisement
For goal #2, that may include choosing clothes that look nice (specifically when going to evening dances). More importantly, you want clothes that give you a full range of motion and that aren't distracting to yourself or your partner. Avoid overly constrictive shirts that prevent you from moving your arms or tight pants that may get ripped in the course of a dance (I've seen it happen).
Champion shorts from Target
Twirly skirts, while fun, can also be distracting to yourself and your partner depending on how much they fan out. That said, you don't have to completely avoid twirly skits. Wearing "dance shorts" under skirts, dresses, and kilts will allow you to dance carefree. My personal favorites are the Champion shorts found at Target, but there are also plenty of cuter options out there.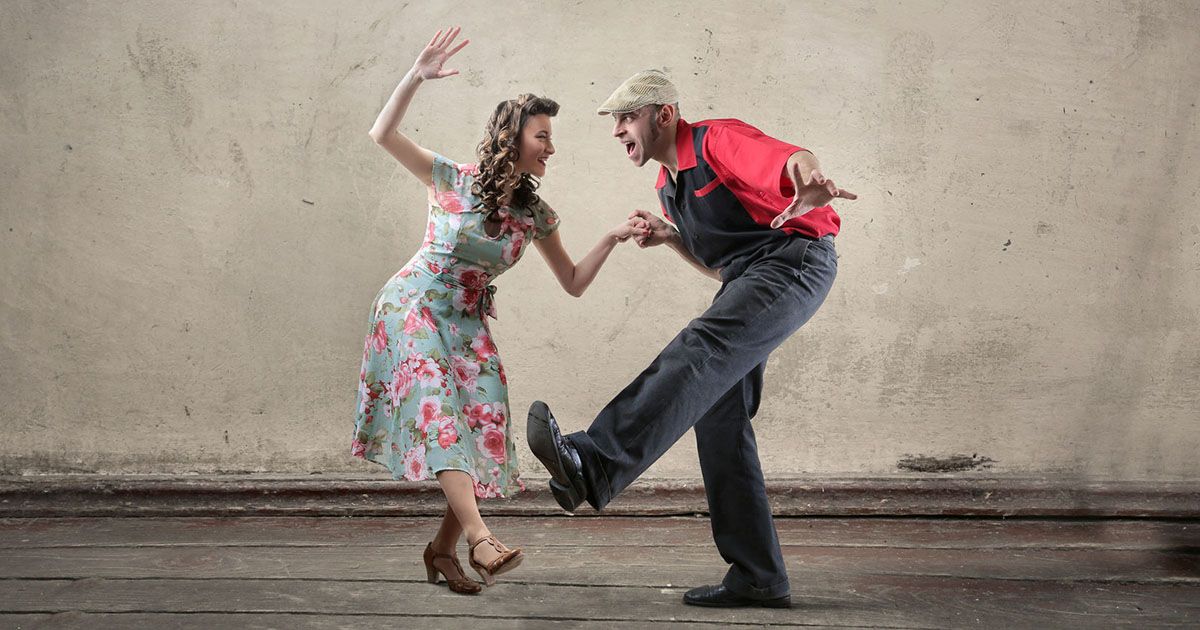 You just have to find a pair that works underneath the skirts you plan to wear.
Clothing: Lessons and Outdoor Dances
Lessons and most outdoor dances tend to be very casual. As long as the temperature is not super hot I tend to wear jeans whereas other dancers refuse to wear jeans for dancing. It just depends on what you're comfortable with. But be careful of athletic wear. While you want to stay cool, you don't want to wear clothing that will wick all the sweat from your skin because then your partner is going to feel that when they connect with you for a dance.
Just some ridiculous outdoor dancing from my graduate school days (2014). See how casual we're dressed?
At lessons, a lot of dancers represent their home scene and favorite events with t-shirts. My current favorite shirt for winter lessons is a ¾ sleeve t-shirt from Hepcat Corner. I'm usually pretty cold when I get to the venue in the winter, but I also know I'll warm up once I start dancing.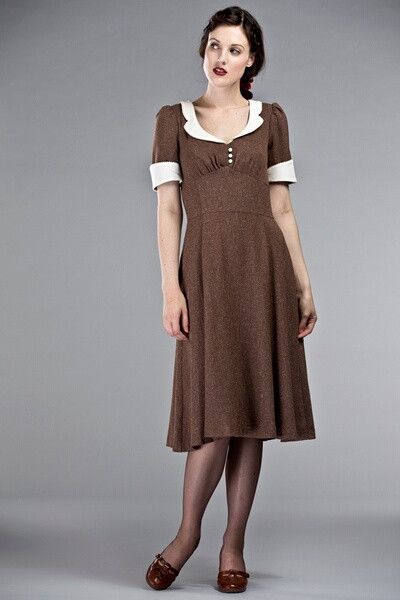 A light-weight t-shirt with longer sleeves can help balance the need to stay warm when you're not moving and the need to stay cool when you're dancing.
My friend Krista who runs Hepcat Corner has even agreed to give my readers a 10% discount at her store if you use the code RoamingLindyHopper. Check her stuff out because not only are there some cool designs and a lot of shirt styles, Krista is using the store to support the broader swing dance community!
Use the coupon code
RoamingLindyHopper
for 10% at Hepcatcorner
Get 10% off at Hepcatcorner.
Use the code RoamingLindyHopper
Clothing: Evening Dances
Repeat after me: vintage clothing is not necessary for evening dances. Even at the evening dances at big festivals, you will see everything from full vintage, to jeans and t-shirts, to all that is in between. While vintage clothing can look great, it's often not made from the most breathable fabric.
Remember, you want to stay cool and be comfortable while you're dancing through the night.
If you are wanting to "dress to the nines" or at least pay homage to the 1930s when swing dancing was at its peak, there are also plenty of faux vintage looks that can bring to mind that era while being comfortable to dance in. Even pairing a nice white t-shirt with slacks or a skirt can elicit nostalgia for the 30s/40s. Just check out the clip of White's Lindy Hoppers from "Keep Punchin'" (1939).
Whitey's Lindy Hoppers in "Keep Punchin'" (1939). Audio resynchronized by Andy Lewis.
And below is a little more clothing inspiration from the late 1930s. As you can see, it would be pretty easy to pull off a similar look with modern day clothing.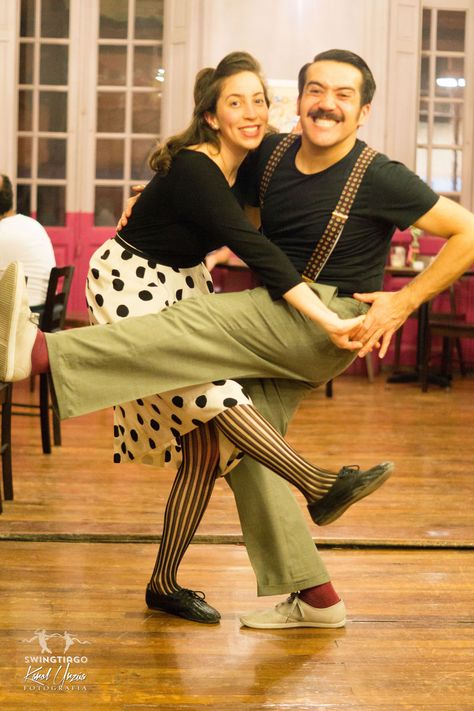 For example, a vest paired with a button-down shirt and slacks, or a slightly flared skirt with a fitted shirt can both bring to mind memories of the '30s and '40s without requiring you to hunt down vintage clothing.
A variety of swing dancing styles at Venice Beach in 1938 (no sound).
A few other things to remember with your clothing:
Avoid shirts with open backs, bell sleeves, and other attributes that make it possible your partner will accidentally get tangled up in your clothing.
Be careful of adornments like beads and sequences which can potentially irritate your skin or your partners skin.
Make sure your hair can't serve as a weapon (such as long braids).
Avoid loose necklaces that could potentially hit your partner during a turn.
Shoes
I believe shoes are the most important part of a swing dancer's wardrobe. They can determine how easily you can move on the dance floor and how long you will be able to keep dancing before your feet get too sore. This could have easily been its own blog post.
There are three main types of shoe soles that swing dancers wear: (smooth) rubber, suede (also called chromed leather), and leather. All of these can be worn to either lessons or social dances and each has their own advantages and disadvantages. As a new dancer, don't feel like you have to go from 0 to 100 with your dance shoe game. Find a pair of shoes that you are comfortable dancing in and that don't break the bank. As you continue to dance and talk to more experienced dancers, you can start to figure out what other types of shoes you want to try.
Smooth rubber soled shoes
Smooth rubber soled shoes are typically canvas or leather sneakers such as Keds, Converse, Vans, and even those cheap Target canvas sneakers if you just want cheap shoes to get your through your first lesson. TOMS have also become popular.
Pros: They're generally affordable shoes. If you are brand new to swing dancing and are just going to a 4-week or 8-week lesson series, you probably don't want to break the bank on shoes. I started out in Keds and still dance in them a lot for lessons and outdoor dancing when I don't want to damage my nicer shoes.
 Cons: They biggest con to rubber soled shoes is that you will stick on sticky floors or if humidity/ heat cause the floors to become "sweaty". This can be dangerous for your knees. I would highly recommend getting sueded or leather-soled shoes if you're learning Balboa. Once you get into moves where you're pivoting, you're going to want as little friction between yourself and the floor as possible.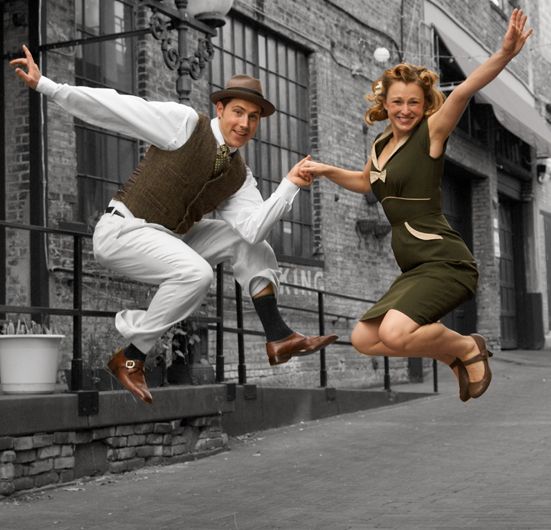 My favorite pair of Keds
Sueded Shoes
You can either buy pre-sueded shoes (Aris Allens come to mind) or you can suede shoes you already own. I've taken the DIY route and sueded a few pairs of shoes, including some Keds, using Soles2Dance suede sheets. I had to cut out the shape of my shoe, but the sheets already have adhesive so all you have to do is trace, cut, peel off the protective paper, and stick it on the bottom of your shoe. Alternatively, you can go to your local cobbler and ask them to add chromed leather to the bottom of your shoes. Just make your cobbler understands what you are asking for.
Pros: Suede gives you quite a bit more slide on the dance floor than your rubber soled shoes. This is especially important for swivels, lollies, and other moves where your foot is pivoting or sliding on the dance floor. It will also allow you to dance on stickier floors.
Cons: If you have sueded shoes you will want to invest in a shoe brush so you can occasional clean the grime off of them.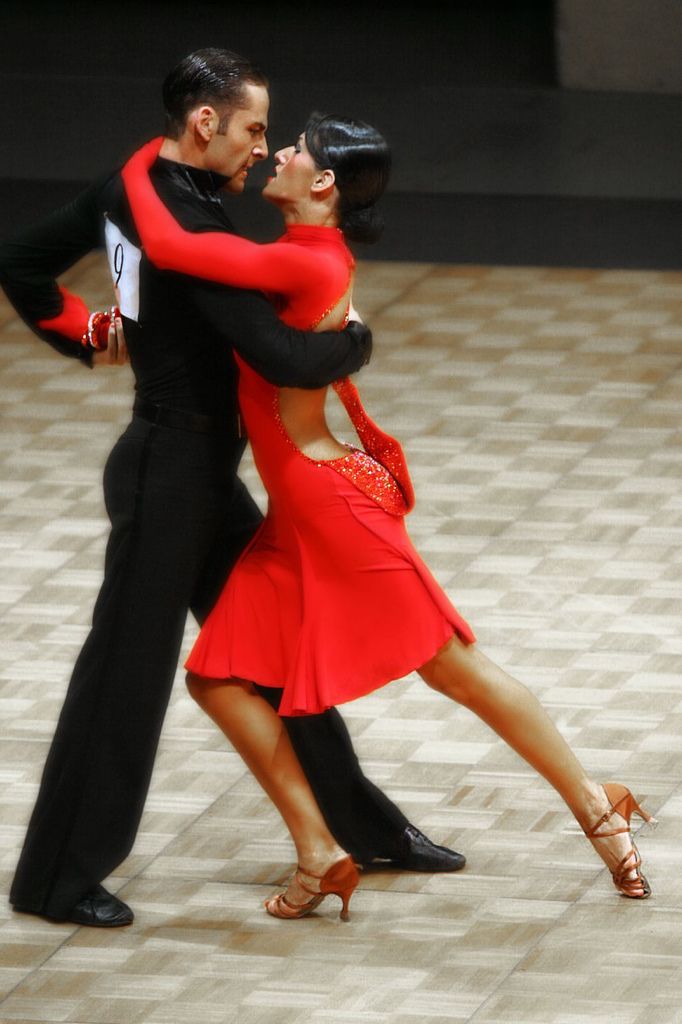 Suede that has collected a ton of dust and dirt can be extremely slick on a fast dance floor, but your shoe brush will help you roughen them up again.
Not my finest work, but here's a pair of heels I sueded with Soles2Dance suede.
Leather-Soled Shoes
Some of my dance friends highly recommend learning to dance in leather soled shoes sooner than later. My favorite leather-soled shoes are my Charlie Stones. They aren't technically dance shoes and aren't as durable as Saint Savoy or Slide and Swing. But if you're looking to try a feminine pair of leather-soled shoes that aren't quite as pricey, I highly recommend Charlie Stones. Plus they have just a slight lift on the heel. For more masculine shoes, a lot of dancers I know use normal leather-soled dress shoes. Just make sure they're comfortable and won't give you blisters when you dance.
Pros: Like with suede, you'll have more range of motion when it comes to pivots and slides.
I've also found leather soles allow me to feel the floor underneath me better than suede. Suede sometimes "mutes" my pulse on the dance floor whereas leather gives me a "crisper" pulse and rhythm. That might just be me., though.
Cons: They take some getting used to, especially on "fast" dance floors.
One of my pairs of
Charlie Stone Shoes
Image Source: Tulsa Shoe Rebuilders
Additional Shoe Tips:
Support: You know best how much support you need in your shoes. If you have the opportunity to try on your potential dance shoes in a store, make sure you walk around in them. If they don't have enough support but you want them anyway, just make sure they have room to add some insoles.
Bring More Than One Pair: If I'm going to a new venue or I know I'm going to be dancing for hours and hours, I'll typically take two different pairs of shoes with me. One will have more traction in case the floor is a "fast" floor and one will be sueded or leather-soled in case the floor is sticky.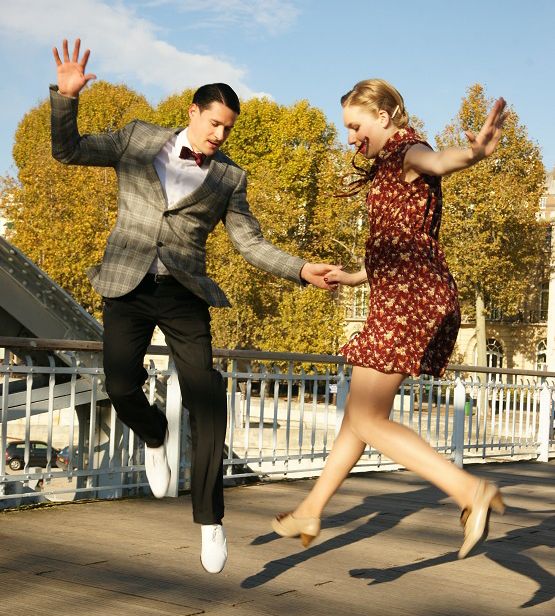 On the rare occasion I want to wear heels, I will bring flat shoes to change into when my feet are too tired for heels.
Shoe Don'ts: If you like to wear heels, but very cautious. Most of my dancer friends who wear heels recommend not going much higher than a 1.5 inch heel. They also recommend choosing a chunky heel over a stiletto. Make sure to walk around in the shoes before committing to a night of dancing in them.
Also avoid athletic shoes. They are meant to grip the surface you are moving on and will hinder your ability to dance. Moves where you pivot on one foot will be especially dangerous to your knees if you are wearing athletic shoes with rubber that is meant to grip the floor.
Hygiene
While not clothing, hygiene is super important for an enjoyable swing dancing experience. Good hygiene can both boost your confidence and your partner's comfort. Whenever I'm heading to lessons or a dance, I try to remember to put on fresh deodorant.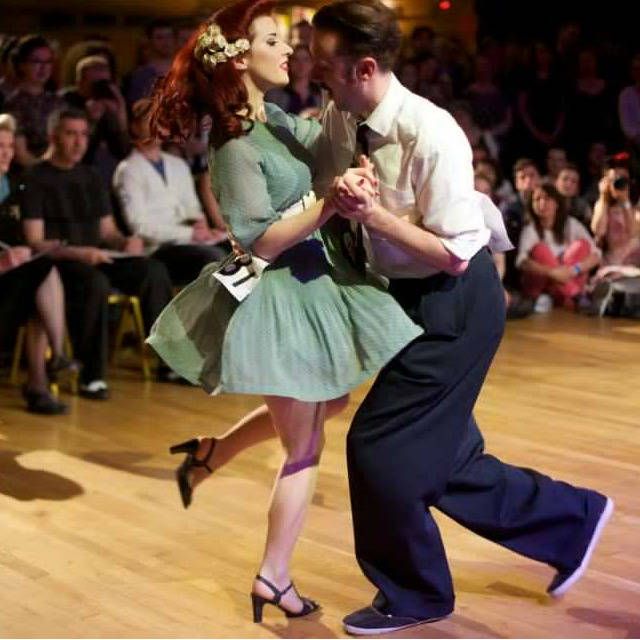 I also recommend limit perfume, cologne, and other scented products since you never know if your partner is going to be sensitive to smells. If you'll be at a dance for several hours, it also doesn't hurt to bring and extra shirt or outfit in case you sweat through the one you came in.
Favorite "Accessories"
Lastly, a swing dancers' best friends/ accessories are the water bottle and a hand towel. A water bottle will help you stay hydrated throughout your lessons and while dancing the night away. A hand towel can be a life saver when you need to wipe away some sweat from your brow in order to feel refreshed for your next dance.
---
Hopefully you find this post helpful as you dress for your next dance lesson or pack for your swing dance adventure! For those of you who have been dancing for awhile feel free to provide any additional clothing advice you might have in the comments below.
Disclosure: Some of the links above are affiliate links.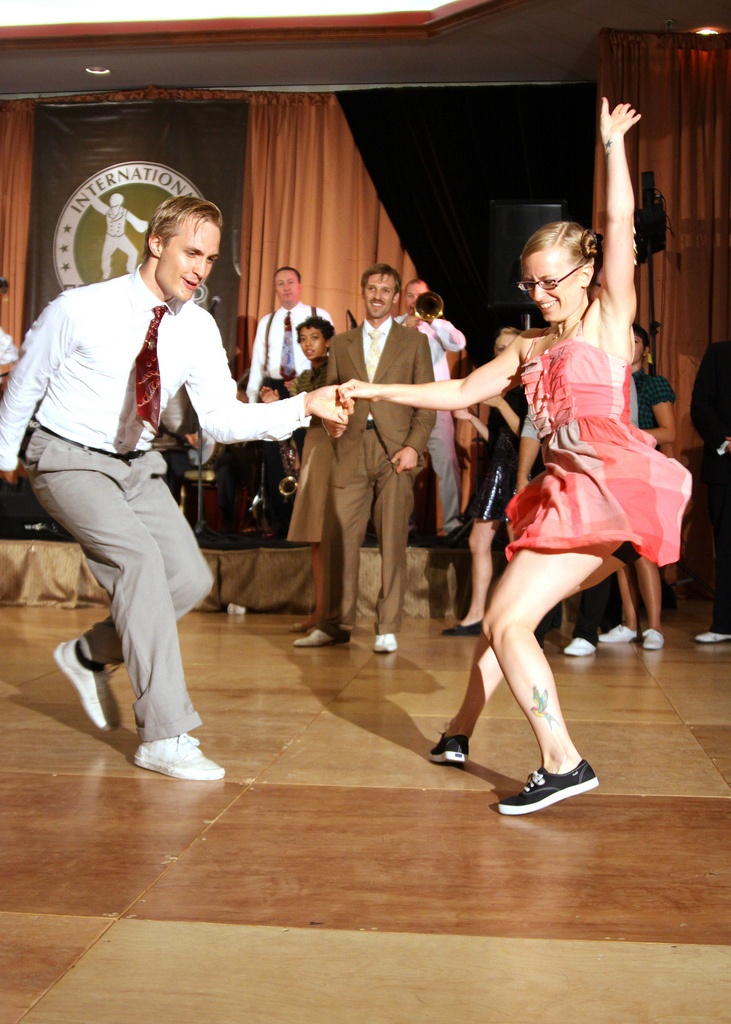 That means at no extra cost to you, I will receive a commission if you click through an make a purchase.
Advertisement
How to dress for a swing dance: 4 steps
').insertAfter("#intro"),$('
').insertBefore(".youmightalsolike"),$('
').insertBefore( "#quiz_container"),$('
').insertBefore("#newsletter_block_main"),ha(!0),b=document.getElementsByClassName("scrolltomarker"),a=0;a
In this article:
Steps
Additional articles
Swing dancing is a fun, energetic activity that is best done with the right footwear and clothing. Whether you're dressing in modern clothes for a regular dance or vintage style for a themed dance, you'll need to follow these tips.
Steps
1

Choose a comfortable pair of shoes with smooth soles. There are a variety of "swing dance" shoes that look like shoes from the 30s, 40s and 50s with smooth leather or suede soles that make it easier to roll and slide on the dance floor. Avoid rubber-soled shoes or tennis shoes because they stick to the floor. Pick a heel height that's comfortable for you. High heels are not good for quick spins, flips and jumps. For this dance, choose shoes with low heels or flat soles. Dance shoes are another handy option for casual dancing.

2

Women: choose comfortable, loose clothing. Women usually feel more comfortable in mid-length skirts and dresses or light cotton trousers. Don't wear denim, wool, or polyester, as these can get you too hot. Skirts should be knee-length or longer, but still allow freedom of movement for some of the "circling". Wear cycling shorts, leggings, or a swimsuit under a skirt or dress if it rises too high or rides up.

3

Men: Wear a comfortable button-down shirt and trousers for a semi-formal look, or a T-shirt and trousers for casual dancing. Don't wear jeans. Wear tank tops and bring extra shirts with you to change in case you get really sweaty.

4

Use deodorant or antiperspirant before dancing, but do not use perfume or strong-smelling aftershave. Dancing with a partner who smells bad is the worst. Do your best to stay fresh.

Advertising
Tips
If you have long hair, tie it back in a bun or ponytail. If you don't braid your long hair, you can punch your partner in the face. Please remove your hair.
Wipe sweat with a handkerchief or towel. Some wear sweatbands or tie bandanas around their heads to absorb sweat. Bring spare shirts with you to change.
If you are going to themed events of the 30s, 40s or 50s, then you will need to dress up for the occasion. Explore the fashion trends of the period and dress appropriately. In general, during these times, women wore medium-length skirts and wide, puffy blouses or dresses (50s). The men wore suits, trousers and shirts.
Advertising
Warnings
For women: if you wear vintage swing dance clothes, be aware that they are tight around the torso and arms. You will not be able to make the same high and wide movements with your hands as in modern clothes. You may need to change your dance style when choosing vintage clothing.
Men: fun to wear stylish hats, flat caps and bowler hats for themed dances. Just remember to take them off before dancing.
Advertisement
About this article
Other languages ​​
Wiki How to Dress for Swing Dance
Swing dancing is a fun, energetic activity that is best done with the right shoes and attire. Whether you're dressing in modern clothes for a regular dance or vintage style for a themed dance, you'll need to follow these tips.
This page has been viewed 7319 times.
Advertising
is not as terrible swing as it is dancing
,
travels
Friends, I dance swing
Regina Shafir
9000 embankment. And that's it. Enchanted forever. All the women in our family on my mother's side by nature were and are operetta dancers.
If you're wondering what this means, I'll tell you later. In general, we follow the precept of Eliza Doolittle "I want to dance!" Yesterday my son brought a friend home. He first looked into the kitchen, said: Mom, turn off the music and get off your chair. And my mother fried toast.
There is no point in telling the story of swing. Much has been written about this. Its main charm is that it is the most groovy dance on earth and is built on improvisation. It is danced to any music with the rhythm of jazz and blues. There is a real swing boom in London right now. Retro romance, so sweet and intoxicating, inspires us to buy carefree polka dot dresses, listen to Glenn Miller concerts; smoking cigars without taking your hands out of your pockets, serving breakfast in high heels and aprons, but most importantly - dancing swing.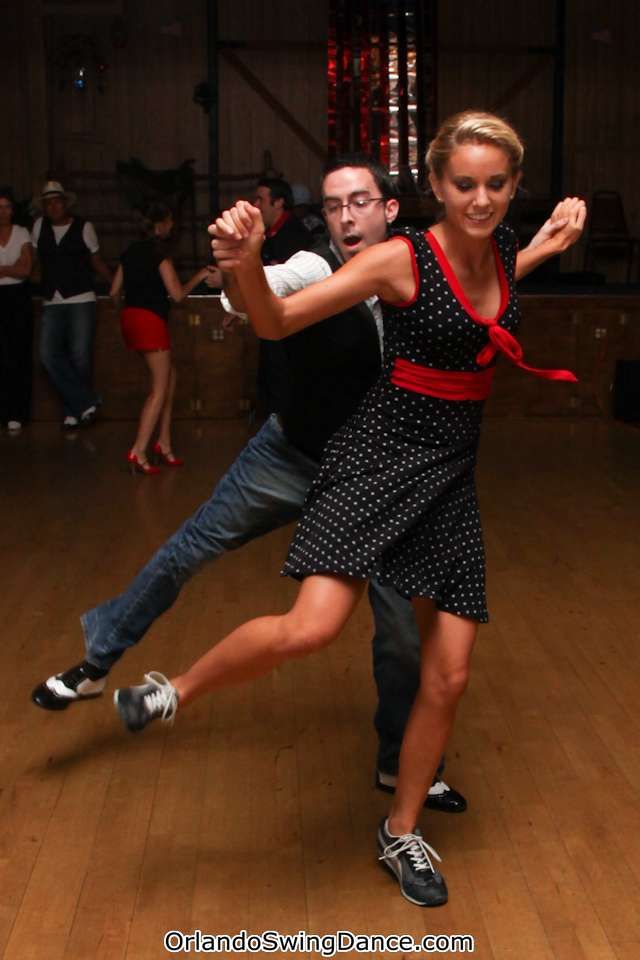 And Charleston. And rock and roll. And a twist. Are you going to London? No need to make a serious face and sit on the Internet all day long. If you like light jazz, turn on the soundtrack, but be sure to look at the pictures:
Soundtrack
Swing is not as scary as it is danced. There is no need to specifically learn swing before coming to London. As a rule, in every club before the party there is a lesson for beginners. And then - three shots of "Bloody Mary" - and you already take off your jacket.
And by the way, in ballroom dancing courses, swing is usually very combed, like a first-grader. And in London - wild and disheveled. It is very comfortable. What I want, I turn back. As I want - so I trample.
Get dressed . It must be crazy and elegant at the same time. It is at such parties that it is right for luxury to be ostentatious. Even clown. I don't think you should buy any tweed suits and vintage dresses for crazy money.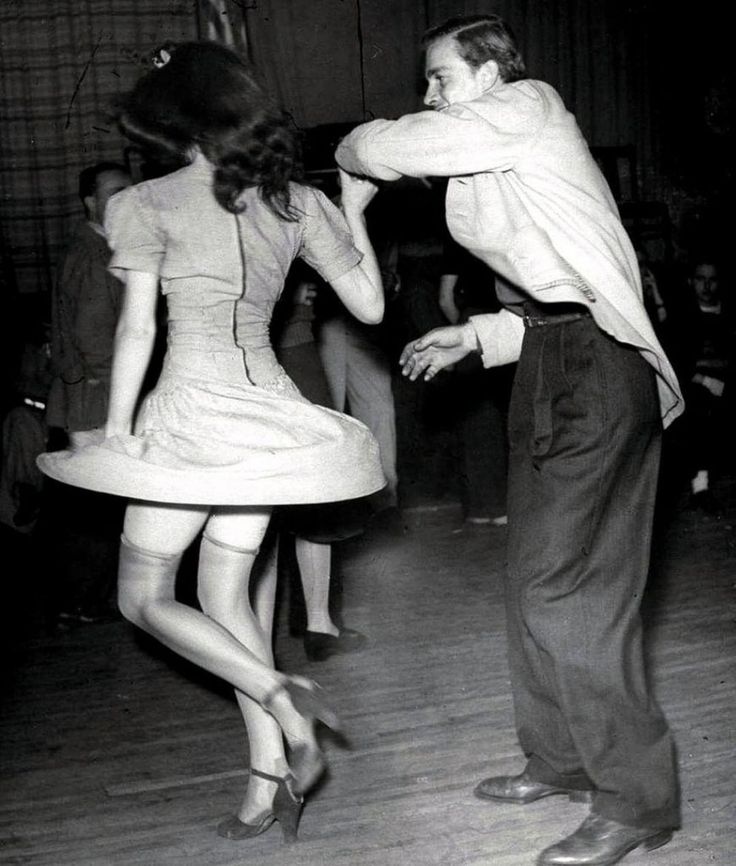 And even if flared trousers are the latest cry of fashion, rock and roll fashion, of course, make sure that it does not become the last cry of your gentleman. It is better, I think, to look at old photographs and movies and put on something from your wardrobe that seems to suit you. Like Gurchenko in Carnival Night, like Payne in Sun Valley Serenade. Yes, whatever!
Connect 20s, 30s, 40s, 50s and even 60s.
Hats and hairstyles . There are, of course, all sorts of elaborate hairstyles and fancy hats to make you look like you're in the 40s. But I just tried to draw simple things that you can find at home to appear at a retro party. For example, a beret, a scarf on the head or neck. I just don't know how to tie around the neck. And flowers in the hair are now sold everywhere.
Respond to revealing dresses of London ladies with frank fun, do not be afraid to invite gentlemen yourself. They are also afraid. And they are worried. Because they lead. They come up with a dance.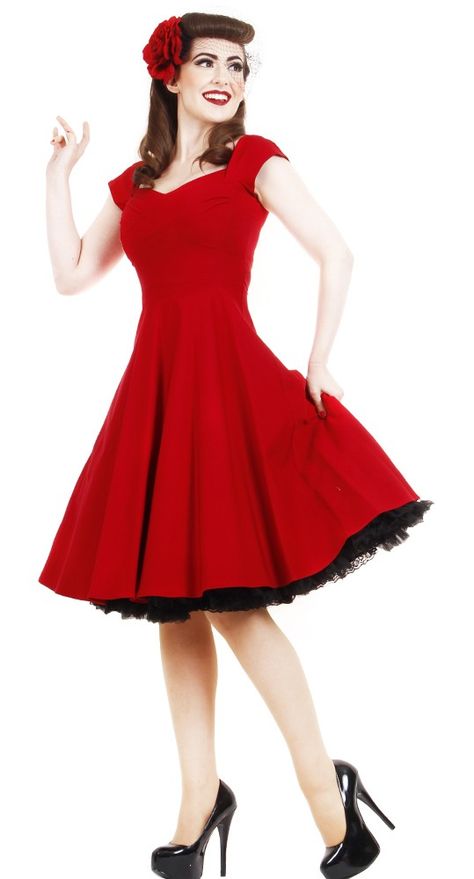 Further links - where to buy clothes and where to go partying .
Vintage dresses and jackets and in general everything vintage can be bought very cheaply in London at the Camden Market flea market. I bought a sheepskin coat for £10, 1950s glasses for even less, and a hat. You will dedicate a separate day to Camden, or better, two. Because this is a paradise for retro lovers, and also a paradise for goths, punks, hippies. Paradise for everyone. At the Camden Town tube station, smart old ladies will give you a flyer to heaven. with addresses. Where to buy stockings and tarpaulin boots, where to eat Chinese food and smoke nargilla.
Useful link. Another. And further.
But first look at home. Or in a suitcase if you are traveling. It seems to me that a white shirt with rolled up sleeves, bright socks for gentlemen, black stockings and red lipstick for ladies are the solution to the question "What to wear?"
Where to party?
I go to Dover Street Restaurant every Monday.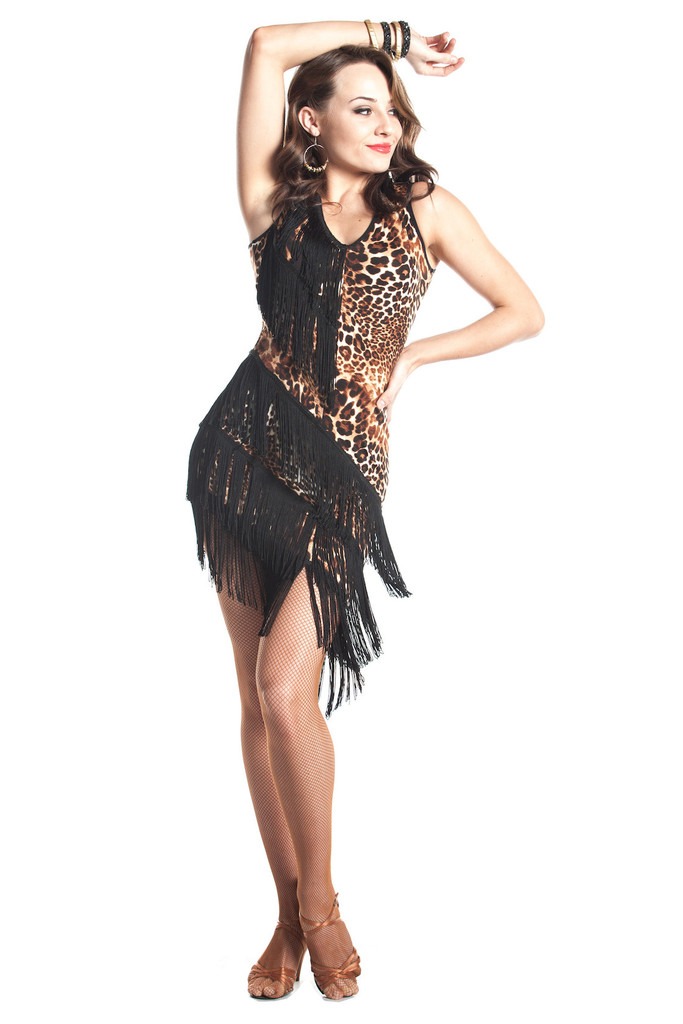 At 7 there is a lesson for beginners, at 8 for amateurs, and by 9 an orchestra comes and plays live music: swing, rock and roll, balboa, rumba. There is also a wonderful restaurant and bar.
If you are in London for more than a week, you can come to a lesson at a dance school on Tuesday. Address: Wild Court, 4 Wild Court, London, WC2B 4AU, on Holborn Tube .
And all the information about lessons and parties is here. And here.
And here. And here too.
And also, I almost forgot. Camden Market has a captivating Green Note retro music club. They play light jazz music every evening. And you don't have to dance there. Except with the feet. Under the table. It happens that a person loves jazz music, but is shy about dancing.
Forward. I'm sure you'll feel happy as soon as the orchestra starts playing jazz.
And swing dancing is easy. Two slow steps, one fast. Left - right, right - left ...
How to distinguish the right foot from the left?
Left big toe on the right foot.