How to do the tush push country line dance
CopperKnob - Tush Push - Jim Ferrazzano (USA)
alt. Music:
Third Rock From The Sun by Neal McCoy
Six Days On The Road by Sawyer Brown

RIGHT HEEL TAPS
1-4Touch right heel forward, touch right together, touch right heel forward, touch right heel forward
&Step right together
LEFT HEEL TAPS
5-8Touch left heel forward, touch left together, touch left heel forward, touch left heel forward
&Step left together
RIGHT, LEFT, RIGHT HEEL TAPS AND CLAP
9&Touch right heel forward, step right together
10&Touch left heel forward, step left together
11-12Touch right heel forward, clap
BUMP HIPS RIGHT TWICE, BUMP HIPS LEFT TWICE, BUMP HIPS RIGHT AND LEFT TWICE
13-14Rock right in place and bump hips right, bump hips right
15-16Recover to left and bump hips left, bump hips left
17-20Bump hips right, bump hips left, bump hips right, bump hips left (weight to left)
RIGHT FORWARD CHA-CHA, LEFT BACKWARD CHA-CHA
21&22Step right forward, step left together, step right forward
23-24Rock left forward, recover to right
25&26Step left back, step right together, step left back
27-28Rock right back, recover to left
RIGHT FORWARD CHA-CHA AND ½ TURN RIGHT, LEFT FORWARD CHA-CHA AND ½ TURN LEFT
29&30Step right forward, step left together, step right forward
31-32Step left forward, turn ½ right (weight to right)
33&34Step left forward, step right together, step left forward
35-36Step right forward, turn ½ left (weight to left)
RIGHT FORWARD, ¼ TURN LEFT, STOMP, AND CLAP.
37-38Step right forward, turn ¼ left (weight to left)
39-40Stomp right together, clap
REPEAT

OPTION 1:
1-4Touch right heel forward 4 times
&Step right together
5-8Touch left heel forward 4 times
&Step left together
OPTION 2:
1Touch right heel forward
2Touch right together
3-4Touch right heel forward, touch right heel forward
&Step right together
5-8Repeat 1-4 with left foot
OPTION 3:
1Hop feet apart
2Hop and cross right over left
3-4Turn full turn to left
5-8Repeat 1-4, either in the same or opposite direction
OPTION 4: (8-BEAT SYNCOPATED STEPS, A.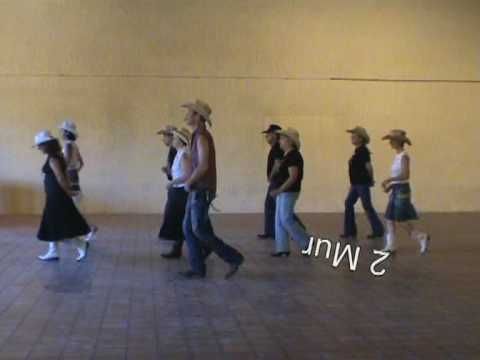 K.A. PRETZELS)
1Cross right over left
&2Step left to side, touch right heel forward
&3Drop right toe, step left over right
&4Step right to side, touch left heel forward
&5Drop left toe, step right over left
&6Step left to side, touch right heel forward
&7Drop right toe, step left over right
&8Step right to side, touch left heel forward
OPTION 5: (QUARTER TURN, HALF TURN)
35-36Step right forward, turn ¼ left (weight to left)
37-38Step right forward, turn ½ left (weight to left)
OPTION 6: (ST. LOUIS STYLE, WHICH IS 44 COUNTS)
37-40Repeat 29-32
41-43Step left to side, turn ¼ right (weight to right)
43Stomp left beside right
44Clap
35 Best Songs and Dances
Skip to content
Previous Next
Do you love country line dancing? If so, you're going to want to add learning these popular line dances to your bucket list! From the Boot Scootin' Boogie to the Macarena, these dance steps and catchy songs will have you shaking your booty to the music.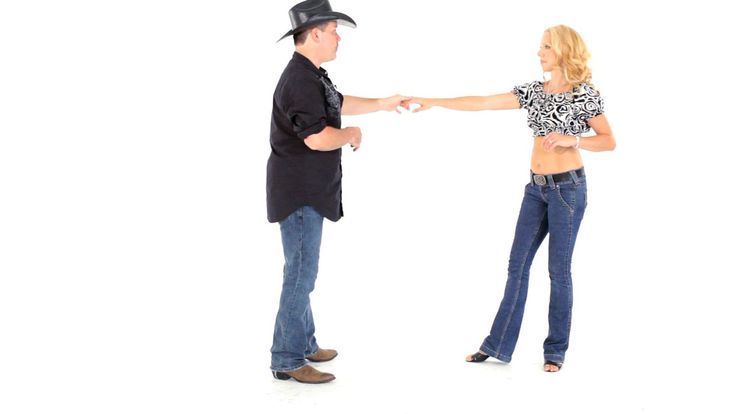 So dust off your cowboy boots, watch the instructional videos and get moving!
---
---
1. A Little Bit Lit
The A Little Bit Lit line dance is a fun and easy way to get your groove on. The dance is done to the song "Lit" by Trace Adkins, and it's perfect for beginners. The dance is all about having fun, so there's no need to worry about getting every move perfect—just let loose and enjoy yourself. 
---
2. Black Velvet
Black Velvet is a line dance done originally to the song of the same name by Alannah Myles. The dance is relatively simple, usually consisting of just five steps: forward touch steps, kick-ball-changes and a half turn, kick-ball-change walk, shuffle steps, and jazz box steps.
However, dance variations can also include different turns and kicks and even use other songs, making it perfect for both beginners and experienced dancers of any age.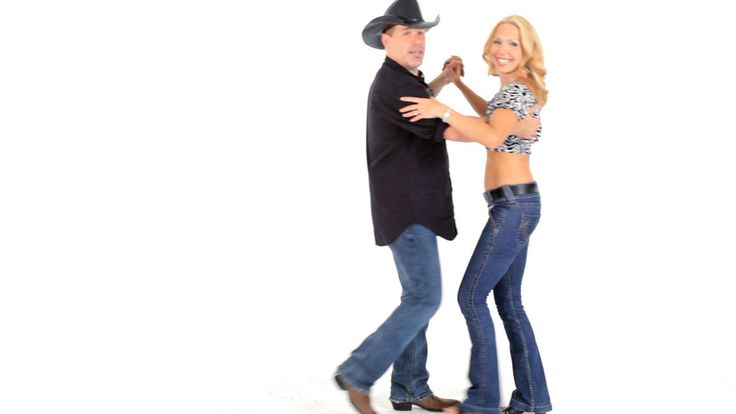 You can check out a step sheet for the dance here and watch the video below.
---
3. Boot Scootin ' Boogie
The Boot Scootin' Boogie is a line dance made famous in the early 1990s in the tune of Boot Scootin' Boogie recorded by the band Asleep at the Wheel. The dance became popular in Vancouver, so much so that it was also known as the Vancouver Boogie.
It is also a fantastic dance for beginners, especially those looking into country line dances (plus, it's a lot of fun!) The best place to learn the dance is at a country music club or bar, where you can practice with other dancers and get the step's feel.
---
4. Bring on the Good Times
The Bring on the Good Times line dance is a fun, easy dance that is perfect for any party.
Much like the other line dances, this one is done to the song "Bring on the Good Times" by Lisa McHugh. The dance is also simple enough and can be learned by anyone, regardless of their dancing ability.
---
5. Cha Cha Slide
The Cha Cha Slide is a line dance consisting of a series of basic steps repeated to the beat of the music. The most popular version of the dance is set to the song "Cha Cha Slide" by DJ Casper, which became a worldwide hit in 2001. With an upbeat, funky beat, the Cha Cha Slide has since been performed by millions of people at parties, weddings, and other festive gatherings.
---
6. Chicken Dance
The Chicken Dance, also known as the Birdie Dance or the Chicken Song, is a popular line dance that originated in Germany.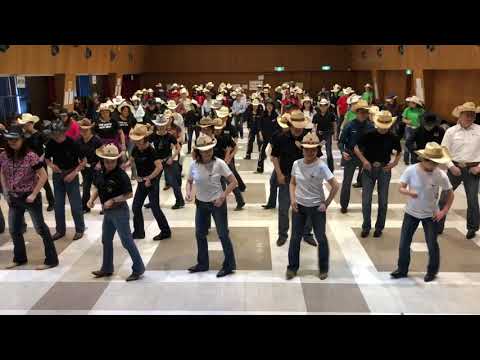 The dance involves flapping your arms like wings and 'clucking' your hands like a chicken puppet.
It is usually performed to the tune of "Der Ententanz" or "The Duck Dance." The Chicken Dance is also a staple at weddings, parties, and other fun gatherings, especially during American Oktoberfest events.
---
7. Cotton Eyed Joe
The Cotton Eyed Joe is a line dance that has been around for many years. It is often danced to the song of the same name, which is a traditional country folk song. The dance itself is relatively simple, consisting of only three easy steps. However, don't let its simplicity fool you; it can get quite energetic, especially in a large crowd! 
---
8.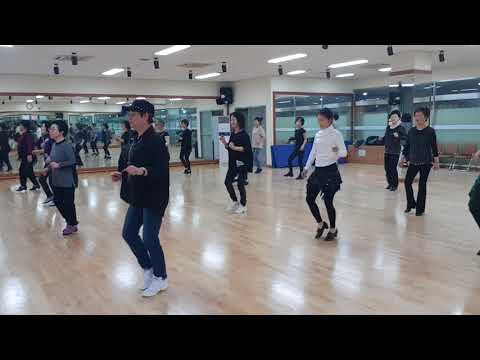 Country Girl Shake
The Country Girl Shake is performed to the song "Country Girl (Shake It for Me)" by Luke Bryan. The steps can be a bit tricky for beginners, but once you get everything down you'll have a hard time NOT dancing it once the song plays.
---
9. Cowboy Boogie
The Cowboy Boogie is one of those perfect line dances that fit any country song with a 4/4 beat. The steps are also easy to learn, consisting of stepping in four different directions (right, left, forward, back) and ending with hip boogies. You then turn to one side and repeat the steps. You can check out this Cowboy Boogie step sheet for more detailed instructions and refer to the video below.
---
10.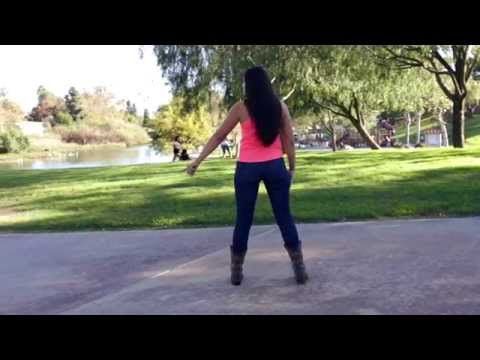 Cowboy Hustle
The Cowboy Hustle consists of a series of basic steps repeated throughout the song. The most important part of the dance is the footwork, which is simple but very effective. The music for the Cowboy Hustle line dance is typically country-western, and the tempo is relatively slow. This makes it easy to keep up with the steps and maintain a good rhythm. Any country-western song with a slow tempo will work well for this dance.
---
11. Cupid Shuffle
The Cupid Shuffle is a line dance that is done to the song of the same name by Cupid. The entire dance takes 32 beats or 8 counts. The reason this dance is so popular is because it's very easy to learn and once you know it, you can practically do it in your sleep! Plus, it's just a lot of fun to do when dancing with friends at a party or wedding reception.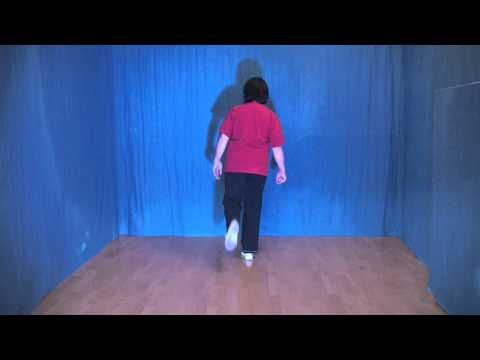 ---
12. Double D
Also known as Duck Dynasty, this four wall, 32-count line dance is a fairly new addition to the scene, choreographed by Trevor Thorton in 2015 and danced to the beat of Cut 'em All by Colt Ford Feat. Willie Robertson. However, any song with a fast tempo and easy-to-follow rhythm will work.
---
13. Electric Slide
A timeless classic and one of the most commonly-learned line dances, the Electric Slide is a line dance that became popular in late 80s and early 90s. It is usually danced to the song Electric Boogie by Marcia Griffiths.
The dance itself is also fairly simple, consisting only of a series of repeating steps. Because of how easy it is to learn, this line dance is a popular choice for wedding receptions and other group events.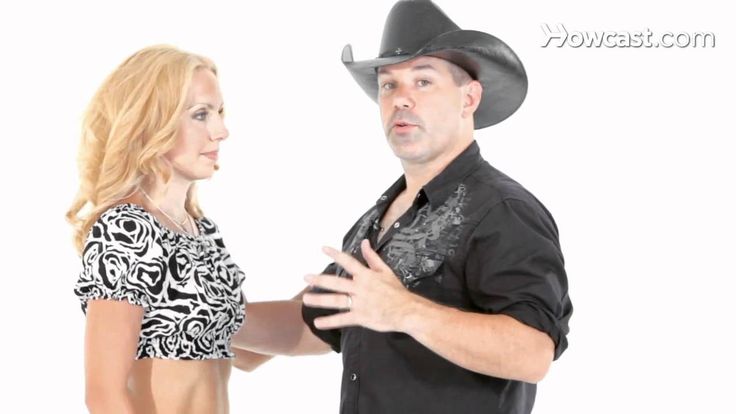 ---
14. Good Time
Named after Alan Jackson's famous song "Good Time," this line dance features a series of toe-taps, hitches, shuffles, and shimmies. Although it may take some time (especially for beginners) to get the footwork down to a tee, the dance's fun and catchy steps will surely give you a good time!
---
15. Hoedown Throwdown
The Hoedown Throwdown line dance is often done to the song "Hoedown Throwdown" by Miley Cyrus, but any country song with a fast beat will work. It is also the signature dance of the 2009 Hannah Montana movie.
With a mix of country and hip-hop dancing, coupled with a moderate tempo, this line dance will definitely get your heart pumping!
---
16. House Party
The House Party line dance is done to the song "House Party" by Sam Hunt. The dance is usually done in a line, with each person dancing to the beat of the music. The dance is also simple and modern (albeit with a lot of turning), but it is also a lot of fun to learn. 
---
17. Linda Lu
A beginner-friendly line dance, Linda Lu consists of fancy footwork, turns, claps, and 'wiggle walks' throughout the dance. Like many of the line dances, it is usually danced along the song Linda Lu by Ricky Van Shelton/Lee Greenwood or any tune with a West Coast swing rhythm.
---
18.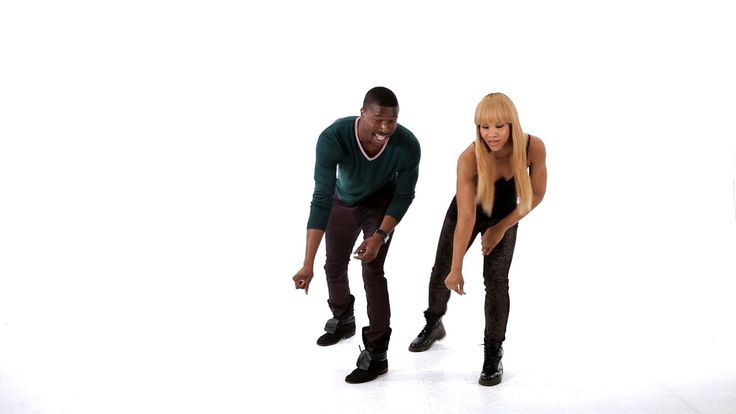 Macarena
The Macarena is a line dance that became popular in the 1990s and is done to the song "Macarena" by Los del Río. It is also easily one of the most recognizable dance/songs from the 90s era.
Unlike the other line dances that have some footwork involved, the Macarena features easy-to-follow arm/hand movements that follow the song's catchy beat.
The Macarena is often done as a group dance, making it a popular choice for parties and weddings. The dance can be done with or without music, making it a versatile choice for any event.
---
19. My Maria
The My Maria line dance is a fun and easy way to get your groove on. The dance is named after the song "My Maria" by Brooks & Dunn, and it's perfect for beginners to intermediate dancers. The steps are simple and easy to follow, and the music is upbeat and catchy.
So bust out your dancing shoes and get ready to have some fun!
---
20. Outlaw
The Outlaw line dance is a relatively simple dance consisting of stomps, turns, grapevines (a type of sideways movement), and little jumps and claps at the end. The song usually played for the dance is Whiskey Drinkin' S.O.B. by Mikel Knight.
---
21. Power Jam
The Power Jam line dance is a fun, high-energy dance that fits perfectly to any upbeat song, especially at parties and clubbing. The dance starts with a basic four-count step, then moves into some funky arm and hip movements. The chorus is when things really get going, with the whole dance floor moving in unison to the catchy beat.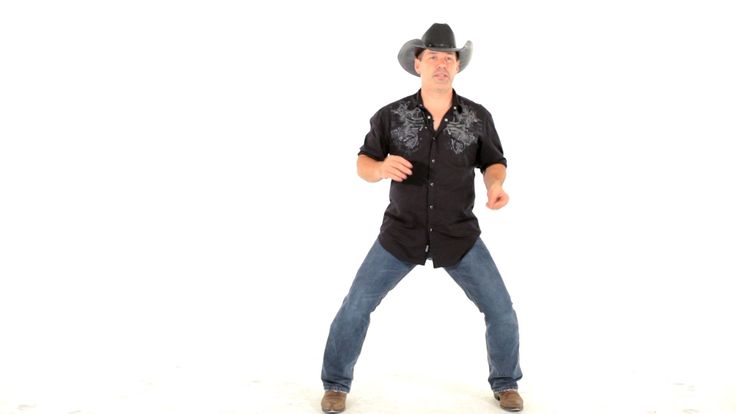 Some popular song choices for Power Jam include: Why We Drink by Justin Moore, I'm A Cowboy by Smokin' Armadillos, I'm From The Country by Tracy Byrd, Last Call by Daniel Bonte and the Bona Fide and Dust by Eli Young Band.
---
22. Rock Me
The whole dance is done to the beat of the song "Wagon Wheel" by Darius Rucker. The dance is easy to follow and great for people who are just getting started with line dancing.
It consists of a couple of rocking steps, toe/heel struts, and grapevine steps. Even if you don't know how to line dance, you can probably pick up the Rock Me line dance pretty quickly!
---
23. Slapping Leather
The Slappin Leather line dance involves a lot of movement and footwork and can be executed by both beginners and experienced dancers.
The steps are relatively simple yet fancy, with one of the steps actually involving 'slapping your leather boots!'
The most popular song to dance to is "Footloose" by Kenny Loggins. However, it can also be danced to other fast-paced songs, such as "Tulsa Time" by Don Williams.
---
24. Swamp Thing
The Swamp Thing (or Swamp Thang) is a traditional line dance from Louisiana that features different improvised cha-cha steps in its routine. It's usually done to the banjo/techno song "Swamp Thing" by the band The Grid, but any tune with a similar beat works well with it.
---
25. Tango with The Sheriff
The Tango with The Sheriff line dance is performed to the song "Cha Tango" by Dave Sheriff.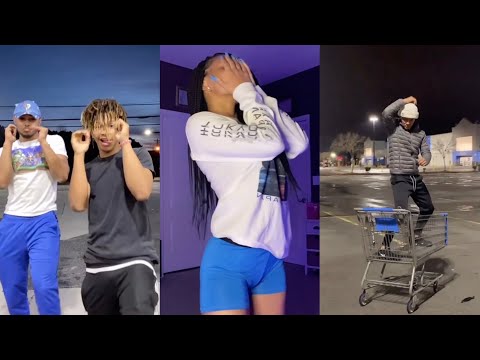 The dance's steps and song's rhythm are slow and easy enough for beginners and intermediate dancers to pick up.
The line dance's steps have two variations: a solo version and (since we're talking about tango) a partnered version. Regardless of the version used, it is a great icebreaker that will surely get everyone moving and having fun!
---
26. Ten Step (this is actually not done in lines!)
As you can see from the title, the Ten Step is not actually a line dance (usually meant for individuals) but a partnered dance. The dance consists of ten stationary footwork followed by a series of forward shuffles. In the partnered version, the pair holds hands and does the same ten steps, but with some added twirls along the way.
This is repeated several times throughout the song. The most popular song to dance the Ten Step to is "What's It to You" by Clay Walker.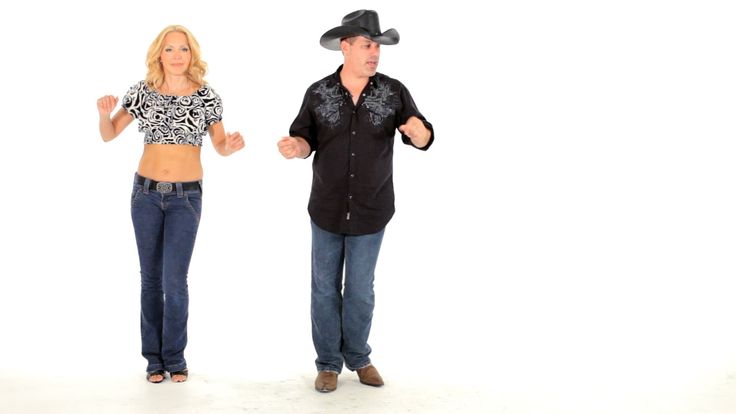 ---
27. The Cowboy Cha Cha
Although no one knows exactly when the Cowboy Cha Cha was created, it became a popular dance during the 90s. The dance can be done as singles, partnered, or even as a line dance.
The Cowboy Cha Cha usually comprises five steps, with each step repeated twice. Different variations on some of the steps also exist, especially if you're with a partner.
Songs like Brooks & Dunn's Neon Moon (slow paced) and My Maria (faster paced) are popular choices for the dance.
---
28. The Hustle
The Hustle line dance is a dance that originates from the 1970s when it gained popularity during the 'Disco Era.' Van McCoy's iconic song "The Hustle" is usually played with the dance.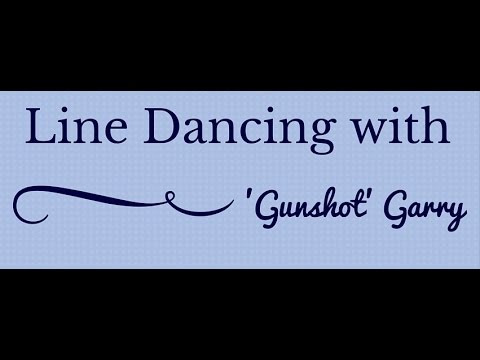 The line dance has different variations, with The Saturday Night Fever version being one of the most common. The steps to the dance are also easy (and catchy!), making it a fantastic line dance for beginners. You can even add in some of your own disco-esque moves!
---
29. The Stroll
One of the biggest dance crazes of the late 1950s, The Stroll features two lines of dancers, men on one side and the ladies on the other side facing them. Both parties are doing some basic stroll movements while they wait in line. The first people on both sides will then meet in the middle and stroll down between the two sides while doing some improv dancing. Once they pass down the middle, the next couple will then dance their way through, and so on.
---
30.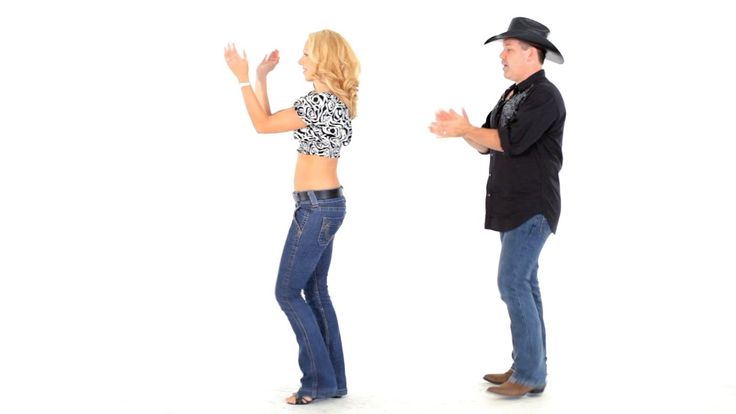 Tush Push
Tush Push involves doing some heel switches at the start, then pushing your hips back and forth (the 'tush push'), followed by some cha cha steps, and finally turning around in a circle.
The dance is moderately easy to learn, and is also a great workout as it gets your heart rate up and makes you move your whole body. If you are looking for a fun way to exercise or just want to enjoy some country-western music, then tush push line dancing is definitely for you!
---
31. Two-Step
Not to be confused with the Two-Step partner dance, the Two-Step line dance is done to the tune of Laura Bell Bundy's Two Step (feat. Colt Ford). Although there are different regional variations, the basic steps include moving side to side, followed by some kicks forward, then a quarter turn. Since these are just the basic steps, you can spice it up by adding your own moves to the dance!
---
32. Watermelon Crawl
Watermelon Crawl is a line dance created in 1994 by Tracy Byrd. The dance features fancy footwork and claps, followed by a slide to the right and back (which is kind of fun to do!), and finally some turns.
The song and dance have become extremely popular and often performed at country music festivals and other events.
---
33. Wobble
The Wobble line dance originates from the song "Wobble" by V.I.C., and it consists of a simple four-beat pattern that anyone can follow. The beauty of the Wobble line dance is that there is no right way to do the 'wobble' and no need for any prior dance experience; all you need is a willingness to have some fun. The dance can be done with any number of people, and it is often done as a group activity at parties or other events.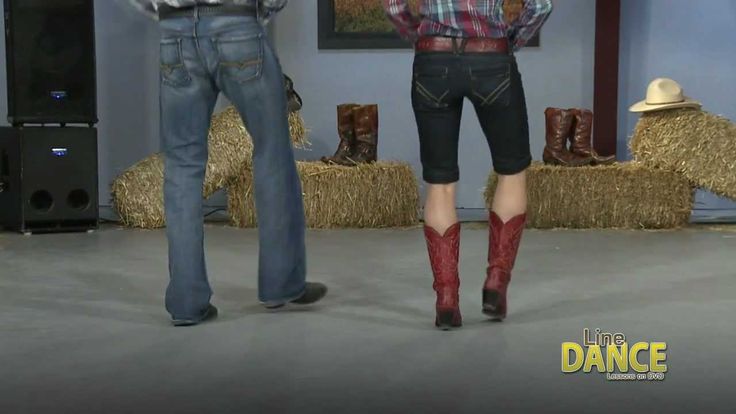 . . .
These are some of the most famous country line dances and the songs that they are danced to. Each dance has its own unique set of steps, making them a fun way to get exercise and spend time with friends.
Whether you're doing the Electric Slide, the Cupid Shuffle, or the Macarena, there's sure to be a line dance that you'll enjoy. So put on your dancing shoes, watch the videos and get ready to have some fun checking all these off your bucket list.
This post may contain affiliate links. If you make a purchase through my links, I earn a commission that helps to keep this blog running—at no extra cost to you. You can read my full disclosure here.
---
You Might Also Like
Broadway Musical Bucket List: 75+ Best Shows to See
10 Easy Harmonica Songs (& How to Play Them)
Bucket List Journey gives every person in the world the tools and inspiration to live their bucket list one checkmark at a time—founded by Annette White.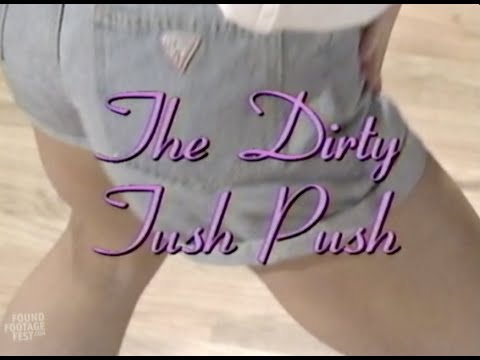 READ MORE
GET 2,000 BUCKET LIST IDEAS FREE
WHAT'S NEW
35 of Maui's Best Road to Hana Stops for a Fun Driving Tour
Christmas Movie Bucket List: 100 Best Films of All Time to Watch
Jamaica Bucket List: 30+ Fun Things to Do
350+ Good Icebreaker Questions for the Best First Conversations
Colorado's Canyon of the Ancients Guest Ranch
BUY MY BOOK
Page load link
Step Sheets Line Dance - Dance Instruction
You can easily learn line dance using step sheets. Whether you learned the basics in a class at a local club or community center or have never danced a line dance before, the step sheets lay out the routine so even true beginners can learn and hone the steps to any dance they want to learn. For best results, combine learning with step-lists with visual aids, such as videos of dancers performing the moves in real time.
Visual education
Not only country line dancing, but also line dancing to popular music and children's songs.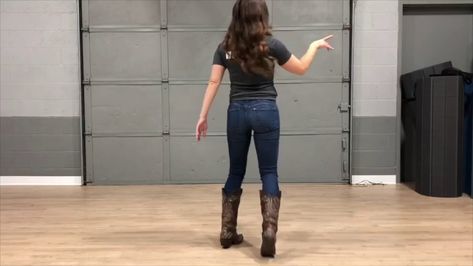 Many people don't think of Bunny Hop or Hokey Pokey as line dances, but they are. Learning the more advanced line dances is really no more difficult than learning these favorite kids dances, as long as you have good visual aids to guide you through the steps.
Related Articles
Flamenco Dance
Ballroom Dance Photos
Interesting Dancing Facts
While this YouTube video shows watermelon crawling both in training mode and in high speed dancing, printing out the step sheet is a good way to supplement your learning. Watch the video a few times to get familiar with the music and what the dance looks like, then turn off the music and break down the steps using the step-by-step chart. This combination of dances and written instructions will help you learn line dancing quickly and correctly. All of the step-by-step instructions below can be printed.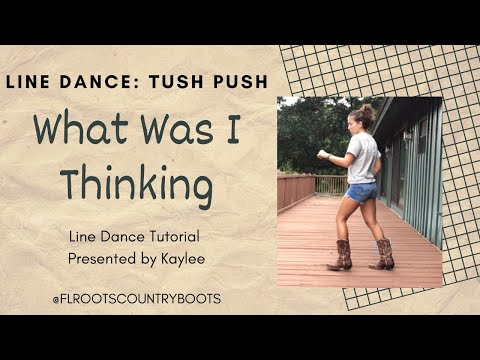 If you need help downloading the print version, check out these helpful tips.
how he looks at you when he likes you
Watermelon Walk
Steps for Popular Country Line Dances
Sick Broken Heart
Two more popular country dances are Achy Breaky Heart and Tush Push. "Achy Breaky Heart" has a long list of variations, but the step chart on the left details one of the main versions of the choreography. Once you've mastered this version, try more complex combinations or take them from other dancers in clubs or events.
Tush Push
Tush Push is more advanced than Achy Breaky Heart, but still accessible to beginners. Because the music, and therefore the step sequence, is quite fast, it's good to learn these steps without relying on the music.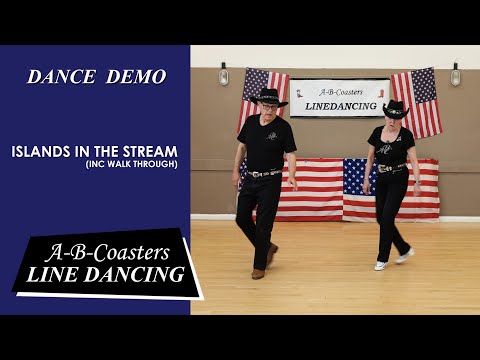 Master the steps without listening to the songs; then turn on the song and adjust your movements to match the rhythm. Only after you have been able to perform the entire combination several times in a row should you try to pick up the speed of the music.
Hip Hop and Pop Dance
Macarena
Although country line dancing is very well known, there are also popular line dances for other musical genres. These dances are especially common at wedding receptions and other gatherings with family, friends and colleagues. While there are not necessarily bars that offer "line dancing night" as many bars offer country style line dancing events, popular musical line dancing is often used to get large groups of people onto the dance floor.
how to make peace with your boyfriend
Cupid's Shuffle
The Macarena is a one-line dance that took the world by storm in the 1990s. A favorite at wedding receptions, this line dance is relatively easy to master.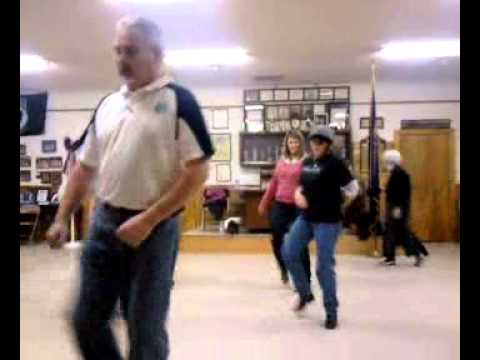 The Cupid Shuffle is not as well known around the world as the Macarena, but it is probably the easiest line dance to learn, with the possible exception of the Bunny Hop. Beginning dancers can practice this dance with the confidence that the steps are simple enough and the music slow enough that anyone can learn the dance with ease.
Additional online step-by-step sheets
If line dancing is your new hobby, you might be interested in learning a long list of dances. If you want to dramatically expand your repertoire, try one of these online resources:
I think my cat is dying
Line Dancer magazine has an extensive database of dance scenarios. Although this website requires a paid subscription to read step by step instructions, this resource is invaluable for those deeply involved in line dancing.
The KickIt search engine is one of the most useful ways to track a dance by song, artist, choreographer, or skill level recommended for a given dance. While it doesn't necessarily have all of the line dances, it's pretty close and is a free resource.
Learn and Enjoy
While step sheets are a great resource for learning popular line dances, don't forget to put them down when you know the steps. Line dancing is a great social activity, good exercise, and a lot of fun. Once you know the basic steps, relax and let the crowd improve your technique. If you listen carefully to the music, you will find that the steps fit perfectly with the music most of the time, controlling your rhythm and helping you punctuate the steps with your arms and upper body. If you are relaxed and having fun, the success of your training will be obvious.
Popular Line Dancing - Dance Types
Line dancing, whether lipop or country or something in between, is a great way to get everyone on the dance floor. The most popular line dances are very common requests at wedding receptions and other large gatherings with family, friends and colleagues.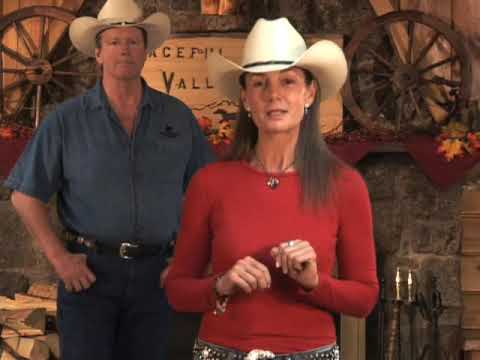 While the list of line dances is extensive, you can start by looking at the most frequently requested ones. Once you join a group of dancers on the dance floor, you can easily learn new steps for many different line dances.
how long does it take to complete a divorce
Learning Line Dancing
Use these step-by-step instructions to practice some of the popular line dances at home.
Related Articles
Ballroom Dancing Pictures
Flamenco Dancing
Dance Studio Equipment
Electric Slide
The electric slide is one of the most common line dances. The steps are light and the music is slow enough to keep up with even beginners. This dance has been a favorite during high school and junior high dances for several years, and is still popular at wedding receptions and large group events. Click on the image below for detailed instructions on how to perform an electric slide. If you need help downloading printed materials, check out these helpful tips.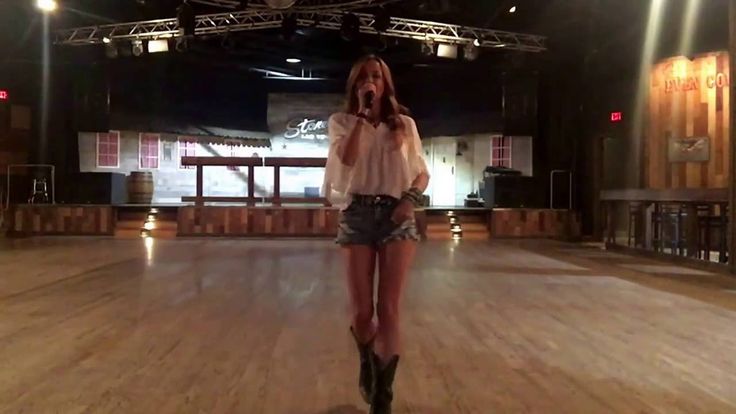 Cha Cha Slide
Cha Cha Slide Has a funky rhythm and is easy to learn because the lyrics tell you what to do next. By clicking on the following image you will get full instructions for this fun line dance.
Boogie Woogie
Country Dance Scootin' Boogie Boots is one of the easiest and most common dances. For aspiring country dancers, this is a great place to start. Click on the image for full instructions.
cost of kodak brownie 8mm cinema camera
Other dancing of the total line
The following line dancing are one of the most popular dance genres in the entire spectrum:
cotton eyes Joe
Chicken
Hawki
Suet
Hour
Hoedown Throwdown
Cupid's Shuffle
Random Runway
Some of these dances are not performed in a line, but in a circle.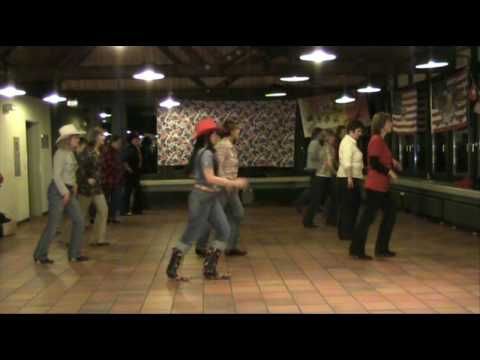 As long as everyone is dancing in the same group and the steps are repeated throughout the song, the dance can be seen as a line dance, regardless of the location of all the dancers.
Tips for students
Inexperienced dancers should remember the following tips:
Don't be afraid to jump in and try.
Once you learn a few basic steps, such as the vine, you'll find it much easier to pick up new combinations.
You can start small. Don't jump into the middle of the most complex, dynamic song of the evening if it's your first time.
If you're attending a country dance night at your local bar or other venue, find out if there's a training period at the start of the event. If you repeat the steps at a slower pace, it will be much easier for you to capture all the nuances of the dance.
Instructional videos such as Party Dance can help you practice your steps at home. Watch each piece of dance as many times as necessary and never worry about disturbing others.
Line dance variations
One of the reasons many people love line dancing so much is that most dances are very easy to learn. In addition, the repetitive nature gives ample opportunity to practice each dance several times. Although the dances are generally quite simple, there is plenty of room for accents and many regional variations. Once you've mastered the basics, watch other dancers to see what extra steps they add to the routine, such as clapping, arm movements, and extra steps or hip movements. Don't be surprised if you walk into a new dance floor and find everyone throwing in an extra handclap or doing a quarter turn instead of a half turn; Line dancing is all about being part of a community of dancers and enjoying each other's company. Just go with the flow and you'll have a whole new repertoire of moves in no time.