How to dance routine
10 Easy Dance Routines To Learn At Home | Easy Dance Choreography
One of the best ways to learn how to dance is to start with some easy dance choreography!

Plus, by learning a routine at home, you have the opportunity to practice as much as you need, learn at your own pace, and enjoy unlimited mirror space.

So, I've handpicked 10 dance routines that are great to try, right in your living room.

Check 'em out below!
But first...
What is easy dance choreography?
What makes a dance routine "easy" can vary for different people, different styles of dance, and many other factors.
But I find that the easiest routines always have a few things in common:
First, the music should be simple and easy to follow.
No crazy rhythms, super fast sections, or sudden switches in vibe.
Think of the songs that you've heard where you can sort of guess what's coming next, even if you've never heard that song before – those will be easiest to dance to!
Second, easy dance choreography should be built around grooves rather than hard skills.
Grooves are the movements the body naturally wants to do when it hears music, like head bobbing and hip swaying.
In contrast, harder dance routines are often more technical, and might involve a lot of movements that seem unnatural to you!
What dance styles have the easiest choreography for beginners?
Again, every dance style has a wide variety of routines meant for different skill levels.
However, since choreography based on grooves tends to be the easiest, you might want to start with these styles:
Open Style choreography – dance routines set to popular songs that draw from a wide variety of movement styles.
K-Pop choreography – routines set to K-Pop songs that are made to be catchy and achievable by anyone and everyone!
Jazz Funk choreography – Fun, feminine-leaning routines set to pop music (think music video routines or stage performances from your favorite popstars).
Other dance styles (like Ballet or Popping for example) require more technical training to execute even beginner level choreography.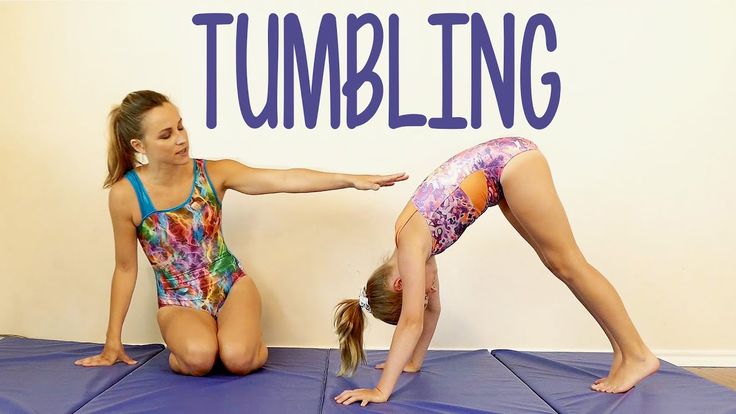 How can you make your own easy dance routines?
If you want to make some easy choreography for yourself, begin by watching some simple routines from established choreographers, so you can pick up on what you might like.
Then, choose a song that makes you wanna move, and try freestyling to that song.
This will help you work out what grooves come naturally to you.
From there, lock in your favorite moves, and start practicing in front of a mirror!
This article will also help you take your routine to the next level: 15 Ideas To Help You Make Amazing Dance Choreography
1. New Love - Victoria Monet / Open Style / Bianca Vallar
‍
Remember when you were a kid with all the time in the world? You'd watch music videos on MTV and try to copy the moves with your friends, right?

Well, this piece will give you the perfect nostalgia trip!

It has a 90's style song with moves to match, courtesy of instructor Bianca Vallar.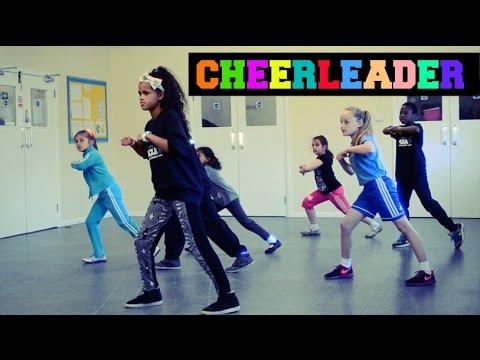 The mood is relaxed yet upbeat, and the choreo is full of smooth grooves and gliding steps. It's perfect for learning in a group because those grooves only get more satisfying as more people join in.
TAKE THIS CLASS
2. Pon De Replay - Rihanna / Open Style / Kara Cannella & Jaeden Gomez
Speaking of throwbacks, this next class is for Rihanna's catchy debut single "Pon De Replay". 

Just like the song, the routine is high-energy and loads of fun. 

Plus, instructors Kara & Jaeden are IRL besties, so the good vibe of dancing with your friends shows in their teaching. 

With their guidance, you and your dance buddies will be tapping into your inner popstar in no time.
TAKE THIS CLASS
3. Butter - BTS / Open Styles / Brian Puspos
K-Pop group BTS is a prime example of "teamwork makes the dream work". 

Appropriately, Brian Puspos has a routine for BTS' summer hit "Butter" that you can try with your friends. 
The cheerful swagger of this piece is simply infectious. 

And the best part?
STEEZY has Beginner, Intermediate, and Advanced versions for this routine. This way, you and the squad can take on each level as you improve together.
TAKE THIS CLASS
4. Rain on Me - Lady Gaga, Ariana Grande / Jazz Funk / Beau Fournier
This next class is a celebration just waiting for you to participate in. 

Instructor Beau Fournier gives this Lady Gaga and Ariana Grande collab a simple yet powerful choreography that will help your whole squad let loose!

This is a great choice for you and a friend to get into learning Jazz Funk, or if you're looking for a routine that's a bit more theatrical.

TAKE THIS CLASS
‍
5. Livin' It Up - Ja Rule ft. Case / Lite Feet / Rob ShortSircuit Wilson
Like many street dances, Lite Feet came straight from the community (think cyphers on the street and subway car performances), so it's only fitting to include a Lite Feet class in this list of dance routines to learn with your friends. 
In this one, Rob ShortSircuit Wilson teaches iconic moves like the Tone Wop and Bad One to Ja Rule's hit single "Livin' it Up".

But don't worry, if you're new to Lite Feet, your instructors for this class break down each step in detail. ‍
TAKE THIS CLASS
6. Casio - Jungle / Whacking / Kristin Santiago
Since it's a 1970's club dance that has seen a recent resurgence, Whacking is another style that's better danced with friends.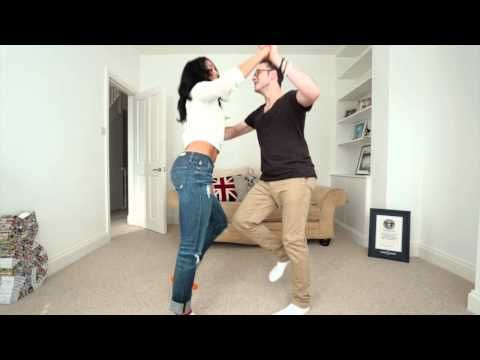 And although Whacking is often physically intensive and fast paced, Kristin Santiago's class to "Jungle" is low-key and slow burning.
It's a great introduction to Whacking as it gives you the opportunity to fully experience each step, rotation, and pose.
TAKE THIS CLASS

7. Escucha Mi Salsa - Son Habana / Salsa / Aubrey Ares
Taking a detour from street dance, this Salsa routine by Aubrey Ares is ready to spice up your next dance session. 

You'll learn lively steps and hip movements, all with that salsa flavor that's sure to get you and your group grooving.
TAKE THIS CLASS

If you're new to Salsa and would like a few intro classes to help you get into the vibe, STEEZY also offers a beginner program by Gracie and Tony Flores that covers the basics in just 7 days.

Click here to start the program for free!
8.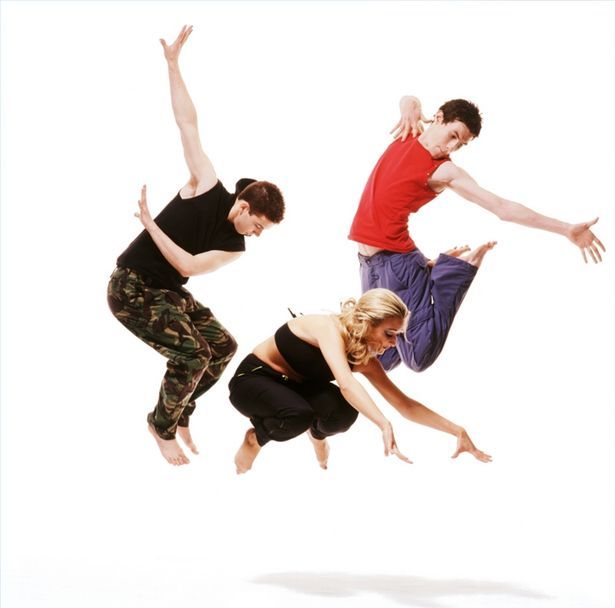 30 Min All Pop, No Stop! / Dance Workout / Luis Cervantes
While this one isn't technically a dance routine, it's great for all of you out there that like to get your cardio on with your friends. 

Instructor Luis Cervantes leads this 30-minute dance workout that you can jump right into without having any prior dance experience.

Whether your friends are more into the workout or the dance steps, this class is a fun way to get fit together.
TAKE THIS CLASS
9. Motley Crew - Post Malone / Open Style / Ben Chung
Nobody exemplifies "squad" better than the Kinjaz, and Ben Chung reps the group with a slick routine in their distinct style. 

Precise movements and clean hits are the name of the game here, so be sure to try the looping and speed features on STEEZY to help you out.
It takes time and effort to learn a routine like this and perform it in sync with others, but it's extremely satisfying when you get it right.
TAKE THIS CLASS

This class is also part of the "3 Dancers Choreograph to the Same Song" series. In this edition, all 3 dancers (Ben, Charles, Villn) are homies from the Kinjaz, and they're a great example of how friends can gas each other up while also approaching dance in their own way.
10. Thot Sh*t - Megan Thee Stallion / Open Style / David Lee
The final routine on our list may be one of the most challenging, but it's also fulfilling and a load of fun. 

As always, instructor David Lee breaks down all of his moves and grooves here so that you and your friends can learn them all.
The piece is full of attitude and interesting rhythms, and there's plenty of room to put your own personality into the dance.
TAKE THIS CLASS
---

We hope you enjoy learning this easy dance choreography!
If you wanna check out even more, you can find hundreds of classes in all kinds of styles on STEEZY!
How To Choreograph A Dance Routine In 6 Simple Steps
Are you wondering how to choreograph a dance routine? Or if you even can???
The answer is YES, YOU CAN! And you totally should.
Choreographing isn't just for professional dancers with tons of clout. It's a skill that anyone can learn with a little practice and inspiration. Not sure how to start? Just follow this handy 6-step guide and start creating!
Finding the right song could be the easiest or hardest part of choreographing.
Sometimes, you hear a song for the first time and you know, you just KNOW, that it's the one.
Other times, you browse through your entire iTunes library, SoundCloud dashboard, Spotify playlists, and still don't feel anything.
But once you have a song and pick out the section you want to choreograph to, listen to it...A LOT. And don't just listen – listen with intent.
Look up the lyrics to see how you relate to the meaning of the song. Discover hidden hi-hats and riffs that you can highlight.
Note the "pathways" for movement you want to take –  do you want to hit a certain lyric? Or that dope double bass? Visualize ideas as you listen.
You don't need to come up with concrete moves, but understand how you wanna move. And if you need to cut your music, do that first.
Having to wait or skip around to different parts of the song can interrupt the process.
‍Some tips for finding songs: Best Ways For Dancers To Find New Music
Yes, you can watch videos from your favorite choreographers and remix their routines, but to make something unique to you, try drawing inspiration from your own life and the culture around you.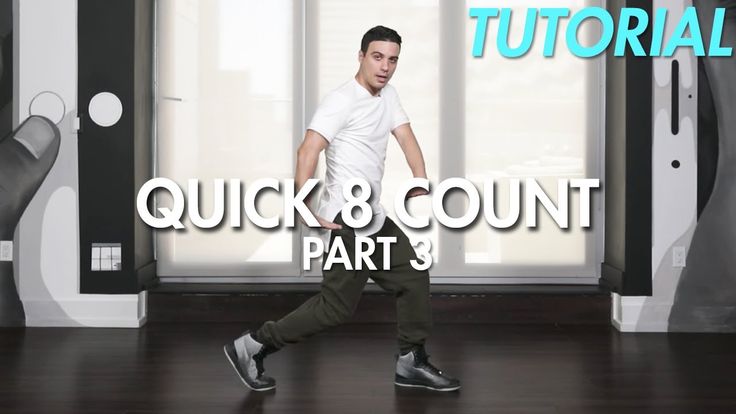 Read thought-provoking books, watch beautifully shot movies, check out MET Gala costumes, and visit cool museums!
All forms of art can inspire and fuel your art. When you see something inspiring, write it down so you can come back to those ideas later.
Even something simple like an interesting conversation with a friend can turn into a dance choreography idea or a new dance move.
Already feeling inspired? Watch this video to learn how to turn those ideas and concepts into dance moves!
Freestyling doesn't necessarily mean that you're going to be using those exact moves in your piece. In fact, you probably won't even remember a lot of what you did!
The point is to let your body respond to the music. Play the whole song and let yourself move. Notice how you naturally groove to certain sounds.
This will be the first "layer" in your choreography.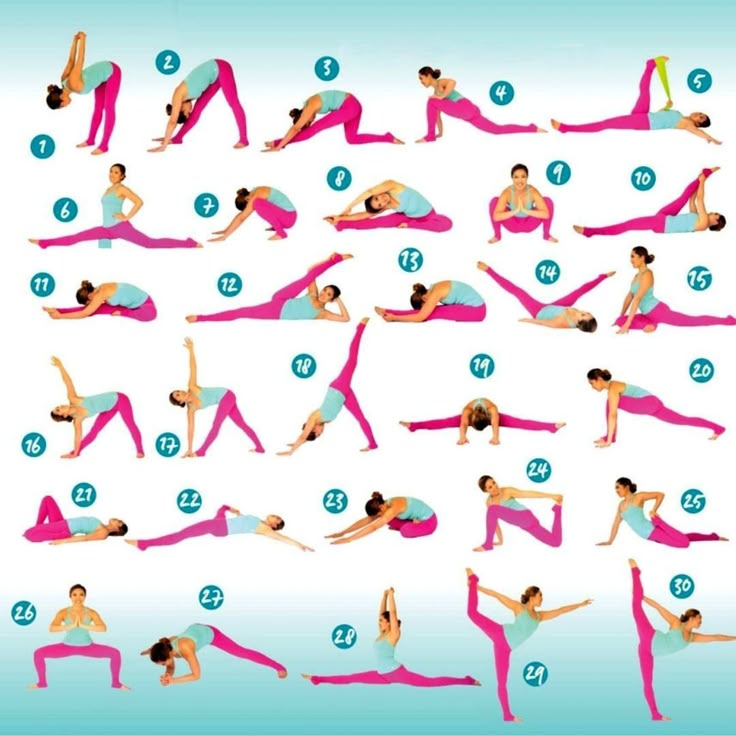 You can then try variations or build more intricate movements on top of it.
‍Not sure how to start freestyling? Read this article for a few more tips: How to Freestyle Dance
‍And if you put on a song you really love, but still can't come up with any moves, check out this video!
Clay gives you tips for creating unique movements, even when you think you have choreo block.
You probably decided to choreograph to the song because you thought certain sections would look dope on the body.
Is it a climax? A breakdown? An instrumental interlude?
Whatever it is, start with that part. You don't have to choreograph chronologically from beginning to end.
Start with the chunks that come easier, then build the rest of the choreography around it.
After you've choreographed your favorite chunks, make sure to give some love to those in-between sections!
Just because it's not a crazy beat combo doesn't mean it doesn't have potential to look amazing.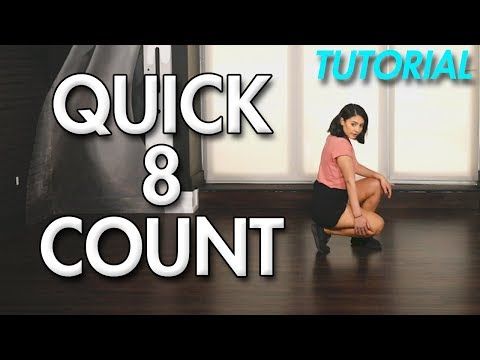 Sometimes it's those slower moments that are the most memorable. Check out this piece from Galen – it's all about her presence and demeanor.
Even her simple movements are engaging because she's filling those calmer moments with presence, before she goes off in a powerful combo.
A lot of us have the problem of making choreography that looks good in our heads... But not on our bodies. At that point, you just gotta train yourself.
Some refer to this as "cleaning" or "setting," which involves perfecting certain pictures you make with your body, looking at pathways between points, or drilling quick combinations.
‍Check out this article to learn more about the cleaning process: How To Execute Choreography Better By Utilizing Your Body With Carlo Darang (Choreo Cookies)
‍And remember: How you choreograph will be how the piece looks.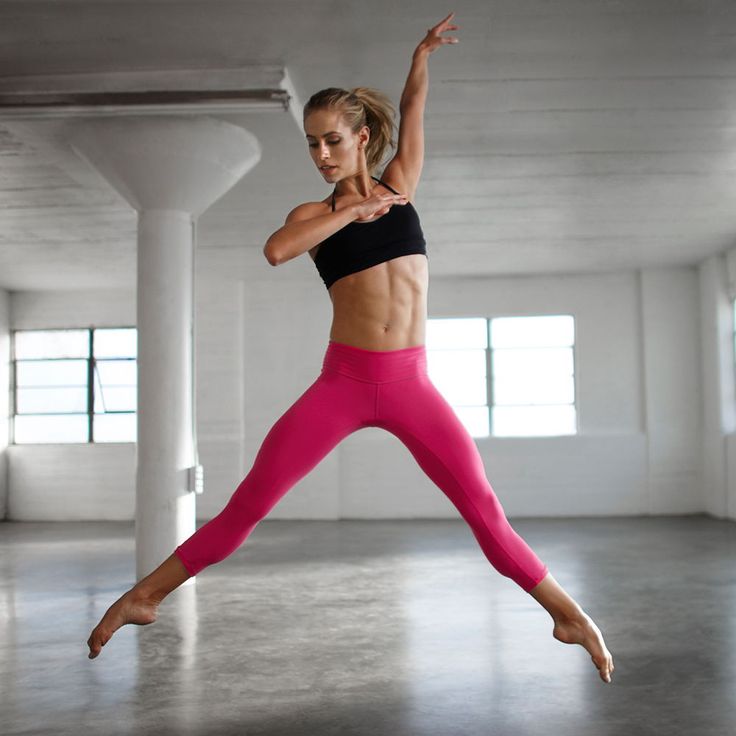 So when you choreograph a dance, do the moves full out.
For example, if you want a plié somewhere, really bend those knees. Let body rolls go all the way through your body. If you're doing floorwork –  get on the floor!
It's not going to magically look amazing when you perform on stage or in front of the camera. Make it amazing as you're making it.
‍Watch this video to learn more about dancing full-out, in every moment.
There are probably moments within your piece that feel perfect to you. Don't change those.
But the piece as a whole is probably a bit rough around the edges, especially if this is your first time choreographing.
As novelist Ernest Hemingway once said, "The first draft of anything is sh*t."
‍So don't worry if it's not exactly what you wanted it to be. You can work your way there!
Do this by trying out variations of movements, scrapping some sections, changing directions, or adding floorwork – whatever you feel is necessary to "edit" the piece.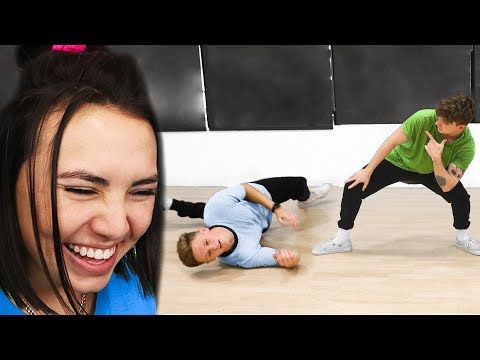 And honestly? That's what makes creating so fun – trying things. Saying "Nope, not that," or "YES oh my god, it worked!"
‍It's supposed to take multiple drafts! Just keep editing until you're done.
Of course, if you're a perfectionist, you might feel like your piece is never finished, but you gotta draw the line at some point.
While it's awesome to try to keep improving your piece, there comes a point where you have to say "This is it. It's ready."
‍It's not about feeling like your piece is perfect. It's about making something that you feel proud to say you made. So when you're done, let it be.
Give yourself a pat on the back. Record the piece and share it with us via our STEEZY Studio members Facebook Group!
Thousands of dancers around the world are not only improving their dance skills on STEEZY Studio... they're joining our community and getting feedback from other dancers!
Click here to sign up for STEEZY ;)
Check out this video for a quick recap of this guide AND a few extra tips!
Pro routines - WCS! Life
Routine (English "routine") is a production number in dancing to a certain song, with a certain partner, in special costumes, prepared in advance, performed as a separate performance - spotlight - that is, one pair on the floor.
In our WCS community, there is an opinion that routine is something titanically complex, associated with constant lack of time and constant quarrels with a partner. Regularly at events before this nomination, the hosts are terrifying. The most important nomination, the guys have been preparing for many months, it's a lot of work, hellish work and nerves, respect, worthless dnd-shniks (okay, they don't say that). I will write about my experience, with examples from our routine, because it was very exciting, instructive and still fresh in my memory. We will also analyze popular stereotypes.
1. Establishing a routine is very difficult
So it seems to us all.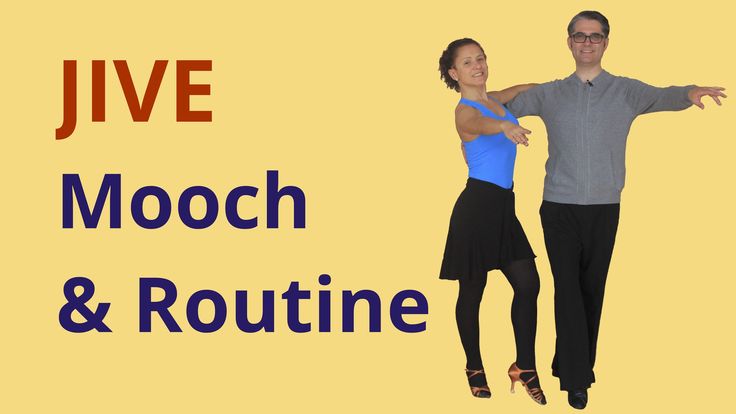 The question is depending on what to compare. A lot of videos from American events (if they shoot videos there at all) don't reach people here. There are a lot of routines, very different levels, a lot of ProAm routines (which are also shown in the spotlight). For after routines, people are judged better in JnJ: this is a fact.
But the Classic finals at The Open reach us, and if we compare with them, then yes, this one is difficult. These are very, very trained people. Sometimes injured. Often all over the head. They do it every day, hardly ever get tired, and drink nasty green smoothies in the morning. Why do you need this? The level can be any, just soberly evaluate yours. You need a quality dance, it can be quite simple. And if someone tells you "Eww, this is too easy", then let them get up and do at least the same. You don't need to bring something new, creatively mix a strange song, you don't need super original support, no one expects this, this is not what the audience wants.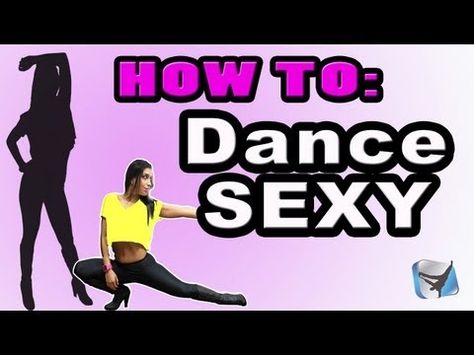 The audience wants to be entertained. And empathize. They want to feel something, something sincere. And it's not that difficult.
2. I really want to, but I don't have a partner
If there was a partner ready to set up a routine, he would already be setting up a routine. Of course, it's not like that right away, it's difficult for partners to decide, they need to be persuaded.
How to choose? I think that with this person it should be nice to just dance soushal, communicate. After all, this is what you will be doing most of the time. It should also be a person close to you in terms of build, of similar height. It is always more pleasant to look at harmoniously similar people. Or on people broadcasting one image, character. This is where a trainer can help you.
3. We can't choose a song, he doesn't like my options, but I don't like his
I won't fight back here, it's really hard to choose a song.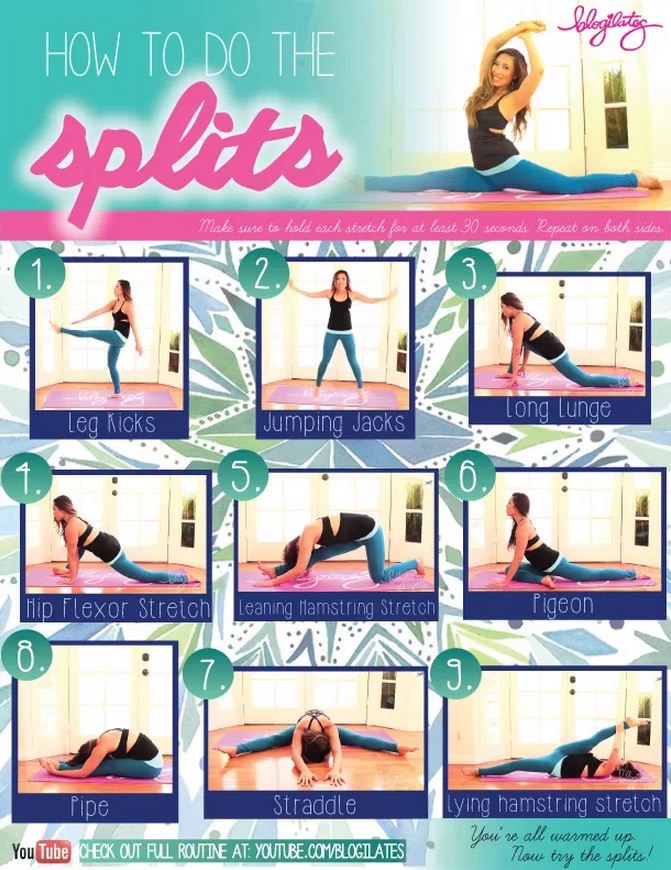 And one that doesn't make you sick after a thousandth consecutive listening, that it has a story, development, emotions, and that there is a WCS ... In this case, the last thing is most important to us. Put on your song and just dance to it. Does it have VKS-rhythm. And if there is, is it really in the song, or do you create it yourself?
Plus, the "rule of thirds" always works. Ask a third person. A coach, just one of the teachers (believe me, no one will refuse a question in a personal: "do you think this song is suitable for a routine?"), A group colleague, he is also a spectator. Although it is better of course someone more or less authoritative.
Our song at the US Open happened by accident. They planned to take a contemporary with elements of rock, but the coach said: "There will be 25 of the same songs in the final, because Rising Star is an unknown youth, and youth dances to contemporary. Want to stand out? Take the classics and show these judges what they really want but don't expect to see.
" In general, it was a specific task and a specific strategy for it. In the Russian videoconferencing community, everything is a little softer.
4. We will swear all the time, piss each other off and quit dancing
This is my favorite. Well .. of course, not everything will work out, especially at the beginning, when it is not very clear what to do. There will be bad days and good days. My rule is never to blame a partner (it is very likely that his rule was the same), everything is only through questions. What can I do, how can I help, why is it not working, what do you think. Partnership is not for avenging evil, raising common children, or self-affirmation. You have a goal, you have gathered to do something beautiful together, in other words, to do a certain job together. He has his duties, you have yours. No one spends his resource to control the work of another. Each is responsible for what he does best and must teach this to the other.
Each figure is an algorithm of actions.
Dorotate - go strictly into the diagonal - wait until he cranks. I remember sometimes I would stop and say, "I don't understand my job here. I'm just waiting for you to spin me. How can I help?" And he answered: "I need your hand in a more comfortable position for me to start spinning right away." And I'm like, "OK," and to my algorithm was added "have time to scroll the hand with the palm outward."
In the end, the routine is just such a set of algorithms, when superimposed, figures are obtained. Then looks, gestures, details are added there, and all this is written into the algorithm.
By the way. You and your coach will change this algorithm more than once, and this is where the ability to quickly retrain to a new one is valued. Works through repetition. There is no talent. It's just that one needs to repeat 15 times, and the other 85. And everyone must respect the number of times the second needs. But cool things never work the first time. All the features of the best champion dnds are born there "accidentally", because they have already done it, 500 times, in their routines.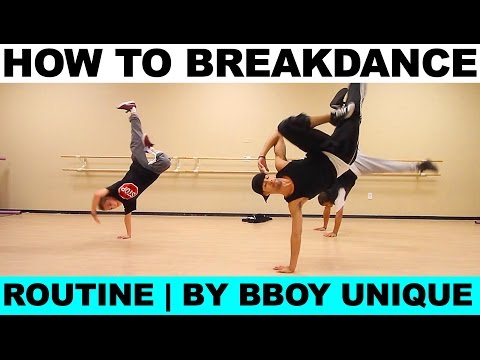 5. Routine is a lot of time, and I have a job, a family, a cat
Always remember that this is a temporary project. Resources will be found as soon as you get into the flow. It is important to strictly limit yourself in time. You need to understand exactly how many days and hours you have for this, otherwise the brain is lazy. A smaller limitation also works, for example, until tomorrow you need to come up with support here. And I can assure you, it is definitely invented. And if not, then start the morning with a green smoothie, this also helps.
We had a severe limitation, 2 months (approximately 57 days). We trained every day from 2 to 5 hours. 3 weeks before The Open, we had not yet registered and did not know if we would go. Of course, no one forced. Of course, you could quit at any time. Sometimes I went out of the hall for a walk and thought: "So, I don't like anything. It's clear. Well let's get it. And then what. You are in the house of the future champion, he will continue to train, he has no options, and what are you going to do every day instead.
You are in a foreign country, you have no friends, no car, your family is far away. You cannot do anything. Are you afraid? Are your fears stronger? Ready to bang a month of training? Well, I do not!!! Need inspiration? Go watch Gary with Susan and Glen with Kelis run, all the snot will pass at once. Well, she went. And then she went back to her little sandbox.
Another piece of advice follows from this. If you're really scared, ask your friends to keep you company. It's so motivating! The idea is not new, training is always more effective when a friend is training with you in the gym.
Total
I don't think there was anything new in the text, but let's summarize anyway. What you need to put the routine:
An emotion, an idea that we will broadcast. The level is secondary.
A partner close to you in size, height, visual perception.
Music track with wcs-rhythm inside.
Trainer. This person will help with the previous 3 points.
Time limit.
Green Smoothie!
Why am I writing this?
I love art. I want to see more routines. I want people not to be afraid to install them, not to be afraid to start, to try. For me, routine is the quintessence of dance knowledge and skills. It is much more a process than a result. This is a powerful impetus in development, in technique, musicality, in personal technique and in my own style. Plus a great inspiration, both for the participants themselves and for the audience. And vidos. I just wanted a good video, that was my goal. Our dance is so flexible in terms of requirements - level, number of couples, music - and we use it so little. Thanks to those who read. All creativity!
PS. Smoothies are a joke, of course.
---
About the author
Evgeniya Dudukina paired with Philipp Wolff took 1st place in the Rising Star Routines nomination at the prestigious California tournament The Open 2018.
A total of 21 couples competed in the nomination.
Share link
Twyla Tharp: Creativity as a Routine
Twyla Tharp: Creativity as a Routine | Big Ideas Personal qualities and skills
Article published in Harvard Business Review Russia Diane Coutu
Many people think that there are such special people who are born with many talents, and by special signs they can be identified. Endless talk about genetic predetermination, of course, adds fuel to the fire. But it seems that the idea that creative talent is an innate property appealed to many because it gives indulgence to stagnation: it's not our business to change anything, but let personnel officers look for creative people. It is interesting that truly artistic natures do not fall for the idea of ​​predestination. Choreographer Twyla Tharp will certainly not agree that mastery is given from above.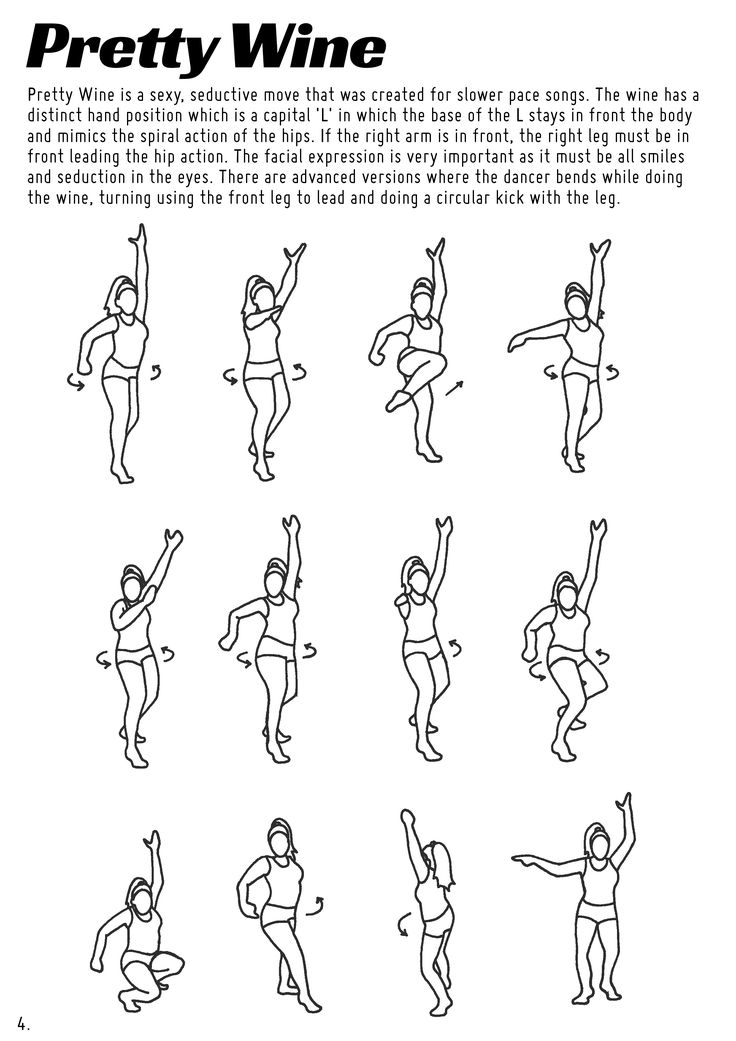 And her opinion - the opinion of the master who changed the face of the dance - is weighty. She is a recipient of the John and Catherine MacArthur Foundation Scholarship (in the United States she is called the "Genius Grant"), twice winner of the Emmy television award and winner of the theater Oscar - Tomy Award, author and host of television programs and creator of Broadway musicals; she staged dances for the films "Hair", "Ragtime", "Amadeus". All of this Tharp, now 66, has done all the time from staging ballets for her own company, Joffrey Belley, the New York City Ballet, the Paris Opera, the Royal Ballet of London and the American Ballet Theatre. Her track record includes more than 130 performances, many of which have become classics, and two books. Now Twyla is working on several new productions. Tharp met with HBR senior editor Diane Coutue at her Manhattan home. She talked about what it means to be a choreographer, how to nurture creativity, how not to be afraid of change, how to fire even the best artists if necessary.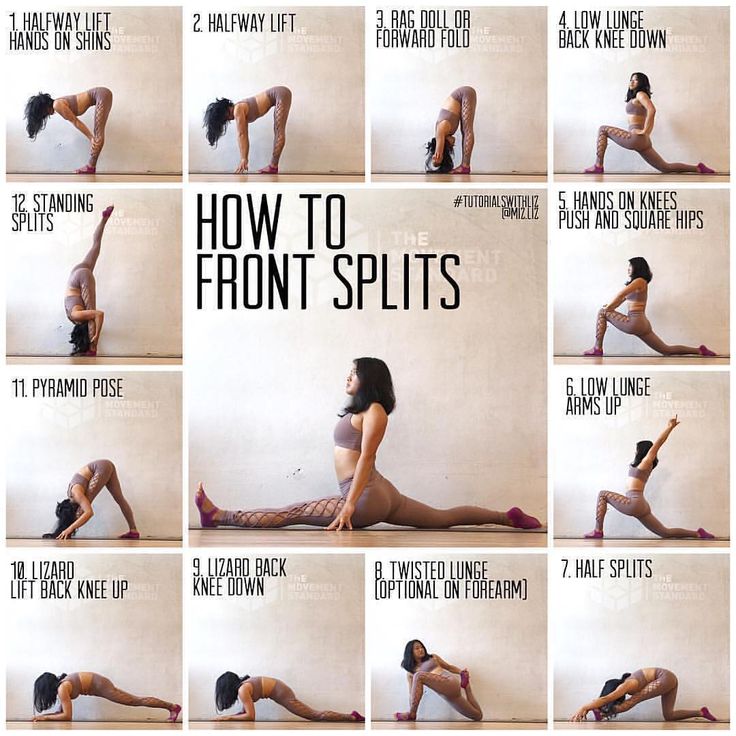 In her blunt way, Twyla talked about the obsession with work, about how you have to be tough, even cruel, if something threatens this work. We offer you an abridged version of the conversation.
In The Habit of Creation, you talk about creativity like a business.
It's probably because of the word "habit" - it's so boring. In fact, my book is about the fact that creativity is joy and it is available to everyone. I don't like this kind of romantic notion of an artist as a sufferer, in general it seems to me that talking about suffering is complete nonsense. Everyone, I'm sure, has creative inclinations and everyone can show them, but you need to tune in to the fact that there is a lot of routine and sweat in creativity. It cannot be otherwise. It is absolutely wrong to think that art is off the ground or that there is no place for creativity in business. The best artists are extremely earthly people. The most gifted painters I know mix paints, grind, add fixatives themselves.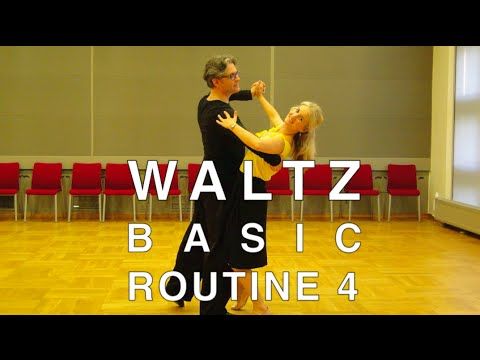 Everything they have at hand goes into action. In my own - all the "raw materials": all life. But without proper preparation—without habit, if you will—I would have passed over this raw material, or would not have known what to do with it. It is clear that people are born with certain abilities. In the dance, one can see that the coordination of movements is better for one and worse for the other. I have not worked with children, but I think that even toddlers manage their arms and legs differently. You can't teach it, it's genes. But I don't like it when heredity is used as an excuse: "I can't do it, because it's not given to me." Get over yourself. The most sparkling creativity is the result of habit and hard work. And good luck, of course. Mozart was his father's son. And Leopold Mozart was a subtle man with broad views; he was famous in Europe as a composer and teacher. First of all, Mozart was lucky with his father.
For those who want to develop their creative abilities, you advise diligently to imitate the great ones.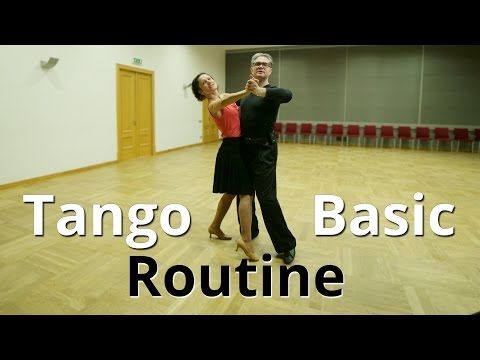 But what if it's not original enough - it's not scary?
No, of course not. I'm just trying to explain to people that there is no need to give in to the vastness of other people's accomplishments. A classic example is Brahms. He was an excellent musician, and since he admired the great composers - Beethoven especially, he decided to publish his first symphony only when he was already over forty. Lord, how much time has been lost, how much time! And all because Brahms was very timid. And you know, in this timidity there is a certain arrogance, pride. We think it's modesty. Nothing like this. It's as if Brahms was saying, "Damn it, I can't beat Beethoven's Ninth with my first symphony." So, sorry, maybe you can't do it. Why not calm down and mind your own business? Personally, the question of originality does not bother me at all. Has anyone done what I did? Yes for sure. But that doesn't bother me much; my task is to use someone else's to create my own. Learning does not mean imitating.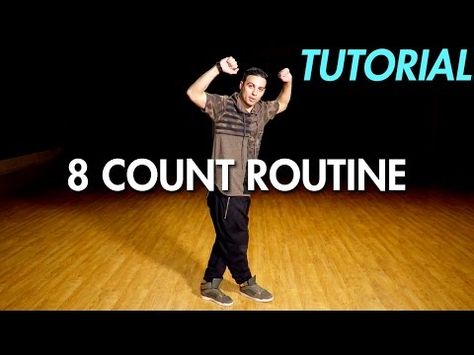 This is the wrong word. To imitate is to take the decisions of others. To learn is to take someone else's stories. Braque and Picasso painted very similar paintings for a while, but they were completely different artists, with completely different values ​​and outlooks on life, with different backgrounds and, in general, everything. Working with general plots did not prevent them from learning and did not make them "not original enough."
You never stand still, you are always trying something new. Usually your next dance is very different from the previous one.
Such was my strategy, such a way not to rust, not to stagnate. Whether the experience was a success or not, I'm not interested in repeating it. You can not be content with what you have achieved, because then you will not want to do anything else. I am now trying something new and working on three productions at once. This is a kind of training of my creative powers, a test to which I subjected myself. If not for my desire to go only forward, these ballets would never have happened.
The desire to try new things, change is what drives my work, and for the creative process it is as important as habit. It is probably easier for me to accept new things than for people from business, because the body is constantly changing, which means that the capabilities of a person also change. I can't ask a dancer to reproduce exactly what he did yesterday, much less what he did six months ago. Today he will succeed only in today's way, and not in yesterday's way. But, on the other hand, I have a lot of habits that help me find new things. If, for example, I look up a word in the dictionary, I also read what is around - both before it and after it: you never know where a good idea will come from. I also like to read authors who know people well, like to delve into their souls. I had not re-read Tolstoy for a very long time and then I took War and Peace. Why do you think I read Tolstoy? Just like that, for fun? No. He was a great writer, and I have an idea for another book that I want to write.
I am not a writer, so I do my best for self-education. To change something radically is a real work, nothing happens by itself.
Business literature talks a lot about the benefits of failing on the path to excellence. Do you agree with this?
Of course. On the path of change, there are bound to be setbacks—but not in the conventional sense of the word. If you only do what you know how to do, and do it very, very well, you may not be successful. It's just that your work will stagnate, it will become less and less interesting, and this burnout is also a failure. Real mistakes, on the other hand, are evidence of professional competence in the sense that you are trying something new, unusual. Ideally, failures should be hidden from prying eyes. When I come up with dances in my rehearsal room, the ratio of failures to successes is about six to one. Somewhere out of six blanks, one is included in the final production. But it would be unfair to call this unused material a failure.