How to learn kuchipudi dance
Kuchipudi Natyam - Home
What We Do

This site is dedicated to the promotion of the beautiful Indian Classical dance form of Kuchipudi to a global audience. We are passionate about spreading this divine art form far and wide to enrich the cultural and spiritual lives of people around the world.

THE BEAUTY OF KUCHIPUDI
Kuchipudi is one of the major classical dance forms of India, and the classical dance tradition from the South Indian state of Andhra Pradesh. Deriving its name from the village of Kuchipudi, where it was originally practiced as dance-drama, it has evolved over the centuries into a systematized form with a structured style and technique based on the classical dance treatises of Natyasastra and Abhinaya Darpanam.
Learn More About Kuchipudi
SWAYAMBODHINI –
​Self-learning Tutorials
There are many aspirants across the world who want to learn this dance form but do not have access to a Guru.

​Kuchipudinatya Swayambodhini is our humble attempt to provide an alternative channel of learning. While this is no substitute to learning directly from your Guru, the Swayambodhini can help you understand the basics as a learner, and serve as a ready reckoner for returning learners.
Learn More
Meet the Founder and Teacher
​Lakshmi Bhavani trained under the guidance of the legendary master Padma Bhushan Dr. Sri Vempati Chinna Satyam garu, Dr. Sri Chinta Adinarayana Sarma garu, and briefly under the guidance of Sri Mahankali Mohan.

She completed a formal Master's Degree in Performing Arts (Kuchipudi Dance) from University of Hyderabad (1997), where she got the chance to refine and perfect her skills under renowned gurus – Dr. Sri Nataraja Ramakrishna, Dr. PSR Appa Rao, Smt. Kalanidhi Narayanan, Sri Kala Krishna and others.
"My name is Lakshmi Bhavani - teacher, performer, and an eternal student of Kuchipudi dance. I have over 20 years of experience in performing and teaching this delightful dance form. I am passionate about spreading this divine art form far and wide, to enrich the cultural and spiritual lives of people around the world."
Learn Kuchipudi from your Home
I teach online classes for students who do not have access to local gurus, and for those who want personalized training.
​I also teach in-person classes in the San Francisco Bay Area near Fremont and provide workshops in the Southern California area.
​For more details, please contact me below.
Contact
Classes - Sri Kuchipudi Natyalaya
Dance classes are scheduled at the time of enrollment.  Students can change the day of attendance based on their availability and/or at the discretion of the teacher.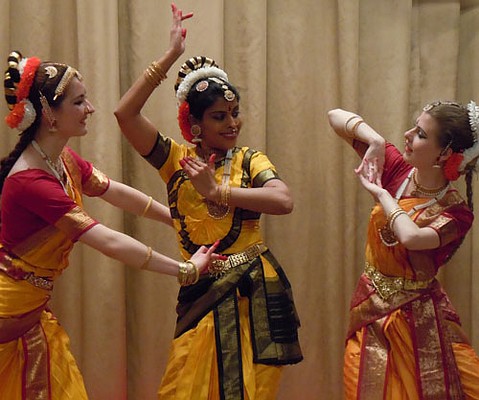 Classes are held weekly for an hour (approx.). Fee is monthly and due on the first class of the month.
Cancellation policy
Fee is not per class basis and hence no refund will be provided for missed classes. However if the class is canceled by the teacher due to conflict, every effort to reschedule the class didn't happen then refund will be provided. 
Dropping/Pickup
To reduce distraction for the kids, parents are requested to drop off the students and leave or wait outside. In a situation where the parents leave the kids, they should come back on time and pickup their kids.
Locations
| | | |
| --- | --- | --- |
| Foxboro | Upton (Sat. only) | N Chelmsford (Sun. only) |
| 32 Commercial St. | 1 Church St. | 31 Princeton St. |
Learning Kuchipudi at our Dance Institute
Kuchipudi requires complex movements and flexibility of the body.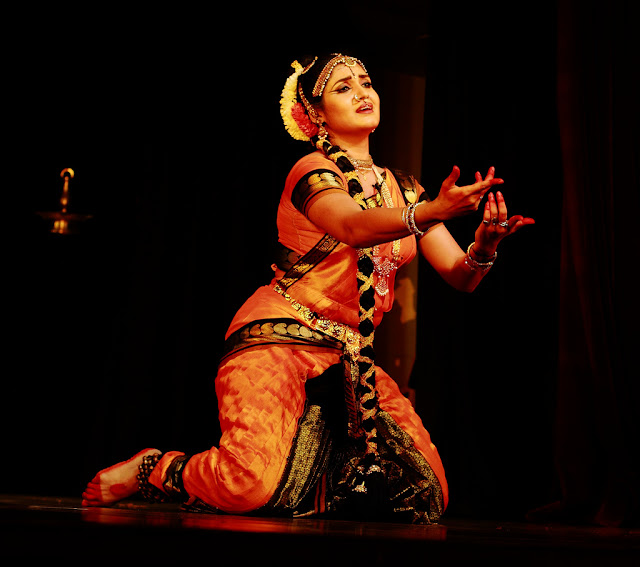 Your child should have completed 6 years for him/her to start learning Kuchipudi. However under the supervision of one parent, children under 6 years can attend classes to get familiar with the class environment.
Beginners
Students learn basic and advanced steps in this level. To graduate from this level students usually take 12 to 18 months.
Intermediate
Students learn complicated combination of steps called Jathis. Jathis are divided into:
 Chathurasra jathis (11 jathis), followed by 1st item.
 Thisra jathis (5 jathis), followed by 2nd item.
 Misra jathis (3 jathis), followed by 3rd item. 
 Khanda &, Sankeerna jathis (4 jathis), followed by 4th item.
To graduate from this level the students usually  take about 2-3 yrs.
Advanced
This level starts from the 5th item and moves on to complicated items. This level (roughly 8-12 items) as such does not have any limit, but to complete, students need to finish at least one item in each category of Kuchipudi dance form.
To graduate from this level the students usually take 3-4 yrs.
Graduation
During the advanced level the student is eligible for Rangapravesam (graduation debut of solo performance). An assessment will be scheduled. Based on the  assessment results and when the student is ready, graduation will be announced one to two year prior to the event date.
Summer Camp
During July and August months, summer camp will be announced.  This planned summer camp schedule will also include theory classes, where the students will learn the contents of Natya shastra and Abhinaya Darpanam (science of dance). All the required material will be provided to the students.
Theory classes are divided into 4 levels. Students will be promoted to the next level on successfully completing the previous level. On completion of all 4 levels, students will be awarded a graduation certificate with a title.
Indian dance video lessons for beginners
home
Indian dances
Indian dance video lessons
Indian dance video will help you learn to comprehend dance from different angles, you will discover an inexhaustible source of inspiration and good mood. In addition, join the centuries-old Indian culture through dance - one of its brilliant facets. And to top it all, with regular practice, you will be able to maintain excellent physical shape for many years, because Indian dance is a firework of movements and the load falls on almost all muscle groups.
Indian dances captivating with their beauty and aesthetics are familiar to each of us since childhood.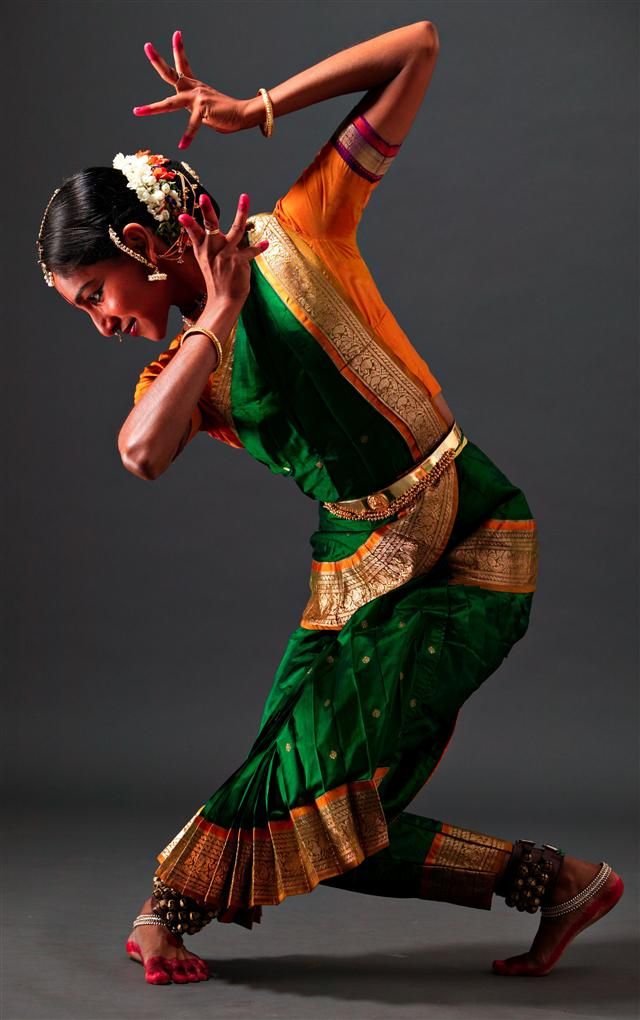 From the unusual, sometimes passionate and captivating movements of Indian dancers, it exudes exoticism, and they have long gained worldwide fame. Russian viewers, brought up on bright musical films produced in India, will certainly want to take the opportunity to feel like one of the heroines from the screen.
SIGN UP FOR A LESSON
A colorful dance, accompanied by a melodic tune, brings joy both to the performers themselves and to those who watch the colorful action with delight. The choreography of Indian dance is usually constructed in such a way as to produce a powerful external effect on the audience. The dancers manage to convey violent emotions through movements, their plasticity is distinguished by sensuality, grace and half-disguised sexuality, which by itself leaves no one indifferent.
First you need to decide on the style of dance that you want to learn first.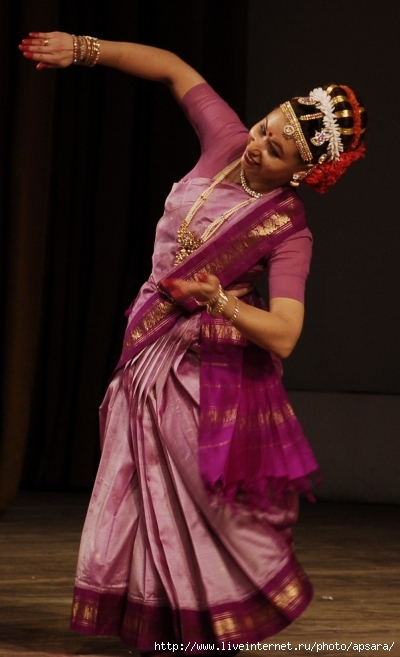 It can be the incredibly beautiful Kuchipudi, Kathak, Bharatanatyan, classical dance or Indian fusion. Whatever you choose, rest assured that the Indian dance studio will be able to perfectly prepare you for self-study. The training program will begin with an introduction to the basics of dance and basic movements.
Indian dance originated more than two thousand years ago, when girls serving in Asian temples were charged with the duty to please the celestials with singing and dancing. Of course, only those dancers who were in perfect control of their bodies were accepted into the service, because the best offerings were to be destined for the gods. Over time, women have achieved such mastery in their art that wealthy pilgrims, in order to see their divine charms, made huge donations to temples.
REQUEST A CALL BACK
Today Indian dance lessons are available to any woman who wants to learn how to control her body and arouse genuine admiration of the audience.
While exercising, you will receive not only the load necessary to maintain a chic figure, but you will also experience an unprecedented aesthetic pleasure. Public recognition of your abilities, a fit and slender figure, as well as a joyful mood will be guaranteed to you.
After you have thoroughly studied the course of the training program, you will be able to captivate men's hearts, demonstrating everything that you are capable of. The dance in your performance will become even more charming when you are fully equipped for it according to classical Indian laws. Dressed in a luxurious sari, embroidered with gold threads, and wearing jewelry - exquisite bracelets and light ankle bells - you will certainly feel like a goddess.
Nothing prevents you from taking bellydance training and classes at home will not be as difficult for you as it seemed at the initial stage of training. Practice at home in a relaxed atmosphere, especially since such techniques can activate the nervous system, liberate the body as much as possible and give self-confidence.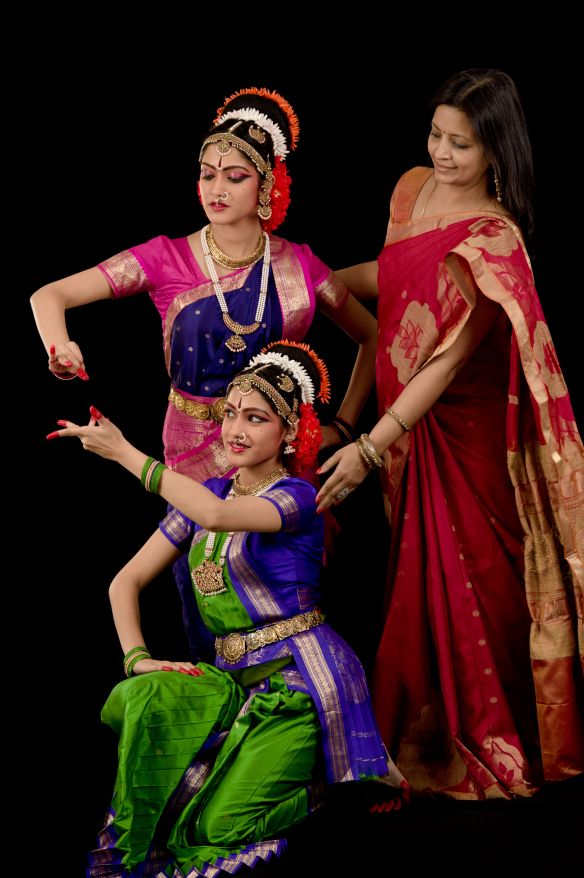 First lesson - FREE
Monthly subscription not linked
Student feedback
Alena
When you see with what love Masha treats each lesson, you want to work on the result!
Anna Fedotova
Masha explains all the movements of oriental dances in such a way that even with closed eyes it is clear.
Salsa dance school
Articles
Eleonora Levanskaya and "Ananda Tandava" studio

Let me introduce yourself :)! My name is Eleanor and at the moment I am artistic director of the Studio "ANANDA TANDAVA". I am often asked what started my passion for Indian, and even temple (!) dance, which eventually led to the creation of the studio. Because the story is long I finally decided to write about it on our website, so that later with a clean conscience to send all the curious to this page. So let's get started!

Ever since childhood I was interested in everything related to India, so it is not surprising that, being As a schoolgirl, I seriously took up the study of ancient culture, philosophy and religion of this most extraordinary country. However, the idea of ​​doing The study of Indian dance arose quite unexpectedly. Not the last role in this, of course, was played by the Indian films so beloved by all of us with their incendiary songs and dances. But then, back in 1992, I and could not imagine how much this idea would subsequently turn my whole life and that dancing would be the main occupation of my life. Several years have gone by search for a teacher, while interest in oriental cultures was just beginning wake up, and Indian dance classes were quite rare. But one day, in a casual conversation with one of the university teachers (studying already in my 2nd year) I mentioned my dream to learn Indian dance, and he prompted me to contact the Cultural Center at the Embassy of India in Moscow. From that moment on, the dream began to grow into flesh.

It took three years to study of northern Kathak style. By the end of my second year of study, I took part in concerts and even one of the first went on tour, organized by the Cultural Center. Jawaharlal Nehru.

But, oddly enough, despite the rather successful dance classes, I gradually became embrace a feeling of incomprehensible inner dissatisfaction, it seems that everything ok, but something was wrong. When I decided to learn Indian dance, it seemed to me that the dance is a whirlwind, a hurricane, a cascade successive sculptural poses, jumps and turns, but none of this did not turn out (with the exception of pirouettes) in a sufficiently soft, but at the same time graceful Kathak style.

And I decided to resume my search. First, the choice fell on South Indian style Bharat Natyam. It took about a year to realize that Bharat-Natyam is already closer to what the soul longed for, but still not quite the same. This style, in contrast to Kathak, turned out to be too sharp and harsh, but but sculptural poses appeared in it, a clear pattern of movements of the arms and legs.

Then, having already lost all hope of finding what my imagination drew for me at the words "Indian dance", I came to a trial lesson in the class Kuchipudi. The idea of ​​​​what Kuchipudi was like the following - "fast and cheerful Bharat-Natyam. "But the very first movement shown struck me like lightning - here it is! The miracle happened! Found!

Kuchipudi in some unthinkable way combined the softness and grace of Kathak, sculptural poses and a clear rhythm of Bharat-Natyam, as well as fast jumps and rapid turns inherent in himself, and gave them a new sound.

So, the only thing left is to learn and dance. But everything turned out wrong simply.

At first everything went just fine: the technique (steps and jati) was mastered in six months!

Considering that it usually takes 1.5 to 2 years to study technology on average and only after that the teacher starts to give a dance, a phenomenon out of the ordinary going out. And after 9months, I already made my debut at the Central House of Artists in a dance program "The Magical World of Kuchipudi" as part of an ensemble of classical Indian dance "Anjali" under the direction of Irina Strakhovenko, who was my first teacher.

However, after such a seemingly brilliant start, everything began to crumble - Irina went to India for several years, the team lost its leader and practically collapsed. A handful of enthusiasts remained, including myself, who continued to practice on their own, so as not to lose shape and not forget everything you knew. And now, after a while, luck smiled at us - we were taken under "her wing" by an Indian dancer Kuchipudi, Padma Puttu. Intense daily workouts began. The future looked bright perspectives are great! Plans were made for me and Padma we will create a new team, we will arrange concerts, go on tour cities of Russia, near and far abroad. But, alas, these plans are not was destined to come true. A few months later, Padma was unexpectedly recalled back to India, and for us the time of self-study began again without any hope for the successful completion of training and subsequent performances. But We didn't give up and kept going.

And after a while we were invited to take part in the First Moscow Open Oriental Dance Championship, organized by the Moscow Federation Dance. In this Festival, I managed to take second place in the nomination "Indian Classic Dance. Solo" among more than 10 nominees. And after literally month we suddenly learned that not so long ago our common acquaintance - Vera Krishnaraj, who took the course of Kuchipudi in Madras in Academy of Arts under the direction of Maestro Vempati Chinna Satyam himself. it it was rare luck! And I began to take individual lessons from Vera. Later Vera Krishnaraj organized the Natyalayam collective, which included For the next few years, I successfully gave concerts. Then Vera left again to India, but by that time I was already teaching myself. Some time later the number of students increased noticeably, and it became possible to create your own Studios of classical Indian dance - "Ananda Tandava", which is currently moment for almost 4 years now.

But the story didn't end there! The studio is developing, all participants (including including me) continue to improve in the skill of dance, and quite Naturally, we all have new goals and objectives. Talk about our hectic activity here I will not, because much better about it numerous photos with comments from the "Gallery" and "Video" sections will say, it makes no sense repeat.

But I would still like to say a few words about the main direction of our work.

.