How to dance like john travolta in saturday night fever
Celebrating John Travolta's Most Iconic Dance Performances
It has been 45 years since Saturday Night Fever so Mama's Geeky is celebrating John Travolta's most iconic dance performances.
45 years ago, John Travolta strut down the streets of Brooklyn dressed in polyester glory. Little did we know of the stellar career awaiting him as Travolta quickly shot to superstardom, and has been floating around Hollywood's gravity for 50 years!
45 Years Since 'Saturday Night Fever':
Celebrating John Travolta's Most Iconic Dance Performances
While he's tapped into films of every genre, Travolta is perhaps best known for stealing the show as the king of the dance floor. Overcome with a severe case of 'Disco Inferno', Saturday Night Fever sees Travolta flaunt his moves effortlessly. He commands your attention; all eyes fall to him as he grooves his way through a scene – and his disco debut is only the beginning of his musical venture.
'Wear Out the Grooves' (Perfect)
Okay, it's technically not a conventional dance routine, but we're willing to make an exception wherever Travolta is concerned.
In an otherwise forgotten feature of the 80s, our leading man joins a fitness class run by Jamie Lee Curtis, and finds himself caught up in her high-spirited aerobics class.
He flicks, he shimmies, he thrusts, he grinds, it's every bit as uncomfortable as it sounds, but somehow, he gets away with it. His characters gleams with pride whenever he successfully mimics Curtis' instructions; his joyful aura radiates off-screen – fair warning, it's contagious. Travolta looks like he's having a blast throughout the scene, and we can't fault his enthusiasm.
'(You're) Timeless to Me' (Hairspray)
Only a few things in life are better than watching John Travolta move to the music, and throwing him in drag to groove in the 60s is one of them; partner him up with Christopher Walken and you've got yourself a recipe for pure entertainment gold.
The pair easily bounce off one another and keep the homely vibe flowing. Who can't feel the love shared between their characters? It's quirky, hilarious, cosy, romantic, and incredibly catchy.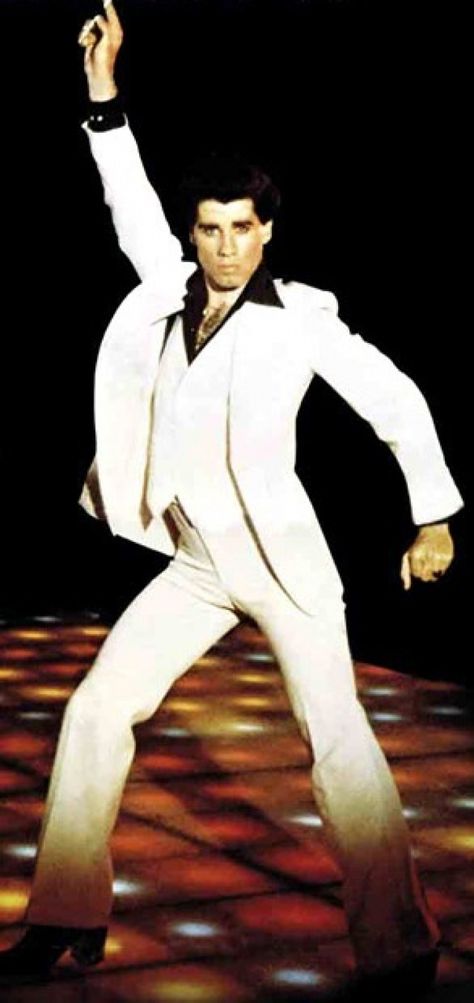 There's also a lot of elegance and glamour propelling the performance forward, and coming from two seasoned stars, all expectations are exceeded. The song says it all, Travolta is timeless to me.
'All Shook Up' (Look Who's Talking Too)
Travolta may be the only man in history to channel his inner Elvis Presley and give the late King a decent run for his money. His Look Who's Talking character, James, is the man of every woman's dreams; he's charming, playful, funny, a great father, and has the ability to captivate a room full of rowdy toddlers through the power of dance.
We could spend hours watching him glide across the room. This is a guy who knows how win people over, he's got this admirable confidence about him that makes him so loveable, and he plays into his strengths whenever the opportunity presents itself. By the 90s, Travolta has established himself with a fairly solid line of work, but it's always a joy to see him return to the theatrics – including his comically seductive kitchen dance with Kirstie Alley in this film's predecessor.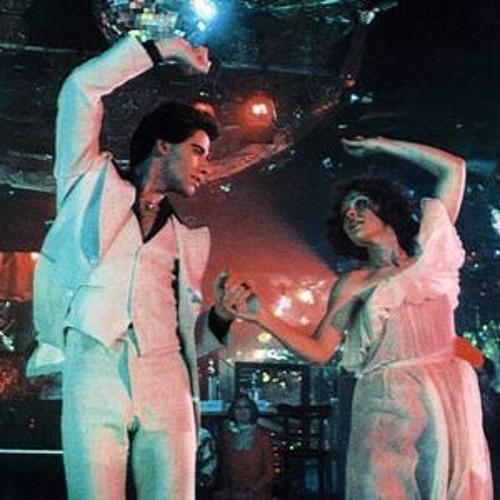 'Chain of Fools' (Michael)
John Travolta is the epitome of cool. It's obviously second nature to him. He has an entire bar fall under his spell here and conducts a full blown routine that gets the place on their feet – it's not even his character I'm talking about, Travolta can just do that. We're practically watching the Pied Piper at work and we can't take our eyes off of him.
Is it improvised? Is it choreographed? It's hard to tell where his character, Michael, begins and Travolta ends. This could be a regular Saturday night for the two-time Academy Award nominee. His arms move one way, his feet the other, actually, I don't think there's a part of his body that isn't moving. His performance is euphoric, easing into the soulful croon of Aretha Franklin as Travolta works his magic.
'Born to Hand Jive' (Grease)
The hand jive is a party favourite at every type of shindig – in fact, any song from the Grease soundtrack is bound to get your feet tapping. It was hard to narrow this one down considering Travolta always dances like his whole life depends on it, but the build up to his entrance with the hand jive is unmatched.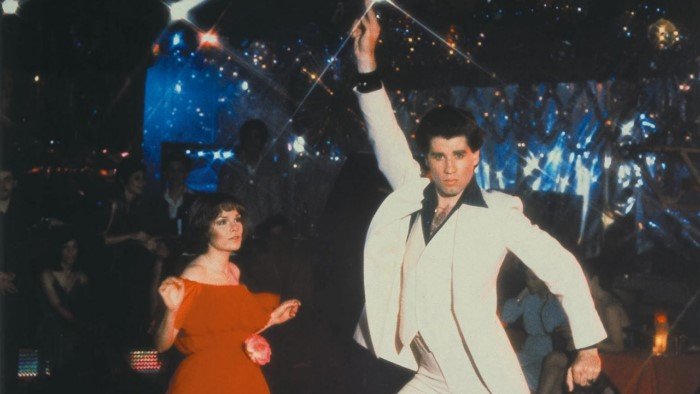 From his hot pink shirt to sweeping Olivia Newton-John around the hall, Travolta is the envy to everyone watching. A triple threat superstar, Grease lets Travolta loose to explore all performative platforms. Having already witnessed a glimpse of what his boogie shoes can do a year earlier, the 1978 musical holds back a little with his dancing in the first half, but a veil is lifted by 'Greased Lightnin' and the school dance reaps in all the benefits.
'You Never Can Tell' (Pulp Fiction)
Pulp Fiction is an artistic classic. With a cast of Hollywood elites like Bruce Willis, Samuel L Jackson, and Uma Thurman, what's not love about this Academy Award winning masterpiece – and that's before we even get into the plot. As Travolta teams up with Thurman, they head to 1950s-style diner, Jack Rabbit Slim's, and partake in one of the most iconic scenes in cinema history.
Competing in a twist contest, Travolta and Thurman show up every other competitor with their impromptu boogie.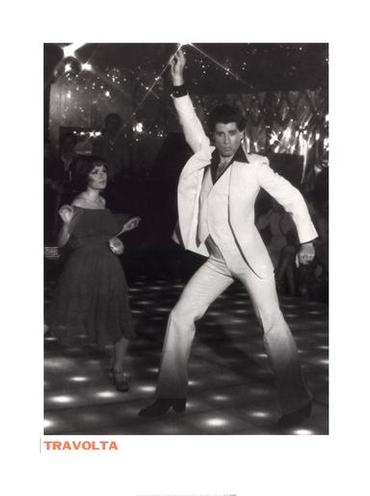 If anything, the scene is over far too quick, and requires multiple rewinds to fully embrace how well the pair soar in perfect harmony. Even years down the line, Travolta still has the suave charm of Vincent Vega, reciting the routine at various televised events without skipping a beat. His most recent dabble in twisting reunites him with Thurman and Jackson at the 94th Academy Awards, and it's like no time has passed.
'You Should Be Dancing' (Saturday Night Fever)
No one makes you want to get up and strut your stuff the way Travolta does, and we have Saturday Night Fever to thank for that. Unfortunately, we can't all pull off the polyester shirt as well as he does – or the moves. His role as Tony Manero really cements his status as the dance floor king; he owns the room, and is finely tuned with the genre of music.
Travolta is fluid with his movements. He steals the spotlight, literally becoming the center of attention as all eyes fall to him. What's more impressive is that Travolta never once uses a dance double, which is commendable in itself considering how hard he works to achieve this level of choreography.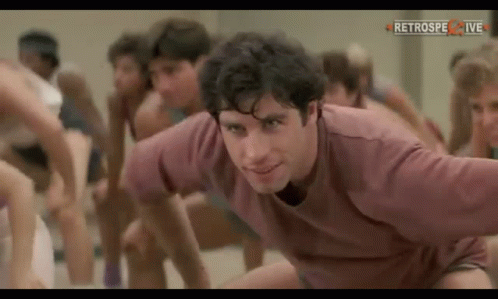 He makes his mark on the filming industry almost immediately into his career. Reflecting on his earlier work to now, Travolta commits himself wholly to his craft, and it pays off immensely.
NEXT: 8 Supernatural Marvel Characters Set to Take Over the MCU
Jenna Scott
Jenna is a Film and Visual Culture graduate and freelance entertainment writer from Scotland. Her passion lies with TV and horror, where she will take any opportunity to geek out. Jenna spends her free time binging shows and looking to be spooked.
Film/Classic: Saturday Night Fever
Saturday Night Fever
Directed by John Badham and based on Nik Cohn's magazine article "Tribal Rites of the New Saturday Night," with John Travolta, Karen Lynn Gorney and Donna Pescow, 118 minutes, color, 1977
Cover of 30th anniversary DVD
By Carter B. Horsley
"Saturday Night Fever" has the greatest soundtrack and the greatest opening sequence in film history.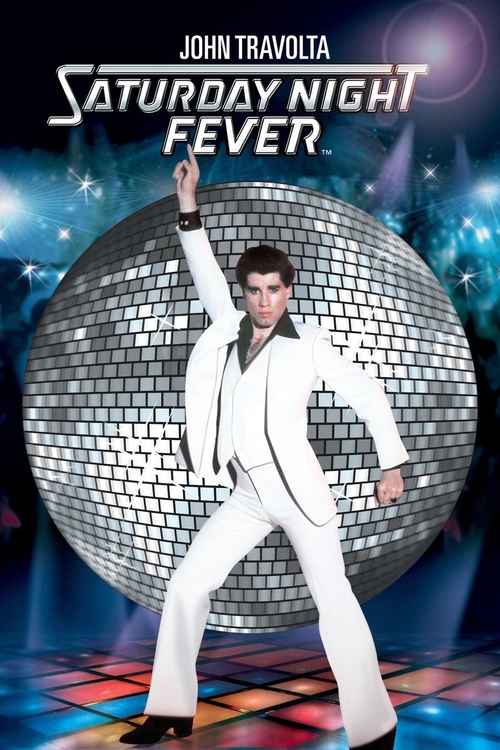 The movie opens with a close-up of a pair of men's shoes walking at a determined pace in perfect sync with some really peppy music.
The shoes are on the feet of John Travolta, the star of the movie who had previously only been known for "Welcome Back Kotter," a not terribly brilliant television show.
We quickly can see that we're not on Fifth Avenue in Manhattan but somewhere in one of New York's large boroughs. It could be the Bronx, or Queens, but it is Brooklyn and not downtown Brooklyn but perhaps Bensonhurst or Bay Ridge, neigbhorhoods far removed from the sophistication of "On the Town."
The camera zooms backwards so we can conjure the full manhood of Travolta: a lean body wrapped in tight clothes and topped by a large crop of hair. He is not handsome in any traditional sense, but he does exude sex appeal.
The movie tells the story of a young, uncultured man who is a very good dancer, good enough to get just about any young girl at the local disco to dance with him and to gather about him an adoring pack of less gifted young men.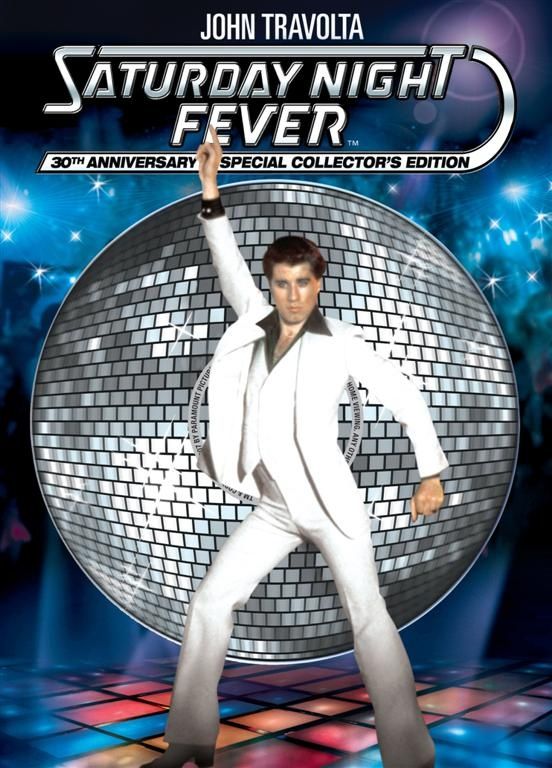 To win the top dancing prize at the disco is a worthy goal for Travolta whose life does not really have any holy grails.
Travolta's character preens himself for Saturday night at the disco and when he gets there and steps onto the dance floor he transforms from a gangly but well-pressed teen into an electrifying dancing machine
Many of his moves, gestures and poses are a bit dated, but while his choreography is not always inspired it is definitely on the beat. If one looks carefully, one can discover that there are other people on the dance floor who are very good dancers, perhaps even as good in some of their moves as Travolta, but he has an "attitude," a sense of showmanship, that feeds off good competition.
The movie did not start the disco craze, of course, but it catapulted it into the rites of the night, the prelude to a climax, and indeed one of Travolta's "moves" is spinning his hands in front of him like a "choo-choo" building up power as it sets off on its powerful way.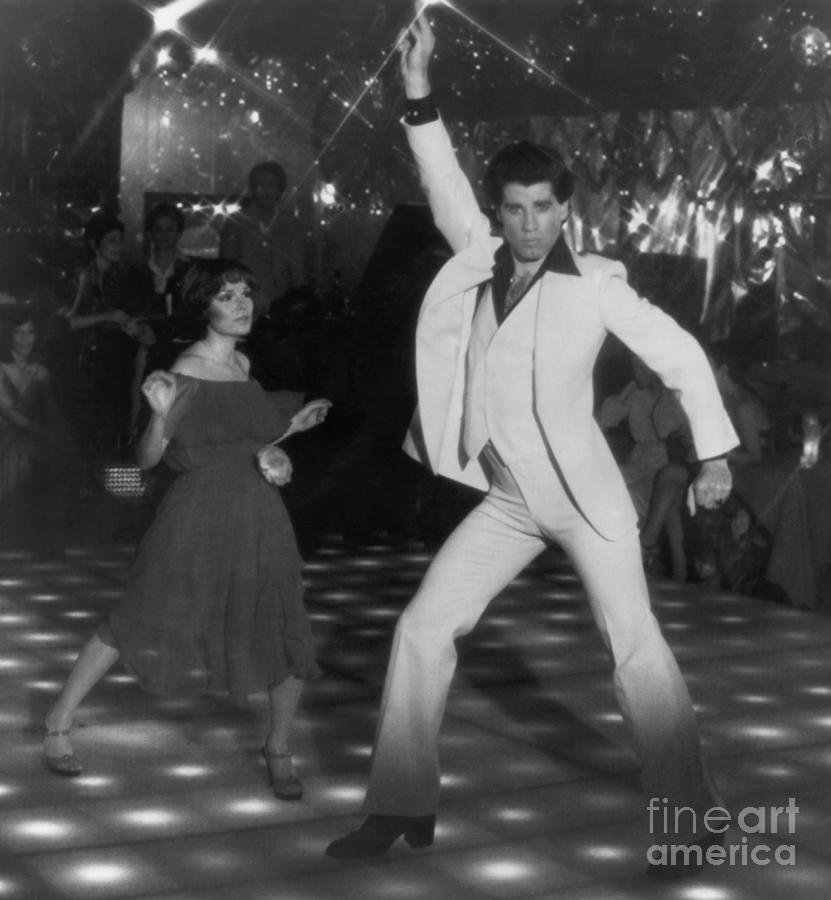 The movie is not perfect. It focuses exclusively on men dancing, in a pair, with women, whereas in New York City in the late 1970s a sizable portion of the dance floor population danced with their own sex, or, more rarely, by themselves, studs showing off for their herd.
The Bee Gees were well-established as a popular group long before this movie, but the soundtrack for this movie, the biggest selling "album" of all-time at that point, transformed them into "magic." This writer, for example, was convinced that the lead singer had to be a women, not realizing initially that the group consisted of three brothers. The "magic," of course, was not so superficial.
Virtually every song on the album went, as they say, "to the top of the charts," and for anyone with any sense of rhythm the vast majority of these songs were totally irresistible: one had to move, to get up, and dance, perhaps with someone, or by oneself, and not with discrete steps in small spaces, but with explosive swirls and closed eyes because, better watch out, you owned the dance floor as you shifted from cloud to cloud.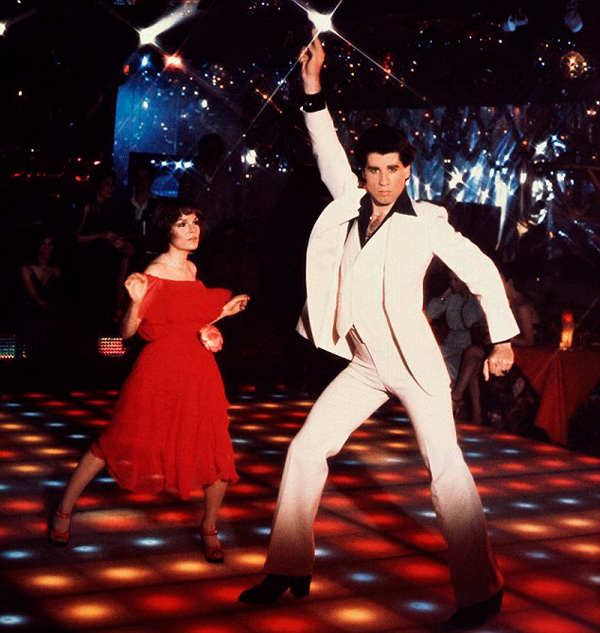 For many views of the movie when it first came out, it was something of a let-down because they were already very familiar with the music and many of the best songs are hard to hear completely in the movie as they are faded in or out or lowered in the mix. Furthermore, much of the movie does not take place in the disco and the amount of dancing is considerably less than one might have expected.
The story itself, without the disco, might make a grade B Italian movie: a realistic take on the ennui of lower-class youth and their misogyny. That is a bit unfair. Travolta's mother in the movie is mocked for some of her beliefs but remains a relatively positive, if not pathetic figure, especially with regard to her husband who is a brutish dolt who angers Travolta when he hits his head unmindful of his coiffed hair. Travolta's attitude towards Donna Pescow's character is certainly not gentlemanly, but he does hold Karen Lynn Gornley's character is considerable regard because she works in Manhattan and has some sophistication.
The movie, however, is not terribly romantic, but it is very gutsy. Travolta's gang gets into a brutal fight and the dumbest member jumps off the Verranzano Bridge because he's impregnated his girlfriend.
There are some moments in the film that really work well.
In his 1999 review of the movie, for example, Roger Ebert notes that:
"There is a scene in the movie where the hero, Tony Manero, sits on a bench with Stephanie, the girl he loves, and tells her all about one of the bridges out of Brooklyn: Its height, length, how many cubic yards of concrete went into its making--and you can taste his desire to cross that bridge and leave Brooklyn behind. Earlier, Stephanie has described him in a few brutal words: 'You live with your parents, you hang with your buddies and on Saturday nights you burn it all off at 2001 Odyssey. You're a cliche. You're nowhere, goin' no place.'' Tony senses that she is right."
In another part of his review, Ebert provides the following observations:
"The movie's plot involves his choice between Annette (Donna Pescow), the girl who loves him, and Stephanie (Karen Lynn Gorney), the girl who works in Manhattan and represents his dream of class.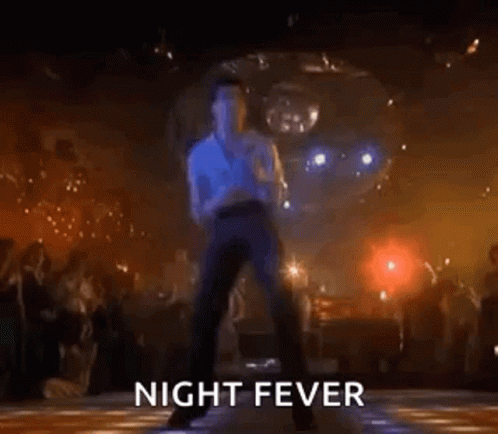 ...I've always thought Annette was a better choice for Tony than Stephanie, because Annette has fewer delusions. ('Why do you hate me so much,' she asks him, 'when all I ever did was like you?') But Tony can't see that because he can't really see women at all, and in the cruel closing scenes he makes a half-hearted attempt to rape Stephanie, and then sits in the front seat of a car while Annette is being raped in the back by two of his buddies. Of course, at that time, in that milieu, perhaps it wasn't considered rape, but only an energetic form of courtship."
Indeed, it should be remembered that when the movie came out in 1977, Manhattan was totally obsessed with the wild, drug-infused euphoria of Steve Rubell's and Ian Shrager's Studio 54, the nightly late-night hangout for well-dressed celebrities and newspaper editors, back in the carefree days before AIDS. (See The City Review article on Anthony Haden-Guest's book on the famous disco.)
It is interesting that the movie's fascination with common folk predates the television shows of "American Idol" and various dance contests by several decades.
Travolta's classic pose with his legs spread apart and his right hand pointing heavenwards is, at one point in the film, done of the entire "ensemble" of disco dancers in the best "spirit" of the Rockettes: a homogenization of talent that makes over-produced minor talents like Mariah Carey or Whitney Houston so irritating because of their lack of originality.
How original was Travolta's dancing? There are some parts that are wonderful as when he gyrates his hips with his body at a backwards slant and there are some parts that are just plain awkward and unattractive as when he opens and closes his knees. The movie is, of course, pretty honest in showing him practicing moves with his partners. It is a very rare genius that can be completely spontaneous and mesmerizing graceful and surprising. Even Baryshnikov understands the importance of choreography.
In the final of the dance competition at the 2001 Odyssey disco, Travolta and Gorney win the top prize of $500, but in a surprise twist, Travolta gives the prize to the second-place team, a Puerto Rican couple, that he insists was better, a noble act that suggests that Travolta's character in the film may have more depth than we've imagined.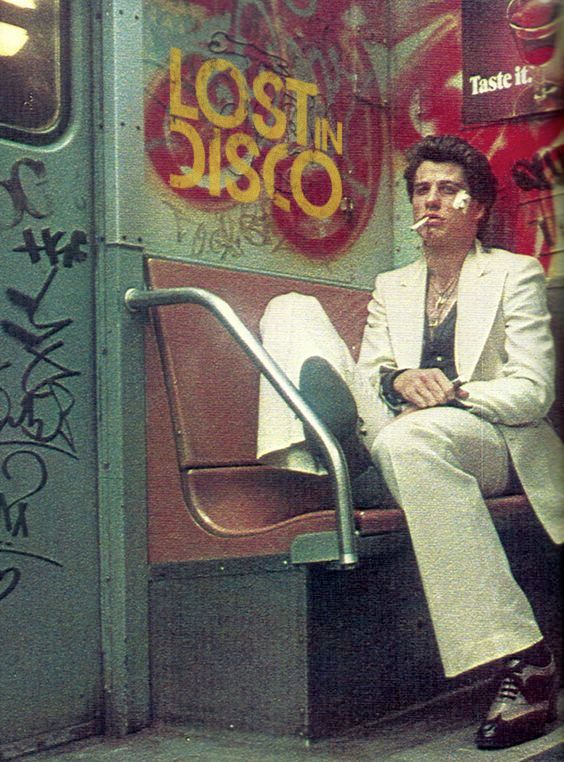 In his review of the film at epinions.com, Brian Koller wrote that "The cultural impact of Saturday Night Fever was immense. Today, the film defines an era: platform shoes, polyester shirts, big blow-dried hair, disco music, white suits, and strutting down the street," adding that according to the Internet Movie Database, Karen Lynn Gorney "later moved in with director Badham."
"'Saturday Night Fever,'" Koller continued, "was blessed with a number of great Bee Gee songs ('Staying Alive', 'Night Fever', 'How Deep is Your Love', 'More Than a Woman'). The Gibb brothers also wrote another important song from the film, 'If I Can't Have You' (performed by Yvonne Elliman). Four of these five songs would later become number one singles. "More Than a Woman" probably would have as well, but the Bee Gees shelved it so as not to compete with a version by Tavares."
Another non-Bee Gees song in the movie was "Disco Inferno."
"Amazingly," Mr. Koller observed, "none of the songs, nor the soundtrack itself, was nominated for an Academy Award.
(The winner of Best Song that year went to maudlin, syrupy 'You Light Up My Life.') "
Travolta was nominated for an Oscar for best actor and he would go on the next year to more and better dancing in "Grease" with Olivia Newton-John.
"Saturday Night Fever" has the same grittiness as Budd Shulberg's "On the Waterfront," Sly Stallone's "Rocky," and John Wayne's "The Searchers."
John Travolta is great in this movie. The Bee Gees are great in this movie. Together they are unforgettable, inexorable forces propelled by the force of life whose achievements cannot be simply measured.
This film is ranked 50th in Carter B. Horsley's list Top 500 Sound Films

Click here to order the 30th anniversary DVD from amazon.com

Use the Search Box below to quickly look up articles at this site on specific artists, architects, authors, buildings and other subjects
Home Page of The City Review 
Hustle • Arzamas
You have Javascript disabled.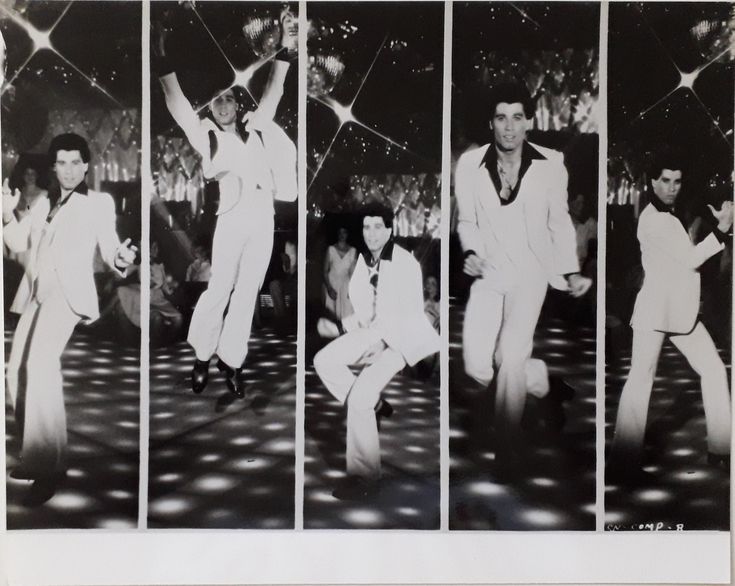 Please change your browser settings.
History
Art
Literature
Anthropology
I'm lucky!
Author Irina Sirotkina
Hustle performed by John Travolta and Karen Gorney from the movie "Saturday Night Fever". 1977
The musical and dance style of disco (from disc - "vinyl record") developed at the end of 1960s - early 1970s, when in clubs instead of jazz bands and rock bands playing live music, records began to be played. A nightclub in Paris, on rue Huchette, where a whole library of discs was collected, became known as "Disco". The disco style absorbed many different influences: jazz, rhythm and blues, soul, gospel, Latino - everyone could find something to their liking in it. The generation of loners, "atomized individuals", could not help but like the fact that disco is danced with little or no physical contact, and that the dancer is given complete freedom - he can improvise his movements.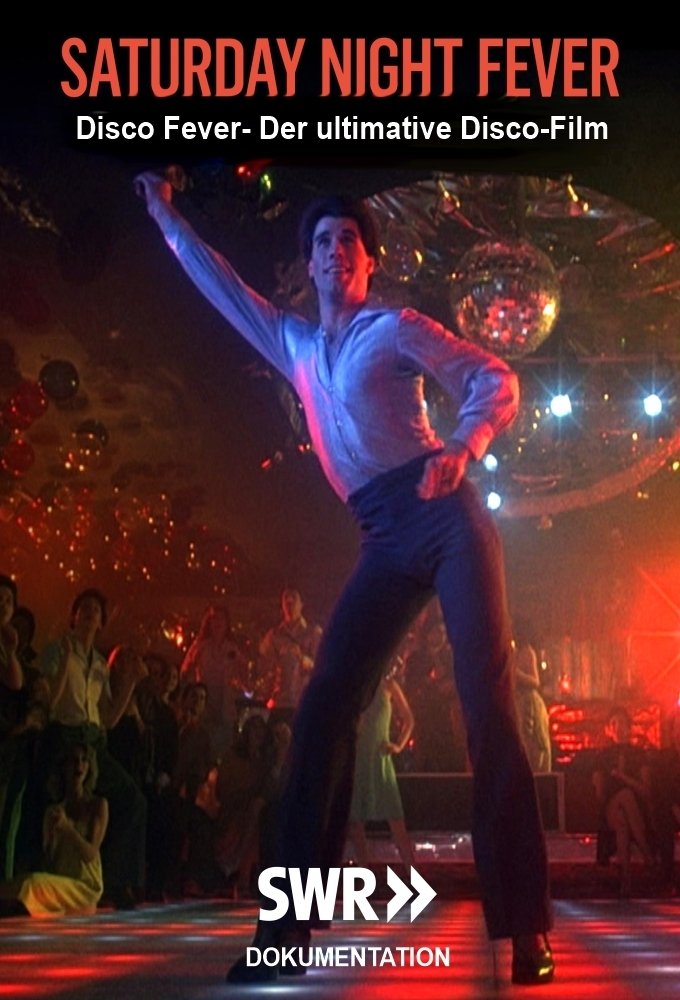 Musicians who created the style - Donna Summer, Gloria Gaynor, Bee Gees, Van McCoy; the latter's hit "Do the Hustle" gave rise to the dance of that name. Hustle has incorporated Latin American rhythms and its rhythmic structure is similar to two-step or lindy-hop - two steps per measure. The basic structure of the steps is complemented by improvised movements, which makes each dancing couple unique, unlike any other. At the same time, hustle has something in common with tango: the movements of the partner in it can be no less and even more expressive than the movements of the partner. So in the movie "Saturday Night Fever" John Travolta dances - he simply outshines his partner Karen Horney.
Microstrubes
Daily short materials that we have released the last three years
Theater of the day
Tallinn City Theater
Caricature of the day
Mushroom, or a guess on the manure
Clips of the day
Massive Attack and a drunk girl
Archive
Literature
Africa, peacocks, tram, golden key and other evidence
Radio Arzamas Do you have a dollar for a divorce?
Hairy men, a growing moon, carp scales and in general everything that can attract money - in the second edition of the folklore podcast "Pah-pah-pah!"
On design vertical units of confidentiality confidentiality
ARZAMAMASUSUSHUSSISTIVERS ARZAMAS
ClassmatesVkyOUTUTERTELEGRAMRSS
History, literature, art in experts and experts of experts: new knowledge every day
© ARZAM0004
What can I do to avoid losing my subscription after Visa and Mastercard leave Russia? Instructions here
The Perfect Movies for Friday Night Starring John Travolta
On the occasion of the actor's birthday, we're reminiscing about his most memorable movie roles, which will be the perfect choice for home viewing this coming weekend
More inspiration and breaking news - in the channel U magazine in Telegram.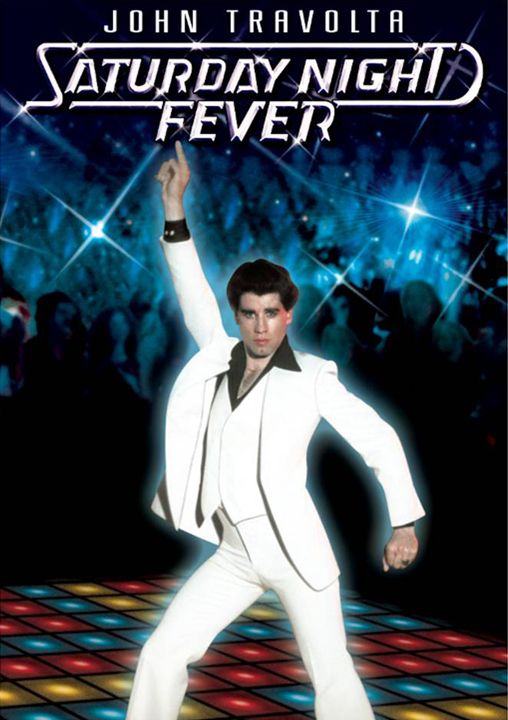 Subscribe!
Today marks the birthday of John Travolta, Tarantino star and idol 1970s. Despite the fact that the actor's filmography contains most of all crime dramas and action films, his career began with bright musicals and comedies in which he danced and sang brilliantly (by the way, Travolta is seriously interested in music and recorded 11 albums).
"Saturday Night Fever"
"Saturday Night Fever" "Saturday Night Fever" became not only a symbol of the disco era, but also the most successful start to John Travolta's career. In the film, the actor played a young guy Tony Manero from Brooklyn who works tirelessly in a small store all week to go to his favorite disco on Saturday night and dance non-stop. One day, Tony meets a girl with whom he can not only dance, but also win a local competition. Travolta rehearsed the famous dance number for the song of the Bee Gees You Should Be Dancing for a very long time: in preparation for filming, he ran three kilometers every day, lost almost 10 kilograms and practiced choreography for several hours a day.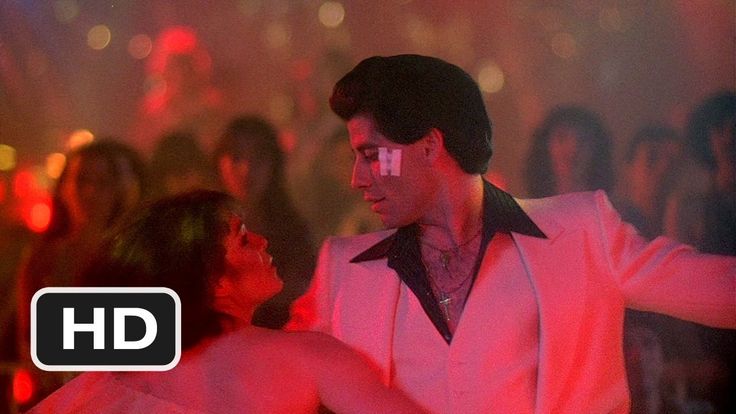 John was so passionate about the process that when the producers wanted to abandon the act, he threatened them with leaving the project. Travolta's efforts paid off: the film became a real commercial sensation, Travolta received critical praise and an Oscar nomination, the Bee Gees song soared to the top of the charts, and white leather suits became incredibly popular in the country.
The main films in the career of Tom Hiddleston, for which he is so loved Read
Grease
Grease Released in 1978, Grease managed to overtake even Saturday Night Fever in popularity and become the most successful film of Travolta's career. In the film, based on the eponymous Broadway musical , John not only danced, but also sang - his duet with Olivia Newton-John became an instant hit. "Grease" showed viewers the carefree life of Americans at 1950s, when the upheavals of the Second World War were left behind, and there was still a lot of time before the Vietnam War.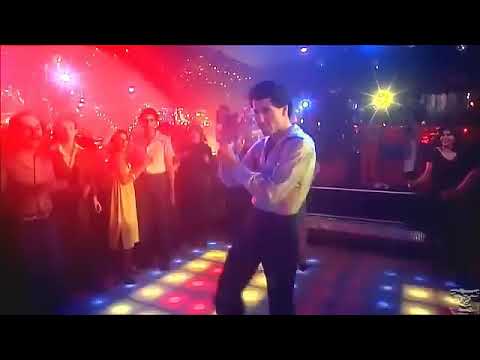 Young people tried not to think about anything serious, dreamed of a wonderful future, had fun dancing and singing, looking for their love and creating hairstyles with the help of grease. In the romantic musical film, Travolta played a carefree young man named Danny, whose only thoughts are occupied by his beloved Sandy. The hilarious melodrama grossed almost $400 million at the box office, and the film's soundtrack went platinum twenty times.
"Hair spray"
"Hairspray" In another musical in his filmography, John Travolta played an unusual role - the mother of the main character Tracy. According to the plot, a cheerful girl dreams of becoming a screen star, but does not pass the audition due to being overweight. Nevertheless, Tracy stubbornly believes that nothing is impossible, and meets a dancer who helps her get on the air. According to critics, the film became popular, among other things, because of Travolta, he managed to perfectly get used to the role of Tracey's strict mother, Edna, who has worked in the laundry for many years.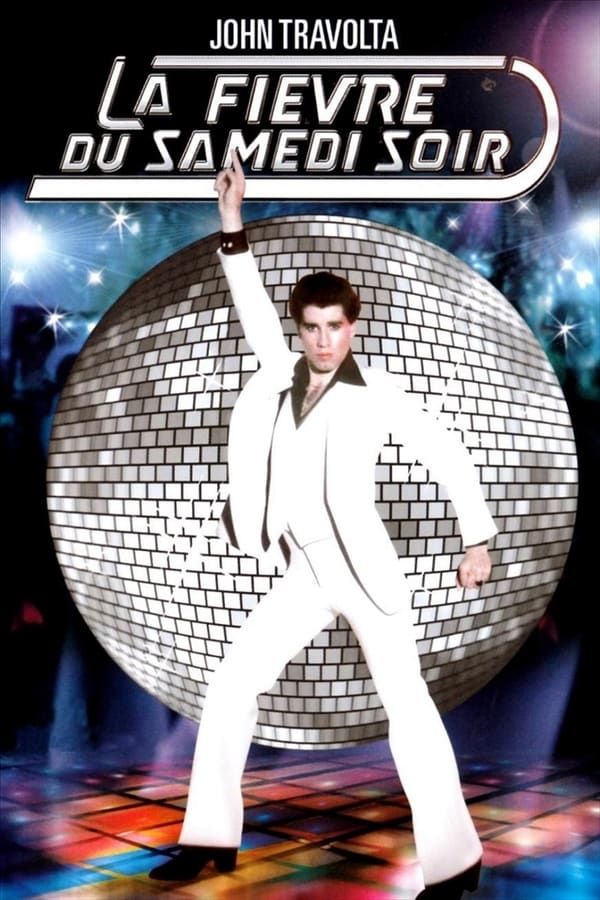 The actor's make-up took four hours daily, and his costume weighed 13 kilograms, while John managed to sing and dance. The musical brought its creators $ 200 million, and Travolta - a Golden Globe nomination and critical acclaim.
Captivating films with Joseph Gordon-Levitt that you want to watch again and again Read
Urban Cowboy
Urban Cowboy The movie Urban Cowboy is often referred to as the country version of Saturday Night Fever. Only this time, Travolta's character, Bud Davis, after work goes to the popular Houston bar not to dance, but to act like a real cowboy on a mechanical bull and strives to become the best rider, and instead of bright disco-style costumes, he wears a cowboy hat. Of course, not without the support of her beloved - a strong and confident girl Sissy. By the way, the Gilley's bar in Pasadena, where the events of the film unfolded, actually exists and is still working.
"Crime novel"
"Pulp Fiction" It is impossible to talk about the best films of John Travolta without mentioning "Pulp Fiction", which is also always a pleasure to revisit on a Friday night.
The legendary film by Quentin Tarantino focuses on the story of gangsters Vincent Vega and Jules Winfield who try to fix their boss's problems, constantly get into trouble and have philosophical conversations. It is curious that Travolta was in no hurry to accept the role of Vincent - the actor was thinking about Tarantino's proposal for six months, although his career by that time required new successful projects. As a result, the film became a cult film and glorified all over the world not only the director, but also the actors involved in it, and Travolta's career received a new round. The most difficult thing for John was to play a drug addicted person: the actor himself was never addicted to illegal substances. Tarantino asked the help of one of his acquaintances, who had just begun his journey to get rid of addiction, and he suggested to Travolta how to behave on the court in order to play as convincingly as possible. But the legendary dance with Uma Thurman was easy for the actor - according to him, he only parodied his previous films.