How to dance colombian cumbia
Everything you need to know about Cumbia
Cumbia is Colombia's national dance, one of its most representative rhythms and the source and inspiration behind much of the […]
Cumbia is Colombia's national dance, one of its most representative rhythms and the source and inspiration behind much of the country's popular music. Cumbia has been with Colombia from the beginning but, thanks to bands like Bomba Estereo, it's once again emerging onto the international stage. Here's everything you need to know:

Where did cumbia come from? 
Cumbia, just like Colombia, is a blend between European, African and indigenous cultures. It was born on Colombia's Caribbean coast where it was originally an African courtship dance that evolved with the addition of African, European and indigenous instruments and indigenous dance steps. 
What does it involve?
To dance cumbia you need one of two musical ensembles – a conjunto de cumbia (also known as a cumbiamba) or a conjunto de gaitas.
The cumbia ensemble has five instruments; the caña de millo (millet cane) or pito, which is a type of clarinet, the tambor mayor (a drum held between the legs, played with both hands) the llamador (a drum balanced on the knee, played with one hand) the bombo (a two-headed drum played with two sticks) and a rattle, usually the guache (a tubular rattle filled with seeds) or maracas. The gaitas ensemble has two gaitas (duct flutes) – the gaita hembra and the gaita macho – alongside a
How do you dance it?
Cumbia really should be danced at night, with couples dancing in a circle around seated musicians. The woman makes shuffling steps while the man moves in a sort of zig-zag around her. At night, women hold bundles of candles wrapped in colored handkerchiefs in their right hands. Nowadays traditional cumbia is only really performed at carnivals and candles are not used during the day, although the handkerchiefs remain.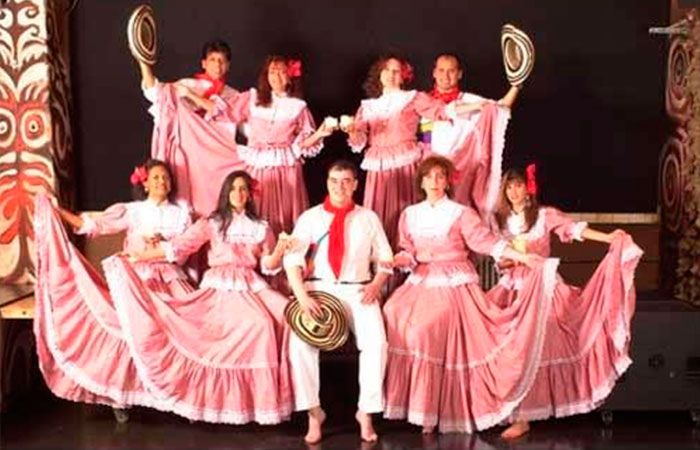 Learn here how to dance like a Colombian.
What has it influenced?
Cumbia influenced vallenato, another Caribbean coastal genre, which has a similar beat with vocals, an accordion, a drum and a guacharaca (notched gourd scraper) Centuries later cumbia influenced musica tropical, which began with the dance band arrangement of African-Colombian music in the 1940s. Groups including La Sonora Dinamita, Los Corraleros de Majagual and Los Graduados had a lot of success and helped spread musica tropical to Mexico, Central America, Ecuador, Peru, Bolivia and Chile. Currently, artists including Carlos Vives, Fonseca and Cabas have all been influenced by cumbia and some Colombian cities, such as Medellin, are seeing a resurgence in large, ballroom-style cumbia gatherings.
When it's a question of dancing to the world's hottest beats, the answer is Colombia. Please feel free to share this article on Facebook, Twitter, LinkedIn, Google+ or any of your social networks.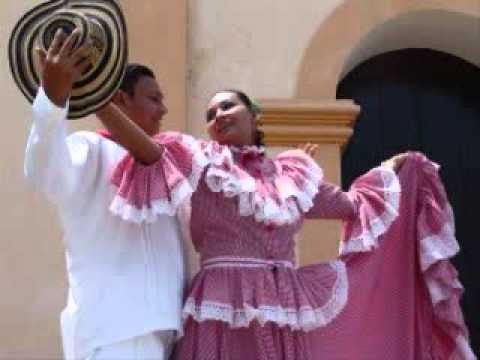 You may also enjoy:
The Sound of Music: Traditional Colombian Instruments
Colombia: Land of a thousand rhythms 
Colombian artists to watch
africabeatbomba estereobombocabascana de millocandlescaribbeanCarlos VivesColombia's national danceconjunto de cumbiaconjunto de gaitascumbiaeuropefonsecaguachehandkerchiefindigenousla sonora dinamitallamadorlos corraleros de majaguallos graduadosMusicpitoporrotambor mayorvallenato
Artículos recomendados [DCRP_shortcode image="1" excerpt="1" date="0" postsperpage="10" columns="1"]
Learn how to dance like a Colombian
It's a country full of world champion dancers, so it's no surprise that Colombians can move. A visitor gets itchy […]
It's a country full of world champion dancers, so it's no surprise that Colombians can move. A visitor gets itchy feet just watching their Latin flair on the dancefloor. But even though plenty of Colombians have been dancing since birth, it's not that difficult to catch up.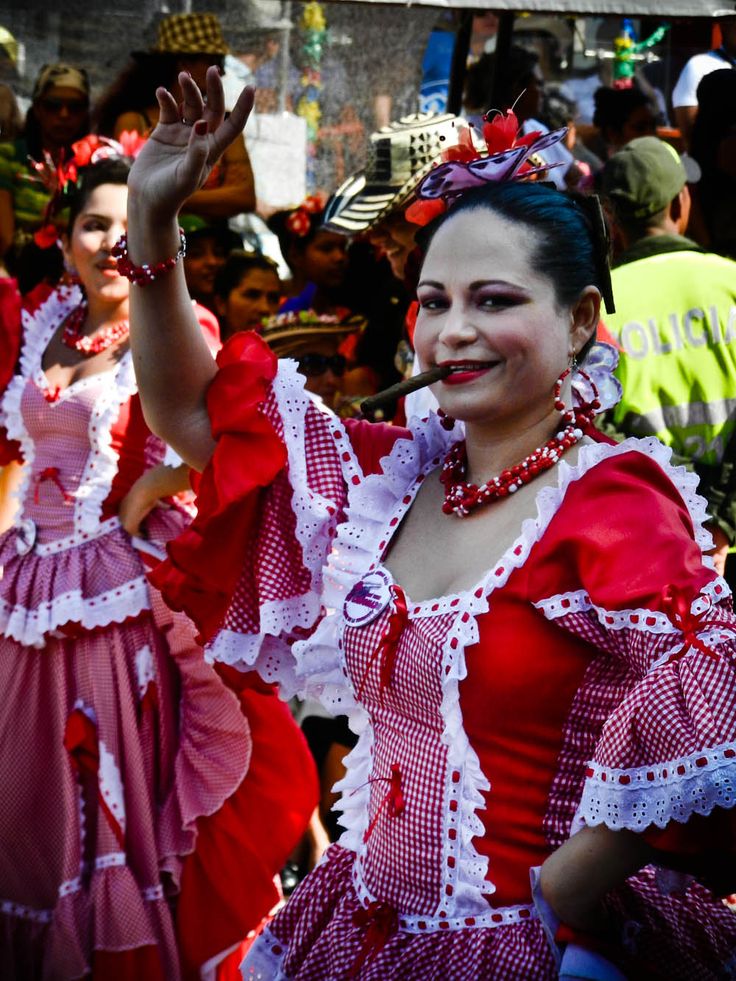 Discover how to dance like a Colombian! Just learn the steps, feel the beat and set your hips in motion!
Salsa
Salsa dancing may have begun in New York City but it would be nothing without its Latin roots – namely Colombia, Cuba and Puerto Rico – and each of its "homes" has  its own style. Colombian salsa is often called Cali-style because the city of Cali is the "World Capital of Salsa" (it's played and danced everywhere). Colombian salsa is not easy, in fact, the intricacy and precision of its steps is one reason Colombian salseros win so many World Championships. But despite the quick steps and skips, the Colombian basic step (a form of "kick forward, step back") is relatively easy to master and will ensure you survive the night at any Colombian salsa club. (You may also enjoy: Colombian artists to watch)
Cumbia
Cumbia is basically Colombia in dance form, with its blend of indigenous, African and European instruments and folklore.
It was originally a courtship dance, with African slaves wearing long skirts to imitate their European owners, and it was chaste – men and women barely touched one another. Instead the women held burning candles (you can just hold one arm aloft) and waved their skirt with their other hand, dragging their feet to mimic being in shackles. Men used faster steps, moving around the women and holding their hat, or handkerchief, in one hand with the other behind their back. The idea was to entice the woman towards them. Still, if that sounds too hard, many couples now dance modern cumbia by facing one other then stepping back and away in tandem, extending their free arm as they do so. (You may also enjoy: Everything you need to know about cumbia)
Merengue
Merengue is a Dominican dance but Colombians are fond of stars so you'll find it danced all over the country. The good news is, it's fairly easy.
The basic step involves a sort-of marching step with couples gently rotating (the trick is to bend your knees and move your hips as far to each side as possible). The leader holds the follower's waist with his right hand and her hand with his left. Still, even that basic step can get out of control. Good merengue dancers are fond of all kind of twisting turns – all without letting go of each other's hands – so you may see intricate handholds that end up like pretzels.
Joropo
Joropo is the dance of Colombia's eastern plains and the word itself comes from a Spanish word for party – although this music and dance has a strong African influence too. Originally joropo was played with the arpa llanera (harp) bandola (similar to a mandolin) cuatro (small guitar) and maracas – although many different instruments are used nowadays. The dance itself is like a waltz. Couples face each other and make small steps forwards and backwards, like sweeping the floor.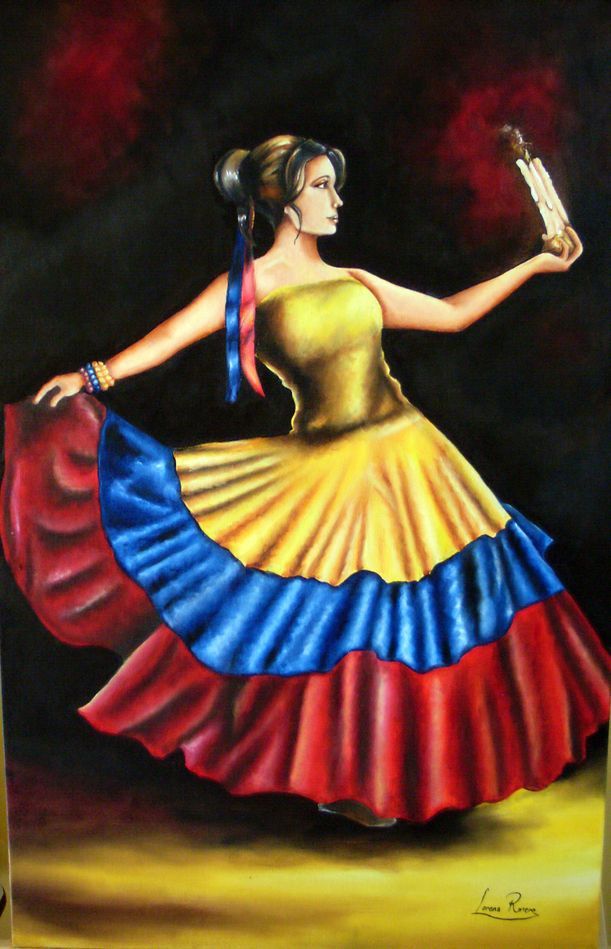 Later the woman does the sweeping steps alone, while the man stomps. It's more elegant than it sounds. (You may also enjoy: The sound of music: Traditional Colombian instruments)
Determined to dance 'til dawn? The answer is Colombia. If you liked this article please feel free to share it on facebook, twitter, LinkedIn, Google+ or any of your social networks.
You may also enjoy:
Dance to Colombia's favorite beats in the cities they call home
The Top 10 places to learn to dance in Colombia
All about Colombia: its magic ingredient to through Colombian lessons
arpa llanerabandolabeatCalicity of salsacuatrocumbiadanceeddy herrerajoropojuan luis guerramaracasmerenguesalsasteps
Artículos recomendados [DCRP_shortcode image="1" excerpt="1" date="0" postsperpage="10" columns="1"]
Cumbia, traditional rhythm of Colombia | Absolute Travel
Without a doubt, the musical rhythm most associated with Colombia for its culture and people is the cumbia.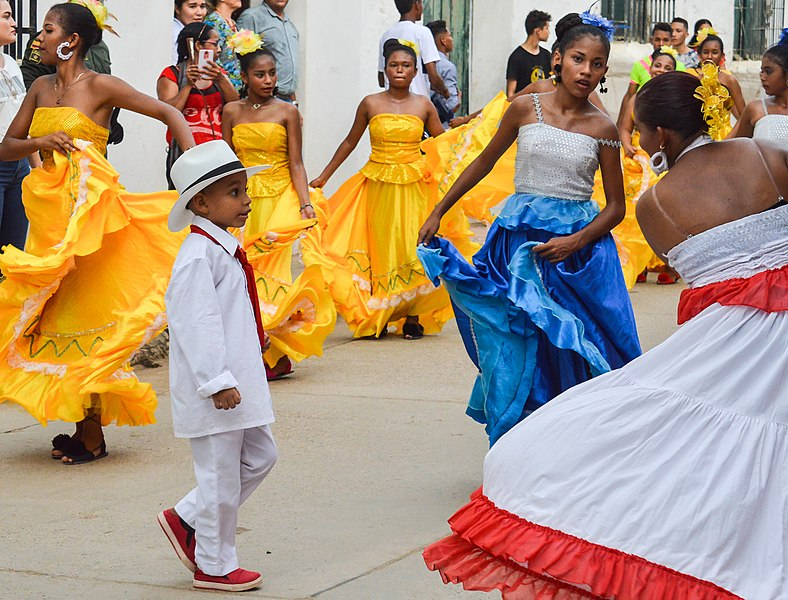 There are no parties or celebrations in this country in which chords would not sound and dance to the sound of Colombian cumbia . An icon of his national identity.
This lively genre of music and folk dance originated in the Caribbean but quickly became popular throughout the country. In this post, we will talk about its origins, traditions and more related to Colombian cumbia. nine0003
Index
1 The Origin of Colombian Cumbia
2 Colombian Kumbia: Tools
3 Colombian Kumbia: Traditional dresses
4 Colombian Kumbia: Dance
The origin of the Columbia Cumba and Many other arts and many other arts. cumbia is the result of mixing. To trace its origin, you need to travel to the XNUMXth century, on the Atlantic coast of modern Colombia. It is there that cultural elements
three traditions of
are very different:
Native American
,
European
(hand in hand with Spanish) and
African
brought by slaves who were brought into the new world.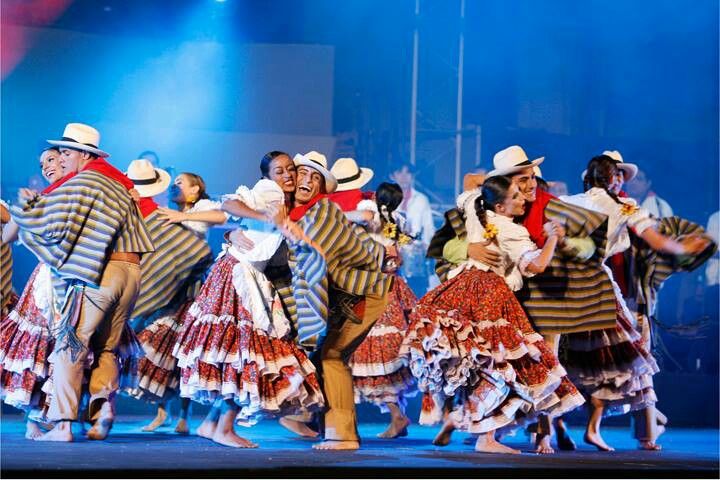 Each city or cultural tradition contributed. The melodies may be based on local rhythms, and the themes and lyrics are clearly Spanish in origin. Finally, the protagonist percussion and African dances They finished the recipe, which eventually turned out to be Colombian cumbia. nine0003
This fantastic result of a rich and varied blend was born.
Cumbia is the most traditional musical rhythm in Colombia.
However, The etymological origin of the word cumbia does not seem so clear. Most scholars argue that it comes from the term cumbe , which means "party" or "sound" in several African languages.
Undoubtedly, the impressive success of an invention that, from its inception in Colombia, spread over many years to many other countries in Central and South America . Nowadays cumbia is sung and danced in places as far apart as Mexico, Peru, El Salvador, Venezuela, Argentina or Peru.
Colombian cumbia: instruments
Once again, the triple soul (American, European and African) of the cumbia is beautifully reflected in the musical instruments used to interpret it.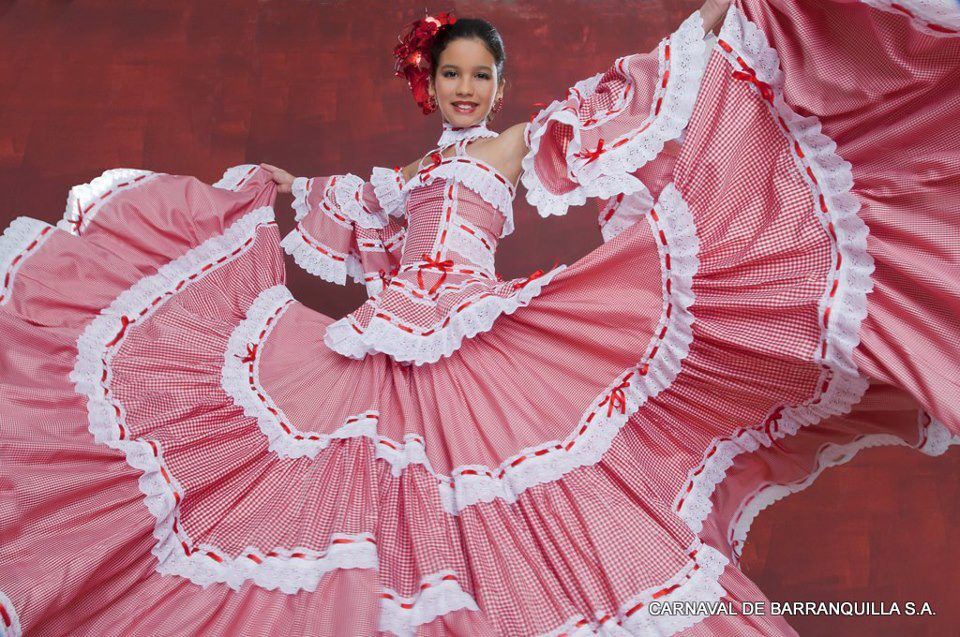 The leading role undoubtedly belongs to percussion instruments. Rhythm drums , The contribution of African culture, is the basis of all compositions. They set the basic rhythm and are assisted by local instruments such as the millet reed or the Las gait , undoubtedly of Spanish origin.
Caña de Millo, the main instrument of the Colombian cumbia
There are three types of main drums in the cumbia:
El Lucky drum that follows the rhythm of the melody.
El Drum call , which is used to set the reverse cadence of the song.
La Tambora . It is the only one of the Cumbian drums not of African origin. They beat with the hand, without using the shins, both on the skin and on the wooden box.
There are also three types of gait :
Man's bagpipe which sounds like background.
Women's bagpipe which accompanies the melody.
Short bagpipe , is used as a solo instrument and is of great importance only in instrumental works.
Cañamillero is an important performer in every Colombian Cumbian group. He is the one who touches Millo Reed, Wind Instrument, whose appearance resembles a transverse flute. As the name suggests, it is made from millet but can also be made from bone or even bamboo. Maracas, accordion and other minor instruments complete the picture. nine0003
Colombian cumbia: traditional dresses
Cumbia is not a musical show, but also a visual one. And in this aspect the dancers intervene in their colorful traditional dress. The clothes used for the cumbia are also used in other typical Colombian dances.
Typical costumes of the Colombian cumbia
Women : the costume requires the dancers to wear a classic white dress with a wide skirt or skirt. It is adorned with ribbons and, almost always, a bolero to show the colors of the Colombian flag (yellow, red and blue). They also wear blouses with wide sleeves but leave their shoulders bare. nine0016
Man : their clothes are much simpler. It consists of white trousers and a shirt, as well as a red scarf known as a "cock's tail". The main element of the men's suit is the traditional vueltiao sombrero.
All the details and embellishments of this dress play an important role in the performance of the cumbia dance.
Colombian cumbia: dance
There are several dances and choreographies associated with the Colombian cumbia. They represent especially one wedding dance . Men and women enter the stage from opposite corners. They then gather in the center and dance around each other to the beat of the drums. In this video we have a perfect example of this dance:
Among the regional conditions or variants of The most famous of the Colombian cumbias are the following:
Classical cumbia , not sung. Purely instrumental.
Cumbia Sabanera , which uses a very peculiar instrument - a lemon leaf. It is danced in the departments of Sucre, Cordoba and Bolivar. nine0016
Cumbia vallenata which features the accordion (the most characteristic instrument of the vallenato). Within this sub-genre of Colombian cumbia, there are many variants.
Kumbiamba. It is performed in the form of a very spectacular choral dance.
Custom cultureMusic
The content of the article complies with our principles of editorial ethics.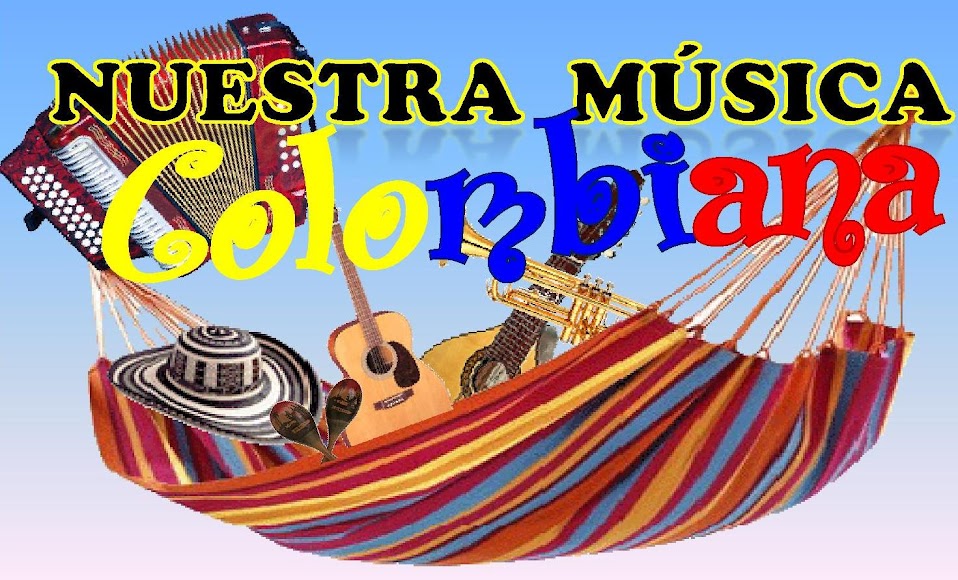 To report a bug, click here.
Cumbia - Colombian folk dance
want to write
12
+12
0
| Folk dances
Dances of the peoples of the world
Cumbia - Colombian folk dance
Salsa, rumba, bachata are successful Latin American dance styles. However, in recent years, a new southern rhythm, Kumbia, has gained immense popularity.
Catalyst for success
Cumbia dance style originated relatively recently in Colombia. For a short existence, the dance managed to become popular. The direction was especially developed in Mexico and Panama. In 2007, Cumbia became a world-famous dance thanks to the worldwide release of the film Cumbia Tied Us Up.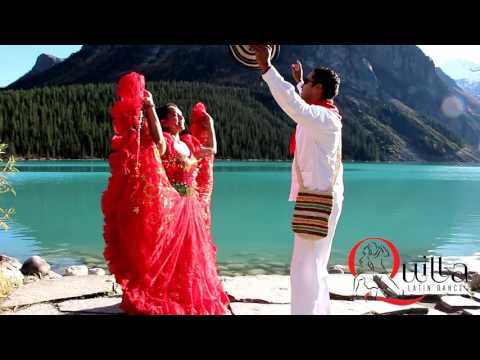 This film by Mexican director René Villareal was made in 2007. Despite the modest budget of one million dollars, the movie was liked by viewers from all over the world. After the popularity of the tape at the box office, Cumbia has become one of the most sought-after dance trends of the last decade. nine0003
Musical accompaniment
Each dance style has its own individual musical rhythm. In Cumbia, drums and an accordion are involved in creating a melody. Percussion - an ancient instrument "guiro" and its modern version, a cylinder made of notched tin. The keyboard accordion in the construction of the melody plays the central line, creating the basis of the melody. The third component of musical accompaniment is vocals.
Street dance
In terms of dance characteristics, Cumbia is most reminiscent of Salsa.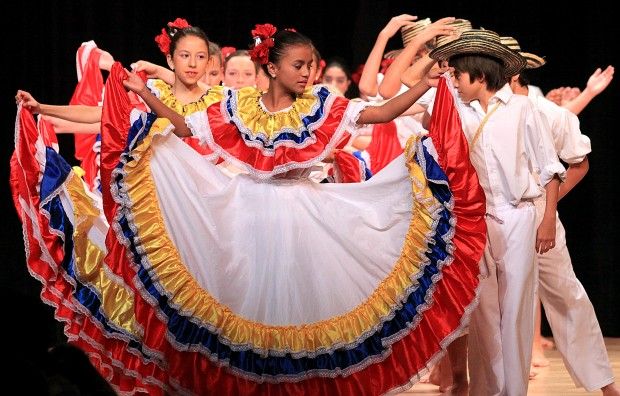 Many critics still believe that Cumbia emerged as a dance style only because of the popularity of salsa. A similar rhythmic pattern, style and structure of dance elements make us agree with the words of music analysts. Cumbia can be danced in pairs and solo. A feature of this street dance is its nationality. The main difference between Cumbia and salsa lies in the technical equipment of dancers of different styles. Salsa is a dance direction with fundamental principles and musical figures. Cumbia is a cheerful, energetic folk dance. Every salsa dancer can master cumbia in a matter of weeks. nine0169
dance, cumbia, salsa, rubma, accordion
Share a link
All entries
Site Mosaic
Last comments
All blogs
Technical support
nine0015 Site statistics
FAQ
Blog Tags
Find a tag:

Follow @4dancing
Learn more