How to create a dance resume
What Directors Need to Know—And What They Don't
Artistic directors sift through hundreds of audition packets a season, and your resumé is often your first chance to catch their attention. Naturally, you want a document that makes a positive impression. But some surprising (and seemingly minor) details can inadvertently turn a director off. So, how do you make your resumé stand out—for the right reasons?
Focus on Essentials
At an audition, directors need to see your essential information at a glance: where you trained and what companies and choreographers you've worked with. Cincinnati Ballet artistic director Victoria Morgan scans for names she recognizes. "It's good to know if a dancer has worked with a respected leader in the industry, and if there's a colleague I can call as a reference. I'm also more inclined to take a second look at a student if I recognize a particular school or teacher," she says.
Your resumé should be no longer than one side of one page.
"When I've got 600 resumés sitting here, a three-page resumé is a disincentive to me," says Kansas City Ballet artistic director Devon Carney. "It comes down to time—how quickly can you present your information to an unknown pair of eyes?"
"I don't need to know you did 'Waltz of the Flowers' for eight years," says Kansas City Ballet artistic director Devon Carney. Photo by Ken Coit, Courtesy KCB.
As for format, contact information should be at the top of the page. Make sure it's accurate and up to date: Include your full name, address, phone number and an email address you actually use (and check daily—Carney cites opportunities dancers have lost because they didn't respond promptly enough). Height is helpful to include, but weight, hair and eye color aren't necessary. Since employment laws differ for minors, if you're under 18 (or look like you could be), include your date of birth.
Next, list your work and training history. A common method is to organize everything in reverse chronological order, starting with your current job or school, with separate headings for training and professional performing experience.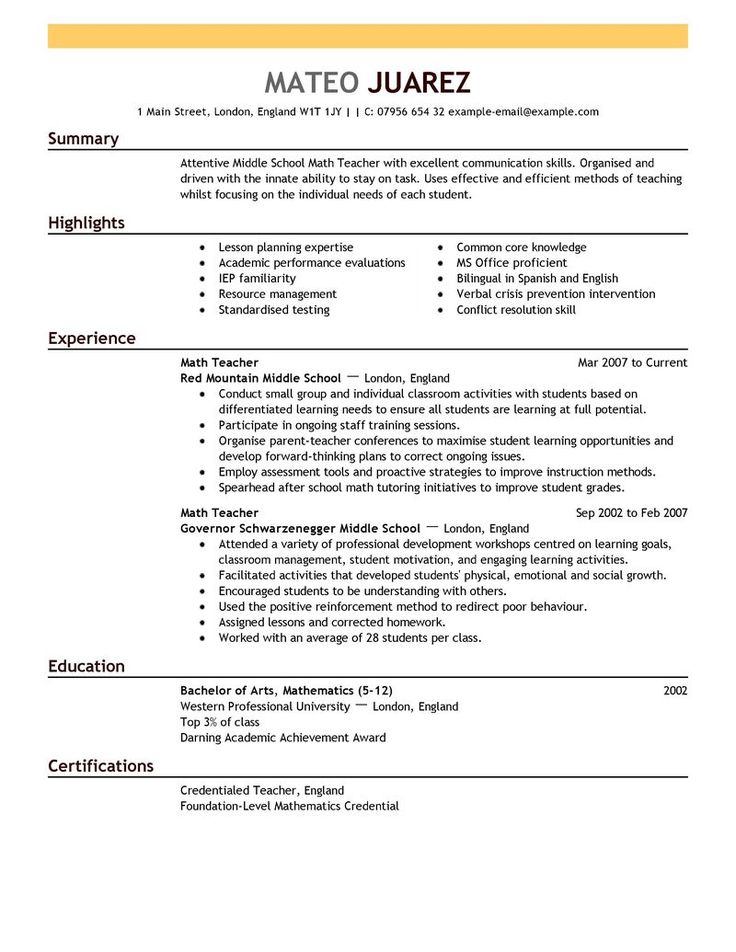 Putting each school, company or choreographer on a separate line using indentations or bullet points makes it easy to read. Repertoire and roles can either be noted alongside the school or company you performed them with or in a separate category. Morgan suggests including a link or two to any standout performances or studio work. List related experience (TV, commercial, modeling or theatrical work, for example), academic degrees, continuing education and any industry-related awards at the end.
Pennsylvania Ballet corps member Adrianna de Svastich opts to put her training at the top to illustrate her overall progression. "But it's really about highlighting what best reflects you as a dancer and what you're most proud of," she explains.
De Svastich's resumé, last updated in 2016, neatly fits on one page.
What Stays Out?
An impressive resumé doesn't have to—and shouldn't—include every credential you have, whether you're an experienced professional or a student with only school shows under your belt.
Prioritize what you've done and imagine what a director will really care about.
"Pedigree is important when you're looking at who has influenced a dancer," says Carney. That means listing the schools that primarily shaped your dancing, but not the studio where you took tap at age 3. Students and inexperienced professionals should include recognized summer programs, but naming the entire faculty (or whether you received a scholarship) is unnecessary.
Listing roles and repertoire gets tricky. Established dancers can fall into the trap of including too much in an effort to show how experienced they are, but an overly detailed list is unwieldy. "I don't need to know you did 'Waltz of the Flowers' for eight years," says Carney. "When I see featured roles, the assumption is you did corps work, as well. The important thing is to get a snapshot of where you are right now." If you've only danced corps parts, include them, but edit it to highlight the most important or noteworthy ballets.
"Too much information may distract from aspects of your training or performing," says Cincinnati Ballet artistic director Victoria Morgan. Photo by Jennifer Denham, Courtesy Cincinnati Ballet.
As her experience grew, de Svastich narrowed down her repertoire to only featured roles and added freelance projects, as well as film, commercials and her college degree. She includes her choreography work at the bottom.
It's worth making room for "extras" if you feel they define you as a dancer or as a person. Morgan thinks a college degree signals maturity and independence, while Carney likes knowing if a dancer does volunteer or community work. But don't overpack it: "Too much extra information may even distract from aspects of your training or performing that are important to know," says Morgan.
Putting your life's passion on a single page is hard, but crafting a concise resumé will leave directors with a lasting impression that reflects your achievements and your professionalism.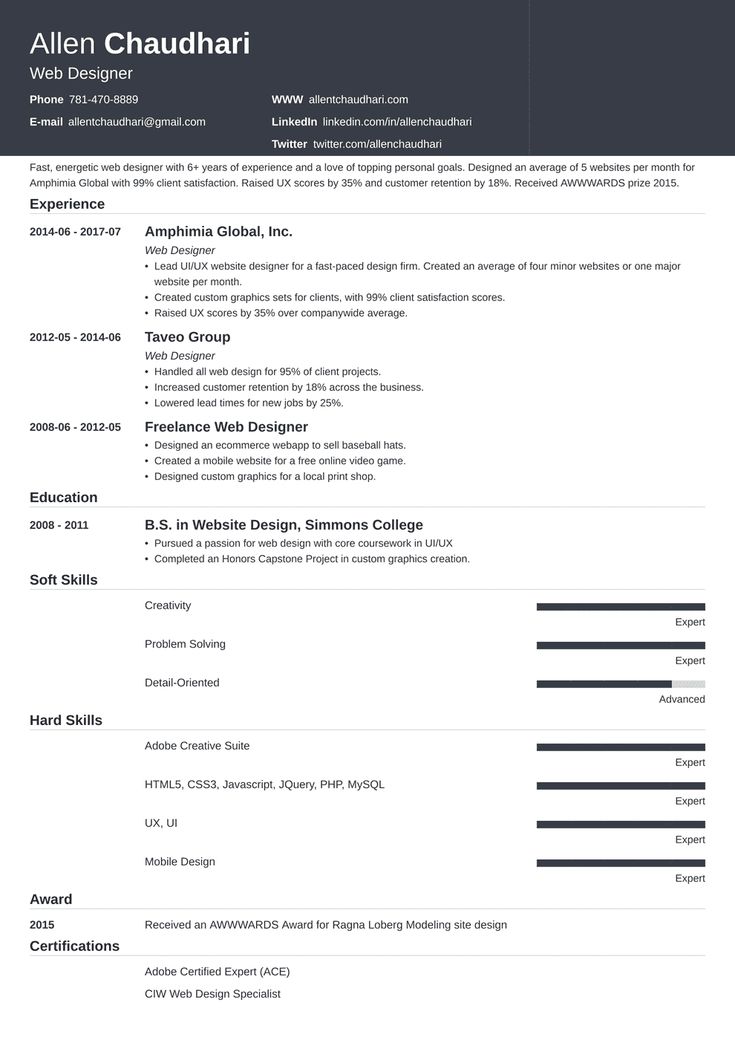 Bonus Tips: Resumé Do's and Don'ts
Do:
Proofread (twice!): Typos signal that you're not conscientious. "It drives me nuts to see well-known choreographers' or teachers' names misspelled," says Kansas City Ballet artistic director Devon Carney. ("Bournonville" and "Kylián" are frequently misspelled.)
Include continuing education: Pennsylvania Ballet dancer Adrianna de Svastich includes a William Forsythe workshop she attended as a professional to show her effort to continue growing as an artist.
Consider adding photos: A thumbnail headshot and dance shot in the upper corner of your resumé makes it stand out and helps a director quickly remember you.
Don't:
Mention hobbies and things you're grateful for: "Resumés that are too full of information won't hold my interest," says Cincinnati Ballet artistic director Victoria Morgan.
Leave unexplained chronological gaps or inconsistencies: Directors will wonder what you're hiding if they see a time period with no training or work, or two schools attended during the same year.
Be afraid of white space: If your essentials don't fill an entire page, avoid plumping it up with extraneous tidbits.
Include personal Instagram or Twitter handles: Unless you have an account or website that is solely professional, leave it off.
Perfecting your dance resume | USC Glorya Kaufman School of Dance
Rachel Harris (BFA '20) | Photo by Mary Mallaney
Fitting your many years of dance experience onto a single page can seem like a daunting task. In fact, I often get asked if the dance resume can be longer than one page. You can probably guess my answer.
So, why can't your resume be more than one page? The reason is that, at USC Kaufman, you will define and refine your artistic identity, and we want you to start thinking about how to present yourself now.
It would be impossible to include all of your dance experience on one page, even if the words were in size two font and the page had no margins. Know that what we are most interested in are the highlights of your dance career up to this point—those things that have most impacted you.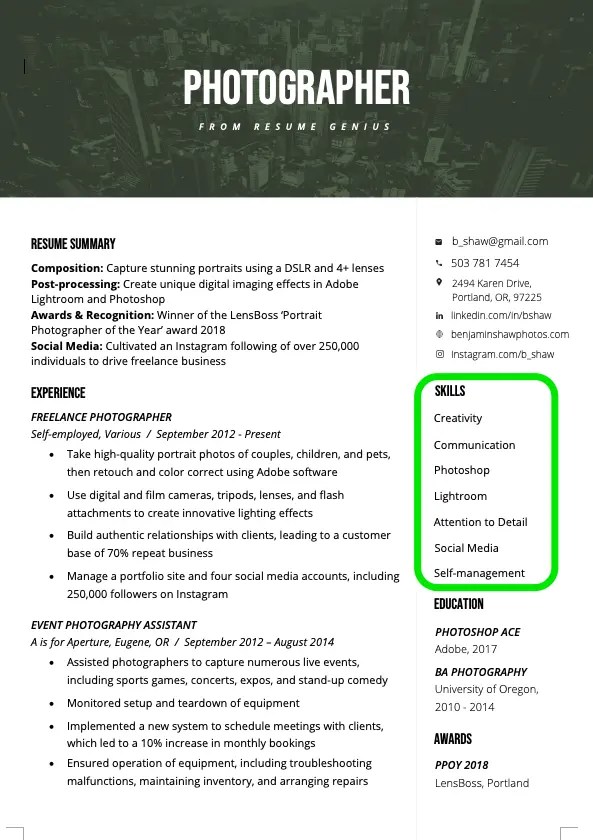 Resume template and specifications
It's critical that you follow our resume template. We devised this format to ensure that our faculty are able to look at all the information they need in a way that's consistent across all applicants. Plus, it takes the guesswork out of things for you!
While you might be tempted to showcase your InDesign skills, we ask that you keep it simple. There are a few other specifics to remember:
Use a standard font.
Margins should be no smaller than 0.5".
Only submit text (no photos please).
Upload the document on SlideRoom as a PDF (no Word or Pages please).
Resume requirements
What does the faculty committee want to see on your resume? As listed on the template, you should include:
Your contact information, including your Common App ID number, at the top.
A one- to two-sentence Statement of Objectives, which provides us with a quick snapshot of your goals.
Your academic profile, including your GPA and test scores (if you are submitting test scores). This tells us a little bit about your academic preparation given that we don't see your Common Application.
Your dance training. Here's where you'll probably have to make the biggest cuts. Feel free to condense information in a way that makes sense. For example, you might have trained in Contemporary for seven years under seven different teachers; you might consider listing Contemporary for seven years with your most recent two instructors. You should also feel free to add any forms in which you're self-taught and master classes that have had an impact on you.
Programs and workshops, including intensives.
Don't forget to include any relevant roles under performance experience. In addition, list any performances on screen, including music videos.
Have you taken part in any hip-hop culture battles? If so, let us know!
Choreographic experience, if you have any.
Awards and scholarships – or any other important dance distinctions.
Finally, other activities you love – because we are interested in getting to know you as more than just a dancer. You can list your club involvement, leadership positions, hobbies, and anything else you want the faculty committee to know about you. For example, mine might include, "building dollhouse miniatures" or "collecting clip on earrings".
If there are any sections that don't make sense for you—for example, if you're never choreographed or participated in a hip-hop culture battle—feel free to leave the whole thing off your resume.
What we don't care about are your height, weight, eye color, age, etc. This is The New Movement after all!
Most importantly, don't use Comic Sans, as I have a love/mostly hate relationship with the font.
Want more admission advice? Watch this video about the USC Kaufman Portfolio and visit our Admission Advice playlist on YouTube.
---
By Anne Aubert-Santelli, Associate Dean of Academic and Student Life
Sample resume for choreographer | Main responsibilities of a teacher
The application form is used as the main tool for finding vacancies.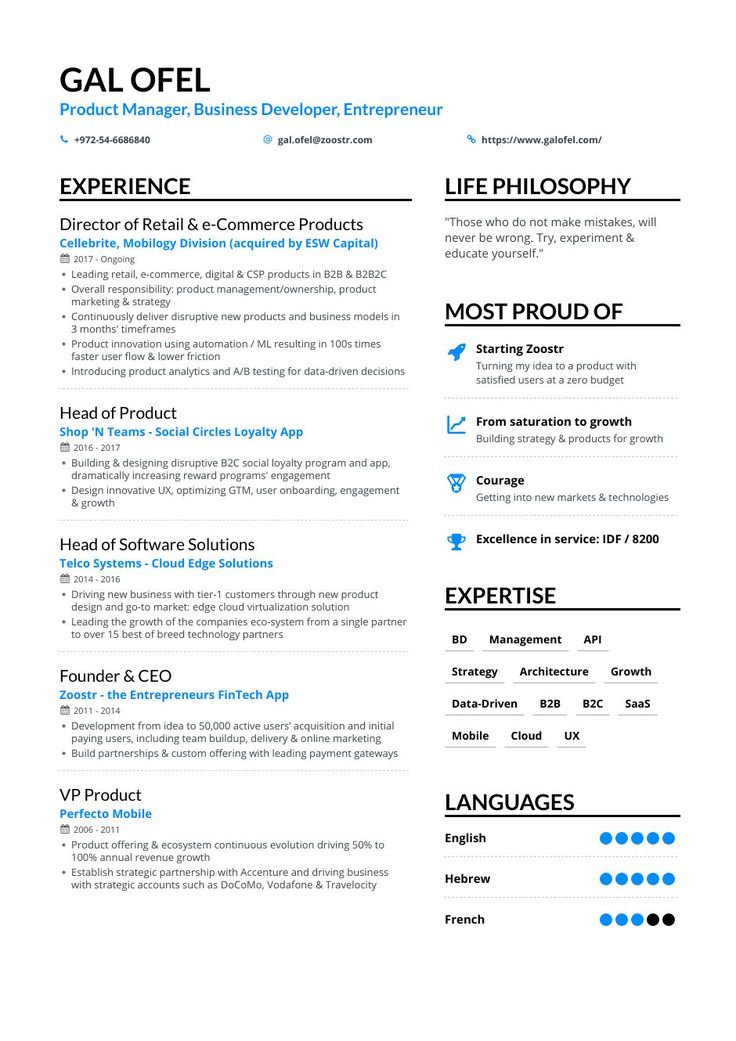 The form mentions the advantages and professional competencies of a specialist.
A correctly completed document increases the chances of success. An example on the MyResume website will help you properly format a choreographer's resume.
Choreographer resume example
Rate the resume:
average 5.00 (4 votes)
Loading...
Actress
Photographer
Tourism Manager
Event Manager
Music teacher
Vocal teacher
Dancer
General guidelines for preparing a resume

The form should contain key information that will allow the employer to quickly select the best candidate. It contains information that is primarily of interest to personnel officers:
A list of basic skills that help to successfully cope with job duties (dance directions).
Interesting developments, knowledge, awards that give the candidate an advantage over competitors (participation in dance competitions, concert programs).
Basic education, qualifications, experience, additional courses (learning new styles).
Contacts for communication: active mailbox, social network page, phone, messenger.
Desired position.
When filling in the item about the mailbox, you need to pay attention to its name. Characters in email should not add up to offensive or defiant inscriptions:
when the Ulcen is a special focus on the um The rubric format is suitable for mentioning outstanding achievements and positive results of professional activity. Applicants can use it for a mini-presentation. When else will there be an opportunity to brag to the employer. You can use 9 to fill this block.0070 professional choreographer resume template posted in this article.
In order for the employer to have a good impression of the applicant, a high-quality and positive photo is placed on the form.
A photograph on a business letterhead is a noticeable and memorable attribute. It's hard to ignore or forget. Therefore, when looking for a job, this method of eye contact is often used.
About the salary of a choreographer

There are several ways to complete the section:
Empty field. Option gives freedom of choice, expands the circle of potential employers. This method is suitable for novice teachers who have just completed their education.
Minimum bar. The method allows to cut off employers with unsuitable offers. A talented dance teacher always knows the cost of his services, so he has the right to set his own price.
Inadequate understanding of one's own importance in the labor market can cause problems with the choreographer's employment. To determine for yourself the optimal salary will help a comparative analysis of the proposals of employers.
Choreographer's work experience
Choreographer's teacher's resume contains the "work experience" block, which is one of the most important.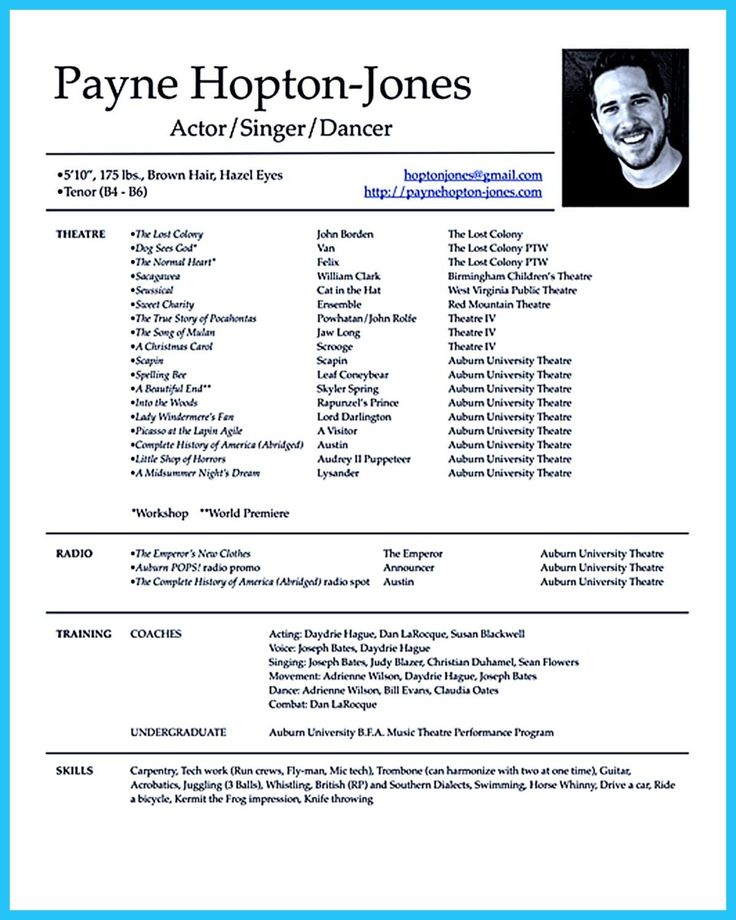 It allows you to more fully assess the professional experience, as well as determine the terms of reference of the candidate for the position.
The last three years of work are primarily of interest to personnel officers. Therefore, they must be indicated. Working as a dance teacher also involves administrative duties, do not forget to mention this in the application form.
HR officers get a negative impression due to long breaks in work practice, as well as frequent job changes.
Such moments may indicate the applicant's conflict, loss of qualification.
The reasons for long gaps in work experience, periodic layoffs can be written in the section "About Me" or in a cover letter.
If the choreographer has no experience
The resume form for applying for a job as a ballet teacher gives you the opportunity to use advantages that experience does not guarantee. Category "Courses" the applicant can write about trainings, additional classes that allowed him to gain valuable experience.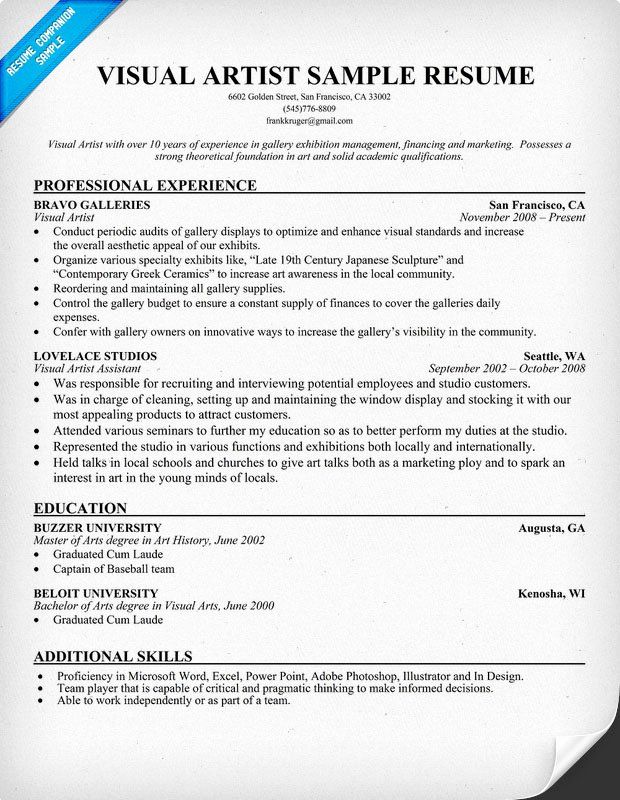 Those who had an internship at the institute can mention the acquired skills in the section of the same name.
If you studied with a famous teacher, then this information will be a good illustration of your professionalism. Be sure to include his name on your resume.
Dance teachers often conduct individual lessons that are not reflected in the work book. If you have such a practice, then this can also be considered an experience.
If you find it difficult to get a job… We know what to do! Read our article: Why am I not being hired? The harsh reality that you need to know.
Education of the choreographer in the resume
This block is filled in with information about educational institutions and qualifications awarded after graduation. A specialized education in the field of arts is of great importance, therefore, such information will positively affect the rating of the applicant and speaks of his professionalism.
In the column about courses, they write about additional education that may be useful in the implementation of labor activities.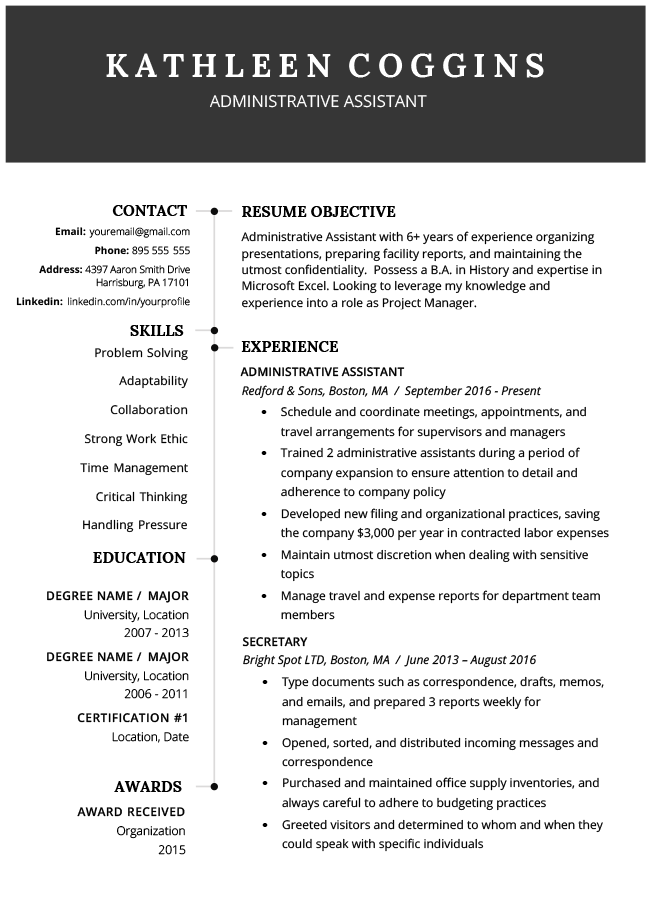 An important section in the questionnaire is the heading "Languages".
It provides an opportunity to convey information about the candidate's erudition. Knowledge of foreign languages ​​allows you to apply for a place in the studio, ensemble, where interaction with foreign theaters and colleagues is expected. If you have the necessary skills, it is better to fill out this section.
How to complete skills section
The specific skills acquired during training are often the best way to briefly talk about the potential and professional qualities of the applicant at work. For the head of a dance studio, it is important to master different dance styles. The presence of such skills significantly increases the personal rating.
An example of the professional skills of a choreographer:
Classical dances
Staging

What to write in the "about yourself" block

The dance teacher, whose resume is discussed in this article, in this part of the self-presentation can mention his achievements and unique methods, for example:

Ability to achieve goals.
The presence of positive feedback from students.
List commendations from institutions.
Tell about awards received at international choreography competitions.

You can write in the section about personal qualities, attitude to work, positive changes that occur to students in the learning process.

Rules for filling out contact information

The heading contains information that allows the employer to quickly contact the candidate.

Before sending a resume, you need to remove compromising information from personal pages on social networks.

It would be most correct to indicate the accounts on which the video of dance numbers prepared by the candidate will be posted.

Conclusion

Applicants who are looking for work in several areas must complete a separate questionnaire for each specialization. Example: concert organizer, children's choreographer, choreographer, etc.

Before sending to recruiting agencies, the completed form must be carefully checked. In the resume of the choreographer, it is necessary to remove unsuccessful expressions, typos, unnecessary phrases. On the MyResume website, you can save the form in PDF format, download, print, publish on Facebook, Telegram, VKontakte.

Choreographer's resume - ready-made samples (templates)

The choreographer combines a teacher and director, choreographer and leader, all kinds of genres of dance art. To achieve this, he must have the appropriate personal qualities, a certain amount of knowledge and skills.

Contents

Duties of a choreographer

Duties of a choreographer are approved by the provisions of the Labor Code of the Russian Federation, Order of the Ministry of Health and Social Development of the Russian Federation No. 916n dated August 15, 2011 and are reflected in the unified qualification reference book. Based on this, a job description was developed for the choreographer.

A professional choreographer must:

Train dancers.
Come up with ideas, organize castings and selection of dancers.
Teach dance theory.
Select dance costumes and make-up for the next performance.
Organize rehearsals based on the plan set by the employer.
Conduct extra extracurricular activities as needed.
Engage in administrative activities (make a class schedule, prepare reports on trainings and performances, take into account the attendance of group members, etc.).
Organize dress rehearsals and performances in concert halls and other places.

An employer can add responsibilities to a choreographer by displaying them in the job description. Therefore, the choreographer must be ready for diverse functional responsibilities for the simultaneous implementation of many tasks.

( Video : "10 INTERVIEW QUESTIONS AND HOW TO ANSWER THEM")

Requirements for a choreographer

A key requirement for a choreographer is an education in the specialty "choreography". You can get such education in humanitarian educational institutions, where a lot of time is devoted to practical exercises. Therefore, after graduation, the choreographer will be able to find a job, even without practical experience.

The key to successful work and career advancement is systematic professional development.

When compiling a resume, the choreographer must attach to the document certificates confirming his regular classes.

The choreographer must have good physical fitness, flexibility and stamina, as he will need not only to lead the group, but also to dance together with the students, setting a good example.

An equally important requirement is the knowledge of the characteristics of the dance taught by the choreographer.

In addition, the choreographer must have teaching skills. After all, he is, first of all, a teacher and is obliged to convey the required information and dance rules to his students, focusing on shortcomings and gaps.

Peculiarities of compiling the right resume

The choreographer's profession is creative. The choreographer must not only teach other people how to dance, but also be able to dance. Therefore, in the resume you will need to display not only education, but also work experience in this area.

A choreographer can get a job at a school, kindergarten, dance school, club, television, theatre, cruise ships, festivals, etc. In your resume, you need to indicate not only your experience, but also the age group that he was doing.

It will not be superfluous if the applicant notes the serious productions organized by him to emphasize his creative nature and creativity.

Displaying professional skills and personal qualities in the resume, it will be necessary to note organizational and pedagogical abilities, experience in working with children and other skills and achievements.

A well-formed resume increases the chances of success. Therefore, when preparing a resume, the following general recommendations should be taken into account:

The document should be no more than 2 pages in volume.
The document must contain key information to enable the employer to promptly select the best candidate.
To do this, when filling out the document, you need to use the same font, preferably Arial or Times New Roman, size 12. At the same time, for a presentable look, you need to indent paragraphs the same way, highlight headings in bold or underline, use structured text when compiling a list, etc.
When filling out the form, grammatical errors, corrections, and strikethroughs should not be allowed. Therefore, after completing the execution of the document, it will be necessary to carefully re-read it and, if errors are identified, rewrite the document.
For a more positive impression, a high-quality photograph should be placed in the resume.

To fill out the document, you can use the template or the completed sample resume, which can be viewed or downloaded at the end of this article.

When filling in your details, the applicant will need to indicate his contact details, by which the employer can contact the applicant for the vacancy, for an invitation to an interview.

Below is an example of filling in the applicant's contacts.

An equally important circumstance is the observance of the structure of the document, for more convenient study of it by the employer. And first of all, in addition to displaying your details, you must clearly display the purpose of the document. In this case: « Applying for the position of a choreographer»

Further, using the template, you will need to fill in the relevant sections of the document.

Education

In this section, information about the education received is filled in, indicating:

Date of graduation.
Names of the educational institution.
Specialty received after graduation.

A specialized education in the field of art is important, therefore, having a certified choreographer, the applicant has the right to count on a successful filling of a vacancy.

An example of filling out a section.

Additional education

The section provides information about advanced training courses attended by the applicant, which indicates the specialist's desire to improve his knowledge and constantly improve.

Example.

Experience

This section is one of the most important. It provides a more complete assessment of the professional experience of the applicant, as well as the definition of the terms of reference of the applicant for the vacancy. Here, you need to display the places of work of the applicant, indicating:

Dates of employment and dismissal.
Names of institutions.
Position held, listing duties.

At the same time, if the list of places of work is too large, then it is enough to display the last years of labor activity. The employer is primarily interested in the work of the applicant for the last 3 years. Therefore, this period must be displayed without fail.

Example:

Places of employment must be listed in reverse chronological order, starting from the last place of work.

It should be noted that too large a list of places of work and frequent job changes can negatively affect the employer, giving the impression of a conflict applicant, lack of ability to find a common language with the team, low qualifications, etc.

The reasons for the frequent change of activity can be displayed in section "Personal qualities" or in the accompanying letter.

In the absence of work experience, a novice specialist can focus on excellent grades during their studies, good practice and training, thanks to which valuable experience is gained. If the applicant studied with a well-known teacher, then such data will be a good illustration of the applicant's professionalism, and in this case it will be necessary to display his full name in the resume.

Professional skills and achievements

The knowledge and experience acquired during choreography should be displayed in this section. For choreographers involved in the management of a dance studio, knowledge of various dance styles is an important factor, therefore, having acquired skills will increase the applicant's chance of winning the competition.

A professional choreographer, who has the skills of a teacher and knows the basics of psychology, will find a common language with students and colleagues and will be able to prevent conflicts.

You can also note the awards received in various competitions, indicating the achievements of the applicant.

Example.

Personal qualities

A dance teacher, when filling out a resume, must display his personal characteristics in this section. At the same time, one must observe a certain modesty so as not to slide into self-praise of oneself.

Here we can note the following:

The ability to achieve goals.
Refer to positive student feedback.
Give thanks from other places of work.
Celebrate awards acquired at choreographic competitions.

Other personal characteristic qualities related to the position held can also be noted.

Example.

Additional information

In the proposed section, you can display information that was omitted in the previous text, for example - information about:

Marital status.
Presence of children.
Other information that, in the applicant's opinion, is important for his characterization.

Sample CV

Conclusion

Applicants who are looking for a job, when compiling a CV, must take into account their specialization and, accordingly, draw up a separate CV for each direction.

An example of such a direction could be: a children's choreographer, an organizer of concert performances, a ballet master, etc.

Before sending a resume, you must make sure that there are no errors by checking the completed text. It is recommended that you include a cover letter when submitting your resume.

.