How to butt dance
7 Dance Moves for a Better Butt
Photo:
Getty 
Unpopular opinion: Glutes are one of my favorite muscles to focus on while at the gym. I'm not sure if it's because I hate squats slightly less than planks and crunches (they're not that good for you anyway), or because after a few fitness classes I've truly noticed a difference in the way my jeans fit, but working on my glutes tends to be at the top of my fitness to-do list. So when Knockout LA's fitness instructor Alex Kaye (who also happens to be a backup dancer for Beyoncé, Rihanna, and Lana Del Rey—NBD) offered to teach me a few moves, I happily obliged. Keep scrolling for all the moves you can do at home if you want a better butt. 
View this post on Instagram

A post shared by Alexandria Kaye (@missalexkaye) on
Wall Sit
Keep your feet at a hips-width distance apart.
Sit back into a chair position with your back pressed against the wall and your knees bent at a 90-degree angle. There should be no space between your lower back and the wall.
Keep your pelvis tucked under with no anterior pelvic tilt.
Push your belly button into your spine.
Hold for 30 seconds.
Video:
Alex Kaye
Adductor Presses
Maintaining that low squat, slowly push your knees in toward each other.
Keep the movements small and controlled.
Continue for 30 seconds.
Video:
Alex Kaye
Squat to Kick
Keep your feet at a hip-width distance and sit back into a squat.
Keep your weight in your heels and your chest lifted.
Press up, straightening legs through the center and kicking out one leg at a time with a flexed foot. 
Repeat eight times.
Video:
Alex Kaye
Kneeling Step up Squat
If you have knee problems, you can double up on your mat for more support (or skip this exercise altogether).
Keeping a proper squat stance, start kneeling one leg at a time. Don't let your knees go over your toes; shift your knees back to you can lift your toes off the ground.
Step up, one leg at a time, keeping your legs parallel and staying in that low squat position.
Repeat eight times.
Video:
Alex kaye
Side Skips 
Shoot your hips back and lean slightly forward.
Quickly step side to side for three counts. On the third step, lift your knee up.
Repeat eight times.
Video:
Alex Kaye
Grand Plié to Lunge
Turn your toes out to second position.
With your hands at prayer, bend your knees and stack your ankles at 90 degrees.
Complete small pulses, staying low.
Lunge on the right and bring your knee center. Repeat on the left.
Repeat eight times.
Video:
Alex Kaye
Shuffles
Shuffle as quickly as you can, staying on the balls of your feet, for at least 30 seconds.
Video:
Alex Kaye
Next up: Carrie Underwood's Trainer Told Us the Best Workout for Boosting Your Endorphins
How Dancing Works Out the Butt
You've probably heard of fitness trends that aim to create a dancer's body, especially the slender and toned leg muscles of a ballet dancer. But dancers are also known for the "ballerina butt," known more daintily in the dance world as the high and tight derriere. But you won't see dancers -- from ballet to ballroom -- pumping iron to work out their seat muscles.
Instead, dance movements incorporate a series of tightening and strengthening exercises that target the gluteal muscles around the seat and pelvis area. The result: Tight and round butt muscles that sit high on the thigh without sagging.
Technique
Almost all dance exercises actually utilize your own body weight to work your muscles. Rather than using heavy weight training, dancing and ballet-inspired fitness routines use small and targeted isometric movements to tone the muscles. Exercises that isolate the seat muscles aim for a strong and lifted seat. This type of exercise is all about getting the butt muscles to contract with tiny movements that may only be barely visible to the eye. Muscles are always stretched after the exercises to achieve slender, toned muscles.
Dance-Inspired Exercises
Moves like pliés, relevés, attitudes and arabesques are a few core dance exercises found in all types of dance styles that work out the butt muscles. Typically performed with legs in a turned-out position, the exercises force you to tighten the muscles in your seat, work the muscles in the backs of your thighs and tuck your butt under.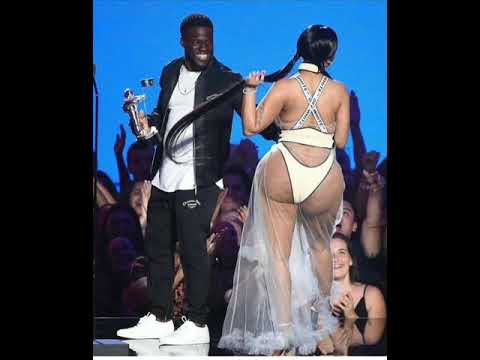 In pliés featuring bent and turned-out legs, and relevés where your heels are raised high off the ground, for example, you must tighten your seat muscles to maintain your turned-out position. In arabesque and attitude positions, where you stand on one leg with the other in the air either straight or bent, you must squeeze your seat muscles to hold the leg in the air. Attitude exercises, in particular, target the deep muscles of the pelvis and are often used to work the "muffin top" area of the upper seat.
Perform an exercise standing on one turned-out straight leg with the other leg raised directly behind you. Bend your raised leg and keep it turned out with foot pointed. You can feel the isometric movements working your butt muscles if you squeeze your seat to move your leg upward. You can also move the raised leg slightly inward toward the opposite shoulder for more of an exercise.
Muscle Fatigue
Perhaps the best way to describe the immediate feeling of how dance works out the butt is to, well, feel the burn.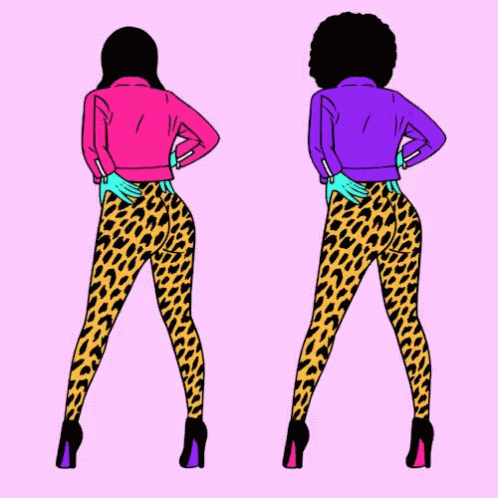 "We train our students to work each muscle group to fatigue. This forces the muscle fibers to rebuild and restrengthen, resulting in increased lean muscle mass," Pure Barre studio owner Sami Dinsmore Sweeney told "DList Magazine." Barre fitness routines feature exercises inspired by dance moves. In dancing exercises performed with one leg lifted in the air, you lift your leg until you feel "a catch" in the muscles in your seat. This is different for every dancer or fitness student depending on her flexibility and strength. From your own ideal working point, small movements will work the gluteal muscles to exhaustion. Shaking muscles are normal.
Considerations
Dancing exercises all rely on maintaining good posture and correct form for maximum workout benefits. Everyone's turnout is different, and you may not be able to stand with your feet in a flat 180-degree turned-out position. In fact, that's not natural for most people. Instead, think of turning out from your hips and place your feet in a narrow "V" shape to begin seat exercises.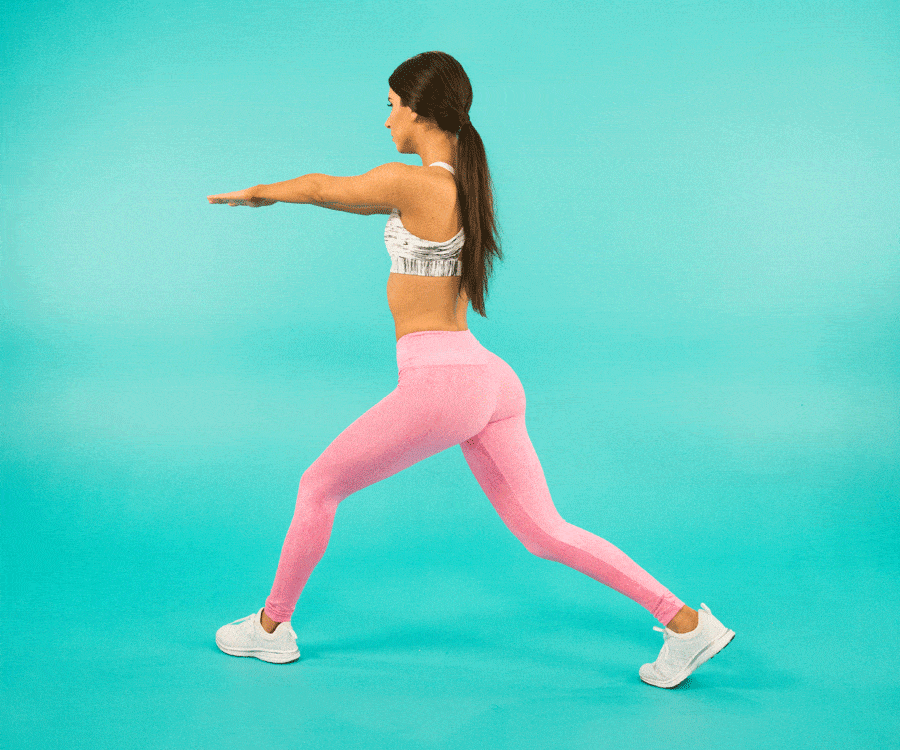 To effectively work the seat muscles, dancers also stand very tall with shoulders pushed down, abdominal muscles held in and derriere tucked slightly under with no arch in the lower back.
References
Pure Barre: The Technique
Self: The Best of Barre Classes: 7 Long and Lean Moves
Resources
The Bar Method: Burr's Bar Method Blog: Secrets Behind Sculpting the Bar Butt
Pure Barre: Tuesday's Technique Tip: Take The Arch Out Of Your Lower Back While Performing Seat Exercises
Writer Bio
Mikel Chavers has been writing and editing since 2006, specializing in health, business, government and technology topics. She got her start as a reporter at "The Business Journal" in Greensboro, N.C., and later covered state government for a national magazine. Chavers holds a Bachelor of Arts in media studies/journalism.
Image Credit
Ryan McVay/Lifesize/Getty Images
SHARE SHARE TWEET EMAIL
More Articles
How to learn to dance shuffle - Lifehacker
December 15, 2019LikbezSports and Fitness
Master the basic movements, and then improvise and get high.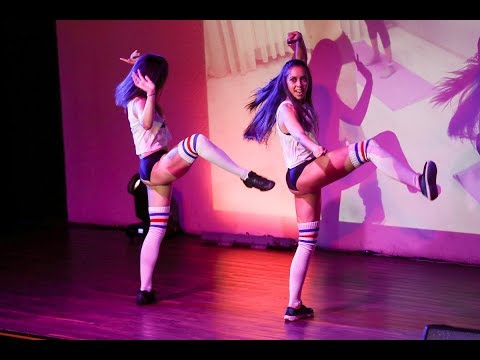 Iya Zorina
Author of Lifehacker, athlete, CCM
Share
0
This dance style includes a lot of freedom and improvisation. That is why he is so good. You can master the basic movements in a couple of hours, and then complicate them to infinity and combine them with each other, create your own combinations and spy on others.
Dance in sneakers, socks or barefoot, in any outfit, anywhere.
Master the basic movements of the shuffle
In this style, you do all the basic movements with your feet, the hands most often move freely - according to the heart.
Running man
This is the most basic and essential shuffle movement. You can do it in three different ways.
Full foot
The movement begins by bending the knee and lifting one leg. Next, you need to simultaneously put both legs - supporting and raised - at a distance of one step from each other.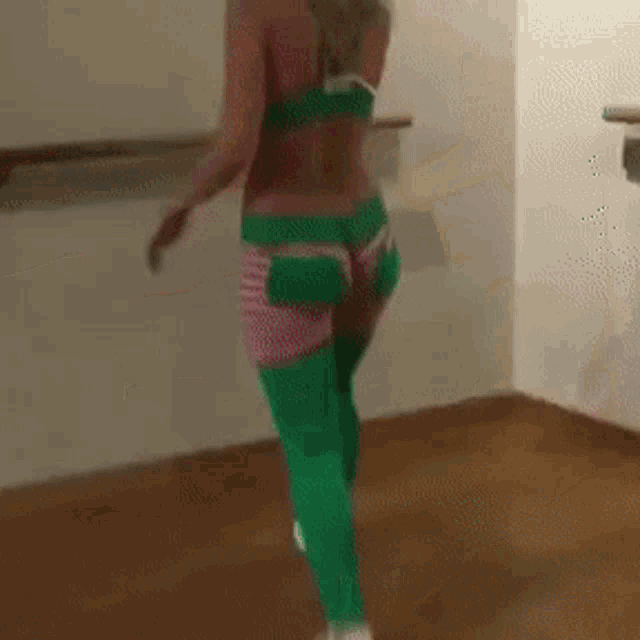 The raised leg is placed forward on a full foot, the standing one behind slips back on the ball of the foot and remains on it - the heel is not placed on the floor. The weight is evenly distributed between the two legs.
After that, it remains to return to the starting position. To do this, the front leg slides back, and at the same time, the back leg is pulled up. You find yourself in the starting position and repeat the cycle. The movement itself is soft and springy: do not stick into the floor, keep your legs relaxed.
Heel
This is a lighter and faster running man look that may be needed for some combinations. Here you put your foot not on the whole foot, but on the heel. At the same time, the one standing behind remains on the toe.
On pads
In this variation, the foot is placed forward on the pad. At the same time, the one standing behind also remains on the ball of the foot, and the body leans slightly back.
T‑step
In this movement, one foot constantly makes a "herringbone" - turns the heel in and out - and the second touches the floor and immediately rises back.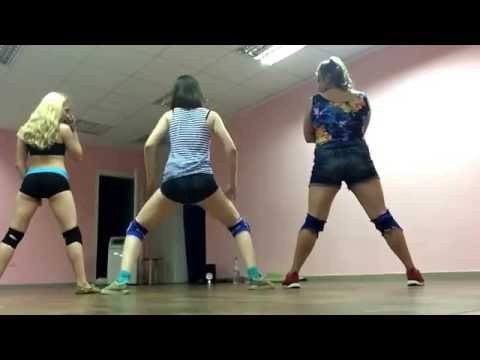 When the heel of the skating leg turns inward, the toe of the other leg touches the floor; when outward, the other leg rises, turning the knee inward.
It turns out two positions: closed - when the legs are wrapped with the knees inward, and one leg is raised, and open - when the legs are turned out with the knees outward, and the toe touches the floor. Practice doing the T-step in both directions: slowly at first, then with acceleration.
Rocking
You jump on one foot, and the other touches the floor in different places: on the side of the supporting leg, across, behind - anywhere you want. You can put your foot on the toe or on the heel - the latter is called a kick. The supporting leg can simply rise low or perform a T-step - move the heel out and in.
Charleston
To begin, you turn your knees and toes inward and lift one leg. Then turn your toes and knees outward, and put your raised leg forward crosswise. Repeat the same with the other leg.
All movement occurs on the balls of the feet, the heels do not fall to the floor. You can move both forward and backward.

Diamond
First you put your feet crosswise with your toes outward with a jump, then you also spread your legs apart with a jump.
Slides
One leg is straight, stands on the whole foot, the other is with a bent knee on the pad. Leaning on the pad, you slip the foot of a straight leg back, as if wiping the sole on the floor.
Immediately after the slip, you turn around. In the turn, the straight leg bends and goes to the pad, and the one that was on the pad, on the contrary, turns on the heel. After that, it remains only to change legs and move in the same way in the other direction.
Scissors
From the starting position - standing with a raised leg, as in Running man - you turn your hips to the side with a jump and put your legs crosswise.
The front foot is on the heel, the back foot is on the ball.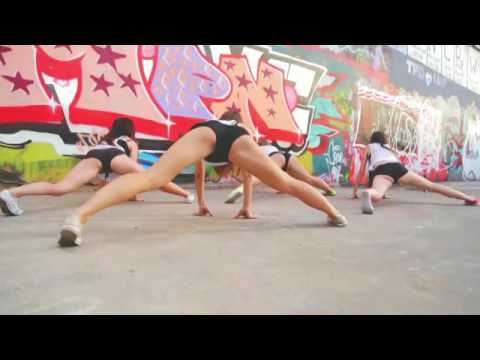 Then you jump back to the starting position and do the same on the other side.
Sidekick
From the starting position, you turn your hips to the side with a jump and spread your legs a step apart from each other. The standing foot in front is placed on the heel, the standing one behind remains on the pillow. Then, with a jump, you collect your legs and do the same on the other side.
Try other variations of the basic shuffle movements
You can perform the basic movements in different directions: forward and backward, turning around. This will give you more freedom to improvise.
Variations Running man
Do several times in place and then turn around. You can also try walking this way to the side. Each time the leg will need to be placed slightly crossed in order to slowly move to the side.
Variations T‑step
You can lower your foot on the toe, on the whole foot, touch the floor to the side of the supporting leg or forward and behind it.
You can also keep the other leg off the floor at all - leave it on the toe and turn the knee in and out.
Variations Diamond
Here one more element is added to the movement – ​​the heel strike. In the starting position, you wrap the toes of the feet and knees inward, and then jump on the heels, turning the socks to the sides.
From this position, without jumping, you turn your toes and knees inward, cross your legs with a jump, turning your feet with your toes outward, and then return to the starting position.
Charleston Variations
After three turns of the Charleston, turn both toes in one direction and then in the other. At the end, you can turn the knee to the side.
Connect familiar shuffle moves
While you lack the skills to move freely and come up with something of your own, learn a few combinations. They contain interesting movements that will replenish your dance vocabulary.
Combination 1
This is a simple combination of two basic movements - Running man and T-step.
First take five Running man steps, then four T-steps to the side and repeat the same in the opposite direction.

Combination 2
Another combination of two basic movements. Here you do three Running mans, then one T‑step with a back foot touch, and two front heel touch kicks. The same on the other side.

Combination 3
There are no standard steps here, but there are already familiar Sidekick and transition from heels to toes.

Learn more difficult combinations
We will add some videos with good combinations.
1. Cool video for beginners: movements are repeated in slow motion to make it easier to dance to the music.
2. And here the combination is analyzed step by step in slow motion, dividing it into three parts. Very comfortably. Look for more on this channel, there are several such analyzes.
3. There is no slowdown here, just a great combination. But you already know almost all the movements, so you can figure it out. If something is not clear, watch the video at a speed of 0.25.
Pick up the music and improvise
Surely you have favorite songs to shuffle to. Include them and start with basic movements: just do the Running man and periodically add different elements when you want. Move in different directions, relax and have fun.
If you don't have favorite tracks, try our selection.
I must say that the shuffle is an amazing cardio workout. In just a couple of tracks, you will be out of breath and sweat, like after a run, but you will feel absolutely happy!
What's more, if you have to force yourself to keep going while running, shuffle requires you to have the willpower to stop and not dance.
As a bonus - a short video from a beginner after a couple of hours of practice.
Shuffle is cool!
Read also 🕺💃🤸‍♀️
Dancing as a sport: choosing the right direction
Dance and movement therapy: how to know and change yourself through movement
How to learn to dance: video lessons for those who are not afraid to try
How to learn street dancing without leaving home
Zumba is a fun way to lose weight for those who love dancing
*Activity of Meta Platforms Inc. and its social networks Facebook and Instagram are prohibited in the territory of the Russian Federation.
5 TikTok dance challenges you'll want to repeat
September 18, 2020Reno5Inspiration
Selected and reproduced cool dances that were staged by tiktokers around the world. It turned out to be not so difficult. You can do it too!
Share
0
Masha Rubtsova
Actress of the Sovremennik Theatre.
Helped us deal with challenges.
1. Like That Challenge
A short and rather easy dance that will not cause any difficulty even if you have never done choreography. It can be worked out even in the bathroom in front of the mirror. The challenge song is a hit by rapper Doja Cat. Tiktokers joke that she doesn't have any tracks left that wouldn't go viral because of dancing on TikTok. By the way, this bunch will easily fall on other music. So if you usually do not know where to put yourself on the dance floor, the challenge will help you relax and start dancing.
@ayiram21##1♬ Just like that come my way — jordanaudiož
Tutorial from Masha:
Try to get to the beginning of the music - it will be easier to follow the rhythm;
make a wave under the right hand, click with the fingers, then wave under the left hand and click;
bend back in a wave, and then twist your arms in front of you;
swing forward with your hands in front of you and immediately another swing on the right leg;
stretch your right arm forward and point your finger at the camera or at the person you are dancing for, circle your arm around your head;
stretch both hands forward one by one, call to you with your right palm, sitting down.
2nd Don't Start Now Challenge
Learn this link to add an 80's vibe to your dancing. She is uncomplicated. The main thing is to roll a wave with your body, point to the clock and effectively leave in the style of Michael Jackson. It is performed to the song of the English singer Dua Lipa - a great lover of the charm of those times. This challenge was first recorded by a Tiktoker named Hannah Kaye Balanay, and then her dance was repeated by 3.8 million people around the world.
@ayiram21##2♬ Don't Start Now — Dua Lipa
Tutorial from Masha:
Dance in place and emphasize by straightening your half-bent arms down and pointing your palms to the floor;
clench your hands into fists, bend your knees and rock your hips. Move your arms along with your pelvis;
keep swinging your hips, release two fingers from each fist;
wave to the right, clap your hands and open your arms;
dance on soft knees (as at the beginning of the dance), put your right hand behind your head, and then smoothly straighten it;
place your fists on your pelvic bones, then tap your fingers on your wrist as if telling the time;
clench your hands into fists again, bend your knees and swing your hips from side to side;
make a small circle with your shoulder, turn sideways and moonwalk out of the frame.
3. Challenge Supalonely
Funny dance to the sad song of New Zealand singer BENEE. If you do not listen to the text, you will not even suspect that the content is rather depressing by the cheerful rhythm. In general, if you get bored alone - here's an activity for the evening. A bunch can be learned pretty quickly: tap on an imaginary drum, spread your arms, pretend that you are drinking from a bottle - you're done. And smile! How did the tiktoker with the nickname zoifishh, who launched the challenge.
@ayiram21##3♬ Supalonely (feat. Gus Dapperton) — BENEE
Tutorial from Masha:
Wait for the right beat, bring the clenched fist of the left hand to the right shoulder and swing the shoulder forward, pretending to pull by his hand;
turn your head to the left, punch an imaginary wall on the right;
Extend your left arm to the right and then up. Emphasize head to the left along with the pelvis, then a small circle with the hand to the left;
Raise your arms in front of you as if holding a camera. "Take a photo" in front of you and to the right;
cross your arms over your chest and straighten them down twice;
make a "table" out of the hands: the right hand under the left elbow, and the left hand under the chin;
strike with the left hand on the left pelvis bone, with the right hand on the right;
lunge forward on half-toes on bent knees, and at the same time make a wave forward with your hands;
circle back with your right hand and step in place, then with your left hand and step in place;
fold your hands into a "bottle" and pretend to drink, making a wave in both directions;
take two steps in place, twist your finger at your temple and straighten both arms up.
4. Challenge Kill This Love
Difficulty: 4 out of 5.
Suitable for fans of K-pop and fast movements. The challenge is inspired by a song by the Korean band BLACKPINK. The performer will need some choreographic skills. Or it just takes you a little more time to learn. But you can spin from the heart and throw out energy. The dance looks great when performed alone or with a group of friends. The music is very dynamic - the best thing is if a house party begins to fade.
@ayiram21##4♬ Kill This Love - BLACKPINK
Tutorial from Masha:
Bend your left arm - elbow points to the left, fist at the shoulder. Take a step back with your right foot and take your left hand back. Do the same on the other side;
turn to your left side, pretend that you have a machine gun in your hands, from which you are shooting. Simultaneously with the "shots", do a slow wave back;
put your foot on the toe and rotate the foot in different directions, "dancing" with bent arms near the body;
straighten up sharply, turning to face the camera: hands behind head, feet together. Take your right hand up diagonally, and put the other on your belt;
put your left leg out to the side, then put your left hand on your thigh and sit down on your left knee;
make a circle above your head with your right hand, turn your right side in the same position, touch your left shoulder with your right hand;
make three circles with your arm above your head and work your hip up. With two hands make a circle through the bottom, and then a point with the hands and thigh two times;
step with your left foot, focus down with your hand. Take your elbows back as at the beginning of the dance;
gather your legs and put your hands in a frame, and then spread them apart. Make two waves with your body, lower your right fist to the floor.
5. WAP Challenge
This is the bomb. Complicated, but very effective bunch. If you are doing well with stretching, you can impress everyone.
Practice the dance in knee pads if you don't want to get hurt. Some inexperienced dancers ended up in the hospital with knee injuries due to bad landings. WAP was created by professional choreographer Brian Esperon from the small Pacific island of Guam. This dance has high batmans, twine, twerk - a full arsenal of dance and gymnastic elements.
@ayiram21##5♬ WAP(feat. Megan Thee Stallion) - Cardi B
Tutorial from Masha:
Jump in place with a leg lift: bent left knee to the shoulder, and then right straight up;
sit in a grand plié and open your arms. Get on all fours, but keep your knees on the floor. Turn your head and pelvis to the same side;
straighten up for a second: push your pelvis forward, take your arms and head back, bend your back. Then kneel down again in the "cat";
lie on your stomach through a soft wave: the right knee is in the "frog", the left leg is straight. Hit the floor with your right hand and at the same moment lift off the floor and lower your buttocks to the beat;
turn over your left shoulder onto your back, roll, opening your legs into a cross split. Get back into the "cat";
walk three steps on your knees, alternately arching your back up and down;
Extend your knees, make a big circle with your right foot and sit on the longitudinal split. Raise and lower your buttocks to the beat of the music.


Stay fit and connected with the OPPO Watch. They have 2 powerful processors, a bright AMOLED display, 1 GB of RAM and 8 GB of internal memory, Bluetooth, Wi-Fi and NFC modules. And more than 90 training modes, including those designed specifically for ORRO. Train cooler with music, you can listen to it in streaming services or download tracks to the memory of the watch. If you want to enjoy clear sound, the OPPO ENCO W51 Wireless Headphones will come in handy. 8 mm speakers, an additional microphone for high-quality voice transmission and a stable connection will make listening to music and talking on the phone as comfortable as possible.