How do hip hop dancers dress
What To Wear To Hip Hop Class
Hip Hop classes are fun, fast-paced, and challenging. As you learn to perform classic moves like the running man or the freeze, you'll need to wear comfortable dance clothing that lets you breathe, sweat, and move to the beat.
What is hip hop dance? Hip-hop dance originated in the mid-70s. It's a mix of street dance styles usually performed to hip-hop or rap music.
Read on to learn more about what to wear to hip hop class and why this style of dancing requires specific gear.
What To Wear to Hip Hop Dance Class
Dancing is an art form, but it's also a full-body workout. Like any sport, you need gear that allows you to move comfortably while preventing injuries.
When learning how to dance hip hop, it's essential to choose comfortable dance clothing that won't restrict your movements. Plus, your dance studio might have a dress code regarding what to wear to dance class hip hop.
Loose Clothes
You can't go wrong with loose-fitting clothes if you're wondering what to wear for hip hop class.
Baggy pants and oversized shirts are typical for this style of dance because they allow you to perform popping, locking, or breaking moves without restrictions.
Workout Clothes
If you're unsure what to wear for hip hop class, workout clothes are a good option. Sweatpants, yoga pants, and classic cotton tees are great for moving and regulating your body temperature.
Workout clothes are common for rehearsals and choreography classes. Dancers sometimes wear different stage outfits when performing for an audience.
Proper Dance Shoes
Your attire for hip hop should include some dance shoes that feel comfortable and supportive. You need a pair of sneakers with soles that provide excellent grip to prevent injuries. Proper shoes for hip hop also need a sturdy closure system, whether you opt for shoes with laces or Velcro.
As you get more comfortable, you can transition to shoes that will be part of your onstage look, including heels or work boots.
If you decide to join dance classes, don't hesitate to ask your instructor for recommendations regarding proper shoes.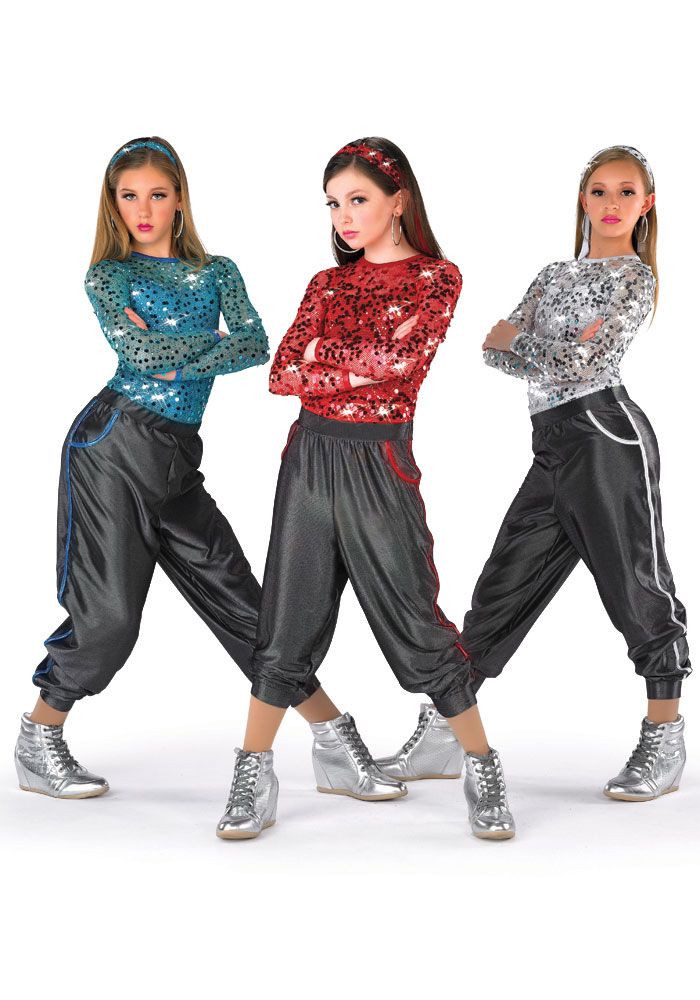 Supportive Inner Wear
Moisture-wicking inner wear will help keep you comfortable. You also need comfortable underwear, including sports bras for women and athletic underwear for men, to prevent injuries.
Light Accessories
You shouldn't hinder your dance moves with heavy accessories, but you can have fun adding a few items to showcase your sense of style.
Whatever Makes You Feel Good
If you are questioning what to wear for hip hop dance class, you should look for clothes that make you feel good.
Most studios have dress codes, but you can explore different types of clothing and footwear to see what feels right and gives you the confidence you need to progress and express yourself in this style of dance.
How Do You Choose the Right Clothes and Shoes for Hip Hop Class?
What to wear to hip hop class is often a matter of personal preferences, but there are a few tips to keep in mind.
Comfort
Attire for hip hop should feel comfortable.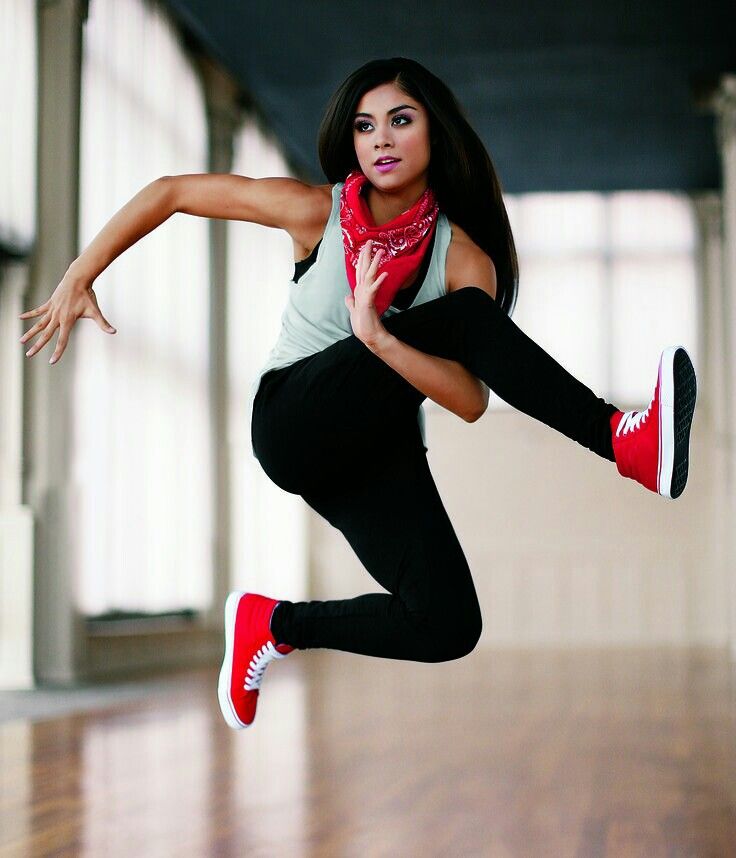 It should allow you to perform various moves while helping you regulate your body temperature.
Size
Oversized clothes are common in hip hop dance since baggy clothes don't restrict your movements.
Weight
Heavy clothes and accessories can get in the way and even increase your risks of injuries when you practice new moves.
Materials
Many hip hop dance moves will require that get down on the floor. Avoid any material that could be slippery to prevent injuries.
FAQ
Here are a few other things you need to know about what to wear to a hip hop dance class.
What types of shoes are best for hip hop dancing?
Look for lightweight shoes with laces and a flexible insole and soles with plenty of traction.
How are dance sneakers supposed to fit?
Dance sneakers shouldn't pinch or feel uncomfortable, but the fit should be snug compared to traditional sneakers.
How to wear your hair while performing hip hop?
If you have long hair, it's best to braid it or wear it in a bun or ponytail to keep it out of the way.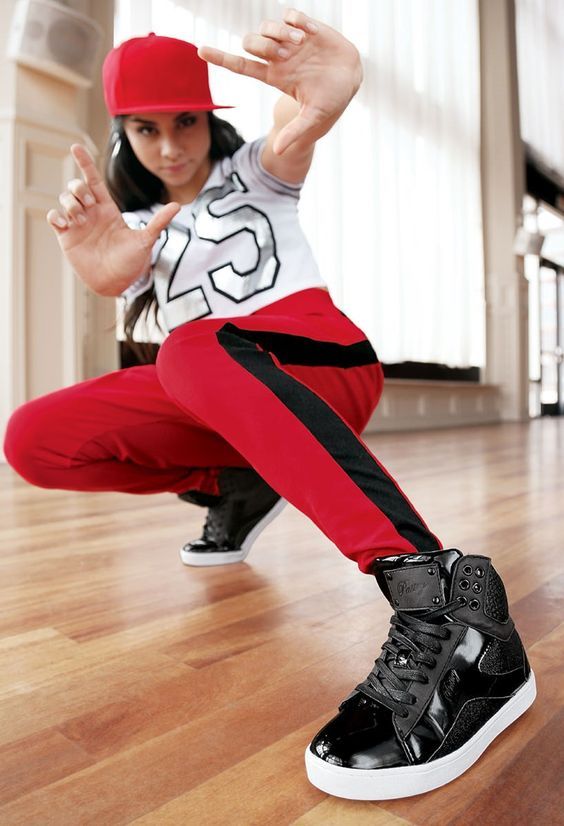 Can I dance hip hop without shoes?
Dancing barefoot isn't ideal since you might hurt your feet, and you won't get the support that a pair of sneakers can give you.
Why do hip hop dancers wear baggy clothes?
Baggy clothes are part of the fashion and culture that influenced hip hop, but loose-fitting clothes allow dancers to perform a wide range of acrobatic moves without restrictions.
Can you dance in jeans?
Jeans are a good option as long as they feel comfortable. It's best to opt for baggy jeans that let you move freely or wear a thin denim weave that enables you to breathe.
Do You Have the Right Gear for Hip Hop Class?
Dancers wear clothes that make them feel comfortable and don't restrict their movements when practicing. Any workout clothes, loose clothes, and lightweight items that let you move and meet dance studio dress codes are acceptable.
Are you ready to take the first step of your journey to becoming a hip hop dancer? Learn about how to sign up for dance classes here, or learn about dance class prices first.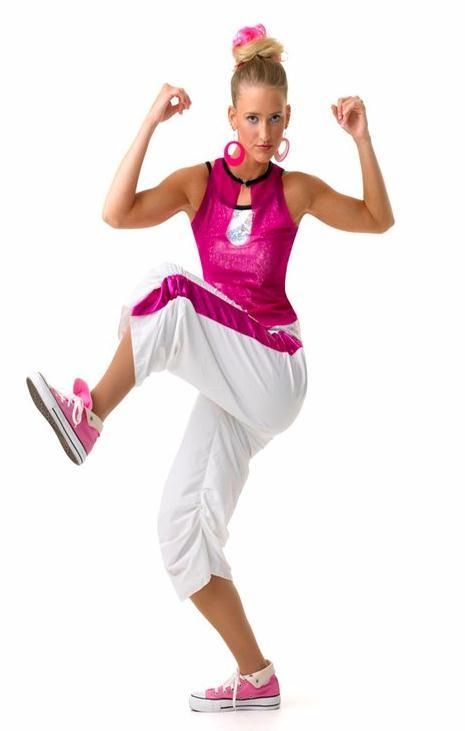 What To Wear To Hip Hop Class
You know what to wear to ballet and jazz class, but what about hip hop class? Should you go out and buy all the latest hip hop shoes and hip hop pants? Or should you take a more casual approach?
If this is your first foray into the world of dancing or hip hop, it can all be a little overwhelming. The good news is that it doesn't have to be. In fact, hip hop is one of those few dance styles that's actually super casual and comfortable when it comes to the clothes you wear. To help you select hip hop dance wear that's right for you, here are a few key tips to keep in mind.
What Hip Hop Pants and Tops to Wear
When it comes to the clothing you wear to your first hip hop dance class, aim for casual. A loose fighting t-shirt and a pair of sweatpants are completely acceptable. Or, if you're inclined, you can go out and buy some trendy new hip hop pants and tops. But the rule of thumb, whatever you wear, is to make sure you're donning clothes that are comfortable and easy to move in.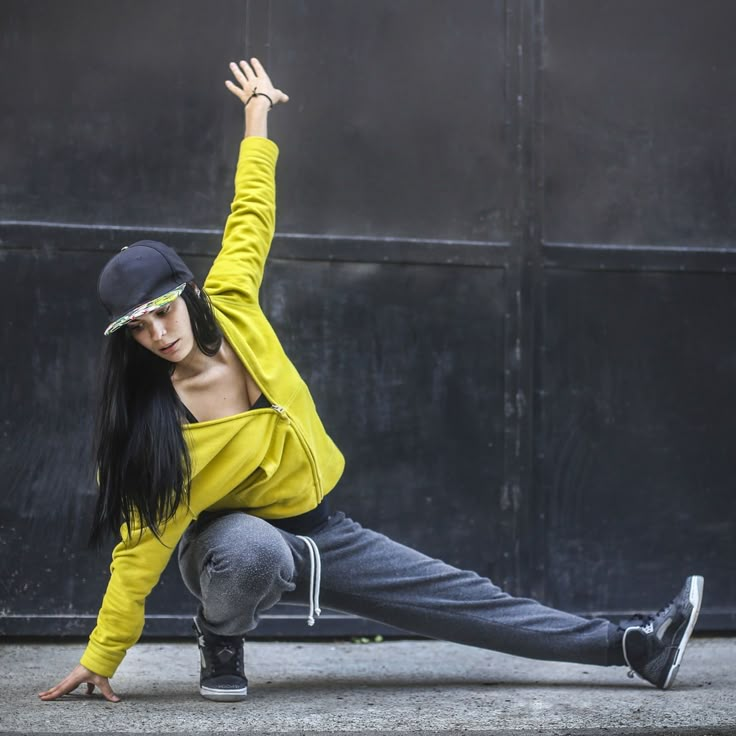 A few other things to keep in mind when dressing for hip hop dance class:
Most dancers typically wear baggier hip hop pants rather than shorts, spandex or yoga pants that you might see in other types of dance classes. But a regular pair of sweatpants will do, as well.
Make sure everything is clean and washed. Hip hop class is casual, but that doesn't mean you should show up sloppy.
Keep the jewelry light. This is still dance class, after all, and wearing too much of it -- especially if it's bigger and chunkier -- can actually put you and your fellow dancers at risk for an injury.
Also, if you're new to the world of hip hop dancing, you may want to play things down a bit. If you wear something loud and attention-grabbing, people will notice you. If you'd rather not take center stage at first, then downplay your clothing selections.
What Hip Hop Shoes to Wear
If you're having trouble deciding what shoes to wear, or don't have the money to spend on a new pair, then a regular pair of non-marking sneakers will work fine for your hip hop class.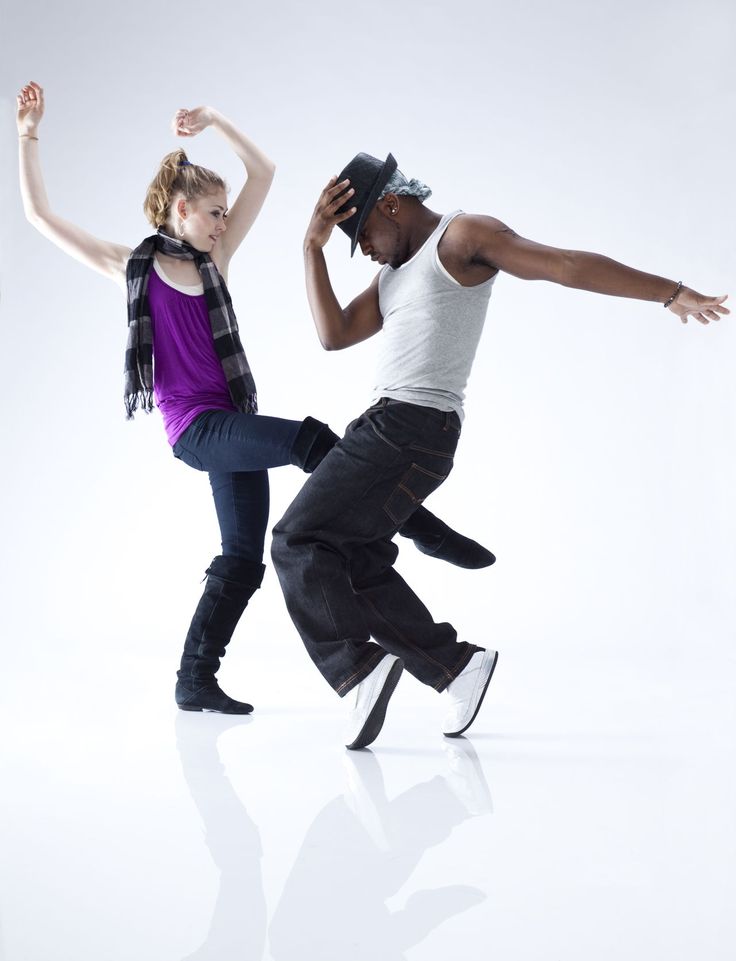 You don't necessarily need to invest in a specialty shoe, such as shoes with split soles, in order to perform well in hip-hop class.
In terms of brand, some dancers favor certain brands over others. But it's really up to you to decide what's the most comfortable and makes the most sense. Before you buy anything in the way of hip hop shoes, you can also wait until your first class so you get to see what other people wear. Then you can get a better idea of what's appropriate for your particular dance studio and in your specific class.
Just make sure that whatever you do buy, it's appropriate for a dance class. For instance, a flimsy pair of sneakers or slip-ons isn't going to give your feet and ankles the support you need to move properly. As a result, poor shoe selections can put you at risk for an injury. Likewise, don't buy a pair with black soles at the bottom, which can lead to marking on the dance floor. In fact, most dance studios will restrict you from wearing these kinds of sneakers to class.
What Else to Bring to Hip Hop Class
Besides the right hip hop pants and hip hop shoes, there are a few more key essentials you'll need to bring to dance class with you. These include:
A dance bag. Bring a dance bag that you use exclusively for dance. It's too hard to re-use your school book bag for dance class. Instead, get a bag that you just use for dance and that way, you can keep all your dance supplies in there all the time, rather than having to constantly transfer them out for school.
A water bottle. You should be drinking water regularly throughout your dance class so you stay hydrated. Your studio likely has a water fountain, which you can use to refill it as needed.
A snack. In addition to plenty of water, you'll need a snack too. Opt for something healthy, such as a piece of fruit and some trail mix.
A gym towel. If you think you're going to get sweaty during dance class, it can be helpful to have a towel handy that you keep in your gym bag. Just make sure you wash it every so often so it's clean.
A good attitude. When you first come to dance class, you might be intimidated. But if you're open to making friends and learning new things, you'll be having a blast in no time at all.
Request a Just For Kix Catalog!
90,000 how to choose things for a child to dance?
What is Hip Hop?
Hip-hop is a diverse genre. It includes many areas of art and sports. Skateboarding, rap, the genre of music of the same name (hip hop), and dancing. We will talk about the last category with you. In particular, about the style in which hip-hop dancers dress. And what kind of things do they use during performances. And also we will figure out what clothes you can buy a child for dancing.
Hip hop dancewear style
Hip hop dancewear is very different from other dance styles. The main feature of "hip-hop things" is that they are as large and spacious as possible.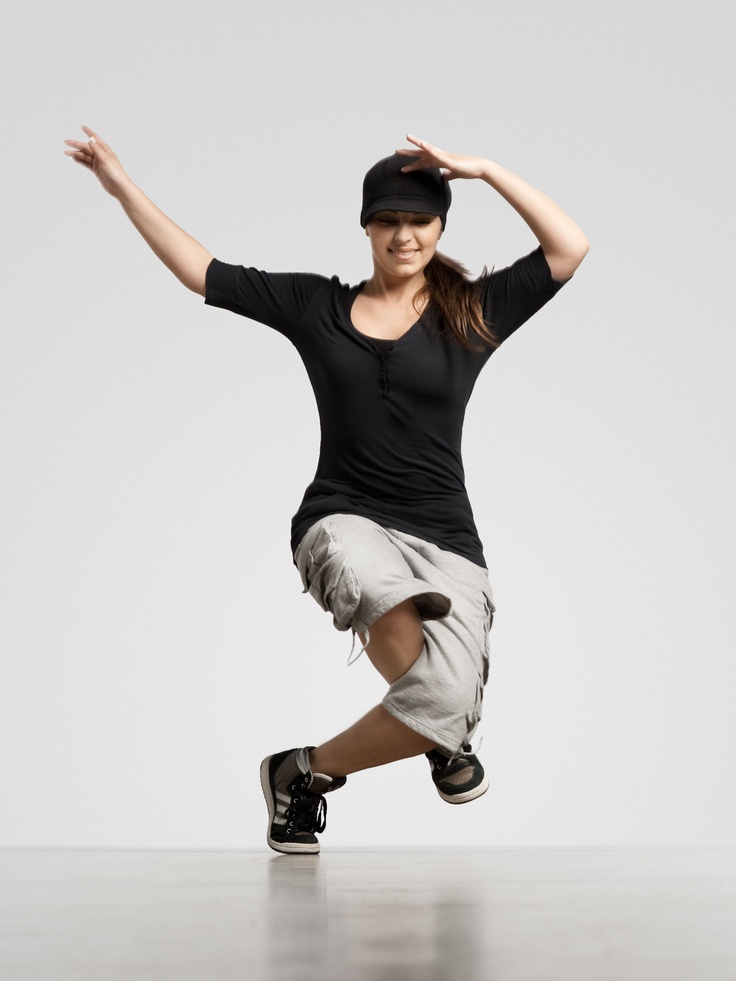 Do not constrain the movements of the child on the dance floor. And even hang down.
Pants
The most common type of hip-hop clothing is fashionable baggy pants. They are purchased for growth. Moreover, at the maximum - clothing for hip-hop can be one, two, and sometimes three sizes larger than the current dimensions of the child.
T-shirts and T-shirts

Hip-hop is dominated by wide T-shirts. Hanging T-shirts are often used.
Bright hoodies, jackets

Dancers wear beautifully designed hoodies and jackets. The rooms also use other items of clothing that have a hood.
There is a huge variety of hip-hop clothing in modern stores. You will be able to choose clothes for the dancer by color and style for absolutely any performance.
Oversized models are available in clothing stores. Visually, they look like very large things. However, in fact, they fit the child perfectly in size. And they don't fall off it.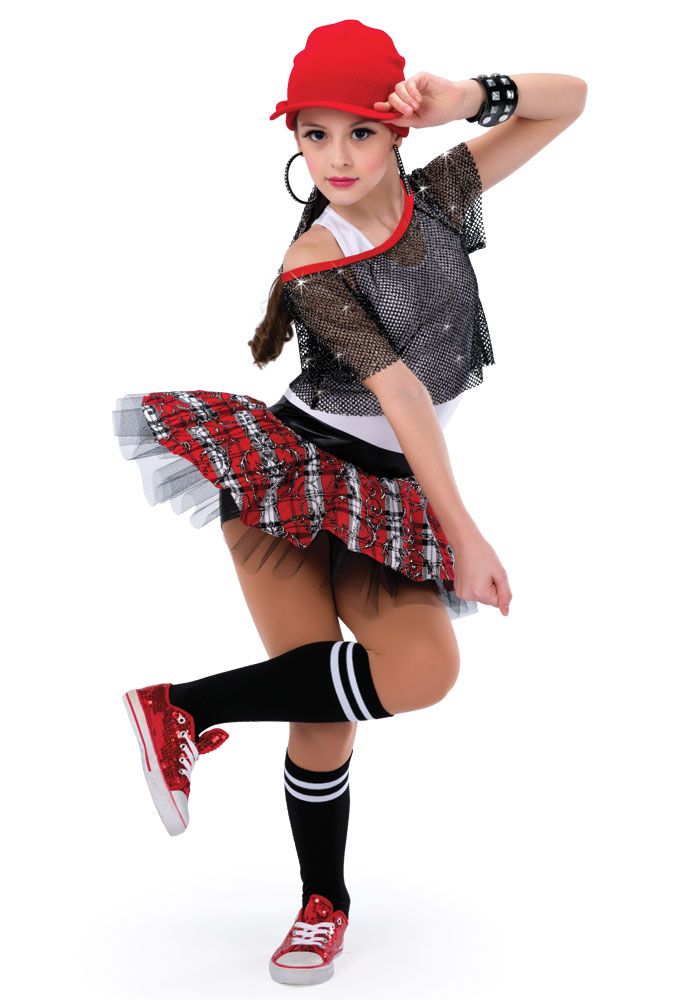 And they only look big from the outside.
After 2010 hip-hop dance became popular. Clothing has become much more expensive.
Hip-hop clothes began to be created by famous brands. With trendy styles, colors and designs. Therefore, on the shelves of shops you can find interesting, beautiful things. At the performance in them, the child will look fashionable and youthful.
What colors are most common in hip hop?

For hip-hop dancers, there are a huge number of clothing models with different colors.
The most popular clothing colors are:
Green. Moreover, all its shades. From light green to dark green.

Blue.

Beige.

Black.

White.
Black and white pieces are considered classic in hip-hop. They are used to form a certain image within the number. For example, an office worker or a businessman.
What materials are hip hop clothes made of?
Most hip hop items are made using the following materials:
Jersey.

Fleece.

Nylon.

Velor.
Products made from these fabrics are of good quality and durability. If a child dances in such clothes, it will not tear. And will last a long time.
What accessories can I buy for hip hop dancing?
There are no restrictions on appearance in hip-hop dancing. Unlike, for example, from ballrooms. Here the dancer can put on almost anything. Accessories, clothes, pants and shoes in all sizes, colors and styles.
Let's take a look at the paraphernalia worn by hip-hop dancers.
Large gold jewelry
For some performances, hip-hop dancers wear jewelry around their necks. Most often, these are chains.
With the help of them, dancers create an image for a certain scene. For example, a gangster or a successful young man.
It is optional to use gold chains and jewelry in every issue. You only need to buy decorations if your child's coach says that it is necessary for a certain number.
Chains have a number of disadvantages. They are not very user friendly. Fall off and cause discomfort. Therefore, choreographers rarely use chains in performances. Especially if the dancers are small in age.
Hats
Athletes wear a variety of caps, headbands and even classic hats for hip-hop dancing. These items are used to form an image for a specific number. Make it brighter.
Accessories
At almost every performance, hip-hop dancers wear various accessories on their hands. Wristbands, bandages, and other items of a similar type.
Accessories will perfectly emphasize the image of your child. And they will give him the opportunity to more clearly reveal himself during the dance.
Hip Hop Jeans Feature
Hip Hop Dance Jeans are unique in construction.
They have a rather unusual appearance. They sit on the child so freely that it seems they will fall off him now. However, this is only a visual effect.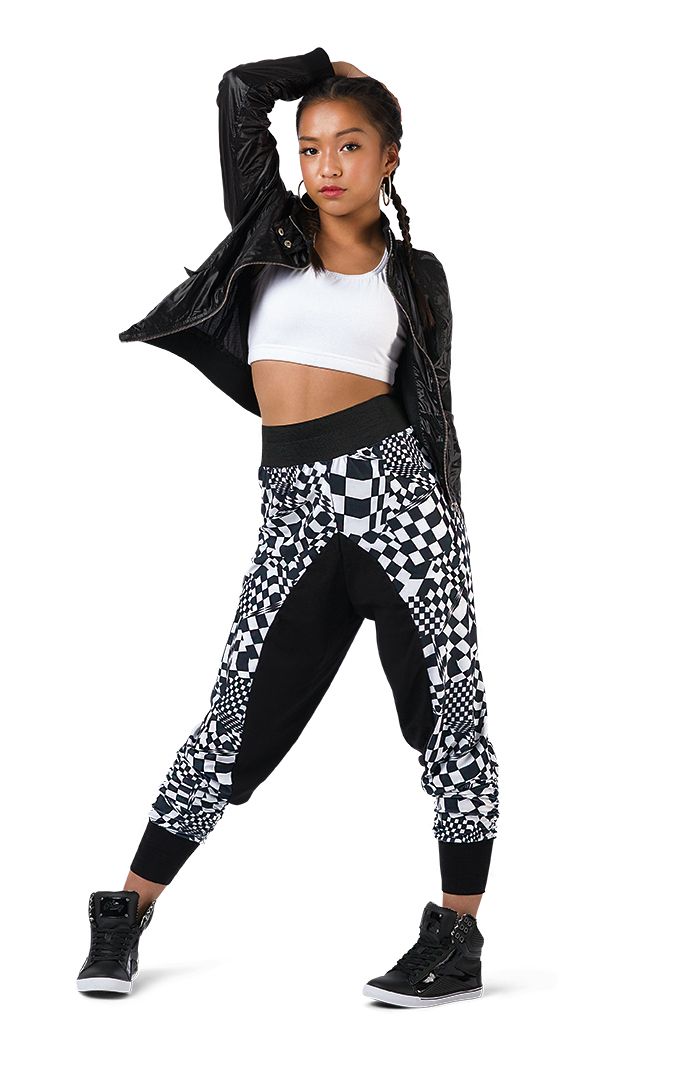 From a technical point of view, the pants are tight. They are securely fixed. Although visually it seems that they are very free, they are not. A similar effect is achieved through the use of special materials. They allow you to make the pants fit tightly, but at the same time, it seemed that the products were very large.
Hip-hop jeans are very comfortable to wear. Due to their structure, the child will be comfortable dancing. His movements will not be constrained.
Main features of this garment:
Most hip hop jeans have a low pitch. They are very long.

There are a lot of folds in the ankle area of ​​hip-hop jeans.

Most hip-hop pieces are low-cut. You can attach suspenders to them, and wear them on your side.
Skinny jeans
Recently, skinny jeans have become popular among hip-hop dancers. This is a very tight pants.
Skinny jeans are suitable for those performances in which the main character should be as thin as possible.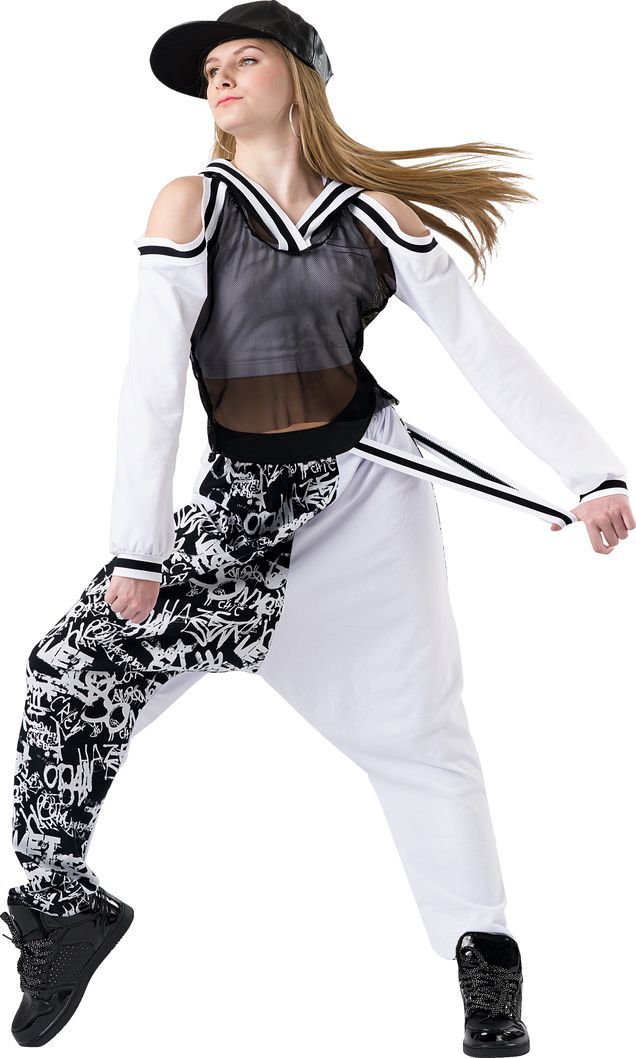 How to choose a T-shirt for hip-hop dancing?
T-shirts a few sizes larger than the dancer's current size are ideal for hip-hop.
Products with "cut sleeves" are popular.
For hip-hop dancing, we recommend purchasing t-shirts and clothes with beautiful prints. For example, photos of Hollywood stars, comic book characters and other heroes. It is important that the print is original and beautiful.
If your child has an athletic build, buy him a cropped t-shirt. Or short sleeves. Thanks to this style, the child will be able to demonstrate his muscles to the audience.
How to choose a hoodie and sweater?
For hip-hop, hoodies and sweaters are perfect. They must have a hood. This is a necessary element for hip-hop dancing.
We also recommend to pay attention to T-shirts. For hip-hop, products created from cotton fabric are used.
T-shirts can have different sleeve lengths. Suitable for both short and long pieces.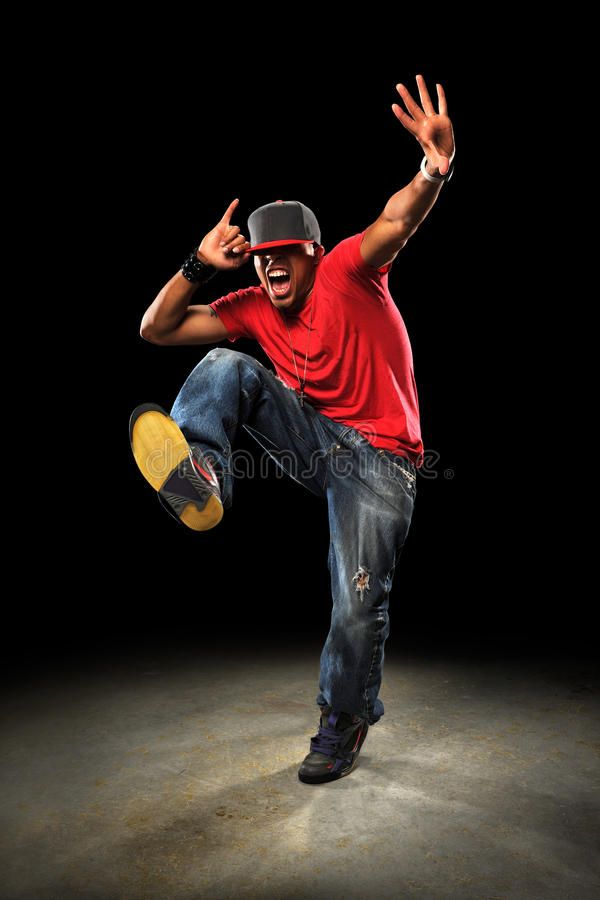 Sleeveless T-shirts are also common hip-hop designs. They look very stylish.
How to choose a dance costume?
Most hip hop costumes are made using jersey fabric. Also, synthetics are added to the products.
Neoprene suits are sometimes fitted with modern materials. Among them:
Mesh.

Neoprene inserts.

Additional decorative elements. For example, shiny inserts, rhinestones, pebbles.
Important! Dresses with additional decorative elements are more suitable for girls. On boys, they will look ugly.
How to choose a hat for hip-hop?
Hats are often used in hip-hop dances. With the help of them, the dancer can decorate his number. and complete the image.
The most popular hats are knitwear. Their peculiarity is that they sit well on the head. Tightly fit her and do not fall off even during intensive dances.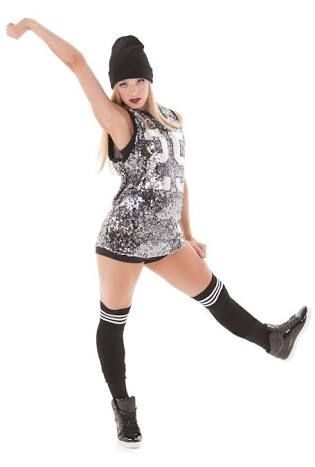 Hip-hop hats have a very nice look. They don't fall off your head. And they do not cause discomfort during operation.
The most popular colors for hip hop dance caps are black and grey. However, you can wear products of other shades.
Hats suitable for both boys and girls. They are universal.
Conclusion
We recommend that you talk to your child's trainer before purchasing certain hip-hop dancewear. Ask him what things you will need for performances. Perhaps the trainer will point you to specific models. And even help to choose their colors and style.
If you don't talk to your coach beforehand, you may choose the wrong things. They will not fit the concept of further child numbers. And also will not correspond to the idea of ​​the coach.
As a result, the purchased clothes will be useless. And you have to go to the store for a new one.
Clothes for hip-hop dancing on the street and for training
Beginners and already dancing people are wondering "What clothes to choose for hip-hop dancing?".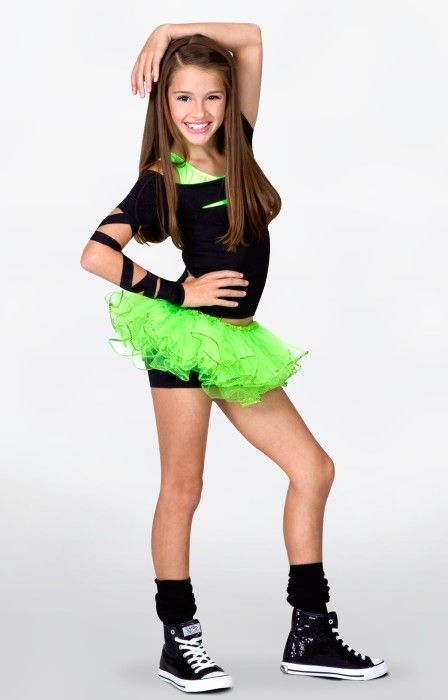 Before choosing clothes for hip-hop dance, answer a few questions for yourself that will help you decide on this problem.
1. Where will you dance in this outfit?
Do you need clothes to practice dancing in the hall, on the street or in the club?
Gym workout
If you're only going to train in these clothes, then you need simple sportswear for dance and fitness.
The easiest option is sweatpants, T-shirt and comfortable shoes.
Gymnastics clothing is comfortable, but it can look awkward in hip-hop dance practice. You need modern dancewear, it doesn't have to be professional dancewear.
For street dancing in the city
Street dance clothes, unlike training in the hall, already require you to express your style. Therefore, here you have to show your creativity and dress more stylishly than for simple workouts. You can wear, for example, a loose shirt and shorts.
Some train in clothes that might be suitable for street dancing.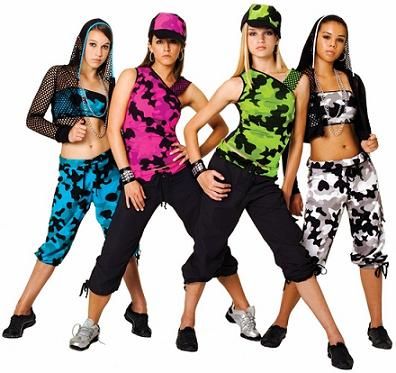 This is how hip-hop dancewear can be practical.
For club dances
When you go to a club, dress code is very important. But this does not negate the fact that clothes should be comfortable.
You can complete your look with some accessories, such as knee pads, wristlets or a scarf.
Some even go to training in such clothes that you can go to the club.
2. What set of clothes do you need?
You may already have some clothes in which you dance. You can customize your style by adding or replacing some things.
Make a list of what you need:
- t-shirt/shirt/sweatshirt
- pants/shorts/wide jeans
- shoes
- accessories
Men's dancewear and women's clothing can be very different when accessories are added. Hip-hop dancewear allows you to use even the most unusual dance accessories with basic clothing. For example, you can wear glasses without diopters. They will complement your style, the main thing is that they do not interfere with your dancing.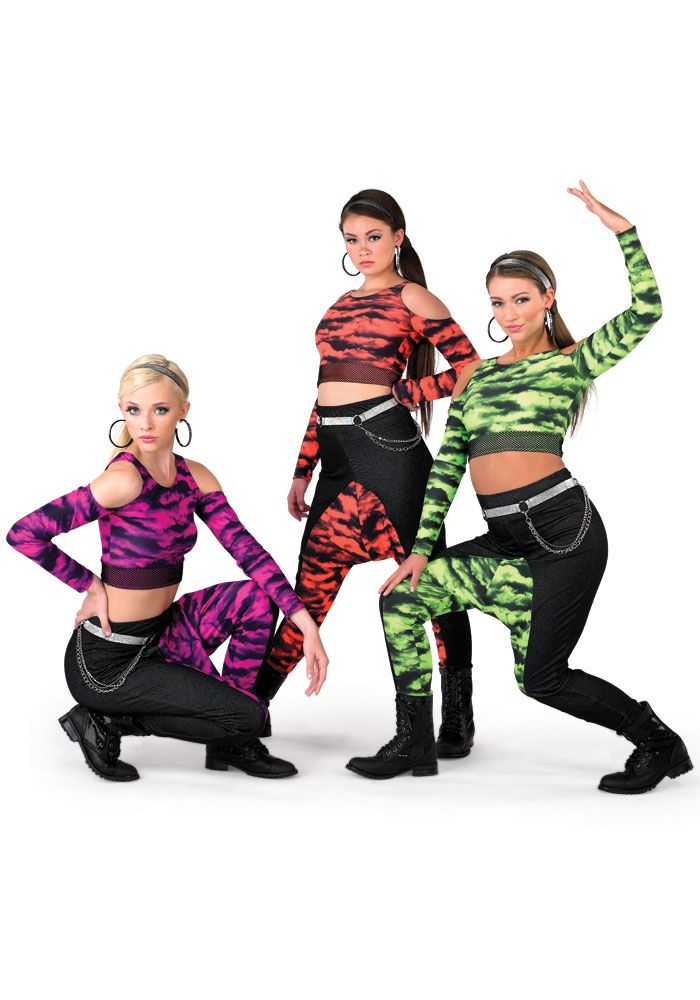 Girls can take an elastic band and tie their hair.
3. Budget for clothes?
Having decided on a set of clothes, you must decide on a budget and decide how much you are willing to spend on each item.
The budget depends only on you. Someone can buy expensive clothes even for training in the gym, without fear of tearing or ruining them. But even cheap clothes can be fashionable and stylish. Unlike professional ballet wear, hip-hop dancewear can really be inexpensive and stylish.
If you want different dancewear for different occasions: for training, for street dancing, for dancing in a club, and at the same time you have a limited budget, then it is logical to allocate the smallest budget for dance practice clothes, a little more for clothes for street dances and even more for club dancewear.
If you want to save money, you can combine clothes in different ways. For example, you can use the same shoes in all three sets.
If you like to be unique, you can order tailoring for dancing.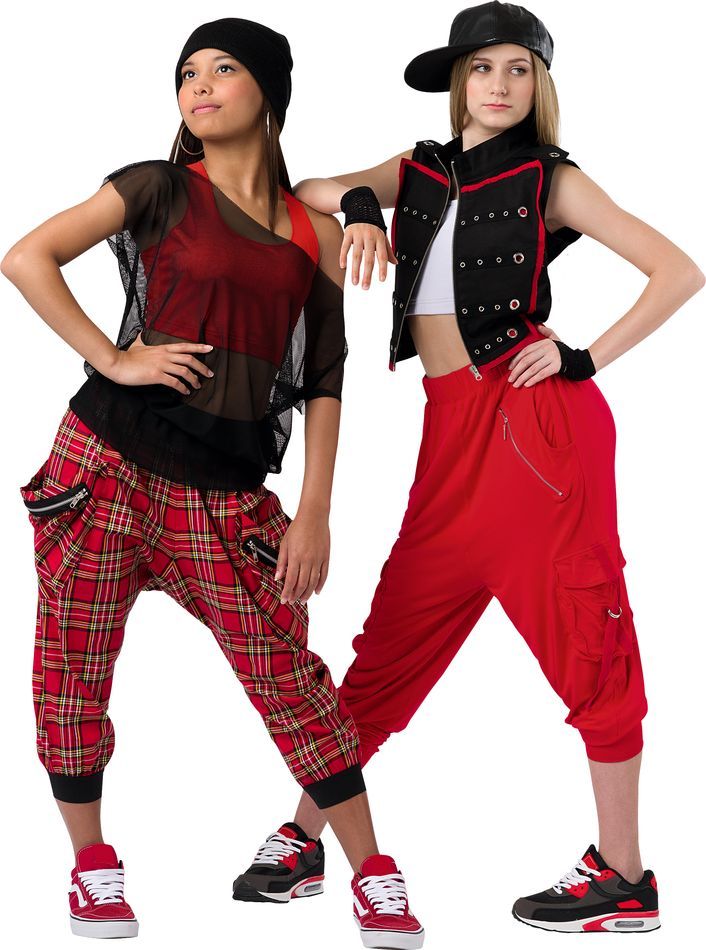 When ordering tailoring, make sure that the material of the clothes and the size of the clothes do not interfere with the dance movements.
The most important thing when choosing clothes for dancing
Agree that dancing in front of a mirror at a training session, you will be more pleased to see yourself not in a stretched T-shirt and worn out pants, but in stylish clothes. You will be pleased, and you will be able to achieve the desired results faster.
Clothing should not interfere with learning to dance. Learning to dance is still a sport. Clothing should be sportswear, especially clothing for hip-hop dances.
Take the time to think through your look and buy the right dancewear.
You can look at the style of the dancers that you like and borrow some moments of style from their image. Watch videos of their dances and their photos.
Children's dancewear
If you are a parent and send your child to a dance school, then you will most likely have to choose the dancewear for your child.