How big dance floor wedding
How to Keep the Dance Floor Packed All Night Long
No one wants an empty dance floor at their reception. Here's how to start the party—and keep it going strong.
Pictures by Katie
Here's one wedding nightmare you might not think of until it's too late: an empty dance floor. You've booked the band or DJ, planned your playlist and specifically carved out time for dancing—so why isn't anybody on the dance floor? You don't want to force people to get out there, but, like, seriously, why isn't anybody dancing? Trust us, if you follow our advice, you won't have to deal with this wedding reception dilemma. Your guests will find their way to the dance floor naturally and willingly (and that's an understatement). Here are the 11 best ways to ensure a packed and lively dance floor the entire night. Let the party begin!
1. Set the Mood Early
Cocktail hour is a great time to get the party going. Consider hiring specialty performers. Entertainment like a mariachi band, jazz trio, bluegrass group or barbershop quartet will energize the crowd postceremony and get everyone in the mood to celebrate.
Look to your love story when deciding on specialty music: Hire a brass quintet if you met in marching band, an accordion player if you took an unforgettable trip to Paris together, or get a steel drummer in honor of your upcoming Caribbean honeymoon. The main idea is to make sure your guests aren't noshing and drinking in silence.
2. Make Sure There's Enough Space
Small dance floors are too cramped and big ones make people too self-conscious. Here's a good rule of thumb: There should be at least three square feet of dance floor space for every two guests. So, if you have 150 guests, you would need a 15' x 15' dance floor; 200 guests would be about an 18' x 18' area; 400 guests calls for about 25' x 25' of space. Ask your reception site about adding on extra flooring if the standard seems too small. And one more thing—make your dance floor the focal point of the room, not tucked into a corner. By highlighting it, you send guests the message that dancing will be a big part of the evening.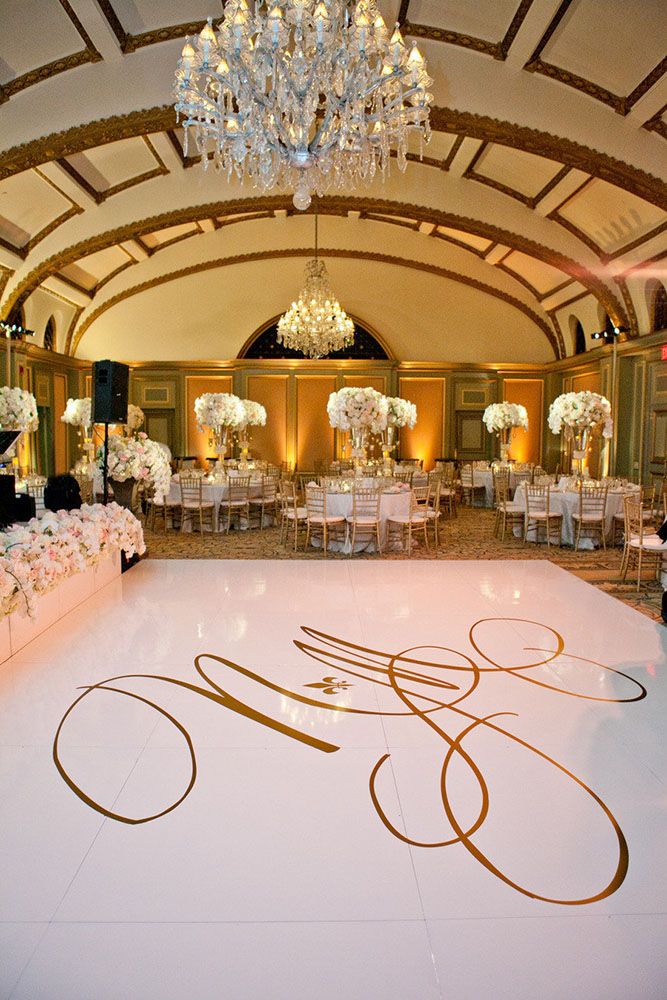 3. Align Your Seating Chart
Seat friends and family who love to dance closest to the dance floor. They'll be more likely to get up and start moving early if they have easy access. And once they're out there, others will follow (some people just need a little encouragement). As for your more elderly guests, do them a favor and keep them away from the speakers. They'll appreciate it. Mind your decibel levels too. You want your friends and family out there dancing, but you also want your nondancing guests to be able to enjoy themselves without having to yell. Talk to your musicians about how they plan to handle volume and accoustics within your reception space.
4. Skip the iPod Idea
You may have the most genius playlist in mind, but there's a reason why DJs and bands are so common at weddings—they're pros at reading and interacting with the crowd, and adjusting to their mood throughout the evening. They're there to ensure everyone is dancing and having an amazing time (so you don't have to).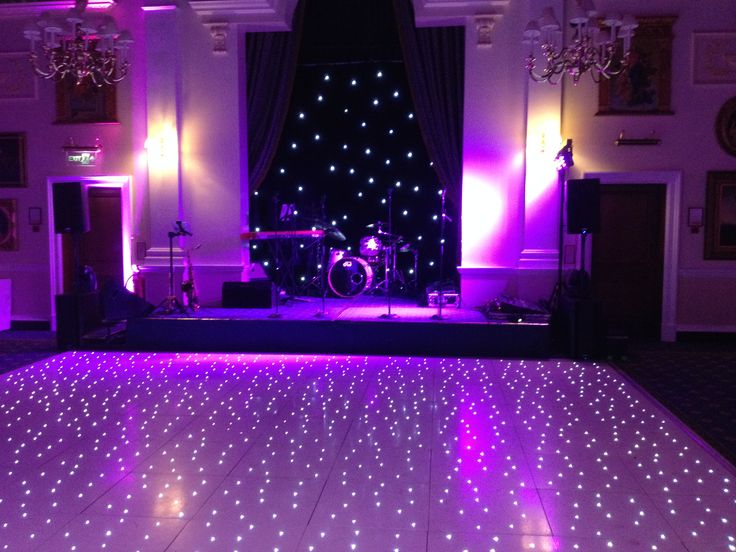 Besides, do you really want a friend or family member getting up to grab the microphone all night to announce your cake cutting and bouquet toss? Didn't think so. If you do your homework, you'll find a band or DJ in your price range who fits your style. Trust us—it's worth the money knowing your guests will be entertained all evening.
5. Don't Limit the Genre
Even if you both truly love indie rock, there's a good percentage of your guests who probably haven't heard of Modest Mouse and won't appreciate it like you will. A playlist made up entirely of '80s dance music, rap or country is the same story. Don't get us wrong, including your favorite genre at your wedding is great, but it's important to include a little mix of everything—that way there's a little something for everyone. Your wedding is a celebration of your relationship—one that probably involves music—but it's also a time to share with your extended family. Keep them in mind when developing your playlist. Throw grandparents a nod with Frank Sinatra and give your aunts and uncles a chance to dance to a little "We Are Family"(unless you're truly averse).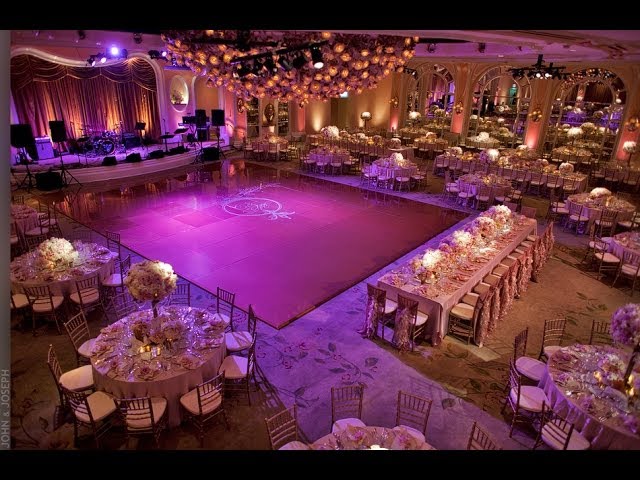 Seeing them enjoy the night will be well worth a few minutes of Sister Sledge.
---
FOR YOU
6. Make Music Interactive
Let guests in on the fun by allowing them to request songs via the RSVP card. Or set up a poll on your wedding website and ask everyone to vote on your first dance song or the last song of the evening. You'll have everyone looking forward to the voters' choice song reveal.
7. Create a (Short) Do-Not-Play List
There's no bigger dance floor turnoff than hearing your least favorite song (ahem, "Chicken Dance"). Put together a short list of please-don't-play songs for your DJ or band to avoid. But at the same time, don't micromanage. While your music pro should know which genres you like and dislike, let them figure out the best way to mix the music.
8. Keep Your First Dance Brief
You may have fallen in love listening to "Free Bird," but imagine how long nine minutes and eight seconds will feel alone on the dance floor.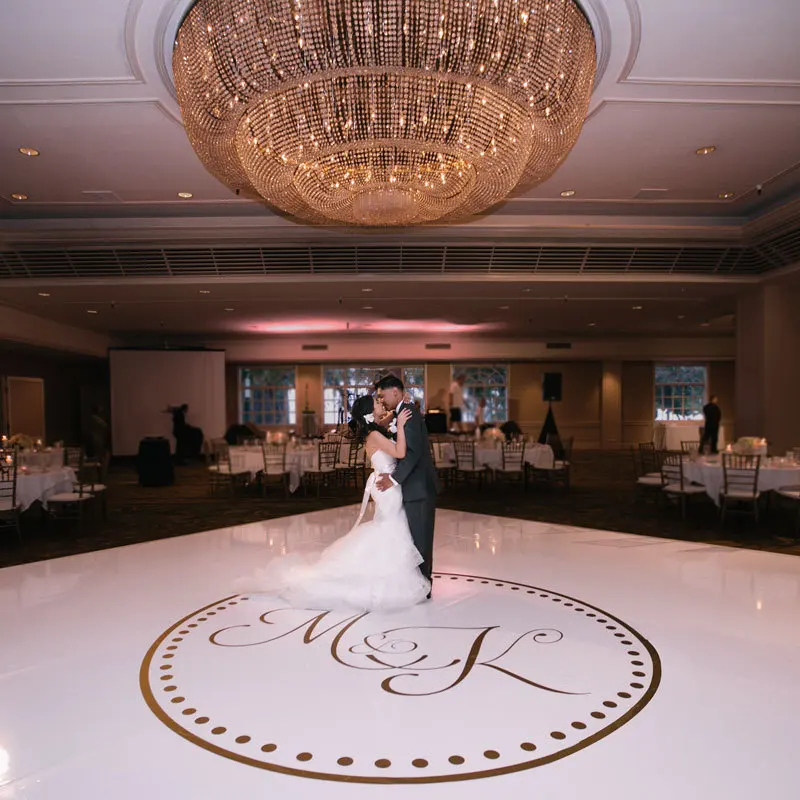 (And if it's dragging for you, imagine how your guests will feel.) Pay careful attention to your favorite song's length before committing to it for your first dance. Time your song and practice dancing to it beforehand. Even four minutes can kill you if you're just rocking back and forth. If your heart is set on a certain (long) ballad, try to have it cut down to a reasonable length. Work with your DJ or band to come up with the perfect shortened version. Same goes for your parent dances too.
9. Keep Things Exciting
Surprise your guests with something unexpected, like introducing a never-seen-that-before act. Think live entertainers, like break dancers or flamenco dancers. Time it right so they make their entrance just as the toasts are wrapping up to get all your guests back up and moving on the dance floor and out of their food coma.
10. Serve Dessert (or Snacks) on the Dance Floor
Ready for this genius idea? Instead of breaking up the flow of your dance party, have your traditional cake-cutting moment earlier in the evening, say, right after toasts or your first dance, before the first course is served.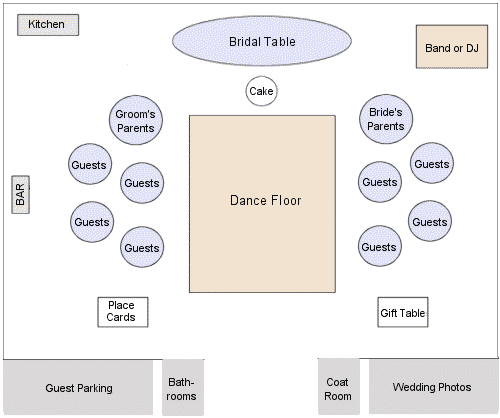 That way, guests will already be seated and paying attention, while you'll still be in focused, newlywed mode (not trying to get low during "Shout"). Then, once the party gets going, have your caterer pass perfect bites of cake around the dance floor, instead of serving plated slices at people's seats or way in the back at a designated dessert table.
11. Dance!
Here's the simple truth: The most fun weddings are those at which the newlyweds are having an absolute blast. Set an example for everyone by getting your happy selves out there as soon as possible. Your guests will notice and be more likely to join you when they see how much fun you're having. And when in doubt, enlist your wedding party. Your reception will be a long, busy evening, so let your crew know beforehand how important it is to you that your guests dance, and ask them to lead the movement to the floor. That way, if you do get caught up talking to guests, they'll have your back.
Ready to turn your wedding into a party? Search bands and DJs right here.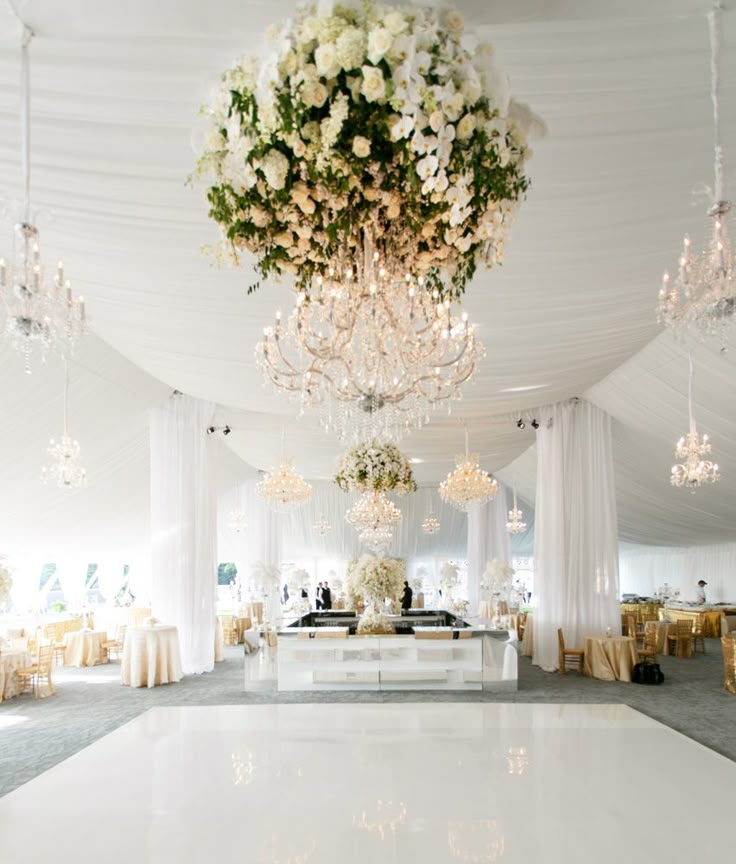 MOST POPULAR ON THE KNOT
MOST POPULAR ON THE KNOT
Up Next
Showing slide number 1 out of 10
The Best Taylor Swift Songs for Your Wedding Day
Trending
Hailey Bieber's Hollywood Bachelorette Party Guide
We've got the scoop on where to stay, what to do, and how to party like Mrs.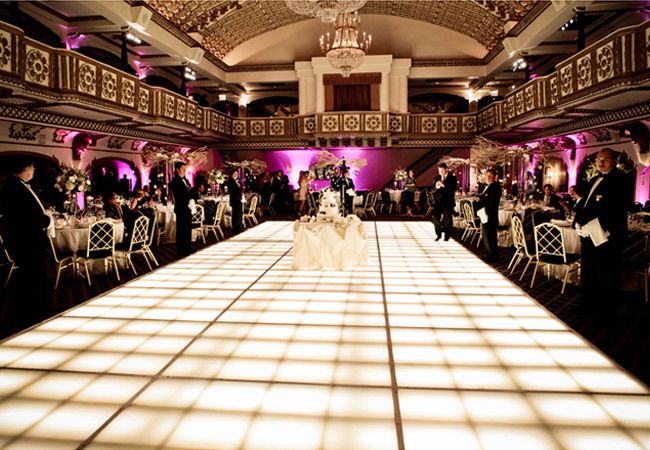 Bieber.
Updated Nov 17, 2022
7 Stunning Ralph Lauren Celebrity Wedding Dresses
Yes, we're still dreaming about Priyanka Chopra's veil.
Updated Nov 21, 2022
Famous Couples We Love to Love
From the pages of history books, scripts, celebrity gossip columns and more, we've rounded up the memorable matchups whose love makes us swoon.
Updated May 20, 2020
The Weddings and Wives of Donald Trump
Fact: Melania walked down the aisle with rosary beads.
Updated Nov 10, 2020
All About Princess Margaret's Wedding & Love Story
Their relationship was chronicled, in part, on The Crown.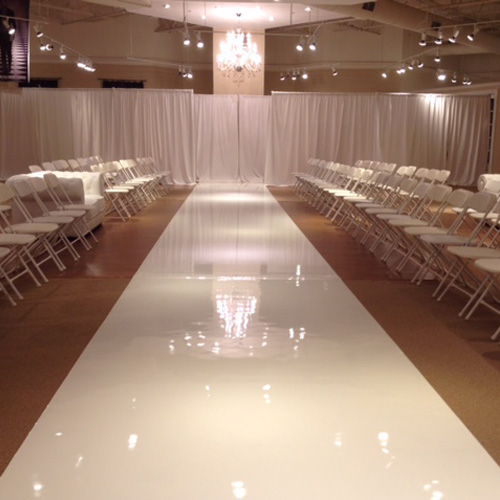 Updated Feb 02, 2022
What to Know About Bruno Mars's Longtime Girlfriend
The couple has been together for nearly a decade.
Updated Aug 04, 2020
Everything to Know About Blake Lively's Wedding Dress
Including how a sparkler burn on her dress became a favorite memory.
Updated Jun 18, 2020
Kyle Richards' Daughter Is Engaged
The 'Real Housewives of Beverly Hills' mom is celebrating a future family wedding.
Updated Nov 30, 2021
Inside Patrick Mahomes & Brittany Matthews Relationship
The athletic power couple, who welcomed their first child together last year, got married in March 2022.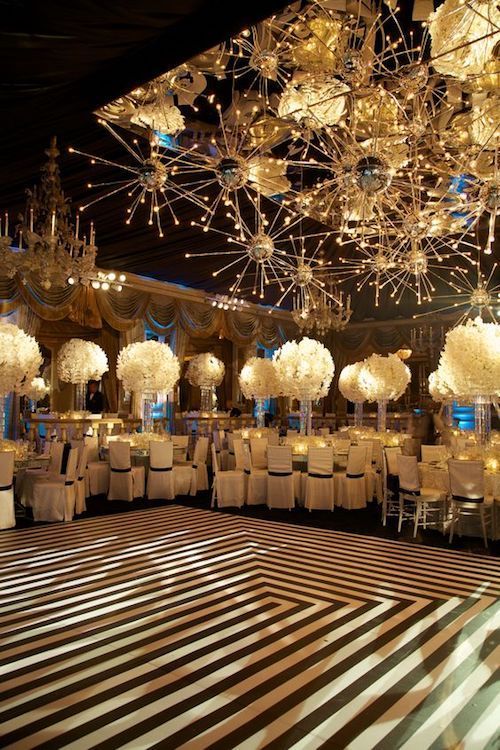 Updated Oct 05, 2022
Love Is Blind's Alexa & Brennon Share Marriage Details
Plus, they share how the pods prepared them for life as a married couple.
Updated Nov 09, 2022
View All
DANCE FLOOR for our wedding or corporate event- How big to go?
When planning a wedding reception, party, or corporate event and hiring a DJ, most clients have visions of a non-stop dance party.
Regardless of what else is on the agenda, the goal inevitably at some point (if not the main focal point) is to get as many guests on the dance floor as possible for as long as possible.
They imagine all they have to do is hire an amazing DJ, and their floor will magically be packed all night!
Yes, we believe it's crucial to hire an experienced & talented DJ with great room awareness, but even the best DJ can only work so much magic if the logistics of the room are working directly against them.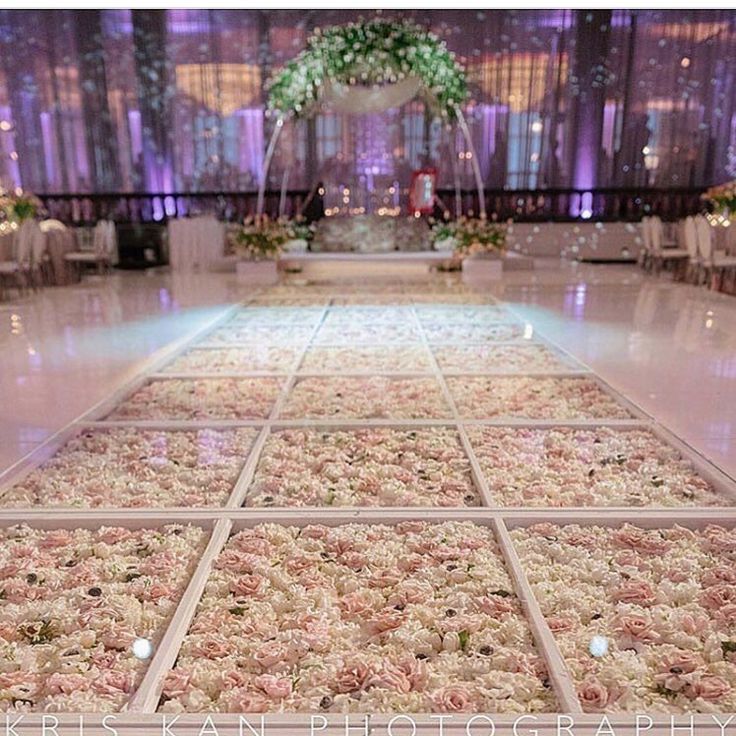 A common oversight from clients when planning their wedding or corporate event is overestimating how big the dance floor needs to be in the room or event venue in relation to the number of guests.  Another mistake is not renting an actual square dance floor because they venue floor is already made of wood, concrete etc..
If room layout and dance floor size are planned incorrectly,  the dance party can sadly look like this:
At Hey Mister DJ, we specialize in keeping dance floors constantly packed in Los Angeles and the greater Southern California area. 
It's our specialty, but there are many factors which will help or hinder the our ability to create and maintain dancing.
Room size, lighting levels, guest count, timeline floor, bar & photobooth placement etc.. which all play a crucial role in funneling guests where you want them moment by moment.
For today we are just talking specifically about dance floor SIZE and placement.
In a nutshell…the key points are these:
A small floor that is packed and hard to get onto always looks better than a giant floor you can't quite fill.
A dance floor that is too far removed from the dinner area or logistically hard to get to may end up empty.
A room that has no dance floor and instead just an open wood/concrete floor is confusing to guests.
Clients always worry about if the floor will be big enough, but if you have guests dancing on the carpet that is a happy problem. In other words, the larger the dance floor the harder it is to keep it full and create the appearance of a rocking party.
Does this look inviting to you?
With these, there is no lighting on the actual floor itself and no perimeter to define where dancing begins or ends it still feels intimidating and uncomfortable to the eye.
Guests need the dance floor area to be clearly defined and separated from the rest of the room so they feel comfortable.  
With this next one, they did a great job lighting the perimeter of the room, but again, the dance floor has no defined beginning or end.  In this situation we'd use pattern & wash lighting to help create a perimeter in lieu of an actual dance floor boarder.
Lighting can help to offset this problem (See our BLOG) "Why dance floor lighting matters" but clearly defining the area you want guests to dance is always a plus and helps draw them in. Human nature dictates that people like clear direction and containment, it's just how the brain works.
When you have 4 corners it's easy for the brain to day "I should dance here" but when you have an open space it creates anxiety because the brain can't map where the space begins or ends.
Now, let's look at a room that has placed down a dance floor that is the appropriate size in relation to the room and lit it nicely to make it appealing and inviting.  They even used couches for framing and to fill in "dead" space in the room instead of adding more tiles to the floor. Your wedding planner or room designer will usually have ideas on how to utilize furniture, lighting, pipe & drape, and other elements to make a big room feel more cozy and inviting.
Keep in mind that you will maybe have about 40% of your guests dancing at any given time.

Others may be at the bar, conversing, bathroom, photo booth, updating their Instagram, eating dessert, etc.
Our Jewish wedding or Mitzvah clients are usually concerned with doing an amazing HORA (group) dance and want enough space for everyone.  But it's a critical mistake to build a dance floor that accommodates the entire guest count for only those 10 minutes when we will be struggling the rest of the night to keep it filled.
If during the HORA some guests are on the carpet, it's totally fine!
One of the most common situations that put clients in this challenging position is when they book a venue that is too large for their guest count.  Once the venue figures out how many tables they need and exact placement, they realize they have too much dead space, so start adding extra tiles to the dance floor to fill in space.  Now you have a HUGE floor that you'll never be able to fill with enough guests, but the edges of the room don't look as empty.
It's ok to have some empty space on the perimeters of the room.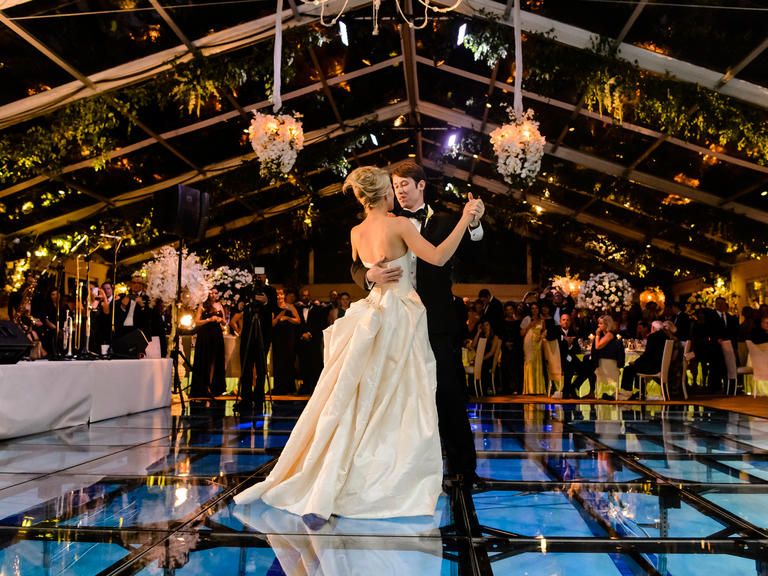 Here's another great example of a room with a dance floor that is an appropriate size in relation to total room size:
Here is a handy chart to use as a reference based on guest count assuming that roughly 40% of your guests are dancing simultaneously:
#of guests      # of dancers      Size of dance floor
60                        14-20                 10 x 10
100                      32-40                 12 x12
150                     50-70                15 x 15
200                     78-90                18 x 18
The industry standard suggests that each wedding will need 9 sq ft per couple (that's over 4.5 ft per person).   Example: Let's assume a party has 200 guests. 40%, or 80 guests, will be dancing at any one time. This means that you would need approximately 360 square feet of dance floor for this party, or about a 16×20 dance floor.
If you figure 40 of 100 guests will dance, then you need about a 200 square foot dance floor.
If you double that for 200 guests you would need a 400 square foot dance floor. With 300 guests you need a 600 foot dance floor.  You can see how easily that rule could get out of hand.
(When it comes to choosing your dance floor size, we have found that a 12'x12' dance floor usually accommodates a small to medium size wedding or event. That's 144 square feet)
However, you do have to consider other factors like the age of your guests, and how many people you really think will be dancing at one time.
Keep in mind that every event has 3 times of people:
Group #1: I will dance for sure no matter what! (The party starters- small in numbers but reliable)
Group #2: I most likely will NOT dance (Although with enough alcohol…)
Group #3: I am unsure/on the fence but might dance if the situation is ideal (usually the largest # of guests)
This last group is who we should always be thinking about when designing a room/event venue for a wedding, party or corporate event.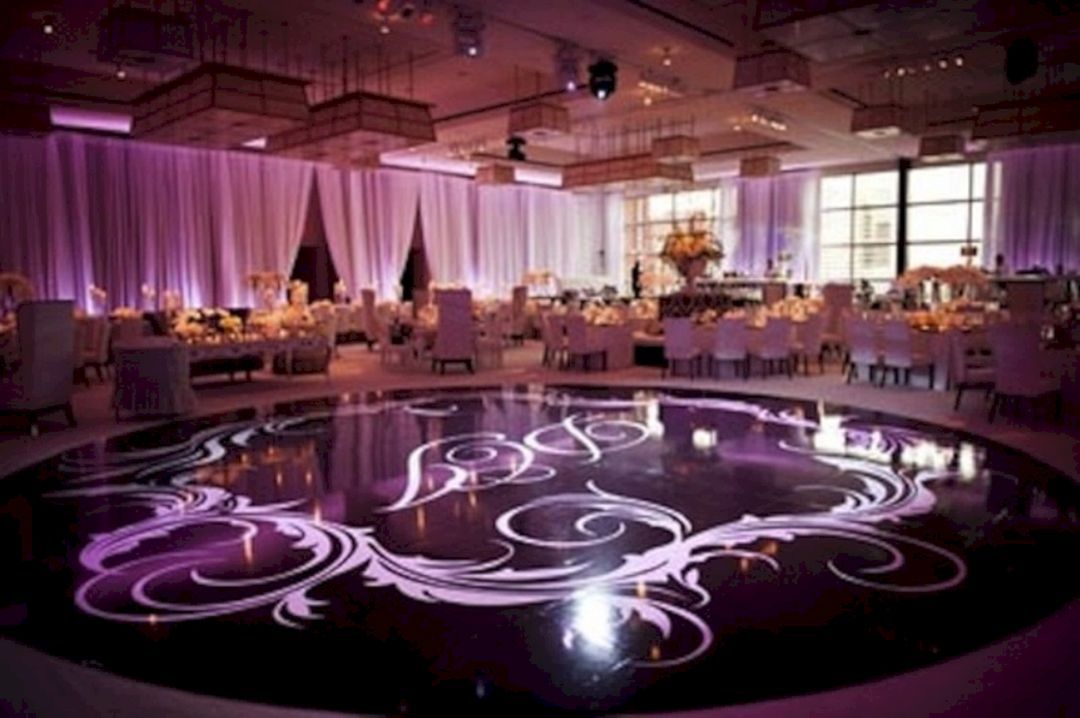 Group #3 is saying "well, if I feel comfortable enough and the energy is good I will possibly jump on board" so the room must always be setup in a way that maximizes the potential for them to join.
So take this dance party for example:
If you count, there are about 45 people on the floor, and they are clearly having fun.
But because the entire room is a wood floor and there are no corners telling guests where the dance floor ends, they all spread out, and consequently it looks like it's not a packed floor and thus not as much energy in the room as possible.
Now compare that to this dance party:
Notice that there are only about 20 people on this floor.  Almost HALF less than the previous photo but it appears to have more energy because everyone is grouped together tight because they are on a rental dance floor that has defined edges.
There is also much better lighting in this room which helps add additional energy visually.
To Recap: Hey Mister DJ always recommends having some type of dance floor for every event…even when the venue has a natural concrete or wood floor.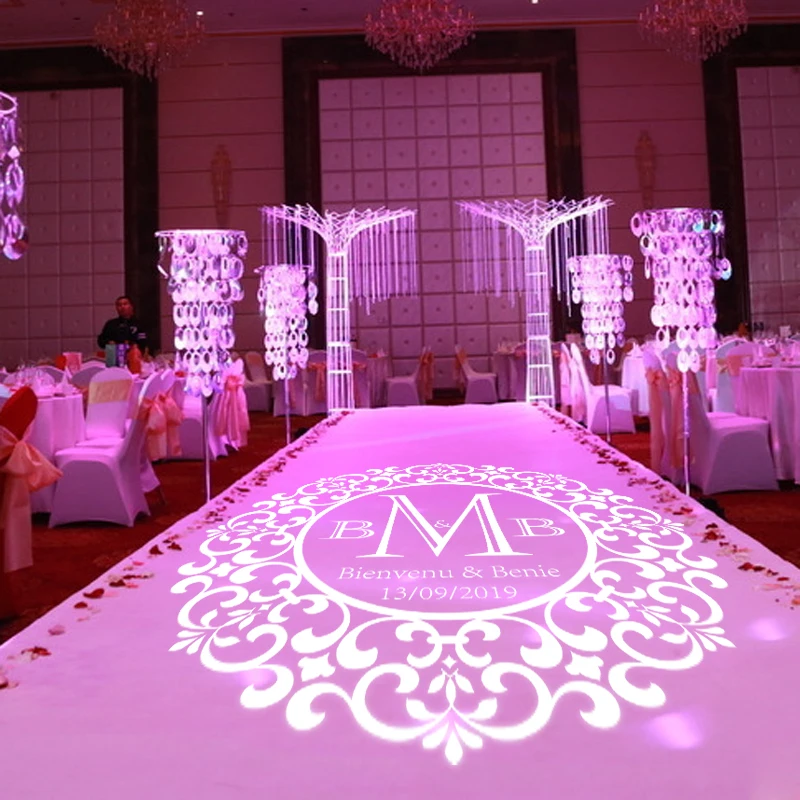 Again, the reason is that the perimeter creates what we call "defined space" that draws people in and helps ensure more dancing. An open area is "undefined space" and often guests feel uncomfortable dancing in such an area.
Here's a few venues in Los Angeles area we play often that always get the dance floor size right:
www.laventa.com
www.belairbayclub.com
www.calamigos.com
www.calamigosequestrian.com
www.laac.com  
It's counter-intuitive but when you have a SMALLER dance floor, you are likely to get MORE people dancing.   Now go out and have the best dance party ever!
P.S.
Are you searching for an amazing DJ/MC for your wedding?
We service the following areas in Southern California:
Greater Los Angeles, Malibu, Calabasas, Westlake Village, Ventura, Bel Air, Beverly Hills, Hollywood, West side, Valley, Downtown, Santa Barbara, Orange County, Anaheim, Palos Verdes, Pacific Palisades and more.
See a full list of the venues we work with often HERE
main celebration formats and their differences NEVESTA.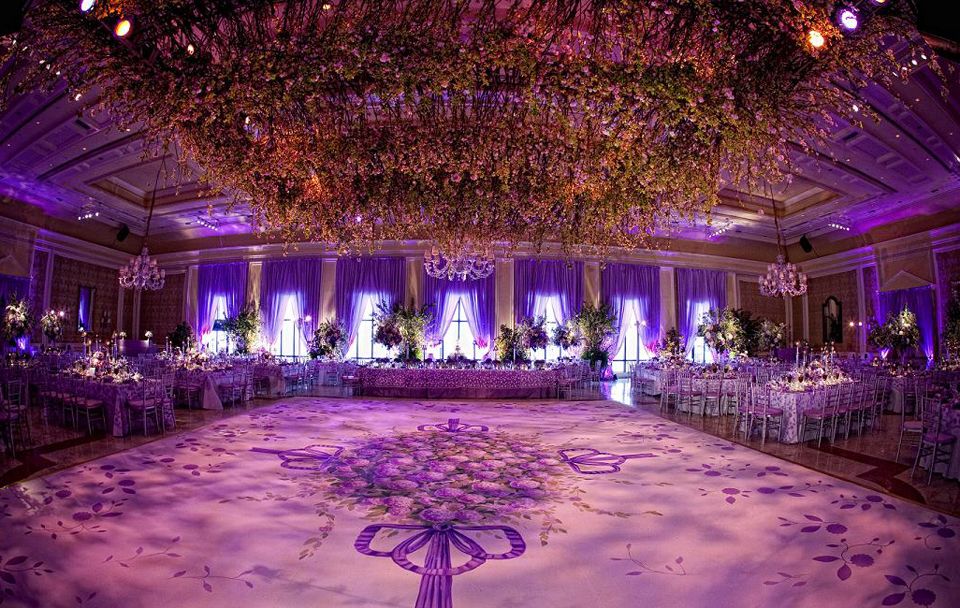 MOSCOW
Only fairy tales end with a wedding, which turns into a "feast for the whole world", but in life everything just begins with a wedding. And since we are all very different, there is no single standard format that will be a fairy tale for everyone. Why a large-scale wedding is more suitable for some couples, a chamber wedding for others, and in what cases it is more appropriate to organize a wedding party, the top presenters of Moscow will tell today.
Large-scale event
A large wedding is an event where more than 70 or even 100 guests are invited. Such an evening requires a particularly carefully thought-out program, because the emphasis is on the show, and not on the live communication of guests at the same table. The host plays a key role here, but the status of the event and the atmosphere of the evening are also created by invited artists, dancers, illusionists, singers and live music.

Photographer

Photographer
From the host's experience:
I really love big celebrations of 100 guests and more, my record is 1100 guests at a banquet at a time! There is a very interesting specificity there, more about it later, but this season we are threatened with chamber celebrations.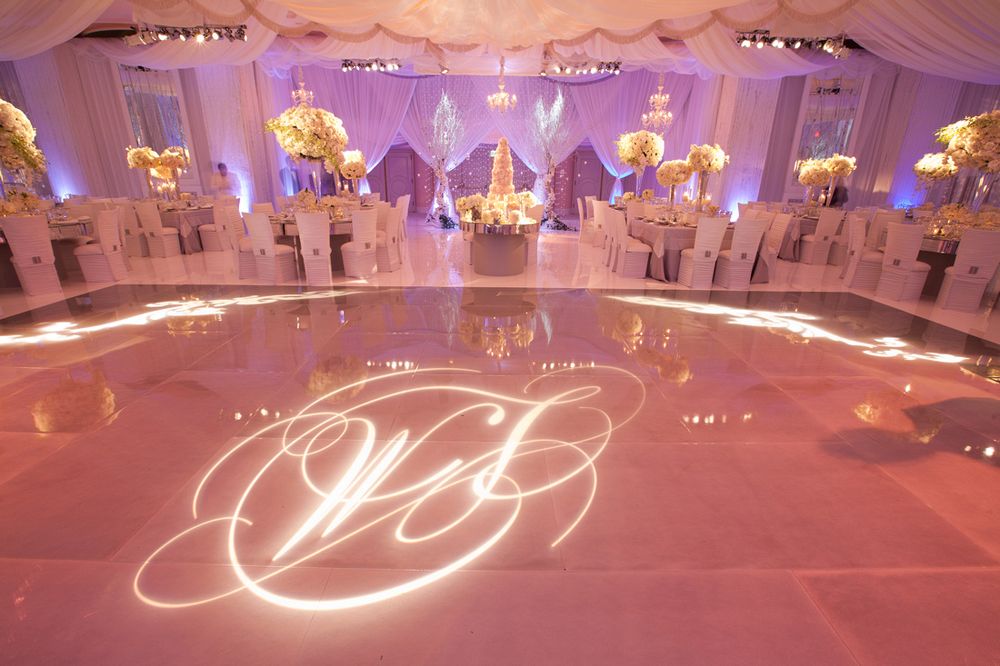 ..
From my experience, I can say that projects that are large in number of people are successful in advance! Agree, no matter how hard 10 people try, the dance floor will still not be full - but even if 60 out of 100 guests go to dance, they will infect others with their drive and dynamics.
In large formats, I usually make two programs at once - programs within a program. Now I'll tell you what I'm talking about: on the stage, there is a program with artists, words, and so on, in blocks, but it's always long enough, so that the viewer, for example, at the 25th table, doesn't really want to get involved in what is happening on the stage on distance of 150-200 meters from it. That is why for those who are bored or for whom the program on stage is not very important, we are simultaneously making another program where everyone can join, but locally - and satisfy their playing interest. This is a wine casino, and cigar rooms, rides from "cockroach races" to "rodeos", shooting galleries, photo booths and other entertainment.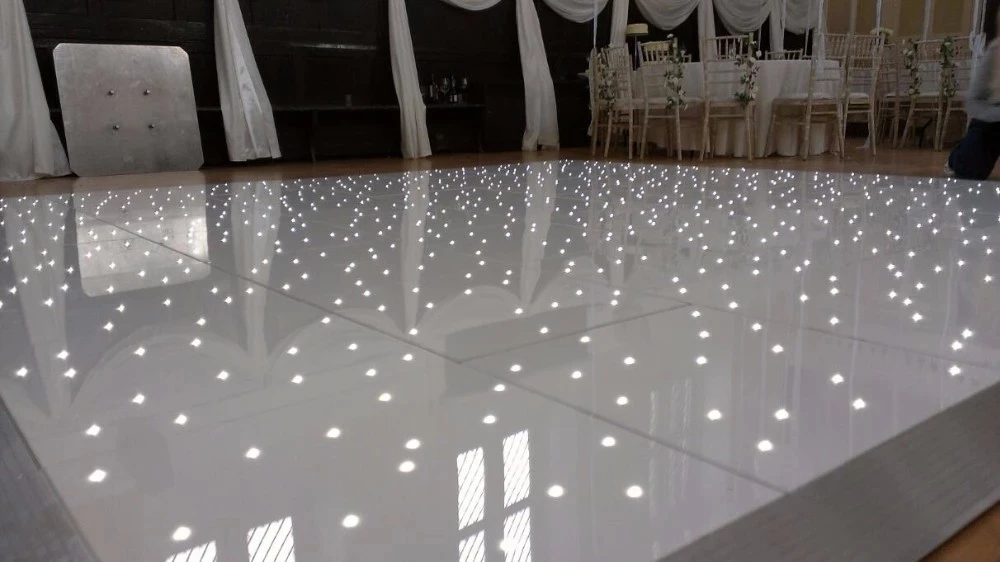 Some guests look at the stage, others play - then everything changes. I really love this format.
Chamber celebrations have their own charm - communication. Real, live, real communication. This month I'm hosting a wedding for 6 guests! Groom, bride and two pairs of parents, and that's it! But there will be many, as I call them, moments of nostalgia, videos from the past, how it was, a lot of cute chips like "time capsules" and the groom's oath to the bride (since we can saturate the program only due to artists or effective moments, surprises). But in this format, thanks to a small number of guests, I, as a host, really get to know everyone, satisfy the musical and any other need ... I will talk a lot!
In the family circle
A small wedding is the trend of this season. And although at such a holiday, by definition, everyone gathers their own, a chamber wedding is not a reason to refuse a leader.
From the host's experience:
If you have a intimate dinner with the host, it does not change his dramaturgy in any way.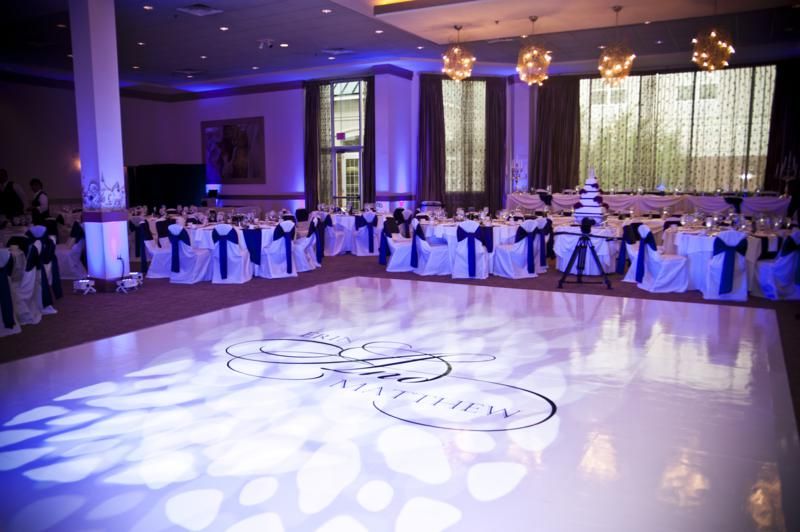 There are rules of classical drama, and they will apply everywhere: in a literary novel, cinema, at a big wedding or a chamber wedding dinner.
If you want to see the right dramaturgy and direction at such a chamber dinner, then the host will come in handy. He will simply become the one who will become a kind of leader and will direct your event, cover up awkward pauses, make decisions about what to do next.
The host will be both a screenwriter and a director. Thus, you will get not just dinner (food, conversations, breaks), but a kind of full-fledged canvas called "wedding dinner" - this canvas will have a beginning, middle and end; this canvas will have humor and lyrics. This canvas will have integrity and completeness.
Theaters have a small stage and a large stage. A wedding can be big or small too. When you have an intimate dinner, you can still use classic wedding elements like the appearance of the cake. No matter how many audiences, such an element will still make it more diverse, for example, your wedding photo content.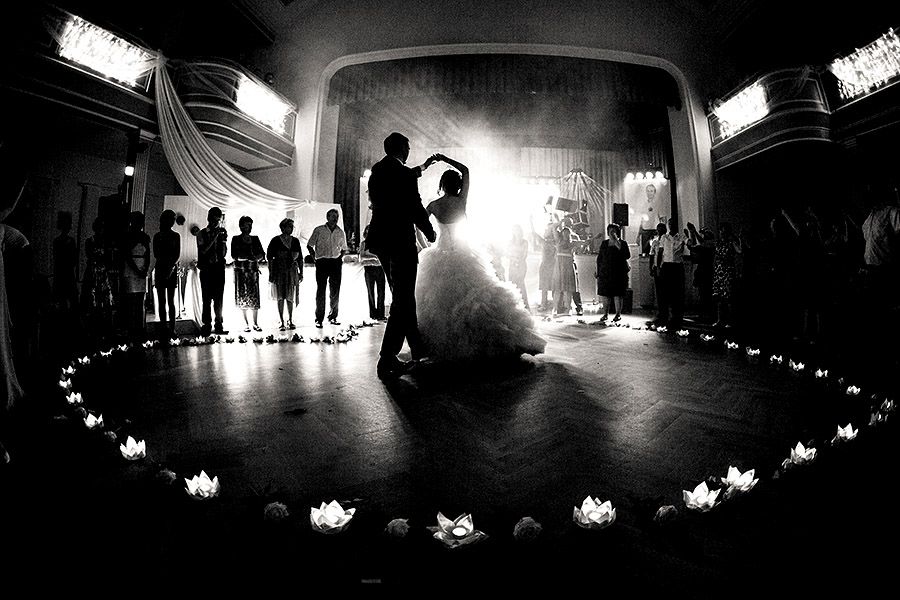 Host's Tip :
There's a secret for all time: you should invite to your wedding people who you really want to share your special day with and who you really want to see. And it doesn't matter if you have 100 guests or only 15 - it will turn out beautiful, fun and sincere. Personally, I divide into three formats: up to 30 people ("chamber wedding"), up to 70 ("golden mean"), and from 70 to 150 people ("big wedding"). I conduct all these formats, each of them has its own characteristics both in conducting and in preparation.
For example, a cover band and various interactive zones fit perfectly into a large wedding. If the couple decided to hold a wedding in the form of a chamber dinner, then you can involve all the guests as much as possible (collect information on each, and use it during the evening). Well, all of the above is suitable for the golden mean.
In any case, even if you are planning a small gala dinner with your closest ones, you need a host - and you would not want the newlyweds to realize this directly at their wedding.
Think over / choose with him activities that fit this format. It can be interactive with a screen, various video features and more. Gather the necessary information, help the presenter prepare well and enjoy your great holiday in every respect!
From the host's experience:
For me, a chamber wedding is the most favorite format of events, and there are a number of reasons for this. A wedding, by definition, is a very family type of event where the closest are invited. Then the event takes place at a very high level, otherwise, when people who are unfamiliar to the newlyweds are present at the wedding, the level of trust and connection is no longer the same. I have hosted events for 200 people, and I can say that I don't want to host weddings of this magnitude anymore!
Is it worth inviting a host to a chamber event? I believe that a leader is simply necessary there, especially when there are guests in the company who do not know each other.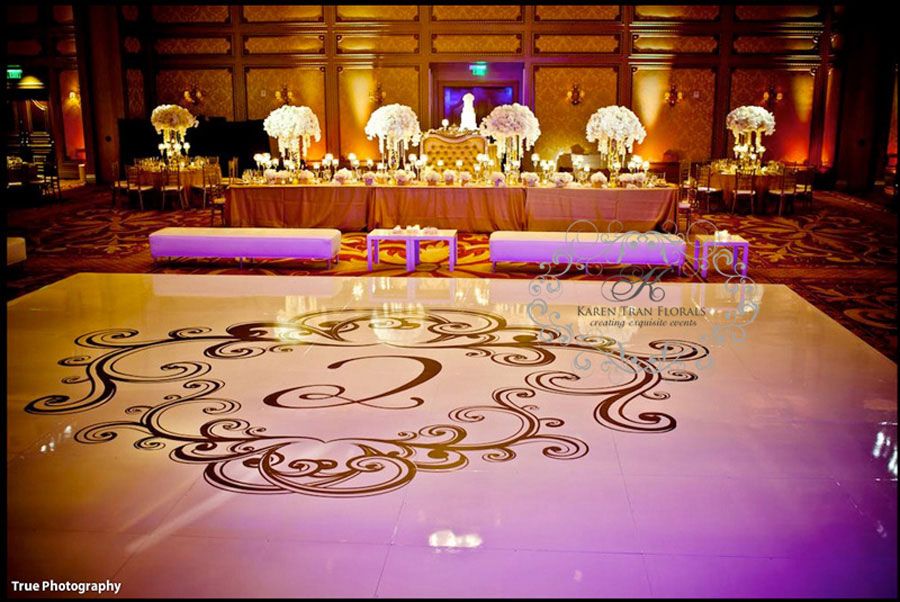 It is the host who will unite the invitees and set a certain direction for the evening.
It is very important for me to create a special atmosphere at the event, and it is created by ensuring the comfort of the guests and, of course, the newlyweds. What is comfort? This is the tact of the leader, sincere and open communication with people. Such contact is worked out as cool as possible at an event for up to 40 invitees - in this case, you can approach each guest so individually that everyone will be satisfied.
For example, I do a number of interactive activities with photos of guests and newlyweds, we always make microacquaintances, paying attention to each guest. I introduce the guest, plus we guess him from a baby photo - it's very nice! I also study social networks and on this basis I make a mini-stand-up, depending on the audience and its needs. There are more intimate events in the context of kinship and intelligence, where it is necessary to emphasize the line of nepotism, and there are those where the guys want to hang out more.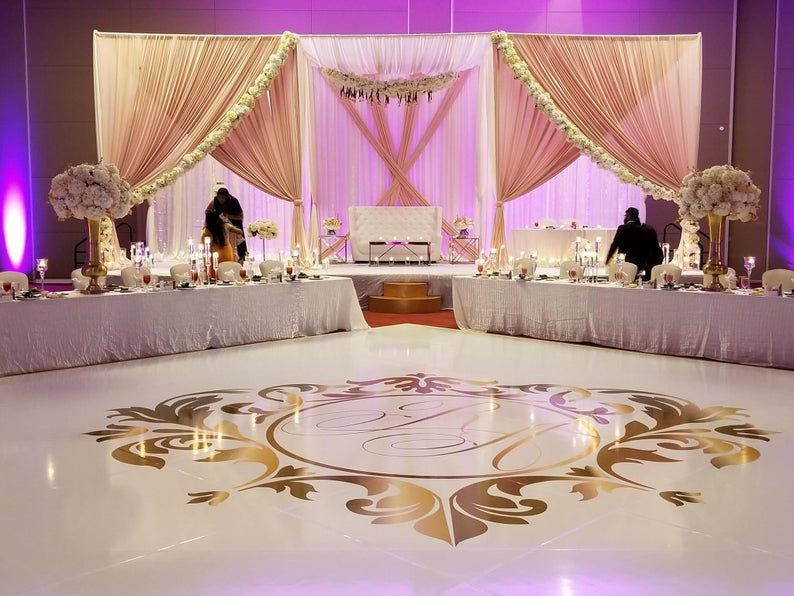 The success of an event is when guests say it was the best wedding they've ever been to. This happens when an atmosphere reigns at the wedding, where people feel at home, where everyone was given attention and shown that he is important and valuable. Here, again, chamber events win!
From the host's experience:
Chamber dinner or large-scale event? It's hard to say which of them I like more. Each format has its own atmosphere and zest. In chamber weddings, their soulfulness attracts, since the circle of the closest people really gathers, there is no need to waste time introducing everyone and rallying them into a friendly company. In large-scale events, their globality attracts. As a rule, many artists are invited to such events, and the atmosphere itself is completely different than at chamber events.
For couples who decide to settle for a chamber dinner, I can advise the following. Many are wondering if it is worth inviting a presenter to such a format at all? I can say this: if the number of guests is more than 10 people, then it is definitely worth inviting! The host will be able to set the pace for your celebration and organize the sequence.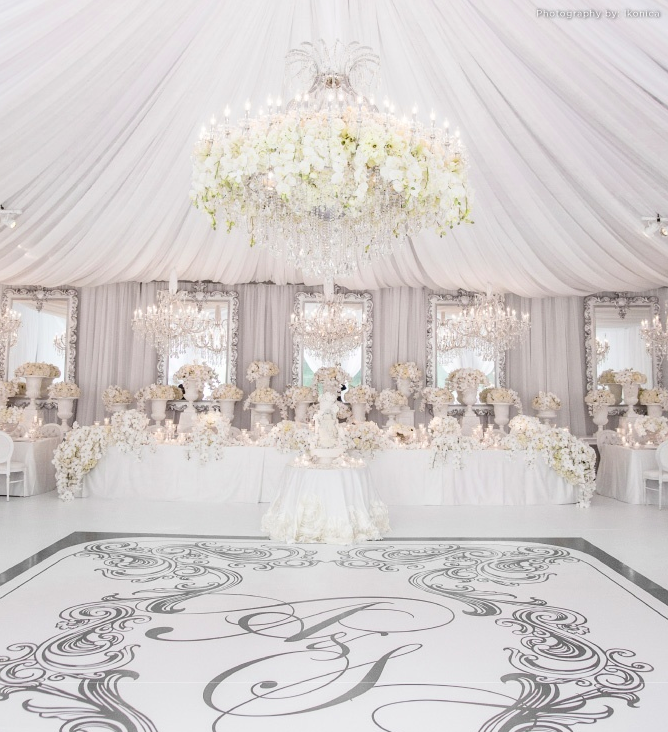 But without inviting artists to such an event, you can do without. The maximum is to invite a vocalist or saxophonist, again, if the audience is lovers of live music.
The facilitator will be able to prepare the most comfortable scenario for your company, as a rule, these are various interactive table games and quizzes. This will allow you and your guests to have a comfortable and fun time.
Stylish, fashionable, youthful
If the majority of the guests are young people, the same age as the couple, who will be bored sitting at the banquet table for a long time, then you can consider a more modern concept of a wedding celebration. An excellent solution would be a wedding in the format of a party. Just don't forget to organize seating for the older generation, because it will be difficult for them to dance and be active all evening long.

photographer

photographer

photographer
From the experience of the host:
From the proposed format for the dream format - wedding party.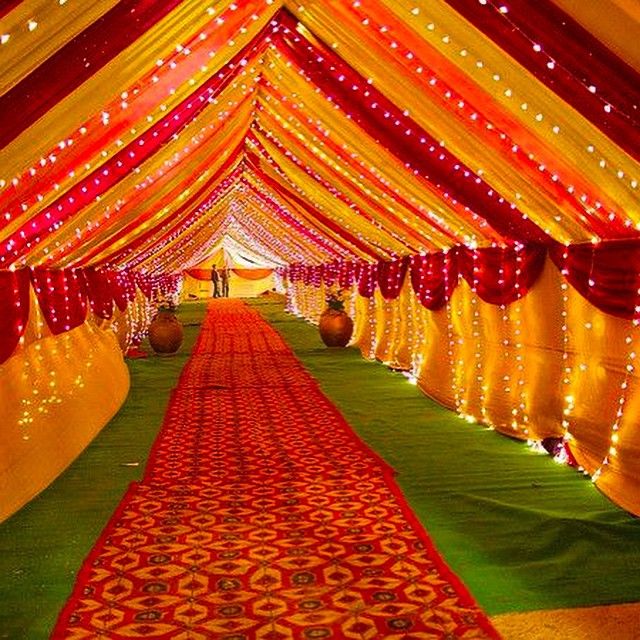 To the question "why?" There is only one answer: I just love it.
And my wedding was also a party. This implies the absence of formalities and pathos, the lightness of forms and mood, the plasticity of the scenario. Plus, relaxed guests who feel comfortable part of the holiday, who will definitely feel the attention of the presenter and the audience. Of course, at the party they will congratulate, and drink, have a snack, and dance, and sincerely rejoice for the bride and groom.
Of course, parties are different, but if you estimate and compare with the concert program, when the bartender's show is replaced by a lezginka, and then, after warming up by Ivanushki International, Leps enters the stage, it becomes obvious that a properly organized party will cost less. To the extent that it is not always necessary to seat guests at tables, you can get by with thoughtful zoning of bars and buffet lines.
In general, if the couple and the organizers form the style of the holiday, like a chamber dinner or a super-rich concert program, then I will be happy about it as a professional, and if they offer a party, I will be happy about it as a person!

Wedding professionals:
Read more articles on the most relevant and exciting topics about wedding preparation.
Wedding in a restaurant ⋆ Weddings in the Dominican Republic
Wedding and banquet in a restaurant in the Dominican Republic
description of the ceremony
cost of services
wedding for two
If you are planning a wedding in the Dominican Republic with guests, then the best venue is a beach restaurant. There are few restaurants in Punta Cana that have their own beaches with beautiful sea views, but those that are present are beyond praise. Why is a wedding in one of the best restaurants in Punta Cana more attractive than a wedding in a hotel? Almost everyone. A wedding in a restaurant provides a private beach, a beautiful decoration of the wedding arch, an exclusive and wonderful wedding banquet and a whole wedding day in a paradise on the planet.
Restaurant. Sea. Wedding.
Outdoor ceremonies, in their beauty and romantic appeal, have long occupied top positions in the wedding industry.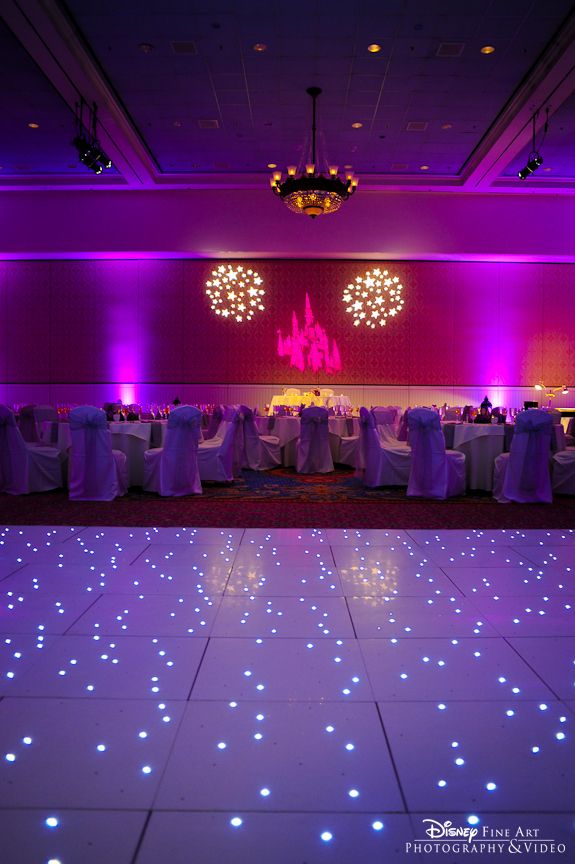 A wedding in a restaurant in the Dominican Republic is an opportunity to spend your best day under the warm Caribbean sun, feel the gentle touch of the sea breeze and enjoy delicious food and exotic cocktails at any time of the year. In a word, to make your wedding unique - all this is possible with us, in the Dominican Republic, in a restaurant located right on the snow-white beach.
A wedding in a Dominican restaurant is a unique ceremony because:
No worries about organizing the ceremony. Our agency will prepare and organize the entire wedding on a turnkey basis. We will book a date, organize a banquet and entertainment for guests, as well as a photo session and video filming of the entire wedding ceremony, including a wedding walk.
No problem with the weather. The sun gives our island more than 300 sunny days a year. The warm Caribbean Sea and charming atmosphere guarantee a carefree wedding.
Honeymoon will take place in the wonderful Caribbean Islands and will be the best memory of one of the most important days of life.
There will be no uninvited guests at your wedding. Only close friends and relatives, exactly those whom you invite to share this unforgettable event.
Memories, feelings and impressions of this wedding ceremony will remain with you forever and can become the basis of a wonderful family tradition.
PDF presentation
The cost of a wedding ceremony and a banquet in a Dominican restaurant
The cost depends on the number of invited guests, the choice of animation and banquet options.
The total cost is:
fixed part + service for each guest of the celebration + additional options + 8% agency commission
The fixed part does not depend on the number of guests and includes:
Holding a wedding ceremony - $ 700
DJ parties, musical accompaniment of the ceremony and banquet - $650
Rent of a restaurant, beach area and bride room. Installation of equipment, installation and decoration of a wedding arch, furniture, decorations - $ 1000
Service, menu and drinks for each guest:
Light package $125/person Comfort package $205/person
banquet menu
festive cocktails
soft drinks and alcoholic drinks
rose petals for fireworks
furniture decor and central compositions (centerpieces), festive tablecloths, napkins, rings, natural flowers, candles, shells

premium banquet menu
premium festive cocktails
premium soft drinks and alcoholic drinks
rose petals for fireworks
furniture decor and centerpieces (centerpieces), live candles, shells, napkins, festive tablecloths stars
bonbonnieres for guests

Choice of additional options:
ceremony and banquet additional decor in addition to the ceremony show program
photographer - from $800
videographer - from $1200
banquet leader - $300
bridal bouquet of natural flowers and boutonniere - $60
bridesmaids bouquet - $35
- 90 wedding decor
additional decorations - $60
tree of wishes - $50
bride room decoration - $100
reception decoration - $100
presidium decoration $2000003
White wooden dance floor-350 $
Luminous dance floor-$ 600 $
Wedding cake -200-250 $
Dominican Musical-TRIO $
Dominican dance trio -$
9000 $ -300 $ 300 $ 300 $ 300 $ 300 $ 300 $ 300
fire show - $350
carnival show - $750
Wedding for two
The most beautiful beach owned by the Huracán Cafe restaurant is now available for a wedding for two.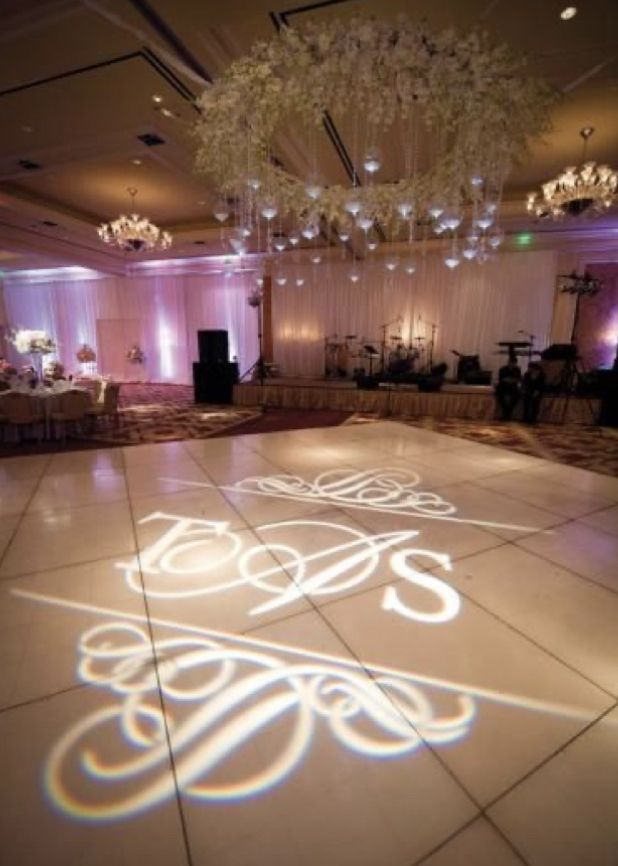 You have the opportunity to have your wedding ceremony in the heart of Bavaro on the beach of an exotic restaurant decorated in a tropical style. You do not have to travel long to the place of the ceremony and this is an important advantage. The wedding packages include everything to make your wedding with Caribbean flavor and unique decor. In addition, you will have amazing photos and an introduction to Dominican traditions. The Huracan Cafe restaurant specializes in world class weddings and has established itself as the best place for a beach wedding ceremony and the most beautiful decor for a wedding in the Caribbean.
Cost of a wedding for two:
Light package - $700 Comfort package - $1000 Atmosphere package - $1400 Additional options
Meeting with the coordinator at the hotel
White sand beach rental
Transfer hotel - beach - hotel
Wedding arch, decor with silk flowers
Wedding path, newlyweds passage
Bridal bouquet of natural flowers and boutonniere
Master of ceremonies in Russian
Decorated champagne glasses
Sand ceremony
Symbolic certificate
Musical accompaniment
Photo session 150-200 photos
Meeting with the coordinator at the hotel
White sand beach rental
Transfer hotel - salon - beach - hotel
Wedding arch, decor with silk flowers
Wedding path, newlyweds passage
Bride's bouquet of fresh flowers, boutonniere, petals
Host of the ceremony in Russian
Decorated champagne glasses
Sand ceremony
Symbolic certificate
Musical accompaniment
Photo shoot 200-220 photo
Tropical fruits, table and chairs
Wedding hair and make-up in the salon
Meeting with the coordinator at the hotel
White sand beach rental
Transfer hotel - salon - beach - hotel
Wedding arch, decoration with fresh flowers
Wedding path, newlyweds passage
Bride's bouquet of fresh flowers, boutonniere, petals
Host of the ceremony in Russian
Decorated champagne glasses
Sand ceremony
Symbolic certificate
Musical accompaniment
Photo session 220-250 photo
Tropical fruits, table and chairs
Wedding hair and makeup salon
Fresh flowers in the decoration of arches and walkways
Ceremony and walk video
Romantic dinner on the beach
Massage
Trio of Dominican Musicians
Violin or Saxophone
If you have chosen to have a wedding in the Dominican Republic, please use the form below.