How to stretch a dance leotard
The Dancewear Guru: Guide to stretching dancewear
Guide to stretching dancewear
Most dancewear is supposed to have a tight fit.  This is so your teachers can see the lines of your body, and also so extra clothing doesn't get in your way when you're moving.  Sometimes brand new dancewear can feel a little too snug when you first put it on.  This is because it will stretch when it is worn and broken in.  I'll go through some steps you can take to quicken the stretching and breaking in process.  These methods work best for stretchy items like tights, leotards, shorts, leggings, and jazz pants.  If you are dealing with a skirt or other non-stretchy item, you will probably be better off exchanging the item for a larger size.  You should also just exchange the item if you are young and growing a lot, or it the item is way to small (you feel like you need a whole size larger or more).  If a dancewear item is too large, always exchange it for the proper size.
 You shouldn't dance in something that could slide off.
Here are my tips for breaking in and stretching your dancewear:
1.  Give the item a good stretch both lengthwise and widthwise.  This usually does the trick for tights that seem a little short.
2.  Put on the item and move around.  Make sure you are putting stress on the item where you want it to stretch.  If you need the thighs wider in jazz pants, do some squats.  If you need the shoulders looser in a leotard, make large arm circles.  If you want the butt to stretch in a pair of shorts, do some hip circles and really stick your butt out.  You may feel silly in the moment, but this will really help stretch the item out.
3.  If step 2 was not enough, wet the item and do the same thing.  It can be hard to put on a wet leotard, so just leave the item on and jump in the shower.  Use lukewarm water, and don't wash your hair or anything while you're in the shower.  Products like shampoo can stain dancewear.  Once you are wet, do the same moving around routine from step 2.
 If you can, keep wearing the item as it dries.
4.  Usually step 3 will be all you need, but if you still need a little more stretch, sleep in the item.  Your body heat and slight sweat will continue to help form the item to your body shape.
5.  For leotards only--If all else fails, you can try this method.  This only works if your leotard has a lining (full front or shelf bra).  If the leo is a dark color or made of a thick fabric where you don't need the lining for modesty, try making a slit up each side of the lining, right next to where the lining is sewed to the sides of the leotard.  If this still isn't enough, completely cut the lining out.  Depending on how the leotard is constructed, this can make it feel up to about half a size larger.  Only use this as a last resort; always try the stretching method first.
6.  After you have stretched an item, never ever put it in the dryer.  You can wash your dancewear in the washing machine, just leave it drying flat.
I hope you found this information helpful.
 If you have any questions about stretching a specific item, or if you have a go-to method, leave a comment.
Subscribe to: Post Comments (Atom)
The Best Way To Stretch Out Your Dancewear in a Few Simple Steps
Your dancewear should always fit snug for good reason. Having a bad fit may hinder your movement and, unsurprisingly, that's pretty important when dancing. Your dance teachers may also need to have a clear sight of your body's lines to provide correct and accurate feedback.
New dancewear just like any other clothing may not be as stretched when still new and may make you feel somewhat uncomfortable. The first tip is to be patient; give it time.
After wearing it a couple more times, your dancewear will usually feel much more comfortable. There are some things you can do, however, to accelerate the process for leggings, tights, jazz pants and other stretcher-clothes. Skirts may tear if you try to stretch them beyond their limits.
ADVERTISEMENT
So, it's better to get a replacement for non-stretchy clothing that doesn't fit you.
This also goes for dancewear that doesn't fit you at all, either it's too small or large. Getting a fitting size would be appropriate in this instance.
The following tips should take you successfully through the stretching journey for your new dancewear:
First, figure out which part of the clothing you want to stretch (length and width stretches are needed commonly). Now move around in the clothing while laying some stress on the intended stretching points. Doing squats or arm circles for results on thighs of jazz pants and shoulders of leotards respectively are also helpful.
The same goes for your pair of shorts. Some stretches for the glutes may be needed to have them fit perfectly. You could, while watching TV or at the gym stick your butt out and (ignoring the silly feeling), stretch your glutes with hip circles.
A little dampening with lukewarm water could help with the stretching of the material, especially if step 2 isn't working. Since some clothing may not go on that smoothly while wet, you could consider hitting the shower with your leotard on. However, watch out with hair products since they may leave stains.
Repeat the process in step 2, trying to stretch the tight points of your material. You could let the clothes dry while on, as long as temperatures are okay.
If step 3 doesn't suffice, though in most cases it does, you could sleep with the dancewear on and it'll be able to take your body shape all the more. Furthermore, the heat your body emits and sweat will play a part in helping the material stretch.
This step will work for leotards and in the case that nothing else does. You can, with precision, make a light cut or a complete one if the former doesn't suffice, on either side of the leotard lining just about near the side sewings. However, this is an option only for those whose leotards have a lining and a thick fabric.
It's not advisable to use a dryer on your stretched dancewear. After washing it, which you can do using a washing machine, you should consider leaving it to dry as it is.
Try these simple tips for stretching out your dancewear and you'll be dancing happily and comfortably. Let us know which tip was your favourite and worked for you!
Tags: Stretch Out Your Dancewear
How to stretch your swimsuit at home
Contents
Five ways to stretch your swimsuit
How to wash your swimsuit properly
Drying and storing your swimsuit
You may encounter a number of problems when the item becomes too small. This may be if you ordered a product on the Internet and did not guess with the size.
In addition, you can gain weight or wash the item incorrectly, after which it may become smaller. Do not rush to throw away clothes, because the fabric can be stretched. In this article, we will look at how to stretch a swimsuit at home. nine0003
Five ways to stretch your swimsuit
If the bottoms are too small, soak the panties and put them on the back of a chair or ironing board and leave to dry completely. As a result, the elastic will stretch;
You can stretch the elastic by carefully opening the edges where it is sewn. Then insert a new, longer elastic band or sew on another piece of elastic band;
You can increase the product by one or more sizes using sewing and a sewing machine. To do this, choose the right fabric and color, make inserts; nine0006
Wet a one-piece or one-piece swimsuit and place it over an object. It can be the back of a chair, a saucepan, a bucket, etc. Leave it to dry completely. The elastic fabric from which swimsuits are made is well stretched with water;
Wet the fabric and stretch it on the ironing board to the desired size. Pin with pins or other improvised means around the edges. Iron at low temperature from the wrong side or through a thin cotton fabric. Leave for five to ten minutes and repeat the procedure until you achieve the desired result. nine0006
How to wash your swimsuit properly
To prevent your swimsuit from deforming, shrinking or stretching too much, you need to follow the rules for caring for the product.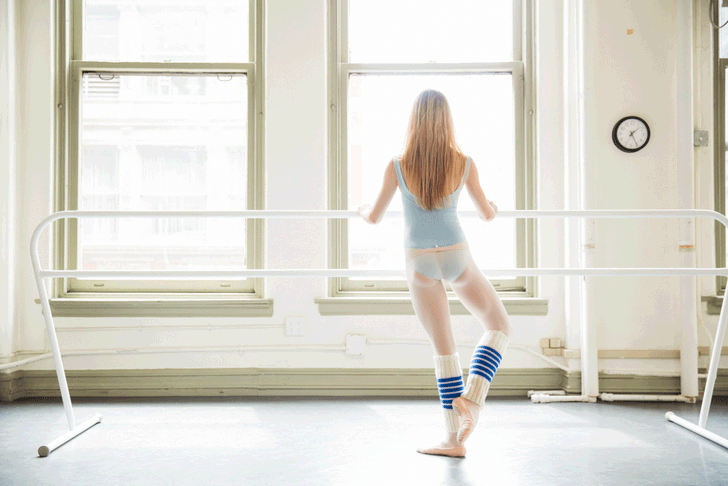 In addition, proper washing, ironing and drying will help preserve the color and original appearance of the item for a long time.
First of all, read the swimwear label and follow the instructions. Wash and iron the material at the temperature indicated there. Do not do what is forbidden on the label.
It is recommended to wash your swimsuit after each use. Despite the fact that it is in the water, the material is still very dirty. Choose special detergents that match the type and color of the fabric. nine0003
Liquid shampoo or washing gel is a suitable option. Traditional powders will cause the fabric to fade, lose elasticity and aesthetic appearance. By the way, you can use ordinary hair shampoo or even dishwashing detergent for washing.
Swimwear with underwire can only be washed by hand. The rest of the products are washed in a washing machine on a delicate cycle at temperatures up to 35 degrees.
If washed at a higher temperature, the fabric will shrink a lot.
Therefore, this method can be applied if the swimsuit is stretched or large in size, but do not overdo it. It is enough to increase the temperature to 45-50 degrees. nine0003
Colored, white and dark swimwear must be washed separately. Do not use the spin and dry mode when washing in the machine! If you are afraid of damaging the fabric, wash the products in special bags, bra capsules or a light-colored pillowcase. Do not use conditioner! After washing, rinse the product in cool clean water and leave to dry.
Drying and storing the swimsuit
Hang the washed swimsuit on a hanger and leave to dry outdoors in the shade or indoors. Or the product can be laid out on a dry terry sheet or towel and left to dry in a horizontal position. Wipe metal parts with a dry cloth. nine0003
Do not dry your swimsuit on a radiator or in the sun, otherwise the fabric will lose color and elasticity, and the fibers will become brittle and brittle. To give the product a pleasant aroma, put a piece of fragrant soap or a handkerchief sprinkled with perfume next to the item on the shelf.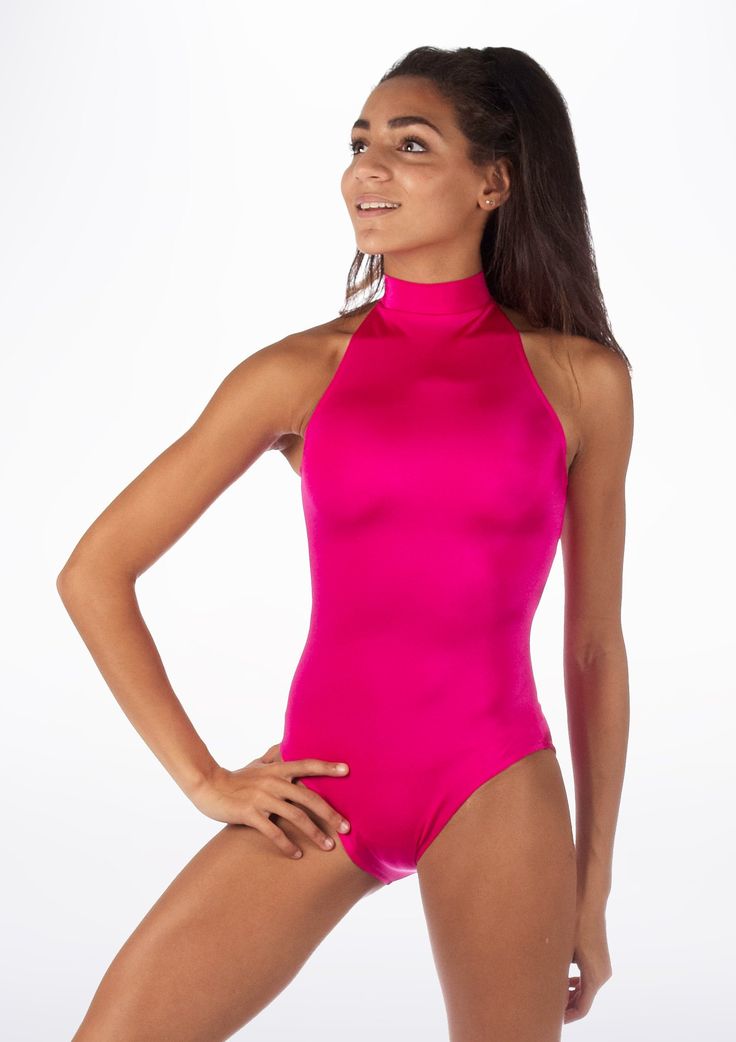 Do not leave the product wet for a long time after swimming, it is better to rinse or wash immediately. Do not keep a thing for a long time in a plastic bag, otherwise the thing will be deformed, an unpleasant smell will appear.
Store the swimsuit without the bag on the shelf in the closet with the doors closed. How to compactly expand and properly store things in a closet, see the link https://vsepodomu.ru/garderob/kak-khranit-veschi-v-shkafu/. nine0003
Leotards for performances
Gymnastics leotards may be needed for a child to perform in school performances, dance, rhythmic or artistic gymnastics. In order for a young athlete to be comfortable and convenient, it is necessary to carefully approach the issue of choice, to delve into all the subtleties of this process, and not be guided only by the appearance of a swimsuit.
Gymnastic leotards for rhythmic gymnastics have long been an integral part of the performance, harmoniously fitting into the performance and emphasizing with their beauty the fragility and flexible figure of the artistic gymnast.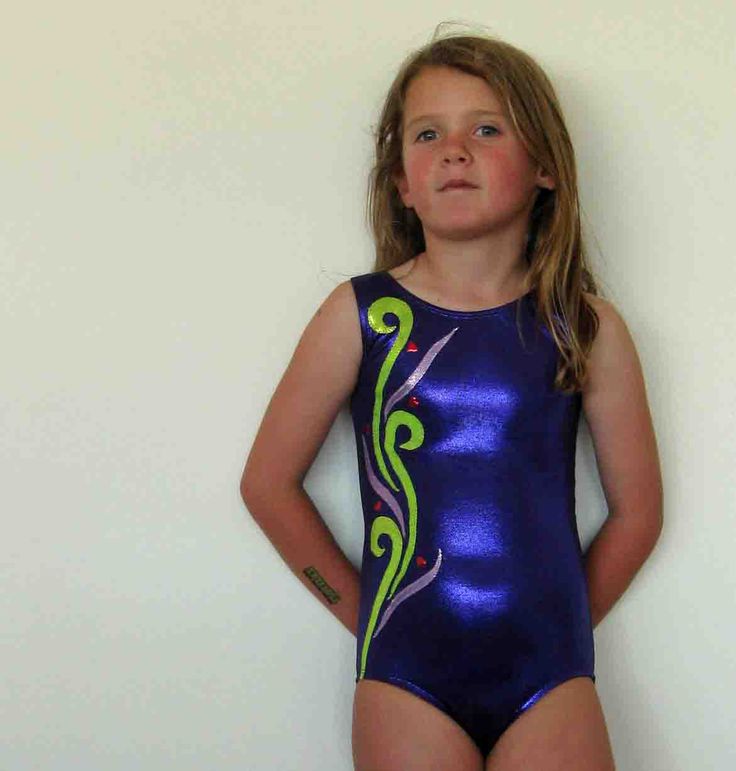 There are many ways to decorate a gymnastic leotard, feathers, sequins and rhinestones, decorative stones, embroidery, mesh inserts are used. With the help of properly located decorative elements, you can both hide the flaws of the gymnast's figure and emphasize her dignity, which plays a significant role in creating the image. nine0003
Choice of gymnastic leotard
Material
Children's sports leotards are made from various materials and cotton is one of them. Very often, parents, convinced that there is no better material for sports, opt for a cotton gymnastic leotard for girls. But cotton is not the best option for sports, because it perfectly absorbs sweat and it turns out that the girl has to train in a wet swimsuit. In this case, closed gymnastic sports leotards also serve as an additional source of inconvenience for girls, as they unnecessarily constrain movements. If the room is noticeably cool, the best way out is to put on a sweater over a swimsuit, which can be removed when necessary.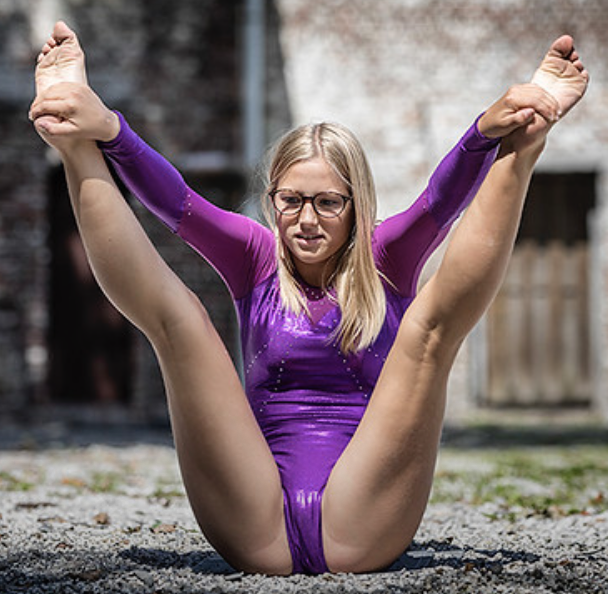 Dressed in a swimsuit with a long sleeve and a closed neck, a young athlete will not be able to fully concentrate on doing the exercises, she will be forced to be distracted all the time to straighten her clothes and experience irritation because of this. Therefore, there is no better fabric for a gymnastic leotard for dancing or rhythmic gymnastics than synthetics. Modern synthetic fabrics allow the skin to breathe and sweat to evaporate, providing the necessary air exchange. nine0003
If, for some reason, synthetics are not suitable as a material for a leotard, then opt for the golden mean - a gymnastic leotard made of cotton with elastane. Before buying, it is worthwhile to arrange a small test for the swimsuit - stretch the fabric a little with your hands. If almost immediately the swimsuit returns to its original state, the fabric is really of high quality and such a swimsuit will last a long time. If, after stretching, folds remain on the fabric and the swimsuit has lost its shape, you should not buy this thing, it will stretch and lose its decent appearance in the near future.
nine0003
Size
When buying, do not be lazy to try on a gymnastic leotard for a child in order to avoid unnecessary spending of your money and children's nerves. Convenience and compliance with the size of the child - these are the main criteria for choosing a children's sports swimsuit. A gymnastic leotard, whether black for everyday training, or with a skirt and rhinestones for exhibition performances, should first of all be comfortable, sit on the figure, not press, not cut into the body, not hang or bristle. A well-chosen gymnastic leotard wisely and without haste will guarantee that the child will not be distracted and nervous in the classroom, will be able to devote himself to his favorite pastime, and, who knows, in the future, perhaps, will help to achieve significant sports heights. nine0003
Related articles:
Oriental Dance Trousers

Harem pants are an integral part of an oriental dance outfit, because they emphasize the plasticity of dancers. Our article tells how to select and from what to sew sports harem pants.

How to choose a mountain bike?

Mountain bike will help you have fun in the mountains and enjoy unforgettable landscapes. But when choosing it, you need to take into account many subtleties so as not to be disappointed in the purchase. This article will help you with this. nine0003

How to choose rollers?

Roller skating is a fun sport for the whole family. However, in order for roller skating to be a pleasure, one should take their choice seriously. We will tell you about what should be guided by when choosing roller skates and how to choose the ideal model for yourself.

Leg expander

The leg expander is a multifunctional simulator with which you can pump up the muscles of the legs, chest, buttocks, and also keep the body in good shape as a whole. Regular training can make the figure more toned, slim and attractive.

.