How to make a belly dancing outfit
3 Easy Steps to Make a Gorgeous Belly Dance Costume at Home
Belly dancing costume is the simplest thing to design, unlike the cosmopolitan notion. DancePoise gives you 3 simple steps to make a gorgeous belly dance costume.
Spangly Tip!
★ Try to match the color of the sequin belt (worn on waist) with the top.
★ The color of the beads or sequins on the top should match with the skirt.
Believe me, you may be having a belly dance costume in your own wardrobe! Whether you are learning to do belly dancing as a casual hobby, for exercising purposes, or as a secret obsession, simply dressing the way professional belly dancers do, will give you the feel of an experienced belly dancer.
These days, there are a number of design houses in the US, Egypt, and Turkey, to name a few, which design hundreds of costumes every year, of varying quality and styles, ranging from $200 – $2,000 a piece. Can you get these costumes and be satisfied? Absolutely not! Because, there are many of us who have trouble finding exactly what we want out there, and are not exactly the fitting we require.
Plus, think of all the time and effort needed for alteration of the dress. There are very limited selection options, for sizes other than 32B- or 34-inch hips.
This is where learning how to create your own costumes comes into picture. Making an authentic belly dance costume will be an expensive chance to be taken. You can make a basic belly dance dress, very much in your budget, by peeping just in your own closet.
We have explained the two most popular types of belly dancing costume: the one with Harem Pants and the other one with Long (lycra) Skirts. Notice the difference, and opt for the one you want.
Requirements
For a simple and elegant belly dance costume, you only need 3 pieces:
★ A long skirt or harem pants
★ A tight-fitting tank top (or crop top)
★ A hip scarf
STEP 1
Get a snug tank top or camisole that fit; almost any color and style will work perfectly for your belly dance costume. You can also create one by adding glittery details to your regular bra (refer to the image above).
Sew on some beads at the perimeter of your bra.
STEP 2
We need to make the belly dance belt. Generally, embellished scarfs are worn on the waist. So, get a scarf that is sufficiently large, and decorate it with a shimmery lace. You can sew the lace on its edge, or simply use fabric glues to do that.
You can also go for heavy material or metal detailing for making fringes or sequins (coins) on the hip scarf, to get the traditional Egyptian look.
STEP 3
Fetch a pair of harem pants, or find a loose, wavy, ankle-length skirt. It need not be expensive, and it can be of any color you want. Sew some lace or beads on the surface of the skirt.
In Conclusion
That's your final look. Belly dancing is fun. Show all your creativity you have while readying this costume!
Some Design Fluctuations
★ We have a huge range of options for step 1―coin bra, choli top, bolero-tied tops, beaded bra, etc. You can opt for any one of these too.
★ The side of the harems or skirt can be slit to leave an opening, which can be outlined with decorative trim, and the two halves can be tied together with beaded strands, metallic ribbons, or other decorations of your choice.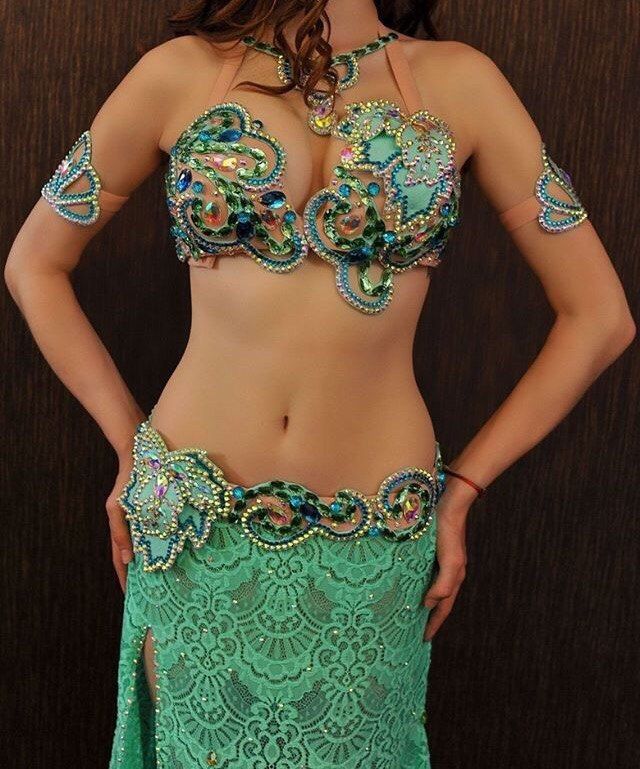 ★ Scarfs can be sewn directly on pants.
★ Skirts can be of varied materials―opaque, silk, or chiffon; heavy material with embedded metals; large-tiered or flared ones with embellished embroidery and designs.
In the end, you can flaunt your belly dance costume along with attractive navel tattoos and sexy bellybutton accessories.
Like it? Share it!
Uncategorized
Get Updates Right to Your Inbox
Sign up to receive the latest and greatest articles from our site automatically each week (give or take)...right to your inbox.
Blog Updates
Email Address *
Belly Dancer costume : 10 elements you may need to DIY your own belly dancing outfit
Let me turn fortune teller for you – I see in my cards that you have just started learning belly dancing after being inspired by Shakira's gorgeous hips don't lie sways. Am I wrong? Fine! Then maybe you just want to dress as a belly dancer for the fun of it, without wanting to do anything with the dancing moves.
Funning aside, What do the real Belly dancers wear ? What do you wear if you want to look like a belly dancer ?
To look like a belly dancer, you have to have all the paraphernalia of the part. Nothing less, nothing more.
You have a choice of buying the total costume for belly dancing called the Bedleh – this will have the usual beaded bra top, hip belt, long skirt/pants or You can DIY and assemble all the parts yourself. It is not so difficult, considering many people do that. 
Belly Dance Outfit -Main elements
1. Belly Dance pants
2. Belly dance Skirts
4. Scarves
6. Beledi Dress /  Kaftans
8. Headbands or turbans
9. Shoes
10. Other Embellishments
1. Belly Dance pants
These are loose pants – usually tightened and gathered at the ankle with elastic or drawstring.Other names for harem pants are Chalwar (Iran), libas (Egypt), Shaksheer (Turkey), Dimije ( Bulgaria)
You can find a sewing pattern to make belly dance pants here.
2. Belly dance Skirts
The long belly dance skirts will be made of a flowy fabric and will usually have a long slit from the middle of the thigh which aids in dancing. They will be colorful and adorned with beads/sequins. Usually it is a circle skirt construction. Mermaid skirts are also used.
Or just take some chiffon fabric and make an elastic waist skirt with it, with a number of long slits. You can wear leggings under the skirt for modesty.
3. Tops/Bralettes
Crop tops or choli blouse (Sari blouse) or glittery bralettes are worn as the top for the pants/skirts for belly dancing.
You can change your bra into a belly dance top by attaching sequins or beads.You can buy a push-up bra and cover it in matching fabric and then attach beads/sequins and such glittery embellishments.
A net fabric sleeve added to the bralette/choli can turn  it into a show stopper.Some use a Ghawazee vest over the bralette.
4.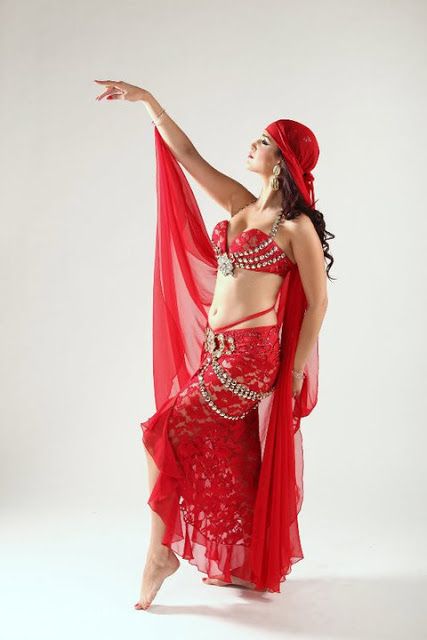 Scarves
Hip scarf/Sarongs are tied over the belly dance pants /skirts. The hip scarf will be shorter than a sarong. They will usually have fringes on the edges that swing as you dance and will be made of glittery flowy (and usually  lightweight) fabric.They are fastened at the front or at the side with a brooch.
5. Hip Belts
Coin belts are favorites as hip belts – Trims with metallic coins are attached on the edges of the hip belt. If not, the hip belts will be adorned with beads/beaded fringes, tassels.
6. Beledi Dress /  Kaftans
Sometimes a one piece costumes are used for belly dancing. Beledi is a one piece costume used so. Kaftan are also used by some for belly dancing.
7. Jewelry
Jewelry forms a very important part of a belly dancing outfit. They compliment the costume. But it is better not to overdo with lots of unnecessary jewelry to remain classy and not garish.
Necklaces, pendant earrings, toe rings, giant finger rings, all in ethnic fashion are used as jewelry other than the hip belt.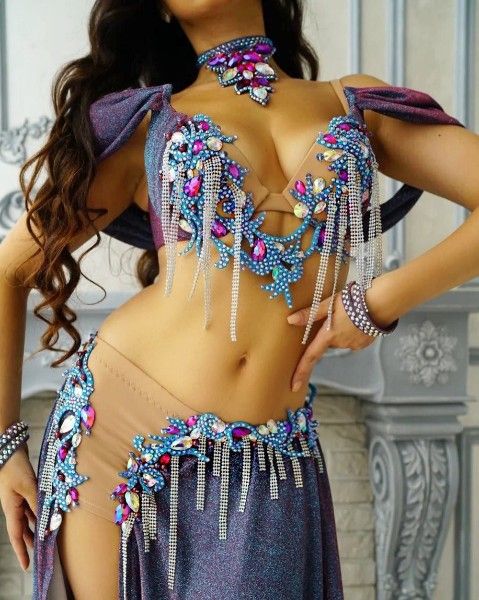 Rings, bracelets with danglers can adorn the arms. Anklets can be worn on the foot – they have jingles which chime when you dance.
Belly button rings are added for additional fun. Jeweled pins are used as fasteners, functional and decorative. Arm bands decorated with chains, coins or pendants also give you that distinctive belly dancer look.
8. Headbands or turbans
Hair is often covered in either a headband or a turban. Headbands keep the hair away from the face. Either a  simple or elaborate headband or headpiece can be used depending on the dance/costume. It is the tribal belly dancers who use turbans instead of headbands.
9. Shoes
Some prefer to dance without shoes. But when shoes are worn they are usually in a metallic shade (gold or silver) matching the beads in the costume. The regular belly dance shoes are Turkish slippers with the toe curled upwards, embellished with tassels and embroidery. 
Whatever shoes you wear, Turkish slippers or simple ballet shoes or plumps with heels, you need to have some glitter on them to  make them festive enough for belly dancing.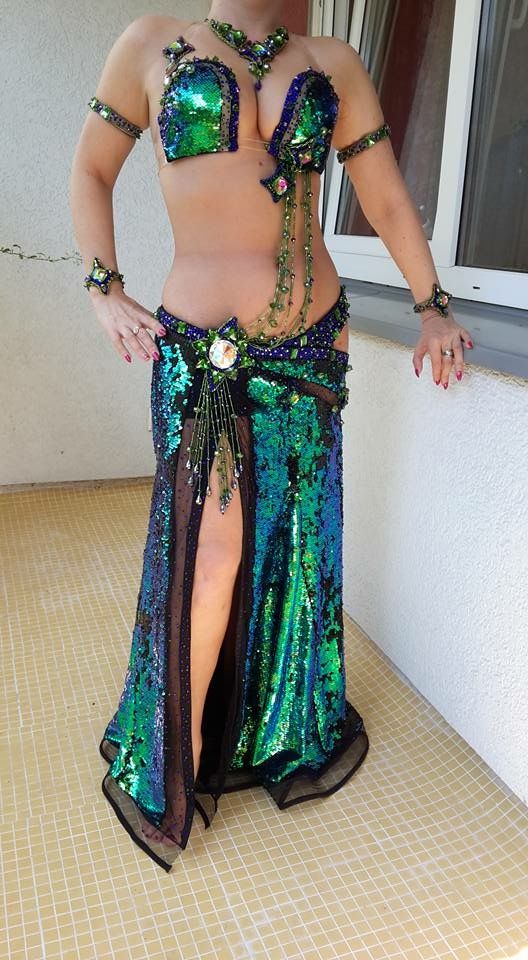 You can embellish your shoes with glitter, sequins or glittery beads. 
10. Other Embellishments
Coins and chains are one of the most frequently used embellishment on belly dancer costumes. Beaded patches with glittery beads can be added to the belly dance costume. Small mirrors (Shisha ), trims embellished with rhinestones, brocade ribbons etc are added to the costume to make it more exotic than it already is.
Temporary tattoos, bindis are attached on the body to further enhance the belly dance costume. Head pieces or braids or even wigs are added to make the hair long and suitable for a belly dancer.
Related posts : How to attach mirrors on fabric; Make a sari Blouse. ; How to dress like a hippie
Updated on October 18, 2022 by Sarina Tariq
Did you like this post?
Click on the stars to rate it!
Average rating / 5.
Do-it-yourself belly dance costume
Sergey Sizov
10 Apr 2018, 22:01
Contents of the article
1 Master class for making a belly dance costume with your own hands.
2 Patterns for a belly dance costume.
3 DIY belly dance costume photo
4 Do-it-yourself belly dance costume video
Belly dance came to us from the Arab countries and conquered not only women, but also men with its beauty. The gracefulness of the body and the beauty of the movements are especially emphasized by the beautiful costumes that reveal the best parts of the female body and present them in an advantageous position during the movements. Such costumes are most often decorated with a large number of beads, stones, beads and others. This is what makes them so valuable. Do not be afraid because such a costume can be easily sewn with your own hands. nine0022
Master class for making a belly dance costume with your own hands.
Before tailoring any suit, you need to make the necessary measurements as clearly as possible. Then comes the selection of fabric for the suit. The fabric should be as pleasant to the body as possible, not cause allergic reactions (most often this happens when there are non-natural components in the composition) and not hinder movement (be as elastic as possible).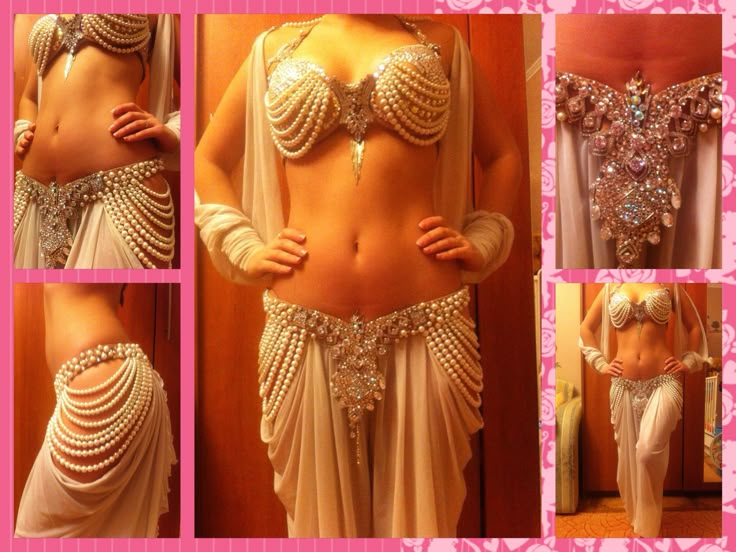 For belly dancing, brighter fabric colors are needed, and one of the best options is silk as a material for tailoring a costume. In addition to the material for such a costume, you may need various decorations - stones, rhinestones, beads, etc. As soon as the purchase of the necessary components is over, you can proceed directly to tailoring. nine0022
The costume consists of 3 elements:
Bodice.
Skirt or bloomers.
Bandage. Over the skirt on the hips.
First you need to choose a bodice, it is best to buy a ready-made bodice, which can be transformed into a part of the costume with the help of simple manipulations. The bodice is better to choose, as shown in the figure without any patterns and decor, the usual solid color.
After you have found the most suitable bodice, many get rid of the internal filling of the cup. This should not always be done, but only if you naturally have your own large breasts and the push-up increases it even more and does not support it, as it is necessary for dancing.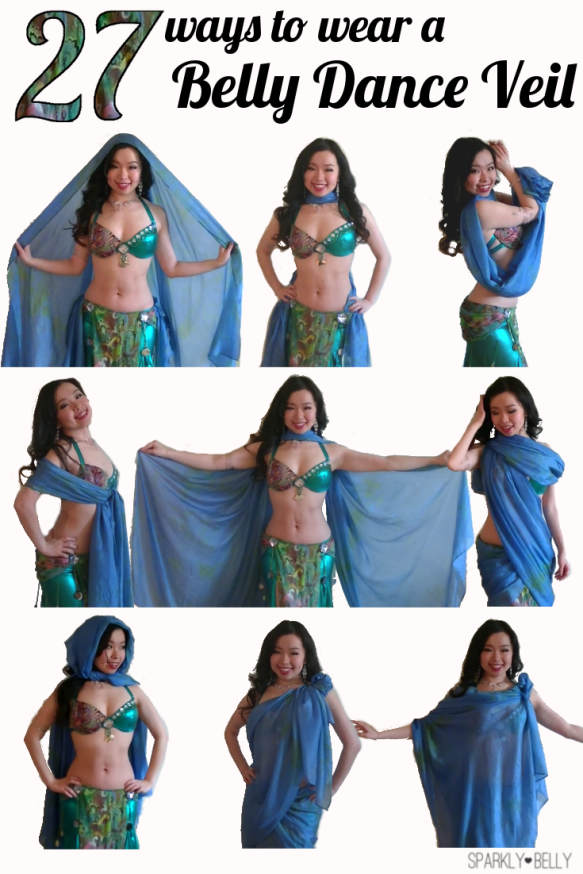 Many instead of push-up insert shreds of fabric, which gives rigidity and better fixes the chest. nine0022
It is very important to change the hooks to this kind of rivet, as shown in the photo below. It is they who will support the chest more favorably during belly dancing.
And the last most favorite and most interesting point in the preparation of the bodice will be decoration. You can decorate it with absolutely any materials and according to your design.
After the bodice, proceed directly to the skirt of the suit.
First, measure the desired material size. Then we cut off the desired piece. nine0022
No lining needed. Elastic, threads and fabric - all you need for a skirt.
The elastic must be sewn to the waistband.
The hem of the skirt also needs to be processed so that everything looks as beautiful as possible and there are no protruding threads or uneven cut edges.
After the work done, we will get just such a skirt.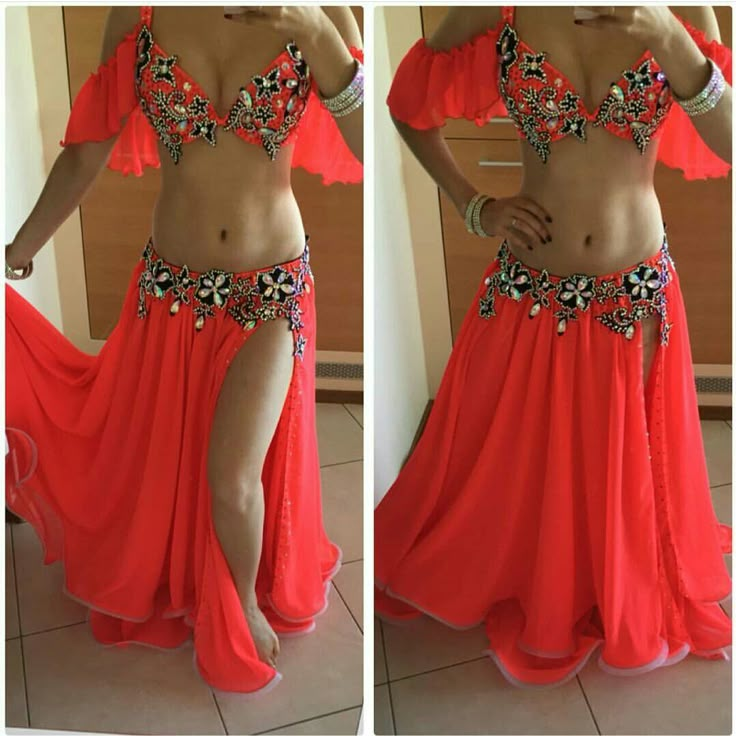 Everyone chooses the right color and material from which to sew this skirt. It is also worth remembering that it should not be as long as possible and it is better to make one or two cuts on the sides. Then you can embroider and decorate this skirt with all possible beads, rhinestones, shreds from other materials. nine0022
The bodice and skirt are ready, only the belt remains to be sewn. The size and width of the belt can be different and vary only from personal wishes.
Using a sewing meter, measure the hips and transfer it to a piece of material. Next, we make a cardboard sketch of the belt itself.
After we outline the edges of the sketch and cut out the desired section of the fabric. This fabric needs to be stitched along all the edges so that the belt turns out to be even and beautiful.
Belt ready. It also needs to be decorated and the image will be complemented. nine0022
Patterns for a belly dance costume.
For beginners in the world of sewing, below will be given options for patterns, according to which it is as easy as possible to learn how to sew this kind of suits.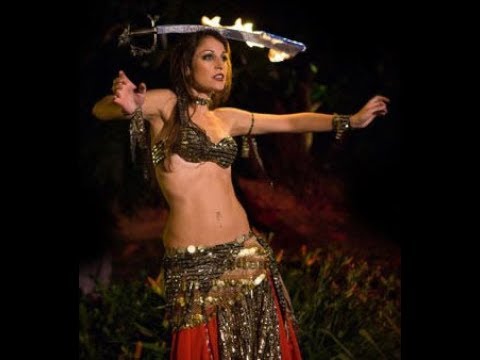 For those who decide to make a bodice with their own hands, and not to buy, this pattern is offered for viewing.
Skirt pattern.
Belt pattern.
DIY belly dance costume photo
These simple costumes can be made independently and relatively quickly.
The following options will require more time and more decoration materials. But the beauty of such outfits dazzles everyone.
These two outfits are insanely beautiful and bright, which makes the dance even more beautiful and sensual.
Any fashionista can make such an outfit, it just takes more time. nine0022
Do-it-yourself belly dance costume video
Now, you can also find a lot of videos with making a do-it-yourself belly dance costume. Here are the top 3:
We create a belly dance costume with our own hands
Almost every modern woman is looking for a hobby for herself. Someone embroiders with pleasure, someone bakes pies, and someone goes to dances.
In this article, I would like to tell women who are mastering oriental culture how to sew a belly dance costume with their own hands. nine0022
Components
First of all, you should decide on the details of the costume. It will definitely be a long skirt and bodice. However, if it is not possible to make all the details beautiful, you can safely get by with just one belt. From the accessories you can prepare a veil, you will also need a huge number of different decorations for hands, ears, legs - earrings, rings, chains, bracelets, etc.
Bodice
with the preparation of the bodice. For this, an ordinary opaque bra (preferably foam rubber) may be suitable. If it is already the right color, it will only need to be decorated. However, it is better to pre-sheathe it with the desired fabric so that it does not look ordinary. It will be impossible to create a single piece of skin, so it will consist of several parts. The first is a detail for cups. It is cut out in a rectangular shape and bent over the finished product.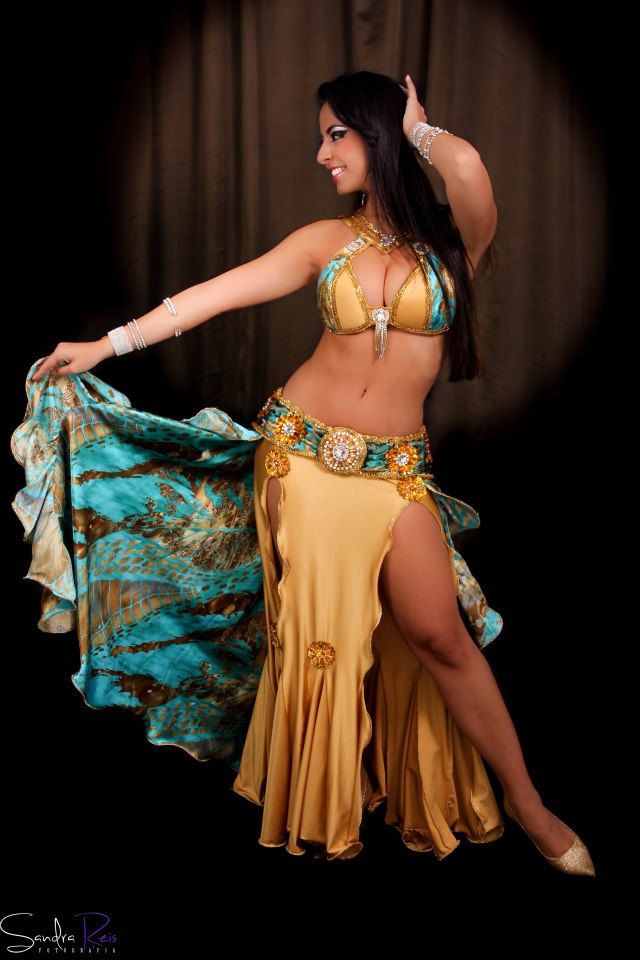 To do this, you will need to make several folds of fabric according to the principle of creating a tuck. You will also need fabric for the straps. To do this, cut out long rectangles that simply wrap these parts on all sides. The pieces are already sewn on the bra, you can even sew them on with a decorative stitch. "Ponytails" are hidden under the details for the cups of the bodice, which are sewn on last. We go further, creating individual details for a belly dance costume with our own hands. When the bra is completely wrapped in new fabric, you need to start decorating the product. Everything that the lady likes will come in handy here. It can be just beautiful embroidery with threads or beads, or it can be glued sequins in the form of fish scales, etc. Here the woman herself decides what she wants to get as a result. However, you need to remember that everything should be fairly securely attached, because in this costume you will have to dance, that is, actively move. nine0022

Learn how to sew a gypsy skirt: making a pattern, choosing.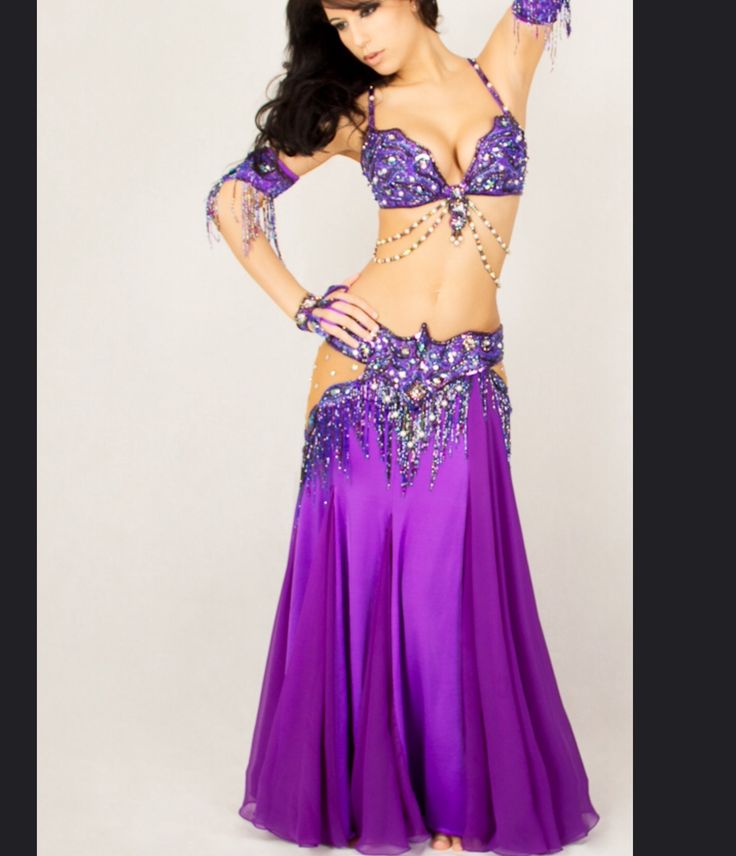 ..
You can create many harmonious looks with a gypsy skirt. And our article will help you understand...
Skirt
Sewing a costume for belly dancing includes making a long skirt. To do this, you need to take a fairly thin transparent fabric that drapes well, such as chiffon or crepe chiffon. Now you need to decide what kind of skirt you want to make. Two options can be considered. The first is an ordinary straight skirt with slits on the sides, the second is a sun skirt. nine0022
In any case, belly dance costume patterns must be prepared beforehand. So, for a straight skirt, you will need to take two pieces of fabric that will be sewn along the sides to about the end of the thigh. Unsewn sections and the bottom are simply hemmed. From above, you can provide the usual wide belt, which must be made of elastic fabric, because it will most likely be on the hips, and not on the waist. To do this, you need a piece of fabric twice as wide as the belt itself. The fabric for the belt is bent in width with the wrong side inward.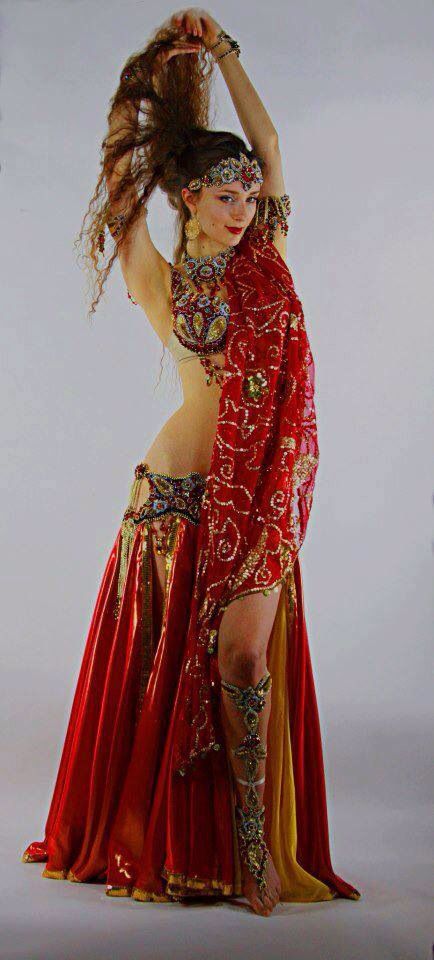 Next, the belt is sewn to the skirt. To do this, first the inner part of the belt (which is adjacent to the body) is sewn with a skirt, then the fabric allowances are tucked in, covered with the front of the belt, and everything is overcast. If everything went out neatly, a decorative stitch is started along the front of the belt. Oriental belly dance costumes also suggest the possibility of creating a sun skirt. You can sew it in the same way as the previous one, but the fabric will take a little more, about 2.5 times. After all, the sun skirt is a circle with a cutout for the waist in the center. The top of the skirt, along the waistline, can be gathered. The bottom is hemmed with a narrow scar, a wide belt is sewn to the top. That's all, the skirt is ready. nine0022

How to sew a shalwar kameez?
The shalwar kameez is an essential part of an Indian girl's wardrobe. A bright original outfit can be...
Belt
When preparing a costume for a belly dance with your own hands, it is important not to forget about such a moment as the design of the belt.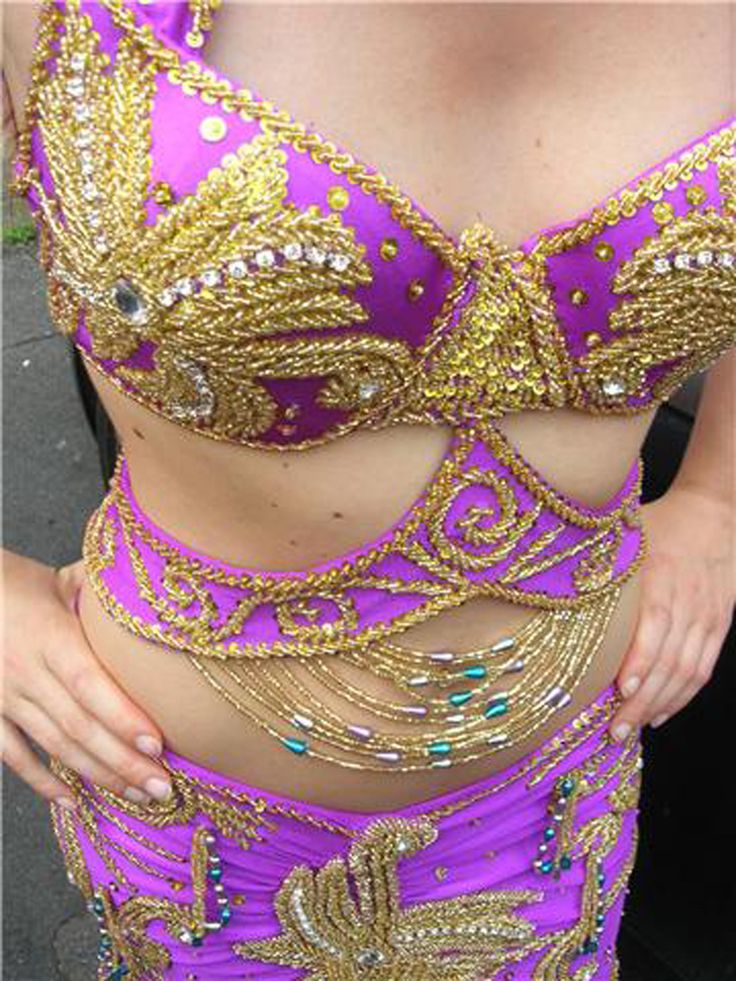 It is this detail that gives the costume a special appeal. How to make it? To do this, it is better to pre-prepare a full-size pattern. The top must be straight, and the bottom of the belt can be triangular, figured, rounded - whatever you like. The length of the product is calculated: this is the waist circumference plus approximately 4 cm for the fastener. You can make tucks so that the product sits perfectly on the figure. nine0022
The fabric is also selected: for the base of the belt - dense, cotton can be used, and for the top - something light and beautiful, for example, supplex, satin, crepe-satin. You will also need a dense interlining for gluing the product, it will be attached from the inside to the front of the product. When the parts are ready, they need to be folded with the right sides inward, sewn, turned inside out, through the hole left, baste and insert the fastener (the belt can simply be tied). Now it remains to decorate it in the same way as the bodice.
Accessories
What other details can oriental belly dance costumes suggest? Of course, these are special decorations.